For beginners striking their fingers on a keyboard for the first time, we have a brand — RockJam. Electronic keyboards have become the go-to instruments for piano beginners. Choosing one keyboard with features that are commonly found on expensive models is tedious. However, in this day and age, nothing is short of impossible.
RockJam is an under-rated brand in the musical instrument business. Their series of keyboards are highly-recommended by beginners who have transitioned towards skilled piano players.
In this review post, we shed light on RockJam's 61-Key Electronic Keyboard. This elegant digital piano is the brand's best compact yet reliable offering on the market. This keyboard comes with all the things required to make a piano-playing session look worthwhile. To discover more about the RockJam RJ761, keep reading.
Also Read: Best Digital Piano Under $500 – Guide to Best Affordable Keyboards
---
RockJam 61-Key Electronic Keyboard Review
The RockJam RJ761 is rated among the best budget-friendly pianos that comprise highly-informative tools to make life easier for beginners. This exciting bundle comes with add-ons that many high-end models miss out on. Following are the selling points of this keyboard — essential for both entry-level players and skilled musicians.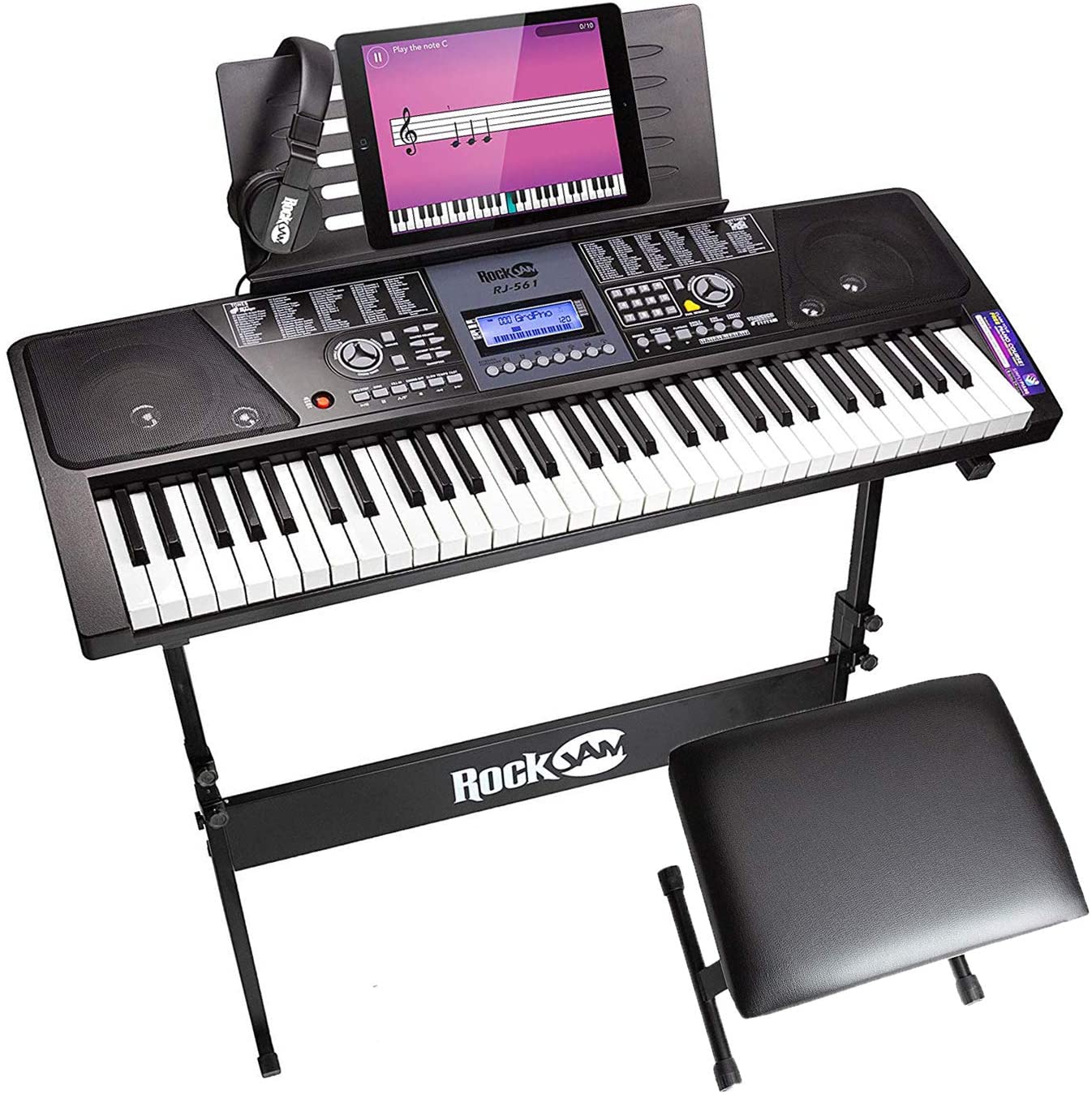 Design
The RockJam 61-Key Electronic Keyboard arrives without any bells and whistles but still gets the job done in terms of the build quality and design. This instrument is reliable and pleases with the layout. The extra glossy black color enhances the appearance of the piano.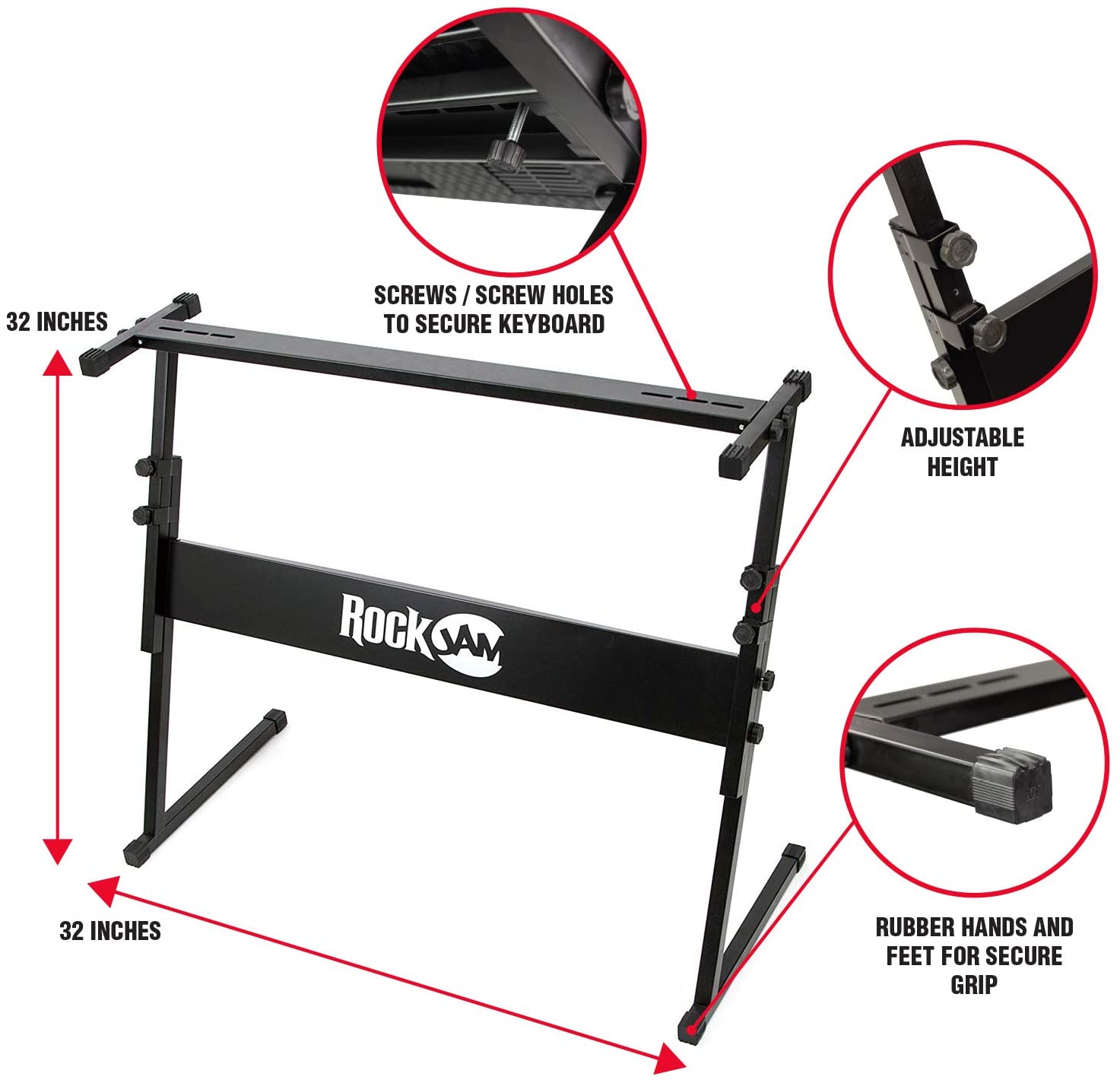 The keyboard has dimensions measuring 35.60 x 12.60 x 4.30 inches, making this a perfect portable piano to carry on-board. The build quality is decent as it is enclosed with plastic. The plastic-equipped frame slightly increases the durability of the keyboard. The weight of the piano is merely 12 pounds, which makes it relatively easy to carry around.
Sound
RockJam's digital pianos come with a reputation for oozing crisp and clear sound. This keyboard is bombarded with a plethora of different sounds and effects to make piano sessions easier. A few of the hundred voices it comes loaded with are electric piano, organ, harpsichord, synth, and a lot more.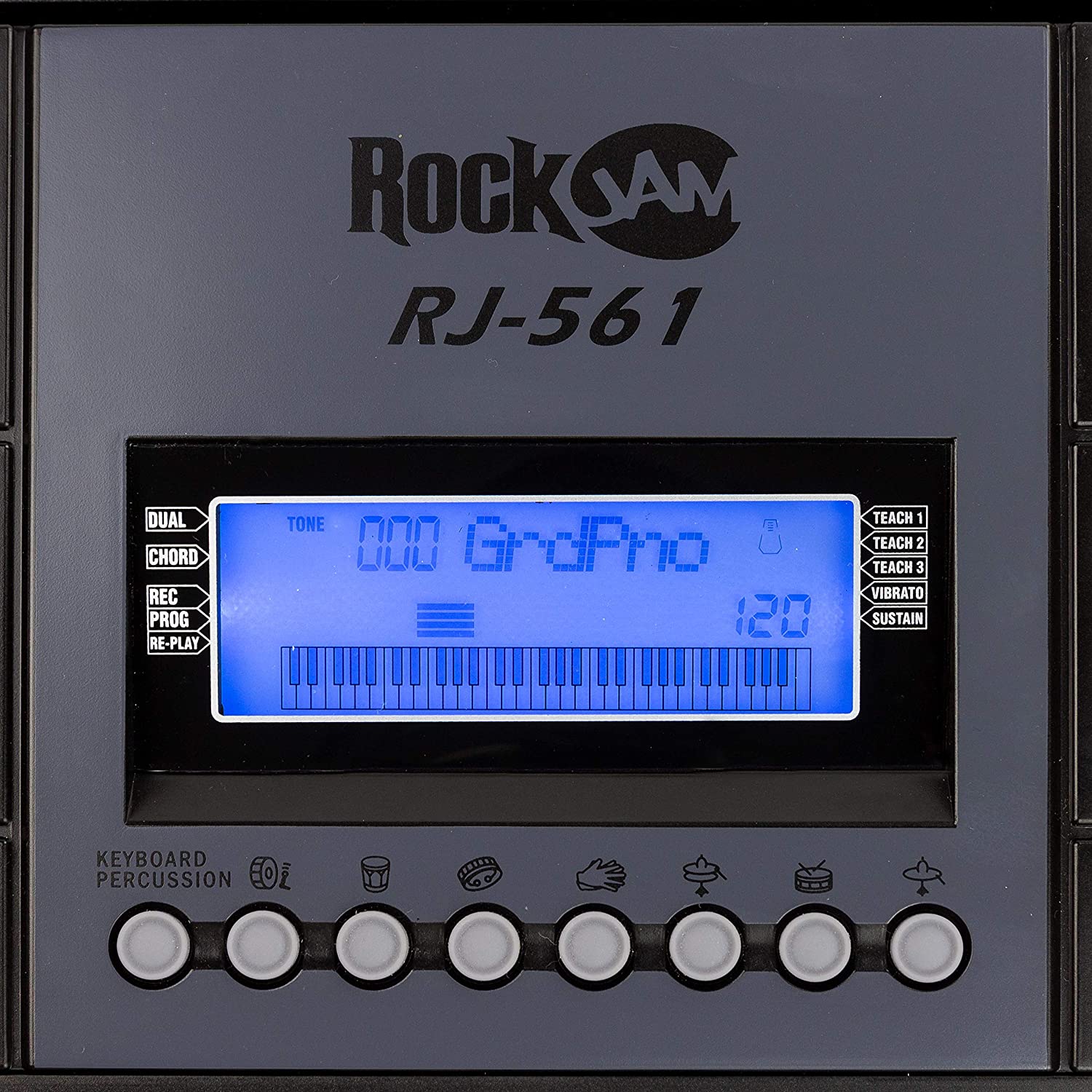 RJ761 has a total of 100 rhythms that help in creating music. The feature is easily accessible with the touch of a button, enabling you to choose the type of rhythm or voice you wish to have.
The RockJam RJ761 makes life easier for beginners as it guides them on how to proceed with a selection from a rich list of rhythms and voices. Overall, the library consists of diverse sounds and voices is excellent. Moreover, the piano is powered by a concert-like speaker that delivers warm and deep sounds.
Keyboard
The keyboard comes with 61 full-sized keys that cause little to no problem to beginners. The RJ761 is the best for first-timers; since all of the keys are easy to control and come with decent longevity.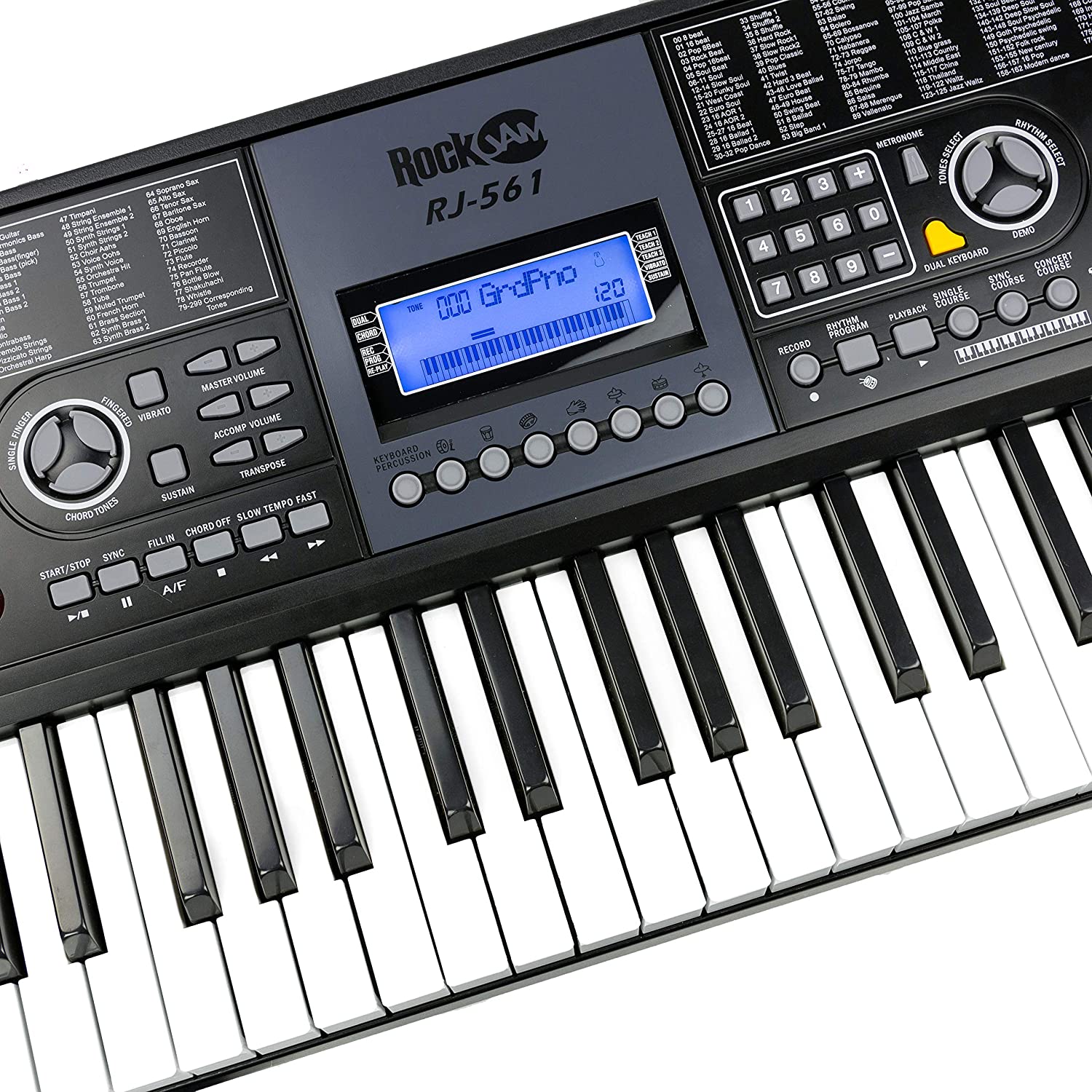 The keyboard includes a nifty LCD screen along with a control pad. The background features such as the tones, rhythms are displayed on this large LCD screen. Beginners may find this easy to use and help them in learning this instrument pretty quickly.
The keyboard's control panel provides clear instructions for beginners to practice and hone their piano skills and techniques. It displays the keys to be stroked, the chords to play with demo songs, and help perform a lot more. The keyboard may not appeal to a few by and large, but the large LCD screen and control pad are praiseworthy.
Bundle of Essentials
The RockJam RJ761 arrives with a package of handy pieces of equipment. This piano kit features a sturdy stand and bench, and decent quality headphones. These add-ons are genuine and offer glitch-free music sessions. Here is how each of these tools fared in our review:
Stand: The included stand is sturdy and durable. This one is adjustable and lightweight, meaning it is incredibly portable and comfortable to pack inside the car's trunk.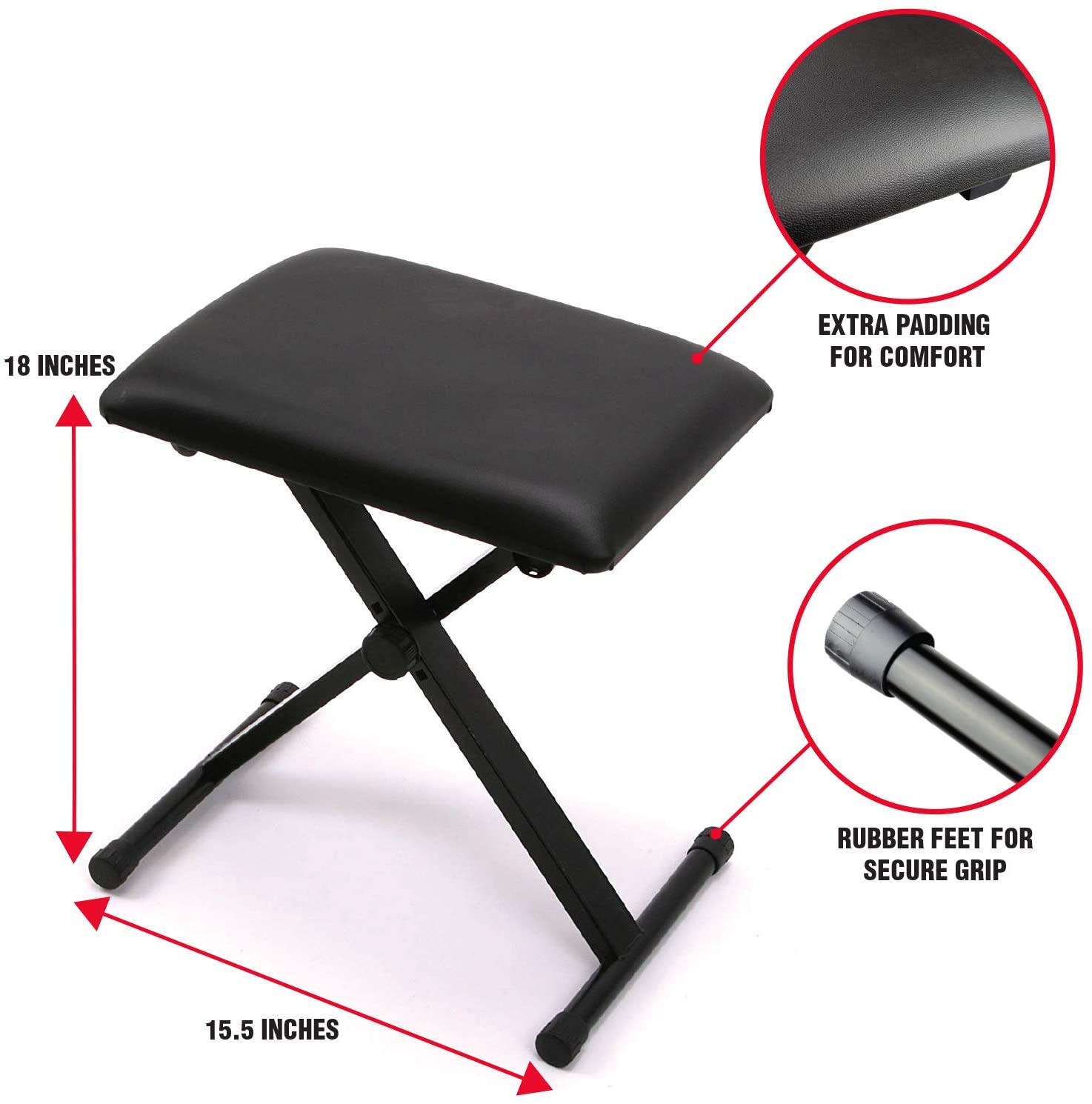 Bench: The bench is studded with soft foam that ensures maximum support for prolonged hours. This bench with a thick padded seat can be easily folded and carried along just like the stand. However, this may be a little too small for adult keyboard players.
Headphones: These headphones are sub-standard. Nevertheless, they still do a decent job in giving a decent piano-playing time. The headphones are good for bringing out the right rhythm and melody. All in all, the headphones cut the outside noise and help you enjoy the session without disturbing others.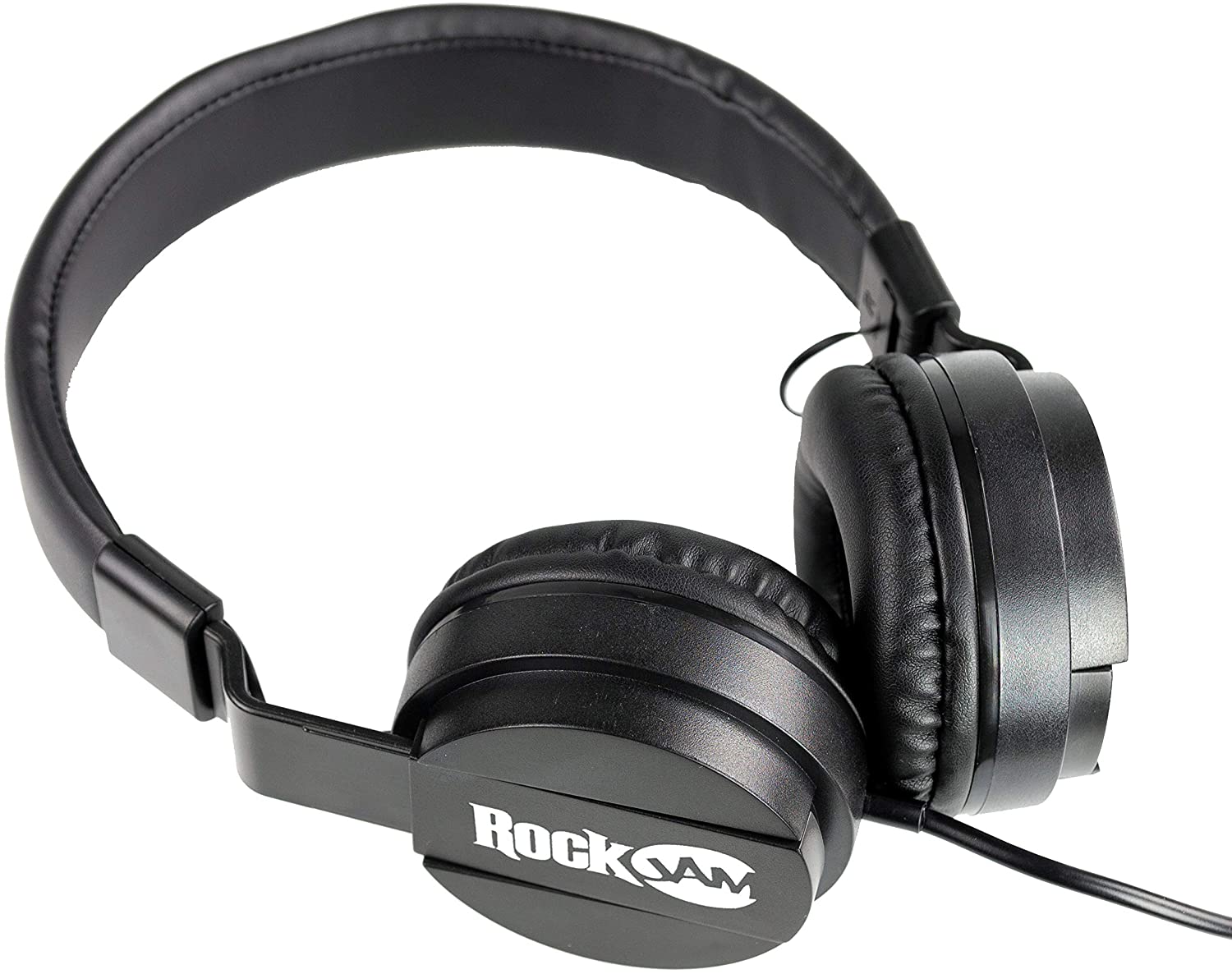 Additional Feature(s)
The RockJam 61-Key Electronic Keyboard is the testament of RockJam's higher consumer rating on major eCommerce platforms. This instrument offers the option of recording music. Furthermore, this feature allows you to play the recorded track at any time.
With an extensive list of instruments, you can sample and record all kinds of sounds to create great beats. A feature like this is a rarity on most beginner-friendly keyboards.
---
Pros and Cons of RockJam RJ761 Electronic Keyboard
RockJam's RJ761 has features that are hardly found on basic-level keyboards. Currently, rated among the best budget-friendly pianos out on the market, this keyboard is fun and entertaining. Following are the keyboard's pros and cons.
The RockJam RJ761 is undeniably the brand's best affordable offering. Pianists recommend this keyboard for entry-level and intermediate keyboard players. There are plenty of other potential candidates when this instrument runs out of stock; check a few below.
Also Read: Casio SA-76 44-Key Mini Personal Keyboard: Kids' Favorite in 2021
---
Alternatives to RockJam 61-Key Electronic Keyboard
1. Hamzer 61-Key Electronic Keyboard Piano
The cheap yet best alternative to the RockJam keyboard is Hamzer's 61-key Electronic Piano. Like the former's bundle package, the latter also arrives with a stand, bench, and headphones. But with an addition of microphone too.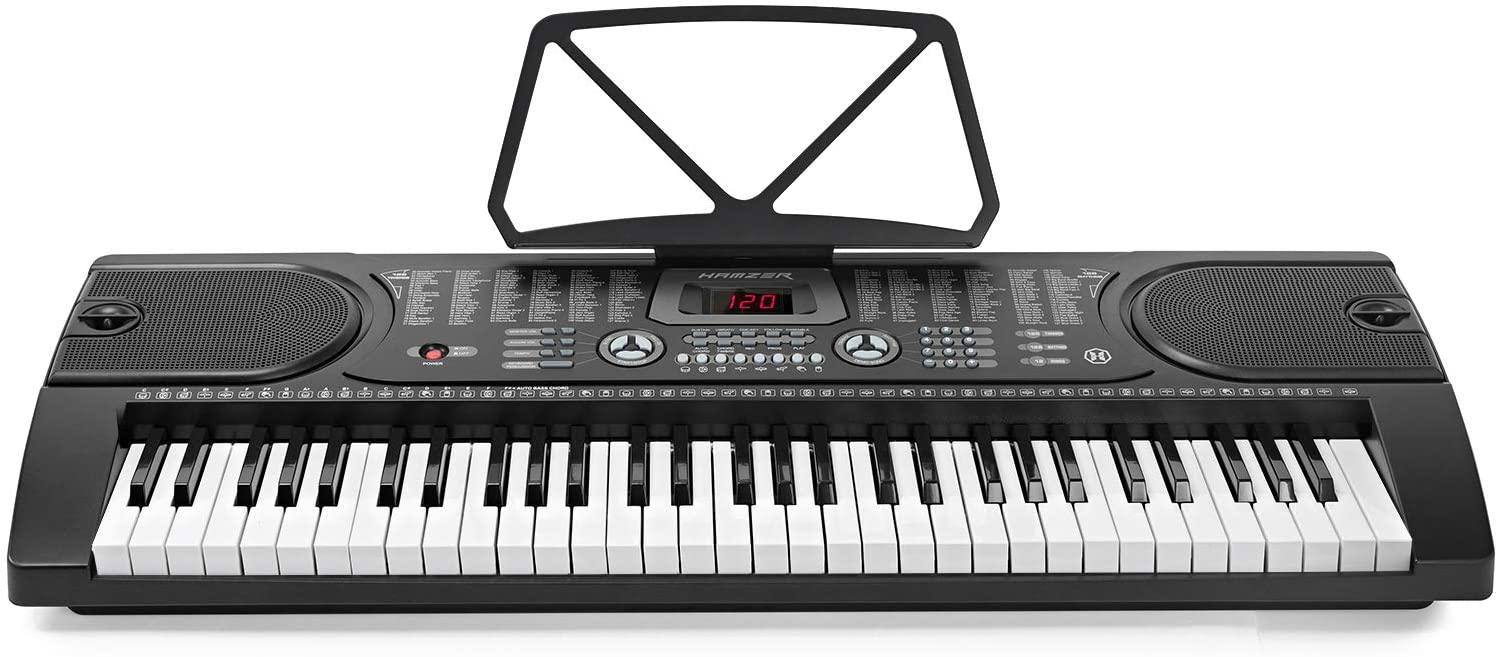 This keyboard has a ton of different effects to pick and create music. This piano includes 255 rhythms, 255 timbres, 61 percussions, and 24 demo songs. Moreover, this also features a learning guide that is suitable for entry-level players. Besides, there is the record and playback feature to make sessions enjoyable.

2. RockJam Portable Electronic 54-Key Keyboard
Keen on buying a RockJam product? Here's a 54-Key Keyboard from the same brand. This instrument is the cheapest alternative that is suitable for newbies and skilled piano players. The piano boasts 100 different sounds, allowing you to switch between sounds to play.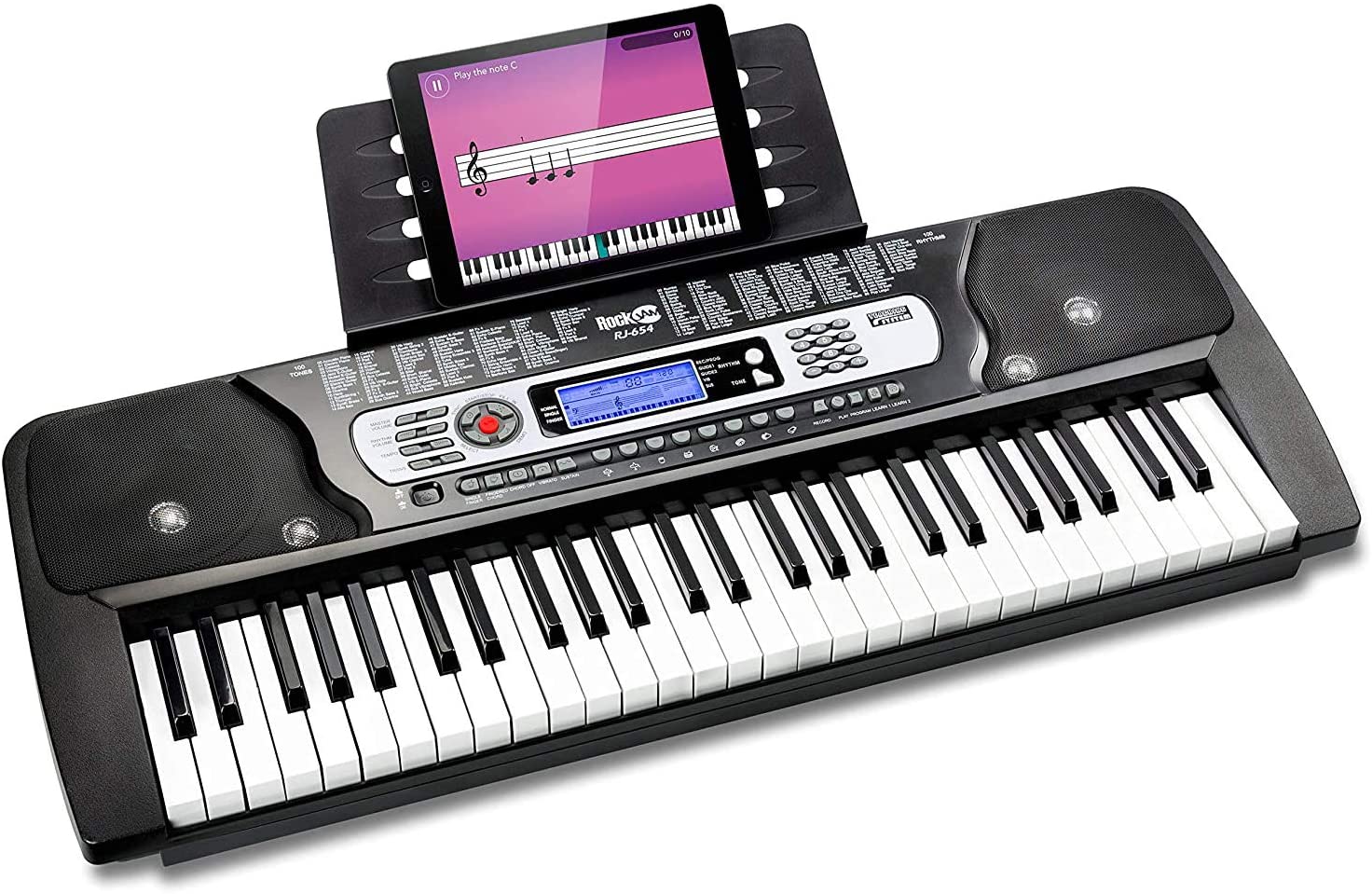 The keyboard has an interactive teaching feature that guides rookies on how to play the piano better. A dedicated stand to place your music sheet and start playing. This instrument also has several outputs, including one for a microphone, speaker, and MIDI files. For someone looking for an alternative from the same brand, this one is ideal.

3. Alesis Recital 61-Key Digital Piano
The last alternative is the Alesis Recital 61-Key Digital Piano. This one is an incredible package with top-notch connectivity features. This instrument comes with learning modes that educate beginners on how to play better.
This piano comes with ten premium sounds, including acoustic piano, synth, and organ. The 61-keys of the keyboard are semi-weighted and touch-sensitive, which can be set according to your preference. The downside of buying this piano is the power cord, which is short and feeble.

---
VERDICT
And that was the review of the RockJam 61-Key Electronic Keyboard. There are more than a handful of reasons to pick this keyboard over other high-end digital pianos. Many beginners are amazed at the quality of the keyboard at such a price.
For aspiring piano buddies, the RJ761 is the go-to option we recommend. Be it a beginner or a beginner's parent; this instrument has all the bases covered. Have a better list of alternatives? Drop the names in the comments section.
---
FAQs
Does the RockJam RJ761 come with weighted and touch-sensitive keys?
The keys of the RockJam RJ761 Electronic Keyboard are neither weighted nor touch-sensitive. However, the keys are semi-weighted, which gives an acoustic piano-like feel.
Does the RockJam keyboard offer connectivity with computers?
Yes. RockJam is known for offering a multitude of connectivity options. The options include a USB port, SD card slot, etc. This seamless connectivity between the keyboard and your computer allows easy transfer of songs and other data.
Do electronic keyboards require tuning?
No. Electronic keyboards do not require any sort of tuning as they work by playing recordings of in-tune acoustic pianos.