The Hamzer 61-Key Electronic Keyboard is built to inspire new musicians with specifications that give expensive keyboards a run for their money. This entry-level keyboard is inexpensive, beginner-friendly, and a great tutor.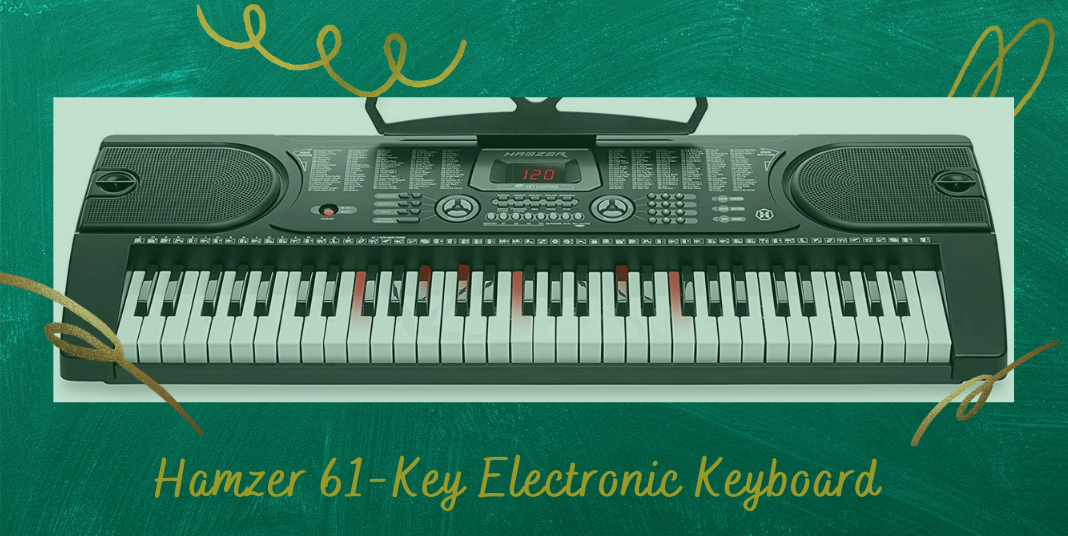 Hamzer's electronic keyboard is home to some of the handiest features that are common in higher-end models. This piano has features that will outsmart many expensive models on the market, from a sleek and detailed LED screen to a split keyboard.
This guidepost will shed light on the keyboard's most dynamic features, which are imperative to every beginner's piano learning journey.
Also Read: Best Digital Piano Under $500 –  Guide to Best Affordable Keyboards
---
Hamzer 61-Key Electronic Keyboard Review
The 61-Key Hamzer Electronic Keyboard is stocked with modern-gen features that make learning fun and entertaining. Regardless of the piano's price tag, this musical instrument is a wholesome present to every novice.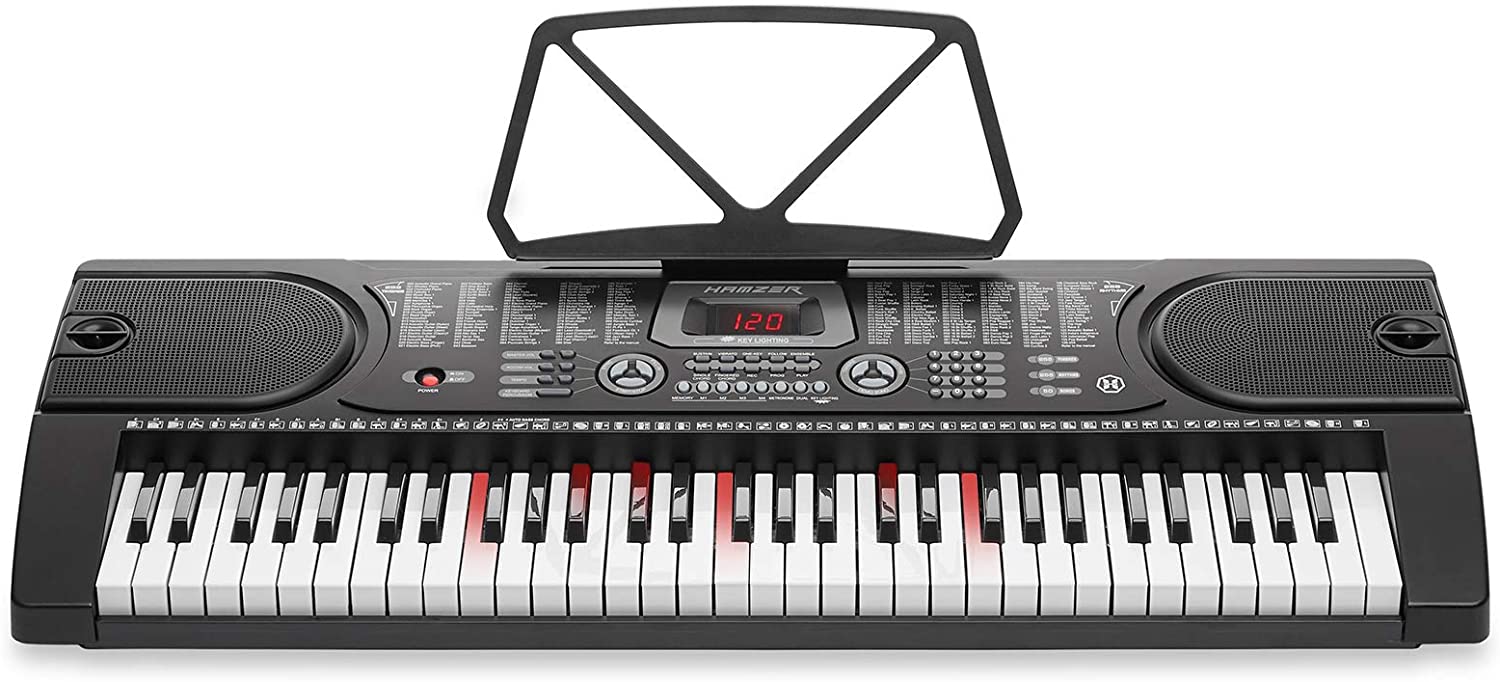 This worldwide-appreciated keyboard is the most preferred choice for musicians to tweak and hone their craft continually. In the following sections, we discuss each of this piano's selling points.
Design
The Hamzer Electronic Keyboard comes with dimensions measuring 33-½ inches in width, 13 inches in depth, and 4 inches in height. This keyboard sports a neat and classic look that makes this identical to a high-profile model. This piano is a lightweight, full-sized keyboard, which happens to be way more convenient for beginners to carry.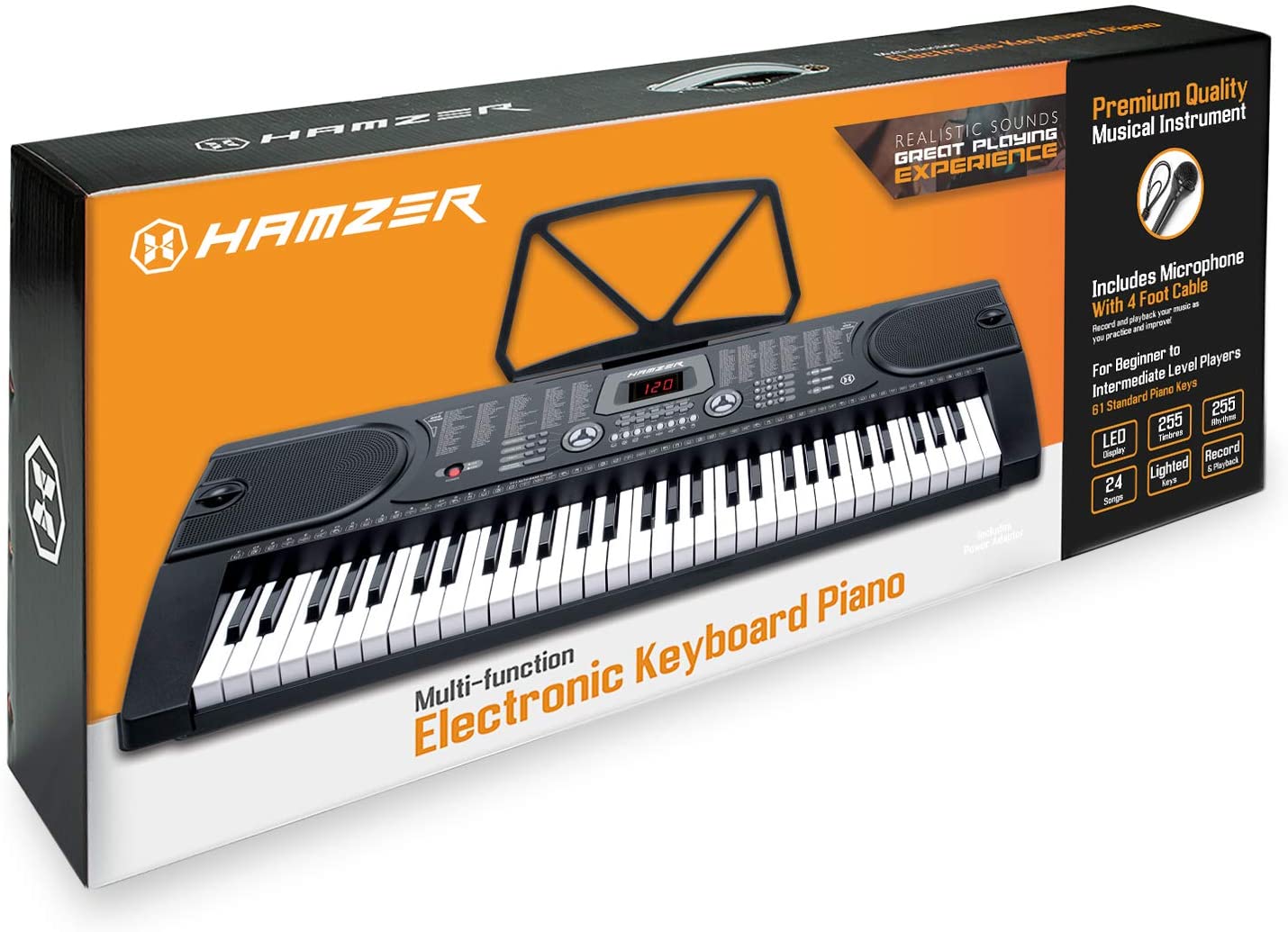 Hamzer's 61-key electronic piano weighs about 8 pounds and runs on batteries, making it easy to carry around. The LCD screen is sitting in the center of the keyboard to monitor the setting, temp, and sound that is being played.
The overall build quality and design of this piano are flawless, and being less weighty — this becomes every newbie's preferred option.
Sound
Musicians never turn a blind eye to the kind of sound that oozes out from their instrument. The quality of sound from Hamzer's piano is relatively decent than most mid-range keyboards.
Supplied with a dual speaker system, this keyboard offers a total of 4W of sound. Per our experiment with this instrument, this sound system was good enough when practicing indoors with limited space. Nevertheless, there is also an option to connect speakers via the port to enhance the sound experience.
Effects
This piano boasts of 100 timbers and 255 rhythms that provide several sounds one can start using. Furthermore, the pre-loaded effects allow you to add your music. For a more entertaining playing experience, the keyboard has 32 adjustable tempo speed, and 8 percussion presets.
The Hamzer Electronic Keyboard is backed by exciting features like chord playing, enabling musicians to play single and fingered chords with an auto-bass feature. Experts find this useful in mastering this art of playing piano as the function allows playing chords using only a finger.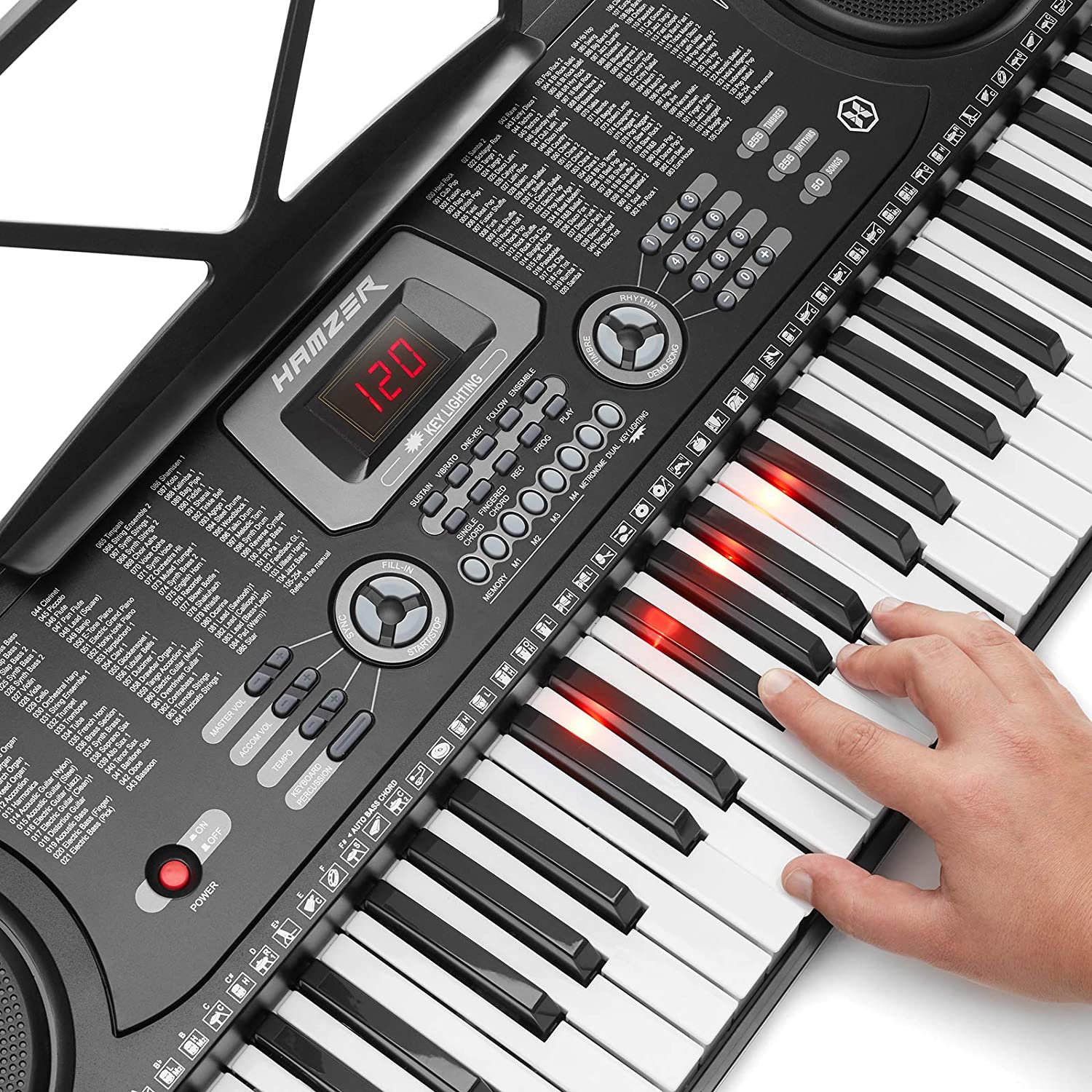 Another exciting feature is the rhythm sync that brings out the best from entry-level and intermediate keyboard players. Additionally, the automatic intro, ending, and fill-in make your music feel a bit more professional. Overall, this keyboard makes piano playing more interesting and offers a ton to begin experimenting with.
Keyboard
The keyboard is the USP of this product. Hamzer's electronic piano features a split mode function that allows your piano tutor to play one-half and you play the other half of the keyboard. Many have claimed this function to be the best for the cost since it makes learning much more comfortable and accessible.
The keyboard comes with 61 keys, which offer a seamless playing experience when playing your own choice of songs. All of the 61 keys are standard in size and make piano playing routines less tiresome.
Connectivity
A highly-influencing decision when making a purchase is the number of connectivity ports. The Hamzer 61-Key Electronic Keyboard Piano features a standard headphone and microphone jack, allowing you to pair the keyboard with an external amplifier for a rich sound experience.
The headphone jack port can also connect with an external speaker and amplifier for a more booming sound. The microphone port allows you to play and sing simultaneously with the downloaded songs.
Additional Features
The Hamzer 61-Key Electronic Keyboard Piano is worth every penny you spend. Featuring an exciting spec. sheet, this lightweight piano ranks slightly higher than our previously reviewed Yamaha PSR-EW300. Below are some of the most exciting features of the piano:
The keyboard is supplied with an integrated learning system that allows musicians to play single-fingered and auto bass to enhance the music. This learning function is crafted specifically for beginners and intermediate piano players.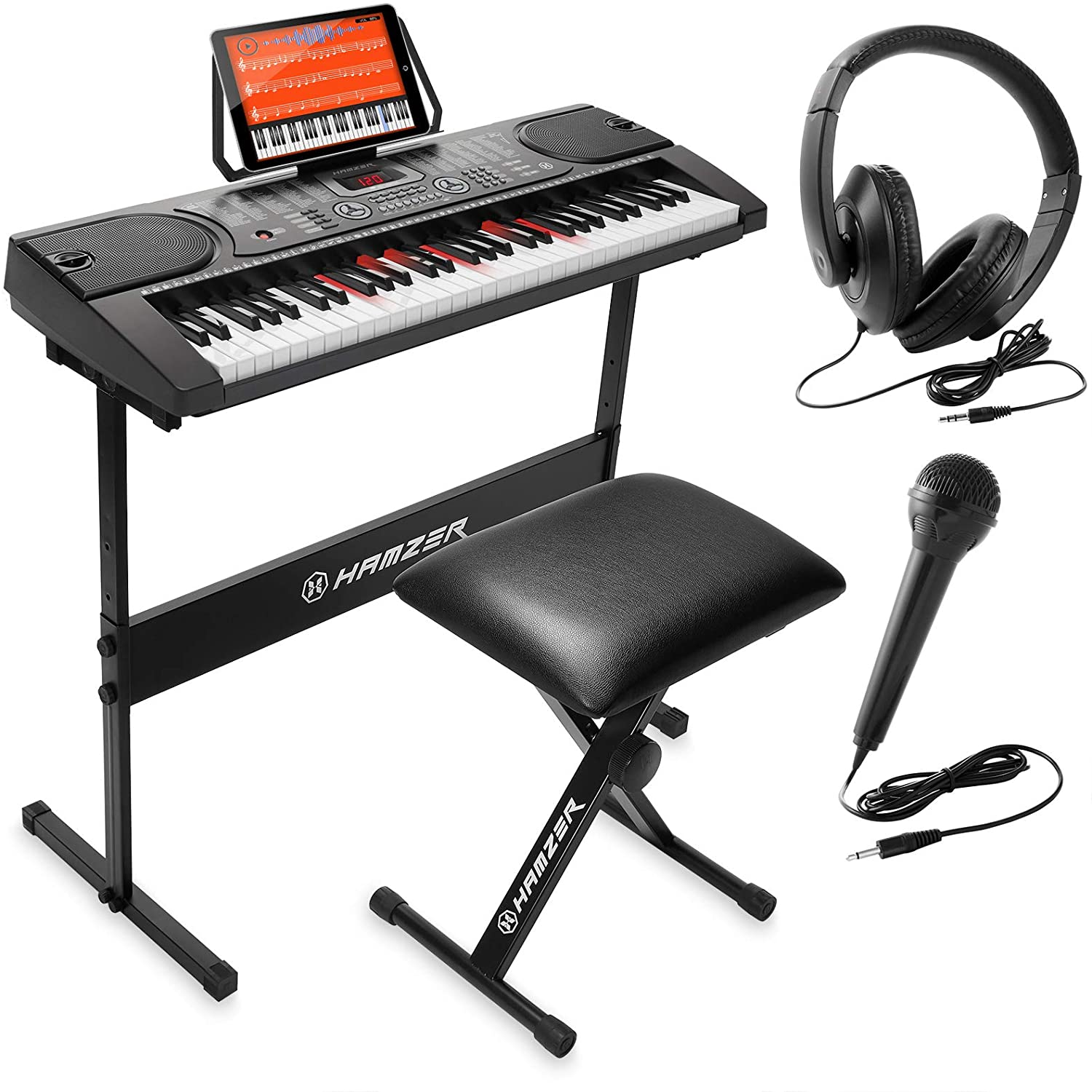 The piano features a few more controls that allow you to tweak sound effects such as vibrato, sustain, and ensemble. These enable you to customize rhythms, volume, and temp. The instrument will enable you to record, edit, and play your own songs.
There is an LCD that is sharp and easy-to-read. This screen provides setting details for trouble-free playing sessions. Hamzer also boasts a sound library of 24 demonstration songs. You also get a detachable sheet music stand, which does not stand in the way of portability.
This instrument comes with a microphone and headphones. Moreover, this keyboard comes with a strong metal stand that can be adjusted to three different heights.
Pros and Cons of Hamzer 61-Key Electronic Keyboard
The Hamzer 61-Key Electronic Keyboard is a nicely crafted instrument that meets all the requirements of a beginner. The offerings of this piano make it more exciting and fun equipment to use. Following are a few pros and cons of this keyboard:
Hamzer 61-Key Electronic Keyboard is a low-key piano created to help beginners and intermediate musicians practice and perfect their skills. Beyond any doubt, this is a recommended option for people with budget constraints. However, there are a few decent alternatives that are also praiseworthy.
---
Alternatives to Hamzer 61-Key Electronic Keyboard
1. RockJam 61-Key Keyboard Piano
Sharing almost similar characteristics, the RockJam Keyboard is the next best option to Hamzer's electronic piano. The piano is compact and boasts smaller keys. The only thing large about this instrument is the bright LCD screen.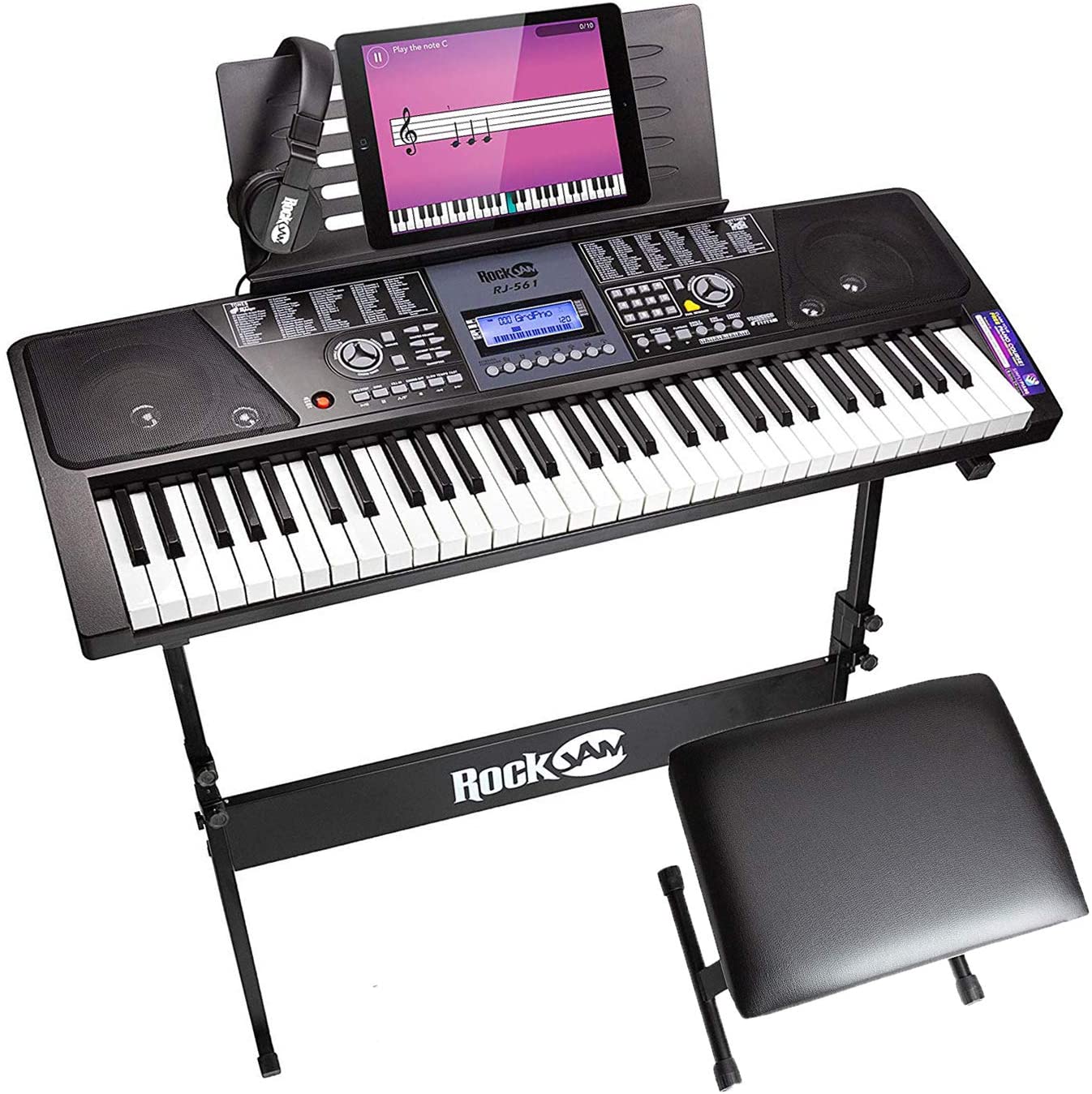 This instrument comes with over 50 demo songs and learning functions to learn and master piano skills. In terms of accessories, this piano arrives with a bench and a keyboard stand. The major upset of this piano is the lack of ports, and the keys aren't touch-sensitive.

2. RIF6 61-Key Electric Keyboard
The RIF6 is another top-notch alternative to the Hamzer 61-Key Electric Keyboard. This piano comes with plenty of exciting features such as a built-in metronome, a library of tunes, and useful learning guides. To enhance creativity skills, musicians can take advantage of the percussion and drum sound kit.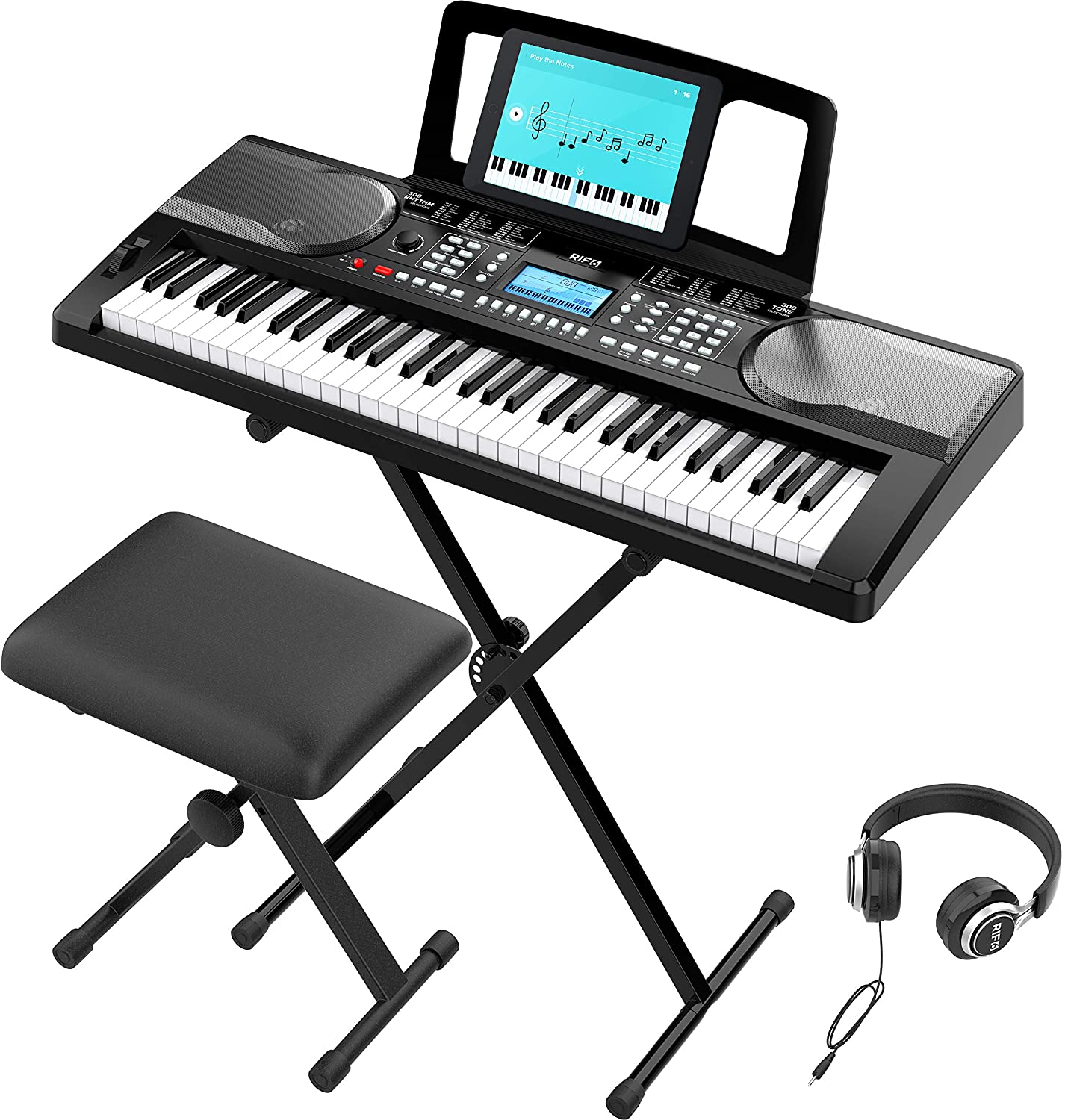 This keyboard comes with two teaching modes that will help beginners learn famous songs and experiment with their chords. The downside of buying this is the flimsy sheet music stand. Moreover, this piano is not the ideal instrument recommended for acoustic musicians.

3. Roland GO: Keys 61-Key Piano
Roland's GO 61-Key Piano is a lightweight, easy-to-carry-around keyboard. This piano includes what most standard piano models miss out on — Bluetooth connectivity. The addition of this feature allows musicians to stream music wirelessly through speakers.

This instrument has an extensive library of 500 piano, electric piano, and organ sounds. The Loop Mix mode also enables musicians to create songs by playing notes on the keyboard. The downside of this piano was the speakers that were a bit sluggish.

Also Read: Casio SA-76 44-Key Mini Personal Keyboard: Kids' Favorite in 2021
---
VERDICT
Beginners have a lot to think about when it comes to buying an instrument like the piano. All said and done; the Hamzer Electronic Piano is our pick for anyone looking for keyboards between 60 to 64 keys.
Have a strong alternative in mind or used one before? Mention your picks in the comments section below. We'll get our hands on it.
---
FAQs
What type of MIDI cord do I require for the Hamzer 61-Key Electronic Keyboard?
The Hamzer 61-Key Piano will require a USB-MIDI cable to connect with your computer or tablet. This port offers you the option of recording or editing the songs .
Is it easy to record on a Hamzer 61-Key Piano?
Yes! The recording is a straightforward process on the Hamzer 61-Key Electronic Keyboard. This instrument has a record button labeled as "Demo, hit this button to start recording. You can use the same button to end the recording. When the memory is full, you will be notified with a message on the display screen.
Are there easy ways to sound like a grand piano on the Hamzer Electronic Keyboard?
Once you switch your keyboard on, you will have the piano as your default settings. To sound like a grand piano, follow these simple steps:
Ensure that the split mode is off to hear notes more clearly.
Use a sustain pedal
Make sure you don't add much reverb.
Besides the steps mentioned above, practice rigorously to become a professional.