Casio has been entertaining both keyboard players and audiences all over the world. Their range of keyboards comes with a unique style and high-quality features. Casio's SA -76 series is known for having best-in-class miniature keyboards.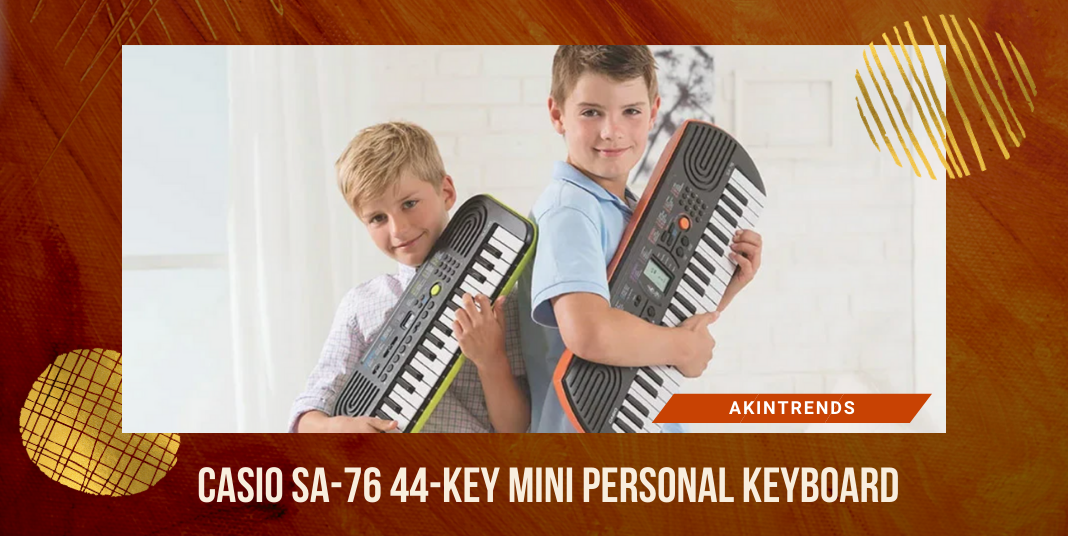 In this review guide, the product in focus is the SA-76 44 Digital Piano. This in-depth review will throw light on the keyboard's design, sound system, features, flaws, and more. Also, we share a few alternatives that will help you with the comparison.
---
Casio SA-76 Digital Piano Review
Marketed as a beginner's keyboard, Casio SA-76 is a fun, portable, and durable keyboard that sticks around for years to come. This miniature-sized keyboard has 44 full-sized durable keys that help to compose melodious notes. Read on as we break down each aspect of this keyboard.
Design
This is a compact little keyboard that fits comfortably across all sizes of rooms. The SA-76 is a perfect musical gear for a kid's petite fingers and lap. The keyboard is half the full-fledged keyboard size as it has dimensions measuring 23.78 x 2.25 x 8.3 inches.

This one is ideal for the on-the-go musicians — the weight is slightly over 3 pounds, making it a good piece of gear around concerts and travel. This keyboard is available in funky and pleasing colors that may match your kid's vibes.
Overall, the design and outlook of the piano is made specifically keeping in mind young piano players. If you have a kid aspiring to be a pianist or you have itsy-bitsy hands, the Casio SA-76 is a suitable choice.
Keyboard
The Casio SA-76 features 44-keys, all of which are non-weighted and without touch-sensitivity. This digital piano is for younger players learning on their hand and finger coordination. This is a fun little keyboard great for children in kick-starting their career with basic functionalities and have no trouble overreaching to different keys on the keyboard.
Sound
Sound is among the highest-selling points of a piano. Casio's miniature-sized keyboard packs beautiful sounds to make piano sessions interesting and enjoyable. SA-76 has 100 built-in instrument voices and 50 built-in rhythms, allowing young musicians to create and explore new compositions.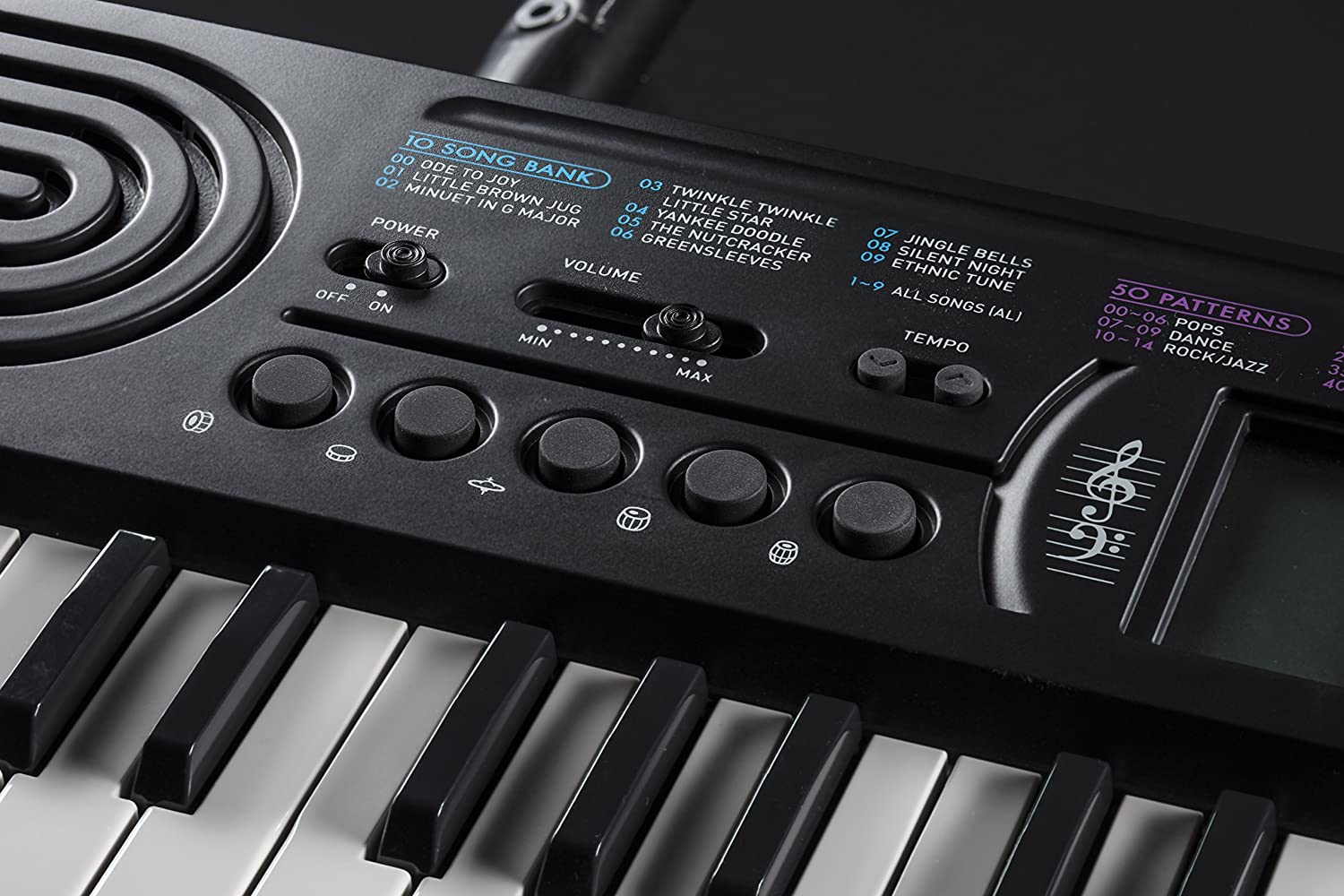 In addition, the keyboard contains five different drum pads that can be accessed via a touch of the button. This instrument comes preloaded with ten practice tunes, enabling players to practice songs by choosing from different music styles.
The Casio SA-76 features eight levels of polyphony that work great for beginners. This feature lets beginners play by mixing and playing all the keyboard notes at the same time. All in all, the levels of polyphony on this is fewer than many full-fledged models; the SA-76 is still the best bargain.
Speakers
Speakers are another pivotal part of a digital piano. Casio has, for decades, been creating exceptional keyboards with powerful speakers. The SA-76 comes with two 1.2 watt speakers that are more ideal for children and beginners.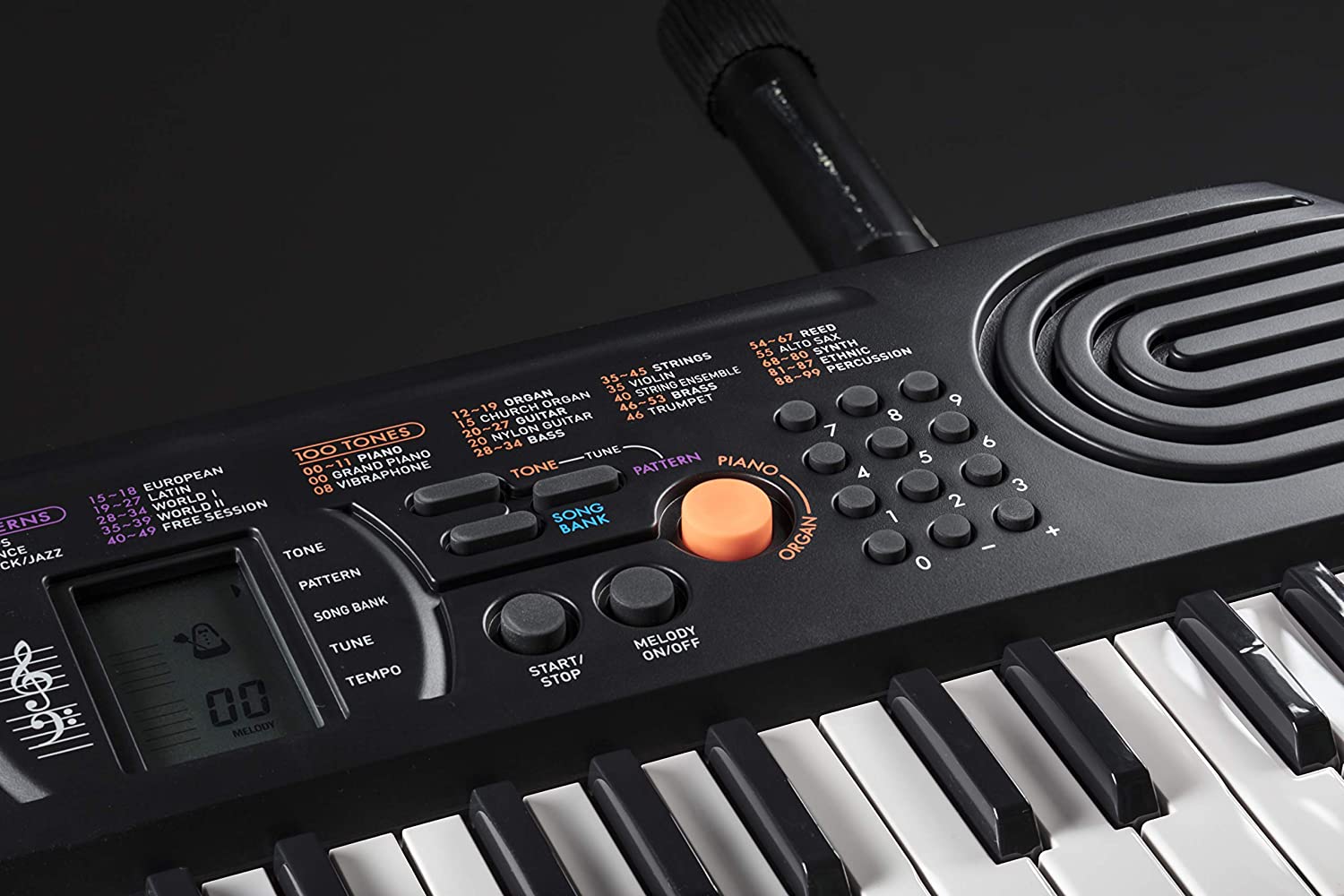 The weird positioning of the speakers may throw a question on the quality of the product. Speakers on this piano cover about 33% of the area of the keyboard's top. That being said, that area could have been utilized to add more features to the control panel.
Connectivity
The only gripe about this keyboard that many players have is the lack of connectivity options. This digital piano does not arrive with USB or computer connectivity. Nevertheless, this piano boasts a headphone jack that is imperative to players wanting to practice in private.
Additional Features
Casio SA-76 is easily the most travel-friendly musical instrument for kids or young piano players. This little keyboard has a list of unique characteristics that make it stand out from the rest. Without further ado, here are some interesting features that are intended for a novice keyboard audience.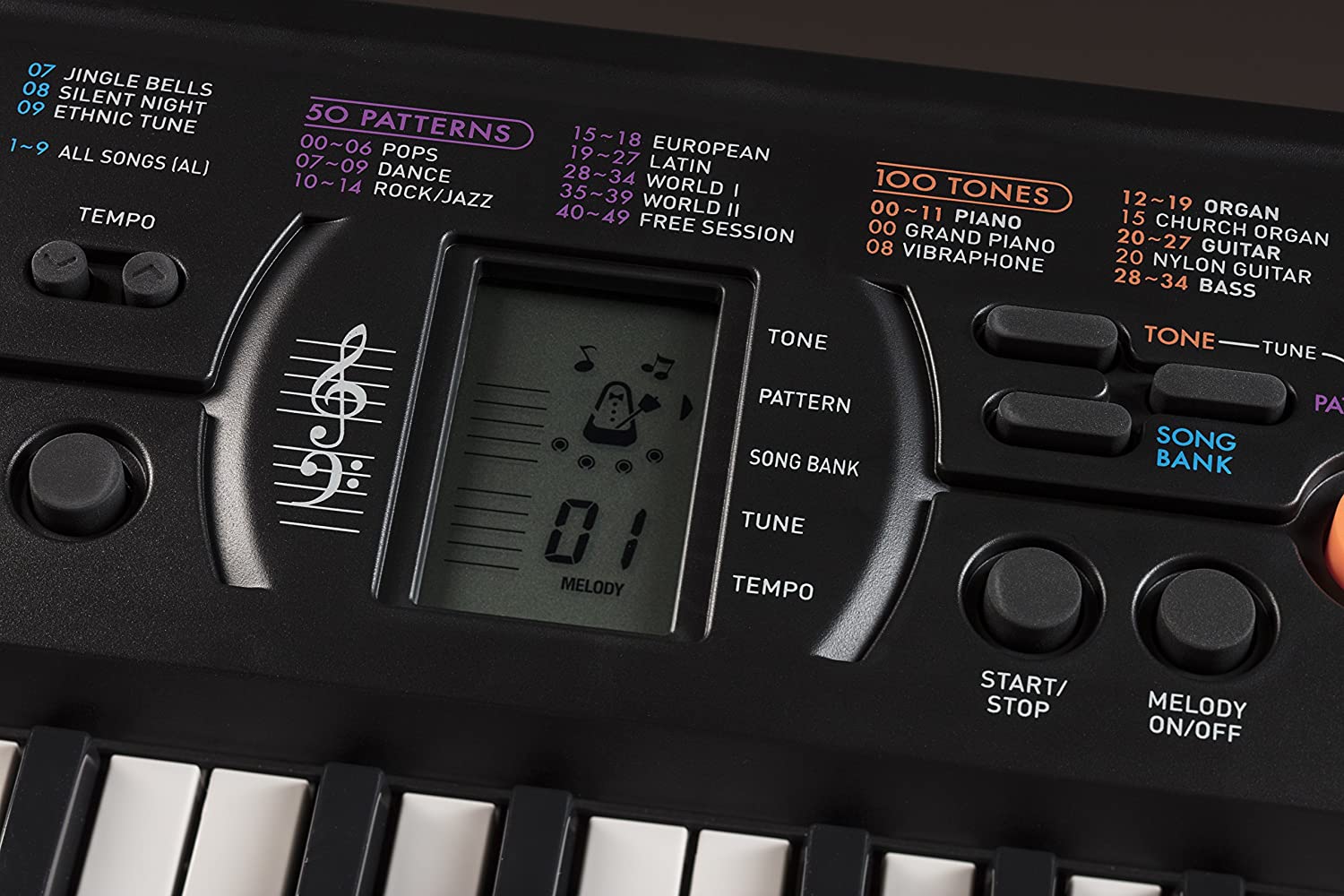 This keyboard features an LCD screen and clear labels for beginners to identify and change the settings comfortably. This instrument comes with the Melody Cut Rehearsal system that assists kids in their piano learning journey. This system music aspirants to train with their right hand with the ten preset songs included with the piano.
The keyboard has a Piano/Organ button, which lets you quickly change modes without skimming through the menu. Moreover, this also allows you to adjust the tone or temp to tweak the keyboard's sound.
Pros and Cons of Casio SA-76 Digital Piano
The Casio SA-76 is parents' pick to help their kids with piano sessions. This keyboard comes at a budget-friendly price tag that, to us, is the biggest positive. Following are the keyboard's benefits and drawbacks:
Casio's SA-76 plays an indispensable role in sharpening the craft of wannabe pianists. Without a doubt, this keyboard is the best available on the market, considering — price, compactness, etc. In case you are looking for better or on-par options, check out the following alternatives.
Also Read: Best Digital Piano Under $500 – 2021's Guide to Best Affordable Keyboards
---
Alternatives to Casio-76
1. Yamaha Mini-Key Keyboard PSS-F30
Yamaha has everything on offer — be it for kids or adults. The PSS-F30 from the house of Yamaha comes with a range of preset songs, which are highlights of this keyboard. This piano features 120 different voices and 114 styles, offering tons of options to keep young players engaged.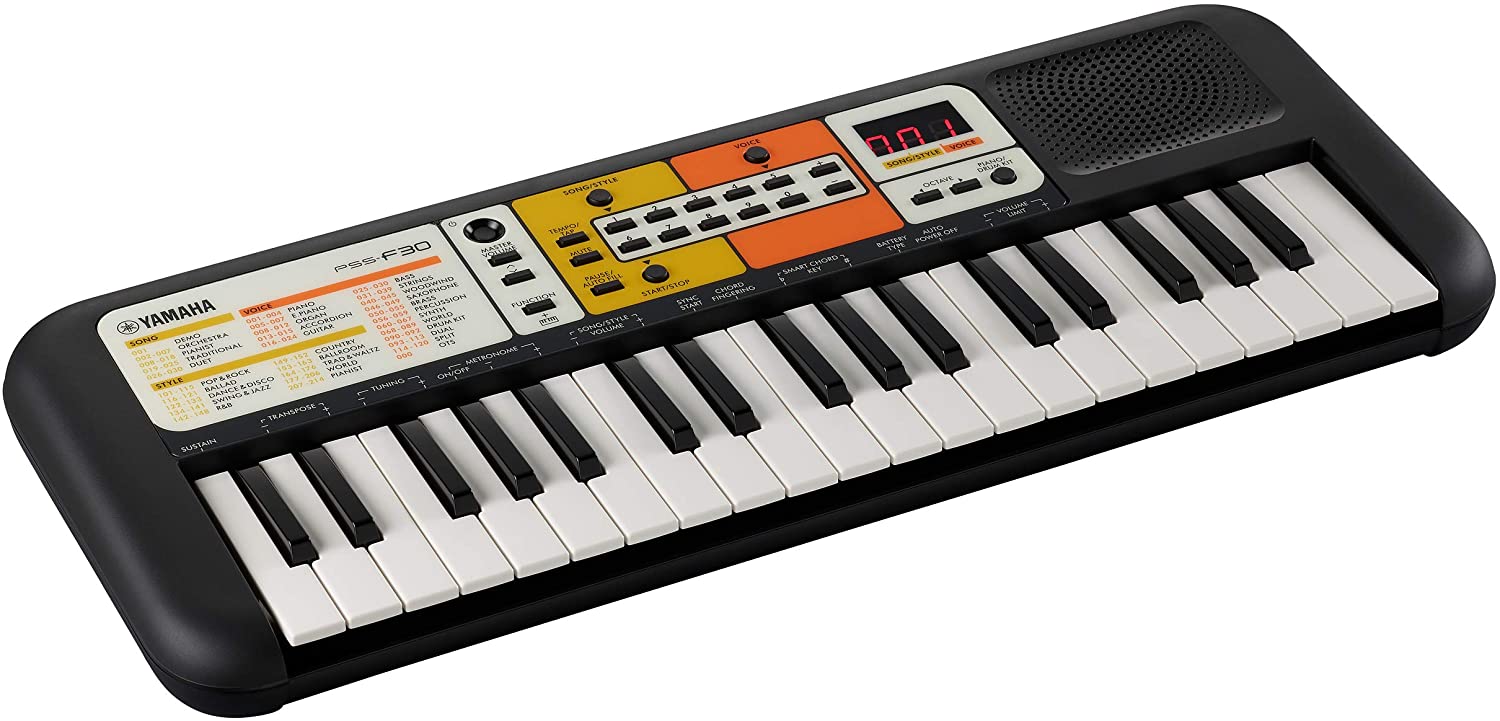 The PSS-F30 has a Smart Chord feature that allows kids to play full chords by simply pressing one key. For seamless connectivity, this piano comes with a USB port and headphone jack. Like the SA-76, this mini keyboard has keys without touch-sensitivity.

2. Casio SA-46 Portable Keyboard
Casio's SA-46 is represented as the smaller version of the SA-76 but with fewer keys. The number of keys on this keyboard allows kids to play their tunes without utmost freedom. This keyboard comprises 100 timbres, 50 rhythms, and five drum pads.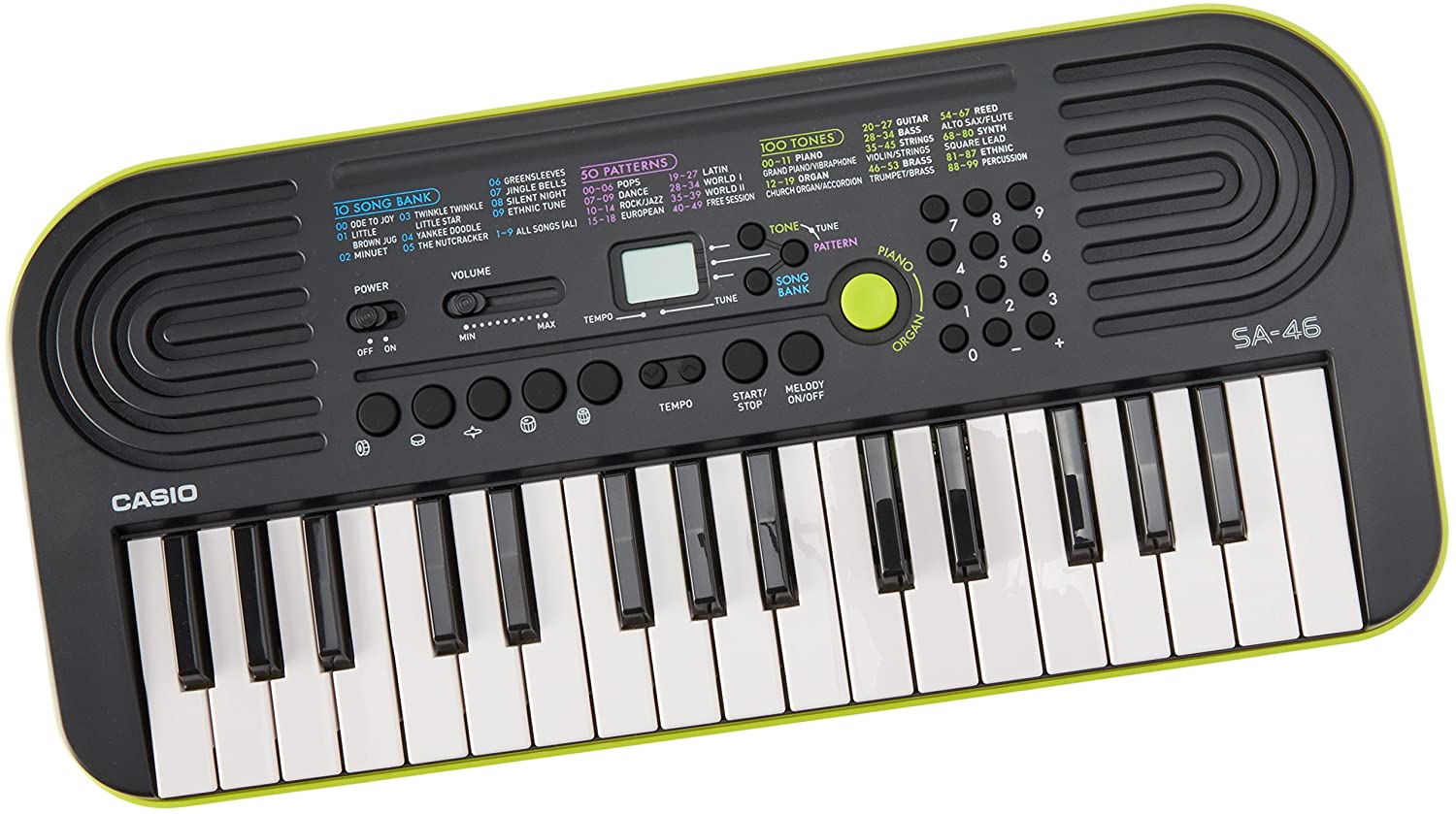 The SA-46 has the same eight levels of polyphony that may not be ideal for playing intricate melodies. In terms of connectivity, this only has a headphone output. We recommend buying this only if you have toddlers around.

---
Highlights of Casio SA-76
The 100 pre-recorded voices and 50 rhythms allow great mix and match.
The central LCD screen tracks and displays the setting.
Entertaining to both kids and adult who are learning keyboard
This is a compact and lightweight instrument; easy for transportation.
Has a headphone jack; practice in peace.
---
VERDICT
A brand like Casio needs no introduction. The SA-76 is an investment we recommend taking. The size and price tag associated with this electric piano are hard to beat.
This keyboard is popular and present on most "best keyboards under $100" list. Is there a better alternative than those listed here? If yes, mention those in the comment section.
---
FAQs
What's included in the box of Casio SA-76?
The Casio SA-76 does not come along with any accessories. Moreover, the keyboard also does not feature a power cord. The recommended power cord — Casio ADE95100 must be purchased separately.
What are all of the songs pre-loaded in the Casio SA-76?
The Casio SA-76 comes with ten preset songs; here are those:
Ode to Joy
Little Brown Jug
Minuet in G Major
Yankee Doodle
The Nutcracker
Twinkle, Twinkle Little Star
Greensleeves
Silent Night
Ethnic Time
Jingle Bells
Also, this digital piano includes 100 built-in instrument voices and 50 built-in rhythms.
How wide are the white keys of the Casio SA-76?
All keys of Casio SA-76 are a lot smaller than a piano, not even equivalent to a regular size keyboard. This digital piano is more for a child. The Casio keyboard is 23 1/2" long and keys are 3/4" wide.