Finding a good digital piano under $5oo with essential features and at an even affordable price is not an easy job. A Digital Piano Under $500 with extraordinary features is a mouth-watering sight to a beginner.
As the market is inundated with tons of pianos under this bracket, we have carefully selected the finest of them all. In this article, we share a list of factors to consider, followed by a list of the best pianos under $500. This article serves as a pitstop to beginners looking to invest their money in inexpensive yet feature-rich musical instruments.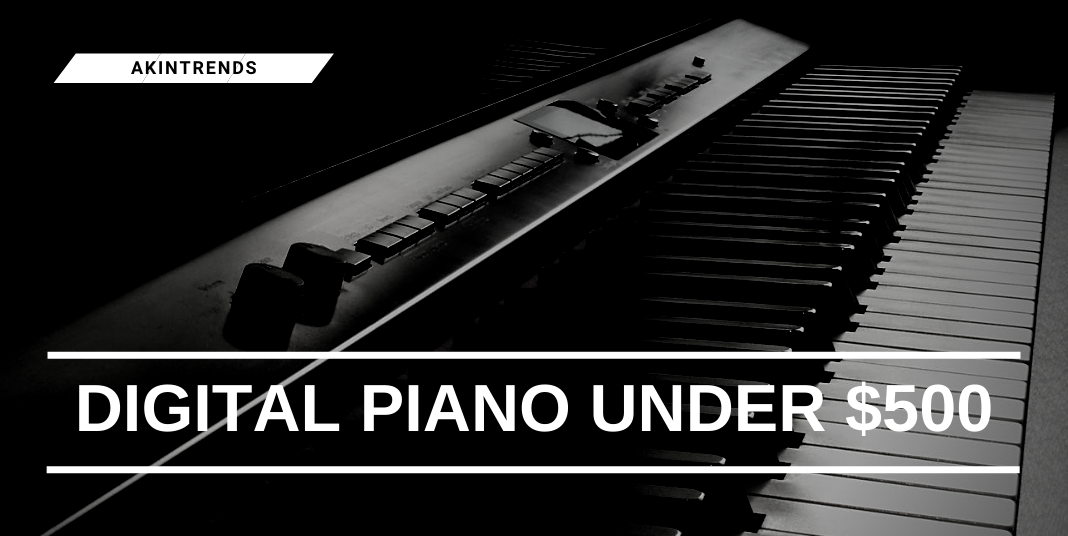 ---
Guide to Choosing The Best Digital Piano Under $500
Buying the best digital piano under $500 isn't a simple task — several factors are to be considered. To save your time and effort, we have listed few factors that shouldn't be overlooked when buying a piano:
Number of Keys
The significant difference in keyboards is the count of keys they come with. Keyboards are ranging from 61 to 88 keys. Beginners may find a 61-key keyboard ideal, while advanced players are more suited to an 88-keys keyboard.
Portability
A keyboard under the $500 mark is specifically a beginner's musical instrument. Beginners require something portable. Some metrics to consider for portability are — the keyboard could be about 25 pounds or has to be powered by batteries.
Variety of Sounds
A keyboard with maximum sounds and voices is the best option. There are quite a few keyboards under $500 that include over 500 distinct sounds like pianos, guitars, drums, bass, synths, and more.
Also Read: Casio SA-76 44-Key Mini Personal Keyboard: Kids' Favorite in 2021
---
Best Digital Pianos Under $500
The products that are worthy of the title "Best Digital Pianos Under $500" are many. The following are the best-selling and most effective instruments for beginners and professionals. Pick one before they run out!
1. Yamaha P-45 88-Key Weighted Action Digital Piano
Topping the charts is the P-45 from the house of Yamaha. The P-45 is a feature-rich musical instrument that provides more than what a beginner or an advanced player would ask for. Sporting an elegant and lightweight design, this keyboard weighs about 25 pounds — not a hard job carrying around.

This piano boasts 88 keys with Graded Hammer Standard action, making it sound like a real piano. The P-45 is driven by the AWM stereo sampling engine that helps in capturing realistic instrument sounds.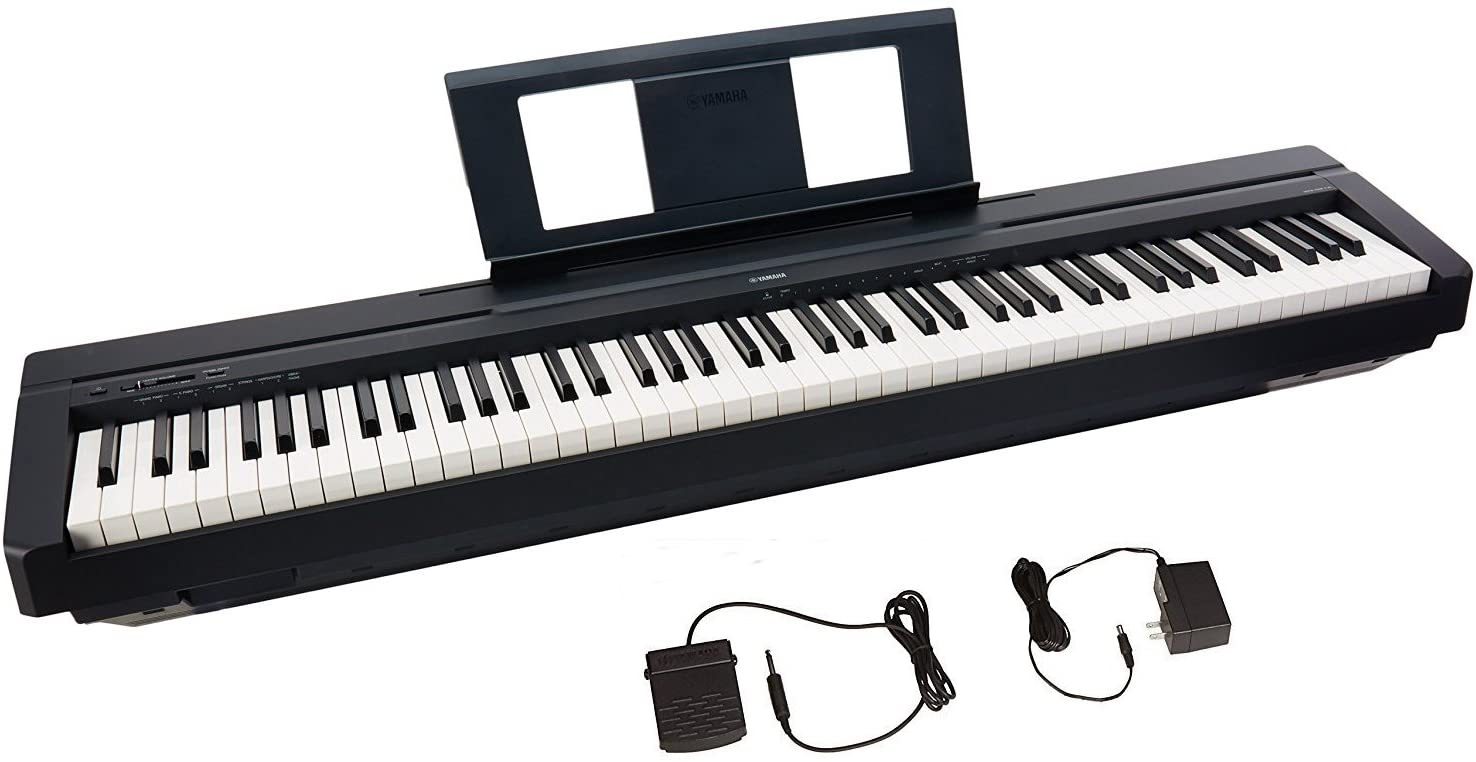 This keyboard includes 64-notes of polyphony that is considered underwhelming at this cost. In terms of accessories, the P-45 arrives with an AC power adaptor, a sustained footswitch, and a music rest.
2. RockJam 88-Key Digital Piano
RockJam 88-Key Digital Piano is budget-friendly and the most popular option available on the market. This digital piano features 88 fully-weighted keys that offer realistic touch responses when playing a variety of sounds. This piano comes with 60 built-in songs, which makes learning a better exercise.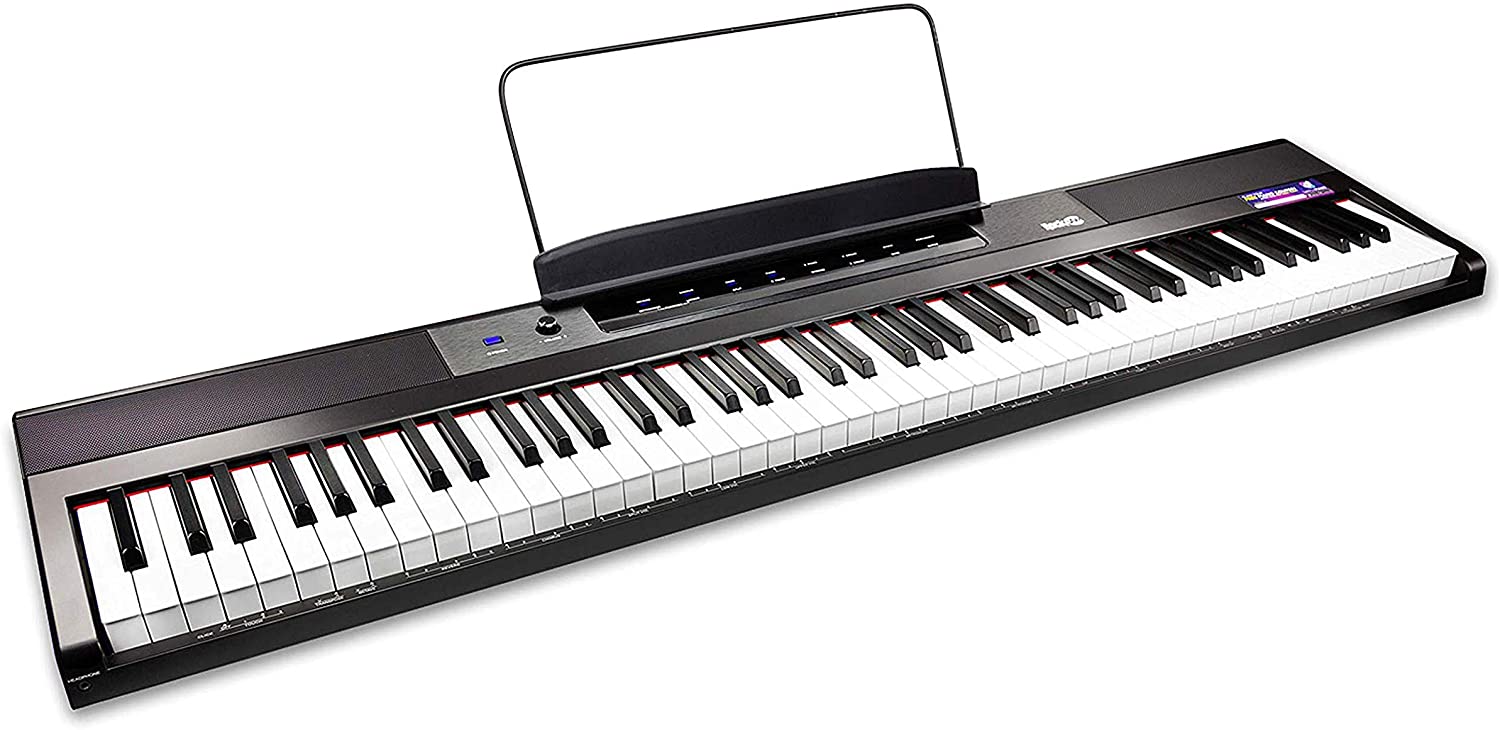 As far as connectivity is concerned, this keyboard has a MIDI output, USB port, and quarter-inch jack for headphones. There is an option to split the keyboard, which isn't common in keyboards at this price range.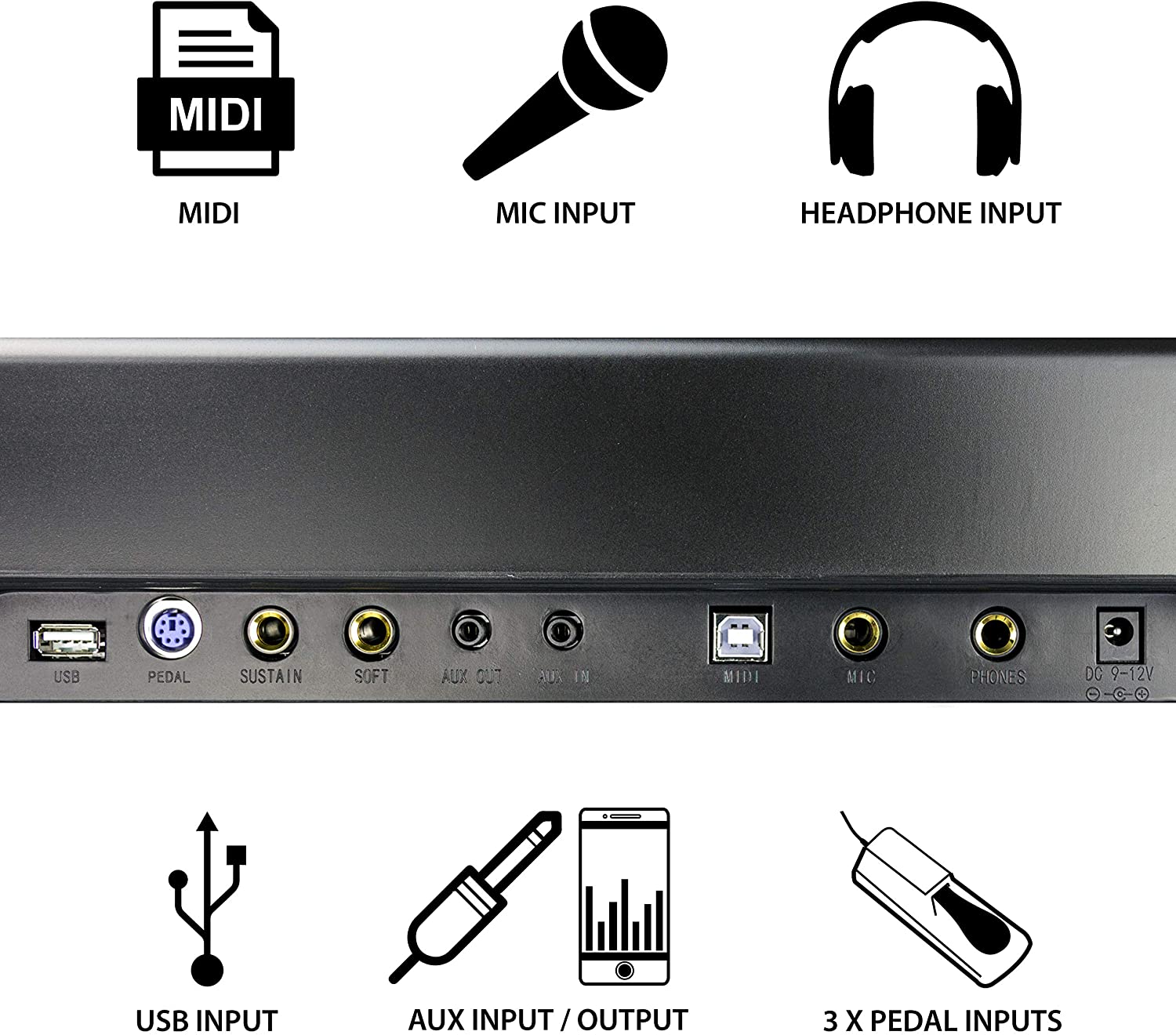 Moreover, this keyboard provides free application access to beginners to help them learn quickly and interactively. Overall, the RockJam 88-Key is a pretty nifty option to consider for beginners looking for a reliable option within the $500 price bracket.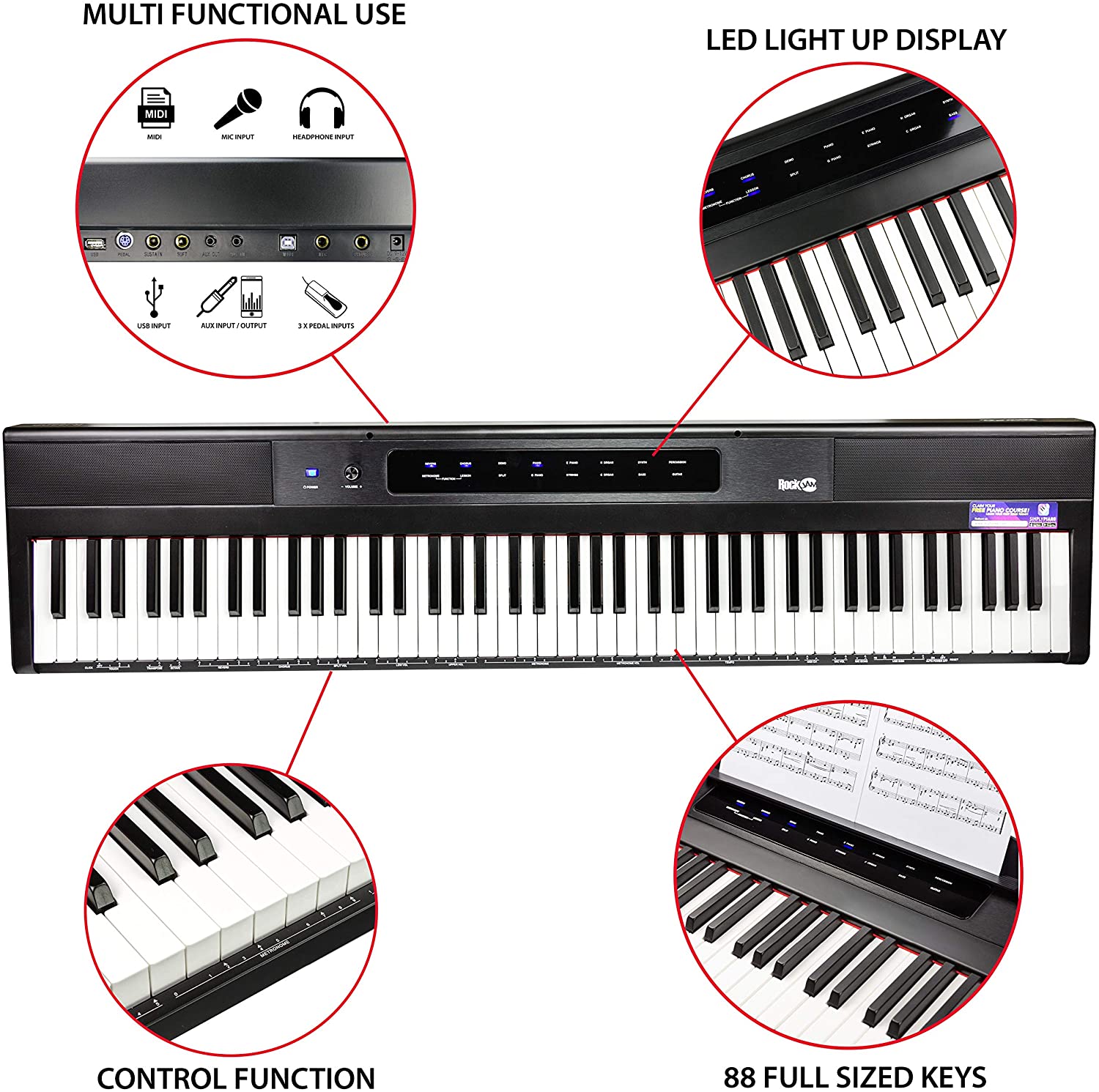 3. Alesis Recital Pro
Featuring third on the list of best digital pianos is the Alesis Recital Pro. This digital piano has a fully-weighted 88-keys keyboard with an adjustable touch-sensitive response. The response can be customized to any of these options — soft, medium, hard, or off. This keyboard comes with 12 built-in sounds, which call for a grand piano playing experience.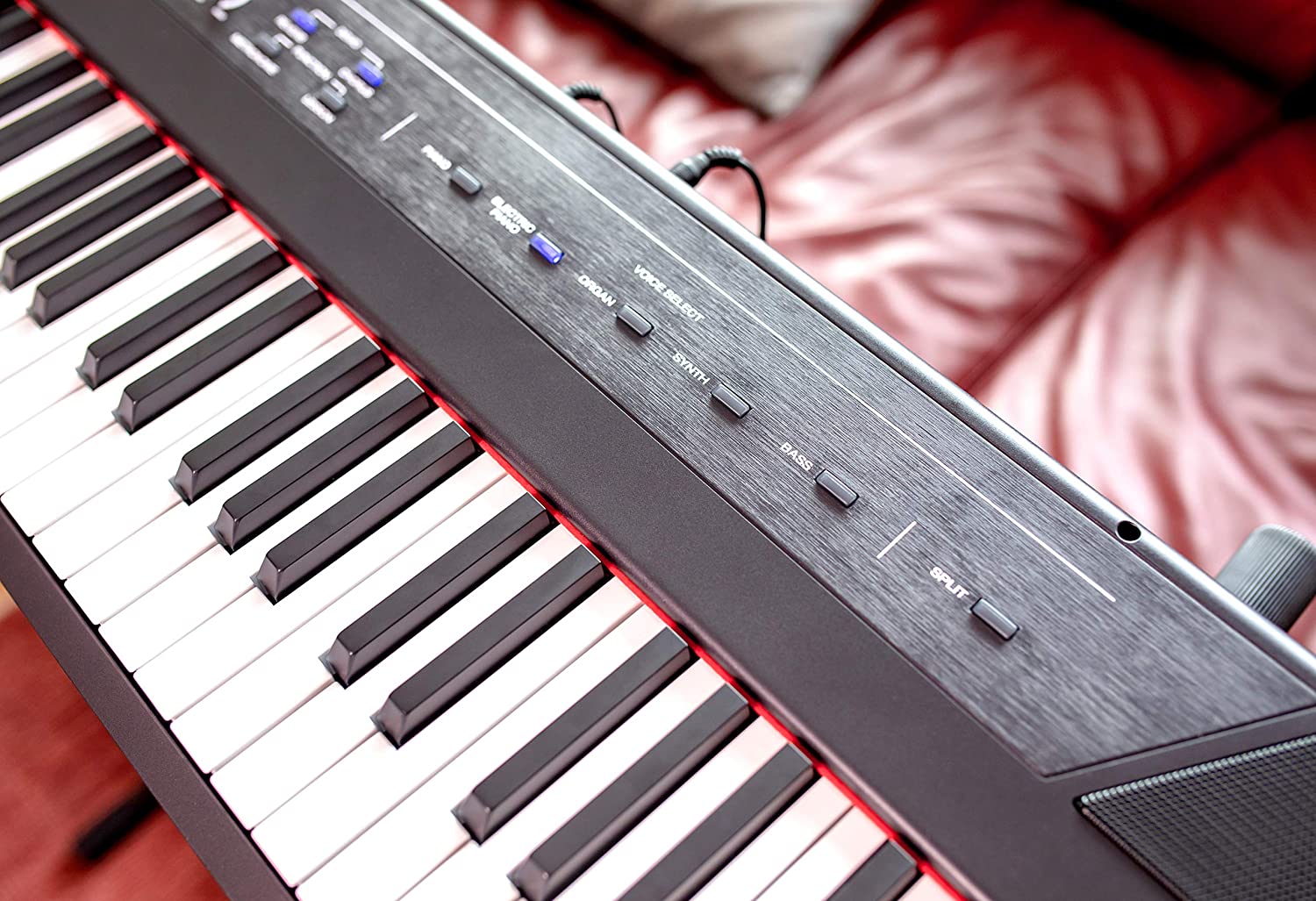 The Recital Pro has the split, layer, and lesson modes that work in favor of beginners. This is a highly-recommended digital piano for beginners, as it comes with a three-month subscription to Skoove, an interactive platform for piano lessons.
The MIDI controllers are useful as electronic recording software — connect the piano to a computer using a USB cable and strike the keys. All in all, this is an excellent keyboard with features that make life easier for first time piano players.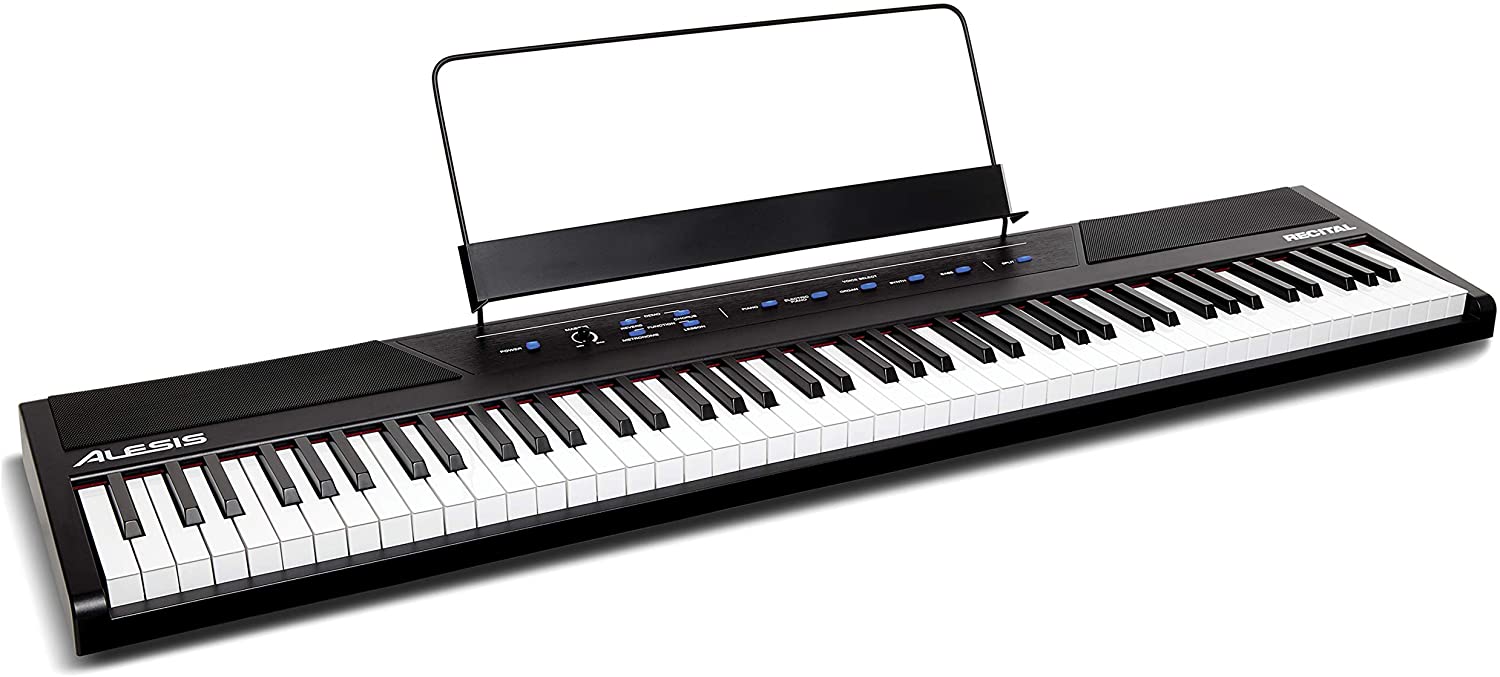 4. Yamaha PSR-EW300 SA 76-Key Portable Keyboard
Yamaha is a value for money brand that has instruments ranging from hundreds to thousands of dollars. The PSR-EW300 comes with a 76-keys piano and is an upgraded version of the Yamaha YPG 235. The piano comes with three modes — Dual, Duo, and Split.
The piano has a song library of 165 styles and more than 500 built-in instrument voices, including 197-panel sounds, 18 drums and effects, 20 arpeggios, and 339 XGlite voices. The PSR-EW300 has the 'One Touch Setting' feature that lets you access all your saved settings by merely hitting a button.
With regards to connectivity, this digital piano features an audio output jack and a MIDI-USB port. On the downside, this keyboard lacks wireless connectivity. This keyboard does a seemingly good job as an entry-level keyboard.
5. Williams Legato 88-Key Digital Piano
Williams is a lesser-known brand that has a lineup of affordable yet top-quality digital pianos. Legato has full 88 semi-weighted keys that may not have the kind of realism as high-end models. This keyboard has five built-in sounds such as piano, electric piano, synth, organ, and bass.

The piano has a Split Mode that enables players to use two distinct sounds simultaneously from different sides of the keyboard. Legato comes with essential connectivity options — stereo/mono line out jacks and USB-MIDI port. This keyboard arrives with reverb and chorus effects, which can also be turned off.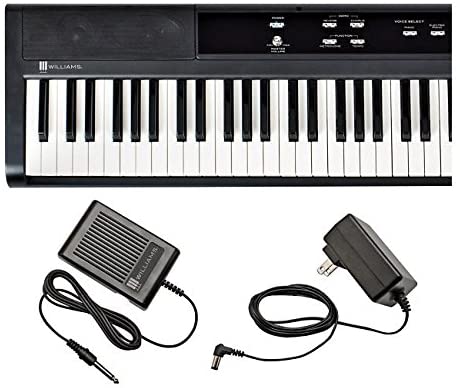 This digital piano can be played with an AC adaptor or battery, both of which are to be purchased separately. Williams Legato is a nifty tool for beginners to practice and develop their piano playing skills.
6. Yamaha NP32 76-Key Portable Keyboard
NP32 76-Key Portable Keyboard is another powerhouse from the most highly respected brands in this industry — YAMAHA. Like the brand's fascinating features, this piano also features a single-track recorder, layer mode, custom tunings, headphone, and a USB to host port.


The keyboard comes with 64 notes of polyphony, which may not be recommended to play or explore intricate melodies. The NP-32 has 76 semi-weighted keys that feature Yamaha's Graded Soft Touch key bed.
The connectivity options here are not that pleasing to a specialist — there is a headphone jack, sustain pedal, and a USB to a Host connector. The major upset — the headphone jack is on the rear, and sustain pedal is an extra accessory.
7. Artesia Performer 88-Key Portable Piano
The Artesia Performer 88-Key Portable is a sleek and exceptional piano coming at an affordable price tag. The piano has beginner-friendly controls and provides access to a variety of sounds via a mobile app. This digital piano comes with 32-note polyphony, which is ideal only for beginners.

The Artesia PA-88 features 3D stereo instrument samples that deliver a more natural and convincing feel. This keyboard includes 12 built-in instrument voices, namely harpsichord, church organ, rock organ, guitar, bass, and a few more. Besides, the piano also includes customizable reverb and chorus effects.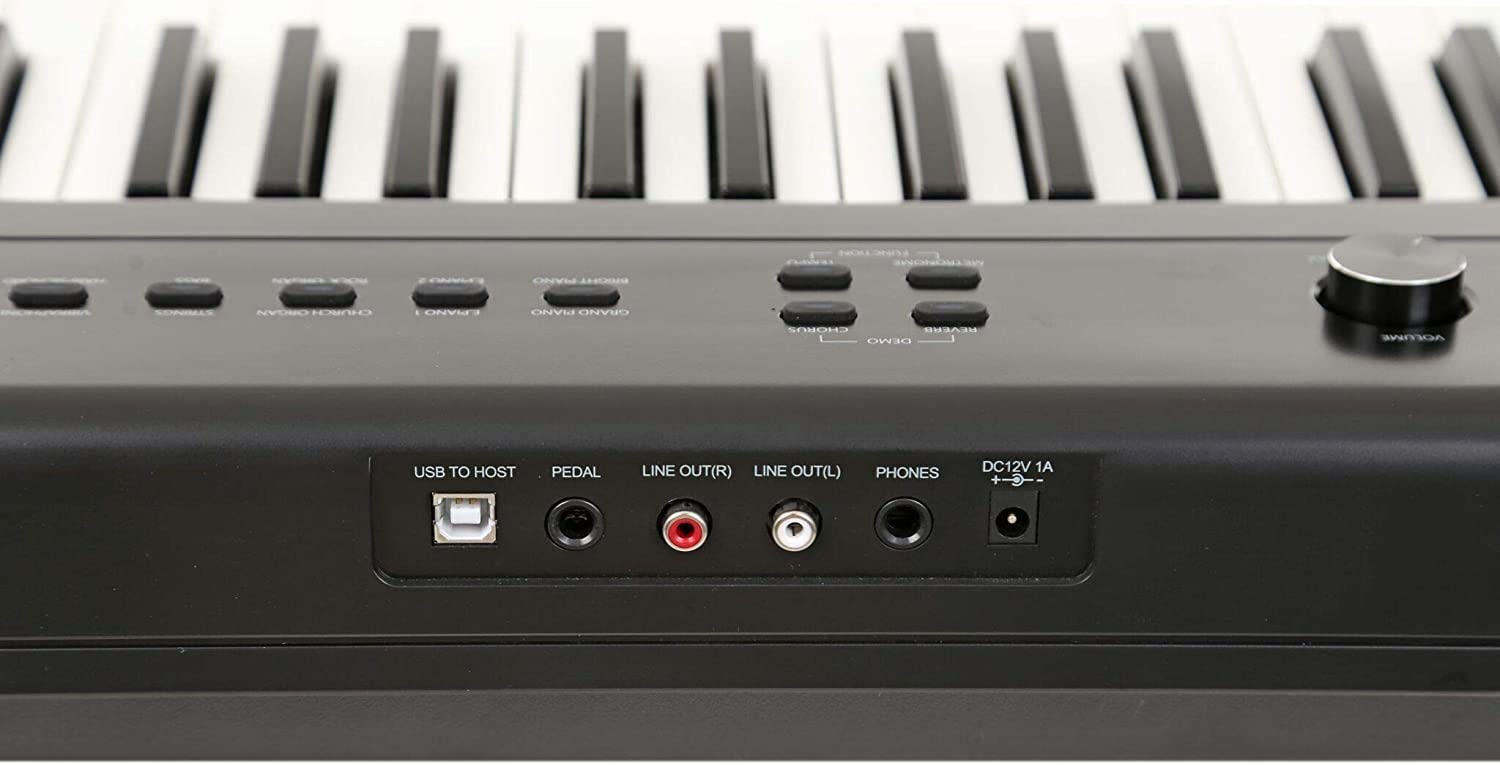 The PA-88 has the Split and Layer mode, helping players compose more melodic music. The piano is compatible with most music software (DAWs) through the USB port.
8. Korg B2 Digital Piano
Korg's B2 is the upgraded version of the brand's most famous model — B1. B2 is a lightweight option weighing about 25 pounds. This digital piano has an 88 fully-weighted keyboard with Natural Hammer Action (NH), identical to Yamaha's GHS action.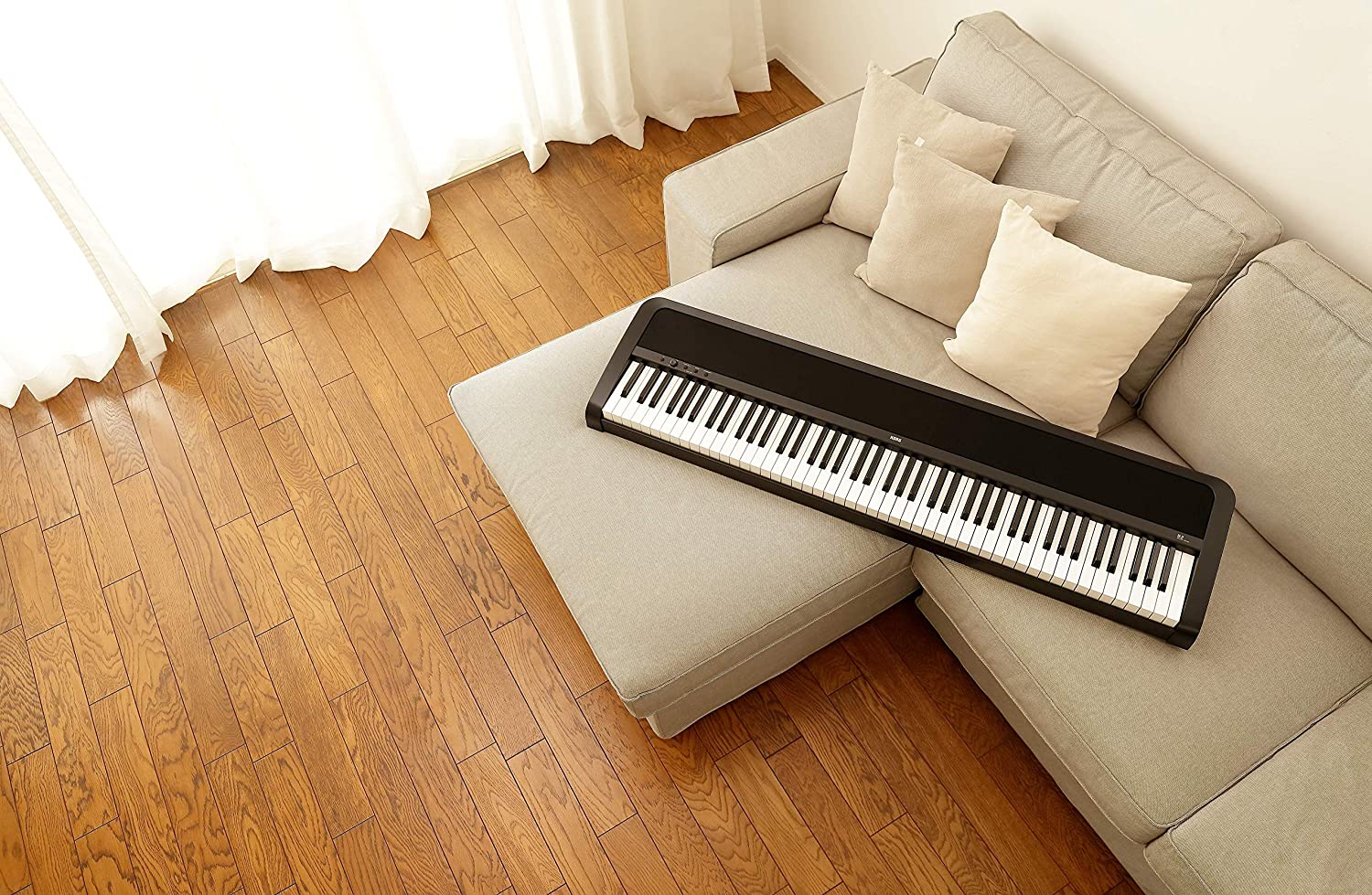 The keyboard comes with 12 preset voices (four more than its predecessor), namely electric organ, pipe organ, orchestral strings, and a few more. B2 features a Partner Mode that divides the piano into two halves — both having the same key range.

For connectivity, this keyboard has a ⅛" headphone jack that can double for external amplifiers or speakers. There is a pedal jack, a USB Type B port to support MIDI and Audio files exchange. Moreover, you also get a three-month free subscription to an online piano coaching platform.
---
CONCLUSION
A piano that meets all your needs within a specific budget is hard to find. The products we shared above are a notch above the standards of a beginner's expectation.
The Yamaha P-45 is a compelling instrument that has everything a pianist needs from a keyboard. RockJam 88-Key  another Digital Piano Under $500 is an option that is worth investing your hard-earned money.
Make sure you carry your research before buying a product. If there's a worthy product we missed out on, write it in the comment section.
---
FAQ for why to buy a Digital Piano Under $500
Is it easy to pair a digital piano with a computer?
Yes. Pairing a digital piano to a computer is a straightforward process; however, it does depend on the type of piano you are using. Keyboards with MIDI functionality offer connectivity with software programs. In order to perform this action, you will require a USB or MIDI cable that is readily available on the market.
Is it necessary to tune a digital piano?
No. It is not advisable to tune a digital piano. Each of the sounds is standard tuning; since they are digital, going out of tune is not an option. However, numerous pianos offer the option of adjusting to playing out of standard tuning.