Best Protein Shaker Bottles for 2020
Sticking to a fitness routine is something we strive for. The challenges are many; but, with the right assistance and diet, accomplishing goals do get easy.
Supplementing the diet with protein shakes is recommended by trainers worldwide. However, for the first-timers, blending these protein powder in the liquid is not all plain-sailing. To help you pick one from a market overwhelmed by many leading brands, here's our article to help you choose the best.
20 Best Protein Shaker Bottles
Here's a list of 20 of the best protein shaker bottles that blend a smooth, clumps-free drink. Choose one wisely!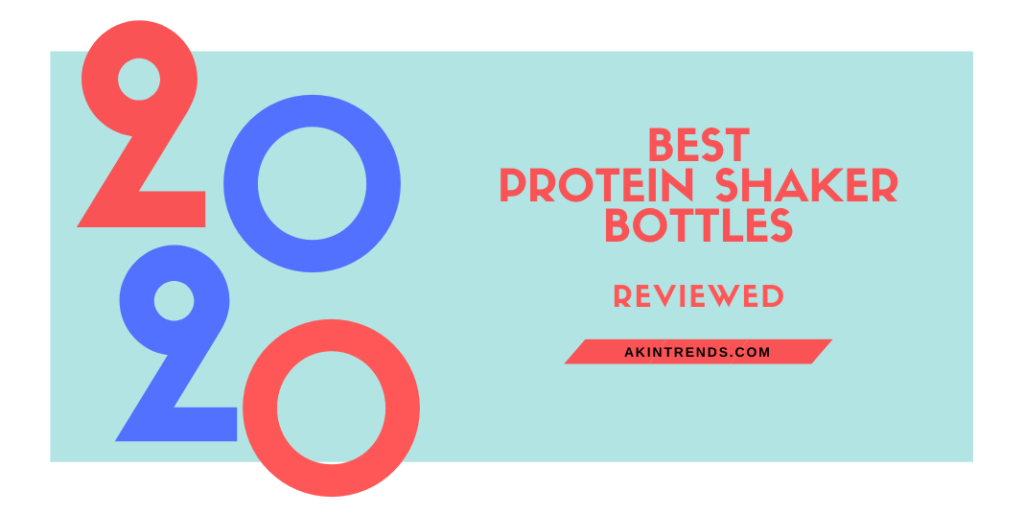 1. ShakeSphere Tumbler
ShakeSphere Tumbler: Protein Shaker Bottle is an elegant looking mixer with a capsule-like shape. It has a rugged and sturdy design, and also cleaning this tumbler is a hassle-free process.
Unlike the standard protein shake bottles, this product doesn't make use of a mixing ball or mesh grid to blend your ingredients. Because of its unique design, the bottle continually sends the ingredients without sticking around in the corners. Also, it includes a leak-proof slide cap that is safe and prevents leaking, even while you pick the bottle all hastily.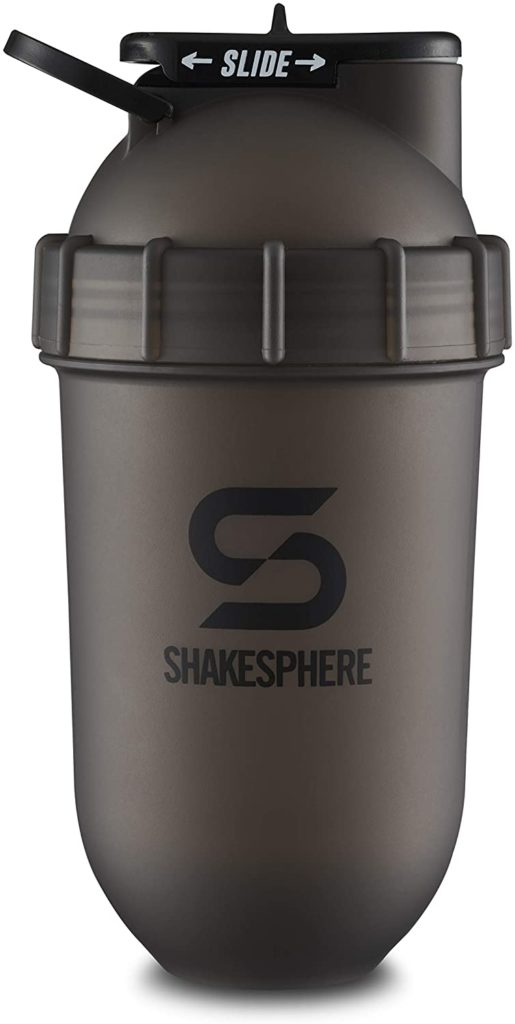 2. BlenderBottle Classic Loop Top Shaker
BlenderBottle's lineup of protein shaker bottles is widely-appreciated for its effectiveness. The Classic Loop Top Shaker is among the brand's top-notch products available on the market. Supplied with a wire whisk ball, this bottle quite effectively stirs protein powder throughout the water.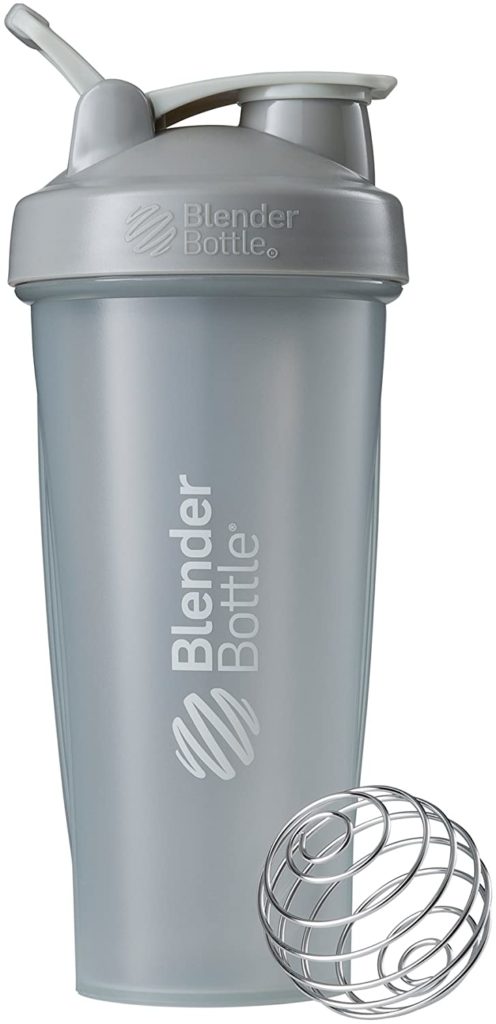 It is BPA-free and dishwasher-safe, meaning it doesn't leave any odor or tacky smell after cleaning. This bottle is available in a variety of sizes(20, 28, and 32-ounce sizes) and colors. Also, it has a screw-on lid coupled with a loop top that can be used to attach keys.
3. Hydra Cup Dual Threat Shaker
The HydraCup Threat Bottle is a one-of-a-kind dual shaker that comes with two compartments having a capacity of 15-oz each. This 2-in-1 protein shaker bottle is supplied with a rubber gasket seal that ensures there's no spilling or leaking of liquid.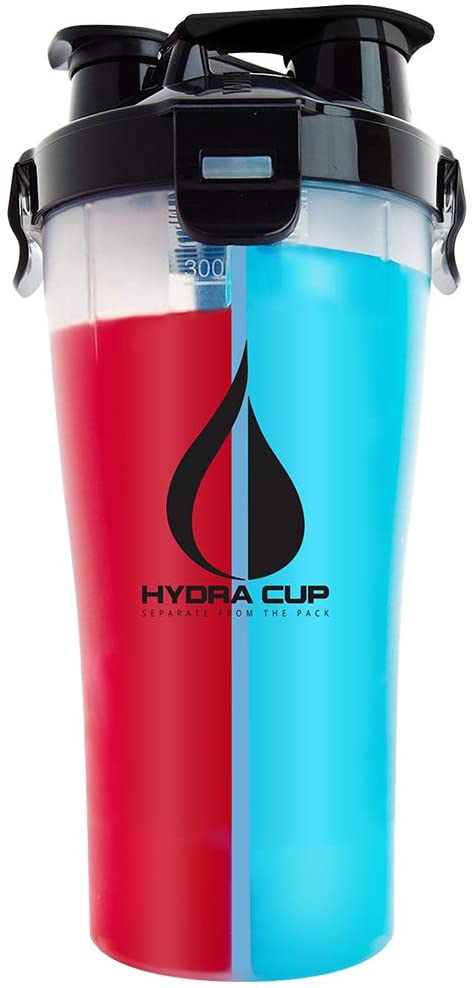 It has a rounded bottle base, which we found is pretty easy to clean. Moreover, this shaker bottle is BPA-free and machine-washable. It is available in two sizes and an array of colors with slogans imprinted on them.
4. PROMiXX iX-R Electric Shaker Bottle
Effective and feature-rich, the Promixx iX-R electric shaker bottle is the best we've used to date. This shaker comes with a blender, allowing you to just pour some liquid and powder and wait for it to mix your perfect drink.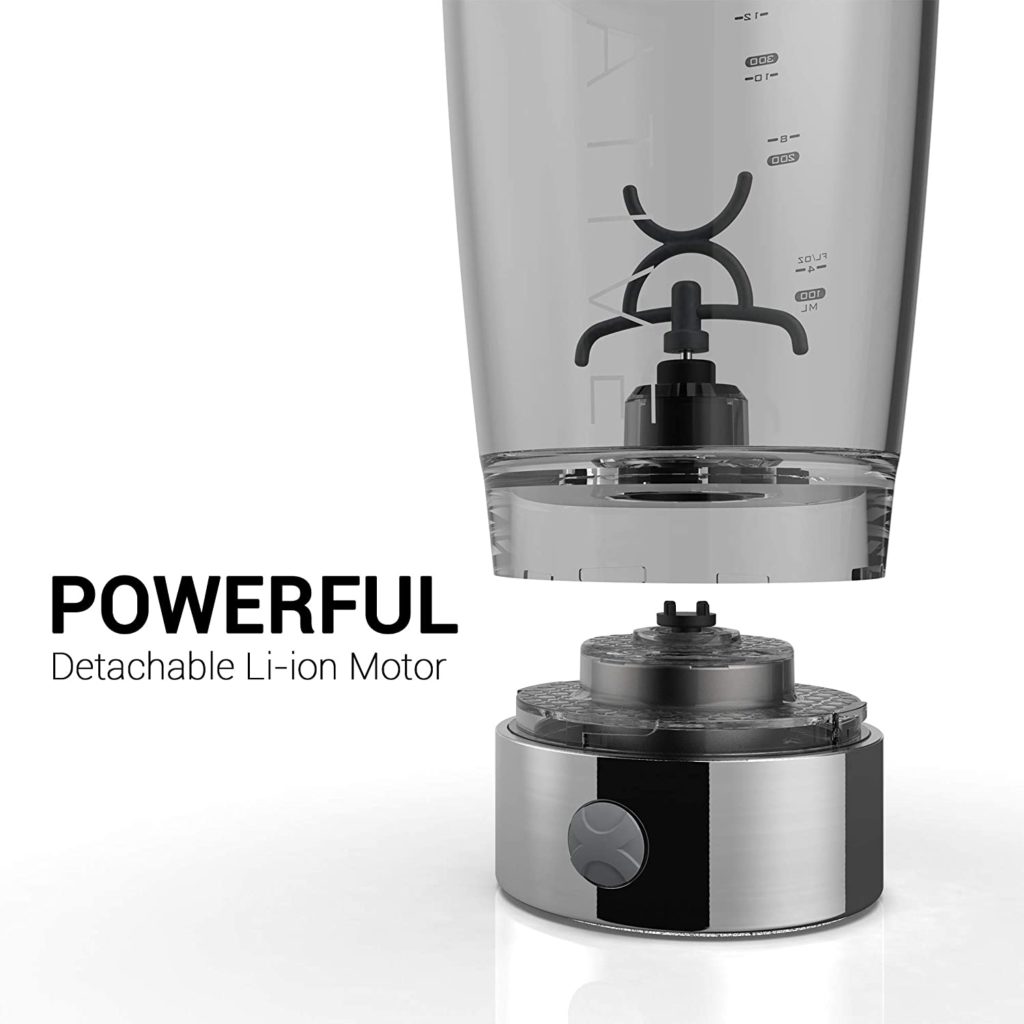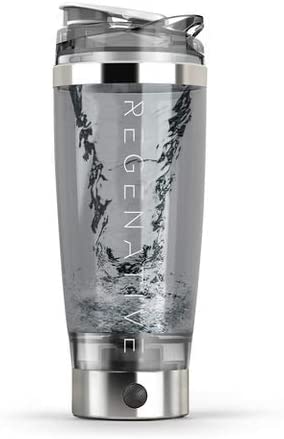 It is equipped with a long-lasting rechargeable battery, making it a perfect option for gifting your athletic friends too. The bottle also has some space to store your pills and supplements. This innovative piece is quite easy to clean, BPA-free, and does not come with a smell.
5. Huracan Shaker Bottle
The Huracan shaker is stainless steel, which extends the durability of the product. It boasts of a double-wall design that prevents moisture from building outside the bottle. This bottle has a removable mixer located on the top, meaning it blends your ingredients without making those blender balls-like noises.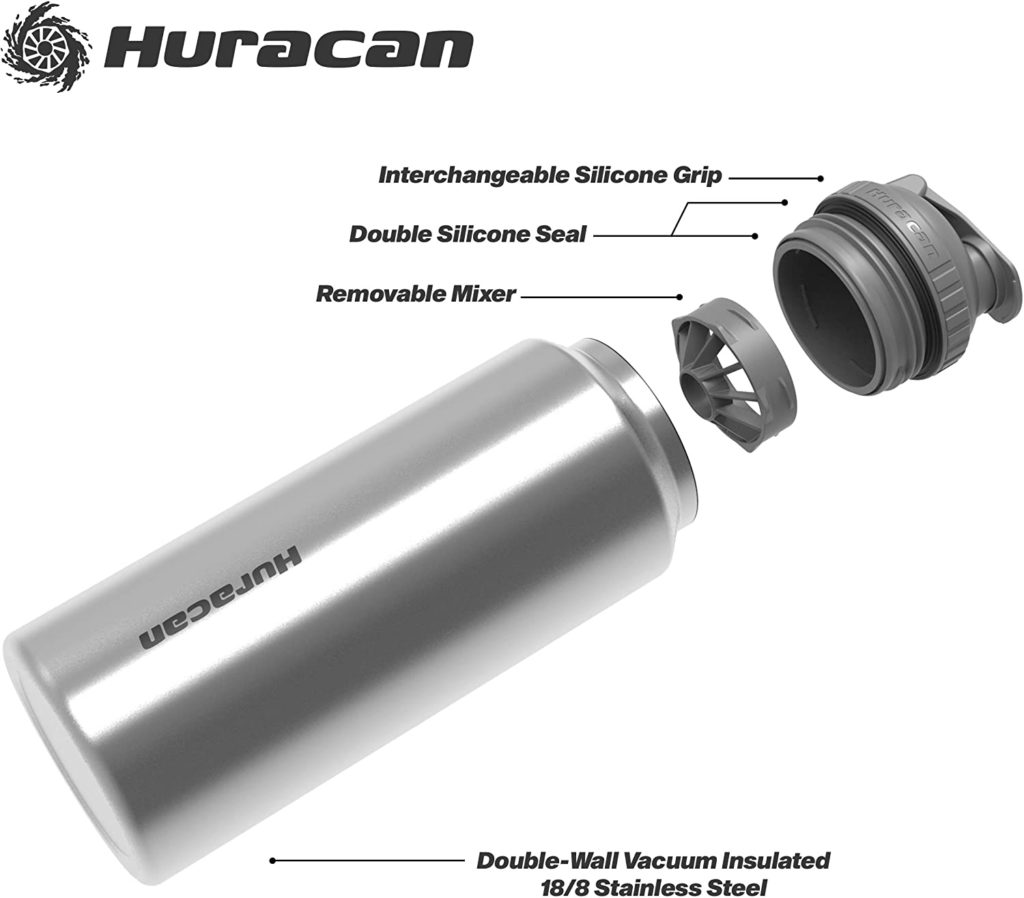 It has an oval-shaped lid and a sealed flip-top that is easy to open and leak-free. The Huracan Shaker comes in two sizes (22 and 36 oz.) and variants like Black, Gray, and Stainless Steel.
Also Read: Best Low Carb Keto Protein Powder and Shakes for Keto Diet
6. Contigo Shake & Go Fit Shaker Bottle
The Contigo Shake & Go arrives with a leak-proof lid that makes the job cleaning and mixing less strenuous. For ensuring the taste maintains and zero odors, the bottle has the Taste Guard Protection technology.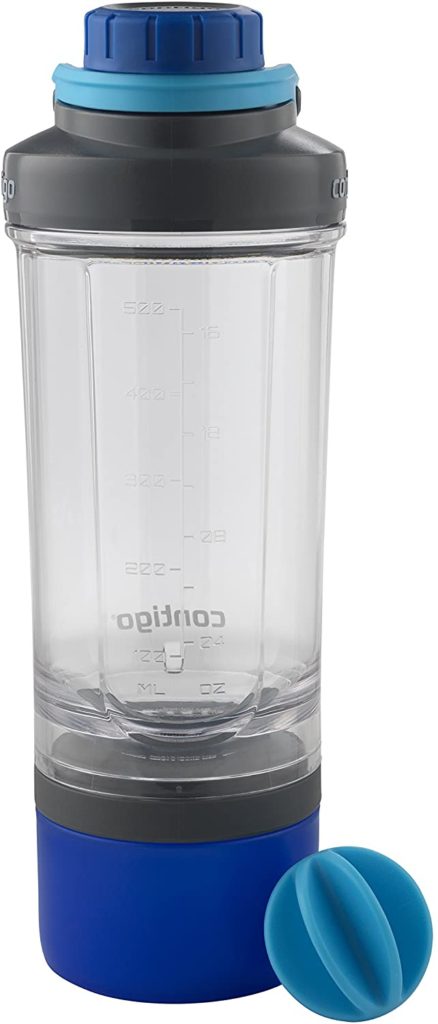 It comes with a rounded bottom and a weighted shaker bottle — both of which — work towards reducing clumps and buildup that are common in most bottles. It is a BPA-free and dishwasher-friendly product.
7. THERMOS Shaker Bottle
The Thermos shaker arrives with an easy to clean stationary mixer for optimal blending. It is made from BPA-free Eastman Tritan copolyester, making it completely odor-free. The marking on the bottle is clear, thus helping in measuring the ingredients and intake.
For a less-tiresome drinking process, it includes a hygienic flip-up lid that can be opened using your single hand. Lastly, there's a flip-up carrying loop to cling onto your bottle with ease.
8. Helimix Vortex Blender Shaker
The Helimix Vortex Blender Shaker boasts of a patented vortex blender design, which eliminates the use of a shaker ball to whir your ingredients. With a design like this, cleaning the bottle also becomes an easy process.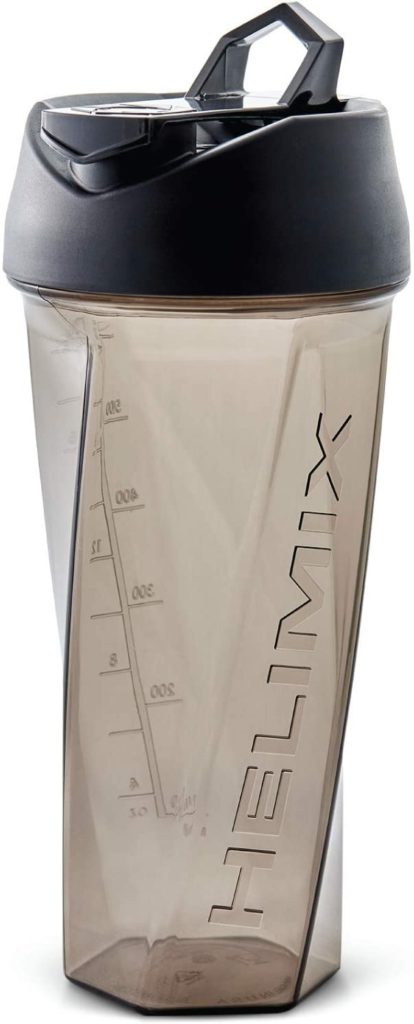 Made using Tritan Plastic, this shaker bottle is odor resistant and machine-washable. Owing to its shatter-proof design, there are fewer chances of the bottle damaging or breaking. Coming with a ball or a mixer, the Helimix Vortex blender shaker is surely a unique one on this list.
9. BlenderBottle SportMixer Tritan Grip Shaker Bottle
BlenderBottle is at it again. The SportMixer utilizes the patented BlenderBall to blend all your ingredients. The shaker bottle features a Twist-on cap with center-mounted spout seals, which ensure there is no spilling when taking this on your adventure trip.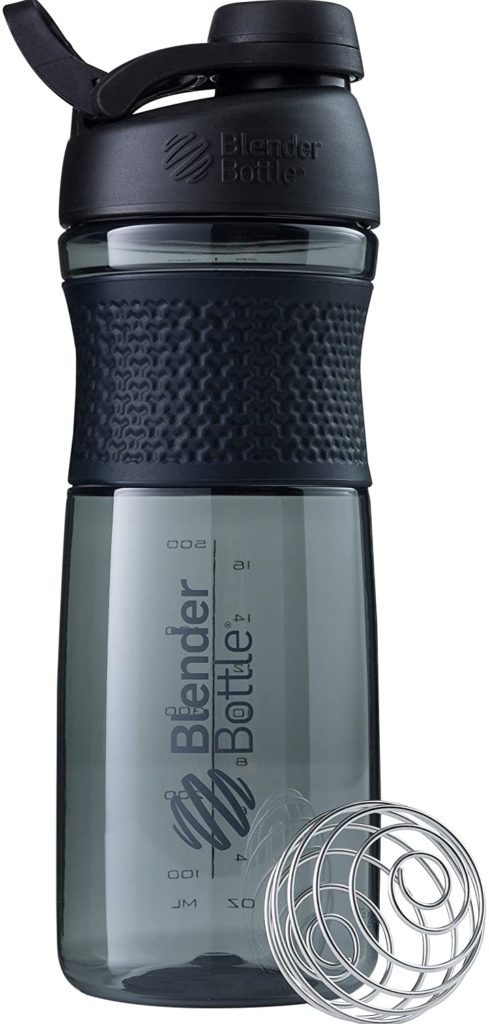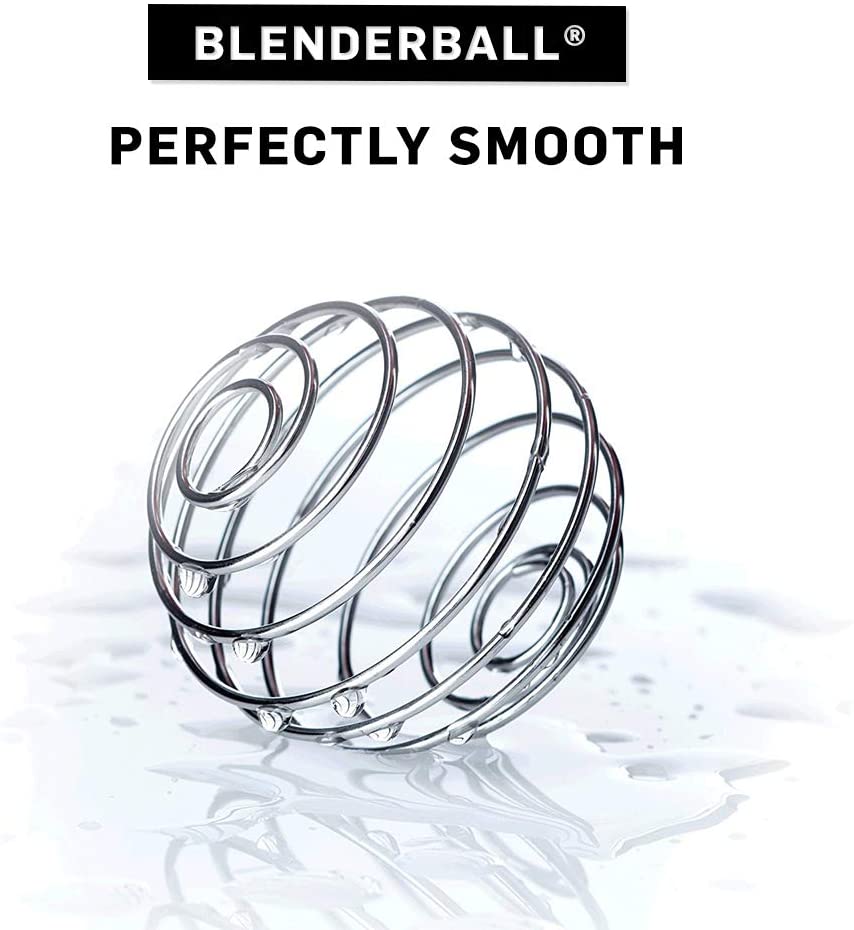 It is built of Eastman Tritan plastic, making it a stain and odor-resistant product. Also, this is BPA, phthalate-free, and dishwasher-friendly. This protein shaker bottle is available in different colors: Black, Navy, Plum, Rose, Teal, and White.
10. Ice Shaker Stainless Steel Protein Mixing Cup
The Ice Shaker Stainless Steel Mixing Cup features a robust build quality that is handy in keeping your shakes cold for more than 30 hours. It is supplied with a removable agitator that twists into a lid for an effortless process of blending.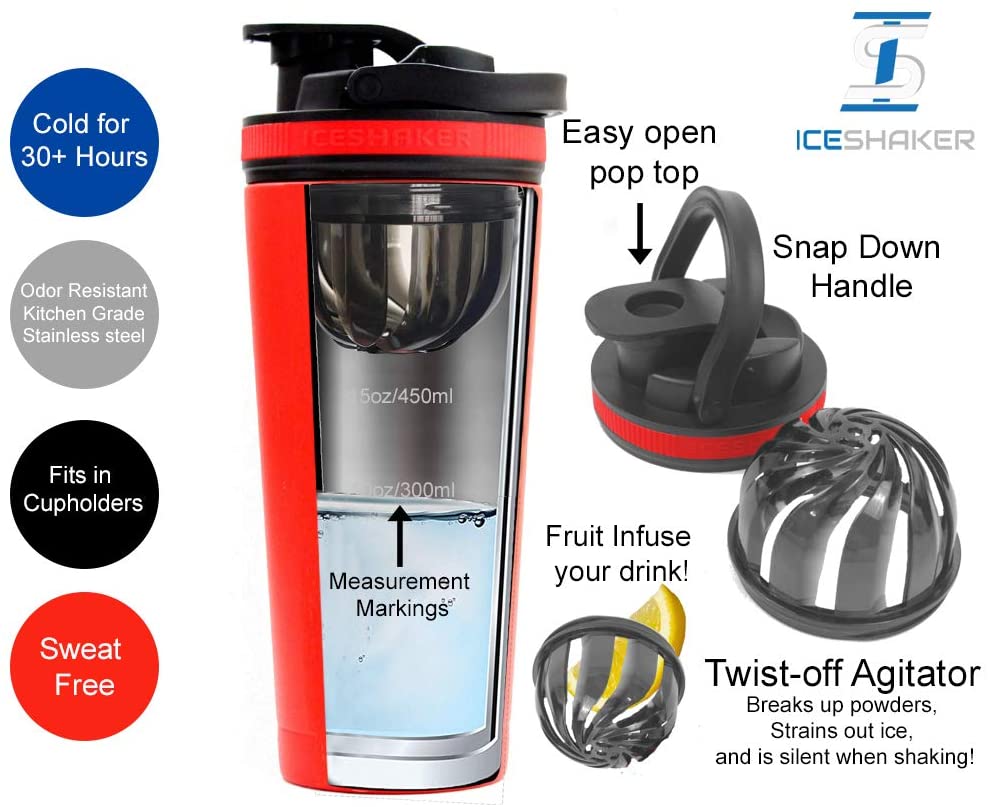 In a sleek and carry anywhere design, this shaker bottle also averts the chances of spills or mess. Featuring a tapered bottle design, filling the bottle is easy and sits in perfectly with all standard size cup holders. With a slightly over the budget price tag, this is worth every penny you spend.
Also Read: Best Tasting Keto Protein Bars: Tasty Low-Carb Foods on the Go
11. Grenade Shaker Bottle
The Grenade Shaker Bottle has a unique design that excites every gym-goer. It has a removable storage compartment that offers space for two servings of protein and pills storage in the lid. It is BPA/DEHP-free, meaning you don't have to worry while keeping this in the dishwasher or microwave.
With a capacity of holding 20-oz of liquid, this sturdy bottle comes in multiple styles, including Army Green, Black, Gun Metal Grey, and Desert Tan.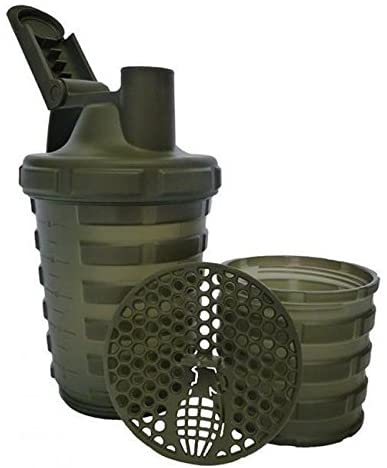 12. BOTTLED JOY Protein Shaker Bottle
Bottle Joy Shaker is the cheapest bottle listed here that has nothing voguish about it. Featuring a silicone anti-slip grip on the chassis, the bottle is comfortable and easier to hold. It has a mixer ball that can whir down even the thickest ingredients.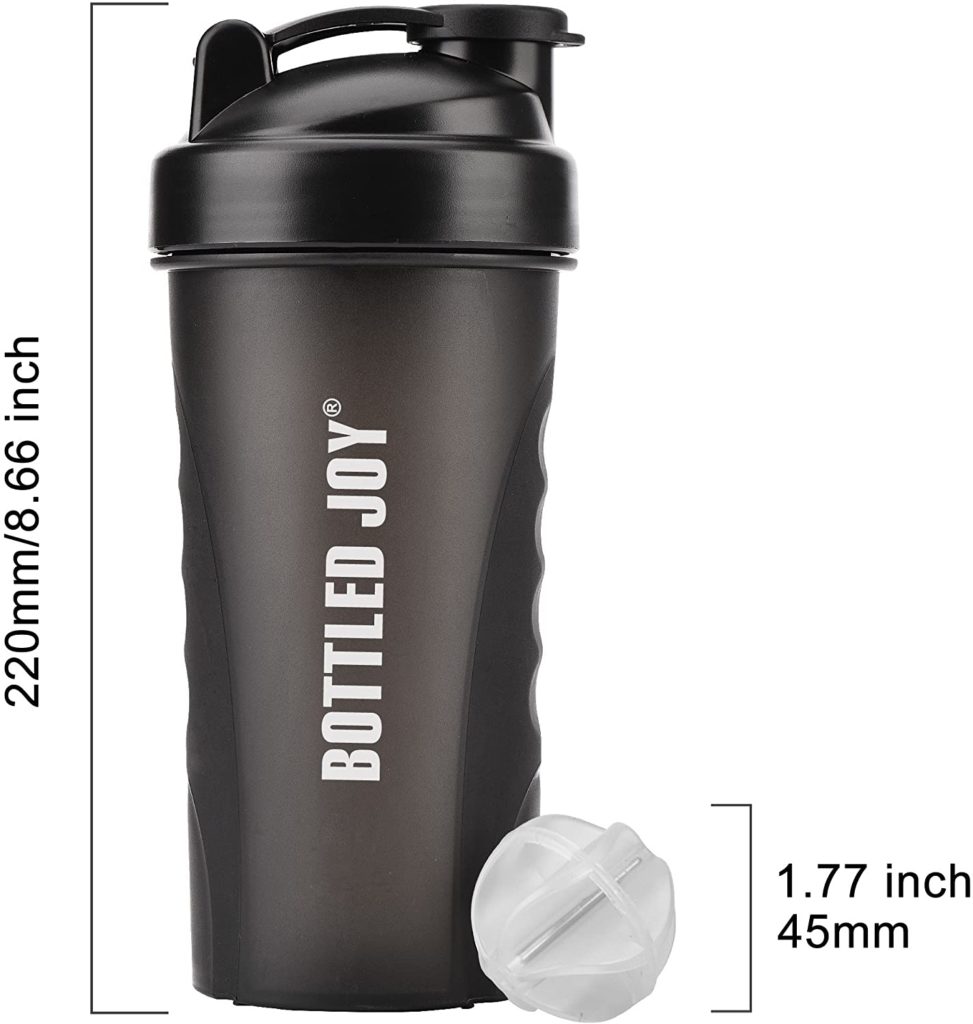 The shaker bottle is BPA-free and is made from eco-friendly food-grade material. If you prefer buying something for you and your partners in the gym, this is the best option.
13. PROMiXX Battery Powered Shaker Bottle
PromiXX has a great lineup of innovative products and the Electric Protein Shaker is another stand-out product with quality features. Harboring a high-speed motor, this shaker bottle creates smooth shake in a jiffy just by pressing a single button.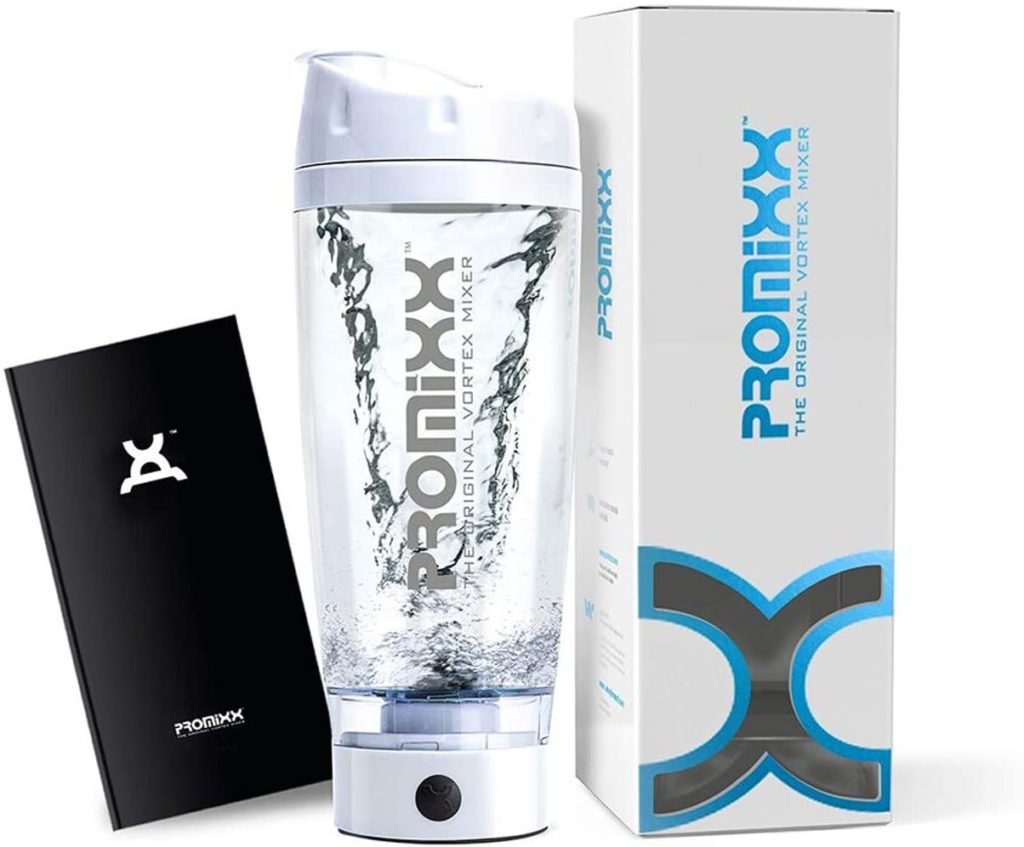 With the power of two AAA batteries, you can reap the benefits of this shaker by taking it anywhere and without having to fear about the battery life. Since it is BPA-free, cleaning is much easier and also it emits no bad smells.
14. Muscle Pro Stainless Steel Insulated Protein Shaker Bottle
The Muscle Pro shake bottle boasts of powder-coated finish that resists sweat and offers a nice strong grip to hold. It is entirely BPA and phthalate-free, while also is resistant to rust. This bottle can hold up to 20 ounces of liquid and is available in seven different fancy colors.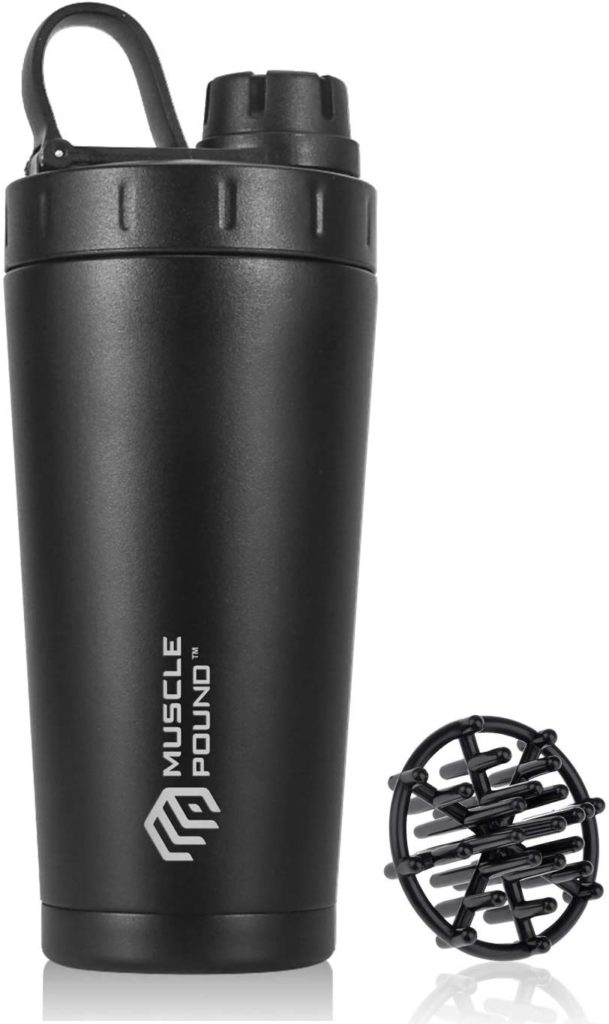 This bottle is supplied with an insulated flip-top spout and sports a double-wall vacuum-insulated that keeps hot beverages hot and cold beverages cold. Sporting a slim base and narrow top, it can fit into all standard sized cup holders.
15. Hydro Flair Stainless Steel Protein Shaker
The Hydro Flair Protein Shaker comes with a double-wall vacuum, which does exceptionally well in keeping cold drinks cold for more than 30 hours and hot drinks up to 8 hours warm. It has a twist-on cap that is more secure than those standard flip-top caps.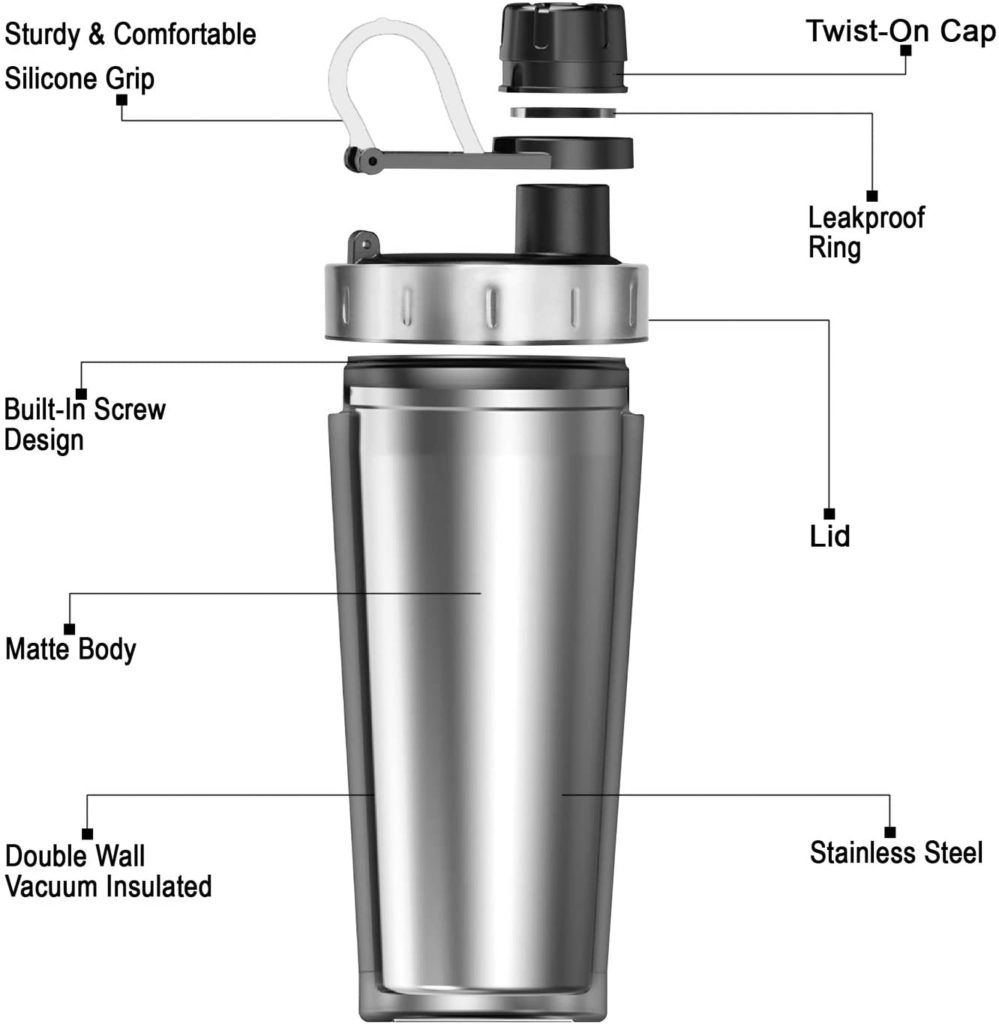 Due to the premium stainless steel finish, this shaker bottle is odor-resistant. It is dishwasher-safe, sweatproof, leakproof, and BPA-free. The bottle is available in five colors: Black, Silver, Marine Green, White, and Red.
Also Read: Pruvit Keto//OS Review: A Detailed Analysis of the Supplement
16. BlenderBottle Marvel Comics Radian Insulated Shaker Bottle
For all those comic book lovers, here's something you want to have in your backpack. The BlenderBottle's Marvel Comics Radian Shaker Bottle is a fancy product infused with double-walled vacuum insulated stainless steel.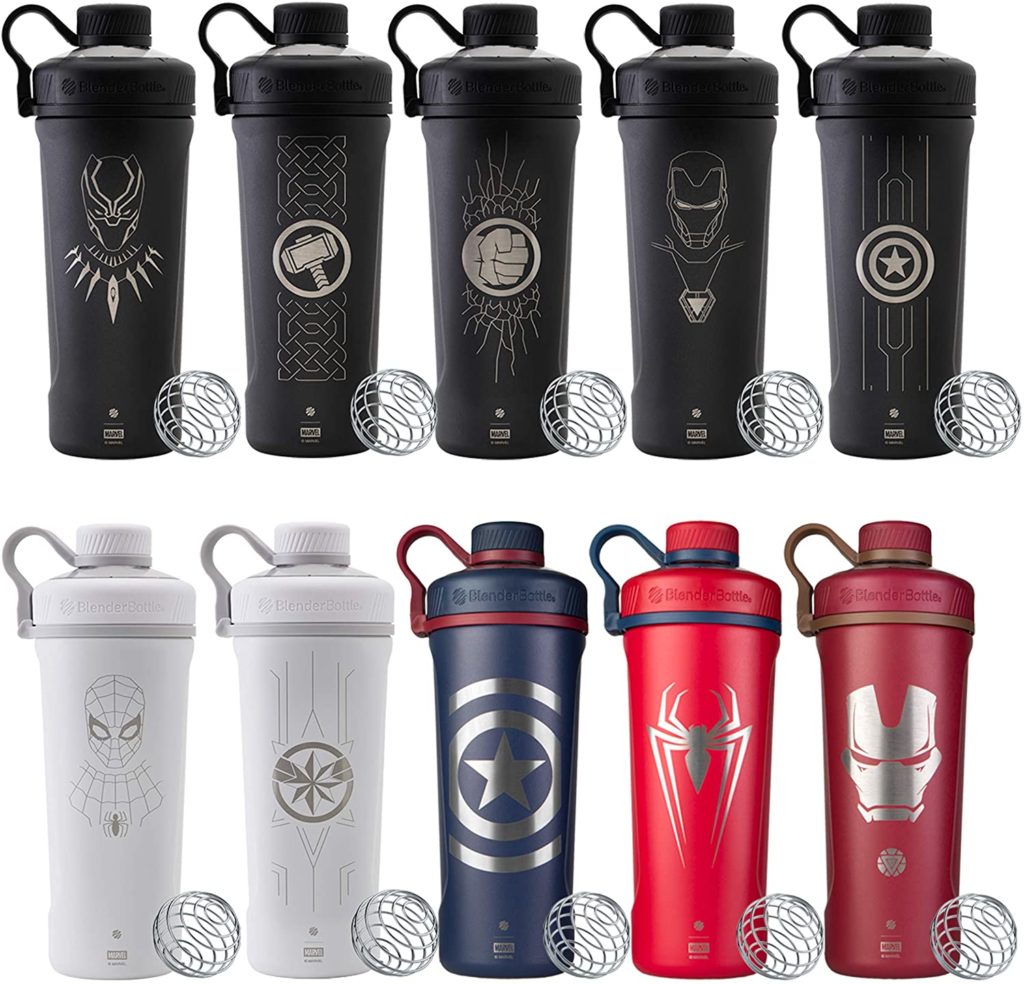 This shaker bottle has a capacity of 26-ounces while it can keep liquids cold for up to 24 hours. Utilizing the 316 surgical-grade stainless steel wire ball, it does ensure you get a clump-free drink. It is supplied with a twist-on cap along with center-mounted seals to prevent your drink from spilling.
17. Trimr Duo Square Water & Shaker Bottle
The Trimr Duo Square Water & Shaker Bottle is appreciated for its design, size, and colors it comes in. The surgical grade stainless steel agitator cuts through tiny powder particles, which allows you to consume a clump-free drink.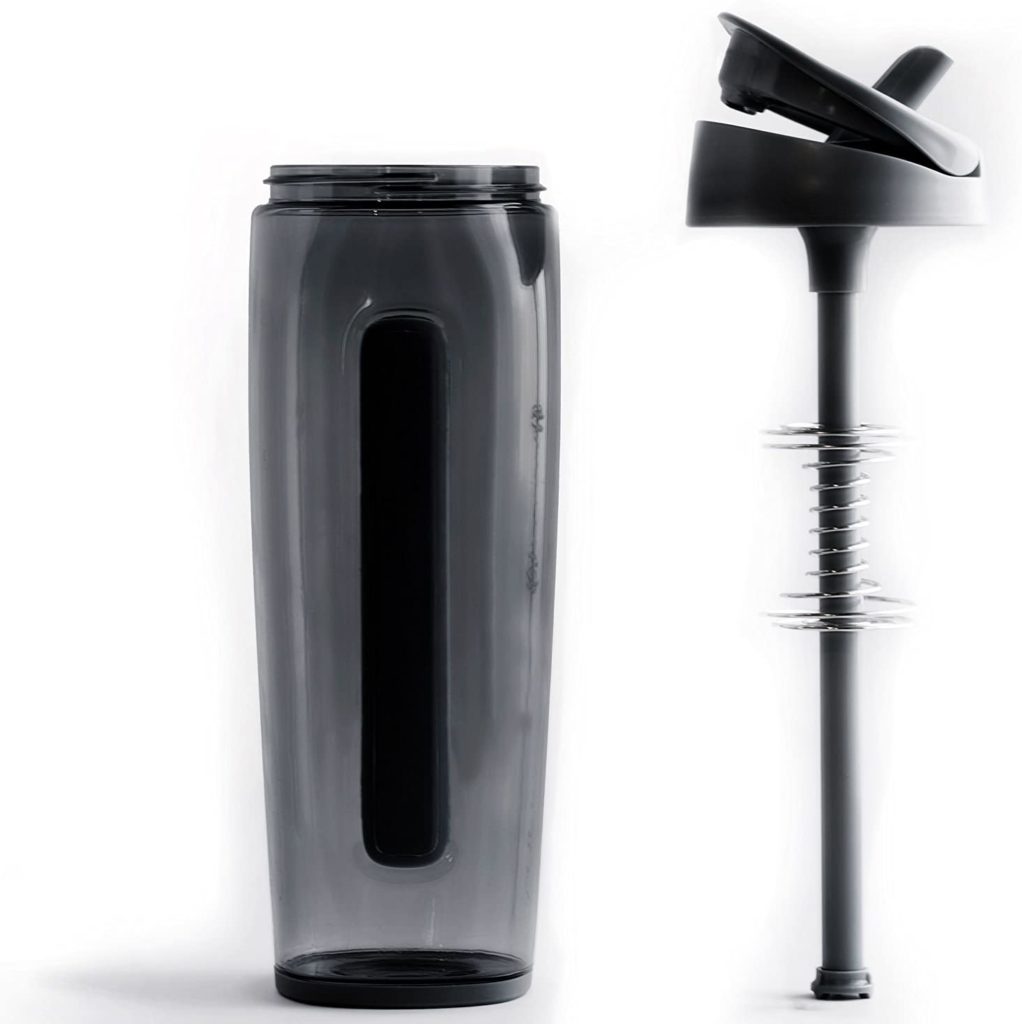 This shaker bottle is spill-proof, odor-resistance, and is made using BPA-free and Tritan materials. It also has multiple sipping options, offering you the choice of sip through the flip straw or drink using the chugger option.
18. Smartshake Slim Shaker
The Smartshake Slim Shaker is supplied with two storage compartments — for pills and powder. Featuring a Snap-on power mixer, the bottle effortlessly strains and mixes powdered drinking without clumps. The mixer is removable and dishwasher-safe.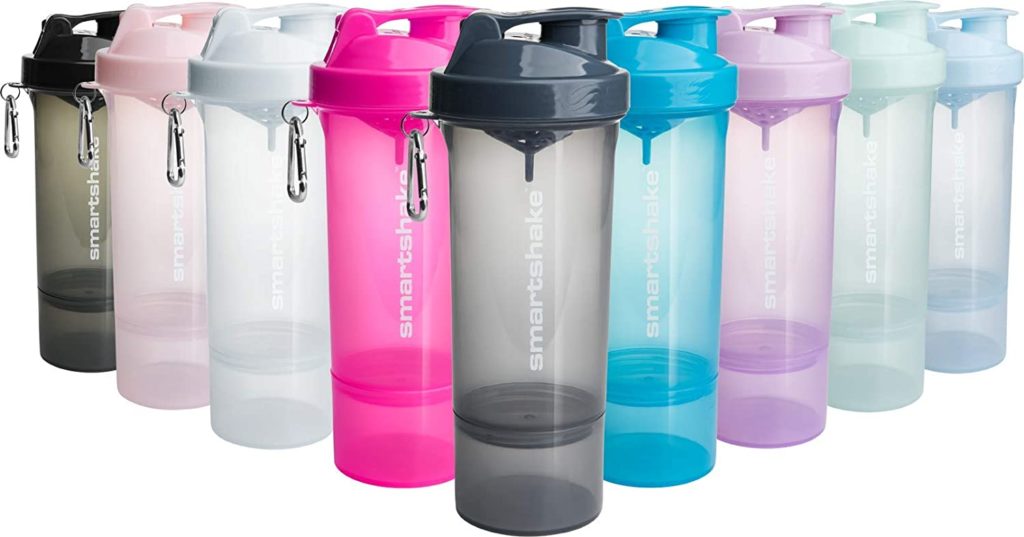 This shaker bottle includes a leak-proof snap lid that prevents your favorite drink from spilling. It comes with a slim grip on the sides and carabiner to attach it onto your gym backpack.
19. BlenderBottle ProStak Shaker Bottle
The BlenderBottle ProStak is an invaluable support system when looking for extra storage compartments. It comes with a bottle for drinks, two twist-and-lock jars, a compartment for storing pills, and BlenderBottle's patented whisker ball.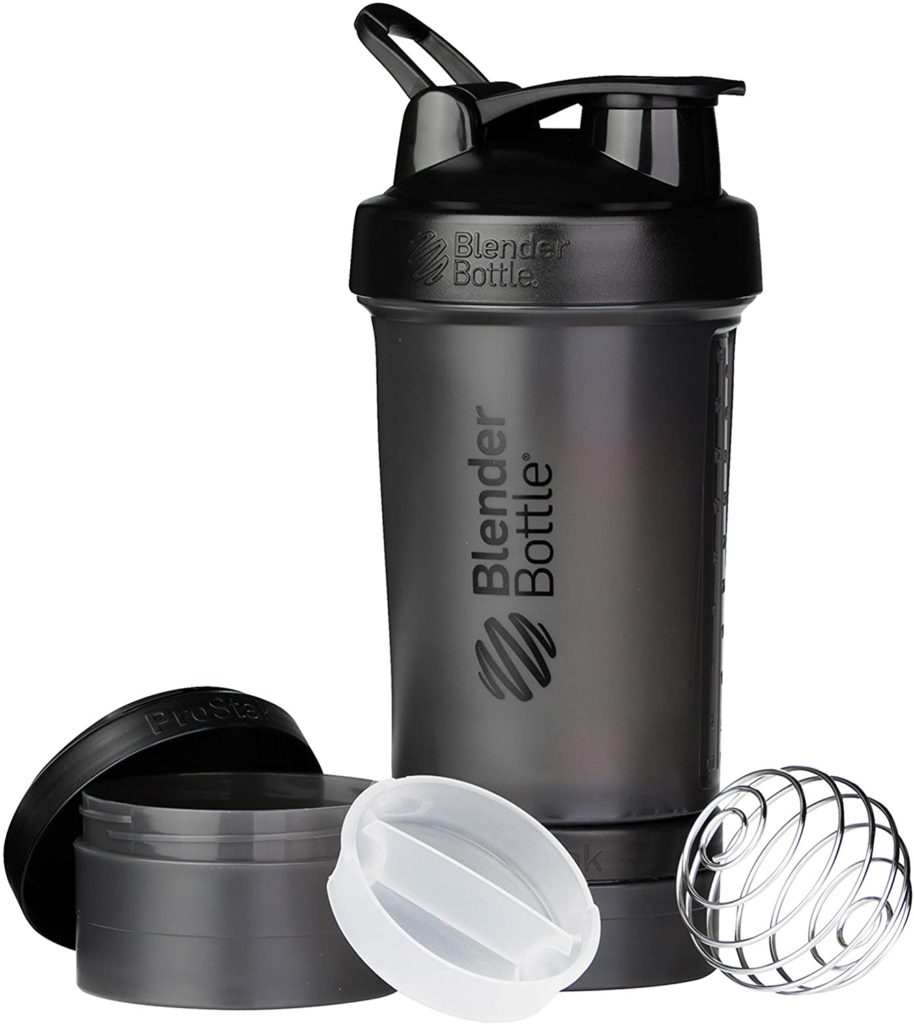 This shaker bottle is available in an array of colors and with a capacity of holding 22-ounces of liquids. It also features a stay-open flip cap with a leak-proof seal to ensure there's no spillage.
20. Smartshake Shaker Cup
Rounding off the list, we have the Smartshake Shaker Cup. This shaker cup features two separate storage compartments and pills separators that can be fixated to the bottle. With a Snap-on power mixer, this bottle strains and mixes your ingredients for a clumps-free drink.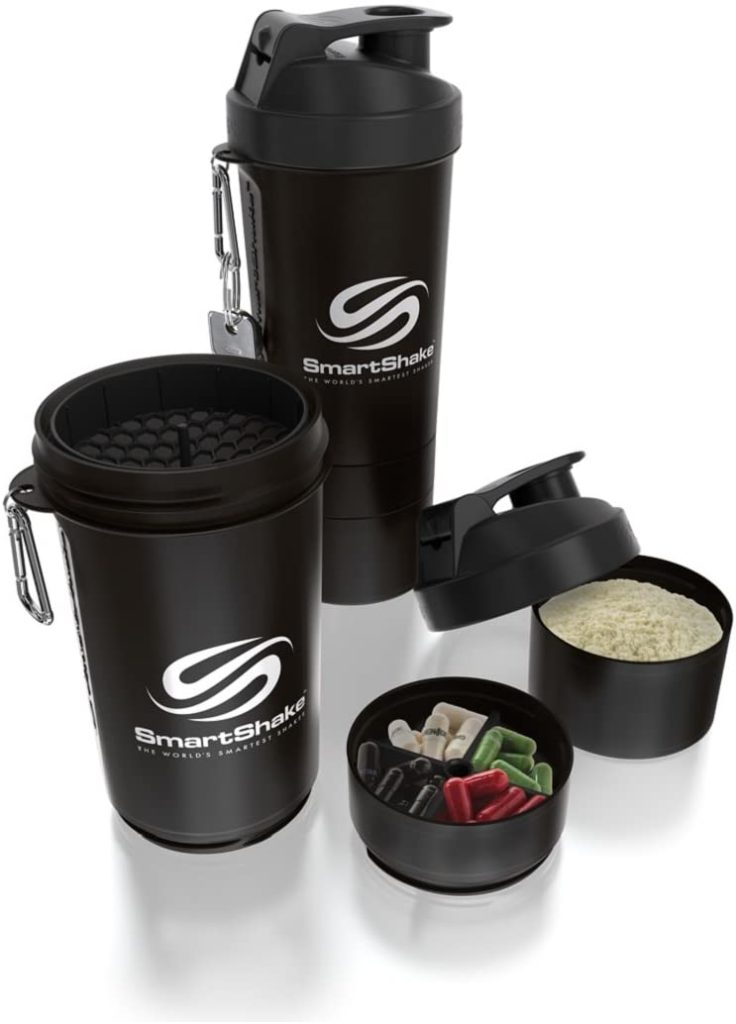 The bottle is dishwasher-, microwave- and freezer-safe. It is also supplied with a leak-proof lid and carabiner. While it also is BPA/ DEHP-free. Furthermore, the bottle is available in five vivid colors.
---
CONCLUSION
The next time you go to the gym, carry one from the list above. Here's a friendly reminder; DO NOT FALL FOR THE DESIGN! Hope you found the list an interesting one.
If there's a product missing in this list of hot and protein shakers that deserves our readers' attention, please mention it in the comments section below.