Quality protein is needed to keep your protein intake high, and the count of carbohydrates at the lowest level possible. For that, you need keto protein bars.
The protein bars give you the required amount of protein without the need for carbs, unsaturated, and saturated fats. The ketogenic diet is a high-fat, low-carb diet that involves drastically reducing carbohydrate intake and replacing it with fat. This puts your body in a metabolic state called ketosis.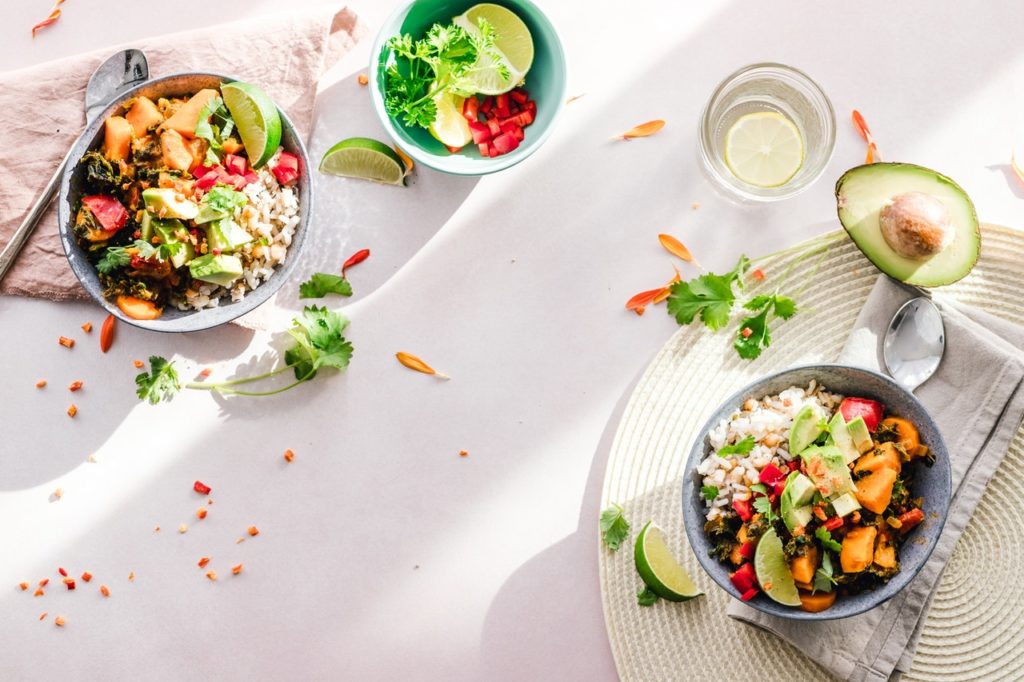 During ketosis, your body becomes incredibly efficient in burning fat for energy. It also turns fat into ketones in the liver that can supply power for the brain. Ketogenic diets cause a massive reduction in insulin and blood sugar levels. This and the ketone increasing both have numerous health benefits.
Before going for our top picks for keto protein bars and their reviews, let see what all should be taken into consideration before going for a protein brand. Many protein bars are rich in vitamins and minerals, which makes them an excellent way to intake some additional nutrients at your convenience.
But the problem with most of these protein bars is that all of them come with the same nutrient value as your candy bar. They are loaded with artificial sweeteners or sugar, highly processed, and contain partially hydrogenated oils. This can cause an increase in glucose level, and that kicks you right out of ketosis.
---
To prevent it from occurring, take a look at the list which helps you to pick the right one:
Read the label

Before you purchase a protein bar, make sure you check the label to see whether it matches your macronutrient needs. An ideal protein bar should have only a few bet carbs, which means the total amount of carbs minus the grams of fiber.
Additionally, it should contain the right amount of fat too. For continuing in ketosis, your carbohydrate intake should be limited to five percent of total daily calories. This can be ruined by the protein bars that contain too many carbs and not enough fat. Checking the label; will help you to be cautious.
Consider the ingredients

It is important to pay attention to quality over quantity. If you are on a ketogenic diet, it is vital to take care of the amount intake as well as the quality of the ingredients.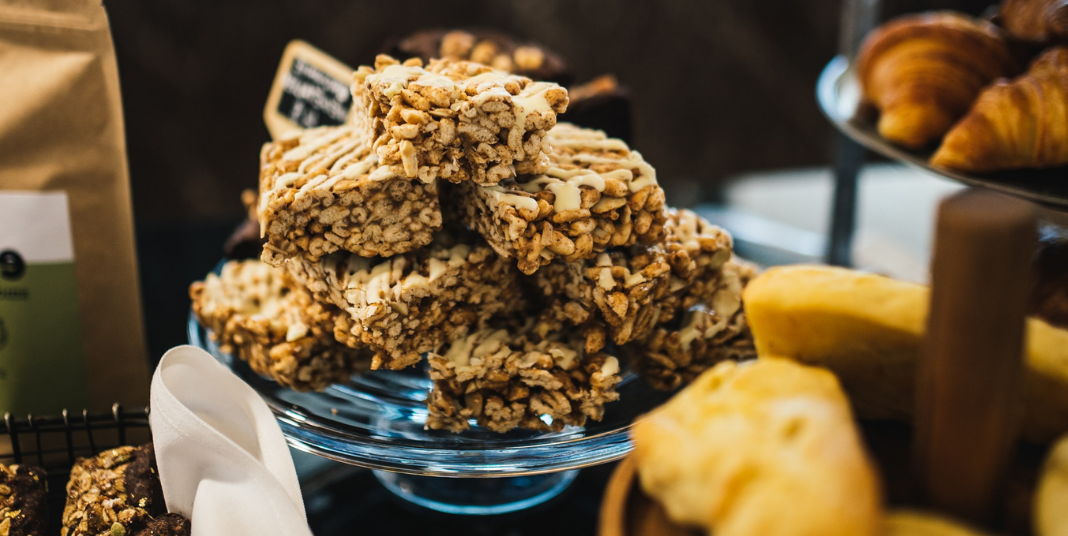 Make sure your desired protein bar does not contain garbage fillers like high fructose corn syrup, refined sugar, artificial flavors, partially hydrogenated oils, preservatives, colorings, or food dyes. These ingredients are highly inflammatory and can harm your body.
Avoid artificial sweeteners

To make the protein bars tastefully pleasing, manufacturers use artificial sweeteners. Instead of adding sugar, they use artificial sweeteners to pump up the whole bar.
There is a myth since these sweeteners don't come with calories; they may be harmful.  But the concept is wrong, most commercial artificial sweeteners like sucralose and aspartame are highly disastrous for your gastrointestinal system.
It is recommended to stick with keto0 friendly sweeteners like monk fruit, erythritol, and stevia which are naturally acquired from plant sources. This will not harm you in any kind, unlike the chemical processed ones.
Also Read: Best Low Carb Keto Protein Powder and Shakes for Keto Diet
---
Best Tasting and Low Carb Protein Bars
It can be a struggle to settle for one protein diet with innumerable products available at our disposal. Considering that we're spoilt for choices, here are some of our picks for the best keto protein bars.
1. Ketobars

These keto bars are the best and perfect protein bars for people who are on a ketogenic diet. They are low carb bars with an adequate amount of calories to keep you fuelled up for the day, and it helps to cut down your hunger pangs.
This bar contains ingredients like raw coconut, dark chocolate, eggs, heavy cream, and butter. It also contains erythritol and stevia instead of sugar, which makes it a more keto-friendly snack.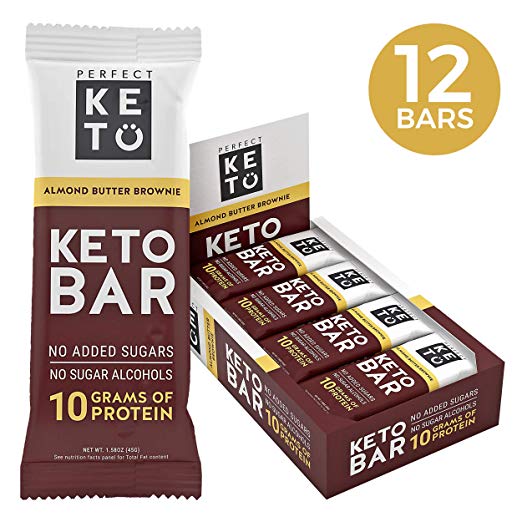 Has whey protein concentrate, which gives you a hefty dose of dietary protein supplementation that contributed to the mass muscle growth. It is soft and delicious.
They are gluten-free with a brownie-like texture and chewy like a taffy. These protein bars are available in chocolate peanut butter, vanilla, coffee, dark chocolate coconut, and cinnamon flavors.
It has all the goodness required for a keto diet and helps you with health issues like blood pressure, cholesterol, diabetes, migraines, and weight.
2. RXBAR Whole Food Protein Bar
This brand uses a simple method to market their product by creating a package in a way listing all the core ingredients and their quantities contained in every whole food protein bar.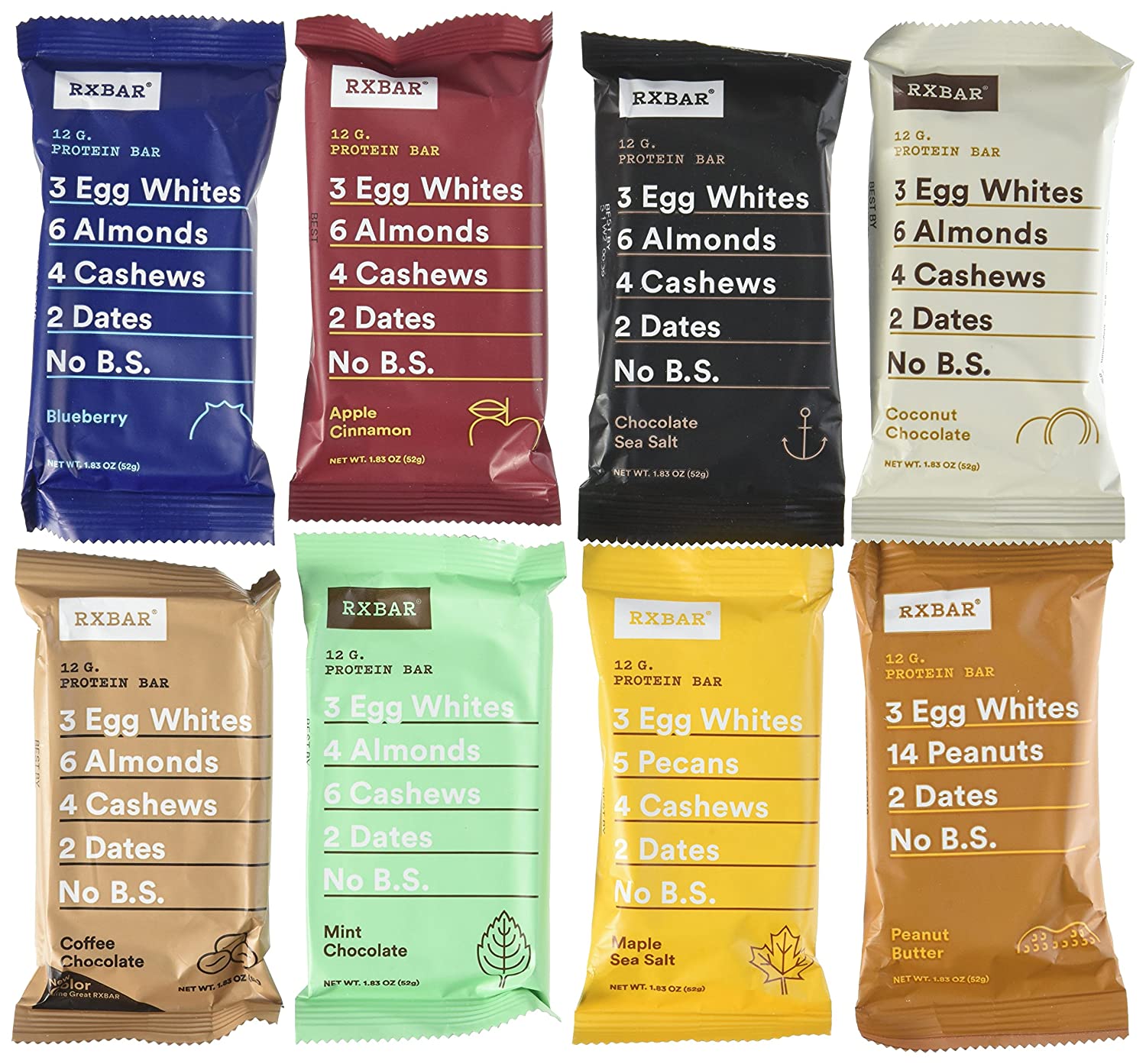 The bars come with four main ingredients, which are almonds, cashew, dates, and egg whites. These are an excellent alternative for keto-crave bars because they have high protein content and chicory root fiber.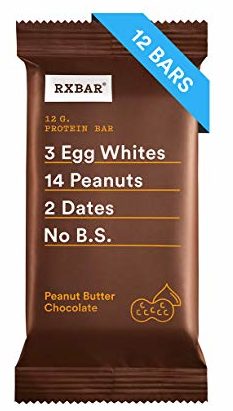 The texture may be a downside because of the hardness, and the bars are not a low-calorie food.  They contain no added sugar and exclude the Maple sea salt. The brand makes its product available in Mint Chocolate, Peanut Butter Chocolate, Blueberry, and Chocolate Sea Salt.
3. Quest Nutrition Protein Bars
These are the high-value nutrition protein bars that will control your daily sugar intake and increases your fiber intake. They are made of nutritious and real ingredients like isolate whey protein and isolate milk protein, which are high-grade protein sources. These are the sources preferred by most bodybuilders and fitness enthusiasts. These protein bars, when paired with resistance training, give you significant development in muscle growth.
Quest Nutrition protein bars are rich in minerals like phosphorous, iron, calcium, and magnesium. Also, they do not contain any added sugar and instead uses stevia, sucralose, and erythritol.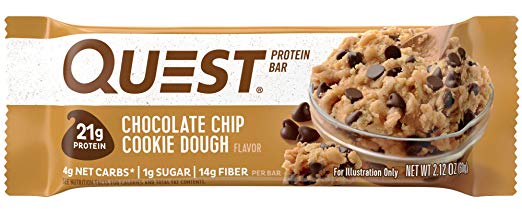 These bars are gluten-free too. Quest Nutrition uses soluble corn prebiotic fiber as their source instead of Isomalto-oligosaccharides which they have used before.
This soluble corn fiber helps you indigestion and goes easier on your stomach. Since it is prebiotic, it helps in maintaining the intestinal flora of good bacteria that prevents the entering of harmful bacteria. The manufacturers offer their products in amazing flavors like Keto Chocolate Chip Cookie Dough, Cookie and Cream, and Rocky Roads.
Also Read: Best Massage Chair Review: TOP Brands & Models
4. Atlas Bar
Atlas Bars are manufactured with the mission of providing high protein, real food, and low sugar to its consumers. The founder of this brand came to a discovery that almost all conventional health bars come with sugar in an amount the same as in candy.
So he decided on creating a product that would minimize the sugar intake and maximize the protein intake and maintaining the food value at the same time.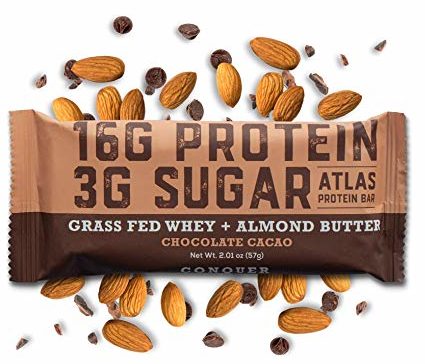 These protein bars contain ingredients like non-GMO tapioca fiber, almond butter, and grass-fed whey, which comes from cows that are fed with a 100% organic and natural grass diet.
These bars contain no additives, chemicals, or hormones like rBGH or rBST and no artificial preservatives. It does not contain any added sugar instead comes with stevia and erythritol for sweetening and Himalayan pink salt for balance. The bars are available in Vanilla Almond, Chocolate Cacao, and Peanut Butter Chip flavors.
5. D's Natural No Cow Bar
D's Natural protein bars are one of the favorite bars of all time. Danielle "D" Katz, the brand founder, landed on this product to make lactose-intolerance protein bars since all other bars he consumed started giving him stomach issues.
The product turns to become a massive hit within months of its launch. These bars come with the right balance of micro and macronutrients with a blend of cacao, which is rich in antioxidants, and brown rice and pea protein mix.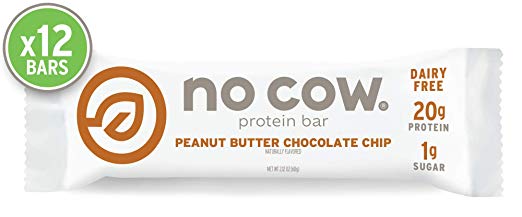 It does not have any dairy product, But it is rich in protein. It also contains isomalto oligosaccharide prebiotic fiber which takes good care of y our digestion.
An ideal snack for curbing your hunger pangs and the tendency for overeating by providing a non-diary and healthy alternative. The bars contain no added sugar and instead uses monk fruit, stevia, and erythritol which helps to restrict unhealthy sugar intake.
The texture is soft and chewy. It is available in Chunky Peanut Butter, Dark Raspberry Truffle, Chocolate Fudge Brownie, and Lemon Meringue Pie flavors.
Disclaimer: The above product and the reviews are entirely based on the information available on the internet. Readers are advised to seek a professional opinion before using any of these products.
---
Homemade Keto Protein Bars Recipes
It is quite reasonable to be tired of spending all your bucks on these protein bars. Or to be exhausted from finding the right bar or confused about what it may contain? So the ultimate solution for these problems is to prepare your protein bar.
Not sure whether it is possible or not? That why we are here, we will be guiding you through the procedures of making your protein bars. It is easy and quick to prepare, and this is one of the best ways of having your favorite bar with all the nutrition according to your needs. You can find the recipes below:
1. Keto Almond Coconut Protein Bars
Ingredients: 
1½ scoop keto protein powder (Perfect Keto's Unflavoured Collagen with MCT)
3 tbsp cocoa powder
1 cup coconut (desiccated; shredded and chopped)
1/3 cup almonds and nuts (crushed)
1 cup almond butter
A ½ cup of coconut oil
2 tbsp erythritol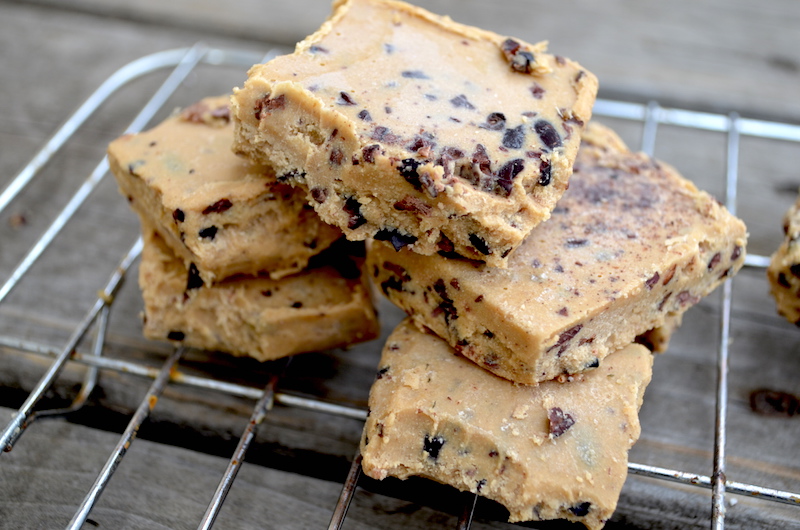 Steps to Follow: 
Mix all the ingredients, excluding oil and butter in a bowl.
Mix the melted almond butter and coconut oil in another bowl.
Keep it aside to cool for 4 minutes.
Now blend the first bowl mix with the second bowl mixture.
Transfer the whole mixture to a baking tray with buttered parchment.
Spread the shredded coconut on the top.
Keep the whole thing chill overnight.
Once done, cut it into desired bar size.
2. Chocolate Chip Paleo Sugar-Free Protein Bars
Ingredients: 
Two scoops of vanilla protein powder (or Perfect Keto's Unflavoured Collagen with MCT)
5 tbsp cacao nibs/ chocolate chips
4 tbsp coconut oil (melted)
1 cup nut butter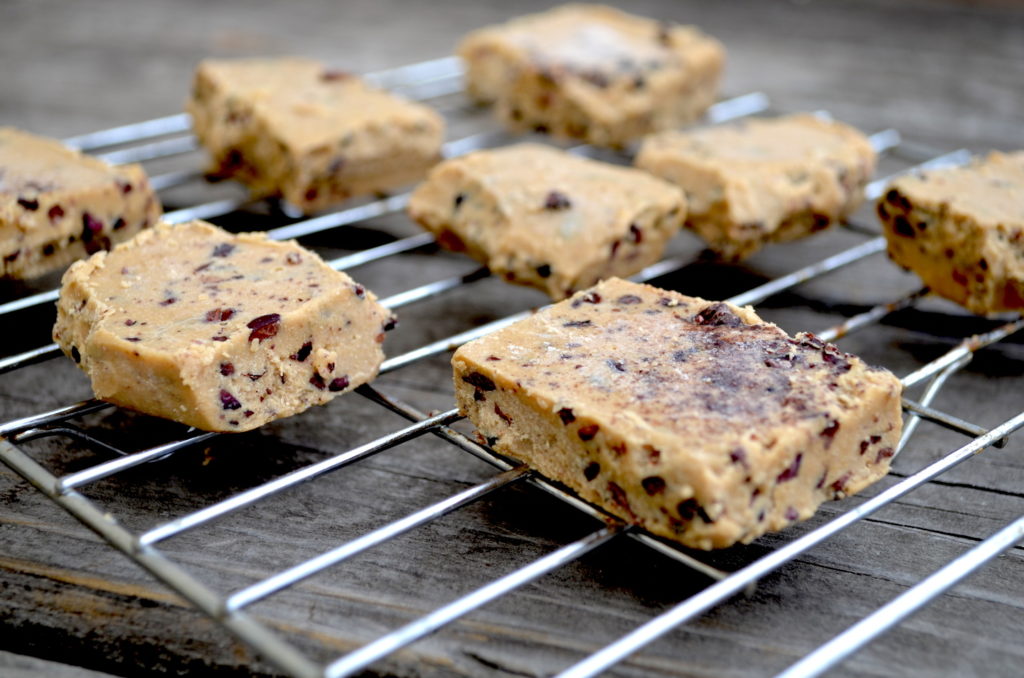 Steps to Follow: 
Mix all the ingredients well in a bowl.
Now, pour that mixture into a loaf pan/baking dish.
Firmly press the mixture into the dish.
Keep the mixture to chill overnight
Once done, cut it into keto bar size.
You can store the rest/leftovers in the freezer.
 Also Read: Best Electric Toothbrush: Complete Reviews & Buying Guide
3. No-Bake Peanut Butter Protein Bars
Ingredients: 
Two scoops of protein powder (Perfect Keto's Unflavoured Collagen with MCT)
½ cup sticky sweetener (any of your choice)
2 cups chocolate chips
1/2 cup coconut flour
2 cups peanut butter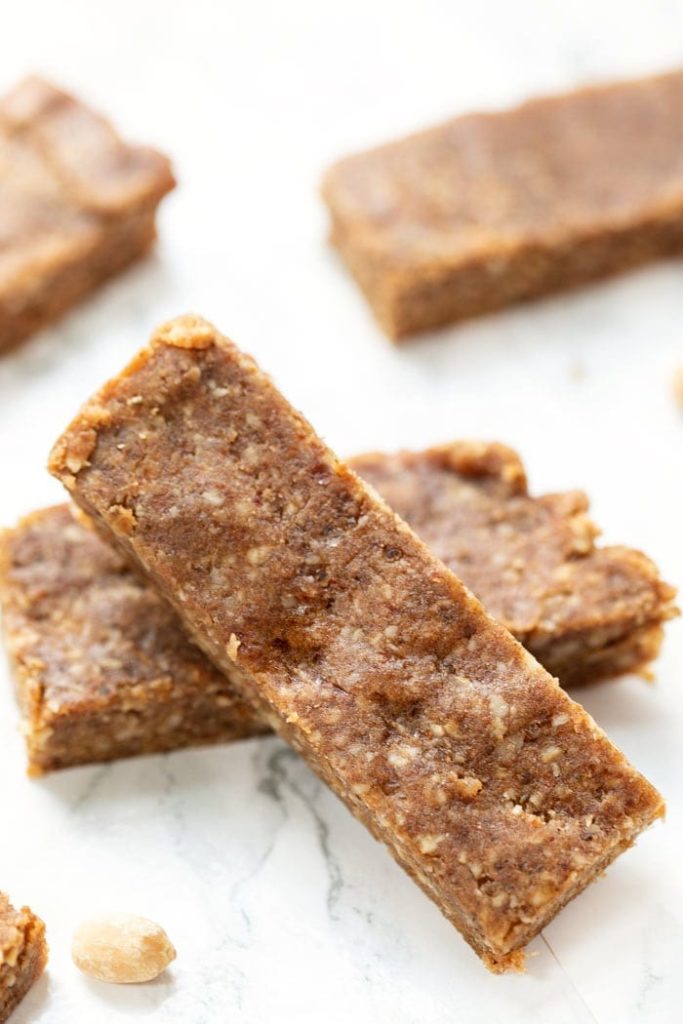 Steps to Follow:
Mix all the ingredients mentioned above in a large bowl.
Melt the peanut butter with sweetener in another bowl.
Stir well and pour it into the dry ingredients and mix well.
Add chocolate chips to the mixture.
Transfer the whole mixture to a baking dish/loaf pan.
Make sure the dish/pan is lined with parchment paper
Press the mixture firmly to into the dish.
Freeze the mixture until it becomes firm.
Once done, cut it into desired keto bar sizes/strips or squares.
4. Sugar-Free Low Carb Keto Granola Bars
Ingredients: 
1 cup raw almonds (chopped)
1 cup unsweetened coconut flakes (tightly packed)
One large egg
A ¼ cup of chocolate chips (stevia sweetened)
1 cup slivered almonds
4 tbsp Monk fruit
2 tbsp almond butter
¾ tsp sea salt
1 tbsp coconut oil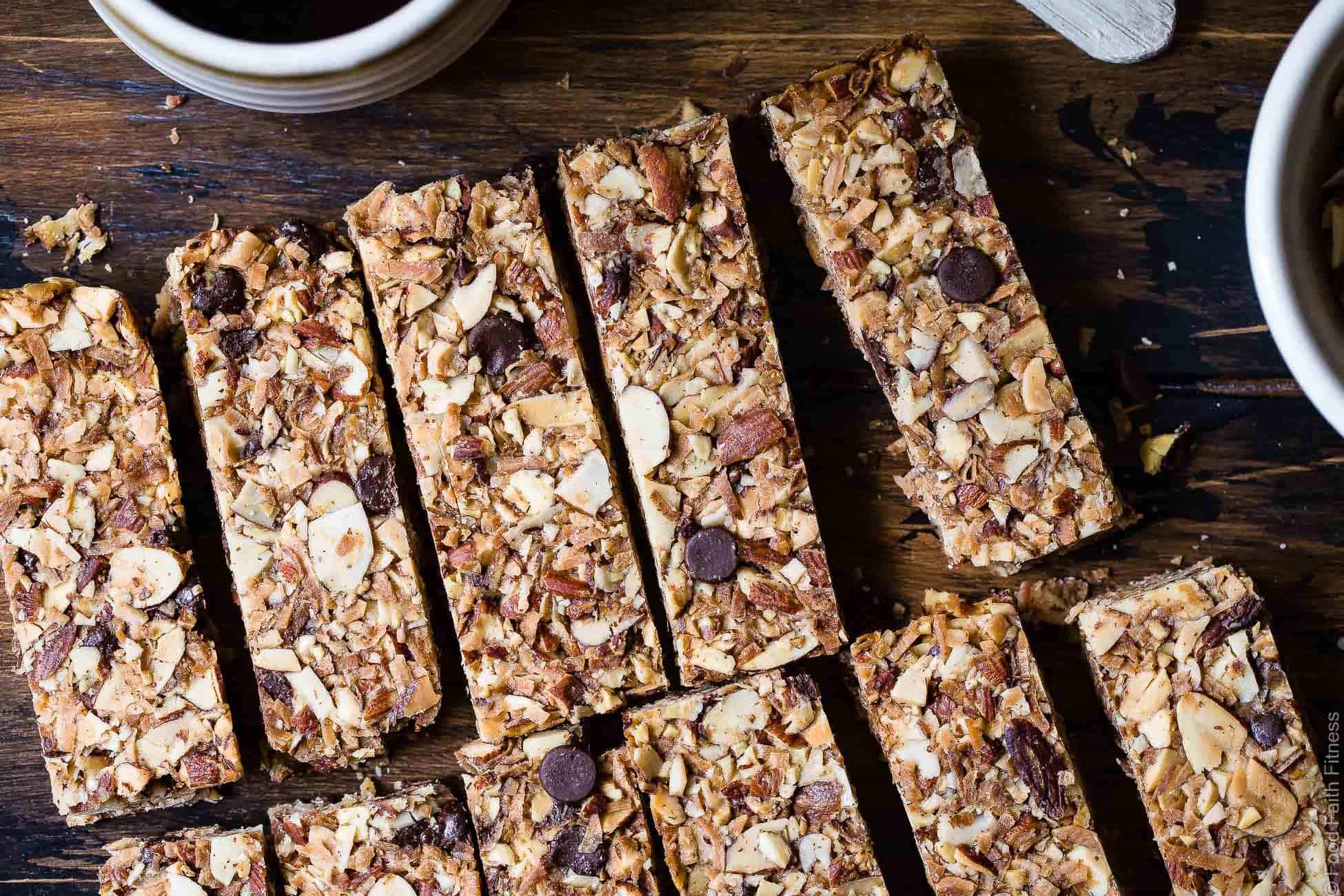 Steps to Follow: 
Preheat the oven to 375 degrees.
Line an 8×8 inch pan with parchment paper, Remember to leave some hanging over the sides to use as a handle later.
Now place the slivered almonds along with the chopped almonds and coconut flakes in 3 separate small baking sheets.
Bake until it is roasted and is in golden brown color.
It will take at least 4 minutes for the coconut to get baked, the slivered almonds 5minutes and the chopped almonds take almost 12 minutes.
Let it completely cool.
Also, reduce the oven temperature to 350 degrees.
Now whisk the monk fruit and egg together in a large bowl.
Melt the almond butter and coconut oil in a small microwave-safe bowl for 30 seconds until it becomes smooth.
Mix the egg mixture into it and whisk well.
Now, add all the nuts and coconut with salt and combine well.
Also, stir in the chocolate chips.
Press the mixture firmly into the already prepared pan.
Use some force so that when you pack this thing, they will hold together.
Bake for 15 minutes over 350 degrees until it becomes set.
Once done, keep it to cool completely at room temperature.
When cooled, slice them into bar strips.
These bars can be stored in the refrigerator for 2-3 days in an air-tight container.
5. Low Carb Protein Bars
Ingredients: 
One scoop favorite protein powder
1½ cup flaked coconut (unsweetened)
¼ cup golden monk fruit sweetener1 egg white
1¼ cup almonds (sliced)
2 2/3 cup pecans (chopped)
½ cup almond butter
A ¼ cup of coconut oil
½ tbsp ground cinnamon
1¼ cup sunflower seeds
1 tbsp vanilla extract
¼ tsp Himalayan sea salt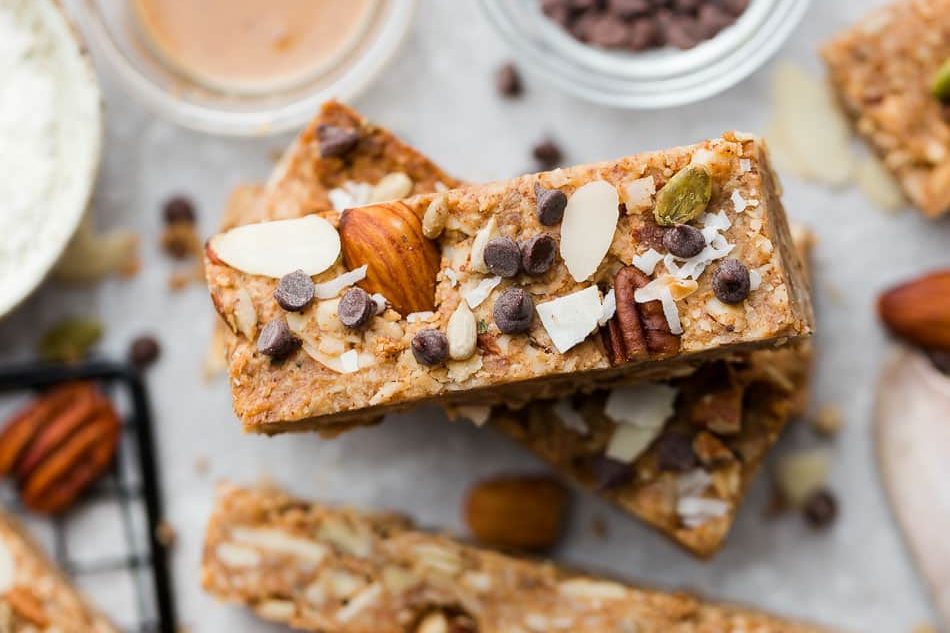 Steps to Follow:
Preheat the oven to 350 F.
Prepare the baking dish of 8×8 with parchment paper. Keep aside.
Add almond butter, coconut oil, and monk fruit to a large pot.
Stir over medium heat until the monk fruit dissolves.
Remember to stir frequently.
Now remove the pot from heat and let the mixture cool for the next 3 minutes.
Whisk in the cinnamon, egg white, vanilla with salt.
Stir in the sliced almonds, sunflower seeds, chopped pecans, flaked coconut, protein powder, and hemp seeds until it gets combined.
Transfer the mixture into the prepared pan and press it down firmly with a spatula until it is tight and compressed.
Bake for 18 minutes in the preheated oven until the edges become lightly brown.
Remove the pan from the oven and allow it to cool completely.
When cooled, using the parchment paper, transfer the mixture into a cutting board.
Cut the mixture into rectangular bars.
These bars can be stored in the refrigerator for up to 3 months in an airtight container or resealable bags.
---
Conclusion
Narrowing down to some of the best delectable protein bars wasn't always going to be easy. We shared options that gave us the best of both worlds — high on taste and effectiveness. Of all the protein bars listed, we pick Quest Nutrition Protein Bars and RXBAR's Whole Food Protein Bar as our favorites. Keto protein bars have to be purchased with attention to every detail — their quality will help you in the long run. 
Hope you settle for the product that ticks all the right boxes. If you have a tasty bar that hasn't made it to the list, let us know in the comments section below.
---
FAQs (Frequently Asked Questions) 
Are protein bars good for health?
Protein bars, when consumed in moderation, can be an exceptionally healthy option. Even if you miss your meal, a protein bar is going to rescue you from the situation. There are some things to consider to choose protein bars for your daily routine. Below are the six factors you have to keep in mind:
Total Calories: If you are trying to lose weight, having a protein bar as a replacement bar is going to help you tremendously. It takes up a significant portion of calories from your schedule. Also, if you are trying to gain weight, it is the best choice to include protein bars post workouts or between meals.
Total Carbohydrates: After workouts, having protein bars is going to help you to replenish your worked muscles. It is not ideal for those who are trying to lose fat to consume high carbohydrates.
Fat Content: Use a protein bar with lower fat content unless you are consuming protein bars post-workout.
Consider the Carb to Protein Ratio: The best ratio for a protein bar, targeting fat loss is 2:1 of protein to carbs.
The presence of Sugar Alcohols: Some consumers face some issues while intaking them, so it is better to avoid that kind of bar and find those that don't.
Ingredient Panel Listings: It is better to review the calories and carbohydrates before purchasing to make sure the bar fits with your dietary goal. 
When should I eat protein bars?

Protein bars can be consumed according to your convenience. It can be used as a meal replacement for those to tend to skip their meal. Protein bars help them to compensate for their breakfast.
Protein bars can also be consumed as a snack in between meals. This helps from having unhealthy food items like chips, cookies, and cakes. These bars curb your hunger until your next mealtime.
You can have protein bars before or after your workout sessions.  When consumed 1 or 2 hours before your workout, you get the energy from these bars to do your work harder and longer. If consumed after your session, it helps to repair your muscles leading you to recover faster.
How many protein bars should I eat a day?
Like all other food types, protein bars should be consumed in moderation. It depends on the ingredients your protein bars contain. The type of ingredients, calories and the size of the bar all determine the amount you should intake per day.
Most protein bars may be low in calories, carbs, and high in protein, it may be the case all the time. Some protein bars are also high in fat and calories, which may wreck your diet routine.
Make sure you consume an adequate amount of calories, sugar, and protein each day. Most bodybuilders and dieters prefer to have one or two bars per day, but it is advised to check with the ingredients of your protein bar before going for that count.