Living a healthy life is one of those predominant things that everyone hopes for. There are various health benefits to staying fit. As going to the gym when it's showery or drizzling might not be the option, consider setting up a gym within your home a good option.
To start with strength workouts, dumbbells help become what you have been trying to for so long. While we are on the topic of dumbbells, the thing you need to know is there are two kinds of dumbbells- adjustable and traditional.
Adjustable dumbbells are quite different from the traditional ones as they allow you to shift weight for you every dumbbell when performing various exercises and also as per your strength. These dumbbells are challenging to find in traditional gyms, but many prefer using these at home gyms as they save space and are quite versatile.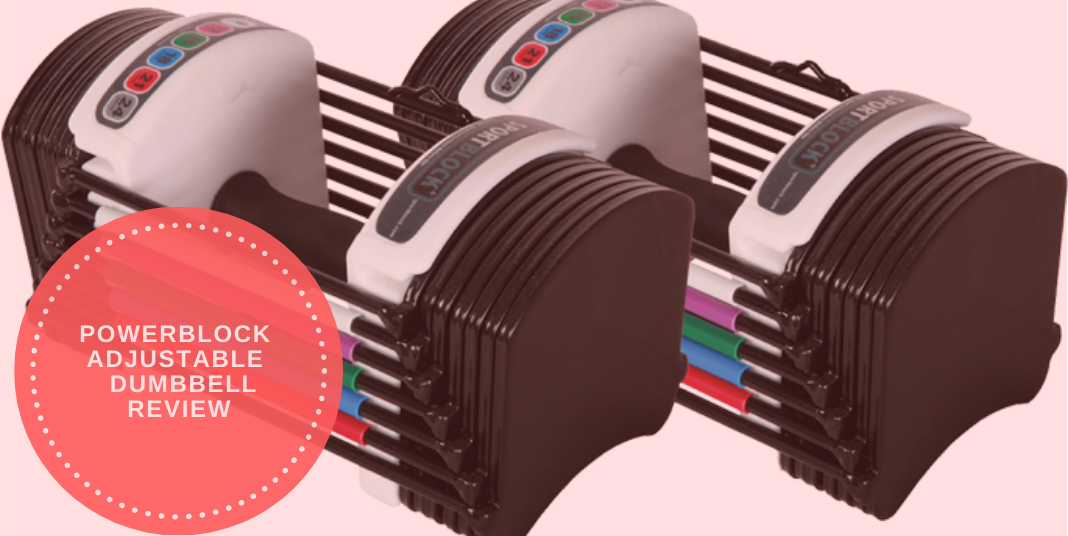 Adjustable dumbbells are not widely available. However, we did manage to get our hands on the Powerblock Adjustable Speedblock Dumbbell. In this article, we take you through the positives and negatives of this piece of equipment, helping you decide whether to go for it or not.
---
Introducing the PowerBlock GF-SPDBLK24 Adjustable SpeedBlock Dumbbell
PowerBlock GF-SPDBLK24 Adjustable SpeedBlock Dumbbell is one of the comfortable dumbbells to hold, which is backed by an extraordinary patented clip system. What separates PowerBlock from other brands is the weight increments that can be changed or how heavy they can be.
For most of the people trying to get fit, there are several budget-friendly options available, but for those looking for strength training, PowerBlocks GF-SPDBLK24 is the best option available. This piece of equipment takes less space and is in most ways similar to a fixed dumbbell.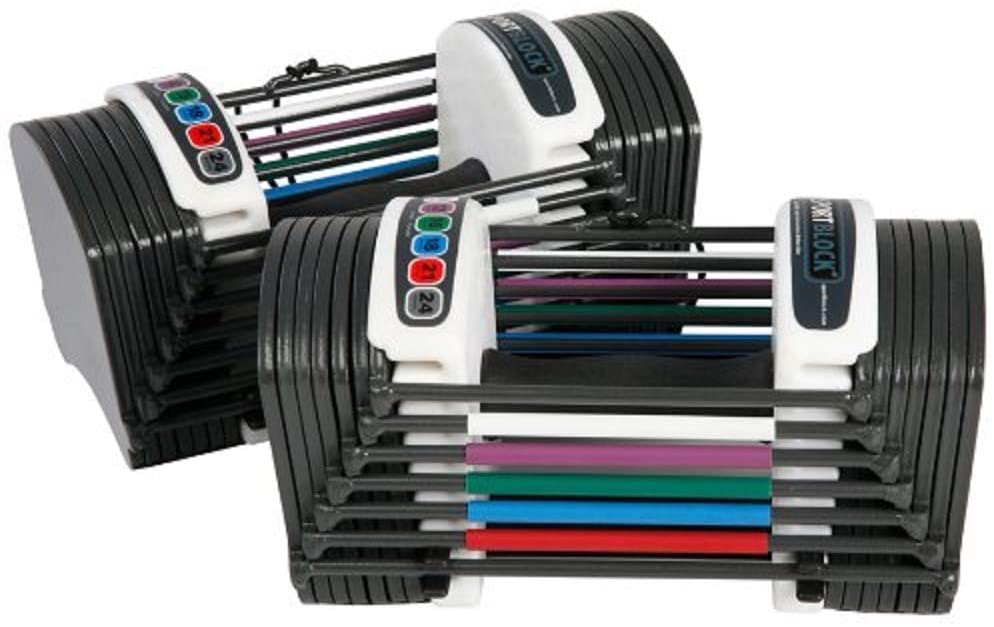 PowerBlock GF-SPDBLK24 dumbbell sports a quirky design and also boasts of a built-in wrist guard. This pair of dumbbells is just the perfect thing for every fitness enthusiast.
Before proceeding to the features, likes, and dislikes, let us first take you through how these dumbbells work.
---
How do these dumbbells work?
PowerBlock's dumbbells work quite similar to the weight stack which you can find on any standard weight machine at a regular gym. There is a selector pin provided, which you have to move to the color code representation given to achieve your desired weight.
Then you have to reach to the core of the unit to hold the handle and pull the dumbbell along with the weight plates provided for the selector pin. Once you are finished all you have to do is place the block back on top of the weights which are not used.
Now that you know how a dumbbell works, let us look at the features that an amazing dumbbell like PowerBlock GF-SPDBLK24 holds.
Quality
The dumbbells are quite solid, comfy, and compact. We've been using these for quite a while now and found the quality of the dumbbells to be amazing as they are quite strong and the nuts and bolts of the equipment are too tight.
The state of the dumbbells remains the same, from the time we first used this. Though the selector pins are made of plastic, it still doesn't look like that they would wear off soon. All in all, the product is durable and will last longer.
Shape and Usability
One of the most noticeable things about these dumbbells is the trendy block shape. The dumbbells are thick that could run into your legs and sides while you hold them down. So the best way to use them is around your shoulders.
However, we do not recommend you perform squats while holding them around your shoulder, as there was slight discomfort in your shoulder. Another shortcoming is that products are that the blocky shape holds onto the clothes when practicing bicep curls.
Also Read: Top 10 best stepmills to buy in 2020
Ease of Changing weights
It can take you some time to get a hang of the system as to which weights you have to add and which one to be removed or where you have to put the selector pin to achieve your desired weight. We certainly got used to it as time passed.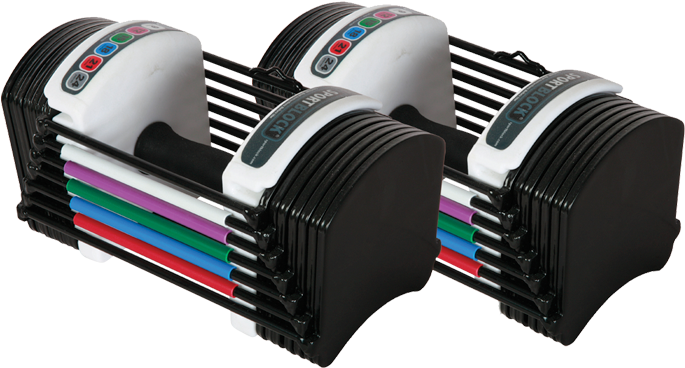 It does take time to learn how the selector pin slides, as the prongs of the selector pin, have to be aligned perfectly before it slides properly. Make sure you place the PowerBlock on a flat and hard surface as it would help to change weights quickly.
If you use the selector pin on a carpet or a soft surface then you are more likely to face problems as the pin doesn't slide properly. So you might want a stand or place the dumbbells on a flat surface.
Safety
The PowerBlock GF-SPDBLK24 is arguably the safest and the most secure to use. The added weight does not slide out as the lock keeps them at their place. Although, you do need to ensure you slide the lock. Also, the selector pins are quite safe as when you slide them to your desired weight you will hear a click, indicating that it has fit perfectly.
In case the pins haven't been inserted correctly, you will know this by not pushing the pin properly. The only drawback is the safety of the hook around the corners that tends to get jammed on the pockets.
Noise
The PowerBlock GF-SPDBLK24 dumbbells exude minimum noise, making them the ideal options for a home gym. The urethane coated plates keep the dumbbells silent as compared to the traditional dumbbells. The only noticeable noise is the one where you add the extra weights and they tend to slide and rattle even in a locked position.
Comfort
The distribution of the weight is well balanced which allows the user to perform their workout sessions worry-free. Also, the grip of the dumbbells is padded, which makes it easy and comfy to hold so that there is very minimal risk of slipping off from your hands while working out.
Also Read: In-depth review of CAP Barbell 40 Pound Adjustable Dumbbells
---
Are there any alternatives?
If you are looking for some other alternatives to these amazing pairs of dumbbells which are available at affordable rates and include the same set of features, then you can always have a look for some of these.
1. Merax Deluxe 71.5 Pounds Adjustable Dial Dumbbell
The Merax Deluxe Adjustable Dial Dumbbell is the first thing that comes close to the PowerBlock Adjustable Dumbbells as they provide great value for money. They come with a wheeled weight stand that can be rolled away for convenient storage.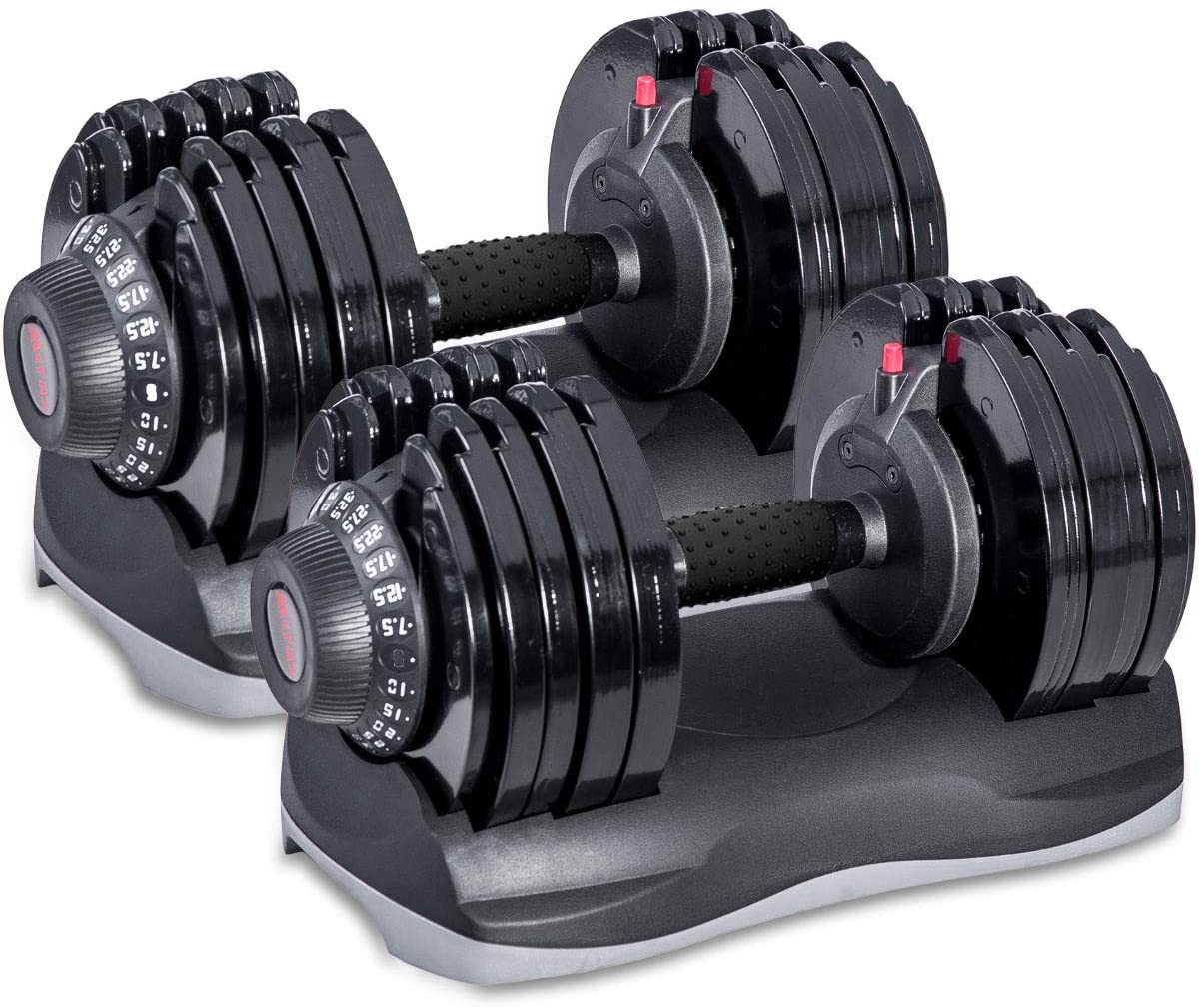 A vast range of weights are available so you can easily switch as you like; also the dumbbells come in 12 weights ranging from 11 to 71.5 pounds. These further boast of a unique dial system that allows switching from one exercise to the other for a hassle-free workout session.
Also, the product is available in two variants — with stand set and just with a set. If you are looking to save some bucks, you can buy this without the stand.

2. Sunny Health and Fitness dumbbell SJTT9
Sunny Health SJTT9 is an excellent alternative to the PowerBlock GF-SPDBLK24, which comes with a comfy and slip-resistant grip. They are quite safe to use and help you in performing an adjustable strength training session.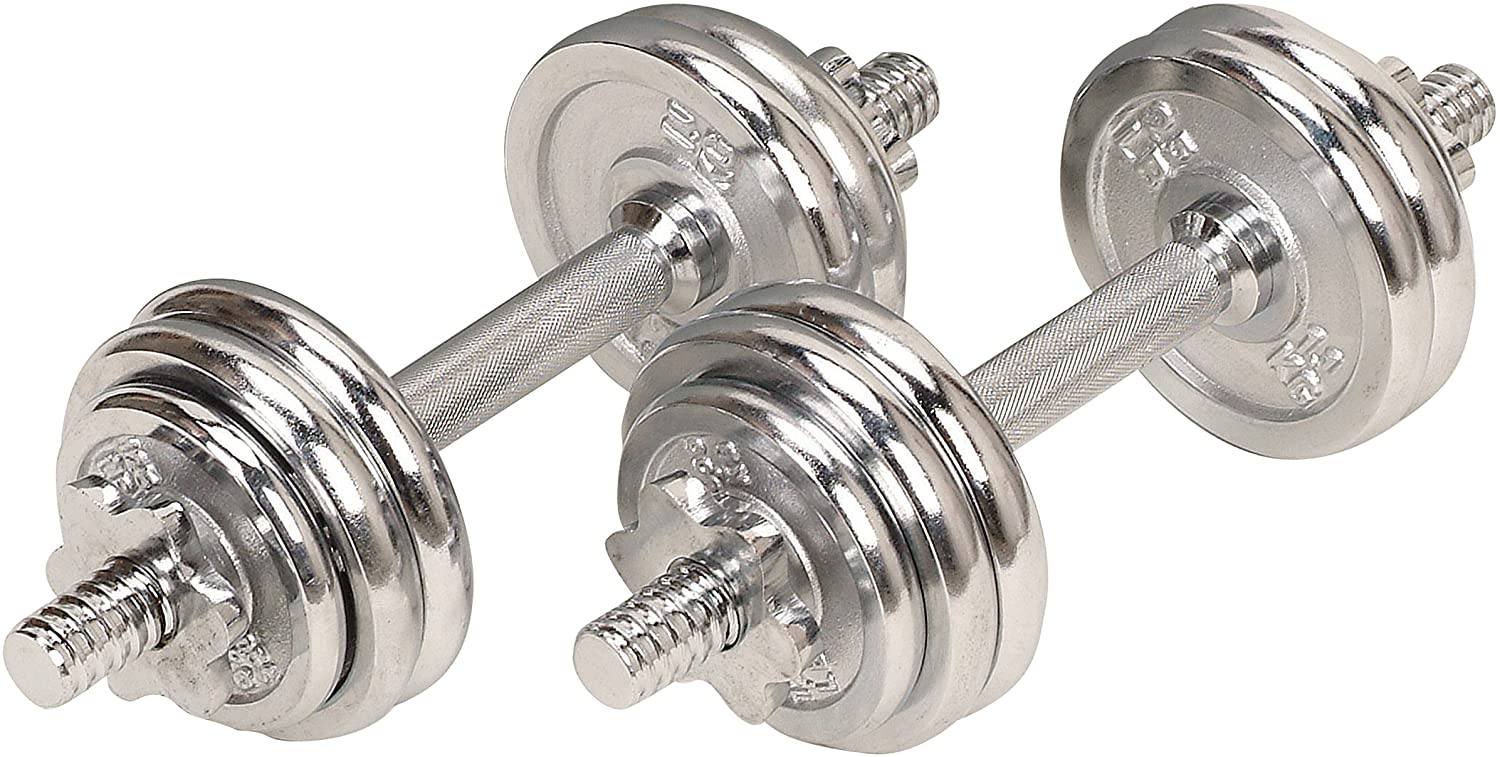 They are straightforward to assemble and come with a plastic case for storing them efficiently. It helps you improve the strength of your bicep by assisting you with the best workout sessions. It is quite suitable for home training sessions, making it a perfect fit.

Also Read: Best Inversion Tables 2020 and Things to Know Before Purchasing One
---
CONCLUSION
Finding a pair of suitable dumbbells for your home sessions is daunting. But as per our research, assure that the PowerBlock GF-SPDBLK24 Adjustable Dumbbells are one of the best ones you get considering the ease of storing, durability, design, and is great value for money.
It is one of the best available if you are looking for adjustable sets to help you in performing intense workout sessions at a budget-friendly price. So now that you know, all that PowerBlock Dumbbells has to offer, get your pair of dumbbells, and get your workout going.