Throbbing pain in the back is what many of us have experienced at least once in a lifetime. For a long time we've been living with misconceptions that only the old are affected by this, the young are equally too.
Before a minor back issue leads to serious conditions, it is best to find a cure at the earliest. While you embark on this journey of finding the best treatment, we recommend you try inversion tables.
Inversion tables reduce back pain, improve blood circulation, and do a lot more. In this article, we take you through the things to be considered and a list of the ten best inversion tables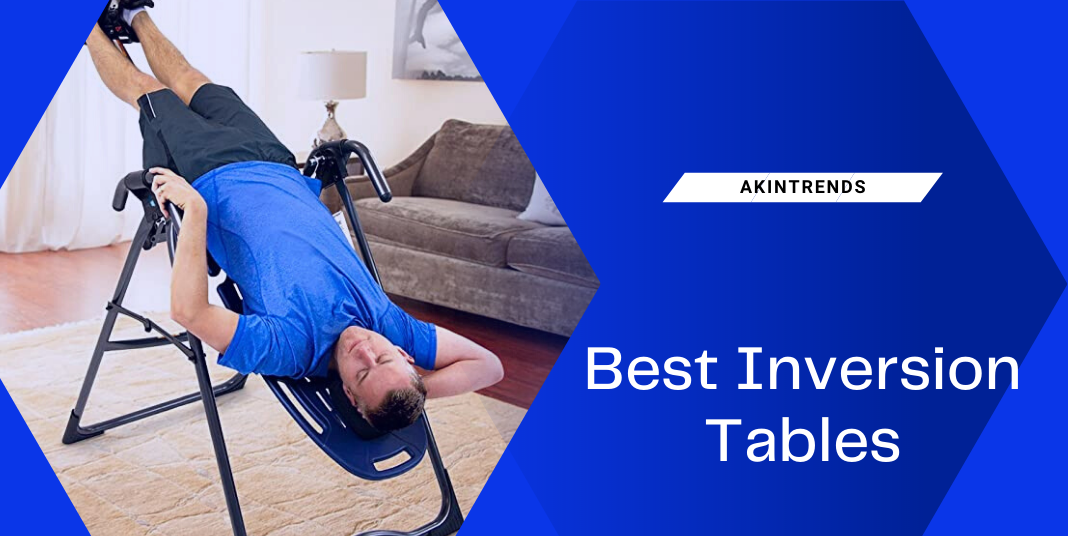 ---
Things to Know Before Purchasing
Quality: The most important thing of all things required to consider before buying an inversion table is the quality of the product. It is crucial to learn that the table is not made using cheap materials, as this could lead to accidents. Currently, steel and iron frames are the best when it comes to durability. Make sure there is enough padding on places that require more support.
Weight and Height Capacity: Another critical aspect to consider is that these tables arrive with height and weight limits. It is recommended to select a table with a more weight limit than your actual weight. Whereas for height, consider buying one that comes with an adjusting feature.
Stability: Machines like these tend to wobble a lot. For superior stability, wide bases are considered ideal than those with narrow bases. Also, make sure that the table features a non-skid design, which prevents the table from moving while inverting.
Positions: The image below will help you with a few positions for all the people who are planning to start using this product.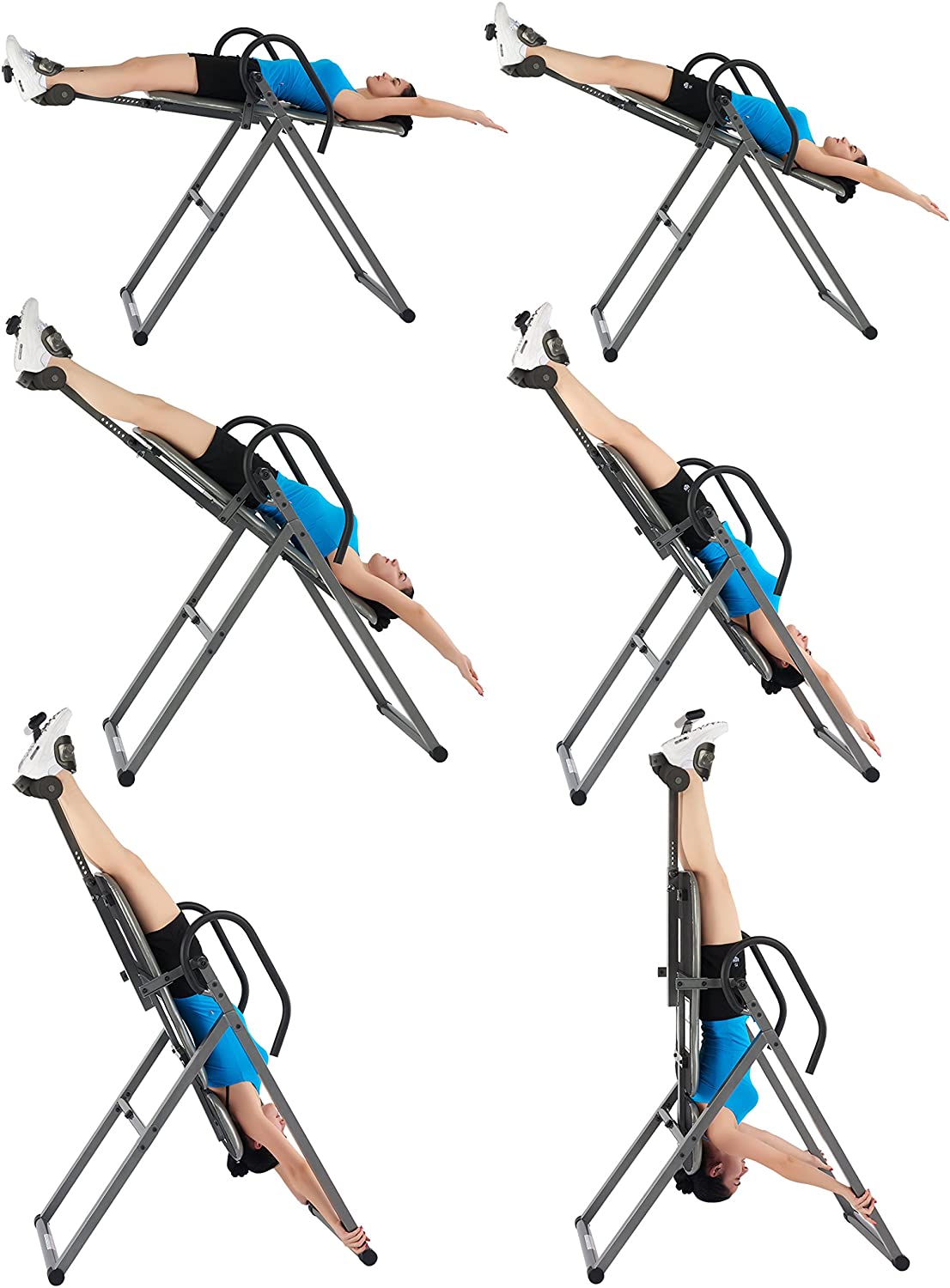 Also Read: Stamina InMotion E1000 Compact Strider vs Cubii Pro
---
Best Inversion Tables of 2021
Without further adieu, based on our research and experience, here's the list of the best inversion tables.
1. IRONMAN Gravity 4000 Highest Weight Capacity Inversion Table
First up on the list of the best inversion tables is the IRONMAN Gravity 4000. This feature-rich inversion table has everything to impress novice and professional athletes. This piece of exercising equipment features a removable lumbar pillow that offers comfort to the lower back.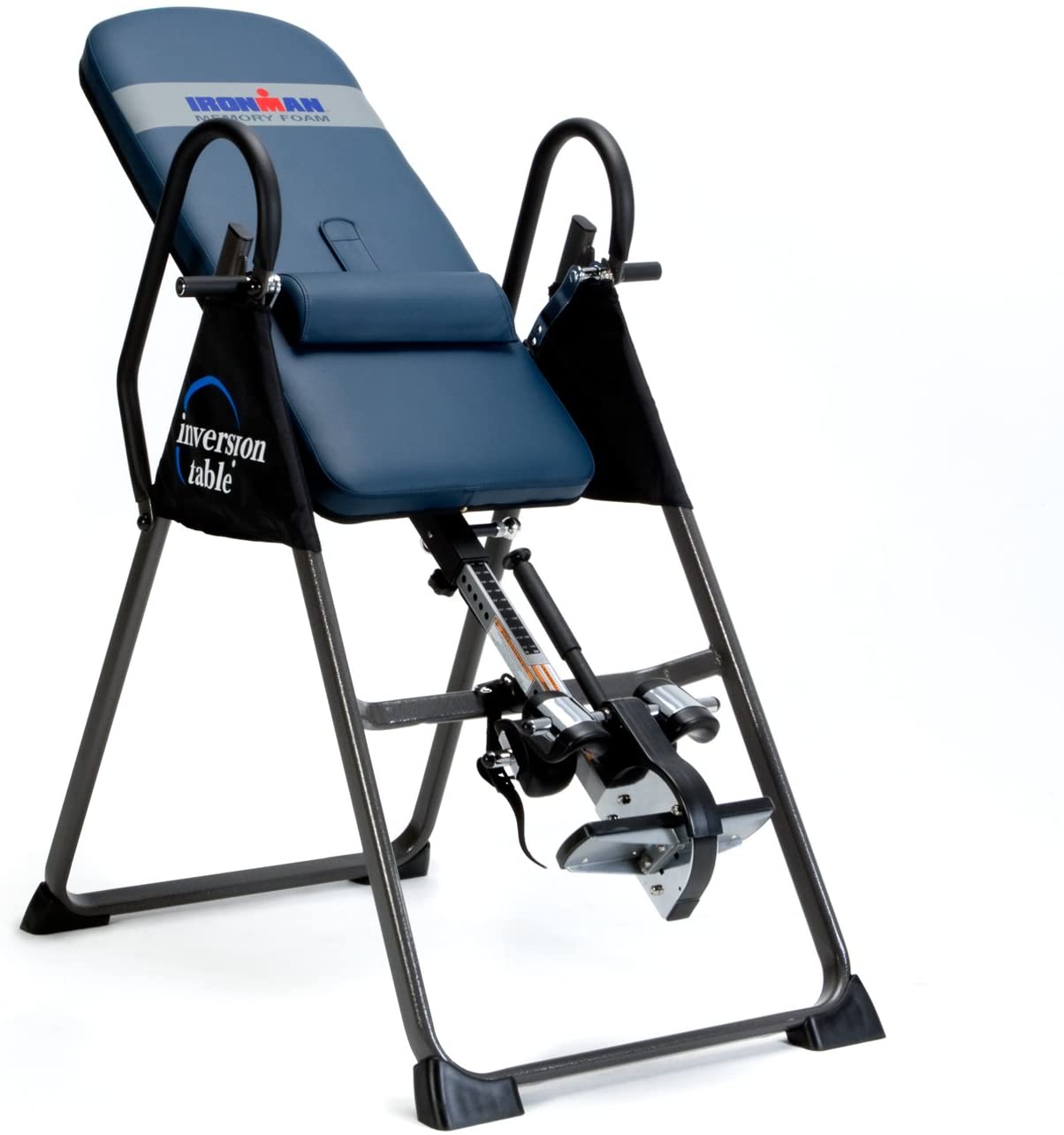 The table boasts of a patented "palm activated" adjust ratchet ankle locking system that will hold your ankles comfortably and safely. Built of steel, foam, and PVC, this inversion table quite easily inverts up to 180 degrees.
Weighing just about 75 pounds, the Gravity 4000 can accommodate users up to 350 pounds. Moreover, this table is easy to assemble and store. The inversion table is available in two variants – with the equipment mat and without the mat.
2. Innova ITX9600 Inversion Table
The Innova ITX9600 has the most loyal fan base in that 'best inversion tables' category. Garnering more than thousands of positive reviews, this table is suitable for anyone looking to alleviate their back pain.
Boasting a large, padded backrest and headrest, the ITX9600 is comfortable for users of all sizes. This table includes six different position adjustable pin systems coupled with a protective cover that makes positioning easier when inverting.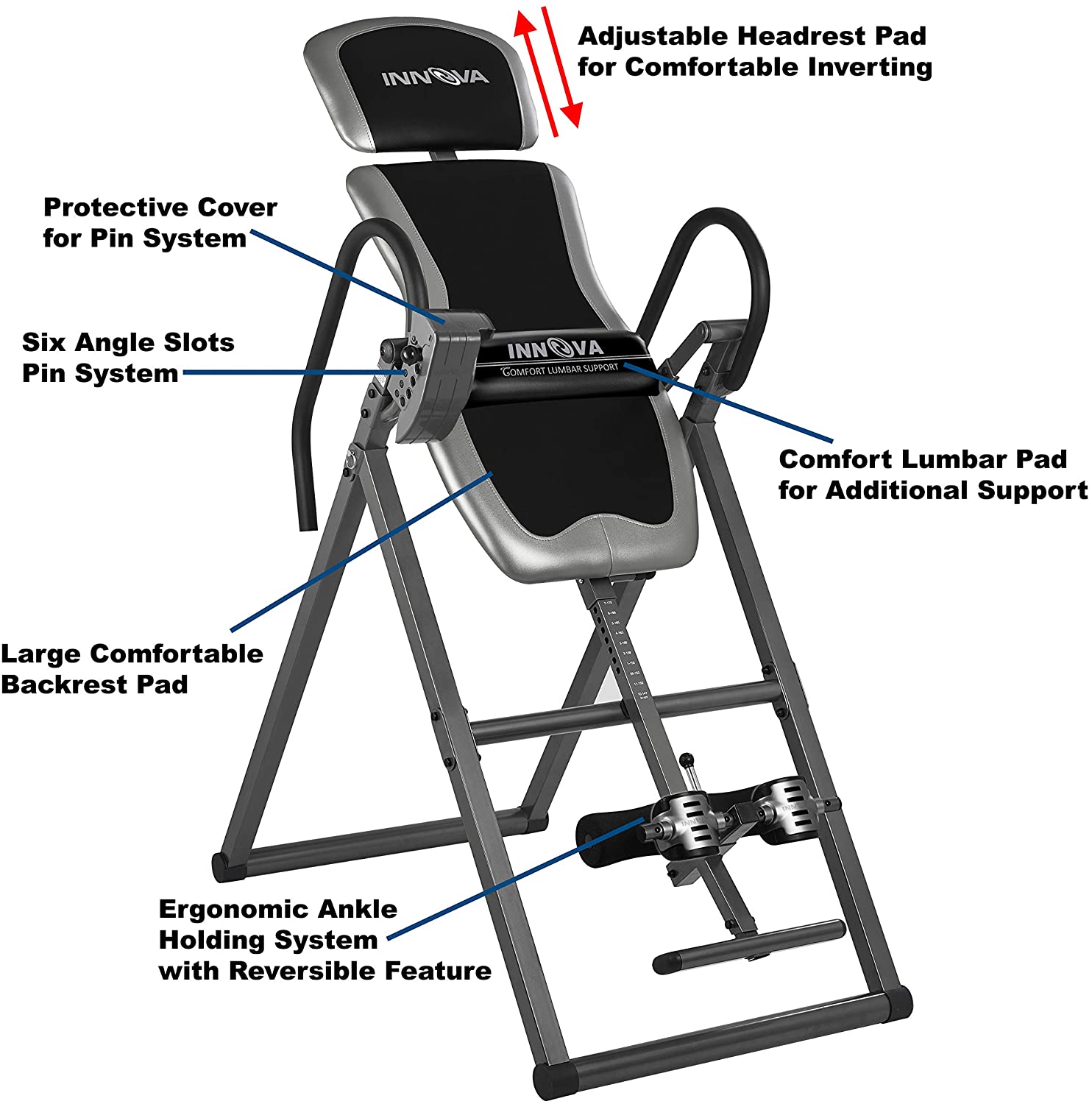 The Innova ITX9600 is powered by the True Balance system, which together with ergonomically designed reversible ankle holdings, makes inverting a safe process. This machine can safely accommodate users weighing up to 300 pounds.
3. Exerpeutic Inversion Table
Exerpeutic's inversion table comes with AIRSOFT holder straps that offer utmost security to your ankles when inverting. Equipped with a "Palm Activated" SureLock system, the table's mechanism provides secure and safe locking to your feet while you keep yourself moving.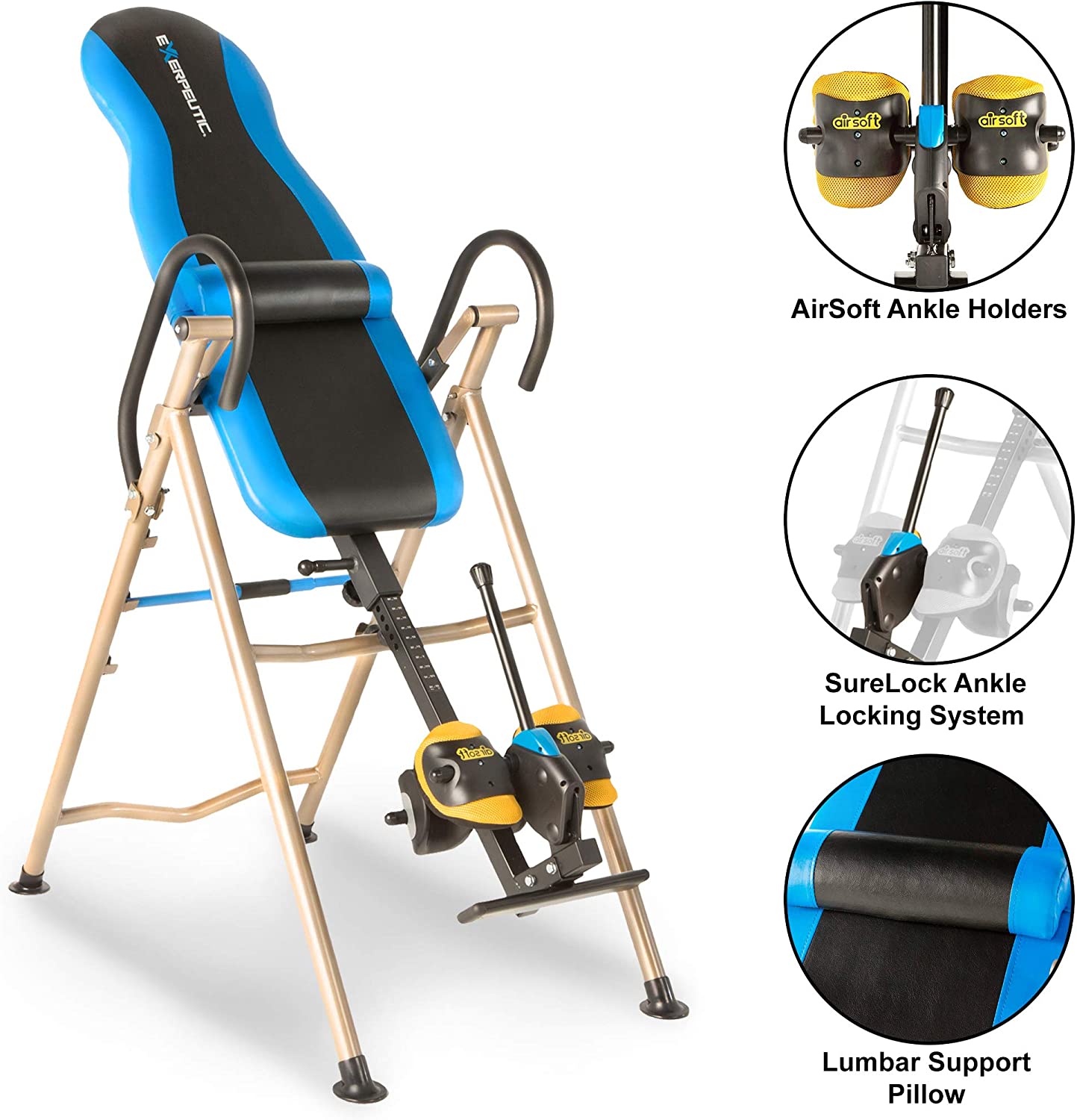 The machine boasts of a three-position adjustable rear crossbar, which makes the inverting task easier and evades the conventional strap system. It further features a removable lumbar pillow that offers support to your lower back.
Weighing about 56 pounds, this inversion table can hold users up to 250 pounds. A few of the machine's other notable features include full loop handlebars and 165-degree inversion. Furthermore, it is up for grabs in two variants – with AIRSOFT holder and with AIRSOFT holder & Heat/Massage pillow.
4. Innova ITM5900 Advanced Heat and Massage Inversion Table
The ITM5900 Advanced Heat and Massage Inversion Table is another top-notch piece of equipment from Innova. This inversion table boasts an adjustable headrest and a padded backrest for more comfort.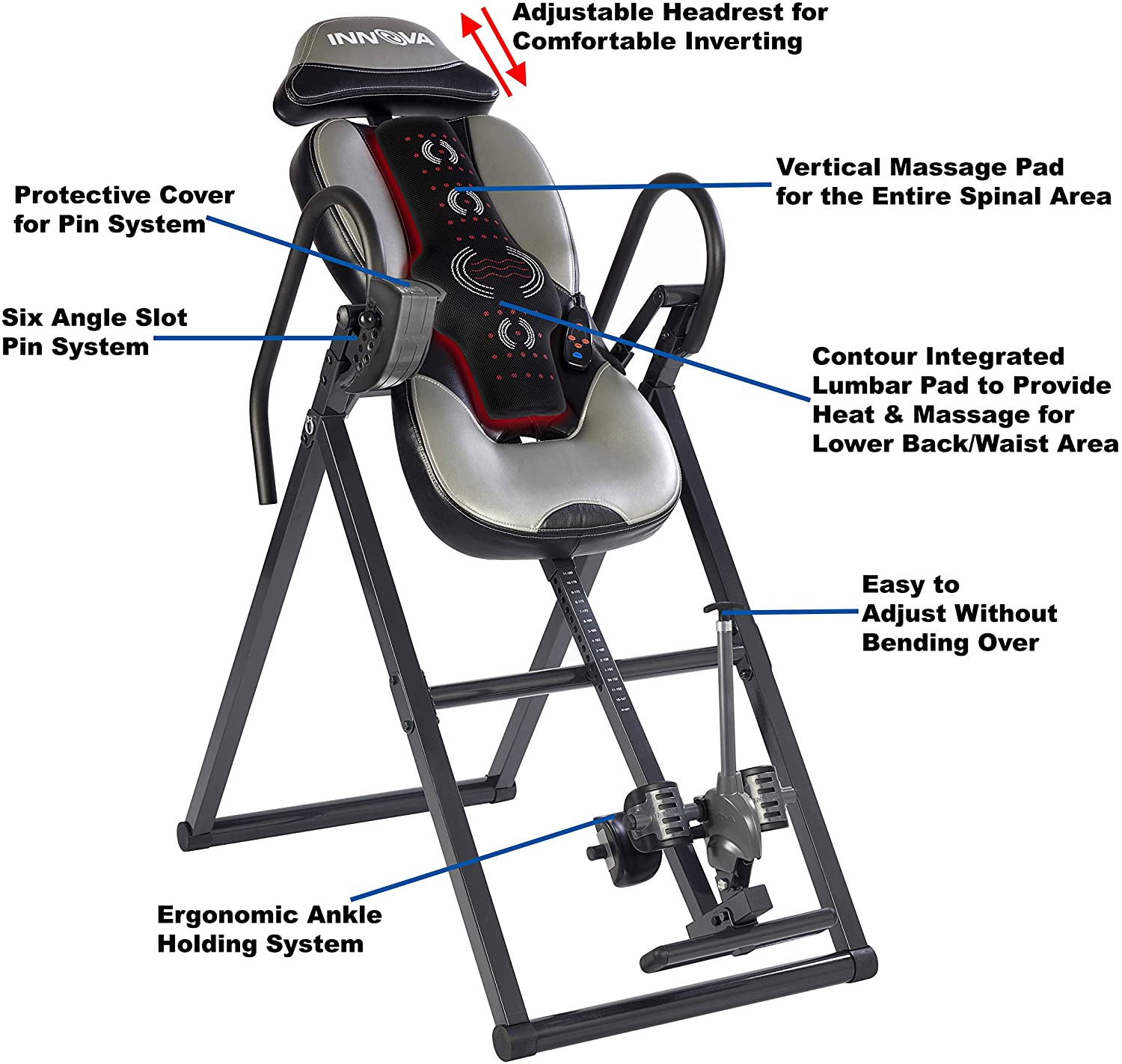 It includes soft foam handlebars that make handling easier when inverting the table. For easing tiredness of your spine and other areas, the table is equipped with advanced heat and a lumbar massage pad. The ITM5900 features a five-angle pin slot system coupled with a protective cover for easy positioning and safe inverting.
Also, the product has a 2-way adjustment system that is built to suit different sized individuals. This inversion table accommodates users with a height of 6'6" and individuals weighing up to 300 pounds.
5. Body Vision IT9550 Deluxe Inversion Table

This machine requires minimal effort to set it up. Crafted using heavy-duty tubular steel, the table is famous for its strength and stability. The table supports the back and lumbar with the large, contoured foam padded backrest and removable headrest.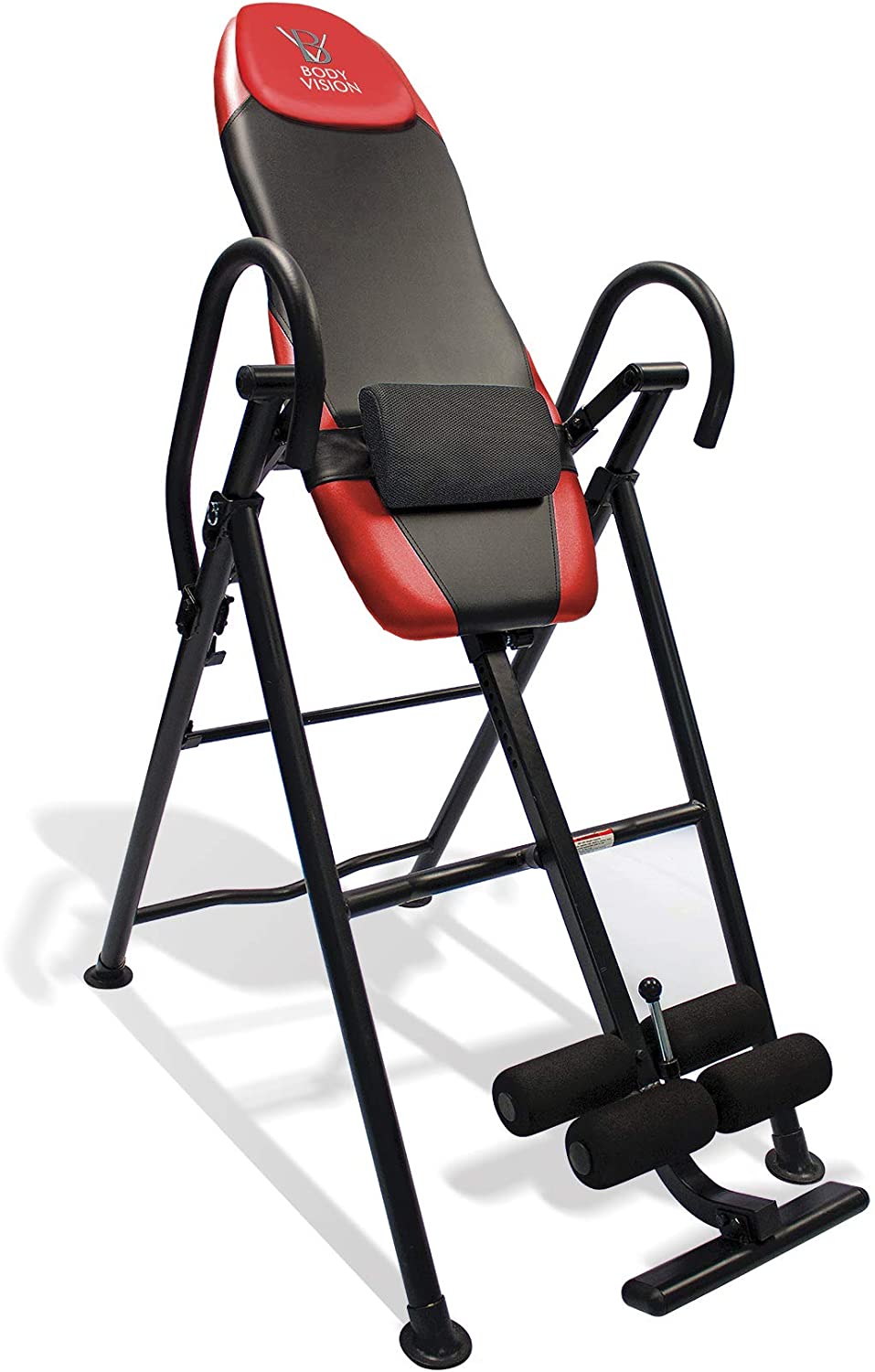 The table remains still unless you plan on moving it, thanks to the safety locking pin system. This machine can be customized to accommodate users weighing up to 250 pounds comfortably. This inversion table comes in four different inversion settings — 20, 40, 60, and 90-degrees.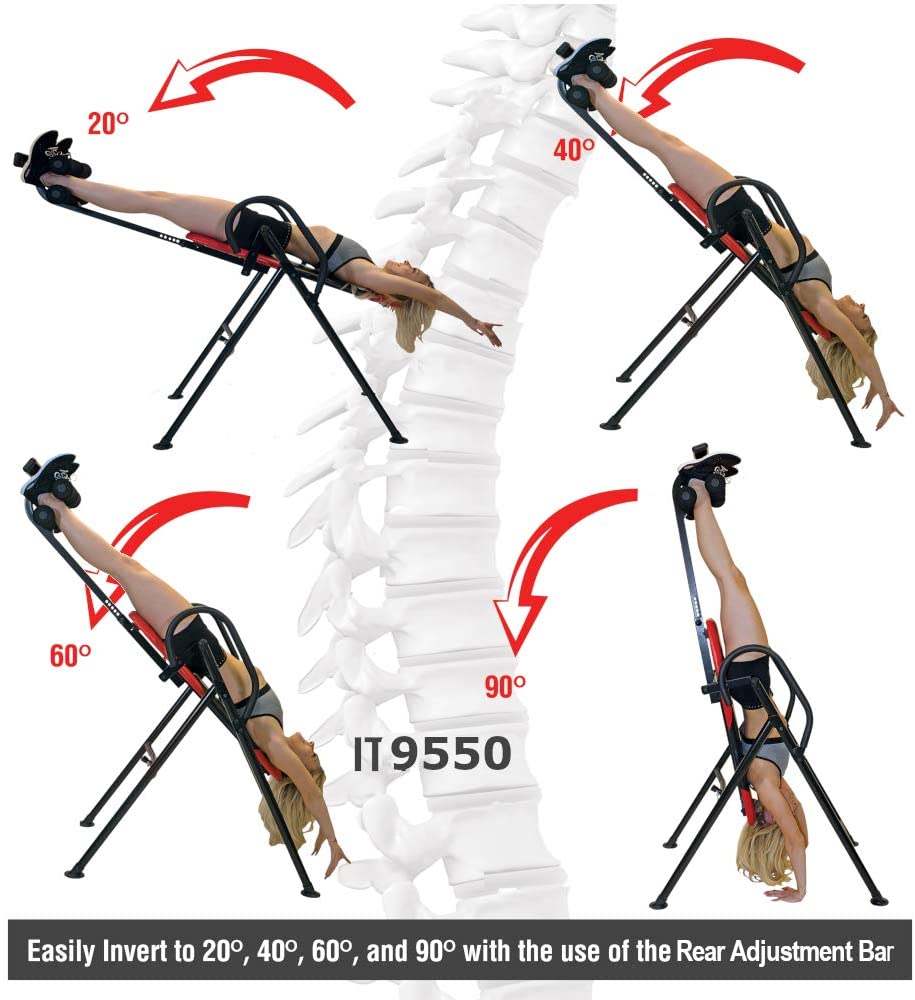 When it comes to preventing calf pinching, the sur-lock ankle support system does the job efficiently. The non-marring floor caps offer maximum stability on uneven floors. The IT9550 has a foldable space-saving design, ensuring better storage and portability.
Also Read: Comparing Indoor Cycling Bikes: L Now D600 vs Sunny Health & Fitness Evolution Pro
6. Health Gear UTM5500 Inversion Table with Vibro Massage
The Health Gear UTM5500 features a remote-controlled multifunctional therapeutic full-back heat and vibrating massage pad. The machine includes a long locking arm that alleviates back bending while hopping on/off of the table.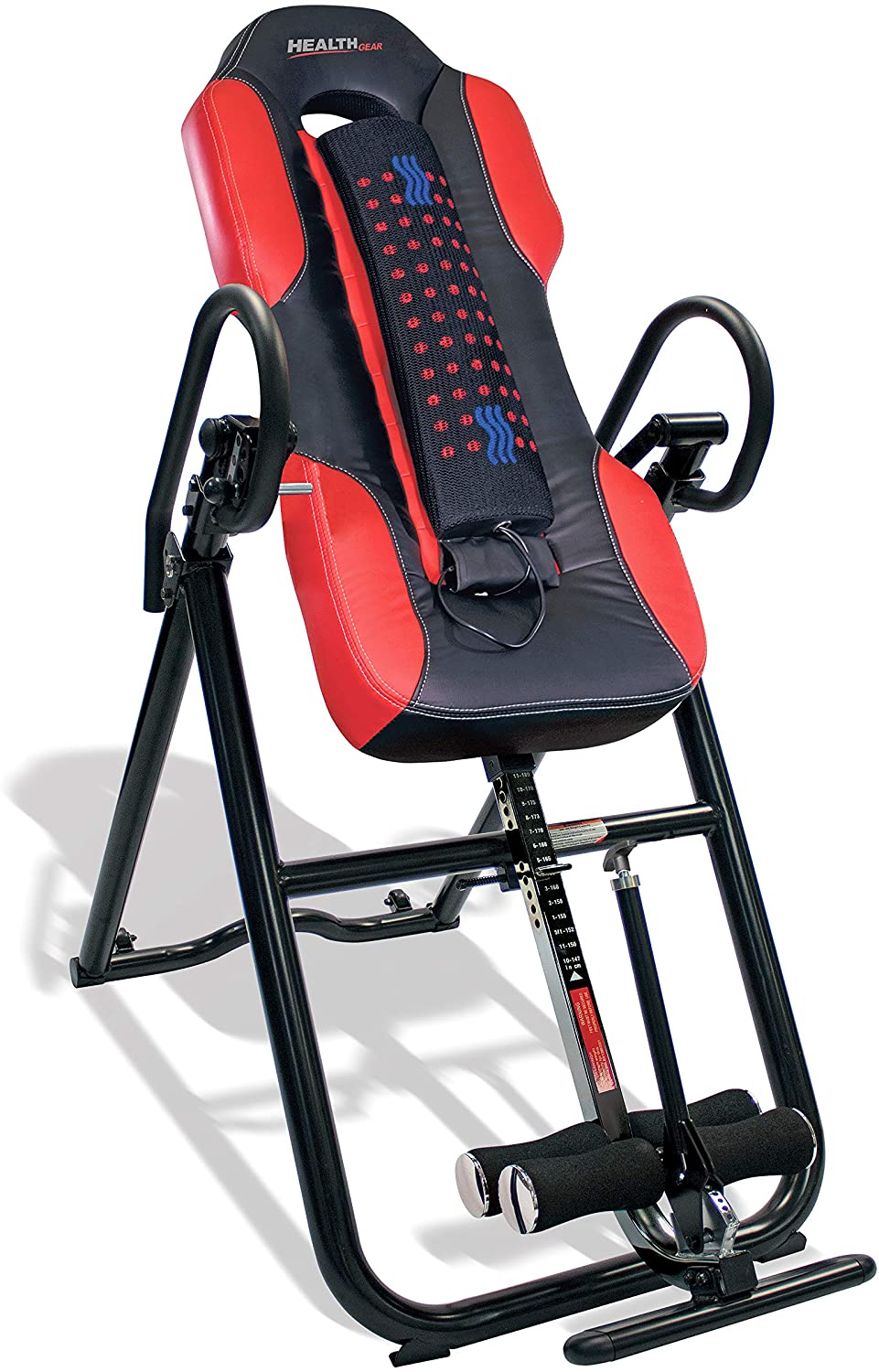 This inversion table has an ankle support system that is coupled with four adjustable oversized leg rollers to prevent calf pinching. The table includes a four-inch ergonomically designed foam padded backrest for additional comfort and support while working out.
The UTM5500 can safely accommodate users weighing up to 300 pounds. Also, the table features non-marring caps that protect floors and restrain movements.
7. Teeter EP-560 Ltd. Inversion Table
The Teeter EP-560 boasts an extended ankle lock handle, making sure that your ankles stay secure while using the machine. This inversion table features the patented pressure-reducing ankle system, which enhances comfort while inverting.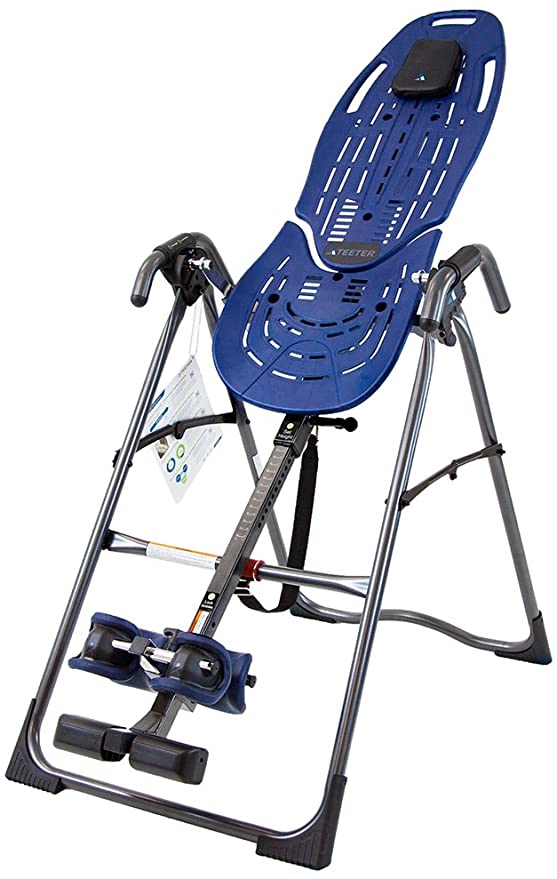 The addition of ComforTrak bed flexes with the user for satisfaction and optimizes stretch for relief. The table consists of acupressure nodes that promote the trigger-point release, while the lumbar bridge supports the lower back. This inversion table can safely accommodate users up to 300 pounds.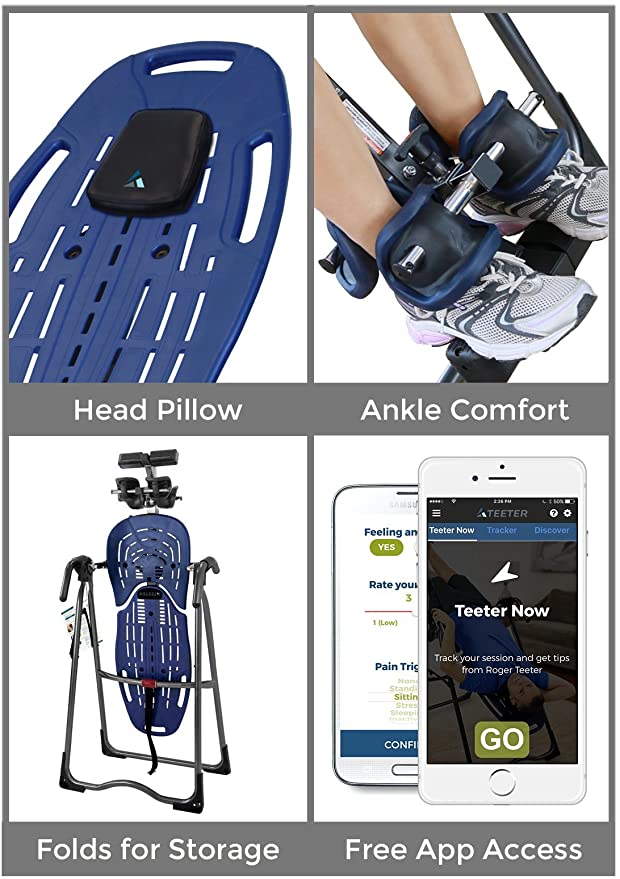 This inversion table is easy to assemble, with the bulk of the assembling done prior to being packaged. To make the process easier, you get an instructional DVD that simplifies each step and a stretching and muscle toning exercise guide crafted by a professional.
8. HARISON Heavy Duty Inversion Table
The Harison Heavy Duty Inversion Table is ideal for those who have been facing issues with their neck. Made of high-quality 3D memory foam, this inversion table offers maximum comfort to the back and neck as well.
The table is stocked with a safety belt and ankle holders for extra comfort while inverting. This heavy-duty table can quickly invert from 20-degrees to 180-degrees. It further boasts of secure long handles, sponge foot cover, non-slip nuts and mat, etc.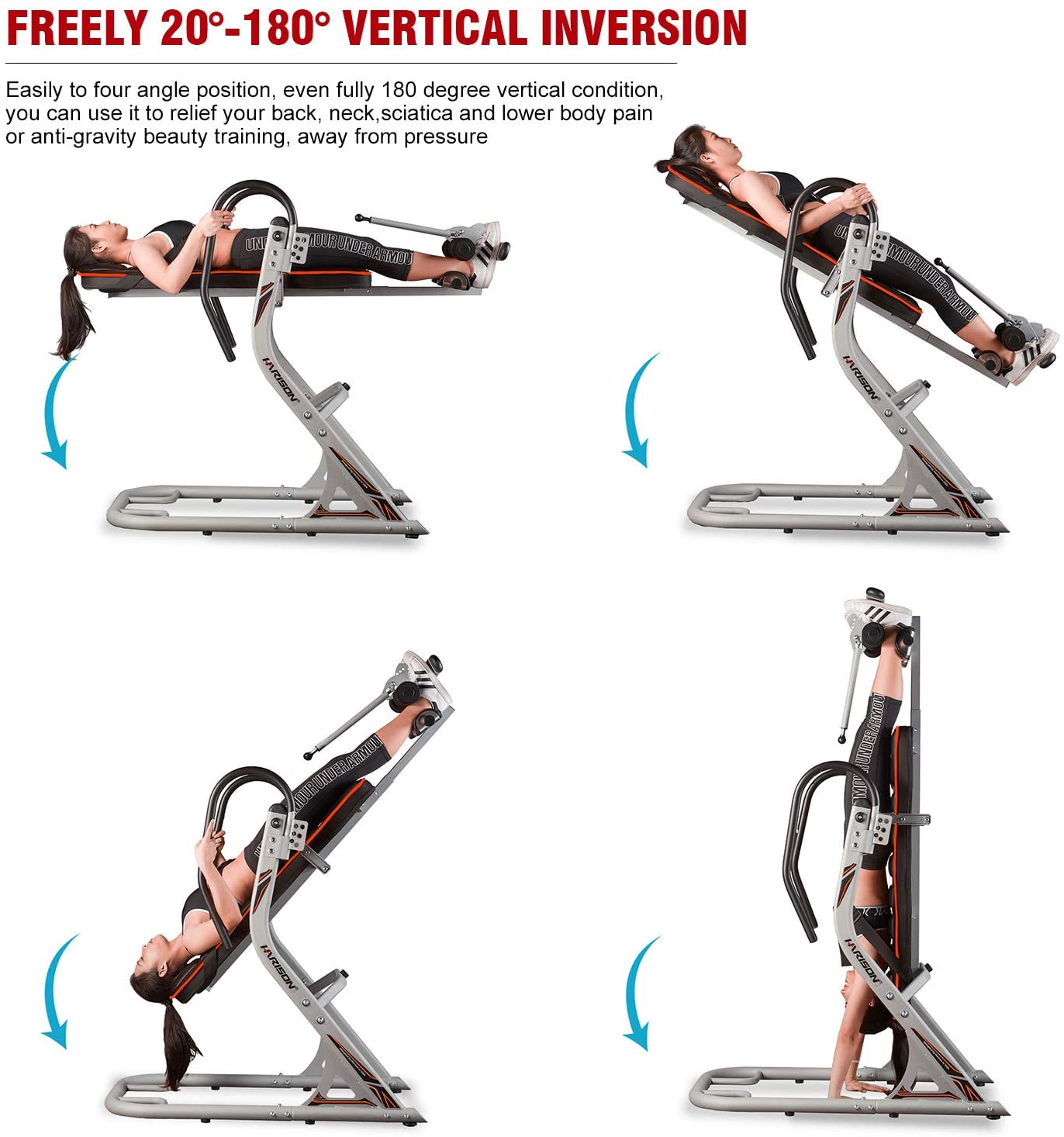 This machine can support users weighing up to 350 pounds. Athletes worldwide recommend this machine to exercise back, neck, losing weight, and anti-gravity beauty training.
9. Exerpeutic 975SL Heavy Duty Inversion Table
The Exerpeutic 975SL has the iControl Disk Brake that helps you set a comfortable angle by simply adjusting the handle on the side. The machine is equipped with AirSoft ankle cuffs that allow air to flow into your legs and ankles.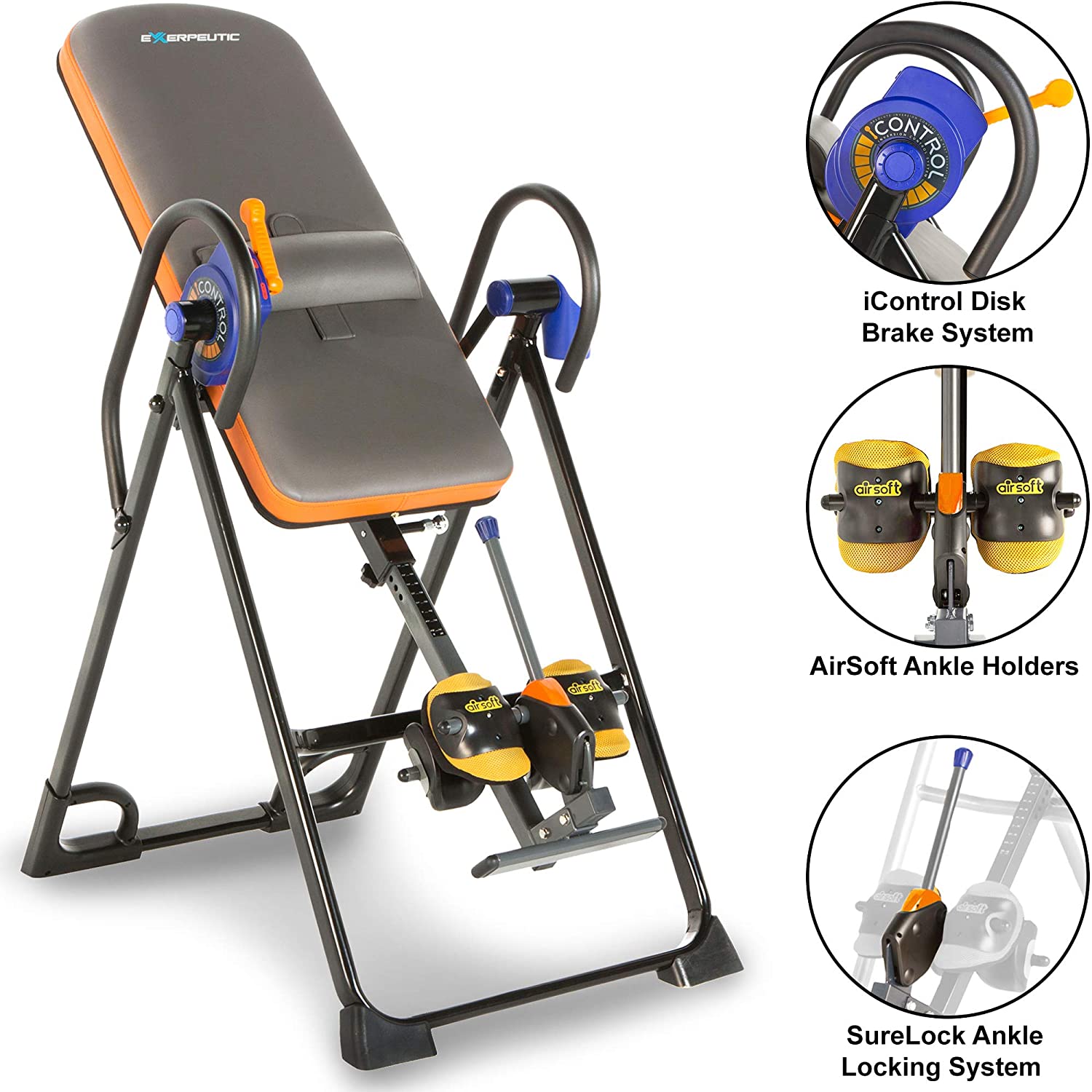 The machine features a double lock ratchet system, which makes the table safer and averts accidental unfastening when inverting. Also, it boasts of a thick foam backrest for maximum comfort while using this.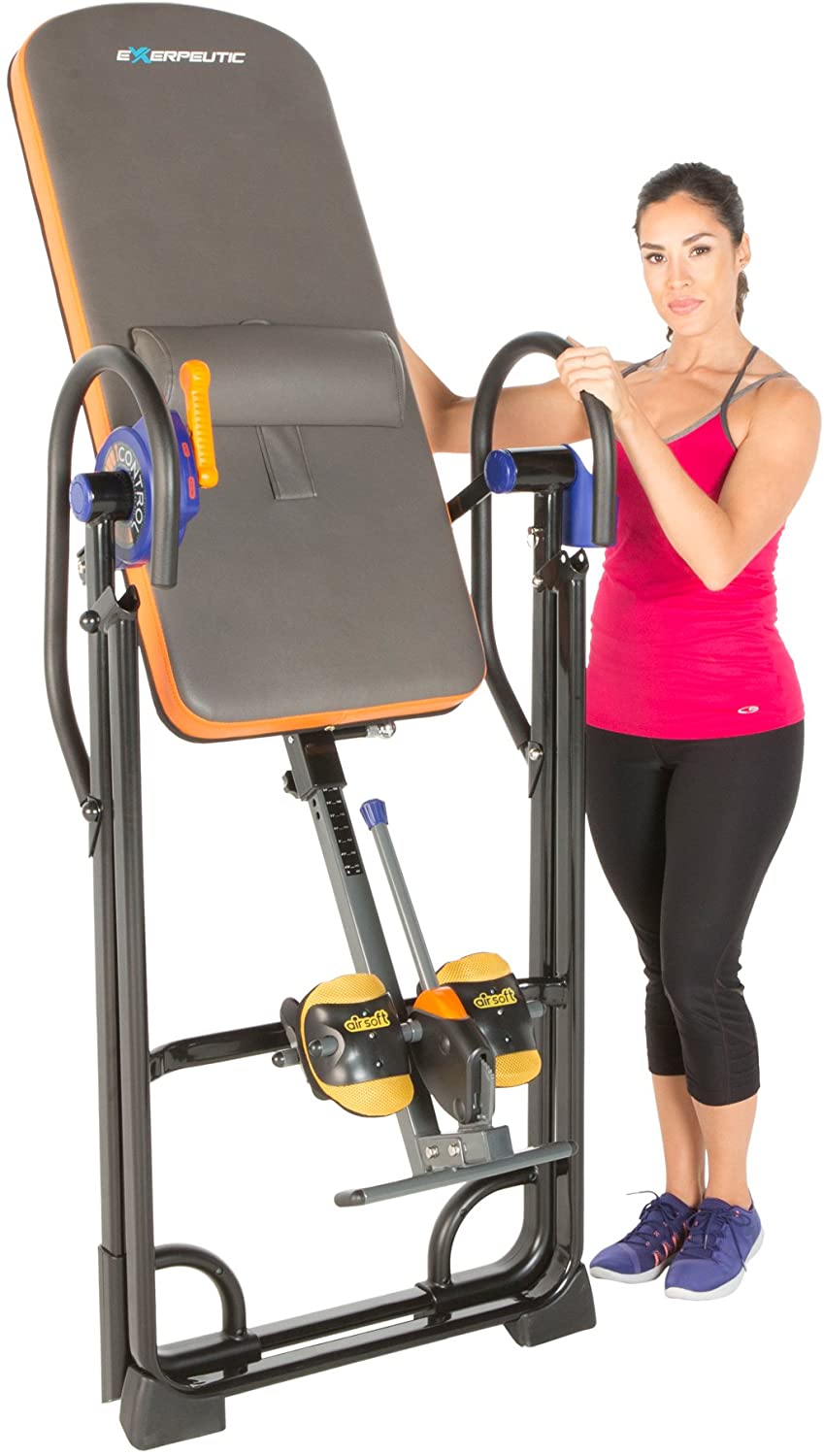 Sporting a strong tubular steel frame, this table supports up to 350 pounds. The machine comes along with a removable lumbar pillow for extra support to the lower back.
10. Body Vision IT9825 Premium Inversion Table
The Body Vision IT9825 is hands down the best inexpensive inversion table available in the market currently. For saving some space, the inversion table folds flat conveniently.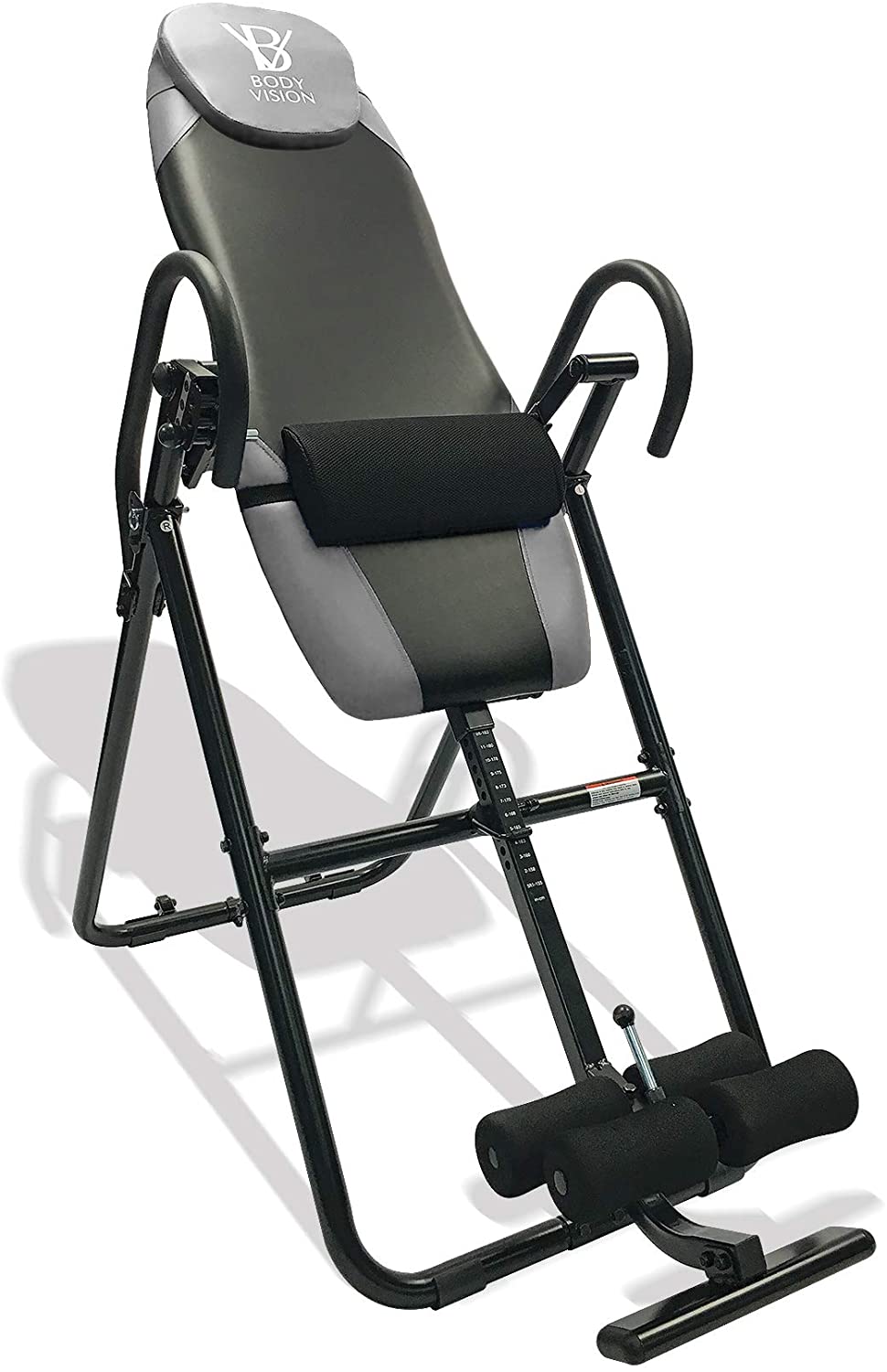 This table features a removable, lumbar support pad, which can be adjusted according to the users' height for maximum comfort to the upper back, shoulders, and neck. The IT9825 includes four adjustable foam leg rollers that prevent calf pinching.
This inversion table accommodates users weighing up to 250 pounds. Moreover, it boasts of a steel tube frame with non-marring caps that protect floors. It further includes transport wheels that make storing and portability easier.
Also Read: Top 10 best stepmills to buy
---
CONCLUSION
The inversion table is a vital piece of equipment both at the gym or house. We tried and tested quite a few before collating this list of best inversion tables that are currently available in the market. The IRONMAN Gravity 4000 is our choice for the maximum capacity it can hold, while the Innova ITX9600 Inversion Table is the value-for-money equipment that many households take pride in using.
However, it is essential for you to select a table that can accommodate your needs and preferences. If there's a product worth mentioning, please write to us in the comments section, and we'll get back.
---
FAQs
Do inversion tables cause pain to the back?
There are specific ways of using an inversion table that averts the chances of hurting your back. The recommended way is to steadily come to a position and not invert to 180 degrees. We suggest getting to 60 degrees to get a complete reduction of pressure on your spine.
How many times can I invert in a single day?
The recommended daily usage is twice per day. Studies show that your muscle tension levels drop by about 35% in the first 10 seconds when inverting. The number suggests how many times you could invert per day to keep your muscle tension low. In case you feel the exercise is excruciating, you can reduce the time spent on the table. Start with 30 seconds to one-minute sets — every day for better results.
How do I use an inversion table?
There are a few things to consider before using an inversion table:
Begin with a trial. It is always a safe choice to start with short sets at a smaller angle to understand that the table doesn't cause any harm to your back, head, or knees. 

Have someone alongside for the first time you use an inversion table.

Use the bars of the table to stretch and twist from one side to another.

Gradually, increase the time of exercise. Start with 30 seconds and slowly increase up to five minutes or maybe even more.