If you cannot stand people wearing polo shirts and working out at the gym, turning your home with state-of-the-art machines  might have crossed your mind several times. With regular cycles appealing to masses, indoor cycling bikes have become a new medium to burn a few calories straight from the comfort of your home in front of the TV screen. Let's have a comparison between the two of the best indoor cycling bikes — L Now D600 and Sunny Health & Fitness Evolution Pro SF-B1714.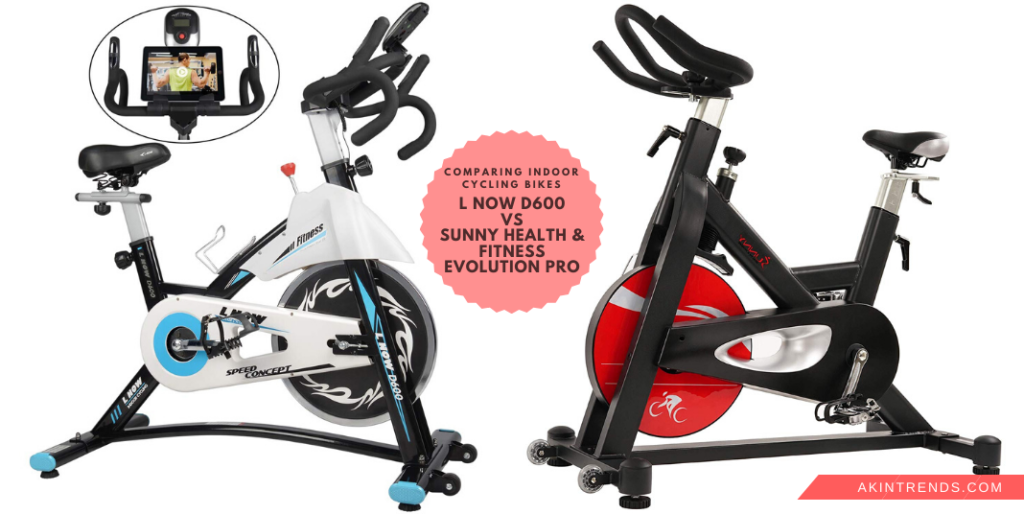 It is vital to decide which bike to go for if you are planning to get one for your indoor gym sessions. Here are the key specifications of both the bikes, which will help you in getting a better understanding.
Also read: Schwinn 430 Elliptical Trainer vs ProForm Cardio HIIT: Comparing the Elliptical Machines
---
L Now D600 Indoor Cycling Bike Review: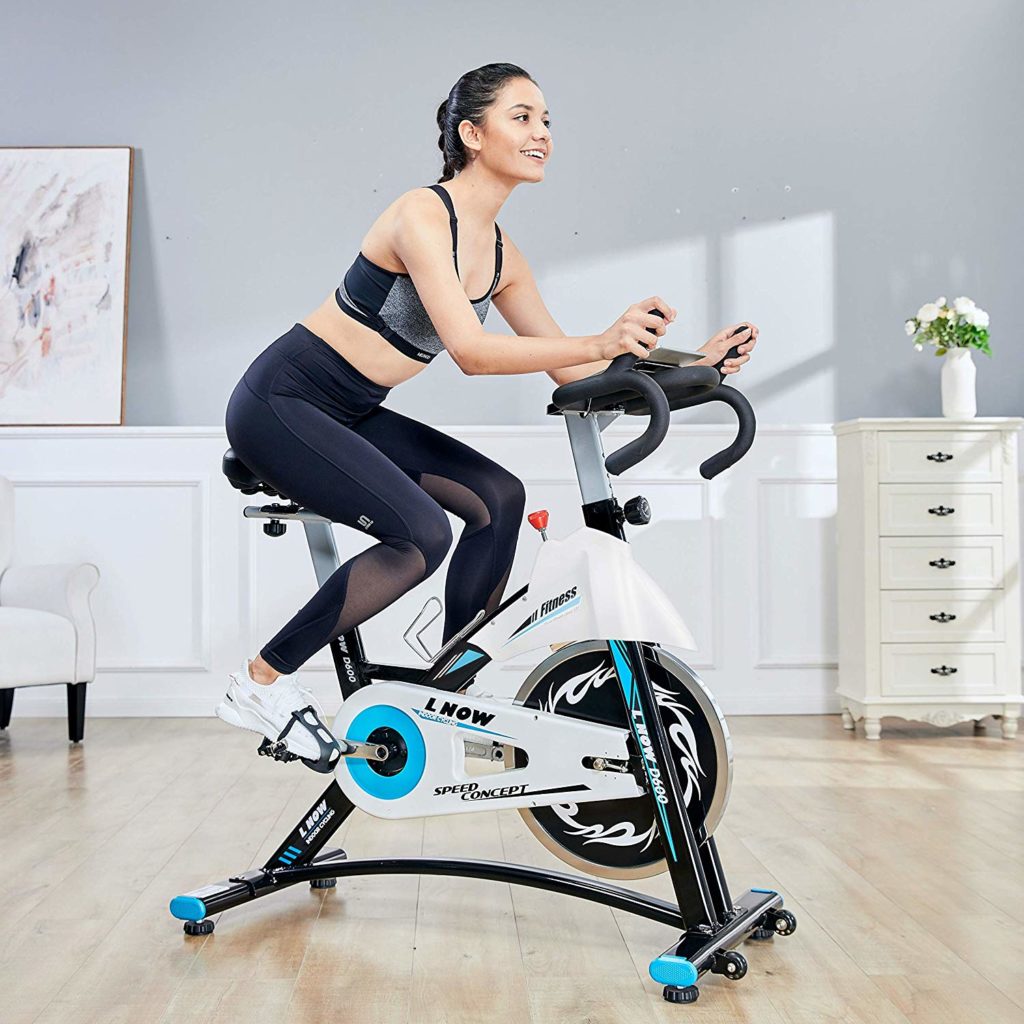 The L Now D600 indoor cycling bike is a cost-efficient tool to tone your body. Equipped with the best handlebars and belt-driven system, D600 offers a quiet and smooth indoor cycling experience.
L Now D600 is also said to have a phone holder, which gives you the option of plugging on headphones and start humming favorite tracks while working out. It comes with a very light flywheel that is known to be excellent and quick for high rhythm workout sessions.
Design
L Now D600 is said to have an aesthetic design that is slightly curved and has a base connection bar. The frame construction is said to be integrating several plastic parts, among which one can count the base tube caps, belt guard, adjustment knobs, and the cover of its brake pad.
The frame of the bike is known to be double-coated with a resistance corrosion paint. The handlebar's post and seats are given a chrome finish, though, which is also known to be corrosion resistant. The base level is said to have adjustable stabilizers that have huge pads that are put separately so that one can level it flawlessly on any flooring.
Console
The monitor of the equipment is not very fancy but decent enough for one to use. An ample amount of data is available, which includes distance, calories, speed, heart rate, and time. The device runs on batteries that are available with the machines.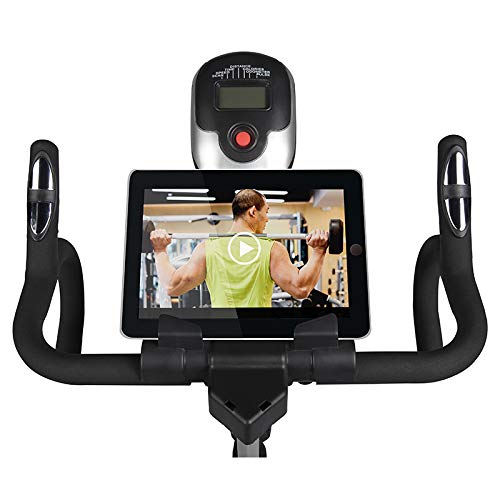 The monitor doesn't have wireless HR straps, so there might be low lighting as the console doesn't have backlighting. It also doesn't have Bluetooth connection or track system, so one can't store previous data's workouts as there is no internal memory.
Warranty
The bike comes with a one year warranty on frame and other cycling parts. However, the L Now D600 does not come with a labor warranty and does provide a residential warranty.
Performance
The D600 is powered using a friction resistance system with a flywheel that is a sweat protection cover, which helps during intense workout sessions. The felt fabric brake pad is made of wool to avoid noise. It has infinite resistance, due to which one can perform a challenging workout by turning each knob as per your needs.
This cycling bike is quiet and durable in comparison with other cheap friction resistance system bikes.
---
Sunny Health and Fitness Evolution Pro SF-B1714 Indoor cycling bikes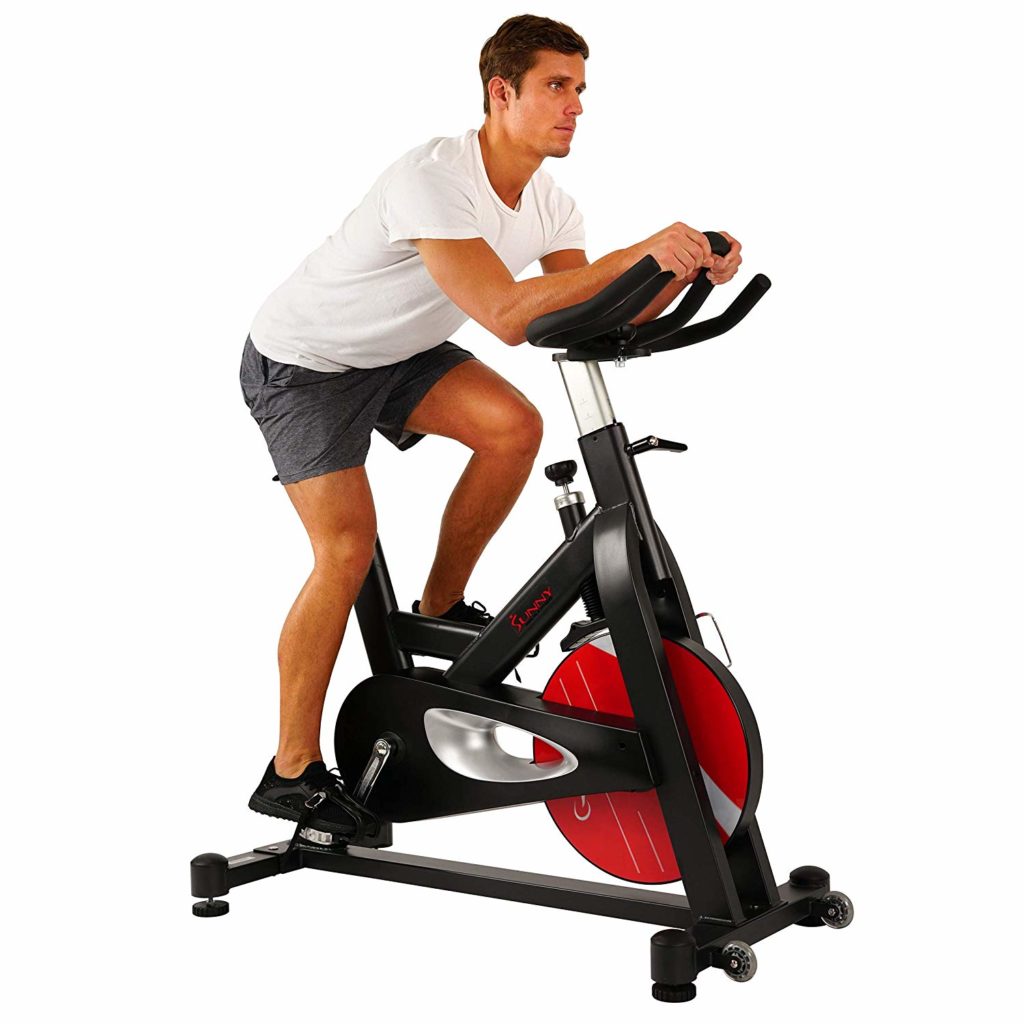 Sunny Evolution Pro SF-B1714 Indoor Cycling Bike offers smooth experience with a 44-pound chrome flywheel that creates an intense workout along with a 360-pedal stroke during strength spinning workout sessions.
So if you are planning a cycling workout session that is convenient for your family too, then Sunny health and fitness evolution pro is perhaps the best choice. It offers cardio training at a low price and has fantastic benefits to offer. It also is one of the strongest, heavy, and sturdy bikes to build stamina and strength. The flywheel of the bike is designed in a unique way infused with a weighted perimeter. The bike is comparatively heavier than other bikes and sports adjustable seats and handlebar.
Design
Sunny's Pro SF-B1714 Indoor Cycling Bike has few extraordinary features for the price it is available in. Featuring a stabilizer foot, it further facilitates you in adjusting those and comes with transport wheels. This bike weighs around 136 lbs, and dimensions measure 58 L x 24 Wx 36 H.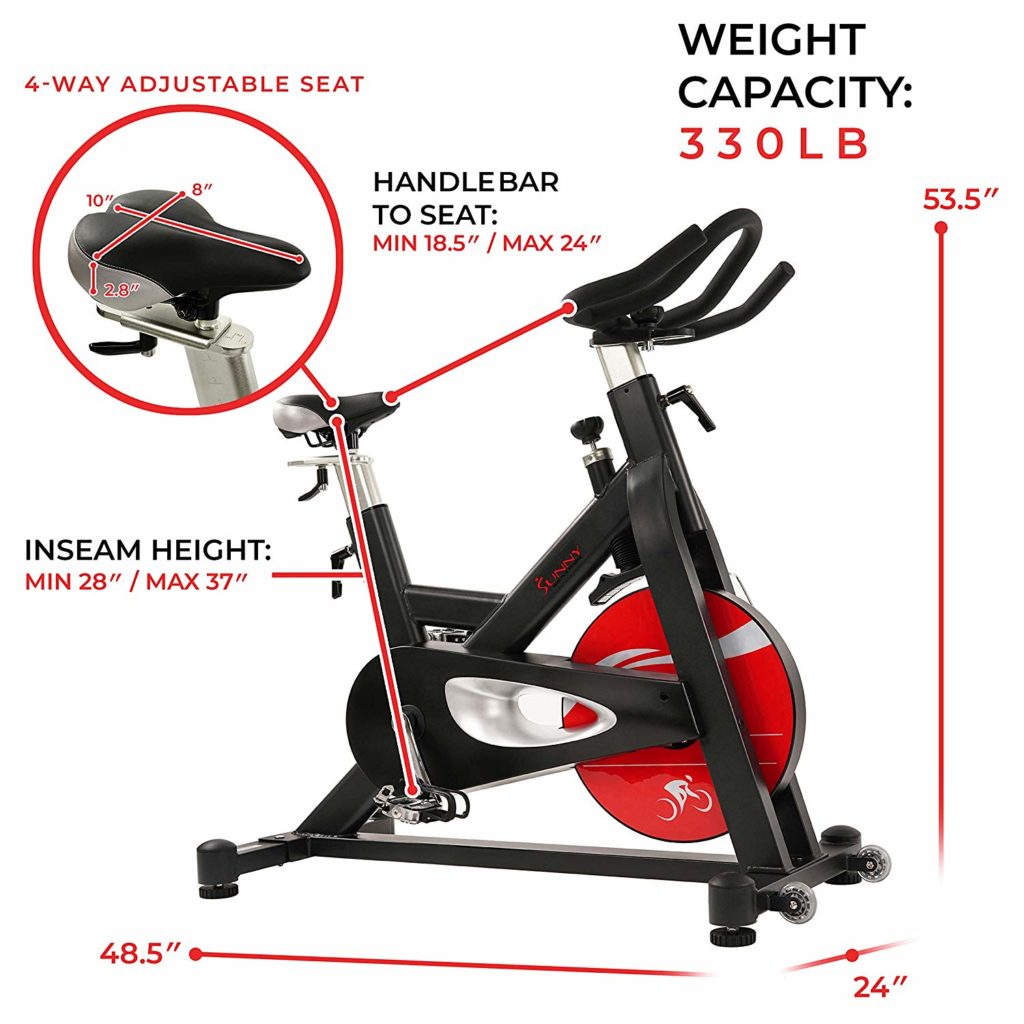 One of the main benefits of the bike is that it has several adjustment possibilities available. It has a 4way adjustable handlebar, which gives one a secure fit, regardless of their height.
The handlebars are said to be molded in a way that it provides support to several grip positions, allowing one to concentrate and provide comfort. This cycling bike also comes with a 4-way adjustable saddle that is padded and offers comfort to the lower body. Moreover, this cycling bike is equipped with a silent resistance system.
Console
The bike has not been provided with the console; hence it is just like any other outdoor bike. Though one always has an option to purchase a Wahoo heart rate, speed, and cadence devices, which will help in keeping track of the workout sessions.
Warranty
Sunny Health & Fitness Evolution Pro SF-B1714 arrives with a 3-year warranty on its frame and 90-days on the other components and parts of the bike.
Performance
Sunny Health and Fitness Evolution Pro SF-B1714 is equipped with a magnetic resistance system that is mostly found on similarly priced bikes and is quite commendable as there is no noise issue which is mainly occurred due to friction resistance system or when there is need to replace magnetic pad occurs.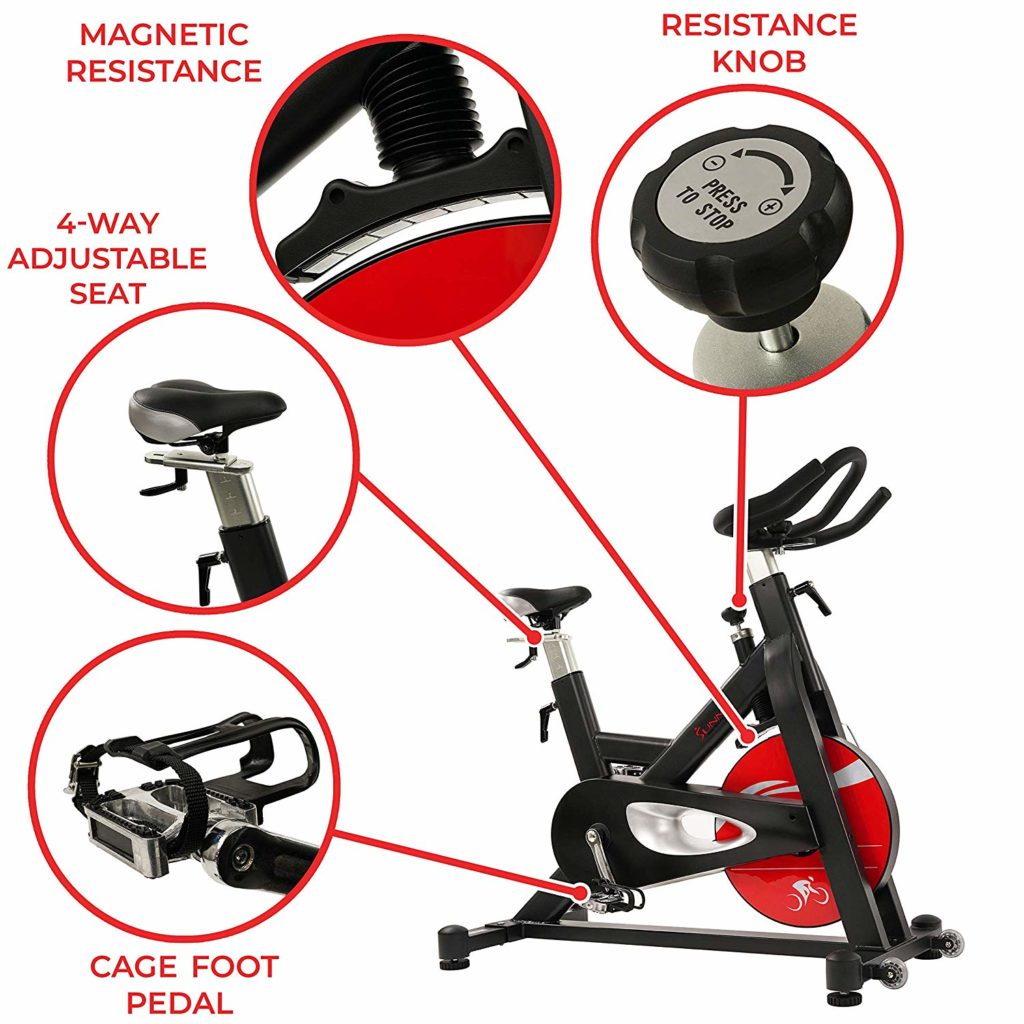 A magnetic resistance system generates the resistance without making direct contact with flywheel as such resistance is known to be generated, especially when the flywheel is said to turn around the magnetic fields.
Like every other infinite resistance cycling bike, one cannot track the improvement in strength endurance as it is impossible to know the highest resistance level in previous workout sessions to compare with the present ones. Although its users very much appreciate the resistance due to its nature of providing challenging and smooth workouts.
---
Verdict
These are two of the best indoor cycling bikes, which you can consider buying for your personal gym to shed off those unnecessary pounds. Both bikes have their pros and cons, yet they are known as the reliable models in the industry which are in their reigning period.
L Now D600 and Sunny Health and Fitness Evolution Pro SF-B1714 are two of the best indoor cycling bikes that tend to provide a quality experience to help you unleash the inner beast in you! The setup and user-friendliness of these machines is impressive. For indoor cycling fiends, we recommend the Sunny Health and Fitness Evolution Pro SF-B1714 — a cost-effective and the best commercial-quality home bike.
So what are you waiting for? Now that you have learned the difference between the two, choose the one that suits you the best and start working on those abs!
Also Read: Schwinn 470 vs Sole Fitness E25: Breaking Down The Two
---
FAQs
1. Should I wear bike shoes while workouts?
Sneakers are a good option while working out, but if you can arrange bike shoes then there will be nothing like it, as it will help you in improving your experience, as your legs will be totally engaged in the movement.
2. Is Indoor cycling recommended for people with injuries?
If you have faced any previous injury, it will be wise to consult your doctor before starting any physical sports activities including indoor cycling. Though, spinning is totally safe hasn't had impacts on joints, so one can go for indoor cycling for prevention of further injuries and also strengthening of the muscles.
3. Does cycling make your legs bigger?
Cycling helps in reshaping your leg muscles, so it is safe to say it does not make your legs bigger.
4. Do I need to adjust the cycling bike to my exact height, weight, and skill-sets?
The major consideration to be made is how tall the length of your arms, legs, and torso is. If you are working out under an instructor, he/she might help you in setting the bike to the exact height. But here is how it works: While you are standing next to the bike, the seats are to be at hip height. When sitting in the saddle, keep your knees slightly bent at pedal stroke's lowest part. Fitness experts ask beginners to have handlebars a bit higher than the saddleback. This assists in additional back and neck support.
5. Do cycling bikes require more attention and maintenance?
Generally, indoor cycling bikes don't require regular check-ups. These cycling bikes arrive with an enclosed drive system to avoid damages, which are tightened by screws. However, you are advised to replace the batteries of the console once it starts running low.
Also, try cleaning the bike frequently, remove the sweat after every workout session, and lubricate the chain with oil for smoother performance while pedaling.
6. Do I get a bike that is already assembled?
It is not possible to receive a fully-assembled cycling bike for your home. Once your product is delivered, you will have to assemble the bike yourself. This may take up to three hours. Although, there are a few available that ask for extra bucks and assemble it for you.
7. Why do a majority of cycling bikes miss out on computer consoles?
It is mainly because many users refrain from using digital consoles. A console is recommended if you are on an upright bike, but for indoor cycling bikes, users tend to cycle for a specific length of time. In case you need to set a timer, consider buying one with a console. This might cost you but can turn out to be a life-saver.
8. What can I do when the bike squeaks?
If the brake pad often squeaks when in contact with the flywheel, we recommend applying some silicone lubricant to the flywheel or the brake pad. In cases where the pedals squeak, loosen them a bit, and use some lubricant oil on the threads and tighten them. 
9. Is the magnetic resistance on Sunny Health & Fitness Evolution Pro reliable enough to perform high resistance activities like climbing, etc.?
The Sunny Health & Fitness Evolution Pro is the best fit for all your workout routines that one can ask from an indoor cycling bike. This bike is equivalent to a pelican bike, meaning your workouts will be effortless and feel the same as you'd find in a gym.
10. How do I assemble the Sunny Evolution Pro SF-B1714 cycling bike?
Assembling the Sunny Health & Fitness Evolution Pro is a plain-sailing job. Several components come pre-assembled, while only certain parts like handlebars, the seat, stabilizer bars, and pedals have to be fixed. If you have a knack for fixing bikes and cycles, assembling the SF-B1714 will take about 40-50 minutes. 
Most of the tools, along with the instruction manual, is supplied with the package. Moreover, maintaining the bike isn't a big deal. We only advise you to regularly check for loose components or any part that makes the bike wobble a lot. Religiously have the bike washed and cleaned to keep sweat and dirt at bay.