If you've been hitting the gym lately, chances are, you would have come across elliptical machines. These trainers or machines are also called cross-trainers.
Elliptical machines are magnanimous to aging joints, while also helping you burn those extra calories for weight loss. Notably, these machines are considered as a handy option when exercising at home.
This machine has also been creating havoc; some tout this as a dull and worth for nothing machine, while some fight for their turn in their health clubs. With a horde of brands creating noise in the market, it is understood that you may be puzzled and will find it hard to make the right choice.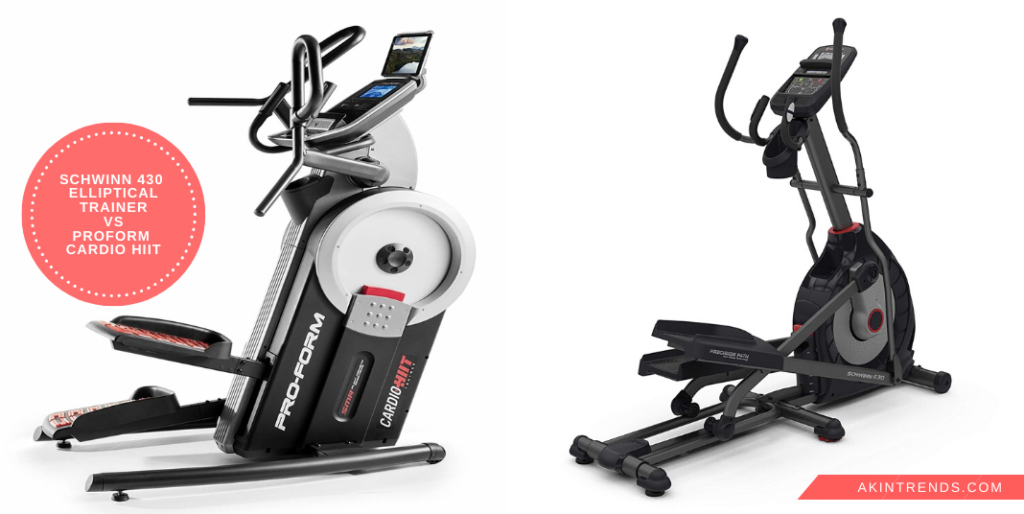 Prior to throwing your hands and legs on a machine, there are multiple aspects to consider. The following are a few options that we have jotted down to make your shopping experience easier.
---
Aspects to Consider:
Available Space: While the price you pay for an elliptical machine is hefty, consider measuring the size of your space beforehand. This is to ensure that the machine does not stop at the door.
Features: Any equipment you pick, few notable features lure you in buying them. For elliptical machines, they come with special features that make workouts more fun-filled and fruitful too. Few machines include a monitor to track the progress, calories burned, etc. Some machines offer shelf support for devices or reading materials.
Price: One of the vital aspects to consider is the price. Generally, these machines are expensive and ask you to come with loaded pockets. However, there are a few affordable options that do not compromise on quality.
With aspects briefly discussed above, in the following article, we share a comparison guide of two of the most popular elliptical machines currently available in the market – Schwinn 430 Elliptical Trainer and ProForm Cardio HIIT.
| | | |
| --- | --- | --- |
| | Schwinn 430 Elliptical Trainer | |
| | | |
| | | |
| | | |
| | | |
| | | |
| | | |
| | | |
| | | |
| | | |
| | | |
| | | |
---
Schwinn 430 Elliptical Trainer
Quality and Durability
Schwinn's a veteran in manufacturing exercise equipment; the 430 Elliptical Trainer is the living example of it. Coupled with avant-garde features, this machine is lightweight and accommodates users up to 300 lbs. Schwinn 430 sports a substantially-sized crossbar tubing, center frame support, and a front positioned flywheel, which makes the machine stronger and highly-durable.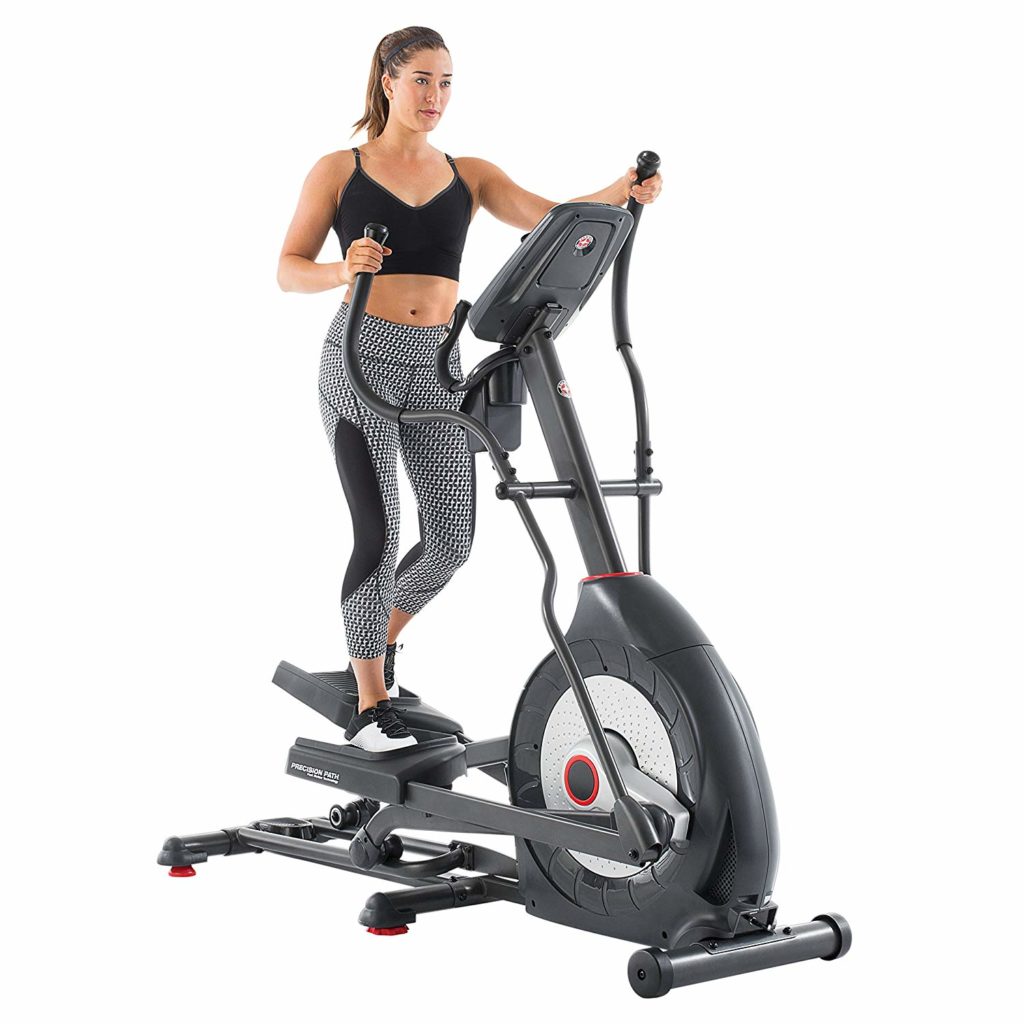 Coming with a reasonably priced value, the Schwinn 430 does not cut short on any of the specifications and promises an astounding 10-year frame, 2-year parts, and one-year warranty on electronics.
Computer System
As an entry-level elliptical trainer, Schwinn 430 boasts of a quality computing system that enthralls your training experience and offers a dual-screen that tracks your real-time progress. Featuring two large LCD screens, this elliptical machine enables you to set up two separate user-profiles and track time, distance, and calories.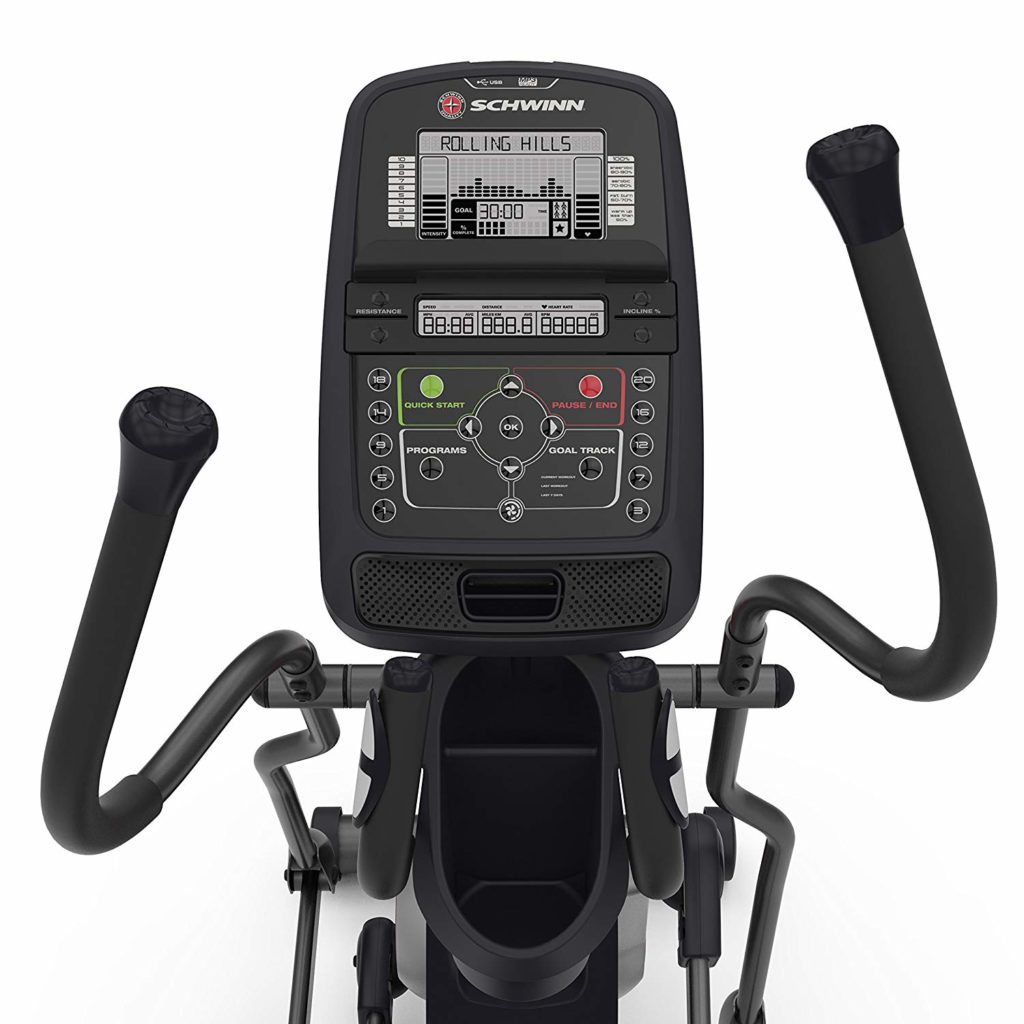 With the option of saving up to two different user profiles, the machine allocates each user to create and store two custom workout programs.
Moreover, this machine comprises of 22 preset exercise programs – including a manual mode, two fitness tests, nine profile programs, and eight heart rate controls. The heart rate programs take into consideration the data amassed from the contact sensors.
Notable Features
The 20-inch Schwinn 430 Elliptical Trainer is feature-rich training equipment loaded with facilities that are designed for both experienced and rookie trainers. From burning calories to on-the-go infotainment, this machine has everything that a modern-day athlete can ask for.
Stocked with a USB system, Schwinn 430 allows you to share data with other devices such as computers or laptops conveniently. Also, the USB port is useful in charging tablets, smartphones, and other electronic devices. This machine goes above and beyond for entertainment, as it provides a sound system and a media shelf for placing any electronic device.
With a reasonably priced value, this machine is equipped with 20 levels of resistance that can be easily customized based on your workout regime.
To have access to your workout progress, the elliptical machine offers you a mobile application called SchwinnConnect; available for installation on iOS and Android platforms.
Pros & Cons of Schwinn 430 Elliptical Machine
Schwinn 430 arrives with its fair share of advantages and disadvantages. In the following few sections, we discuss the features we liked and the features we least liked.
Also Read: Top 10 best stepmills to buy this year.
---
ProForm Cardio HIIT Elliptical Trainer
Quality and Durability
The ProForm Cardio HIIT Elliptical Trainer is crafted from commercial-grade steel, which exudes a solid gym-like feel right even when you exercise from home. Rated highly in terms of stability, the ProForm Cardio HIIT weighs 180 lbs and accommodates athletes up to 350 lbs. Moreover, this elliptical trainer is fused with high-quality pedals that are oversized and coupled with cushions for additional comfort.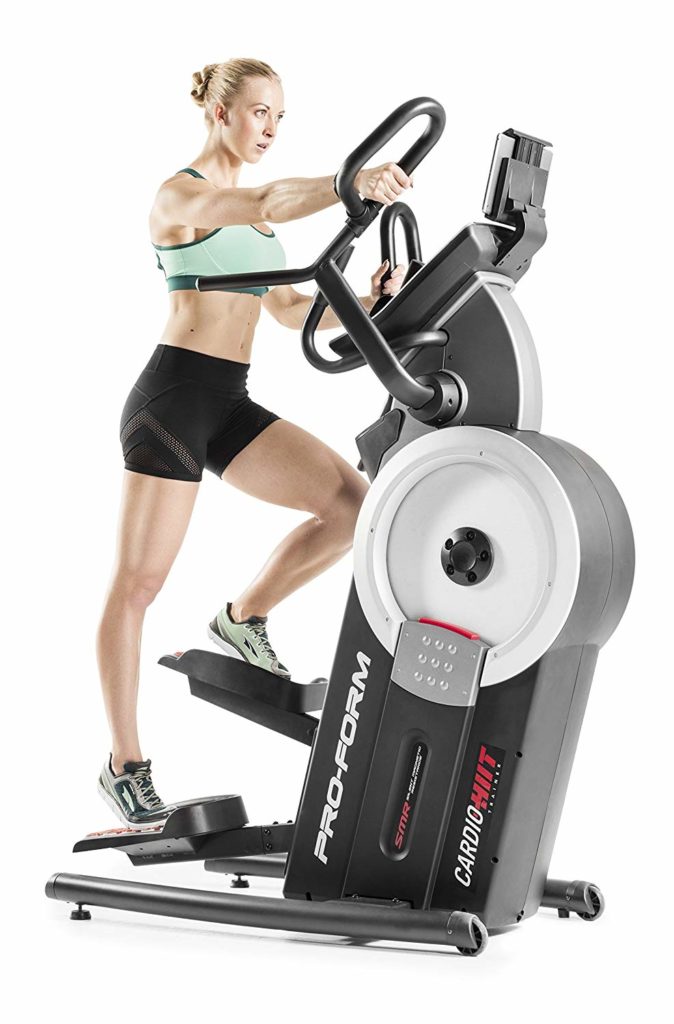 In comparison with your regular elliptical or stepping training machines, this machine allows you to burn more calories with multi-function handlebar design.
As far as the warranty of the machine is concerned, ProForm Cardio HIIT offers lifetime coverage for the steel frame, three years for parts, and one year for labor.
Computer System
As a high-intensity interval training machine, ProForm Cardio HIIT is designed to make your calorie burning process more comfortable and effortless with a few striking and impressive features.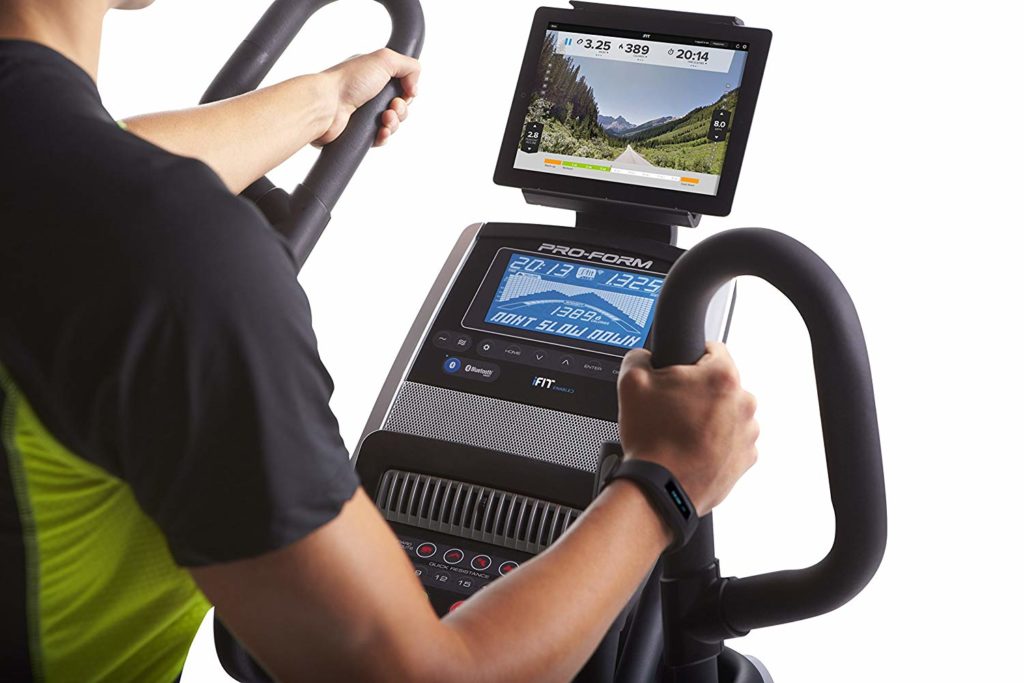 Boasting of a bright and backlit console, you are thrown with workout stats that help in tracking the workout progress. This elliptical trainer has 32 workout programs pre-installed, which lays out accurate workout data.
ProForm's 7-inch display screen presents to you with key stats, including intensity, speed, time, calories burned, and heart rate.
Notable Features
Just like the Schwinn 430, the ProForm Cardio HIIT is also packed with a few spell-binding features that can assist athletes. ProForm's Cardio elliptical trainer is compact and is neatly designed for you to binge-watch shows or listen to music.
Sporting built-in-speakers, ProForm Cardio HIIT Elliptical Trainer allows you hum music while you are shedding some weight. Also, with docks settled on the console, you can easily place your iPod. Furthermore, you are also provided with a spot to keep your tablet with an integrated tablet holder safely.
This elliptical machine arrives with a fitness coach called iFit Coach, which can be customized based on your needs. This fitness membership can also be paired with your personal computer in order to access your workout figures. With the SMR Silent Magnetic Resistance, ProForm Cardio HIIT offers 24 different levels of resistance and 28-pound flywheel for smooth and quiet performance. Under this price range, there aren't many elliptical machines that offer this many resistance levels.
Pros and Cons of ProForm Cardio HIIT Elliptical Trainer
With all the strengths discussed, we further proceed to the features that we did enjoy, followed by the ones we didn't find interesting.
Also Read: Guide to Best Chest Press Machines and Exercises
---
Verdict
In recent times, elliptical machines have witnessed soaring demands. With the GenZ routing for a fitness regime, training equipment is the need of the hour.
To put an end to this exhaustive review guide, with our needs and hands-on experience, the Schwinn 430 Elliptical Trainer performs way better than ProForm Cardio HIIT. However, we weren't disappointed with ProForm's Cardio HIIT either. The 430 is superior, inexpensive, and large when compared with the Cardio HIIT.
Also, we wouldn't advise you to buy and try each of the aforementioned pieces of equipment, which would only result in shelling your hard-earned money for no joy.
---
FAQs
Should I buy an elliptical machine with a heavier flywheel?
The weight of the flywheel determines the smoothness of the pedaling motion. An elliptical machine with heavier flywheel allows the higher inertia to keep the drive system turning effortlessly.
Is stride length important to consider?
The stride length on elliptical machines come in two variants – fixed or variable. Both of which are important to consider. Shorter length strides resonate more with a stair climber, whereas a longer stride feels like a glide and is comfortable for long-legged users. Generally, a minimum stride length of 18 inches can be pivotal for workouts.
Is there a need for regular maintenance on my elliptical machine?
Yes, it is necessary to carry out regular maintenance. Almost all elliptical machines arrive with a user manual, wherein they mention rules and maintenance schedules. Albeit, few machines do not require consistent checkups; however, checking if bolts are tight all around the machine should be practiced regularly.