For a toned and fit physique, chest muscles play a vital role. Working upon these muscle groups is essential. The perfect shape of your chest determines your overall posture.
The chest press is the workout that exclusively targets your chest muscles. Combining chest press along with other routines will give you the results that you were looking for. And to help you with your desired goals, the best chest machines are worth every penny.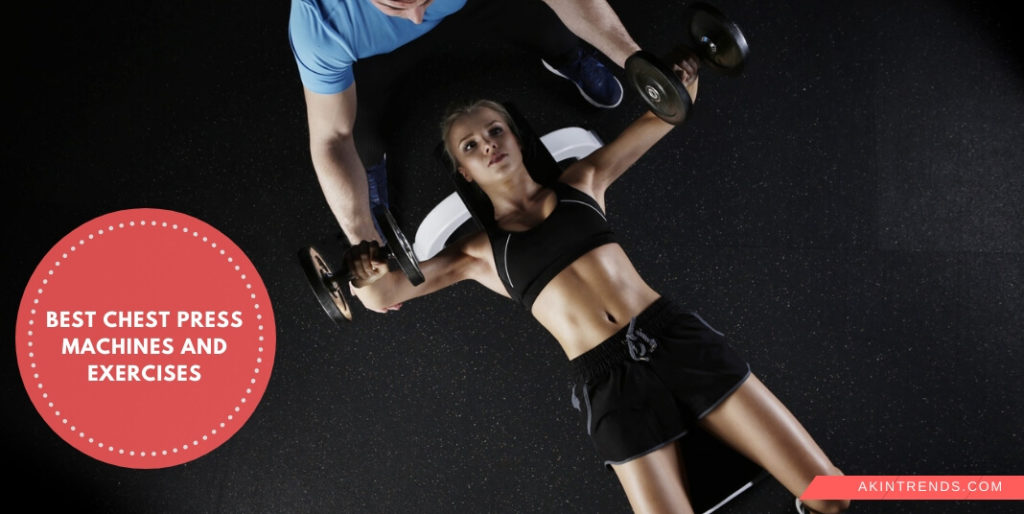 Chest muscles, known as pectoral muscles, are large and full. Working on every group of chest muscles is essential. Your chest muscles are connected to the entire body and engage with every upper body movement you make.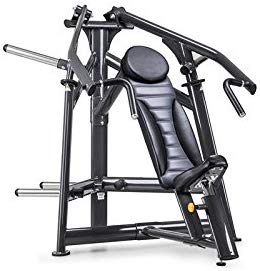 The upper body also includes shoulder muscles, triceps, biceps, abs, and torso. Chest muscles are also affected by changes like the rotation of arms, flexion, and adduction. The chest press is the most effective chest workout. Chest press done in an inclined position focuses on the upper part of the chest area while the vertical chest press position focuses on the lower part of the chest area.
Combing different variations of chest exercises and shifting the target from upper to lower chest muscles leads to that goal of yours.
Let's look into the anatomy of chest muscles. The chest area has mainly two parts. One is a pectoralis major, and the other is a pectoralis minor. The Pectoralis major also consists of two parts; the upper part is the clavicular head and the lower portion being the sternal head.
The proper workout routine is a critical factor in bodybuilding. The right amount of sets and reps are consequential, or else it may cause injuries. Twice or thrice a week of chest press is recommended. Proper form and technique is the part which needs more attention. Know your body and expected gradual improvement. Remember to take the right amount of rest for your muscles to recover.
Shift your focus to other body parts also, or else it may result in uneven mass growth. A usual recommendation will be three sets of 10-15 reps every other day.
Also Read: Top 10 best stepmills to buy this year.
---

Difference between Chest Press and Bench Press
Bench press gives you space for multiple variations. Including dumbbells and barbells bench press can be done at different angle positions. More reps on bench press lead to more muscle growth. The bench press is also that perfect weight loss exercise.
Below points will explain how to do the bench press correctly:
Lay down on the bench with your face directly down the bar.
Find a good grip on the bar
Lift the bar and hold it up to your chest with locked arms
With stable movement, lift the bar up and down slowly
10-15 reps with one-minute rest in between recommended
Remember proper breathing is also important

Chest Press is the one done on a machine. They come in inclined, vertical, and declined variations and help you to target isolated muscle groups. The chest press comes with a weight attached to it while the bench press uses free weights. Adjustable seats providing comfort is also an added advantage.
Let's see how you do chest press:
Sit comfortably on the machine, supporting your back on the backrest. Check for your form
With your feet flat on the ground, hold the handle with stretched hands. Squeeze your hands slowly without any disturbance
8-10 reps during four sets recommended during beginner period
---
Types of chest workouts
Let's look into some of the effective chest workouts with and without chest press machines. Customize the exercises according to your needs and feasibility. Let's look at the mantras for that mass chest muscles.
Dips:

One of the best chest workouts will be dips. Dips not only focus on your chest muscles but also your triceps and shoulder plates. Dips are one of the basic strengthening workouts.
This workout is done by leaning towards the bar with your elbows aligned with your shoulders. Curl up your legs behind you and focus all your weight on your hands. Squeeze your triceps by moving slowly and smoothly up and down.
Incline Bench Cable Fly:
Another useful exercise that burns all your chest muscles is inclined bench cable fly. By lying on an inclined bench, you are pulling the cables towards your chest with a continuous full range of motion. This particular exercise isolates your pectoral muscles and gives the best results. Recommending 3-4 sets of 10-12 reps for beginner level.
Pec-Deck Machine:
Those who find flyes and dips hard to perform, build to your form by starting exercising on a pec-deck machine. Most beginners start with peck deck variations.
The gradual increase in stamina allows you to do more practical exercises; later on, 3-4 sets of 10-12 reps are perfect for beginners.
Incline Dumbell Pull-Over:
This exercise is super intense and done with the help of dumbbells. Lying on an incline bench, hold your comfortable weight dumbbell over your head. Spread your chest as well as your abs to 45 degrees.
Remember not to extend or bend your elbows. Move your body slowly, providing a wide range of motion. You can increase the intensity by holding to 3-4 sec at the peak contraction.
Try to maintain stability all along with the exercise.
Barbell Bench Press:
This one is a warm-up routine. You can use dumbbells or barbells according to your comfort. Ideal for beginners, this easy exercise can be done with massive sets during lower reps for better results.
Machine Decline Press:
Machine decline press engages your arm one at a time. By isolating one arm, it works on that particular part of the chest muscles. The style is entirely different and affects maximizing your dominant pec adduction when done by sitting sideways. It is recommended to do this regular post-workout.
Vertical Machine Bench Press:
The ultimate chest workout is the ones with the chest press machine. Safety is the main advantage of these machines. The risk of injury is less since the weight is attached to the bars gives balance. The comfy seating and the masses connected to the machine provide you controlled workouts, enabling you to do more reps than expected. The results are guaranteed.
Dumbbell Flye 
Another exciting addition to the list of chest exercises is the dumbbell flye. Lay with your back on the bench with a dumbbell in both your hands. Slightly bend your elbow and spread your arms out wide.
Keep the weight low such that they match even with your chest. Have your pecs flexed and lift the weights back to the square one position. 
Floor Press
In this exercise, you will be lying on the floor with a dumbell in your hands. Your palms should face each other, and your triceps should be on the floor. With great vigor, keep pressing the dumbbells up. Lower them till your triceps hit the floor. Continue this after a pause and increase the weight once you get used to it.
Medicine Ball Pushup
Take a pushup position and rest one hand on the medicine ball and the other on the floor. Lower your body till your chest is slightly above the floor; push it back up.
Speed Bench Press 
You require a full flat bench to perform this exercise. Do not perform this exercise beyond your ability; if you can bench press 250 lbs, try 150 lbs one time. 
Also Read: Prüvit Keto OS: A Product Review
---
Best Chest Press Machines Of 2021
Affordability, effectiveness, versatility, and ease of use are given priority in the list of best chest machines. Also, you can find some chest press alternatives along with this list. Hoping this will help you to land on your essential equipment.
1. ULTIMATE BODY WORKS BY WEIDER (Editor's Choice)
This one from Weider is an excellent workout machine with multi-purpose usability. The DVD that comes along with the product have all the instructions and workouts explained. It is recommended to follow the instructions to make maximum use of the product.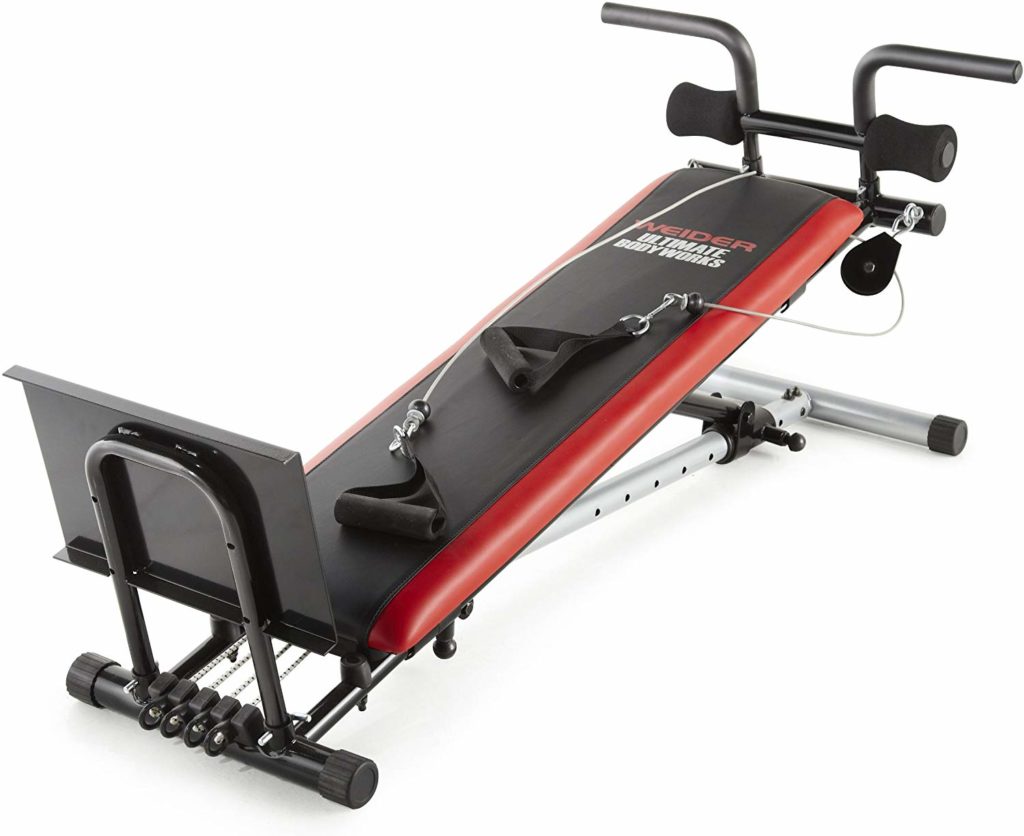 Weider's workout machine is bundled with a SpaceSaver design, allowing you to fold the equipment when not in use. Although it limits its weight resistance to 50lbs, this product has admirers from the fitness world. The product comes with 52x 27.5×48 inches and weighs 72lbs. The product dimensions are – 52x 27.5×48 inches and weigh 72lbs.
2. Goplus Multifunction Home Gym System
Featuring second on our list of the best chest press machines is the Goplus Multifunction Home Gym System. This versatile machine is enveloped with a top-quality steel tube and PVC, enhancing the machine's longevity. Besides serving as a highly effective chest press machine, you can use this for workouts that help target your entire body.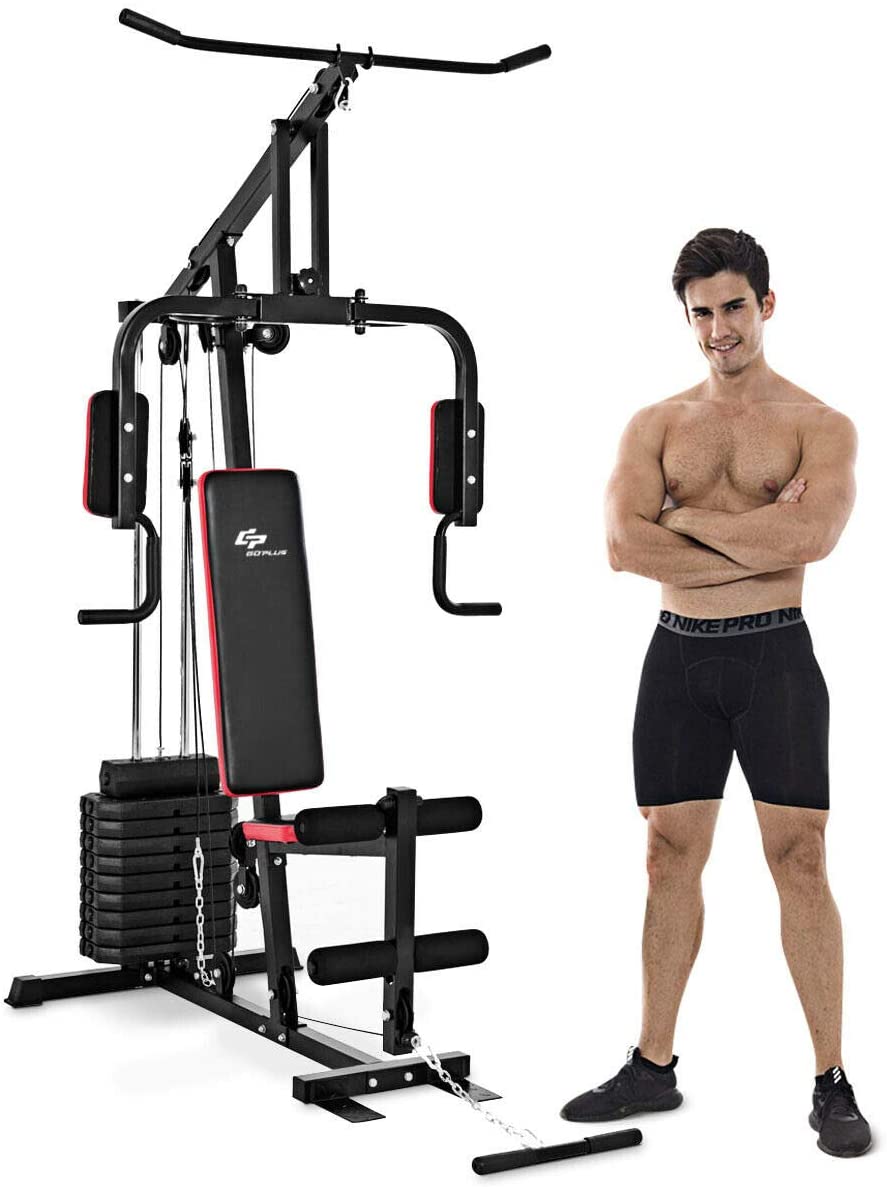 The dual function arm press facilitates upper body workouts — without changing positions or stations. The addition of high and low pulley systems work together in strengthening muscles, covering your back, arms and core. Equipped with thick foam padded four-roll leg developer, you will have the liberty of exploring and executing leg extensions.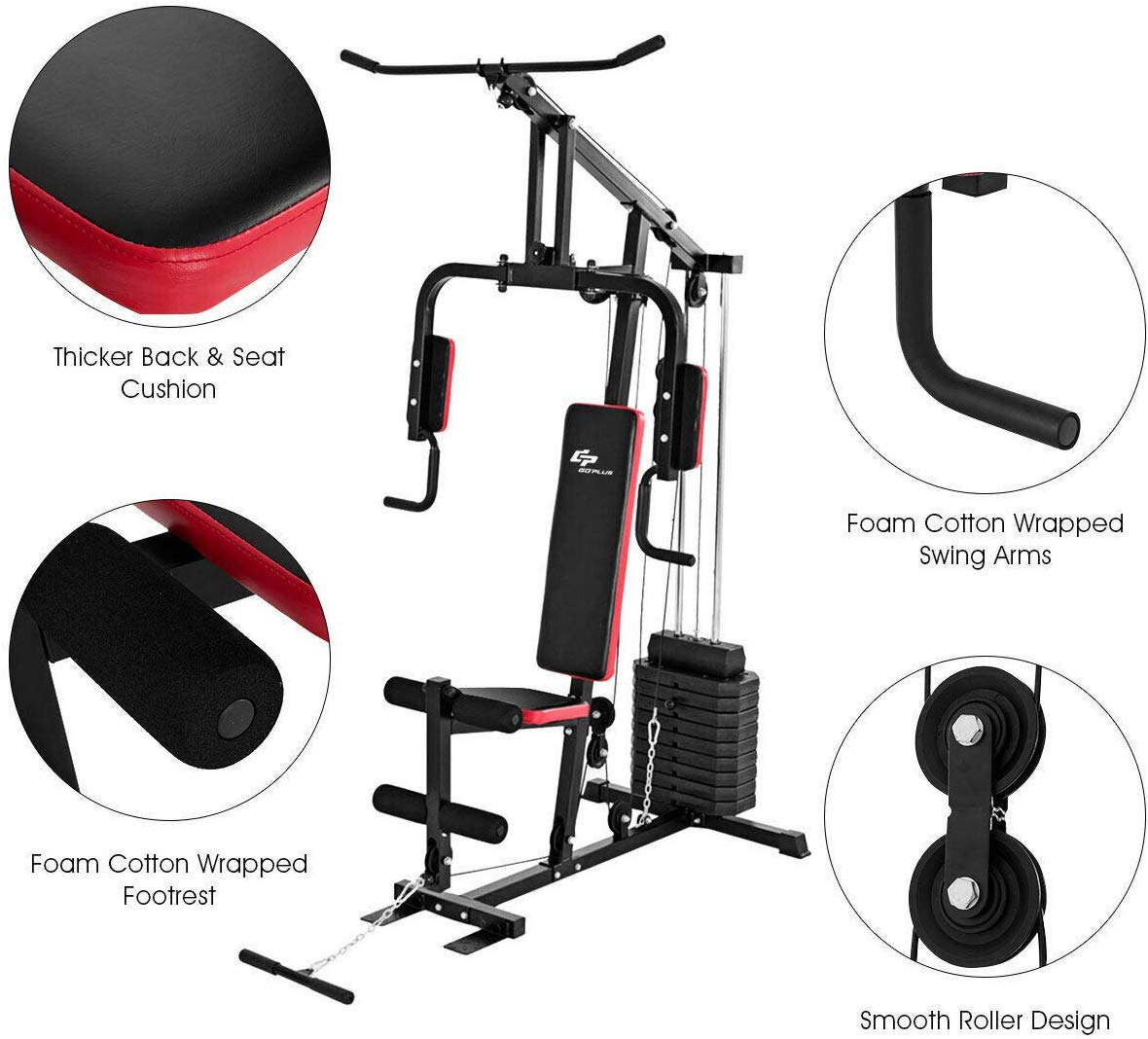 This Goplus multi-function machine comes with a weight stack of 100 lbs, along with the built-in resistance to boost your strength training session.
3. Marcy Multifunctional Home Gym Station (Best Multi-Purpose Machine)
Designed mainly for home use, Marcy is currently the best multi-purpose exercise machine. This chest press machine sports a frame built from heavy-duty steel and weighs around 300 lbs. This machine includes a pulley system, however assembling it is a tedious task.
Also, it comes with a 150-pound selectorized weight stack to avert loading and unloading weight plates together with a safety lock that secures from unauthorized use of the machine.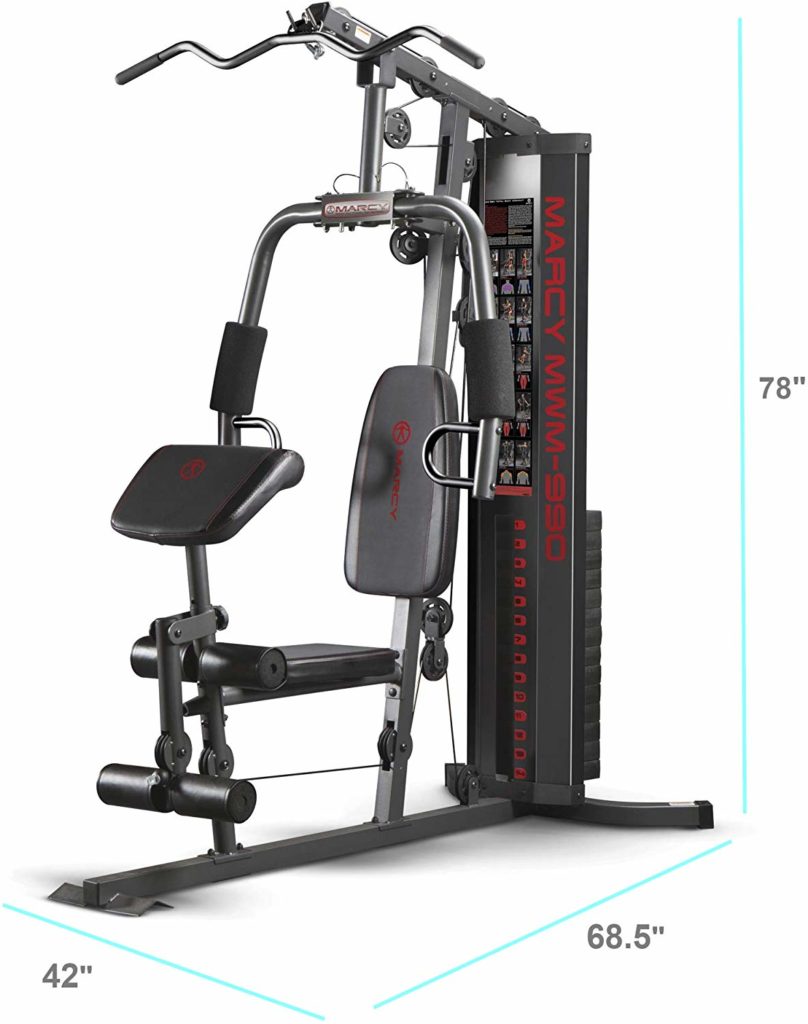 The dimensions of This machine are 62x43x78 inches and offer a 2-year warranty on the machine. With a multitude of options, you will surely be hitting every muscle group.
4. Body Champ BCB5860 Olympic Weight Bench (Best in Design)
This multipurpose heavy-duty weight bench is from the trustworthy house of Body Champ. The BCB5860 boasts customizable features that provide ergonomic and optimal training positions.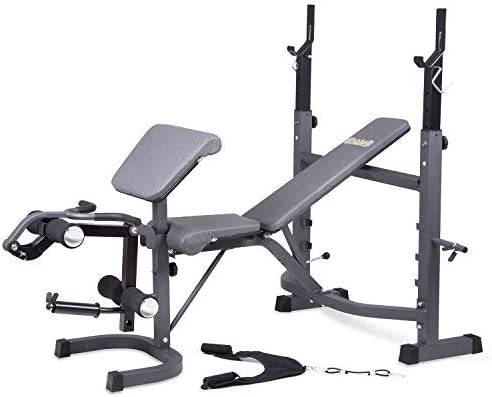 This chest press machine also includes adjustable full-action leg extensions and an arm curl bar coupled with customizable foam rollers. This machine sports a U-shaped front-leg stabilizer that offers complete safety and stability while working out.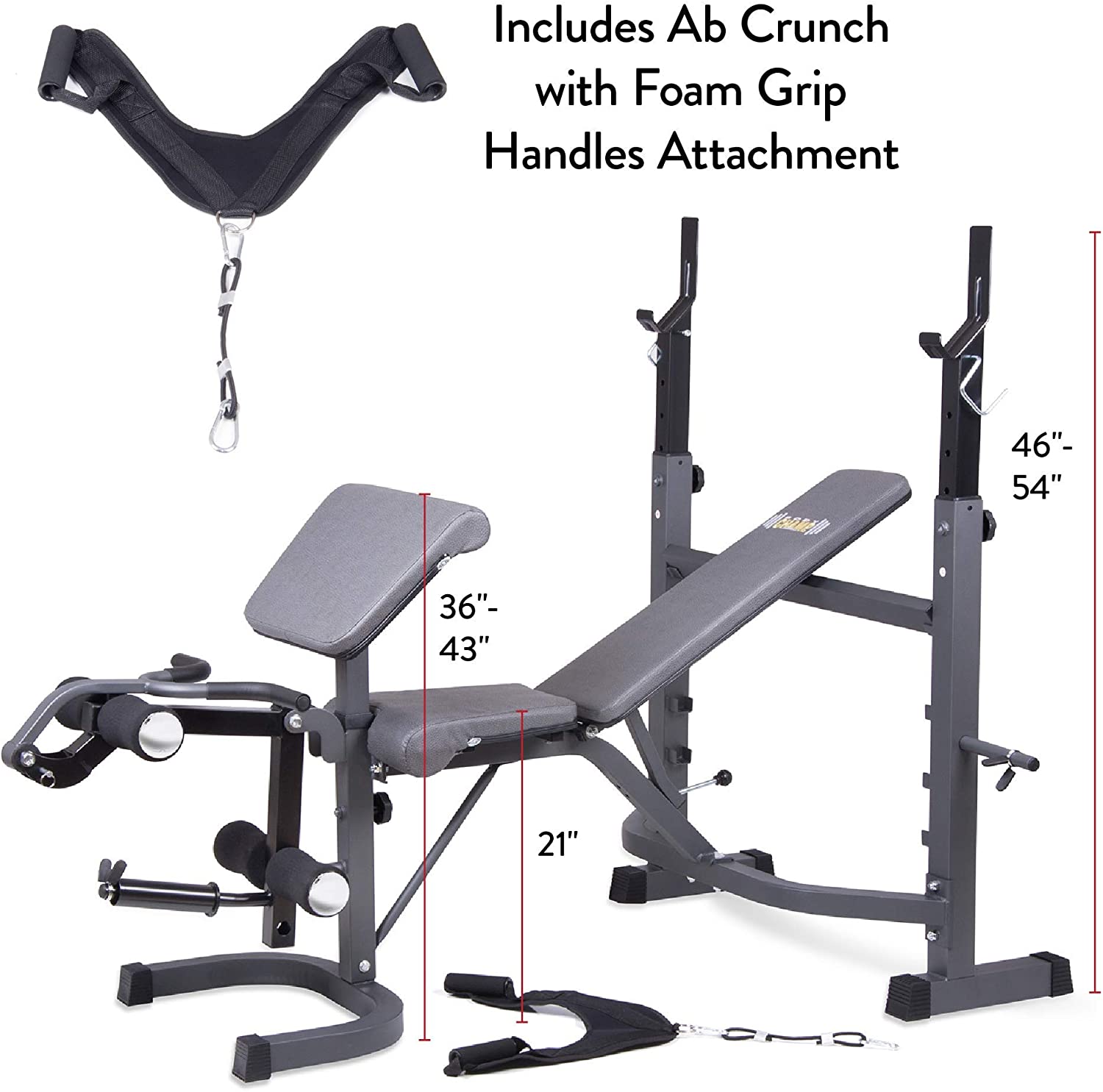 For utmost protection to your hands, this includes a safe-grip system that prevents pinching during re-racking. The maximum weight limit this bench can withstand is 300 lbs. While these bench racks are built for seven or eight Olympic weight sets.
5. Powerline by Body-Solid BSG10X (Best Premium Machine)
Body-Solid Powerline is the best workout machine and not just for the chest but also for the entire body. Constructed of an 11-gauge mainframe, this powerhouse provides maximum strength, function, and durability.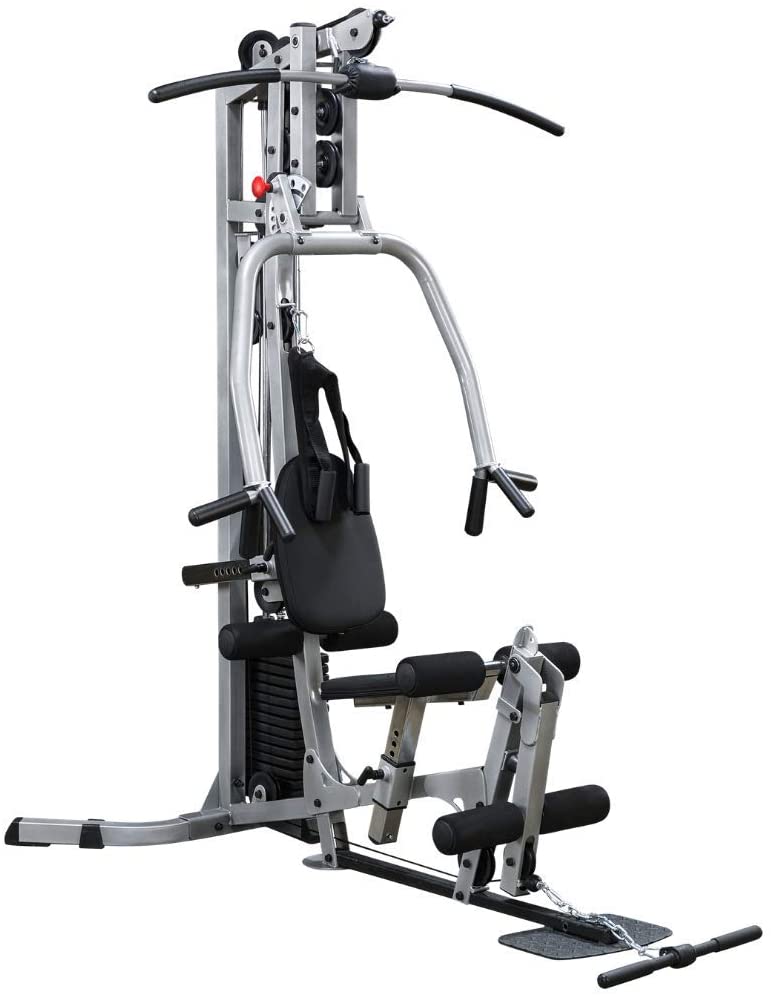 This multi-use machine has chrome-plated seats that are adjustable for specific training. The biomechanically-designed press bar offers complete chest concentration and incredible muscle growth.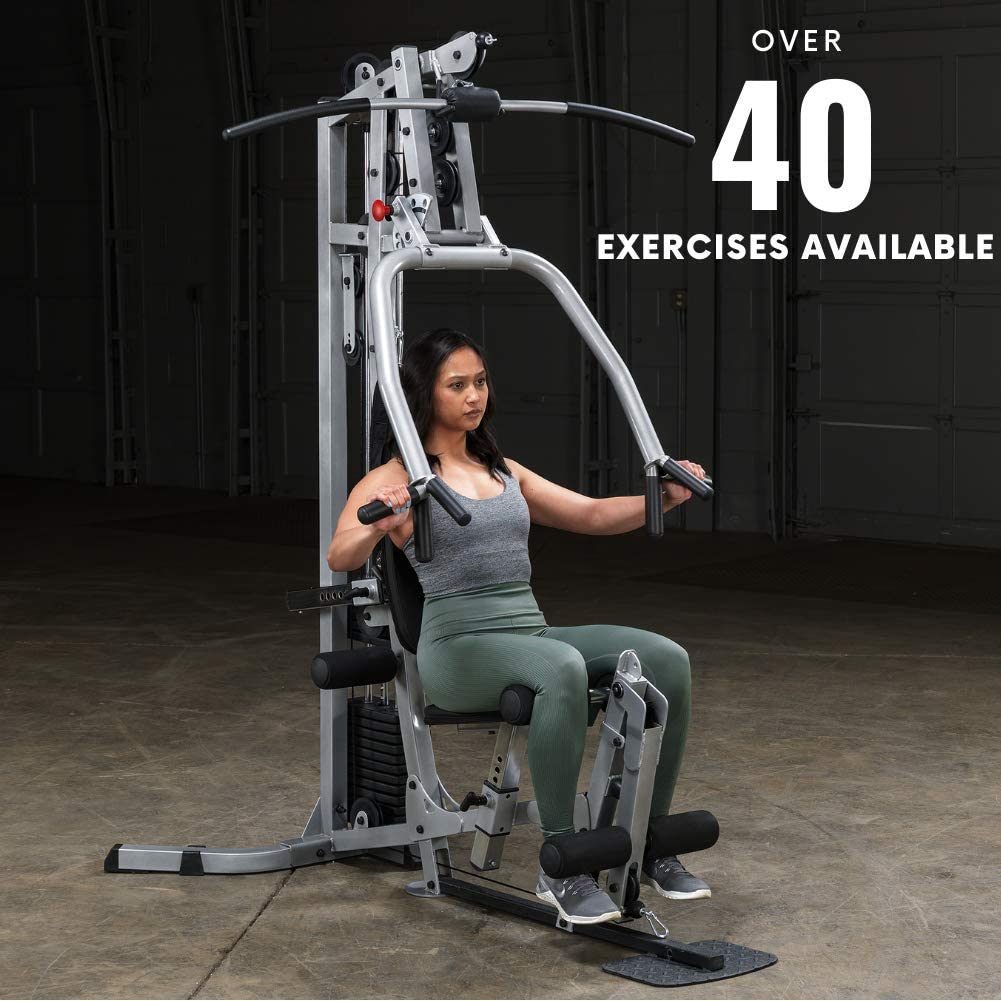 This machine comes pre-assembled in the box with a frame measuring less than 4 feet wide and 6 ½ feet tall. The BSG10X comes with a capacity of a 160-pound adjustable weight stack. Overall, this is a pretty nifty workout gear that allows you to perform over 40 exercises without harm.
6. ICON Fitness Gold's Gym XRS 50 (Best Chest Machine Under $500)
The XRS 50 is a top-quality workout machine that offers an array of exercise options. Featuring a 112 lbs weight stack, this equipment provides 280 lbs of resistance to boost strength and tone muscles.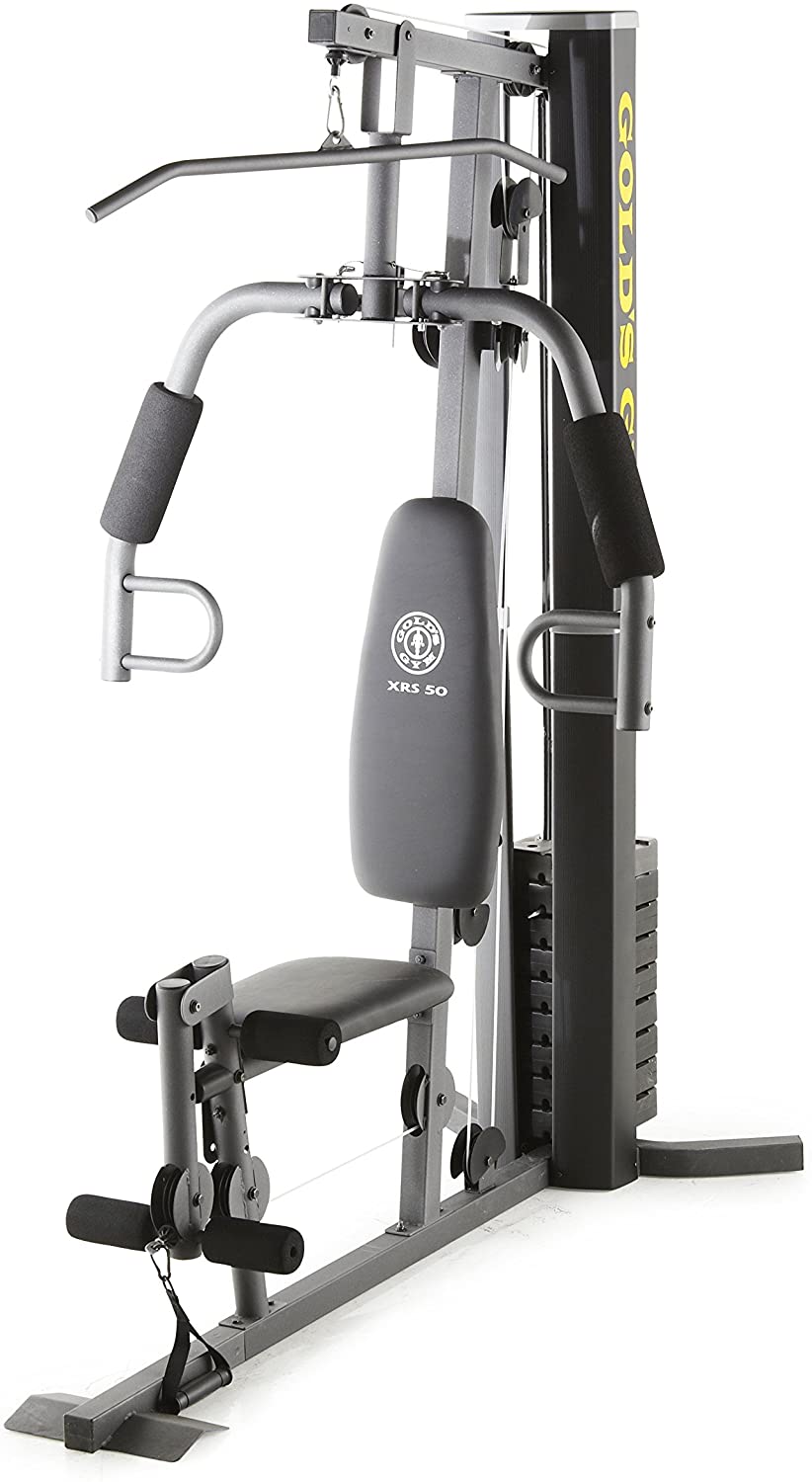 This machine is an exceptional combination of chest press and butterfly arms station for a wholesome upper body workout. The option of multiple grips come in handy when targeting different areas of the pectoral muscles.
This chest press machine also arrives with a guide consisting of exercise charts chalked by a certified personal trainer. The machine seats are in swen vinyl, making it durable and highly-cozy to perform exercises on.
7. Bowflex SelectTech Adjustable Bench (Best for Posture)
Taking the number seven spot on the list of best chest machines is the Bowflex SelectTect Adjustable Bench. This is a sturdy piece of equipment that accommodates all kinds of exercise. This machine can hold up to 600 lbs, which is recommended for dumbbell and mid-level barbell work.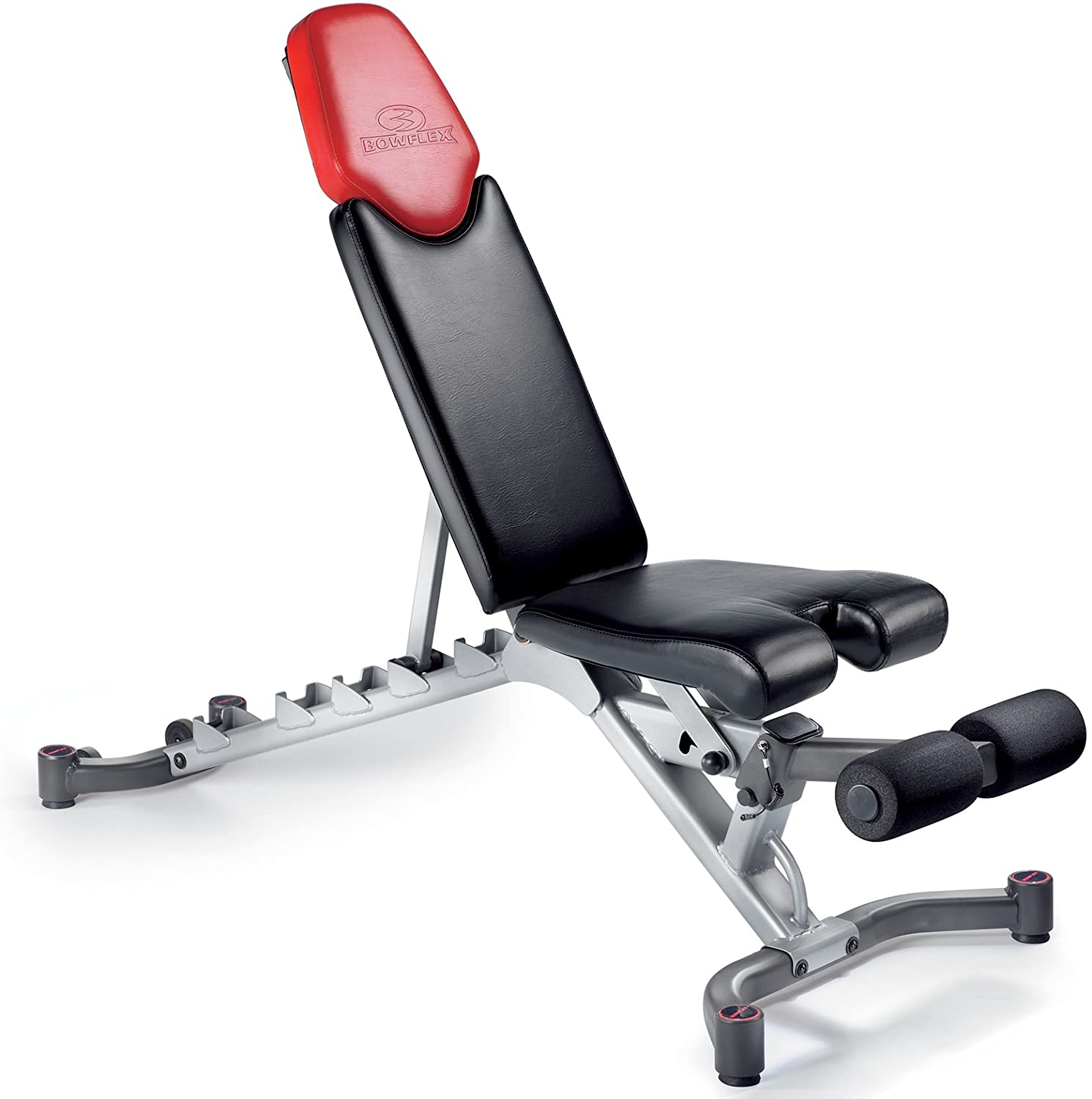 This bench is adjustable up to six different positions — incline range of 17- to 90-degrees. SelectTech comes with a detachable leg hold-down brace for more decline position support.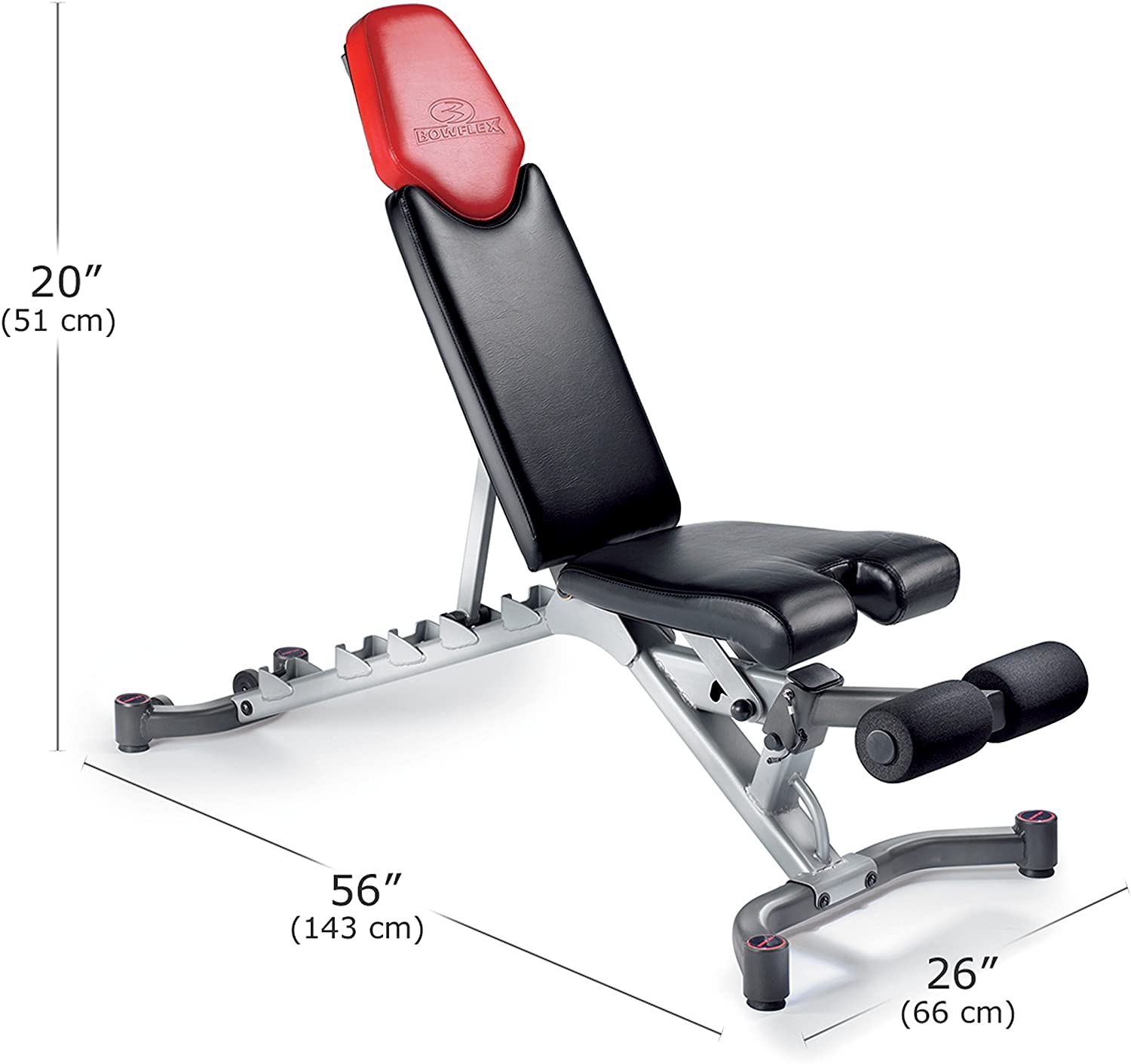 This chest press machine helps in creating the right posture for a secure, muscle-building free-weight workout. This machine is backed by a 30-year warranty on frame, while the upholstery has a one-year warranty. Moreover, this comes in three different styles — Bowflex 3.1, 5,1, and 5.1s.
8. FLYBIRD Adjustable Strength Training Bench (Best in weight capacity)
The FLYBIRD Strength Training Bench is a complete body workout machine that provides you stress-free and safe workout sessions. This machine is adjustable to 7 back positions and three seat positions to help with your entire body exercise.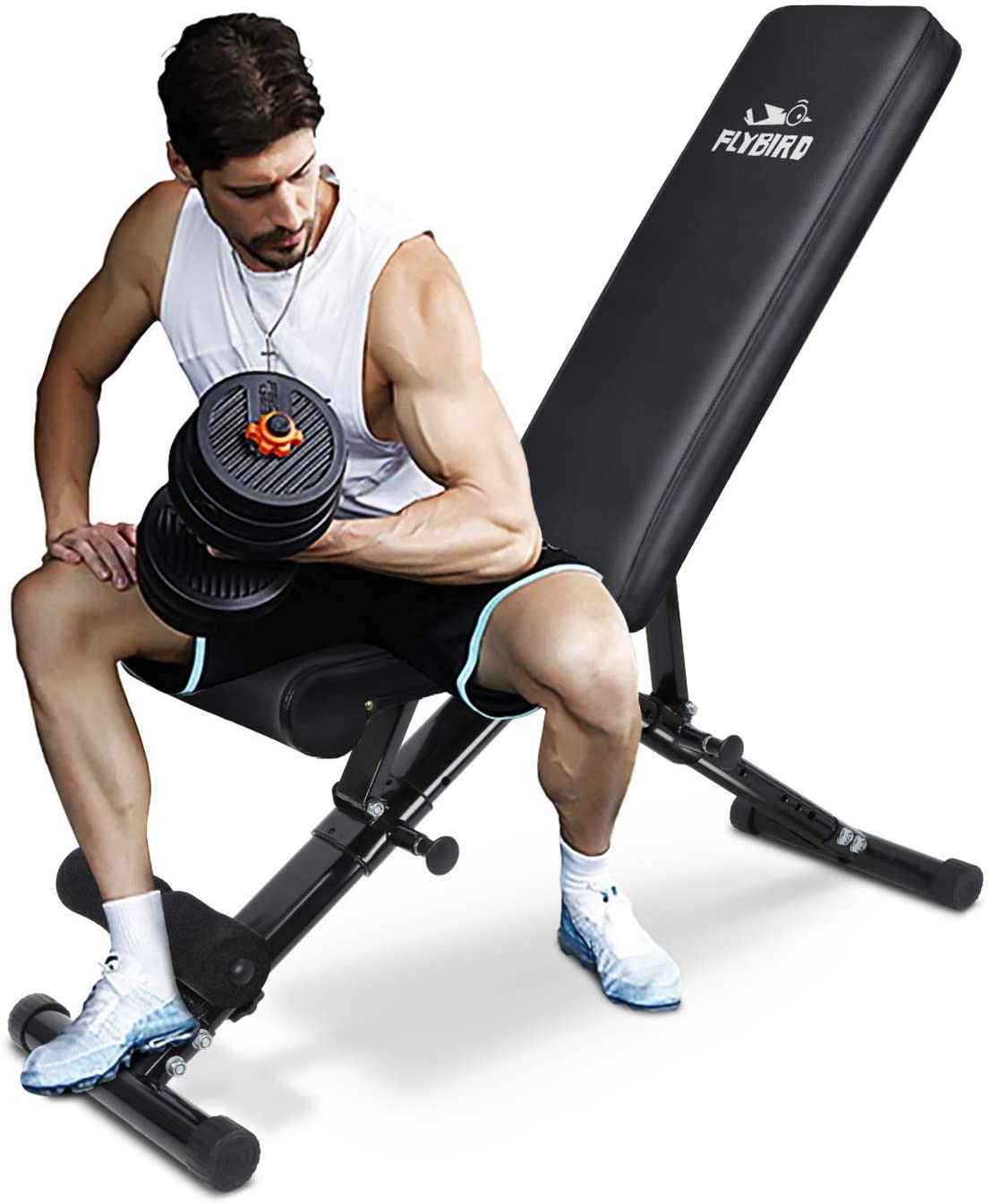 The backrest and seat are composed of leather and fused with soft padding for cozy and painless workouts. This is one top-quality bench built of heavy-duty commercial quality steel that can hold up to 620 lbs.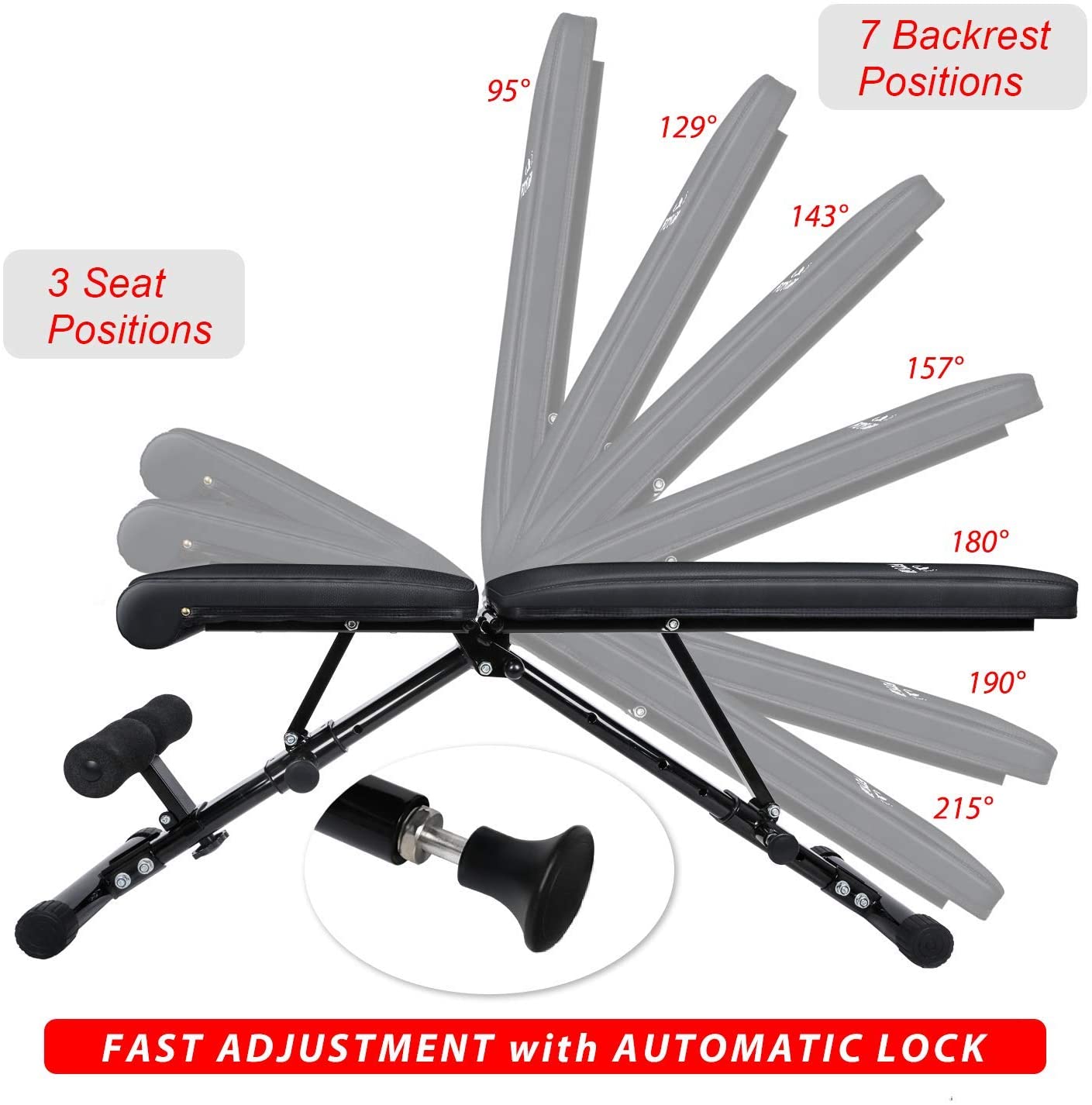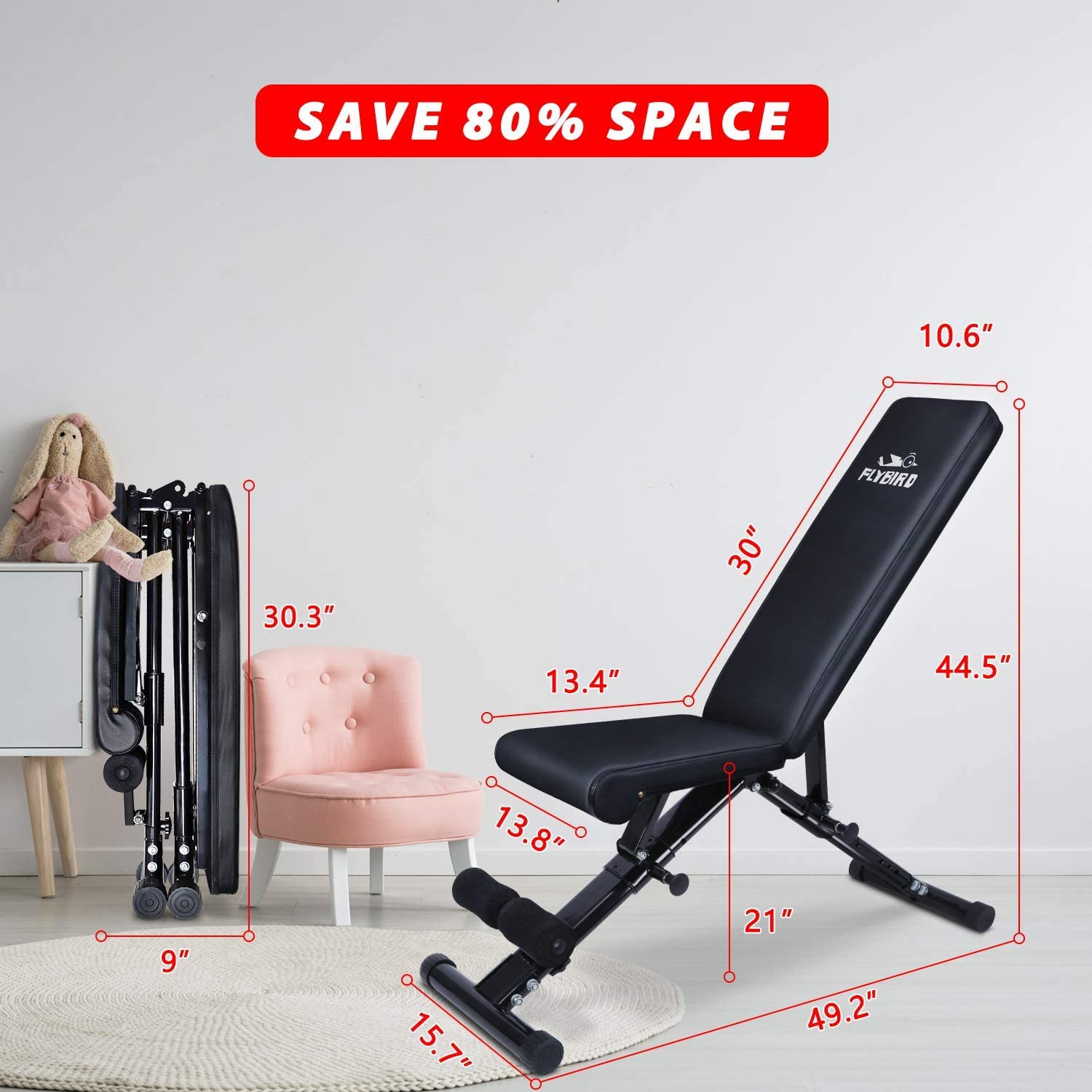 The adjustment lock is secure and robust. FLYBIRD is a brand known to make user-friendly machines that come with a prolonged lifespan. We recommend this to be the safest option for both home and commercial purposes.
---
For those who can't afford a chest press machine, here's good news for you. We present to you four alternatives.
Push Up
These are the most underrated form of exercise. Pushups are more effective than you think. 15-20 reps a day can do wonders. This exercise impacts your shoulders, abs, triceps, biceps, and of course, your chest.
Proper form is fundamental while performing pushups. An improper way will not lead you to your desired results. Try different variations of pushups for more intensity.
Bench Press (Inclined)
A bench press is also useful as a chest press. A combination of a flat bench with an incline bench press can offer you better results. By inclining for about 45 degrees, the bench press can give your upper chest the proper tension needed. And flat bench press works equally on your lower chest muscles as well as your upper chest muscles.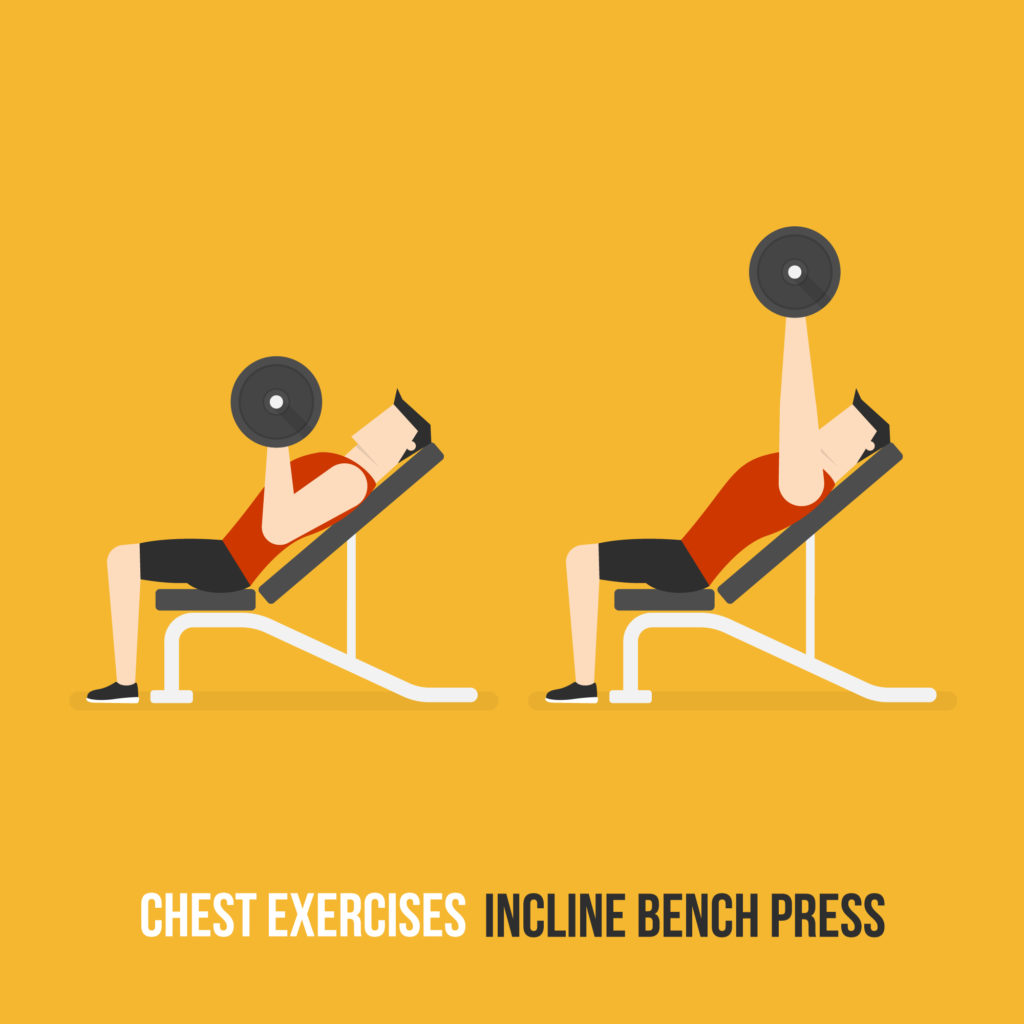 Bench Press (Declined)
The next alternative for chest press will be the bench press with some free weights. It may be difficult for beginners, but mastering this technique will benefit you in working your pecs. Choose your comfortable weight and form and try all variations possible.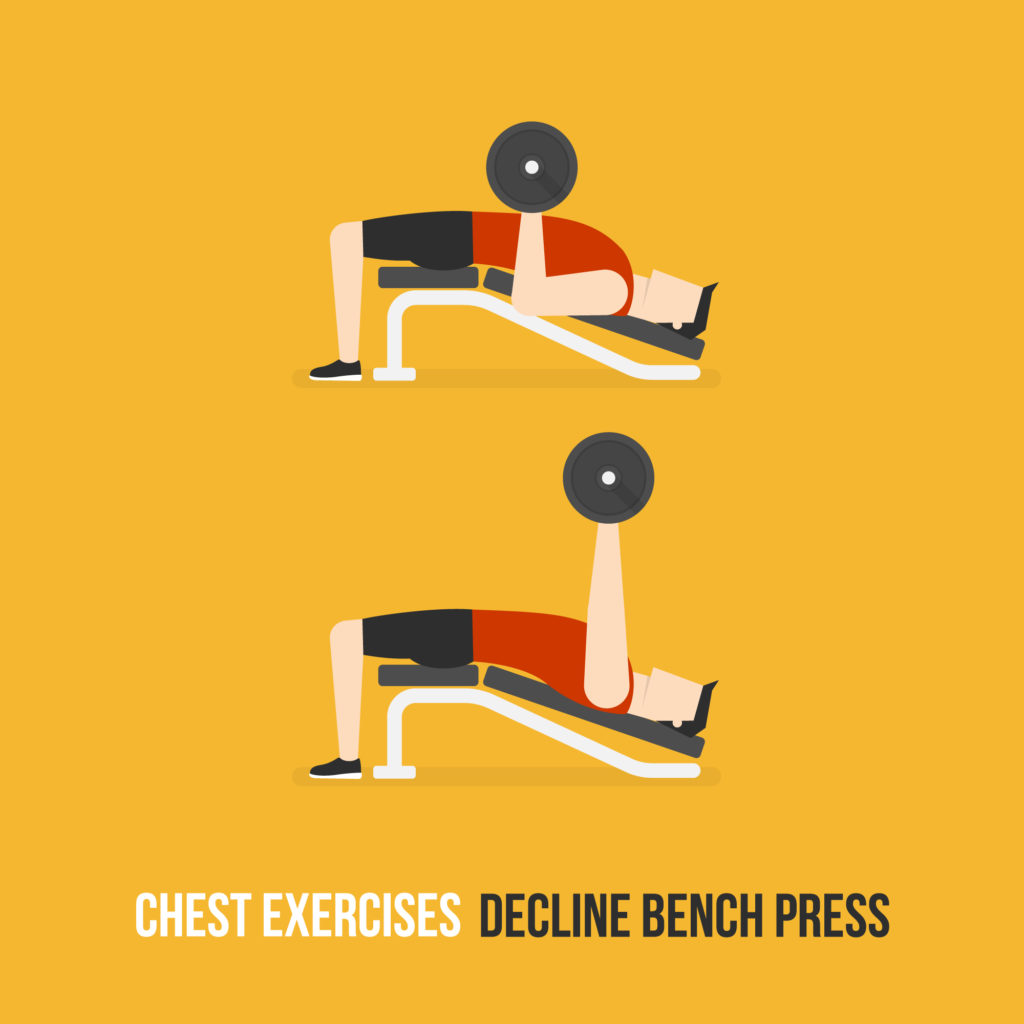 Flyes
Doing the right amount of reps with flyes also an alternative to the chest press exercises. Steady and smooth movement is essential when doing flyes. Expect gradual progress.
Pushing yourself may not end well. Comfortable weights and reps make flyes a better workout. Keep in mind to move your shoulders too making the chest muscles come in effect.
Also Read: Best Tasting Keto Protein Bars: Tasty Low-Carb Foods on the Go
---
Let's see what all types of chest press machines are available:
You can find all kinds of chest press machines available in the market. From fully commercial products to compact domestic ones, you can go according to your requirements. All major brands in the fitness market produce chest press machines. Choose the one that suits you. Be careful with the hand movements, since the growth must match both arms. Let us discuss the kinds of chest press machines.
Seated Chest Press Machines
This type of machine provides you the comfort of sitting while doing the exercise. Seated chest press machines come with adjustable handlebars and seating positions, allowing you to do multiple variations of your routine.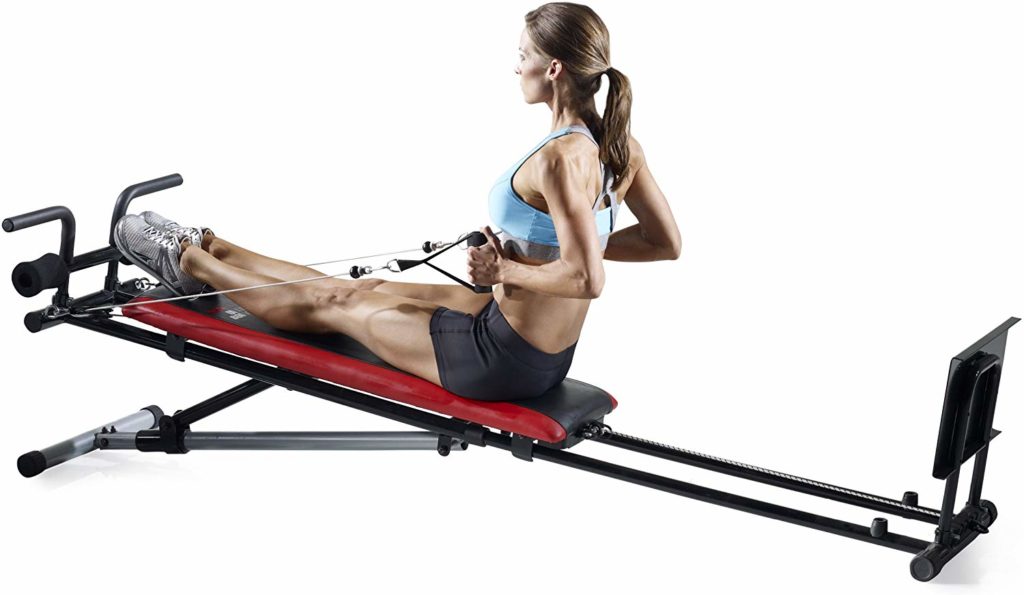 This type of chest press machine engages your upper and middle chest muscles, excluding your lower chest areas. They come with attached weights and plates, as well.
Incline Chest Press Machines
These are the type of machines that makes you lie on a padded seat. Most of them are flexible and can be transformed into inclined, declined, or flat bench according to the requirement.
They are open to more variations than seated ones. The changes help you to work on the targeted muscle groups. The comfort of choosing weights and plates is also possible with inclined machines.
Cable Chest Press Machines
As the name says, these types of machines come with cables instead of handlebars. They are the most versatile type of equipment that allows you to perform multiple variations for chest, arms, shoulders, and upper back muscles.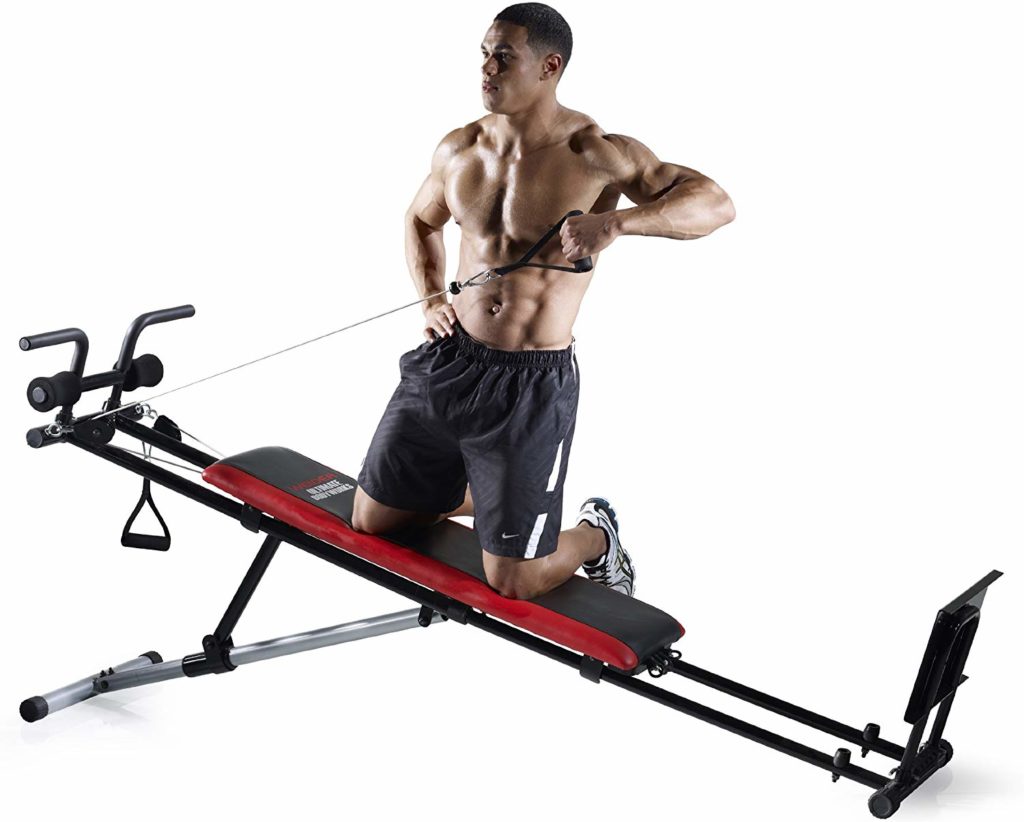 ---
CONCLUSION
Having the best chest machines to perform exercises, will bring you benefits that are well beyond your imagination. Each aforementioned machine is built to last longer and achieve your desired goals.  Of all the best chest machines reviewed, we feel the ULTIMATE BODYWORKS BY WEIDER is one to have for all your training purposes. FLYBIRD Adjustable Strength Training Bench is another interesting product for heavy-weights.
---
FAQs for the Best Chest Press Machines
What makes the chest press different from the bench press?
The technique is the main difference between them. The chest press is perfect for beginners as well as for those who return to bodybuilding after a break. The bench press is suitable for intermediate and advanced bodybuilders. In the case of progress, the bench press is most likely to show faster results.
Does bench press hurt your back?
Proper form is vital for every workout, especially when weights are included. This rule applies to the bench press as well. An improper way may cause injuries and body pain. Stability and smoothness determine the result of your hard work.
How to work out pectorals?
To starting with basic pushups, pull-ups, and dips, chest workouts can gradually shift to bench press and chest press machines. It is advised to choose the right level of exercise and weights according to your comfort.
How many pushups a day leaves you a ripped upper body?
It is suggested to do 100 pushups a day for fast and best results.
Is it normal to arch your back while performing bench press?
It is normal to arch your back for bench press and but not recommended if you are a beginner. The bending of your back results in a broader chest, add variations to your routine according to your expected results.
Are there any tips for performing a chest exercise?
There are quite a few things to consider before kick-starting this exercise with the best chest machines:
Have your spine in a flat position through the entire exercise and avoid curving your lower back.

Press your head, shoulders, and lower half into the bench whilst performing an exercise.

Have your wrists neutral; this prevents them from not bending in any direction.

Keep your feet firm on the floor during the training.
How to properly maintain my new chest press machine?
Maintaining a large piece of equipment like the chest press machine is a cumbersome duty. The components included — moving joints, seats, cables, and frames — all deteriorate with time. The very first thing you should be doing is — keep the floor free from dirt and dust. When using split weights, have them placed gently on a weight rack. Don't be in a rush, as dropping weights on the floor can do some damage to the surface.