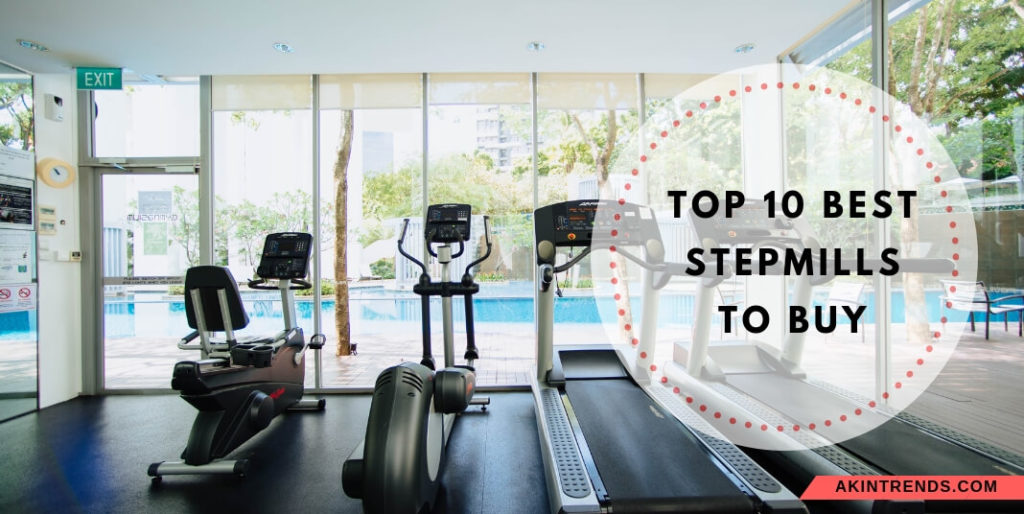 If you want to keep your body in optimum shape, then there is nothing better than getting involved in some sort of cardio activity. One of the most amazing ways of enjoying this activity is stepmill. It has attained lots of popularity in recent years, especially in North America. The activity involved in it is same as climbing the stairs, but you get the liberty to choose resistance and speed level. However, there are hundreds of models available in the market that is enough for confusing you while choosing the best stepmills.
They aren't like the treadmills and considered to be a costly investment. That's why you need to be super-conscious while choosing this product. Every brand claim to be better than the other one, but it is important that you should be able to distinguish the perfect one out of them. If you are looking to buy the perfect product, then we suggest you read this complete post.
What are the top 10 best stepmills in 2019?
Making research and checking each product one by one is almost an impossible task. Furthermore, it demands lots of time and knowledge level to get indulged in such a work. However, you can ditch that complicated work as our expert team has created a list regarding top 10 best stepmills available to buy this year. Check out carefully and buy one that suits your budget and requirements perfectly.
1. StairMaster SM3 StepMill
StairMaster is one of the most reputed brands in the fitness industry and this product the reason behind it. The SM3 machine specially manufactured for improving stamina and making cardio better than ever. You will find it better than the majority of treadmills and cross-training equipment available in the market.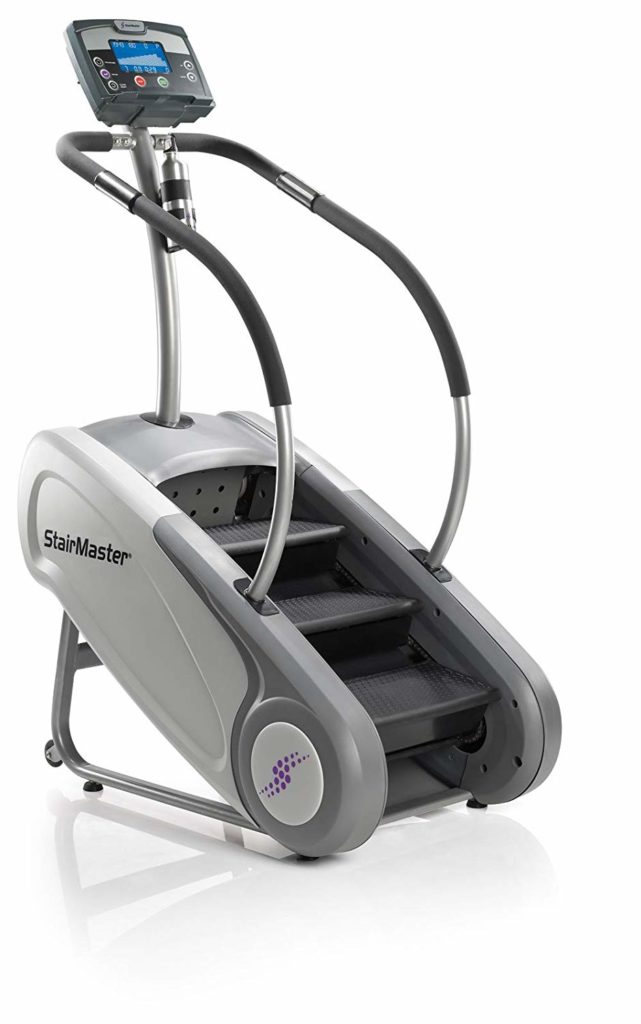 It may look smaller in size, but used by many well-known health clubs in the United States due to its higher effectiveness and sturdy build. It allows the user to set step range anywhere from 26 to 162 steps in a minute. Also, this machine equips with ten different workout programs targeting fat burning, intervals, and calorie burning among others.
The company has added a highly effective & big LCD display on the top where one can monitor activity. In addition to that, it is fully compatible to monitor the heart rate adequately. Overall, this stepmill is the perfect option to make if you want to end up making the right investment.
Pros
Equip with a great range of speeds and programs to choose
Fully compatible with the polar monitoring
Ideal for high-intensity cardio workouts
Cons
Price is on the higher side when compared with other items in the list.

2. StairMaster 7000 PT Stepmill
There is no chance that we will miss the name of StairMaster 7000 PT while talking about the best stepmills. It is an excellent fitness exercise equipment that you can use for having quality lower body & cardiovascular workouts. There is a multitude of easy to adjust speed options added in this machine that let users enjoy an amazing workout. You can use anywhere between 24 steps and 162 steps per minute according to the stamina level.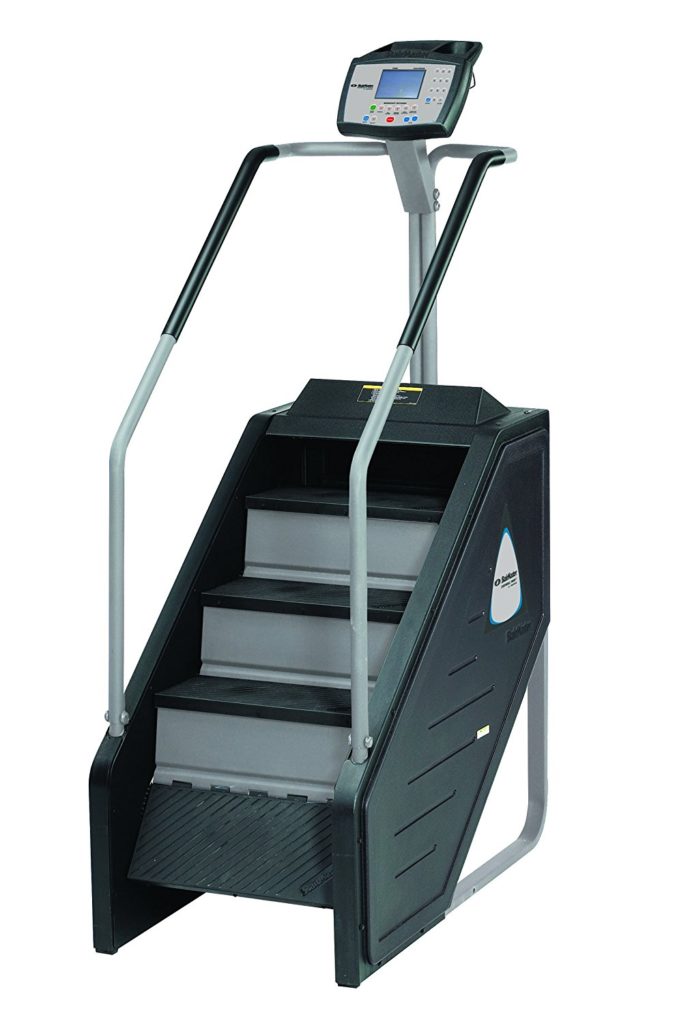 There is an LED display added on the machine with a motive to give all the important pertinent details to the user like speed, calorie burned, climbing time, etc. The height of its step is around 8 inches that are adequate for enjoying an amazing workout.
On top of that, the company has also added things like water bottle holder, accessory tray, and reading rack for the convenience of the user. It is a high-quality stepmill designed by the company with a motive to fulfil all the requirements of the buyers.
Pros
Equip with CPA fire fit test for identifying the fitness level
Having six different workout programs
Available at a little bit lower price than the first one
Cons
Extended warranty charges are extra.

3. Jacobs Ladder StairWay GTL Ultimate Stair Climber
This stepmill has made the reputation of being one of the most terrific options for the commercial gyms. It has a pretty innovative construction that provides a rotating staircase to the climber. Also, the unique thing is the tension of the waist belt through which the speed of this equipment controlled. This means the higher you go, the higher the speed of stairs will come. The proper control of speed will be in the hands of the climber.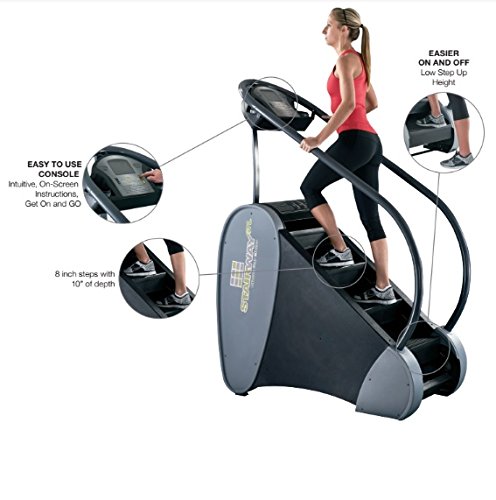 It is a self-powered machine that doesn't require any external supply for running. There is a sharp display on the machine that gives important details like stairs climbed, climbing rate, heart rate, calorie burn, etc. It has the lowest initial step of 11" in the market.
The company sells this product with a 4-years warranty on the parts that give a great sigh of relief. Overall, we can say it is an ideal choice to make if you want to buy a high-quality stepmill for your gym.
Pros
Shorter initial height when compared with other stepmills in the market.
Equip with a function that allows the user to control the speed.
Work without any external power
Cons
Lack of preset programs and higher price.

Also Read: Best Massage Chair Review: TOP 5 Brands & Models
4. Xiser Commercial Mini Stairmaster
This commercial portable stepper is a lightweight machine that completely manufactured in the United States. It is a mini stepper that has a very sturdy build that ensures the stairmill last long with minimal maintenance. It is an ideal option for traditional step workouts in the home. Additionally, you can enjoy a greater session of sprint interval training in this machine adequately.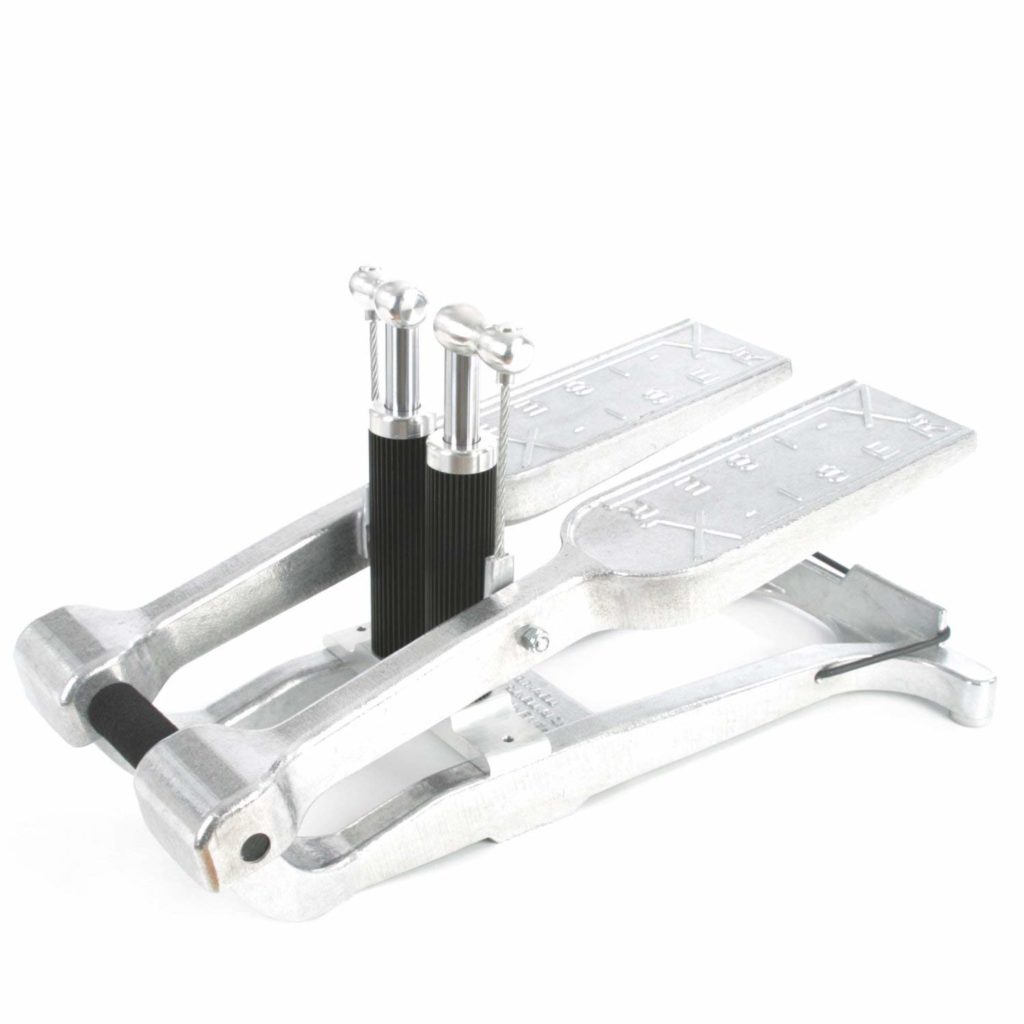 You will be amazed to know that this machine used by many professional athletes and teams, including the New York Jets. The company has used high-quality commercial grade aluminium alloy for manufacturing this excellent machine. There is patented hydraulic cylinders and silicone fluid system used by this stepmill that make its operation completely quiet.
It comes with three different resistance level options that can be changed by turning a dial installed on the machine. The programs list consists of high-speed, walk, and run. Additionally, you will have a DVD and exercise chart about specific exercise techniques with this amazing machine.
Pros
Delivered with a five-year consumer warranty by the company
Pretty quicker to assemble due to the minimal alignment process
Made using strongest & lightest aluminium material.
Cons
Not an ideal option for commercial use

5. StairMaster SM916 StepMill
The SM916 is one of the latest models manufactured by StairMaster brand that comes with all the necessary features for enjoying an intense workout. The company has added an easy to read LCD console where you can track the activity. This screen comes with a polar compatible heart rate monitor for allowing you all the benefits of the workout. It is one of best stepmills having a great variety of pre-installed programs for fat burning, speed intervals, calorie burning, and many more.
Also, they have added a small TV for the users who prefer to have some entertainment during the physical activity. These eight-inch stairs create a perfect platform for a complete cardio workout. There are more than ten programs installed in this machine allowing you to burn fat and tons of calories. The step range in this machine is 24-162 steps in a minute that is pretty exceptional.
As like the majority of Staircase stepmills, this machine also comes with pre-installed fitness tests that allow the users to gauge their progress easily. Some additional features of this amazing fitness equipment are an accessory tray, bottle holder, and a reading rack for the convenience of the user.
Pros
The company delivers this machine with a 15-years warranty on its frame.
Equipped with ergonomically designed handrails for additional support.
An LCD TV and backlit display
Cons
It has a pretty massive size that might be a concern for some people.

6. Jacob's Ladder Total Body Exercise
This machine not only gives you the necessary tools for a leg workout but ensure your whole body receives a greater impact You can enjoy tons of low-impact exercises on this machine that ensure you become successful in getting the desired shape without putting too much pressure on the body. Also, this machine is an amazing way to regain fitness after an injury or surgery.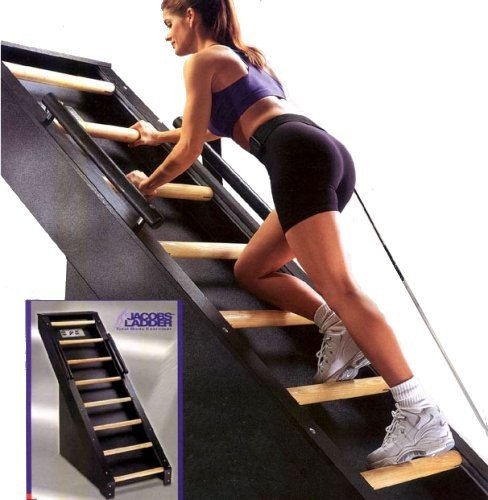 Furthermore, this amazing machine doesn't take much space if you are looking to install it in your home. We can't call it a stepmill, but a complete body workout machine. The price of this innovative machine is also quite affordable considering its build and effectiveness. It equips with an amazing climbing system that gets adjusted automatically to the desired speed.
This machine comes with microprocessor monitors that are easy to use and pretty handy for many individuals. You will get a set of operational & instructional DVD free with this machine. It is a complete package that you can buy for enjoying a top-class complete body workout programs.
Pros
Pretty quiet operation creating a minimal disturbance for others.
Equip with an innovative climbing system
An incredible option for low-impact workouts
Cons
Assembly operation takes a little bit extra time.

7. Kettler Montana Stair Stepper
Made using the high-quality technique in Germany, the Kettler Montana Stair Stepper comes with plenty of top-class features. It is a perfect machine for improving your cardiovascular and muscular health to a greater extent. This machine has hydraulic pistons that can be adjusted according to the weight and workout type. Furthermore, the ergonomically shaped handlebars provide the perfect gripping during the workout.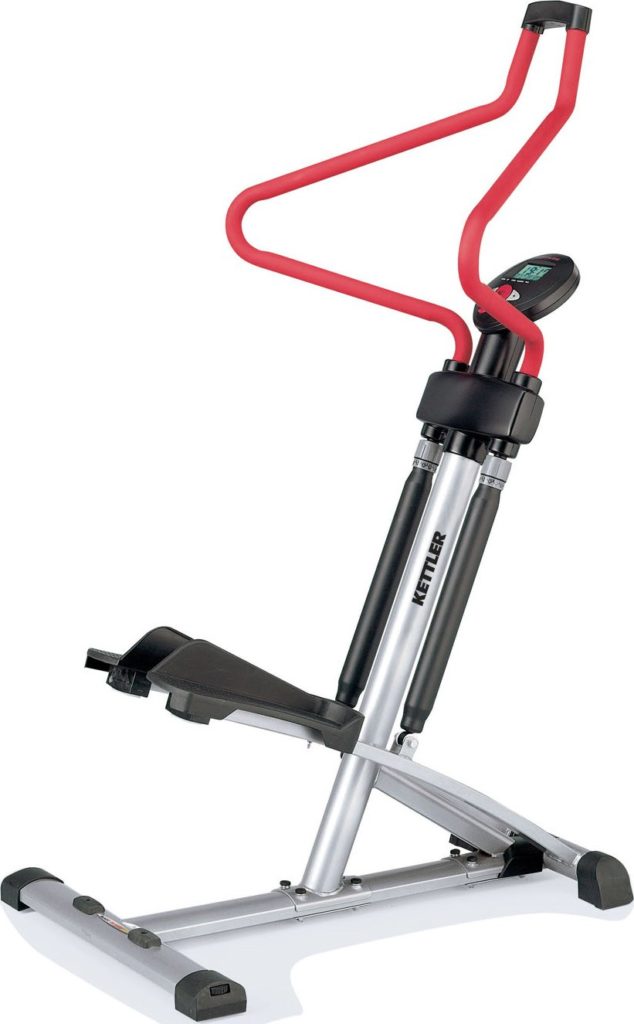 There are textured footplates installed in this machine that ensure you feel steady while stepping foot on this machine. Also, the manufacturer added an LCD where you will get the necessary information about your activity. It will give you stats regarding height climbed, steps per workout, calories burned, etc. It is a high-quality machine that crafted using top-grade steel material.
On top of that, the company has added an infrared earlobe clip heart rate sensor that can be very useful for many individuals. Additionally, there are built-in floor levellers for levelling the machine of it is put on the uneven surface. The weight capacity of this equipment is 250 lbs. that is decent considering its affordable pricing.
Pros
Made using high-grade steel that makes it a sturdy option in this list.
Available at a quite decent price range
Equip with modes for both beginners and advanced users
Cons
Not suitable for people weighing more than 250 pounds

Also Read: Best Tasting Keto Protein Bars: Tasty Low-Carb Foods on the Go
8. Sunny Health & Fitness Twist Stepper
If you are looking for an affordable alternative to the costly stepmills, then think about buying this twister stepper manufactured by Sunny Health & Fitness. This machine based on the twist action that works on the body by eliminating fat from thighs and buttocks. Also, this technique targets the hard to reach muscles without putting any stress on the joints.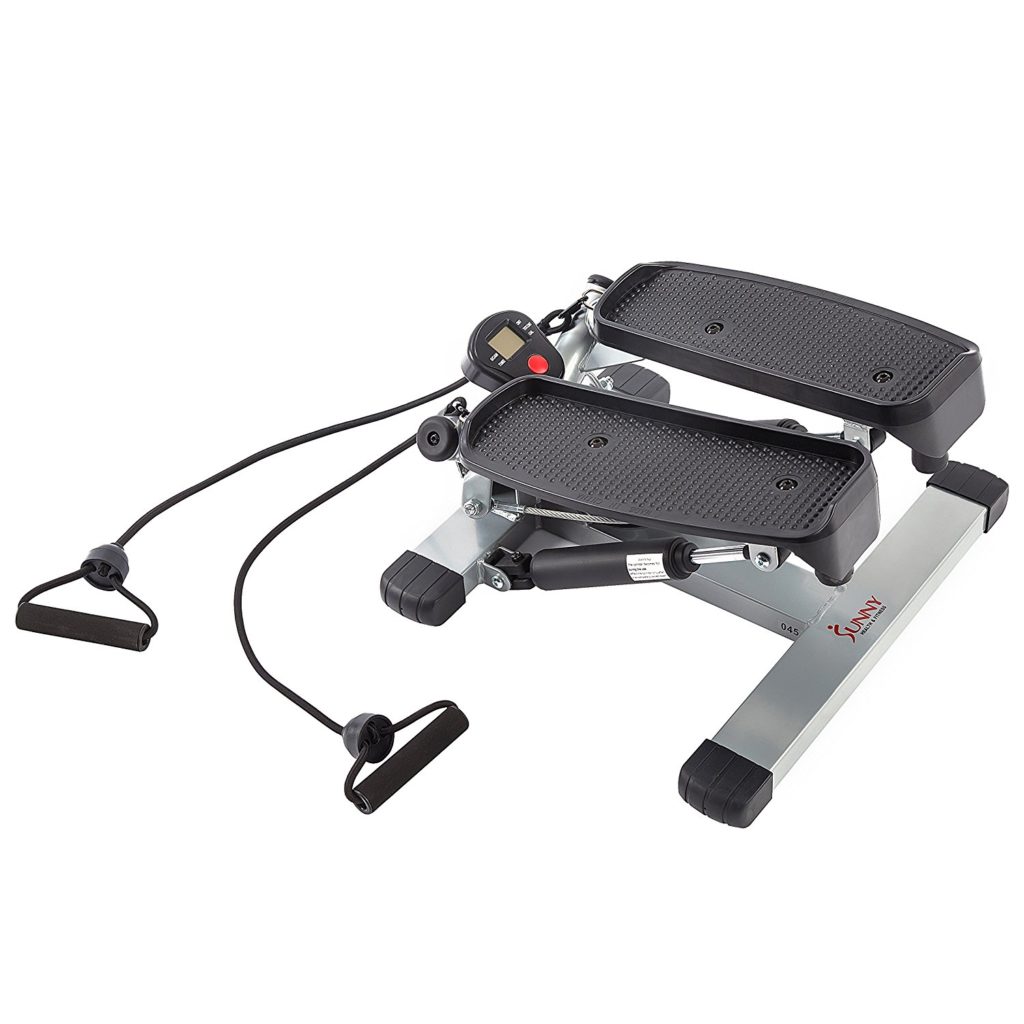 It may not be one of the best stepmills in the market, but you can't find the product a better option than this one at this price range. This amazing equipment has a fairly heavy-duty steel construction that ensures you can use it for years without any problem. There is a slip-resistant coating on the foot plates that ensure proper grip during the workouts. Furthermore, you can level the height by adjusting the step height and pedal tension quite easily.
Pros
Has a slip-resistant surface for a firm grip
The built-in LCD for tracking activities
Made from high-duty steel material
Cons
Demand proper lubrication on a consistent basis

9. Stamina Space Saving Folding Steppers
If you want to improve your stamina without buying a larger machine, then this folding stepper will be an ideal solution for you. It can be kept anywhere in the home during the workout and get folded when not in use. Even many of the gym owners have started adding this machine in their location due to its extensive benefits and features.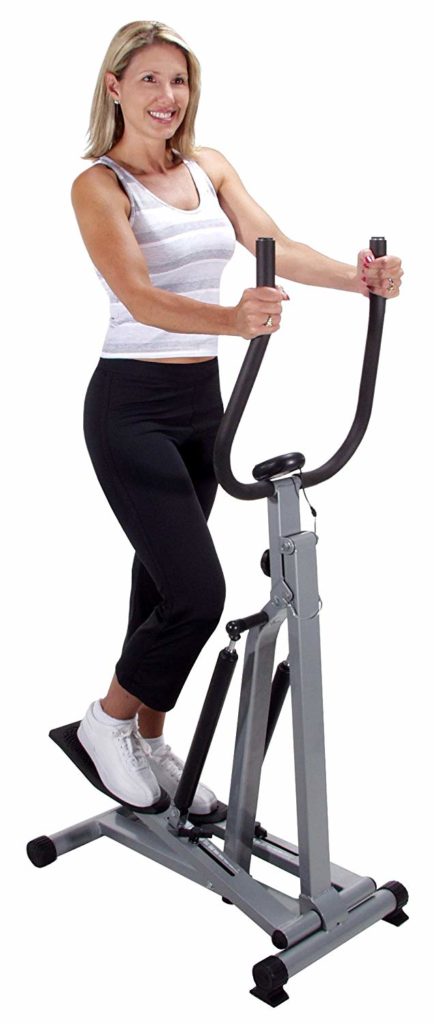 It is a great option for having an exciting muscular and cardiovascular workout. There are two adjustable hydraulic cylinders installed in this equipment that result in giving a pretty smoother pumping action. On top of that, the operation of this machine is very quieter, and there is no chance that other person will get disturbed due to its noise.
Despite being sold at an affordable price, the company has made no compromise in terms of quality and features. That's why they have added LCD digital monitor that show calories, time, total count, etc. Overall, we can say that it is a great package that you can buy for amazing workouts.
Pros
Designed in an incredible independent design
Equipped with a fully functional monitor for tracking your workout activity.
Can be folded when not in use for saving space
Cons
Almost nonexistent customer service

10. Jfit Under Desk & Stand Up Mini Stepper
We will end our list with this amazing mini stepper that you can buy by paying an amount little bit over $100. It can be used as both under the desk and stand up mini stepper according to the convenience level. The company has added advanced features to ensure this machine become a perfect fit for having a great workout. This machine is highly versatile and crafted in an awesome design. It is one of the most innovative products that you can buy in this price range.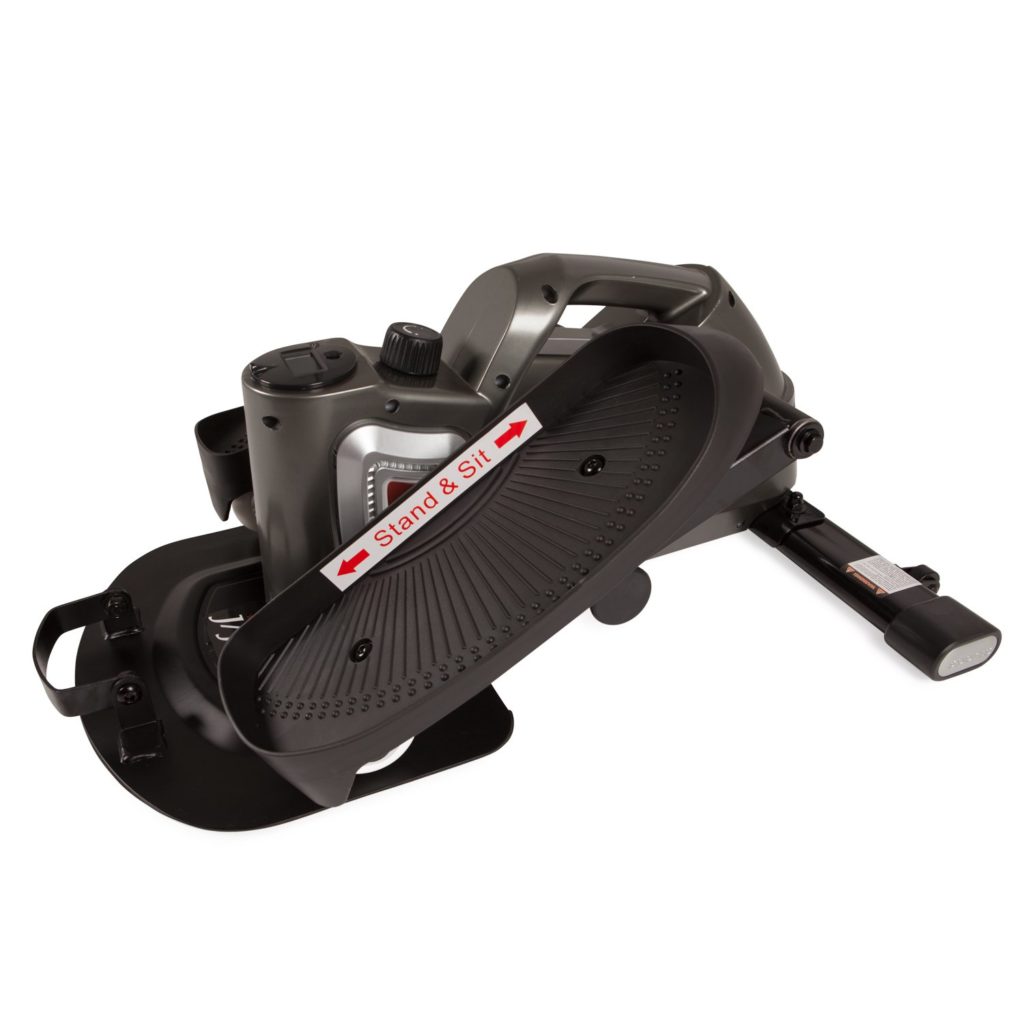 It equips with a series 1050 monitor that allow you record speed, calories, distance, time, etc. You can adjust the difficulty level quite easily with the help of a turning dial. Other than that, the people fall in love with its unique and smart design that has adjustable angle pedals for better convenience. Furthermore, it has a super-quiet operation making this machine an ideal option for any gym or home.
There are pretty larger wheels installed in this equipment that make the operation smoother and quieter along with creating pretty less tear. This machine offers very improved durability to the riders. It is an ideal machine to buy if you have a tighter budget but still, want a high-quality cardiovascular machine.
Pros
Available at a very impressive price range
It has a very super-quiet operation.
Maintenance cost is quite low.
Cons
Packaging needs to be improved.

How to choose the best stepmills in 2019?
You will see that there are tons of brands manufacturing stepmill equipment for their customers. Each of them is different regarding features, prices, and add-ons. Our team has created a buying guide that you can follow for buying the best stepmills by every means. Check out the below-mentioned guide carefully and apply it while buying this equipment.
The price of this machine starts at nearly US$ 100 and go more than US$ 10,000 depending on the requirement. If you want this machine for commercial purposes, then it is better to go for ones in the upper price range. On the other hand, you can buy an affordable one under the budget of US1, 000 for home use.
Always try to look for the add-on functions like a tracking device, LCD screen, etc. The more such features this machine has the better option it is for buying. Also, certain machines come with pre-loaded workout programs. Try to find such machines.
There is a myth among the community that the heavier material is, the better it is. However, that's not a reality. Try to find a machine that made from sturdy & durable material irrespective of its weight.
There is an important role played by the warranty period while buying stepmill as it is a costly investment. So, you should check out their warranty policies carefully before buying them. It can be very helpful in the long run in every manner.
Conclusion
As you can see, there are an immense amount of benefits that you can enjoy with a stepmill. No matter, you want it for home or commercial use, it is important to make the right choice. Any of the best stepmills mentioned in this post will be good to buy. Go for the one that suits your requirements and budget perfectly. Don't forget to mention your experiences with the product you bought. It will be pretty beneficial for the others as well as our research.