With the mounting pressure exerted on you for your fitness routine, you have now forced yourself to discover a few exercise machines. One of the easiest ways to regain the lost shape is by purchasing an elliptical machine (And using it). To clear the air, we compare two elliptical machines that are lauded by athletes worldwide. In this article, we bring you Schwinn 470 vs Sole Fitness E25 Elliptical Trainers.
Elliptical trainers or machines are impetus in burning those calories. They are touted as one of the most important pieces of equipment present in the gym. Motions of these elliptical machines assist in safeguarding joints from injuries. Furthermore, elliptical machines make performing exercises fun, which has now gained a special place in the houses of every athlete.
As these machines become a need of the hour, there are a multitude of brands that create confusion in the minds of a buyer.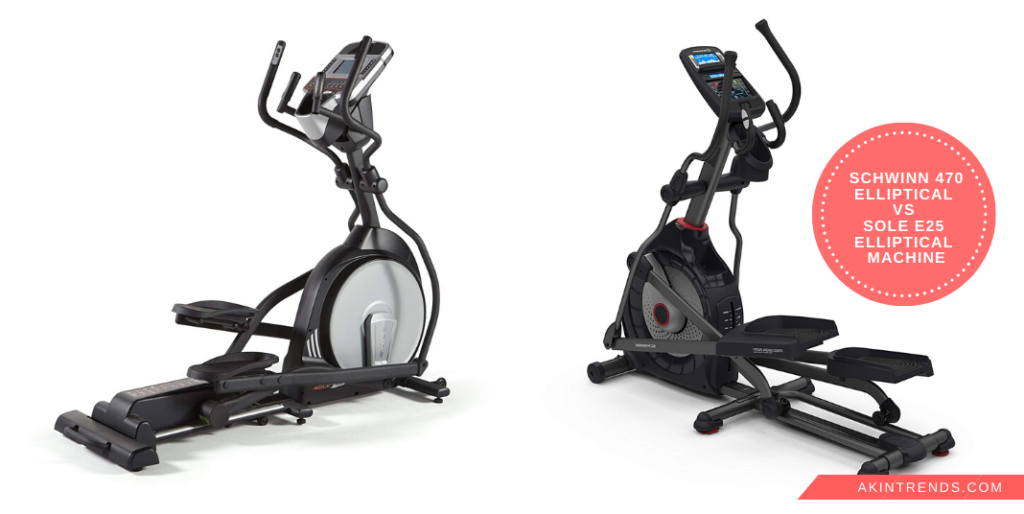 Before we proceed with comparisons, here is a list of features that you would want to consider when buying.
---
Salient Features To Look For:
Smooth Motion: Motions have a significant impact on your legs and hands; ensure that the pedals are functioning smoothly and silently. An elliptical machine must not be wobbly and offer you comfort throughout the whole movement.
Incline: Consider buying a machine with adjustable incliners; this allows you to fine-tune the ramps and add intensity to your daily workouts.
Resistance: Numerous machines are offering adjustable resistance. Resistance levels at the lowest setting throw a meager exercise task while setting at 75 percent can be a tough challenge.
Stride Length: Few elliptical machines come with 14-inch stride, which is considered short for an average-sized athlete. Typically, machines with a stride length around 21 inches are available and arrive in good use if more people are using this.
The aforementioned list of features are only a few, but are essential and play a pivotal role in determining the performance of a machine. Without further ado, here is an exhaustive comparison guide of Schwinn 470 Elliptical Trainer and Sole E25.
| | | |
| --- | --- | --- |
| | Schwinn 470 Elliptical Trainer | |
| | | |
| | | |
| | | |
| | 2 DualTrack Blue Backlit LCD Screens | |
| | | |
| | 70.1 x 28.2 x 63.2 inches | |
| | | |
| | | |
| | | |
| | | |
| | | |
| | | |
---
Schwinn 470 Elliptical Trainer Review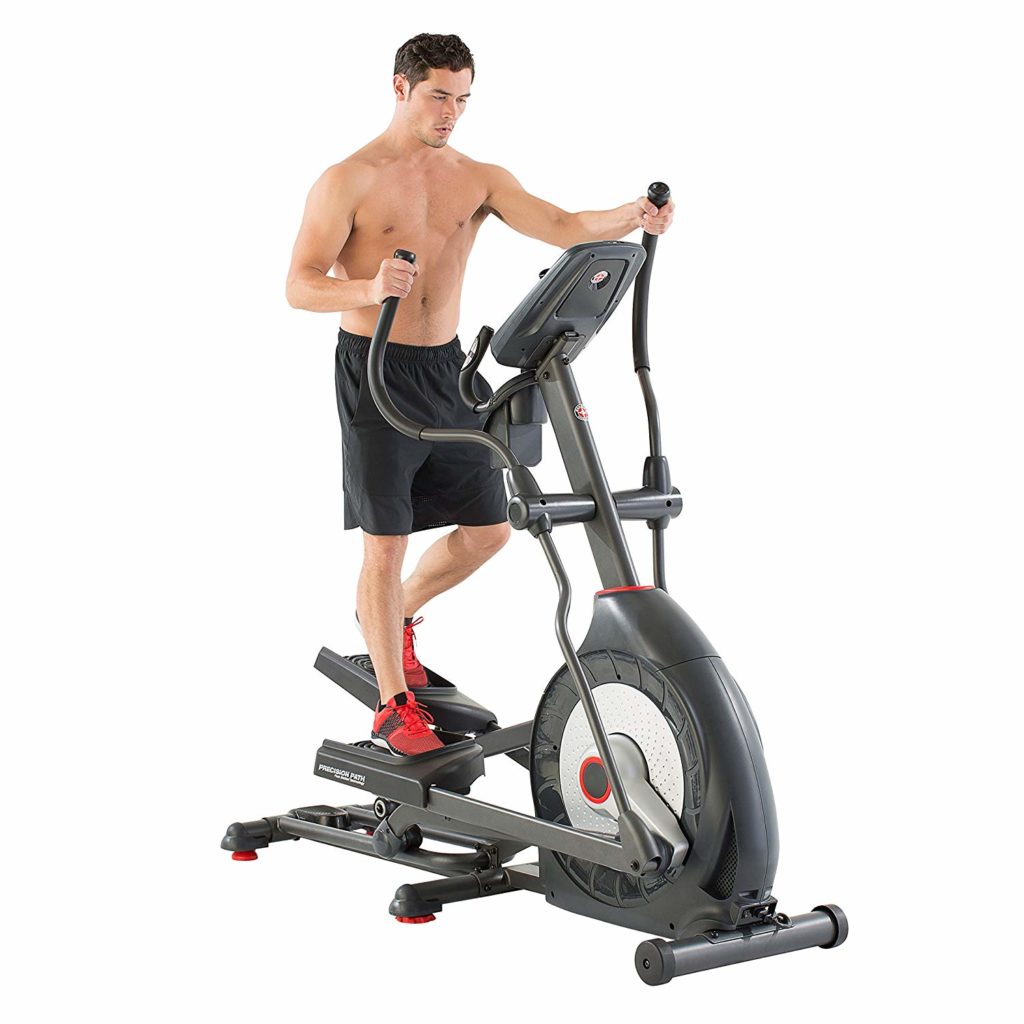 Design and Durability
Synonymous with bikes, Schwinn is a seasoned brand in building top-notch elliptical machines that assure quality and long-lasting durability. With dimensions measuring 70 inches long, 28 inches wide and 63 inches tall, this elliptical machine boasts of a front flywheel, an oversized crossbar, and center frame support.
Coupled with tiny wheels in the front, Schwinn 470 can be easily moved around from one corner of the floor to another. Moreover, this machine is bulky and weighs 189 pounds, which can accommodate athletes up to 300 pounds.
With a reasonable and affordable price-tag, Schwinn offers ten years frame, two years parts, one year on electronics and 90 days of labor warranty.
Computing System
Schwinn 470 is an entry-level elliptical machine that comprises of an astounding computing system. Sporting a high-end computer display, Schwinn 470 includes dual backlit console display for easy readouts.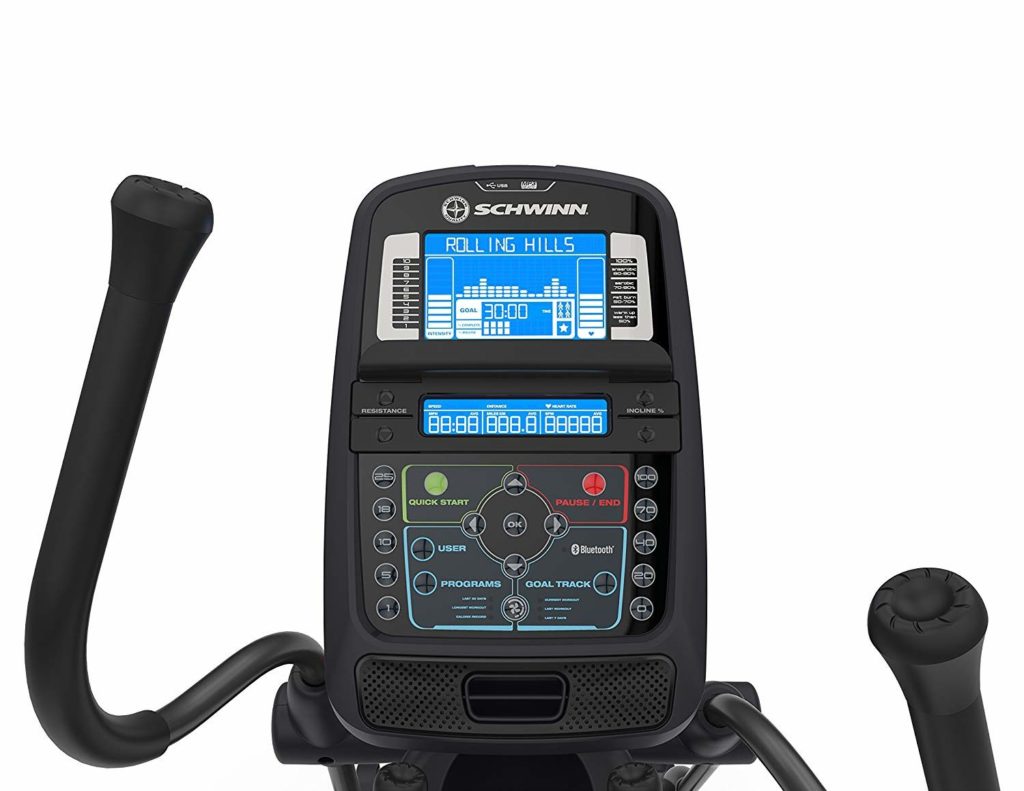 Featuring 29 built-in programs, including 12 workout programs and nine heart rate controls, the Schwinn 470 also empowers you with four user profiles. With these user profiles, you can track 13 feedback categories, including time, distance, and calorie goals.
Also, with Bluetooth connectivity, you can share your data with the Schwinn Trainer app, including MyFitness Pal, GoogleFit, and a bunch of other applications.
Notable Features
Swamped with state-of-the-art features, the Schwinn 470 is a complete workout machine to help both the lower and upper body. Since stride length is vital in selecting an elliptical training machine, the Schwinn 470 is a machine that you might just want to throw your body on. This machine is embodied with a 20-stride length, which incorporates Schwinn's Path Foot Motion Technology for natural running motion.
Arguably one of the finest features of Schwinn 470 is the capability of auto incline. This feature allows you to amend the training intensity during workouts. It packs a 10-degree motorized incline ramp for more challenging workout sessions.
Equipped with a 3-speed fan and mounted water bottle holder, and a media shelf, the Schwinn 470 offers multimedia support during workouts. Also, it is stocked with a sound system and a USB charging port.
Pros and Cons of Schwinn 470 Elliptical Trainer
With notable and exciting features discussed, here are a few likes and dislikes.
Also Read: Schwinn 430 Elliptical Trainer vs ProForm Cardio HIIT: Comparing the Elliptical Machines
---
Sole Fitness E25 Elliptical Trainer Review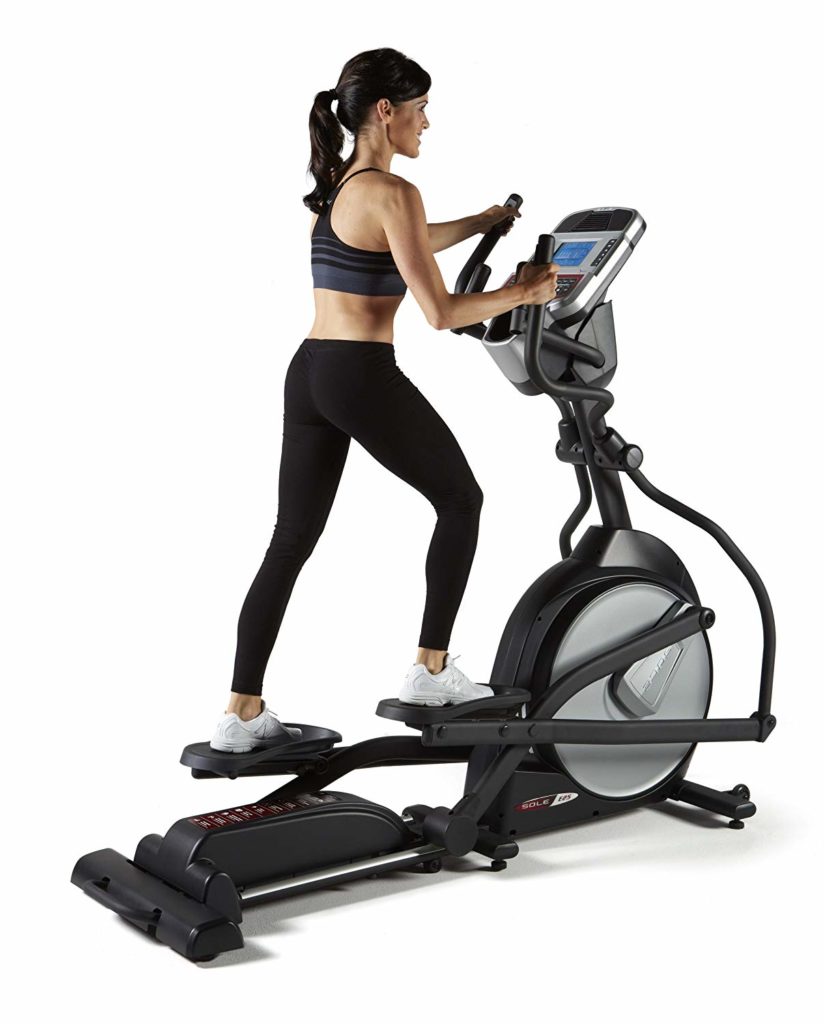 Design and Durability
Another entry-level elliptical trainer, Sole's Fitness E25, is a feature-filled elliptical machine that is effortless as cardio training equipment and efficient workout machine for protecting joints.
Sole Fitness E25 oozes out an expensive and impressive look at first sight, which at this cost, it indeed is. Considering the price range, this elliptical machine is crafted in a well-made structure, which has its covers carved out of plastic.
Measuring 71 inches long, 28 inches wide and 57 inches tall, Sole E25 is designed with a 2-degree inward slope that alleviates ankle and knee stress. Equipped with rear wheels, this elliptical machine effortlessly moves around the floor. The Sole Fitness E25 weighs about 211 lbs and can comfortably accommodate athletes weighing up to 350 pounds.
What's more, the Sole Fitness E25 offers a lifetime warranty on frame, three years on electronics and parts, while one year of warranty on labor.
Computing System
Similar to the Schwinn 470 elliptical trainer, the Sole Fitness E25 features a console but is four inches longer. Stocked with a stunning backlit display, it offers your track the following – speed, incline, calories, pulse, distance, level, and time.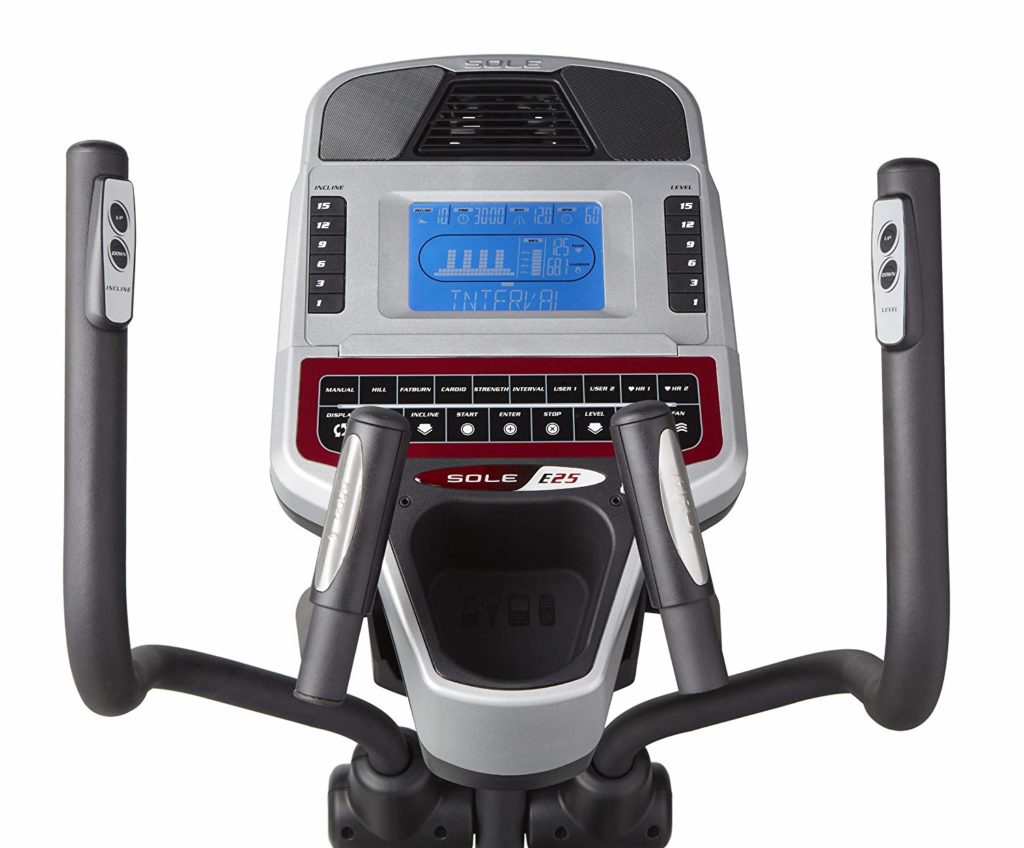 The Sole E25 offers just about ten workout programs, which is a lot less than its counterpart. While on the other hand, this elliptical machine offers two user-specific custom programs and two heart rate programs.
Sole E25 has syncing data option available, which allows sharing reports with popular fitness tracking apps like Fitbit, MyFitnessPal, etc. Also, for extra convenience, this elliptical machine enables two users to save their profiles.
Notable Features
Loaded with features that meet the needs of every athlete, Sole Fitness E25 is a machine that is equipped with some captivating ket features. One of those features that other brands miss out is an adjustable stride length. The Sole E25 comes along with a power-adjustable stride of 20-to- 22-inch length with fully adjustable footrests. Moreover, the Sole E25 also offers you to stride both forward and reverse motions. This option has been highly praised by serious trainers, who prefer to work calves and hamstrings more.
Major miss out on other brands is a chest strap heart rate monitor, which is available in Sole E25 and is a huge bonus. With an option such as this, you receive an accurate measure of your pulse and can precisely train within your target heart rate.
Same as the Schwinn 470, the Sole E25 offers you with auto incline capability, but as high as 30-degree. This feature propels you to perform more intense workouts.
Pros and Cons of Sole Fitness E25 Elliptical Trainer
Sole E25 has a few hits and misses. Following are a few:
Also Read: Top 10 best stepmills to buy this year.
---
Verdict
Elliptical machines are proving their worth, be it in health centers or homes. As the cost of these products are exceedingly higher always, not every day, you are obliged to shop them. So choosing one with full understanding can do you a world of good.
This brings us to end of our Schwinn 470 vs Sole Fitness E25 review. Various considerations and analysis have made us reward the Schwinn 470 with higher marks. The ease of use and the amount of workouts give this the edge over Sole E25. If price isn't a concern, spending a few extra dollars on the Sole E25 is also not a bad option. The Sole Fitness E25 raises the ante with high incline ability and the chest strap.
In case you are an advanced trainer and can afford carrying weight with ease, selecting higher model might be a handy option too.
---
FAQs
1. What makes elliptical motion work smooth?
The resistance system is a feature that has your elliptical motion work smooth. Resistance steadies the elliptical machine's flywheel once you start turning it.
Lower priced elliptical machines are powered with magnetic or motorized brake systems. In contrast, expensive machines are fused with ECB (eddy current brake system), which is known for its durability and smooth resistance system.
2. Can elliptical machines be used every day?
Yes, you can use elliptical machines regularly. Utilizing elliptical trainers can boost the activity of your heart, which further improves your overall health.
However, it does come with a few red flags if you are performing the same exercise repeatedly. With the same activities performed every day, you have chances of surrendering to a repetitive motion journey while your muscles are experiencing a plateau.
3. Are elliptical machines good for arms too?
Yes. Our in-house athletes recommend elliptical machines as a brilliant piece of training equipment for arms as well. Furthermore, it works on shoulders, biceps, and triceps, which are major muscle groups in the arms. To achieve the best results, switch between high and low resistance, and from time to time, change handgrips.
4. How long can I stay on an elliptical machine?
Your time and goal are the two major factors that answer your question. Nevertheless, there are a few other factors to consider as well. Adults these days don't have much free time, so it becomes hard for them to borrow fifteen minutes of their mundane life for exercise. 
Professionals in the fitness industry recommend at least fifteen minutes of workout on elliptical machines. Numerous studies show that fifteen minutes of high-intensity workouts and half an hour of moderate workout are sufficient to burn the exact amount of calories.
5. What are some underrated benefits of using elliptical trainers?
The benefits of using elliptical trainers is known to every fitness enthusiast. We have jotted down a few below:
Maintaining heart health:

Elliptical trainers keep the heart engaged, also boost the heart rate. Moreover, they also keep cardiovascular and respiratory organs in great shape while also keeping other organs properly oxygenated.

Tone the muscles:

This piece of equipment has the ability to strengthen and tone the muscles of both the upper and lower body. During sessions, there is a sense of muscles taking part in most of the pedaling movements. To train your upper body muscles, we suggest using mobile handlebars.
6. Are stride lengths an essential factor to consider in an elliptical trainer?
Yes! Stride lengths are important facets of an elliptical trainer. The stride length determines how impactful your workouts will be. For instance, longer strides will give you a leaping-like feeling that is more suitable to taller people. At the same time, shorter strides will provide a climbing stairs-like feel.