It is a curse to sit opposite computers for an entire day. Studies have shown that sitting for a prolonged time can lead to postural problems like disc damage and a strained neck.
This is a major concern that is prevalent in offices that work for long hours. With a problem like this haunting individuals worldwide, companies now adapt for a standing work desk and share their importance of sitting in the right posture.
With the advent of technology, machines like under-desk elliptical trainers provide a bit of workout for those who struggle to get up from their desks. While we've shared our thoughts about elliptical trainers, — here, we'll be the two of the most praised under-desk elliptical trainers currently available in the market. In this article, we compare Stamina InMotion E1000 Compact Strider and Cubii Pro.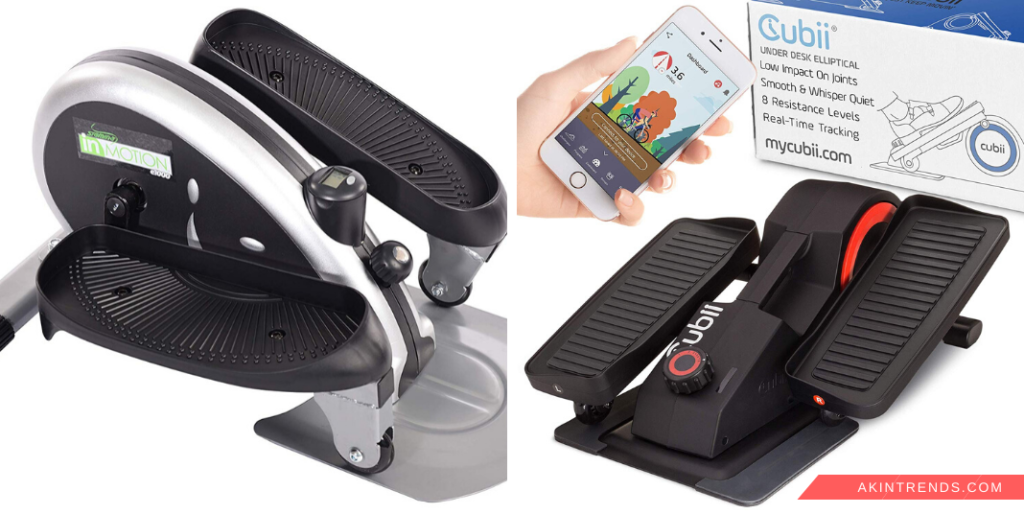 Prior to comparing both, below are a few benefits of under-desk elliptical trainers that are to be considered before buying one.
---
Benefits of Under-desk elliptical machines
Easy Assembling: One of the major features that set apart the under-desk machine from the full-fledged elliptical machines is that these can be easily assembled. The effort it requires is you to fasten the pedals to the frame, which takes hours to assemble.
Different levels of resistance: Under-desk facilitates you with intense workout regimes, as most of these trainers arrive with multiple levels of resistance. This motivates you further and helps in burning more calories.
Convenient in both standing and seated position: These smaller and compact elliptical machines can be used in both standing and seating position. Many tend to use the under-desk machine for exercising while working or watching telly.
Suited for fitness and weight loss: Similar to the traditional fitness machine, under-desk elliptical machines assist you in burning more calories from the comfort of your home or office. Moreover, it also helps in burning fat without having to jump or move around.
Also Read: Best Diaper Bags for Breastfeeding Moms in 2020
---
Stamina InMotion E1000 Compact Strider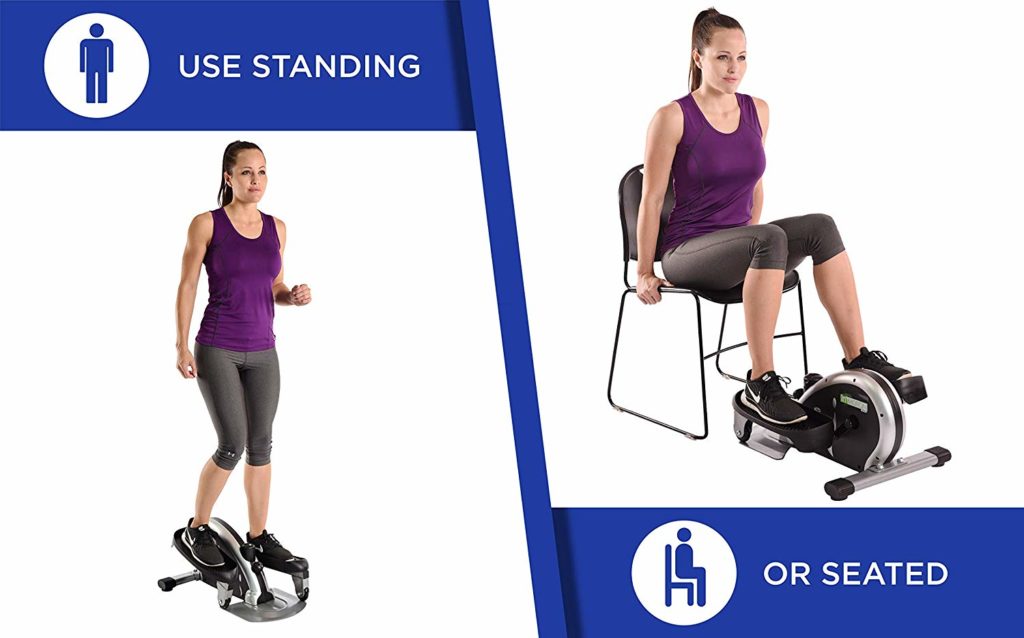 Stamina is among the highest rated brands that have been creating world-class products under the workplace fitness category. Stamina's InMotion E1000 is their flagship product with a little less than $100 price.
Design
The Stamina InMotion E1000 sports an exquisite design, which allows you to get the best of the machine by standing or sitting. This under-desk elliptical machine has a compact design that is lighter than other models available in this price tag.
This machine has textured foot pedals, ensuring that you don't stumble while pedaling at high speeds. These pedals further allow you to pedal both forwards and backward.
Console
Featuring an electronic meter display, the Stamina E1000 displays various feedbacks, including calories burned, time, count, and distance traveled. Most of the information it exhibits is refreshed every six seconds. Generally, for a workout machine arriving in a compact size, having a display is considered handy.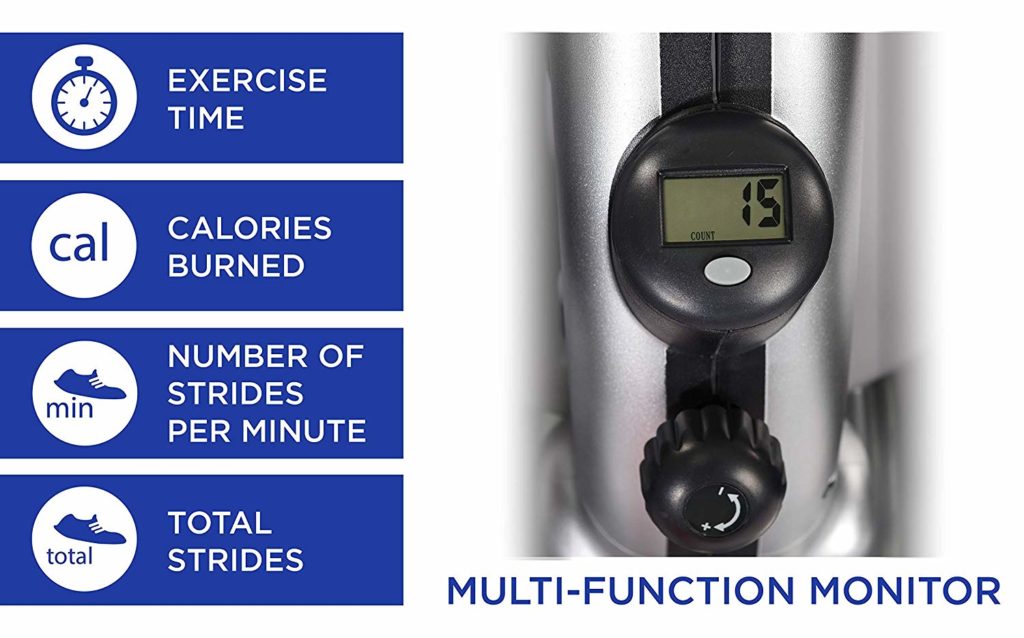 Warranty
The Stamina InMotion E1000 is backed by a warranty of 90-days on parts and a one-year warranty on frame. For further details, you can visit Stamina's website or contact them via email or phone number.
Assembly
Most of the under-desk elliptical trainers are easy to assemble. This elliptical machine arrives with certain accessories that make assembling less tedious. However, you can consider purchasing floor mats, in case you will be using it on wooden floors.
Performance
The Stamina InMotion E1000 offers some intense workout sessions, which presents you with a performance similar to the HIIT machine. This under-desk elliptical machine comes with adjustable resistance that can be adjusted using the tension knob.
It is a bit noisier while working out on the E1000, which is not that useful, considering if you are working in an office.
Dimensions & Weight
With the dimensions measuring 24 x 20 x 12, the Stamina E1000 is compact and purely a machine made to perform effortlessly from the comfort of your desk. It is indeed an option to go for, as it saves space and can easily fit into your closet.
This piece of equipment can be easily carried around as it weighs 24 pounds, and can accommodate users up to 250 pounds.
Pros and Cons of Stamina InMotion E1000
The Stamina InMotion E1000 includes a wide variety of workout options. That being said, there are a few hits and misses that are to be discussed.
---
Cubii Pro Under Desk Elliptical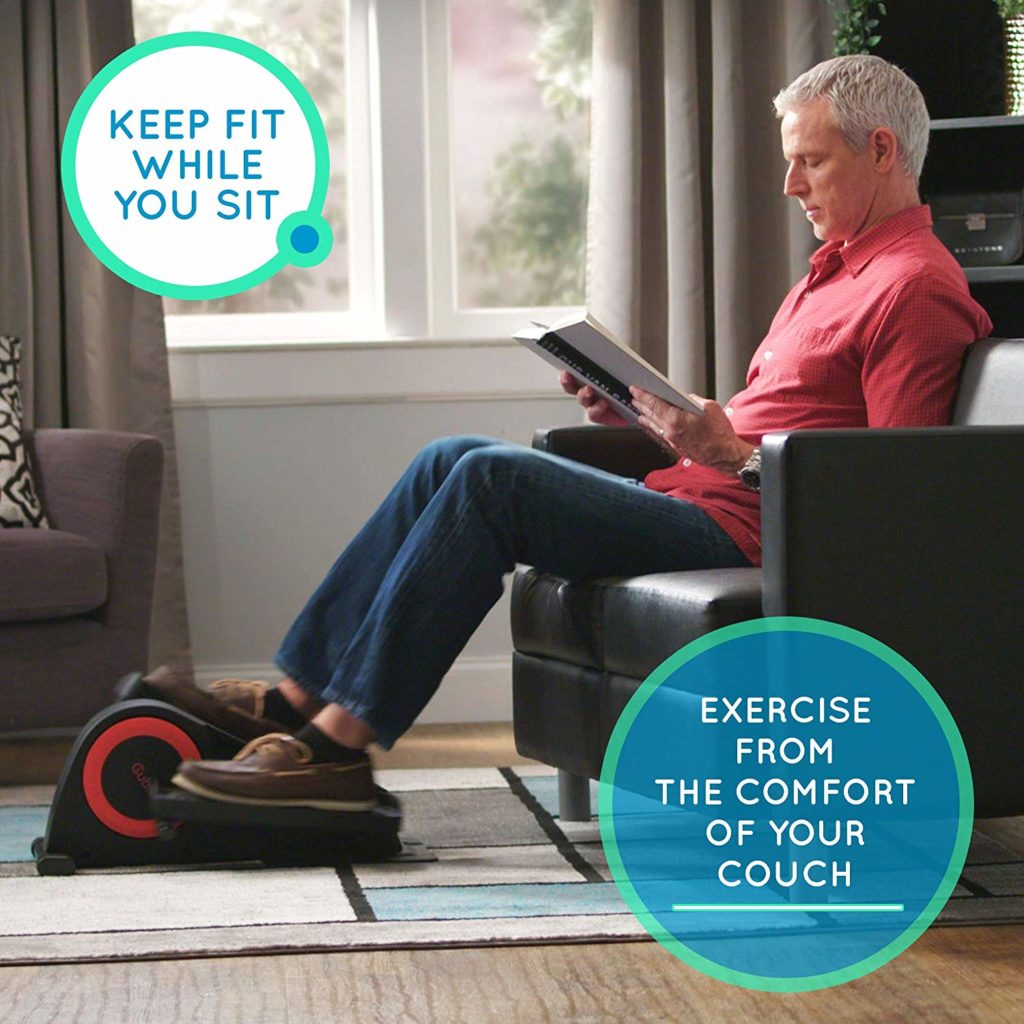 Cubii manufactures some of the best under desk elliptical machines that allow you to experience the real example of office fitness. Cubii's lineup of elliptical machines includes three variants — Cubii Junior, Pro, and Elite. In the following few sections, we review the Cubii Pro Under Desk Elliptical Machine.
Design
Sporting a sleek and professional look, the Cubii Pro shares an uncanny resemblance to the bottom half of a conventional elliptical trainer. Besides, this under-desk machine is ergonomically designed and contemporary looking.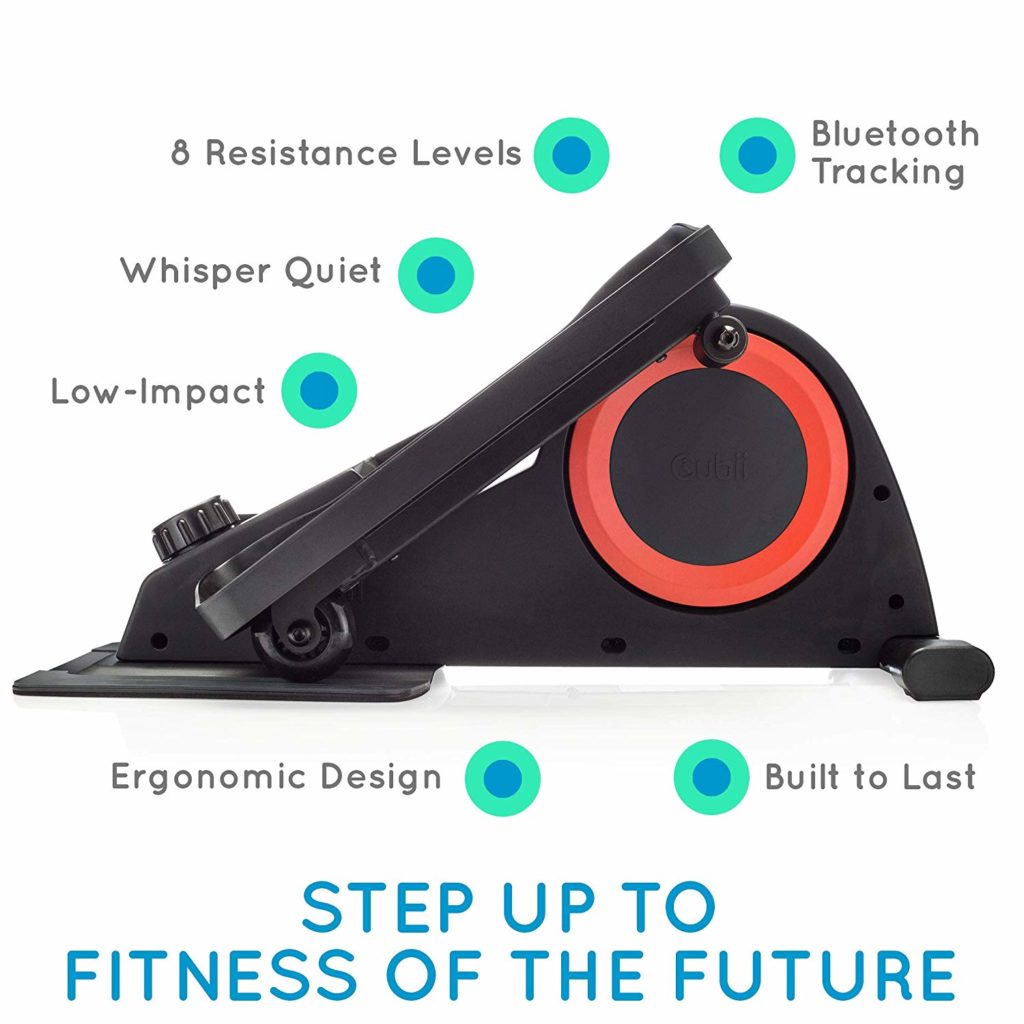 Unlike most under-desk ellipticals, the Cubii Pro features wider footpads and long pedals. The brand asserts that the compact design will not trouble your knees, which predominantly relies on the height of your desk and chair. At the back of the machine, Cubii offers a power jack that allows you to connect a micro USB cable to recharge the internal lithium-ion battery.
Console
Cubii Pro's stand out feature is the option of connecting through Bluetooth and integrating with smart wearables like FitBit. The devices you connect with display stats like time, speed, stride, and calories burned. Albeit, this under-desk machine does not feature a built-in console, which is one major shortcoming. The only possibility of viewing your progress is by retrieving your information through Bluetooth.
Warranty
Cubii Pro under-desk elliptical machine arrives with a lifetime warranty and a 100% customer satisfaction guarantee. Furthermore, Cubii backs its durability by providing a 30-day free customer returns offer.
Assembly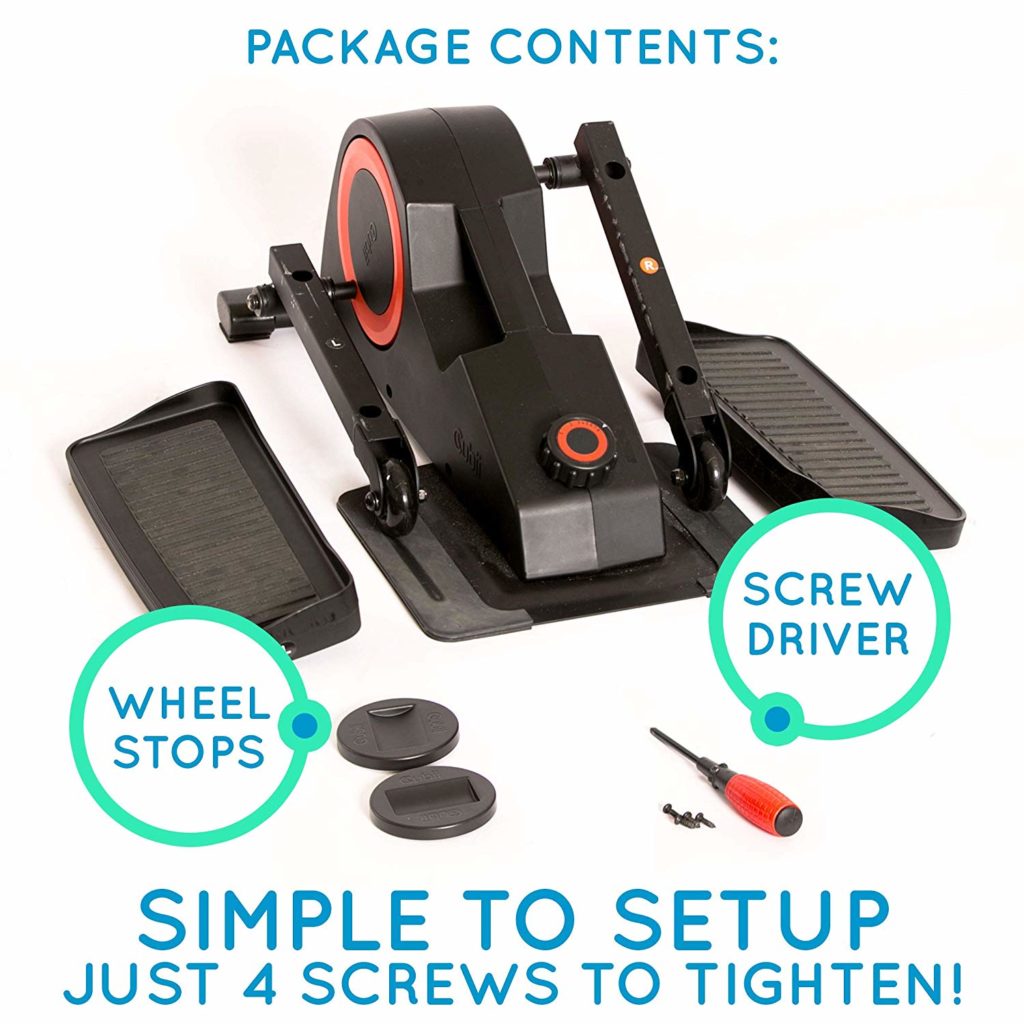 Similar to InMotion E1000, Cubii Pro is easy to assemble with all the essential tools and accessories coming with the machine. All that is required from you is to join the pedals with the screwdriver and screws provided to you. If you are seated on a roller chair, you receive stoppers that can be placed below the chair's wheels.
Performance
The Cubii Pro is smooth and quietly operates, offering you relentless workouts for long hours. This under-desk elliptical machine features an adjustable dial, allowing you to adjust the levels of resistance. Furthermore, it also allows you to tweak the levels of resistance as per your preference.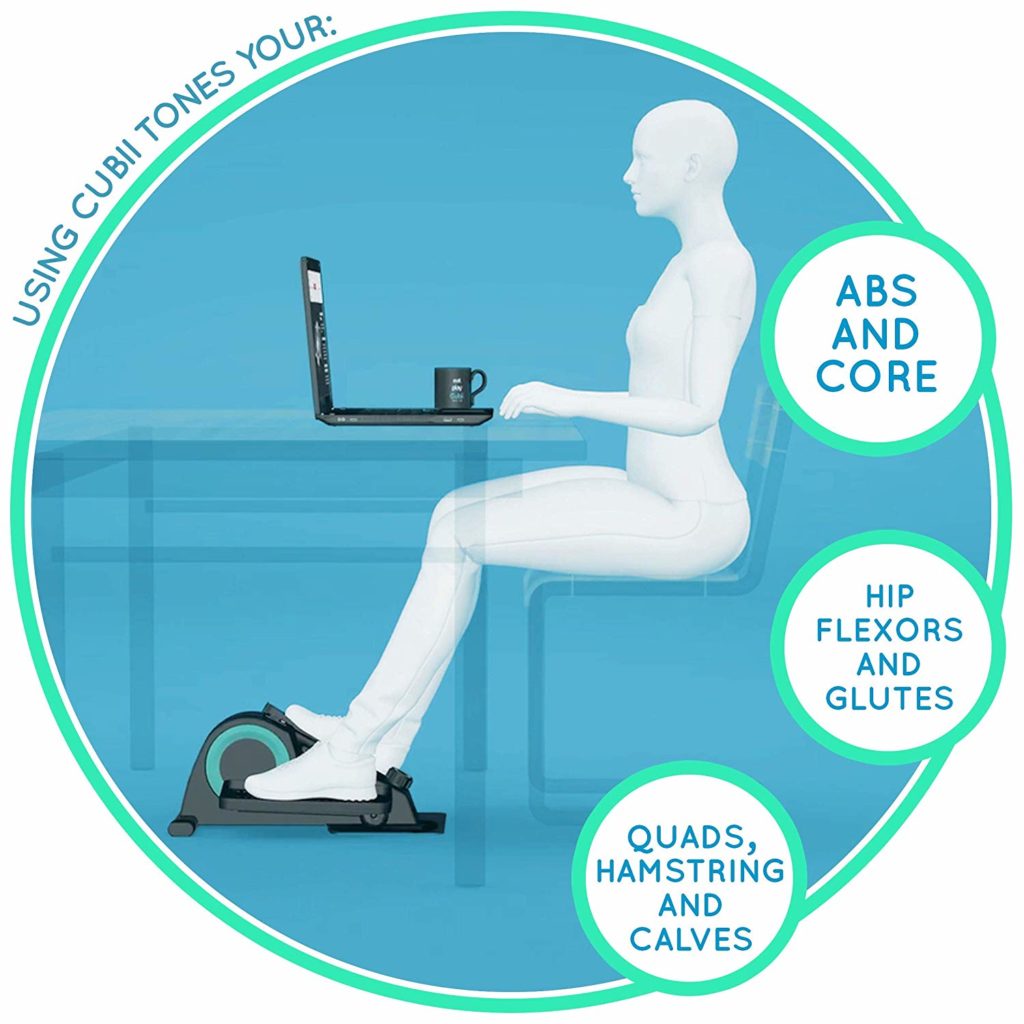 Based on our experience, Cubii Pro is silent and is the best option for a private office space. Few users describe a 'soft white noise' while pedaling, which still does not hinder the concentration of your coworkers.
Dimensions & Weight
Cubii Pro measures approximately 22.83" x 17.22" x 9.22", which is a great choice considering the space it saves beneath your desk. Unlike its counterpart, this under-desk machine is heavy and weighs around 27 pounds. On the bright side, the Cubii Pro accommodates users up to 300 lbs.
Pros and Cons of Cubii Pro
With the majority of the features discussed, Cubii Pro nails in few segments, while proves to be a complete dud in few. Here are a few of those:
---
Verdict
We tried and tested both these machines and were impressed. If budget is the issue, the Stamina InMotion is a better option. If you want your colleagues around to remain calm, Cubii Pro is noiseless and performs slightly better. However, Cubii is an expensive choice.
Each of the reviewed products arrives with its own strengths and weaknesses. In the end, it all depends on your preferences. So choose one wisely, as you are about to spend a hefty amount.