The first few years of a baby is crucial. They require all the care and attention during their initial days of growth. It is a task to travel with your baby requires a lot of preparation. There are a lot of products in the market to help all the mommies in different situations. For this particular scenario, the product you need is a diaper bag.
A diaper bag houses everything a baby needs along with the mommy's accessories. And as a parent, you should be prepared to handle all these insurmountable problems. A diaper bag helps you to carry baby diapers, clothes, toys, and food. It is specially designed to give all the required support to a new mother. The article is dedicated to all those who enjoy motherhood.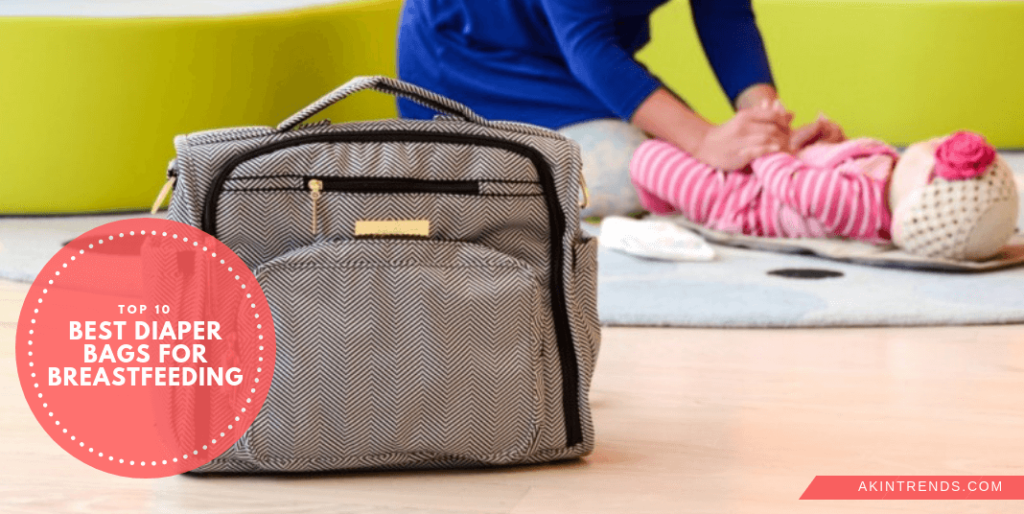 Today, we are extending our support by sharing a guide that will lead you through various aspects of a diaper bag and some of the best products that top the game now.
Diaper Bags are not like every other bag that you can purchase just off the shelf and start stuffing things in. Since you will be carrying the bag quite often whenever you step out with your baby, the bag should be bought on considering some factors. These factors most likely help you to land on the ideal product.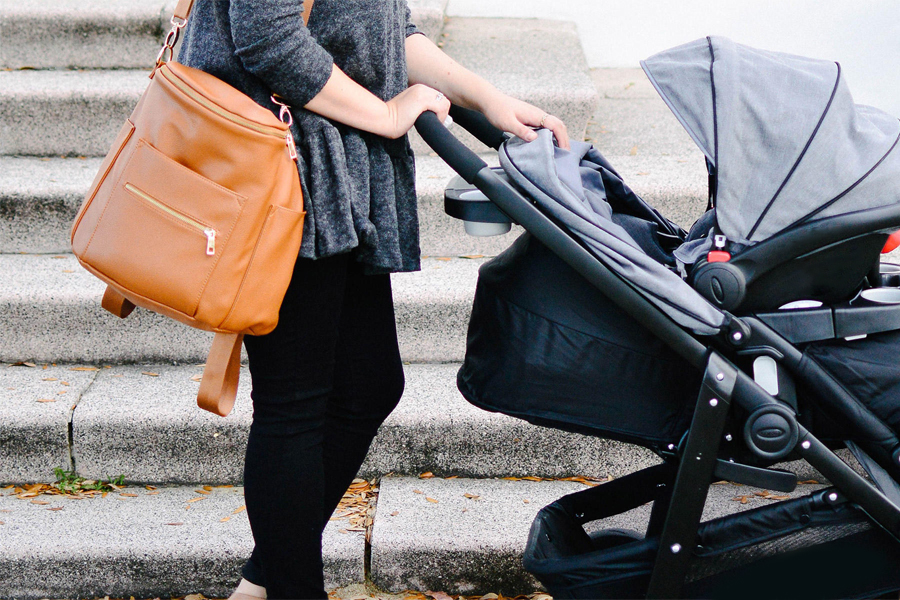 Those factors are as follows:
Bag Material
An ideal diaper bag should be water-resistant and easily washable. The bag should be able to dry up quickly too. A suggestion would be to go with nylon and canvas bags since they are lightweight, long-lasting, and durable. Leather bags will be heavier, and modern vegan bags are not washable. They may be stylish when compared to others, but they can be only wiped for keeping them clean.
Type of Handles (Straps)
Handles or Straps type depends on the type of diaper bag you choose to buy. In the case of a satchel bag, the handles should be adjustable and durable enough to suit your body type. While for a backpack type diaper bag the handles should be designed in a way to evenly distribute the weight. And for a tote bag, the straps should be short enough to carry around and not too long to manage it on shoulders.
Type of Diaper Bags
Before heading out to the store, you should have a clear picture of the type of diaper bag you need. Diaper Bags come in different sizes and shapes these days. Let's get to the five most common bags which are available in the online market now:
Tote Diaper Bags – Tote bags are huge and spacious. They are this giant bag with bigger handle straps. The wide opening of the bag allows you to easily stuff things, but they may be a bit heavier to carry around.It may be to access the bag every one when you need something since you have to remove the bag from one shoulder to get around.
Stroller Diaper Bags – Stroller bags are the ones that you can attach to your stroller handles. They save you carrying the bag on your shoulders and it is much easier to access things from the bag. Be careful about the bag's load and make sure the stroller is sturdy enough to hold the weight.
Satchel (Messenger/Sling) Diaper Bag – Satchel bags are flat bags with a long adjustable strap that can be hung around one shoulder or can be worn diagonally against your chest.
With this type of bag, it is easy to get things from while managing your kid on the other hand. But the downside for this bag is that you may have to balance a good amount of weight on one shoulder which may result in sore and painful backs.
Backpack Diaper Bags – This is the type that looks like a regular backpack, but with extra pockets and pouches. The benefit of this type of diaper bag is that it distributes the load/weight evenly on your shoulders. And the downside is that you will need to remove the bag every time to get something.
Convertible Diaper Bags – Convertible diaper bags are those, as the name suggests, can be converted to either a satchel, backpack, or even tote bags. They come with adjustable straps that can be detached and attached according to the requirement. They usually come in as a tote bag.
Weight and Size: Size and weight matter when it comes to diaper bags. Diaper bags are meant to carry a lot of things. It should be of the right size, not heavy even when it is empty. Since the bag gets heavier by adding stuff, it will be unable to carry it around if the bag itself is quite heavy. As mention before, the bag must be spacious enough in size and should appear to be bulky once stuffed in, because it will cause inconvenience to carry around.
Must Watch
Extra Features: A diaper bag with useful additional features would be a great choice. Features like larger-teeth zippers, broad and padded adjustable straps and no Velcro are more preferable. A bag with a diaper changing mat is a perfect choice, and the ones that fit into the pockets (of the bag) are more welcomed these days.
Sufficient Space: A diaper bag should be spacious enough to accommodate all the things related to the baby as well as the mother. Since the diaper bag is useful as a travel bag, space is one important factor. The mother will be using the bag to stuff in the baby's food, diaper, clothes, toys, also her essentials like wallet, key, and other accessories. Only a diaper bag with several pockets (of different sizes) and is big enough to stuff things in an organized manner will be of great use.
Price: As always, the price is another important aspect when it comes to purchasing an item. Even though money should not be a priority when it comes to your family, going with one within your budget will be a wise decision. But, if you are ready to invest more, we would recommend going with standard models, because they tend to have more lifespan and design quality and an impressive performance.
Top 10 Best Diaper Bags for Breastfeeding Moms
Based on our extensive research, and trying out the best available diaper bags in the market, below is a list of the ten best diaper bags for breastfeeding moms.
1. Sarah Wells Lizzy Breast Pump Bag
Sarah Wells Lizzy diaper bag is designed exclusively for breastfeeding moms. The bag is functional enough with its features, and it can fit almost all the portable pumps in the market.
It is of easily washable materials and is lightweight too, which makes it good to carry around. The bag features a two-way snap system for the diapers and your laptop.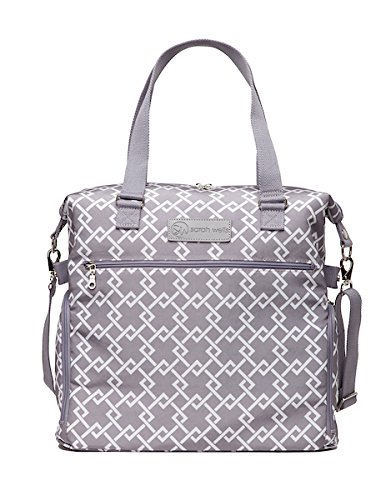 It can accommodate your keys, phone and have an interior zip for other accessories. It can hold the breast milk cold for about 6 hours with the help of an ice pack. The bag also comes with thermally lined pockets on sides. The photo pouches also help you make the bag of your own.
2. Bagnation Diaper Bag Backpack
Bagnation Backpack is one of the best diaper bags which is spacious enough with 8 pockets and a 15- inch cushion slot for your laptop. The bag is of high-quality nylon material, which is waterproof and washable.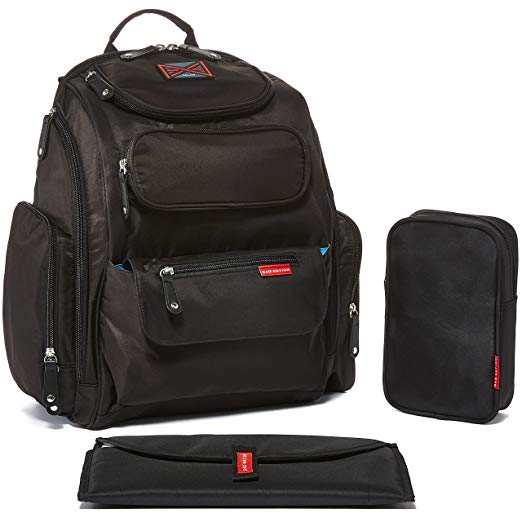 The bag possesses a certain elegance and style. It also has 100%insulated areas. With this feature, you can keep things cool for 10 hours with the ice pack and even without it for almost 4 hours.
It can also accommodate most portable breast pumps without any hustle.

Also Read: Top 10 best baby strollers to buy in 2019
3. Mommore Breast Pump Bag Diaper Tote Bag 
Sleek and spacious enough, Mommore Breast Pump Diaper Tote Bag is crafted using water-resistant material with smooth metal zippers. This tote bag features many inserts and pockets, which are elegant and neatly organized.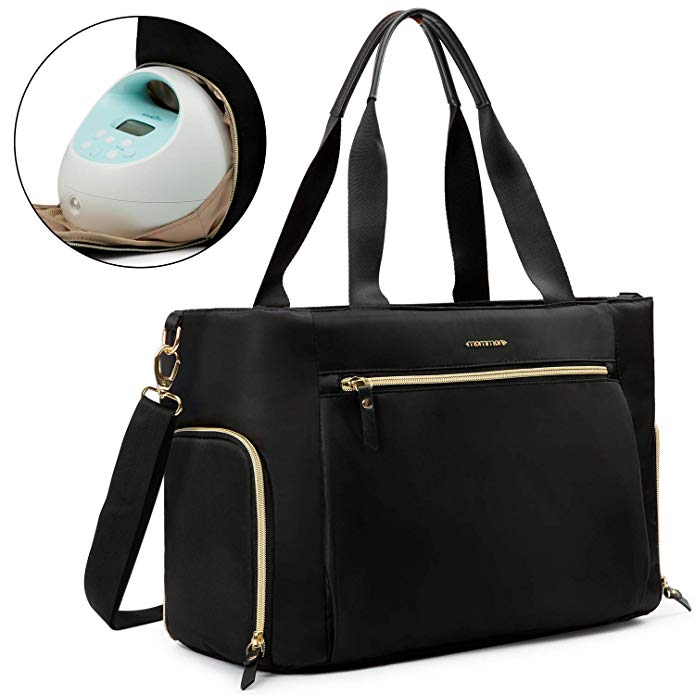 Mommore's breast bag holds a capacity of 26 liters, with a total of 12 pockets, including three insulated pockets, a laptop compartment, a sizable breast pump pocket, and a mommy pocket, etc. Featuring a side compartment specially designed for a breast pump, this diaper bag further holds a separate pocket to store all the pumping necessities on the other side.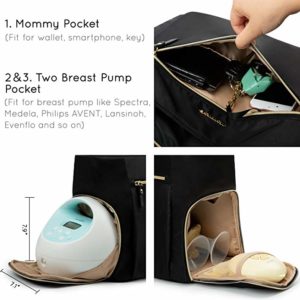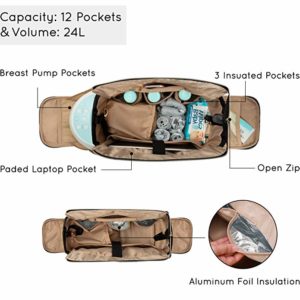 Mommore Breast Pump Bag also consists of a wet bag to hold towels and other wet items. This compartment prevents the entire bag from soiling. Weighing around 3 pounds, this bag has dimensions measuring 15.8 x 11.8 x 7.9 inches.
4. The New Yorker Diaper Bag
NewYorker Diaper Bag is also one of the bags that proved to be top among others in the market. The design and quality manufacturing makes it outstand and mark its position.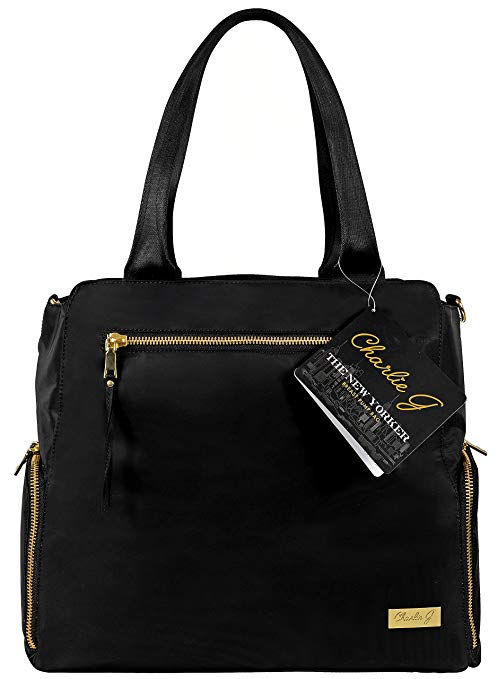 Giving out more of a purse-like vibe, the bag serves the service of a diaper bag. The style is the prominent feature of this bag. It can be used in both ways like a satchel/messenger bag or a tote bag.
It not only fits all kinds of breast pumps but is also spacious for all necessities. The bag is also durable and tough enough to hold the weight and rough use.
5. Sarah Wells Abby Breast Pump Bag
Yet another product from Sarah Welles. To be honest, this bag here holds the title for the expensive model of this list. Not to say, the price gives value to the product.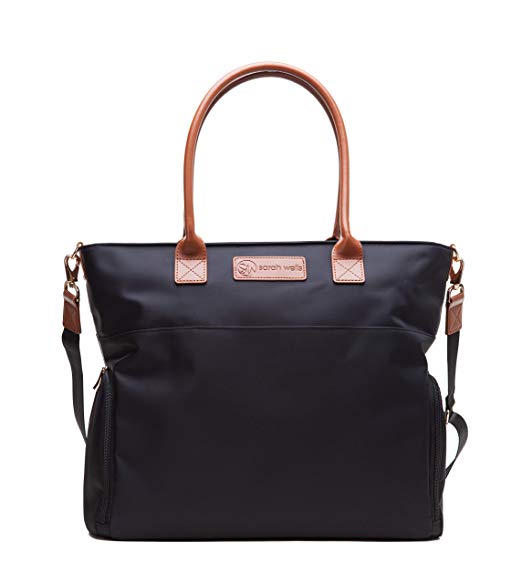 The bag is of pure nylon and genuine leather straps. The material is easily washable. It fits most of all portable breast pumps. It has compartments for your laptop, diapers, food and all other necessities.
The extra pockets show their importance on the way. Available in three colors, the product is offered in black, navy, and navy with white strips. The side pockets are thermally lined. You can keep the breast milk cold for about 6 hours.
Also Read: Top 10 best baby jogging strollers to buy
6. Gogoso Breast Pump Bag
Gogoso Breast Pump Bag is the model that is best at winning hearts. The bag is appreciated by moms all around. The unique feature of this model is that it goes well as a diaper bag and as a handbag too.
It can also be used as a backpack for shopping, travel, and outings other than a breast pump bag. The manufacturing material is high-quality polyester, which is hand washable, and the zippers are pretty solid too.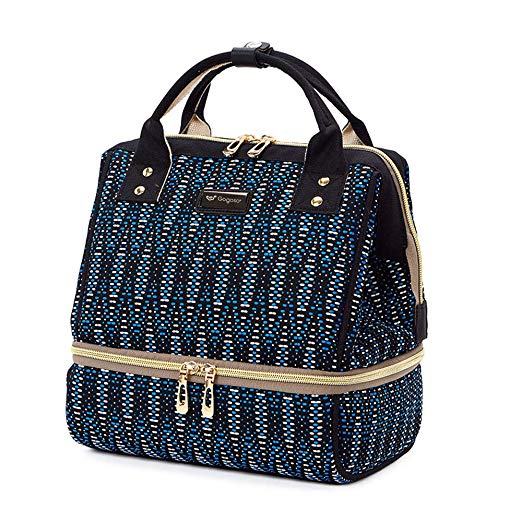 The company shows the confidence in the model by offering 180 days guarantee period for exchange and return. The bag comes with a spacious main compartment and different small pockets for all your essentials.
It also comes with a USB charging port and two insulated pockets for keeping your milk fresh.
7. Chertsey Diaper Bag
Chertsey is called an all-in-one breast pump bag. It is not only fashionable but also functional enough for a diaper bag. It fits both your diaper essentials and also your work and personal accessories.
The bag is spacious and comfortable to carry around. The stylish elegance will give you the freedom you carry the bag without losing the charm.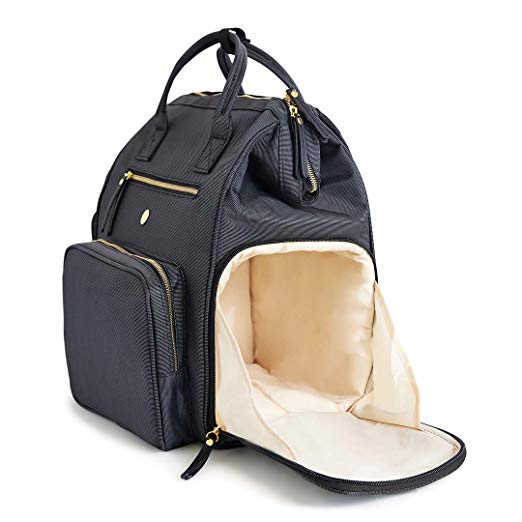 It is compatible with almost all breast pumps and has special compartments for wet and dry items. The insulated pump pocket helps you to keep the breast milk fresh. The product comes with a 12- month warranty and satisfaction guarantee.
8. Bananafish Madison Backpack
Bananafish Madison Electric Backpack is another top product with great customer reviews. The bag comes with enough space for your necessities. The front zippered compartment can fit all standard breast pumps. It has an organizer compartment for pumps, bottles and an insulated pocket too.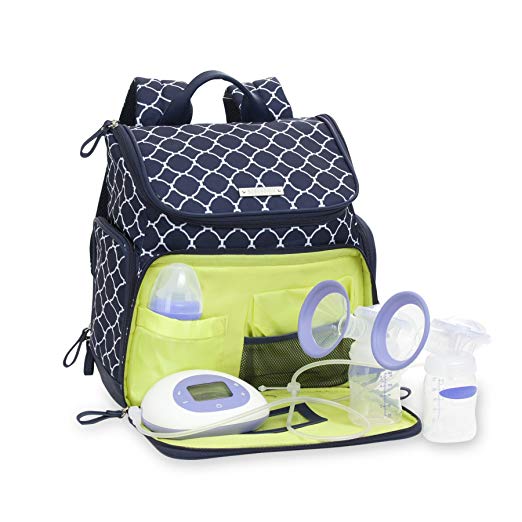 The bag comes with a separate compartment for photos, which helps you be closer to your baby. The compact size makes it portable and perfect for traveling.
9. Bambini & Me Diaper Bag
Bambini & Me Diaper Bag is functional and stylish. The bag comes with spacious eight pockets and can perfectly fit your items and essentials. The shoulder straps are adjustable and are of great use. It comes with a changing pad and an insulated bottle for saving your breast milk from getting spoilt.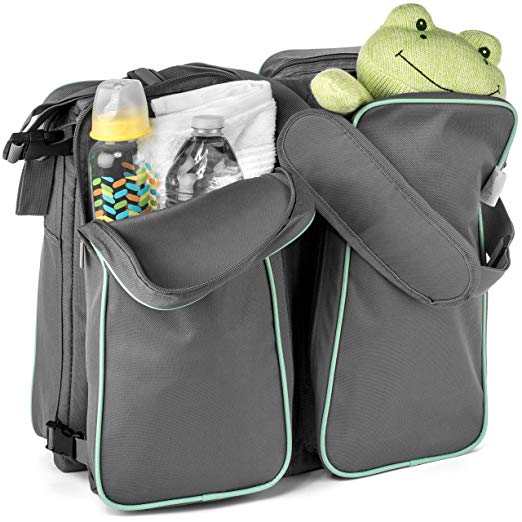 It is spacious enough for diapers and portable pumps. The manufacturing fabric material is easy to wash.
10. Babybag Diaper Backpack
Babybag Diaper Backpack is of premium quality nylon material with no chemical residue, and the product is durable and easy to clean. It is waterproof and spacious to organize your items effortlessly.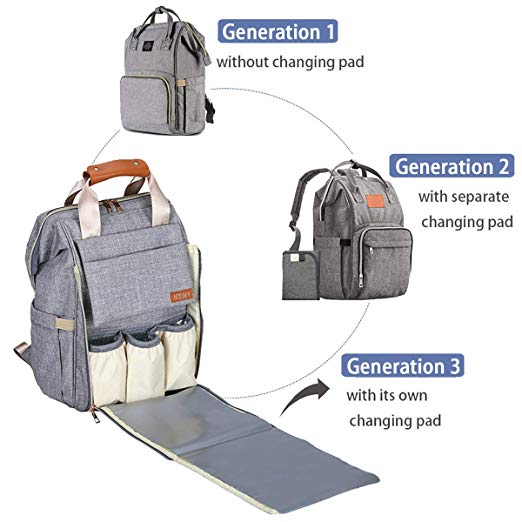 The bag is stylish and designed in a way not to look bulky. The 15 pockets available can fit your baby's clothes, diapers, food, and your items too.
Three insulated pockets are available to keep the breast milk fresh. The company offers a satisfaction guarantee for the product with a 100% full refund and replacement with a period of 90 days.
11. HaloVa Multi-Function Waterproof Diaper Bag
The HaloVa Diaper Bag is a durable and functional bag, which conveniently switches from a hand-tote to a comfortable diaper backpack. HaloVa features plenty of pockets that are well-constructed and lighter than most diaper bags.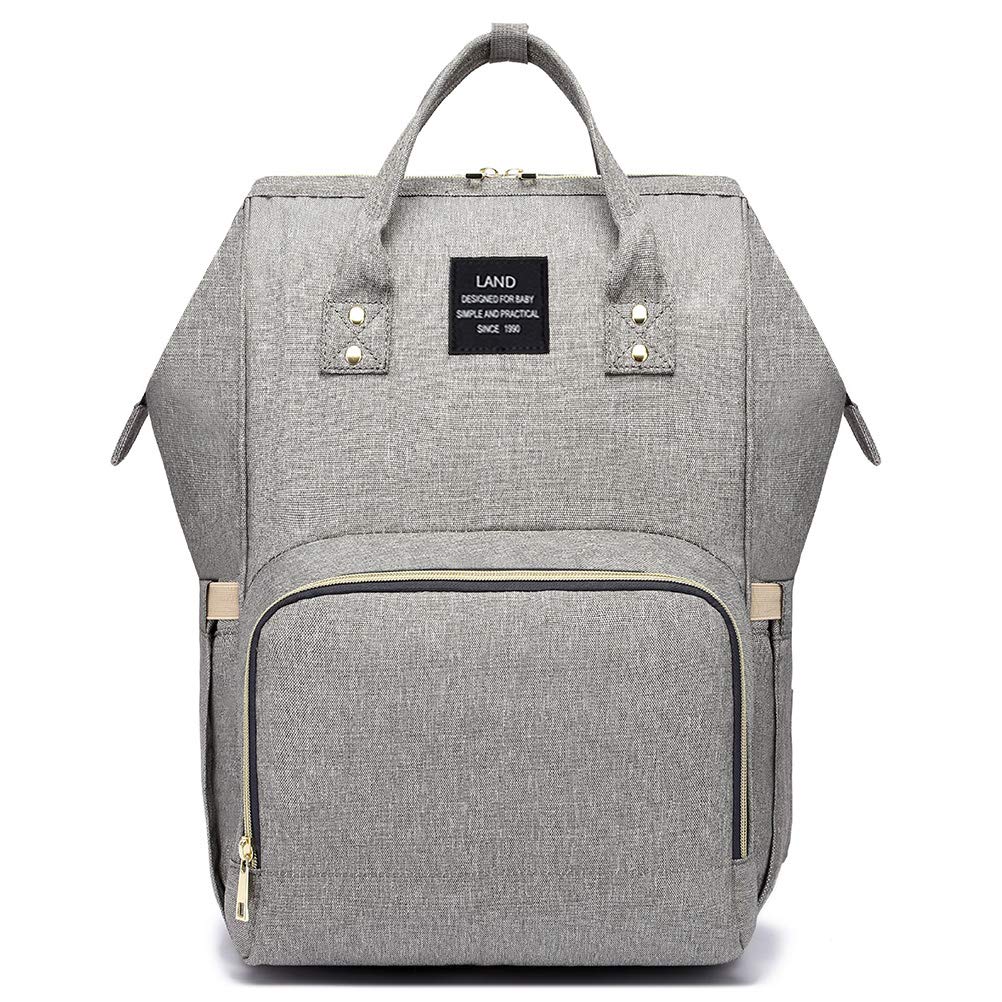 Similar to the Mommore Breast Pump Bag, Halova also features a separate wet clothes pocket and a tissue pocket. Furthermore, this diaper bag includes a separate aluminum foil that can keep your bottle warm. HaloVa has side pockets, with one easily allowing to dispense baby wipes.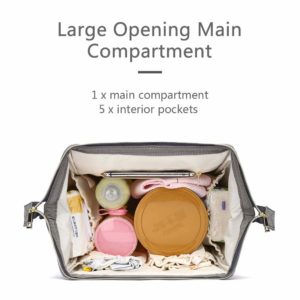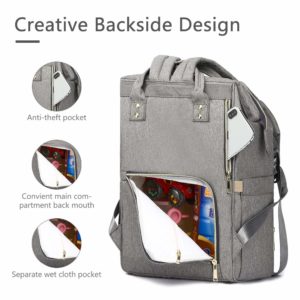 With a multitude of pockets available in this bag, Halova also consists of a zippered mom pocket for keys and phone with cleverly divided spaces. Available in a range of colors, Halova provides post-purchase assistance with a 90-days full refund and replacement within three years.
12. JuJu B.F.F Multi-Functional Convertible Diaper Bag
Unlike most other bags listed here, JuJu B.F.F convertible diaper bag switches from a conventional-over-the shoulder to a messenger bag.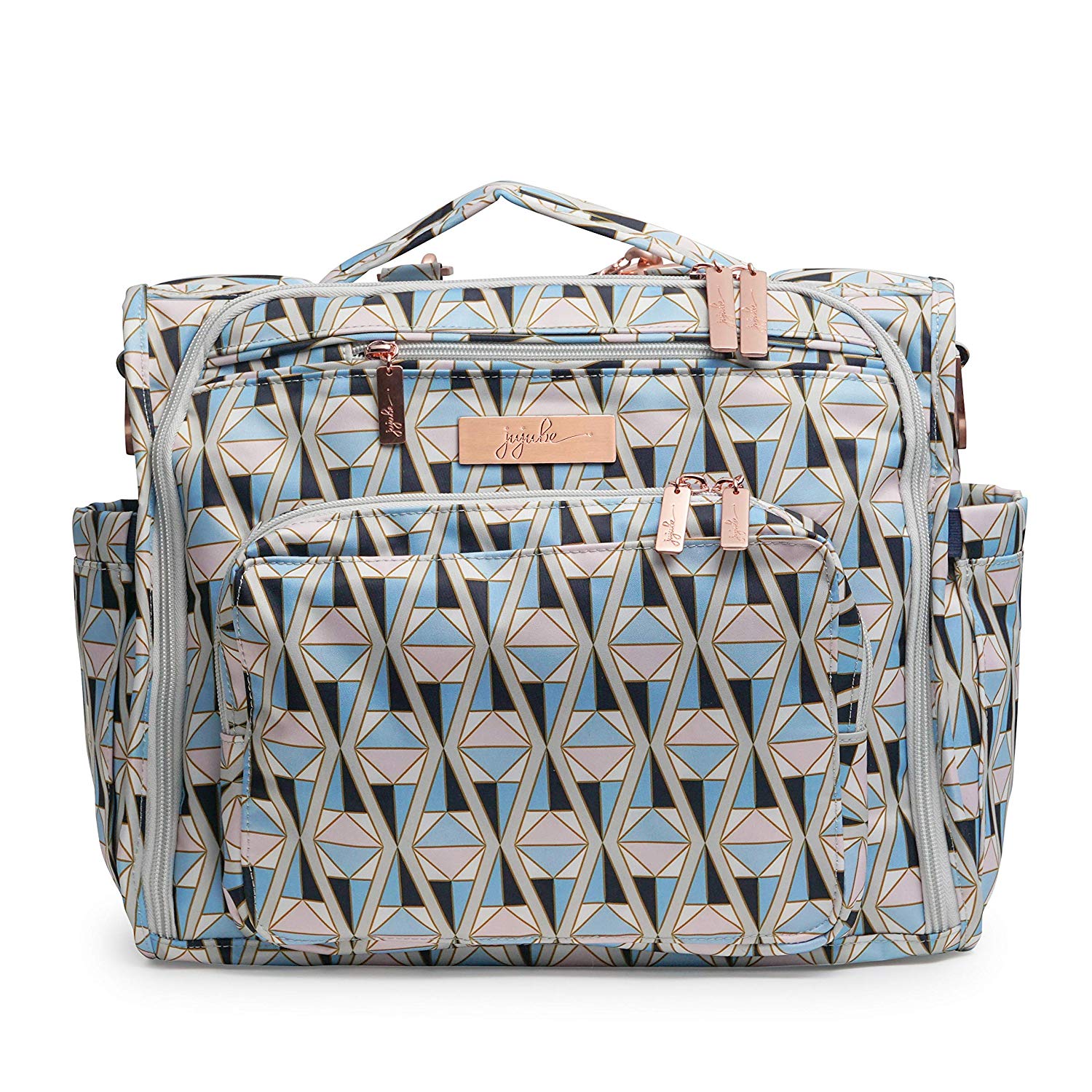 This diaper bag features pockets both inside and outside, 3M baby insulator pockets, and see-through plastic pockets to have a better view of your items. JuJu B.F.F is compact and features a compartment that is nice and wide that fits all the vital things required.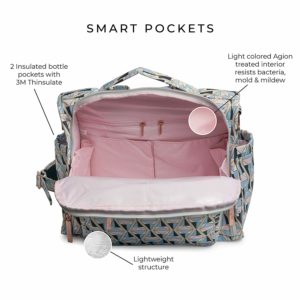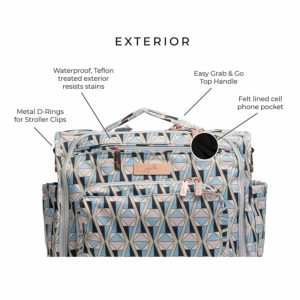 This convertible diaper bag is available in several different colors. JuJu B.F.F has dimensions measuring 14" W x 12" H x 6.5" D, while it offers a lifetime warranty against manufacturer defects.
13. Itzy Ritzy Diaper Bag Backpack
Itzy Ritzy manufactures some of the trendiest diaper bags available in the market. Known for quirky style and state-of-the-art functionalities, this diaper bag has enough and spacious pockets to have you and your kid organized while on-the-go.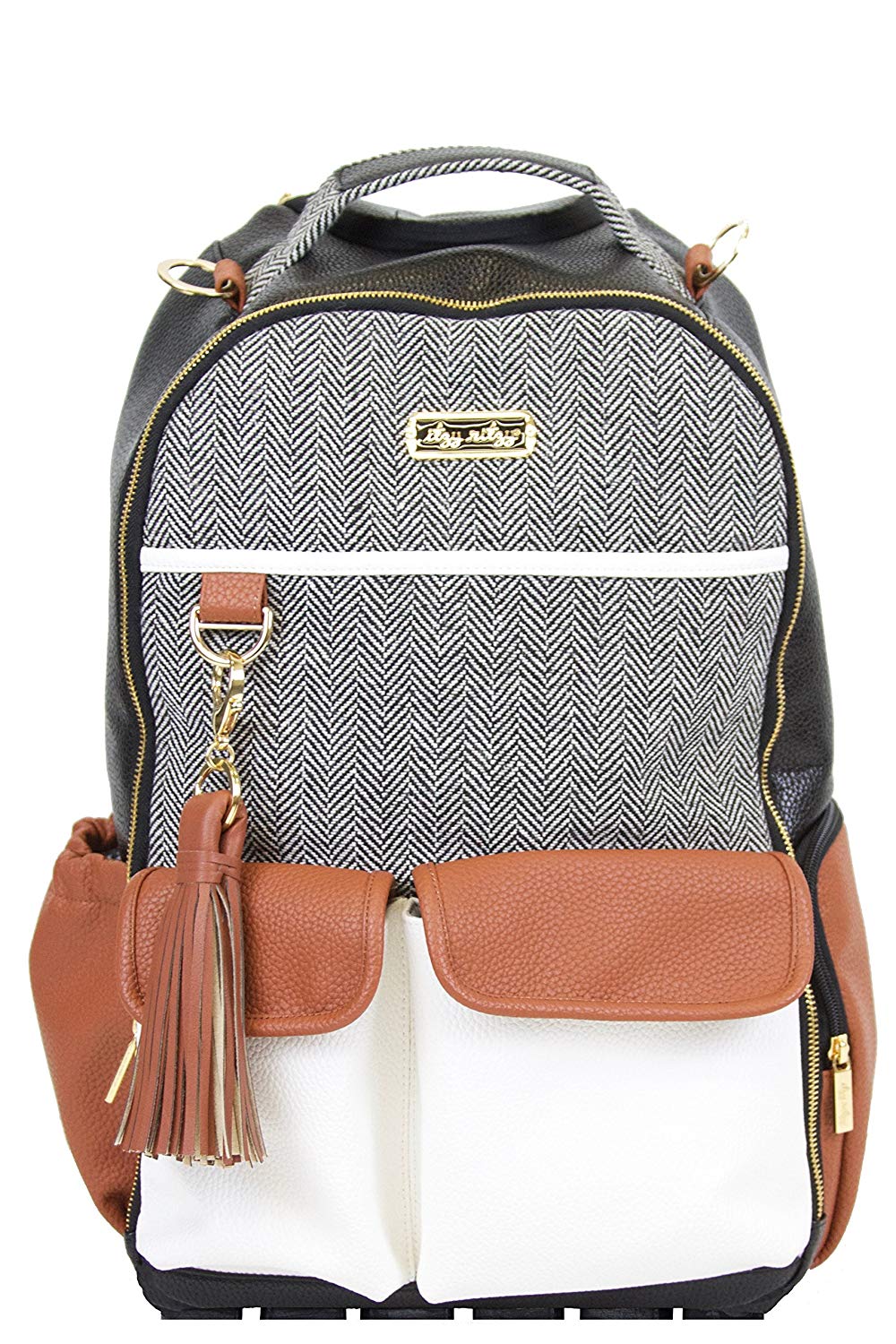 Featuring a total of 17 pockets, Itzy Bitzy diaper bag includes ten internal and seven external pockets to have all your essentials within reach. Also, this diaper bag includes two insulated bottle pockets and a felt-lined valuables pocket.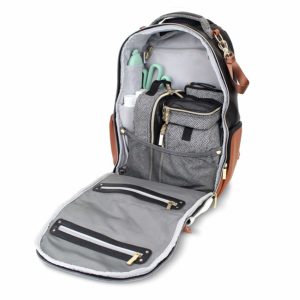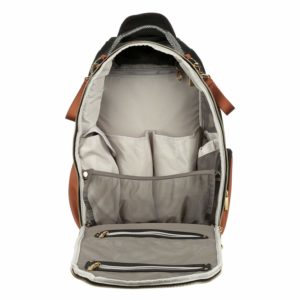 This backpack has quite large compartments, all of which are easily divided for organizing your items neatly. Available in a variety of colors, Itzy Ritzy's Boss Backpack can be carried either by the built-in handle or worn as a conventional backpack.
14. Skip Hop Diaper Tote Bag for Double Strollers 
For someone expecting twins, Skip Hop's diaper tote bag arrives with options that parents of two cannot resist. This duo diaper tote bag has dimensions measuring 18" long and 13.25" high, while offering a total of 16 pockets, including two insulated bottle pockets.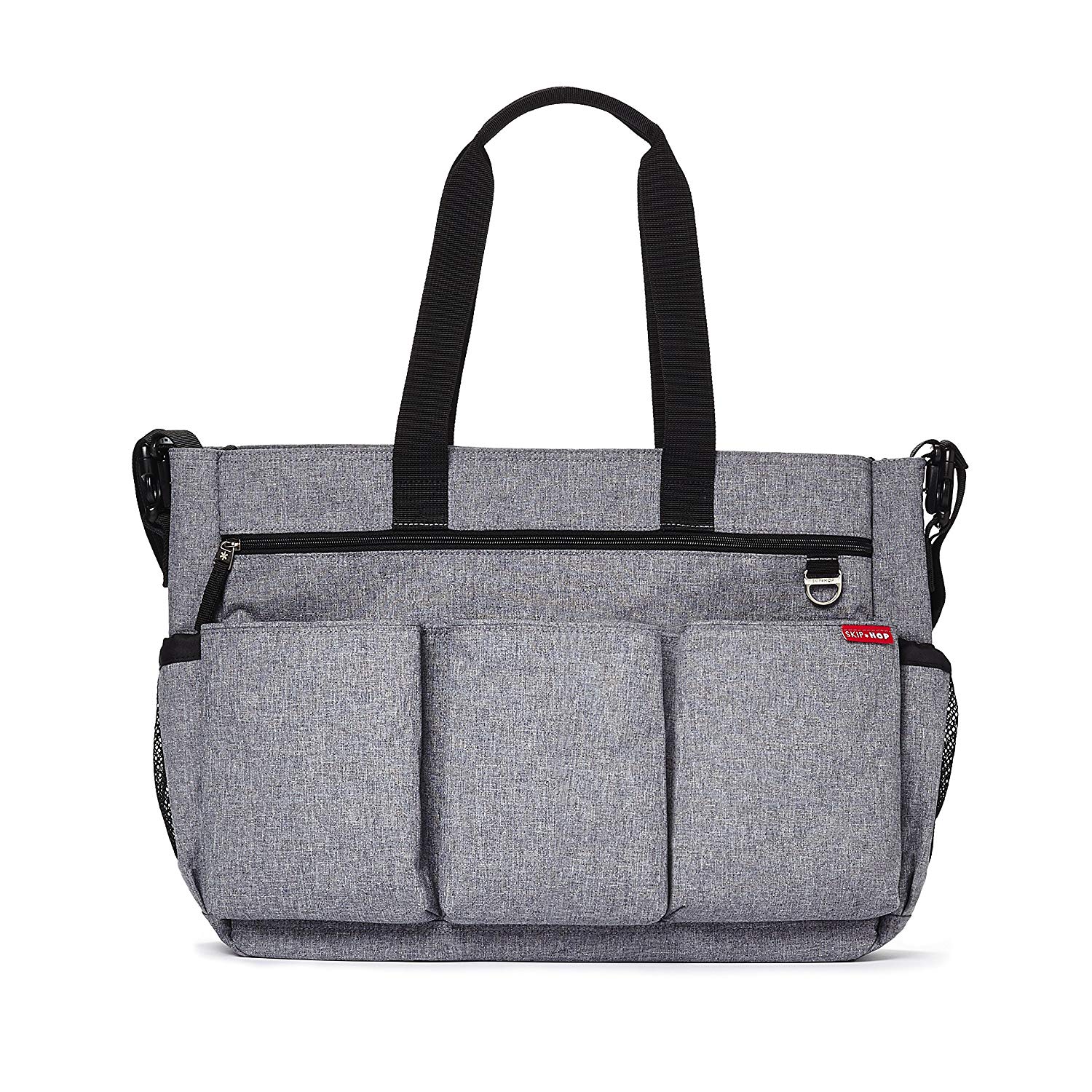 Skip Hop's duo diaper bag boasts of patented shuttle clips, which enables it to attach conveniently to the handlebars of a double stroller. Besides, the duo double also packs magnetic closure around the bag.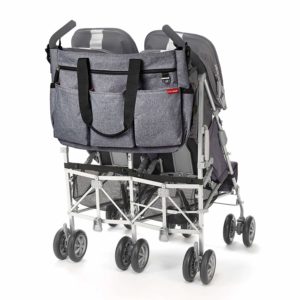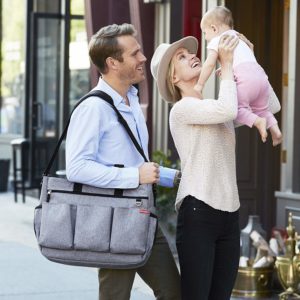 Skip Hop Diaper Tote Bag is available in two colors — namely Heather Grey and Chevron. This diaper bag includes a detachable messenger strap and an included changing pad.
---
CONCLUSION
With the market flooded with a plethora of diaper backpacks, you as a customer may feel perplexed on which product to choose. To get you out of this situation, this article might be the guide you were in quest of.
Whilst you are in the process of purchasing, consider the way you are going to carry the bag. Irrespective of the bag you purchase, make sure that it offers the convenience of carrying the essential items require while you are on-the-go with your kids.
Is there a favorite of yours that we've left out? Mention the product/s and we'll try them on and share our experience.
---
Frequently Asked Questions (FAQs)
How to pack a diaper bag?
A diaper bag should in use regardless of the situation. So you must stuff the bag with all the necessities. Some of the things from our suggestion list will be -A changing pad, diapers, baby blanket, feeding bottle and formula, pacifier, baby pouch, toys, a hat, clothes, plastic bags (for dirty diapers), diaper rash ointment and other first aids, diaper wipes and also food.
2. How much space do I need?
It depends on the rate of your traveling. If you are someone who only leaves home once in a while, then a bag with a huge space for multiple diapers and other essentials is not the fit. Unnecessary pockets also make it difficult for you to stay organized too.
On the other hand, if you travel heavily, then a bag with all features is necessary.
3. Can both the partners use the diaper bag?
There are diaper bags exclusively for dads and moms too. You can use it accordingly. Also, there are diaper bags that are asexual in appearance. So that it will not annoy your partner to carry around a bag that is not too feminine nor masculine.