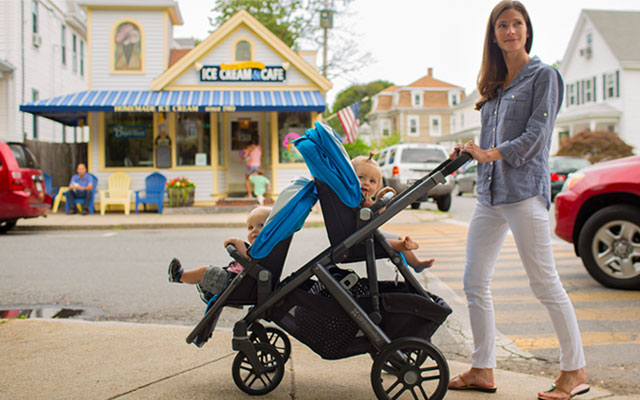 A baby stroller is not only one of the most important, but also expensive equipment that everyone needs to buy. They are essential options for navigating outside along with the baby. It is a worthy investment for the couples who have plans to leave home with their baby. However, there is a lot of misconception among the people, especially among young couples about the best baby strollers. If you have some confusion, then this post is made for you. In this post, we will talk about this equipment in detail so that you end up buying a perfect product.
What are the top 10 best baby strollers in 2019?
There are hundreds of brands available in the market, and each one advertises their products to be the best. However, the majority of the tricks the buyers and sells them cheap-quality strollers. After the birth of a baby, no one has time to test each product to find an authentic one. That's why our expert team has created a list of top 10 best baby strollers that you can buy in 2019. All the items added in this list has tested and reviewed. You can buy any of them according to your requirements.
1. gb Pockit Stroller- (Best Lightweight Stroller)
Finding a better stroller in terms of innovation and lightweight than this one is almost an impossible task. This equipment manufactured by the gB Pockit brand is a perfect option for parents who often have to travel with toddlers. This lightweight stroller has a weight capacity of 55 pounds and an exciting option for tall toddlers. It comes with five-point harness adjustable feature through which the straps can be tightened or loosened easily.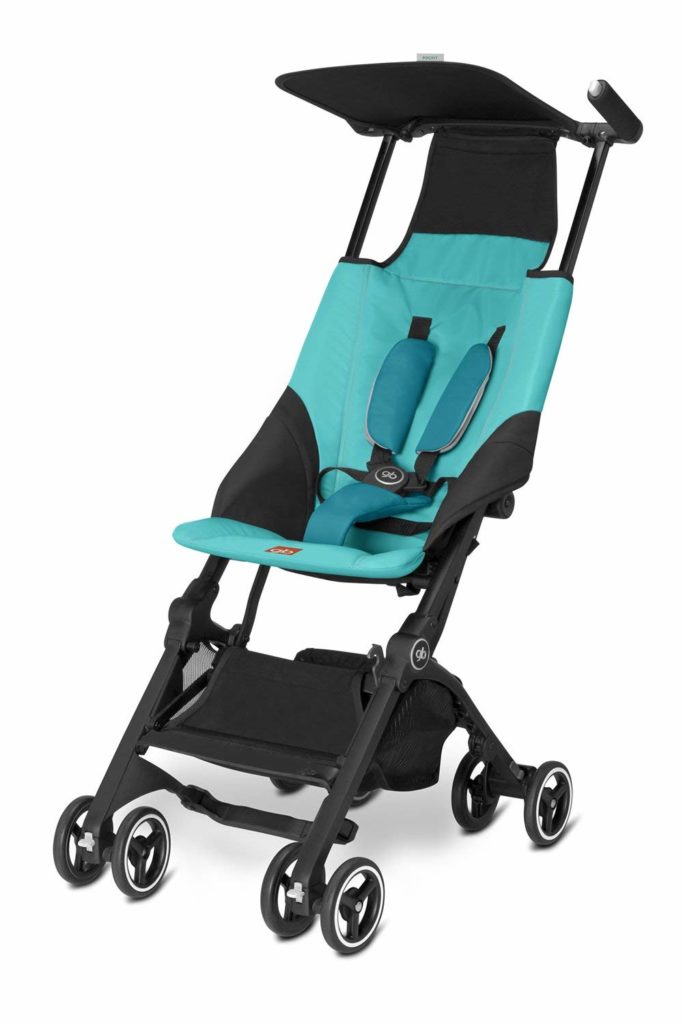 The stroller's small size let it get fit into overhead compartments so that the process to travel become worry-free. There is also a small space where one can store things like diapers, milk bottle, etc. It has built using high-quality & durable materials so that the stroller last for a long time.
Pros
It is a reliable product that works even for kids aged up to 6 years.
Stroller's steering system is fantastic, allowing it navigates easily.
This product is ultra-compact, making the travel process effortless.

Cons
Its canopy is not capable of protecting the baby from the sun.
2. UPPAbaby Vista Stroller 2018 (Best Stylish Baby Stroller)
If you are one of those modern parents who doesn't want to compromise for your baby regarding style, then this one is the perfect choice to go for. It comes with a broader mattress pad having proper ventilation for enhanced breathability. Being a stylish product doesn't mean that the company has forgotten about safety and comfort prospects?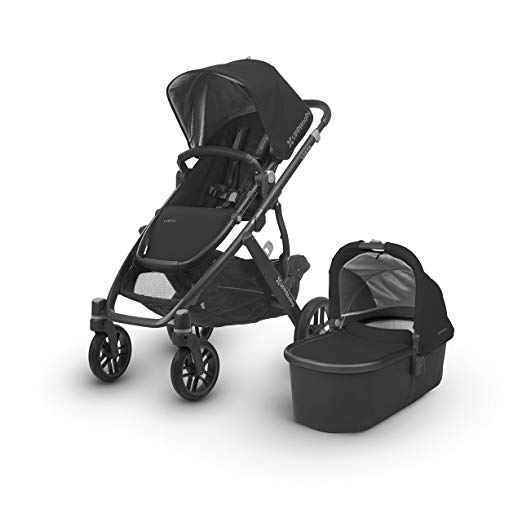 It is a convertible stroller that designed by keeping both babies as well as parents in mind. This stroller made following a sophisticated engineering system that makes it a completely flexible option. You can use it right from the baby's birth to its toddler years. It also comes with a bassinet storage bag and a rain shield for added protection.
Pros
This new version equips with eight different seating combinations that can be very useful as the babies grow by age.
It can be folded very easily by following a single step.
Equip with reliable brake situated on the right wheel

Cons
This stroller is a little bit heavier when compared with its previous versions.
3. Kolcraft Cloud Plus Lightweight Stroller- (Best baby stroller under $100)
If you want to buy an affordable umbrella stroller but don't want to compromise with quality perspective, then buy this lightweight stroller manufactured by the Kolcraft brand. The main thing that attracts parents towards this product is the fantastic price of less than $100. It comes in a nimble design and can be folded with a single hand. This product is one of the best baby strollers having an expandable canopy through which baby get protection from harsh rays. Also, it has a basket where one can store plenty of baby products.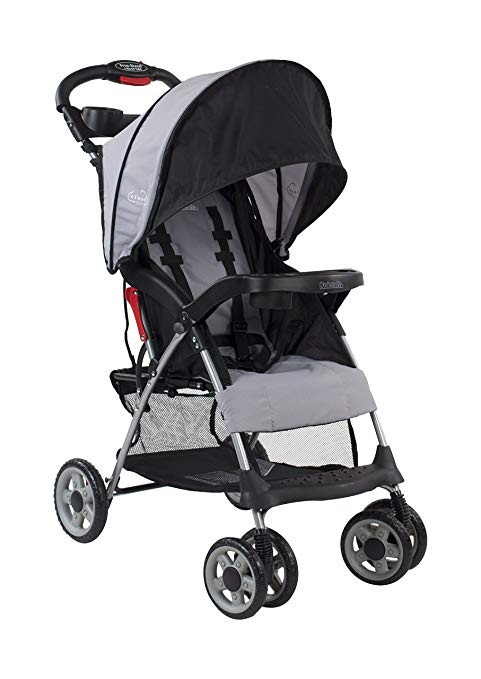 On top of that, this stroller comes with a parent tray having two drink holders that can be very handy in many cases. Despite being priced affordably, the company has not comprised in any manner as they have used high-quality materials manufacturing it. Some other notable features of this stroller are 5-point safety harness system and reclining seat for added comfort.
Pros
It is a very light product that makes this stroller a travel-friendly option.
The compact space and expandable canopy visor offer convincing coverage.
It is capable of holding children up to 50 lbs. Conveniently.

Cons
This stroller lacks in the mid-section support, but you can't complain at such at a price.
4. Baby Jogger City GT- (Best Double Stroller)
If you are one of those lucky parents who have got twins as a gift from God or you have two young toddlers, then finding a better option than this one is a difficult task. It is one of the best double strollers that come with 16 different configurations allowing the parents to set their kid's seating according to the convenience level. Both seats in this stroller are capable of holding up to 45 lbs. Adequately. Also, the company has added a larger under-seat storage compartment for keeping essential things.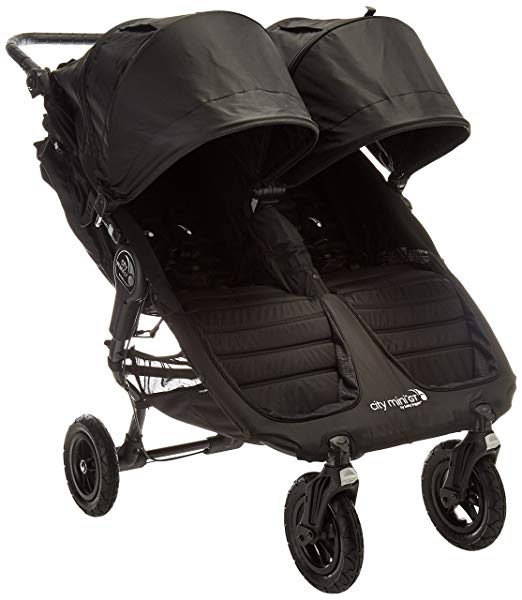 Both seats in the stroller are seated side by side and known for excellent maneuverability. Furthermore, it is effortless to push and can be folded with a single hand for better storage. This stroller is a versatile option that can turn out to be a worthy investment along with a variety of different combinations ranging from toddlers to twins.
Pros
There are seating combinations for the convenience of toddlers of all the ages.
It equips with all-terrain wheels and adjustable handlebar.
The babies or toddlers can have a remarkably smoother ride on this stroller.

Cons
The storage basket is smaller when compared with others on this list.
5. Bob Revolution Flex Jogging Stroller ( Best jogging stroller)
This stroller specially made by keeping those moms in mind who prefer to stay in an optimum shape even after pregnancy. The Bob Revolution Flex is durable and high-quality that can let you jog in all types of terrains comfortably with a baby or toddler. With an impressive weight capacity of 75 pounds, it is one of the best baby strollers available in the market.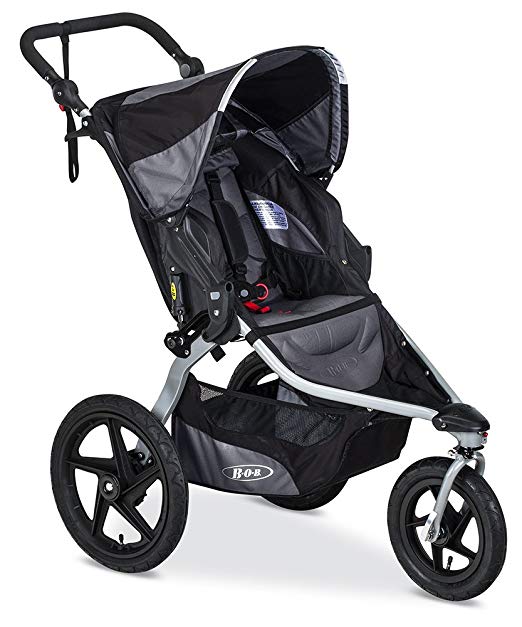 It has a large seat having the ability to accommodate a toddler up to 44" tall. We have even parents using it comfortably with 4 and five-year-old kids. The company has added a non-adjustable leg rest on the seat that can be handy for older kids. When it comes to running ability, it has performed pretty impressively due to its locking swivel front wheel and sophisticated design. Also, there is a handlebar that can be adjusted so that the parents can maintain adequate biomechanics during the running.
Pros
The process to set this stroller is very easy and takes less than five minutes.
You can enjoy exceptionally well maneuverability while using this equipment for the baby.
Kids can enjoy a comfortable ride due to thermo-molded padding and sling style seat.

Cons
It has a little bit heavier construction that takes lots of space when get folded.
Also Read: Top 10 Best Multivitamins for Men Over 50
6. Maclaren Twin Triumph
The next product in our list is the Maclaren Twin Triumph that known for its lightweight and compact level. It is one of the affordable options that come with superior one-handed umbrella fold mechanism. You can buy this stroller in many different colors like black, charcoal, blue, silver, and indigo. The company delivers it with different accessories like a twin carry bag, cup holder, seat liner, and twin universal organizer.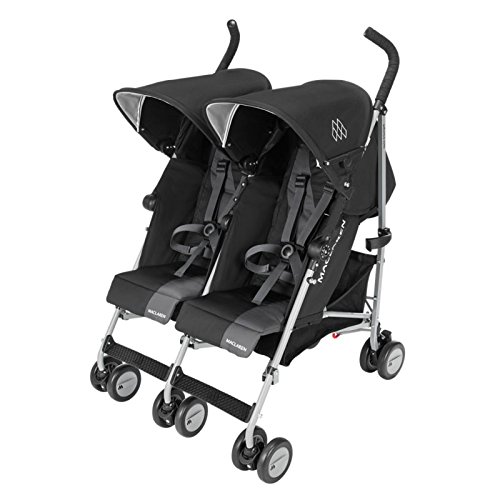 It is a sturdy & lightweight stroller that can fit through all types of doorways. Along with offering a smoother ride to babies, it comes with an extended canopy to protect from sun rays. This stroller is an ideal option for the kids aged from 6 months to four years. It equips with a multi-position recline seat having an option for leg support. The weight capacity of this stroller is up to 110 lbs that are enough for carrying two toddlers.
Pros
It comes with exceptional and superior features for providing proper safety to the kids.
A perfect option for everyday use due to its compact and sturdy build.
This stroller can work for kids of different ages due to its incredible weight capacity of 110 lbs.

Cons
It comes with small wheels that don't work so great on the rough terrains.
7. Joovy Caboose Graphite Stand-On Tandem Stroller ( Best Sit N Stand Stroller)
Our team has tried to cater to the needs of various customers in this post, and that's why added a sit and stand stroller in this position. It is an inline stroller having a fantastic sit and stand abilities. Some amazing features of this product are sliding bench seat, parent console, double action brakes, and three front position seats. It can be folded and unfolded in a matter of minutes with minimal efforts. Also, the weight of this stroller is only 22 pounds allowing the parents to carry it easily during traveling.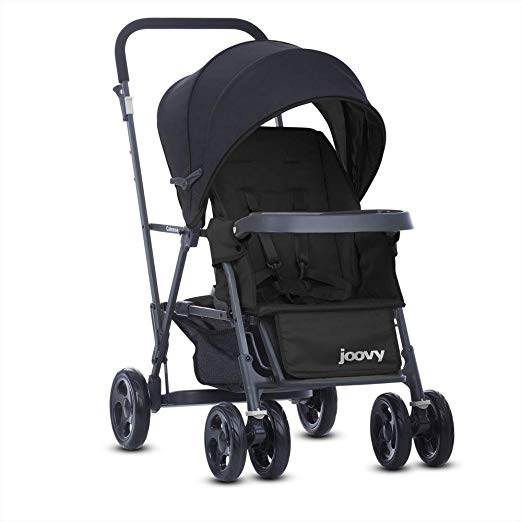 The parent organizer installed in this stroller allows keeping things like phones, wallets, and keys securely. This versatile stroller comes with a variety of seating arrangements for ensuring great comfort to the child. It is a compact product having handles that let you control the stroller pretty easily. Furthermore, it comes with exceptional single action brakes that ease the settings to a greater extent. Overall, we say it is a fantastic stroller that you can buy for offering a high level of comfort to your baby.
Pros
You can fold and unfold this amazing stroller quite easily with less effort.
It is available in a variety of colors like black, amber, and red.
This stroller comes in a stunning design that suits the personality of kids.

Cons
There is a little bit extra noise created by the wheels of this stroller when compared with others.
8. Summer Infant 3D Lite Convenience Stroller
This easy to adjust stroller is manufactured by the Summer Infant brand that has a very positive reputation among the customers. It is a perfect option for carrying the baby in the public transit system. This stylish and durable aluminum frame weighs only 13 pounds and comes with a bigger seating area. There is four position recline in this stroller along with the 5-point safety harness system. The process to move and stop becomes easier due to lockable rear wheels and anti-shock front wheels.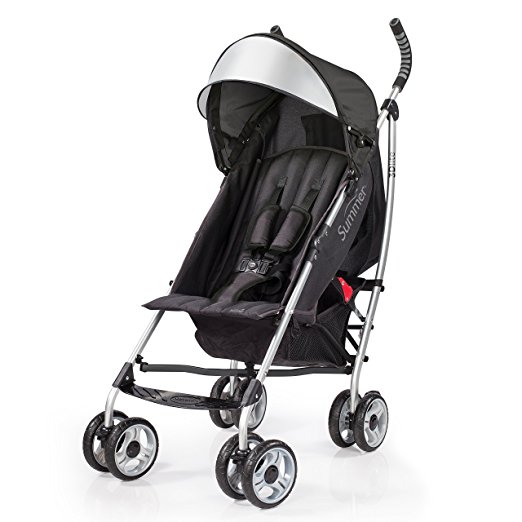 You can buy this stroller in plenty of different colors like black, gray, blue, green, yellow, orange, and many more. There is a deep storage basket installed in this stroller where one can comfortably accommodate a large diaper bag. The 3D Lite comes with an adjustable canopy having removable UV visor for protection against the sunlight. Overall, this stroller fits all the requirements that demanded by the parents for their kids.
Pros
It is a very lightweight stroller allowing you easier to carry in the public transit system.
The large storage basket allows keeping important things handy.
This equipment equips with twin handlebars that perfect for taller parents.

Cons
The size of the canopy is quite small when compared with other options.
9. Evenflo Pivot Modular Travel System
This baby stroller is a perfect option for moms who often travel outside. It is a high-quality & durable 3-in-1 stroller that can work for baby from infancy to its toddlerhood. This package comes with plenty of add-ons like safe zone base, child tray, parent cup holder, fully recline toddler seat, and infant car seat. Six different seating modes allow it to get converted from a seat to bassinet. It comes in a versatile construction system having both carriage and car seat carrier feature.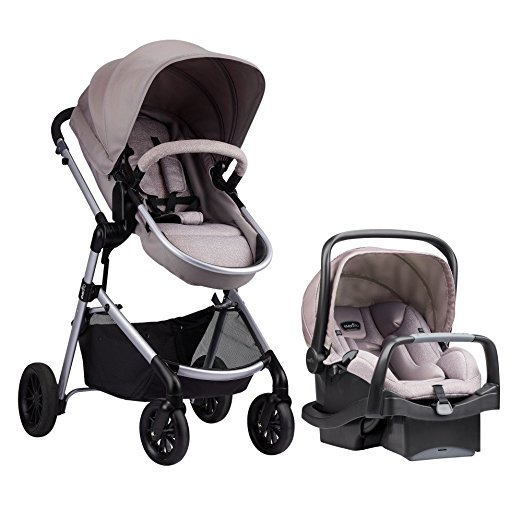 There are some reasons that this product deserves to be the part of this list of best baby strollers. The company has tried to design this product for structural integrity, and they have become successful in doing it. They have added an anti-rebound bar through which the amount of rebound movement can be controlled. Furthermore, you can take your child straight from stroller to the car conveniently. This stroller is perfect by every means and ideal for investing your money.
Pros
The process to assemble this stroller is a piece of cake, even for a beginner.
You can easily switch between normal and infant car seat.
It has sturdy wheels that are perfect for city use.

Cons
The handlebar height can't be adjusted.
10. Contours Options Elite Tandem Double Baby Stroller
If you are one of those moms who want to buy a fully flexible stroller, then this Contours Options Elite is the ideal option. It has seven different seating options that range from versatile seating configurations to reversible seats. It has adequate space for accommodating two infants quite conveniently. This lightweight product has an aluminum frame that allows it last for a lifetime.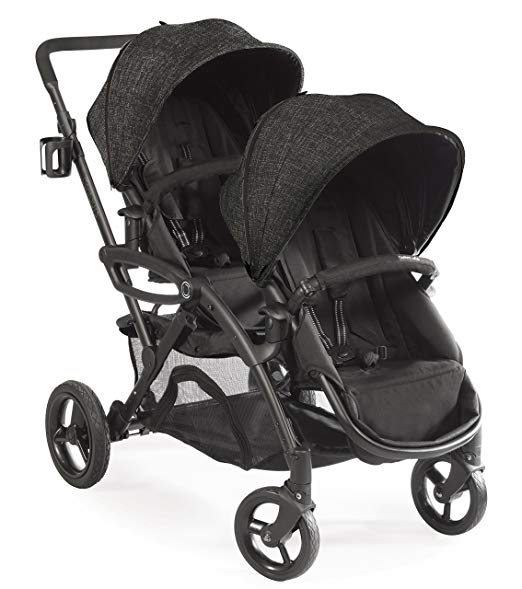 Some best features of this product are adjustable leg rests; padded swivel bumper bars, front wheel suspension system, and child mesh pockets. The company has kept comfort in mind and take all the necessary measures. There is also a sun canopy having an extended mesh panel to ensure kid stay protected from UV rays. Also, it has reviewed positively, especially by moms all over the world.
Pros
It has an amazing ability to hold two infant seats quite conveniently.
This stroller equips with a huge storage basket where one can easily keep a wide variety of things.
It is very easy to fold despite being a huge stroller.

Cons
Lack of parent console and child snack trays might be a problem for some parents.
Conclusion
There is no doubt the list of baby strollers available in the market is quite long, and one can't choose by testing each of them. Also, it is important that one should spend money on a high-quality stroller that offers complete security to your child. That's why our team has gone through testing that lasts almost 60 hours to find the best baby strollers that you can buy in 2019. You can choose between any of them according to your requirement. If you feel that we have missed the name of a stroller, then please tell us. Our expert team will respond to your queries at the earliest.