Planning to kick start workout sessions at home with a good pair of dumbbells that may suit your needs but are currently unsure of which one to go for? If that is the case, then we introduce you to these adjustable dumbbells from CAP Barbell. Currently, the finest in the market under this forty pounds category.
These pairs of dumbbells are ideal for beginners who are all set on this strenuous fitness journey. This piece of equipment includes a total of ten plates dumbbells weighing a total of 40 pounds, providing you various weight options to get the experience of a complete workout session.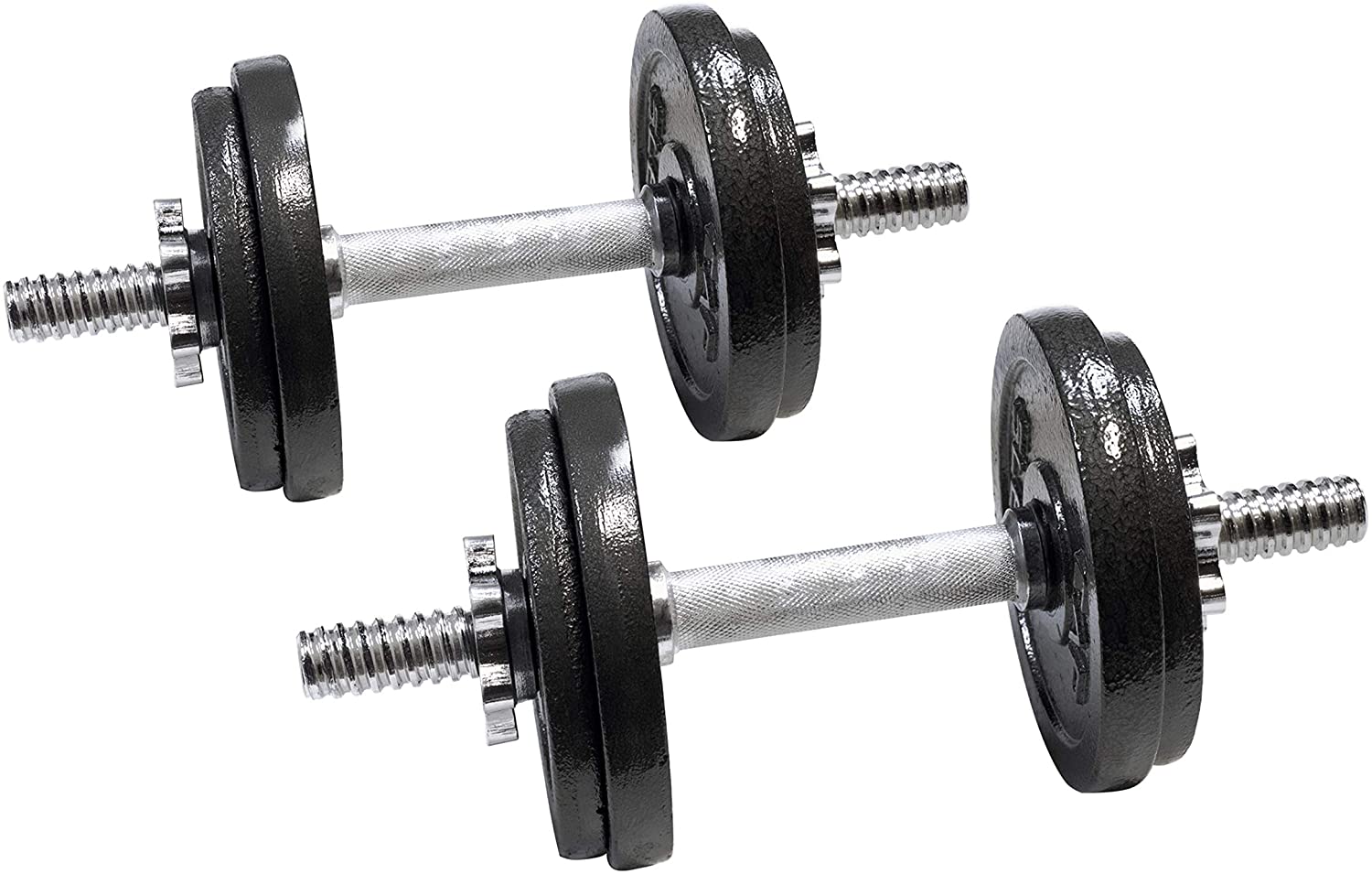 CAP Barbell 40 pound dumbbell is an affordable pair of options for beginners. These dumbbells also come with a sturdy, durable case. The case can turn out to be handy, especially for people who travel a lot and try to maintain their fitness schedule.
These pairs of dumbbells are quite easy to handle. These dumbbells sport a classic design with solid, durable iron plates, and rubber trim collars.
Let us have a detailed look as to what makes these different and why you should/shouldn't go for it.
CAP Barbell 40 pounds Adjustable Dumbbells are lauded by most professionals and beginners too. The product is effective with the variety of weight plates it arrives with, which can be adjusted according to your preference.
In each set of CAP barbells, there are four 2.5 lbs weight plates, four 5 lbs weight plates, two handles, four collars, and a plastic case to store. These interchangeable iron plates offer extra durability, and the looks of the plates have a semi-gloss finish, which prevents them from rust, making the plates long-lasting and maintenance-free.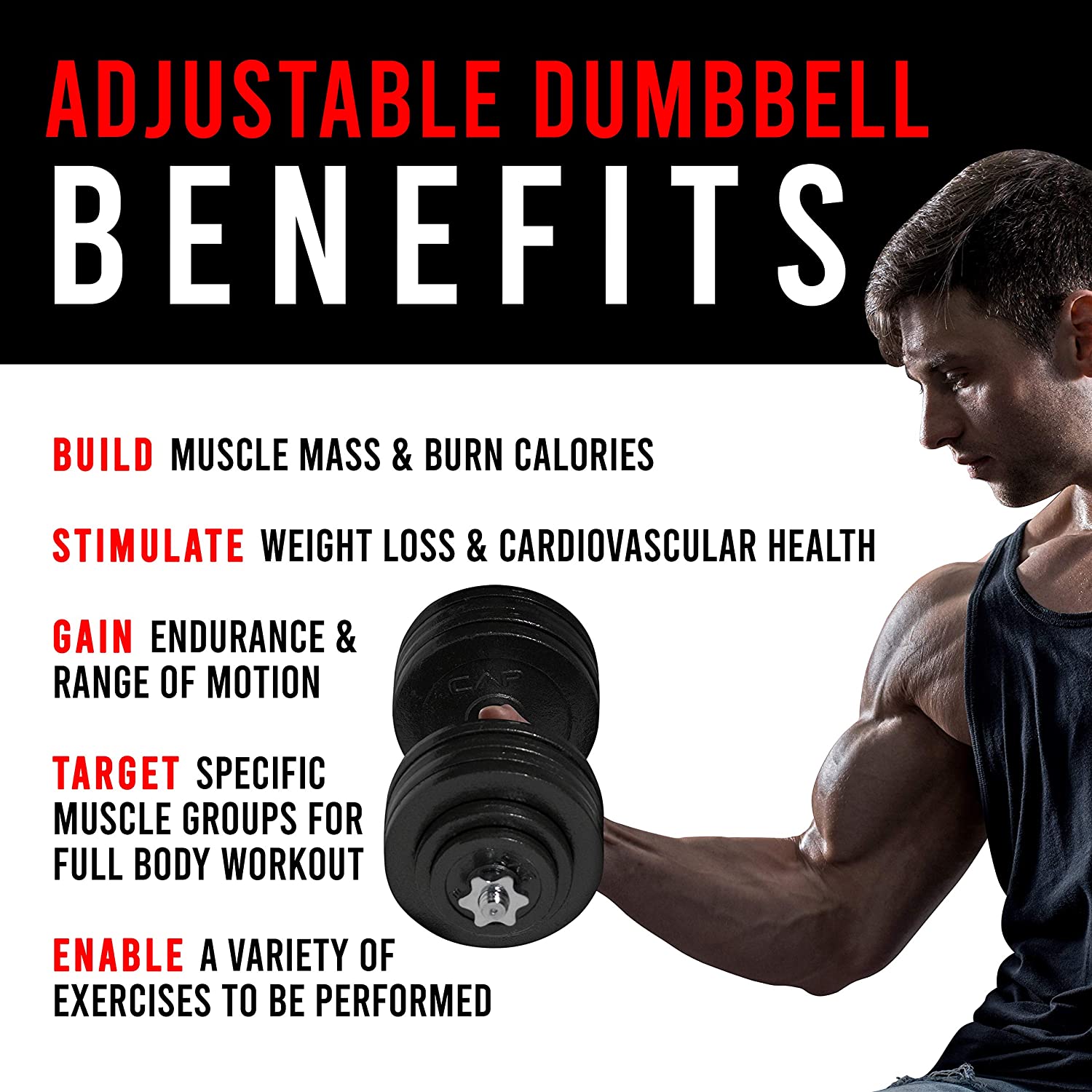 There is much more to these pairs of dumbbells that make them an excellent choice, especially if you have just started with your fitness journey. For a detailed insight into this amazing product, keep scrolling below.
Ease of adjustment
The CAP Barbell dumbbells take a longer time considerably as compared to other dumbbells in the market. Though adding and removing weight manually may not take more than a minute per dumbbell, which is hardly time-consuming.
Depending on the workout sessions, people tend to take a gap of a few seconds between sets, so this extra time used could be annoying, but it is not so necessary for people to have training sessions at home. So this is not that much of a concern.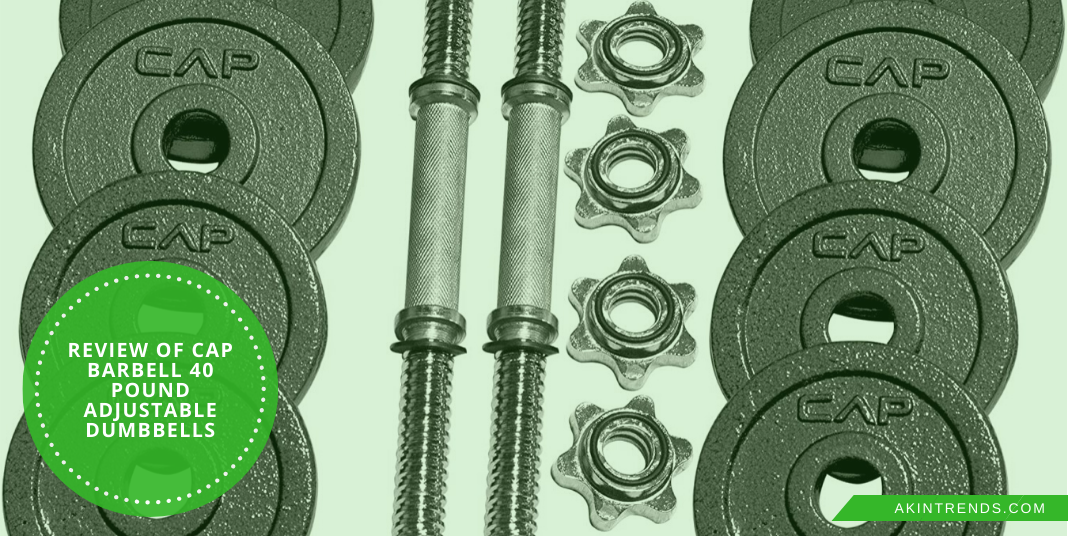 Weight
The CAP Barbell weighs roughly about 40 pounds, which is adequate for most beginners that are looking for a basic weightlifting routine. These dumbbells are the safest options for fitness enthusiasts who have resistance training as their priority and not gaining muscles.
Though if you wish to buy a separate training bar such as a trip or EZ bar, then you must know that you can purchase extra weights as most of the weights that come in these dumbbells are 1" so they are most likely to be compatible with your training bars.
Build quality and durability
These made of iron plates make the dumbells durable, while the semi-gloss finish prevents them from rusting, so they are most likely to last longer. The handles of the dumbbells include medium knurling for additional grip and also are chromed to use them without gloves.
The more dumbbells you use, the more likely the skin of your hands are expected to get tough, which is considered as progress. Considering that your skin might begin to peel, buying a pair of gloves might do the job.
Also Read: Stamina InMotion E1000 Compact Strider vs Cubii Pro
---
Alternatives to the CAP Barbell Adjustable Dumbbells
The CAP Barbell Adjustable Dumbbells are one of the topmost pieces of equipment you'll require for an in-house gym. However, if you are still looking for some alternatives that are available at a budget-friendly cost, then you can look at some of these options listed below, as they can be quite helpful.
1. Yes4All Adjustable Dumbbells
Yes4all Adjustable Dumbbells are an affordable alternative made of gym-quality iron cast. The product boasts of chrome textured, solid handles that are non-slippery and stay comfy while you are working out. These sets of dumbbells are crafted by making use of an excellent cast press. The set comes with four 2.5 pound plates, four 1.25 pound plates, sixteen 15 pound plates, 1.25-inch bars, and four 5 pound collars.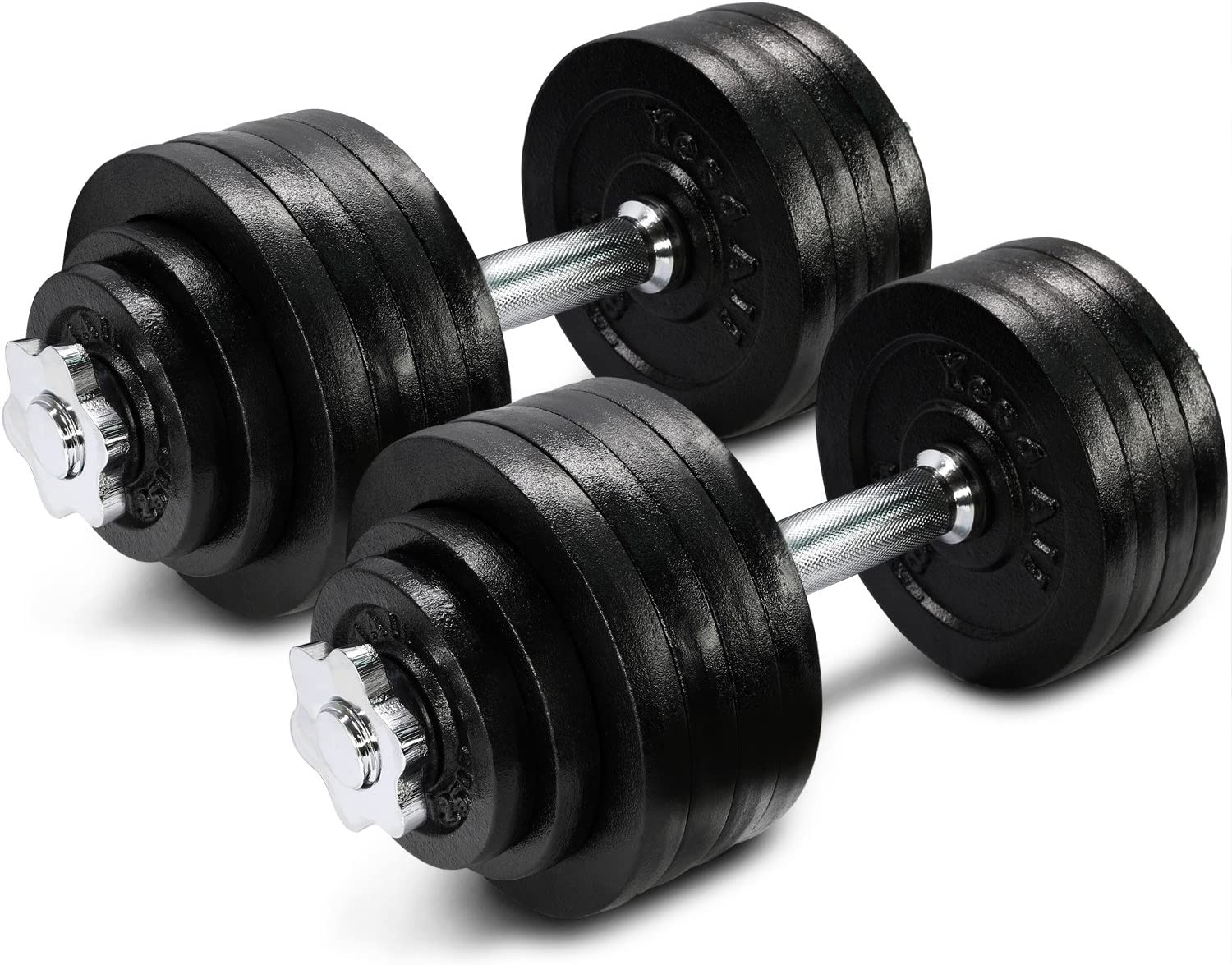 These dumbbells sport a 16-inch chrome-finished handle that ensures you have a secure and non-slip hold. Besides, the string finish of the dumbbells has star bolt collars that enable plate alterations. The dumbbells are customizable up to 105 pounds, which are best for fitness enthusiasts who prefer to tone their muscles.
It is a 50-pound set that comprises four 3 pound plates, four collars at 8 pounds, and four 7.5 pound plates. The openings of these plates tend to fit the bar with a width of 1 inch.

2. Power System Rubber dumbbell
Power System Dumbbells are an octagonal shape that prevents the dumbbell from rolling. Also, it is very compact so that you can store it easily. If you are looking for a budget-friendly option, then this will surely be your best buy.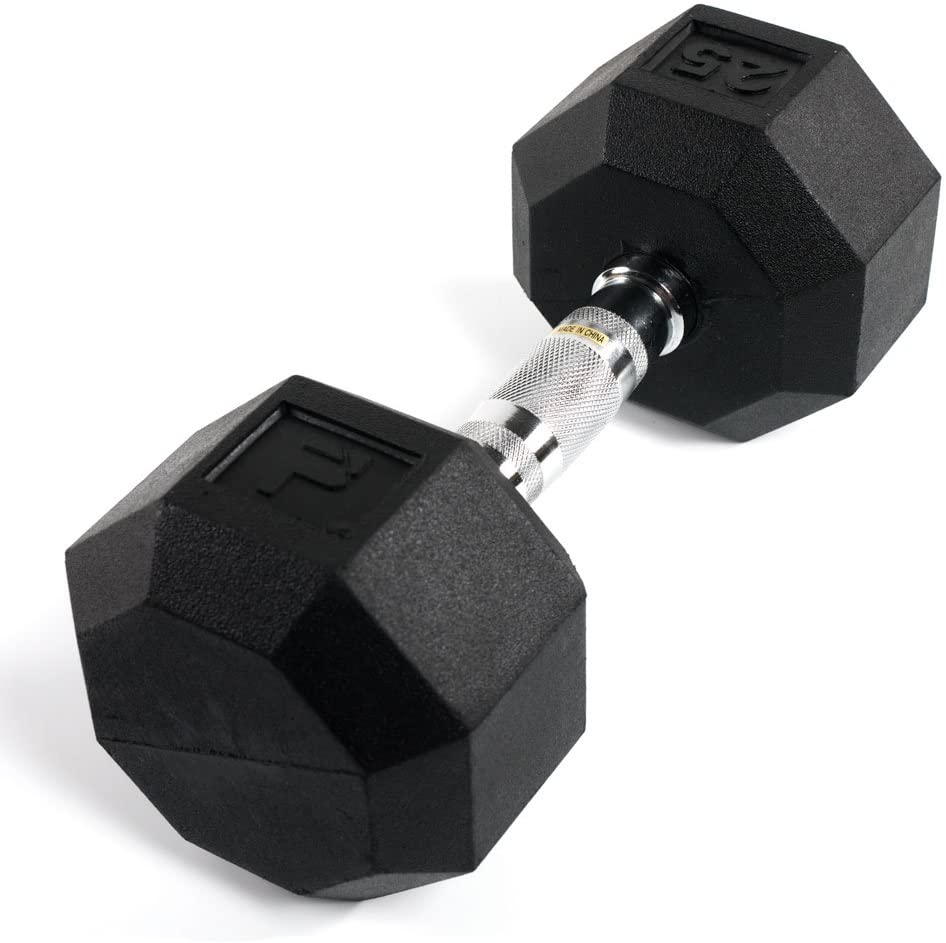 The dumbbell has an ergonomic design with a solid handle that is coated with zinc to provide you a non-slippery and stable grip, comfort, and also durability for easy workout sessions.
It comes in a black tone that has weights mentioned on each dumbbell to provide simple and easy access to them. It is perfect if you are looking for something for frequent uses.

3. SPRI Dumbbells
SPRI dumbbell is a comfy model that encompasses a no-slip color-coded vinyl coating that helps the dumbbells from wear and tear. The dumbbells are sold as a set of 2 to perform the workout sessions and help in losing weight.
The dumbbells are durable, which acts as a perfect addition to step workouts, aerobics as well as strength training exercises. These dumbbells are also available in smaller sizes, which works excellent for smaller hands as well, especially while doing walking or running.
These weights also help in performing cardio exercises that are great for physical therapy and boosting the burning of calories too. These weights are built for a durable professional quality as well as for commercial gyms and clubs that can almost last a lifetime.
The weight of dumbbells is marked on every dumbbell to make it easy for use. While the less weighted dumbbells are suitable for power walking, jogging, step training, and much more, whereas the heavy ones are perfect for strength and high-intensity workouts, weightlifting programs, and full-body muscle building.

Also Read: Schwinn 430 Elliptical Trainer vs ProForm Cardio HIIT: Comparing the Elliptical Machines
---
VERDICT
While most of us can afford a gym membership, there are a few who prefer working out from the home to cut expenses. The CAP Barbell 40 pounds Adjustable Dumbbells are genuinely the best out there in the market today.
The case it comes with, made workout sessions on the go easier. The weight is ideal for beginners as well as professionals. The quality of the product is excellent, and it is durable too. The components of the dumbbells, especially at the price they come in, are arguably the best.
However, it did smell a bit acrid after using it for some time. Also, adjustments might take some time but is not an issue, especially if you are working out at home.
The CAP Barbell 40 pounds Adjustable Dumbbells are an excellent choice if you are short on funds and are looking for an adjustable set for the dumbbell to help you through your workout sessions.