Fitness has become a significant concern and a topic that is most talked about. In this article, we discuss common gym equipment for people of all shapes and sizes — Elliptical machines. There are various elliptical machines available in the market at different prices. However, we'll be reviewing the best elliptical machines under $1000 that are worth buying.
Finding an elliptical machine can be tricky as there are a few that aren't up to the mark. At the same time, some are entirely outstanding, so differentiating between two can be very difficult at times, which is why we have reviewed the best products in the market which will make your buying process more comfortable.
---
Things to consider before buying an elliptical
Before the list of best ellipticals under $1000, let's have a quick peek over things we should look at before buying the product.
Before buying an elliptical, make sure that they are safe so that you can ensure they are sturdy and stay intact so that you don't trip over while you are working out. Safety is one of the topmost priorities to watch out for.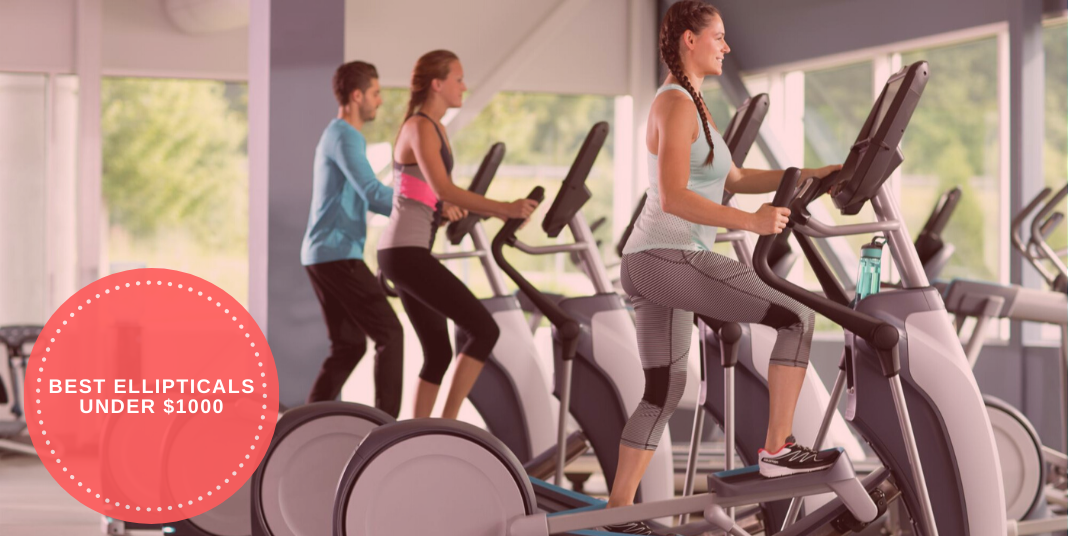 Training programs are built-in so that they can challenge you in various ways to achieve your goals to stay fit. These training programs motivate and encourage so that you remain productive throughout the workout session.
Resistance is known as the way you control the force with which you tend to push the mechanism. Higher resistance means the muscles are working harder and vice versa. You need to find an elliptical which has simple settings, yet it challenges you to provide a room for you to improve.
Size is quite a big issue when we think about buying a piece of equipment for your home needs as some can occupy a lot of space that will force you to alter your home. So if that is the issue you should go for a foldable or a moving elliptical which can occupy less space and come out to be handy.
Since most of us prefer entertainment even during workouts, it keeps us motivated but makes the exercise more enjoyable and exciting. There are quite a few machines that allow you to link your iPod and tablet for something similar to keep yourself entertained.
Now that we know all the things we need to watch out for before buying an elliptical let us see which are the best budget-friendly and top quality ellipticals in the market which can serve our needs.
Also Read: Schwinn 470 elliptical vs sole e35
---
Best Ellipticals Under $1000
Without further adieu, here is our list of the best ellipticals under $1000.
1. Teeter FreeStep
Teeter FreeStep comes among one of the most popular trainers which are a combination of an elliptical with reclining bike for providing zero-impact workout sessions to its customers.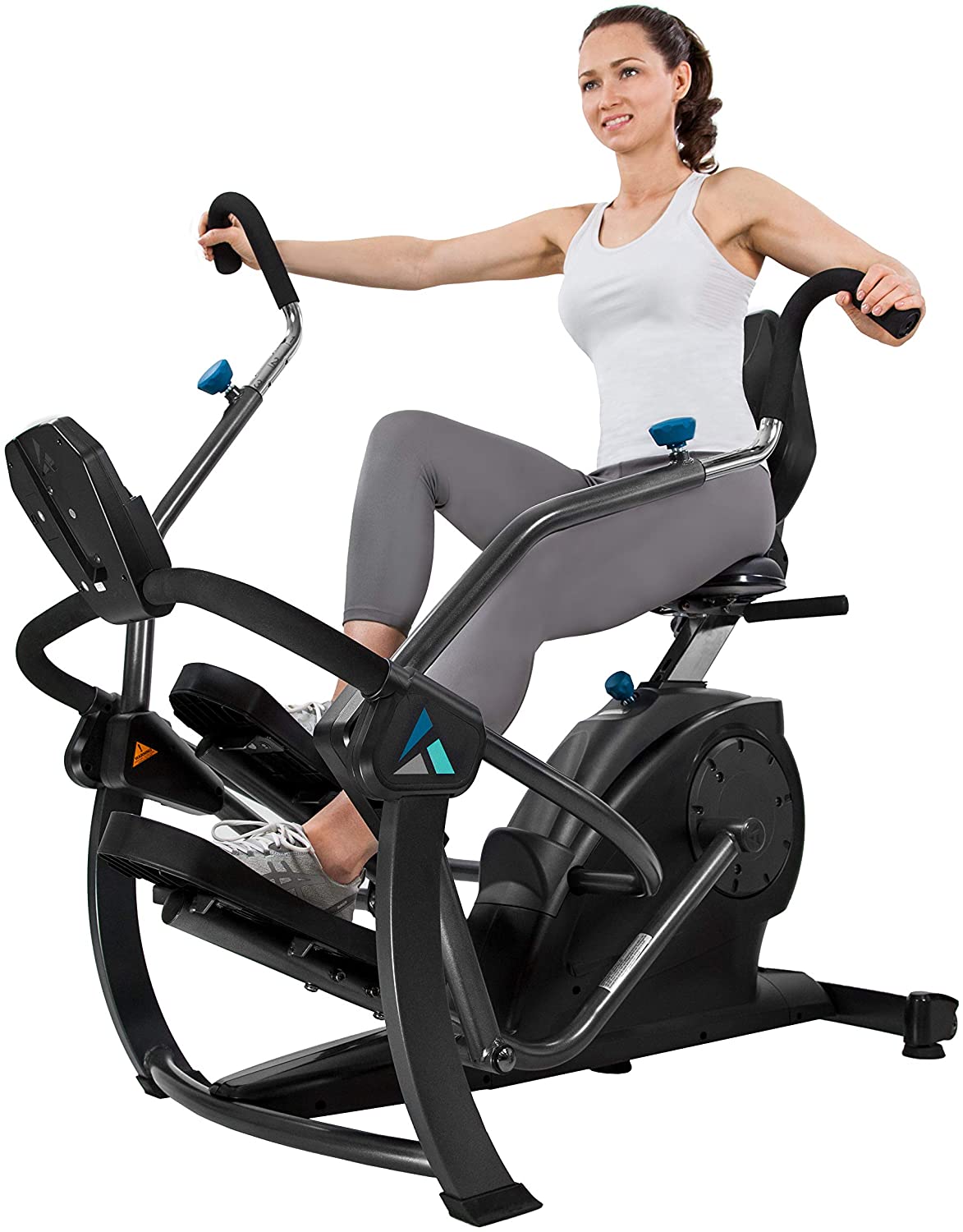 It may not be as satisfactory to traditional users due to the pressing action, but this creative cross trainer will place you in a reclined position, helping alleviate all kinds of stress from the joints. It is believed that it happens, so the workout feels more relaxed, and also you burn appropriate calories too.
One of the best parts about this elliptical is that it allows you to move your legs out and focus on your upper body and arms, depending on how well you can handle the multi-grip handles. Also, the resistance is so well that it can provide a challenge to the fittest person to have a workout.
2. Nautilus E616 Elliptical Machine
Nautilus is well known for making quality fitness products, so you can be ensured that it is a very mean product. One of the top class products of the brand, which comes under the affordable range under $1000, is the E616.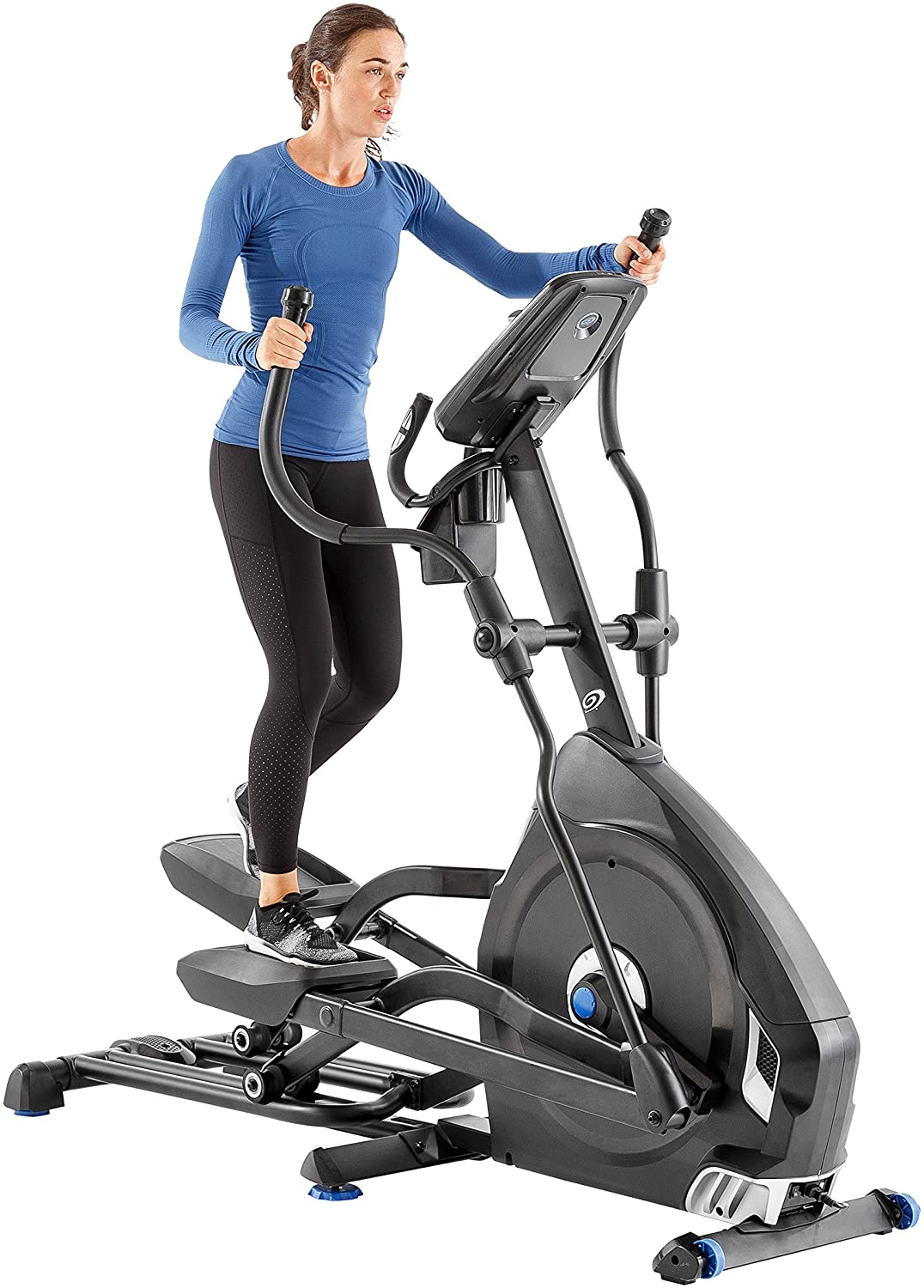 This machine is Bluetooth-enabled and features 20 precision path stride and a 16lb flywheel on a dual rail system. This all tends to provide a very fine and noiseless ride. The product is combined with oversized pedals and padded handles to provide a comfy low-impact workout.
Keeping the comfort aside, it is quite easy to find a sweat-including workout with 10% of motorized incline and 25 levels of resistance. The other features it includes are USB charging point, dual-track display 29 workout programs, and a cooling fan too.
3. Schwinn 411 Compact Elliptical Trainer
Schwinn 411 is another tremendous elliptical when we talk about the best ellipticals under $1000. The model has impressive media options with a stylish build and a reliable performance.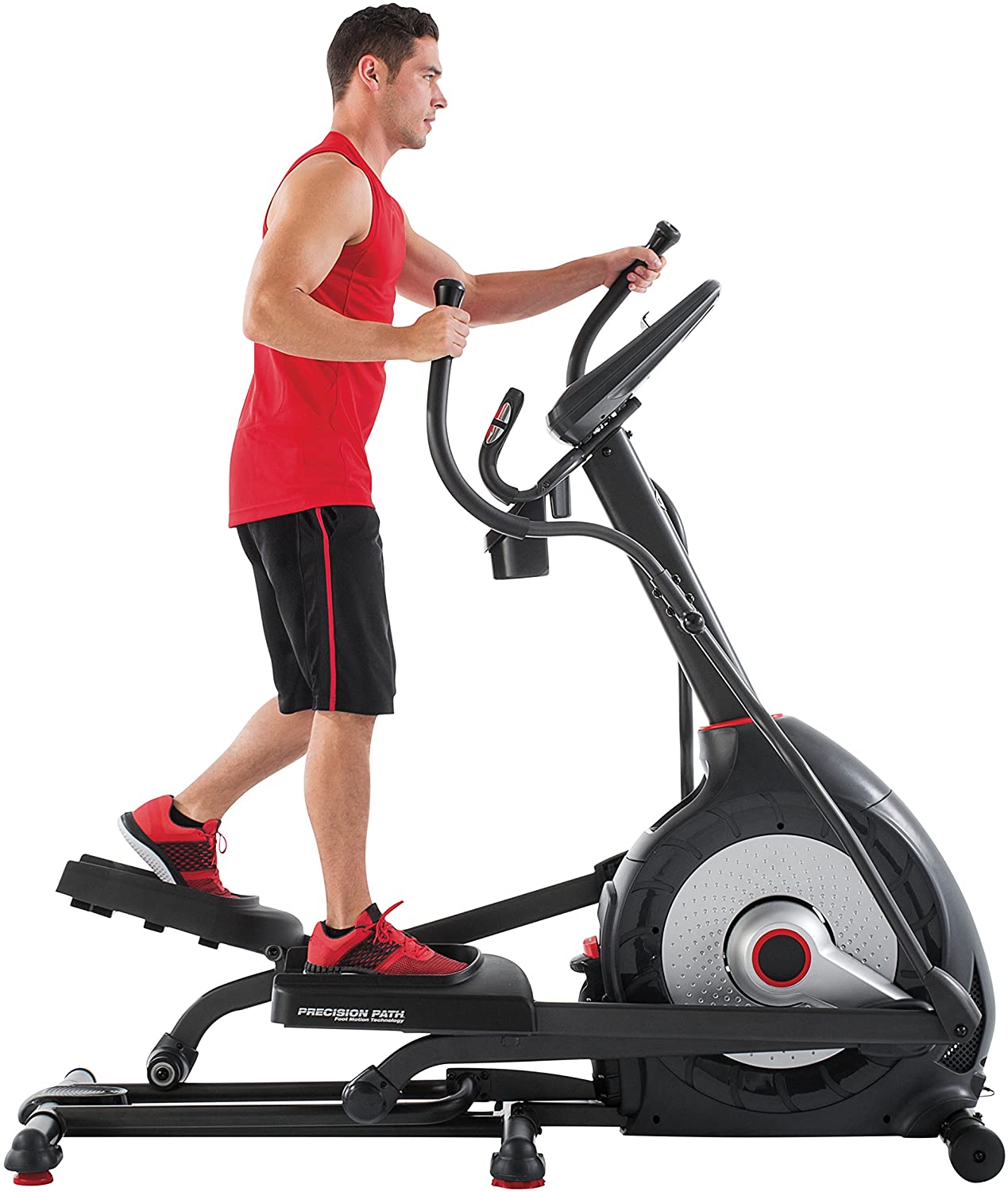 Featuring 25 levels of resistance, 20" stride length 29 workout programs, and motorized incline, this model can challenge even touchest elliptical coming in this range. It also offers an efficient and smooth operation when it is in motion, with its 17lb flywheels and high-inertia motor.
The dual LCD screen and main console make this model easy to use with its Bluetooth connectivity and intuitive controls. It also enables the users to sync the unit with Schwinn's free trainer app and Runsocial that can be easily used with the help of a tablet or a smartphone.
4. Cubii Pro Under desk elliptical
If you are looking for workout equipment while you are busy doing your day job, then Cubii Pro is one of ideal for you. The model is designed such that it will sit under your desk to help you perform some exercise and keep you stimulated, while also keeping the blood flowing.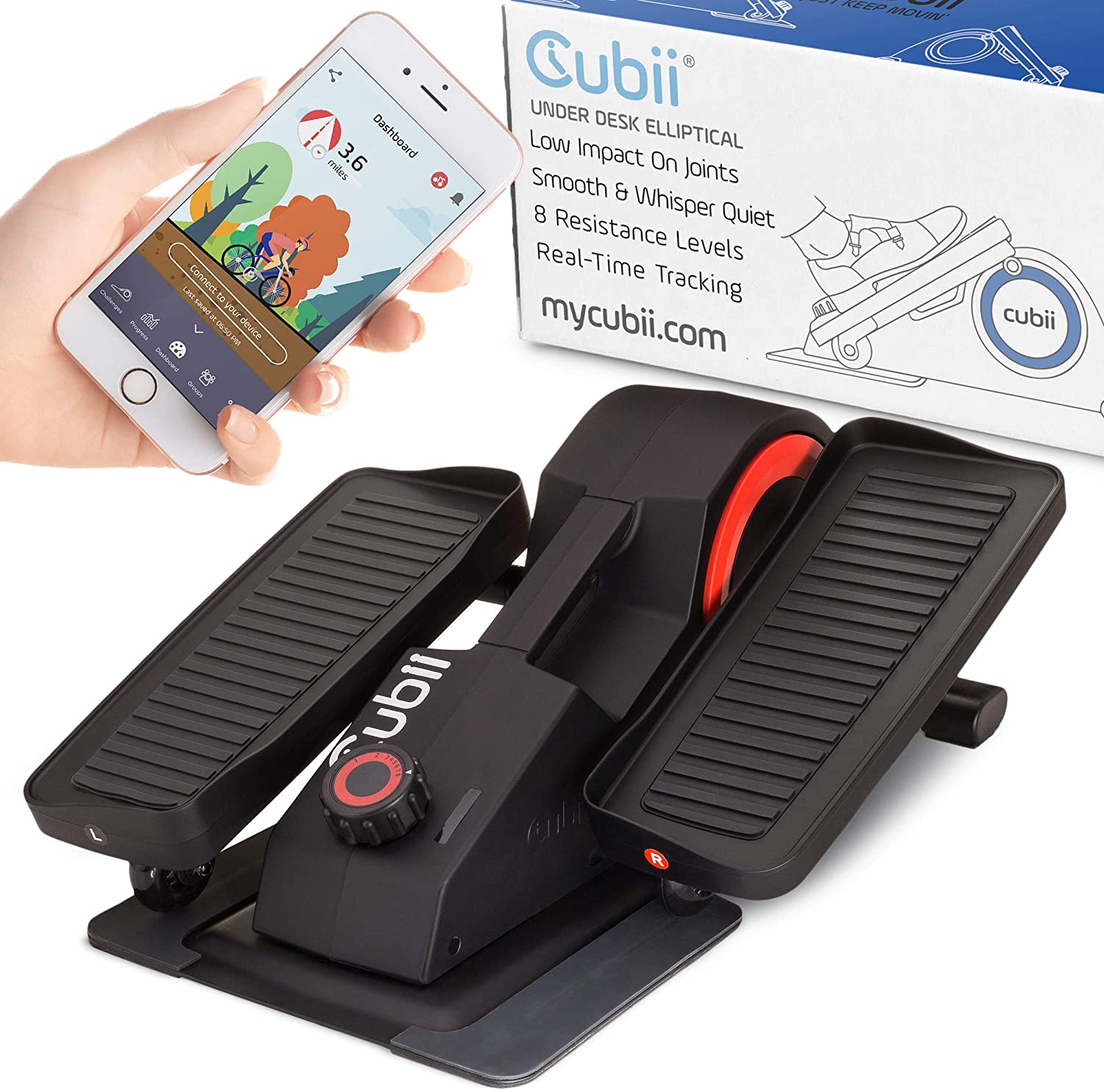 It provides eight resistance levels that enable you to test yourself and provide yourself with a challenge. The model doesn't come with a weight limit as it doesn't carry your weight. This is one of the best exercises to shift that excess weight from your body.
You can also connect it to Bluetooth to keep track of your workout sessions and how much progress you make. Also, the build of the model is great, and it is durable, which makes it quite reliable.
Also Read: Schwinn 430 Elliptical Trainer vs ProForm Cardio HIIT: Comparing the Elliptical Machines
5. Sunny Health and Fitness SF-E905
Sunny Health and Fitness SF-E905 is a well-built elliptical that has a sturdy and smooth operation. It comes as one of the best options when you are on the lookout for the best ellipticals under $1000. The product has some other amazing features too.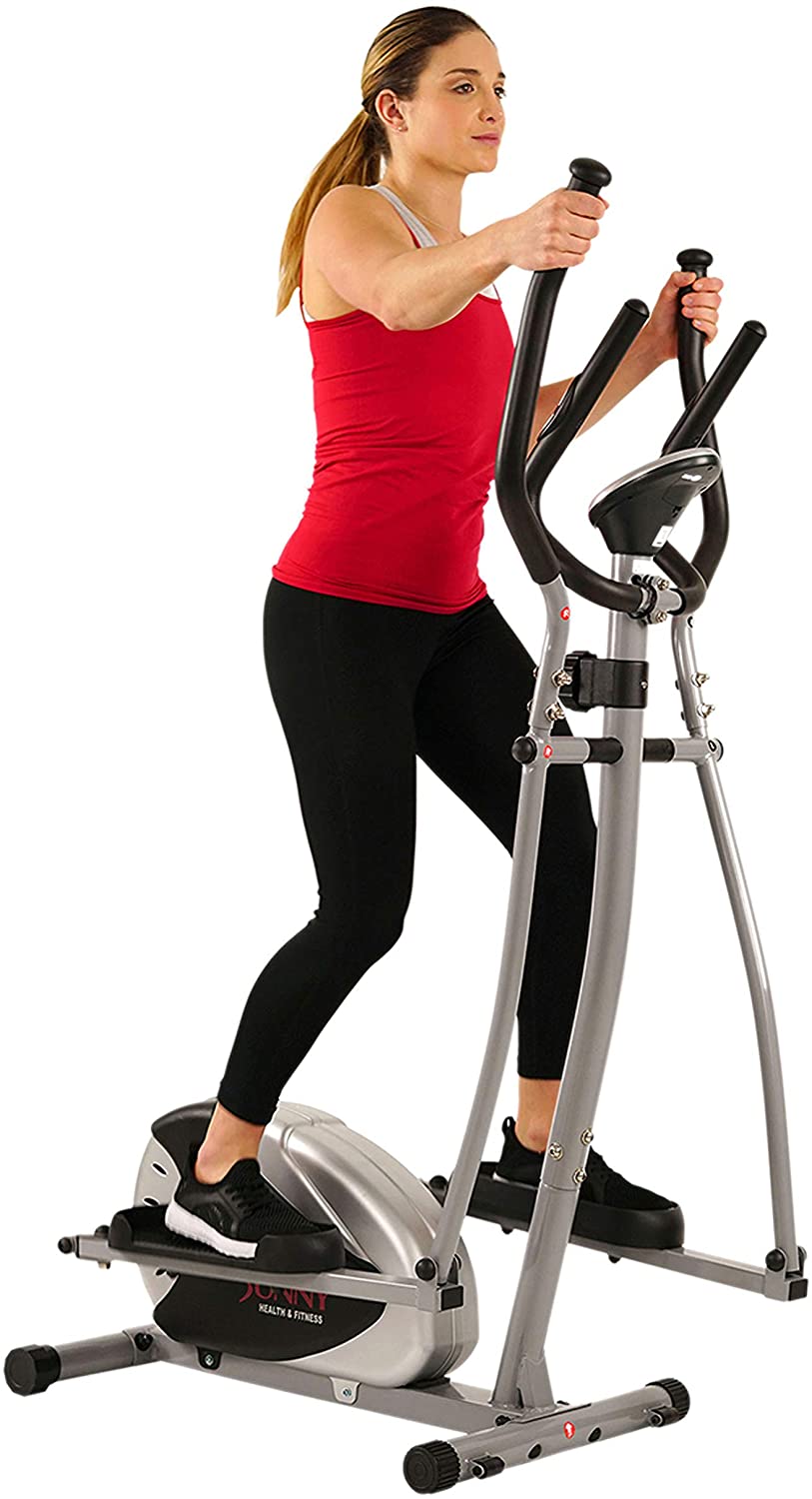 Some of them are the LCD which displays the time and distance traveled and the calories burned and the heart rate monitor, which displays the current rate of your heart by using the pulse in your hand.
The model is compact, which offers eight levels of resistance. The model has a stride length of 28 inches and encompasses wheels which makes it easy to move. The maximum capacity of the unit 220 lbs. Overall, it offers good value for money and is a decent option.
6. Schwinn 470 
Schwinn 470 is a mechanical beast that boasts 20" stride length, 25 levels of resistance, and 29 preset workout programs. The unit is accessible via Run Social app, which offers the option of running through 27 different routes in 19 different locations across the globe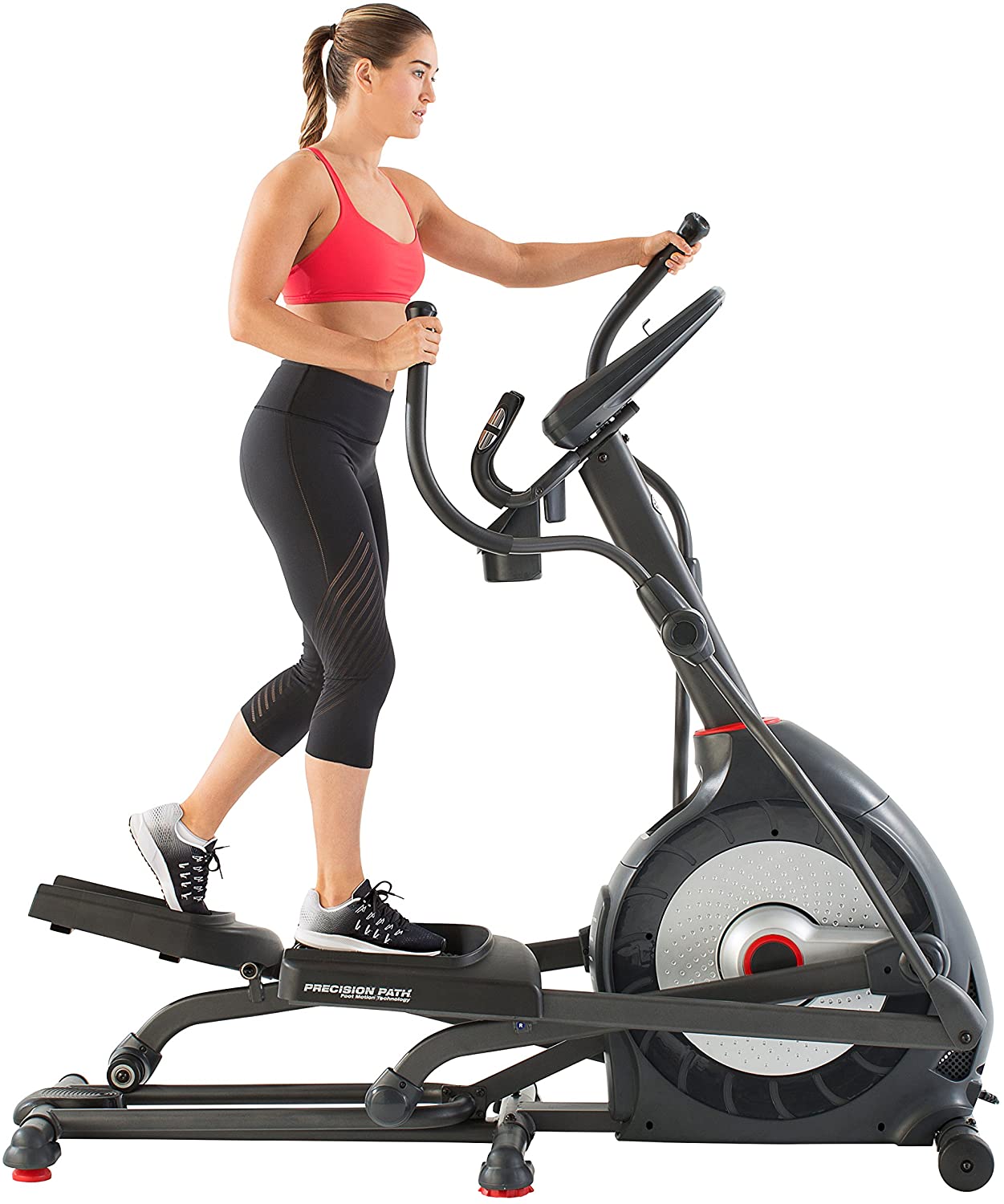 For entertainment on-the-go, the Schwinn 470 boasts LCD screens, in-built speakers with port, and a USB media charging port.  The unit consists of cushioned upper arms grip and large foot pedals which provides a rather comfy experience. It is a combination of a recumbent bike and an elliptical, so it gives you the benefit of both.
7. Exerpeutic 1000XL Heavy Duty Magnetic Elliptical 
Exerpeutic 1000XL Elliptical Exercise Machine is an excellent choice for people who have just started with their fitness journey. The unit has a robust design and is rated to be one of the topmost performing machines on Amazon.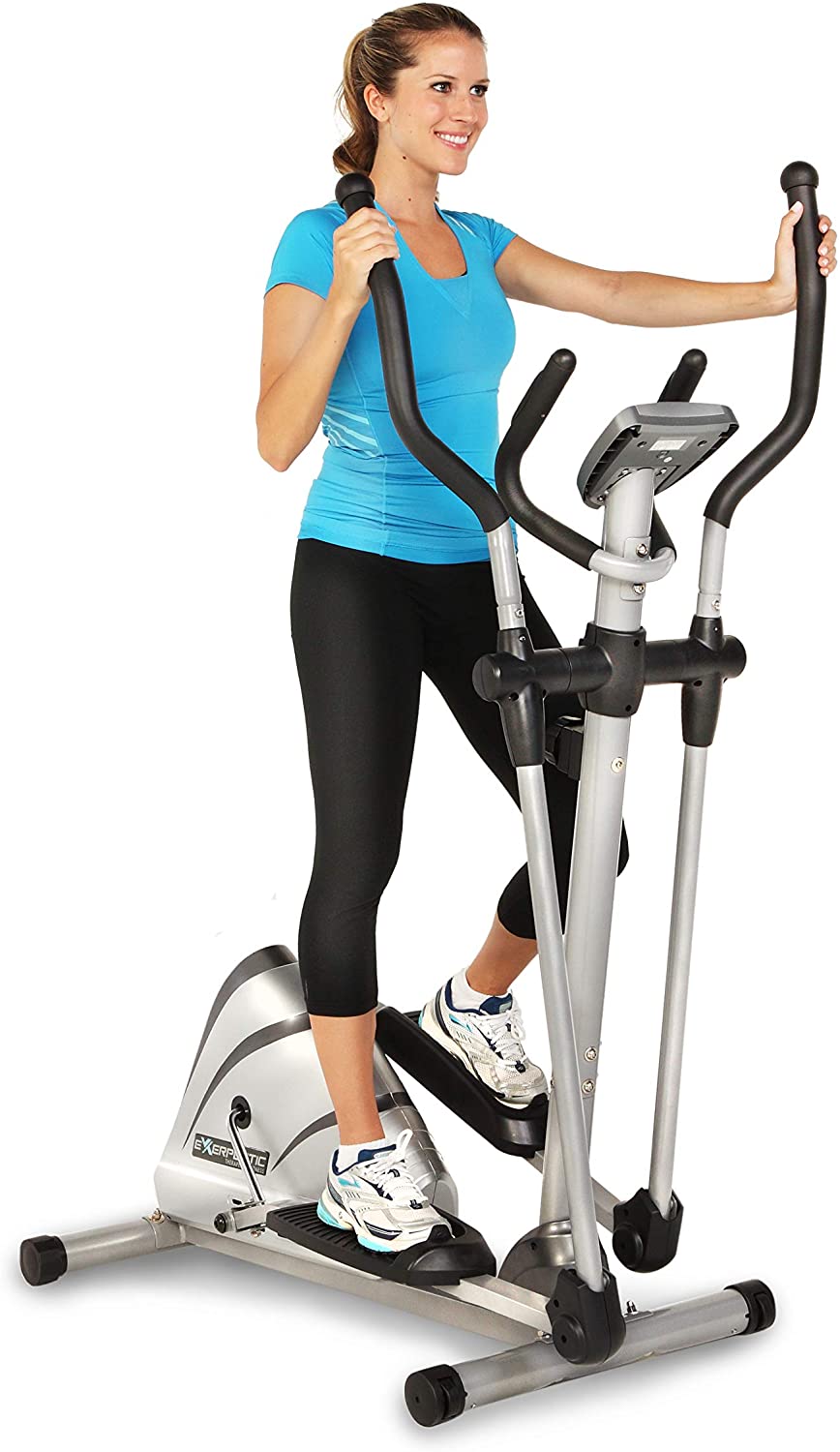 The maximum weight capacity of the unit is 300 pounds, which is quite good. It comes with a digital display that helps you monitor your heart rate. Also, the pulse grips on each handle track the information and send it to the screen.
It is a noiseless machine that comes with wheels in front so you can quickly move it whenever required. Also, it comes in eight levels of different resistance levels from which you can choose whatever you prefer. And is the last on the list of Ellipticals Under $1000
Also read: Best Spin Bikes Under $500 of 2020: Reviews & Buying Guide
---
Conclusion
As we know, buying a product like this may involve a massive amount of investment which is why it is quite essential to be aware that the product you choose fits your space and needs and also can serve the purpose for which you have bought it.
Running to the gym every day is not an option for everyone, which is why these above listed best ellipticals under $1000 can be very handy and budget-friendly too. Select the product that suits you best and let your workout sessions.