With many of us staying compelled to stay indoors, maintaining a proper body shape has taken a toll. There are people out there shedding beads of sweat behind closed doors to build a healthy lifestyle.
For those of you looking for the right piece of equipment, we've got your back with this list of the best spin bikes under $500. With our research and experience on each of the available machines, we bring you things to consider and the best spin bikes.
---
Things to Consider when Buying a Spin Bike
Prior to the list of the best spin bikes under $500, it is essential to learn the essential aspects to consider when purchasing a spin bike. Understanding each of these essential features will help in making the decision easier.
Design: The most important part of the purchase is to check the design of the bike. Spinning bikes come with a seat that is at the same height of the handlebars. This allows you to operate the bike by leaning forward or standing up, making the process of burning calories extra easier. To perform sessions standing up, spinning bikes are better when they arrive with a steel or aluminum frame.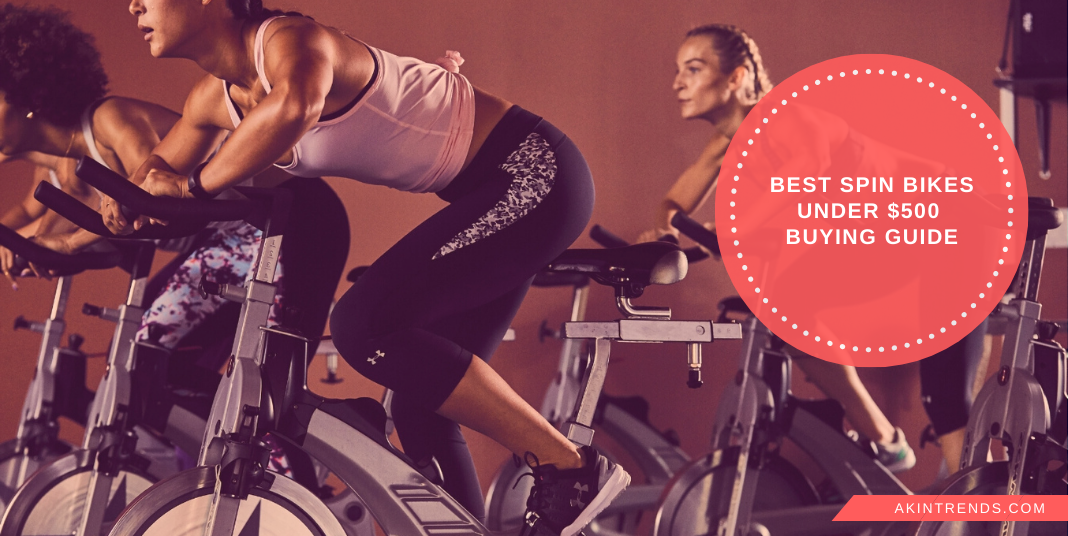 The size of the flywheel is also a necessary part of the design. Consider picking a cycle with over 35 lbs of a flywheel. The best spin bikes under $500 do come with both lighter and heavier flywheels. However, we'd recommend buying the one with a heavier flywheel.
Height: Another thing that matters the most is the height. If you fall in the standard height range, then you need not worry about the height of the spin bike. There are quite a few spin bikes that allow you to adjust seats and handlebars, consider these as worthy options.
Resistance System: A spin bike with an efficient resistance system makes the riding experience much worthwhile. Magnetic and air-resistance are the two kinds of resistance systems. These systems come in handy when you wish to increase the intensity of your workout session.
---
Best Spin Bikes Under $500
With the best spin bikes available aplenty, coming with a list was a quite nerve-wracking task. All said and done, here are our picks for the best spin bike under $500.
1. Sunny Health & Fitness 49 lbs. Chromed Indoor Cycle Bike
The Sunny Health & Fitness Indoor Cycle Bike is inarguably the best of all the spin bikes that is currently available in the market. Falling in the category of affordable spin bikes, it is stocked with a robust 49lb chrome flywheel that ensures a quality riding experience.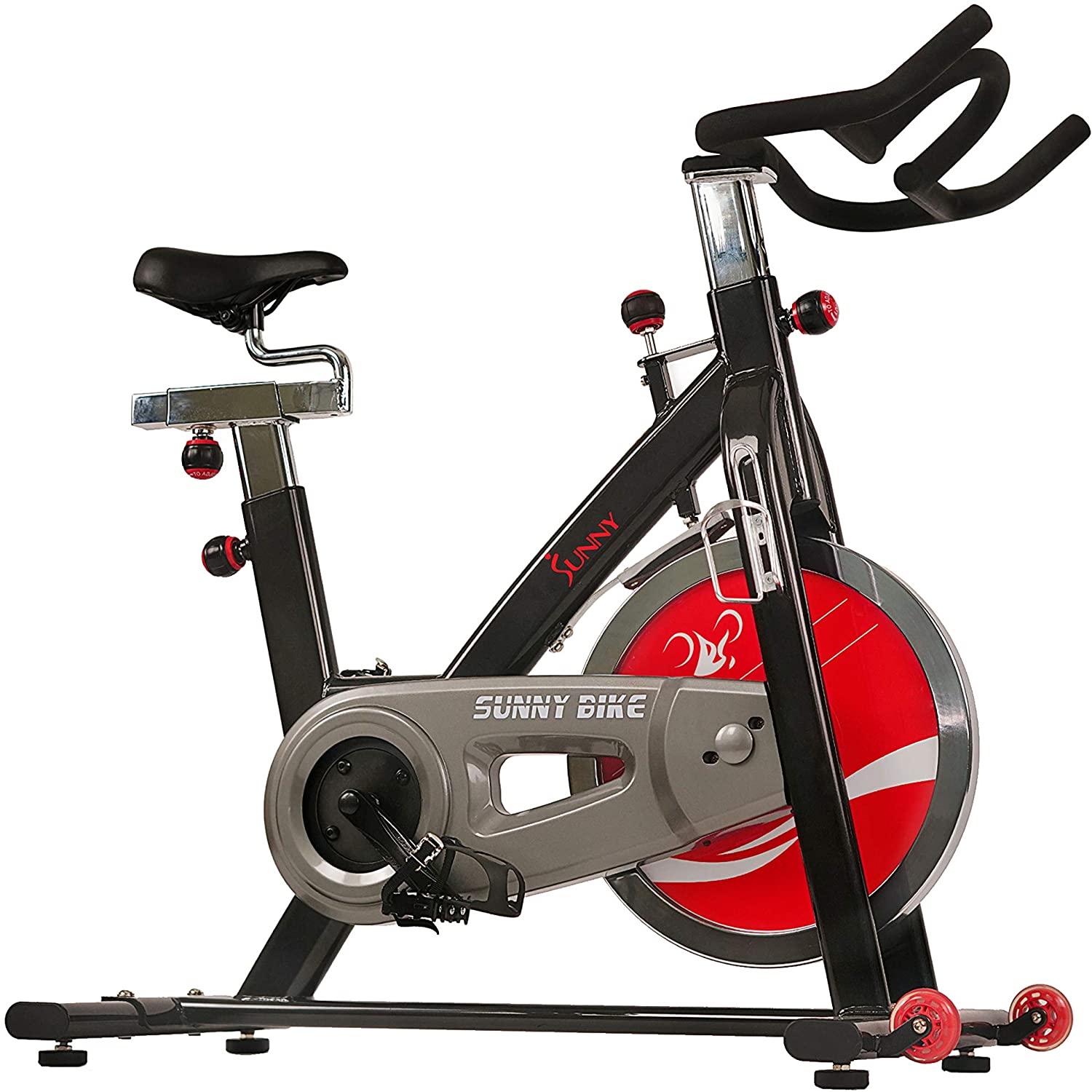 The bike is equipped with a quiet belt drive system, helping you workout silently and without interrupting the ones around you. Moreover, this machine is capable of carrying users weighing up to 275 pounds, which is mainly due to the heavy steel frame.
This indoor bike features a bottle holder that allows you to keep a water bottle beside during a workout session. Besides, it also houses transportation wheels for easy transportation within a space.
Also Read: Stamina InMotion E1000 Compact Strider vs Cubii Pro
2. JOROTO X1S 
The Joroto X1S Professional Bike Cycle features a 35 lbs flywheel that separates it from other bikes in terms of offering smoothness and stability during rides. This machine has a seat that can be adjusted in four different positions, which is further coupled with a height adjustment feature.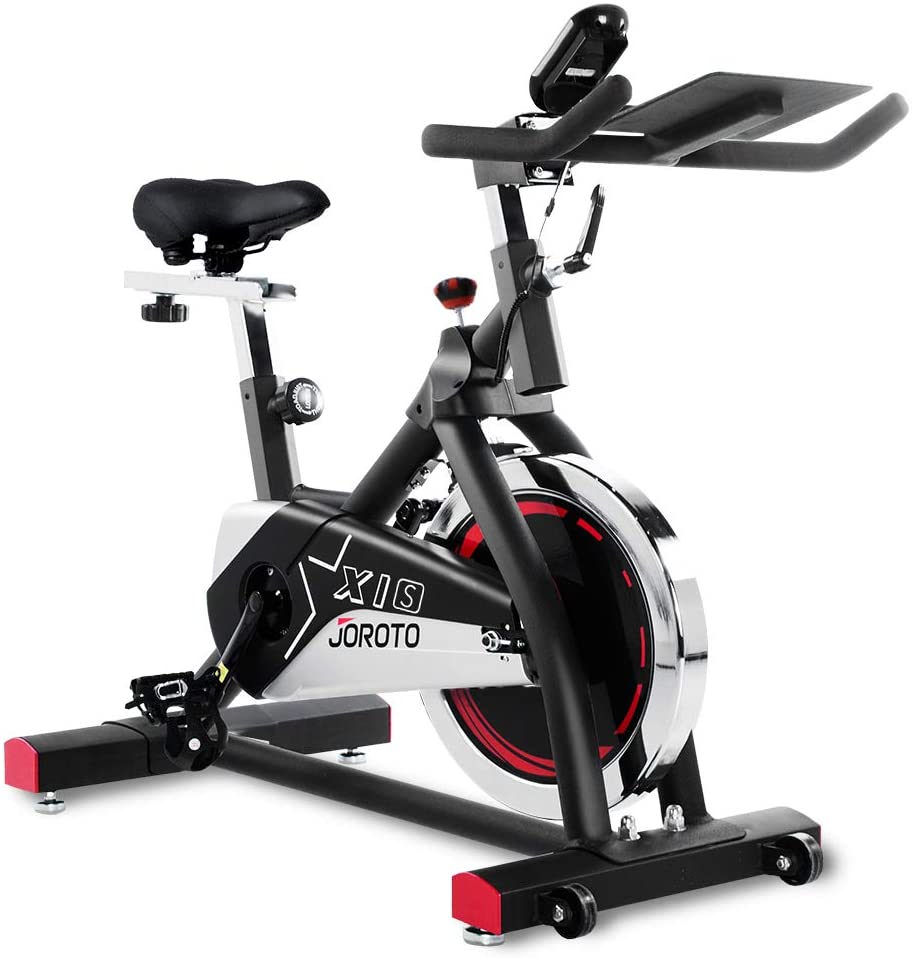 This spin bike is loaded with transport wheels that tend to make portability easier. It also boasts large tablet support, which allows you to safely place your tablet, notebook, books, etc.

Furthermore, this bike includes a bottle holder to safely store a water bottle beside you while performing intense riding sessions. Powered by a heavy-duty steel tubing frame, this bike can comfortably accommodate users up to 280-pounds. 
3. Schwinn IC2 Indoor Cycling Bike
The Schwinn IC2 Indoor Cycling Bike is a feature-rich spin bike that boasts of an LCD screen for displaying RPM, time, distance, speed, and calories burnt. This spin bike has pedals of plastic along with a seat and handlebar that are both adjustable.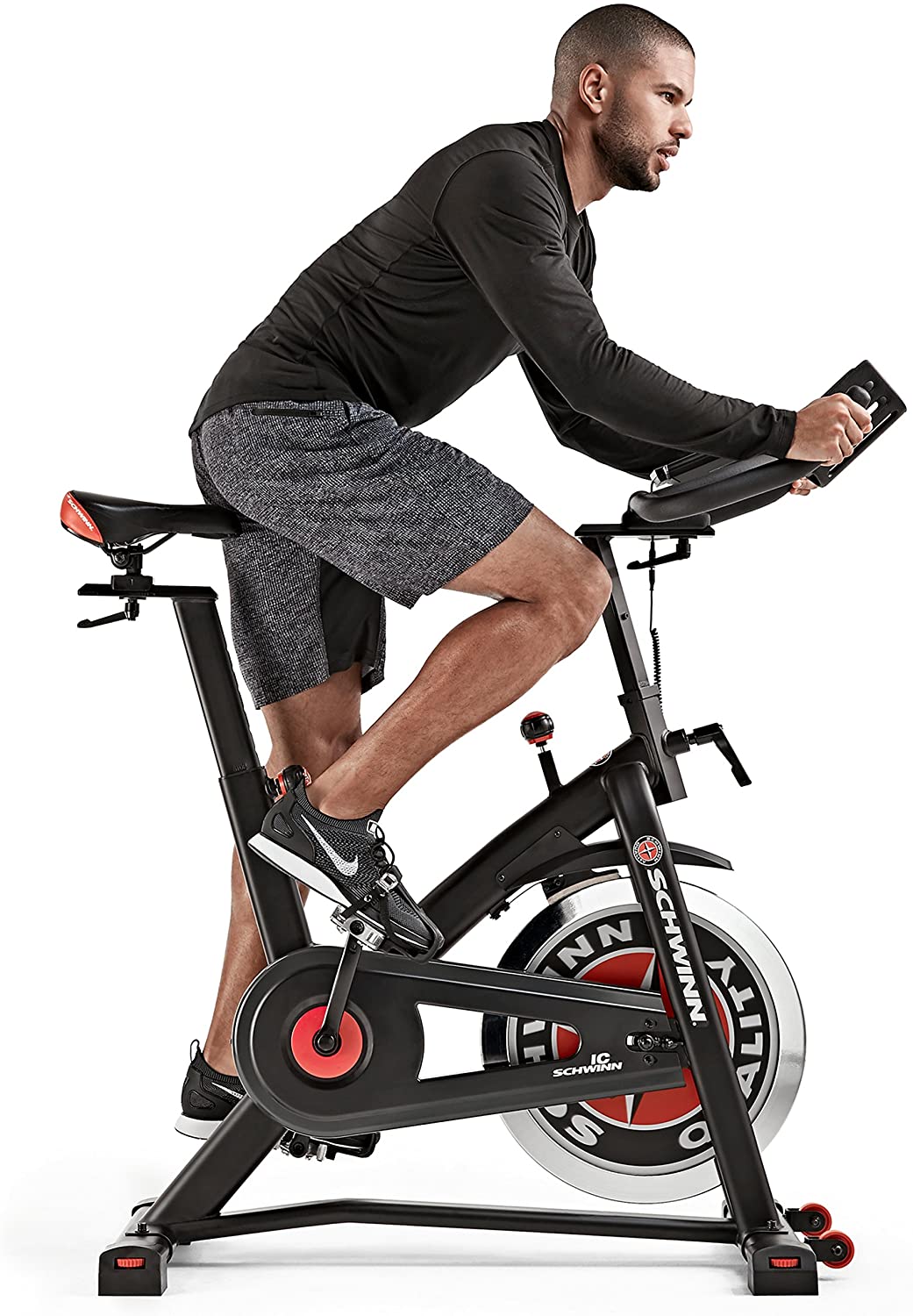 Schwinn's IC2 has BioFit handlebars that are comfortable in long and strenuous riding sessions. Made of steel coupled with a heavy-duty flywheel, this bike weighs about 50 pounds and has a capacity of 250 pounds.
This machine sports a 31-pound lightweight wheel, making it ideal for performing intense sessions. While the spin bike also has a pretty straightforward process of assembling and storing.
4. Sunny Health & Fitness 40 lbs. Pro Indoor Cycling Bike
Sunny Health & Fitness is a well-known and reliable manufacturer of spin bikes, which further propelled us to review the 40 lbs. Pro Indoor Cycling Bike. Coming with a 40-pounds chrome flywheel, the bike offers a smooth experience and better stability.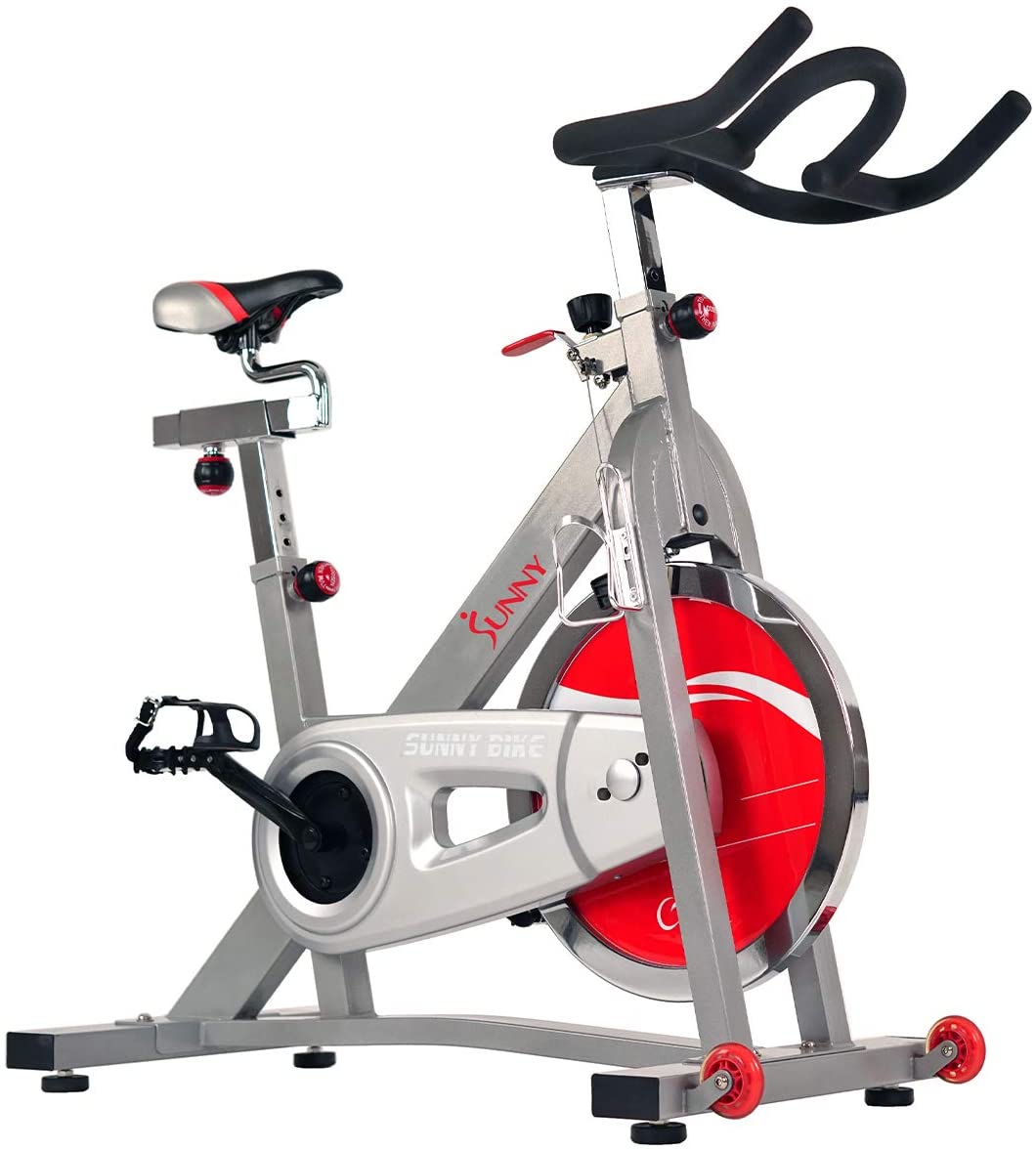 The knobs provide excellent resistance while working out during the intense cardio training sessions. In terms of adjustability, this spin bike allows you to adjust both the seat and the handlebars. This further facilitates you to pick the right position and start pedaling.
Moreover, the seat here can be adjusted four ways in order to fit as per an individual's leg length. This spin bike can hold a maximum user weight of up to 275 pounds.
5. ANCHEER Exercise Indoor Cycling Bike
The ANCHEER Exercise Indoor Cycling Bike boasts of a 40lbs flywheel with a silent belt mechanism for a smoother and quieter riding experience while exercising. The spin bike features a multi-function digital monitor that displays readouts like time, speed, distance, pulse, calories burned, and more.
Furthermore, this machine includes a bracket to mount your phone or tablet for entertainment while working out. Equipped with a sturdy steel frame, the spin bike can accommodate users weighing up to 330lbs.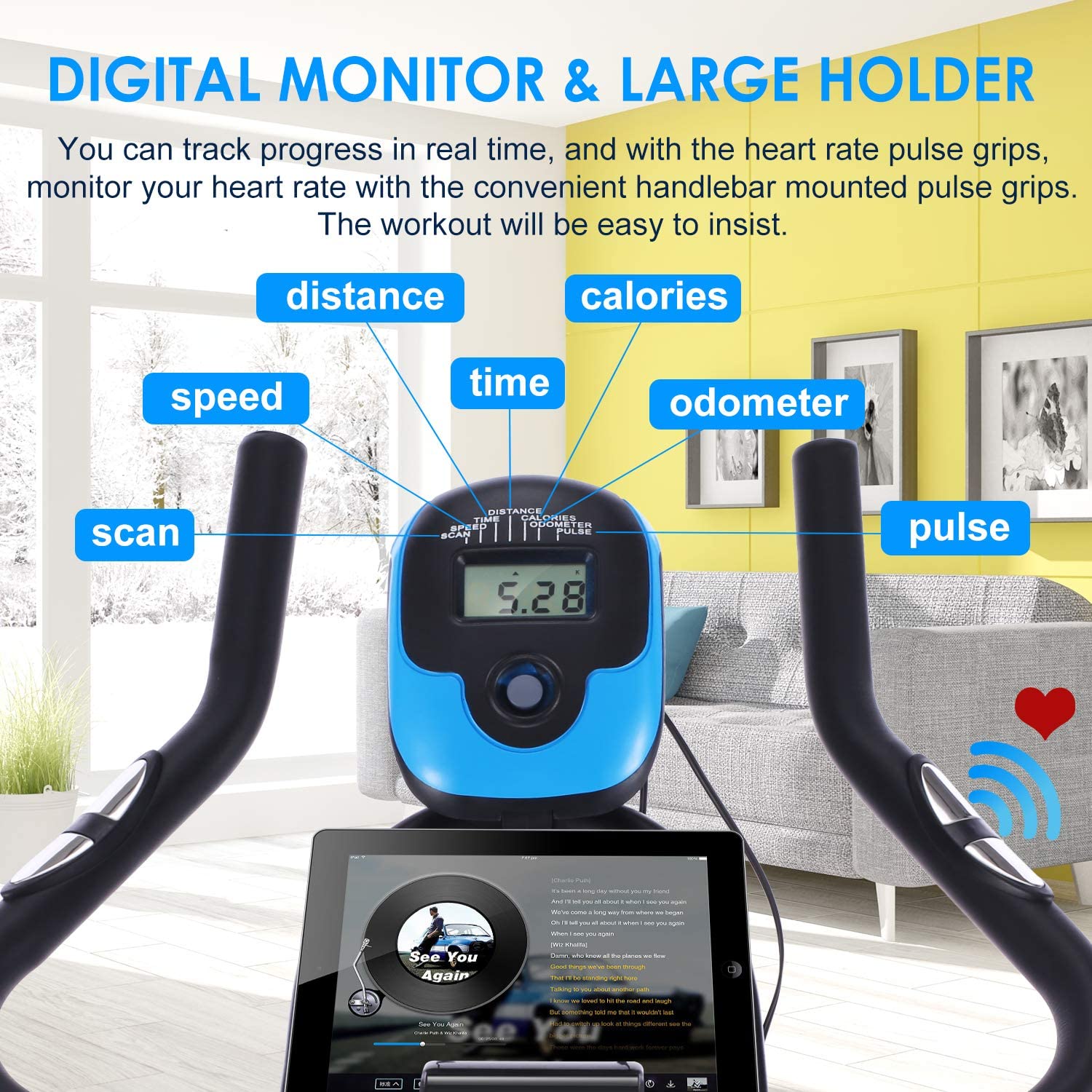 The Ancheer Spin Bike houses two transportation wheels that make moving and relocating easier. Besides, the knob provided helps in adjusting levels of tension resistance to burn calories.
6. Sunny Health & Fitness Evolution Magnetic Belt Drive Bike
The Sunny Health & Fitness Evolution Magnetic Belt Drive Cycle is a highly praised machine with a heavy-duty flywheel weighing 44 lbs. The spin bike sports a 4-way adjustable seat and handlebar that will help you form the right posture when cycling.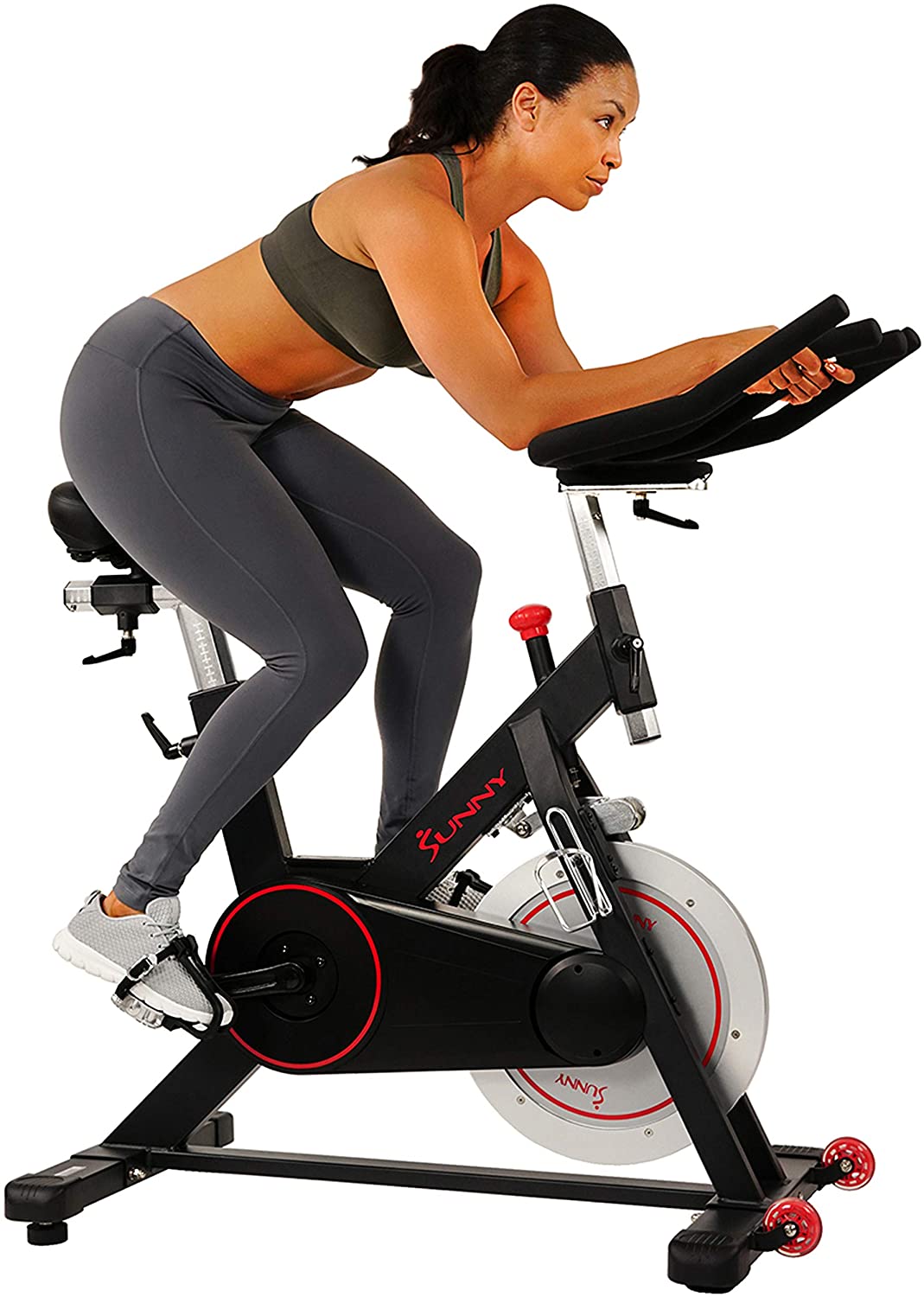 The bike comes with a holder to securely mount your phone or tablet while doing intense workout sessions. For easy transportation and portability, this spin bike includes wheels at the front. In addition, it also boasts of an emergency stop brake in case the wheels are spinning too fast.
With dimensions measuring 48L x 23W x 45H inches, this spin bike supports users weighing up to 300 lbs. The bike features steel toe-cage pedals coupled with adjustable straps.
7. SNODE Indoor Cycling Bike 
The Snode Spin Bike is the last one on the list of best spin bikes available. This spin bike includes pulse rate sensors that help keep track of pulse rates. It further boasts of an LCD screen to help you with readouts like distance, time, speed, pulse, and calories burned.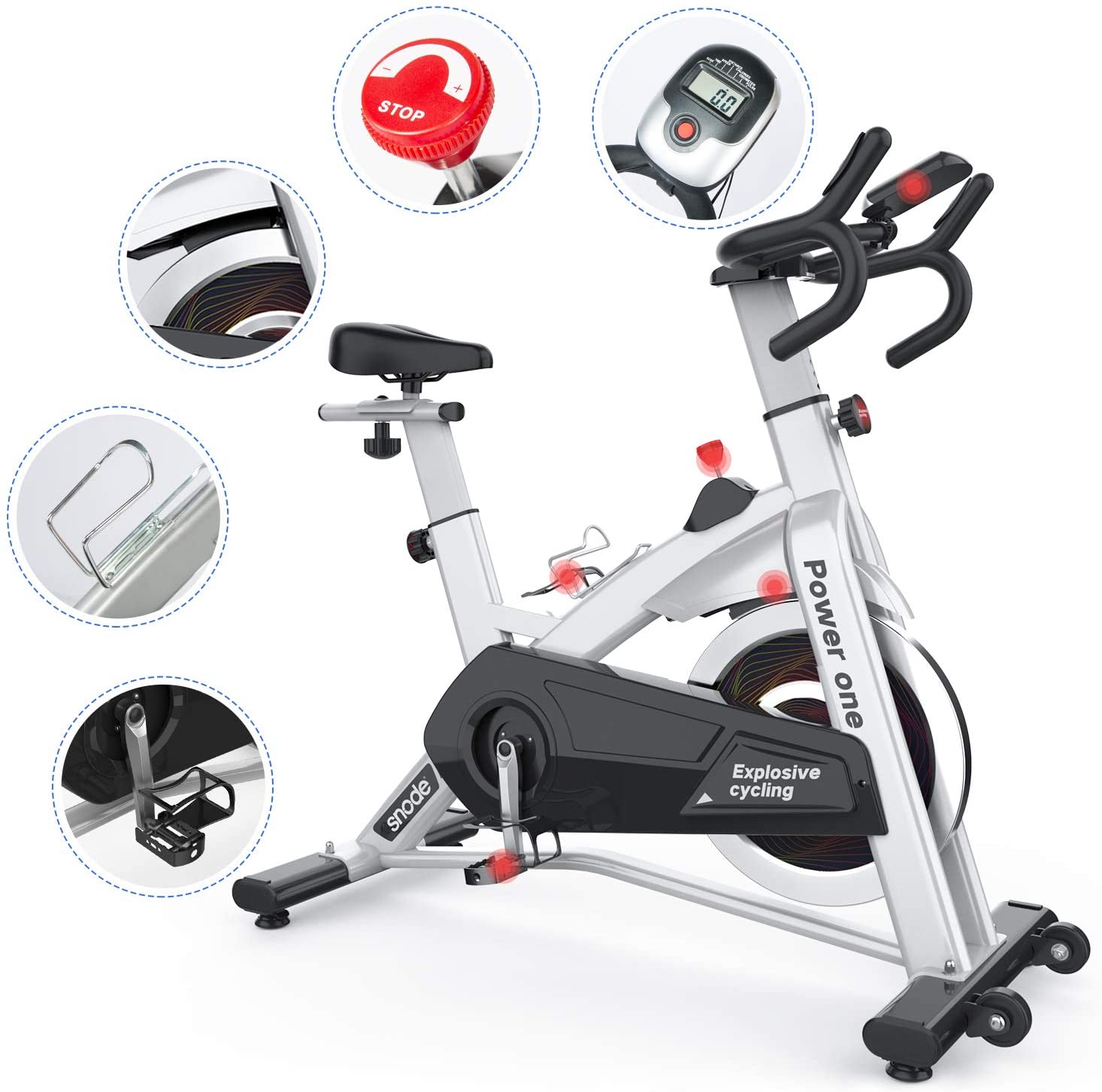 The seat is adjustable, which is ergonomic and padded with cushions for more comfort during training sessions. The machine features an easy dial tension adjustment that will assist in challenging workouts.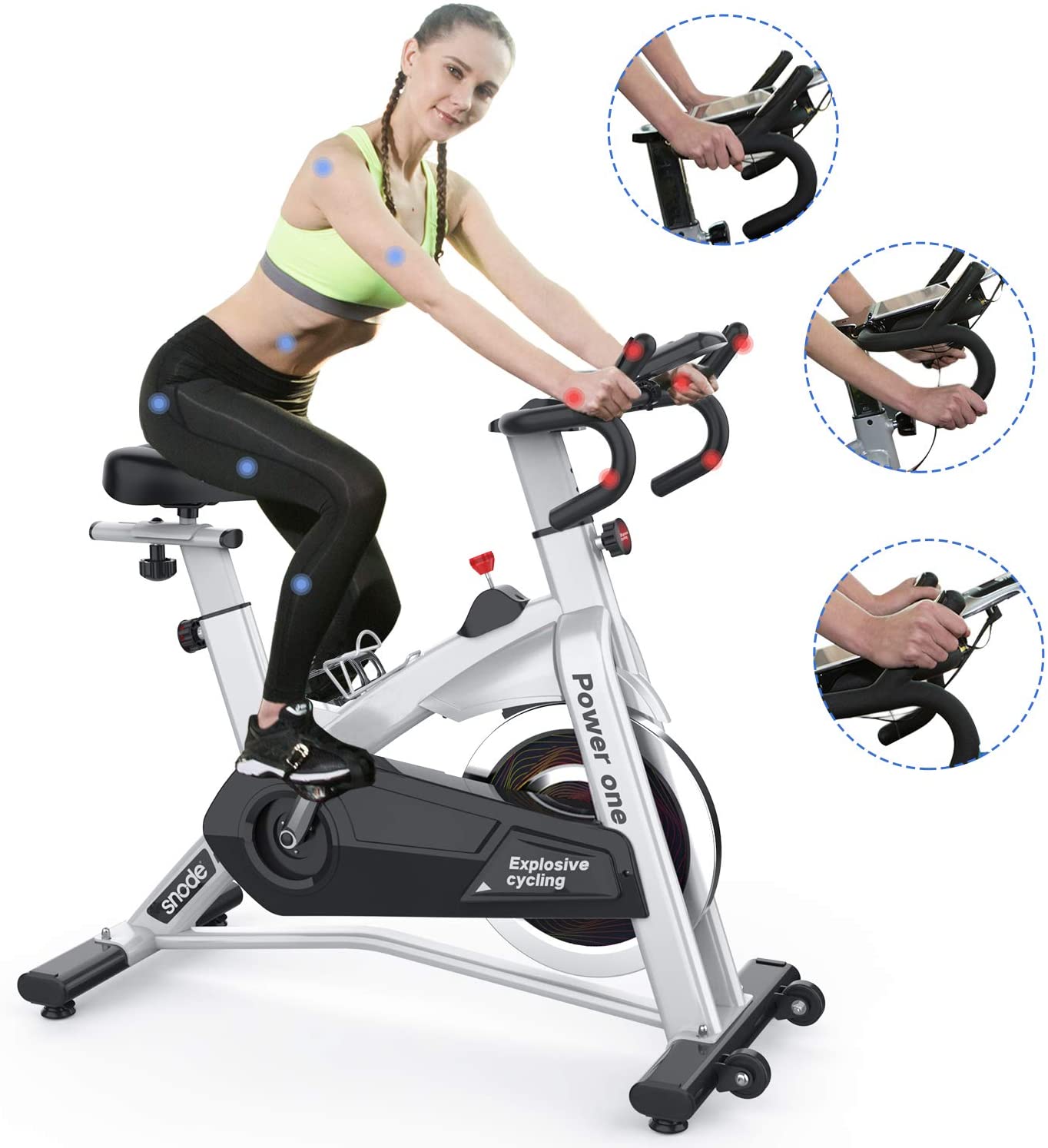 The bike is equipped with a 35lbs flywheel that supports users weighing up to 280lbs. This belt-driven bike offers a smooth, noiseless experience, while also keeping you entertained by stimulating a road bike experience. 
Also Read: Best Inversion Tables 2020 and Things to Know Before Purchasing One
---
CONCLUSION
And this was our list of the best spin bikes available under $500. We discussed the major points to be considered when choosing a bike, which was followed by the best in the business. All of the products listed here, call for exercise and fun whilst you shed some weight on these. If you've tried one of these and would like to tell us, feel free to write in the comments section below.