Considering the tremendous growth of the health and fitness industry, millions worldwide have started following a fitness health regime.
With people switching towards a healthy lifestyle, the demand for gyms and fitness centers are thriving. If being fit or healthy is your 2020's resolution, then an elliptical trainer is what you might just require to kick-start this journey.
Elliptical machines come with a variety of names. Some refer to it as cross-trainers, while some call it the X-trainer. This piece of fitness equipment is smooth and comfortable, which assists in shedding some weight and benefits you without exhausting your body.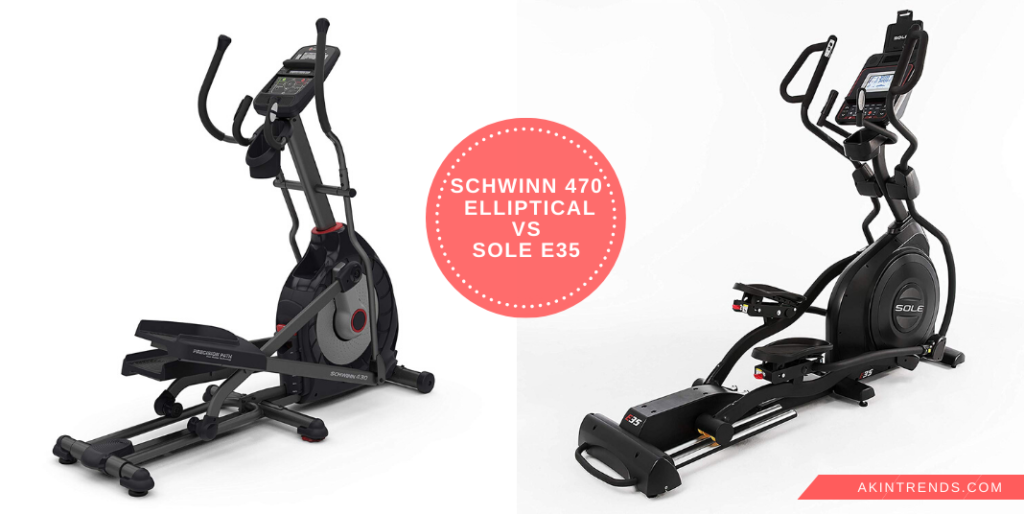 Before we share our thoughts on the Schwinn 470 and Sole E35, below are a few features that weren't discussed previously by us.
---
Key Features to consider:
Heavy Flywheel: It is important to note that a heavier flywheel can be smooth and effortless at the same time. Moreover, a machine with heavy flywheel will offer more stability, which allows you to avoid the cumbersome starts and jumps.
Foot pedals: Pivoting foot pedals are essential because of the support they provide to the elliptical whist workouts. Larger pivot foot pedals offer ample room for your feet, which enables you to run longer and burn more calories.
Backlit LCD Console: Choosing a model with a large backlit console, makes the task of viewing workout stats easier. There are machines available with non-backlit consoles too, but reading stats can be a daunting task with those.
Workout options: Currently, the market is flooded with ellipticals having built-in workouts. A feature like this allows you to change the resistance or incline automatically as per your workout program. Machines are allowing you an option to download exercises online, while also allowing you to store your data and upload them on the Internet.
The list of features mentioned above are only a few of the salient features you need to consider while buying an elliptical trainer. With all the options out there, in this article, we compare the Schwinn 470 with Sole E35.
| | | |
| --- | --- | --- |
| | Schwinn 470 Elliptical Trainer | Sole E35 Elliptical Trainer |
| | | |
| | | |
| | | |
| | 2 DualTrack Blue Backlit LCD Screens | |
| | | |
| | 70.1 x 28.2 x 63.2 inches | |
| | | |
| | | |
| | | |
| | | |
| | | |
| | | |
| | | |
| | | |
| | | |
Also read: Schwinn 430 Elliptical Trainer vs ProForm Cardio HIIT: Comparing the Elliptical Machines
---
Schwinn 470 Elliptical Trainer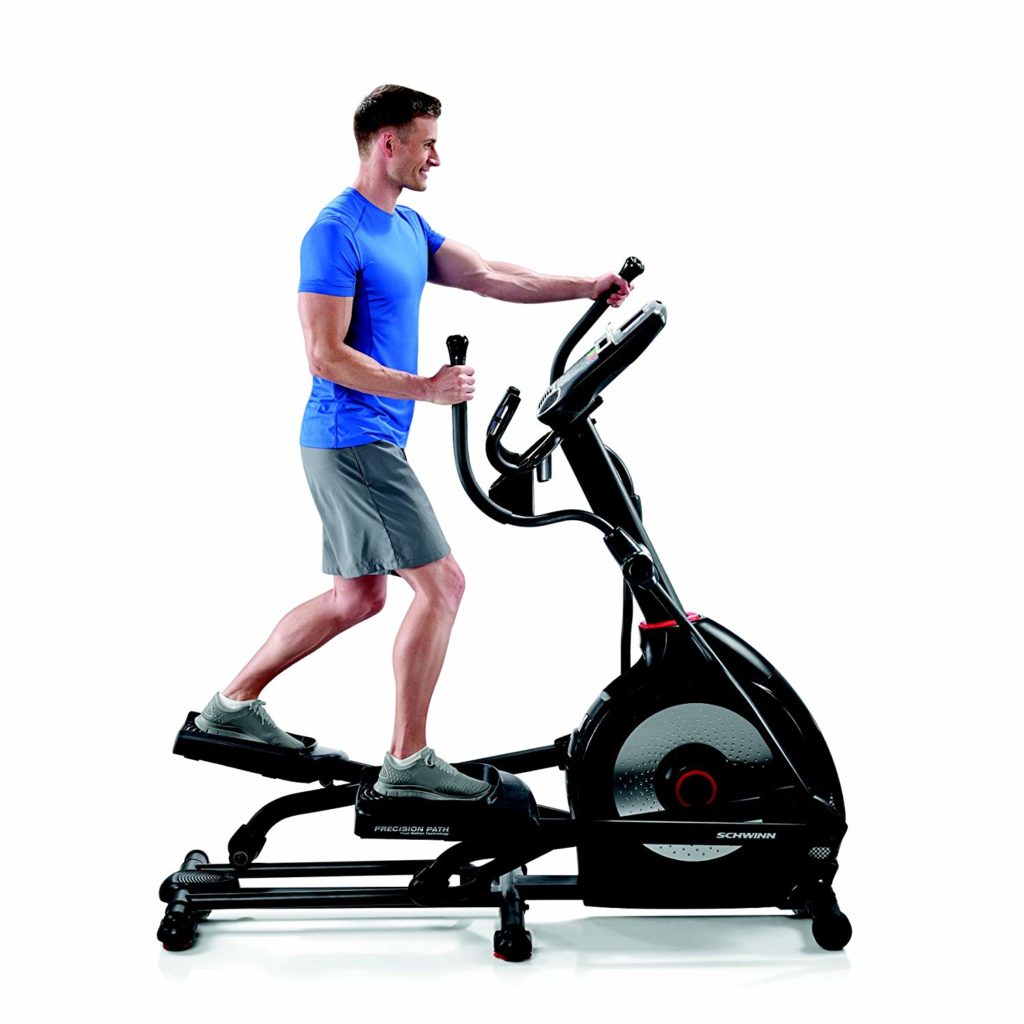 Design and Durability
Schwinn is an industry leader, which for years has made machines that are counted among the best selling elliptical machines. The Schwinn 470 has garnered praise from professional athletes and regular gym-goers for quality and durability.
Schwinn's 470 has dimensions measuring 70 L x 28.2 W x 63.2 H, while the stride length being 20-inch. Besides, this elliptical machine features moving handlebars that are ergonomically placed — also featuring an advanced front flywheel, oversized crossbar, and a center-mounted water bottle holder.
With the machine weighing 189 pounds, it easily accommodates users up to 300 pounds. In this price range, Schwinn backs its durability by offering a warranty of ten years on frame, two years on parts, one year on electronics, and 90-days for labor.
Computing System
As an entry-level elliptical machine, the Schwinn 470 is powered by innovative and advanced facilities that can help you burn more calories effortlessly. With a two-window display system, Schwinn 470 allows you to track up to 15 feedbacks at the same time.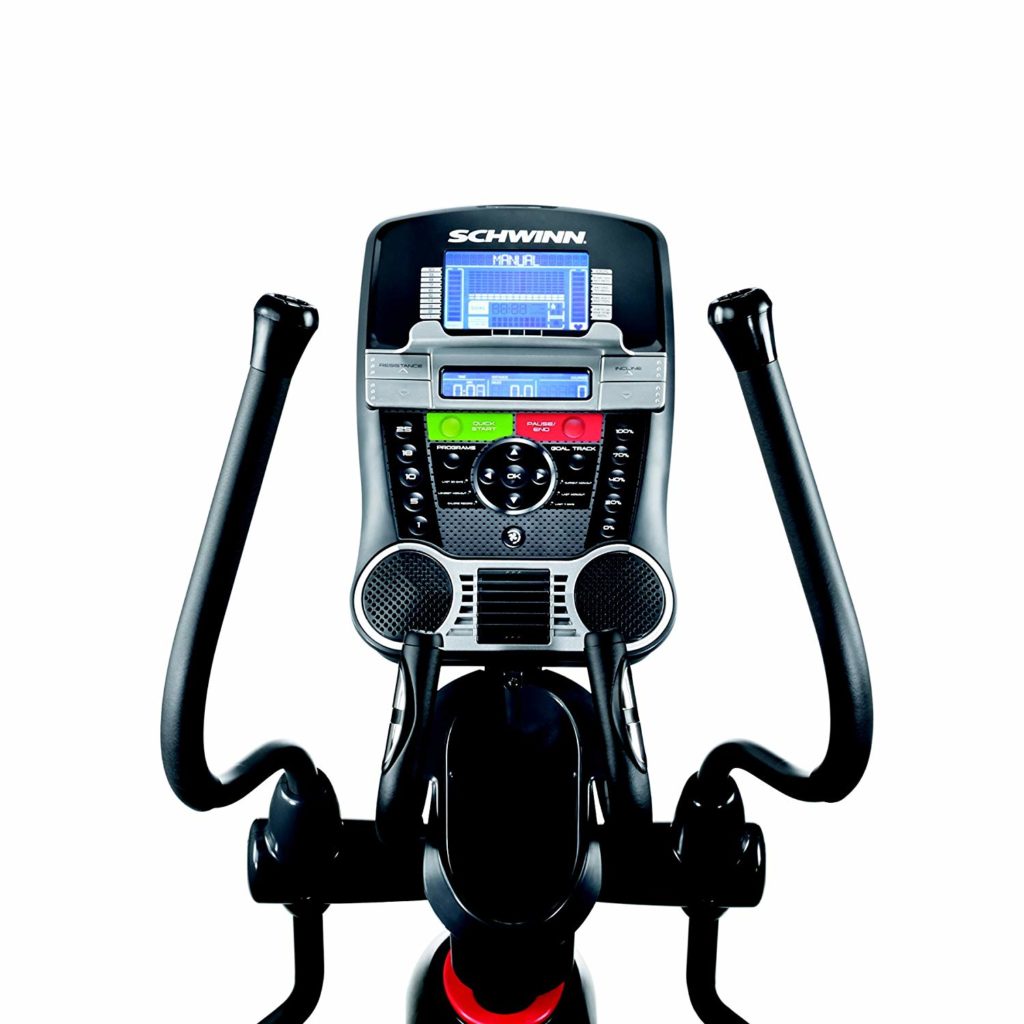 With this elliptical machine, you get to set targets, which can later be viewed through the SchwinnConnect feature. Also, there's a USB port on the console that allows data exchange and can be used to connect devices simultaneously.
With a total of 29 programs, including heart rate control programs, fitness tests, and custom options. Also, the Schwinn 470 allows you the option of creating up to four user profiles. This further motivates every user of the elliptical machine.
Notable Features
Coupled with avant-garde features, Schwinn 470 is arguably the best to come of the industry leader. The Schwinn 470 features a 3-speed fan that keeps you cool during long hours of workouts. Equipped with the 20-inch long precision path stride, this elliptical machine is engrossed with Path Foot Motion Technology for more natural movement.
The Schwinn 470 includes acoustic chamber speakers, which oozes out quality sound while working out. It offers 25 levels of eddy current resistance that allows you to switch between and work as per your fitness level conveniently.
Perhaps a spellbinding feature that is worth mentioning is the motorized ramp. Schwinn 470 features a 10-degree motorized ramp, which can be adjusted to 6 different positions. For seamless tuning of settings, this elliptical machine assigns five quick keys for incline and five keys resistance adjustability.
Pros and Cons of Schwinn 470 Elliptical Trainer
Since we've discussed the traits, below are some of Schwinn's strengths and weaknesses.
---
Sole E35 Elliptical Machine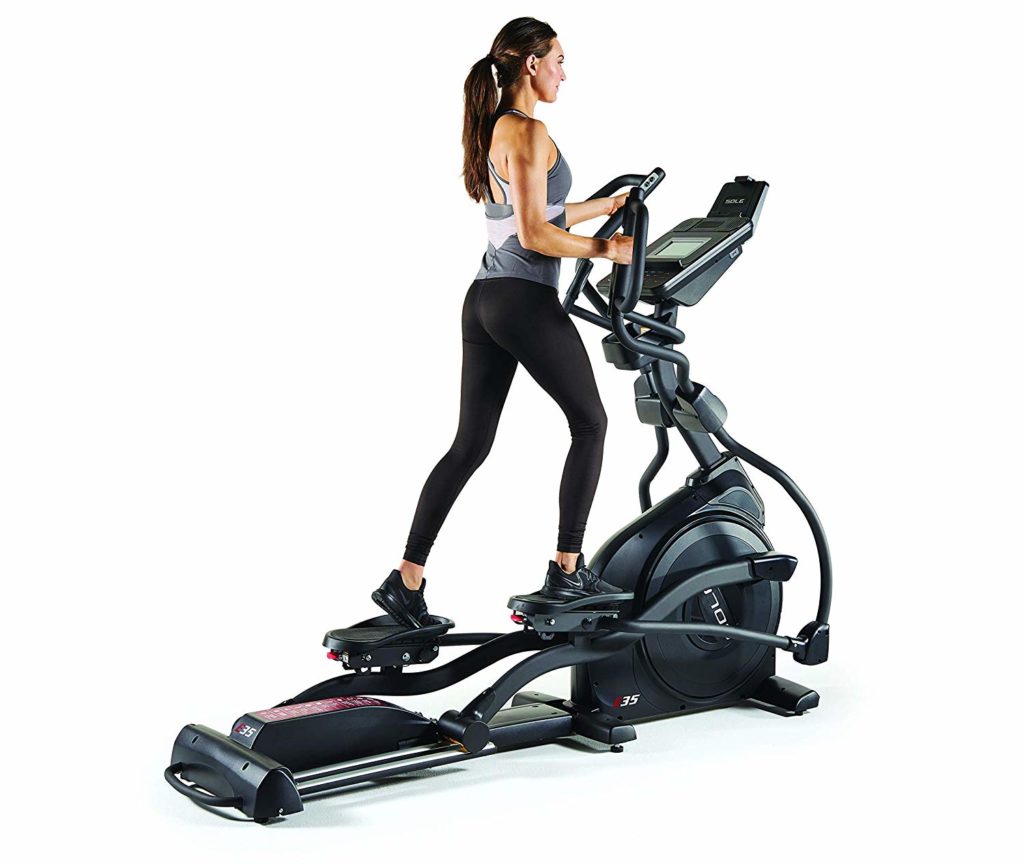 Design and Durability
Best-suited to both beginners and intermediate users, Sole E35 is loaded with features that ensure maximum strength and stability during workouts. Coming in a nice design with numerous built-in features, the Sole E35 is available at a staggering price, which is often on sale.
Featuring a 25-pound flywheel and a high-gear ratio, the Sole E35 operates smoothly, with four rear wheels that vouch for additional stability. Measuring 82 in length, 31 in width, and 67 inches in height, this elliptical machine has a 20-inch stride length.
This elliptical machine weighs 215 pounds and has a maximum user weight capacity of 375-pounds. Equipped with oversized and cushioned pedals, these have an exquisite design that is a 2-degree inward slope. This further alleviates knee and ankle stress, while it can be adjusted to any of the three positions.
Sole E35 is supported by a lifetime warranty on frame, five years on electronics and parts while backing two years on labor.
Computing System
One of the major selling points for the Sole E35 is its computing system, which comprises of excellent features. This elliptical machine features a 7.5 backlit LCD screen that displays feedbacks like time, distance traveled, calories burned, and resistance.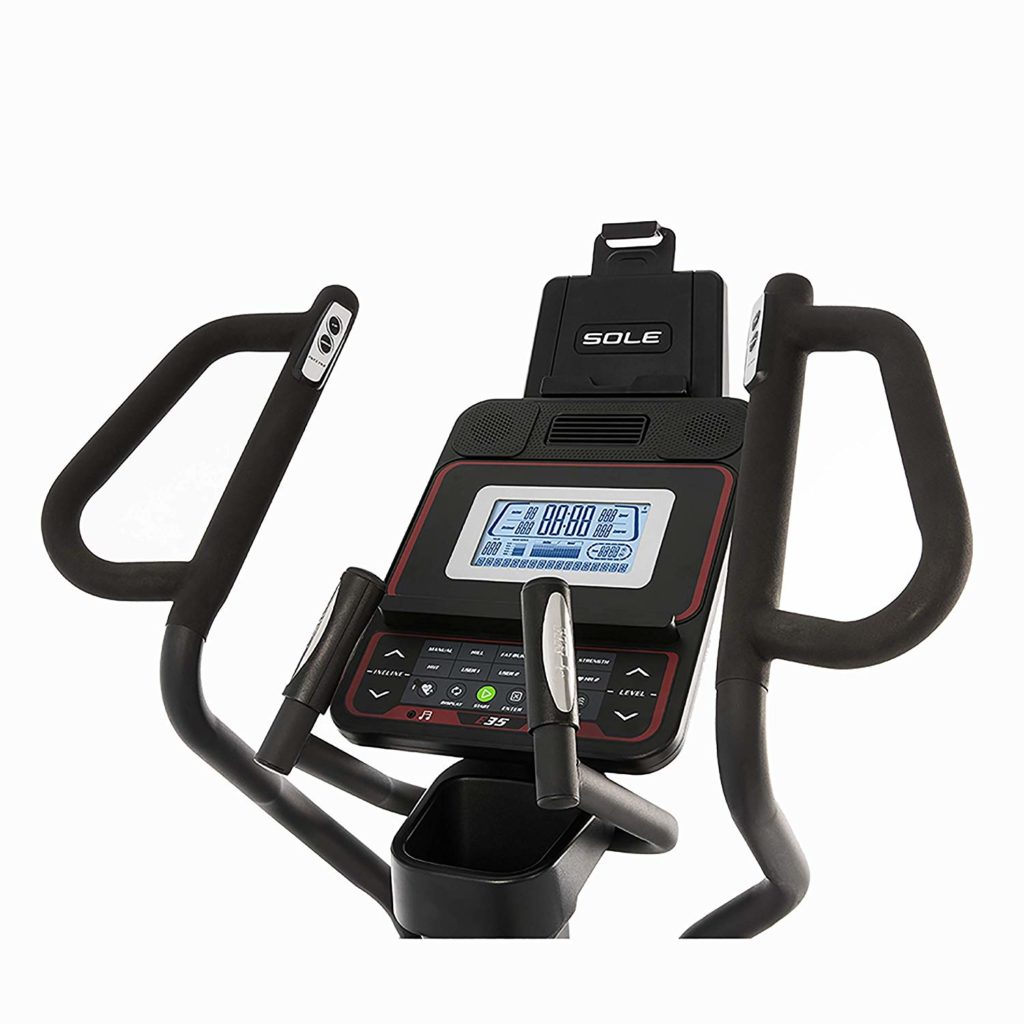 Infused with ten pre-programmed workouts, the E35 also includes two heart rate programs and two custom programs, with an option of saving up to two user profiles. Besides, this feature enables you and other users to build resistance, time, incline training regime. To get the better of this, you are endowed with the option of recording and storing the progress to popular fitness apps like MyFitnessPal, FitBit, and other such mobile applications.
This elliptical machine supports Bluetooth compatibility, allowing you to export your workout data to your smartphone. Another fascinating feature is about the display that tilts and sports a backlit with blue light.
Notable Features
Feature-rich and a machine that meets all your fitness needs, Sole E35 is one exceptional elliptical machine that is ideal for a rookie and an advanced trainer. Stocked with features like Bluetooth connectivity for fitness apps, it also has a USB port to charge your device simultaneously while working out.
The Sole E35 features a cooling fan, water bottle holder, and built-in speakers for some entertainment while you shed some weight. Some of its prime features include the natural 20-inches stride with forward/reverse motion and power-adjustable ramp with 30 levels of incline for muscle toning. At the same time, the upper-body workout is assisted by the multi-position grips on the handlebars.
These handlebars are equipped with pulse sensors that come along with a heart rate chest strap. This enables you to train precisely according to your target heart rate.
Pros and Cons of Sole E35
The Sole E35 arrives with quite a few advantages and drawbacks, we've listed a few below:
Also Read: Schwinn 470 vs Sole Fitness E25: Breaking Down The Two
---
Verdict
Since we've informed you about all the features, and the important things to keep in mind before buying, it is time for you to grab your hands on the best piece of machine.
Both of the reviewed elliptical machines are among the popular choices. While Schwinn is a veteran, Sole has dozens of newer elliptical trainers in the market.
Each of these machines are super-durable, smooth, and offers a ton of other options on why you shouldn't abstain from purchasing any of these. In case you are a novice, try the Schwinn 470; however, if you are an advanced athlete known for some ferocious workouts, try the Sole E35.
---
FAQs
Are these elliptical trainers competent even when at home?
Although these are essential pieces of fitness equipment in the gym, elliptical machines are still worth every penny, even if exercising from the comfort of your home.
Taking the price into consideration, if you don't visit the gym regularly, we suggest you buy a machine like this.
How effective are these for overweight people?
As per studies, using an elliptical machine has a higher risk on the joints. However, if you are determined to use these trainers, then begin with low-impact moves and practice those repeatedly. We advise to practice them until the body gets used to this sort of physical effort.