The quest for searching that one protein supplement for all your needs is a tedious one. There are a multitude of supplements out there in the market. However, a question like which one's made for you arises.
Since you're on the lookout for a supplement that brings you those gains, BSN Syntha 6 is our recommendation. What's Syntha-6? How effective is it? Answers to more such questions can be found below. Keep scrolling.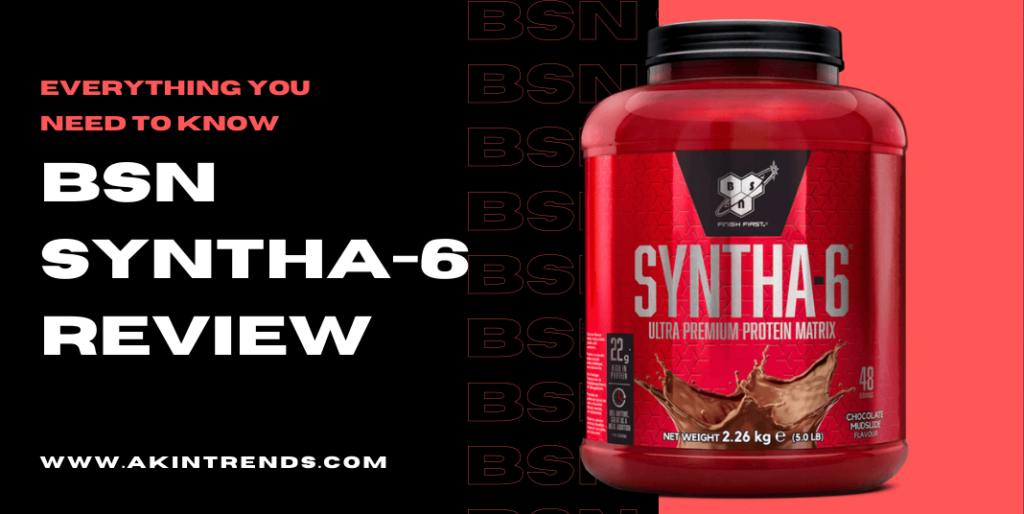 BSN Syntha 6 is a widely-popular protein powder, developed by Bio-engineered Supplements & Nutrition, commonly referred to as BSN. Coming from a brand known for protein bars and pre-made shakes, Syntha 6 is a valuable addition to the lineup.
The Syntha-6, which is touted as "ultra-premium lean muscle protein powder," is composed of six types of digesting proteins that blend in your body and help you work out for hours.
The Illinois-based protein brand is lauded for making supplements that are quickly absorbed by the body and showing instant results. Available in a variety of different flavors, Syntha-6 easily dissolves into all sorts of liquids, while it is up for grabs in both plastic containers and huge bags.
With plenty of products in the BSN's catalog, here's our in-depth review of Syntha-6.
Read on to know more about the benefits, side effects, and ingredients that come with this power-packed supplement.
Must Watch Video
Ingredients in Syntha-6
Syntha-6 is an amalgamation of all the imperative proteins required for bodybuilders and novice gym-goers. This supplement contains whey and casein components such as whey concentrate, whey isolate, calcium caseinate, micellar casein, and milk protein isolate. This unique blend of whey and casein allows you to sip in before hitting the gym.
Also Read: Best Fiber Supplements for Keto and Low Carb Dieters Review
Besides the two aforementioned ingredients, Syntha-6 contains a calcium supplement known as Tricalcium Phosphate; Bromelain, which assists in subsiding muscle inflammation; FDA-classified soluble fiber called Polydextrose; an extract of papaya called papain. The addition of ingredients like papain and amino gen helps reduce the risks of stomach-related illness.
Furthermore, this supplement includes MCTs (medium-chain triglycerides) that promptly ingest energy source for muscles.
To reiterate, Syntha-6 is not entirely composed of natural substances. The supplement houses allergens such as egg proteins, corn, milk, soy, wheat, and dairy. If you're ardent about using products thoroughly infused with natural substances, Syntha-6 is a letdown.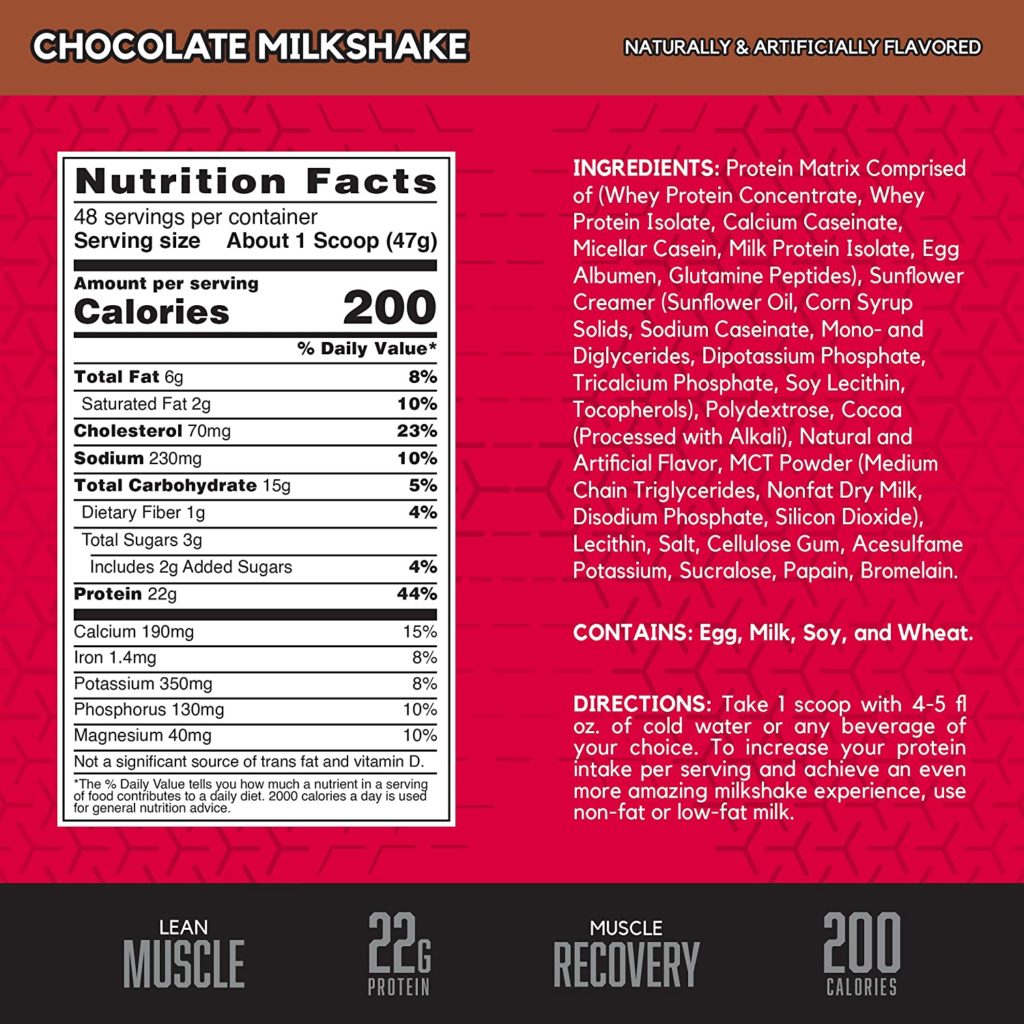 What's in a scoop?
Each scoop of Syntha-6 contains 22 grams of protein and 15 grams of carbs (one gram is fiber. The fat quantity in every scoop is six grams, which by no standards can be deemed a low-carb diet. The supplement includes 70mg of cholesterol — a spike of 20%; then, you are advised to consume. Meanwhile, sodium's contribution to Syntha-6 is 9 percent.
Many health experts recommend not consuming supplements for people dealing with high blood pressure or heart illness.
Also Read: Best Creatine Supplements of 2020: Buying Guide and Review
It is safe to say that the ingredients included showed no signs of adverse effects, while there were a few that resonated as fillers. However, few shortcomings like these can be ignored as Syntha-6 balanced it with the right amount of proteins.
Benefits of Syntha-6
Syntha-6 has become a household name for the ones looking for protein alternatives in supplements. With the ingredients discussed above, the following are some of the reasons why bodybuilders appreciate this protein supplement.
Unlike most protein powders, Syntha-6 adds a bit of taste to your drink. This supplement is easily absorbed into all types of liquid to give you the perfect taste. Based on our experience, we had a great time blending Syntha-6 with milk and having it as a smoothie.
The supplement is available in quite a few flavors, namely Chocolate, Peanut Butter, Vanilla, and Strawberry. Although it is recommended that you try this supplement with milk, you can still reap benefits if mixed with water too.
An incredible list of ingredients
Syntha-6 packs some of the finest ingredients mixed together and consumed both before and after workouts. The presence of six highly-productive proteins boost muscle strength and promote stamina. Fused with sumptuous tasting ingredients, this supplement is digestive and absorbed in your body. Thus helping you balance your diet with a nutritious and multi-functional protein supplement. In a carton full of quality ingredients, you no longer have to search for multiple products to cater to your fitness needs.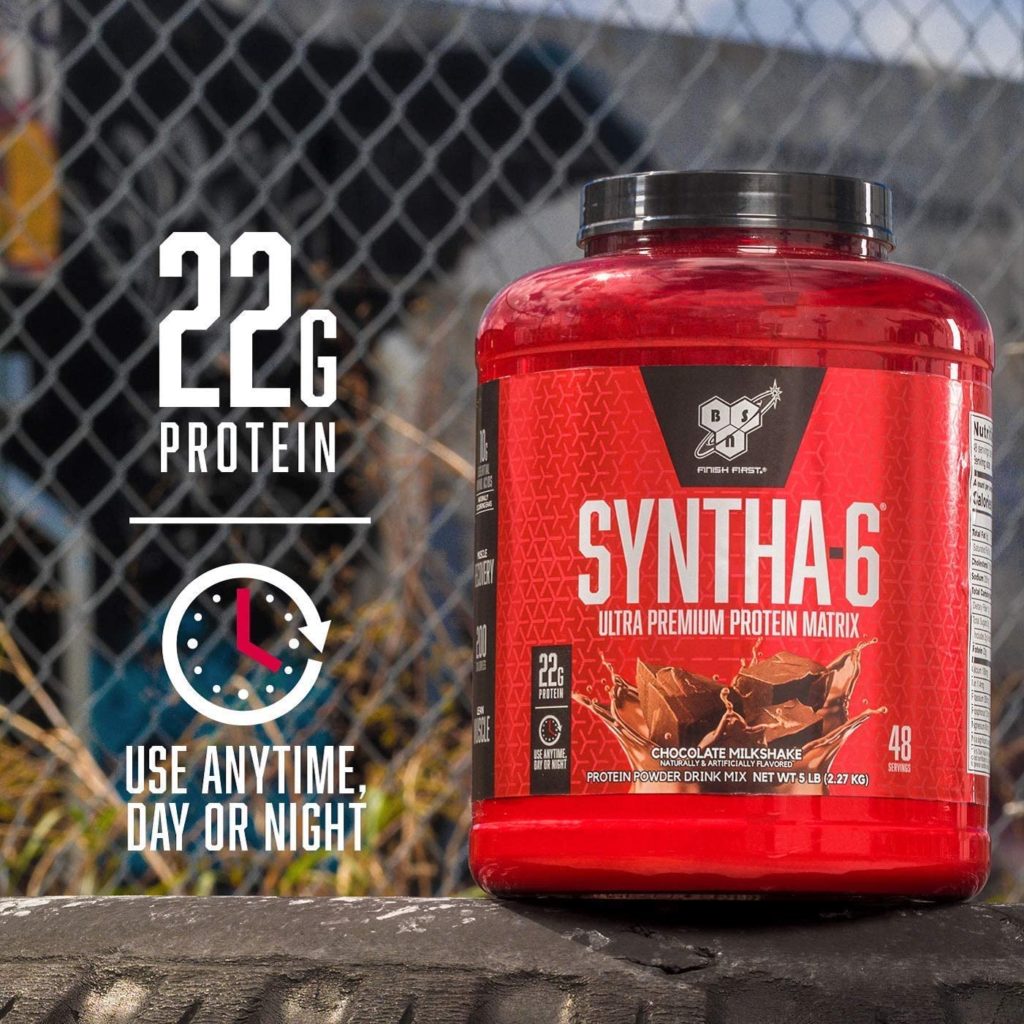 Syntha-6 contains essential amino acids and fatty acids, which are vital in repairing muscle growth. Owing to the risks of inadequate protein supply in the body, there will be a shortage of mass from muscle. Syntha-6, as protein powder, plays a pivotal role in muscle building.
This supplement is consumed by professionals, in an attempt to rebuild the muscle more massive and stronger.
Also Read: 20 Best Protein Shaker Bottles for 2020: Reviewed
Most protein shakes are either made to be consumed pre or post-workout; however, Syntha-6 does not come with a particular time. This supplement is recognized as a go-to rejuvenating drink that works astonishingly at any time and even before hitting bed or soon after waking up.
Side Effects of Syntha-6
There are a few shortcomings of Syntha-6; nevertheless, some of them have not yet recorded. With a consumer-base all around the globe, many have encountered some of the following problems:
As there is a significant portion sourced from dairy in Syntha-6, you are at a higher risk of facing digesting problems. The addition of lactose in large numbers may have adverse effects on your health. In case you are lactose intolerant, try consuming this supplement in small doses.
A common problem associated with protein supplements is that they often impact the health of the kidney. Many health experts often fail to draw a conclusion to whether or not a high intake of protein can affect the kidney. Protein supplements are also not recommended to those suffering from these issues.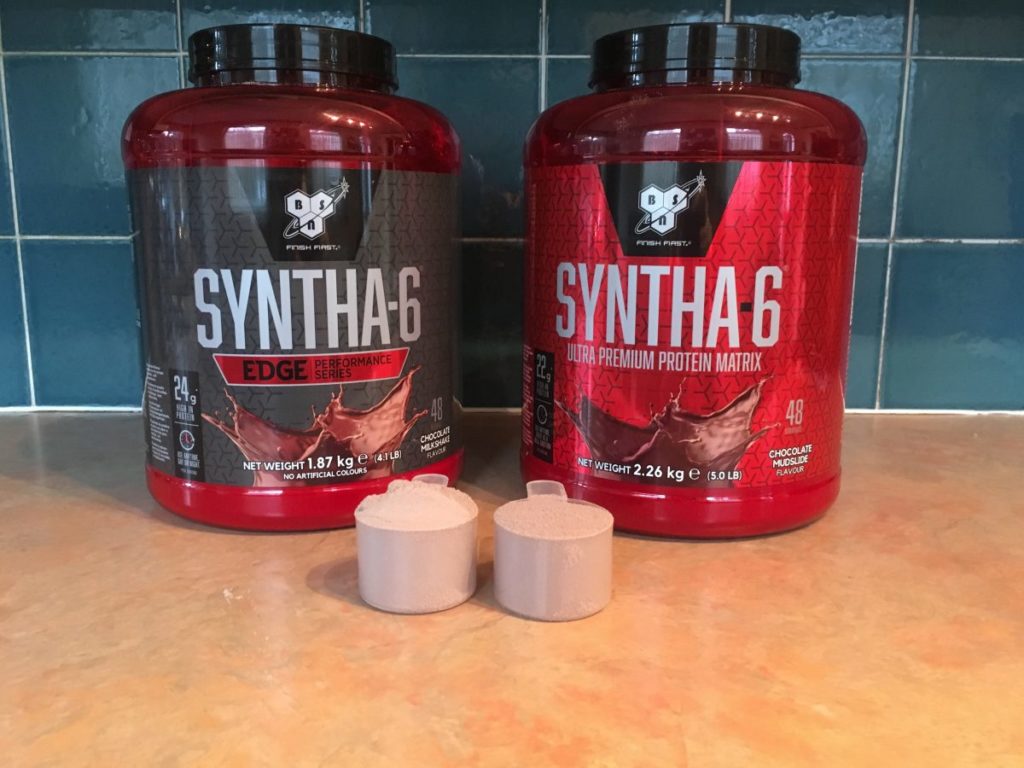 Another disadvantage of buying Syntha-6 is the number of carbs, fat, and sugars present in it. Considering the purpose of taking this supplement is to beat fat gain and remain energetic for hours, it is important to take Syntha-6 in the prescribed dosage.
Bit Pricey than Other Supplements
The BSN Syntha-6 is among the highest selling protein supplements currently in the market. However, the price it comes with may not be affordable to many. Nevertheless, the amount of benefits it adds to your daily life certainly overshadows the price factor.
Also Read: Keto Fuel Review: Here's Why You Should Go For It
Ways To Take Syntha-6
Having discussed with fitness trainers and trying it ourselves, the following are some of the best ways to try Syntha-6.
It is recommended to take post-workout. This is because the muscles act like sponge soon after high-intensity training routines, making it essential to receive an instant recovery.
Consuming right before bed is also an option. Many regards this to be the best time because you will be getting ample hours of rest before kick-starting your day.
The most common way of taking Syntha-6 is thirty minutes before workout. Since you are taking this before an exercise, it gives your muscle and body a big push to train harder. With the right proportion of nutrients involved, you will no longer feel lethargic during workouts.

Alternatives to Syntha-6
Although Syntha-6 is loaded with benefits and helps in getting those muscles, you may also want to check out a few other protein supplements.
Orgain Organic Plant-Based Protein Powder
The Orgain Organic Protein Powder is the next thing that comes to our mind after Syntha-6. Available in the chocolate flavor, this supplement is ideal for men, women, and kids too.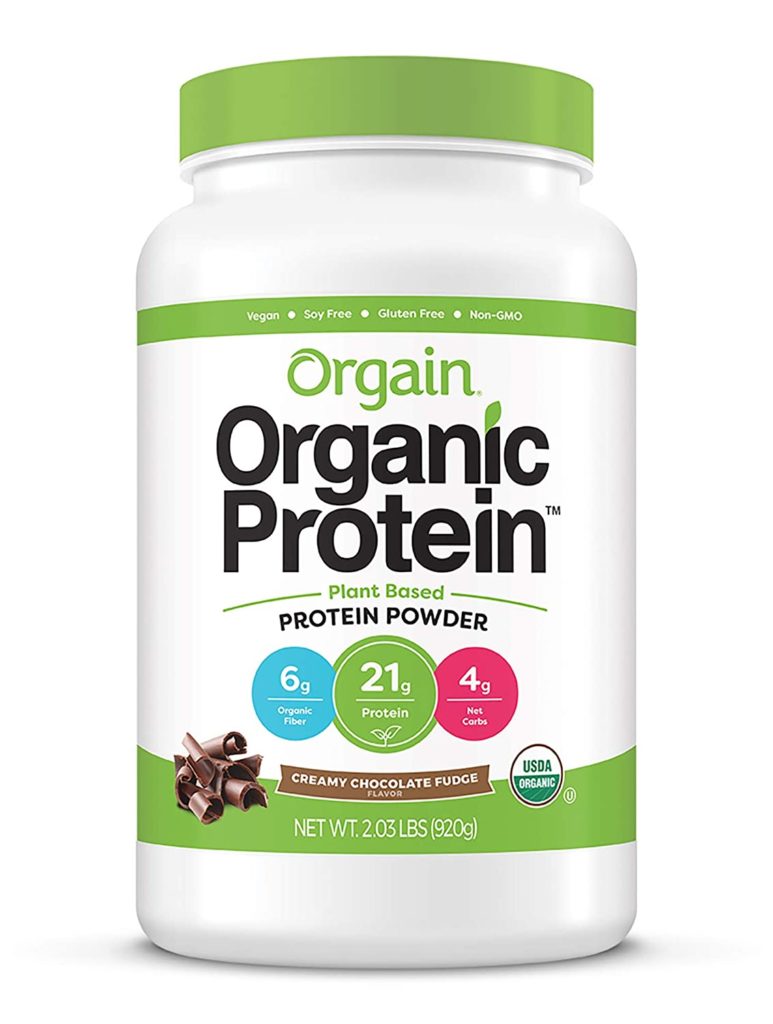 Marketed as a meal replacement, Orgain's protein powder is vegan, free of lactose, sugar, and soy. The supplement is creamier than most protein shakes and tends to taste well with almond milk.

The supplement has a middle-of-the-line price available online in a carton weighing 2.03 pounds or ten count travel packs.
Isopure Zero Carb Protein Powder
Coming with zero carbs, the Isopure's Protein Powder is fused with quality vitamins and minerals that complete your dietary requirement. Produced by Glanbia, a firm also running Optimum Nutrition, Isopure powder has immense popularity among bodybuilders.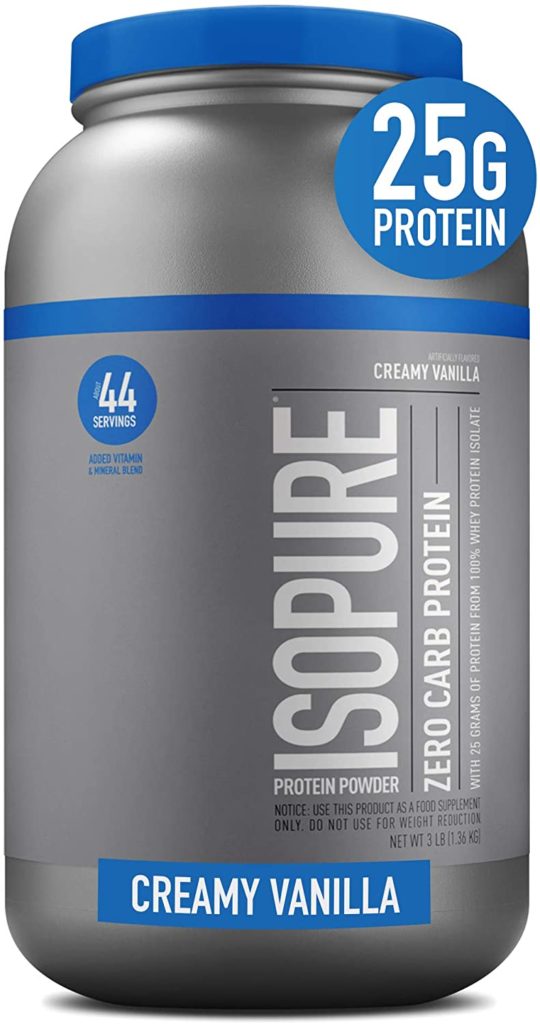 This supplement is free from lactose, gluten, or sugar. It is available in various flavors and sizes, including 3, 1, and 4.5 pounds. Isopure's powder is inexpensive for a whey isolate.

The major flaw is that it contains artificial flavors and sweeteners. Unlike the Orgain powder, this supplement includes egg and soy.
Dymatize ISO100 Hydrolyzed Protein Powder
If you're looking to improve muscle growth, the Dymatize ISO100 Hydrolyzed is the best option. Containing mainly hydrolyzed whey, this supplement is easily dissolved into liquids and digested.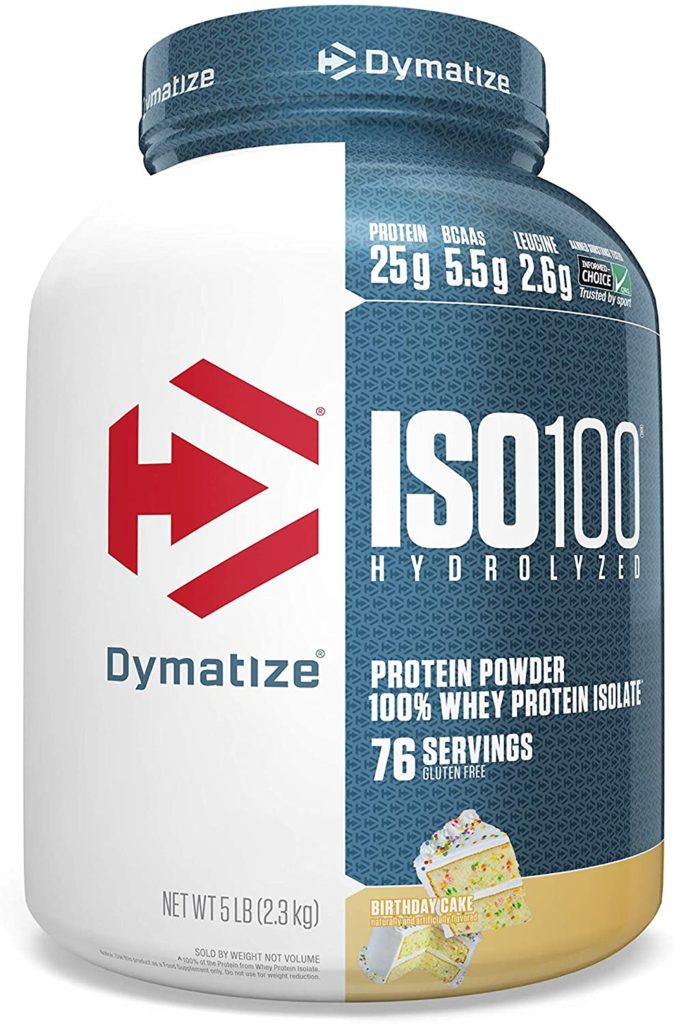 The supplement comes in a myriad of flavors and numerous different sizes. It is free from gluten and comprises lactose lower than 0.5 grams. The powder is highly recommended for those of you searching for ultimate taste and purity. The smell of this supplement is awful; however, with this price, you can ignore it.

Verdict
Customers have heavily lauded a product designed for athletes and fitness enthusiasts. Such has been the efficacy of the BSN Syntha-6. With the blend of taste and quality, this supplement is the helping hand in leading a healthier life.
While the results may be visible sooner or later, it all boils down to your diet and exercise. Supplement your protein intake with  Syntha-6 alone may not give you the results as expected. With the range of flavors it is available in, quality isn't compromised. This wholesome product has a delectable taste that is suitable for those working out religiously.
FAQs
How many times a day can I take the BSN Syntha-6?
The BSN Syntha-6 comes with 25 grams of fast and slow-release proteins to add-on as your protein intake and improve muscle. Professionals recommend that you start with one serving per day as your breakfast. During the workout days, take after every workout session. To achieve quick results, take this along with vigorous workouts and maintain a healthy diet. 
Can the BSN Syntha-B be used as a meal replacement?
The answer is Yes, you can use this as a meal replacement. However, we'd recommend you consult with your physician before kick-starting a diet such as this. Your physician knows you the best and will help you in choosing the right product.