Keto and low carbs dieters have one thing in common — the blunder planning of diet. Medical practitioners are now overwhelmed with dieters cribbing about problems like constipation and irregularity in bowel movements.
Whilst in your journey of weight-loss, consuming the right kind of fiber becomes imperative. In this article, we'll be discussing the benefits and the most crucial points to consider when purchasing the best fiber supplement for keto and low carb dieters.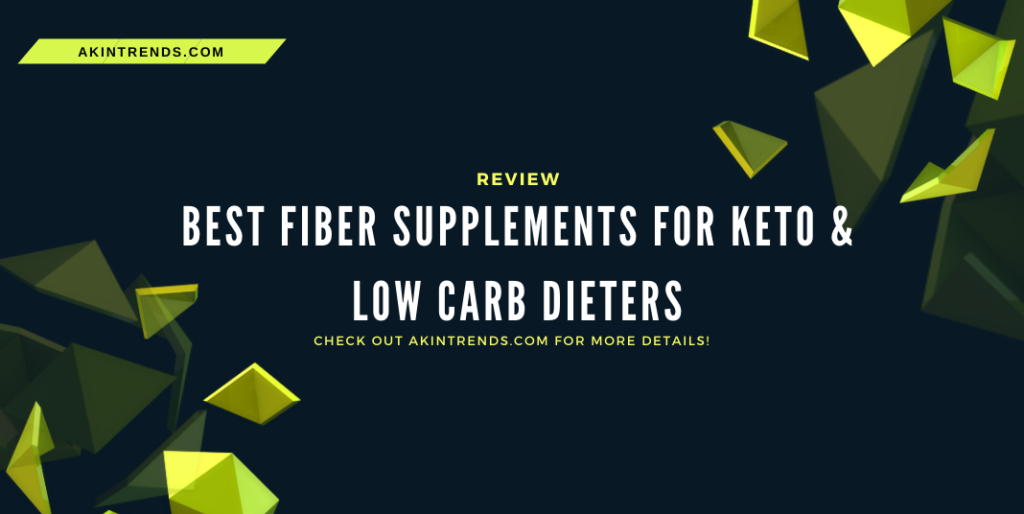 ---
Benefits of Taking Fiber Supplements
There is a myriad of benefits of including fiber supplements in your diet. Some of which are listed below:
Helps in losing weight: As fiber is not soaked up by the body, it helps in significantly mitigating your hunger pangs. As a result, it curbs the number of calories you intake, thereby promoting weight loss. Soluble fiber is the best fiber known to curtail down the weight, irrespective of whether or not you're on a keto diet.
Reduce the levels of cholesterol: One of the significant and proven benefits of fiber in reducing cholesterol levels. As per a research paper published in The American Journal of Clinical Nutrition, regularly consuming two to ten grams of soluble fiber is said to lower LDL cholesterol or known as the bad cholesterol. Moreover, it is also said to mitigate blood pressure and inflammation.
A very informative video on the benefits of Fiber for your body
Reduce blood sugar levels: Anything with an excess of sugar is known to increase blood sugar levels, further leading to insulin resistance and diabetes. However, with regular intake of fiber that rate of absorption starts to shrink. While also reducing the possibility of developing type 2 diabetes.
Improve digestive system: Consuming food or supplement rich in fiber, is considered as the most beneficial method of improving the digestive system. Lack of fiber in the body does increase the chances of constipation. Furthermore, the fiber in ample amounts reduces illnesses like nausea and bloating.
---
Things to Consider Before Buying
With the benefits of fiber discussed above, we've jotted down a few of the most important things to consider before buying the best fiber supplements for keto and low carb dieters.
Quality: Among the essential factors to consider, first to ponder upon is the quality of the product. It is important to pay attention to every detail when choosing the best fiber supplement from the market. We recommend purchasing products that are high on natural resources and are free of gluten and dairy. Besides, they should also be tested for purity and quality from FDA and NSF.
Source: Another vital point to consider is the source the fiber is procured from. Always stick to supplements that contain high amounts of soluble fiber. These are known to be less in cholesterol and fats, meaning they do not hinder your keto diet.
Taste: If there's something that profoundly impacts the purchase decision, then it is the taste of the supplement. Always pick a supplement that is suitable for you to consume regularly. Try tasting the supplement before buying, as this will save you from spending on a product that you are going to hate in the future.
---
Best Fiber Supplements for Keto and Low Carb Dieters Review [2020]
1. Viva Naturals – Organic Ground Flax Seed
Ranked the highest among the best fiber supplements for Keto and Low Carb Dieters, the Viva Naturals is drawn from organic flaxseed that is easy in dissolving and consuming too. Stocked with omega-3 fatty acids, this fiber supplement keeps your eyes, brain, skin, and immune system healthy and fresh.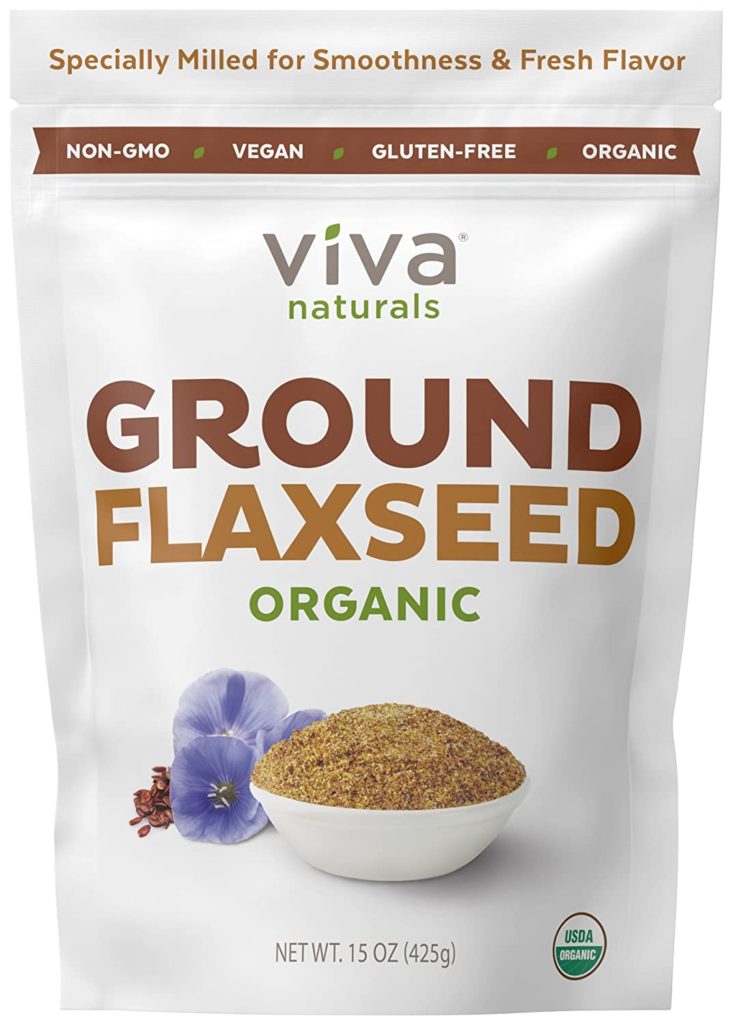 This supplement is certified organic and non-GMO, while it also is allergen-friendly. It is 100% natural, meaning it is fused with lesser pesticides. For supporting your weight loss regime, the supplement includes only 4g of carbs and 6g of fat per serving.
Owing to its nutty flavor, this fiber supplement is ready to blend in with cereals, desserts, smoothies, and more. Containing natural oils, the supplements further help in enhancing and supporting intestinal health.
2. NOW Psyllium Husk Fiber
Now's Psyllium Husk Fiber supplement is a form of soluble fiber that is consumed explicitly for muscle gain and alleviating constipation problems. This fiber supplement is certified non-GMO, soy and gluten-free, and is best for keto dieters.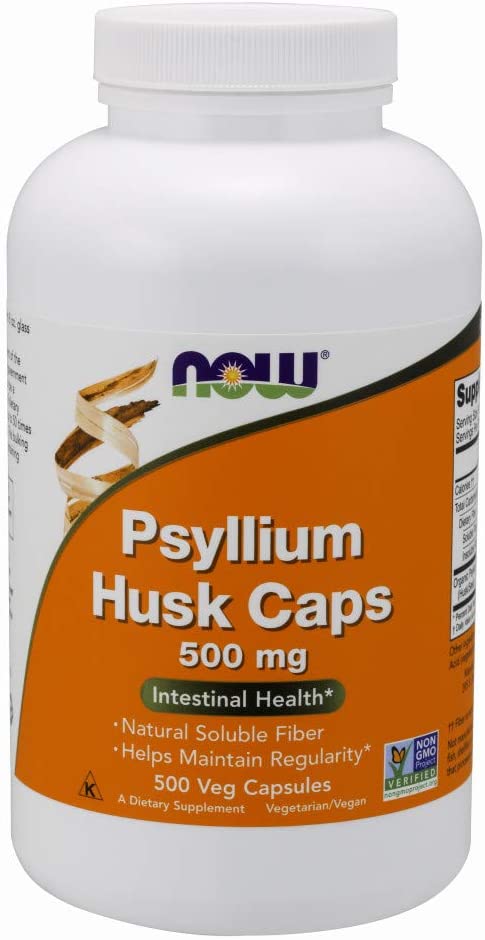 Experts tout the supplement as the "best source of fiber" that significantly lessens gas and improves gastrointestinal health. Moreover, this fiber supplement is carefully examined every month for purity and quality.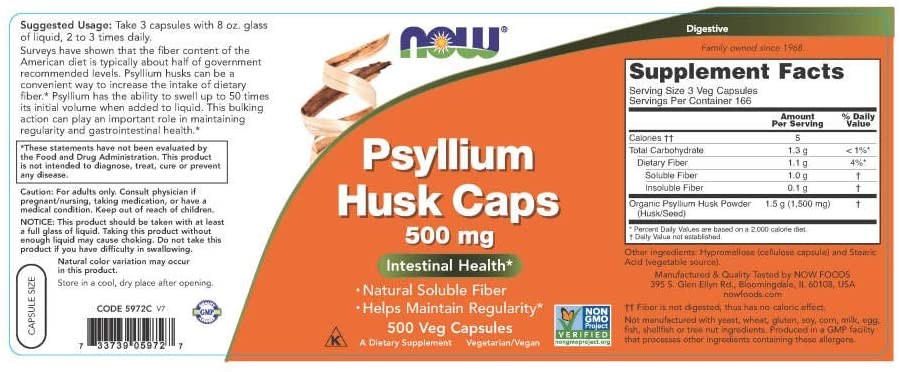 With only 1.3g of carbs per serving, the supplement does aid in promoting healthy bowel movements. This fiber supplement is available in two forms — capsule and powder. The powdered form consists of 8g carbs per serving.
3. Benefiber Daily Prebiotic Fiber Supplement
Arguably the best for enhancing the count of healthy bacteria, the Benefiber Daily Prebiotic Fiber Supplement is third on this list of best fiber supplements for keto and low carb dieters.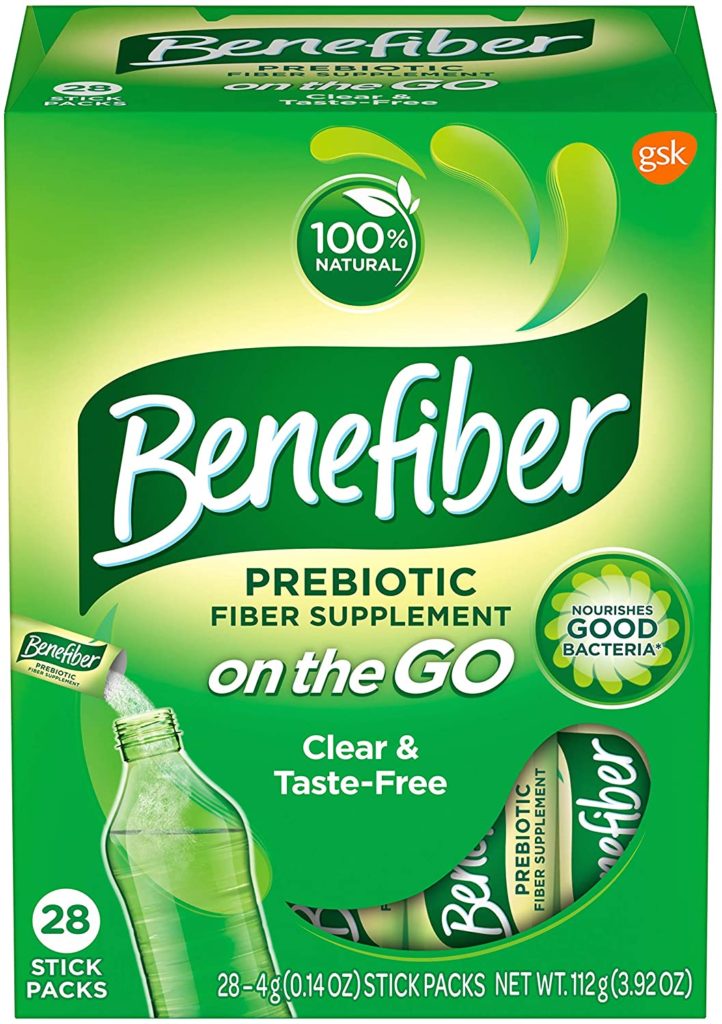 This fiber supplement is tasteless, making it easy to dissolve and intake with any food or liquid. The supplement is 100% natural, gluten-free, and sugar-free. Besides, it also is available in the form of an "on-the-go" chewable tablet that can also be consumed by simply popping into the mouth.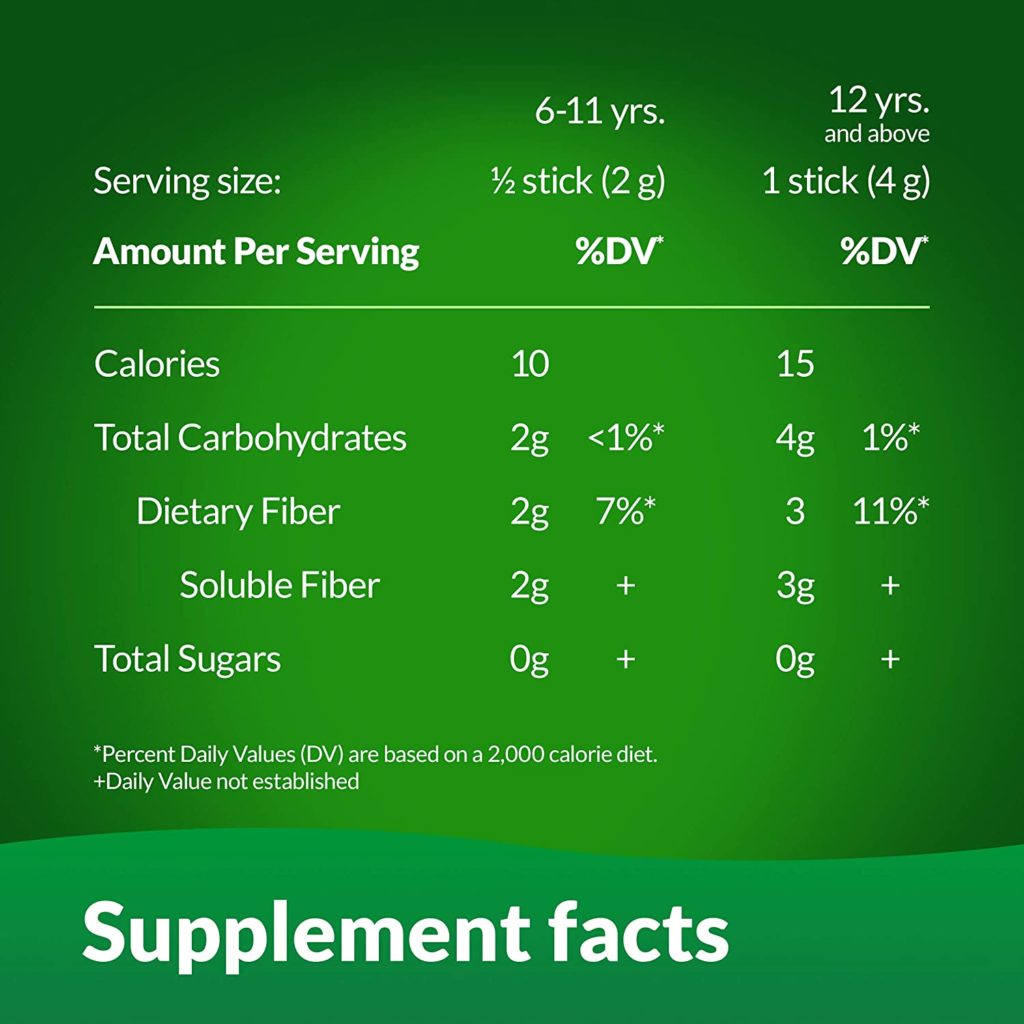 In every single serving, this supplement is supplied with 15 calories, 3 grams of fiber, and 4 grams of carbs. This supplement benefits keto dieters by improving healthy gut flora and supporting overall digestive health.
4. Garden of Life Raw Organic Superfood Fiber
Garden of Life's Raw Organic Superfood Fiber contains 15 raw organic superfoods, including legumes, grains, and sprouted seeds. This fiber supplement offers relief from constipation problems, while also promoting bowel movements, cardiovascular function, and improving overall health.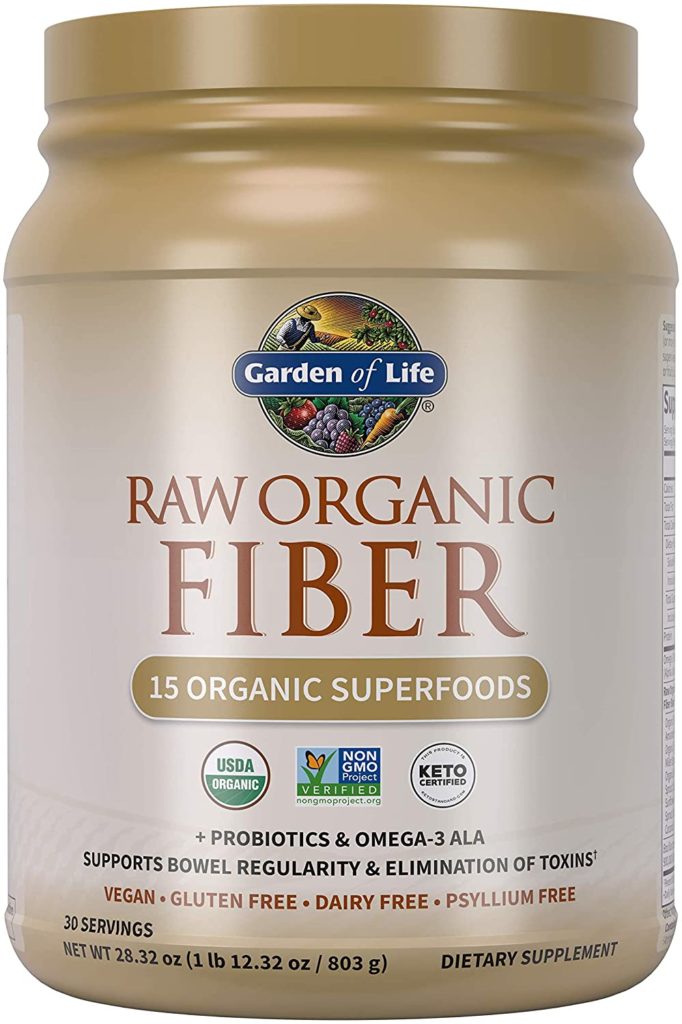 The supplement includes 9g of organic fiber, which is split into 4g of soluble and 5g of insoluble fiber. However, the downside of this supplement is the high amount of carbs — 16g in one scoop.
This fiber supplement is organic, gluten-free, dairy-free, and includes no artificial sweeteners and preservatives. Furthermore, it is Keto-certified and Paleo-friendly.
5. Ancient Nutrition KetoFIBER Powder
Fiber-rich supplement with a blend of plant-based nutrition, KetoFiber from Ancient Nutrition is a product that is slowly making its mark in the supplement market. Sourced from chia seeds, flax seeds, and cinnamon with MCTs, this fiber supplement helps in weight loss and mitigate digestion problems.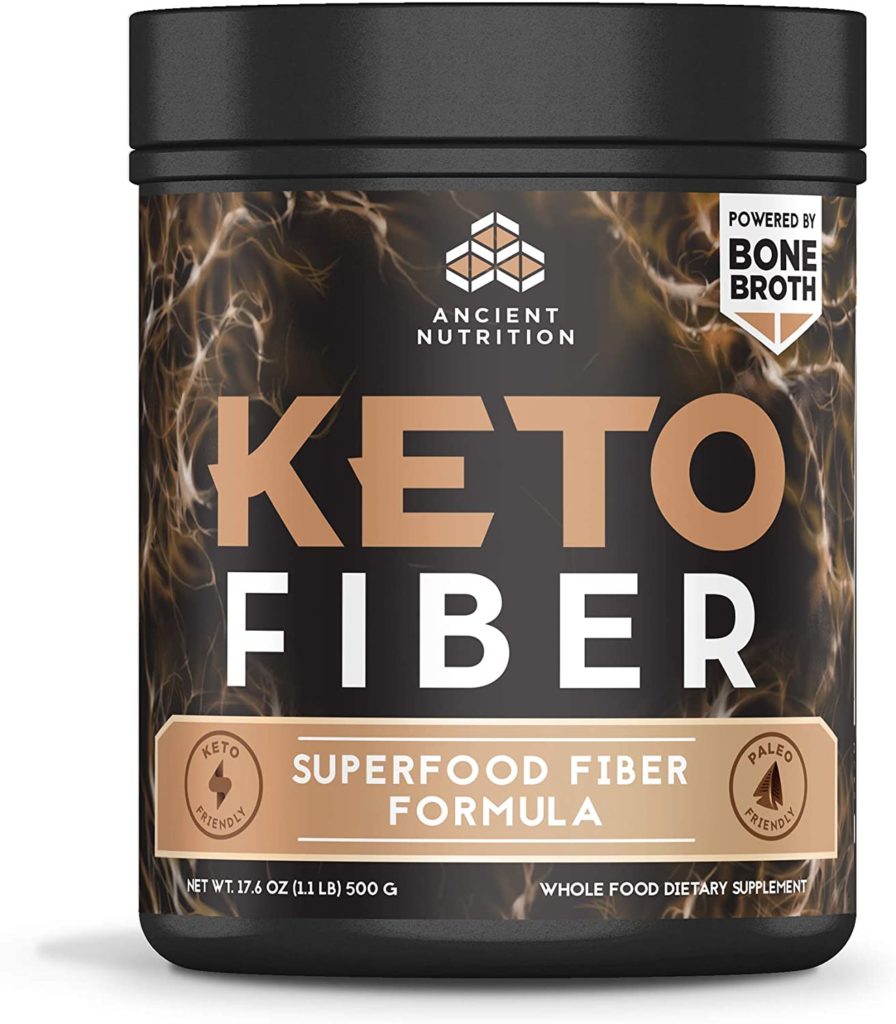 This fiber supplement is infused with minerals and antioxidants that curb the risks of severe illnesses. The supplement is keto-friendly, paleo-friendly, non-GMO, and 100% natural.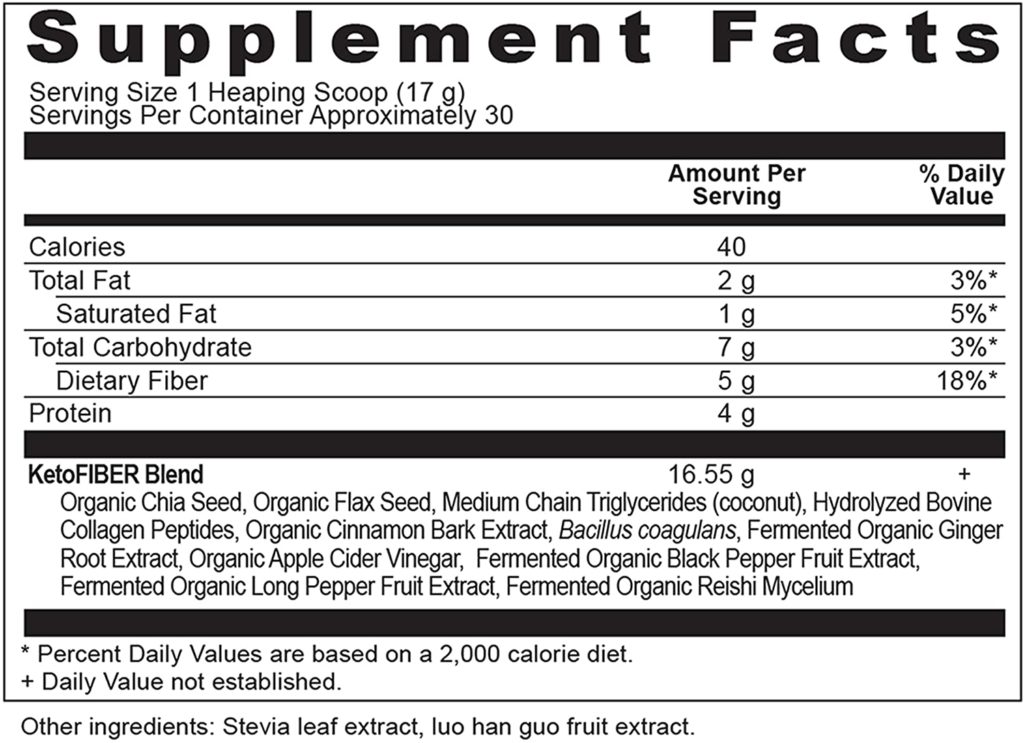 The KetoFiber Powder includes 7g of carbs, 5g of fiber, and 4g of protein per serving. This supplement is easy to mix in shakes, smoothies, and more. With an abundant presence of fiber, the supplement is undoubtedly a savior for those on a keto diet or carb-restricted diet.
Also Read:  Keto Fuel Review: Here's Why You Should Go For It
6. Bob's Red Mill Organic Golden Flaxseed Meal
Containing low-carb supplement flaxseed, Bob's Red Mill Organic Golden Flaxseed is another promising one on this list of best fiber supplements for keto and low carb dieters that provides promising results. This fiber supplement is fused with omega-3 fatty acids, making it highly effective in maintaining a healthy heart and normalizing blood pressure.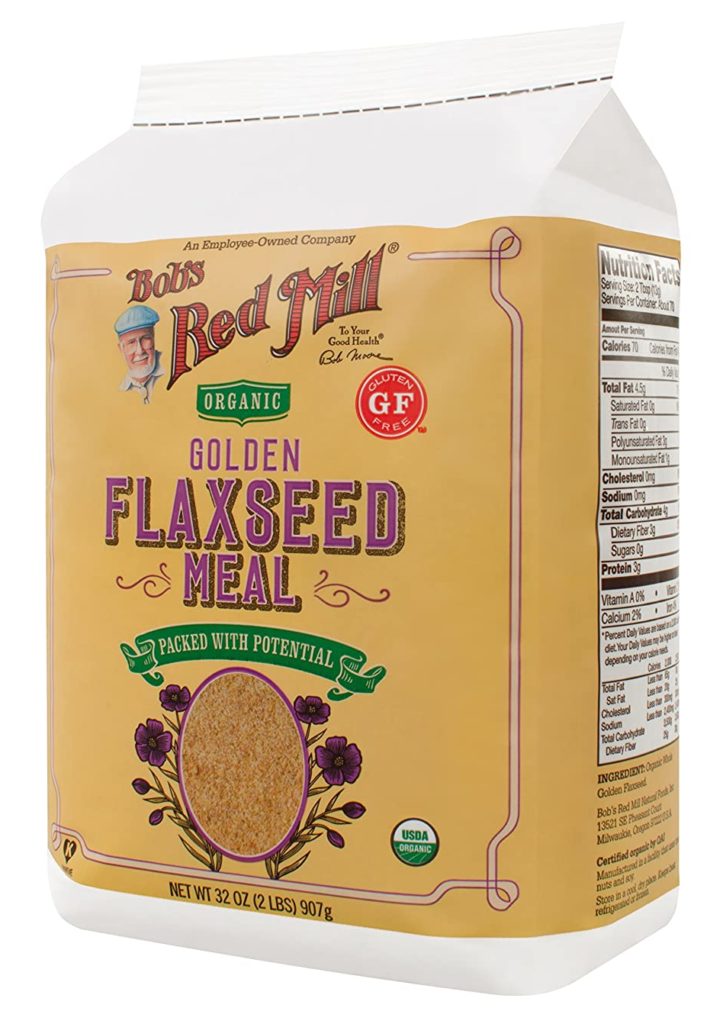 The supplement is derived from a gluten-free facility and is USDA-certified organic. Also, this supplement is vegan and paleo-friendly. In each scoop of this supplement, you get 4g of carbs and 3g of dietary fiber.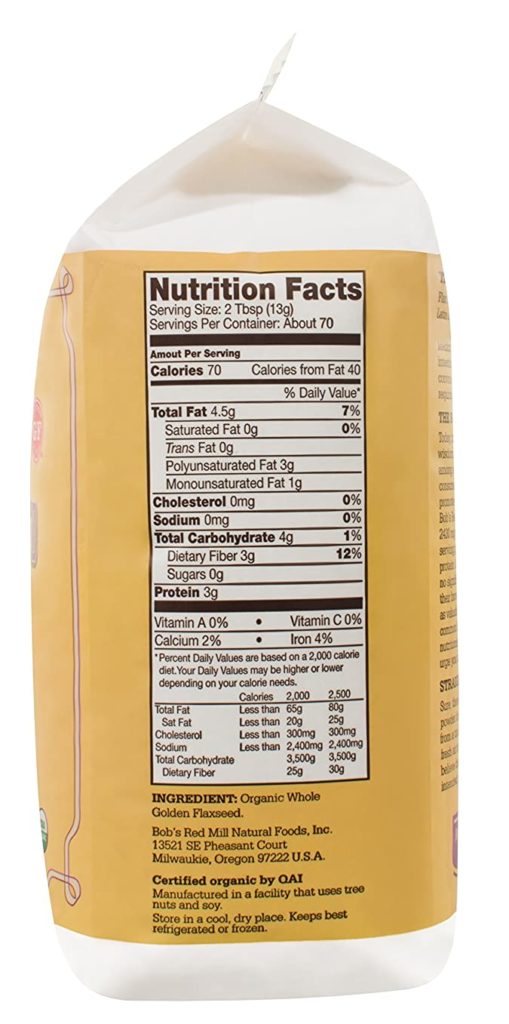 This supplement perfectly blends into any food and drink, including yogurt, salads, smoothies, meat, and more. However, we suggest that it is well ground before adding into the diet.
7. Metamucil Sugar-Free Fiber Supplement
Metamucil's Sugar-Free Fiber Supplement is sourced from plant-based psyllium fiber that helps diminish your hunger pangs. Boasting of a 4-in-1 fiber solution, this supplement enables you to feel lighter and less sluggish.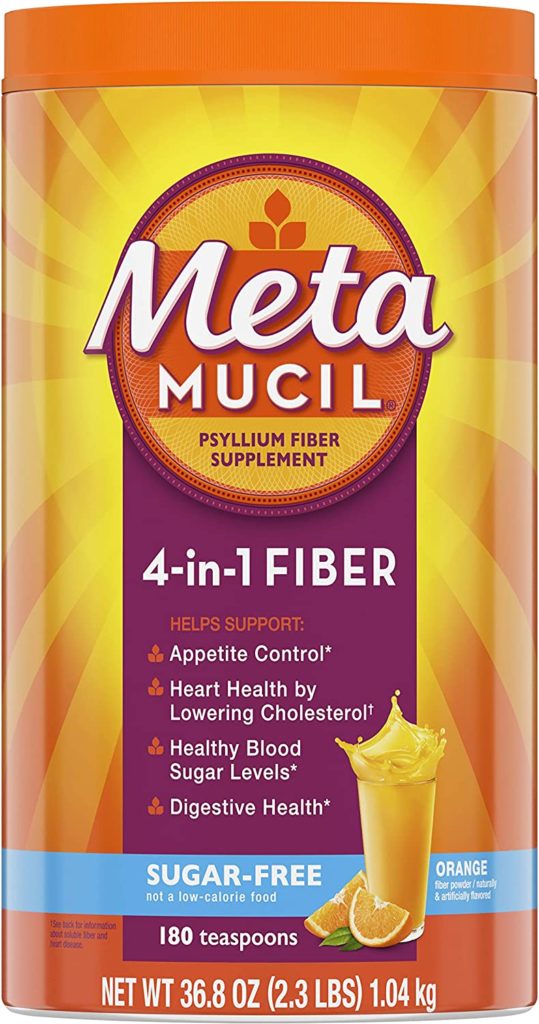 By including this in your everyday diet, this fiber supplement improves heart health by mitigating the cholesterol levels. Also, it helps significantly in maintaining healthy blood sugar levels. In each serving, the supplement packs 5g of carbs and 5g of fiber.
The Metamucil Sugar-Free Fiber Supplement comes in orange flavor, which is easy to digest post any meal during the day. The suggested method of consumption is to mix it well with chilled water.
---
CONCLUSION
There are diverse ways of consuming fiber and garner benefits out of those. With the best fiber supplements for keto and low carb dieters briefed, we hope that you pick the one ideal for you. We'd also recommend you to reach out to a dietician, as he/she may help you chalk out the best and safest diet.
If you've got any questions or suggestions, please write to us in the comments section below, and we'll try reaching out as soon as possible.