The aroma and taste of your favorite dish are something to cherish. There are only a few cooking components that bring the best of two worlds to make your meals look exceptional and sumptuous.
Blending the best of pellet smoker and pellet grill, you bring justice to your style of cooking. In this article, we take you through some of the prominent names in this segment. Choose one wisely, depending upon your grilling requirements.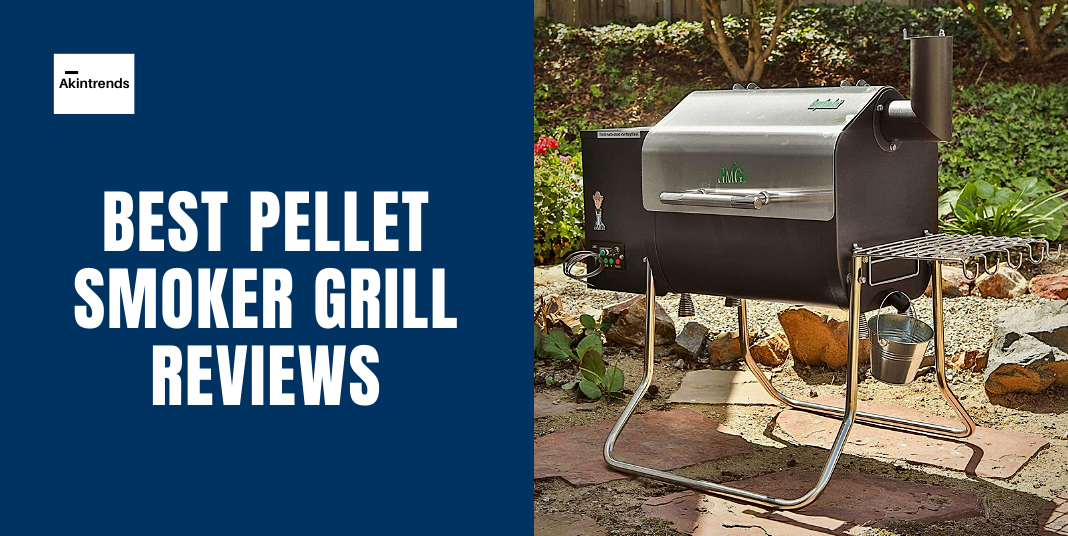 ---
Best Pellet Smoker/Grill
An abundance of research and testing has made us compile a list of the eight best pellet smokers/grills available on the market. Pick the ones and groom your smoking skills.
1. Camp Chef 24" Woodwind Pellet Grill & Smoker
Unrivaled and technologically advanced, the Camp Chef 24" Woodwind is an impressive medium-sized machine that fits both your smoking and grilling needs. The model comes WiFi-enabled, allowing you to pair it with your smartphone and access it remotely via the Camp Chef Connect app.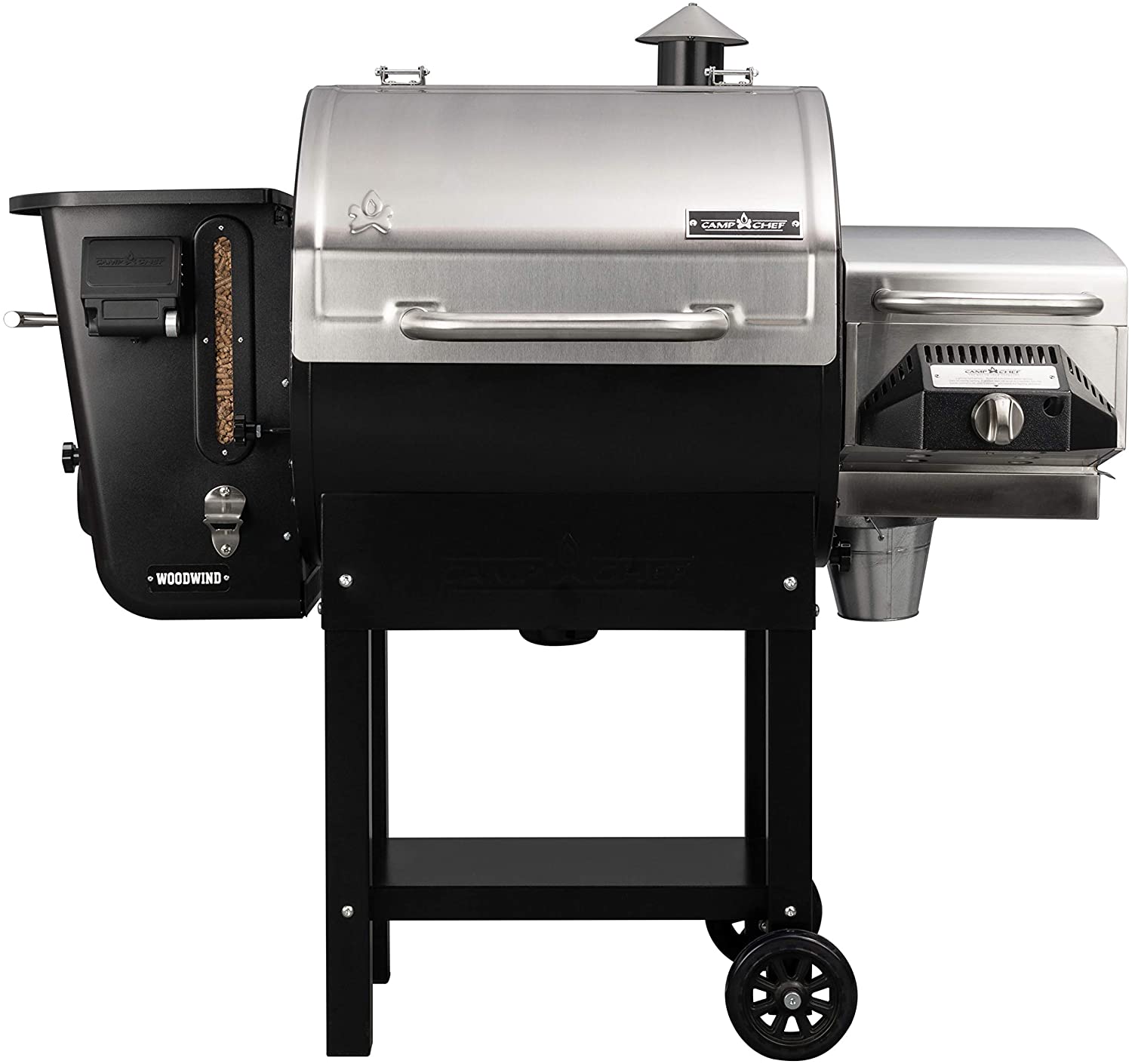 This smoker cum grill is equipped with a PID controller that assists in maintaining smoke and temperature. PID is a highly detailed controller, bringing you the option of dialing in the preferred level of smoke. You have seamless options to operate this model — control via the large intuitive display screen or navigating through the compatible app.
With the Ash Kickin' Cleanout system, you can easily unload the trash after every cook. The Woodwind Pellet Grill & Smoker is a piece of smart cooking equipment that is coupled with technology, which makes smoking/grilling a pleasant experience.
2. Z Grills ZPG-7002B Wood Pellet Grill & Smoker
The Z Grills ZPG-7002B has amassed close to a thousand reviews and comes with a reputation of outperforming many top smokers/grills brands. This versatile model is eight-in-one cooking gear, allowing smoking masters to grill, smoke, bake, roast, braise, sear, barbecue.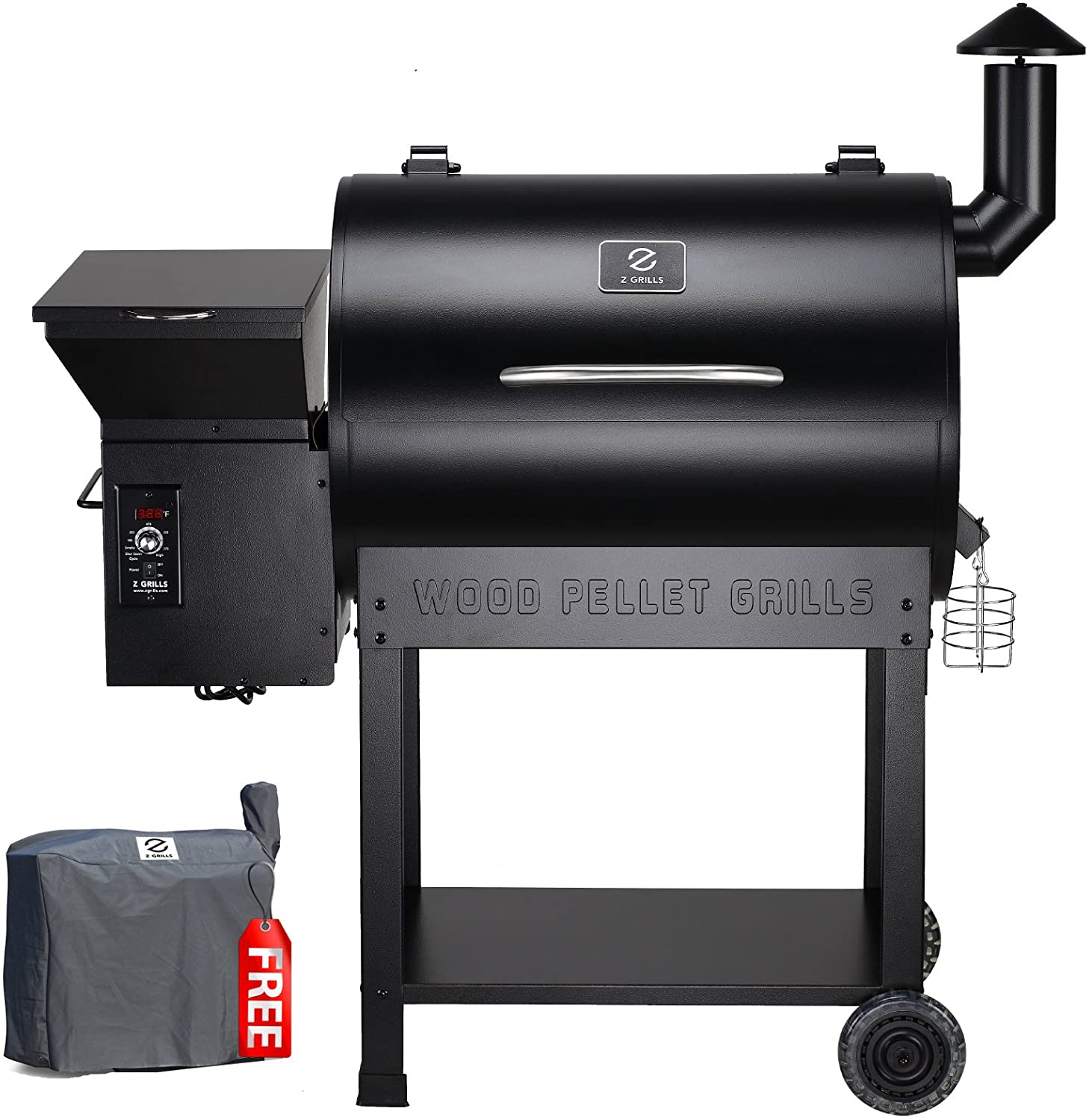 This wood pellet grill boasts a 700 square-inches large, stainless steel-built cooking surface, and a spacious hopper capacity of 20-pounds. The unit is powered with convection heat technology, which allows your favorite foods to cook evenly to perfection. There are heavy-duty wheels that stand the test of time on all terrains.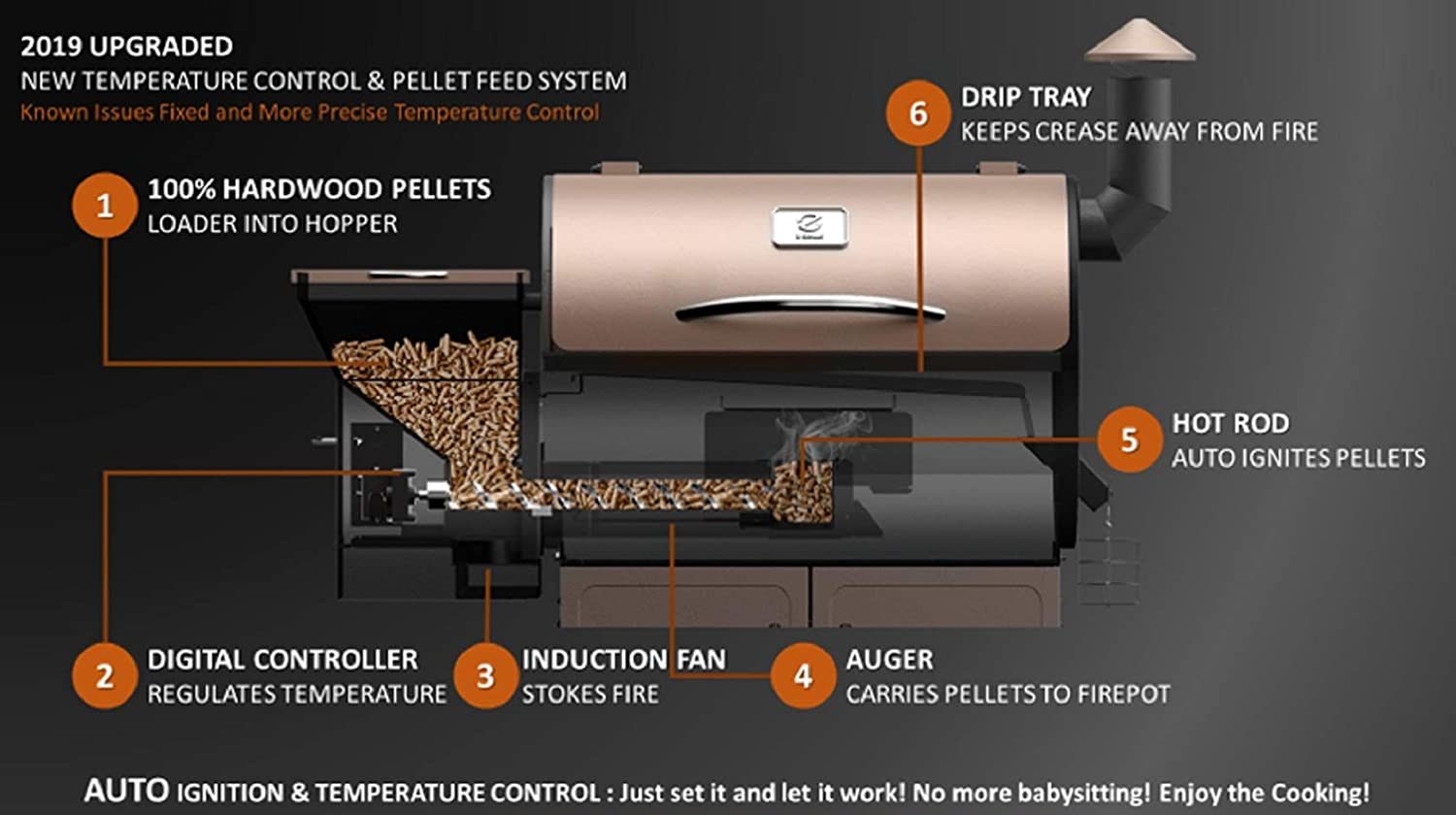 What's more, the ZPG-7002B is a top-class combo of grill and smoker that includes impressive, beginner-friendly features like digital temperature control and real-time LED temperature display. If you are a first-timer, then this is the perfect choice.
Also Read: Best Smoker Thermometers Review: For the Perfect Temperature
3. Green Mountain Davy Crockett Pellet Grill
Green Mountain's Davy Crockket is the real deal when it comes to giving chefs and smokers the best of both worlds — smoking and grilling. This model comes WiFi-enabled, letting you track the progress of your meal directly from your phone. The addition of Sense-Mate, allows you to continually monitor the grill's temperature.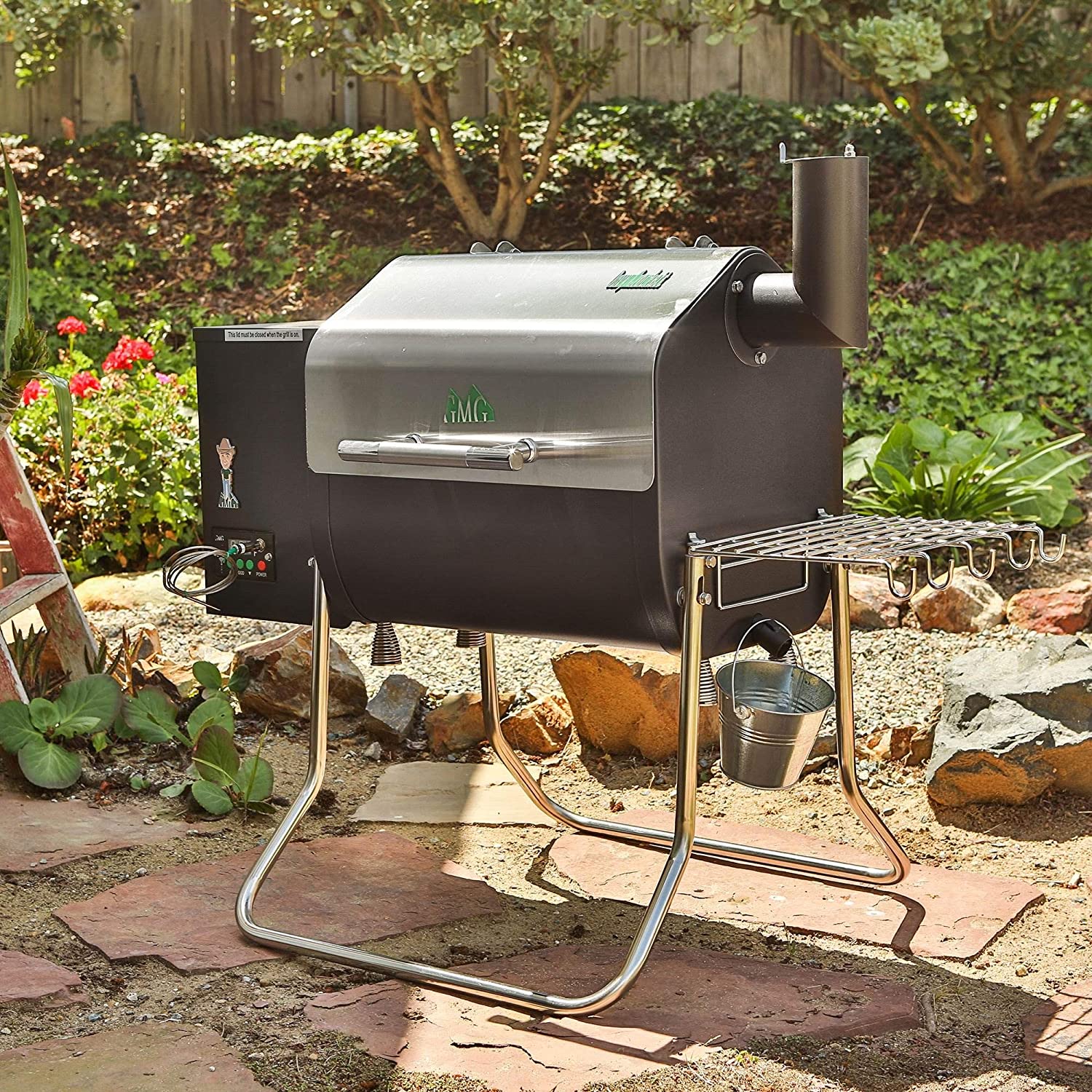 The unit's companion app makes cooking sessions more plain-sailing by throwing notifications concerning fuel, system malfunction, or when to turn the equipment on/off. This is an outdoor-friendly grill that features foldable legs for mobility — also ideal for tailgating or camping.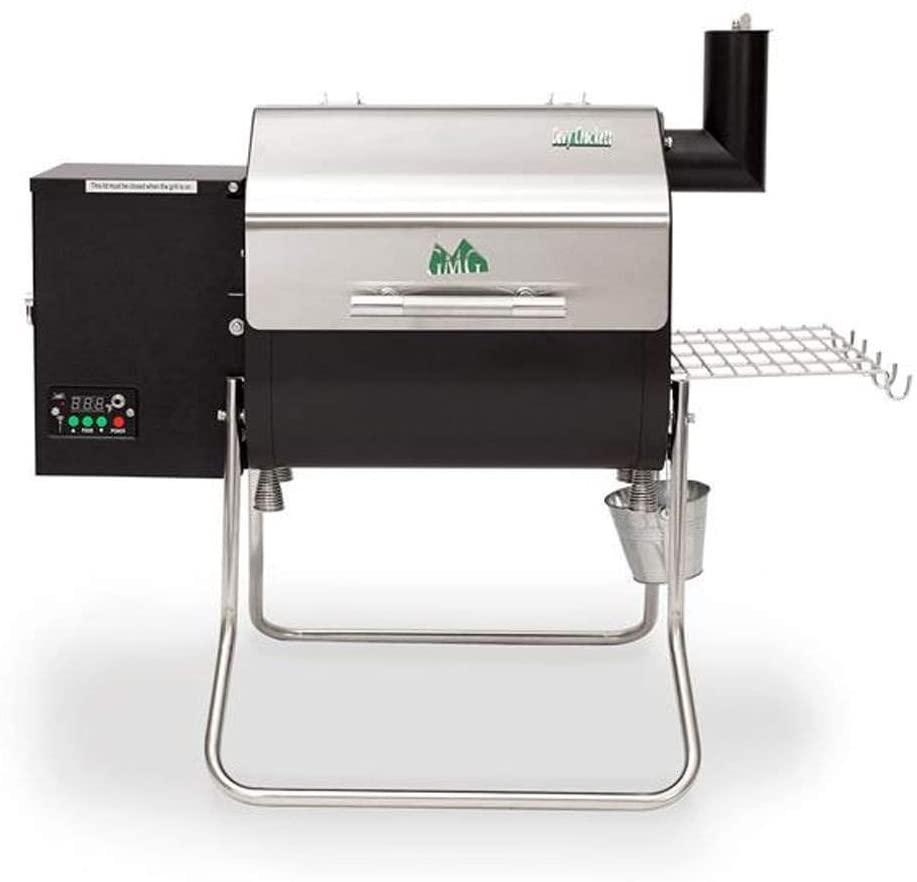 The Davy Crockett Pellet Grill has a decent cooking surface, a meat probe, and steel racks, and is among the best "away-from-home" smokers to have.
Also Read: Best Wood Chips For Barbecue Smoking
4. Camp Chef SmokerPro Slide Pellet Smoker & Grill
Camp Chef spearheads the number of outstanding smoker/grill models on this list. This smoker cum grill is a versatile machine that is handy when grilling, roasting, baking, braising, and BBQ-ing. Coming with a slide and grill system, this unit can be used for both direct and indirect flame.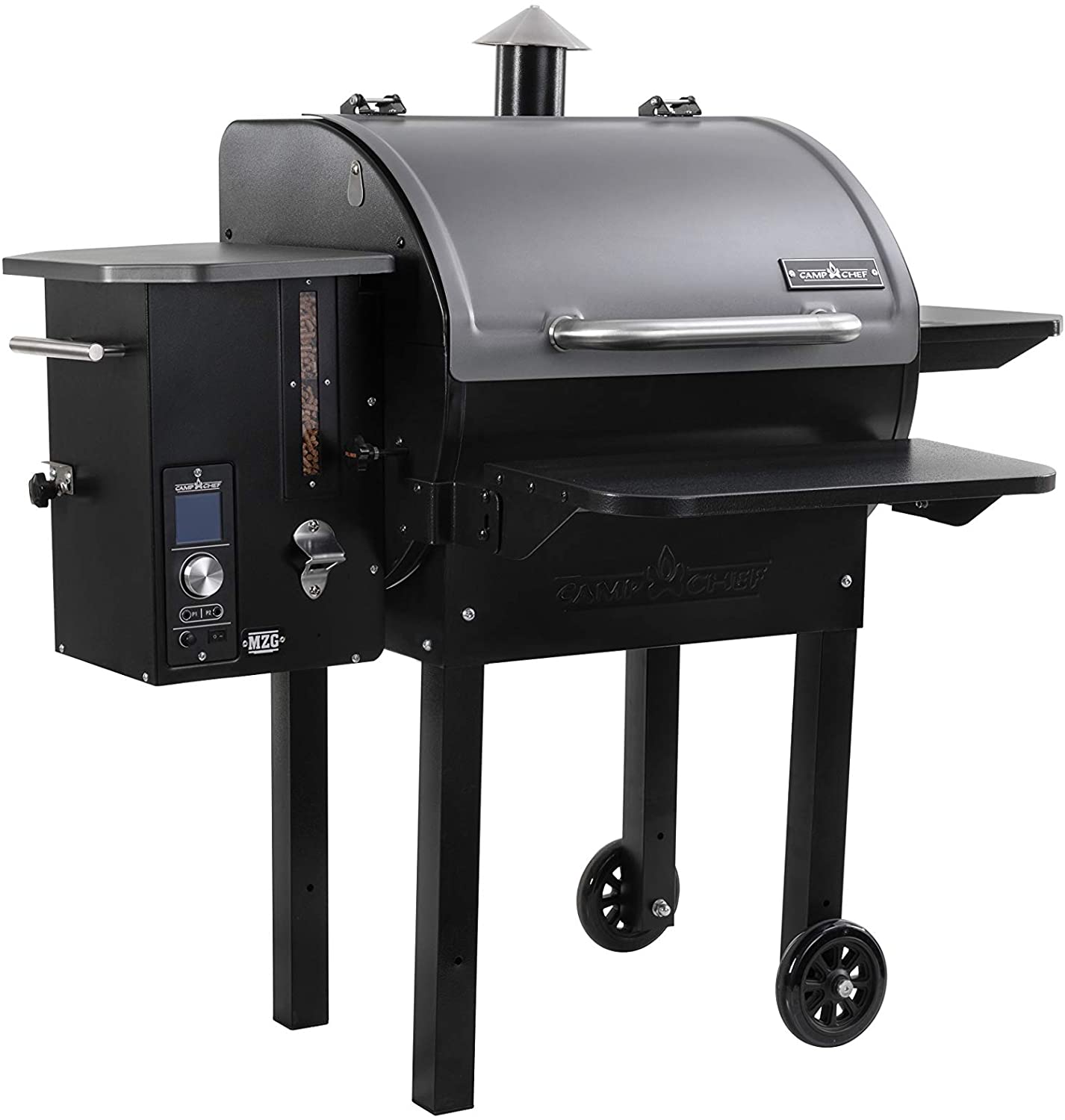 Quite like the Woodwind grill, this smoker also features the latest PID controller that lets you customize smoke levels per your preference. This combo includes heavy-duty, stainless meat probes to help track the temperatures. For effortless and quick cleaning, you get a hopper and ash cleanout system.
The Camp Chef Smoker Pro has a super spacious cooking surface of 811 square inches in total, which is separated into two different racks. The smoker boasts an additional upper shelf that can be easily adjusted and removed.
5. Traeger Pro Series 575 Smoker & Grill
Distinct and famous among smoke masters, the Traeger Pro Series 575 comes with a generous cooking surface of 575 square inches. A space like this — easily accommodates up to 24 burgers and five racks of ribs. This six-in-one model makes life easy while grilling, smoking, baking, braising, roasting, and BBQ-ing.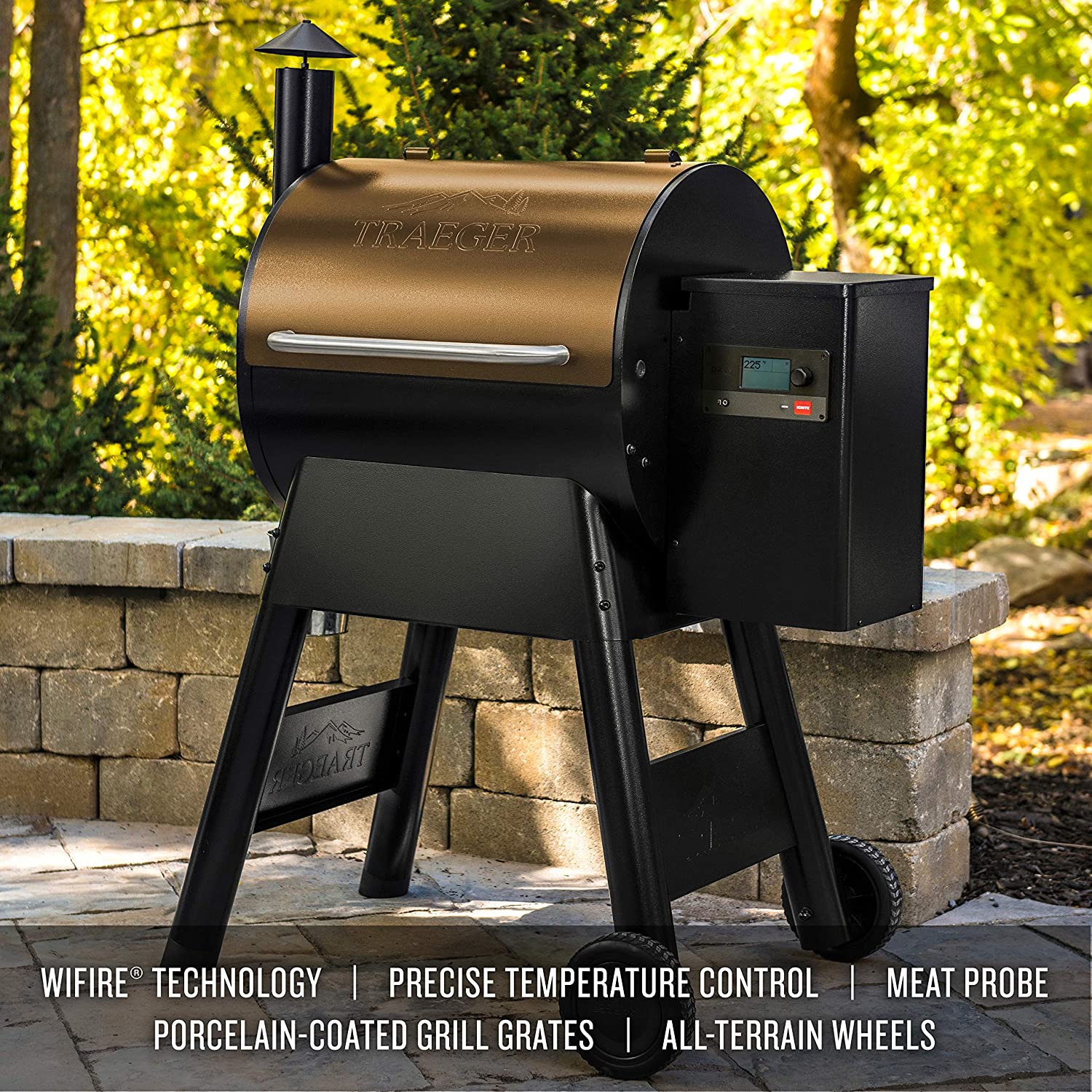 The addition of the latest D2 direct drive coupled with a brushless DC motor helps in adding more fuel to the firebox more rapidly. This unit is easily accessible through WiFi and the companion app, allowing you to completely control the smoking process remotely.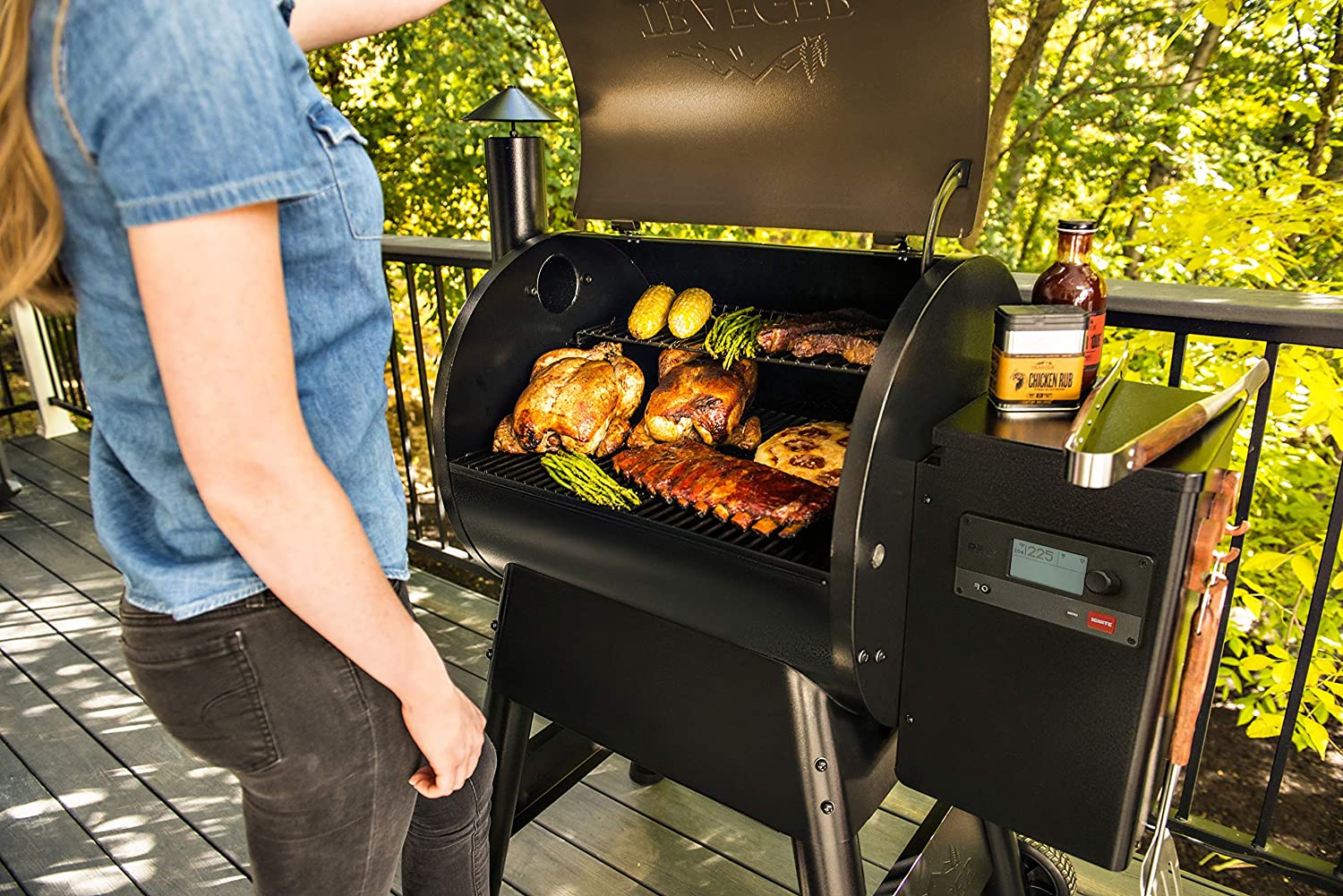 The Pro Series 575 is available in two variants — black & bronze and is compatible with Alexa devices. To maximize portability and mobility, this smoker cum grill has two heavy-duty wheels.
Also Read: Best Charcoal for Grilling Reviews – Get Grilling the BBQ's
6. PIT BOSS 700FB Pellet Grill
The PIT BOSS 700FB is an inexpensive, easy-to-use model for first-timers. The temperature control and bright display give control from 170 Fahrenheit to 600 Fahrenheit. The 700 square inches of cooking surface comes with a top rack that has enough room to smoke thirty burgers at the same time.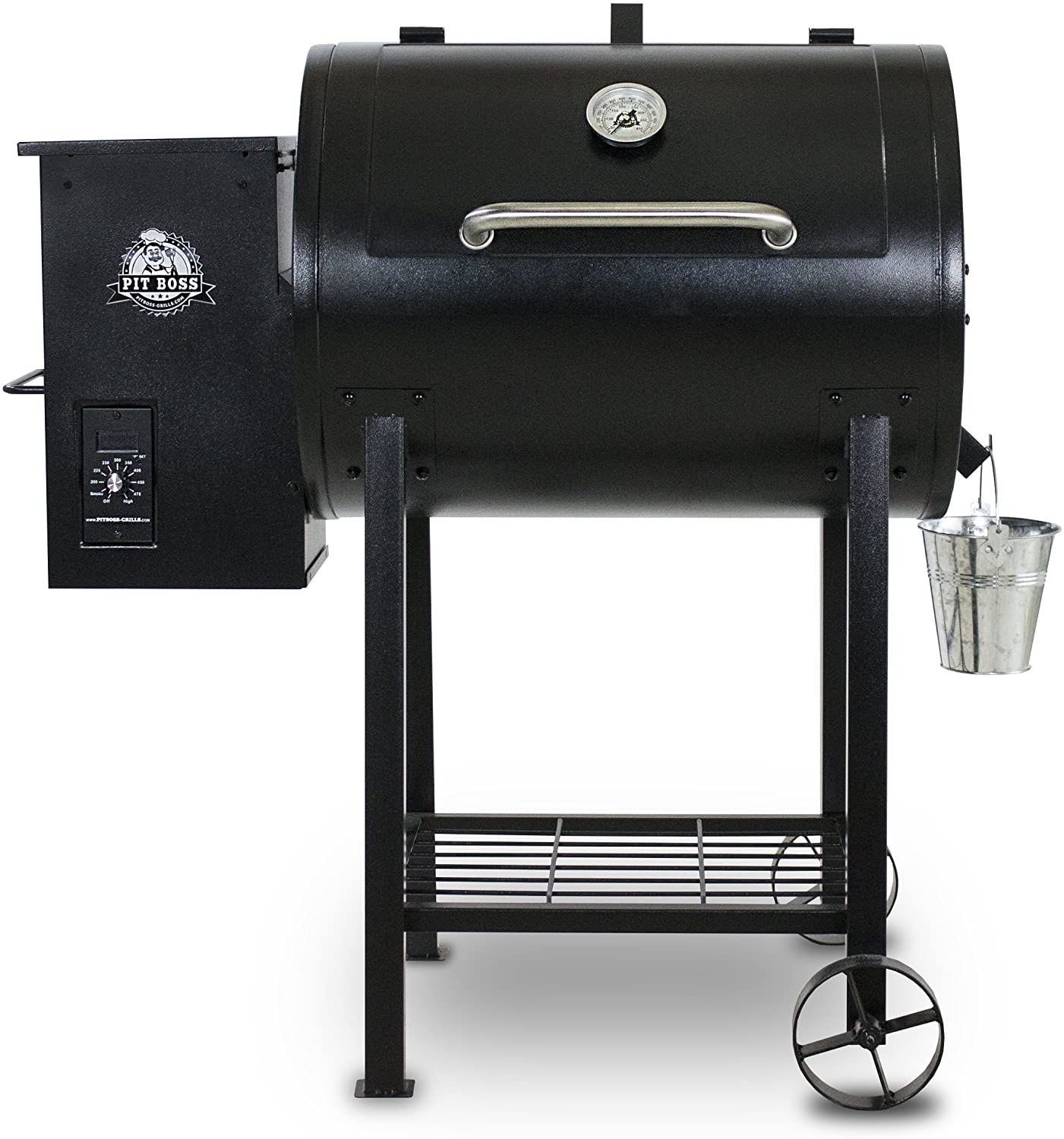 This model is equipped with a grill made from heavier gauge steels, which last longer even with minimum maintenance. By incorporating the use of the slide-plate frame broiler system, you gain complete control over the direct flame grilling.
This pellet smoker/grill brings home the perfect cooking experience, offering you room to smoke ribs, fish, pizza, burgers, vegetables, or sear a steak.
7. Weber 23510201 SmokeFire EX6
Weber's SmokeFire EX6 has a whopping cooking surface of 1008 square inches — that is divided into 648 square inches and 360 square inches for both the racks. The grill is impeccable at searing, courtesy of the model's design. This unit can effortlessly sear and smoke between 200 and 600-degrees Fahrenheit.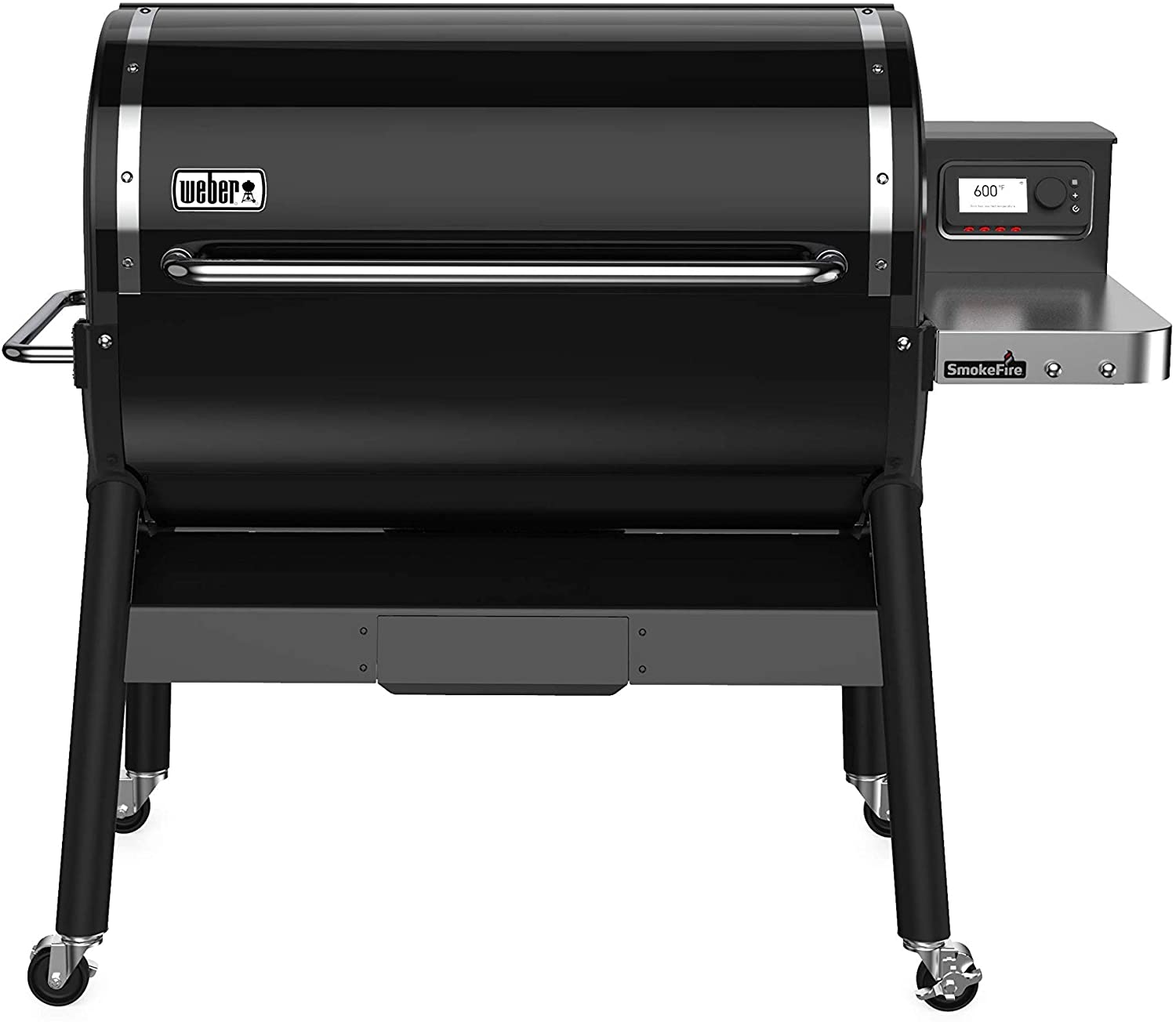 Clad in the porcelain-enamel finish, this pellet smoker cum grill is excellent at preventing rusting and cracking. Powered with a DC engine, the SmokeFire EX6 does an impressive job at preventing auger jams. You have the 22-pounds hopper capacity, which is a significant plus point.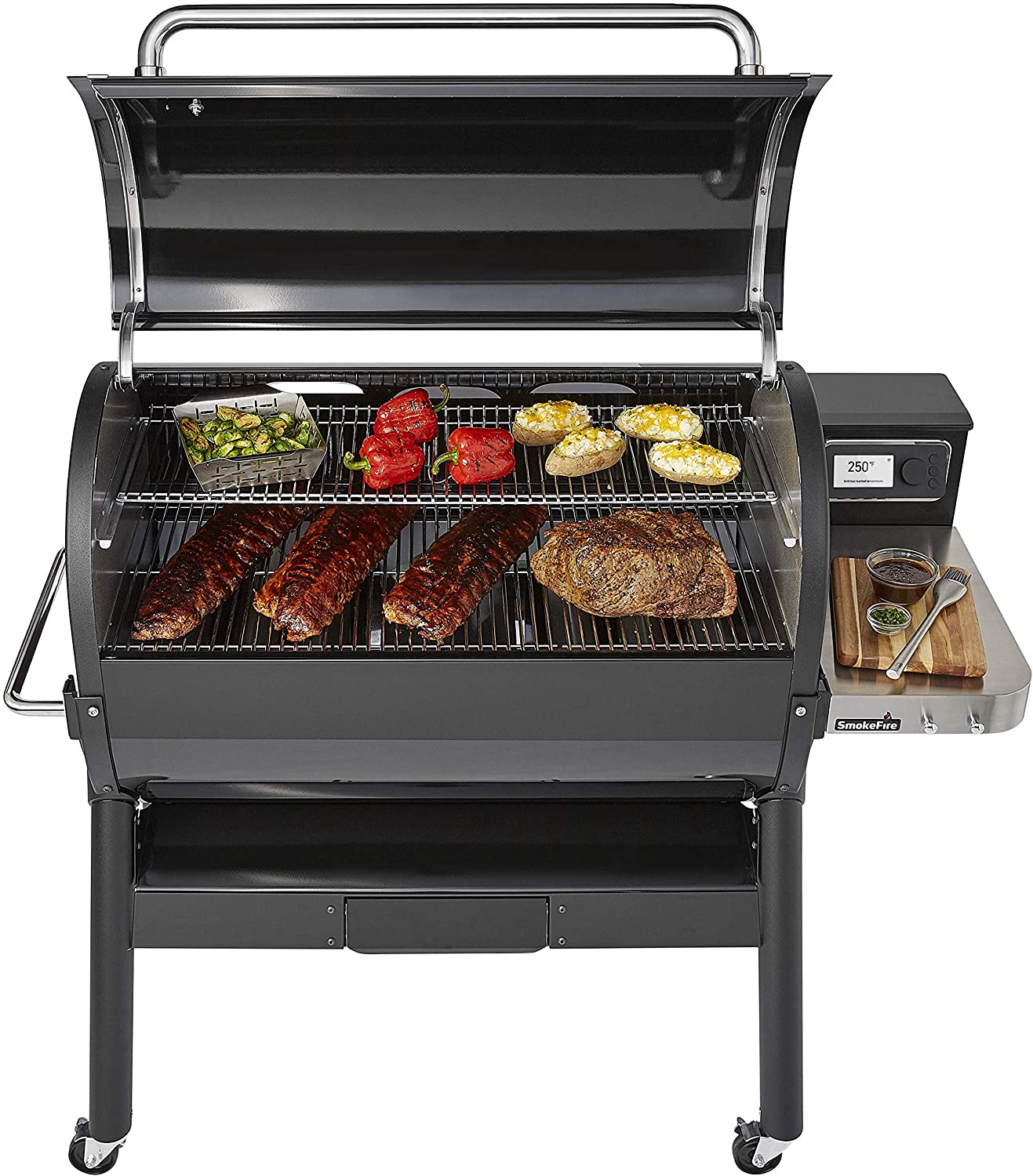 The EX6 features a drawer right below the grill that captivates both ash and grease in different containers. Furthermore, the four meat probes help monitor the temperature of multiple foods at once.
8. Grilla Grills – Silverbac Alpha Model Bundle
Taking the last position on the list is the Grilla Grills – Silverbac Alpha Model Bundle. This pellet smoker/grill comes with a generous cooking surface of 692 square inches — 507 square inches for the main grate, while 185 square inches for the upper grate. This model has quarter inches of stainless steel upper rack that expands the cooking area.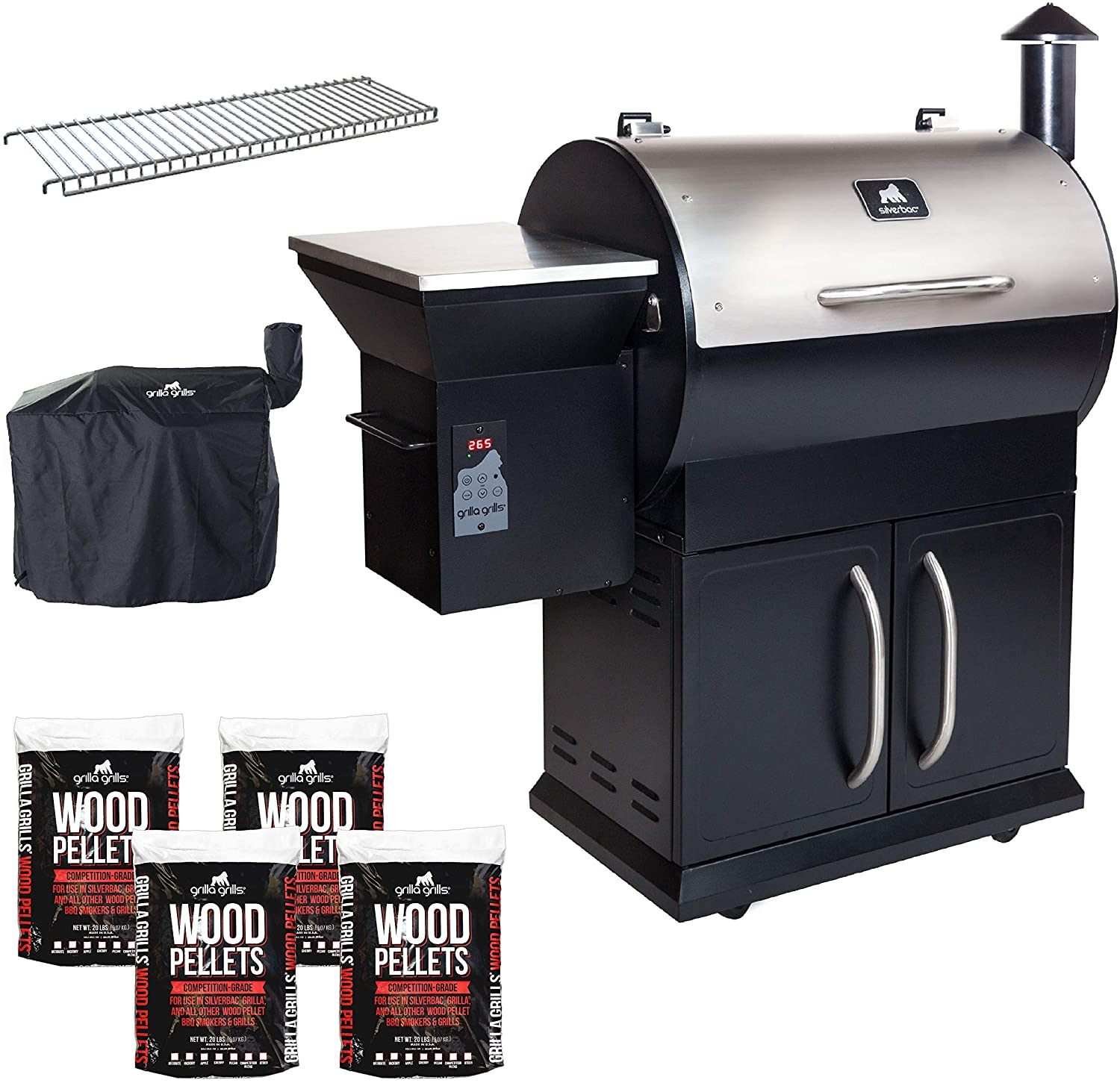 This bundle has a game-changing feature called the 'Alpha Smoke Technology', which allows convenient shifting between standard and Alpha smoke modes. The former model produces more smoke, whereas the latter shifts to the PID control system in order to maintain your preferred temperature.
The body of this smoker/grill comes with double-walled construction, preventing heat from passing outside the cooking chamber. The multipurpose unit is highly efficient when it comes to baking, searing, grilling, smoking, roasting, and broiling.
---
CONCLUSION
Top-quality features and budget-friendly prices — pellet smokers have something for all. Two hot deals on the market — Camp Chef 24" Woodwind Pellet Grill & Smoker and the Green Mountain Davy Crockett Pellet Grill are hard to ignore for their price and features they come with.
Have a favorite best smoker/grill outside of this list of queries to solve? Share it in the comments section, and we'll get back.
---
FAQs
How do pellet smokers operate?
There are a few components that drive pellet smoker to perform smoothly, here are those:
Hopper: This includes hardwood pellets. The pellets have to be filled according to your preferred timeline and temperature.
Digital controller: After you are done filling the hopper, you need to set the controller's temperature. This plays a crucial role in maintaining the temperature accuracy during the smoking process.
Auger: A long screw that moves pellets from the hopper towards the firepot.
Firepot: This particular area instigates fire in the pellets. The auto-ignition burns the pellets after reaching the firepot.
Fan: This component helps in generating a constant airflow in order to keep the fire burning in the pot.
Do pellet grills require electricity to run?
Yes. The power to run all the components is only possible via electricity. The displays and control panels, and auger; everything is dependent upon electricity.
When can the pellet grill be cleaned?
The general rule of thumb when it comes to cleaning a pellet grill is once after five to ten uses, depending on the amount of ash piled. For someone who is a fan of regular smoking sessions, Clean the grates post-cooking sessions by removing ash first from the post and igniter.