The sheer joy of bringing home the best grilling equipment, and making the best use of it by slathering some of the finest charcoal available on the market to enhance the taste and aroma of your dish is beyond explanation.
Best charcoal for grilling amplifies the flavor of your food. That said, only a few may fit your style of cooking and the grill you've been using. This guidepost talks about the various kinds of charcoal, and some of the best packages of charcoal that make grilling a more satisfying experience.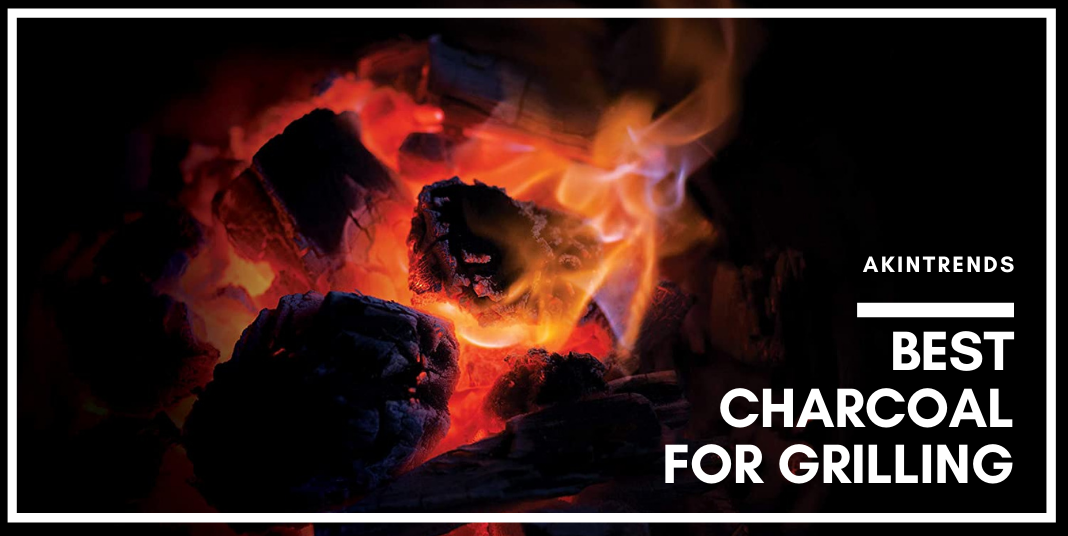 ---
Kinds of Charcoal Used For Grilling
The debates on which charcoal is best suited for grilling have been going around for ages. They come in different shapes and sizes, so it gets hard for novice users to pick one that accommodates their style of cooking. Following are the most widely available types of charcoal.
Charcoal Briquettes
Americans are fond of using this form of charcoal — they come in uniform size and shapes, courtesy of their production process. Charcoal briquettes are a blend of sawdust, coal dust, starch, sodium nitrate. These are the affordable ones; however, the addition of a few additives makes them slightly harmful for consumption.
Hardwood Lump Charcoal
Another most common kind of charcoal used whilst grilling is hardwood lump charcoal. This type burns blazingly hot, but compromises on the duration part. Managing grilling with this charcoal may take some doing.
The hardwood lump charcoal is the healthier alternatives to the charcoal briquettes. In addition, these are also a great component to enhance the taste and aroma of your meats or veggies.
---
Best Charcoal For Grilling
Scrutinizing the market to bring the list of best charcoal for grilling wasn't all easy. The types, shapes, and sizes were paid attention to the most. Pick one that matches your style of cooking, and start treating your guests with the right aroma and taste.
1. Kingsford 183268 Original Charcoal Briquettes
Kingsford 183268 Original Charcoal Briquettes is long-time best-in-the-business charcoal briquettes are highly-recommended for the first-timers, as it is affordable — which makes them throw more without worrying about the cost. This 7.7 lbs of the package are made of all-natural ingredients, comprising real wood for a more smoky flavor.
Each of the briquettes is fused with SureFire Grooves that bring more edges for swift lighting. These entirely natural charcoal briquettes do heat up to sparkling white-clad coals, making them last longer and blazing hot. What's more, these are super quick and are ready to cook in under 15 minutes.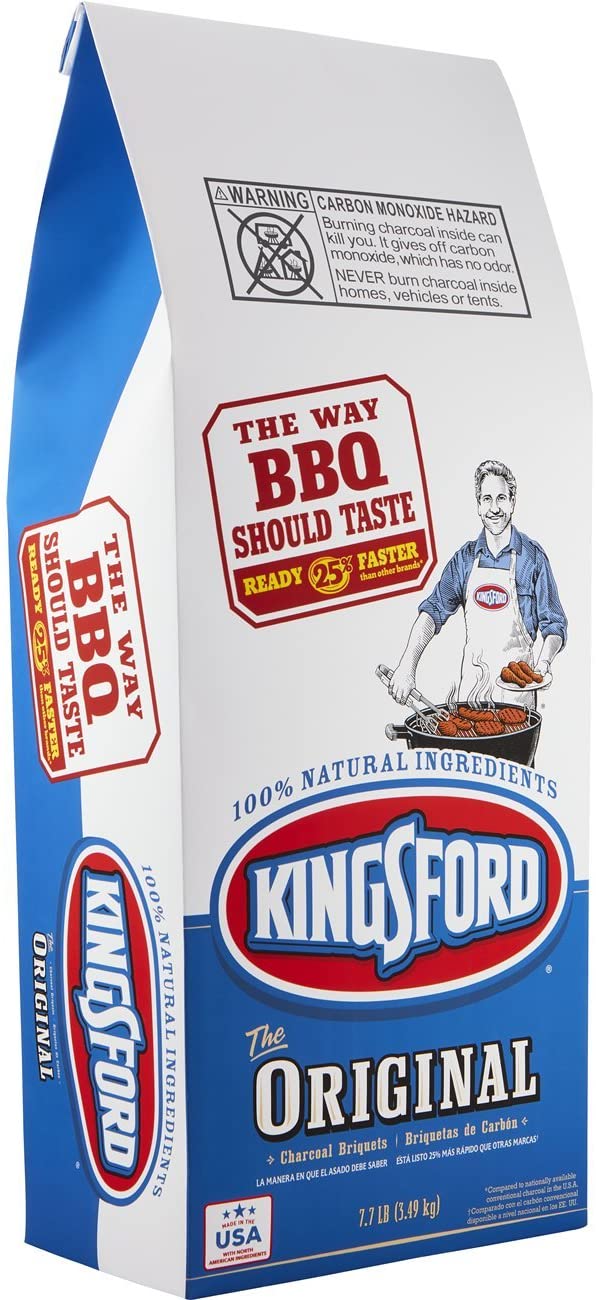 These charcoal briquettes are bang for the buck, and the most sought-after items used for grilling. These are the ideal briquettes for your next tailgating or camping, with all ingredients sourced from North America.
2. Jealous Devil All Natural Lump Charcoal
Sourced from South American hardwoods, Jealous Devil All Natural Lump Charcoal is a pure and hand-cut package of grilling charcoal. This package has the ability to burn quickly and hot — delivering the most perfect hardwood taste.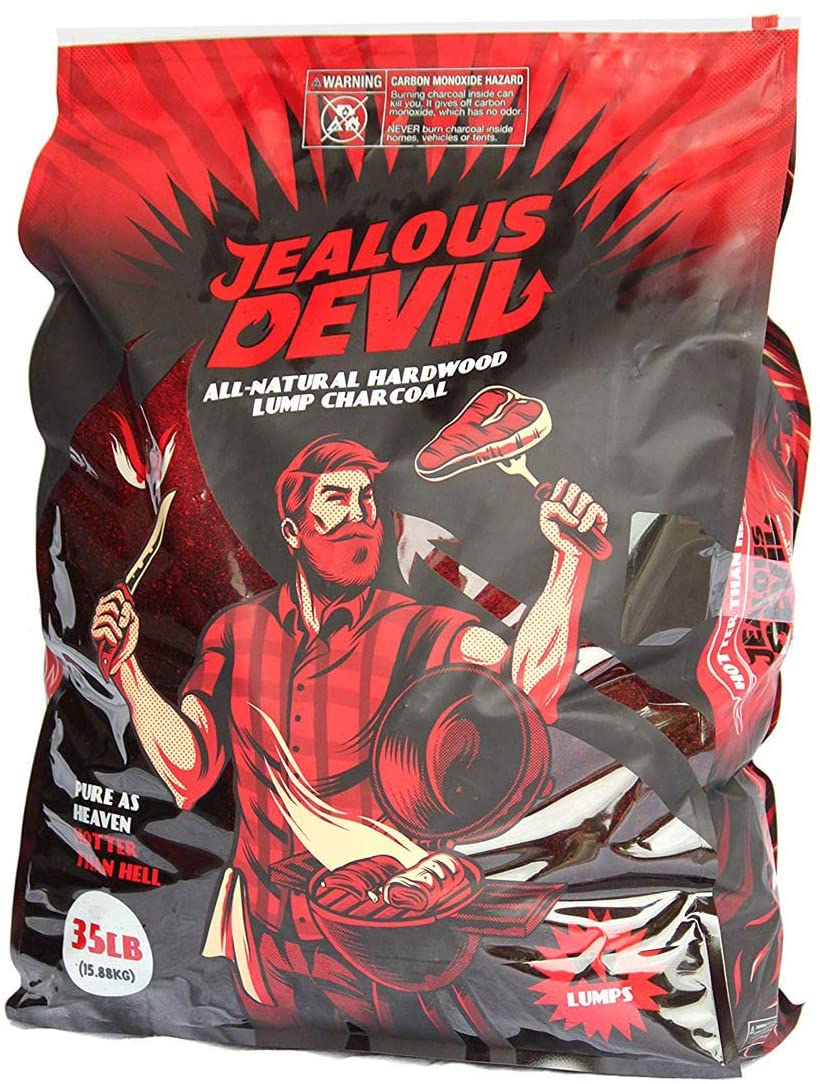 This package of charcoal comes without fillers, chemicals, and scrap wood. All you and your guests will be getting is a pure and delicious taste of your meal. This product comes with longer burn time — over four hours on open grills or about twenty plus houses for smokers.
This lump of charcoal packs all the necessary ingredients that can easily blend in with your favorite wood. The tried and tested experience shows that it delivers what it claims — on any grill, smoker, and kamado.
3. Kamado Joe KJ-Char Big Block XL Lump Charcoal
The not-so-surprising product on the list — Kamado Joe KJ-Char Big Block XL Lump Charcoal is a grill-specific charcoal package. This lump charcoal burns rapidly and brings a classic wood-fire taste, courtesy of guayacan, guayaibi, mistral, and white quebracho hardwood.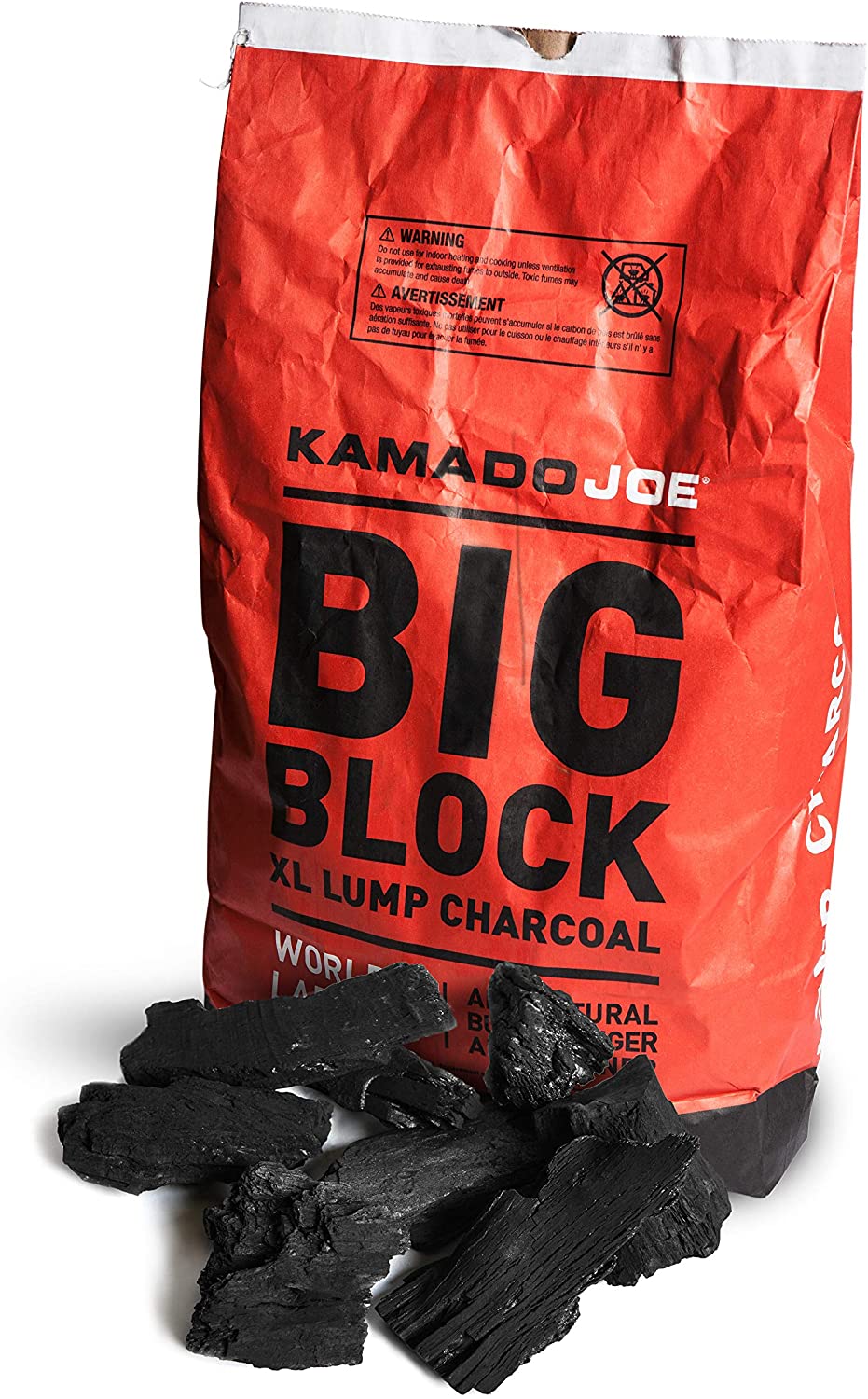 This 20-pound lump charcoal box blends fast-starting small and large pieces, which maintain temperature and last for an extended period. It does blow out some quantity of ash that does not have any impact on the quality of your grilling.
The KJ-Char Big Block comes in two sizes (20 and 30-pound) and three different patterns — Charcoal, Charcoal + Fire Starters, and Charcoal + Wood Smoker Chunks.
4. Royal Oak Lump Charcoal
Extracted from renewable sources, the Royal Oak Lump Charcoal comes with a completely natural blend of oak, hickory, maple, and walnut hardwoods. This lump charcoal kit is light and burns more briskly than other standard brands. This has the reputation of lighting within 15 minutes to give your favorite meals a touch of smokiness.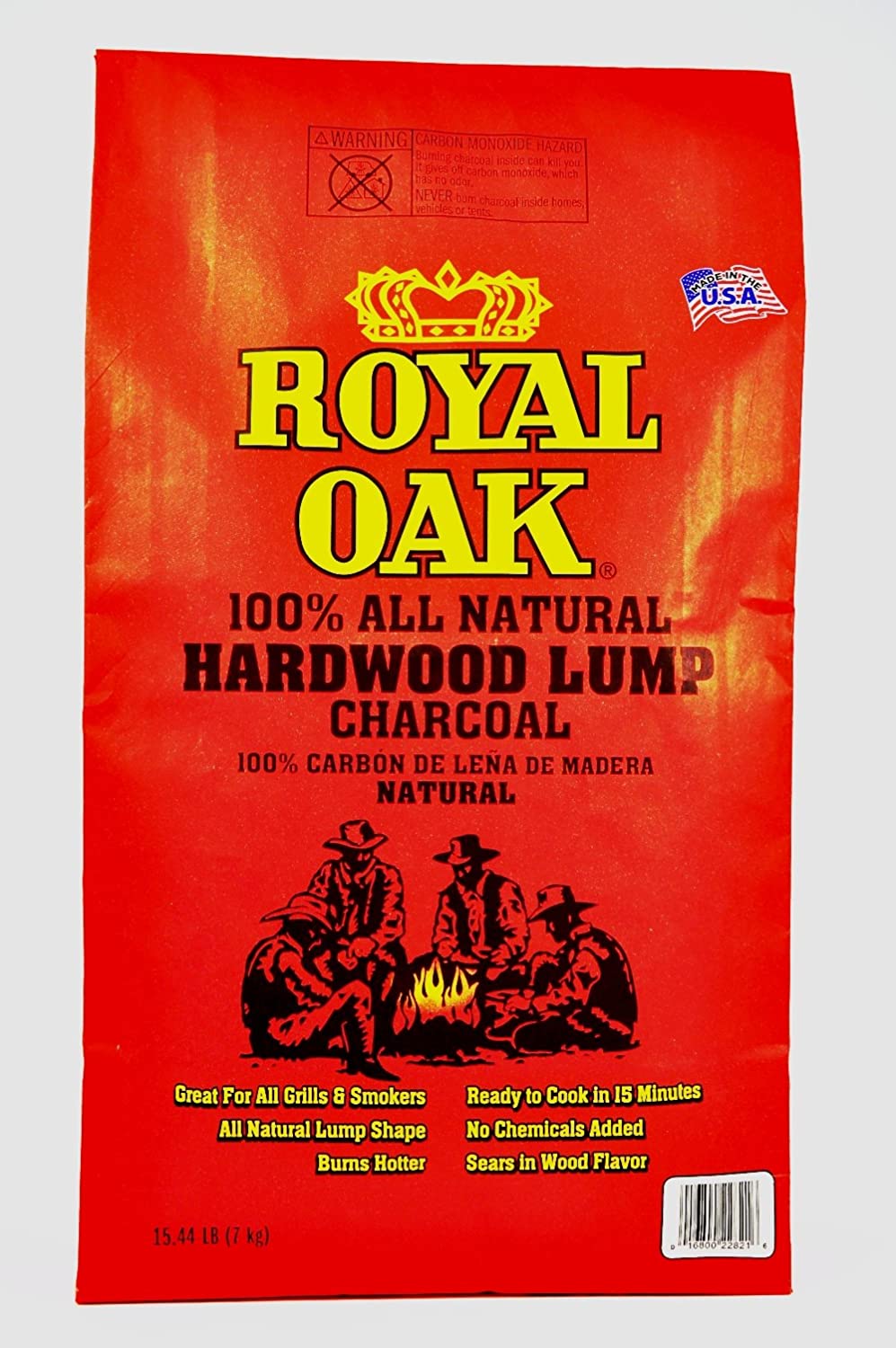 The lump charcoal has no signs of chemicals, additives or fillers, and is said to be the cleaner version of charcoal briquettes. Your guests will be treated with a sweet and smoky aroma, enhancing the moods of everyone around them.
The Royal Oak Lump Charcoal has decent-sized chunks of charcoal, resulting in a quick burn. The aroma and quick burn are the major selling points of this wholesome lump charcoal.
5. Rockwood All-Natural Hardwood Lump Charcoal
Another renewable and entirely-sourced from natural elements, Rockwood's All-Natural Hardwood Lump Charcoal is the fifth-best on our list of charcoal for grilling. This hardwood lump charcoal is free from chemicals, filler, or other such elements.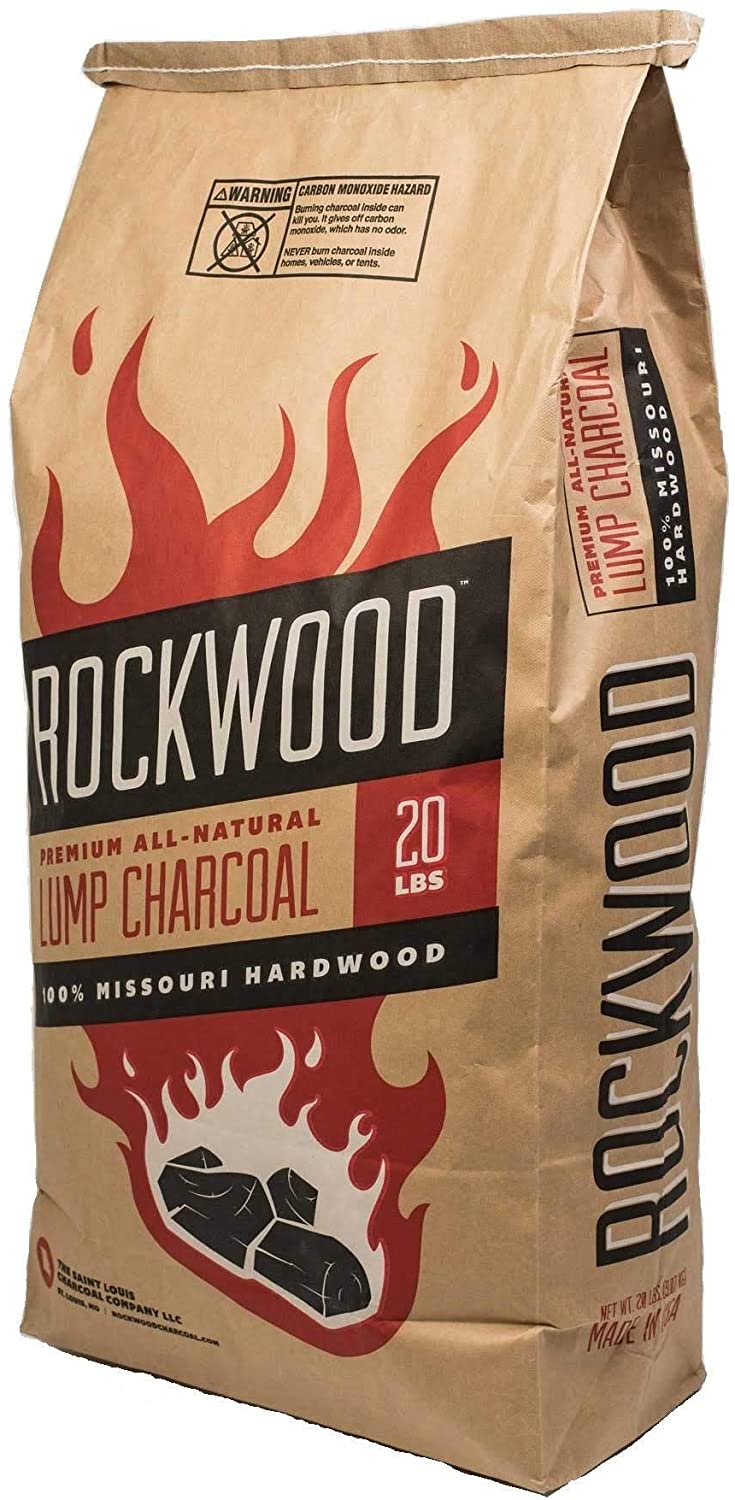 These lump charcoal chunks light quickly, and generate a small amount of ash, promising to last for up to 24 hours. The burn time is largely dependent on temperature and cooking conditions. This eco-friendly lump charcoal package is composed of Missouri oak and hickory.
The grilling fiends would find Rockwood's lump charcoal worth every penny — it has the right aroma of sweetness with a perfect blend of ingredients.
Also Read: Best BBQ Sauces: Perfect Taste Enhancers To Your BBQ Feast
6. Cowboy 24220 Lump Charcoal
The Cowboy Lump Charcoal is a top-class blend of all-natural hardwood charcoal — hickory, maple, and oak mixture that delivers great smokiness. This affordable package lights up instantly, while also maintaining a uniform temperature at the same time.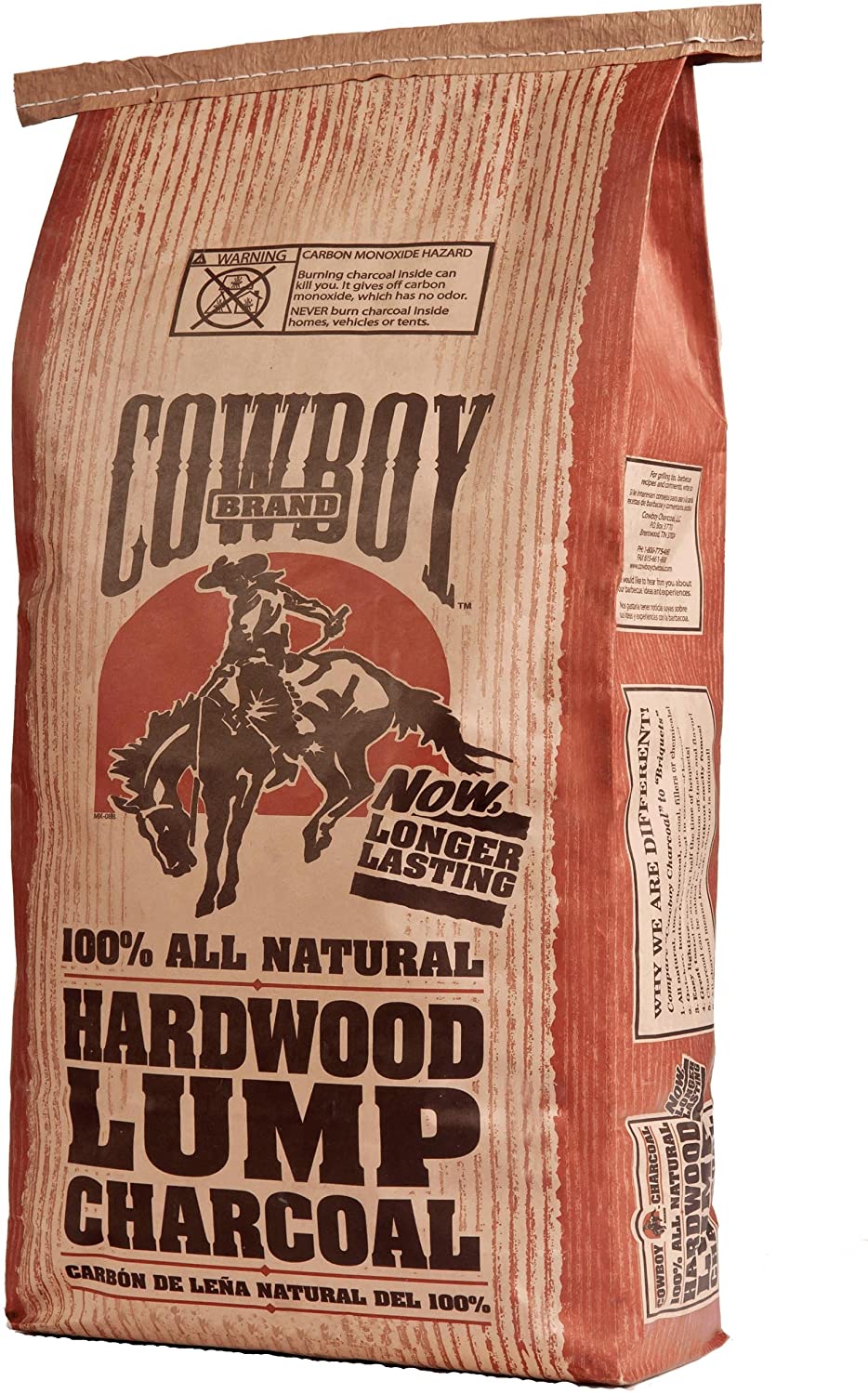 This 20-pound pack of lump charcoal comes with a reasonable price tag for regular grilling. Furthermore, there is this beautiful aroma and soothing taste it brings to your food that makes it stand out from the rest.
The shortcoming of using this in your next grilling session is — finding large chunks in a package that is swamped with small chunks of charcoal. Nevertheless, the product being environmentally-sustainable and obtained from renewable resources, this can be given a chance.
7. Harder Charcoal HAXLWC33 Barbecue Grill Lump Charcoal
Ending the list with the 100% natural, restaurant-style lump charcoal, the Harder HAXLWC33 is the most robust kind of charcoal we have come across. This 33-lb bag of charcoal is made from South American quebracho wood and is sourced without chopping down trees.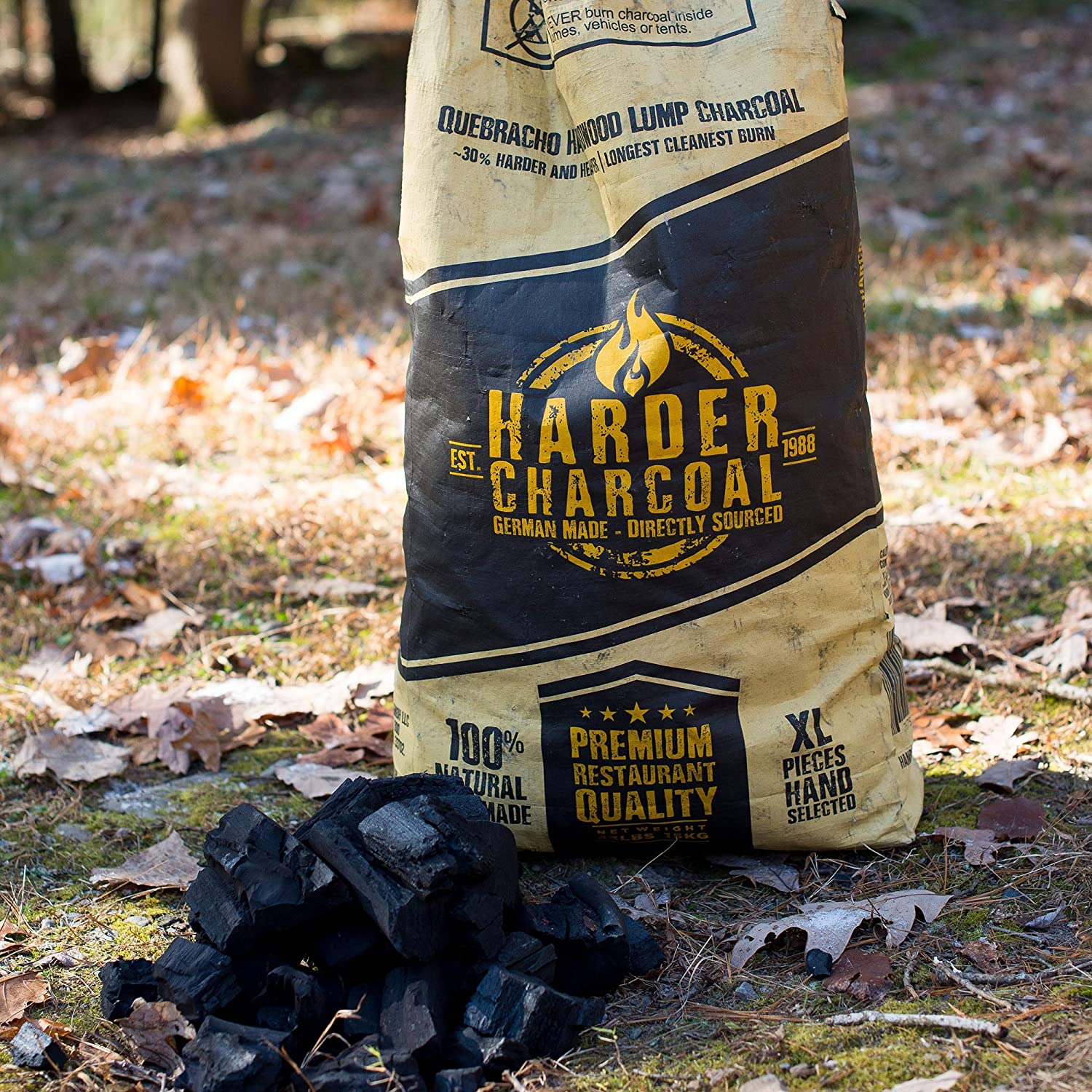 This addition of quebracho wood brings some beautiful aroma and flavor to your food. The charcoal boasts a uniform shape and size, making it easily lit up. Moreover, there wasn't much ash or smoke produced during our grilling process.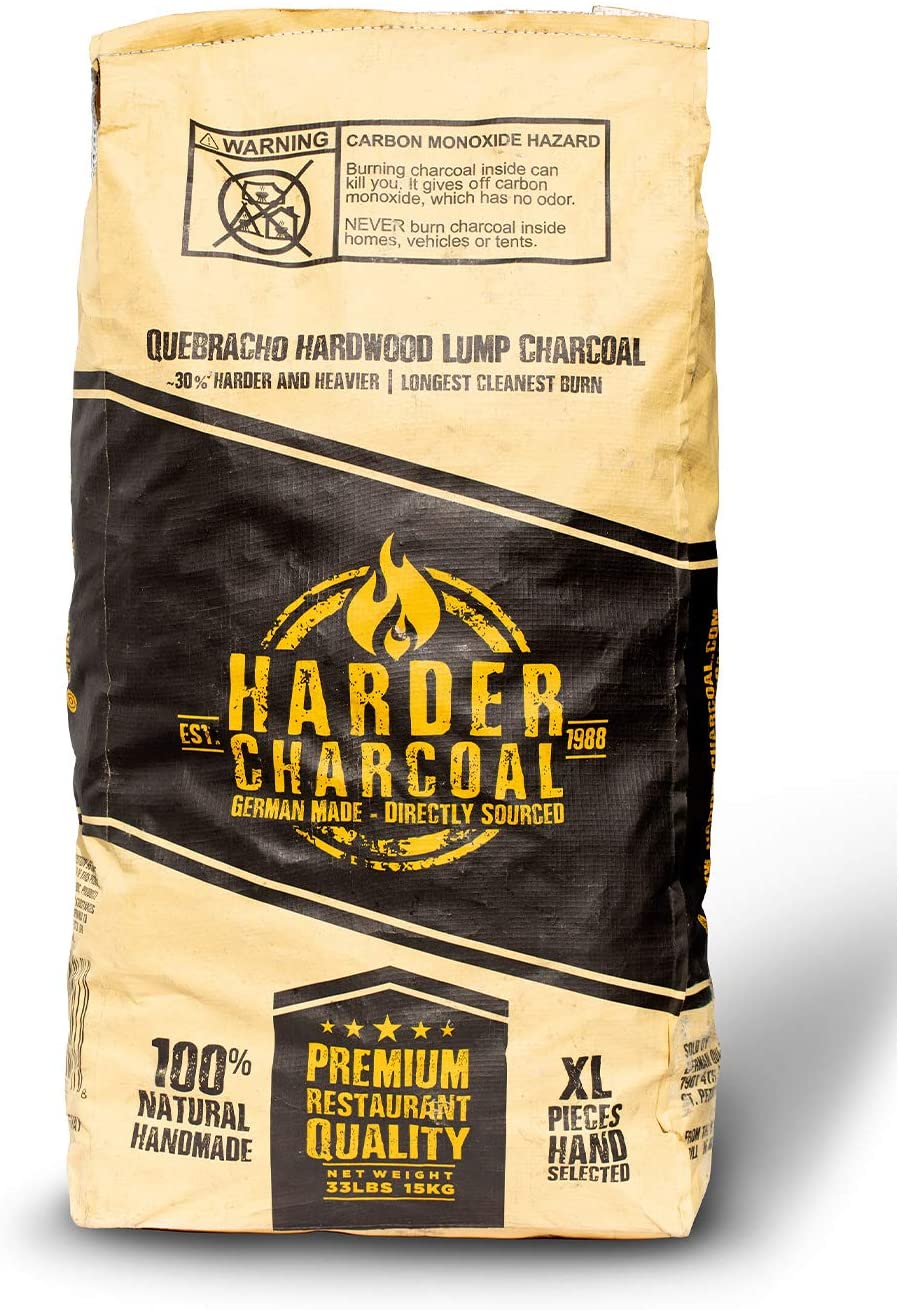 This bag of charcoal brings great results on all types of grills. This package of chemical-free ingredients makes cooking and cleanup both uncomplicated.
---
CONCLUSION
Hope we dropped those shoulders by listing some of the best available. Still, bewildered to what could bring justice to your grilling session? We suggest the Jealous Devil All Natural Lump Charcoal and the Royal Oak Lump Charcoal.
Ultimately, the choice depends on your still of grilling. If there's a charcoal package you use besides the ones on this list, mention it in the comment section.
---
FAQs
How do I perfect the art of using charcoal when grilling?
A question that puzzles every novice's mind before starting to grill. Here are a few pointers to keep in mind:
To have a safe and clean grill session, 100 percent hardwood charcoal is the best.
Charcoal that is in a uniform shape, have sleek edges, and fewer fillers work effectively
Charcoal briquettes are highly-preferred options when first starting with a charcoal grill. Get used to these then you shall switch to using the lump charcoal.
What are the factors to consider when looking to buy charcoal for grilling?
The checklist of finding the right kind of charcoal grilling is below:
All-natural: All-natural charcoal products are completely free from man-made ingredients. These mainly comprise of carbon, wood, or any such elements that occur naturally.
Burn duration: Each charcoal type comes with a different pace of burning. Lump charcoal burns quickly but does not last longer than briquettes.
Check for fillers: Ensure the brands have very few amount fillers. With more fillers, there is more ash generated and can lead to adverse effects on the food you consume.