Barbecue smoking is a mouth-watering and fun session. There are innumerable items that help bring the best out of smoking/grilling. The product in focus today is — wood chips.
Wood chips are the newest alternatives to the archaic methods of chopping trees and wood to perfect smoking. In this article, we take you through the most talked about elements of BBQ smoking, followed by a list of the best wood chips for barbecue smoking.
---
Guide To Buying Wood Chips For Barbecue Smoking
Wood chips carry their own elegant flavor and aroma to enhance your barbecue smoking sessions. The various types of wood chips when paired with all kinds of food — make the dull faces drool over the smoked Dish. In the following few sections, we discuss the types, and how to get the best out of wood chips.
Also Read: Best Portable Smoker: 7 Portable-Friendly Smokers For A Great Outdoor Smoking Session
---
Types of Wood Chips
Following we have the detailed explanation of wood chips that are mainly utilized for smoking purposes. We discuss the aroma and flavor they bring when smoking your favorite kind of meat or vegetable.
Oakwood chips
The most common and preferred choice of novice smoke masters is the Oak chips. These are added to deliver some robust smoky taste to your food. Moreover, this kind of wood chip doesn't hamper the authenticity of your meal.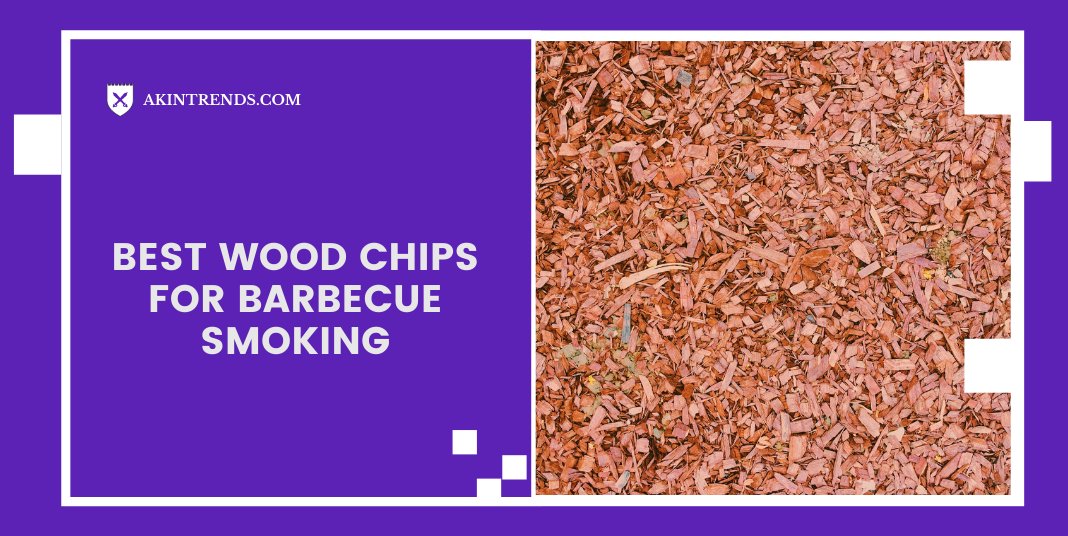 Hickory wood chips
Another widely-used type of wood chip that is common among the meat-eaters is the Hickory. These tend to bring some sour taste, courtesy of the hearty wood.
Maple wood chips
Maple is known for the sweetness and mild taste they carry when lathered on meats and vegetables. They are typically the go-to choice to produce some medium smoky flavor to your meat.
Mesquite wood chips
Sourced from Southwest of the United States, mesquite enhances meats and veggies with a distinct flavor and strong aroma. The use of mesquite is best when paired with charcoal.
Pecan wood chips
Pecan wood chips are generally sweet that is best utilized with lump charcoal. These wood chips produce the right quantity of smoke to add some flavor to your meal. Pecan brings the perfect blend when used to grill fruits.
Applewood chips
Apple is the most sought-after fruit that smoke masters use for grilling/smoking. The apple tree wood adds some mellowy and smokiness to your meat and veggies. This wood chip requires additional time for smoking, so better be prepared.
Cherry wood chips
Apple and cherry wood chips are the ideal combo of fruity flavor you must have when smoking. With a hint of cranberry, you are ready to treat your guests with some mouth-watering turkey and ham.
---
Best Wood Chips For Barbecue Smoking
Jotting down the best wood chips was an uphill task. The market is home to many brands with different kinds of chips, offering the perfect aroma and flavor to your food. Here are some of the best wood chips for barbecue smoking.
1. Jack Daniel's 01749 BBQ Smoking Chips
From the house of top-selling American whisky in the world, Jack Daniel's Smoking Chips come with a perfect blend of white oak and flavorsome whiskey. This wood chips package is sourced from the oak barrels that absorb stored whiskeys.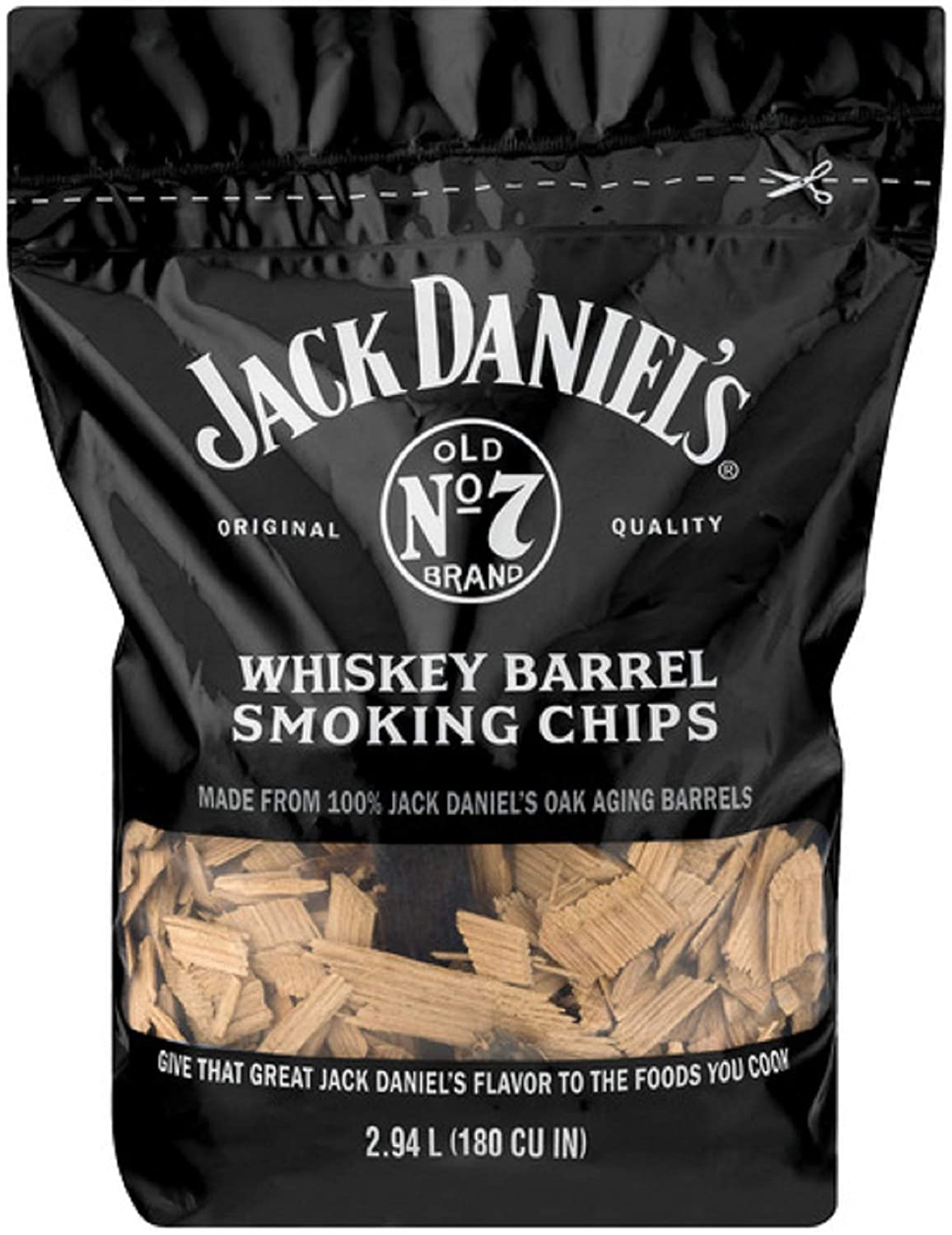 The makers then convert these into wood chips to bring smokiness to your food. These wood chips are effective when used on charcoal and gas grill or smokers. This smoking chips pack will add some exquisite taste to your favorite food — be it ribs, burgers, chicken, etc.
These BBQ smoking chips pack everything — from the taste to the burning time. Moreover, the hint of one of the finest whiskey makes this much more drool-worthy to include when smoking.
2. Weber 17004 Wood Chips
Weber is a well-known player in the smoker and grill industry. The brand's 17004 Wood Chips are a long-time favorite of smoke masters. The fruity flavor that comes with it has multifarious benefits when added alongside pork and poultry.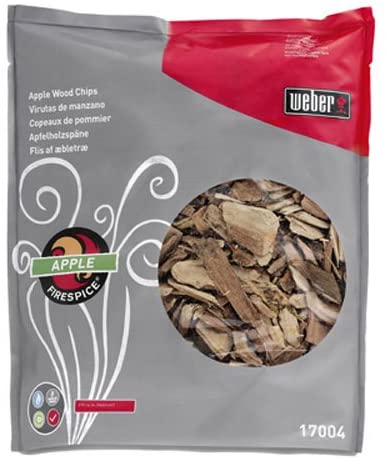 This wood chips bag comes in three different variants — Apple, Cherry, and Whiskey. Each of these comes with a touch of smoky and fruity flavor that makes all kinds of food taste delicious. Experts advise soaking the chips for about thirty minutes, which saves them from burning rapidly.
Weber's 17004 is entirely natural and is without additives or other harmful elements. This 3-pound wood chips bag is a great alternative to charcoal briquettes.
3. Western 78074 BBQ Smoking Chips
Immensely popular for the range of flavors it arrives in, Western 78074 Smoking Chips bring a different taste to poultry, pork, sausages, or beef. The Mesquite BBQ Smoking Chips are readily equipped to work with charcoal, gas, or electric grills.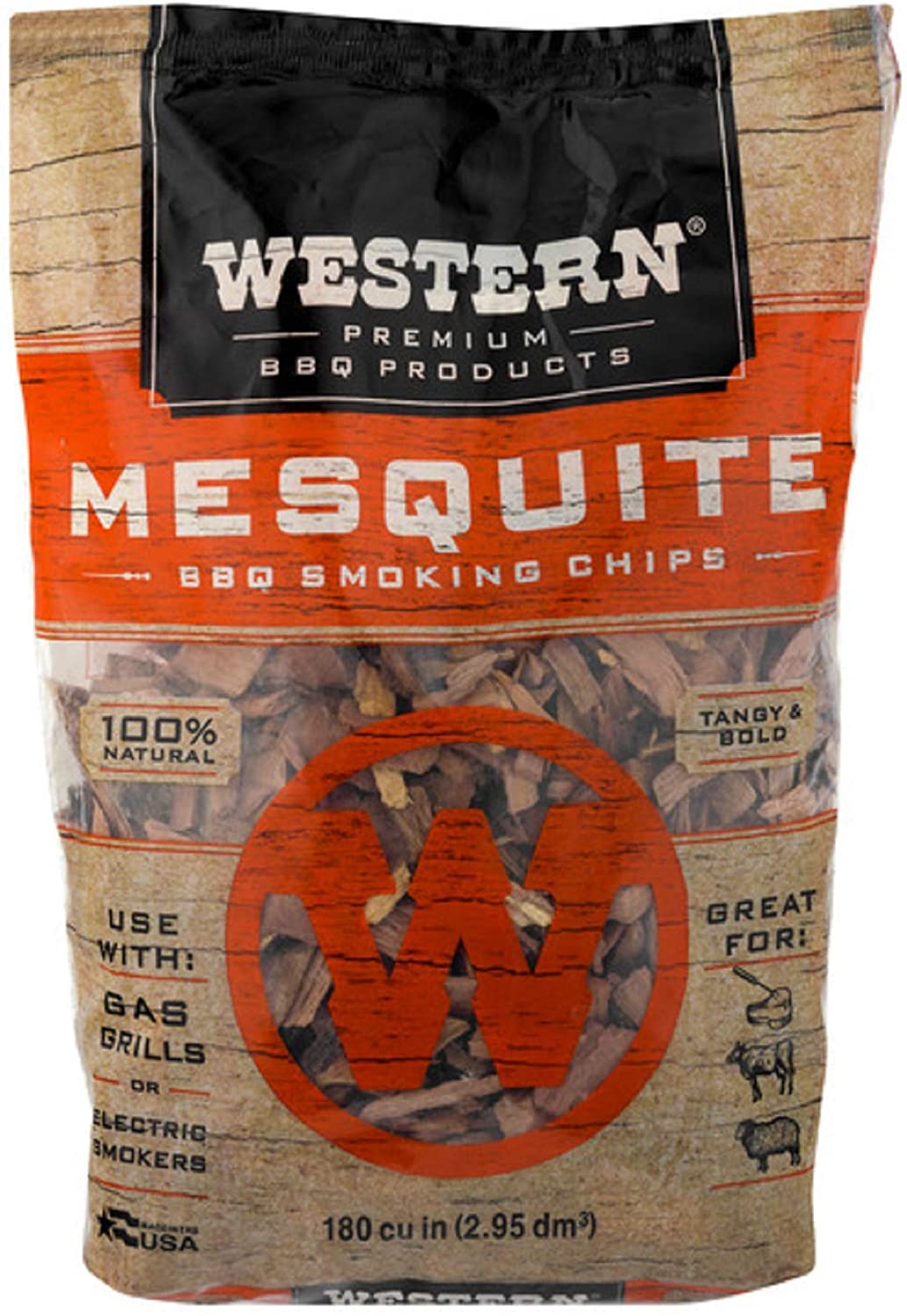 This two-pound bag is obtained from real heat-treated mesquite wood, thus bringing a more robust flavor to all types of food. Sourced from states like Arizona and Texas, this package has the rich and distinct flavor that compliments well with brisket, steak, and cuts of beef.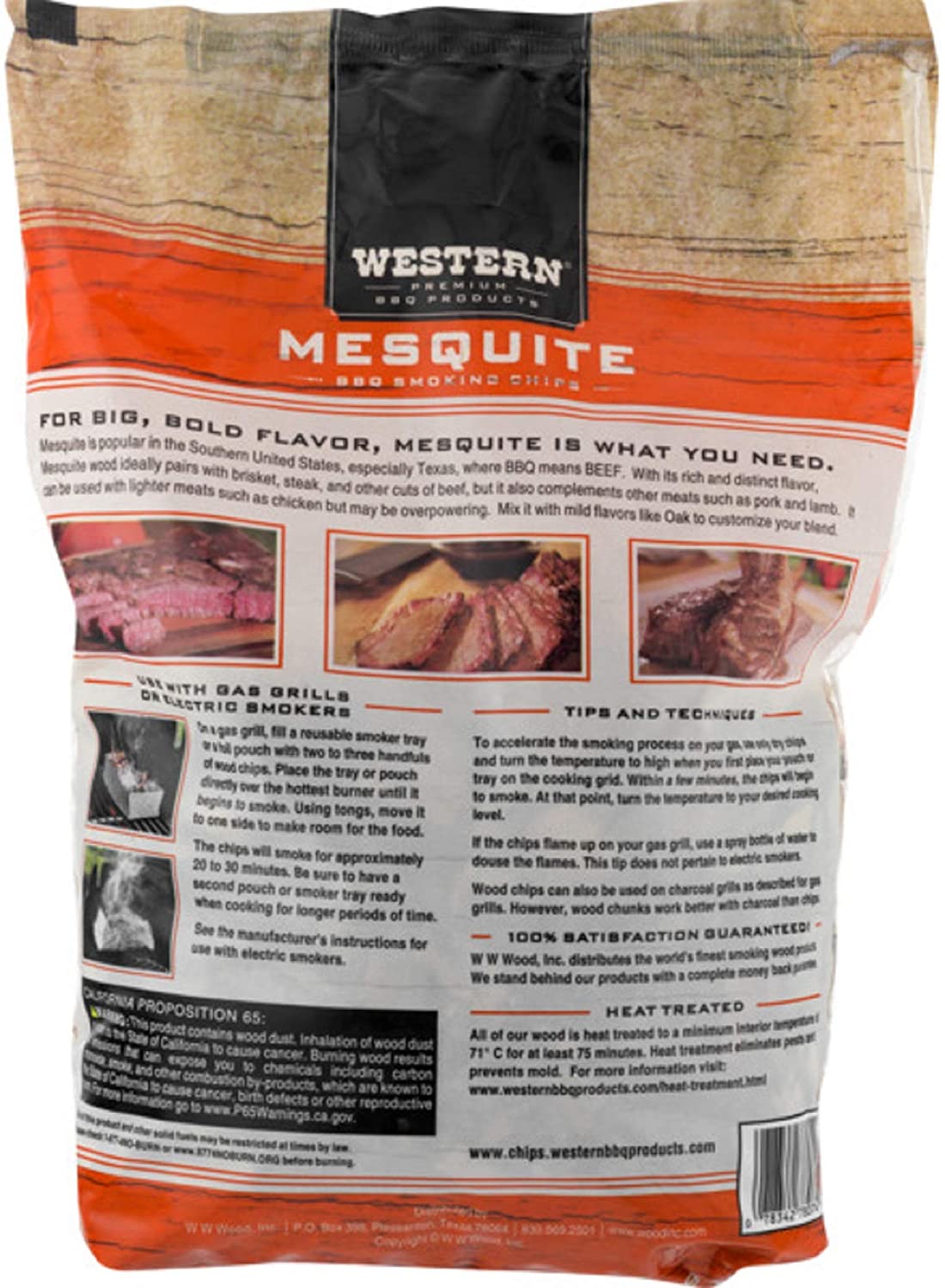 Other than the Mesquite flavor, the chips come in flavors — Apple, Cherry, Hickory, Maple, Peach, Pecan, and Post Oak.
Also Read: Best Grill Smoker for Beginners – Start Barbecuing
4. Camerons Wood Smoking Chips
Camerons' container is stocked with top-quality wood chips that can last for up to thirty smoking sessions. This wholesome container of sumptuous chips burns briskly, thus delivering some rich smoky flavor to your food.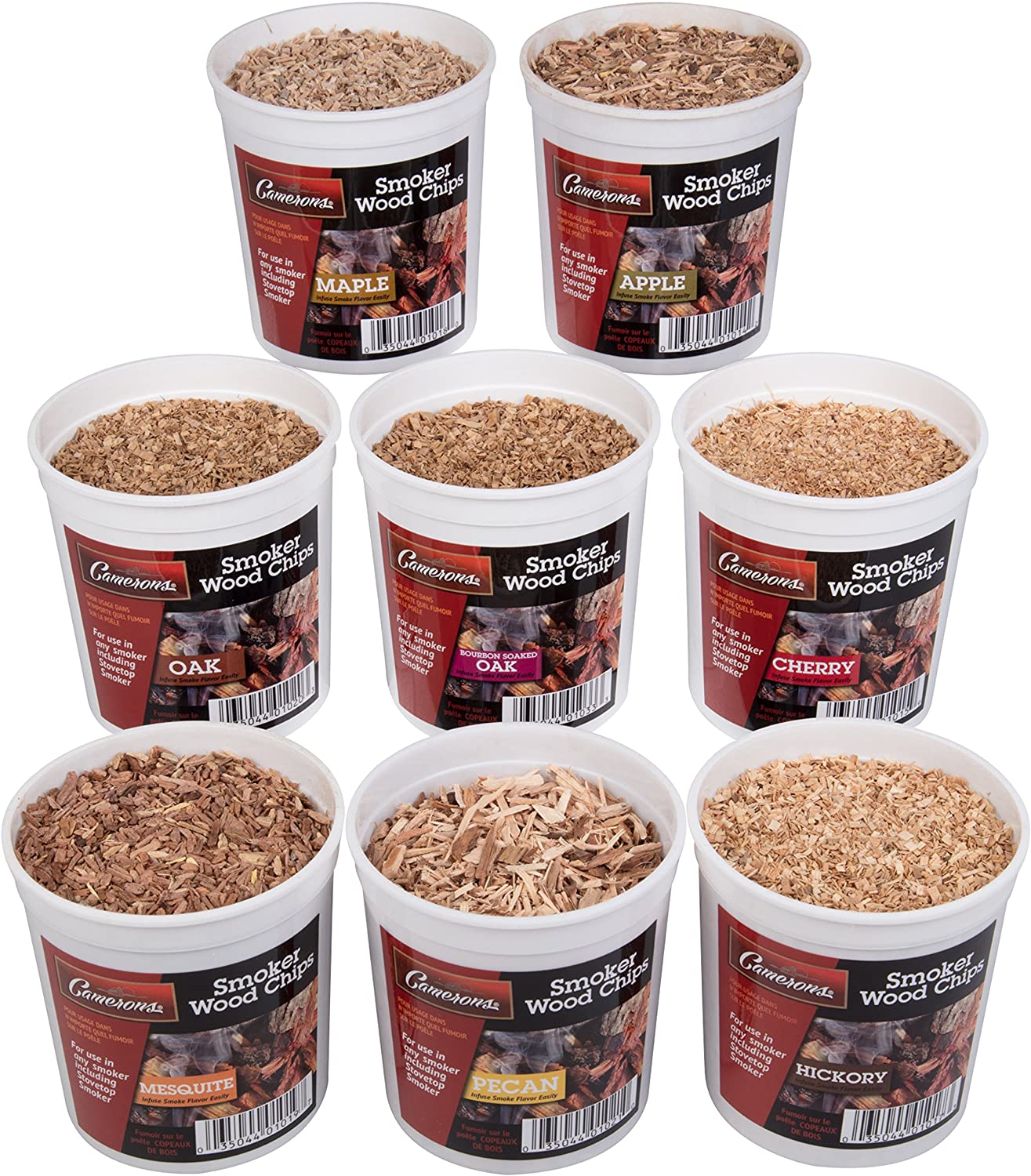 The chips are made from the raw timer and kiln-dried and are completely natural. The containers are highly recommended when tailgating or camping since they can be easily opened and resealed. These work relatively well when put together with poultry, pork, beef, lamb, and vegetables.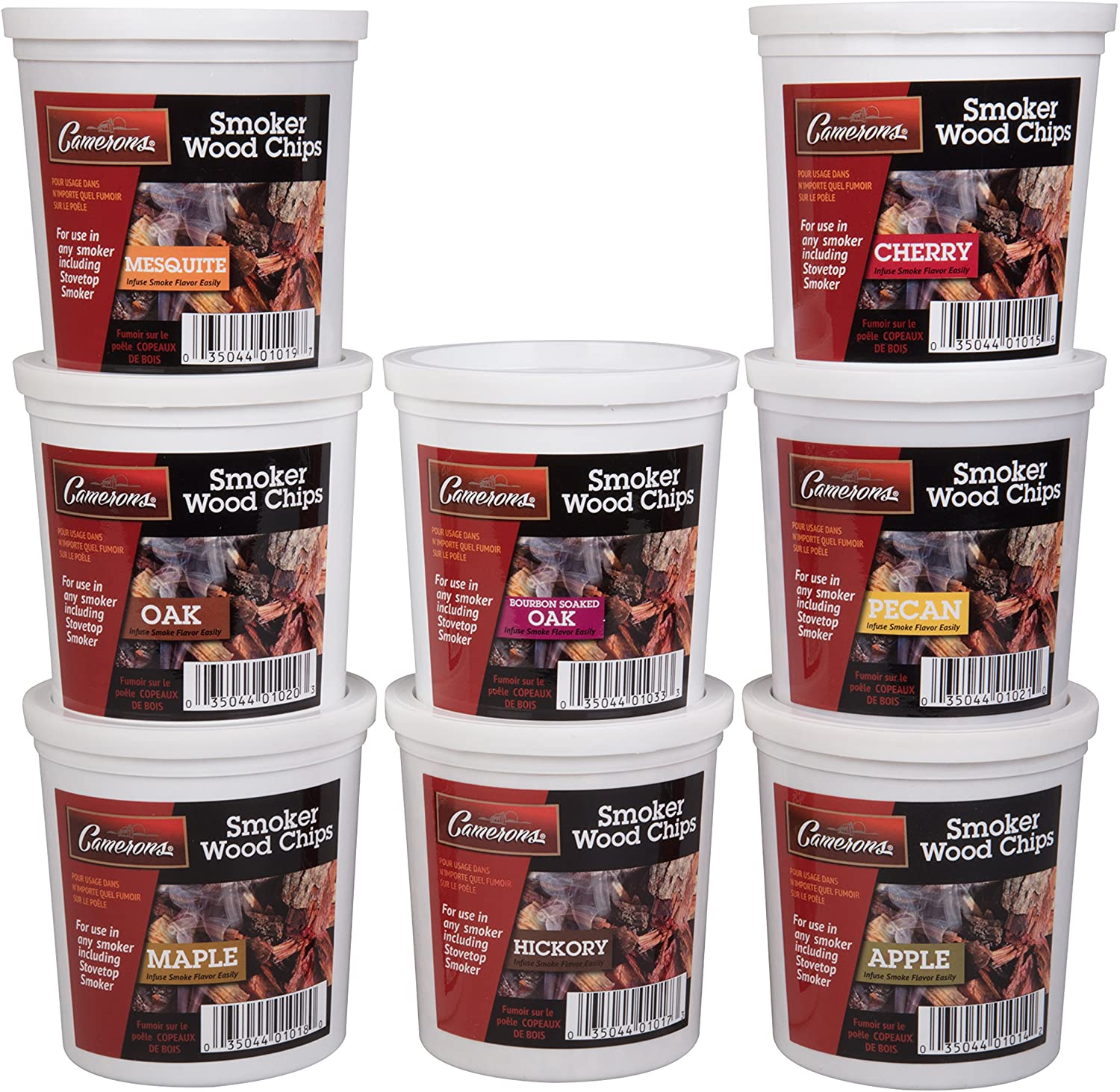 This container has the knack of igniting and producing smokers more quickly, which does help in creating a delicate smoky flavor to your dish.
5. Weber Wood Stephen Products (Apple Wood Chips)
Another sought-after wood chip package by Weber is the Wood Stephen Products' applewood chips two-pound package. This package comes with a subtly sweet taste and ignites slowly to bring flavor to the smoked dish.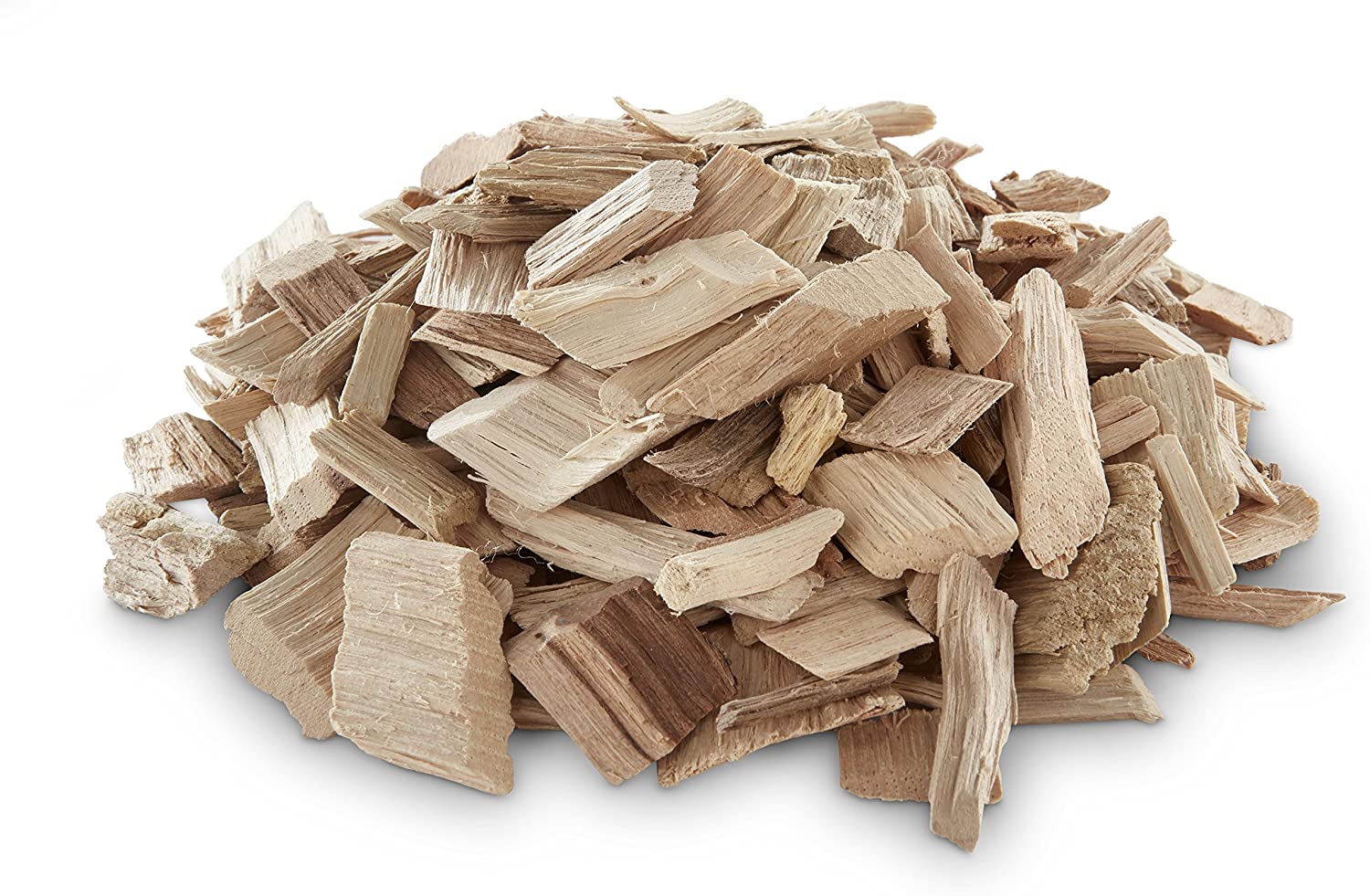 The sweetness and fruity flavor of the wood chips work astoundingly well with poultry and fish. For someone who is an ardent fan of apple flavor, then purchasing this wood chips package makes sense. The inclusion of sweet apple to fish fillet does bring an invigorating feel to your plate.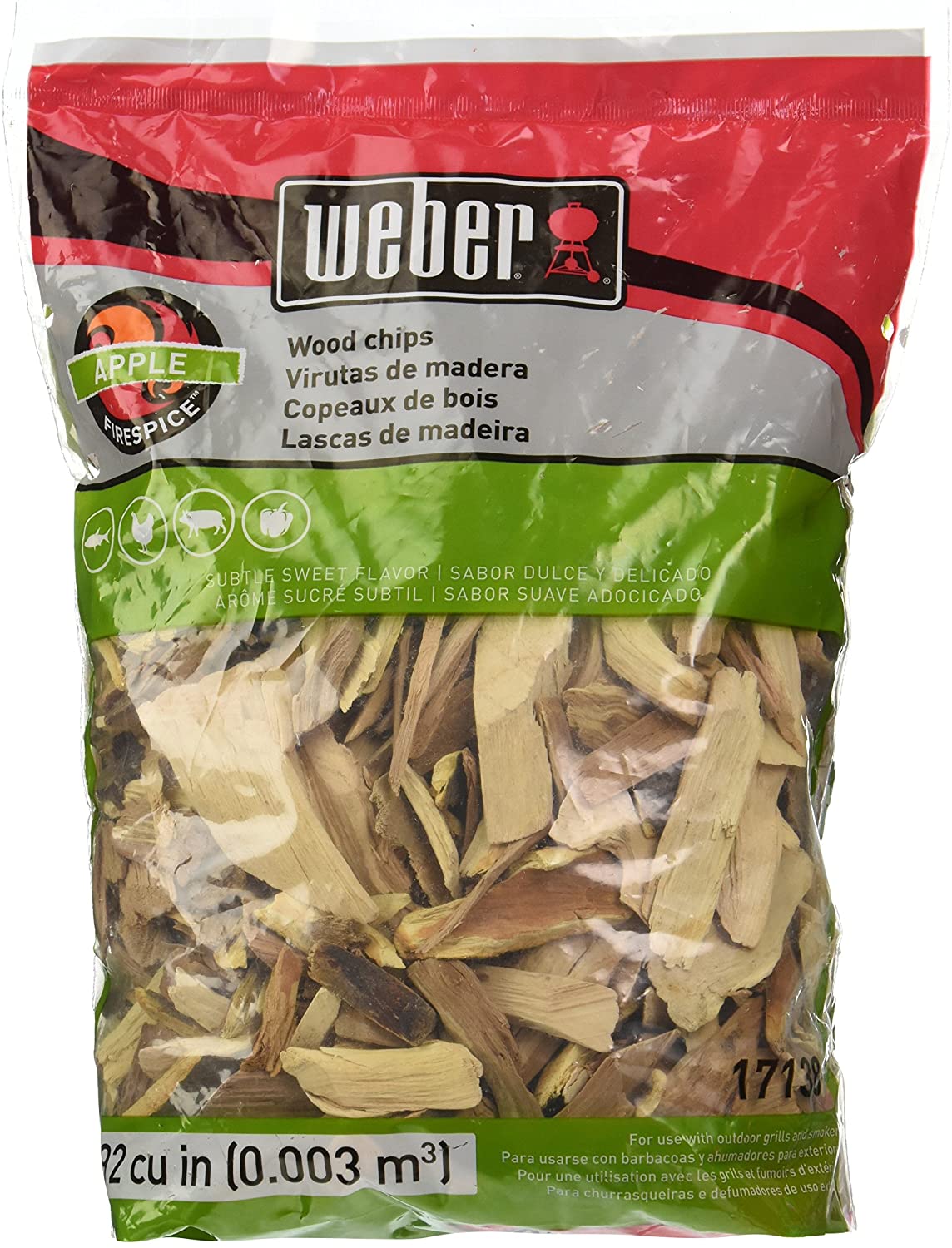 This budget-friendly wood chips pack is available in Cherry, Hickory, Mesquite, and Pecan. The distinct aroma and tang of sweetness add depth to poultry.
---
CONCLUSION
The journey to becoming a master smoker lies in the products you choose for preparing a sumptuous meal. To ease the burden of yours, we recommend buying the Jack Daniel's 01749 BBQ Smoking Chips or the Western 78074 BBQ Smoking Chips — two of the finest quality wood chips available on the market currently.
---
FAQs of Wood Chips For Barbecue Smoking
How frequently do I need to add wood chips to the smoker?
The most popular method followed by beginner and professional smokers is to keep adding chips to the smoker for half the cook time, or to the point where meat reaches 140-degrees Fahrenheit. Also, if the wood chips burn faster, soak them in water an hour before using.
How do I use the wood chips?
The process of using wood chips is pretty simple and straightforward. Here are some tips that may help you when smoking:
Begin by soaking the chips for about an hour.
Fill both your hands with wood chips and add them to the chip pot on your smoker. Before adding the meat or vegetable, ensure that the chips have started to smoke.
Soaking is the most pivotal step — ignoring this stage will give the meat a sour taste and turn it into black, which is not recommended for a feast.