The flexibility of cooking/smoking/grilling anywhere at any given time is inundated with challenges. That brings us to focus on a reliable piece of equipment that makes smoking a straightforward process.
Analyzing and throwing meats and veggies on all kinds of smokers, here we bring you the list of best portable smokers. These smokers are invaluable when used for next camping, tailgating, or any outdoor session. Before diving into the list, here are a few tips for choosing the right portable smoker.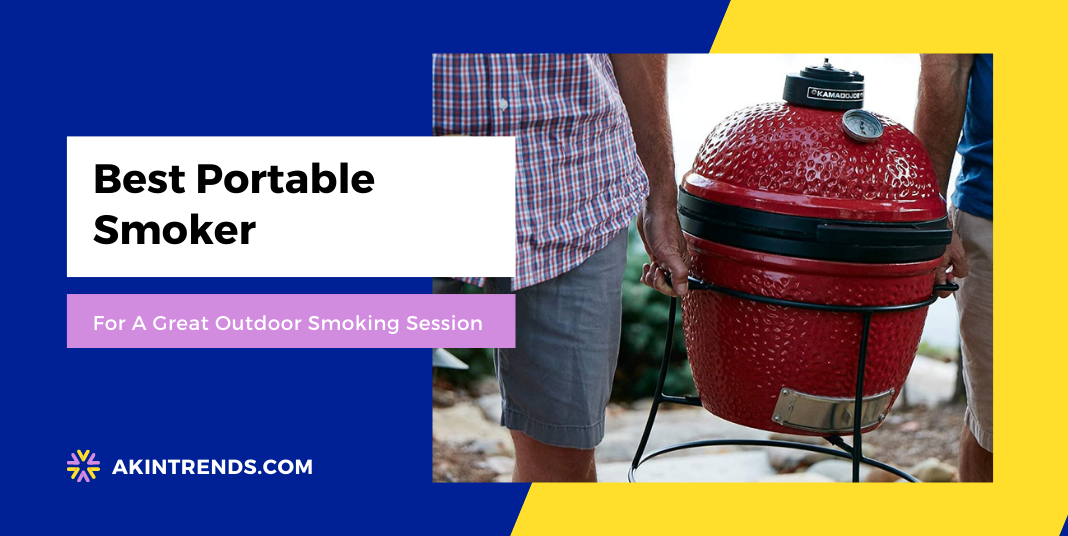 ---
Tips for Choosing The Right Portable Smoker
Portable smokers are available in various shapes and sizes — picking the one that mimics your preference is always a hard choice. Following are a few pointers to consider when buying a portable smoker that meets all your requirements.
Various types of smokers
There are four types of smokers you'll find on the market — charcoal, electricity, propane, or pellet smokers. Charcoal smokers are the most common of these since they bring more smoky flavor to the meal. However, electric smokers are a recommended choice for portability.
Smoking Area
The highly influencing part about the purchase is the cooking surface. Portable smokers have to be a lot smaller than the standard-sized ones. Prior to buying, have a clear picture in your mind of what you are about to cook — is it chicken or large pieces of meat? Once you have the answer, pick one accordingly.
Consider your budget
Budget is a deal-breaker. Budget smokers start from about $50, while the high-end models cost nearly $200 – $500. For novice smokers, a budget-friendly option is an ideal choice. In contrast, high-end models come with distinct features that have more room and functions to cook all kinds of meat.
---
Best Portable Smokers
Portable smokers are ideal smoking gears for your outdoor activities. We have enlisted the best portable smokers of 2021 to enhance your cooking experience.
1. Weber 14-inch Smokey Mountain Cooker
Weber's 14-inch cooker is a reliable yet transport-friendly smoker that does cooking at a camping or any outdoor site a fairly easy job. This smoker features two 14-inch diameter grates for smoking multiple foods simultaneously. The smoker is the lightest one around 39.1 pounds. The grates of the smoker are quick and easy to clean.
This cooker cum smoker comes with a heat-resistant nylon handle that makes smoking a hazardous-less task. It boasts sturdy legs that are rust-resistant, allowing a safe and steady cooking experience as you cook. There is an extra-large water pan, which helps in maintaining the heat by collecting water droplets.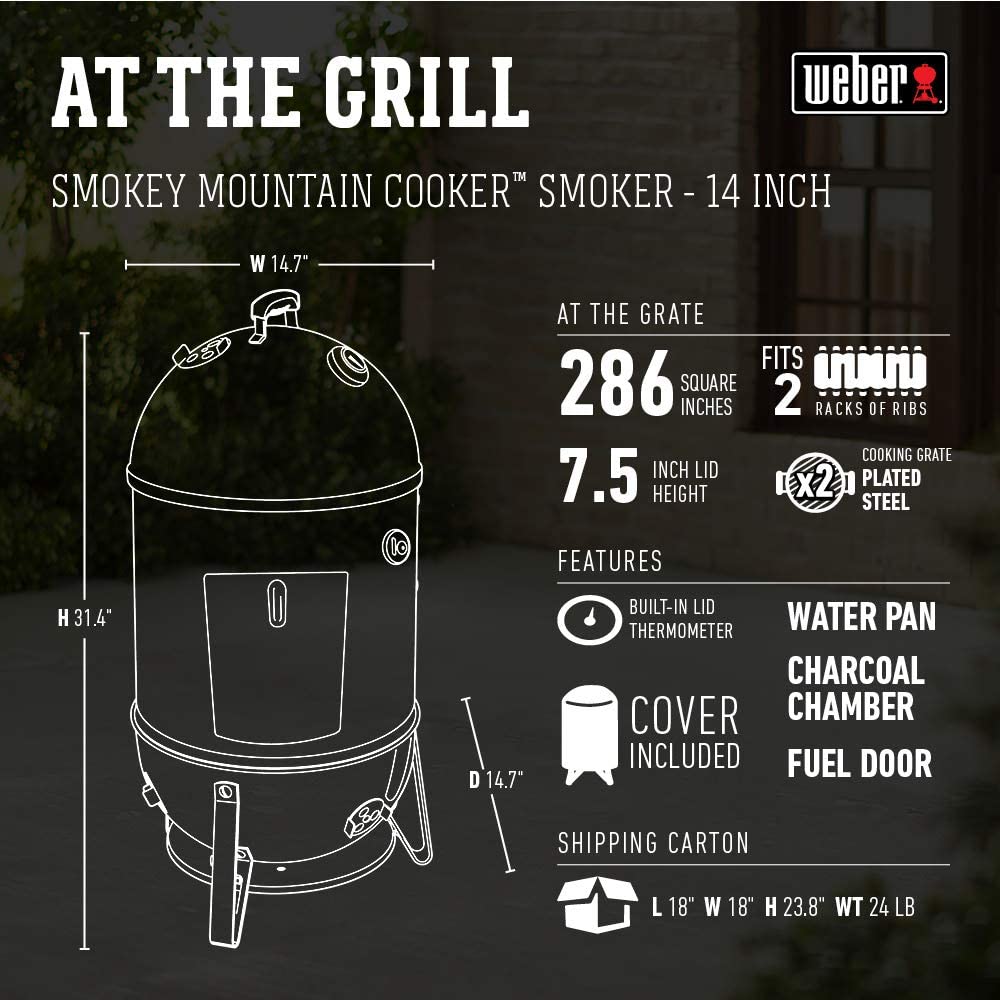 The Weber Smokey Mountain Cooker is available in three variants — 14, 18, and 22-inches. Given that you are here for a portable model, the 14-inch variant is the best choice.
2. Green Mountain Davy Crockett Sense Mate Pellet Grill
Green Mountain's Davy Crockett is the perfect lightweight companion when smoking in the outdoors. The smoker weighs slightly more than 50-pounds and comes with foldable legs, making this an ideal smoker to fit inside the trunk of your car. It has a straightforward and small footprint, thus doesn't eat much space.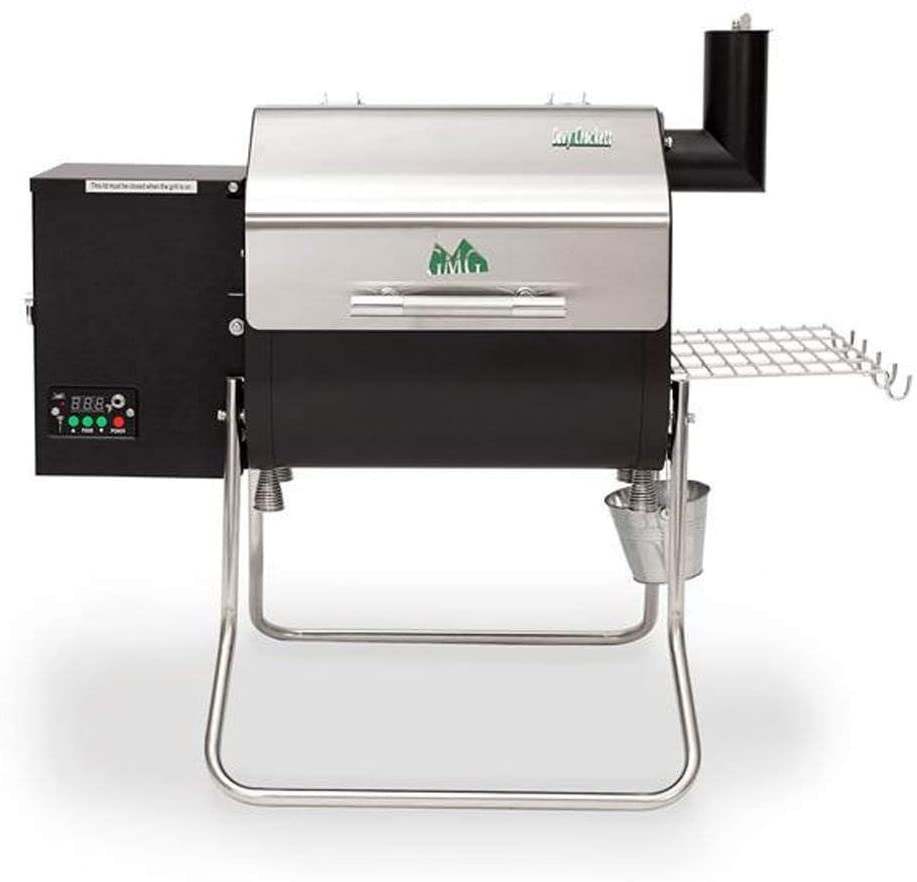 This smoker comes with Wi-Fi enabled, meaning you can operate this with your smartphone by simply downloading an app. This is a multi-purpose machine that allows you to — grill, smoke, bake, braise, roast and BBQ. It is all-electric and can be powered using different kinds of adapters that work with your car.
The Green Mountain Davy Crockett Sense Mate Pellet Grill is laden with smart features, as it comes with Sense-Mate that always keeps a tab of the temperature. The smoker can be adjusted from anywhere between 150- to 550-degrees Fahrenheit, making this suitable during searing and slow cooking.
3. Smokin-It Model #1 Electric Smoker
Smokin-It is known for creating lightweight and compact smokers. Model #1 is another one of their small variants with a small footprint that can hold up to 22-lbs of meat. The smoker is built using 18-grade stainless steel, ensuring durability for years to come.
It has a sturdy door coupled with cool-touch handles that make lifting or movements of the smoker easier. This electric smoker has three stainless steel racks, which have room to fit in another rack. The smoker features a built-in temperature option to let you control the inside temperature.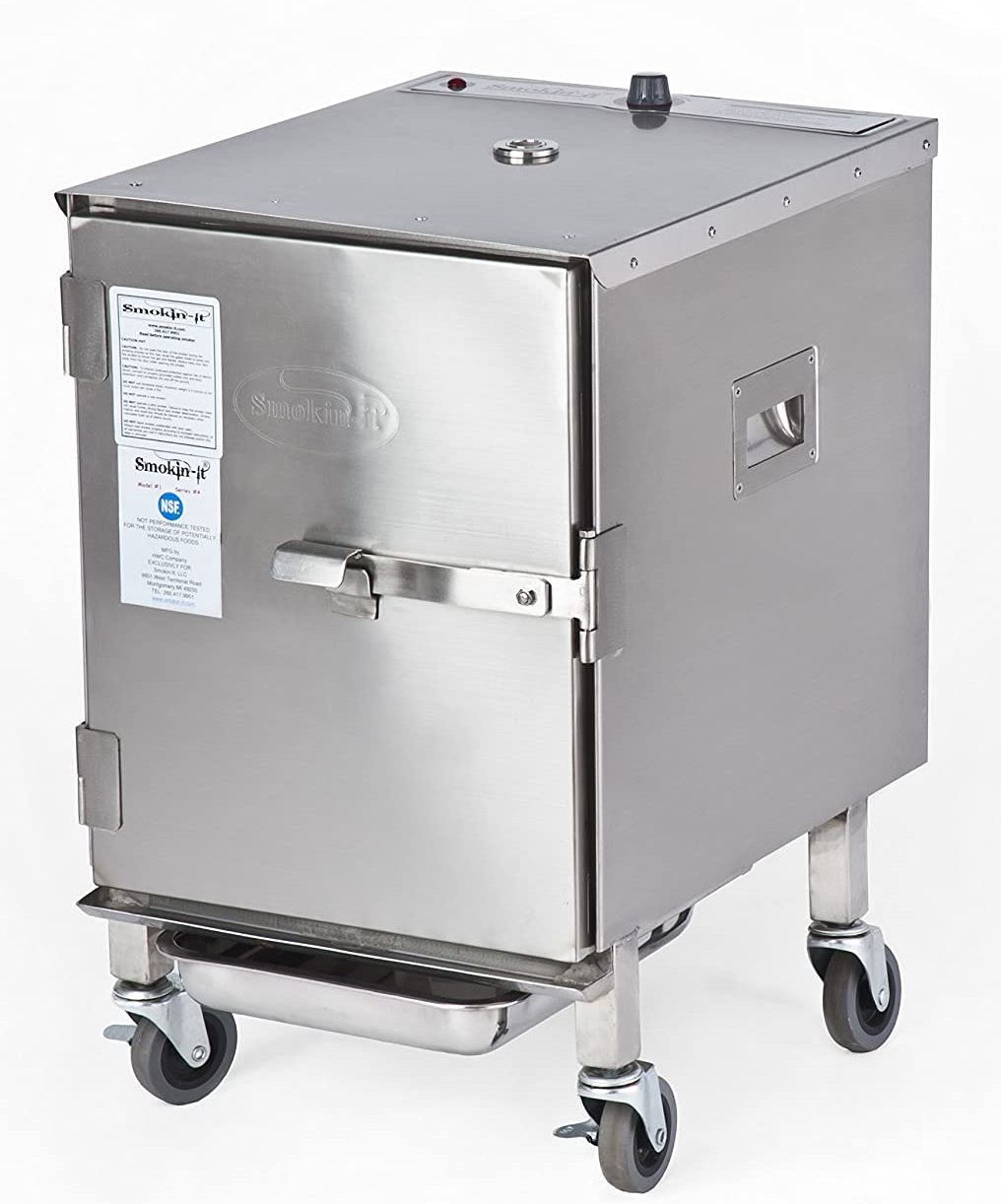 Model #1 runs on a 400-watt heating element, offering you to smoke at high temperatures. Also, the smoker boasts of a LED light and fiberglass that assists in minimizing heat loss. This is pretty neat equipment to smoke a range of foods, including cold smoke foods like cheese, etc.
4. Masterbuilt Smoke Hollow 30162E Portable Electric Smoker
Masterbuilt's Smoke Hollow 30162E is the cheapest and high-performing model on the best portable smokers list. This electric smoker has a small footprint, which allows it to heat rapidly and control the temperature better. Moreover, the addition of an electrical control mechanism helps keep the temperature steady.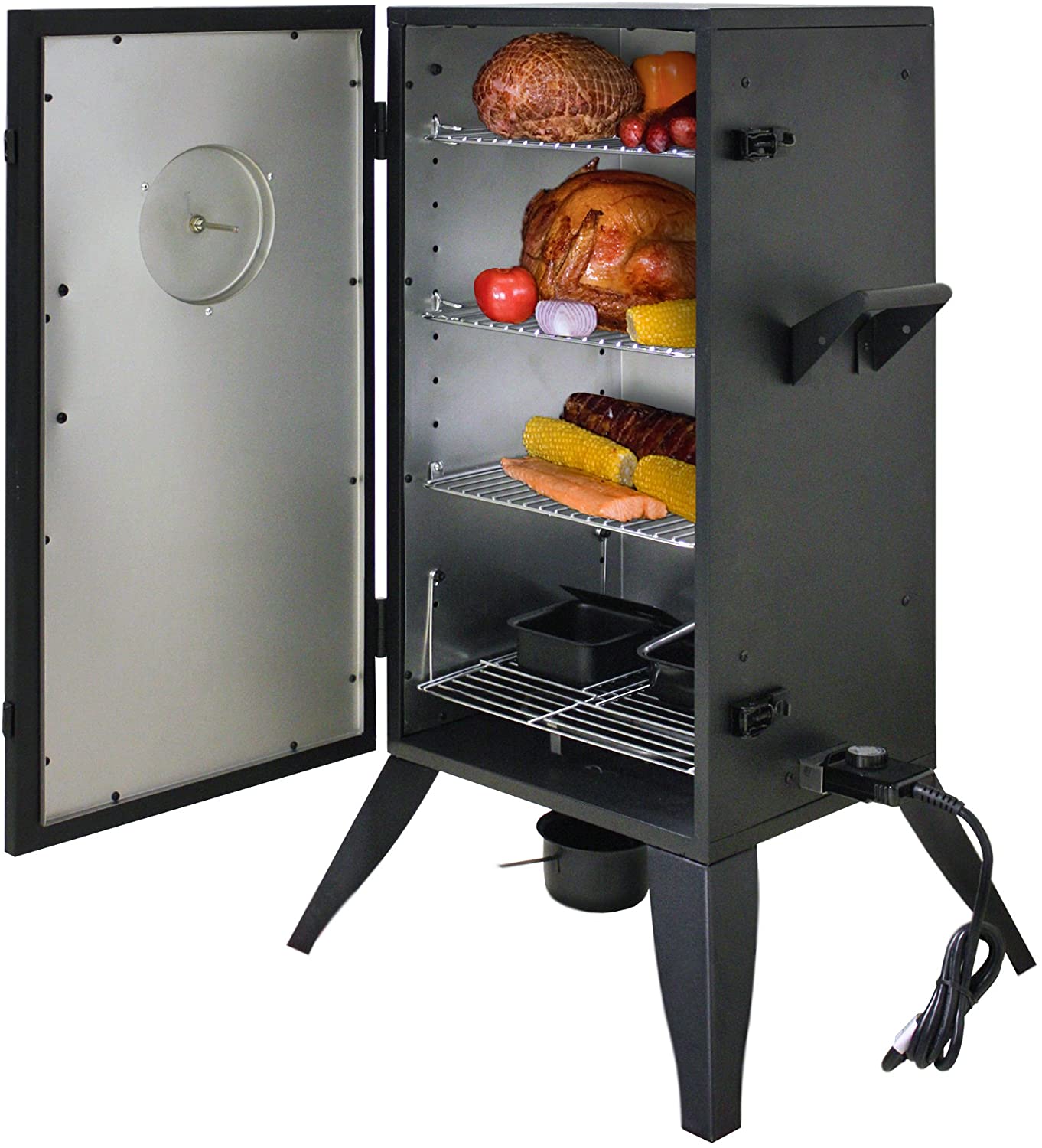 The smoker's doors come with a magnetic sealing mechanism, ensuring smoke does not pass through once you seal the door. The smoker features three adjustable temperature settings with an external temperature gauge that indicates accurate temperature.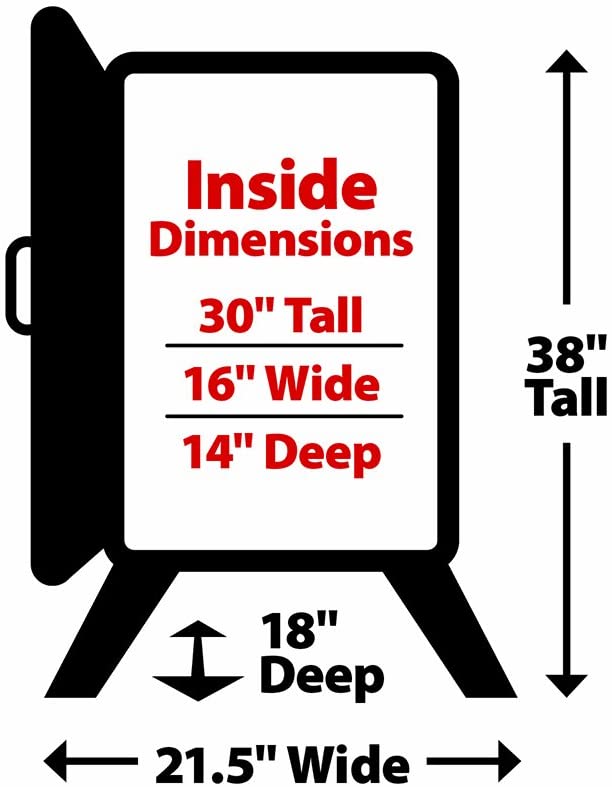 The Masterbuilt Smoke Hollow 30162E brings home various features that make this a stand-out product from the rest. The all-weather body is what impresses us the most. Also, user-friendliness is matchless.
Also Read: Best Electric Smokers – For A Perfect Outdoor Session
5. Kamado Joe Jr. KJ13RH Charcoal Grill
The Kamado Joe Jr. KJ13RH is a high-performing portable smoking gear with top-class materials for quality smoking sessions. This smoker arrives with a 304 gauge stainless-steel grate that guarantees to stick for years to come. It features a built-in temperature, which does fine in measuring the temperature.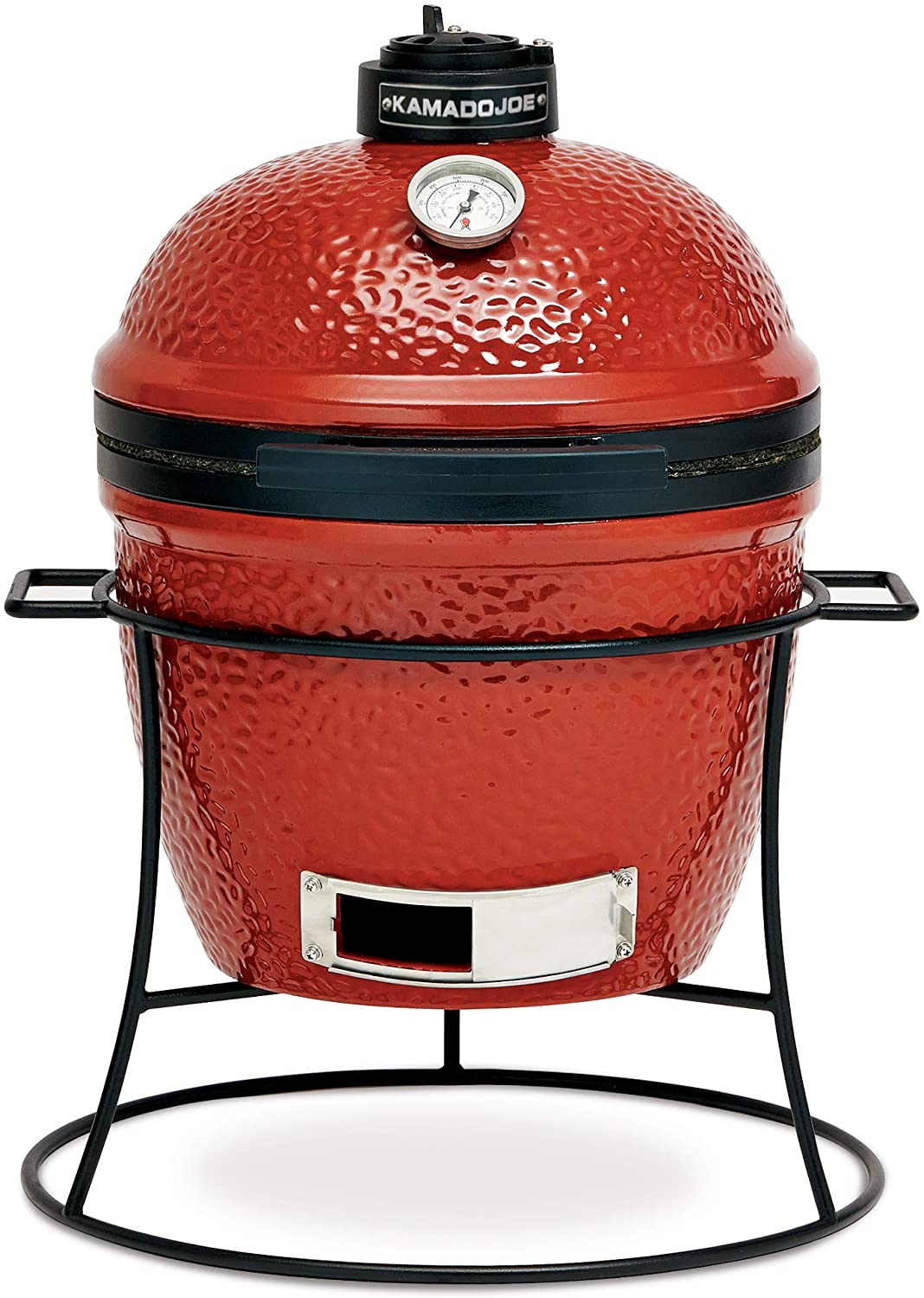 The smoker gives comfortable access to an ash tool that makes discarding ash a straightforward process. In addition, this smoker comes with a few features that will enhance your cooking experiences, such as the regular hinge and cast-iron air vent for temperature control.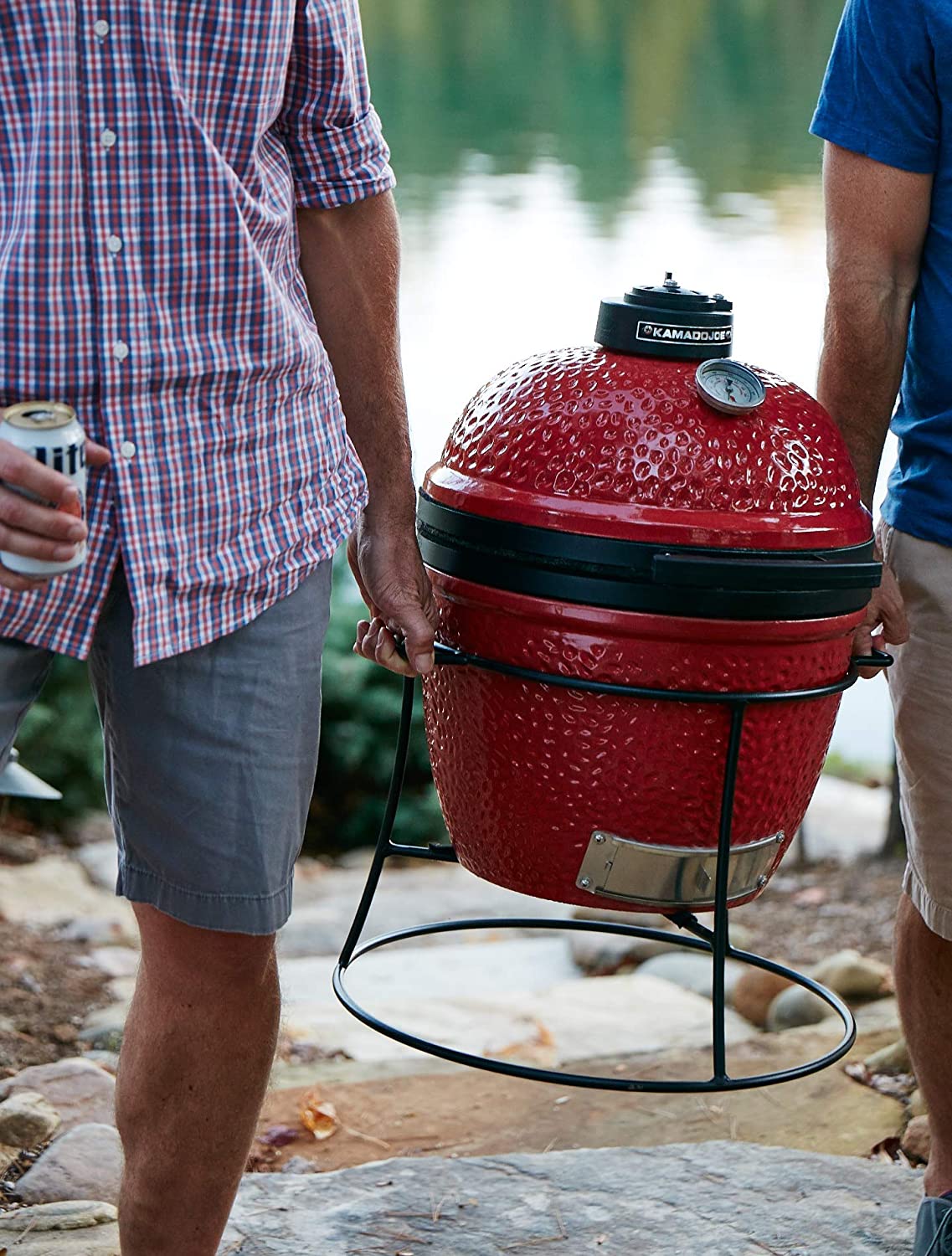 The Kamado Joe Jr. KJ13RH is a versatile yet lightweight smoking equipment that provides enough room for you to grill your favorite meat or vegetables.
6. Char-Griller E22424 Table Top Charcoal Grill
Marketed as 'the ultimate portable charcoal grill,' the Char-Griller E22424 is the ideal smoking gear for outdoor sessions like tailgating, camping, etc. The smoker ensures durability with its body constructed of steel and cast-iron and coated in powder.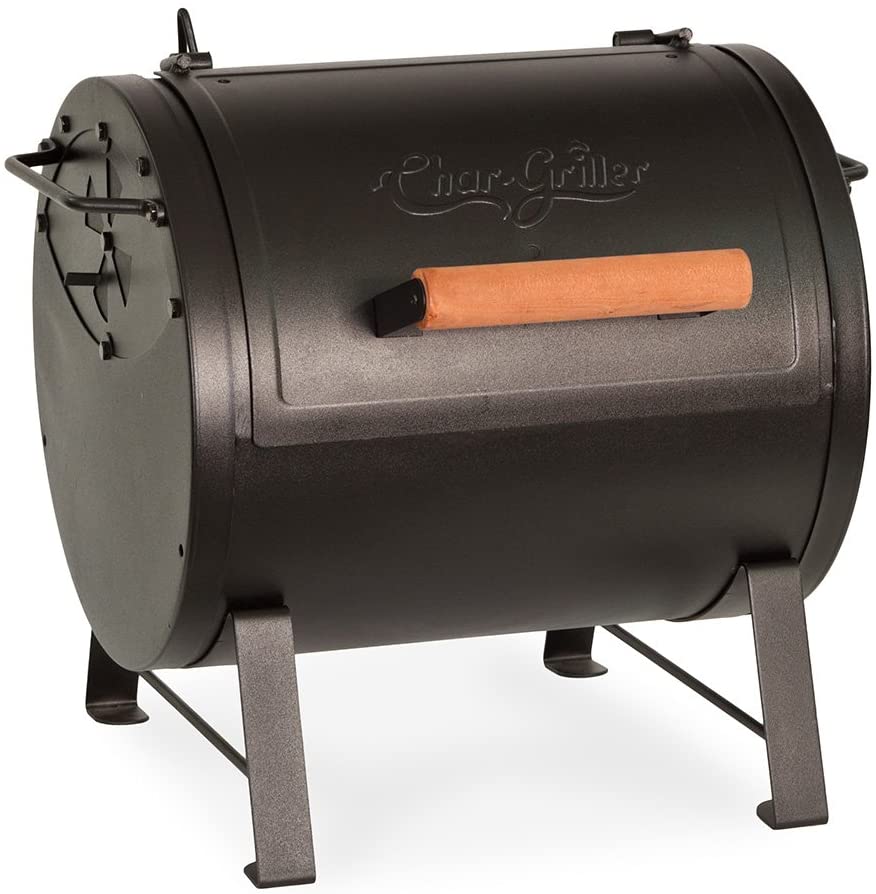 This portable smoker has cool-to-touch handles, meaning you get to carry this without the fear of burning your hands. The removable ashtray of the smoker provides access to ashes and charcoal for an effortless cleaning process. All you will be needing is a piece of cloth soaked in warm water to get the cleaning job done.
The Char-Griller E22424 Table Top Grill comes with various accessories that let you add the smoky flavor to your dish. The entire unit is strong and incredibly easy to set up.
7. Royal Gourmet CC1830F Charcoal Grill with Offset Smoker
The Royal Gourmet CC1830F has an alluring design with a stainless-steel body and porcelain-coated steel grates. This offset smoker can be easily moved around your backyard with durable wheels.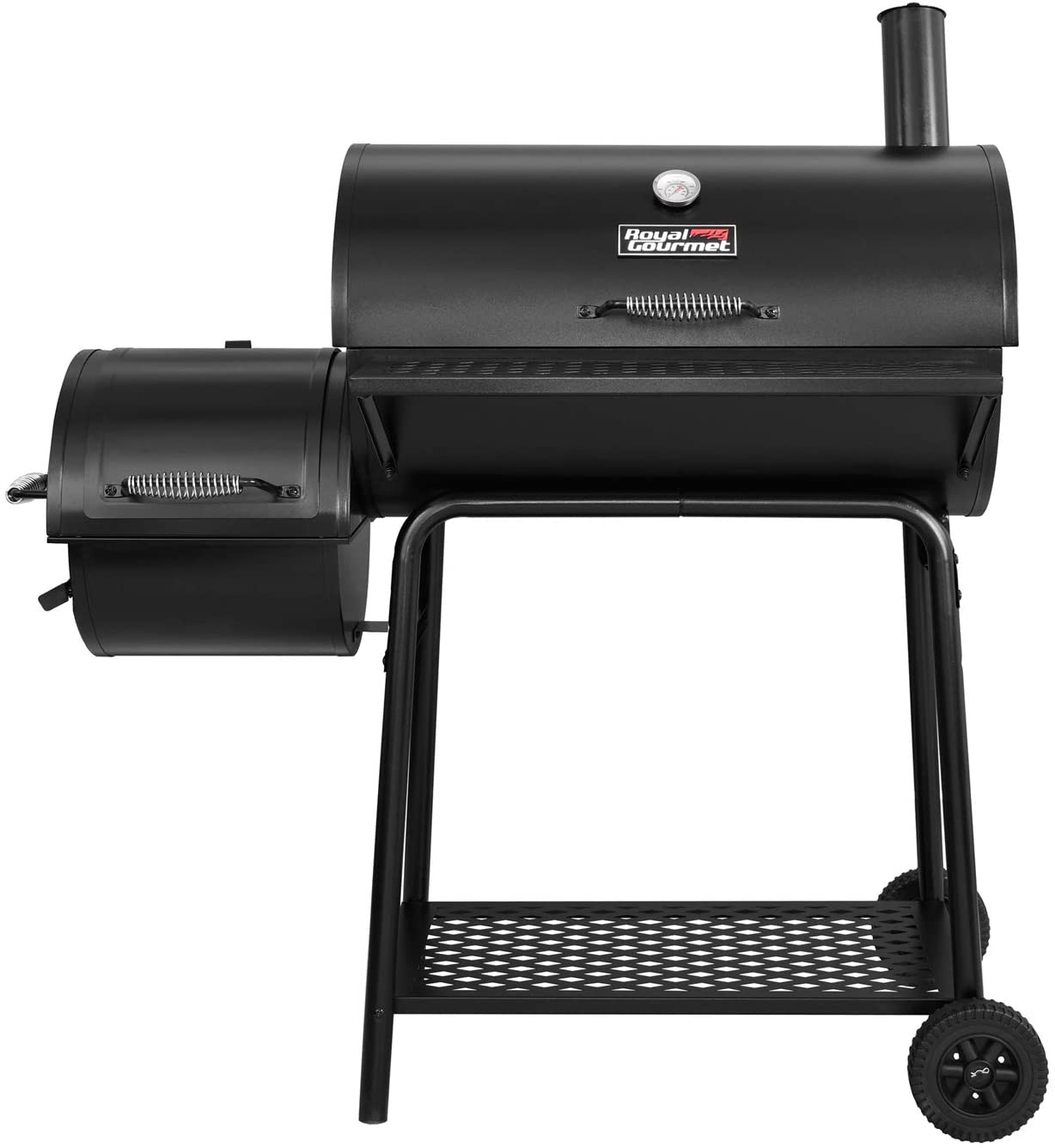 It arrives with a whopping 800 square inches of cooking surface, accommodating enough space to smoke a rack of ribs, huge pieces of brisket, and more. The smoker is supplied with a cool-touch spring handle and thermometer, working together to bring that smoky flavor to your favorite meal.
The Royal Gourmet CC1830F features an adjustable vent that offers excellent control over the flow of heat. Furthermore, the smoker has two large storage racks, making room for you to store spices and accessories.
Also Read: Best Grill Smoker for Beginners – Start Barbecuing
---
CONCLUSION
Of all the smokers we discussed in this post, the Weber 14-inch Smokey Mountain Cooker and the Smokin-It Model #1 Electric Smoker stand out as the best portable smokers. They are different with their features and help in making your dish drool-worthy.
If you are looking for portable smokers – size and shape are two factors that shouldn't be negated. Have a list or a personal favorite? Do drop those in the comment section.
---
FAQs for Best Portable Smoker
Are outdoor smokers ideal for home use as well?
Yes, they are. An outdoor or a camping smoker can be used as an indoor smoker too. Nevertheless, if you like inviting people over to your home for a party, you can purchase two smokers — a portable one for outdoors and a large-sized one for hosting a party.
How long can the portable smoker last?
Most portable smokers come with five to six years of validity. In case there is good care taken of the unit, you may enjoy cooking sessions for another ten years.
Is it necessary to clear the pans/trays of the smoker after every use?
There is no denying that clearing the ash or grease tray after every use can enhance the smoking experience. The cleaner you keep the inside, the longer your smoker will last and the better it will perform.