The best thing about having a smoker is the distinct smoky taste and texture it brings to the meat. So you've decided that it's time to buy your smoker and try your hand at smoking meat at home itself.
Whether you're new to grills, or even if you're someone who's been grilling on electric, propane, gas, or charcoal grill but now plan to get a smoker. Here's a list we've compiled for you with the best smokers you should consider as a beginner.
---
Factors to consider while buying – Grill Smoker for Beginners
Here are some factors to check while looking for your first smoker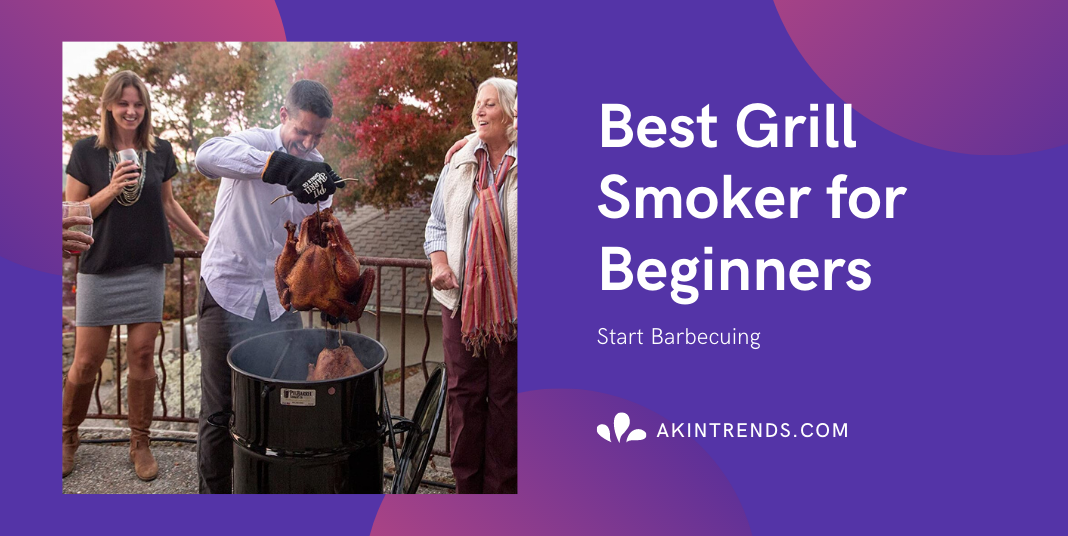 Price
When you're a beginner, the price would be a huge factor. It's even advisable to have a budget price range rather than spend too much for your first grill.
Personally, our advice would be to stick to the $150-$400 range since most grills or smokers below the $150 range may not last that long and won't be worth the money. So try to do your research right and find a grill that comes within the $150-$400 range where you can find many smokers that are well made and meant to last long.
Warranty
Another essential aspect that should be considered while buying your smoker is the manufacturer's warranty, especially when you're spending that much money. The funny thing is that most of the time, reputable brands are the ones that provide a good warranty term.
So while looking out for a grill or smoker, try to pick on one that has a warranty of at least three years. In fact, if you're ever confused between 2 models that have similar prices, go for the one that has the better warranty.
Heat Retention
Another important aspect to consider while looking for a smoker is its heat retention. You have to make sure to pick a smoker that is known for proper insulation and heat retention. A smoker's ability to properly retain heat is what can bring the flavors out in your food.
Types of food you plan to smoke
Knowing what kind of food you plan to smoke can help you pick out the right smoker for you. Usually, beginners are advised to pick a smoker that has a good capacity and can accommodate more than one kind of food so you can experiment around.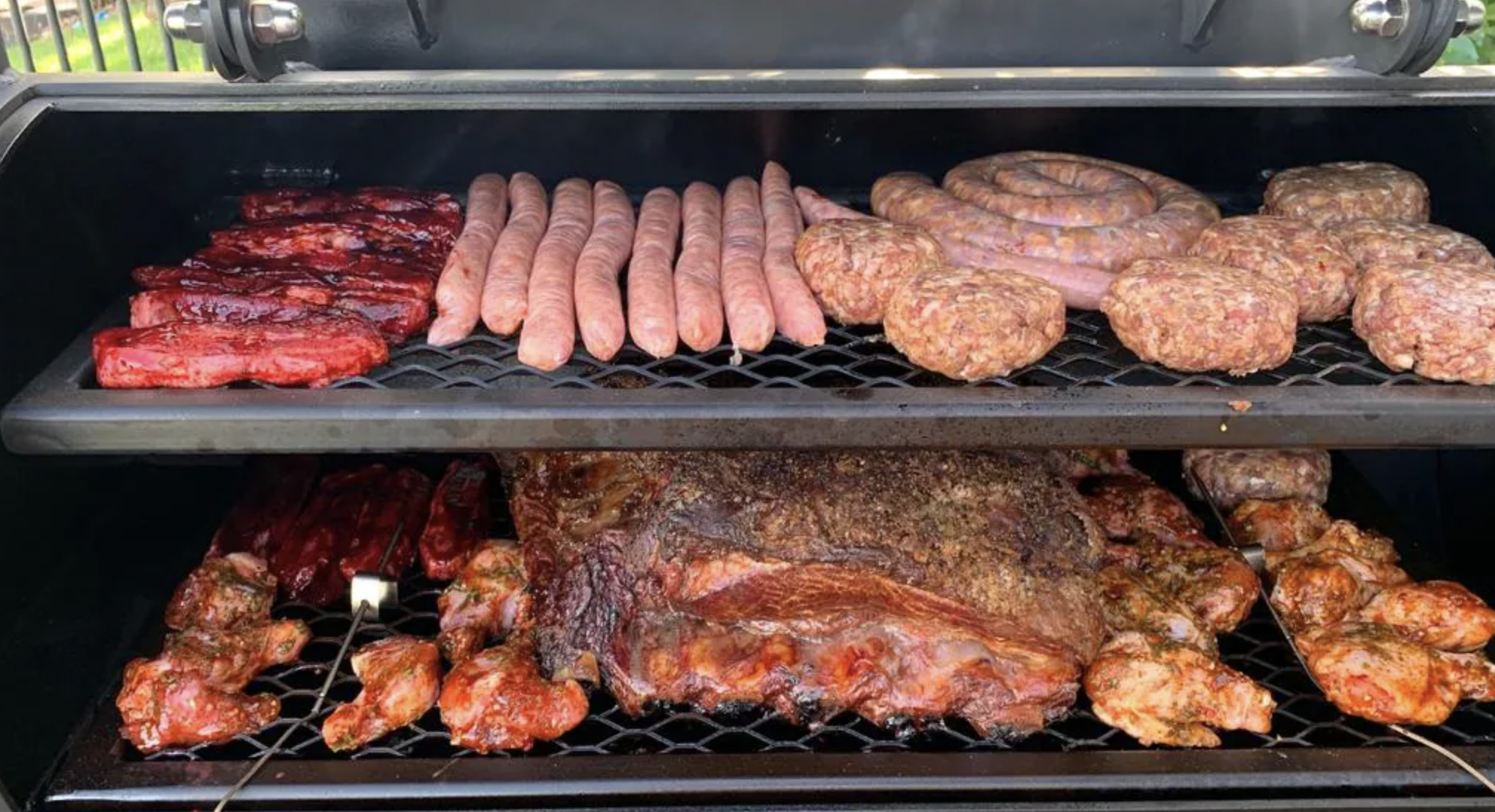 Source: wiki
In case you're planning to be cooking ribs, you'll be needing a smoker with a good capacity, so you should probably avoid the propane smokers since they're pretty narrow.
Smoker Type
As we all know, there are different types of smokers, so understanding each type's pros and cons can help you in your selection process.
The smoker types are:
Charcoal smokers
Electric smokers
Offset smokers
Gas smokers
Kamado smoker
Pellet Grills
---
Best Grill Smoker For Beginners
Let's look at the best and easy-to-use grill smokers available in the market today!
1. Weber 18-inch Smokey Mountain Cooker
For a first smoker, you might want to go for a reputable brand and preferably an affordable model. Weber is one of the most reputed brands in the industry when it comes to grills and smokers. And this model, the 18-inch Smokey Mountain Cooker, besides coming with a 10-year warranty, is affordable and overall a great smoker for beginners.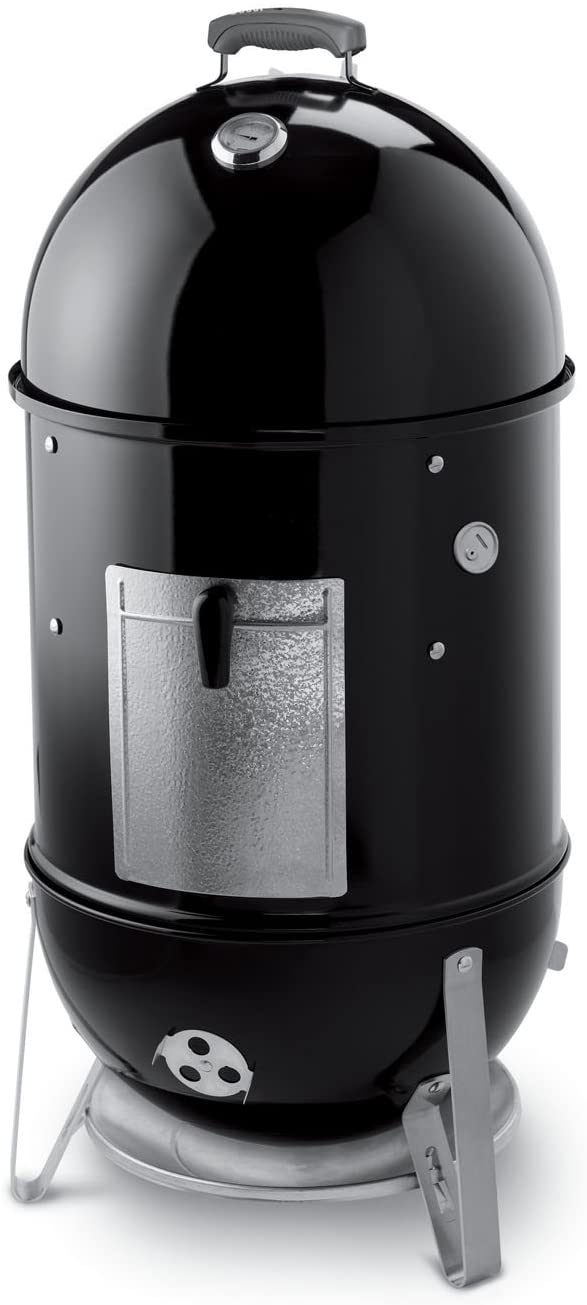 Among the three sizes you can choose from, the 18-inch model is the better rated one, especially the best option for first-timers. This smoker is pretty durable, being made from steel and with a chrome and porcelain coating.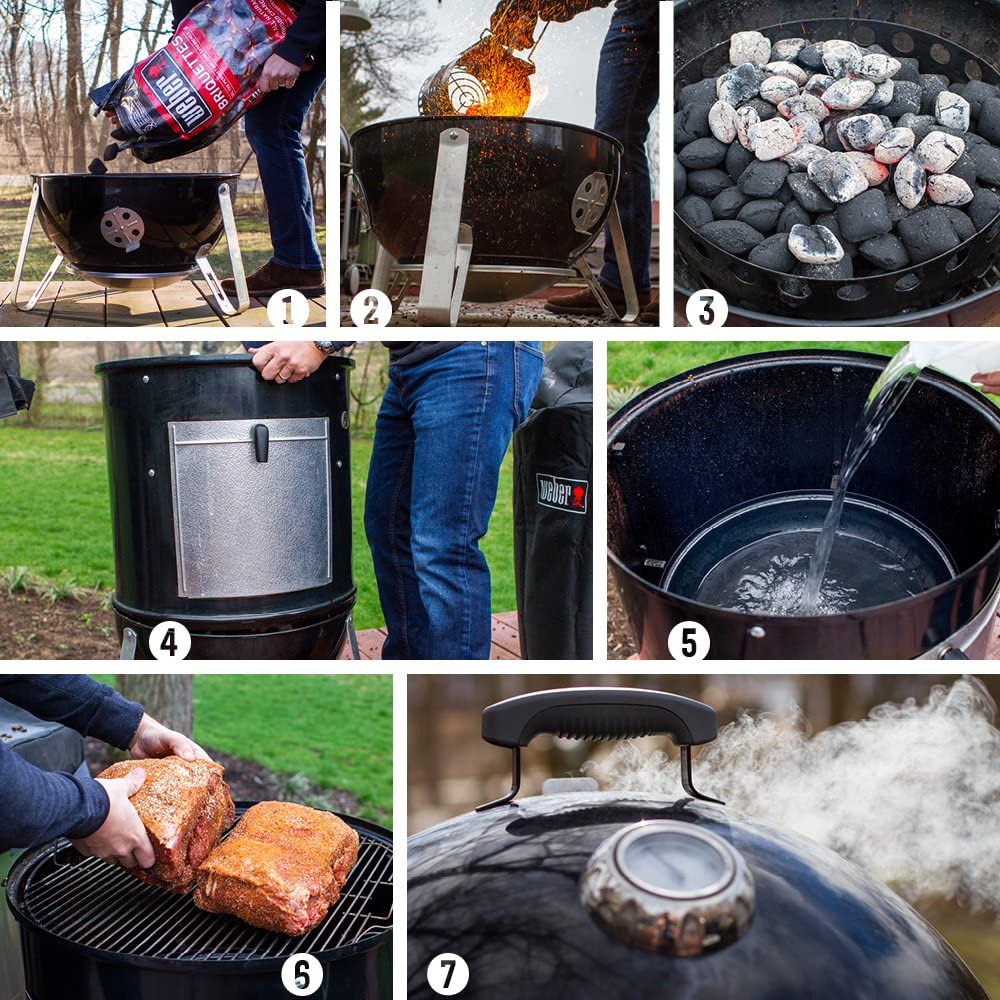 It comes with two cooking grates to smoke two different kinds of meat at the same time and a temperature monitor and dampers for easy temperature management and airflow.
Coming under 40 pounds, this model is pretty lightweight and comes along with a heat-resistant nylon handle and a water pan, which is useful as it can help keep the moisture of the meat by adding steam.
2. Masterbuilt Analog Electric Smoker
Overall, electric smokers are an excellent choice for beginners and considering all factors, and this 30-inch Electric Smoker by Masterbuilt is the king of it all. It's super easy to use, considering all you have to do is plug it into an electric outlet, set the temperature, and then wait around while the meat you've kept is getting cooked.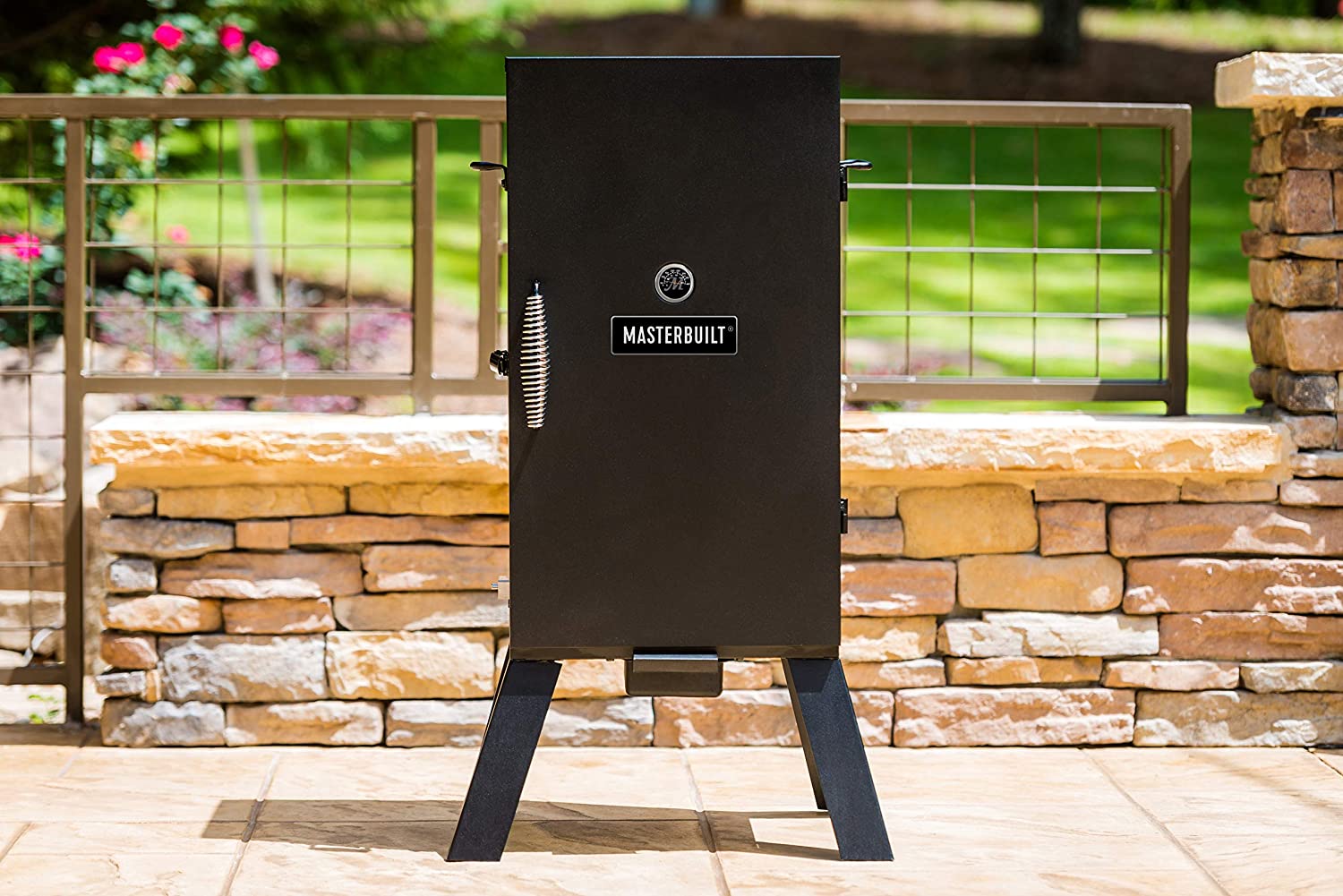 The model even comes along with a wood chip tray that lets you quickly add wood chips to add a smoky flavor to your food. I know that electric smokers don't get too much praise from certain BBQ 'fanatics,' but even though it may not be as flavorful as a charcoal smoker, it still cooks your food with the same delicious taste.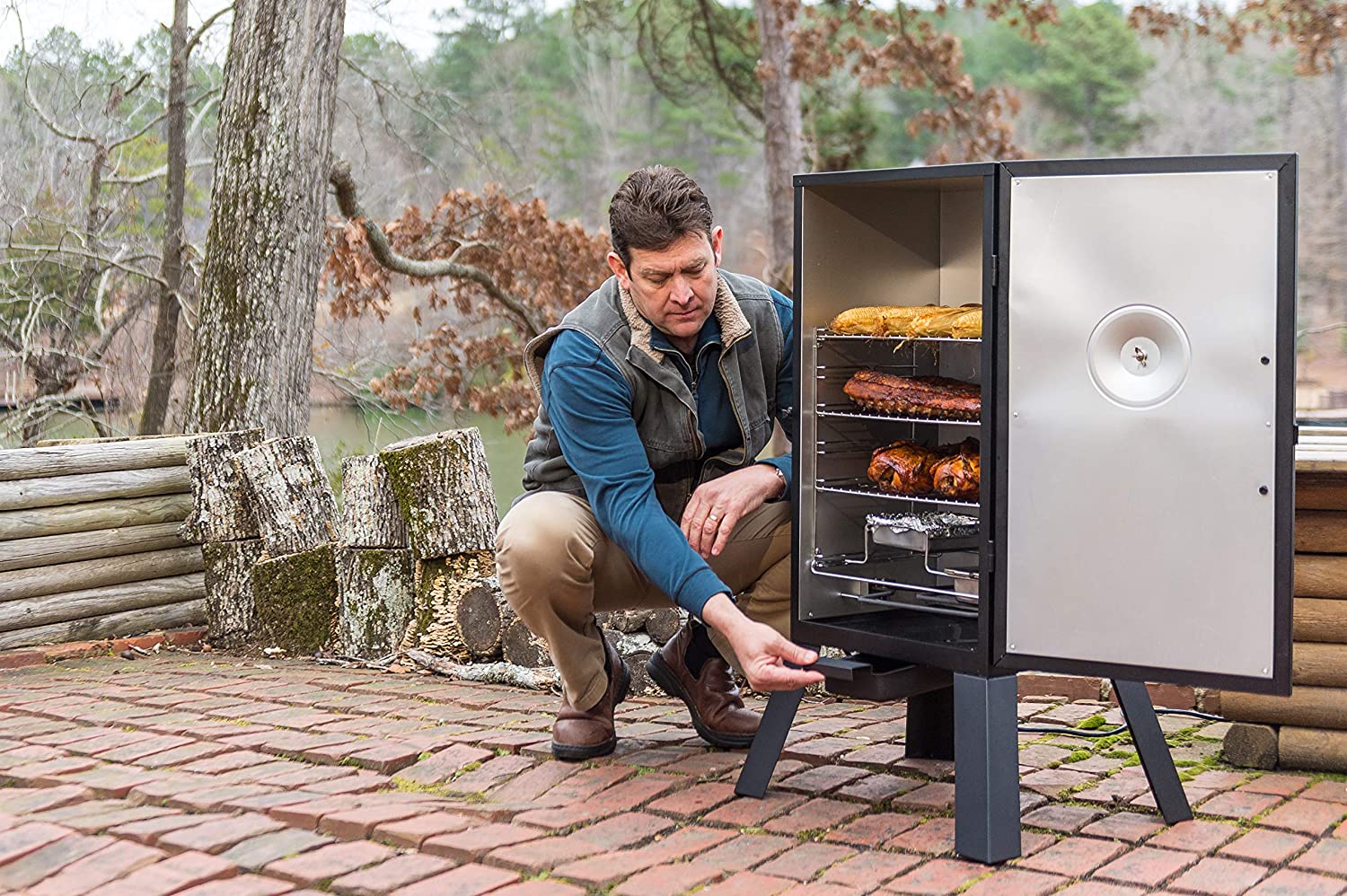 3. Classic Pit Barrel Cooker
Another one of our favorites for first-time smokers is the Pit Barrel Cooker. This is probably one of the best charcoal smokers you'll find in the market, and it comes with a pretty fresh design.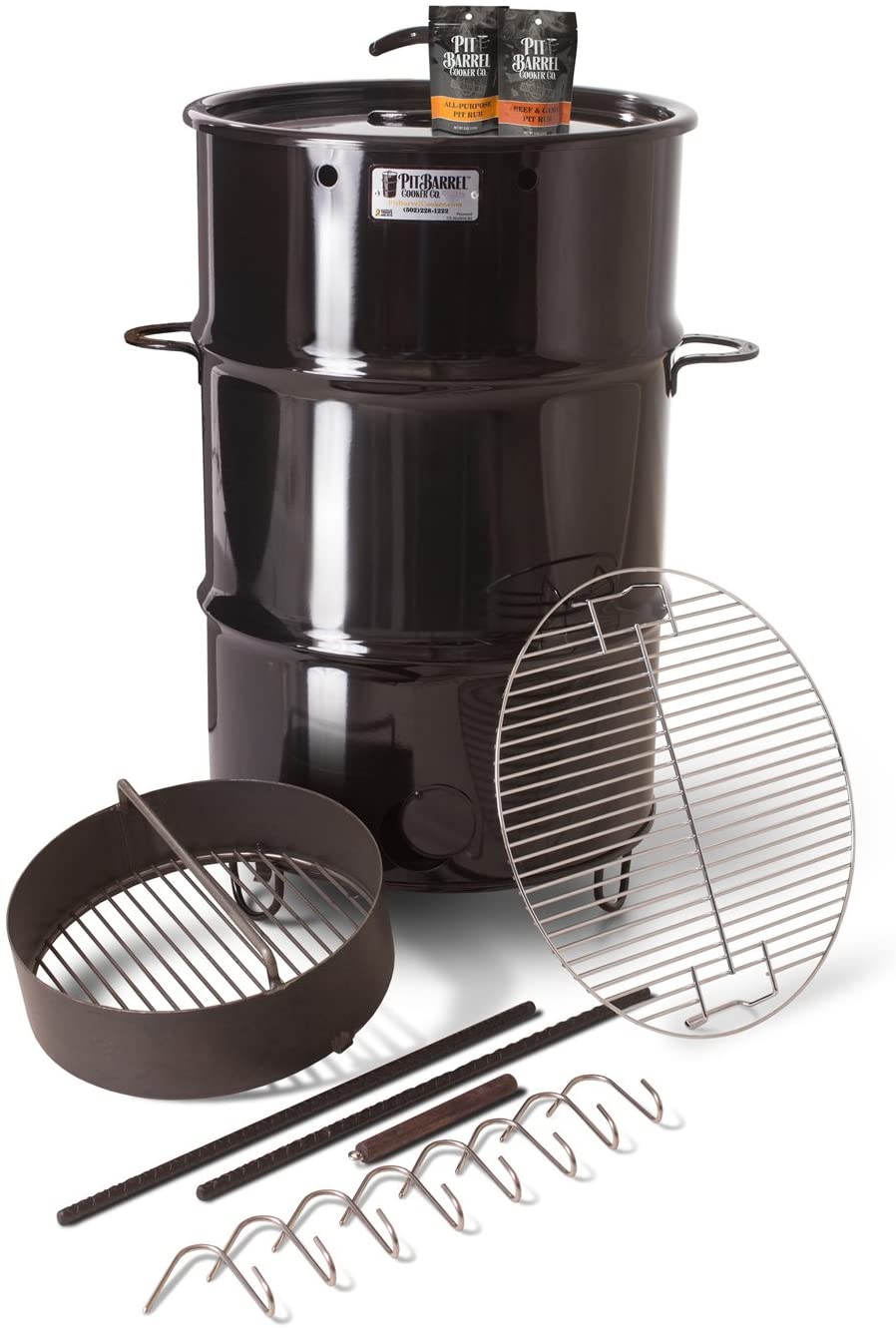 This model comes with eight steel hooks and a chrome-plated steel grate for direct heat grilling. It comes with enough space to cook eight racks of rib quickly and can easily maintain low temperatures while cooking.
The smoker is easy to assemble and is also pretty lightweight, coming up under 60 pounds. Other accessories include two hanging rods, a hook remover tool, and a super useful coal basket.
Also Read: Best Charcoal for Grilling – Get Grilling the BBQ's
4. Char-Griller E16620 Akorn Kamado Charcoal Grill
Kamado grills have been quite a trend in the last 5-10 years, and mainly because they get up to temperature rapidly and are very efficient heat retainers and insulators. These grills are also really durable and specifically designed to last for a long time.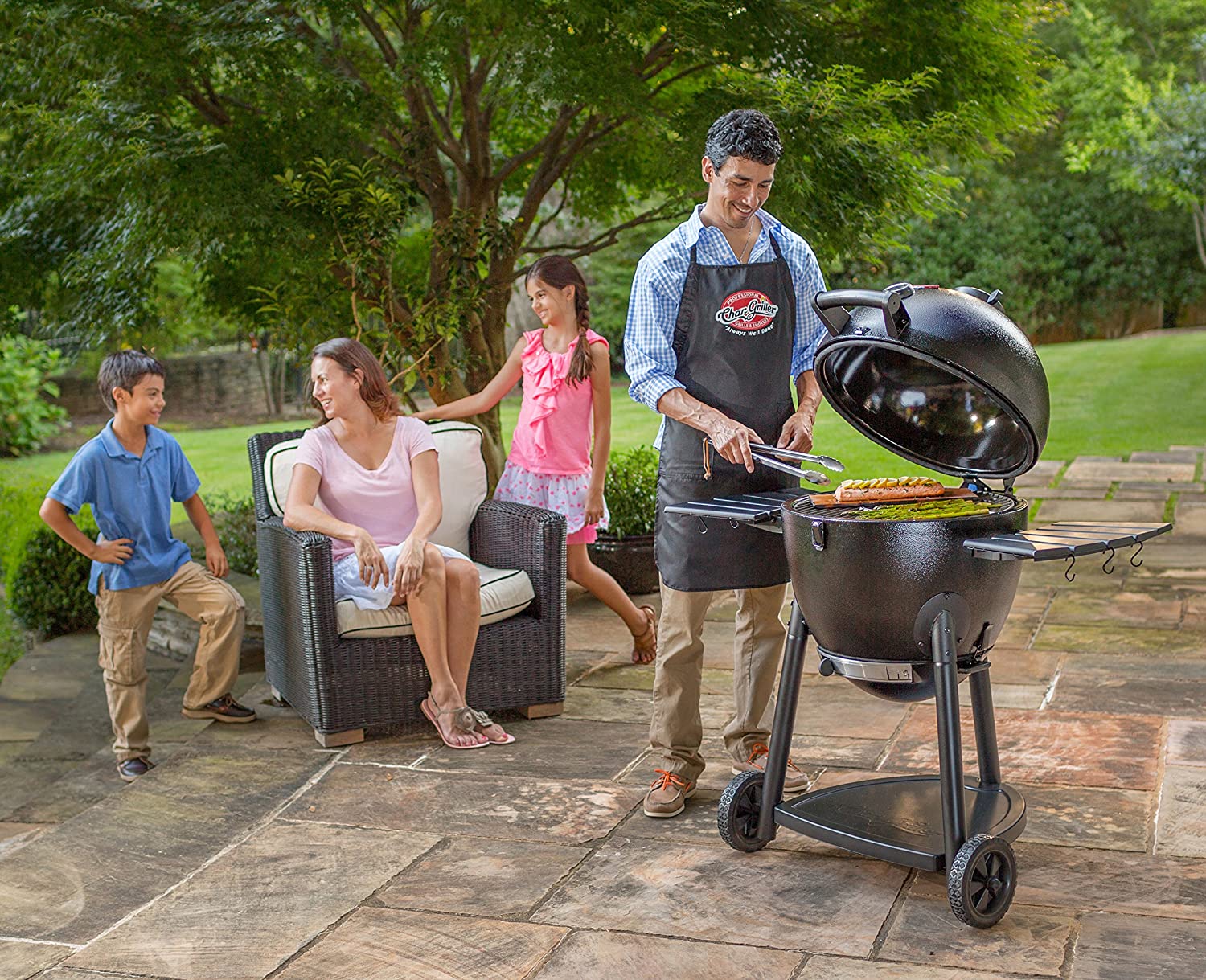 So if you've decided to join the party and get a Kamado grill for yourself too, and you're a beginner, then the E16620 Akorn grill is the perfect choice for you! The price is pretty reasonable too! So this grill is made from heavy-duty steel, which does a great job insulating the heat. The cart is made from tubular steel. It also comes with dampers which help with the airflow.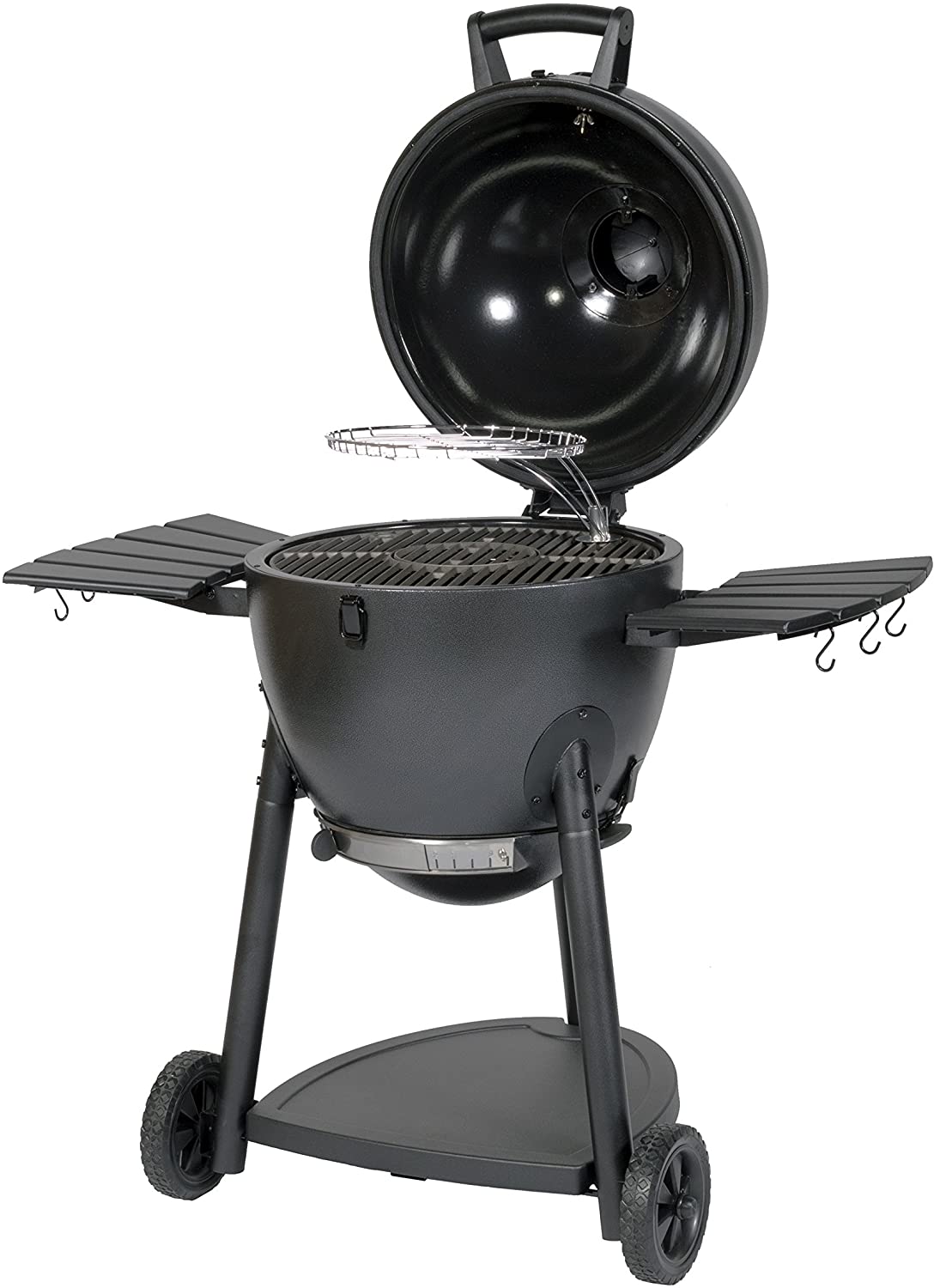 Other accessories include a featured locking lid, two folding metal shelves, an ash pan, and a heat gauge. It's also comparatively more lightweight (90n pounds) than a ceramic smoker and comes with wheels.
5. Royal Gourmet BBQ Charcoal Grill and Offset Smoker
Offset smokers aren't normally an ideal choice for beginners, but the Royal Gourmet BBQ Charcoal Grill and Offset Smoker is a great model that is easy to use and comes under $150.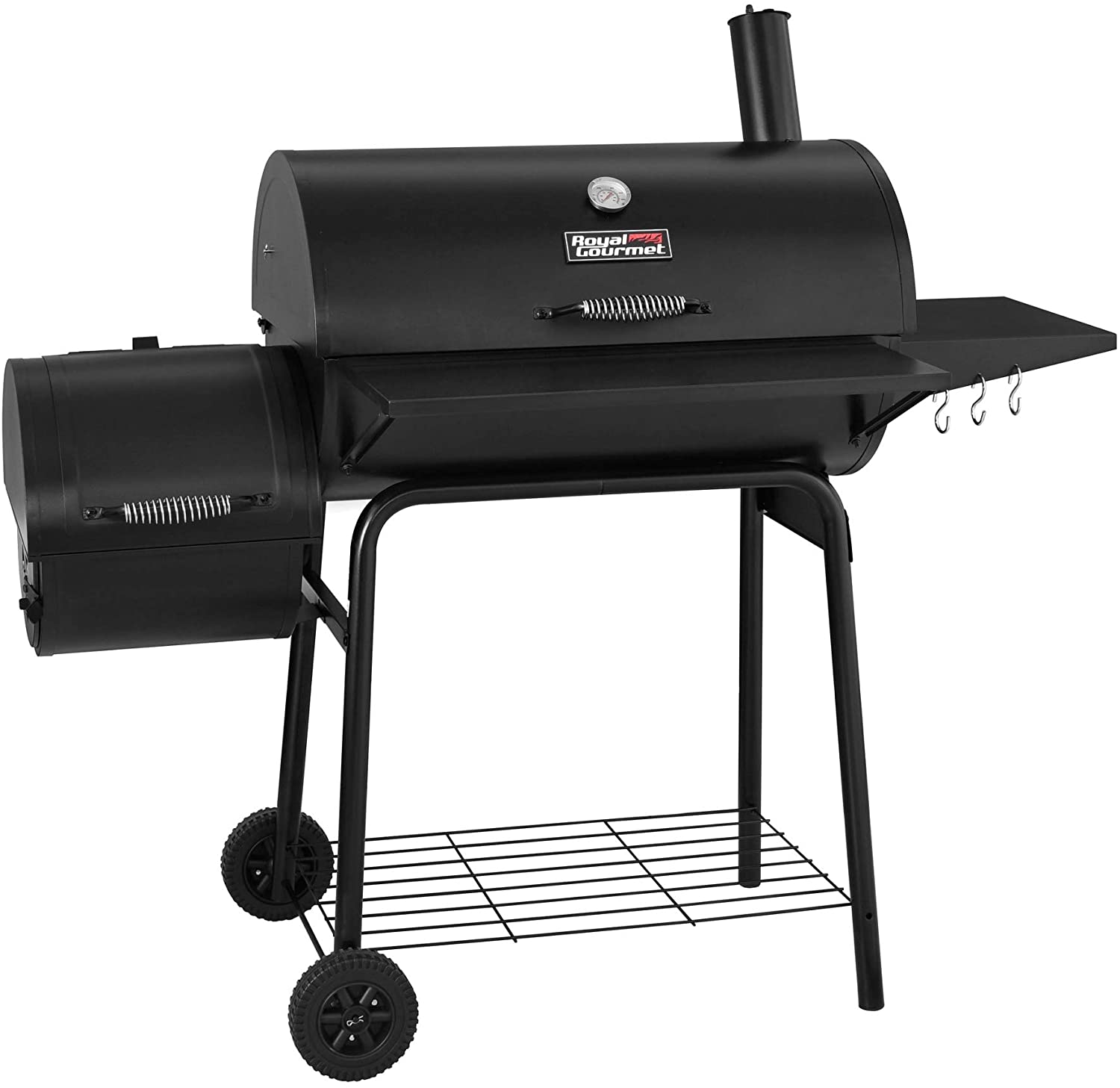 This grill smoker comes with porcelain-coated steel wiring grates, a chrome-plated warming rack, offset smoker, smokestack, scald-proof handle, temperature gauge, a side air vent, and an ashes pan that allow for easy disposing of ashes and charcoal.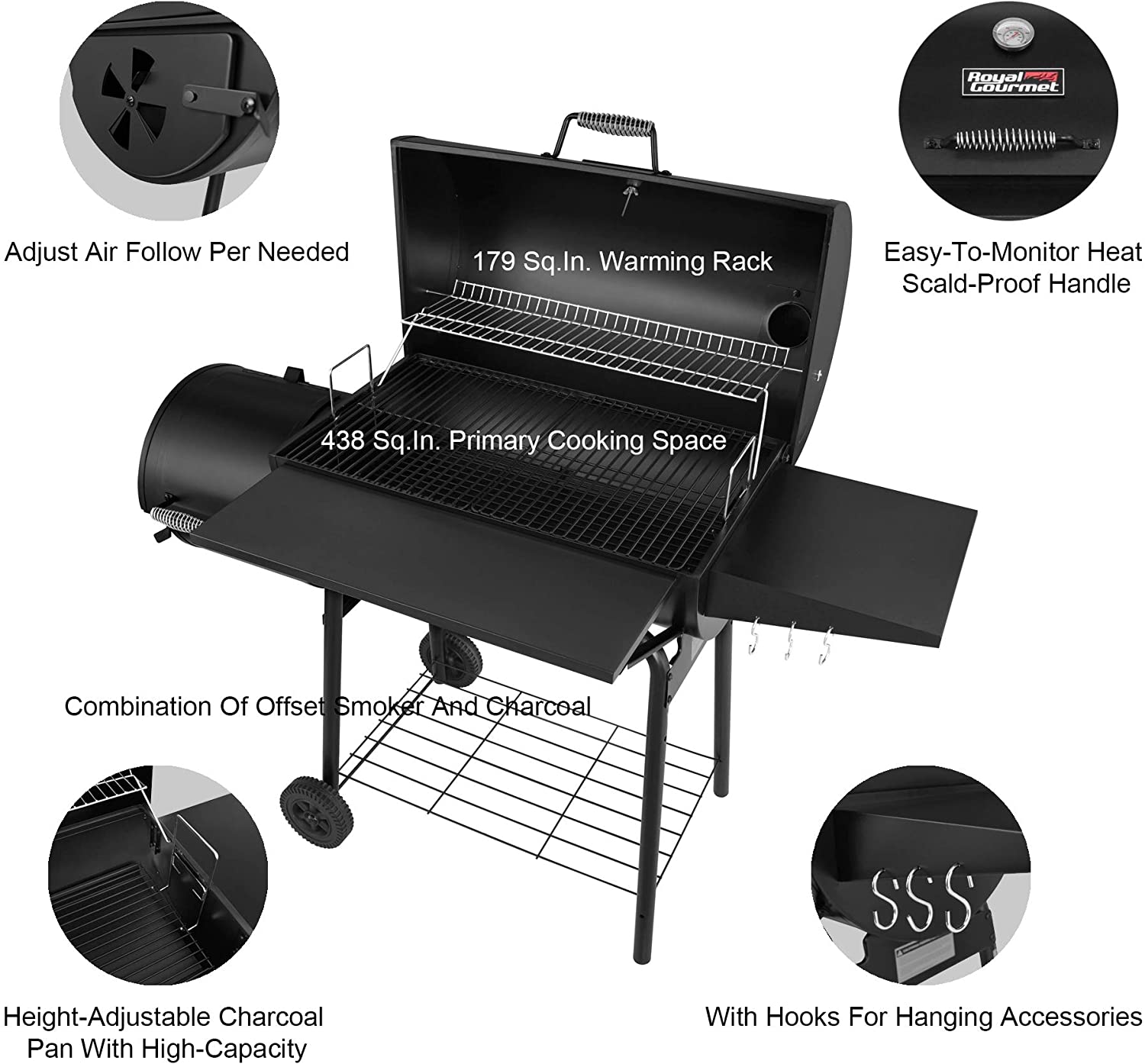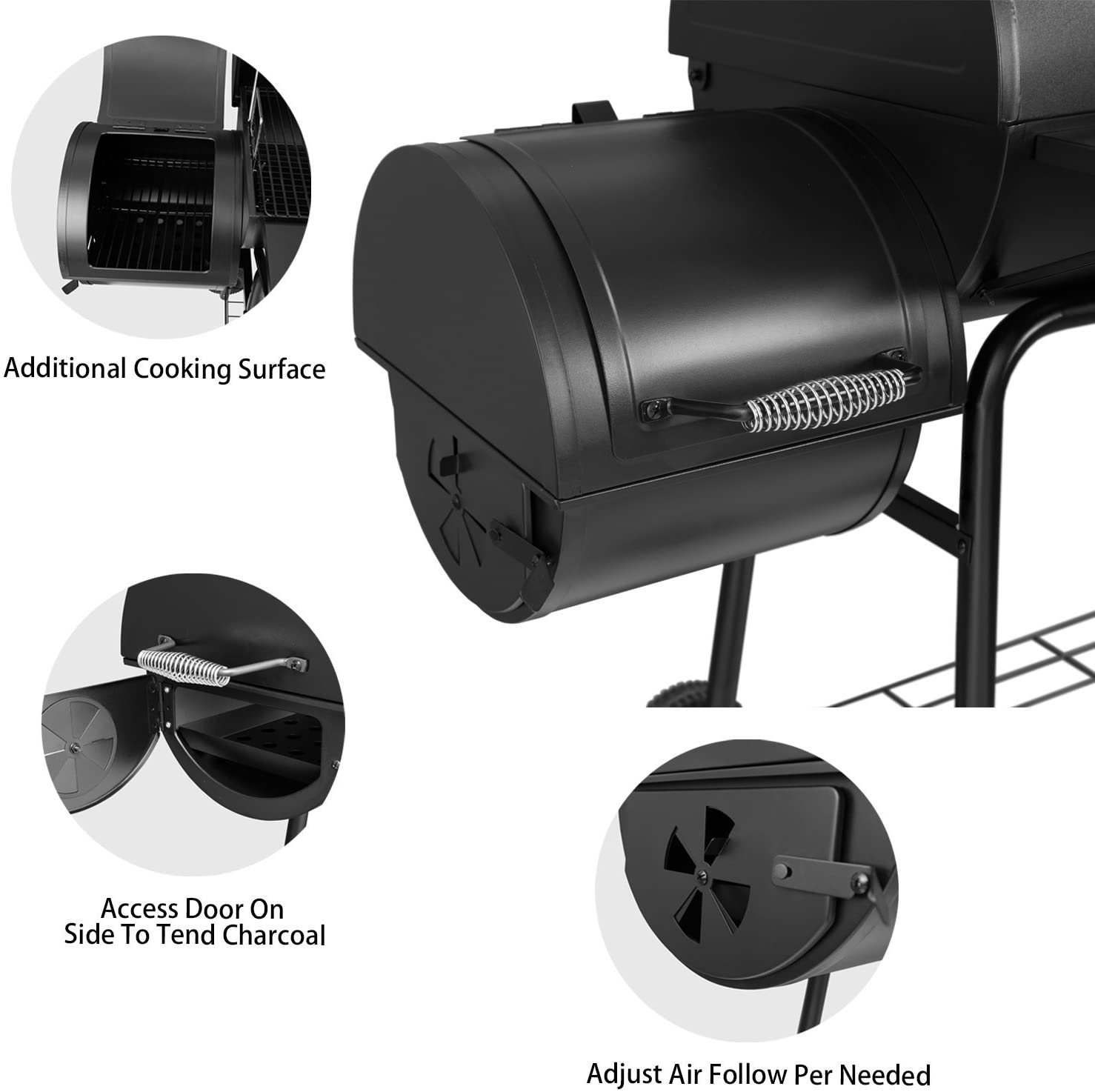 This particular model is super lightweight and portable, weighing only around 50 pounds, while also coming with built-in wheels. There is no ignition system.
6. Masterbuilt MPS 230S Propane Smoker
Now, since we haven't discussed propane smokers in this list yet, let's talk about MPS 230S which, in our opinion, is the best all-around smoker for beginners that are fueled by gas. The great thing about smokers fueled by gas is that it's convenient since most groceries and marts carry propane tanks.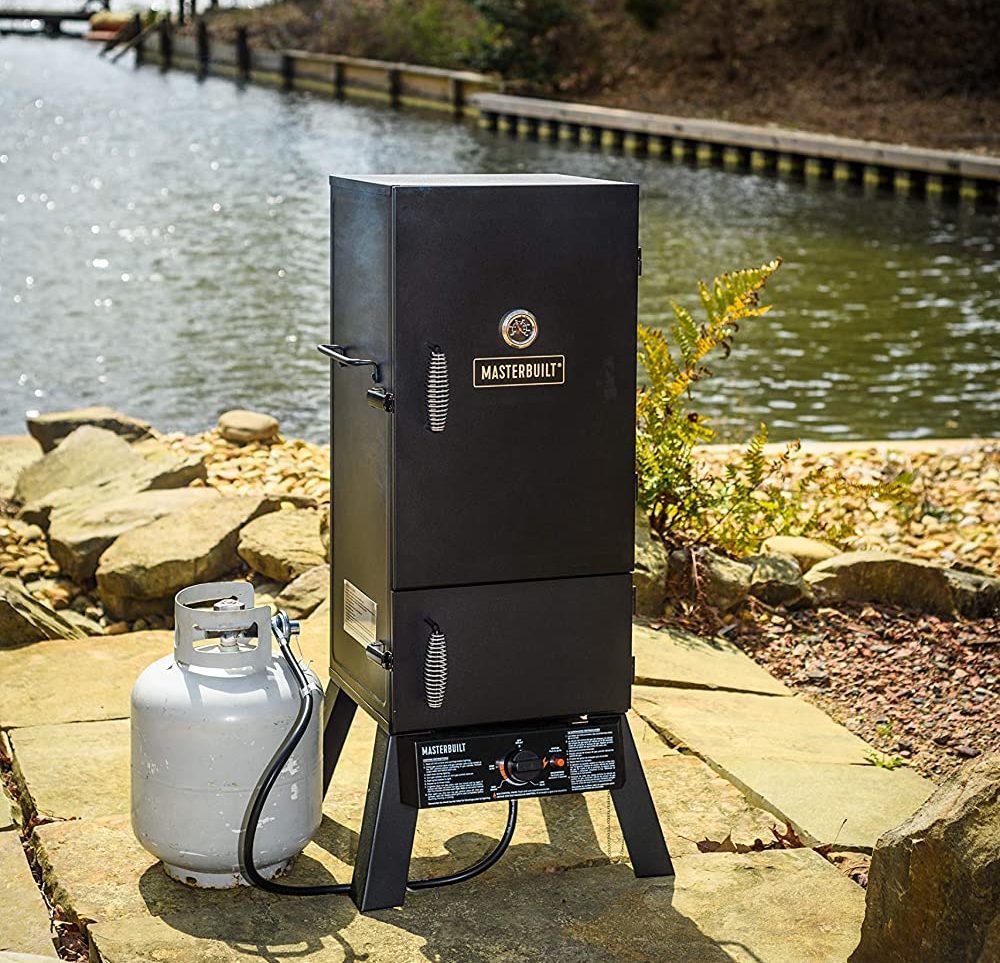 The model comes with a tray to burn wood chips that'll help add the smoky flavor to the food you're cooking. It also comes with four chrome-coated smoking racks that give you a good capacity if you have people over.
Other accessories include a built-in temperature gauge, patented porcelain-coated flame disk bowl, a 15,400 BTU stainless-steel burner, a removable porcelain-coated water bowl, and an air damper. This is definitely one of the best propane smokers out there, but then the only downside to this would be the missing smoky flavor compared to the charcoal smokers.
7. Char-Broil Deluxe Digital Electric Smoker
Last in the list of best Grill Smoker for Beginners is the Deluxe Digital Electric Smoker is a great model, and it entirely runs on electricity. It's got great temperature regulation and even comes with a digital control system to simplify the cooking process.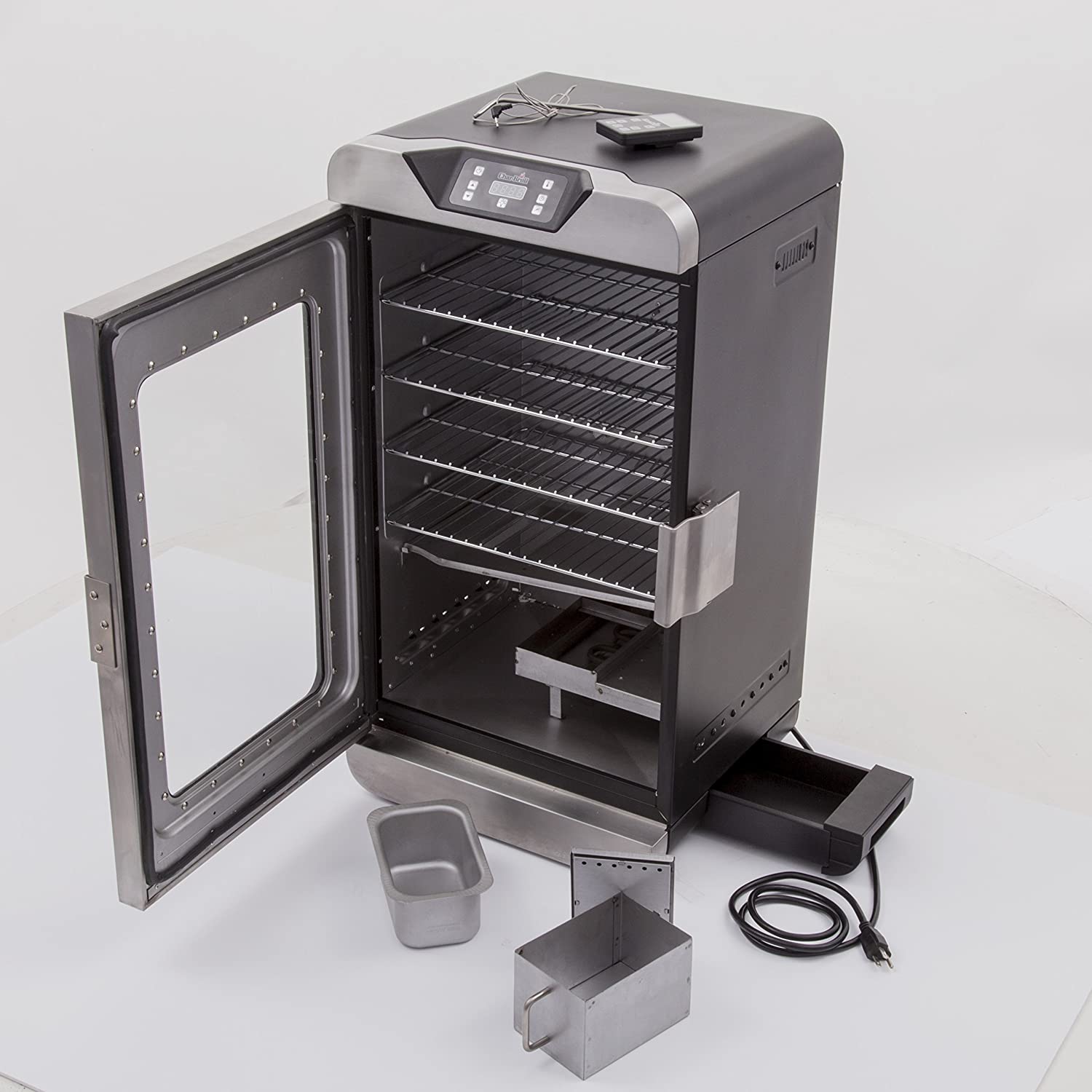 It's made from stainless steel, and the double-wall helps in heat retention. The glass front shows your meat's cooking progress, so you know how long till it's all ready to eat. It also comes with a steel latch, a removable thermometer, four adjustable racks, a removable glass front door, and a large smoke box where you can load wood chips to bring that smoky flavor.
This smoker also tends to be more reliable than pellet smokers. It comes with two main modes: you can either set it to a specific meat temperature or choose to set it for a specific period. The single main drawback I found of this model is its lack of high-heat options.
Also Read: Best BBQ Sauces: Perfect Taste Enhancers To Your BBQ Feast
---
CONCLUSION
Taking all this information into consideration, I hope we could help you get a great Grill Smoker for Beginners that is easy to use and worth the money invested. Like it was mentioned earlier, it is essential to understand that it is not necessary to spend too much to make great BBQ at home.
The Weber Smokey Mountain Cooker is probably the best easy-to-use charcoal smoker, along with the fact that it comes with a 10-year warranty. As you can call it, another runner-up favorite was the Char-Griller E16620 Akorn Kamado, which was the best Kamado grill option we could find and came with a 5-years warranty.
We all know that the best thing about cooking BBQ at home is the time you get to spend with all the family and friends that come over!
---
Best Grill Smoker for Beginners FAQs
What is the purpose of the water pan in a smoker?
The purpose of a water pan is to induce moisture directly into a smoker for moisturizing the food. Never make the mistake of confusing your water pan with your drip pan, which is used for collecting grease from the smoker.
Which is the hardest meat to smoke?
The most complicated meat to smoke, and probably the one you should avoid if you're a beginner, is the Beef Brisket. It is a pretty hard meat to get done correctly.
What is the most accessible meat to smoke for beginners?
The meat recipes you can start with if you're a beginner are:
Smoked Fish fillets
Breast or thigh – Smoked Turkey
Smoked Chicken – breast or thigh