You've decided that your next smoker is going to be an electric one. That's great! And while there may always be the BBQ 'purists' who'll claim that using an electric smoker is like taking the easy way, it's still got a great number of advantages to it.
An electric smoker is a great device that is super easy to use and an excellent option for you if you enjoy smoking your meat or vegetables but dislike the process of setting up the BBQ stand every single time.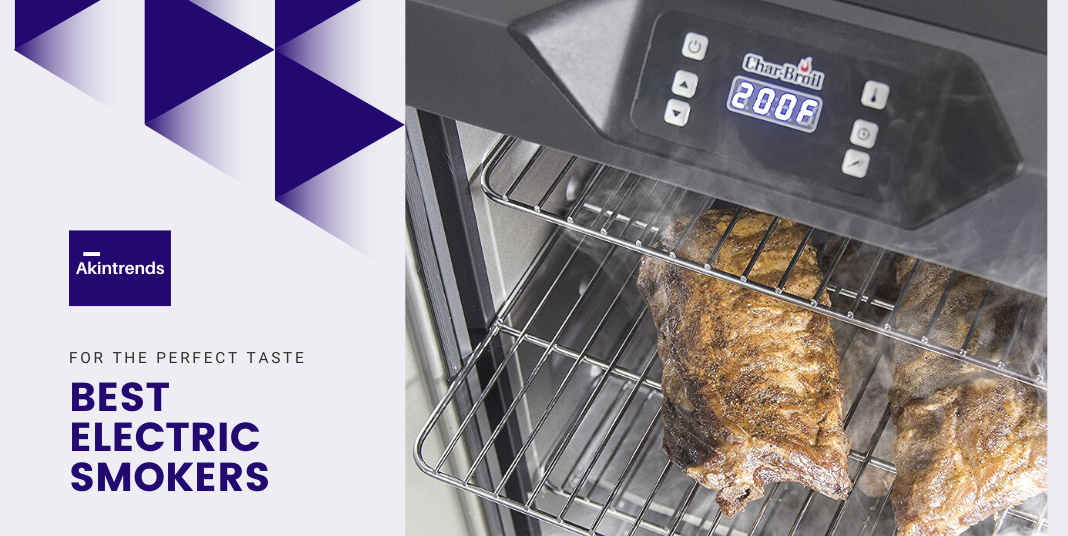 It also comes with a control box that simplifies the temperature setting process, and you don't have to worry about storing fuel anymore. Electric smokers can also be seen as a healthier option, since you won't have to use oils or fats, like in the charcoal smokers.
---
Factors to consider while buying an Electric Smoker
Let's go through a few factors to keep in mind while buying an electric smoker
Total Capacity
The total capacity is probably the first thing you should check for in a smoker, because a great price or the accessories that come with it may eventually seem pointless if it doesn't come with a decent capacity. You can make a decision on the capacity you would need if you have an idea of how much meat you plan to smoke at a point in time.
A smoker would have its capacity in terms of shelves or compartments. So a standard smoker will have enough space to cook 6 chickens, 2 good-size turkeys, or 6 half-rack ribs. Mini smokers will have a lower capacity and a smaller number of shelves.
Easy to use/ Easy to clean
While looking for the right model to buy, try to make sure that it's easy to use and clean as that will definitely play a huge part in the whole cooking process. Also pick a model that comes with grill racks, drip pan, and wood chip tray that are removable. Removable parts mean easier cleaning
Temperature Range
The temperature range should be a vital factor that you consider while buying your electric smoker. Try to pick out a smoker that comes with a temperature range of around 100 – 400/500 degrees Fahrenheit. A good temperature range makes it easier to smoke a number of different kinds of meat and for large groups.
Mobility
Well, this one isn't a must-have feature, but if a model is lightweight and comes with wheels, that definitely is a huge plus point. Oh and do make sure that it comes with a long power cord, a very underrated feature.
Remote Control
Having a remote control with your smoker is a great asset because it means you don't have to stay near your smoker all through the cooking process. A remote lets you adjust the temperature while sitting away with your friends. Some remotes would even show you the progress of your cooking thermometer.
---
Best Electric Smokers
1. Masterbuilt MB20071117 Electric Digital Smoker
It's common knowledge that Masterbuilt has designed some really great smokers over the years and electric smokers are no exception. In fact, their MB20071117 Electric Digital Smoker is one of the best Electric Smokers in the market today.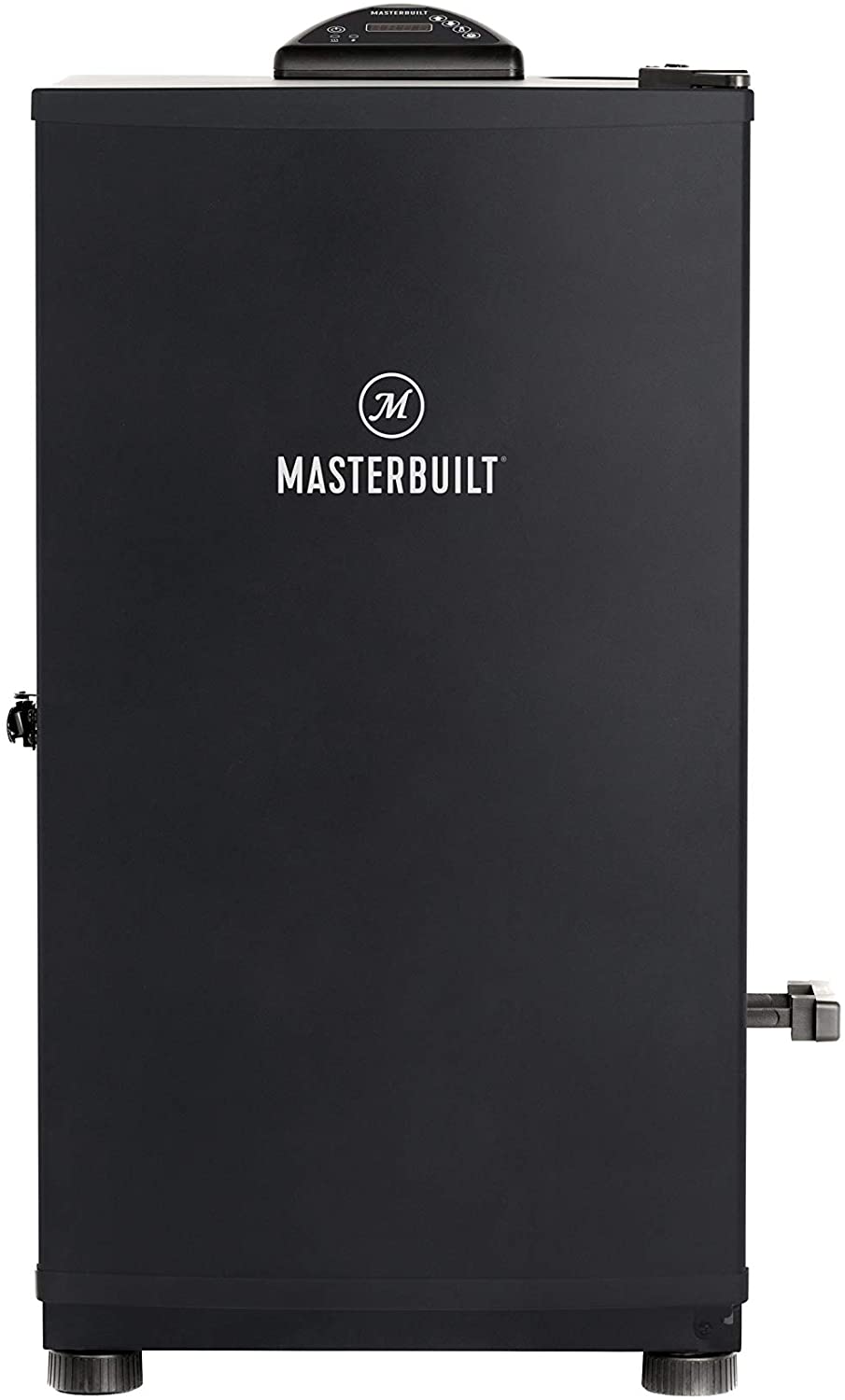 This particular model is heavy-duty and comes with a digital control panel that makes setting the cooking temperature super convenient. The included thermostat provides a cooking temperature range of around 100°F – 275°F. It also provides excellent capacity, coming with a total of 4 chrome-coated rack shelves (16lbs – 22lbs turkey bird).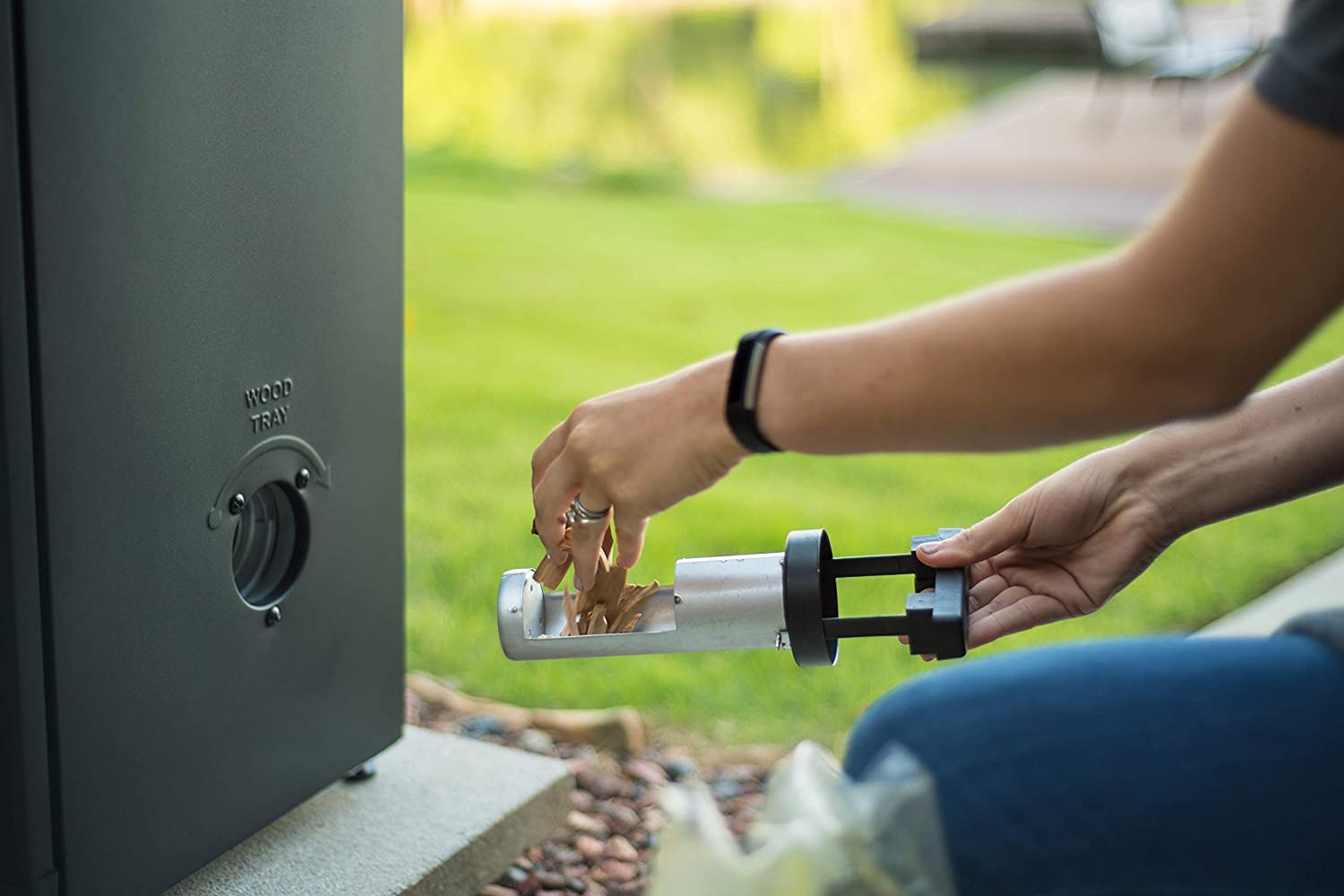 Another great thing about this model is that it comes with a wood chip loading system placed to the side. So when you need to load the wood chips, you can do it through the side and without having to open the door. It also comes with a grease tray at its back to collect the extra grease during the cooking process.
2. Masterbuilt 20070910 Electric Digital Smoker
This is another model from the same brand, Masterbuilt. The MB20071117 Electric Digital Smoker is another great smoker that comes with a digital control panel, which again simplifies the cooking process. The panel also comes with a 24-hour timer and an automatic shutoff to prevent overcooking.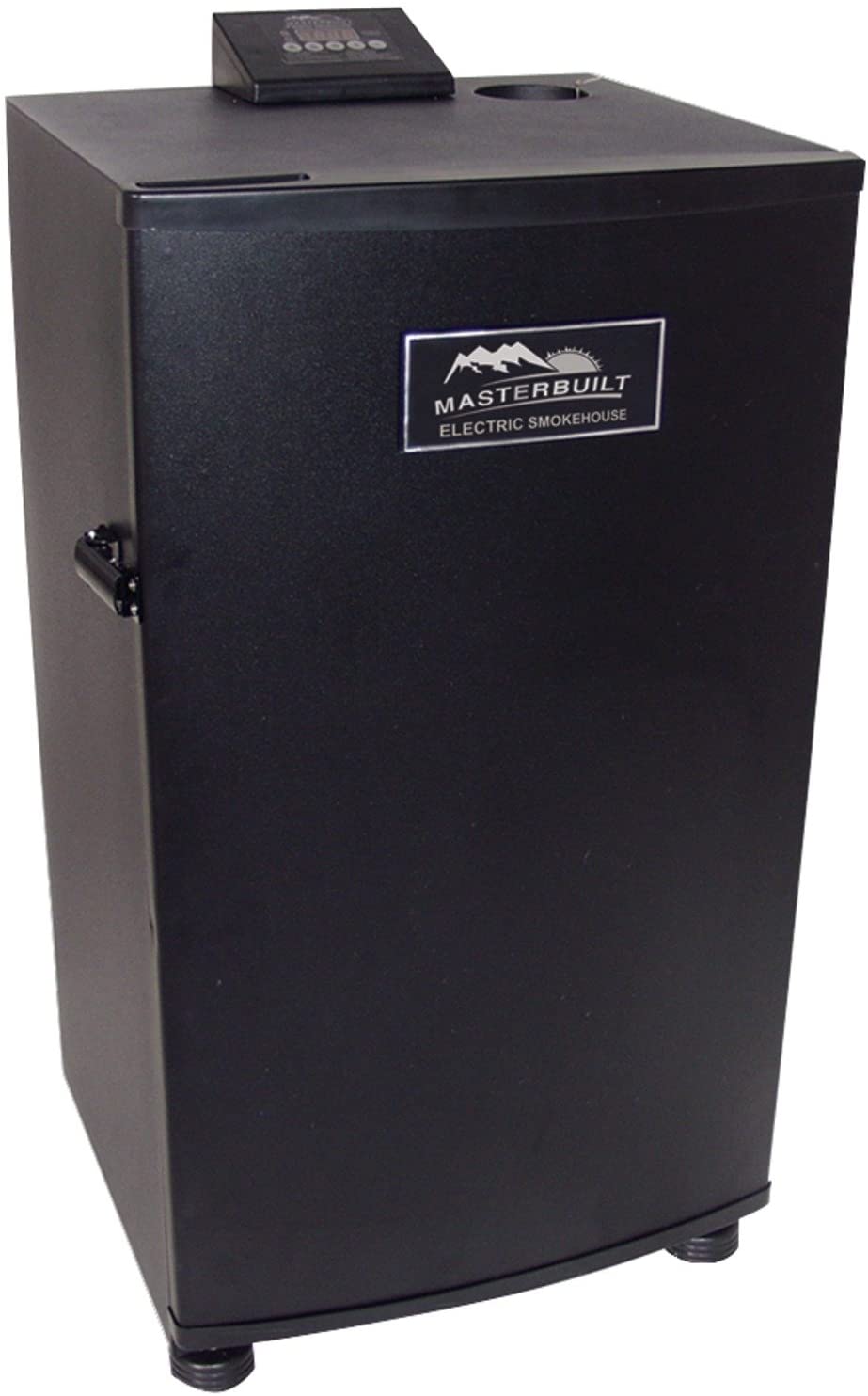 This smoker has great heat insulation and is also really good at using energy to the max, which means it's not going to trouble your electricity bill too much. Accessories include four chrome-coated rack shelves, a top air damper, a removable drip pan, and a wood chip loading system placed on its side.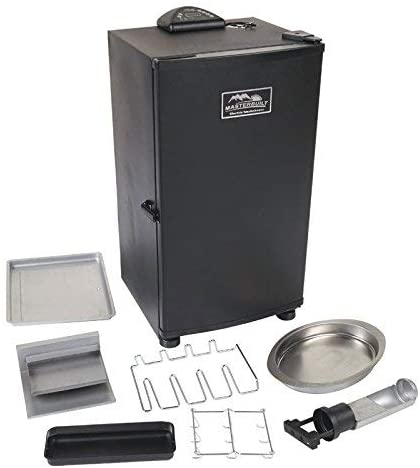 It also comes with an 800-watt heating element and has a pretty good cooking temperature range (around 100°F – 275°F) to cook different types of meat, but cooking poultry is not advised.
3. Cuisinart Electric Smoker
Moving on to another great electric smoker that is 30 inches is this model by Cuisinart. The Cuisinart Electric Smoker is actually a favorite among electric smokers. It has a strong build and comes with a chrome-based, heat-insulated handle for easier use.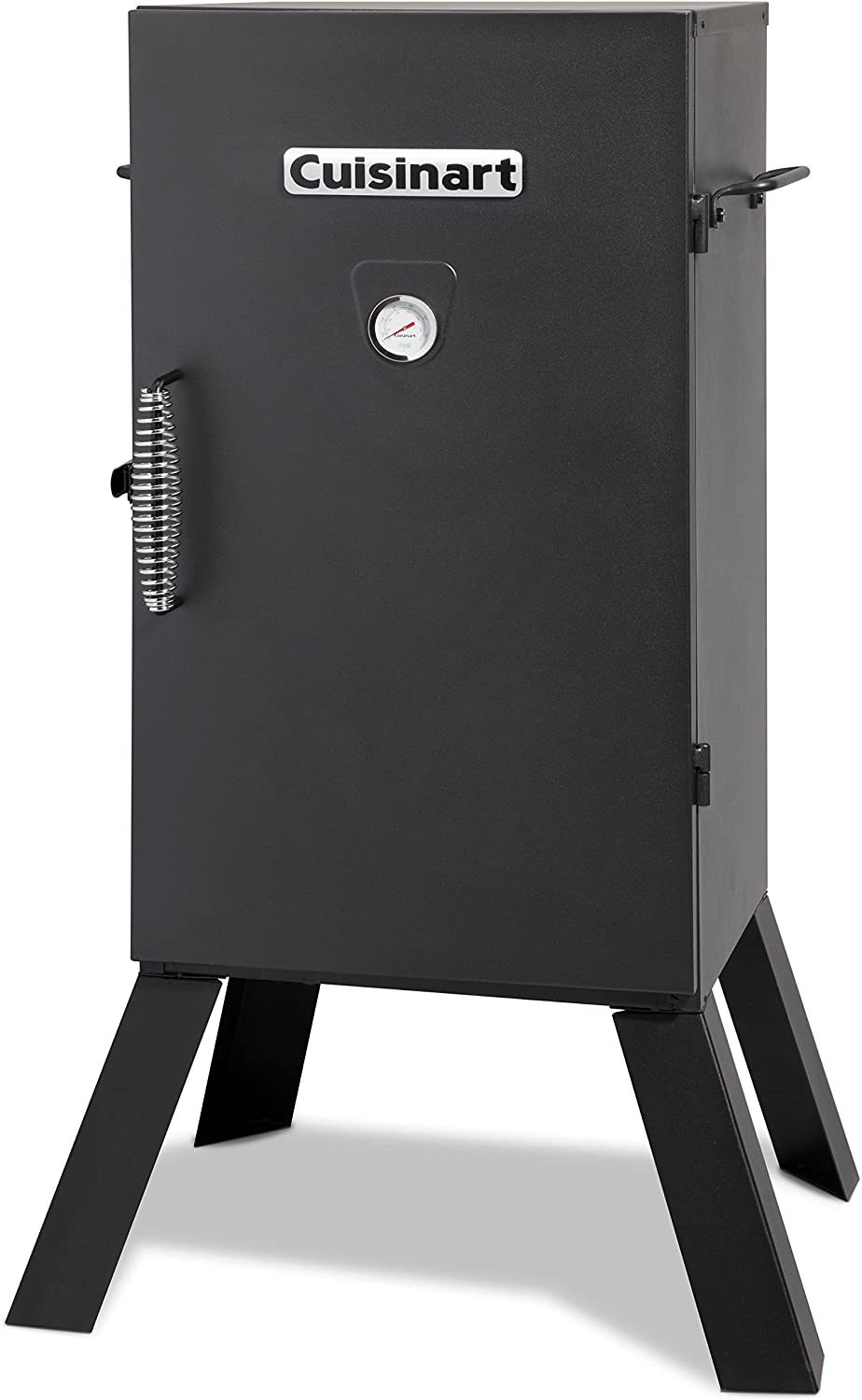 This smoker will only take around 550 sq inches of your cooking space and is also pretty lightweight and easy to carry around. It comes with three removable shelves (dishwasher safe) and has a really good cooking temperature range of around 100°F – 400°F.
The thermometer on the smoker is placed on the front door itself and is pretty useful in monitoring the cooking temperature. Other accessories include a water pan and a wood chip rack that comes at the bottom of the smoker.
Also Read: Best Charcoal for Grilling Reviews – Get Grilling the BBQ's
4. Char-Broil Electric Smoker
Another reputable brand is Char-Broil, especially well known for their durability, reasonable pricing, and great customer support, and this model is probably their best electric smoker yet.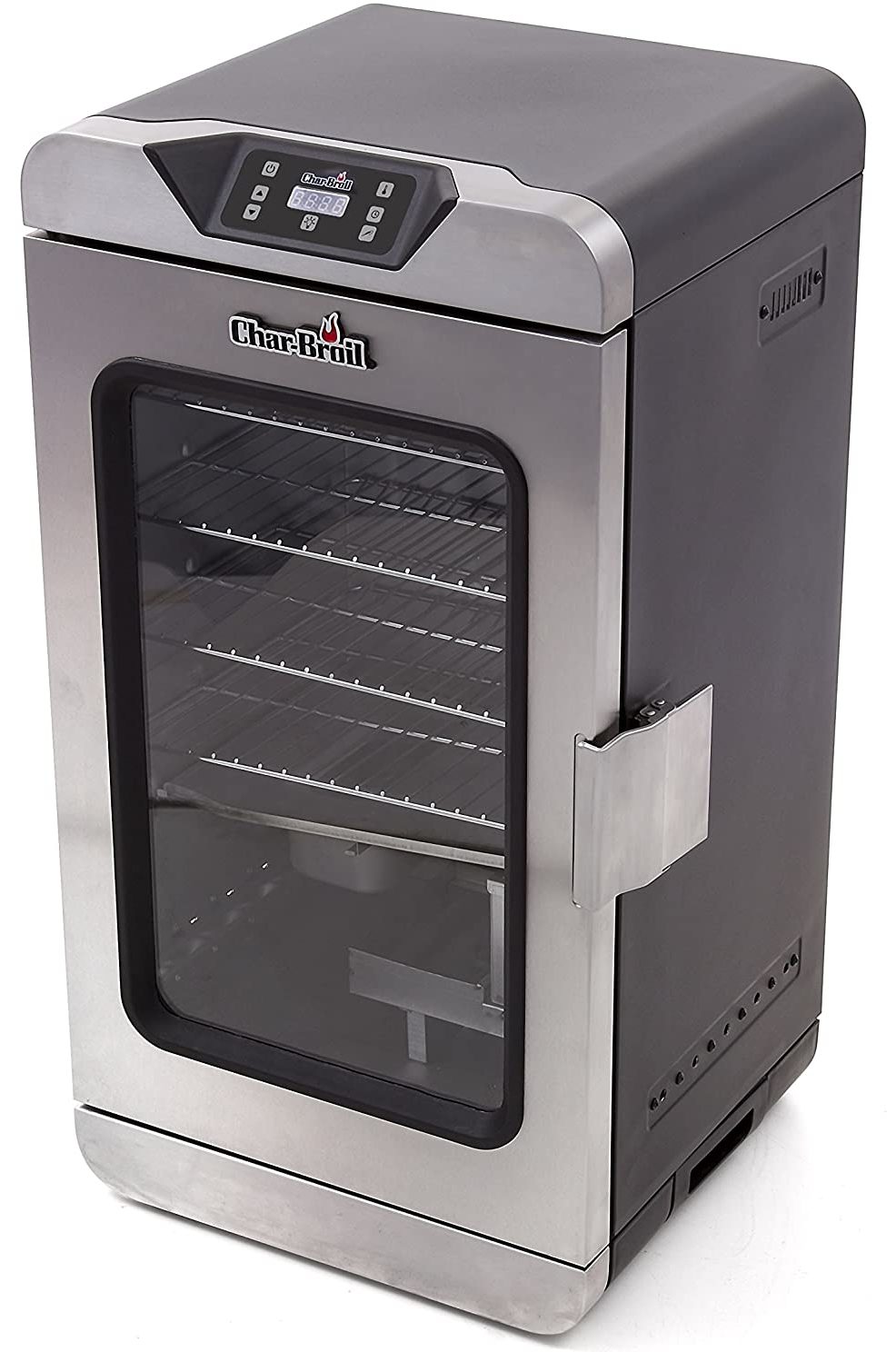 The Electric Smoker comes with double insulated wall construction and a transparent door that is helpful in monitoring the food while it is being smoked.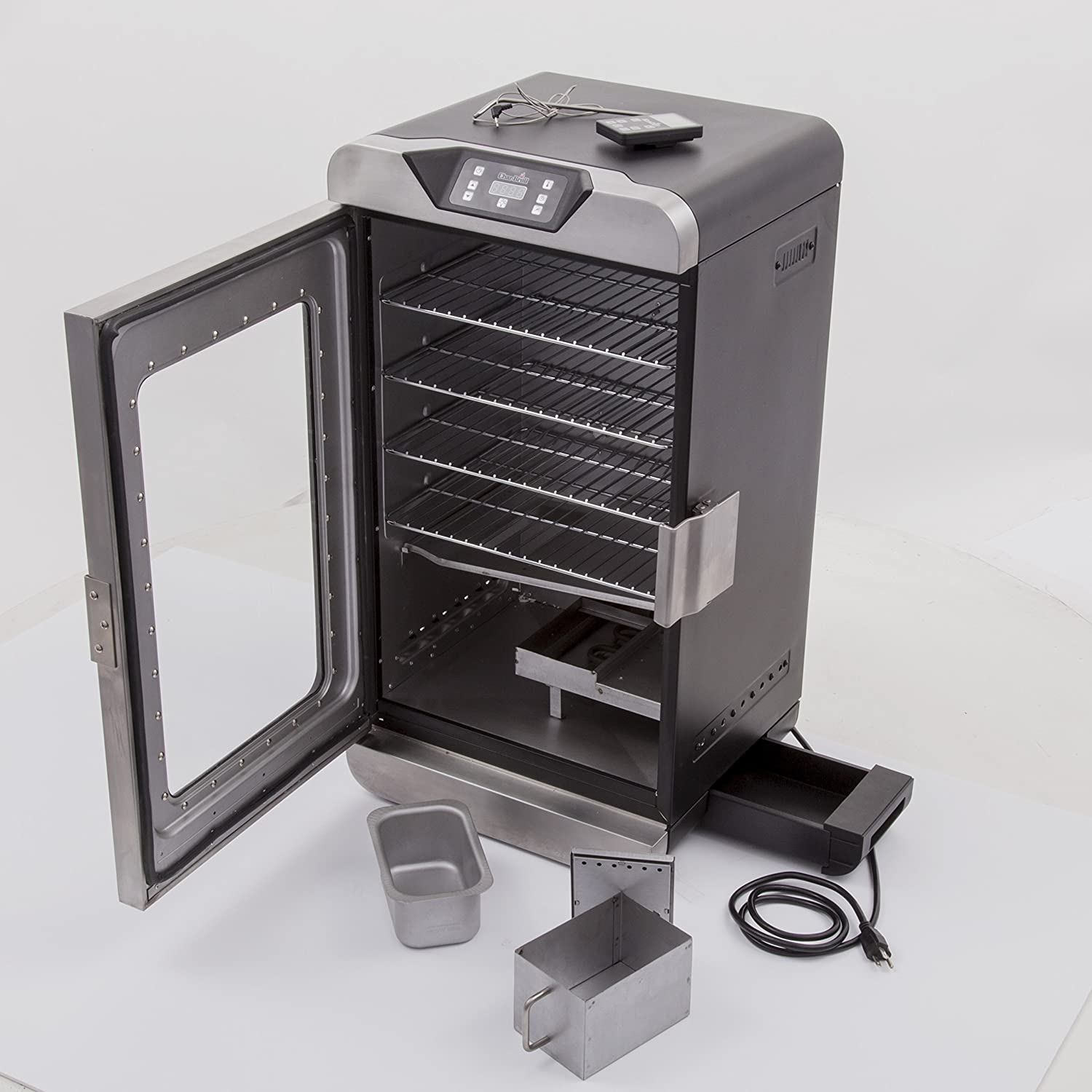 It'll take around 730 sq. inches of your cooking space and offers great storage with four rack shelves to hold the meat and vegetables. It also comes with water storage and a chip storage box below the racks. Along with the smoker is an advanced digital control that can be carried remotely to toggle both temperature and time settings. Other accessories that come with this, include a removable and replaceable thermometer and a removable grease tray
5. Landmann Mco Smoky Mountain Electric Smoker
The Mco Smoky Mountain Electric Smoker could probably be our most portable entry among the best electric smokers out there. This model by Landmann is pretty small with a height of only around 27 inches but it still gets the job done, being able to consume about 1500 watts of energy.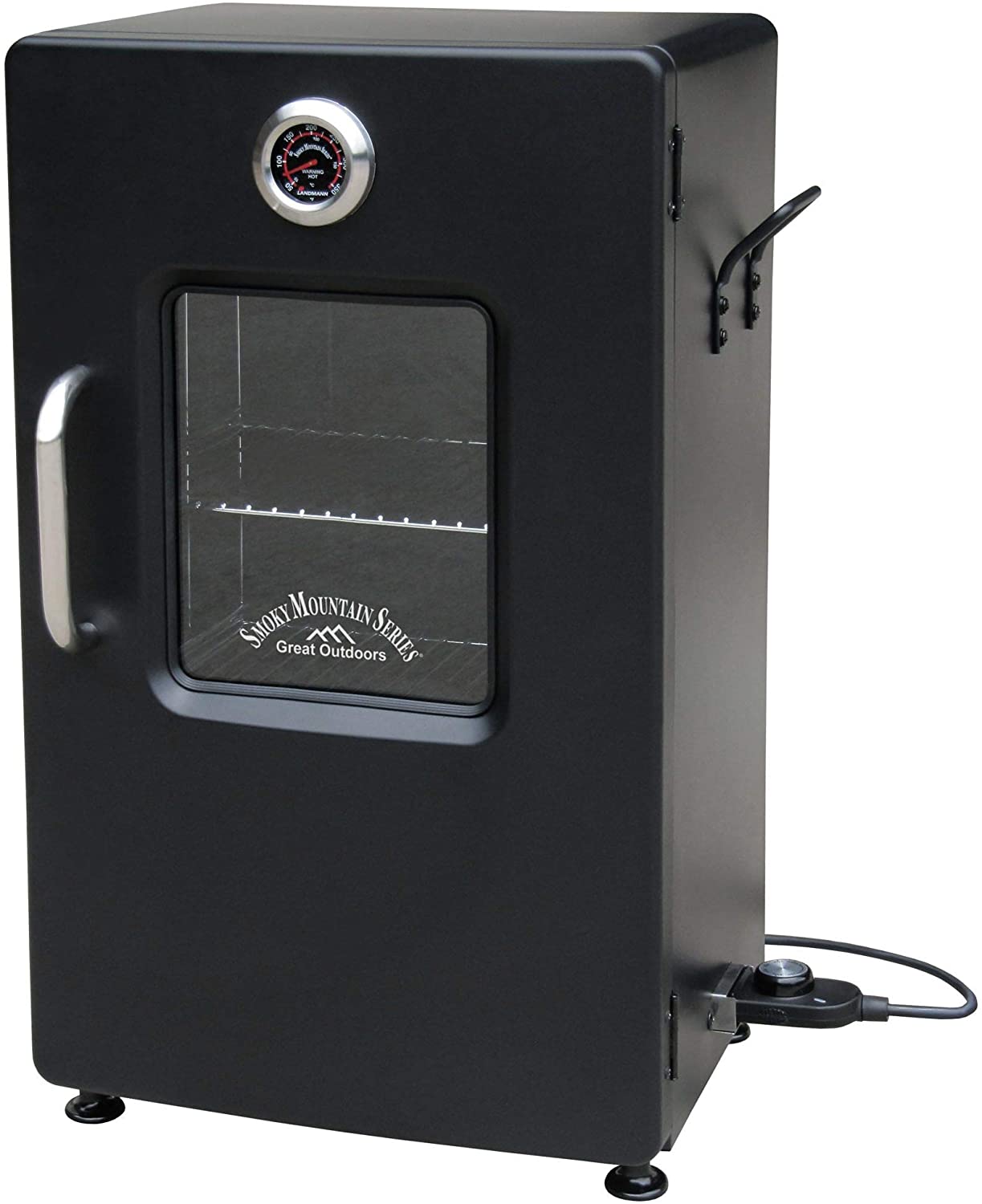 This smoker comes with a unique 3-in-1 combination tray that includes a smoking tray, water pan, and a wood chips rack. It also comes with chrome-plated steel cooking grates, a damper port, and a transparent door that also includes a temperature gauge. Also, the feet of the smoker are adjustable, which means you won't have a balance problem even on uneven surfaces.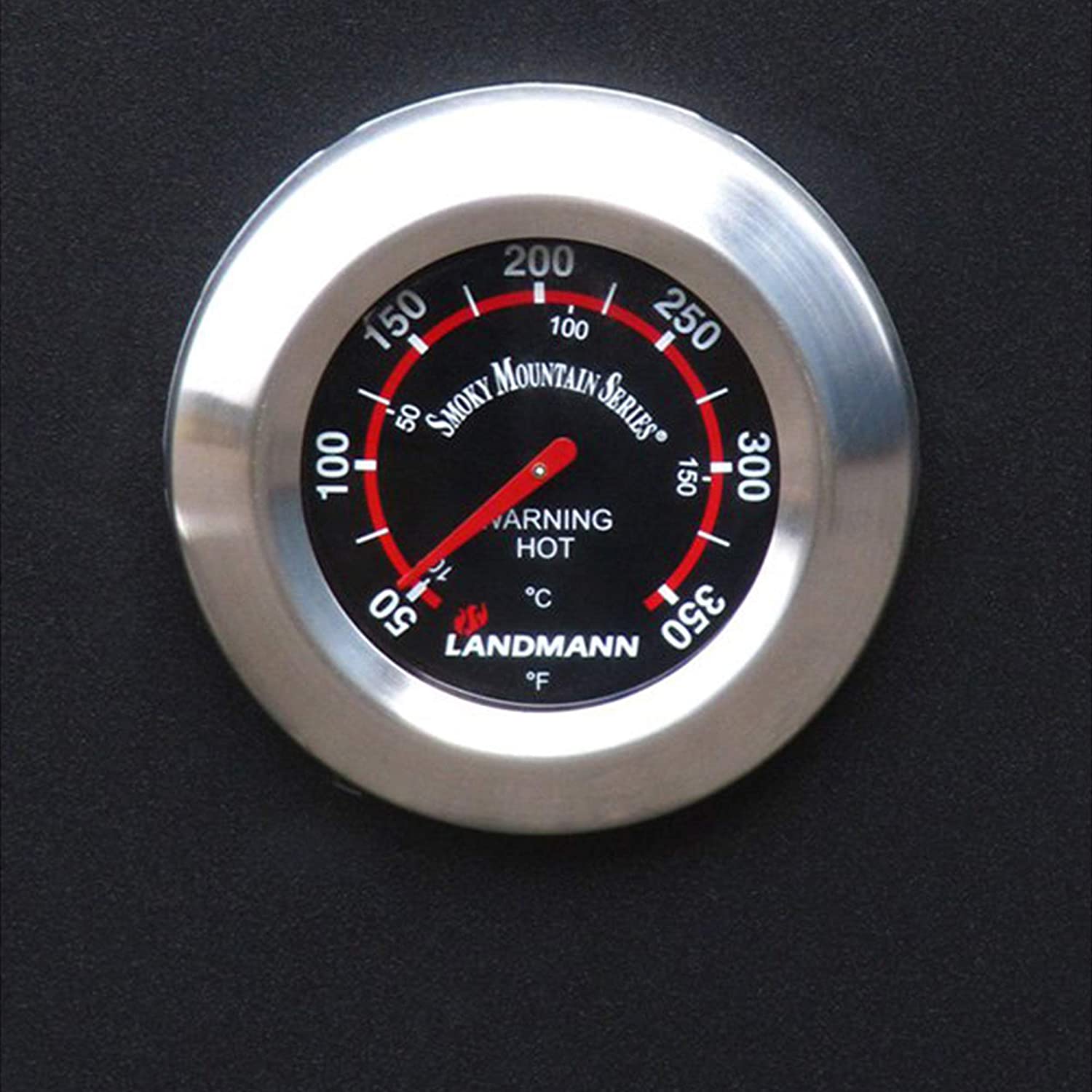 6. Bradley Smoker Digital Electric Smoker
Another great model we have to talk about is the BTDS76P 990216 by Bradley Smoker. This model is around 32 inches and made of premium epoxy steel, so it has a pretty good build. It also has an innovative wood chipper tray that can prove to be pretty helpful.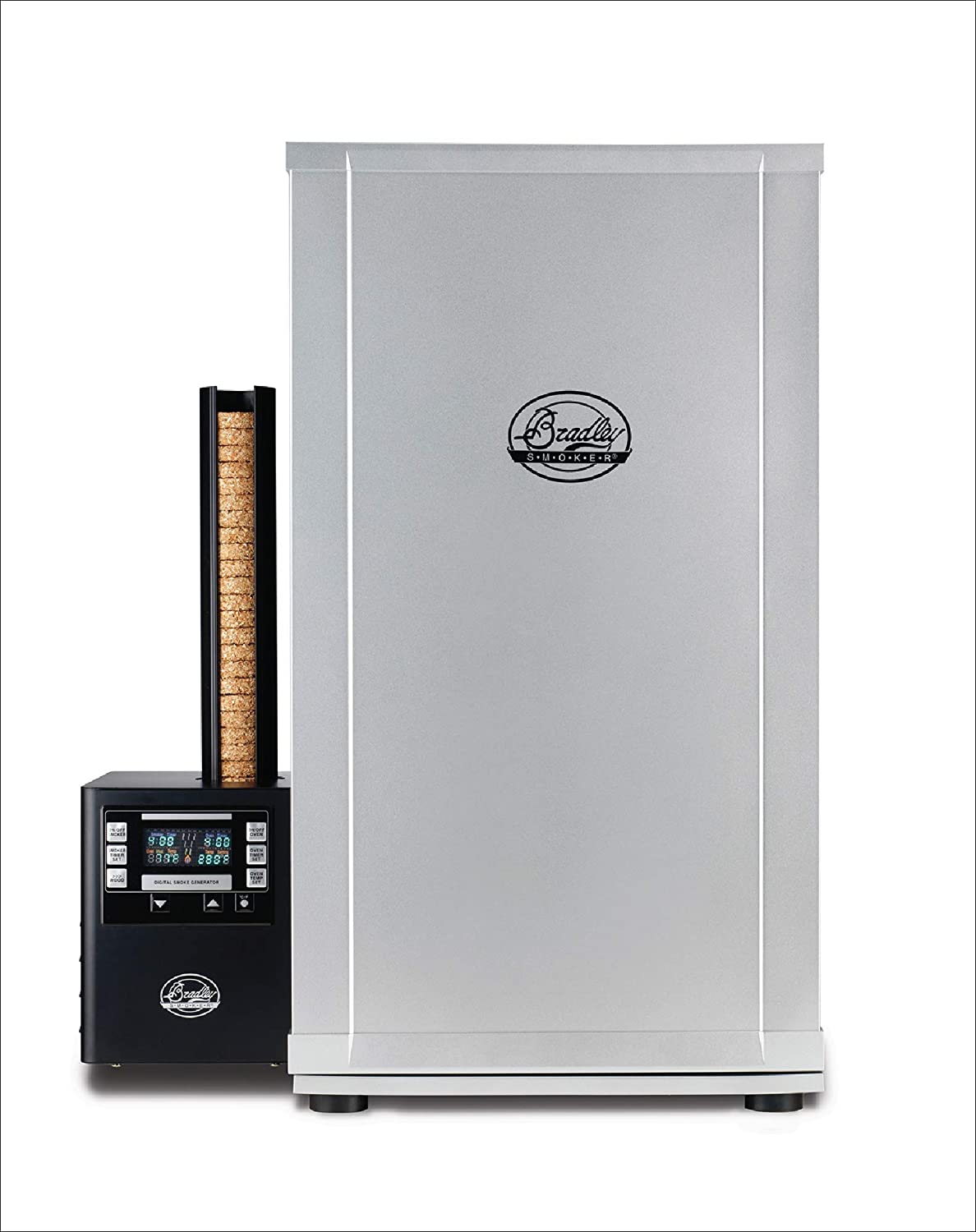 When we come to its design, it comes in a sleek silver color with a polished interior setting. For storage, this comes with four racks for smoking meat and vegetables. And you can smoke for up to a duration of around 8 hours. The cooking temperature range will be around 100°F – 320°F.
This smoker even comes with a height adjustment setting which can be useful when the ground isn't even. Other accessories include two heating burners, a digital control (for temperature, time, and smoke), and a generator (helps in better digital control and toggling capacity). Another big plus point for this model is the 1-year manufacturer's warranty.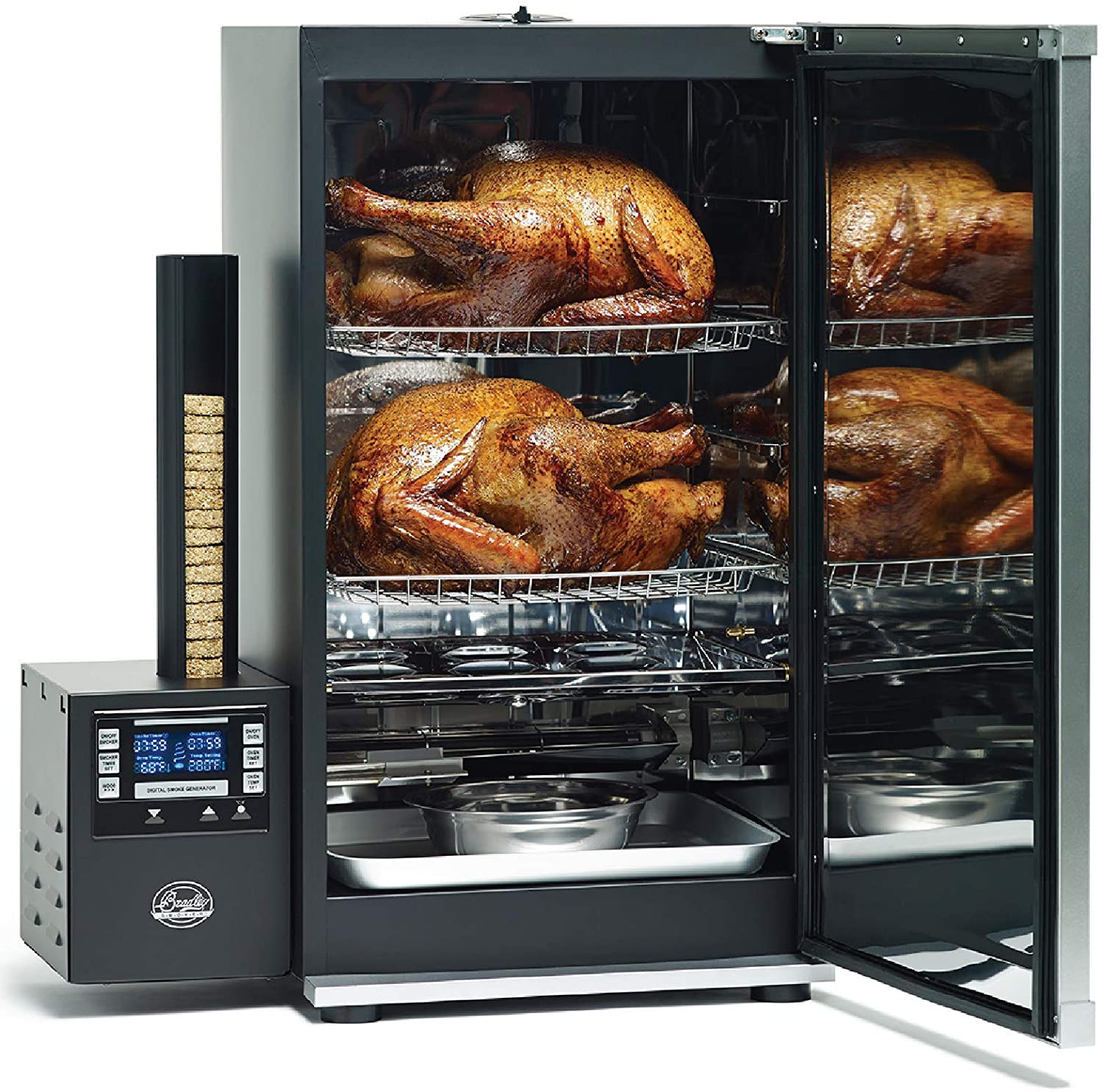 7. Masterbuilt 20072115 Bluetooth Smart Digital Electric Smoker
So we end this list with yet another model by Masterbuilt, the 20072115 Bluetooth Smart Digital. This smoker is made from stainless steel, and as the name suggests, comes with Bluetooth capabilities.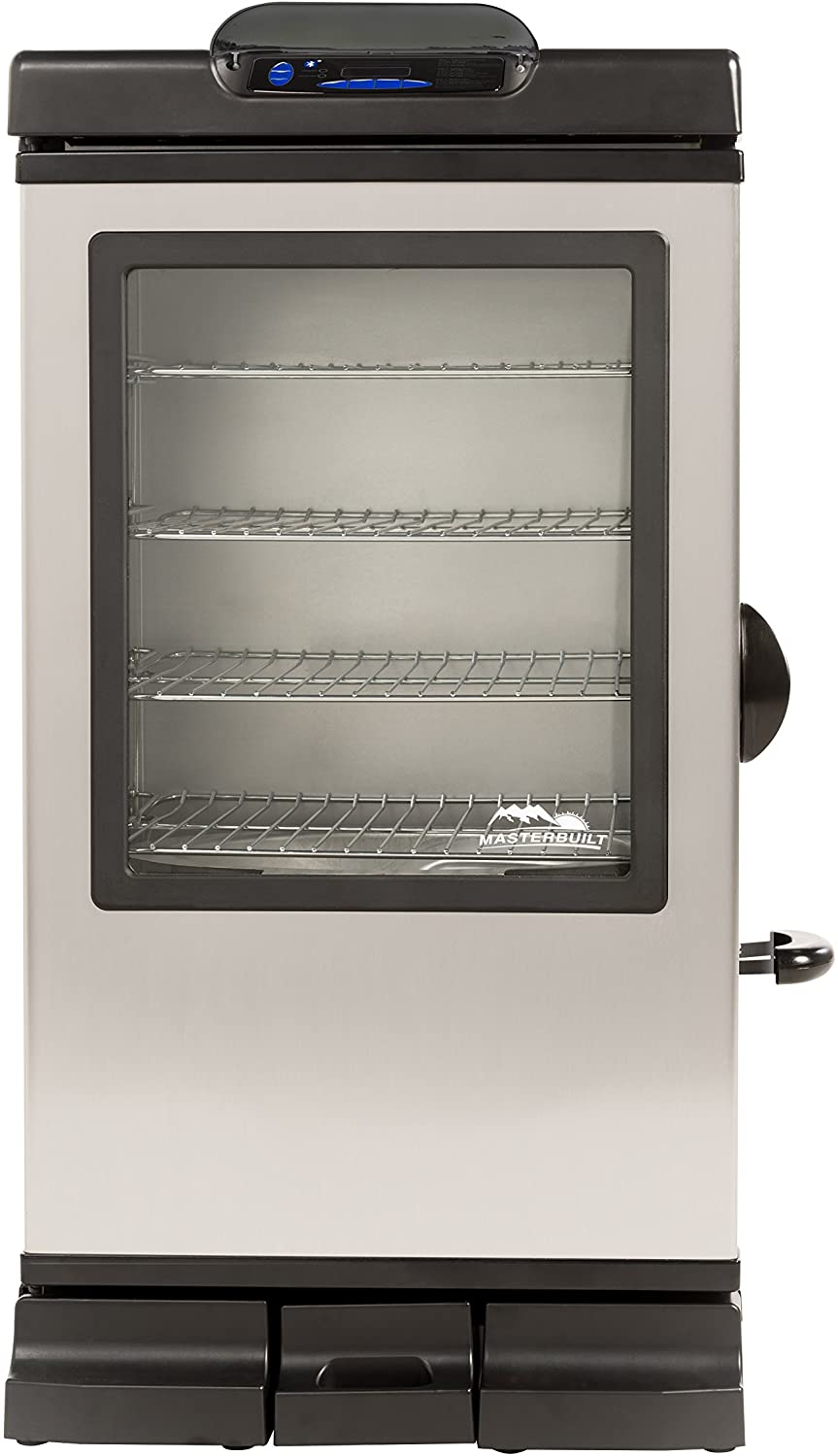 The super cool thing about having a smoker with Bluetooth is that you can control it through your smartphone. That'll take around 722 sq inches of cooking space and comes with a rear-mounted handle and wheels, which makes it a great choice if you plan to have a lot of outdoor BBQ parties.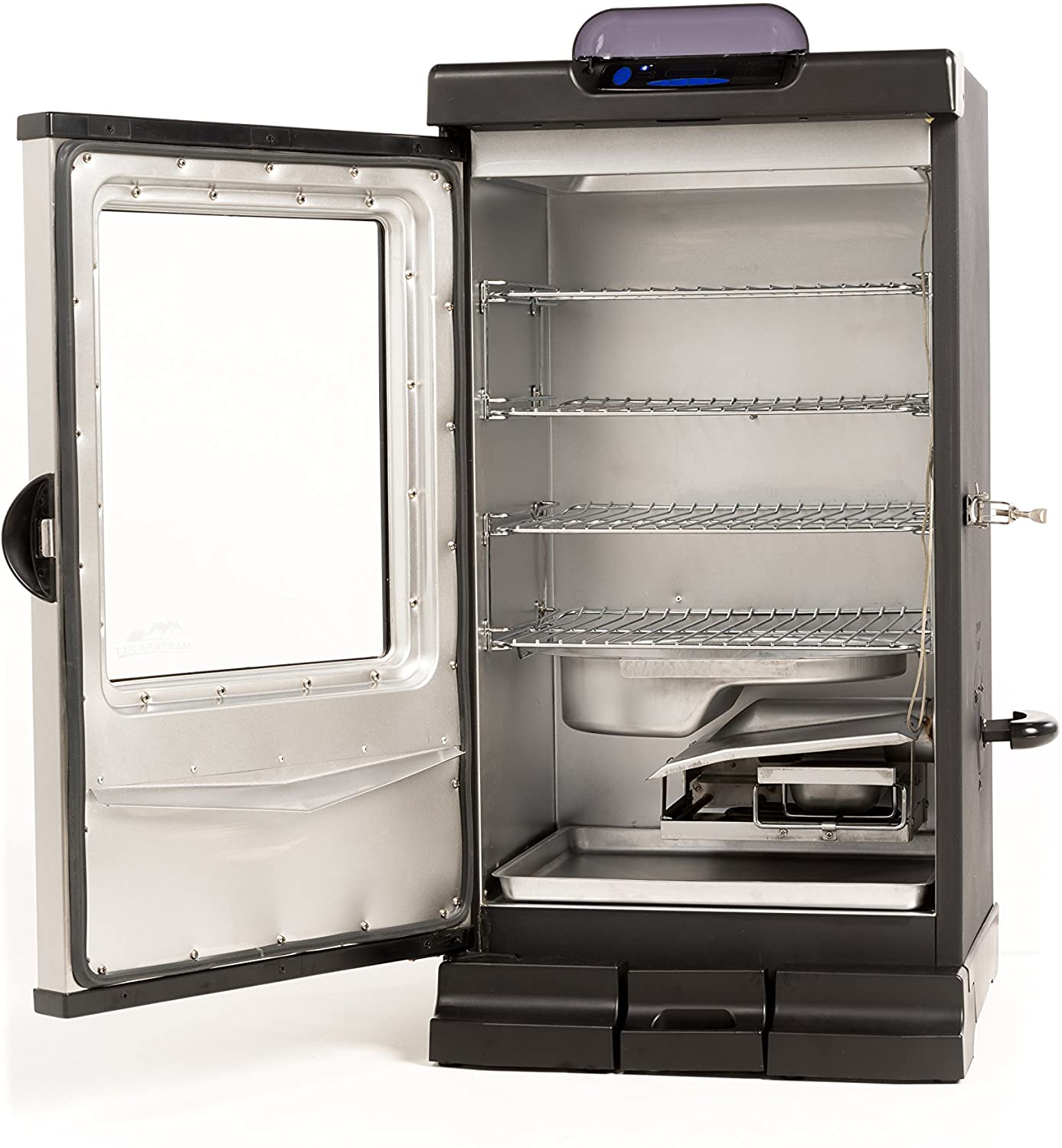 You even get 4 chrome-coated removable shelves, which makes the cleaning process a whole lot easier. Also, wood chips can be added to it even without opening its door. The cooking temperature range is around 100°F – 275°F.
Also Read: Best BBQ Sauces: Perfect Taste Enhancers To Your BBQ Feast
---
CONCLUSION
So that was our list for our best Electric Smokers available in the market today. I hope we were able to answer all your questions regarding Electric Smokers.
Our personal favorite among them was definitely the Masterbuilt Electric Digital Smoker which seemed to be the best all-around option since it's easy to use, comes with the digital control panel, the automatic shut down and to top it off, a 1-year manufacturer's warranty.
We also liked the Cuisinart Electric Smoker, which again is easy to use, lightweight, has a great build, and also comes with a 3-year limited manufacturer's warranty.
---
FAQs
What are the benefits of having an Electric Smoker?
There are a lot of benefits to having an electric smoker
Good for health and environment
Option for cold smoking/hot smoking
Requires less monitoring
Easy to clean
How does an Electric Smoker work?
An Electric Smoker works similar to that of an oven or toaster. It uses electric rods that heat up the cooking space, and the food gets heated up through a convention effect.
Does an Electric Smoker use a lot of electricity?
Not at all. On average, most electric smokers use up around 800 watts per hour through the cooking process.
Are Electric Smokers safe?
Yes, they're definitely safe. Electricity is a clean energy source.