Barbecuing is a delightful experience when there's a room of handy items at your disposal—the guesswork surrounding how accurate the temperature of your meat will always hamper the grilling experience.
To combat such situations, a thermometer does play a role of a life-saver. In this article, we share some of the best smoker thermometers. Before jumping over the list, let us take you through reasons to buy and tips on how to use a thermometer.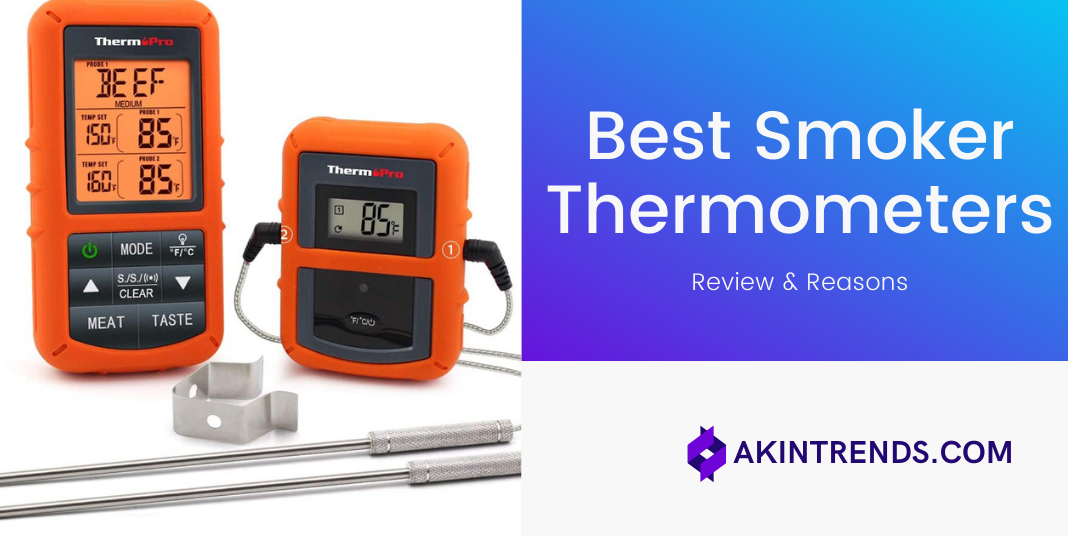 ---
Reasons To Have A Thermometer
The market has models that come with/without a built-in thermometer. A thermometer's job description is to provide you with more than just sharing the accurate internal temperature of the smoker. Following are some of the key reasons you need a smoker next time for your smoking session:
Avoid the chances of overcooking
A house party with guests having dry, overcooked meat is not a pleasant sight. You can prevent this situation by utilizing a thermometer. By cooking at the correct temperature, meat can stay juicy and tender.
Keeping the food at a safe temperature
When having a buffet-style party, a thermometer can be used in maintaining a proper temperature. Once the meat is exposed to a much cooler environment, it starts attracting bacteria.
---
How To Use A Smoker Thermometer?
A thermometer comes in four different variants — single probes, dual or more probes, or wireless thermometers.
Here's how a thermometer works:
First of all, insert the meat probe into the deepest region of the meat.
Prevent the probe from touching the bones — this may lead to incorrect temperature.
Avoid inserting the needle to the point where it penetrates from the other end of the meat.
When using a dual probe, attach the probe to the grate. This helps in monitoring both the smoker and meat temperature.
Soon after placing the probe, the thermometer may take about thirty seconds to read the accurate temperature.
---
Best Smoker Thermometers
Smoking is best enjoyed when everything seems to be perfect and accurate. To help you with a precise reading of meat temperatures, here's a list of the best smoker thermometers:
1. ThermoPro TP08S Wireless Meat Thermometer
ThermoPro is a long-time favorite brand in giving the most wholesome smoking and grilling experiences. ThermoPro's TP08S is a solid device with features that make smoking a less-changing job. The device is equipped with dual probes, allowing you to monitor internal and meat temperature from a distance of 300 feet.
This thermometer features a handy alarm system that will flash and beep once the internal temperature is either drastically low or significantly higher. The thermometer comes with a temperature limit ranging from 32 to 572-degrees Fahrenheit.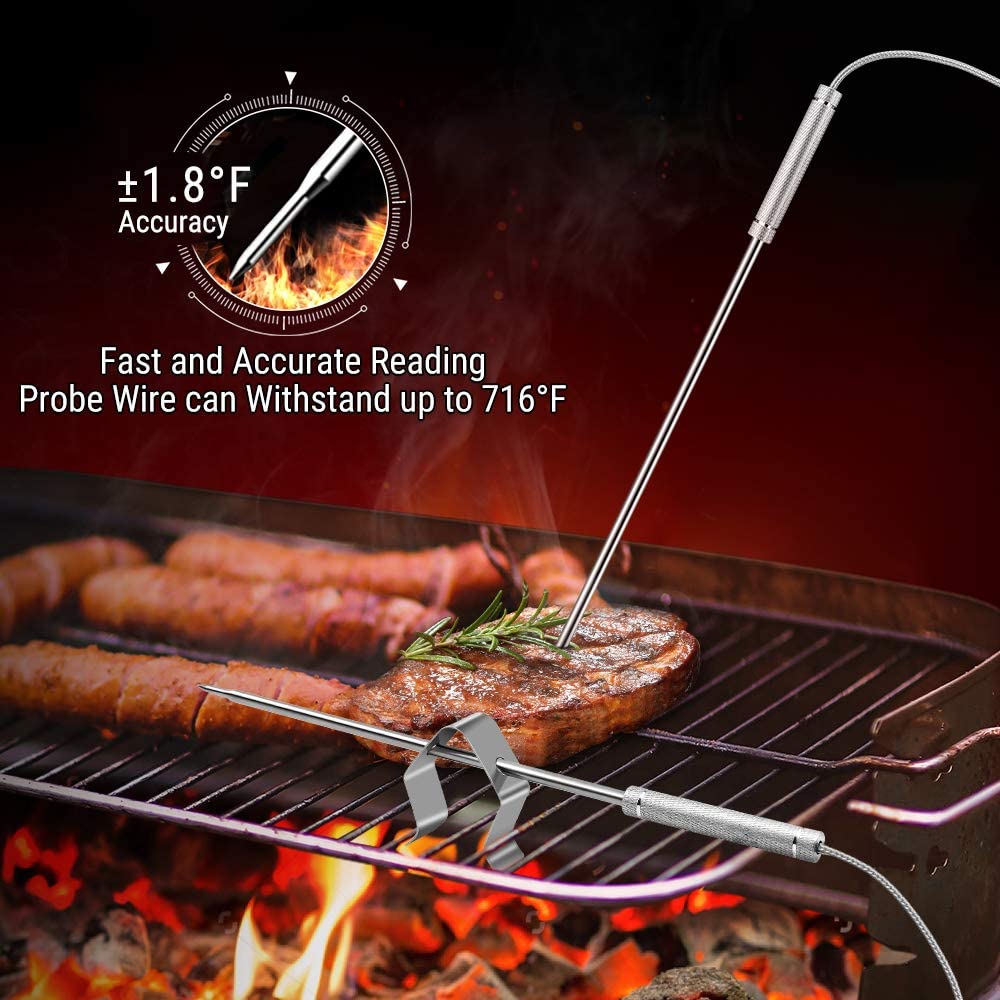 It also boasts of a timer, which lets you keep track of the smoking time you have left. This budget-friendly thermometer is available in two options — Orange and Red.
2. MEATER + Thermometer
The MEATER + Thermometer has an aesthetically-pleasing body and provides the most accurate reading of your favorite food in progress. There is the ceramic handle on the top and an ambient temperature sensor. The thermometer comes with dual sensors, one on each end.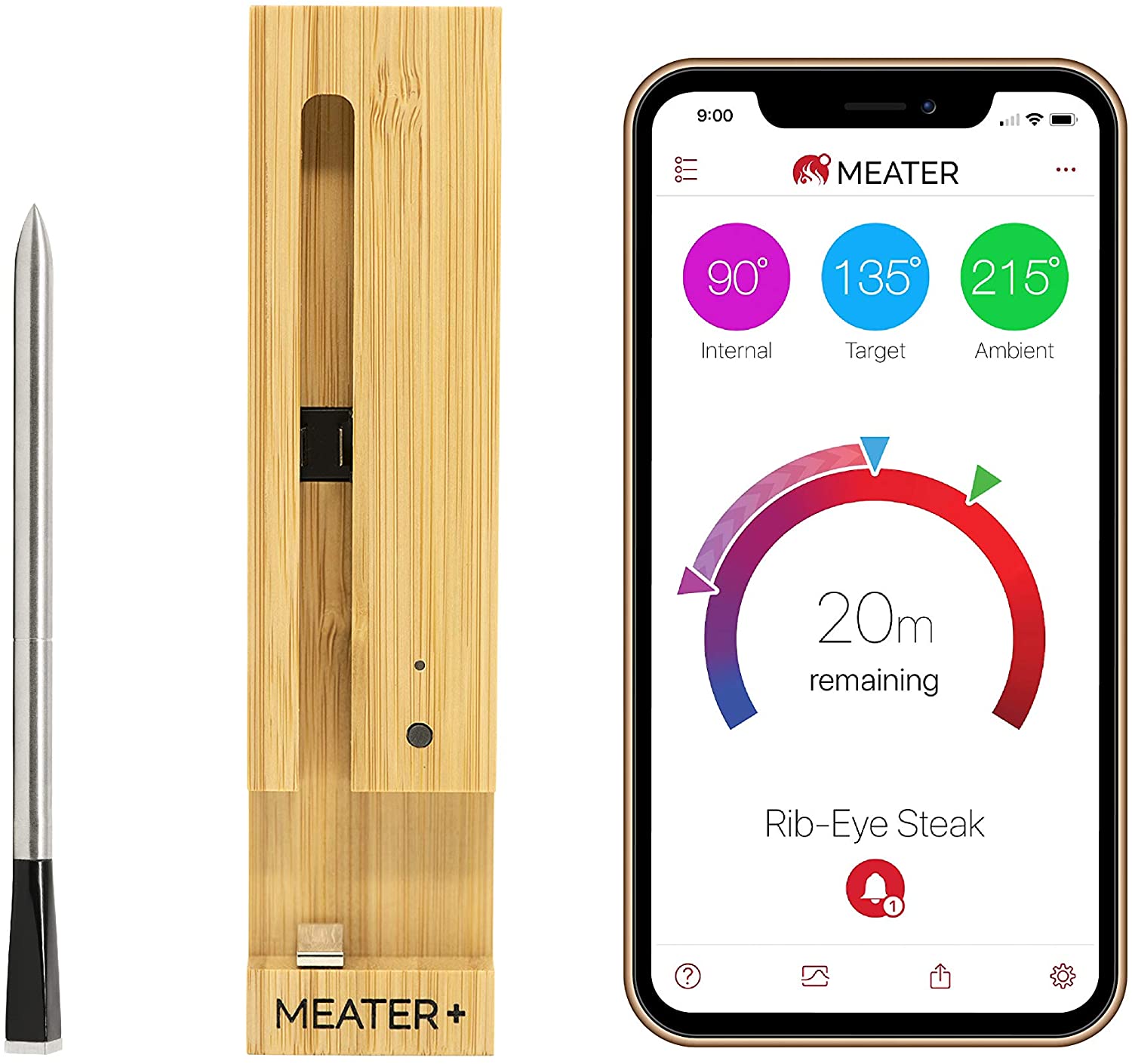 The probe alerts you when the food is ready by sending a notification to your phone. The mobile application impresses with user-friendliness, giving options to prepare from a list of meals of your choice — beef, fish, lamb, poultry, and steak. Also, you can tweak the settings as to how you want your meat to be cooked.
The Meater+ is easy to work with once you are fully equipped to deal with its controls. This is an excellent smoker thermometer that is more useful when used in an oven than over the stove.
3. Maverick ET-733 Thermometer
The Maverick ET-733 is another piece we'd like you to try for your next smoking session. The thermometer boasts two probes, which is an upgrade from the previous model that featured just one. This device arrives with a 300-foot range, allowing seamless wireless control over the thermometer.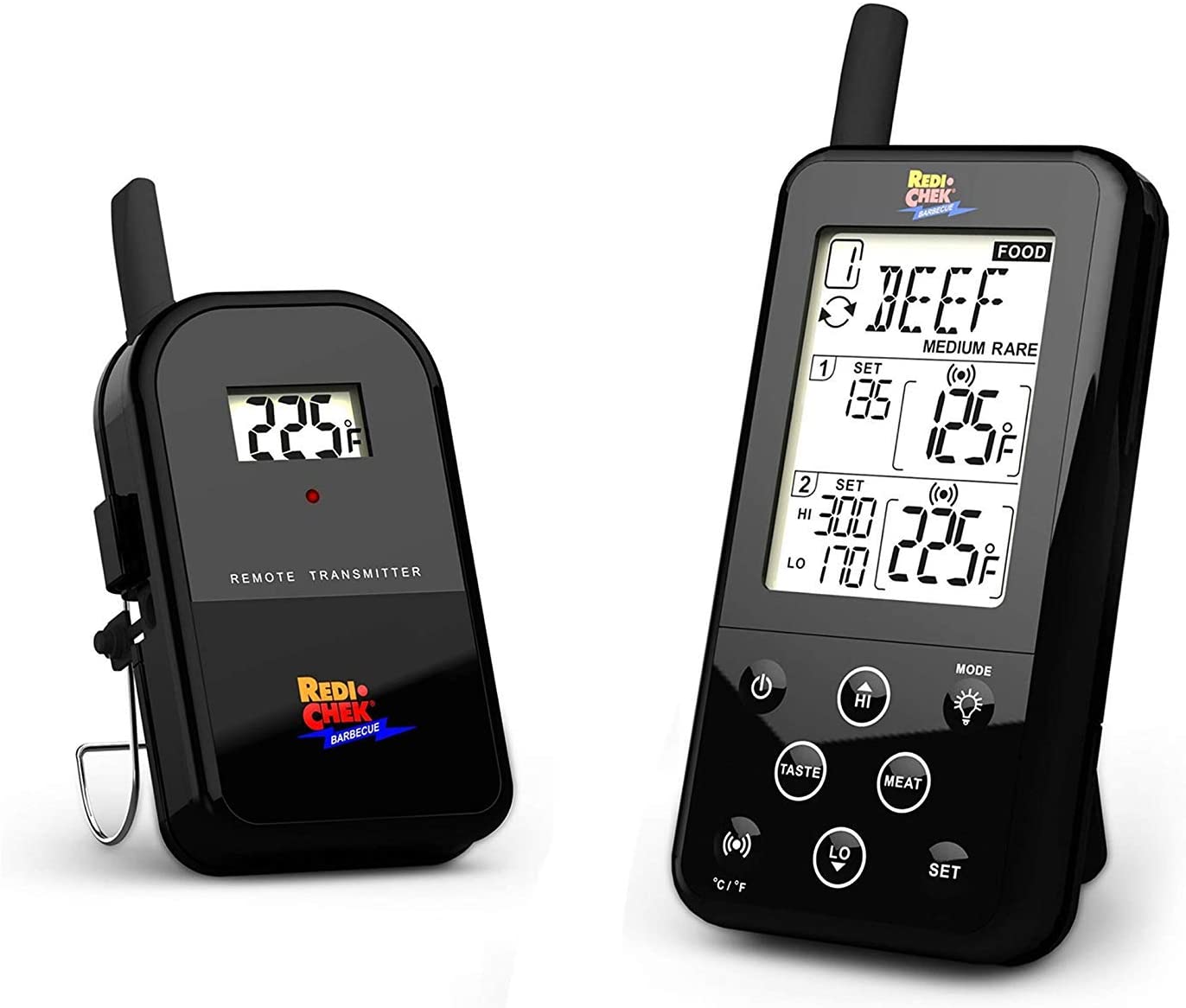 This thermometer is equipped with an LCD screen that beeps and flashes once the temperature gets out of control. The design may not startle smokers at first, but things get easy as they become accustomed to it. It features 15 preset temperatures — six for meats and nine for game meats.
The preset temperatures offer you the upper hand when smoking beef, lamb, pork, chicken, elk, fish, and more. A 90-day warranty from the manufacturer backs the ET-733.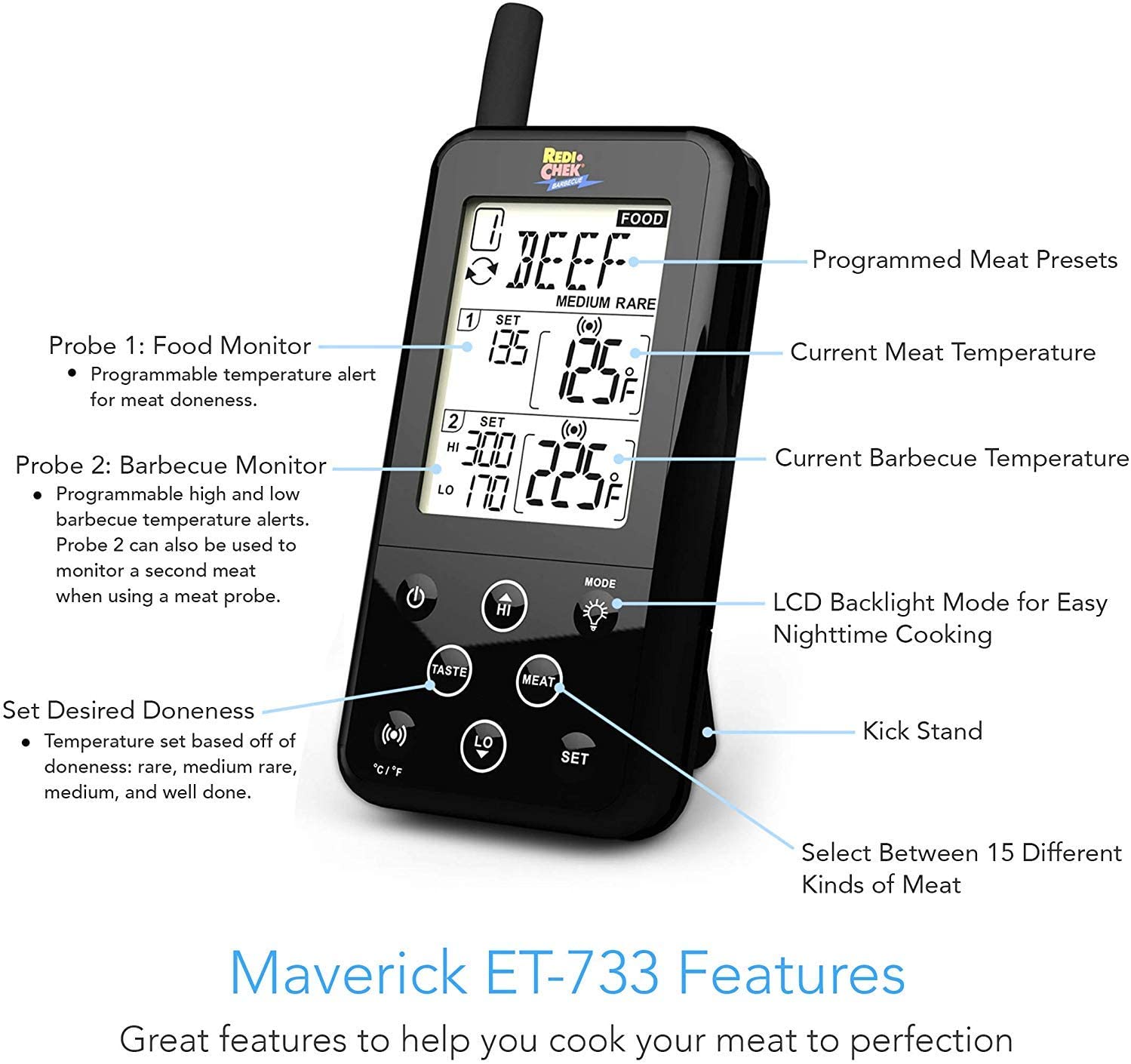 4. Weber iGrill 2 Thermometer
The Weber iGrill 2 Thermometer is an effective and nifty piece of equipment to measure all kinds of meat's temperature. This thermometer works on Bluetooth to pair it with your smartphone or tablet. In order to perform this function, you need to install the app to begin monitoring temperatures.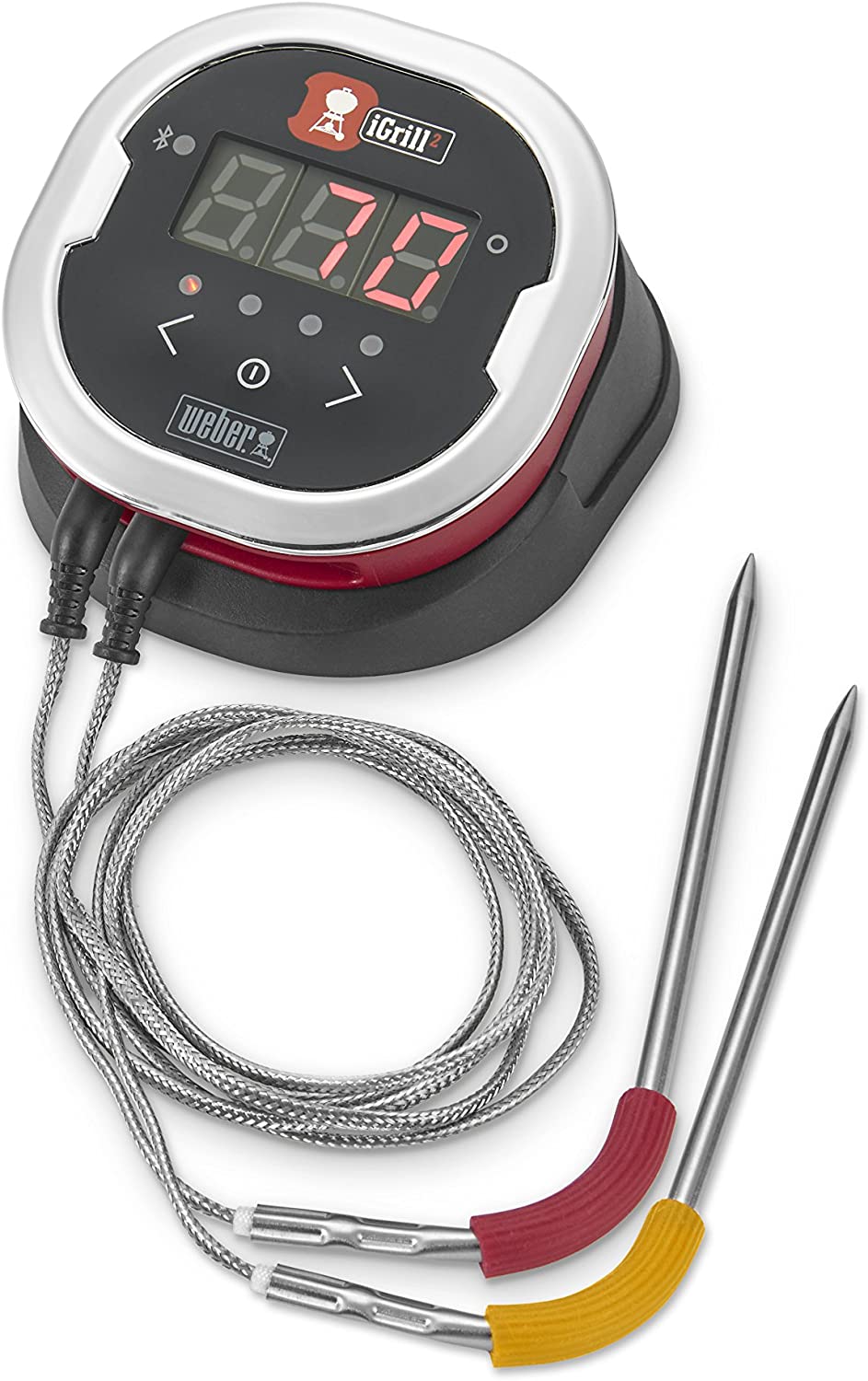 The thermometer comes with two probes, while you can also pair additional two probes (sold separately) for monitoring various kinds of meat simultaneously. With the purchase of this thermometer, besides the two probes, you get two probe wraps, two colored probe indicators, AA batteries, a user manual, and a magnetic disc.
The Weber iGrill 2 Thermometer can easily last for about 200-hours once fully charged. This temperature measuring tool effortlessly manages to measure temperature anywhere between -22 and 572-degrees Fahrenheit.
Also Read: Best Grill Smoker Combos – The Perfect combo for your BBQ
5. ThermoPro TP20 Thermometer
Found on most chefs' tables, the ThermoPro TP20 has reaped recognition and thousands of reviews on popular e-commerce website Amazon. This thermometer includes a dual probe that comes in handy while cooking and controlling temperature.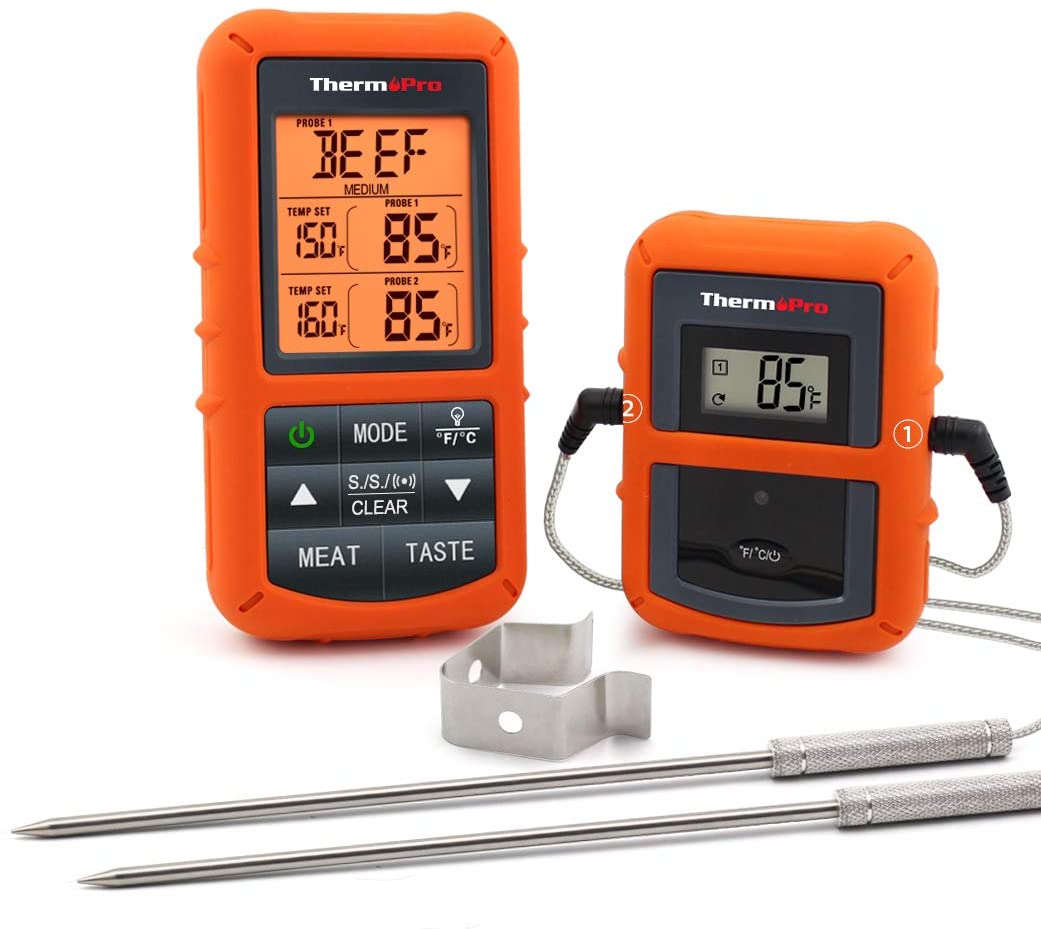 This device is USDA-certified for quality, and the preset temperatures are ideal for nine different types of meat. The nine presets work on meats like — beef, veal, chicken, port, etc. Furthermore, you also have the ability to check different doneness levels (rare, medium-rare, medium, medium well, and well done).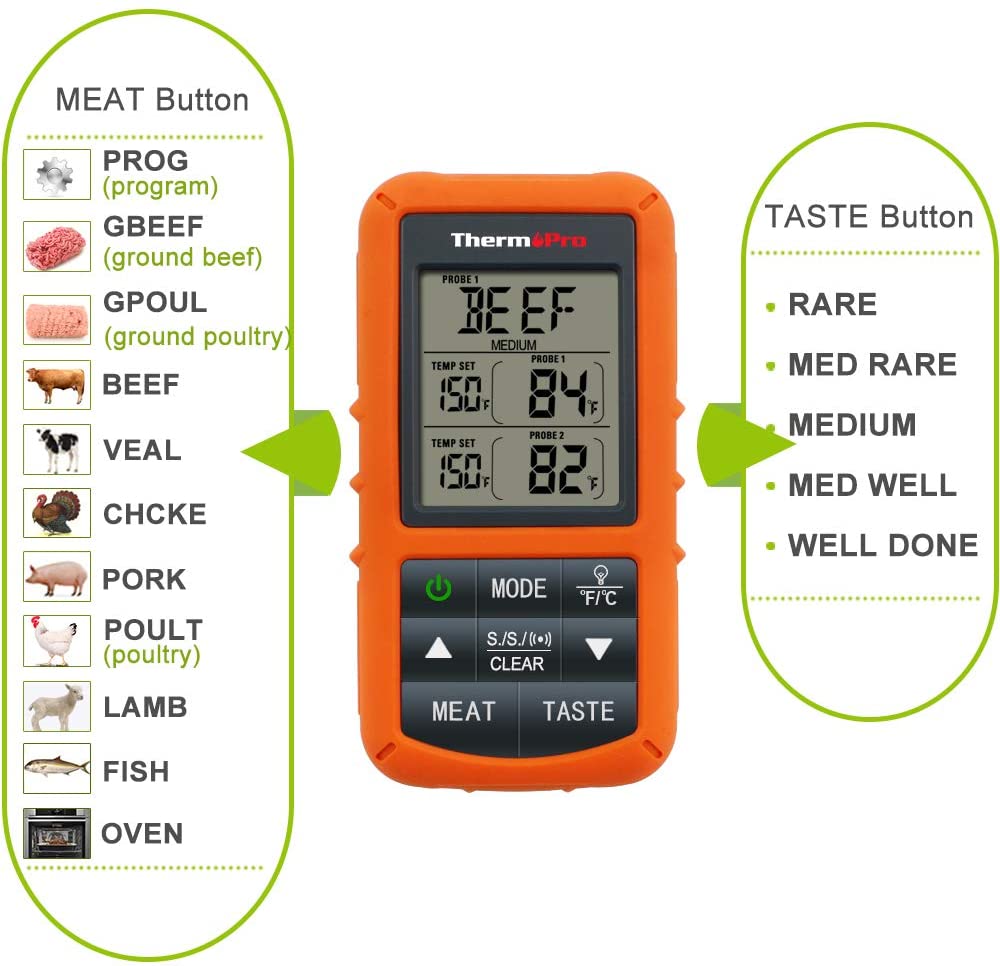 ThermoPro's TP20 displays temperature-related data on the large, backlit display. Since the device is completely wireless, setup and monitoring is convenient from a distance of up to 300 feet.
6. NutriChef Smart Wireless Thermometer
The NutriChef Smart Wireless Thermometer has an old-fashioned alarm clock's contour with a bells-like design on the top. The thermometer comes with two probes that keep a tab on two foods simultaneously. The device can be accessed through an app, which allows you to track the current cooking progress.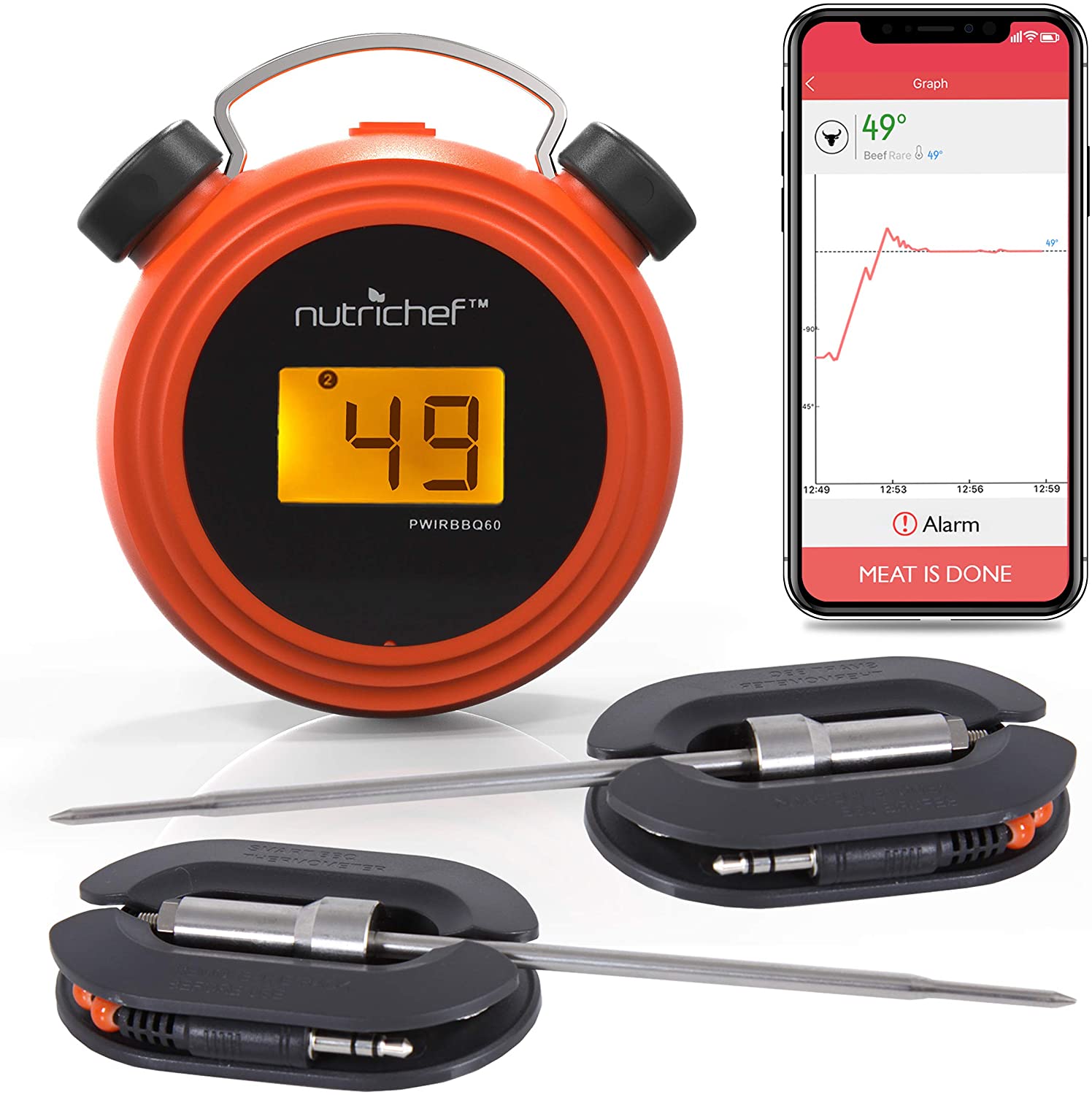 This thermometer features a backlit LCD screen that is easily readable under any light. The dual probes have the capacity of resisting up to 482-degrees, while the cables can resist temperature up to 716-degrees.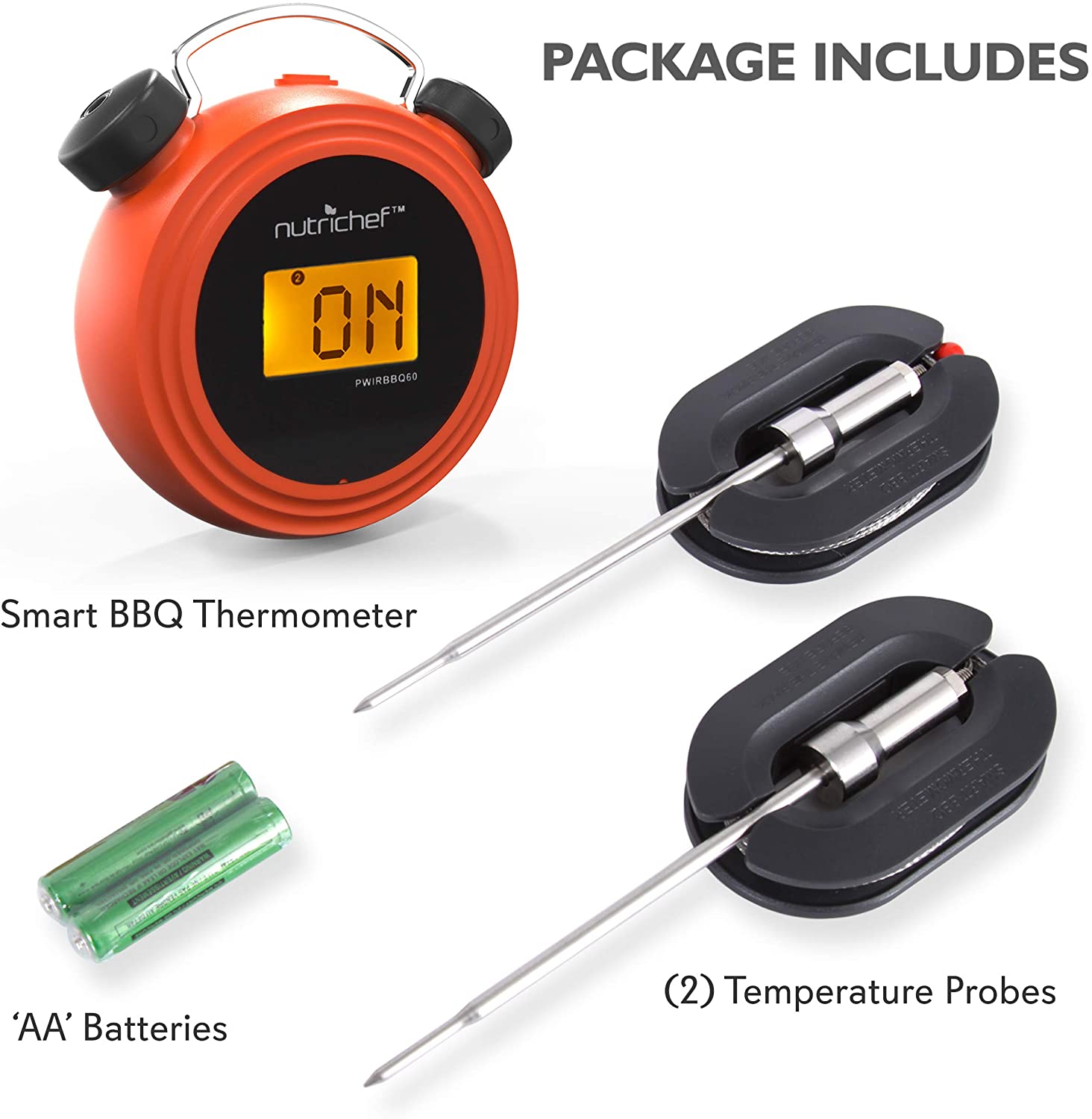 NurtiChef's wireless thermometer has a strong magnet positioned on the back, making it easily attachable to magnetic items. The thermometer has a 200-feet outdoor range and an indoor range of 100-feet.
7. Soraken Wireless Meat Thermometer
Loaded with four probes to measure temperature accurately, the Soraken Wireless Meat Thermometer is another feature-rich wireless temperature device. The probe cords of the thermometer can withstand heat up to 716-degrees Fahrenheit. The thermometer provides the option of monitoring six different foods or reads surrounding temperatures at once.
This device can be connected with your smartphone using Bluetooth — it comes with an indoor range of 100-feet and 170-feet for the outdoors. The thermometer is supplied with 11 preset temperatures for 11 different kinds of food using USDA recommendations.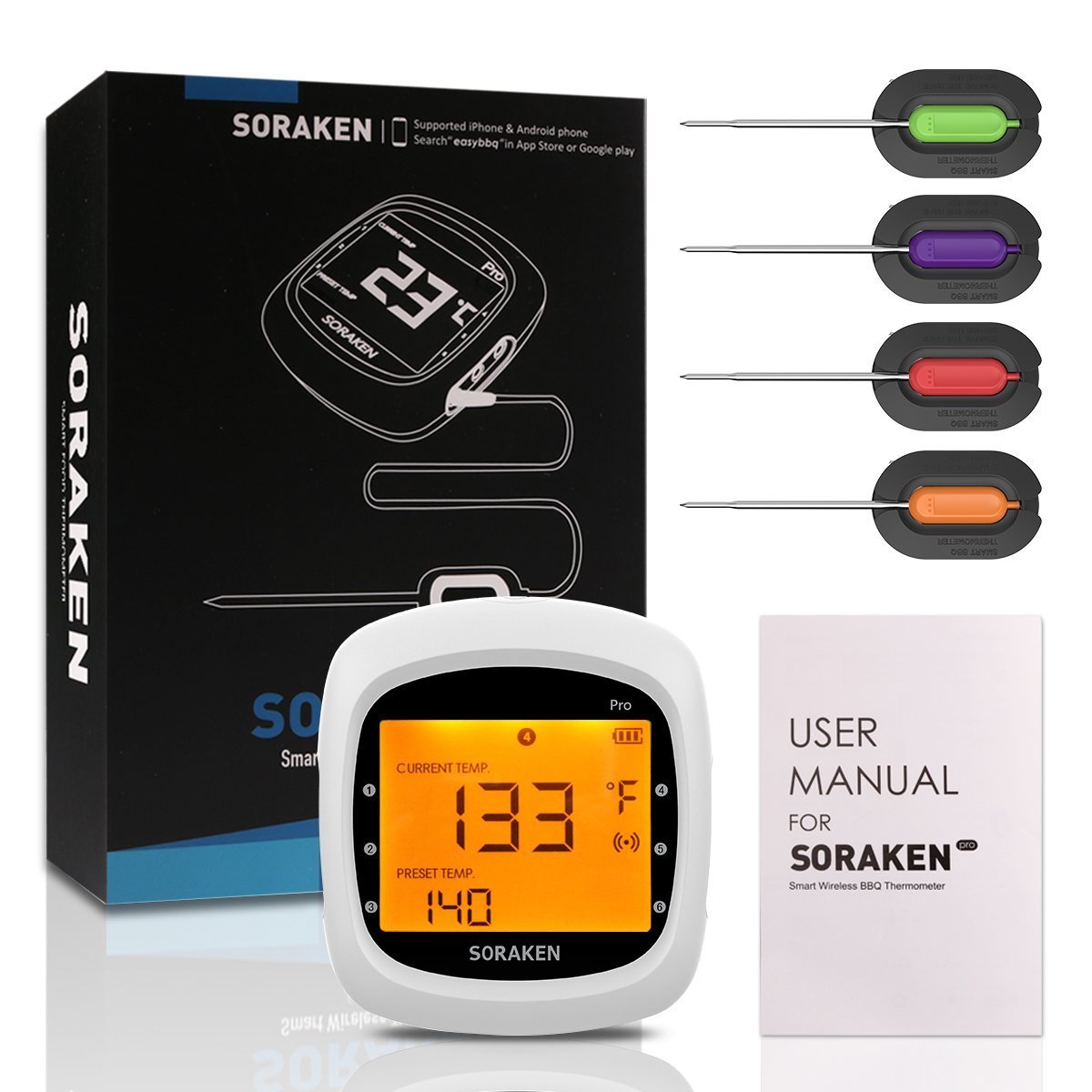 The thermometer has a strong magnet placed conveniently on a grill and other metal surfaces. What's more, the probes included come in different colors.
8. Inkbird IBT-4XS Wireless Grill BBQ Thermometer
The IBT-4XS from the house of Inkbird is waterproof and effective under most weather conditions. The thermometer features a built-in rechargeable battery, which takes about three hours to charge and lasts easily for about 40-hours fully. The measuring capacity of this device is between 32 and 572-degrees Fahrenheit.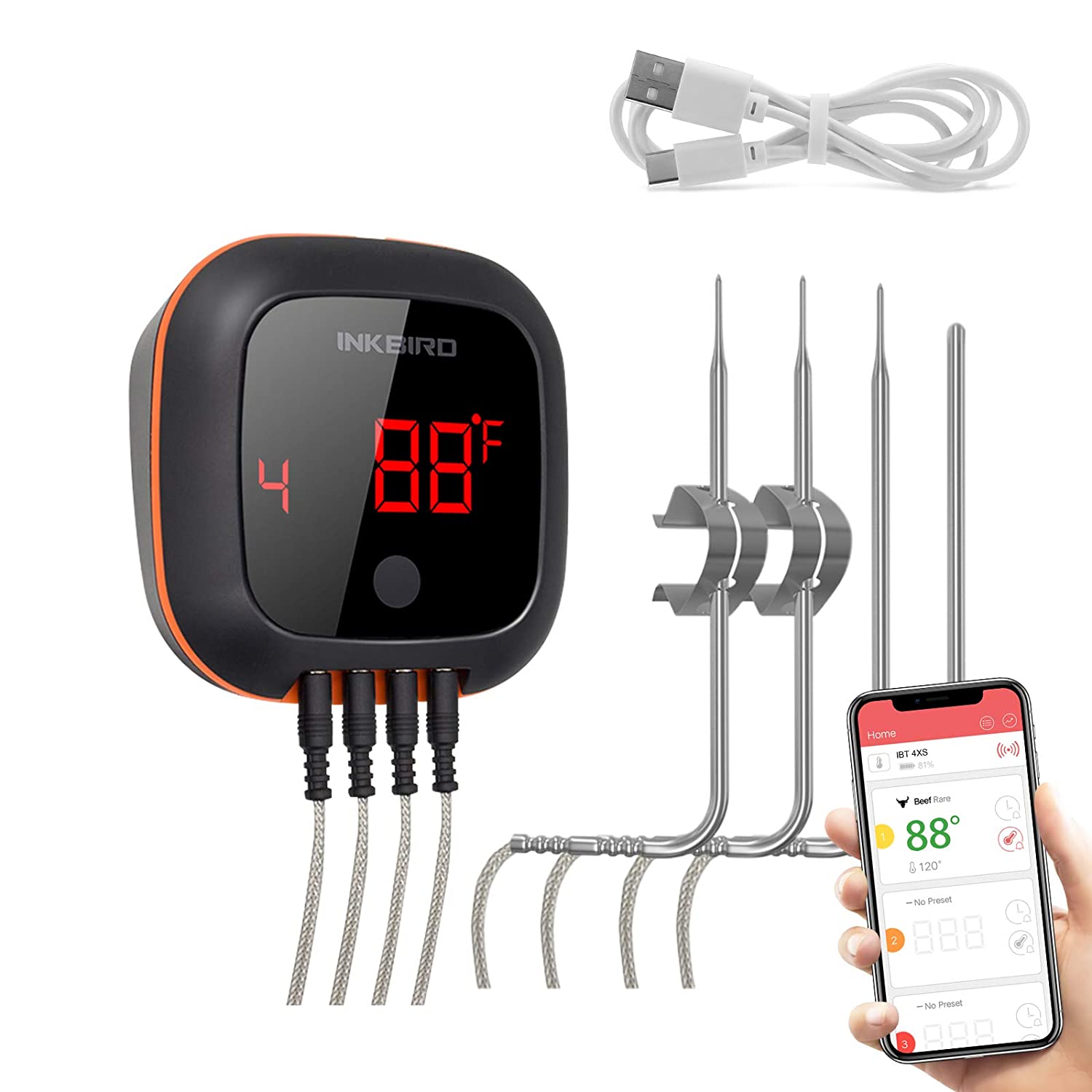 The device comes with four probes and can be seamlessly monitored using smartphones that run on Android or iPhone. You can get almost precise readings of the temperature via Bluetooth to up to 150-feet. The alarm works incredibly well when the temperature hits the programmed temperature.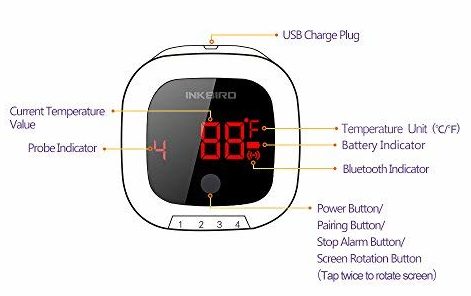 The IBT-4XS comes with a built-in magnet, allowing you to stick the base unit to the grill or oven. You also have the rotatable LED screen, meaning you don't have to fuss about wires getting in the way when attaching the thermometer to the grill.
Also Read: Best Grills for Apartment: Ideal Small Space Grills For You
---
CONCLUSION
We couldn't find a better buy than ThermoPro TP08S Wireless Meat Thermometer and Maverick ET-733 Thermometer — two of the most feature-rich and impactful devices used during barbecue and grilling.
Settling down to a list of merely eight Best Smoker Thermometers wasn't all easy. If you have suggestions or questions, please drop those in the comment section.
---
FAQs
What are the things to consider when looking for the best smoker thermometers?
When buying a thermometer for smoking, the crucial aspects to consider are user-friendliness, water-resistant, and how it sends an alert.
User-friendliness: A thermometer that is easy and brings clear reading of temperature is always the best choice.
Waterproof: In order to enter the deepest part of the meat, a thermometer has to be a waterproof one.
Alert: Beeps and flashes are the significant improvements in the latest thermometers.
How do I take care of my thermometer?
The investment you make towards buying a thermometer is not that whopping. Nevertheless, it would be best if you took precautions to keep it secure.
Avoid immersing the probe when washing it. Use a paper towel to clean the probe.
Stick to the temperature rating of the thermometer.
Probes must have a safe place.