You've been planning to throw the perfect BBQ party at your place but unsure about whether to get a griller or a smoker? Well, you always have the option to go for a grill smoker combo.
A grill smoker combo is a convenient choice for anyone who wishes to have the best of both worlds. While we all know that cooking meat on a smoker grill could take a bit of time, many people nowadays are buying the best grill smoker combo because it adds a distinct taste and a fuller flavor and texture to the meat.
---
What To Consider While Buying A Grill Smoker Combo
Your first time purchasing a grill smoker? No problem. Let's look at the criteria to consider while selecting the kind of grill smoker combo for your house.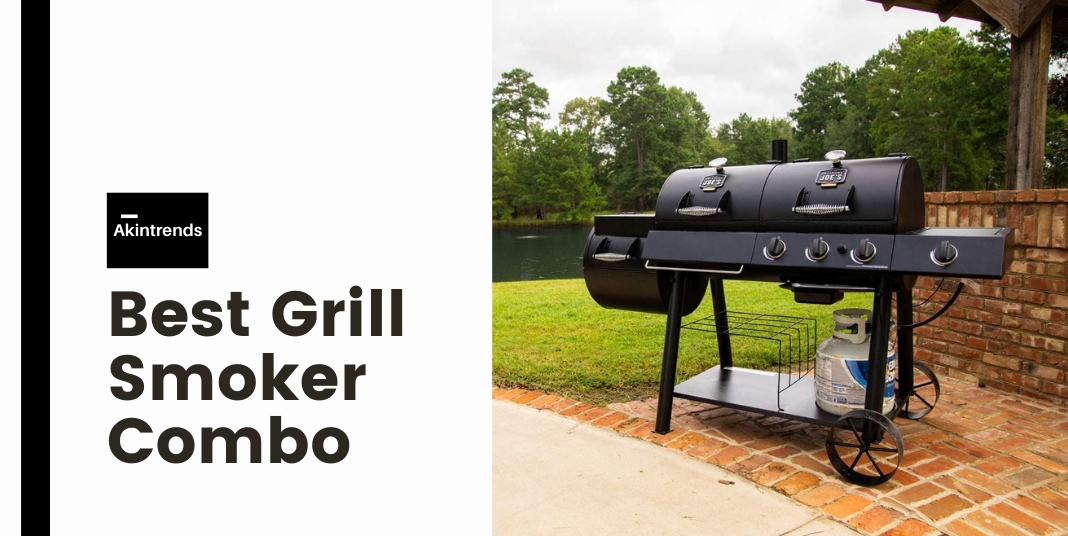 Low and Slow Cook
Try to make sure that the grill smoker you select has a low and slow cook, as there will be many recipes that will require low cooking.
Accessories
Many of the models will come with accessories along with it, so compare the models and select the grill smoker combo that comes with the right kind of accessories to match your requirement.
Clean
Cleaning after the cooking can be a huge task, so make sure to choose a model that allows for easy cleaning.
Thermometer
Remember that the smoker grills that come with a thermometer are more comfortable to use. The thermometer will help get that perfect temperature for your grill.
---
Best Grill Smoker Combos For You
Let's look at the best and most reliable grill smoker combos available in the market today!
1. Weber SmokeFire EX6
The model is made of stainless steel, which will ensure longevity, and it's also quite lightweight, so another big plus is its portability. It can easily maintain low temperatures with an easy-to-read, weather-resistant LCD screen, and comes with a decent capacity hopper.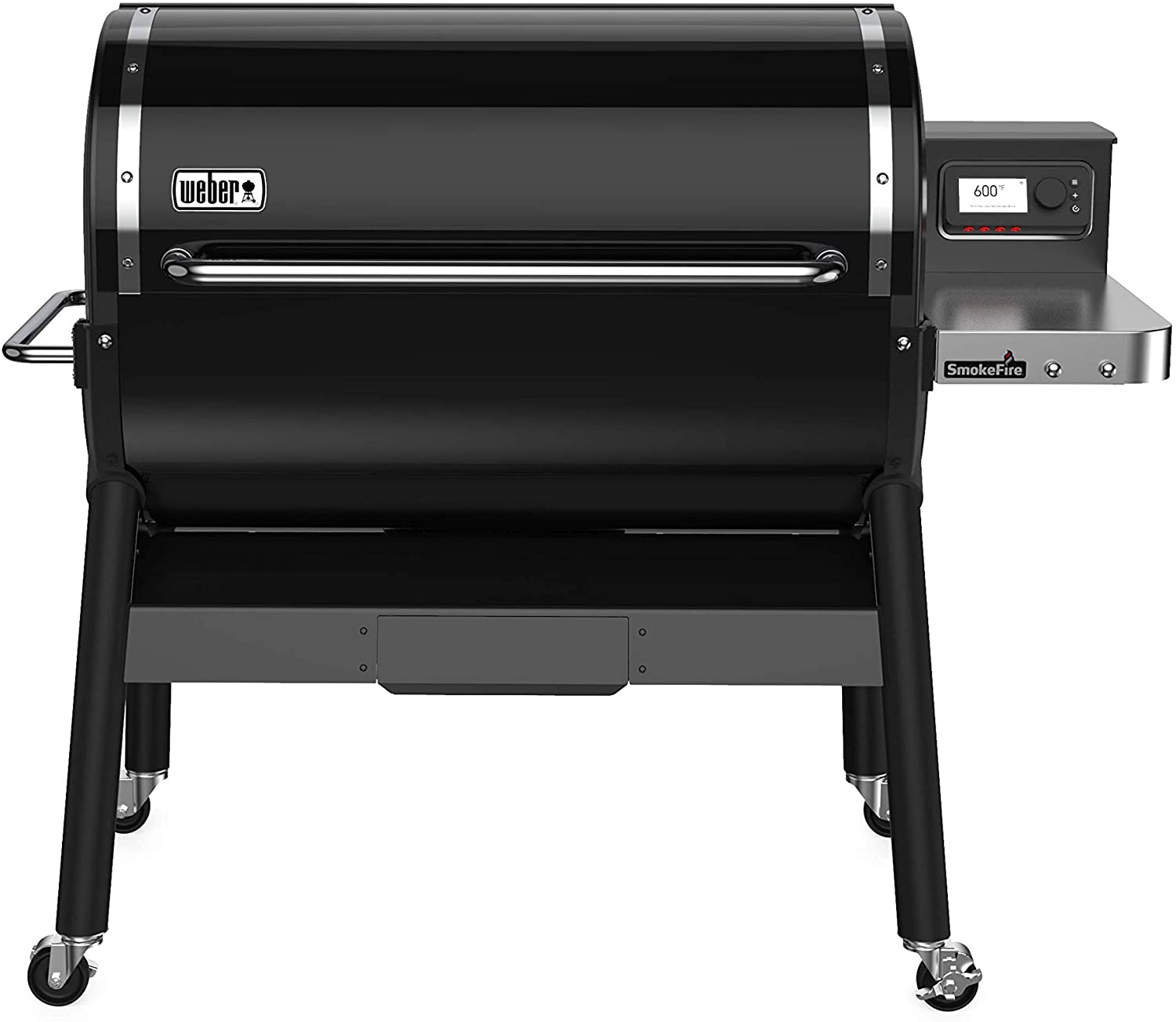 The grill is quite easy to assemble and accessible. Weber's beginner-friendly app alerts you to perform most of the functions via an app. The SmokeFire EX6 easily lets you smoke/grill 30 burgers at once, also it features a 2nd tier rack to simplify the whole meat cooking experience.
2. Char-Griller E1224 Smokin Pro Charcoal Grill
The Char-Griller E1224 Smokin Pro 830 Square Inch Charcoal Grill, like the name suggests, takes up around 830 sq inches of your cooking area and is one of the best smoker grill models available, especially if you enjoy a Texas-style BBQ.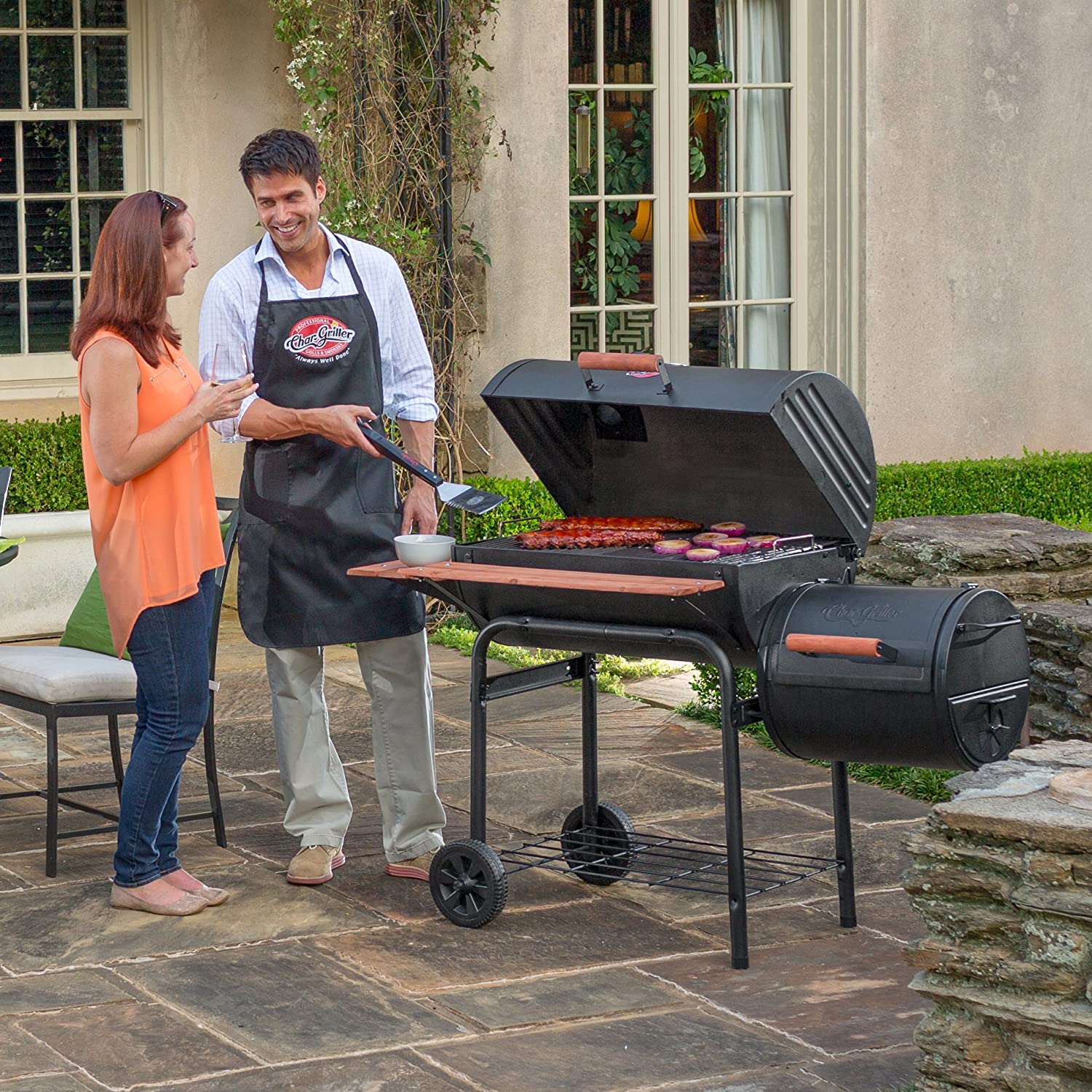 The Smokin Pro is made of steel, and the accessories include two exterior shelves and an underbody rack to simplify the storage situation, removable charcoal drawers that make adding and dumping charcoal an easy process. The smoker features an airtight flanged hood and adjustable dampers to help make the heat circulation more efficient and a double-thick bottom to prevent machine rusting.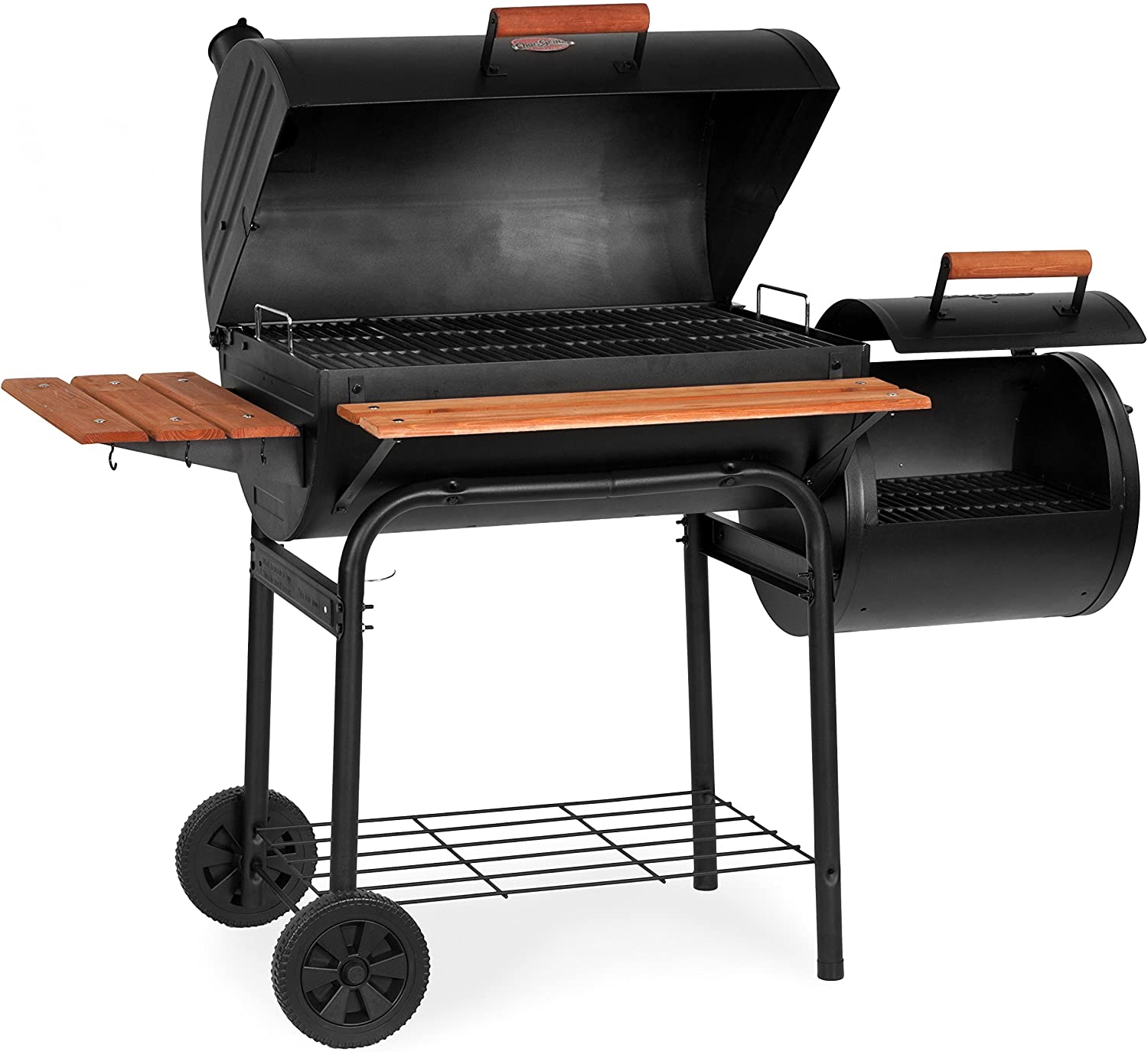 Despite being a large size with a capacity to cook 4-5 racks of ribs at a time, this model comes with two wheels, so mobility isn't an issue. Another feature is the additional firebox that comes along with the grill.
3. PK Grills Original PK Grill & Smoker
The PK Grills Original Grill & Smoker is a great model from PK Grills that was actually the Consumers Digest Best Buy 2017. This grill, made of aluminum, is rust-proof, so durability is a big plus point. It comes with four vents to simplify the grilling process.
The grill will take up around 300 sq inches of cooking surface and is under 50 pounds, so it's super portable being easy to assemble and detach, so this is an excellent choice if you plan to carry your grill for picnics or camping. You can use lump charcoal or charcoal briquettes.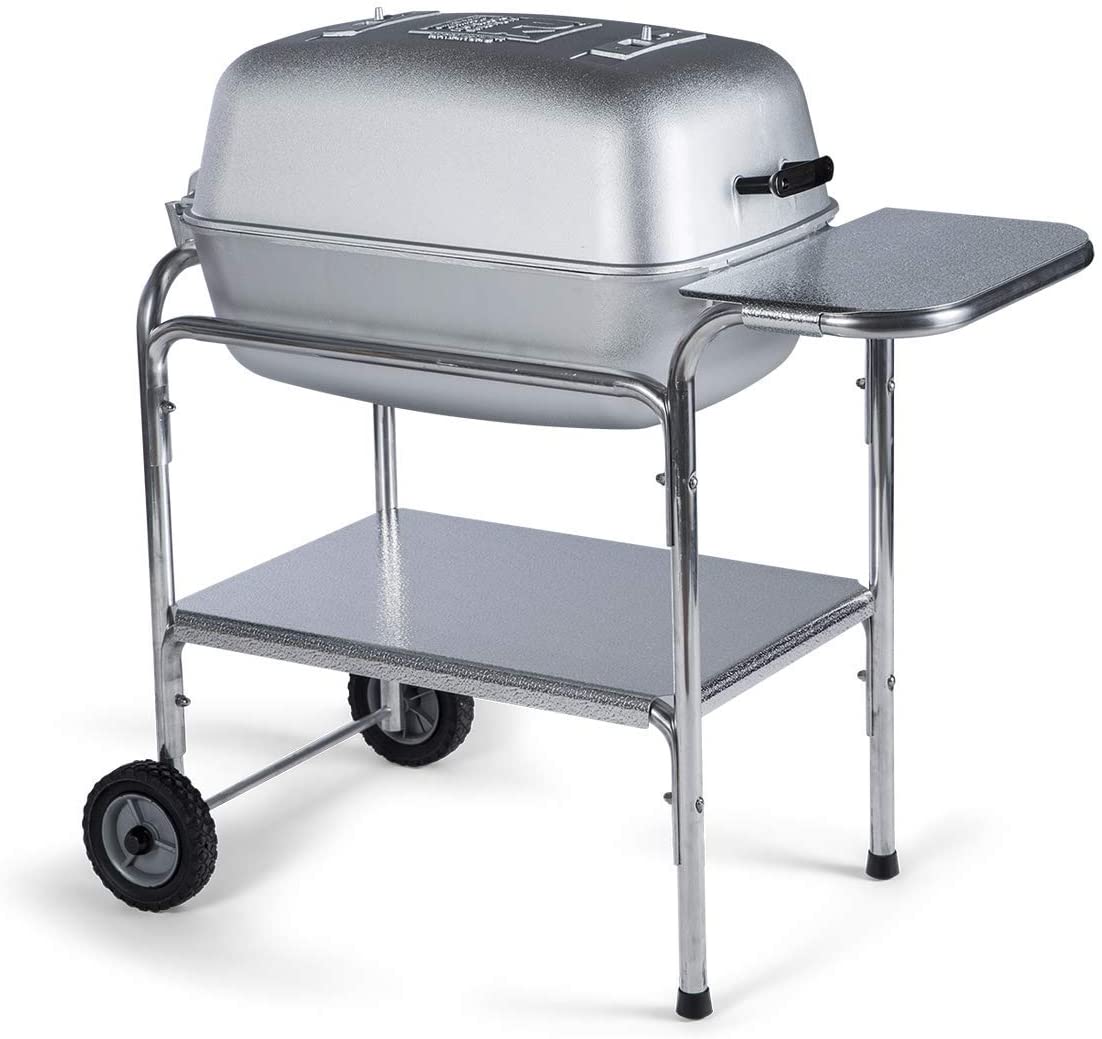 4. Char-Broil the Big Easy TRU-Infrared Smoker Roaster & Grill
The Tru- Infrared Smoker Roaster & Grill is a propane-powered grill that is one of the best bang-for-buck options on the market. The model allows you to grill, smoke, or roast your meat with temperature control from 9,000 – 18,000 BTUs without the flare-ups.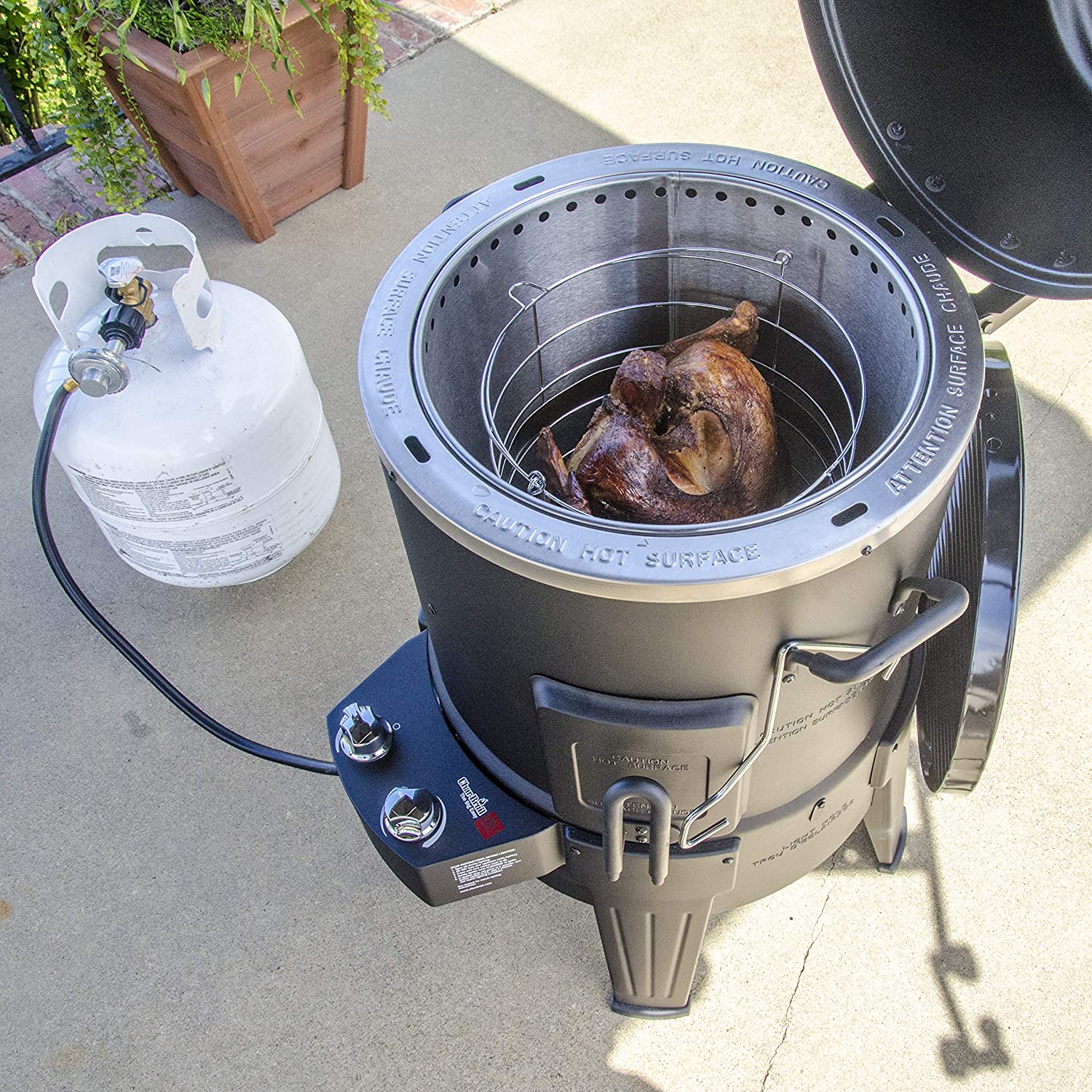 This super lightweight grill is under 25 pounds and can hold up to 25 lbs of meat for roasting, and takes up around 180 sq inches of cooking area. It is a simple and low maintenance design and does not require the water pan or air damper, so it is an excellent choice for first-time grill smokers.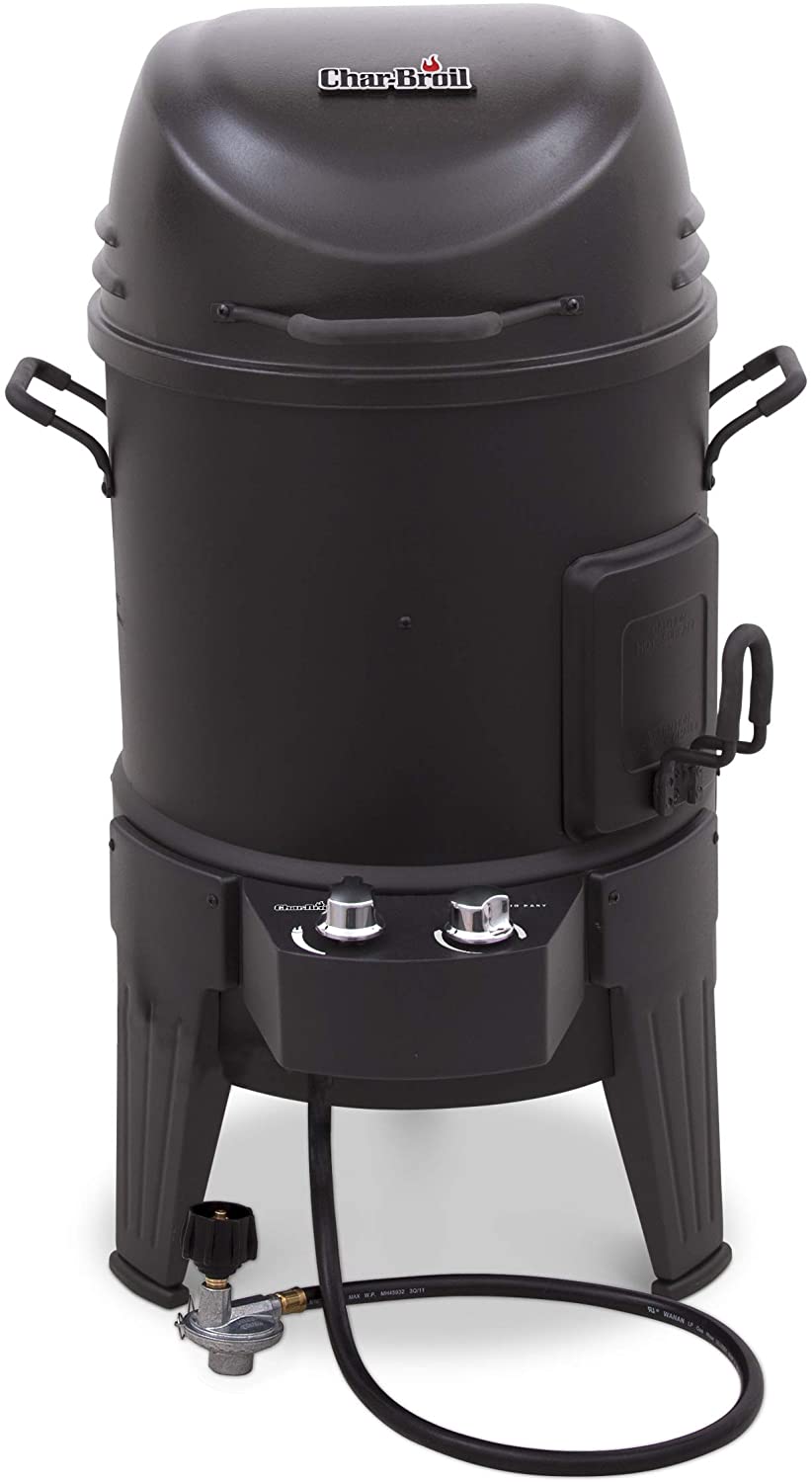 The grill uses the heat from the infrared system to maintain the flavor of the meat. It even comes with a thermometer that helps in getting the right cooking temperature. Another accessory included is a tray that can be used to collect the grease.
Also Read: Best Electric Smokers – For A Perfect Outdoor Session
5. Oklahoma Joe's Charcoal Gas Smoker Combo
The Oklahoma Joe Charcoal Gas Smoker Combo is a great model and a solid grill made of heavy-duty steel and super durable components. You can use both charcoal or gas for this model. The grill comes with six grates and three 12,000 BTU burners (36,000 BTU in total) in its gas grilling chamber, accommodating the charcoal chimney starter.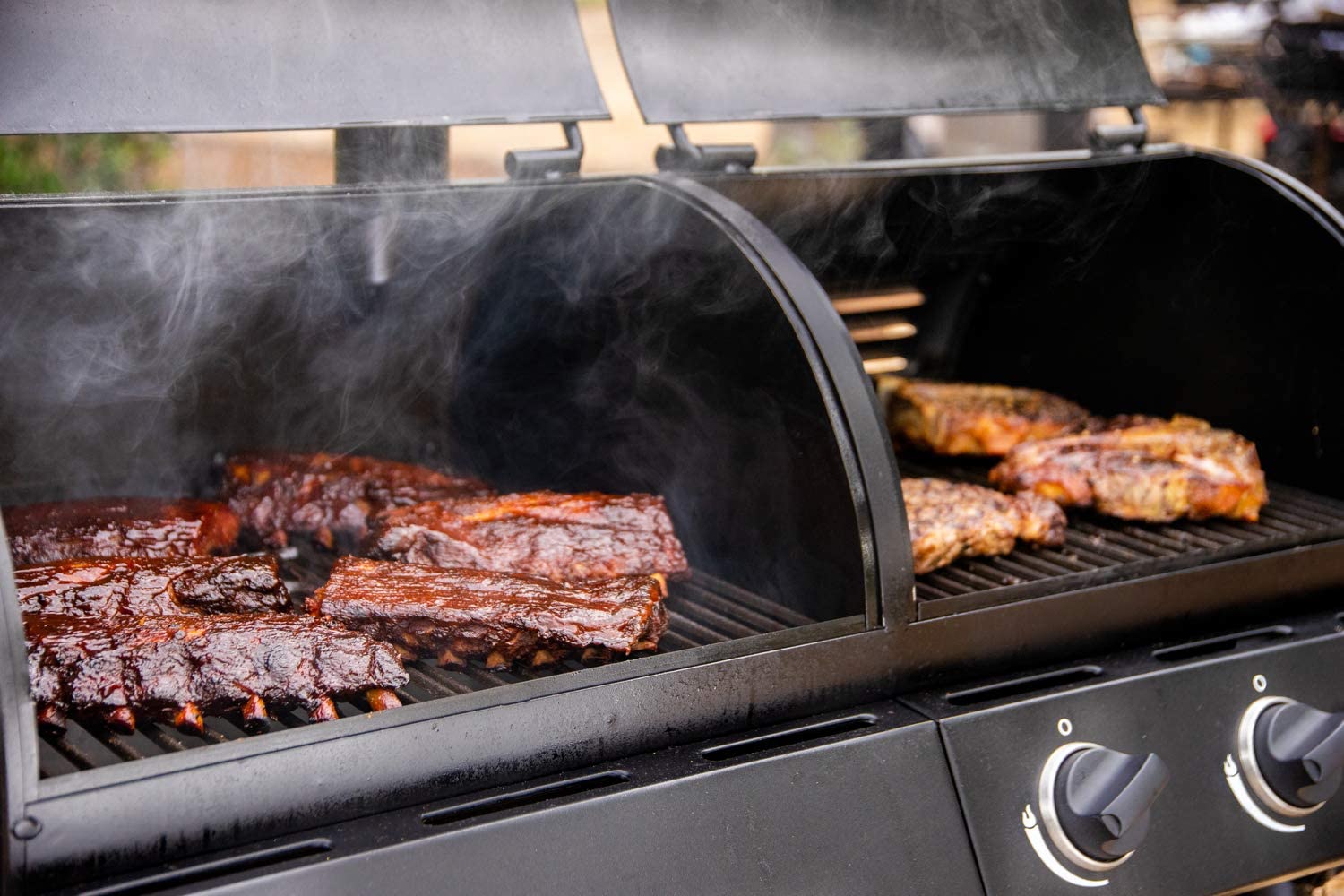 Assembling the grill, though it may take a few hours, is quite simple. The thick exterior makes it pretty durable. So this model is a great choice, especially if it gets humid where you live. Other accessories that come with the grill are triple temperature gauges, a firebox door with an air damper, and dual sections for charcoal and propane.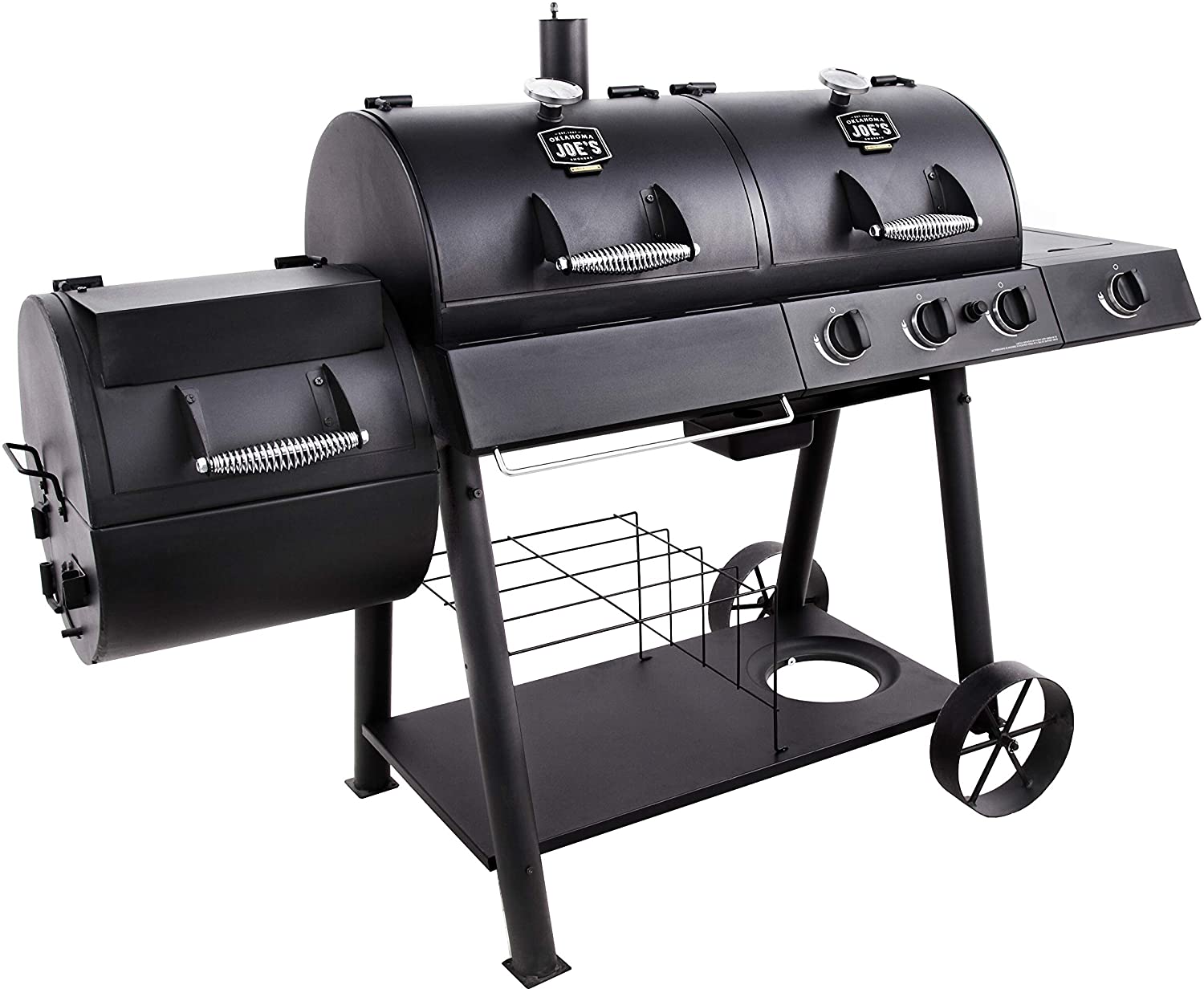 It's advisable to use a disposable aluminum roasting pan to hold the coal in the bottom for straightforward cleanup.
6. Weber 18-inch Smokey Mountain Cooker
The Weber Smokey Mountain Cooker is another one on the list of best grill smoker combos that is compact, only taking up around 480 sq inches of the cooking area, yet efficient enough to help you cook a whole turkey or an entire ham with that amazing smokehouse flavor.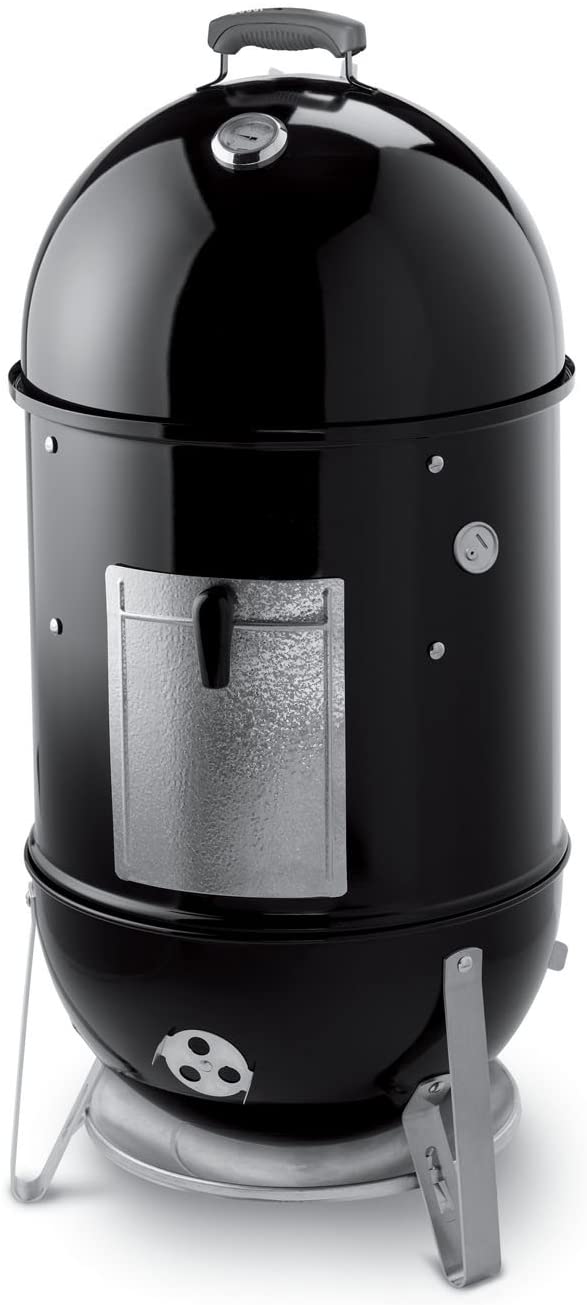 The grill is quite lightweight, coming under 40 pounds, while at the same time being pretty strong; after all it's made of porcelain-enameled steel. It also comes with a thermometer, two nickel-plated cooking grates, two vents made of no-rust aluminum, and a heat-resistant nylon handle.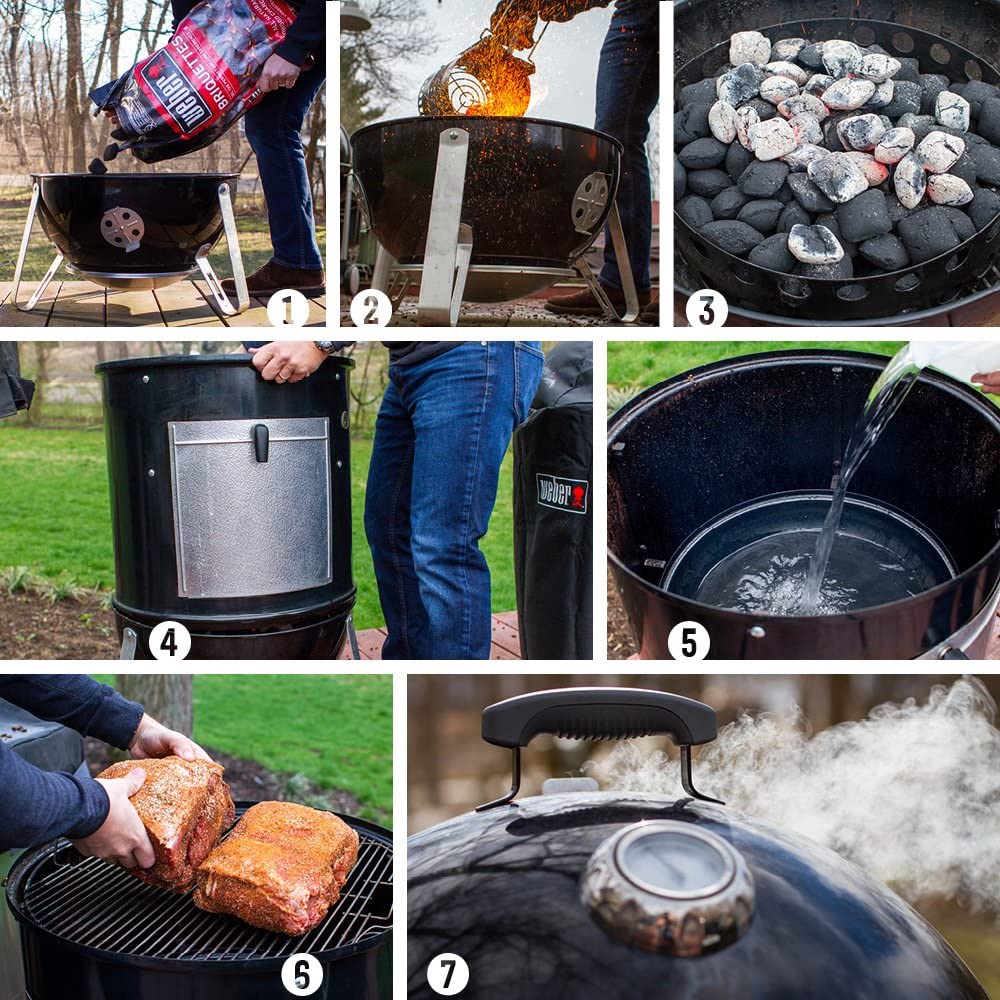 There is also a water pan included with the grill, which can be pretty useful as it can help keep the meat's moisture by adding steam. And before I forget, the grill comes with a warranty of 10 years.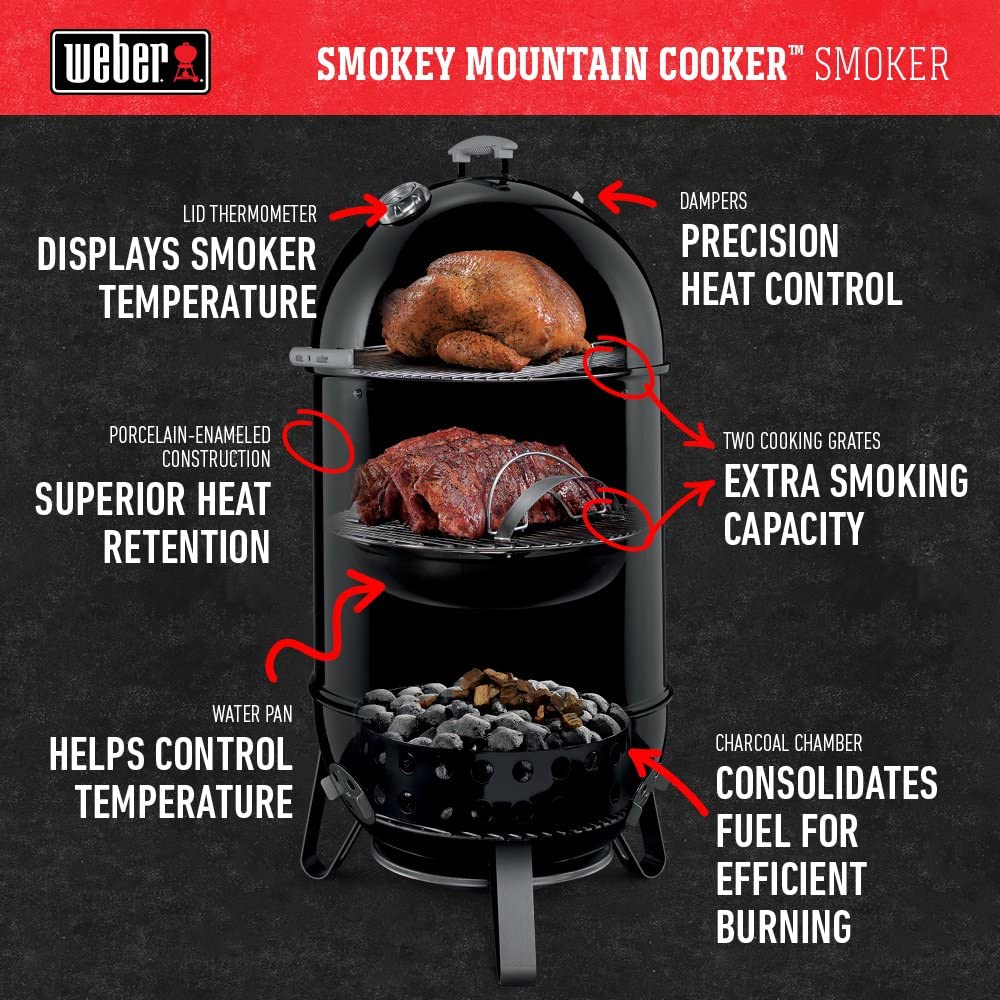 7. Weber 46110001 Spirit E-210 Liquid Propane Gas Grill
The Weber 46110001 Spirit E-210 is another great model from Weber that will take around 360 sq inches of your cooking area and weighs around 110 pounds. Hence, it's not exactly lightweight by any means, but that shouldn't be a problem since it also comes with heavy-duty caster wheels to enable easy movement.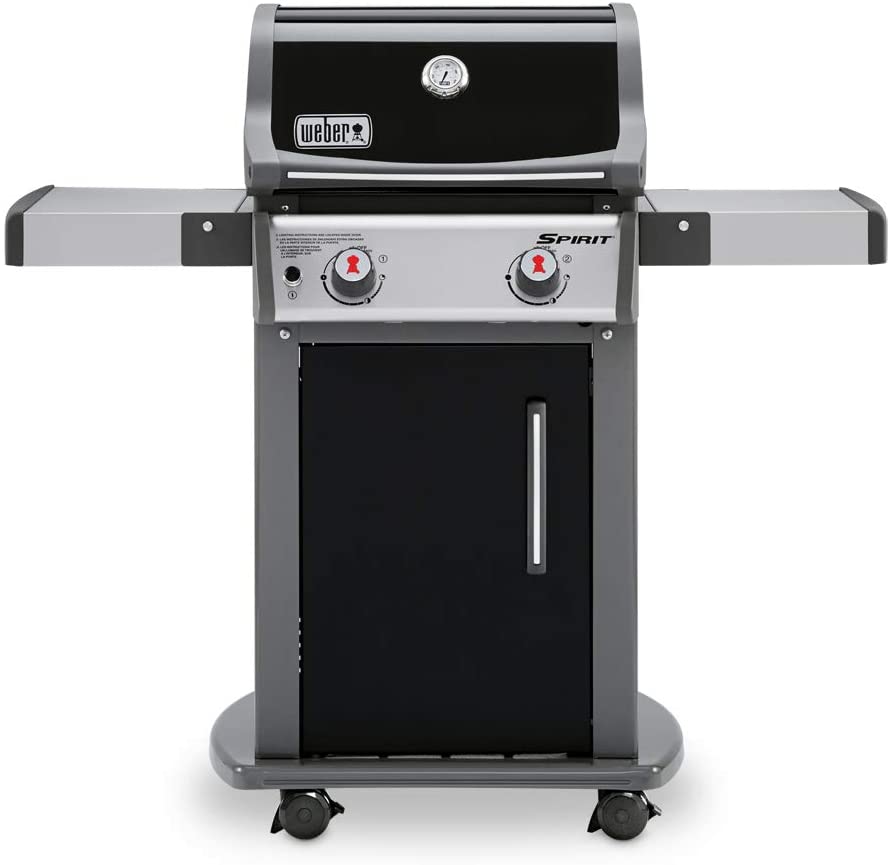 The grill is strong, so extraordinarily durable, and comes with a number of accessories like six hooks, burner tubes, two burners, cooking grates, and a grease management trap. The cooking grates are coated with porcelain iron to ensure longevity. The grease management trap is super useful as it helps get rid of the excess grease, so in turn, the cleaning process becomes a lot easier.
Despite being an all-around great grill smoker combo, it's important to understand that it comes assembled and without a tank, which could be a disadvantage for some.
Also Read: Best Electric Grills for Indoor – Cook up Delicious Food
---
CONCLUSION
This was our list of the best grill smoker combos based on our personal experience. I hope it was helpful, and it made your grill purchasing conundrum a lot easier.
Also, do consider the essential tips mentioned above before finally purchasing the model you liked. Good Luck!
---
FAQs
Should I buy a Grill Smoker Combo?
The best thing about having a grill smoker is that it brings a distinct and flavorful smoky taste to whatever you're cooking. Though the cooking process does take a bit of time, it's said to bring a fuller texture to your meat.
What is the difference between a smoker and a grill?
The two main differences between smoking and grilling are the cooking time and the heat levels. Smoking uses very low heat and takes a longer time, while grilling is typically done over higher heat and for a shorter time.