Being able to cook up delicious food along with all the health and environmental benefits, owning an electric grill is nothing short of awesome! But what if it rains often where you're at, or it gets too hot outside. Well, that's where the indoor electric grills come in.
Indoor grills are a great option to consider if you prefer doing your BBQ indoors and especially if you stay in an apartment. So indoor grills are of 2 types: open grills and contact grills.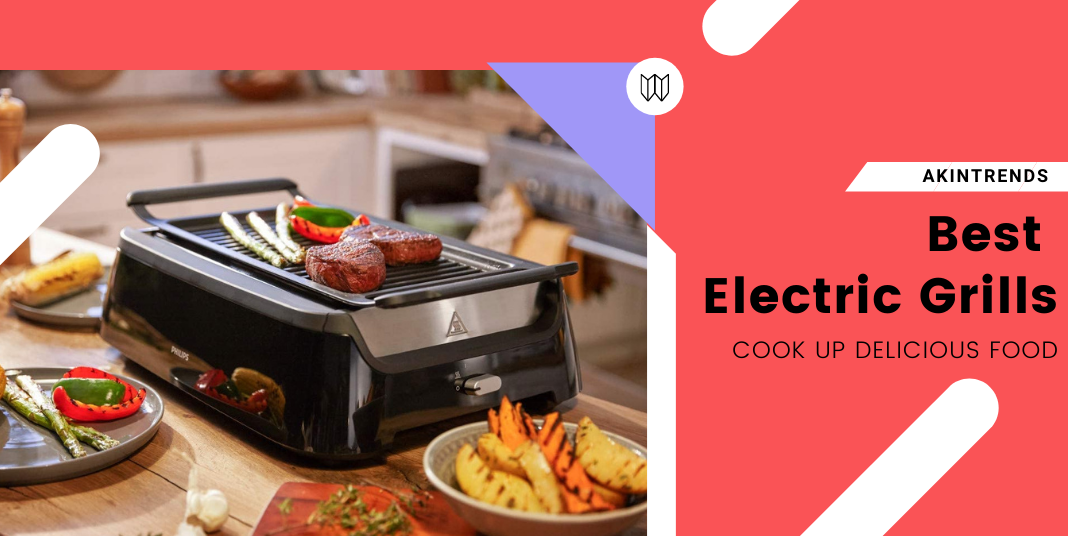 The open grill has an open grilling surface and you'll have to flip your food halfway through for even cooking. They normally have more storage space for food than contact grills. While contact grills have 2 cooking surfaces so your food gets cooked from both sides, they're great for making sandwiches/ burgers.
---
Best Indoor Electric Grills
Indoor electric grills are available in huge numbers. Settling down with the best isn't a simple job. Here are some of our top indoor electric grills.
1. T-Fal GC7 Opti-Grill Indoor Electric Grill
Starting out on our list for the best indoor electric grills is the T-fal OptiGrill. Made from stainless steel, it's pretty durable and comes with 6 pre-set program settings for burgers, poultry, red meat, sausage, fish, and sandwiches. You can just choose the setting without worrying about setting the right temperature. It also has a frozen mode for defrosting.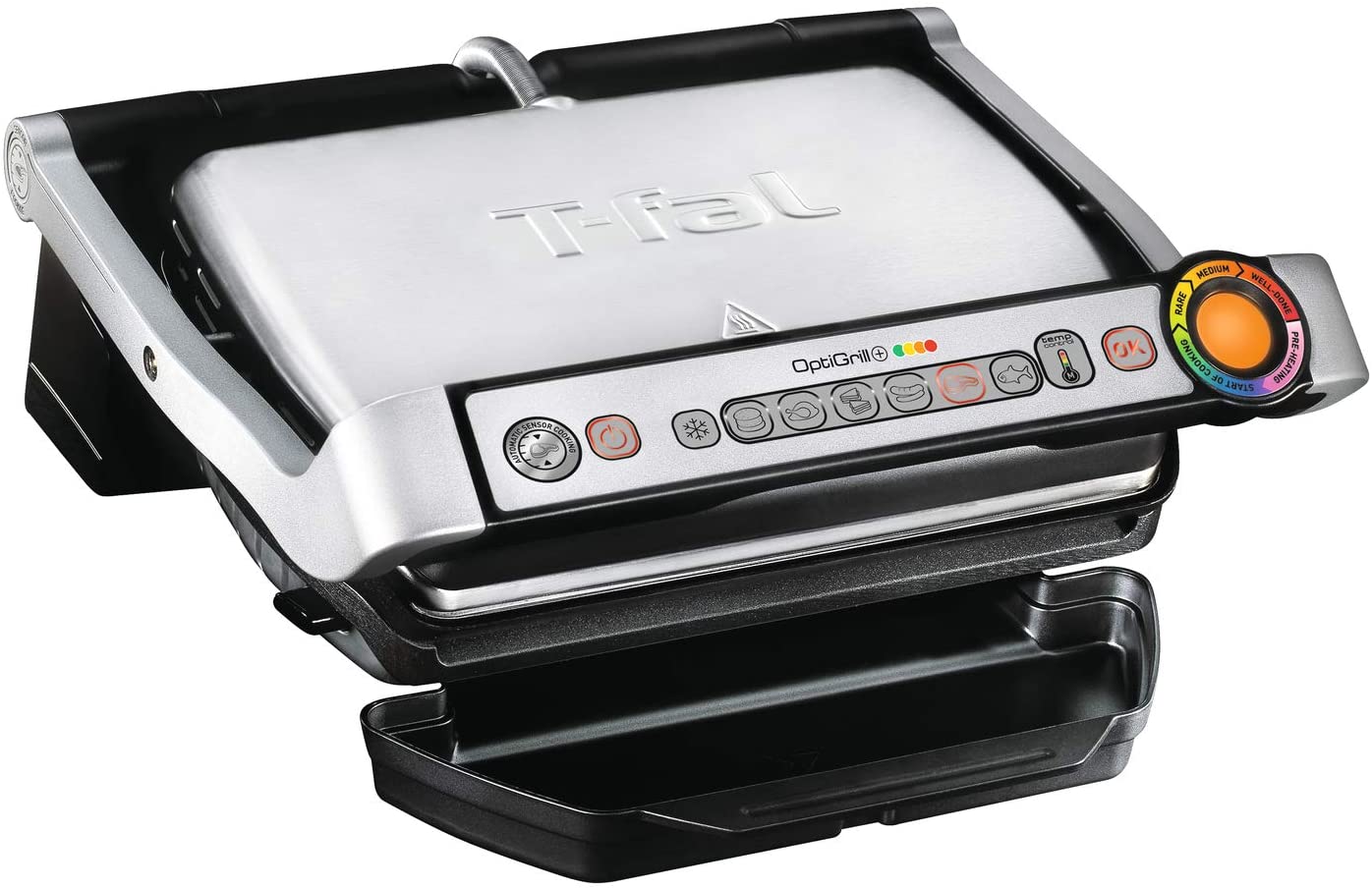 The OptiGrill comes with a 1800watt power heating element and cooking space for 4 servings. The grill has a LED light that turns purple during preheating, and then through the cooking process, turns to yellow, orange, and then finally to red which means that your food is ready and perfectly grilled.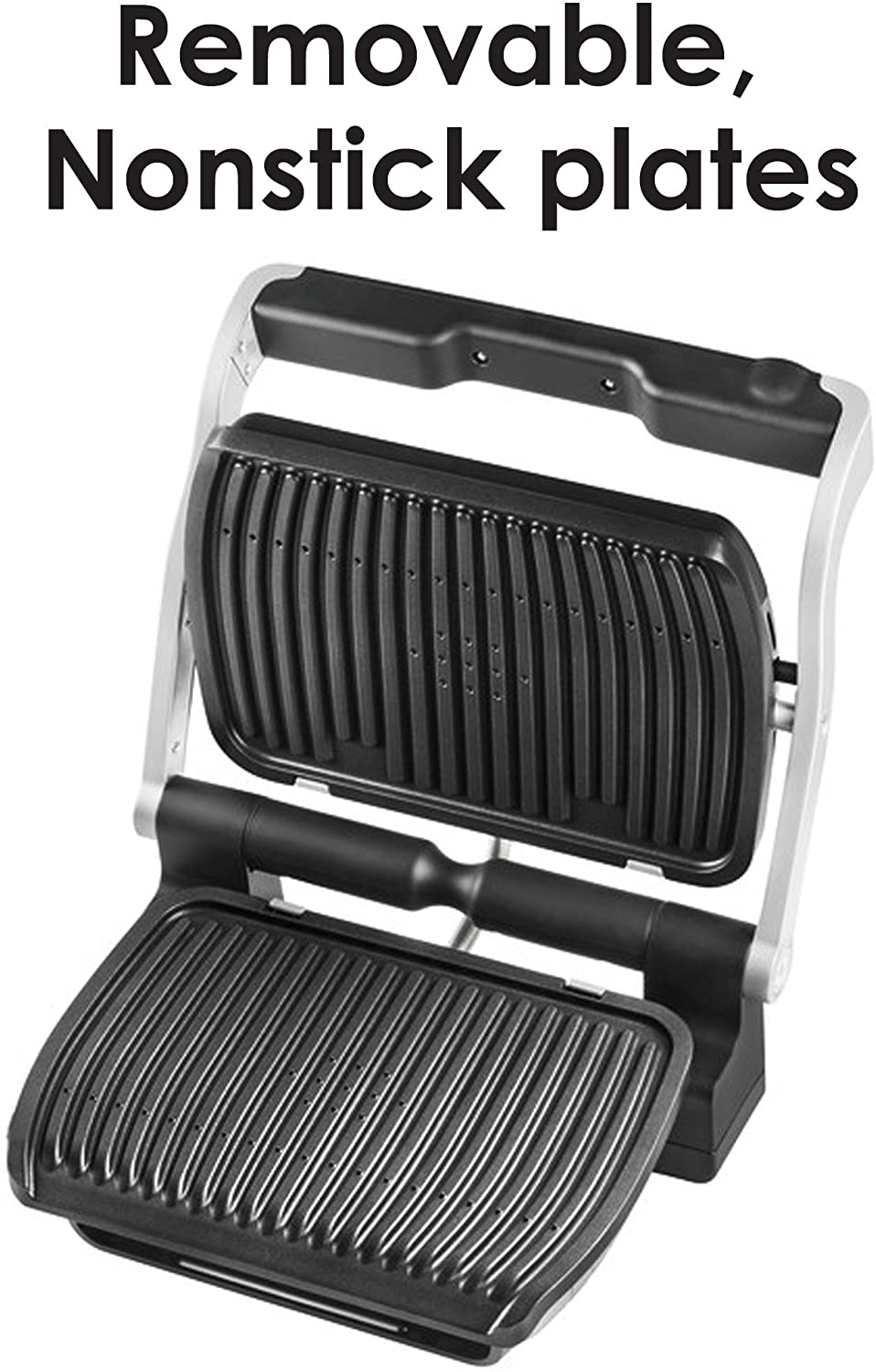 The cooking surface is around 600 sq centimeters and below that is a cooking plate that is placed at a slanting angle for the grease and fat to drip down and into the drip tray, which also simplifies the cleanup after. You also get removable aluminum nonstick plates.
2. Cuisinart GR-5B Electric Griddler
Do you wish you could make some great burgers/sandwiches without leaving your home? This could be the perfect choice for you. The GR-5B is almost like a 3-in-1 that can work as a contact grill, panini press, and griddle. And has a temperature range of 175 F – 450 F.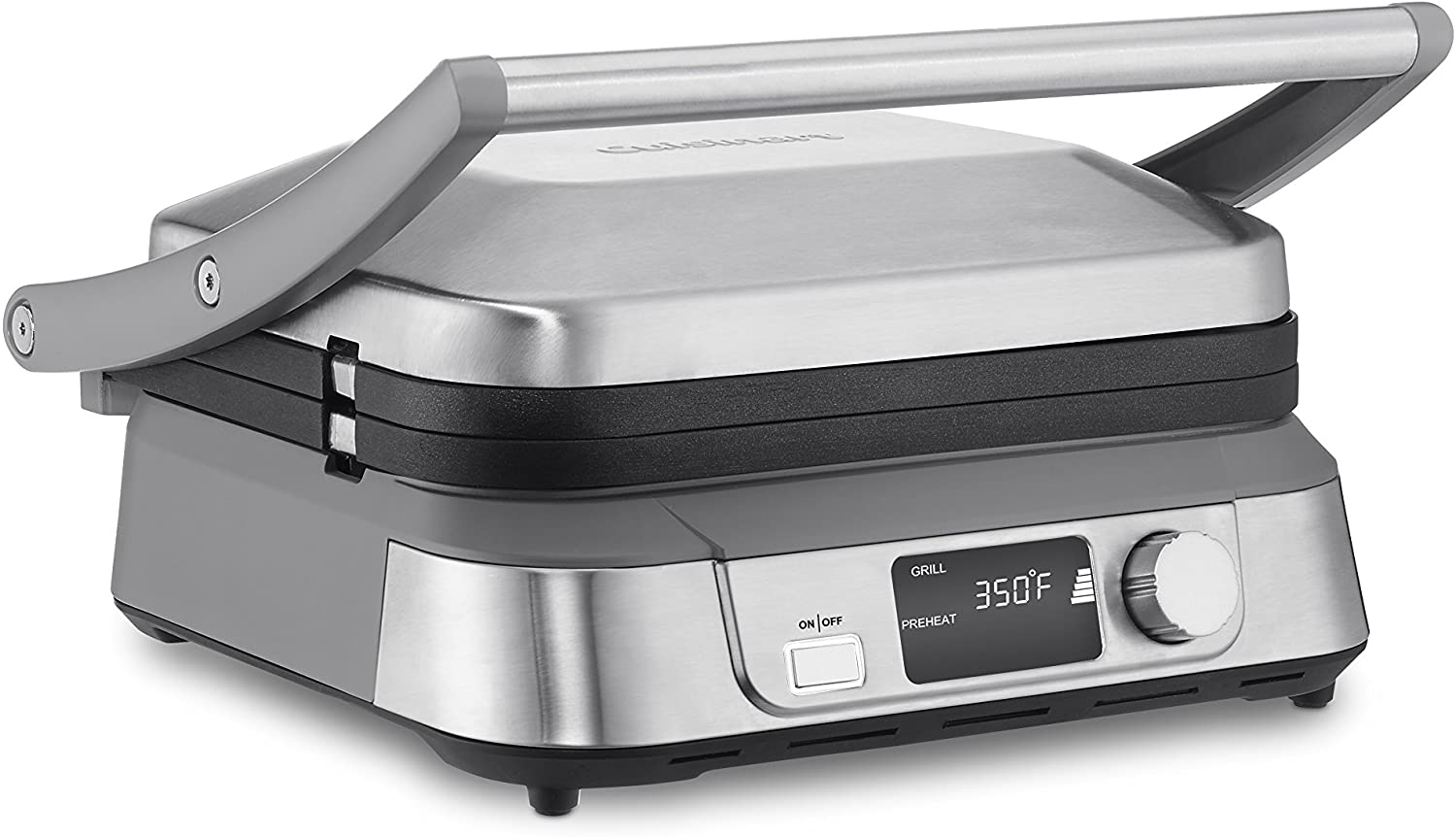 It also comes with an LCD display and digital controls allowing you to switch between functions and also to adjust the temperature and time. The included cooking plates are removable and dishwasher-safe.
In fact, the grill offers 5 cooking options, contact grill, panini press, full grill, full griddle, or half grill/half griddle. Other accessories include a dishwasher-safe scraping tool for easy cleanup.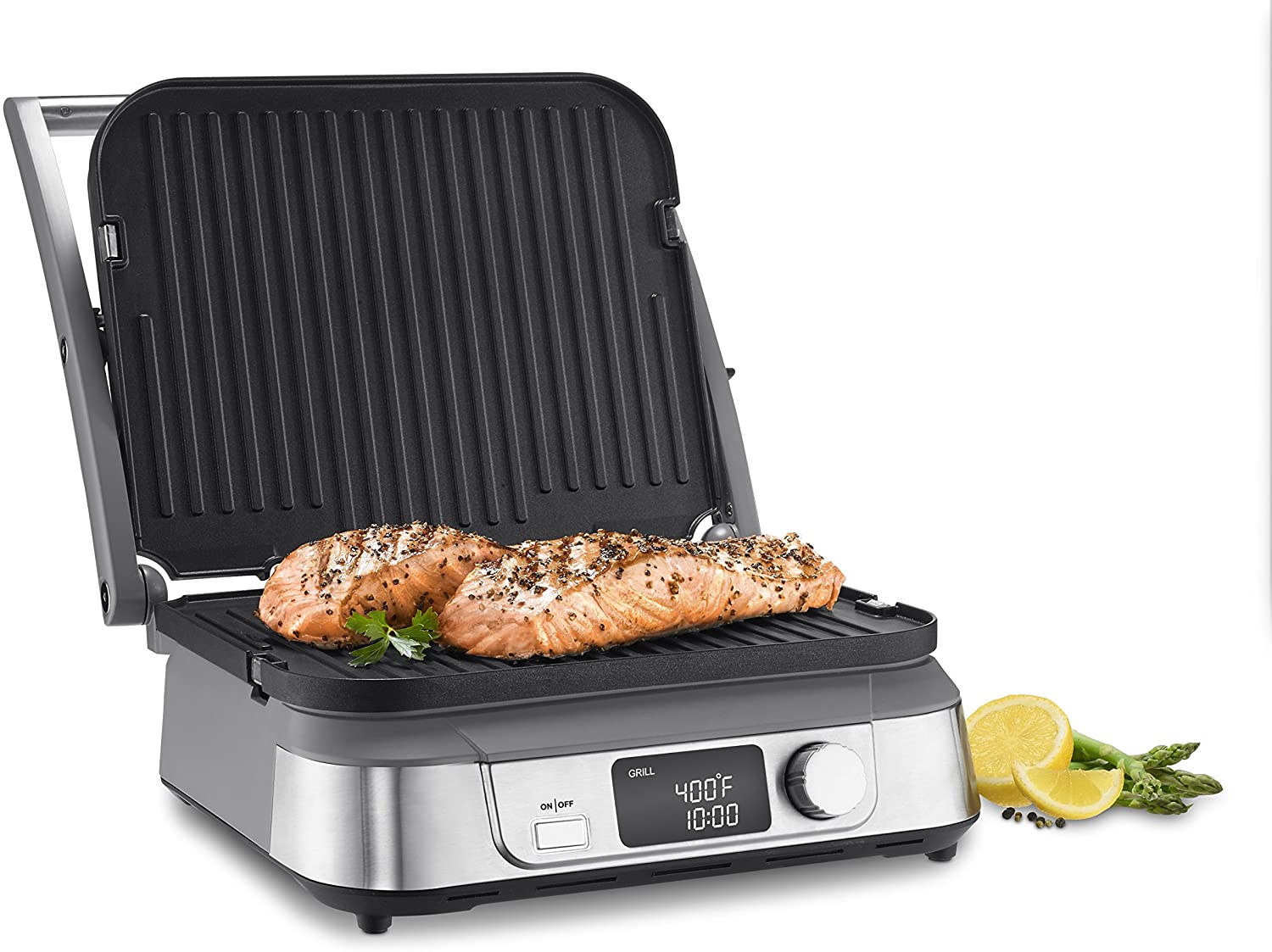 3. Cuisinart Griddler Elite
Another model by Cuisinart, the great thing about this one is that it comes with 6 cooking options, a contact grill, a panini press, a full griddle, a full grill, a half grill/half griddle, and a top melt.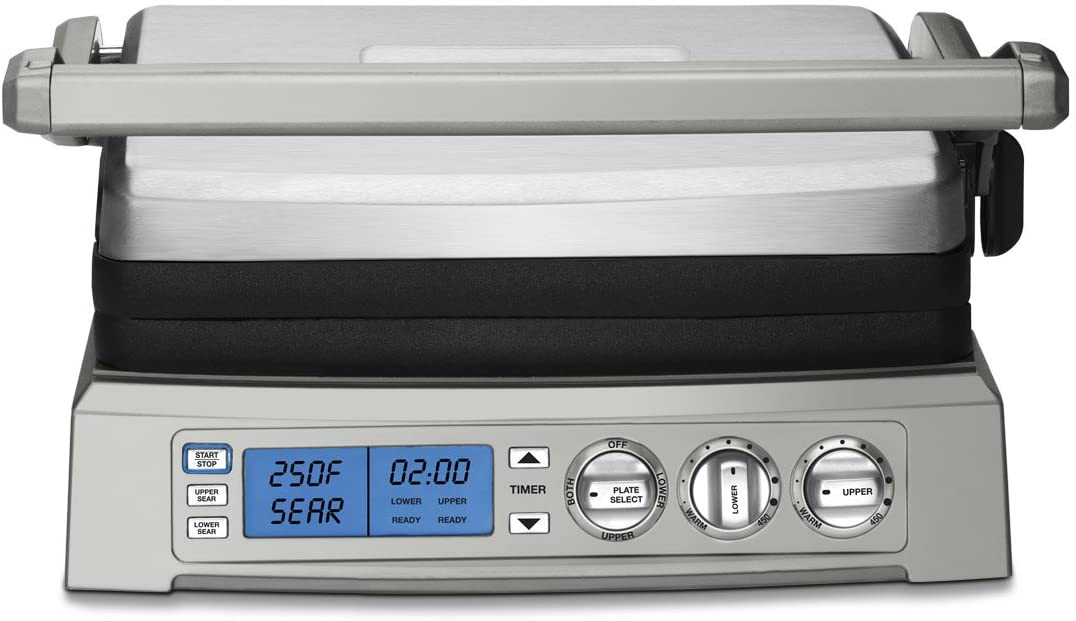 Granted it's a bit bigger in size than our previous entry, but this one still has a few tricks up its sleeve. It comes with removable and reversible plates, which means storage isn't an issue at all. Also, the plates are nonstick.

It also comes with dual-zone temperature control to simplify temperature management. And there's the sear function, which means it can heat at 500 F degrees for up to 2 minutes at a time.
4. PowerXL Smokeless Grill
Let's get right to it, the PowerXL is of the best smokeless indoor grills out there. It's maybe the best option for apartment dwellers. This grill is quite powerful and can sear steaks and cook burgers on the regular without any issues.
So the PowerXL is powerful as well as pretty easy to use. It comes with 1200 watt heating element power and ensures that the heat is evenly distributed. It also comes with pretty good storage space, being able to cook 4 large steaks, 8 burger patties, 3 racks of ribs, or a whole chicken at one go.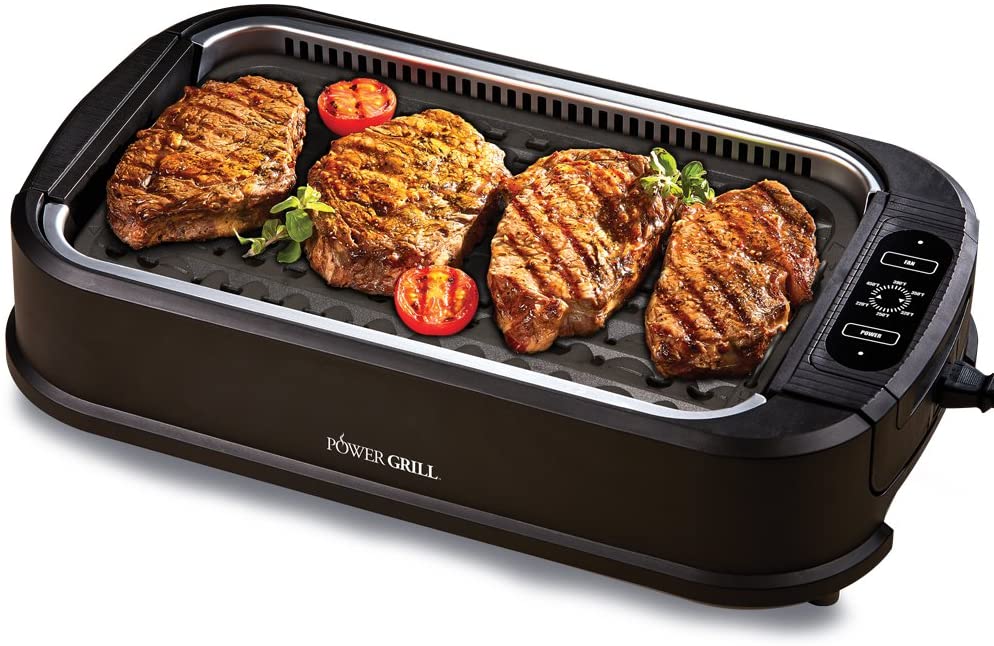 The grill has a tempered glass lid to protect the cook from any splattering during the cooking process. The temperature range is also quite decent, going from 220°F to 450°F. The one downside to this grill would probably be its lack of handles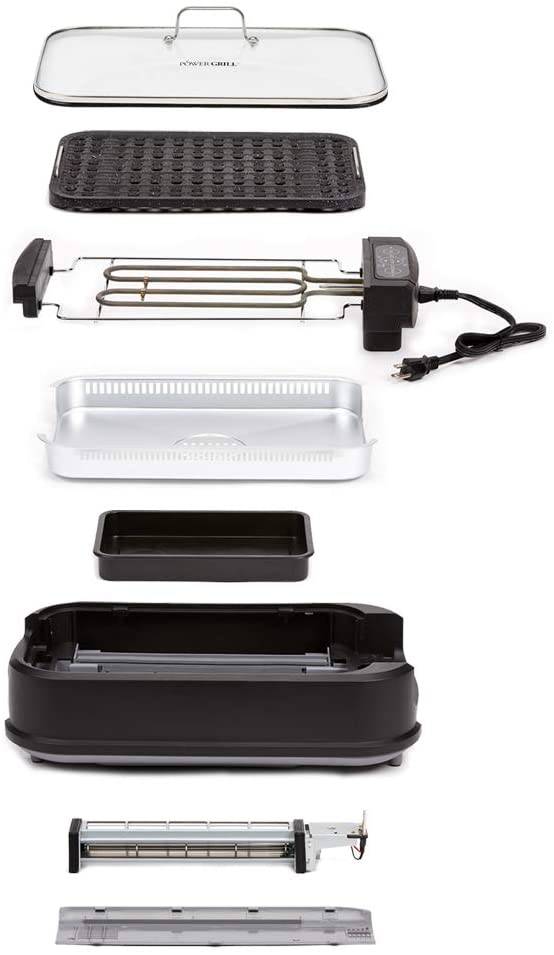 Also Read: Best Charcoal for Grilling Reviews – Get Grilling the BBQ's
5. Hamilton Beach Electric Searing Grill
Another great brand for electric grills is Hamilton, and this model is one of their best value-for-money options. The Beach Electric offers around 1200 watts of power and can cook up extremely flavorful food.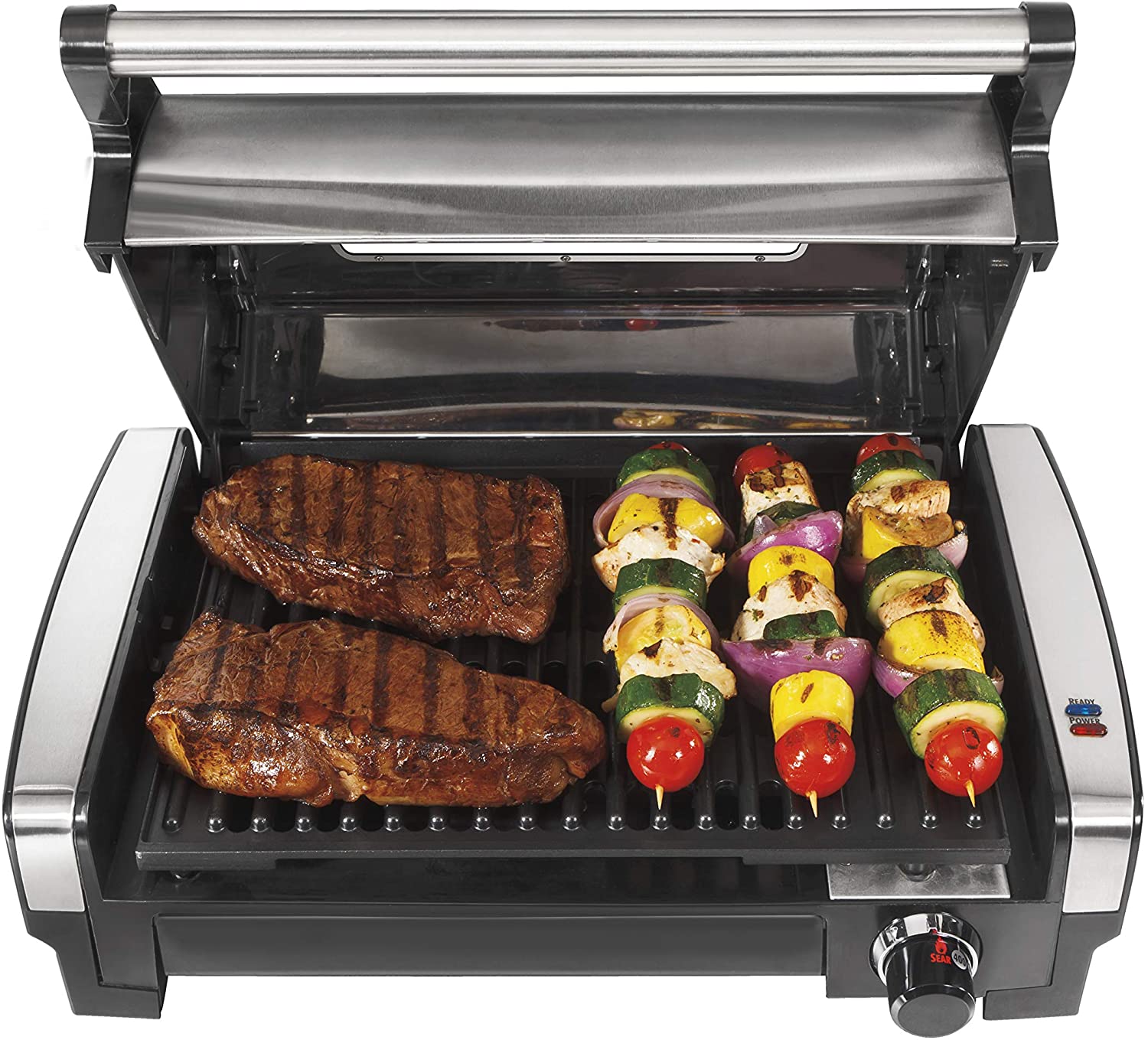 It isn't too big in size and will take up only around 118sq inches of your cooking space. The storage space it offers is good enough to cook 2 steaks or 4 salmons at once so it isn't really recommended if you plan to have parties at your place, but it's one of the best options to consider if you're just a bachelor or living with 2-3 more people.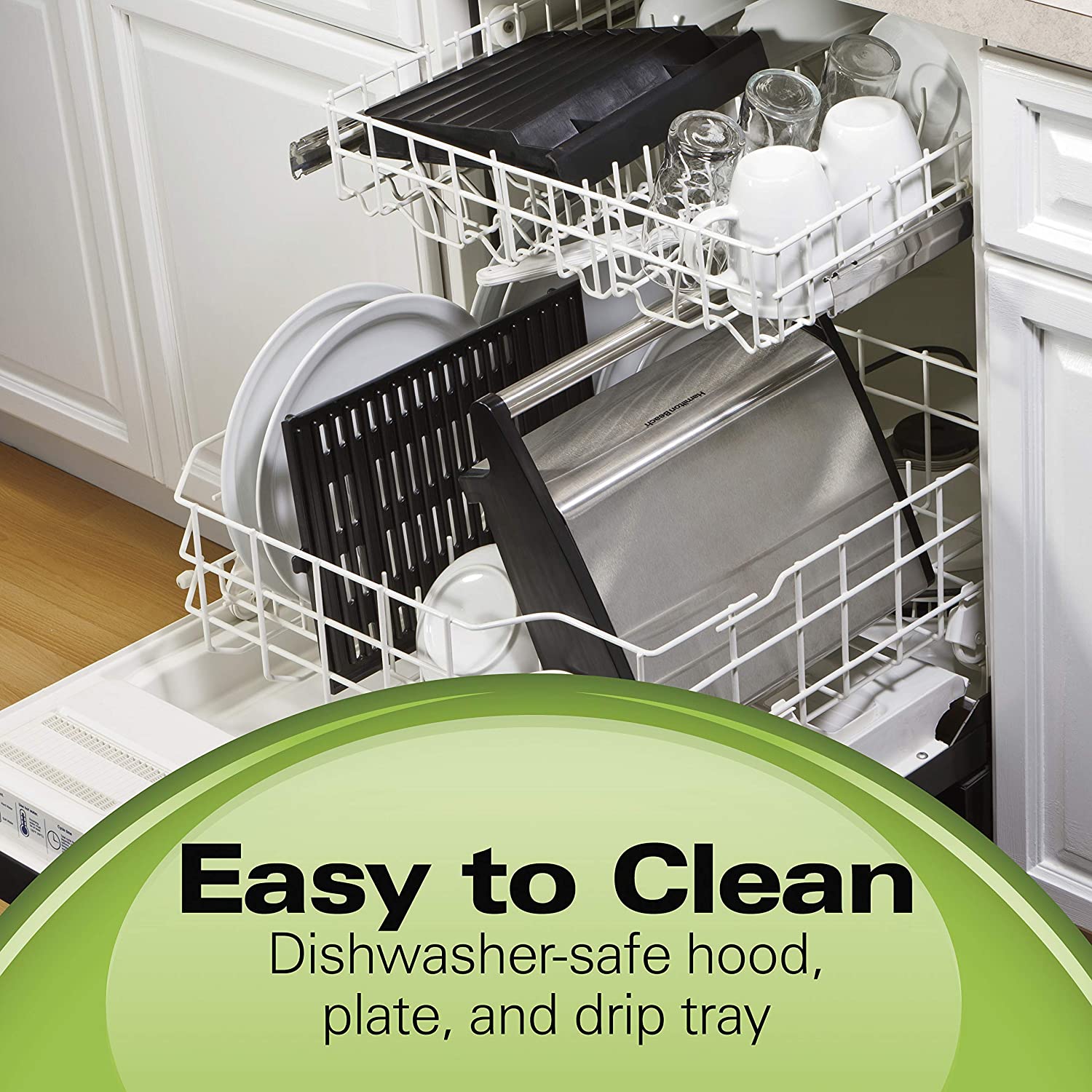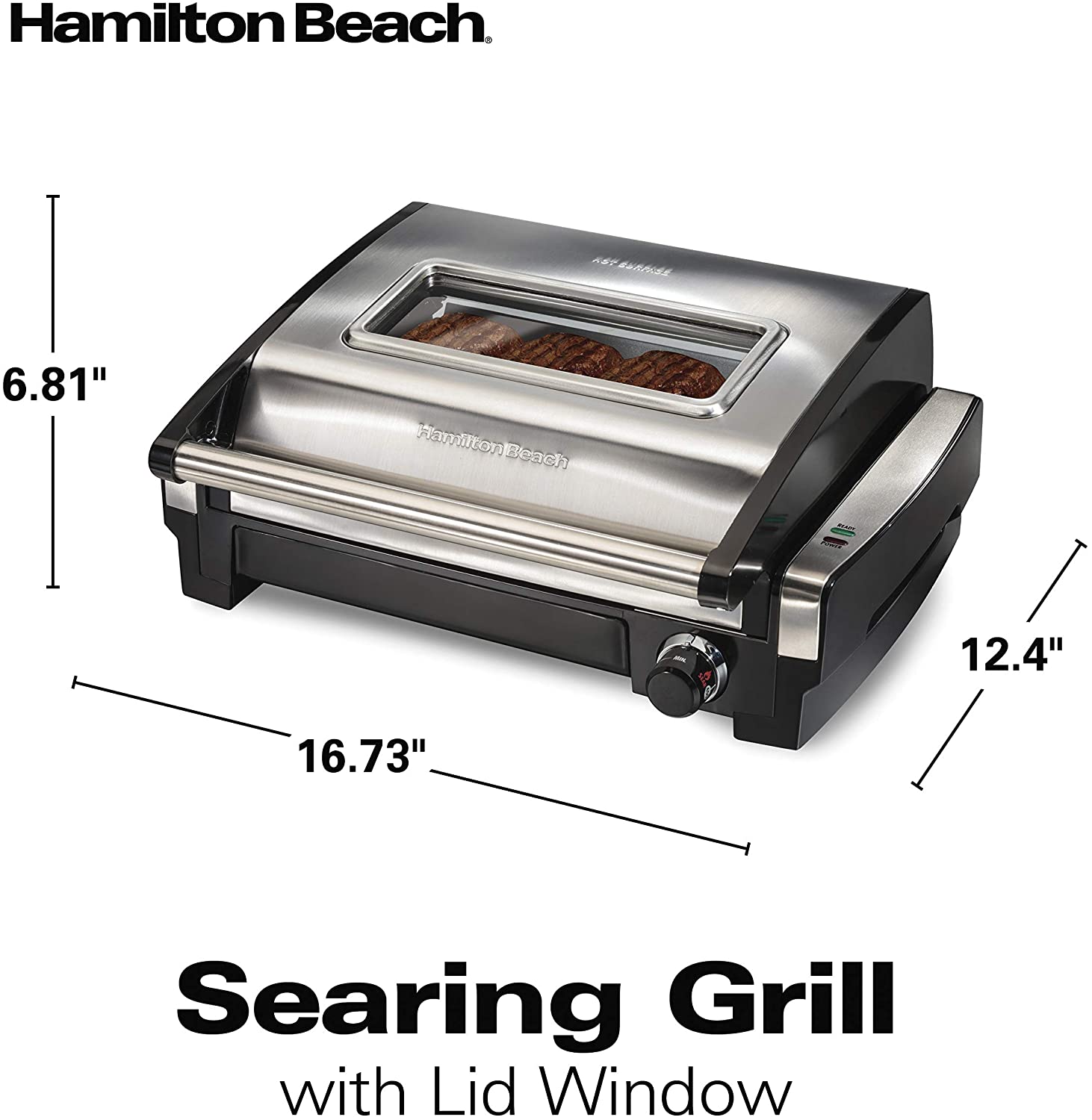 The Beach Electric comes with a see-through that covers the cook from grease splashes through the cooking process. Other accessories include a removable hood, grate, and drip tray, and also a control knob to set the temperature according to your preference.
6. Hamilton Beach 3 in 1 Electric Grill & Griddle
Yup, another Hamilton grill on this list. The Hamilton Beach 3 in 1 electric grill, like the name suggests, brings in 3 appliances in one piece of equipment. With this, you get a 2 sided griddle, a 2 sided electric grill, or a grill on one side and a griddle on the other side.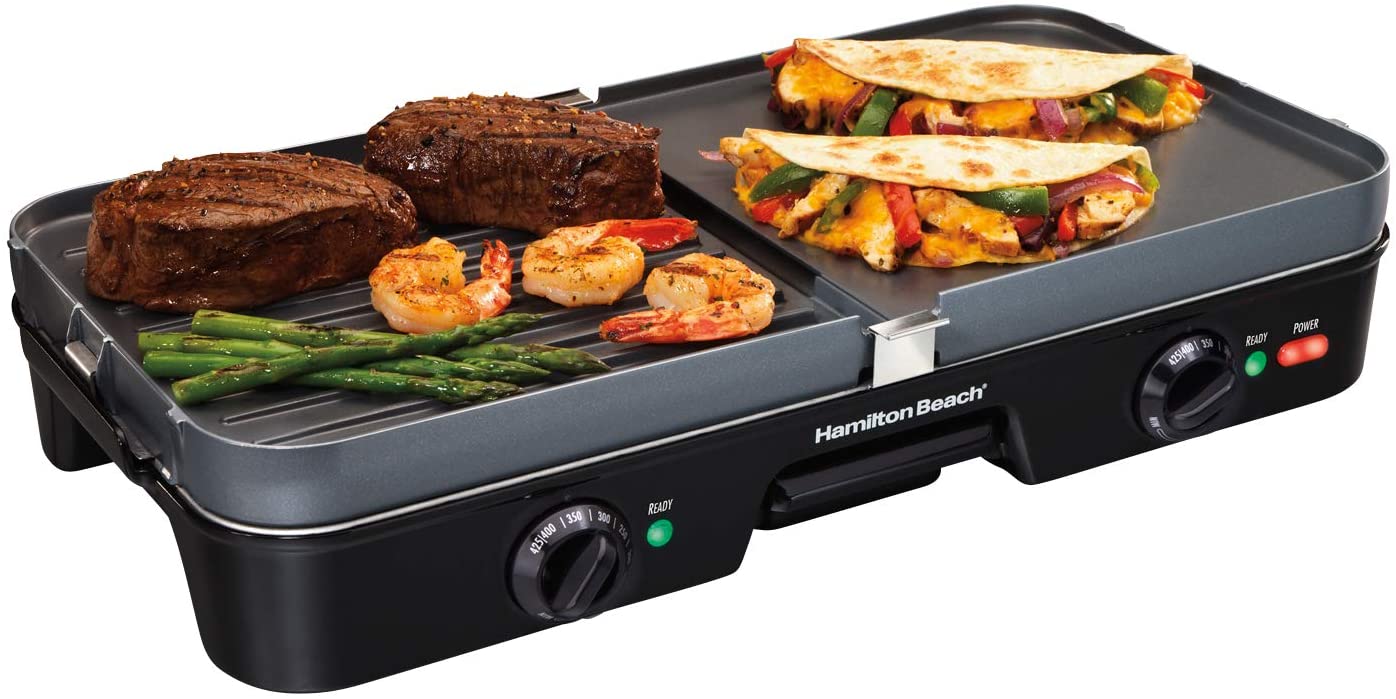 Each side of the grill has its own temperature control, so you could easily be grilling chicken on one side and braising asparagus on the other. It's basically great for any, from pancakes and eggs for breakfast, to sandwiches and burgers for lunch, to grilled steaks and pizza for dinner.
The grill overall is also very easy to clean, especially with each grid of the grill being dishwasher-safe. And even the grease tray is dishwasher-safe as well.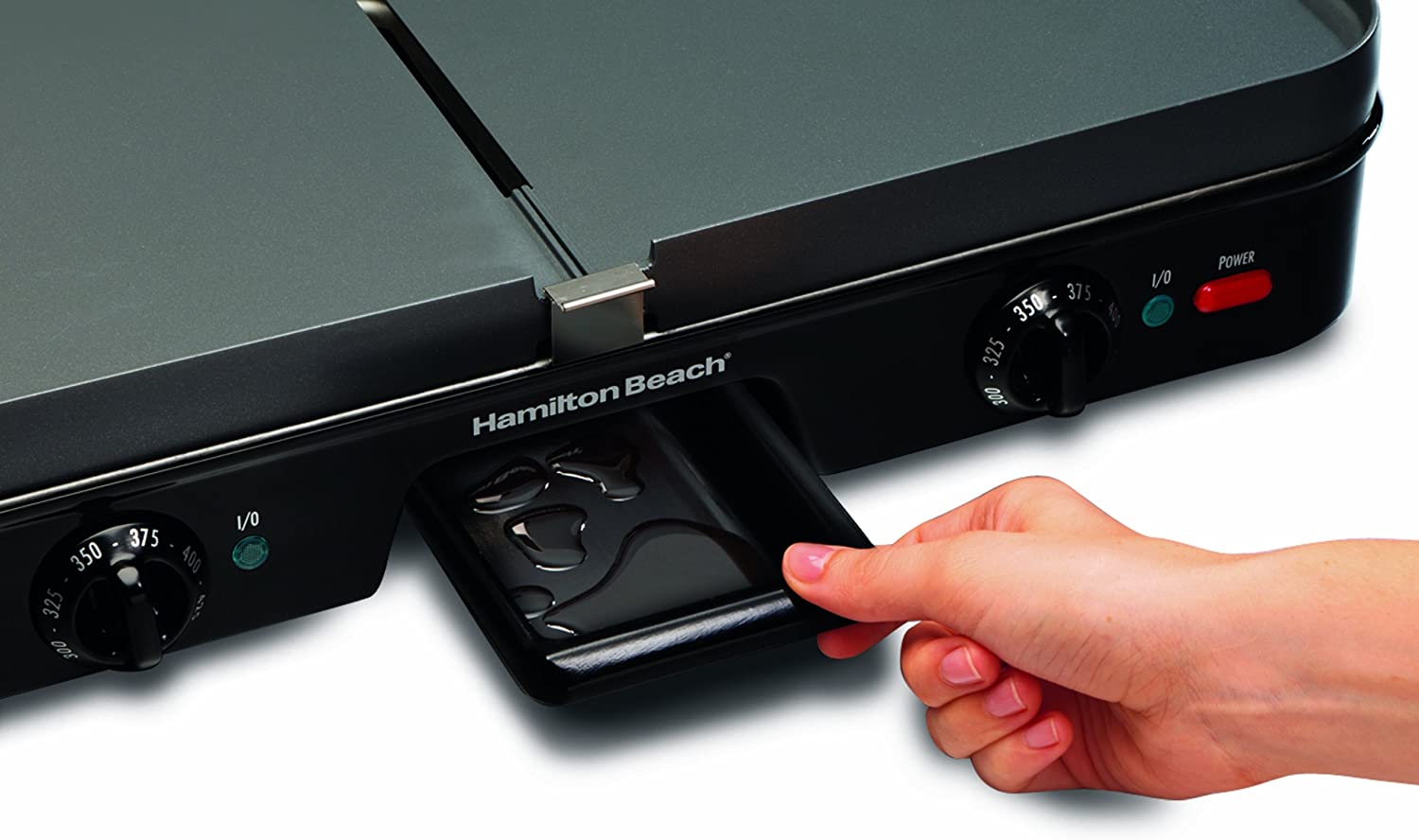 7. George Foreman GFO240S Electric Grill
We couldn't have a list of the best electric grills without including George Foreman! This model of theirs, the GFO240S is the perfect tool for a BBQ party taking up around 240 sq inches of grilling space and enough to allow you to cook 15 servings at once.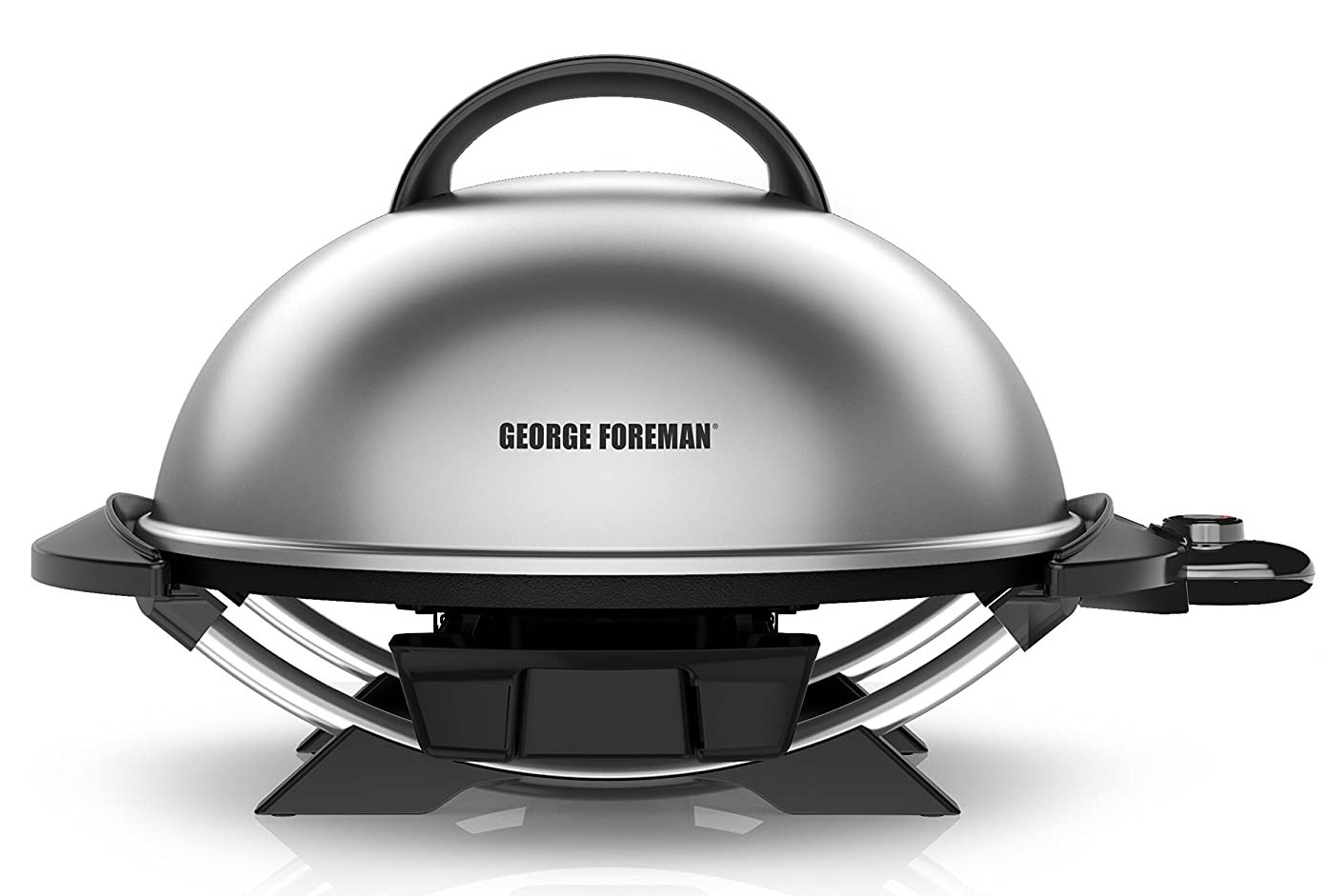 The GFO240S, like most other George Foreman electric grills, remove up to 45% of fat from the food you cook, so you won't have to worry about any excess fat. It also comes along with a removable electric grill plate which simplifies the cleaning process, a temperature control probe, a dishwasher-safe drip tray, and a grill stand with a pedestal base.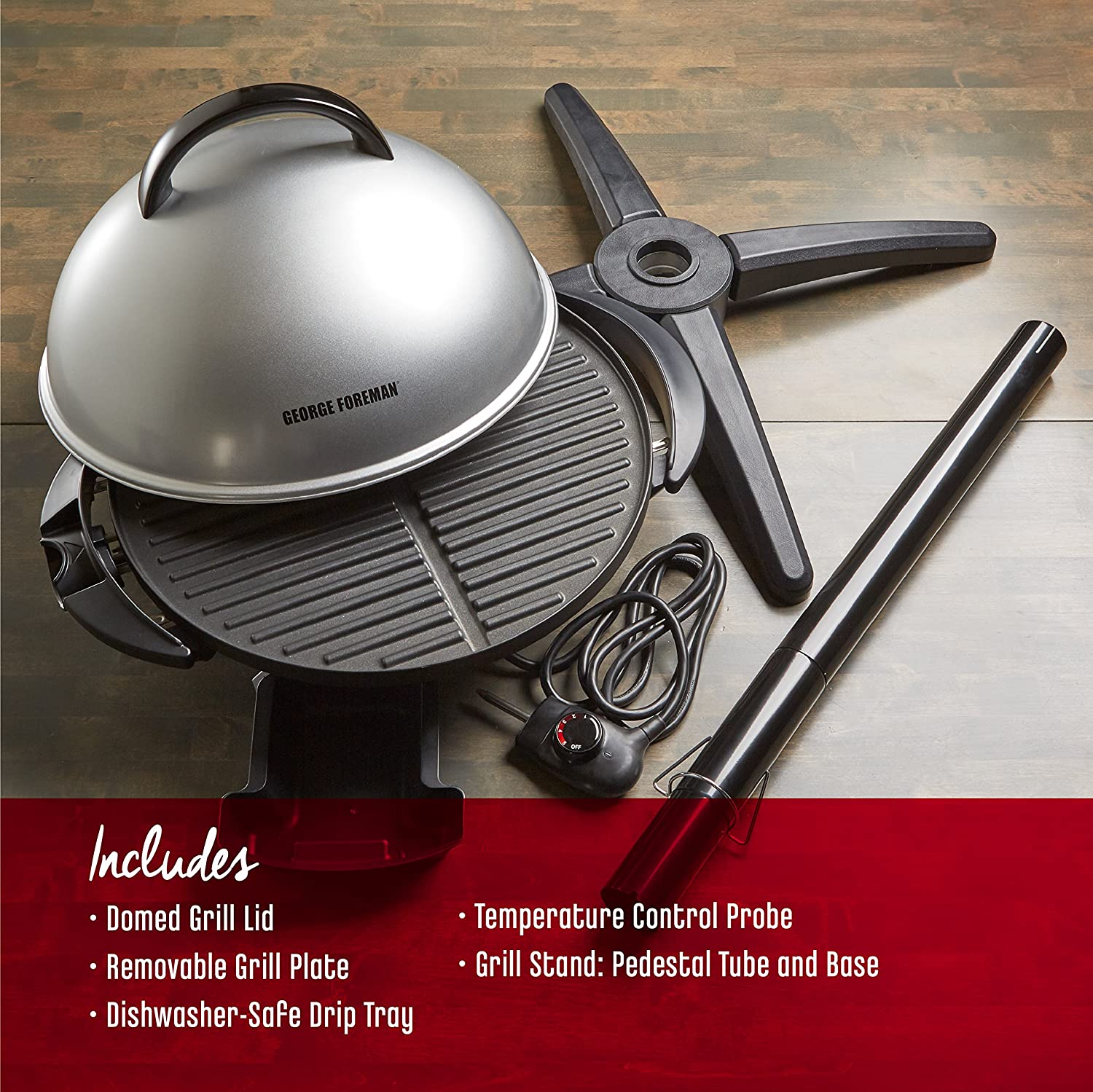 The grill also comes with George's Tough Nonstick Coating which makes it even more durable, long-lasting, and easy to clean. Also included is an adjustable temperature control that gives you 5 different temperature settings, and an easy-to-remove stand.
8. Philips Smoke-less HD6371/94 Electric Grill
Well, we all know the brand Philips, so let me introduce you to their electric grill Smokeless HD6371/94. It's a pretty efficient grill, coming in with 2 cooking modes: warming and grilling. It can keep steady heat as well.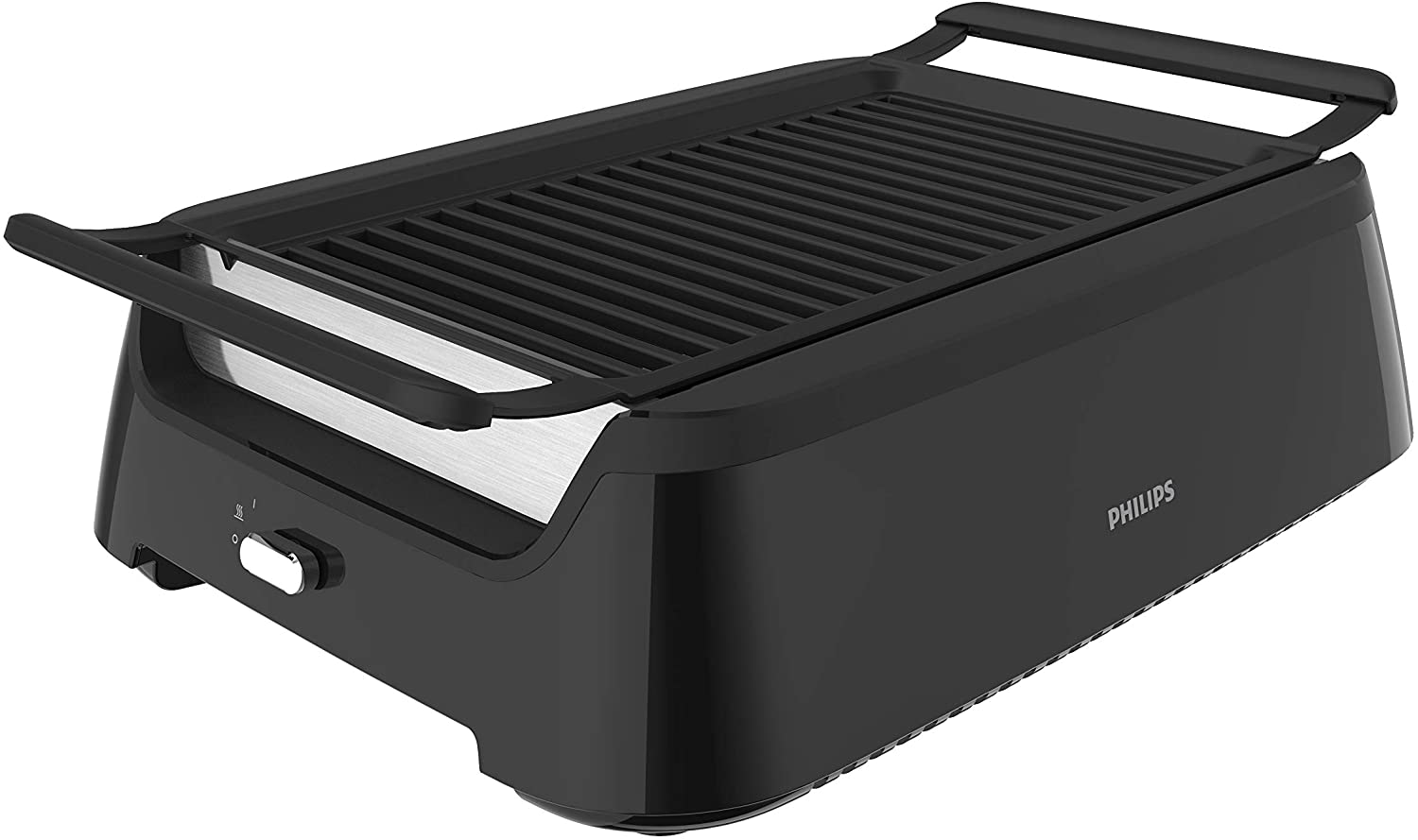 Once the grill preheats thoroughly, the grate temperature reaches 446°F (optimal cooking temperature) and stays on that without much fluctuation. The grill offers around 1660 watts of power using infrared heating and will take up around 108 sq inches of your cooking area.
Due to the infrared technology, it can preheat in well under 5 minutes of plugging in. It also comes with a removable grate and drip tray, which are both dishwasher-friendly as well.
Also Read: Best BBQ Sauces: Perfect Taste Enhancers To Your BBQ Feast
---
CONCLUSION
So those were our recommendations for the best indoor electric grills, considering brand, size, price, and power. The products that stood out for us were definitely the T-Fal GC7 Opti-Grill and PowerXL Smokeless for build quality, durability, and a great warranty.
Hope we were able to help you in finding the perfect indoor electric grill! Cheers!
---
FAQs
Are electric grills safe?
Electricity is a clean energy source, so yes, they're completely safe.
How does an electric grill work?
An Electric Grill works similar to that of an oven or toaster. It uses electric rods that heat up the cooking space, and the food gets heated up through a convention effect.
Can I preheat in an electric grill?
Yes, of course, you can preheat in an electric grill. In fact, it is actually highly recommended to preheat in an electric grill so that you get the right temperature before putting the food on the cooking grates.