Given the gravity of the situation, we're all limited to use things that are at our disposal. The gyms are shut; the parks are closed indefinitely. If you've stumbled on this article, chances are you're looking to get back in shape with the best pieces of exercise equipment for weight loss at home.
Well, you're in the right place. We've collated a list of the best home workout gears that help you lose some extra pounds.
---
Best Home Workout Gears for weight loss at home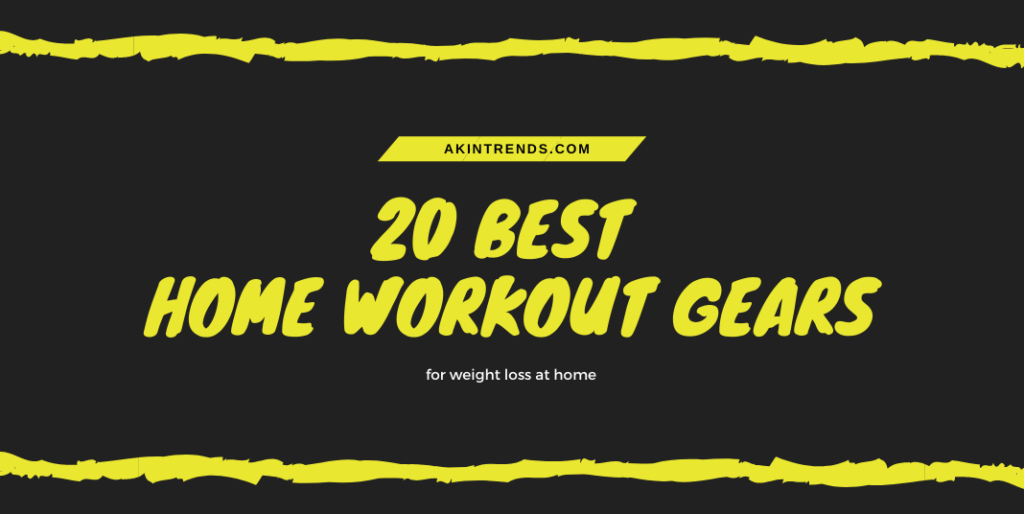 Based on the limited space available and the exercises you can do, the following are the 20 best home workout gears to help you meet your desired results.
1. Marcy Multifunctional Home Gym Station
While setting up a gym station at home, the Marcy Multifunctional Home Gym Station is the first exercise equipment we'd recommend. Constructed with heavy-duty steel tubing coupled with guard rods, this machine is sturdy and can withstand the test of time.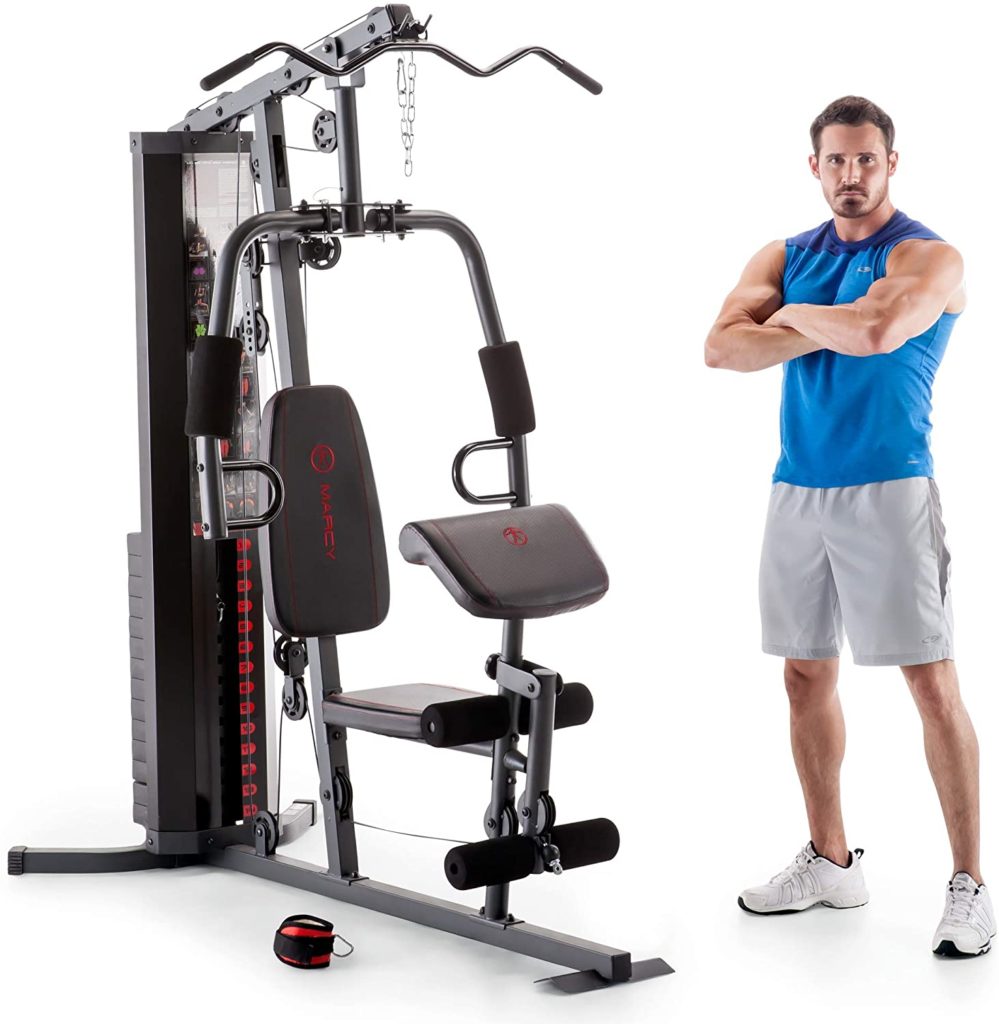 Coming with a selectorized weight stack of 150 lbs, this weight loss machine can be conveniently customized to your skill level. This product comprises dual action press arms, which assists you in chest press and butterfly exercises. This gym station also arrives with a removable curl pad that allows room for isolated bicep exercises.
2. Reebok Professional Aerobic Deck
Lightweight and highly-effective, the Reebok Professional Aerobic Deck boasts of a simple design that is friendly equipment to help shed weight —both for beginners and professionals.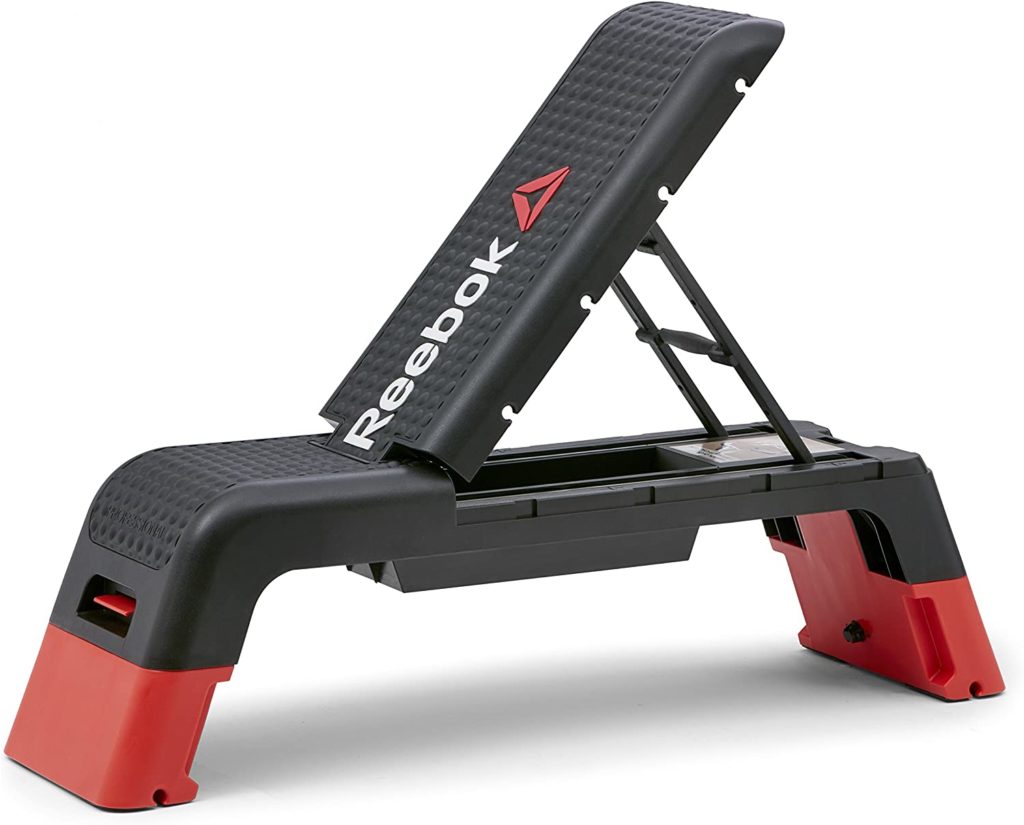 The equipment allows you to sit in positions like flat, incline, or decline. Weighing close to about 30 pounds, this deck can hold weight up to 330 pounds. For non-wobbliness during workouts, this comes with a non-slip textured rubber surface.
3. Bowflex BXT216 Treadmill
The third recommendation in this list of best pieces of exercise equipment for weight loss is the BXT216 Treadmill from Bowflex. Coupled with a cushioned desk and dozens of virtual courses, this heavy-duty encourages exercises to workout for hours.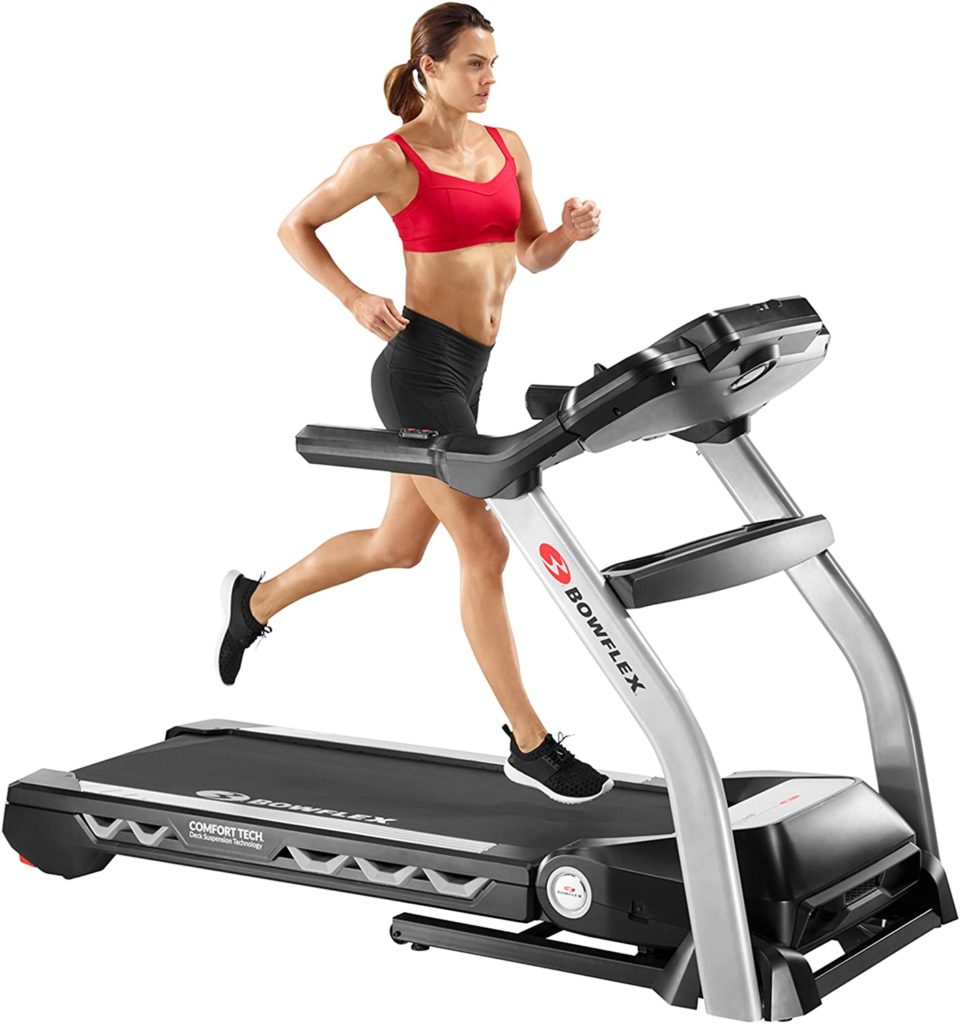 It has a backlit LCD screen that displays calories burned per minute to keep you motivated. There's an automatic three-speed fan, which helps you remain cool and fresh during your time spent on this machine.
4. Sunny Health & Fitness Stair Stepper Exercise Equipment
A stair stepper is another invaluable addition to the range of home workout stations you can have. The Sunny Stepper is a slim and lightweight machine widely-lauded for its space-saving and straightforward design.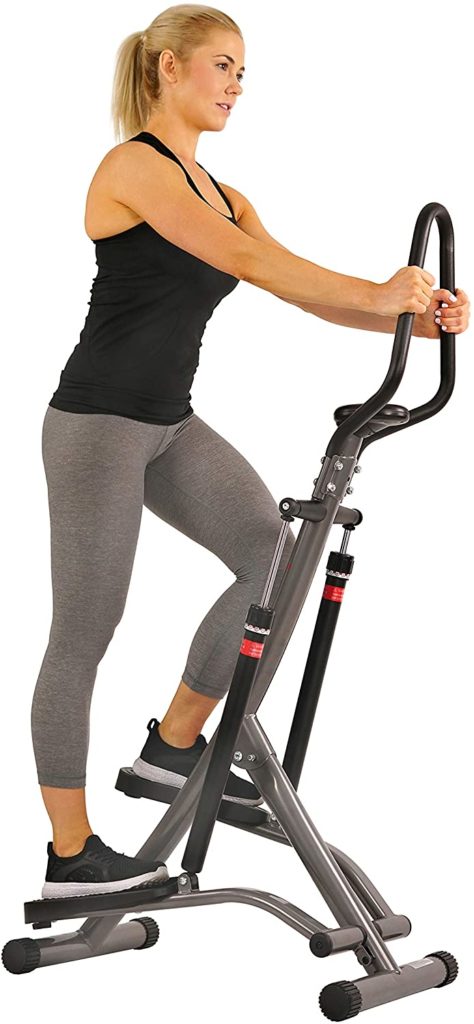 It has a basic monitor that displays information like time, current step count, total steps, calories burned, and scan. Though this has a very small footprint, it still manages to hold users up to 22 lbs.
5. Merax Magnetic Exercise Adjustable Rowing Machine
Recommended for entire body workouts, rowing machines are a crucial tool in burning calories quicker than any other piece of equipment. The Merax Magnetic Rower is an affordable machine with a premium frame built of steel, which makes it more robust and durable.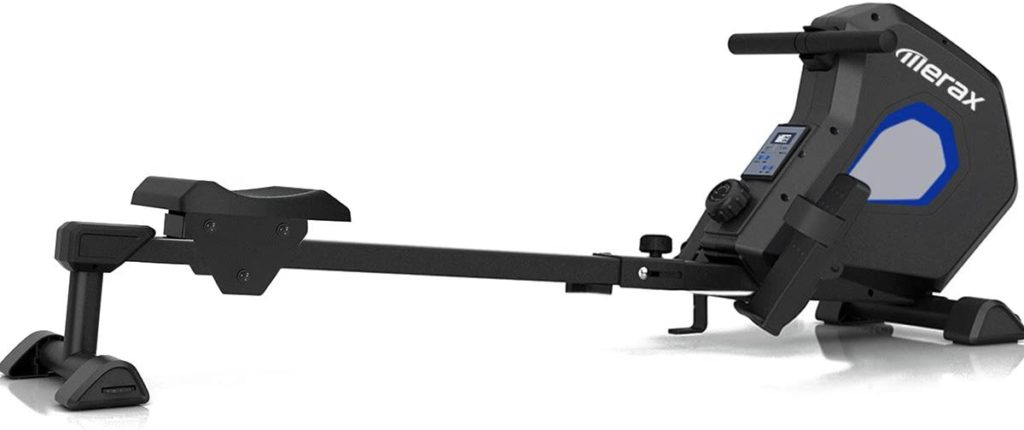 The rower comprises an LCD screen, and a heart rate monitor, making tracking the progress of workout sessions easier. Moreover, it comes with a padded seat, offering comfort to the user when rowing for long periods.
Also Read: Best Spin Bikes Under $500 of 2020: Reviews & Buying Guide
6. Nautilus E614 Elliptical Trainer
Elliptical machines are excellent pieces of exercise equipment that include innovative technology. The Nautilus E614 is among those exceptional performing elliptical trainers incorporating a blend of performance and cutting-edge design.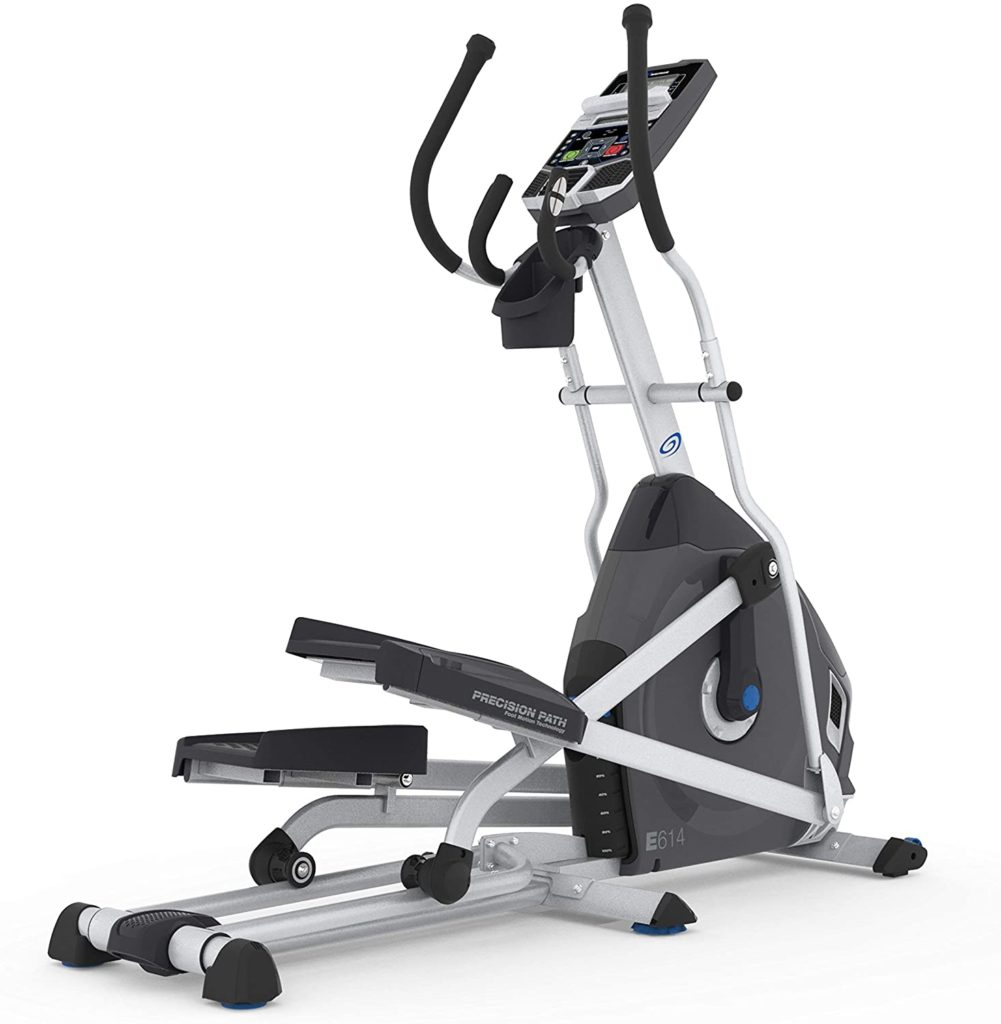 This machine boasts a large LCD screen positioned slightly over another console to keep a tab on your progress. It has 20 levels of resistance and 22 programs pre-installed that make workouts less strenuous. Furthermore, it also comes with a 3-speed cooling fan that keeps you cool when running incessantly.
7. Resistance Bands by Black Mountain
If you prefer trimming unnecessary spending on expensive equipment, resistance bands are worth considering. Black Mountain's Resistance Bands are a set of colorful bands that are made of long-lasting rubber.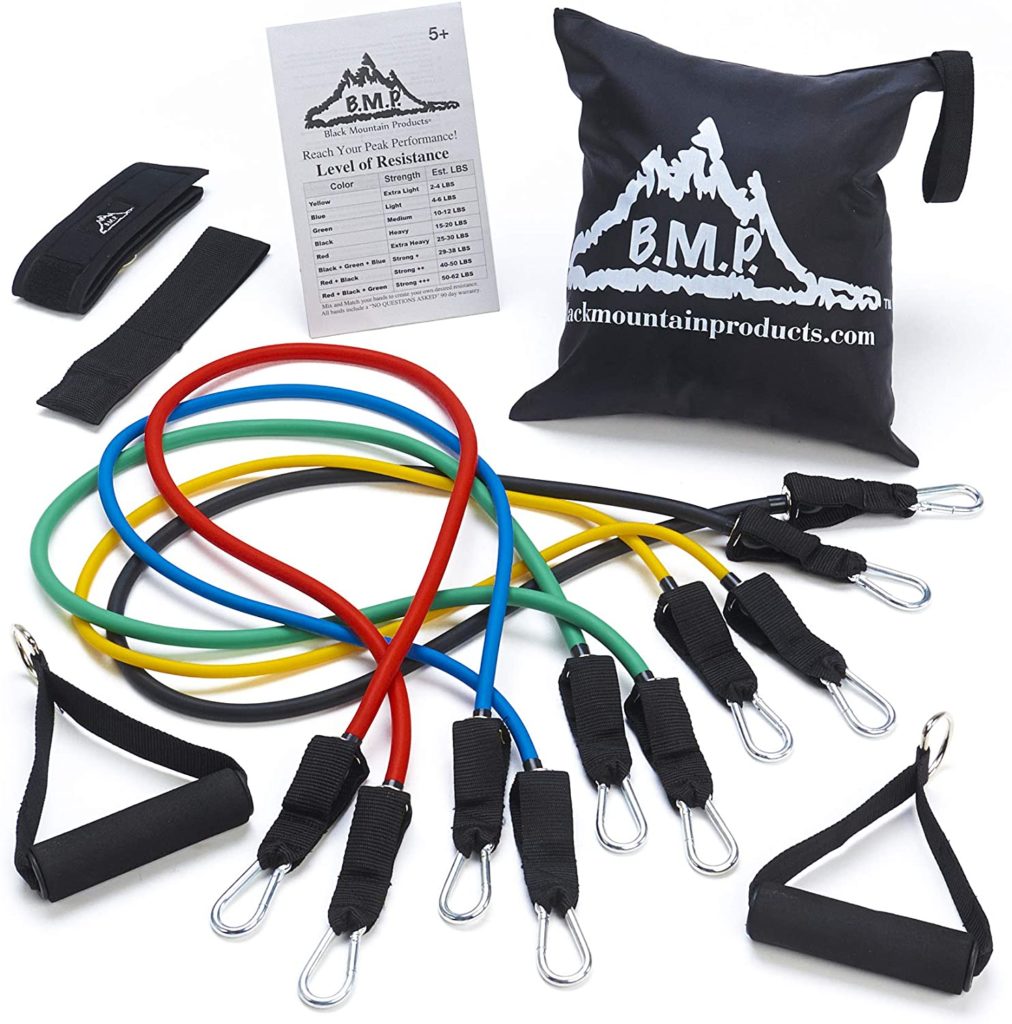 Offering a resistance of up to 75 lbs, these bands are supplied with a door anchor, ankle strap, two cushioned foam handles, exercise charge, and carrying bag. For something inexpensive and space-saving, the set is an ideal choice of equipment to lose some extra pounds.
8. URBNFit Exercise Ball
The most commonly found equipment — be it in gyms or at home — are the exercise balls. The URBNFit Exercise Balls is the best in the market that boasts an anti-burst design, meaning it can withstand 2000 lbs.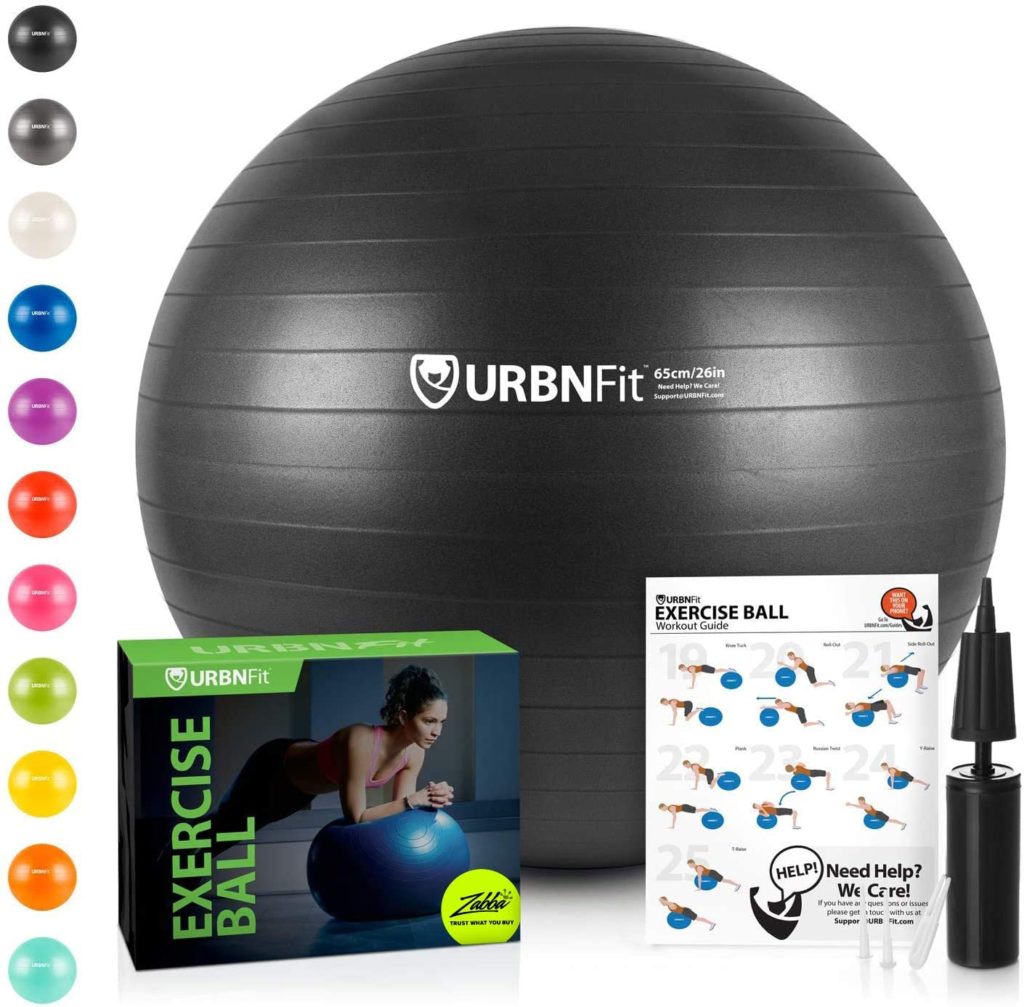 Supplied with a quick-inflation pump, this ball can be deflated and pumped with minimum efforts. The ball is available in different sizes (starting from 45cm to 85 cm) and colors including, blue, green purple, pink, red, silver, white and black. Made from quality PVC materials, this ball has garnered many positive reviews, unlike its competitors.
9. Sunny Health & Fitness Squat Assist
For an effective lower body workout, investing in a squat machine is a significant step. The Sunny Health & Fitness Squat Assist is available at an affordable price, predominantly designed to strengthen your lower body without adding weights.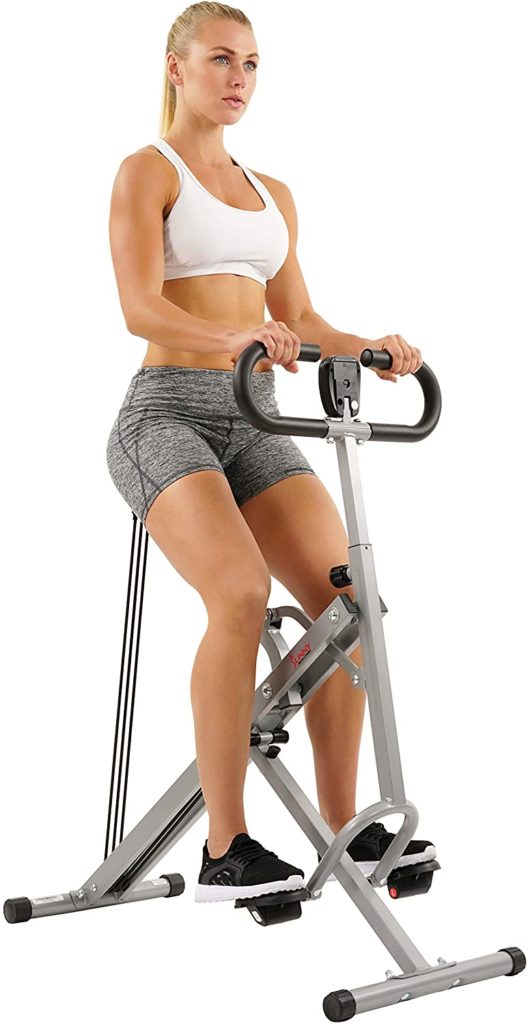 Besides, you are also offered an online training video to access instructional workout video libraries. There's also a digital monitor to track time, calories, count, and scan. To get the best while performing squats, you can adjust the saddle to a 30, 60, or 90-degree depth.
10. Sunny Health & Fitness Indoor Exercise Bike
We have reached the halfway mark of the best home workout gears list. Sunny Health and Fitness Indoor Exercise Bike. This feature-rich indoor cycling bike is fitted with an LCD screen, which displays information like time, speed, distance, and calories burned.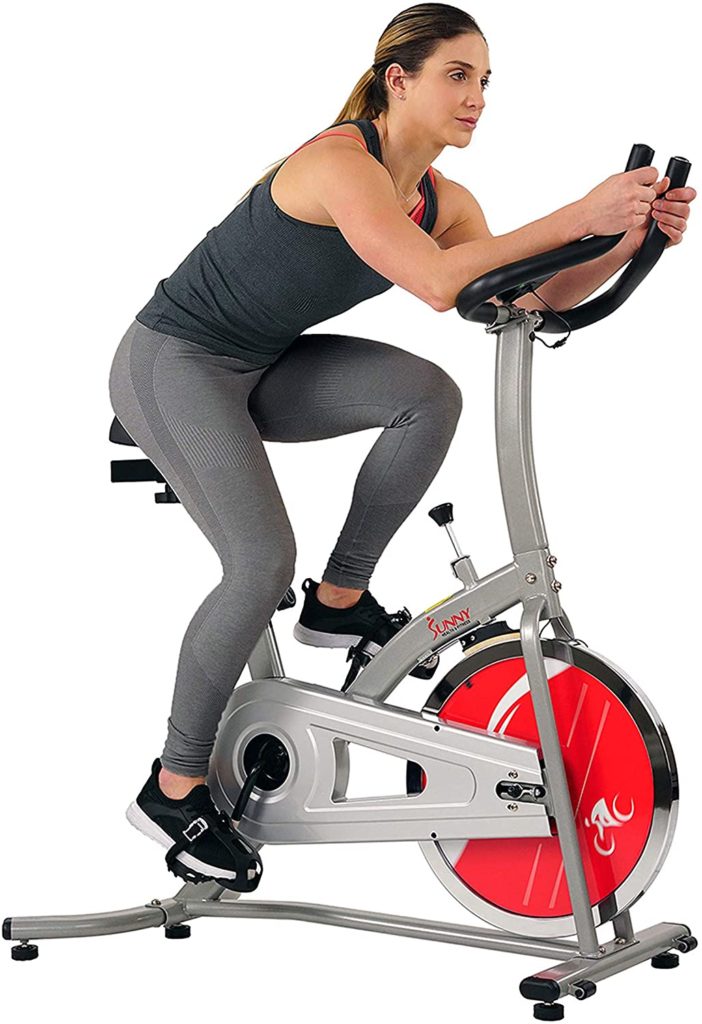 The machine is designed to accommodate users up to 220 lbs. For safety and comfort, the bike boasts of rubber foam paddles coupled with the handlebars and a four-way adjustable seat.
Also Read: 22 Best Crossfit Shoes for Men: Buying Guide of 2020
11. CAP Barbell Push-Up Bars
If you love the idea of traveling with a piece of exercise equipment, you'll be thrilled to have a push-up bar onboard. The CAP Barbell Push Up Bars fit easily into your backpack due to their design. These come with anti-slip rubber grips that can be easily placed on floors.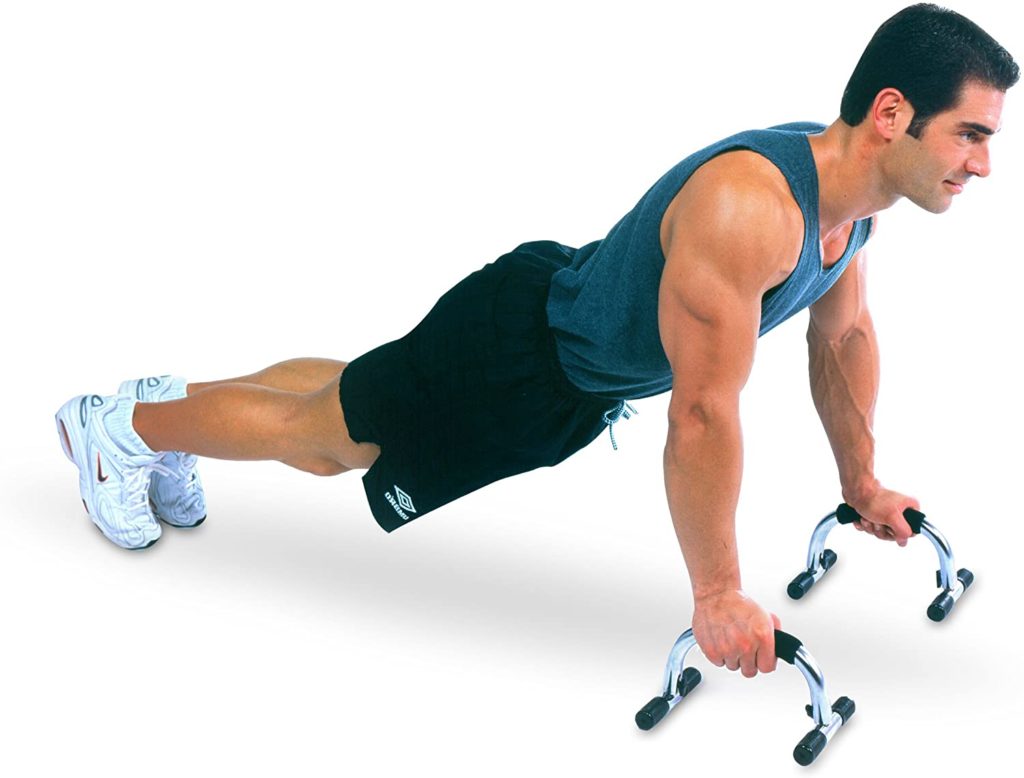 The push-up bars are supplied with high handles, which make it convenient for lower chest workouts. Also, it is stocked with rubber footbeds that add stability when exercising. This is available in two variants: Chrome and Black.
12. TRX All-In-One Suspension Training
Suspension training is highly effective in building muscle and losing fats. The TRX All-in-one suspension training system is built to offer the best the most out of each session.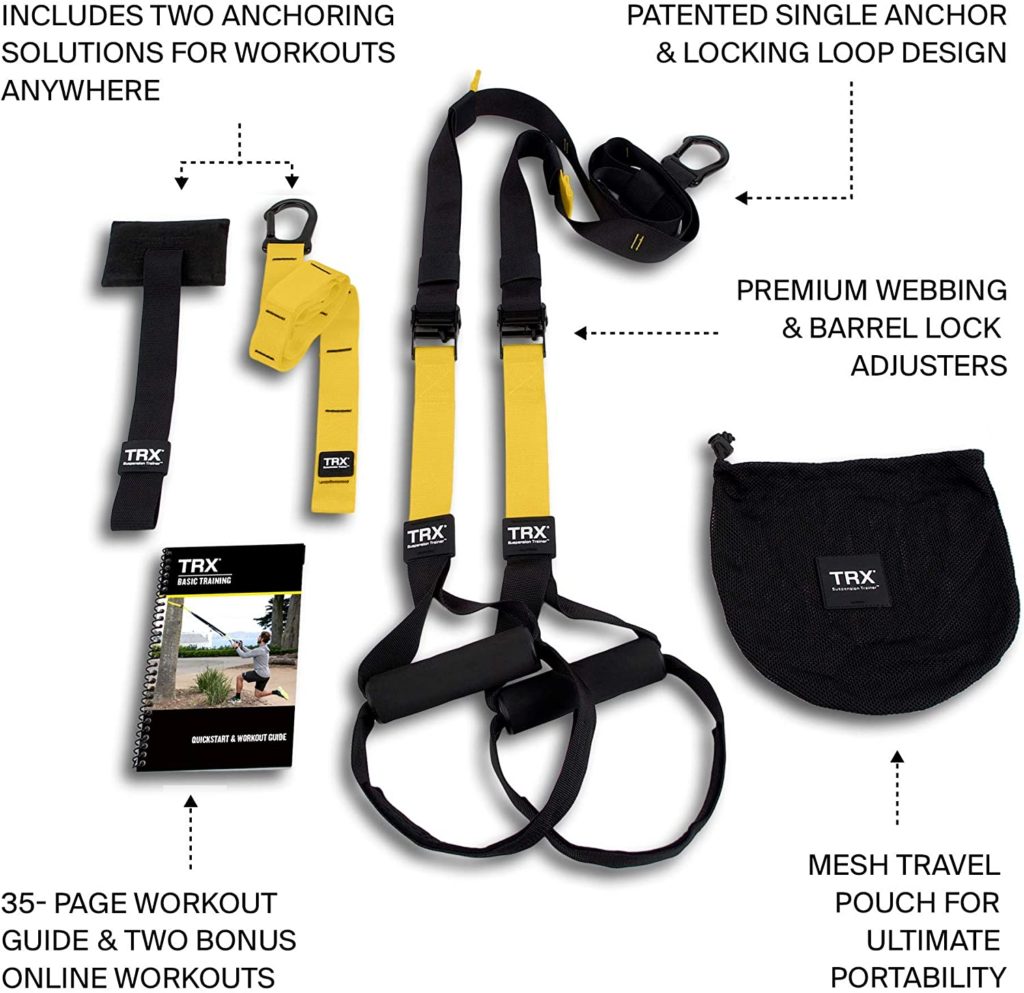 This home equipment can be used as cardio and strength training, which can be easily carried out by latching this onto a door to anchor it. The product arrives with a bag, making it easier to carry wherever you go.
13. Body By Jake Tower 200 Complete Door Gym
The Tower 200 is a top-notch resistance band training equipment that is easily compatible with any standard door. The product provides 200lbs of resistance and supports more than 200 exercises; thus, the 200 in the name.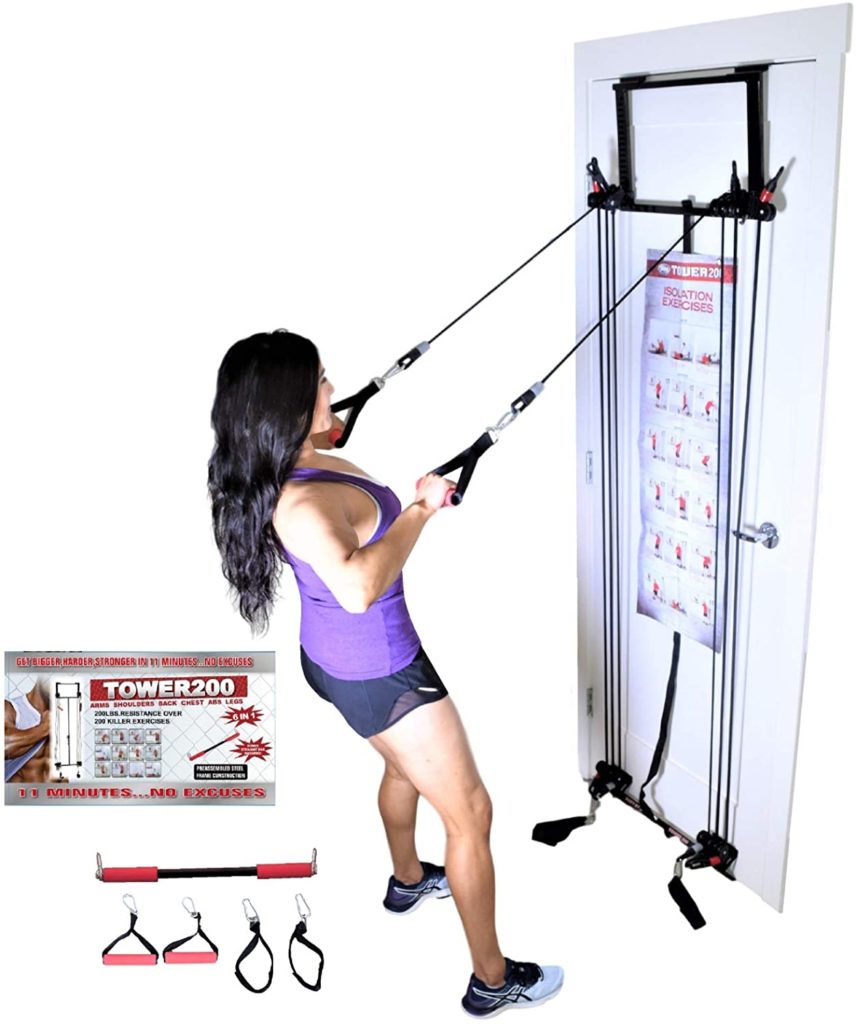 This equipment sports a sturdy built since it is made entirely of metal. The Tower 200 is the most imperative home equipment on the market that will save you both time and money. While also keeping you fit at the same time.
14. TriggerPoint GRID Foam Roller
Foam Rollers are found in every gym and are the lightest thing to help someone ailing with back pain. The TriggerPoint Grid Roller sports an exquisite design, which assists in targeted massage with the different patterns it is supplied with.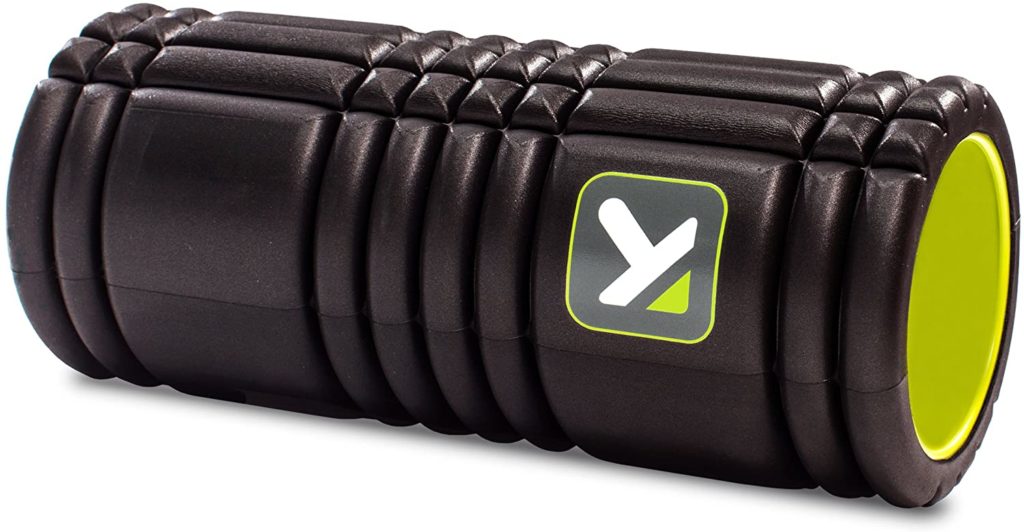 This is not just your everyday home exercise equipment; you can also use it while traveling, mainly because of the easy-to-store design. For an effective self-massage experience, the roller's multiple textures will do the trick.
15. Survival and Cross Jump Rope
Equipment like these needs no introduction. The Survival and Cross Jump Rope are compact and easy-to-carry with you anywhere and everywhere. This is a durable and well-balanced jump rope that people across all age-groups make use of.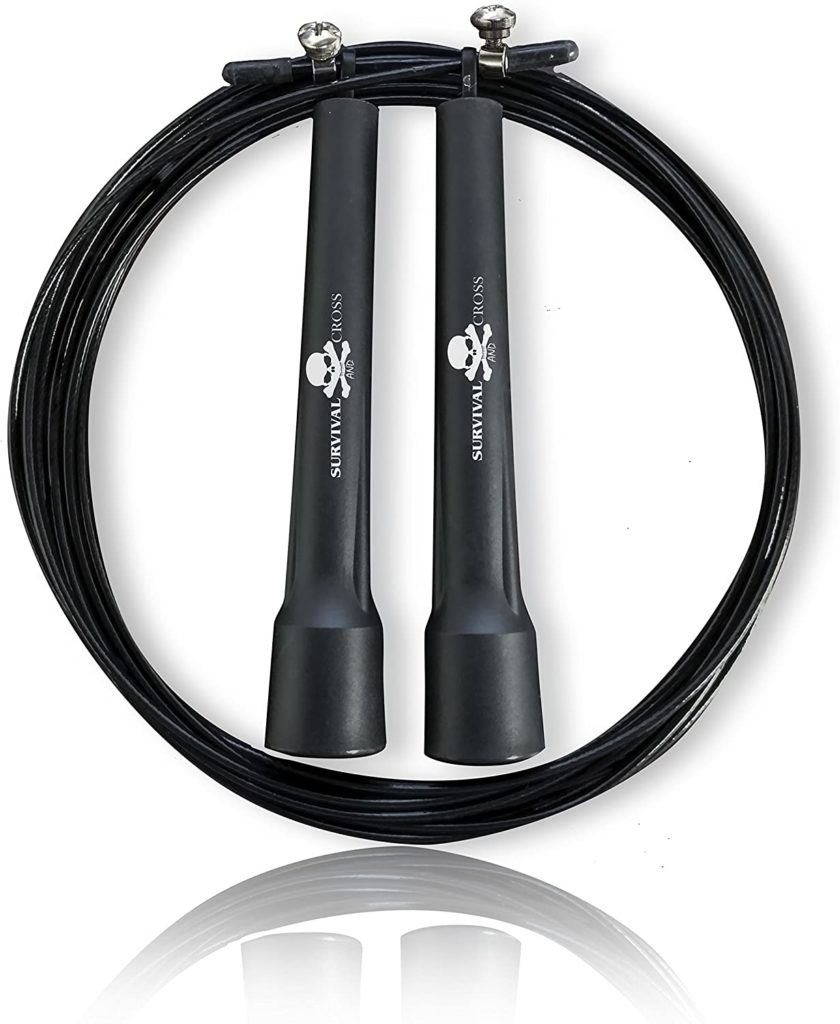 Garnering thousands of reviews on Amazon, this jump rope is appreciated for the design and lightweight handles. For those looking for fun ways to shed weight, investing in sets of jump rope is a perfect option.
Also Read: Top 10 best stepmills to buy in 2020
16. Everlast MMA Heavy-Bag Kit
If you've had enough lightweight home equipment, you look for a bulky alternative to shed your weight. The Everlast MMA Heavy-Bag kit is loaded with natural and synthetic fibers that help you with the most productive workouts.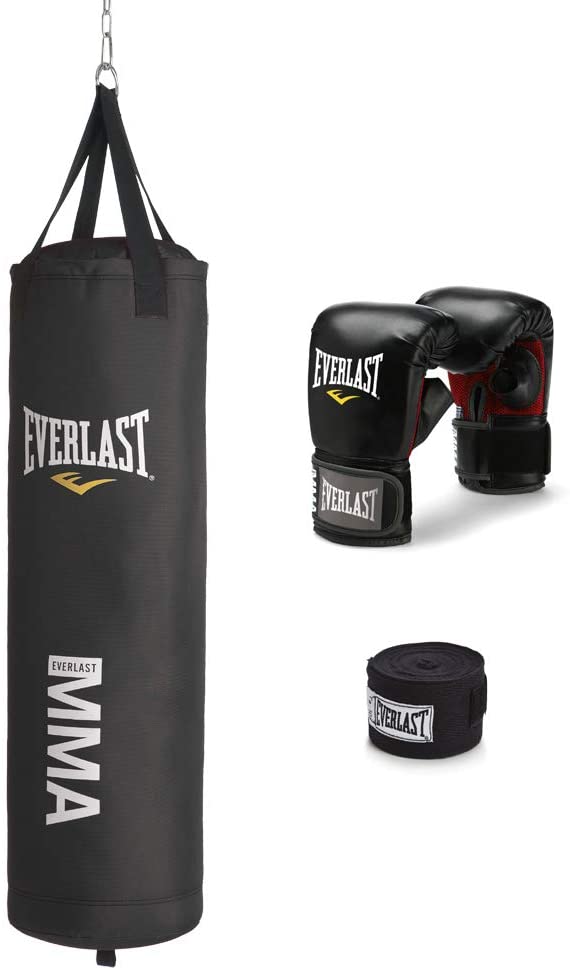 It is supplied with a bungee cord, which allows you to hang the bag anywhere you'd like. The bag comes with a set of boxing gloves and wraps to keep your hands safe against the bag's abrasion. Weighing about 70 pounds, this bag is also height adjustable.
17. Firebreather Battle Rope
Battle ropes are imperative in targeting different regions of your body. The Firebreather Battle Rope is our suggestion to you for a complete-body workout. This battle rope is supplied with an illustrated guide with a list of best exercises that make the weight loss process easier and more comfortable.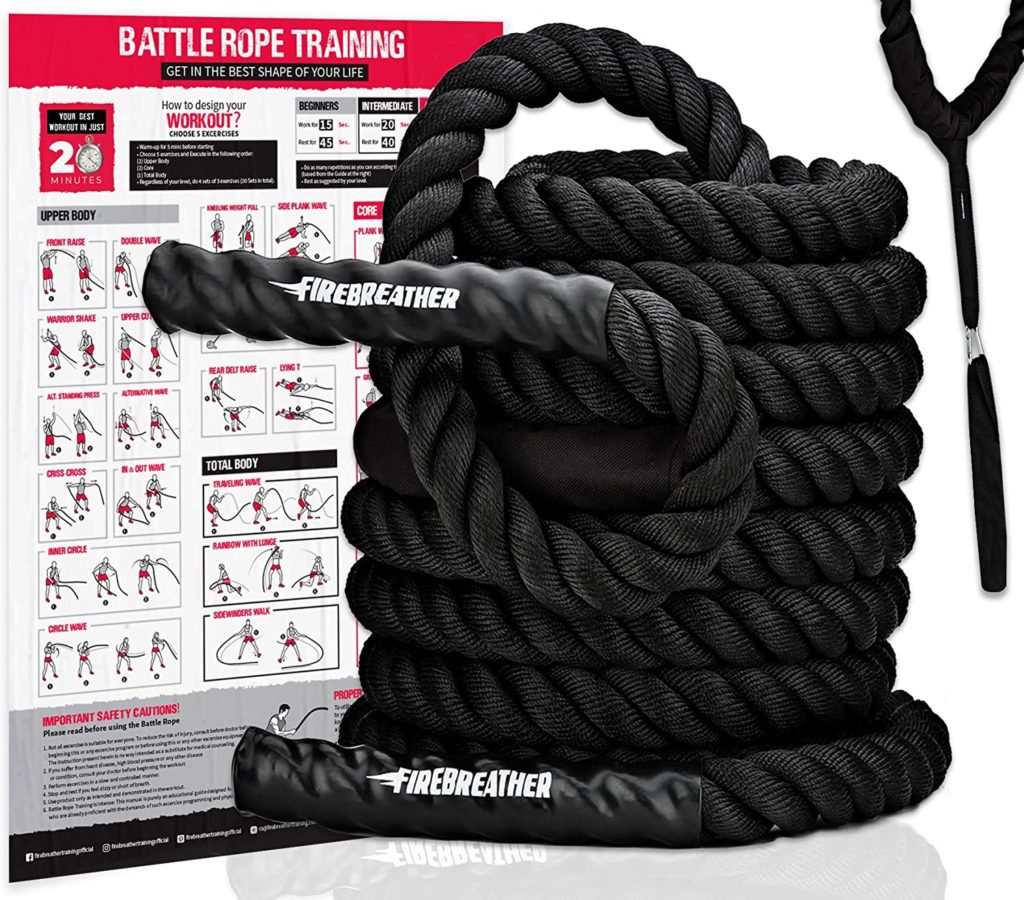 It has a protective sleeve that prevents the rope from friction or fraying. This rope is ideal for men and women of different fitness levels, who prefer doing high-intensity workouts.
18. Bowflex SelectTech 552 Adjustable Dumbbells
The Bowflex SelectTech 552 is one of the highest-rated dumbbells on the market available at a budget-friendly price. The dumbbells are adjustable from 5 to 52.5 pounds, allowing various options to pick from.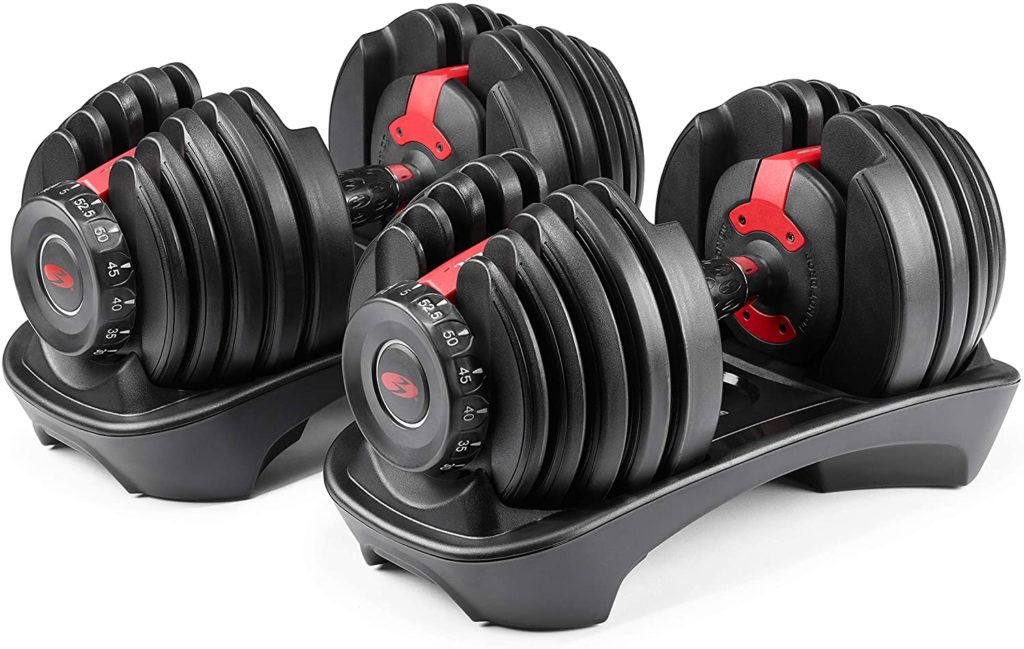 Also, this set is easy to switch from 2.5-pound weight increments up to the first 25 pounds. For extreme comfort when holding the dumbbells, this set has a comfortable rubber grip and contour molding.
19. BalanceFrom GoYoga All-Purpose Yoga Mat
There is no purer form of exercise recommended for losing weight than Yoga. By incorporating the right asanas and techniques, you'll be able to shed weight efficiently. The GoYoga mat is praised by many for nice and extra padding.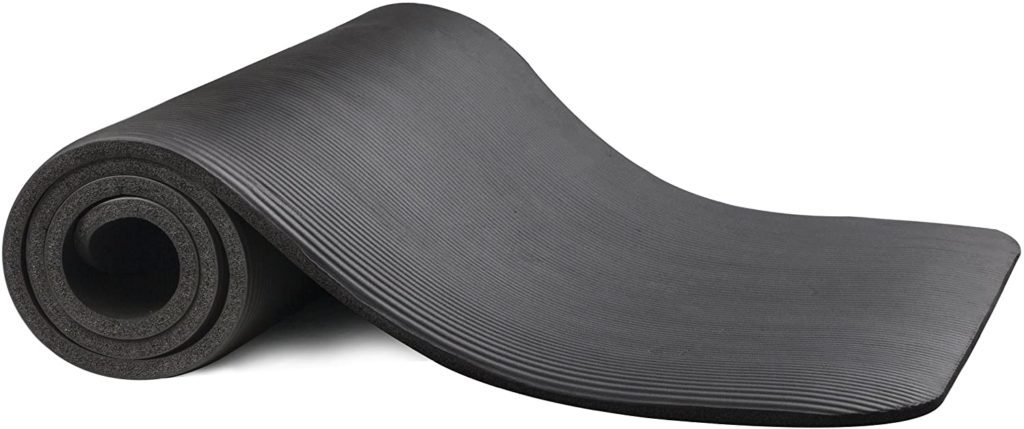 This is a thick premium mat that comfortably cushions your hips, spine, knees, and elbows when practicing on hard surfaces. To prevent you from stumbling, the mat is equipped with double-sided non-slip surfaces.
20. Iron Gym Total Upper Body Workout Bar
Workout bars provide you with a chance of making most of those empty door frames in your home. The Iron Gym Total Upper Body Workout Bar is a handy piece of gear that is imperative in shaping your upper body with robust and reliable handlebars.
Easy to set up into three different positions, this workout bar can hold up to 300 pounds. The Iron Gym Workout Bar is also available with straps to challenge and strengthen core abdominal muscles.
Also Read:  Keto Fuel Review: Here's Why You Should Go For It
---
CONCLUSION
The gears listed here are to be considered as an investment. Buying one from the list above can get your job done. But, only if used consistently and with the right diet.
Want to recommend products to the best home workout gears list? Feel free to write to us in the comments section below.