As you get older, you are at risk of thinning hair and bald spots than others.
Generally, food is regarded as the best source of vitamins one needs for hair growth. However, if a diet can't satiate your desire to bring your shining hair back, supplements may come in handy.
Hair supplements' market is widespread and have dramatically reduced hair loss and brought back healthy hair in a month or two. Also, in this post we'll be discussing about the best hair vitamins for men and women along with a few suggestions on how to choose a best one available in the market.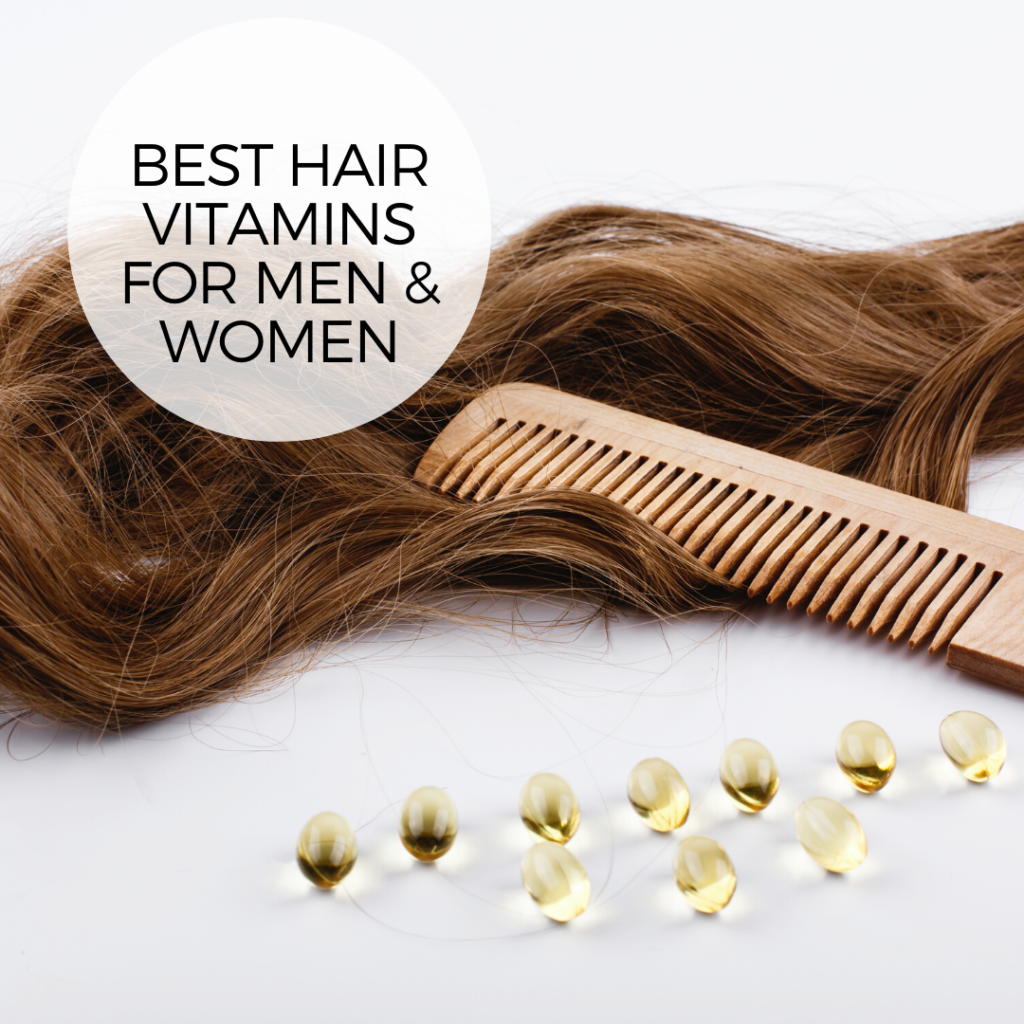 ---
What is male pattern baldness?
Male pattern baldness is related to genes and male hormones. It is characterized by a pattern of receding hairline and hair thinning on the crown of the head. Alopecia or baldness occurs when the hair follicle diminishes, which reduces shorter and more beautiful hair.
What is female pattern baldness?
Hair loss seems to have a more significant impact on women than men. Alopecia has extreme affects on women's emotional well-being and mental health. Androgenetic alopecia starts with thinning at the part line and followed by increasing diffuse hair loss spreading from the top of the head.

What leads to loss of hair?
Several factors become the reason for thinning hair of balding, like stress, environmental factors, and underlying health issues. Hair loss also arises owing to the following reasons – emotional stress, nutritional deficiencies, physiologic stresses, and endocrine imbalances, to name a few.
And at some point in their prime age, most men witness a sudden onset of hair loss due to male pattern baldness. It is often touted as a genetic process that takes anywhere from five to ten years before complete baldness.
Male pattern baldness is caused by a chemical called dihydrotestosterone, or DHT, a chemical which barricades nutrients and oxygen from the hair follicles. This chemical, DHT, is created from testosterone and an enzyme in hair's oil glands, a reason why the substance is common in men with higher levels of testosterone.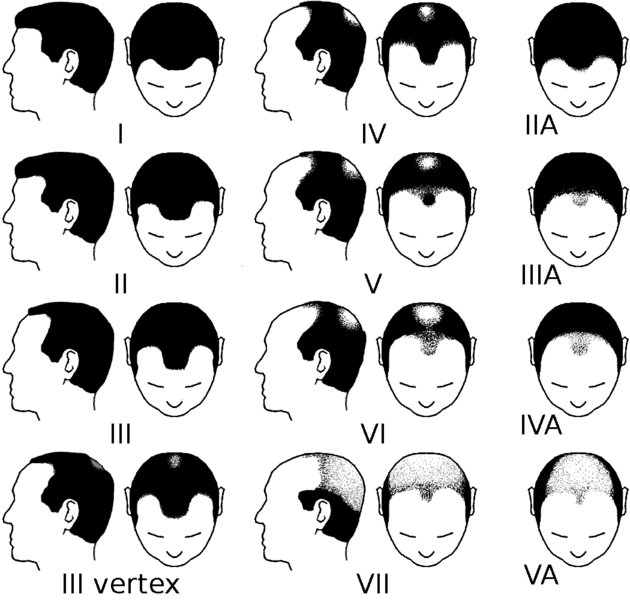 There are a plethora of reasons that lead to hair loss in women, such as medical conditions, medications, and or any physical or emotional stress. Hair loss exasperates women, and they have hardly ever become bald. But with the rise in resources, these illnesses are quickly shoved off.
Also Read: Best multivitamins for Men over 30
---
How to choose the best hair supplements
As per the market research firm Technavio, by 2023, the hair care market value is expected to grow by USD 14.98 billion. Fortunately, with the healthcare industry witnessing positive changes, men no longer have to live with thinning hair or baldness.
There is an overabundance of hair growth vitamins readily available, both online and in stores nearby. Before you settle for one, here we have a few tips that can help you purchase the best hair vitamins for men and women.
---
Select hair growth vitamins
One of the first parts of selecting the right hair growth supplement is a vitamin. Vitamins that help in growth of hair are vitamin A, B12, D, H (Biotin or vitamin B71), vitamin C, E, along with minerals and proteins like folic acid, niacin, iron, zinc, calcium, magnesium, omega-3 fatty acids, Polyunsaturated fatty acids (PUFAs) and many others.
Check the Label
As you know that your needs for your hair are to turn long and voluminous, we suggest you check for the labels. Before selecting the one, you must do a complete study of the label.
Scanning the label will keep you informed whether there may be an allergic reaction post taking the pills or not. This is because few men may be allergic to certain ingredients used in manufacturing the product.
We'd recommend you to avoid supplements that are chemically produced. Look for vitamins and minerals that are organically sourced.
Take Suggestions
Alright, now that you've skimmed the ingredients' label and picked the one as per your requirements, it is time you seek suggestions from a doctor.
Meet your doctor and confirm that you don't have nutritional deficiencies like iron, calcium, vitamin A, B12, D, magnesium are common. A doctor can provide you with vital stats and information on how supplements can deteriorate your health. He or she may also recommend you the right one.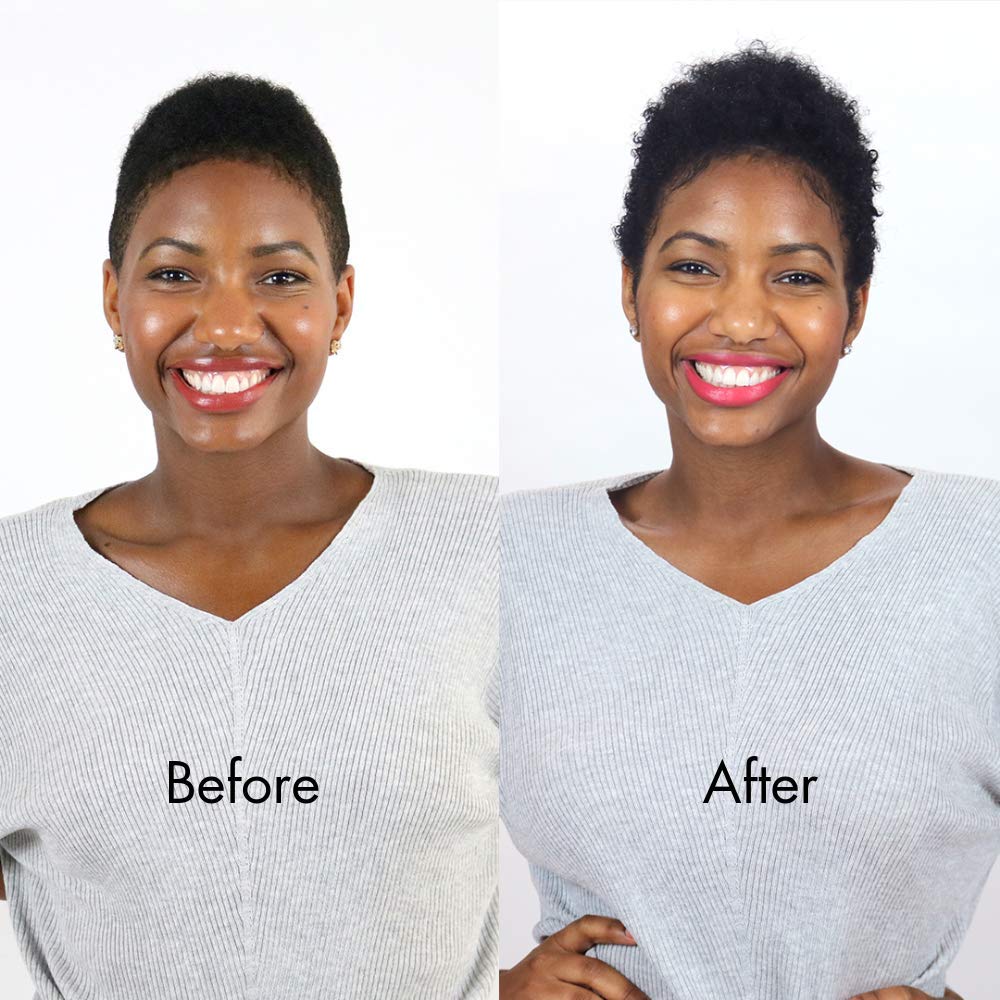 Reviews
Now it is time to validate based on consumer reviews. Often these days, customers post their reviews about the experience they had. These reviews include posting about the results and/or any side effects like stomach upset, breakouts, hair loss, etc.
Scrolling through consumer reviews will give you a good idea of what a supplement does, leaving you with no surprises. Another reason, reviews are critical is because they let you know which seller to choose from as well.
Price
Price does play a pivotal role in selecting a hair growth supplement. You may come across expensive products, which doesn't mean that they are better than the cheap ones.
It is advised that you go with a supplement that fits as per your budget and the above criteria.
Also Read: Prüvit Keto OS : A Product Review
---
Best Hair Vitamins for Men & Women
HairAnew (Unique Hair Growth Vitamins with Biotin)
Among Amazon's best-sellers hair vitamins for men and women is the HairAnew Hair Growth Vitamins with Biotin. It is a brand well-known for nourishing skin and support healthy nails.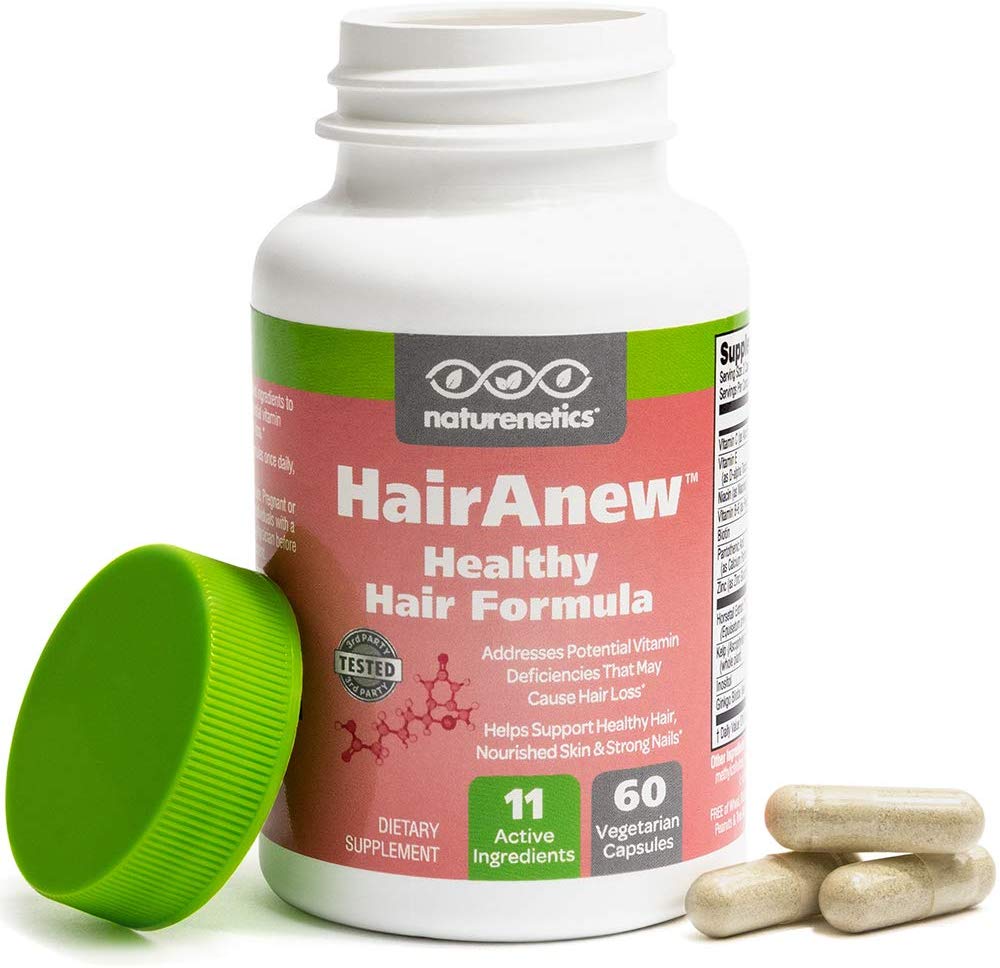 This hair vitamin packs a robust formula including 11 active hair nourishing ingredients, 5000 mcg of Biotin (water-soluble B-complex) forged together to enhance cell growth, and provide support in speeding up hair growth.
This hair vitamin is fused with other essential ingredients such as vitamins, amino acids, and herbs that prevent further hair loss.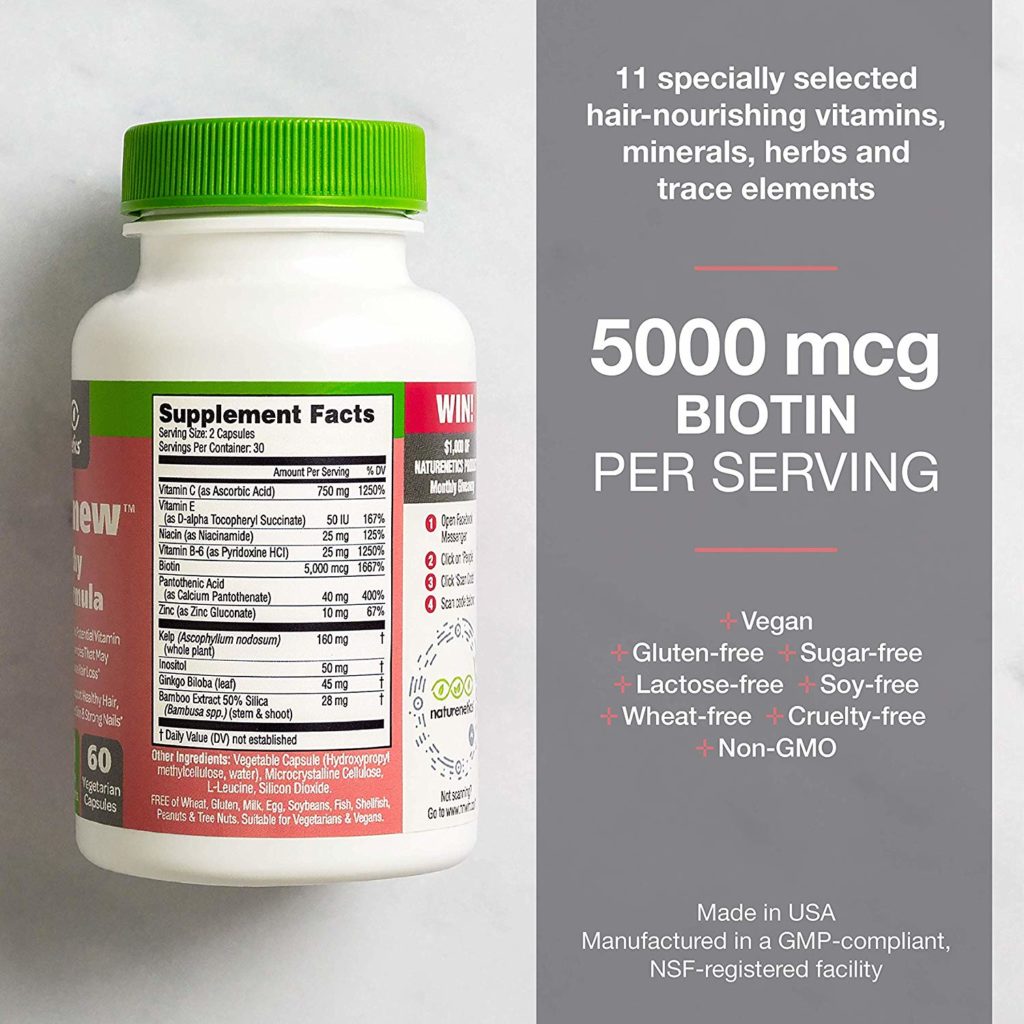 Stylists recommend HairAnew as it contains not commonly found organic ingredients like kelp and bamboo extracts. Much to our surprise, this hair vitamin worked smoothly on both men and women, irrespective of their hair types: the results – more vibrant and robust hair instantly.
What we like
Gluten-free and Vegetarian
Besides hair, adds support to nails, and rejuvenates the skin
Suitable for all types and ages
What we didn't like
Complains of nausea, stomach pain, and insomnia
Slight expensive than others on this list

Natural Biotin Beauty
Amazon's highly-reviewed herbal hair vitamins for men and women that works on all kinds of hair is the Natrol Biotin Beauty. With a strong presence of Biotin, this vitamin helps promote healthy hair, skin, and nails. Biotin, which is commonly referred to as B-vitamin (Vitamin B7), assists in boosting metabolism and energy. Biotin is a plus as it also keeps eyes and liver healthy.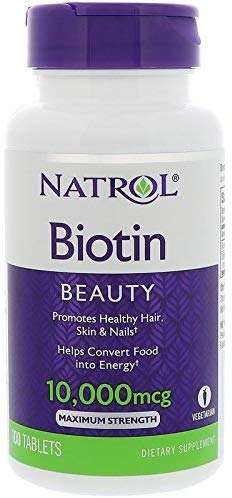 Besides, Natrol also includes calcium, which is essential in maintaining the strength of teeth and bones. It also contains lutein, which has been clinically proven to improve skin elasticity and hydration, helping skin look young and fresh.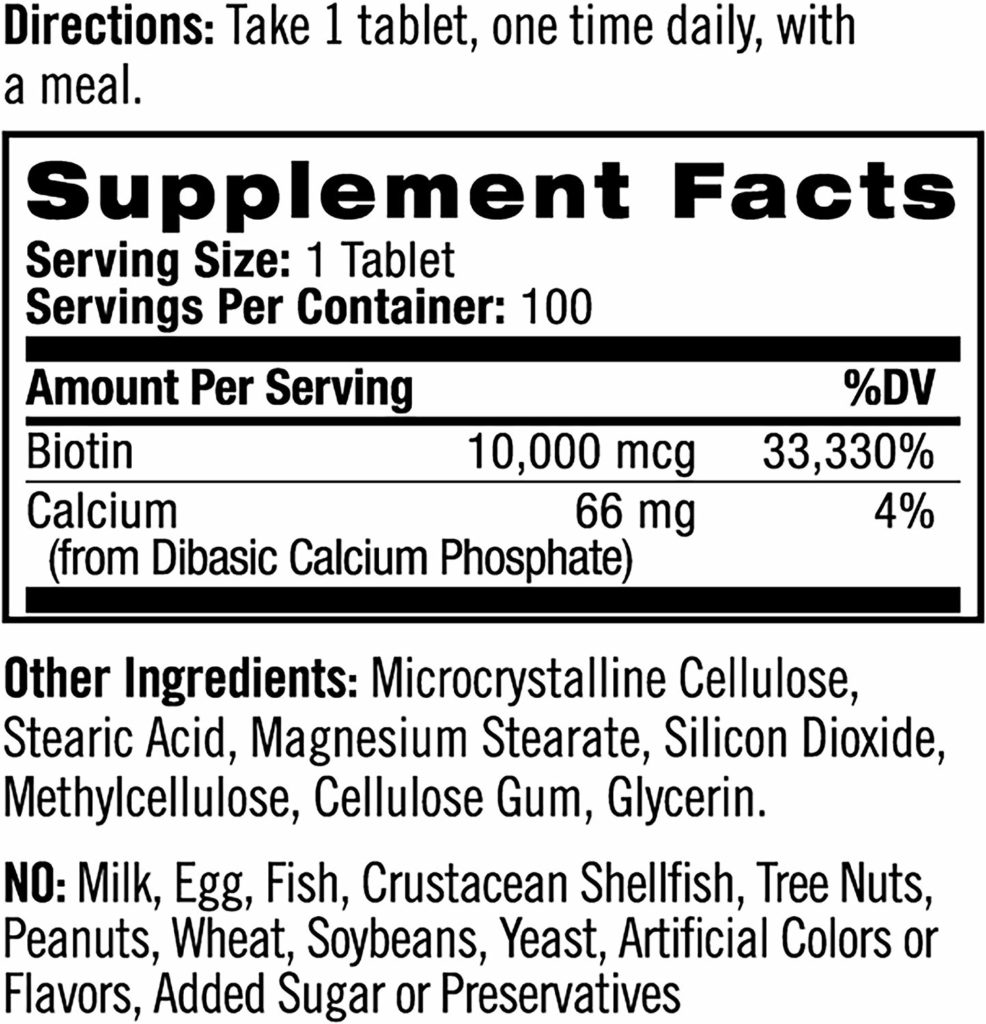 What we like
Builds thick and voluminous hair strands
Reduces hair loss
What we didn't like
Acne and cystic breakouts because of the large dosage of Biotin
Complains of growing hair on other areas of the body as well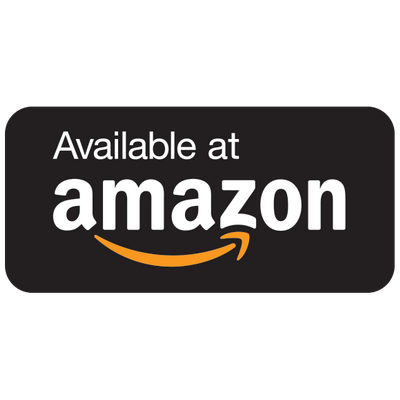 Brock Beauty Hairfinity
Third, on our list of best hair vitamins for men and women is Hairfinity from Brock Beauty. Hairfinity packs specific vitamins that help in strengthening of hair strands and fastens the process of hair growth.
This hair supplement is an admixture of bioactive vitamins and vital nutrients like biotin, collagen-boosting silica, amino acids, and vitamins A, C, and D. Additionally, the supplement features Capilsana Complex through Hydrolyzed Collagen, providing the hair naturally occurring building blocks.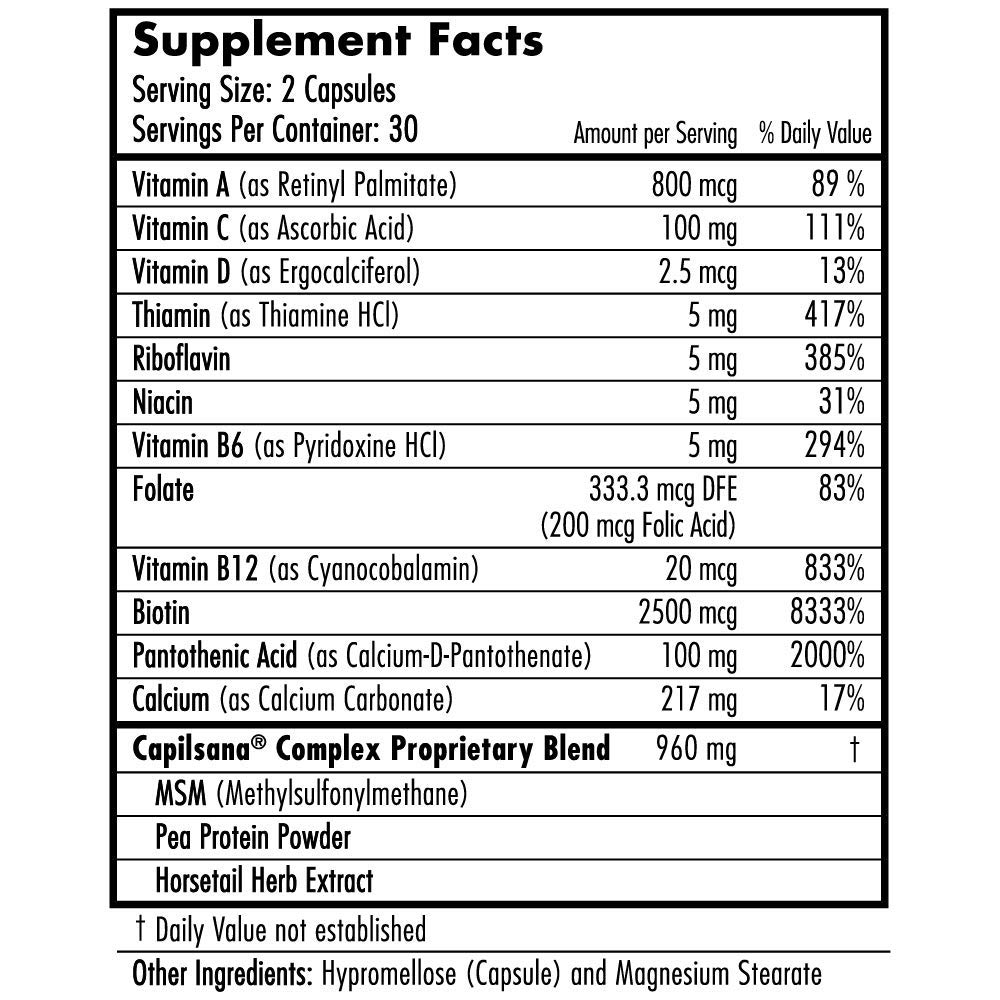 Recognized in publications like Glamour and other magazine gazettes, Hairfinity contains all the nutrition needs required for healthy hair.
What we like
Free of Mineral Oil, Sulfates, Petroleum, Parabens and Phthalates
Promising results in 30 days
What we didn't like
Temporary hair loss in the beginning
Excess biotin leads to acne breakouts
Complains about digestion issues

Hairfluence Premium Hair Growth Formula
Scientifically formulated and fused with ingredients such as biotin, bamboo extract, collagen, keratin, and essential vitamins, the Hairfluence Premium Hair Growth is fourth on our list.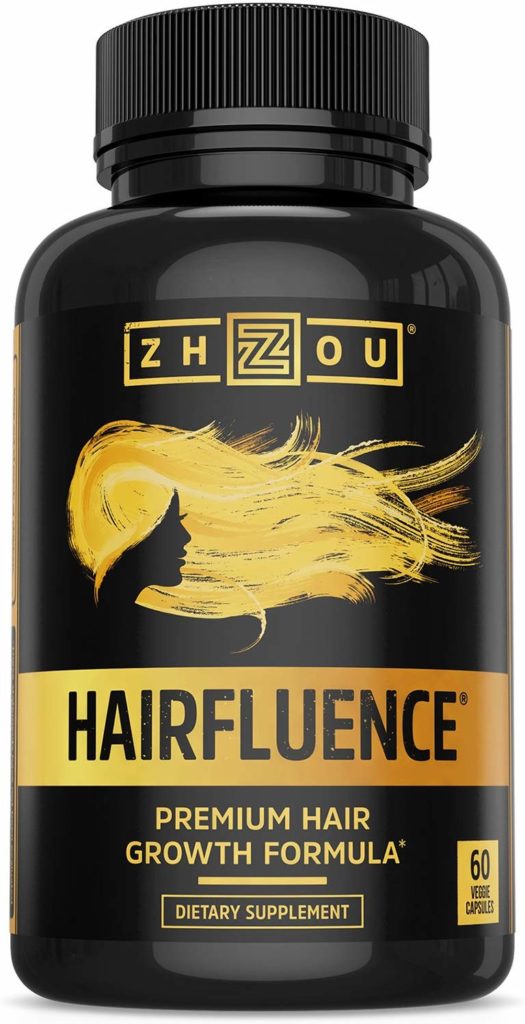 The inclusion of methylsulfonylmethane (MSM) improves the production of collagen, which is essential for speeding the growth rate of hair. Furthermore, it also contains folic acid that aids in the development of DNA, which steers cell activity and tissue growth.
With active ingredients like vitamin D3, it builds new hair follicles and wakes up dormant follicles to provide full hair and supple shine.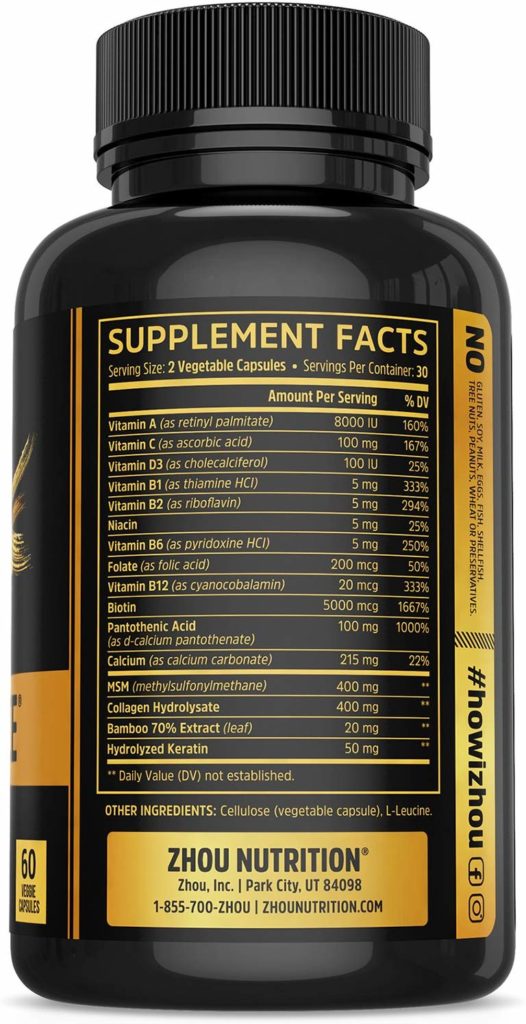 After consistent usage, Hairfluence is also beneficial on skin and nails, making them more nourished and healthier.
What we like
Reasonable price among other supplements in the market
They have a money-back guarantee of 60-days
What we didn't like
Pills too large to swallow
Horrible breakouts and cystic pimples
Complains of itching in areas like arms, legs, stomach, neck, and hairline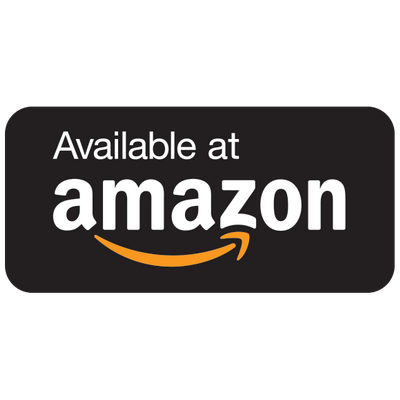 Sports Research Biotin
Biotin is also ranked among Amazon's best under the nail strengtheners category. With high-levels of biotin, this supplement improves hair and nail growth, also enhance the cell growth and metabolism of amino acids and fats.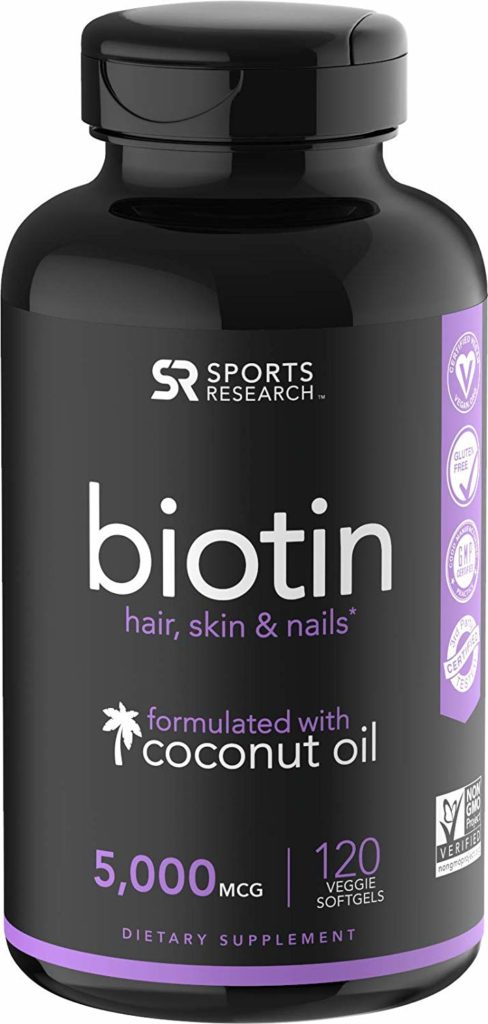 These vegetarian liquid soft gels are blended with coconut oil, which provides smooth absorption and fine results upon consumption.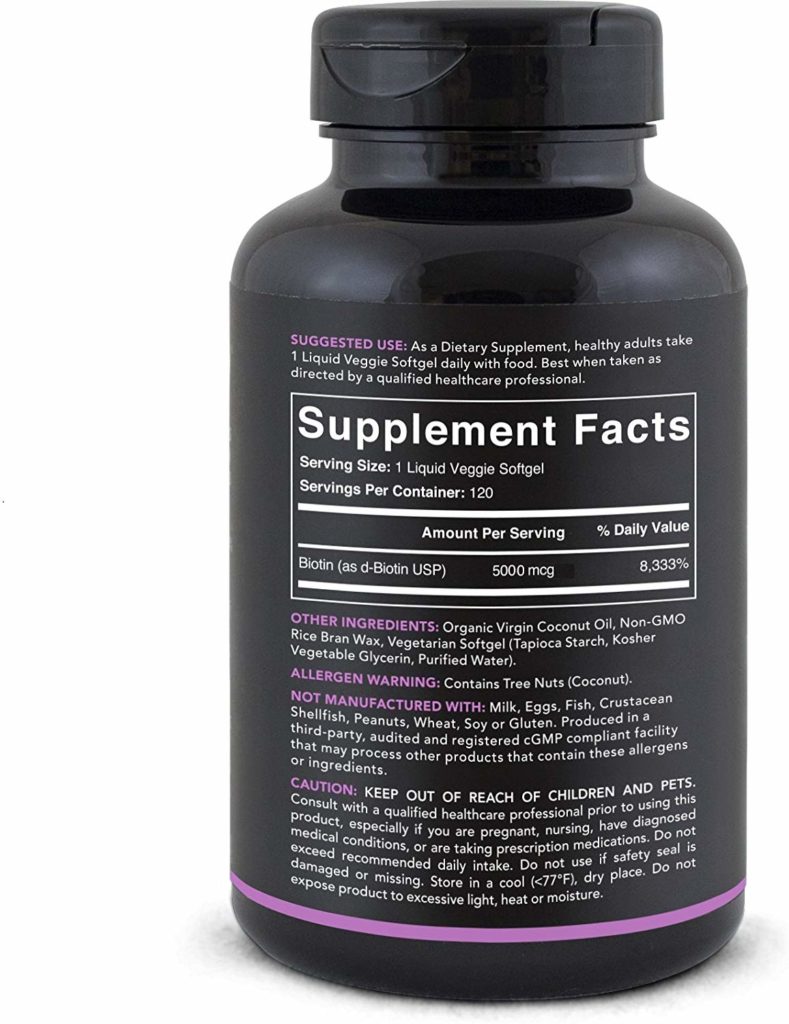 What we like
Non-GMO
Money-back guarantee of 90-days
Manufactured and packaged in a GMP certified facility in the USA
What we didn't like
Signs of pimples and cystic acne
Leave you with oily skin
Results are too slow

Also Read: Best self propelled lawn mowers for hills- Complete reviews and buying the guide
---
CONCLUSION
Our extensive research for best hair vitamins for men and women included scanning through the label to find quality ingredients involved.
In case you've used any of the products mentioned in this post, drop your thoughts in the comments section below, or tell us which is the product we are missing out on.
We, at Akin Trends, have analyzed and published information that is known to the public, and this post is a compilation of our research. This post is for information purposes only and does not provide any medical advice. We also request you to seek advice from professional health care experts, in case of face any fitness problem or disease.
---
FAQs
When should I take hair supplements?
Hair supplements are recommended to be consumed once or twice a day. Few physicians suggest that it may be better taking them with the same dosage for about three months to see results.
Products listed here can assist you in keeping your healthy and protected, while also providing a thicker appearance.
What will happen if I stop taking hair supplements?
As per our research, we are yet to record any side effects to abandoning of taking hair supplements. Albeit, the hair growth rate may return to its standard rate.