Toddlers are hard to contain when you get occupied with everyday tasks. However, products like the baby play yards ensure that your kid stays entertained and can also safely sleep in them. Such products come in handy when you run for quick errands or to take a shower — when there is no one else around the young kids can hang out with.
Playards often come in a variety of styles and sizes that restrict your kid's movement and at the same time, keep them engaged with activities. Before making a purchase, there are a few things that need to be considered; things that will help you decide what type of play yard suits your kid the best.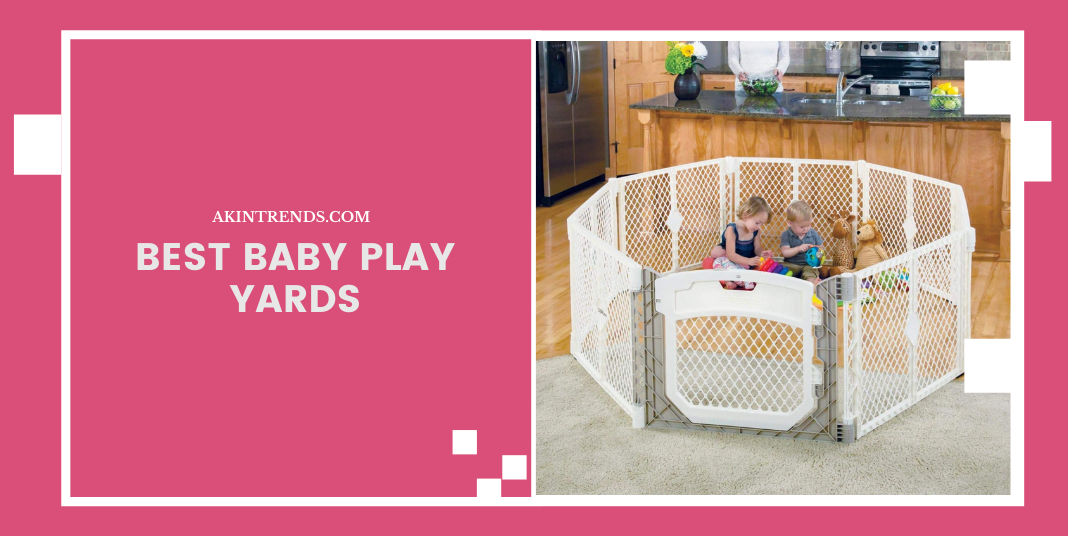 ---
Buying Guide to the Best Baby Playard
Materials and Portability
Check the materials used in the making of a play yard is a vital consideration. There are play yards built using metal, which is quite durable and reliable. However, these play yards might not be suitable when taking them out for traveling. Consider selecting a plastic-built play yard, which is convenient while traveling and lightweight too.
We recommend you to choose to play yards that are built from BPA-free materials, as these can save you from investing in another one.
Indoor or Outdoor
Be clear where you'd like to take that play yard with you. Some materials are ideal for indoors, while some work well outdoors. Plastic play yards are considered worthy investments when taking them out in the rain or sun. Playards that avoid sliding can come in handy when you are choosing for indoor.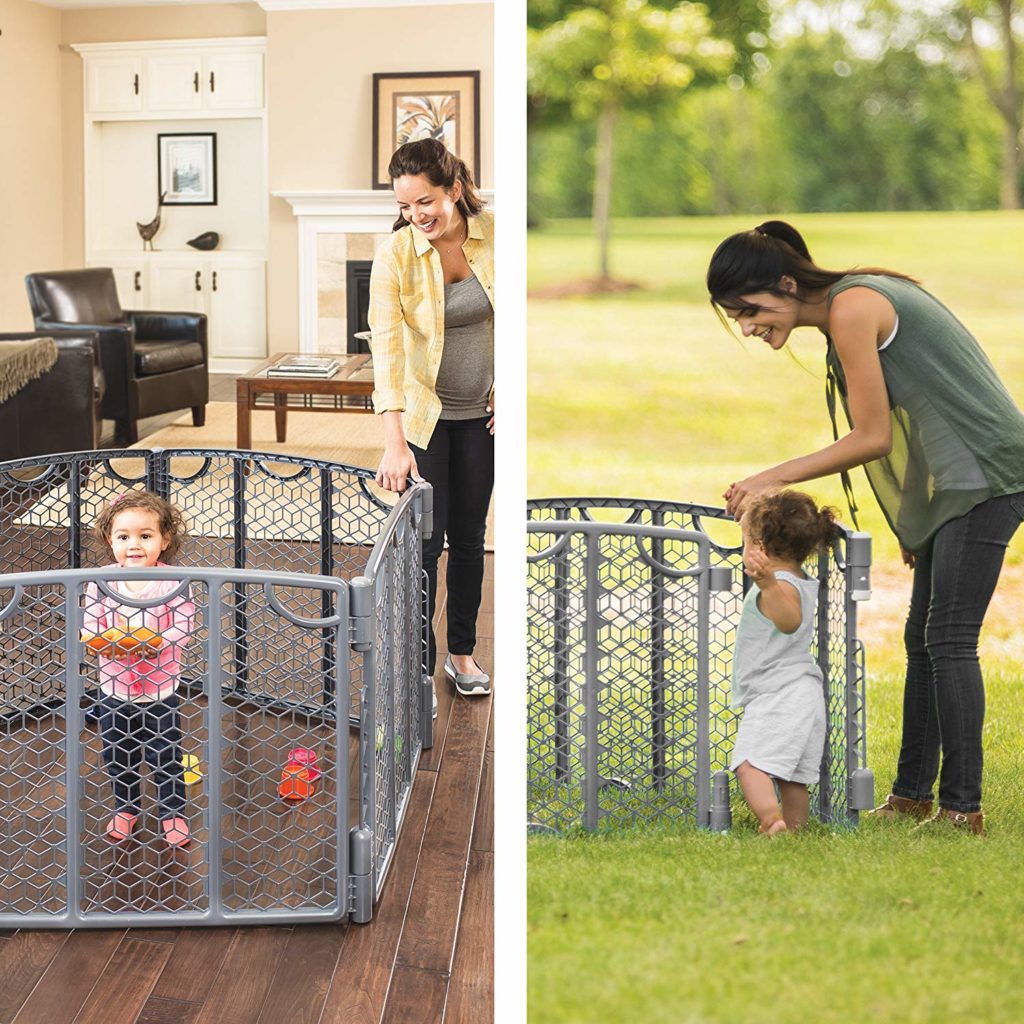 Cleaning
Kids and litter go hand in hand. Arguably the most important of all the factors is to learn whether the play yard can be easily cleaned or not. You surely wouldn't want your kid's play area to be a place of mess. Make sure that you purchase play yards that come with removable sheets, as they reduce your job of cleaning.
Also Read: 10 Best Baby Floats Have fun without danger!
---
10 Best Baby Play Yards
Having shared a small overview of what to consider before buying, here's a list of the ten best baby play yards currently available in the market.
10. Summer Infant Pop N' Play Portable Playard
Toppling some reputed brands on the list is the Summer Infant Pop N' Play play yard. This elegantly looking yard is enclosed with mesh for easy visibility.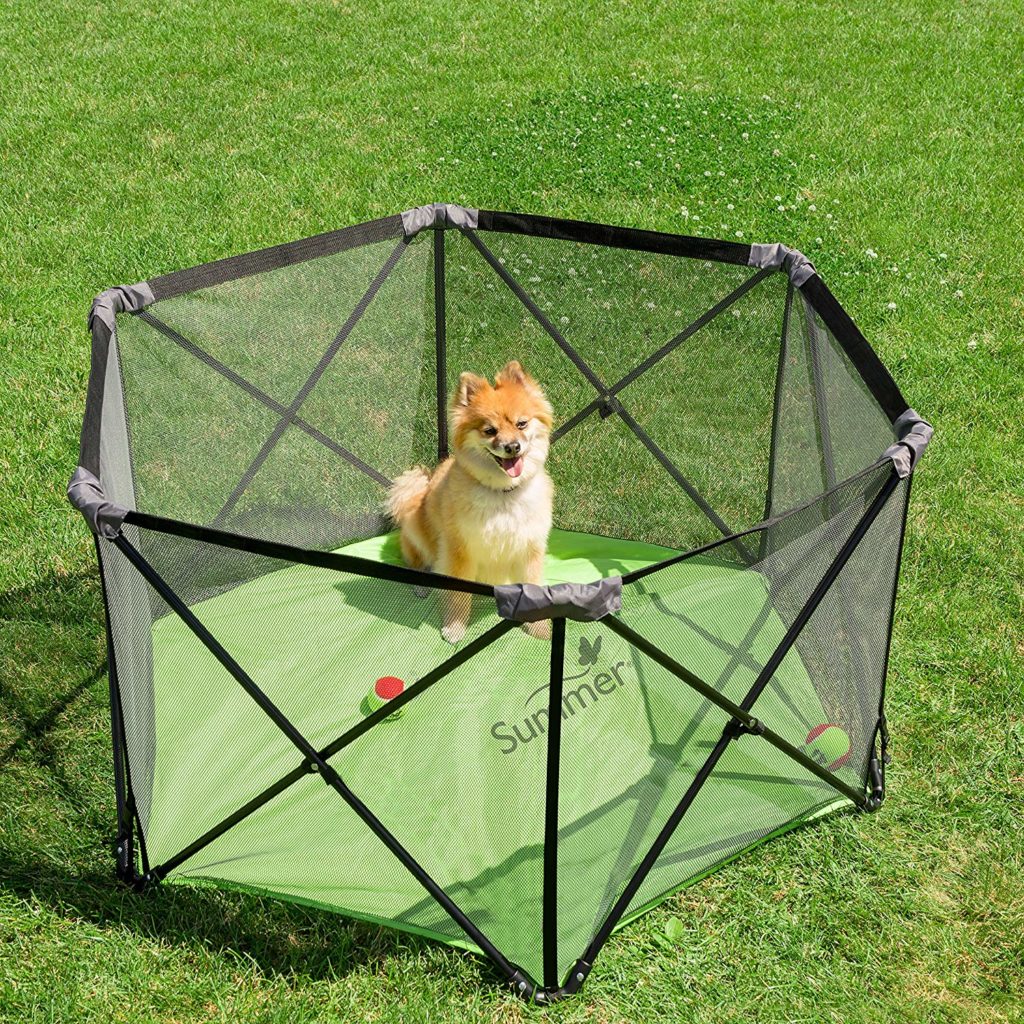 Made from high-quality materials with water-resistant canvas flooring, this play yard is ideal for use both indoors and outdoors. Featuring a lightweight folding metal frame, Summer Infant Pop N' Play yard can be assembled and unfurled in a jiffy.
Available in four different colors, this portable yard measures 48 inches wide, 26 inches tall. Furthermore, this play yard spreads up to 14 square feet, which offers ample space for your kid to move around and play.
9. North States Colorplay 8-Panel Play Yard
As a highly-reputed brand in the play yard business, Colorplay 8-panel by the North States offers voluminous space that can fit in more than two kids.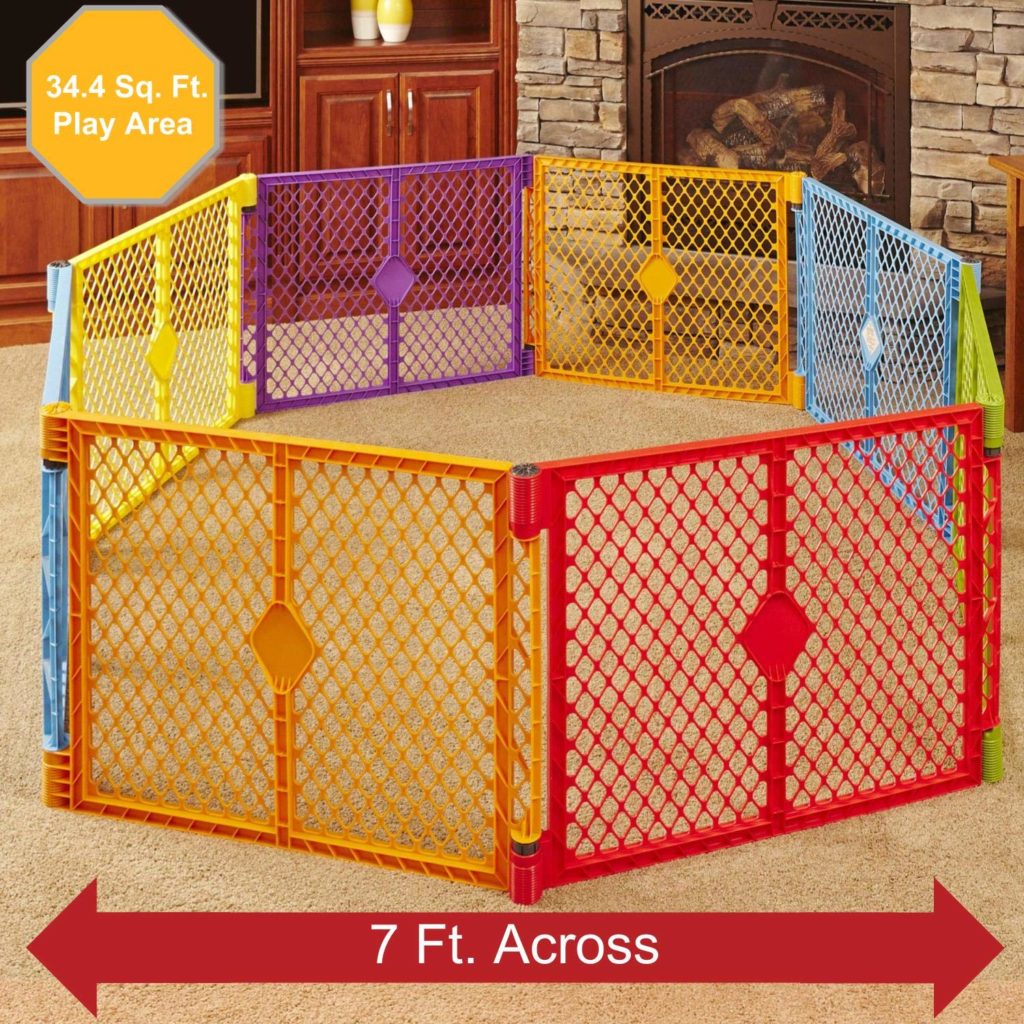 The Colorplay 8-panel features skid-resistant pads that prevent the play yard from sliding. Also, these pads keep floors safe from scratches. This play yard features a carry strap, which allows you to carry it around easily.
Built using superior materials, this play yard is also equipped with interlocking plastic panels to improve strength and solidity. Coming in 8 and 6-panel, this baby super yard is ideal for kids aged anywhere between 6 to 24 months.
8. Gupamiga Baby Playpen Play Yard
Multicolored and spacious enough to accommodate you and your kid, the Gupamiga Playpen is ideal for use indoors and outdoors. Coming in 14-panels, the assembling of this play yard is easy and can be done in seconds.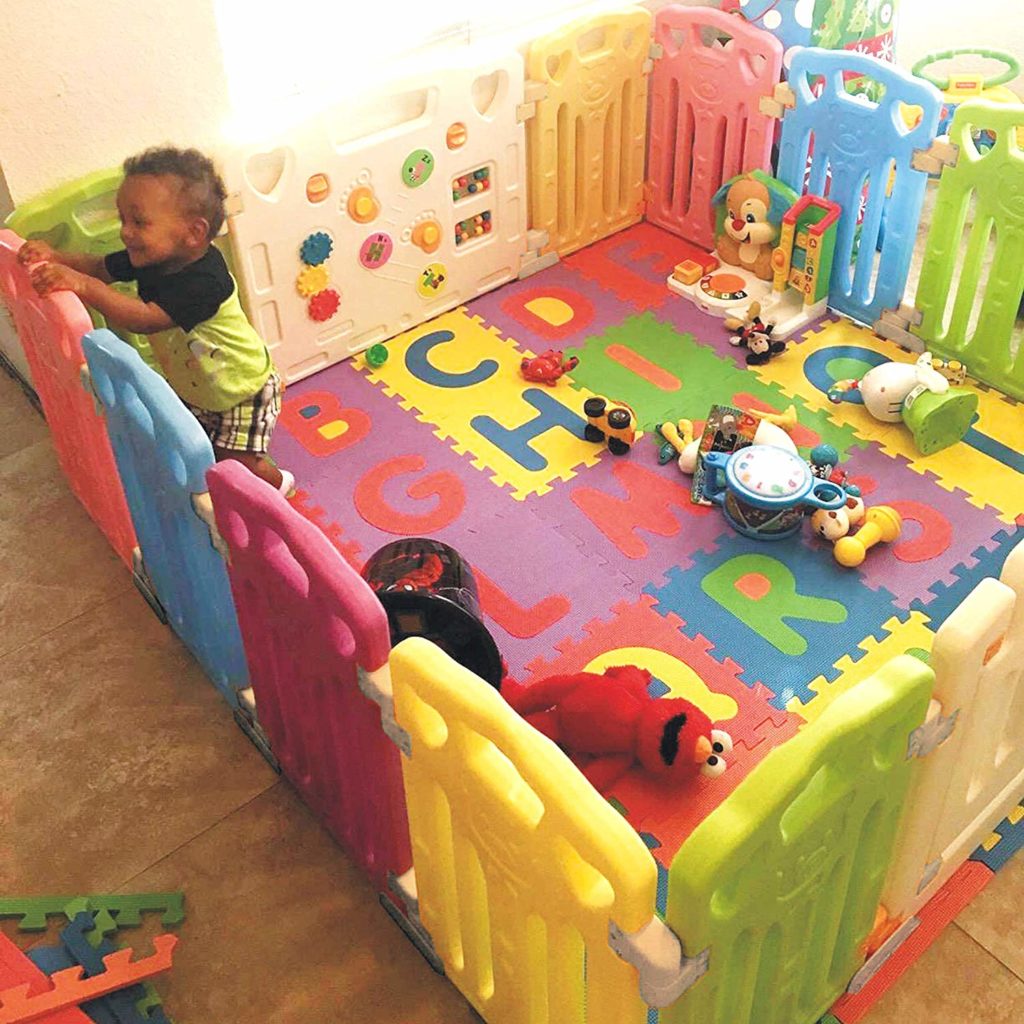 Featuring rubber feet underneath, this prevents the yard from sliding. With a lightweight and durable design, you can place your kid in and continue with your regular chores.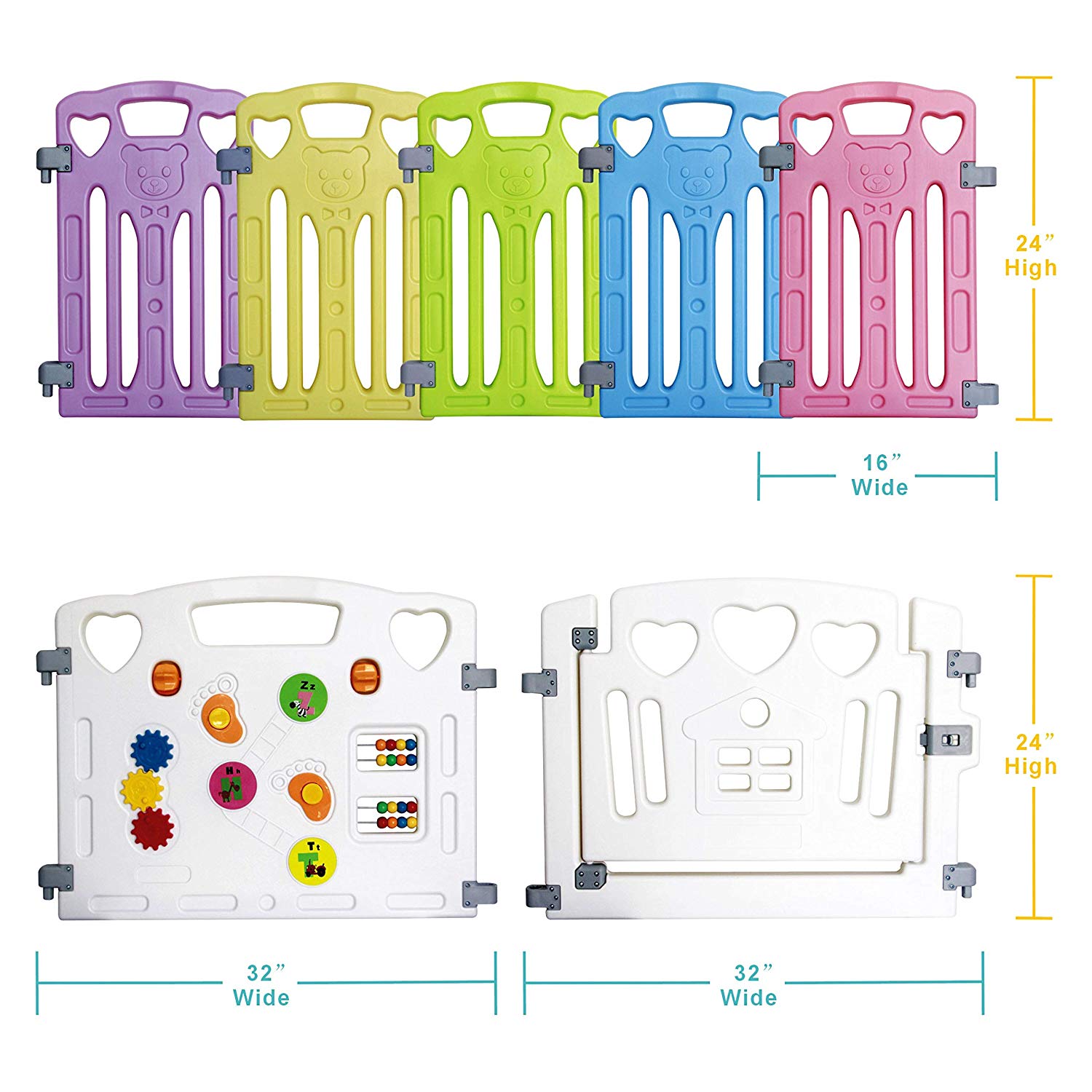 Sporting vivid and bright designs, the Gupamiga playpen will charm your kid and cheer them mood when inside the play yard.
7. Lotus Travel Crib Playard by Guava Family
Arriving in a distinctive and flexible design, the Lotus play yard could be your child's favorite travel companion. Includes a mesh wall that promotes airflow, this play yard also offers you complete visibility over your kid.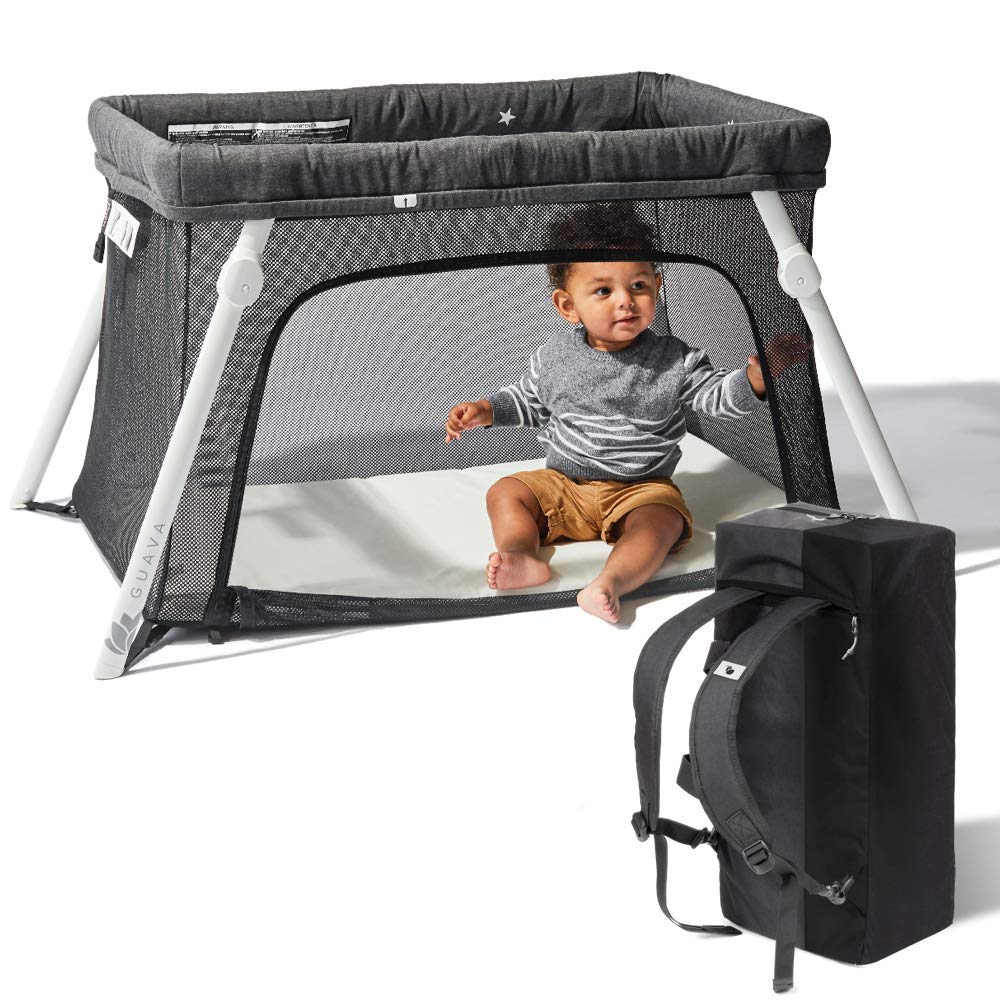 This Playard can be assembled in under 15 seconds and packed in a flash. Also, this comes with a side zipper door that allows you to nurse or cuddle your kid to sleep.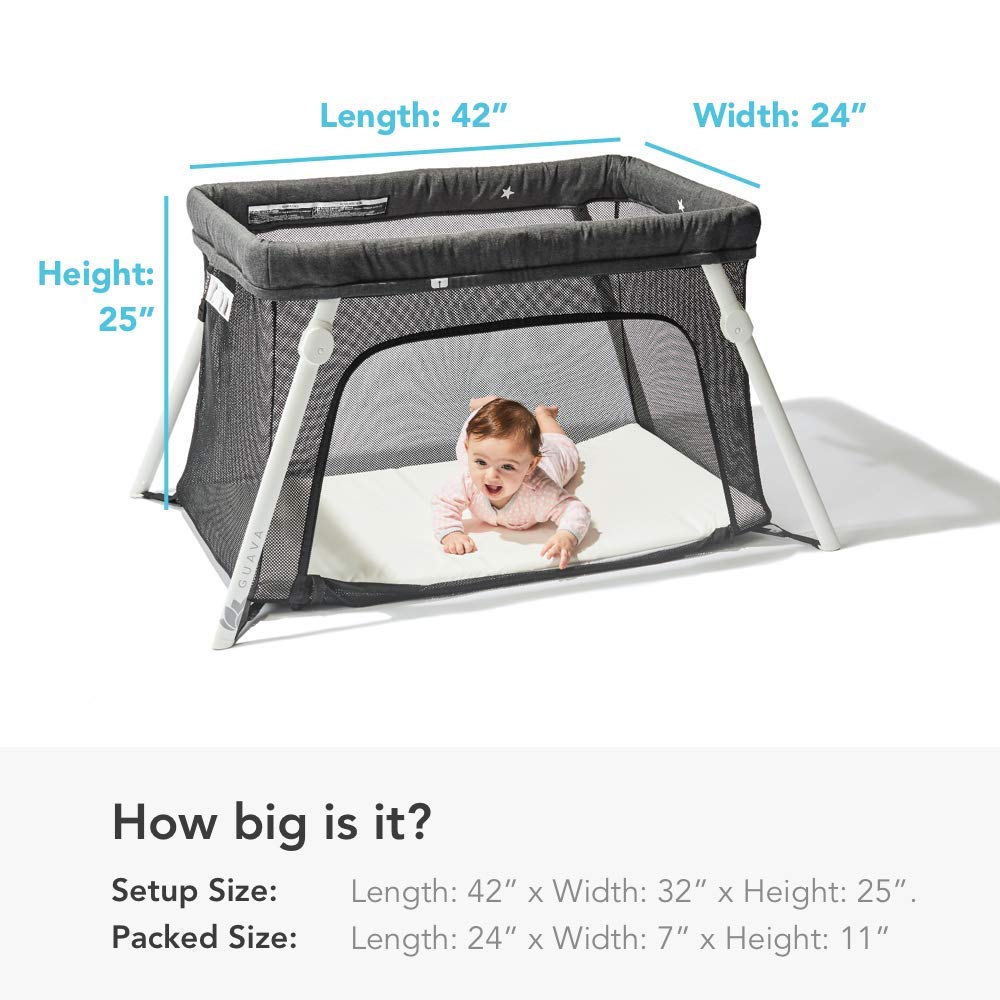 Weighing close to about 13 pounds, this adorable lightweight play yard ensures that your kid gets a peaceful overnight sleep.
6. Regalo My Play Portable Playard
With a nylon bottom that guards kids against rough floors, Regalo My Play Playard features a trampoline-like design. The Regalo My Play is a 6-panel play yard, offering maximum space that can fit kids between 6 and 24 months.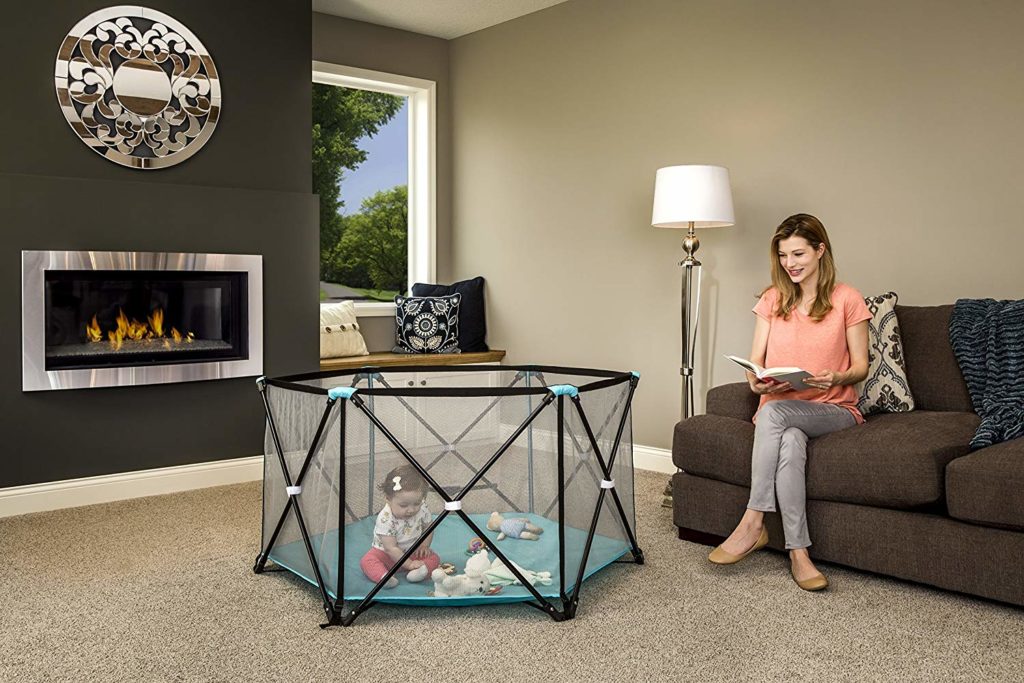 This Playard has a plain yet straightforward design that can be assembled and dismantled in a twinkling. Designed with ventilating mesh walls, this Playard offers you a complete view of your kid. That being said, these walls are also easy to clean by just wiping them down with a damp cloth.
Crafted with a steel frame and reinforced stitching, this Playard is water-resistant and offers stability like no other play yard.
5. Joovy New Room2 Portable Playard
The Joovy New Room2 has a square-shaped design that has your kid comfortably settled in. With a space that extends up to 10 square feet, this Playard is enclosed with mesh windows that provide you a crystal-clear view of your child.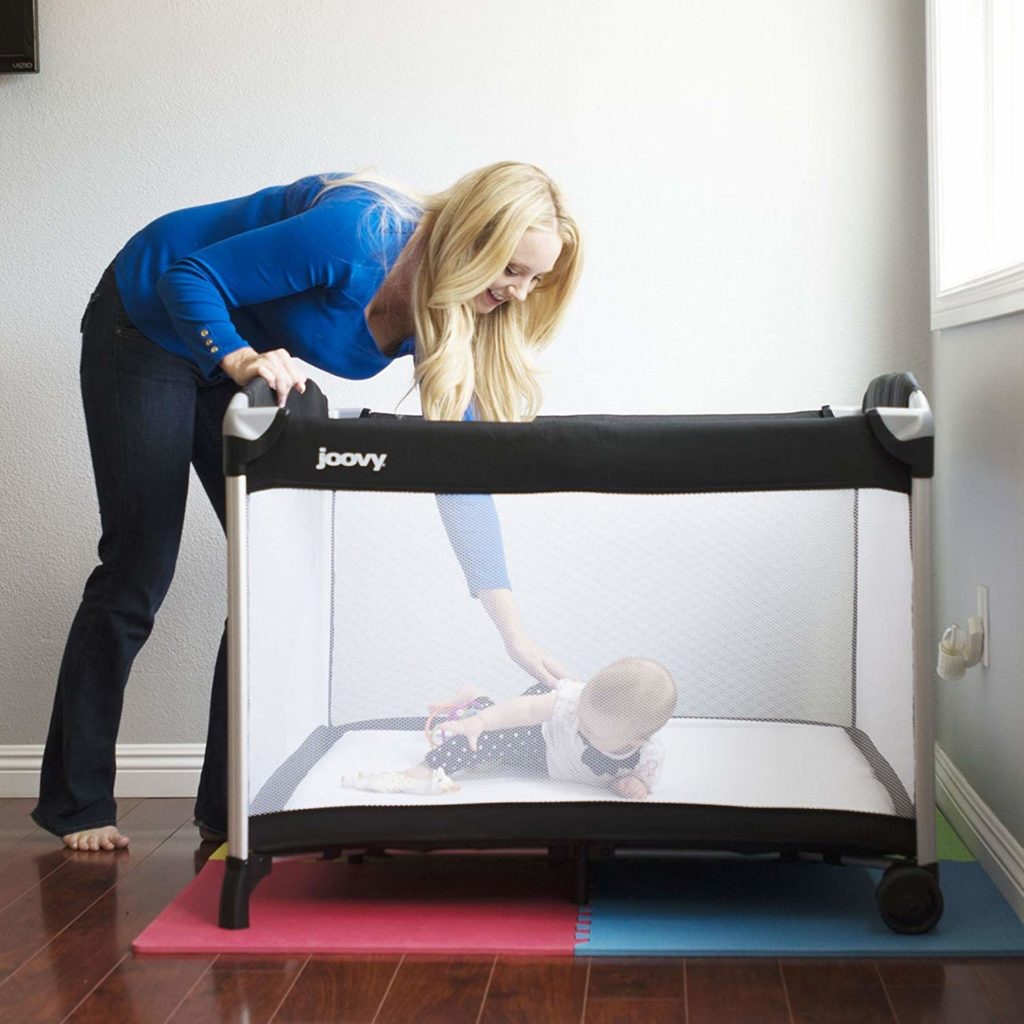 Constructed using quality materials, this Playard offers maximum stability and long-lasting durability. For effortless movement on surfaces, the Joovy New Room2 comes with two wheels to help you move around with your kid.
Available in black and charcoal colors, Joovy offers a two-year warranty that can solve your dubious assumptions over the play yard's durability.
Also Read: Best Diaper Bags for Breastfeeding Moms
4. Uanlauo Kids Activity Centre (New Version)
Uanlauo Activity Centre is an enticing and multicolored play yard that will keep your kids entertained while you are busy with the regular chores. Made from BPA-free materials, this Playard prevents your child from possible health effects on the brain.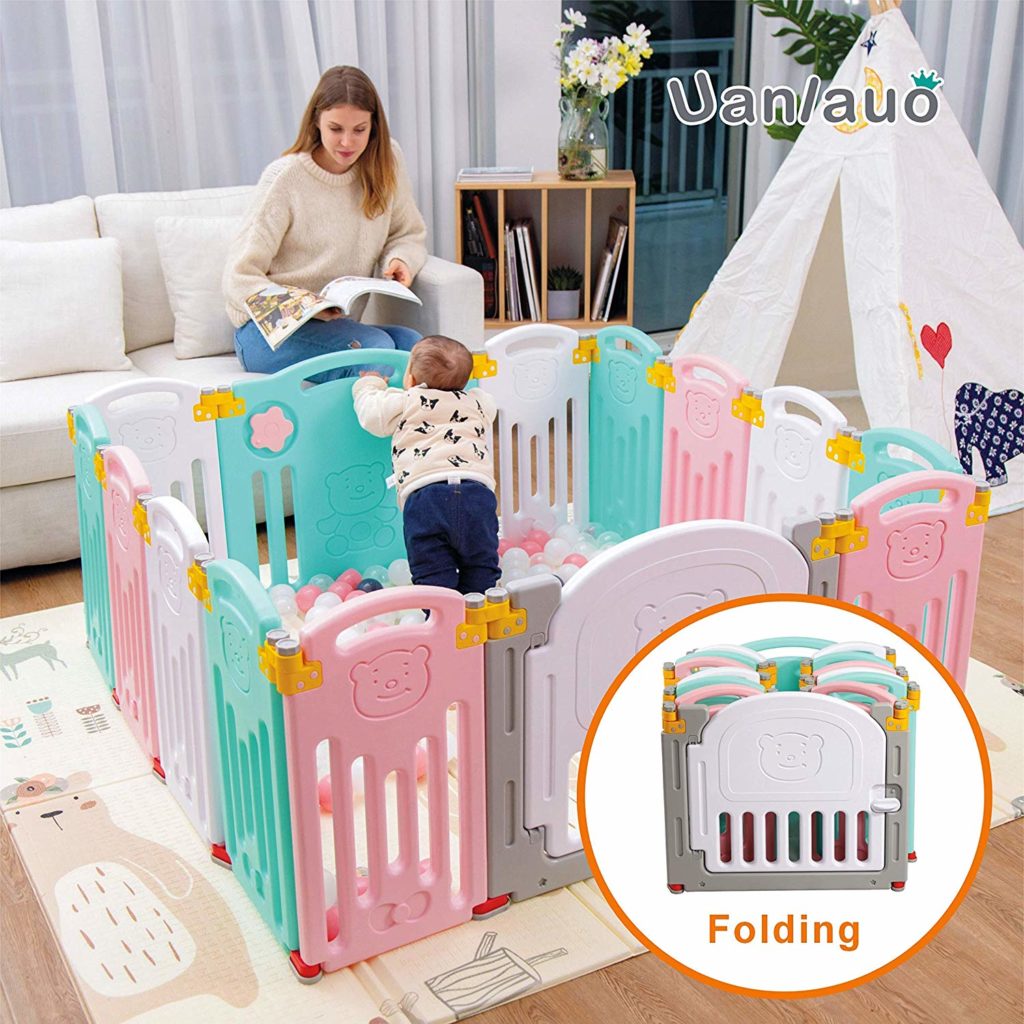 This Playard is exceptionally lightweight and requires no superhuman like effort in assembling and taking it down. Coming with a sturdy holding rubber anti-slip pad, the Uanlauo Activity Center prevents the yard from sliding around.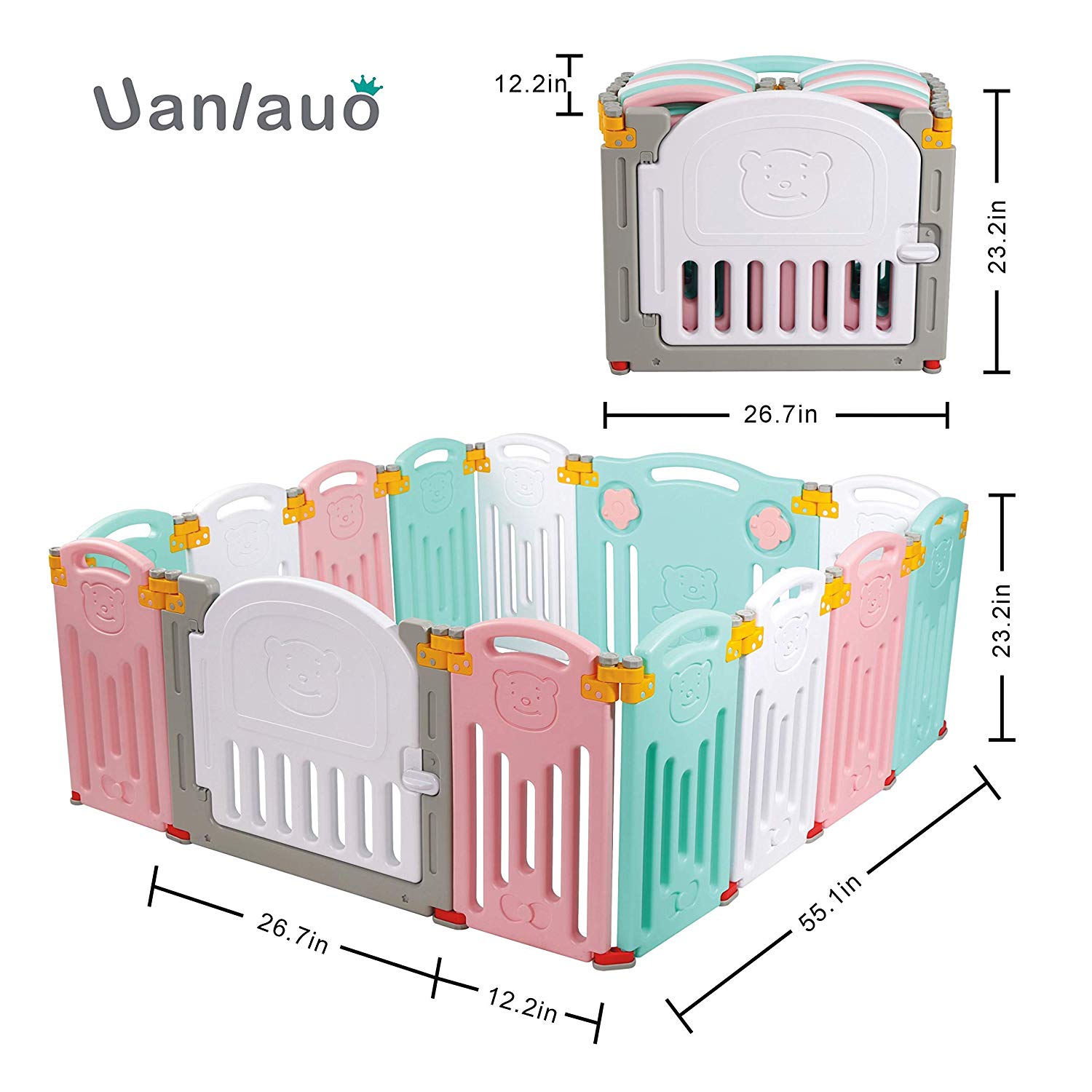 Covering an ample space of over 25 square feet, this Playard provides sufficient space for your little one to move around and sleep like a log.

3. Delta Children Play Yard
The Delta Children Play Yard is considered a safe space with a substantially-sized playing area in a rectangle shape. The play yard has shades of animal decoration on the mesh that amuse kids. This play yard boasts a safari-themed mattress, which also works as a fun and comfy play mat to keep your kids entertained and jovial at all times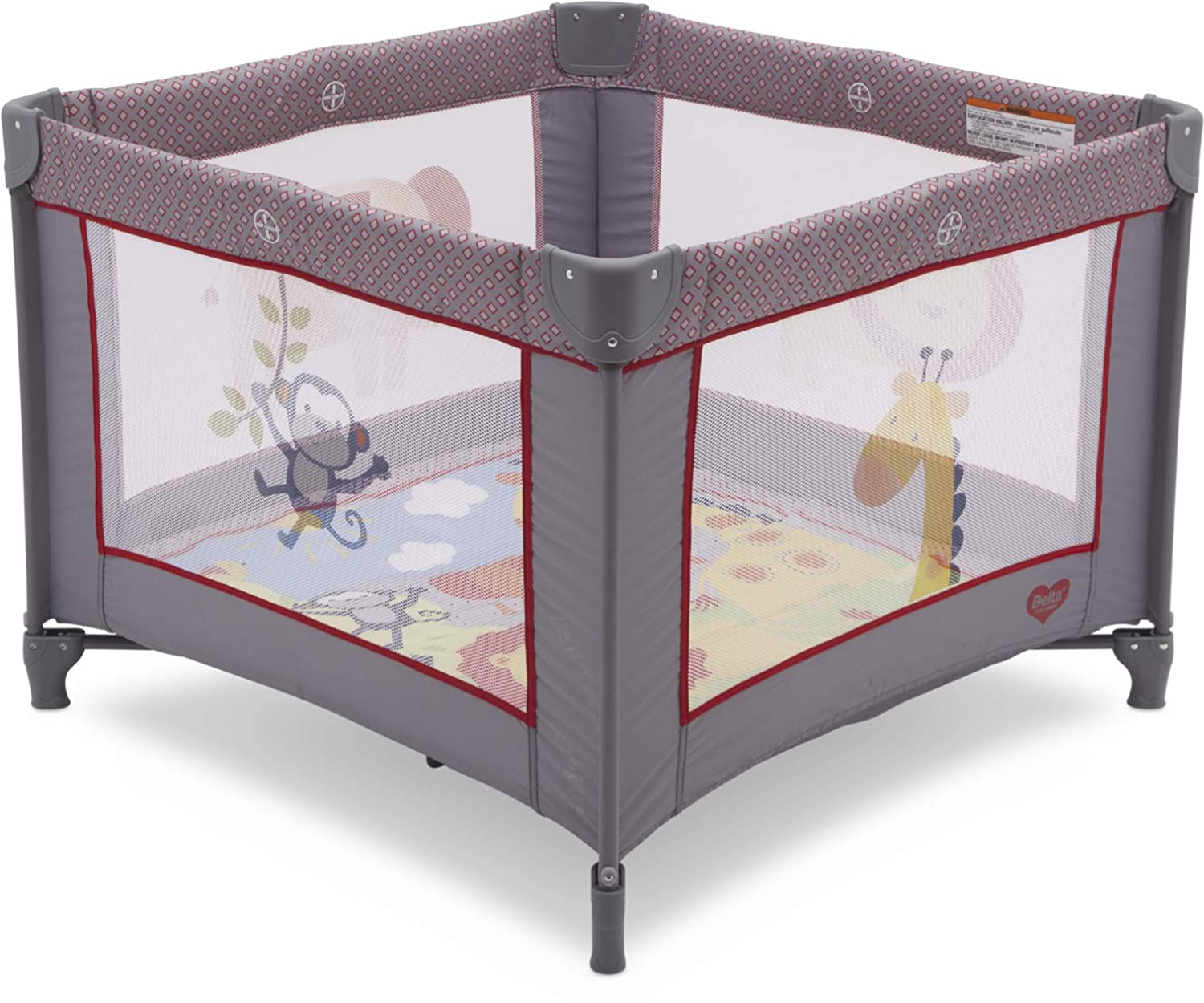 The dimensions of the play yard are 3 feet by 3 feet and weigh about 28 pounds — meaning it is built strong to sustain constant hops and jumps of kids. Although it is slightly bulky than most yards, the addition of a carrying case makes it simpler to travel with. With an area so substantial, the play yard can safely accommodate your pet alongside your kids.
This Playard requires no superhuman efforts in setting up or breaking it down. Delta Children Play Yard comes in multiple designs, and each of those meets the standards set by the CPSC and ASTM.
2. Evenflo Versatile Play Space
Highest-rated and widely accepted by parents, Evenflo Versatile Play Space can be placed both indoors and outdoors. The Playard is versatile and extensive, with a coverage of over 18.5 square feet of space.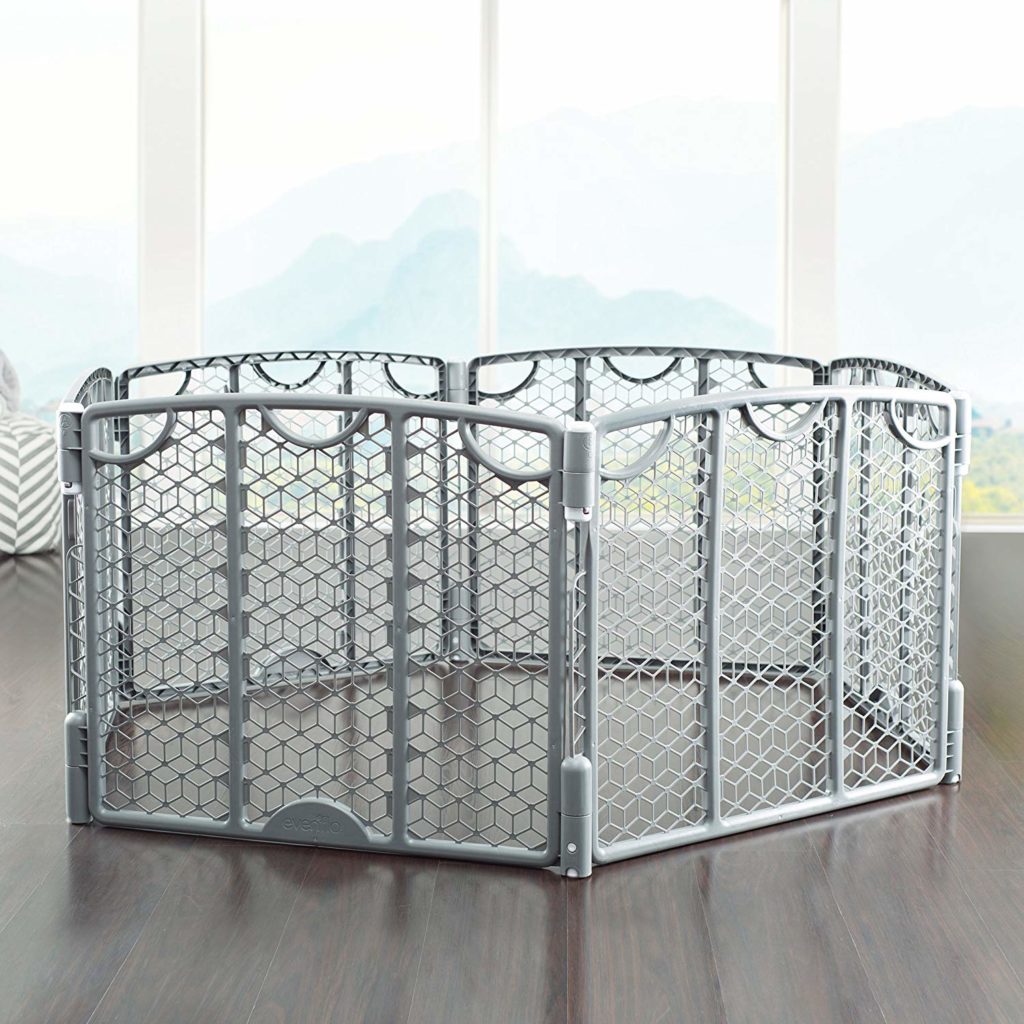 It Features reversible legs with outdoor stakes for better lawn stability and anti-movement. Boasting a unique hinge design, the Evenflo Play Space can be assembled without using additional tools. They are available in a variety of colors and styles that can keep your kids entertained and offer space to crawl and hop around.
1. Skip Hop Baby Playpen
A worthwhile investment that is built using quality materials, the Skip Hop Baby Playpen can easily make room for kids aged between 6 and 24 months.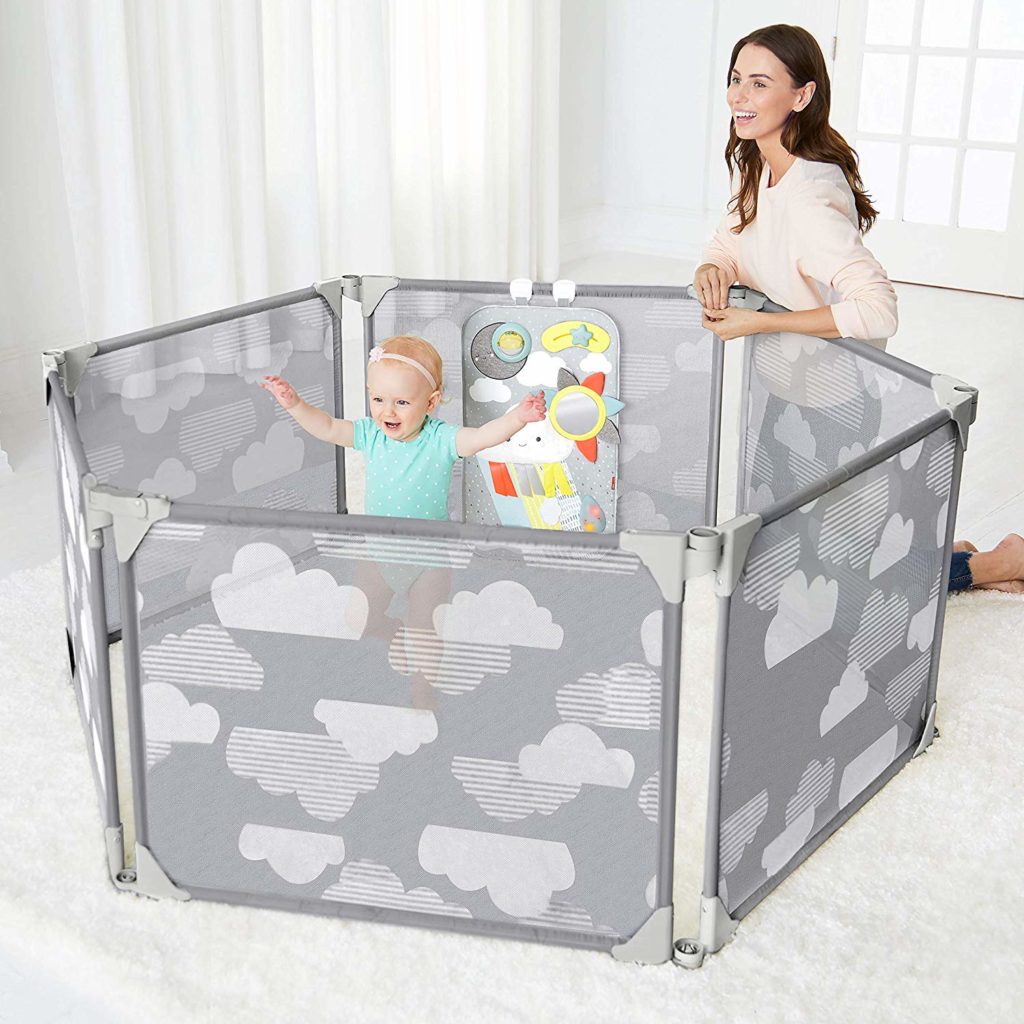 Coupled with a variety of features that has your kid entertained, this Playard is the opposite of a bummer. Also, It can be configured as a room divider with wall mounts.
With a clip-on play surface bundled with eight activities, this Playard is suitable for both seated and standing play. For the price you pay, this one certainly offers a sizeable room for your kid to crawl around freely.
Also Read: Top 10 best baby strollers to buy
---
Conclusion
With an overabundance of products to choose from, security and fun should be your utmost priority. Playards ensure that your kid stays in a safe zone, and you continue with your errands. So with this guide, we hope that your quest for finding the best baby yard meets its end. Skip Hop Baby Playpen is our choice with more accessories onboard to keep kids entertained, while the Evenflo Versatile Play Space comes with its own uniqueness. 
If there's a play yard that is not on this list but deserves a place, write to us in the comments section below.
---
FAQs
Are play yards considered suitable for babies?
Most parents are in awe of this versatile tool that has all the basic items to keep the baby amused and safe while you are busy in your regular, mundane chores. Considering most toddlers are way beyond control, having a play yard fraught with colors and fancy accessories can help them keep contained for hours. Nevertheless, we advise not leaving the kids on their own or inside the play area for far too long — this may only hamper their movement and restrict them inside the constraint space. 
Do I have to follow any safety concerns when buying playards?
Yes, you might want to pay attention to a few safety concerns. Although these are considered safe to keep your kids, there is a thing or two to learn before investing in such items. The sharp edges, areas that may trap arms or legs, or the add-ons that may nip the fingers of your little one — are all the things that may lead to trouble. Generally, the models in the market now qualify all the safety standards, but skimming down to check some reviews isn't a bad idea before buying.