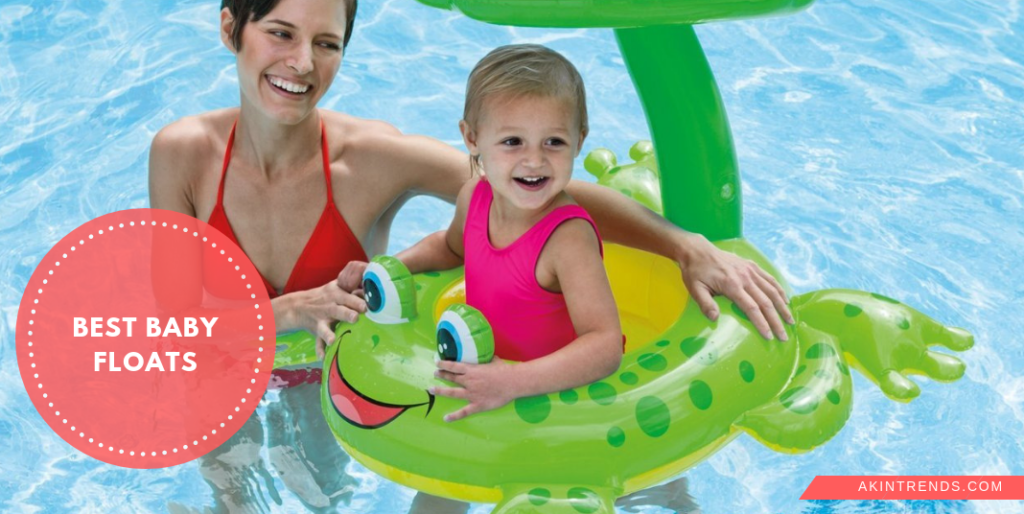 We are heading for the summer season. It is always exciting to take your baby with you to the pool. Babies are the ones who enjoy swimming more than us.
They kick, splash and will be relishing the moment like anything. With joy also comes the need for caution for safety. Studies show that most toddlers are lost from drowning.
The statistics are quite alarming. This is why swimming aids like baby floats make us less worry. Water has a surprising effect on babies. They feel relaxed and energetic from a quite swimming session. But when it comes to baby floats, there are few things to keep in mind, including the quality of the raft, your baby's comfort, and how much safe it is.
Today we will be covering all those aspects and reviewing the top baby floats of 2020
Buying a baby float is not that hard, however with the market overloaded with various brands, settling for one becomes hard. So to lessen your burden, the following is our list of the 15 best baby floats of 2020.
1. SWIMWAYS BABY SPRING FLOAT SUN CANOPY
SwimWays baby float is the one you can trust with its durability and comfort for your baby. The tip-proof design of this float safeguards it from drowning.
The vibrant color of this product attracts your kids to it. It also comes with dual air chambers, patented innerspring and is waterproof. It is foldable, which makes it easier for carrying around.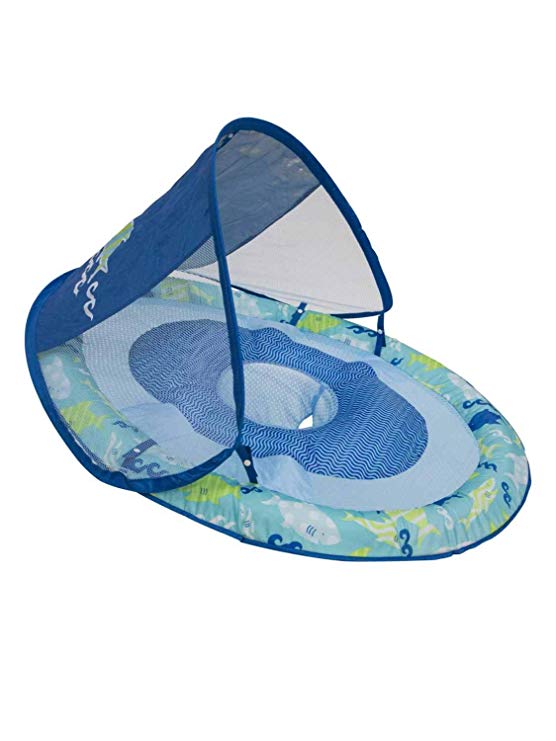 2. SWIMWAYS BABY SPRING FLOAT ACTIVITY CENTER
Another trusted product from SwimWays. Ideal for 9 to 24 months kids, this baby float ensures firmness. The float ensures comfort and safety.
It also adjusts with the baby's movement making them cozy enough. It is also waterproof, foldable and comes with a small play station of stacking rings, a rattle, and a squeaker.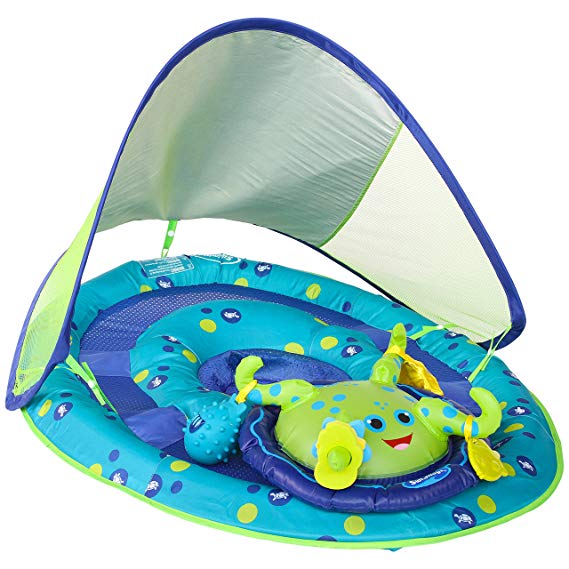 The product is versatile and comes with an easy setup.
3. INTEX 59574EP MY BABY FLOAT
59574EP is a double ring float that promises double safety of your kids. The rings give stability. If one of the rings tend to burst at any point, the second one will support your baby.
The high-quality fabric ensures durability and sturdiness. The design of the float with a saddle-type seat helps to wrap your kid securely. It is affordable and provides comfort to your kid.
4. INTEX KIDDIE FLOAT
Kiddie float comes with the promise of safety and fun as well. Coming from a reputed company; Intex, the robust design and quality fabric guarantees safety and comfort.
Ideal for one to two years, this baby float is worth the money paying for. The sun canopy of the float prevents UVA and UVB rays from getting the baby.
The two-chamber design of the float ensures safety even if one chamber comes to rip or burst. It is perfect for active babies since the design prevents it from tipping over.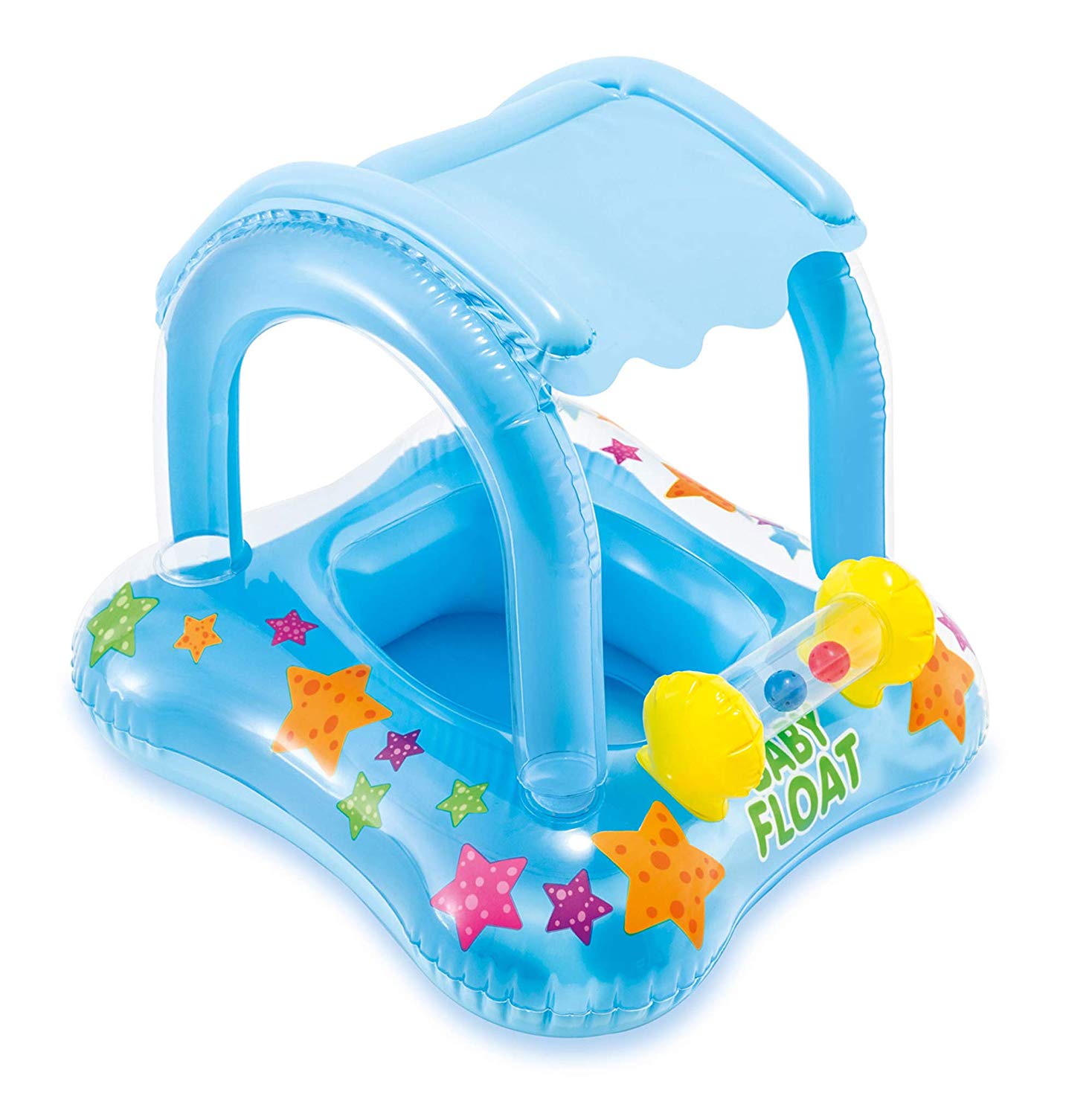 5. AQUA LEISURE FISH BABY FLOAT
If you are looking for an attractive and stylish float, this is it. Themed baby floats always excite kids. This fish-shaped boat is of 32×24 inch which floats well on water.
The float has a sunshade that protects your kid from the intense sun rays. The company claims to protect your kids from UPF 50+ and UV rays.
The canopy is retractable and doesn't add weight to the float. The seat provided is also comfy and safe for your kid. The float comes in a ready to use setup, and inflating can be done at ease.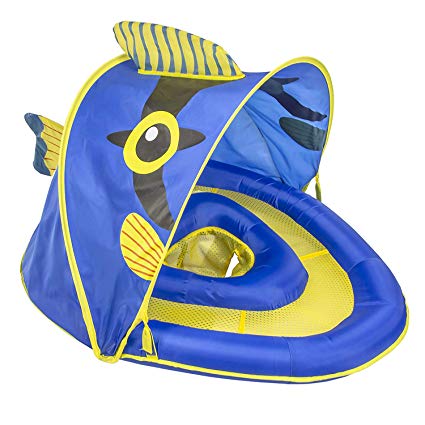 6. INTEX RECREATION 56584EP FROGGY FRIEND SHADED
56584EP is one of the top floats from Intex. It is spacious and large enough for all your kids' fun activities. The 47×31 inch measured float is durable and stable in water.
Ideal for kids from 5 months and above and it supports about 25 pounds of weight. The vinyl material is comfortable and easy to clean.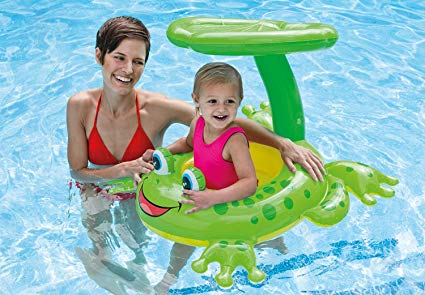 The inflating of the float will not be an issue if you are not able to find the pump; you can blow it with your mouth. The float is of three-chamber design which eliminates the fear of sinking even any one of the chambers falls into damage.
Also Read: Top 10 best baby jogging strollers to buy
7. SWIMWAYS BABY SWIM FLOAT
SwimWay's this baby float a unique product that has comes with dual functionality. It has a detachable ring for adults also so that your kid's safety will be under your care.
The float has space for toys and comes with a comfortable seat that suits your kid. The canopy with the float helps protects your kid from UV rays and wind.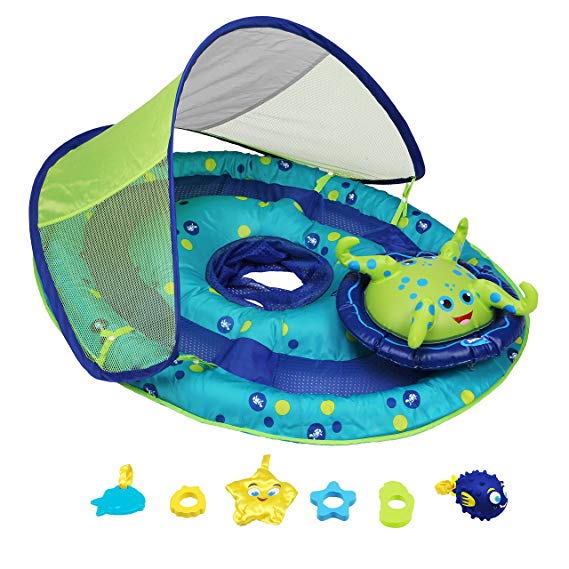 The safety valves can be trusted with lower the risk of inflation. It can be inflated with your mouth itself, id a pump is not within reach. The float is spacious enough for your kid to play and turn around.
8. LIL' SKIPPER SWIM SCHOOL BABY FLOAT
A baby's float comes with attractive 3D graphics that grab your kid's attention instantly. The blue-themed float is of quality material that assures to last long and is sturdy.
It comes with 28 inches of the diameter, which is spacious enough for your baby to enjoy the waters. The safety design of the float reduces the risk of flipping over.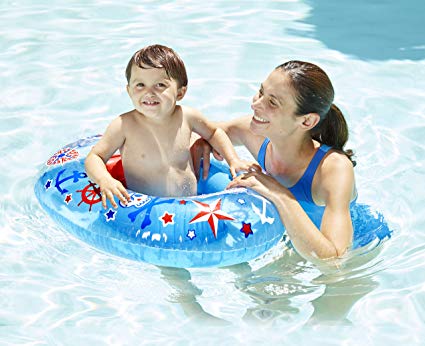 The float is of rip-proof and water-resistant. The three layers seat of the float is good enough to carry weight. The float comes with a backrest theta is adjustable and gives support to the baby.
It is ideal for kids of six to eighteen months Kids.
Also Read: Best Diaper Bags for Breastfeeding Moms (2019)
9. Speedo Kids' Begin to Swim Fabric Baby Cruiser
Coming from the brand known for creating diving and snorkeling masks, Speedo Kids' Begin to Swim Fabric Baby Cruiser boasts of a soft fabric seat to elevate comfort and mobility. Arriving in a one-size design, this baby float can accommodate a kid weighing up to 33 lbs.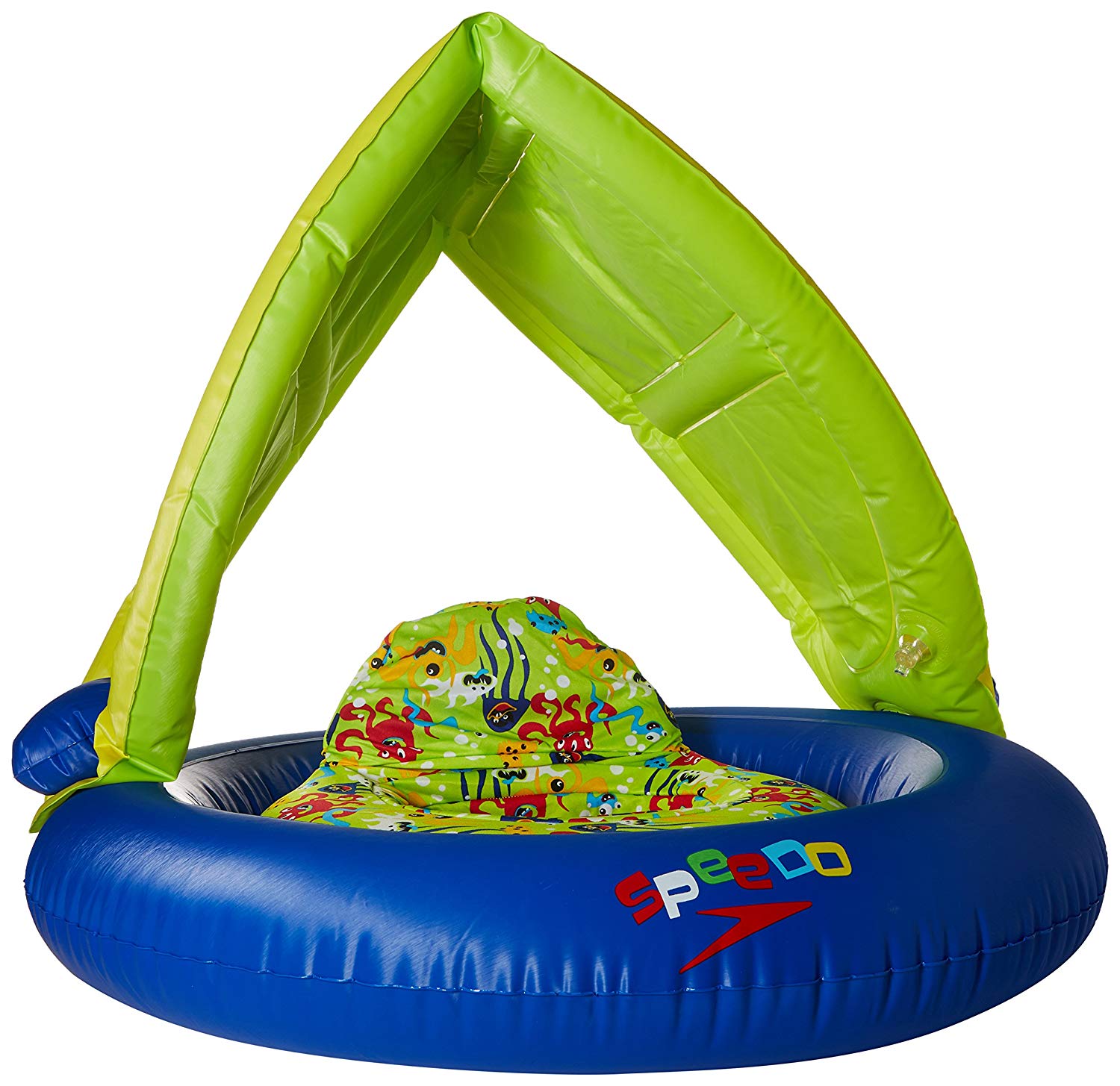 Embedded with smooth vinyl, Speedo Kids' Begin to Swim is durable and prevents your kid from irritations. Stocked with a cushy, well-padded seat, this baby float keeps your kid floating above the water level for safety. With the detachable canopy, it offers your kid the right kind of protection from the sun. Moreover, this can further be folded like a ball and packed in a carry bag for easy transportation.
10. Edress Baby Swimming Rings Fish Float
If you or your kid seem to be an ardent fan of cars, Edress Baby Swimming Fish Float might be the ideal float he or she needs. This inflatable baby pool float is perfect for someone looking to provide extra space and area for kids weighing kids up to 44 pounds.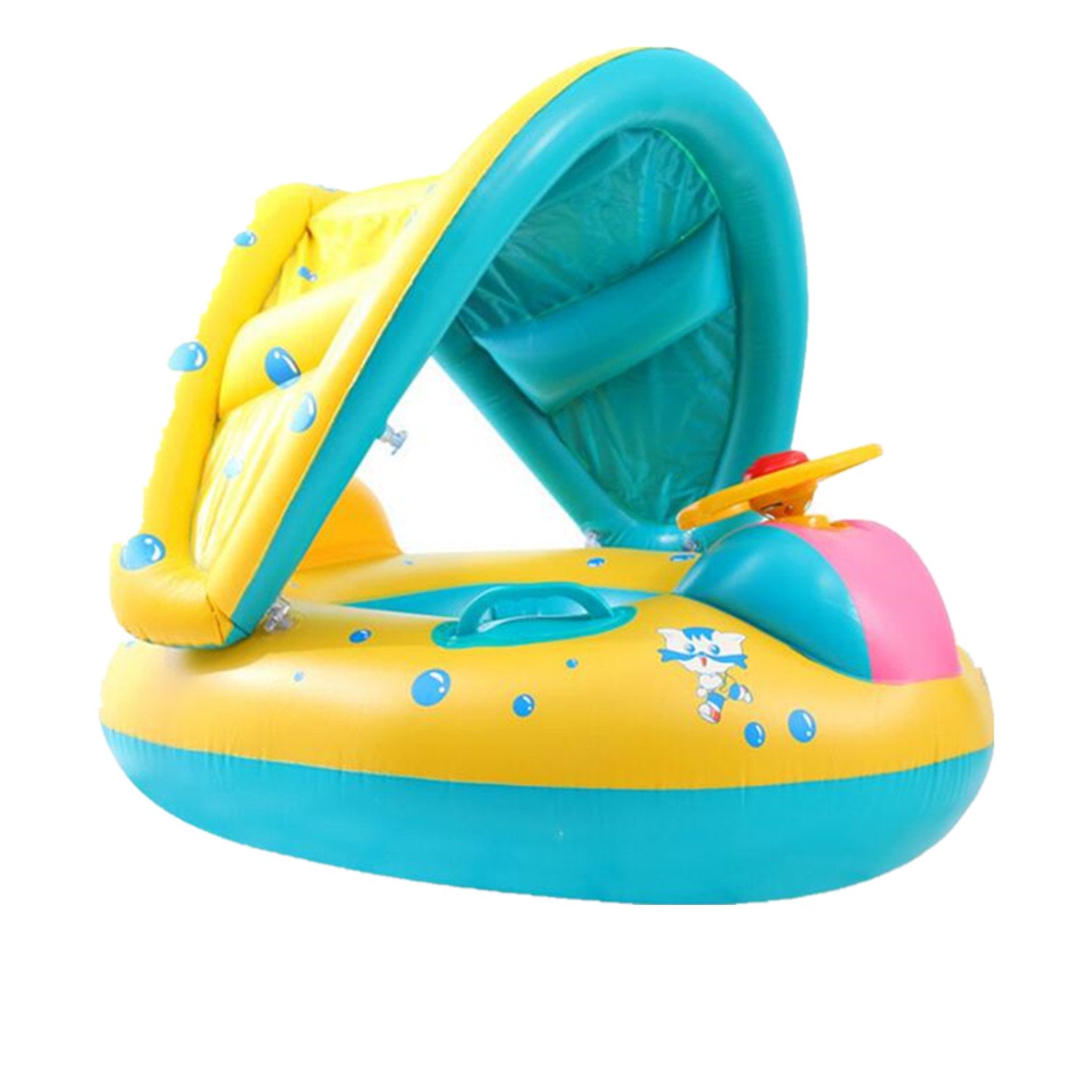 Crafted using quality PVC fabric, Edress Ring fish float ensures that kids are less exasperated with the seat and other areas of the float. Equipped with an adjustable sun canopy, this guards your kid against harmful rays whilst swimming in the scorching heat. Recommended for kids between 6 and 36 months, this baby float sports an environment-friendly finish that can inflate and deflate effortlessly. Edress Rings Fish Float has dimensions measuring 29 L x 25 W, whereas the canopy measures 25.5 L x 15.5 inch W.
11. Intex Stingray Ride-On Baby Float
Sporting a miniature house look, the Intex Stingray Ride-ON Float features dual-air chamber design coupled with an inflatable handlebar to support your kid during bumpy rides.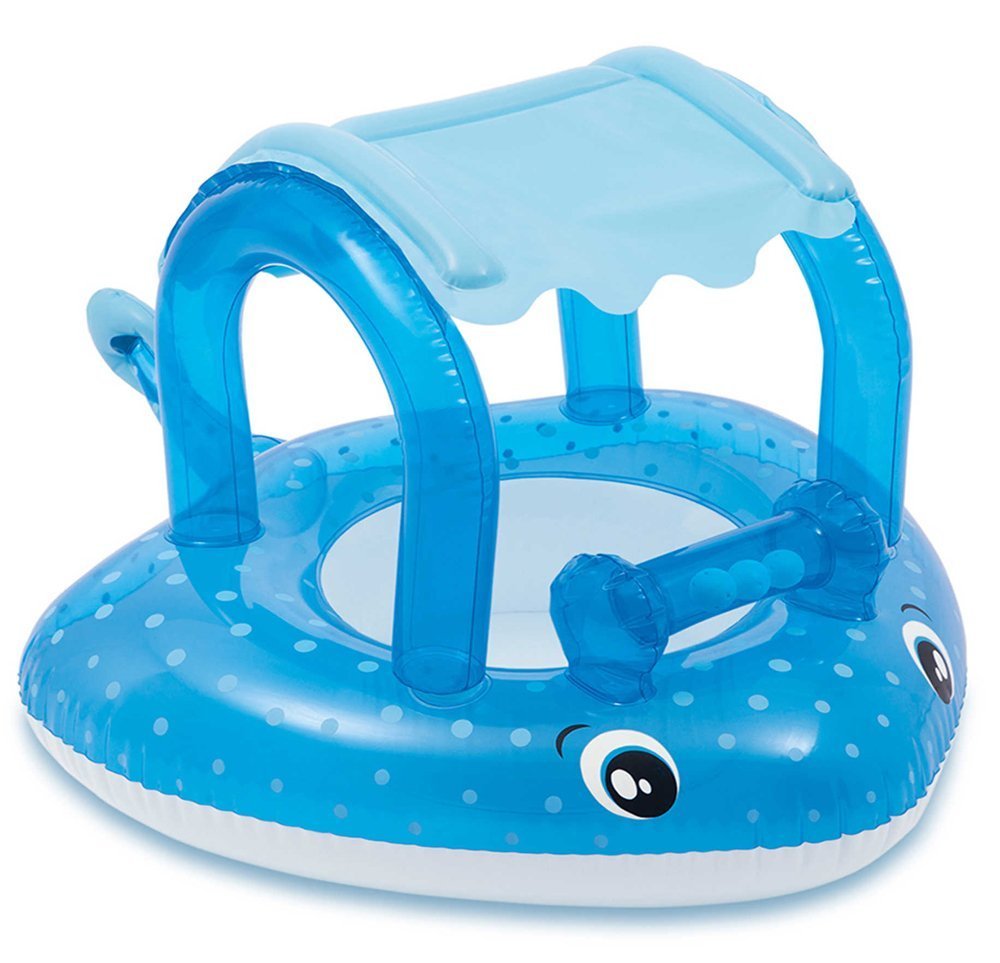 Made keeping in mind kids aged between one to two, this float supports kids weighing up to 25 lbs. The Intex Stingray Ride-On float features two leg holes, which allows your kid to sit in and float while swimming in the water. Intex Stingray Ride-On has dimensions measuring 40.5" L x 30.5" W x 15" H and is regarded as a fun and safe to use baby float. This float can be conveniently used in pools and lakes.
12. Delicacy Baby Swimming Float
Built with exceptional security design, Delicacy Baby Swimming Float is stuffed with a soft cushion to secure your kid's bottom and prevent sliding out or flipping backward. Made using eco-friendly PVC grains, this baby float device offers a soft and cozy feel.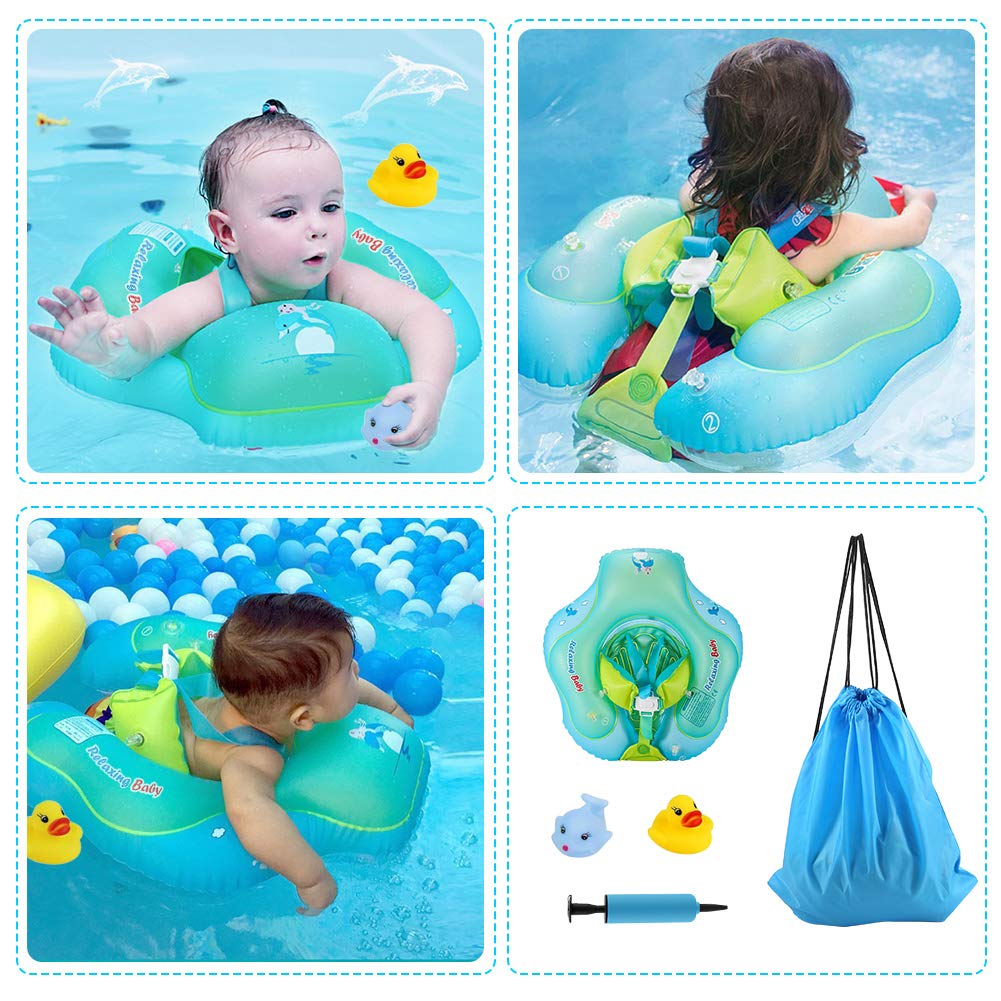 This baby float features double airbags, offering a suitable position, while also providing a waist backrest belt for safety. Delicacy boasts of double-decked air chamber design that can easily be inflated and deflated.  Coupled with toys, a manual pump, and carry bag, this baby float includes everything essential for kids to have onboard while swimming.
13. Poolmaster 81555 Learn-to-Swim Pool Float Baby Rider with Sun Protection
With an uncanny resemblance to frog, Poolmaster 81555 sports enticing look that has your kid jumping on the float for a great swimming experience. Equipped with a small sun canopy, this swimming float has overhead protection to safeguard your kid from the harmful UV rays.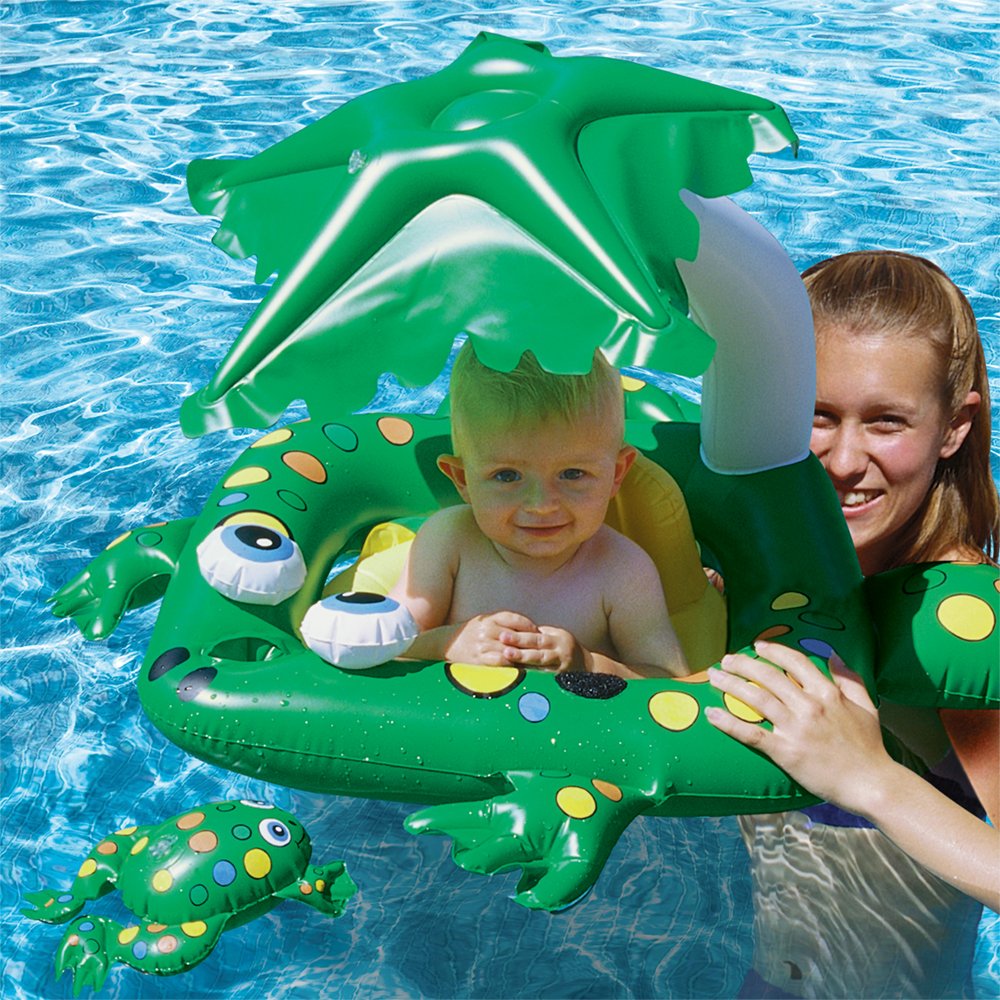 Furthermore, the 81555 includes a drink holder that allows your little one to sip a drink when swimming in the pool. It also has a removable frog toy that keeps your kid entertained on-the-go. 
Poolmaster 81555 houses a drop seat construction that offers the right amount of leg space, allowing them to flex their legs and keeping them secure at the same time. Measuring 37 inches x 34 inches, this baby swimming float accommodates kids ages between 8-24 months.
14. TRSCIND Swimming Float with Canopy
Coupled with two heavy-duty handles, TRSCIND has your kid hanging securely onto the float without sliding or falling. This swimming float has ample space to get toys onboard, while it also has comfortable leg holes to keep your kid floating at eye level.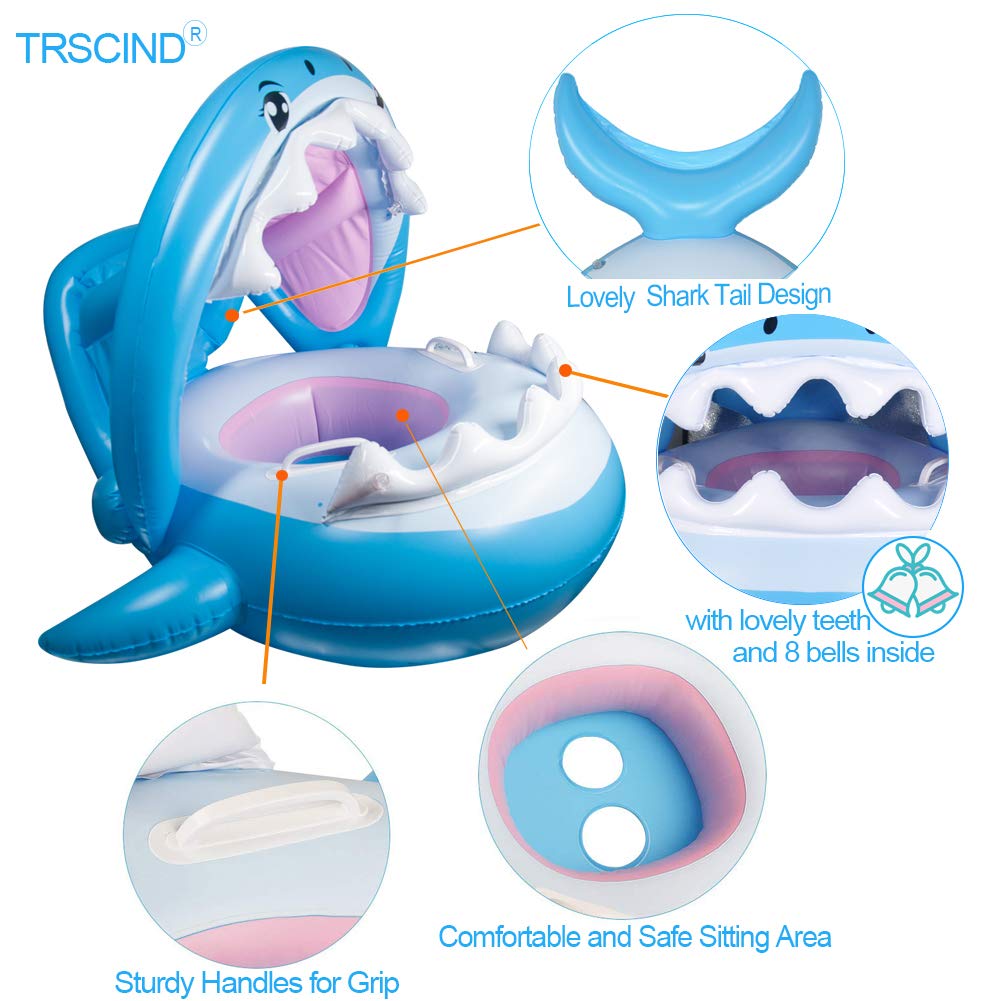 The TRSCIND baby float is crafted from durable PVC, which offers waterproof and air-tight performances. In addition, the brand asserts that it uses non-toxic materials that are harmless to kids and the environment. Measuring 35" L x 31" W x 25.6" H, the swimming float can accommodate kids aged between 6-36 months. To keep the kid amused, TRSCIND is embedded with shark teeth with bells for playing.
15. PEFECEVE Swimming Pool Float
PEFECEVE Swimming Pool float houses adjustable straps, detachable swimming buoy, a safety buckle, and bottom support prevents your kid from drifting and falling. This swimming pool float is built from thick, durable leak-proof PVC material, which is more reliable than those currently running in the market.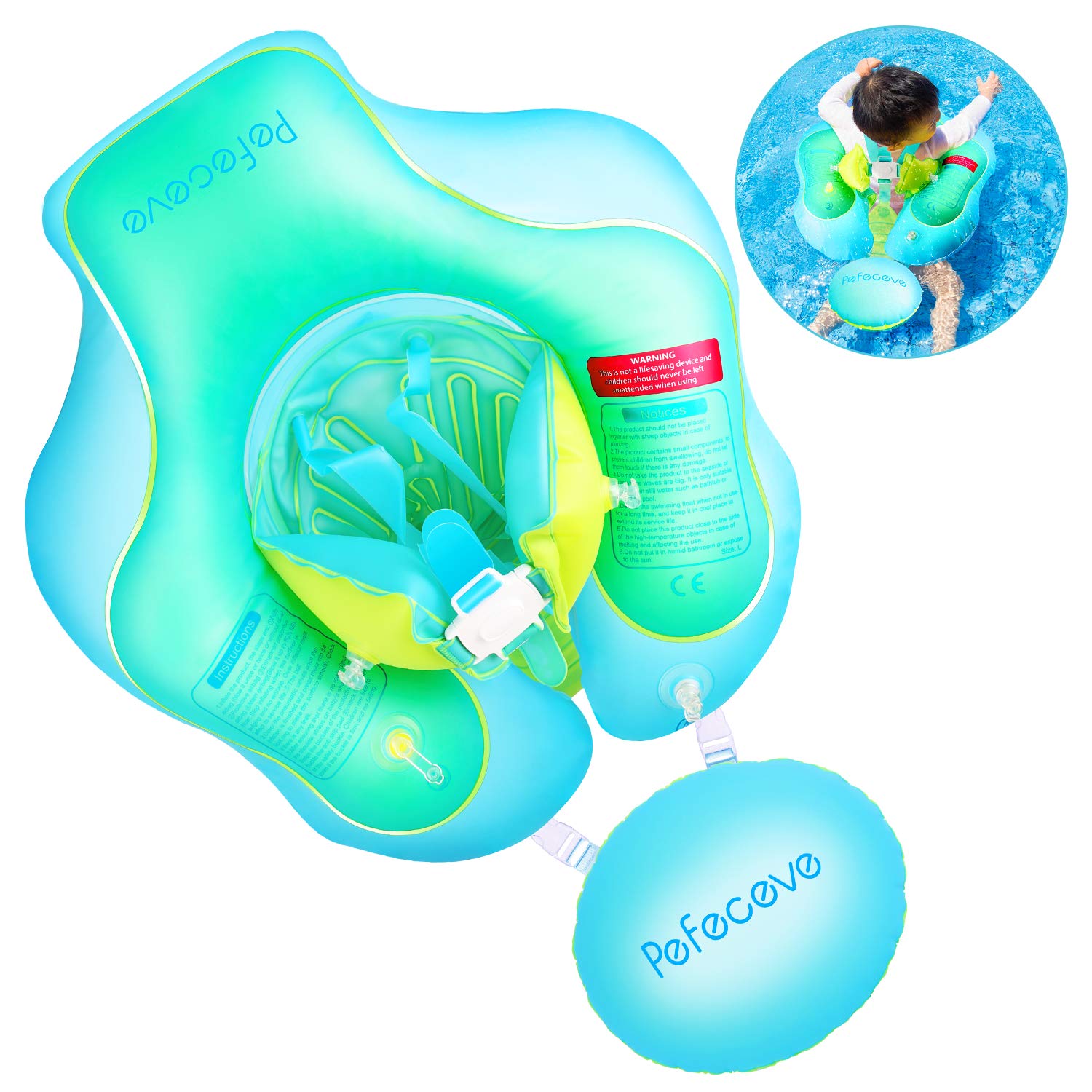 PEFECEVE is supplied with a double-decked air chamber design, which prevents the baby from overturning and flipping from sides. Ingrained with adjustable straps, this swimming pool float provides a tailored fit for kids aged between 6-26 months. Moreover, PEFECEVE is efficient even when used in beaches and baby springs.
Also read: Top Baby Head Support Pillows
---
Things to check before buying a baby float
Sun protection

It is essential to go with the floats that protect from sun rays. Since your baby's skin is too delicate and sensitive, the possibility of sunburn is high.
A float with canopy is a necessity for outdoor swimming sessions. Make sure the material of the canopy is light enough and not adding weight to the float.
Size

The size and space of the float matters. This is the point that keeps the baby comfortable. The size must be fit enough for your kid, and a little space for the toys also helps.
If done research correctly, you can land to the right float, which can be adjusted as your baby grows.
Safety

This is the most crucial factor to be taken care of. The float must be free from leakages and ripping. The seat straps, safety valves, design, and features are ensuring the safety and stability of the float. 
Quality built

The material of the float should be soft and comfortable for the baby. It should not make the baby feel irritating. The material should also be lightweight, and that lasts long.  
Price

Look for affordable baby floats. Investment should be made in keeping mind that your baby can outgrow within years or may even lose interest in swimming.
As the summer season is within our reach, these swimming session helps the kids to socialize with their parents and other kids. Help them feel the waters with the best care you can provide.
Always be within a hand reach of your baby when in waters. Also, restrict the toys from the pool, allowing your kid to focus on water and swimming. Use the canopy only during outdoor sessions and remember to deflate it when not in use.
Go for the float that pleases your kid in terms of color and comfort. Pick the float that is lightweight and suitable for carrying around (like a foldable float that fits in your car).
Disclaimer: The above facts are based on the information from the internet. Make sure the products are safe for your kids before purchase

---
FAQs
Are baby floats safe?
Yes, baby floats are safe. But never leave your baby into the water without your supervision. Babies usually get excited and active when playing with water. Always be near to your kid within a hand reach so that you can be there when needed.
When should I start swimming lessons for my baby?
Introduce your kid to the water after his/her first year. By this time, the kid will be physically and mentally grown for the waters. Kids before this age always have the risk of swallowing water.
What do these swimming lessons teach?
These lessons usually teach them basics like kicking, bubbling, arm movements and wet the face.
Are baby neck floats safe?
 No. Experts say baby neck floats are essential death traps. The risk of safety is low with neck floats. Go with the device where your kid has the freedom of movement and straps wrapping their body or legs. It is advised not to go with these threatening neck floats; instead, you can find plenty of options for baby floats in the market. 
Can we adjust every baby float as the baby grows?
No, not every baby floats come with the privilege of adjusting the float according to the baby's growth. But, there are some floats that comes with the benefit of the adjustment. You can find good quality floats that stays within your budget.
Have any questions about the product information? Also, we would like to know your feedback and suggestions. Please comment below with your responses.