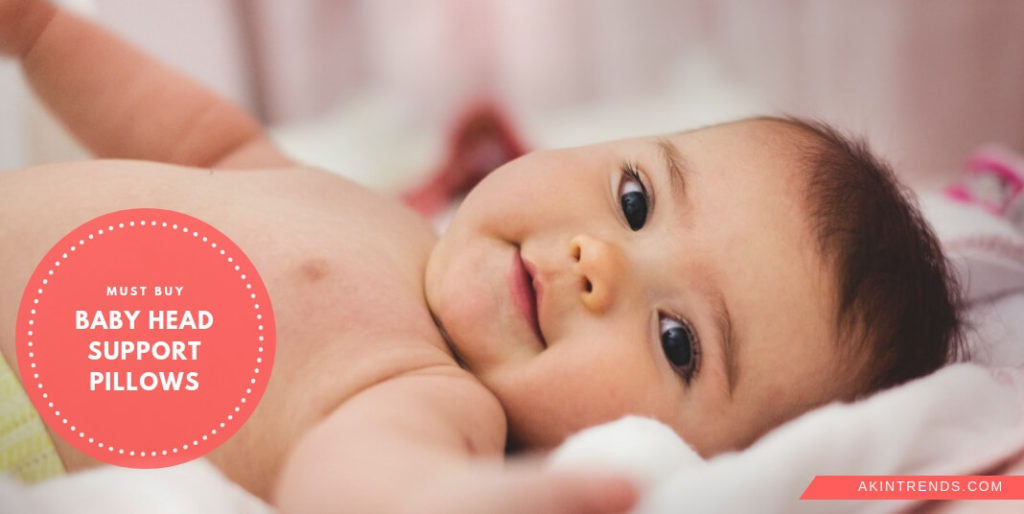 When it comes to babies, each and everything related to them needs great care. From the clothes, they were to the food they need makes parents go in cautious mode 24/7. They need attention all the time.
We think multiple times when we purchase something for them. One such thing is pillows. Since it deals with the head part, we are more concerned about whether the kid is getting proper support or not.
Now, comes the complicated part. Kids should not use regular pillows that adults use. They have a pillow manufactured exclusively for them. Why can't kids use infant pillows?
The answer is adult pillows are designed in a way that supports adults' head and neck. This theory will not work in case of kids since kids do not have the same proportions as an adult.
Also Read: Best Diaper Bags for Breastfeeding Moms (2019)
Thus, using a regular pillow can cause strain on the kid's neck and shoulders. This can lead to discomfort and bad posture.
Kid's pillows are known as Toddler pillows or Infant Pillows. If you have a newly born you will need one in no long time. To help you a hand in your situation we have prepared a guide which will instruct you on how to choose the best head support pillow and which all are the best right now in the market.
We cover almost everything related to head support pillows and offer our suggestions for top products. But first, we would like to congratulate you on your big news and happy parenting!
There are some things which you need to consider before buying your kids a pillow. This guide will help you to settle with the right product and to get the full value of your money. The points are explained in the list below:
Allergy Alert


This goes without saying, before buying a pillow, you should check whether your toddler is allergic to wool or not. Let's say this is the first and foremost factor to be taken into consideration.
The chances of your kid being allergic may be slim, but if the opposite is going to cost you a lot. Pick the pillow carefully and stick with the one that saves your kid from troubles.
If not carefully picked, your pillow cover material can turn out to be harmful. Usual pillow cover materials are of cotton, cotton-polyester blend, and synthetic fiber. Mostly the pillows come with cotton material.
You have to be alert, whether it is regular or organic cotton. Always go with the organic cotton material.
Organic cotton does not contain all the harmful toxins, dyes, and bleaches, which get along with the cotton during the manufacturing process.
Save your kid from breathing all these things. You can identify these types of pillows easily since they will be marked clearly. If it is unable to find what the pillow material is, then better be cautious with it. Other regular pillow materials may cause rashes to your kid's skin, which may later lead to significant discomfort.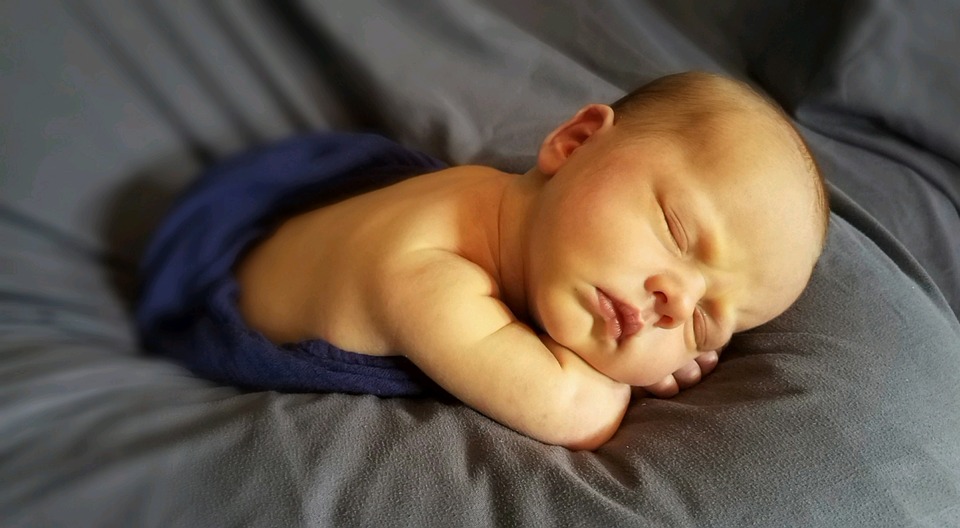 Filling Material

It is one of the important material in which your kid's comfort and support relies on. Some are feathers, synthetic fill, or foam. Materials like this make it easier ti clean the pillow. Try to buy a pillow where the filling material does not make a sound as it moves around.
Materials like certain synthetic fills or like buckwheat make loud crinkling noises when your kid shifts their head. This may cause your kid to wake up in the middle of sleep.
Hypoallergenic

Hypoallergenic pillows are pillows made of materials that reduce allergic reactions. Organic kid's pillows are mostly hypoallergenic. Inorganic pillows have marking saying whether they are hypoallergenic or not.

Guarantee Period
Most of the kid's pillows come with a satisfaction guarantee. Some come with a three-month warranty while some with less warranty period. It may vary from brand to brand but usually guarantee period is to cover up torn seams, loss of shape, and poor workmanship. Look for the brand that offers a more extended guarantee period. It shows that the company is confident in its quality and is ready to stand behind it.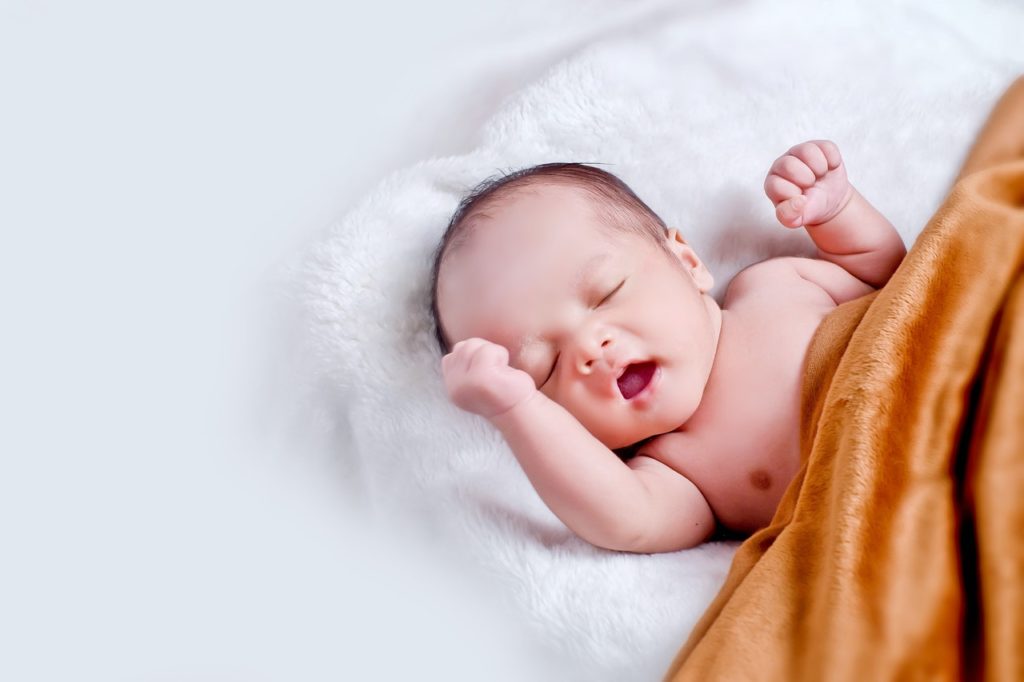 Softness


Pillow is all about comfort. Comfort depends on the way the pillow is. You should go with a pillow that has a balance between comfort and support. A pillow should not be either too soft or too firm. If you press down the pillow and if it does not regain its shape, it shows the pillow is too soft. A soft pillow is dangerous for your kids as it poses a suffocation risk. Likewise, if you press down a pillow and if it does not move at all, it gives out the pillow is too firm. A firm pillow fails to provide comfort.

Thread Count


Thread count is the term that usually comes up when you go for a bedding purchase. The threads per square inch of the fiber. The logic is higher the thread count, the better and durable the pillow is. Go with the pillow that has a higher thread count since it is more comfortable and less scratchy when compared to the pillow with less thread count.

Easily Washable

We all know that kids make things messy quickly. So there is always a need for cleaning the pillow regularly. Make sure the pillow you purchase can be cleaned easily. Check the pillow is:
Machine Washable – Washing the pillow in the machine is one of the ways to do the cleaning. If the pillow is machine washable, it will help you in great ways. Getting the pillow a full cycle wash gives it the cleanliness it had when it was bought initially.
Washable Pillowcase – Even if the pillow itself is not washable, make sure the pillow cover is washable. The removable pillow covers can be machine washed or hand washed, which can give the effect of a clean pillow.
---
Best Baby Head Support Pillows
Those of you who are parents for the first time, this is what you were looking for. Here is our list of the 11 best baby head support pillows to keep your kid's head in shape.
1. Boppy Newborn Lounger (Editor's Choice)
Boppy Newborn Lounger is a must product for newborns. This baby head support pillow comes with JPMA certification and is of soft and wipeable material. The dimension size of this product is 18*7*18 inches.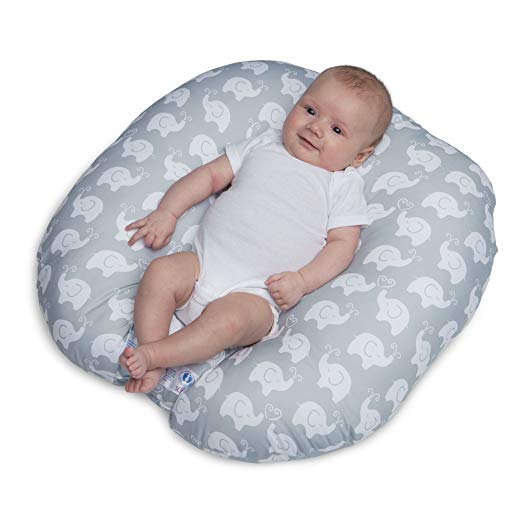 Boppy Pillow comes with a weight capacity of 16 pounds. The product does not entertain babies sleeping on it due to the risk factors. It is designed for the baby's wake time under supervision. The lounger is lightweight, making  Boppy Pillow easy to carry around.
2. John N Tree Organic Cotton Baby Pillow
John N Tree Organic's baby pillow arrives in various designs that are entirely engulfed in organic cotton. For toddler's with sensitive skin, this pillow is fused with hypoallergenic polyester filling.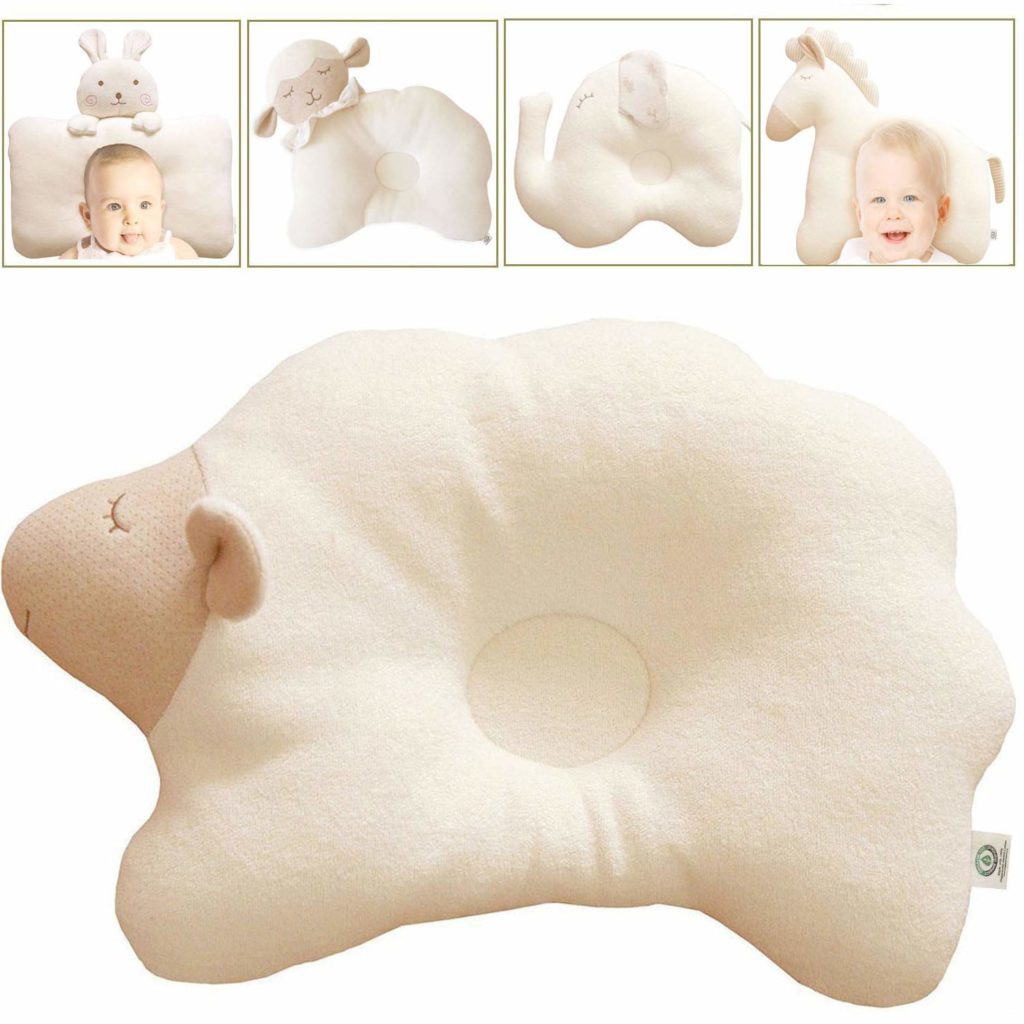 The pillow sports a cozy, functional design that accommodates your baby's head and also prevents the chances of a flat head syndrome. This comfy pillow measures approximately 15 inches in width and 8 inches in height.
The most eye-catching feature is the pillows' availability in animal designs such as lamb, elephant, or puppy. This eco-friendly head support pillow is ideal for infants to kids up to six months.
3. The Boppy Company 3PK (Recommended by experts)
The Boppy Company 3PK is known to be one of the best support pillows for babies. It is also one of the highly recommended pillows by medical practitioners.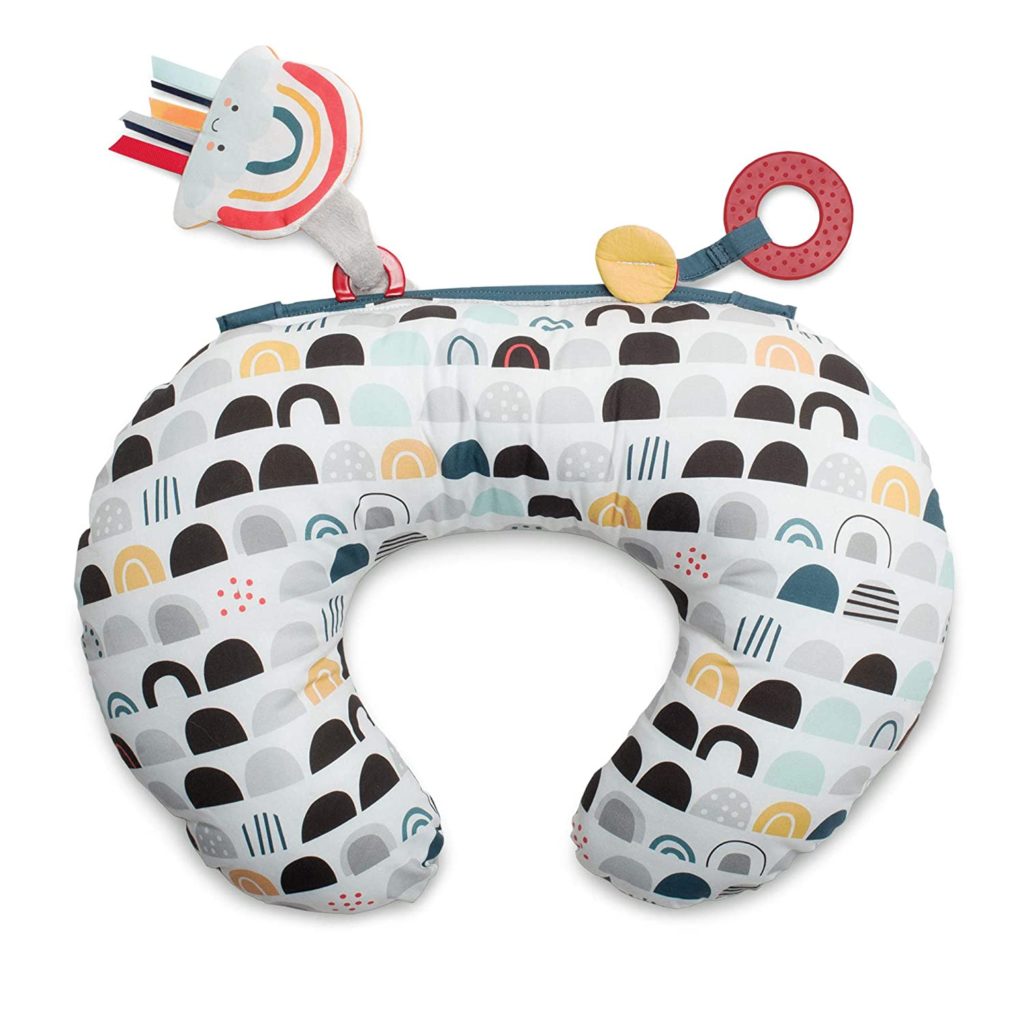 It is an excellent choice for head support, neck support, and also tummy time. The pillow comes with removable toys that make kids grab kids' attention. It can be cleaned easily and can be machine washed too.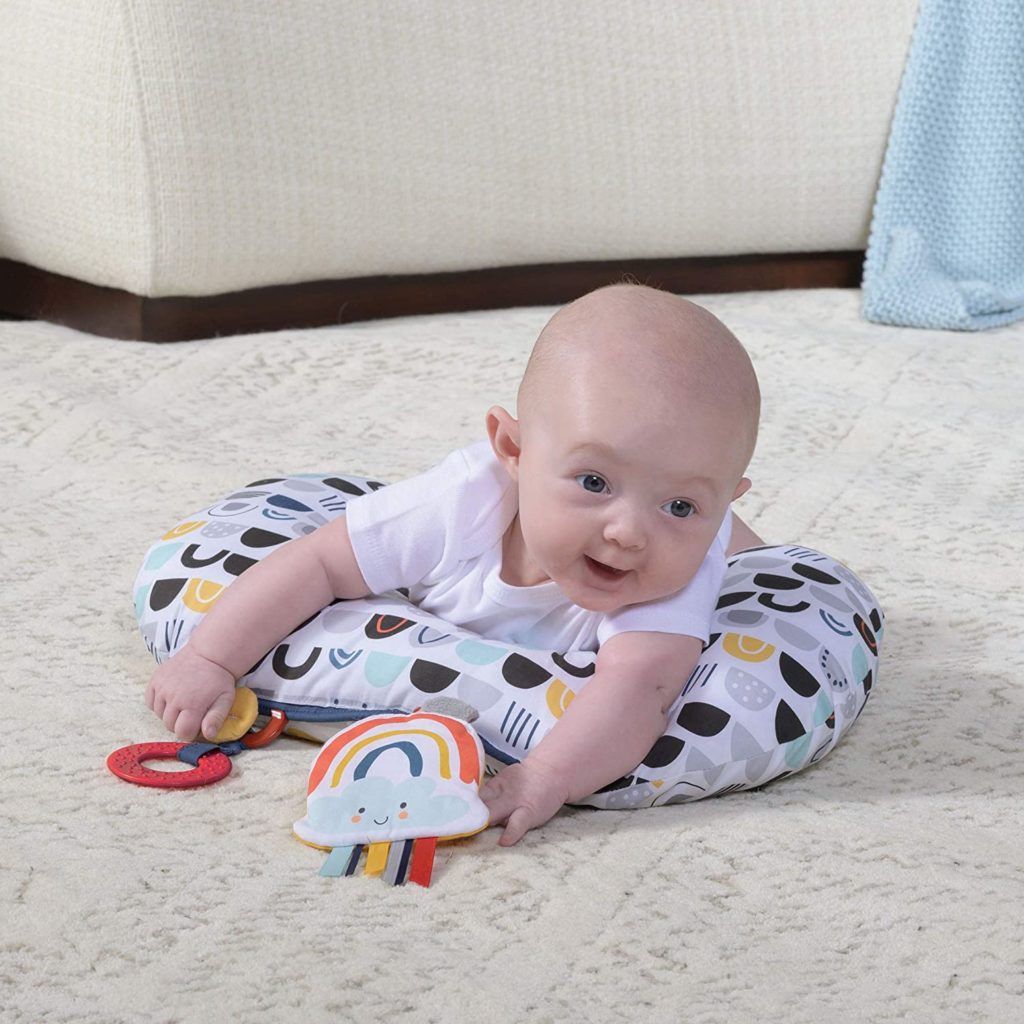 Also Read: Top 10 best baby strollers to buy in 2019
4. Little Sleepy Head Toddler Pillow (Best in safety and support)
Little Sleepy baby pillow is a USA manufactured product. The cotton material of the pillow guarantees comfort and support. It is not that fluffy and not too flat, which is the right type of pillow.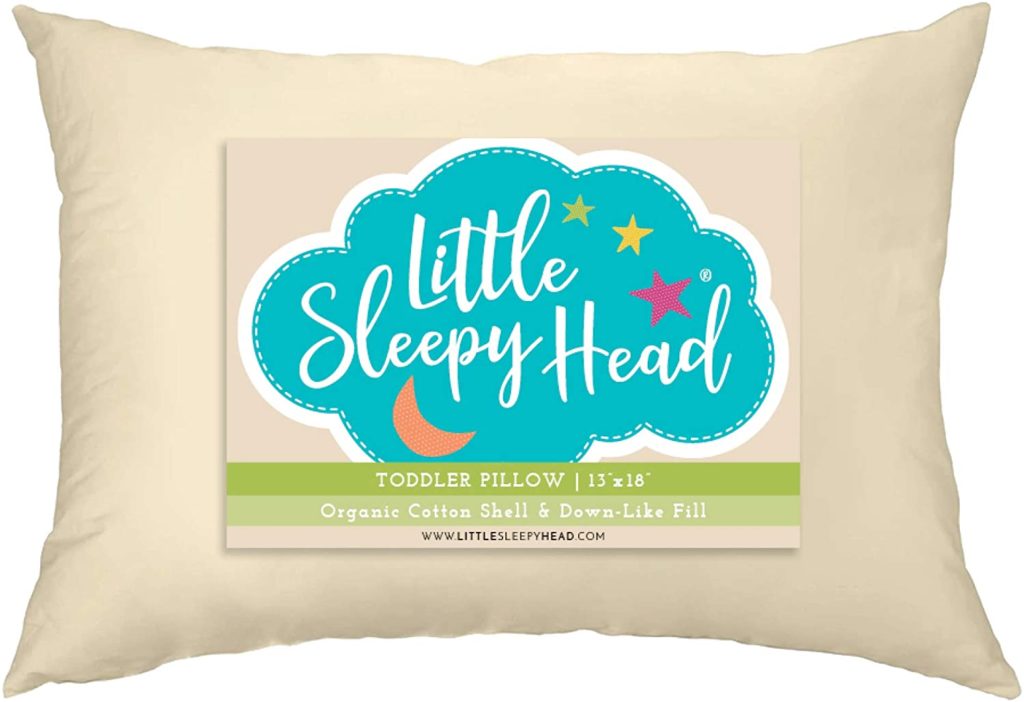 The fills are of hypoallergenic material that saves your needs from allergies. The size is perfect for toddlers avoiding the chances of extra pressure. It is snugly enough for your toddler and easy to carry around.
5. Dordor & Gorgor CuddleME Infant Head Support with Organic Cotton (Best for strollers)
DorDor & GorGor introduces a product that is one of the tops in the market right now. Made of 100% cotton, the pillow proves to protect your kid's sensitive skin.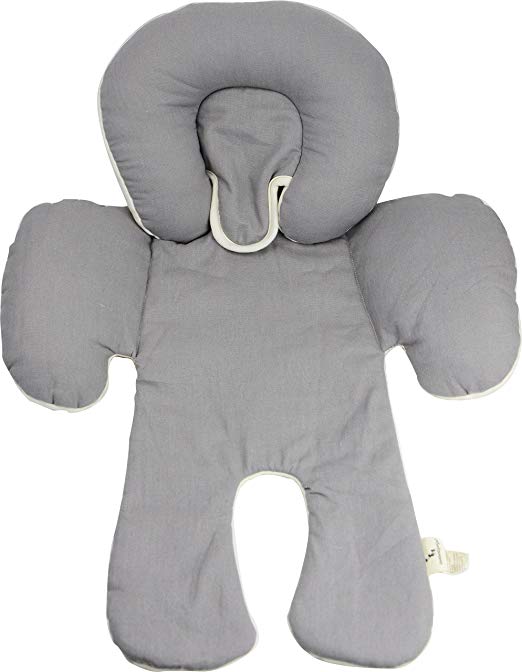 It comes with colored parts and a white area. The white area is of organic cotton. This crib pillow sports a 2-in-1 design which performs as a full body cushion and also neck support when detached.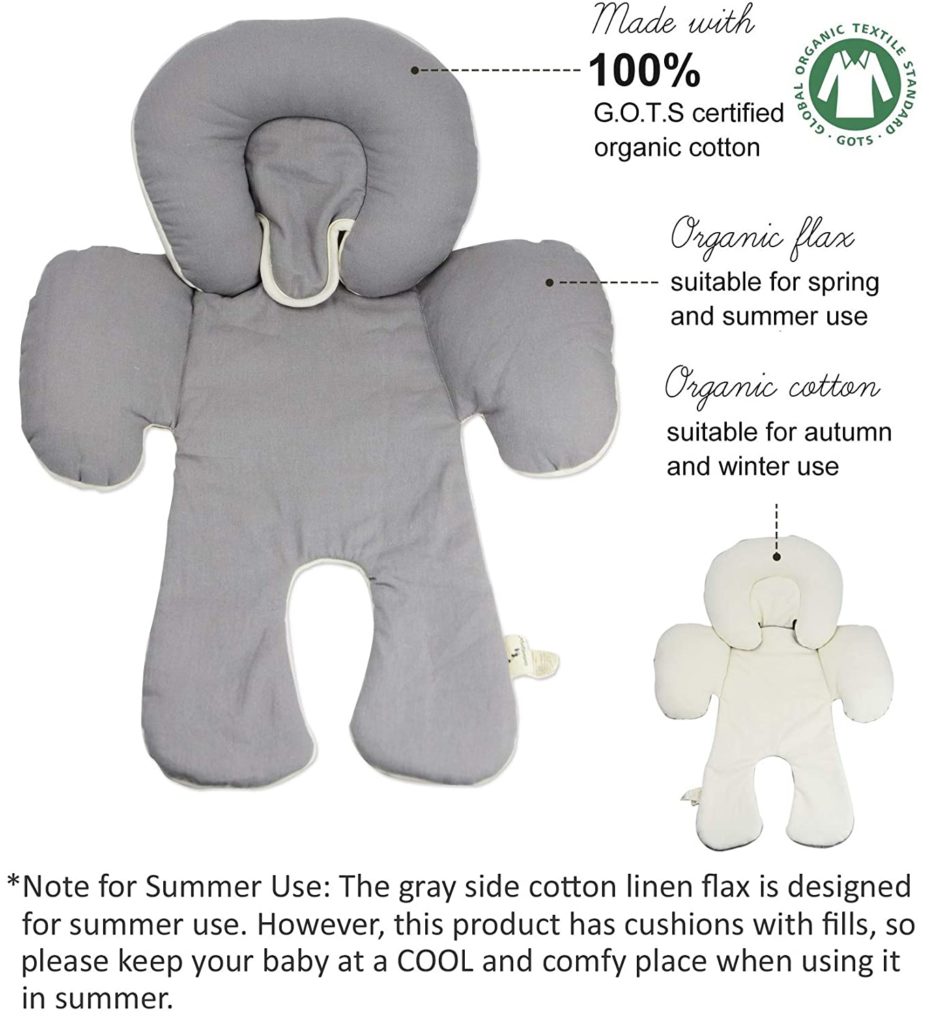 Besides working as a pram pillow, it fits perfectly as a crib pillow, on car seats, strollers, and booster seats. The Velcro straps adapt to the growth of the baby.
6. Leachco Podster Sling-Style Infant Seat Lounger (Best for newborns)
Leachco Podster Baby Lounger is a sling-style lounger for infants. The sides are deeply contoured, which helps the baby to be in place. The sling expands accordingly with the baby's weight.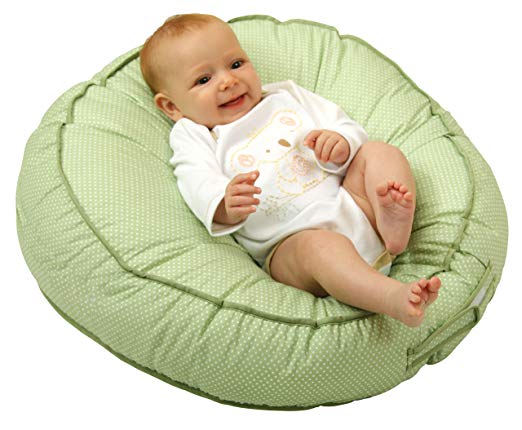 The baby can also be seated by adjusting the pillow. The upper body alleviation supports breathing and digestion. It adapts to the baby's growth too.
Do not leave the baby without supervision and never rest a sleeping baby on this lounger. The pillow cover is removable and can be washed easily.
7. Little One's Pillow (Best for travel)
Little One's Pillow is one of the most popular pillows in the kid's world. With a high rating and positive customer reviews, this pillow can be easily called one of the favorites.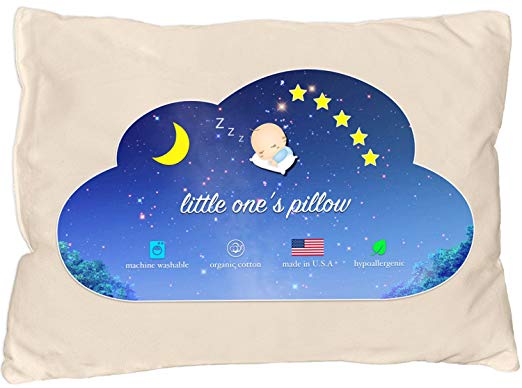 Manufactured in the USA, the product is made of 100% certified organic cotton. The pillow filling is of unique poly cluster fiber, which is hypoallergenic. It comes with thread counts of 200, and the pillow size is a perfect balance between thin and thick. The pillow reduces the pressure in babies and offers a comfortable sleep. The company backs this product with a replacement guarantee.
Also Read: Top 10 best baby jogging strollers to buy
8. MIMOS Baby Pillow (Best in breathability)
The MIMOS Baby Pillow is known as one of the luxurious pillows globally, owing to some tremendous support and superior comfort. The pillow is 100% breathable and certified safe, which provides your baby with a soft space to rest head-on.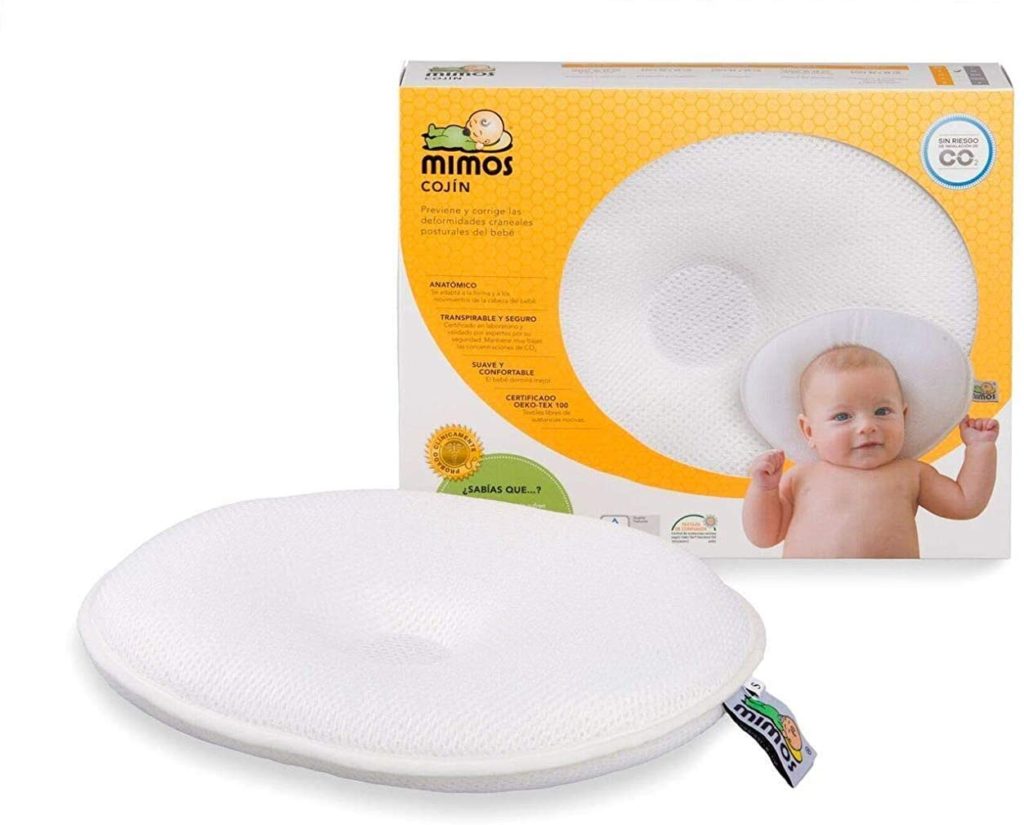 This is a reliable piece of baby product that is readily available for toddlers starting from their first day into this world. MIMOS' baby pillow is best-in-the-business when it comes to supplying pressure from the back of your toddler's head when lying on the pillow.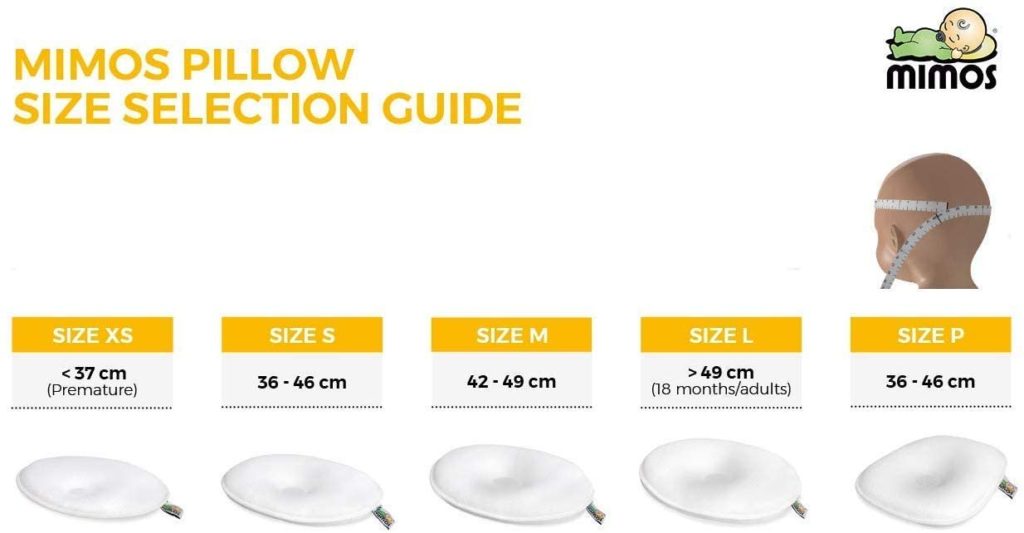 This is easily the best-recommended option for healing flat head syndrome. The pillow is available in simple white color and comes in two sizes — Medium and Small.
9. Infantino Prop-A-Pillar Tummy Time & Seated Support 
Infantino Prop-A-Pillar is a uniquely designed product. It comes with both a neck and head support pillow and also two detachable and repositionable toys. The peek and see mirror feature of the pillow engages the baby and finds interest in its reflection.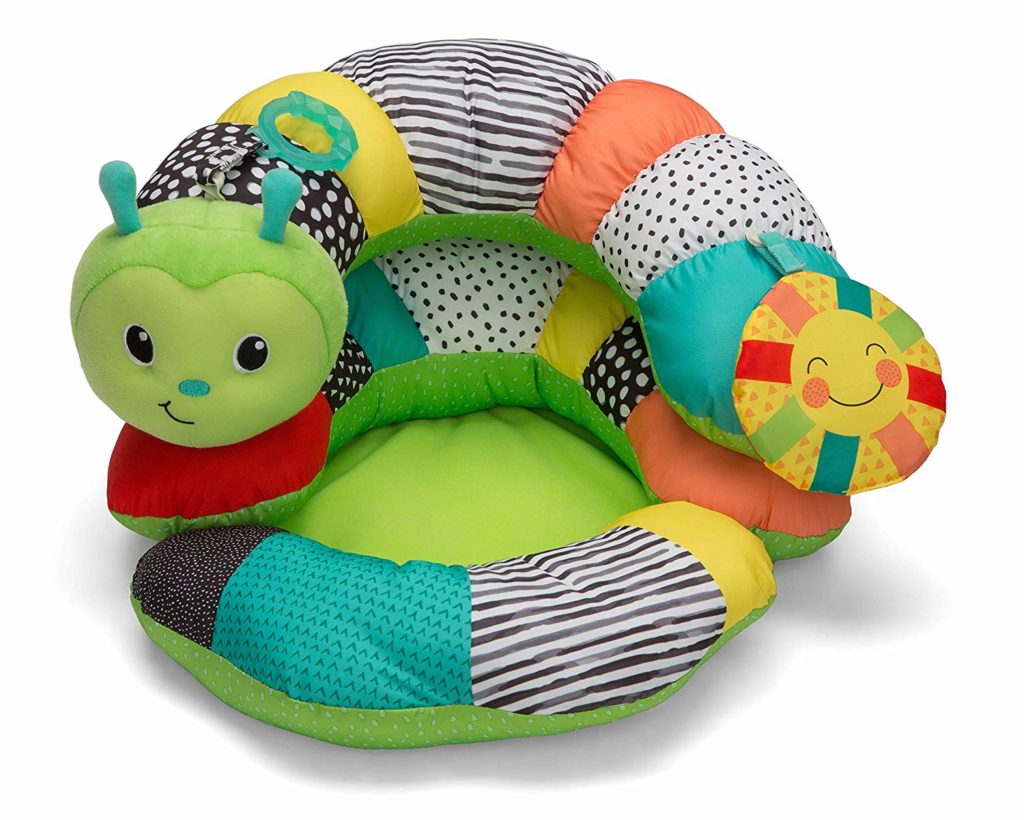 It is suitable for newborns to infants. The pillow supports the baby during tummy time, and it helps to develop neck and head muscles. It comes with a 'C' shaped positioner and a belt to safely strap the kid when seated. The product is backed with multiple positive user reviews and proves to be one of the adored products.
10. Boppy Noggin Head Support (The cheapest on the market)
Boppy Noggin is a top brand in the market today. The company products are adored because of its quality and durability. The product comes with a unique feature of padded sides, which prevents the kid from flat spots.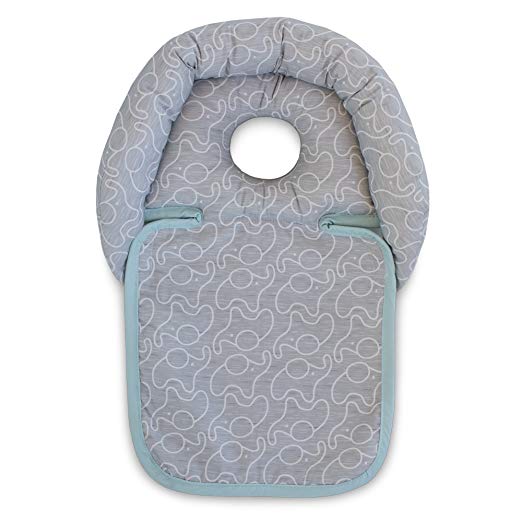 The design of the pillow avoids pressure on the baby's neck and head areas. The cutout hole relieves the pressure from the back of the head. It has molded sides which performs as a headrest for the baby. It can be used in the stroller, in the bouncer, or even when in the swing.
---
CONCLUSION
We've jotted down the best baby head shaping pillows available on the market for your newborn. Without a doubt, we suggest you go for the Boppy Newborn Lounger. But if you're looking for something fancy, try the Infantino Prop-A-Pillar Tummy Time & Seated Support. Hope we helped you with what you were searching for. If there are any queries or suggestions, please drop them in the comments section below.
---
FREQUENTLY ASKED QUESTIONS 
When should my kid start using a pillow?
Usually, kids around the age of 18-24 months can start using pillows. But there are still debates going on based on this topic. It is dangerous for a kid under the mentioned age to use a pillow. It may cause breathing troubles and even lead to SIDS (Sudden Infant Death Syndrome). Our suggestion would be, if your kid's shoulders are wider than the head, then a pillow will be of use to provide comfortable sleep. It is better to check whether the kid comfortably sleeps without a pillow. A pillow is only needed if he appears to be not comfortable.
Is it that important not to use an adult pillow for kids?
Yes, it is essential only to use a toddler pillow. Toddler pillows are exclusively designed to provide comfort for babies. Kid's body proportions are different from adults, so an adult pillow cannot provide the needed support as well as comfort to your kids. Kids require appropriate support for maintaining good posture and development.
Can a baby sleep with adults?
No, a baby should not sleep with the adults on their bed. It increases the risk of SIDS. The chances of accidental suffocation are high. Especially adults should not sleep with babies after consuming alcohol or smoking. Adults in a deep sleep fail to hear the kid's cry for help.
What are the types of pillows for my toddler?
There are different types of pillows for toddlers and kids. Mainly pillows are of these types:
Body Pillows – Body pillows are big-sized pillows that allow your kid to sleep with extra warmth. If your kid is not finding comfort in the pillow you found, try body pillows that perfectly fit the kid's body.
Memory Foam Pillows – Baby Head Shaping Memory Foam Pillows are prevalent in adults as well as in kid's world. They create customized sleeping spaces for both. It alleviates pressure point further leading to an increase in comfort.
Down Pillows – Down pillows are the most popular and luxurious type of pillows. It is hard to beat the comfort these pillows offer. The secret manufacturing material says it all. They are of soft fluff that found under the bird's feather.
Down-Alternative Pillows – Down-Alternative Pillows are the answer for those kids with allergies. It provides the support of Down Pillows without the fear of allergy troubles. Hence the name Down-Alternative Pillows. 
What are flat head pillows?
Kids or toddlers will be in cot most of the time. It is the period where kids develop physically. Features like most importantly, head develops to proper shape at this duration. The flat surface of a cot has cause pressure to the kid's body, and it may lead to flat head syndrome. To avoid this, specially designed flat head pillows got introduced. These type of pillows makes sure the baby gets the support it needs and sleeps in a comfortable position. It prevents breathing difficulties too.
Why can't I use a pillow with my newborn?
There are reasons to avoid using your kid's pillow. As per the UK's National Health Service, baby pillows come with a threat of suffocation. The NHS advises on tucking the sheets and layers of blankets lower to your kid's shoulder level for a more comfortable resting place.
How do I prevent flat head syndrome?
The flat head syndrome is a problem that can be fixed without having to shed money or sweat. The following are some of the ways you can do to prevent flat head syndrome:
Minimizing your kids' resting duration on their back while they stay awake.
Allow your baby to rest more on the tummy. This reduces pressure on one side of the head.
Keep switching your baby's sleeping position.
In case your kid's flat head turns out to be critical, we recommend you visit a health professional.
Will my baby's flat head come to normalcy itself?
Yes! But the process of bringing the head to normal shape is long and has to be followed by taking proper therapy sessions. The highly recommended practice is to switch the child's position when sleeping. The baby head shaping pillows mentioned in this post help in correcting the head shape of your baby.