Yamaha has raised the bar higher by introducing feature-rich musical instruments into the market. The brand is renowned for launching products that cater to all kinds of audiences — be it beginners or professionals.
Yamaha's range of pianos is among the highly-rated musical instruments that help in crafting this art. The YPG-535 88-Key Portable Grand Piano is one of those keyboards that are considered reliable for beginners or skilled piano players. This piano comes with many exciting features, which we will be sharing in the following sections.
Also Read: Best Digital Piano Under $500 – Guide to Best Affordable Keyboards
---
Yamaha YPG-535 88-Key Grand Piano Review
Compact and elegant, the Yamaha YPG-535 is a keyboard meant for both beginners and advanced piano players. This 88 keys digital piano is a valuable piece in learning, practicing, or teaching aspiring musicians how to play the piano. Following are the aspects to be considered when buying the Yamaha YPG-535.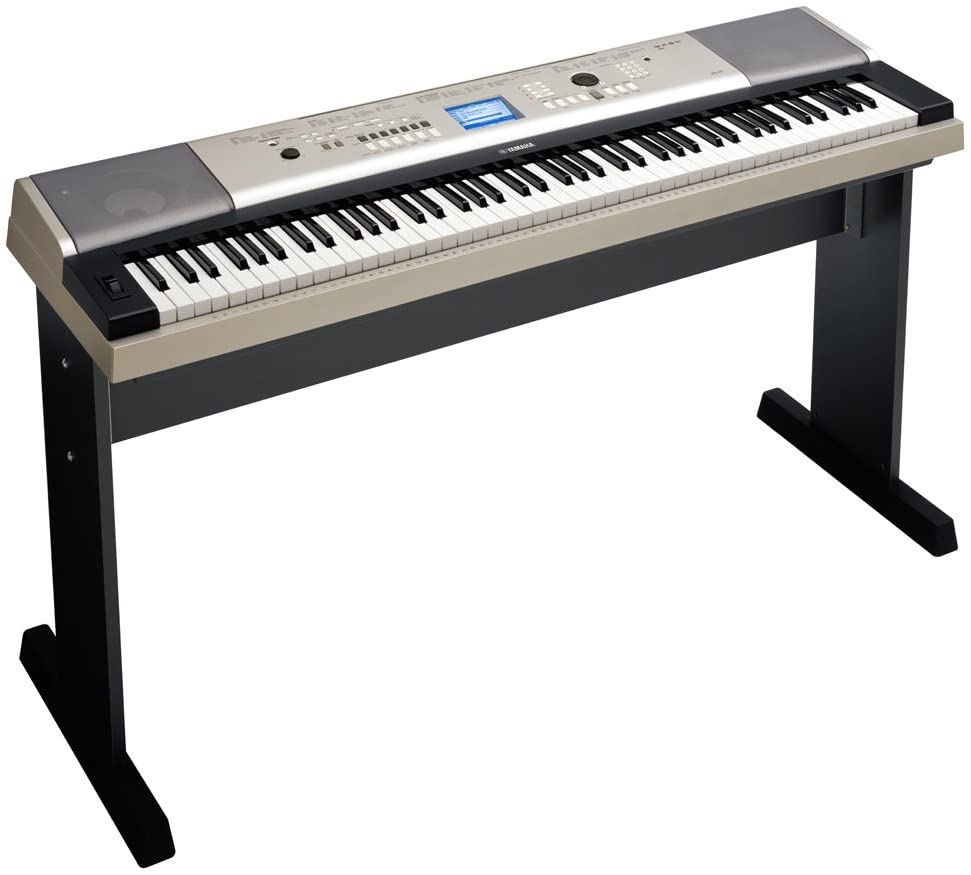 Design
The Yamaha YPG-535 is compact and ideal for those living in cramped spaces. This digital piano isn't one of those portable keyboards; however, it does not consume much space in your small apartment or living room.
This instrument comes in dimensions measuring 52.75 inches in width, 16.6 inches in depth, and 5.7 inches in height. This piano isn't that bulky since it weighs only about 24 lbs; upon fixing this to the stand — it does add another 13 lbs. The keyboard is available in a single color, while the black borders beside the keybed bring a premium feel.
The YPG-535 arrives with a tough X-type sturdy stand, which does a fine job holding the keyboard securely. This keyboard is slightly heavier than other mid-range models; you may consider alternatives that we'll touch later in the article. On the whole, the piano is slightly heavy and fairly portable that is not all plain-sailing to carry around.
Keyboard
The YPG-535 comes with 88 touch-sensitive keys that are high in quality and smooth in striking. This keyboard is powered by Graded Soft Touch (GST) action, meaning the keys on the lower-end feel heavy, whereas the keys on the high-end mimic a real piano.
The keyboard boasts numerous impact customizations, which come in handy for both beginners and experts. Since the keyboard is sensitive to touches, the harder you strike the keys, the louder the sound. You can customize the level of sensitivity per your style with the available preset settings.
All in all, the Yamaha YPG-535 has a decent keyboard that outdoes entry-level pianos, but for an acoustic piano-like feel, this isn't the ideal option. Moreover, the keys are non-weighted and make those clicking noises when playing from low-to-medium volume.
Sound
Sound is the most talked-about feature that influences purchase decisions. The Yamaha YPG-535 is driven by an AWM stereo sampling engine, a technology that is common in Yamaha's keyboards.
This keyboard features 500 internal sounds, which consist of sounds like — 127-panel sounds, 12 drum/SFX kits, and 361 XGlite additional sounds. Following is a breakdown of the 127-panel sounds that are part of the front panel:
8 Pianos
9 Electric Pianos
10 Guitars
8 Bass Guitars
14 Organs
13 Strings
5 Accordions
13 Saxophones
9 Trumpets
4 Choirs
In addition, the keyboard also boasts various other sounds like brasses, flutes, synths, drum kits, and more.
Furthermore, this keyboard allows you to customize sounds by adding effects featured on the keyboards. The YPG-535 has nine types of reverb, four types of chorus, and 26 types of harmony. The piano features a pitch bend wheel that provides the option of reproducing various effects, namely guitar vibrato, choking, etc.
Connectivity
Yamaha YPG-535 has five ports that allow you to pair the instrument to other devices. Each of these ports is positioned on the rear side of the keyboard.
The keyboard comes with a quarter-inch jack to connect your headphones. This jack also works when connecting to an external amplifier or speakers. It has a USB type B port, which allows you to share MIDI files or use the keyboard as a MIDI controller.
The YPG-535 features a sustain pedal jack that instantly connects to a sustain pedal with a quarter-inch plug. The keyboard offers connectivity via a smartphone using Yamaha's Digital Controller App. This is an iPhone exclusive application that provides players to perform with more diverse controls.
Additional Features
Yamaha's range of pianos comes loaded with features that make learning comfortable for beginners. This keyboard has plenty of exciting features that also keep skilled players entertained. Below are the piano's few interesting features that give other entry-level keyboards a run for their money.
Yamaha YPG-535 comes with three modes — dual, duo, and split. The dual-mode lets you layer two different instrument sounds to compose melodious music. The split mode divides the keyboard into two halves, allowing you to play different instruments with both your hands.
Yamaha's popular coaching program Yamaha Education Suite (Y.E.S) offers three lessons —Waiting, Your Tempo, and Minus One.
The first lesson – "Waiting" — will wait until you see the right note on display. The second lesson – "Your Tempo" — changes the playback's tempo to match your playing speed. Lastly, the third lesson – "Minus One" — allows you to select the part you want to practice, while the other will be played automatically at a normal tempo.
This keyboard features 30 internal songs, which helps learn each song with the Lesson Mode and Performance Assistance feature. The Performance Assistance feature is essential for beginners to develop their skills. You can select up to four types of performance assistants.
Recording and Playback includes a 6-track MIDI recorder, enabling you to record five User Songs and store those in the keyboard's flash memory.
Pros and Cons of Yamaha YPG-535
The Yamaha YPG-535 is the ideal choice for piano fanatics. This keyboard is easy-to-use with controls that don't require in-depth training. While there are a few minor flaws, they don't take away the quality of this keyboard. Following are this keyboard's hits and misses:
The Yamaha YPG-535 is undoubtedly among the best entry-level keyboards available on the market to get started with piano. This keyboard is easily the suitable choice with beginner-friendly controls. The pre-loaded songs and plenty of other features make the music learning experience fun and entertaining.
The YPG-535 has a few downsides as well, which is why you might want to look for keyboards that fall within the same price bracket. Here are a few keyboards that do justice in this price range.
---
Alternatives to Yamaha YPG-535
1. Yamaha DGX-660
Yamaha's lineup of quality musical instruments is never-ending. The DGX-660 comes with an 88-key keyboard that makes exploring and music composing more exciting. This keyboard boasts 554 built-in instrument sounds, a rich library of effects, 100 preset songs, and a lot more.

The piano comes with different ports and jacks that pair with all kinds of external devices. Furthermore, this instrument features an LCD screen that displays what notes to play next. Like the YPG-535, the DGX-660 has impressive mode types. Overall, this is a fun keyboard with a realistic piano experience.

2. Yamaha P45
The Yamaha P45 is a few dollars cheaper than the YPG-535 and is an entry-level digital piano with 88 fully-weighted keys. This keyboard is powered by the Graded Hammer Standard action, which is somewhat better than the spring mechanism on the YPG-535.

P45 has double the polyphony notes — 64 as opposed to 32 on the YPG-535. The piano has a variety of instrument sounds and effects to produce melodious music. However, with no built-in record feature — piano players may not be happy. The piano comes with all the necessary ports and jacks for seamless playing sessions.

Also Read: Yamaha PSR-EW300 Review: Beginners' Choice 
---
VERDICT
Yamaha is certainly the best entry-level keyboards manufacturer. The YPG-535 is another testament to the brand's excellence in making piano learning bearable to beginners. Regardless of the keyboard's fair share of upsides and downsides, this digital piano is a worthy investment for aspiring and professional musicians.
---
FAQs
Is it possible for the YPG-535 to sound like a pipe organ (temporarily)?
Yes. There are hundreds of settings and combinations, including organs, string orchestra, several guitar types, synthesizers, etc. The piano features many "organ" options, including Chapel Organ, Church Organ, Reed Organ, etc. The Chapel Organ sounds just like a Pipe Organ.
Does the YPG-535 come with a bench?
The Yamaha YPG-535 does not come with a bench. However, Yamaha has "Yamaha PKBB1 Adjustable Padded Keyboard X-Style Bench", which is quite comfortable for hours without any discomfort.
What are the accessories that come with the purchase of YPG-535?
Yamaha YPG-535 comes with all the necessary accessories — a matching stand, high-quality sustain pedal, music rest, AC power adapter, and a CD ROM with drivers and software. You'd have to purchase a bench and a pair of headphones separately.