The Yamaha PSR-EW300 is arguably the most pleasing piece of an instrument a musician can own. This 76-keys piano is an upgraded version of the Yamaha YPG 235, another melody-oozing piano that garnered praises from across the globe.
The PSR EW300 is every average pianist's go-to keyboard that is portable and does play out effortlessly. In this article, we review this machine from Yamaha. We delve into the specifications, discussing the design, sound, and a few selling features of this instrument. Read on to know more.
---
Yamaha PSR-EW300
The Yamaha PSR-EW300 has been a useful instrument — the keys, design, and effects are some of the impressive features to look forward to. This refreshed model of the YPG 235 sports a classic look that will require a briefing. With all that said and done, here's our comprehensive take on the Yamaha PSR-EW300.
Design
The talking points of this piano are its extremely friendly and portable design. With dimensions measuring 4.62" x 45.37" x 14.5", the PSR-EW300 weighs around 13 pounds. The aforementioned weight and dimensions are special considerations when planning to buy one for the children.

Boasting a robust black plastic enclosure, this piano has the looks of a basic keyboard. Nevertheless, this is robust enough to resist smashes. The strong corners, rubbery buttons, and volume knobs are accessible to kids of most sizes. Furthermore, there are key controls with illustrations that make them easy for beginners.
The most captivating part about the piano's design is the membrane-based buttons, which prevent dust from sticking onto the keys. Overall, the design segment of the PSR -EW300 does not disappoint. The option of carrying this around when outdoors, traveling, or for practice are a few of the instrument's selling points.
Also Read: Yamaha Arius YDP-143R Series Console Digital Piano: A Complete Mid-Range Package
Sound
Sound is a make or breaks factor when it comes to buying any musical instrument. This piano boasts two 12-inch speakers and a 2.5+ 2.5 W amplifier that delivers decent piano sound.
The instrument comes with 574 voices, including 197-panel sounds, 18 drums and effects, 20 arpeggios, and a total of 339 XGlite voices that offer a myriad of options to make piano playing sessions exciting and a chance to produce new music.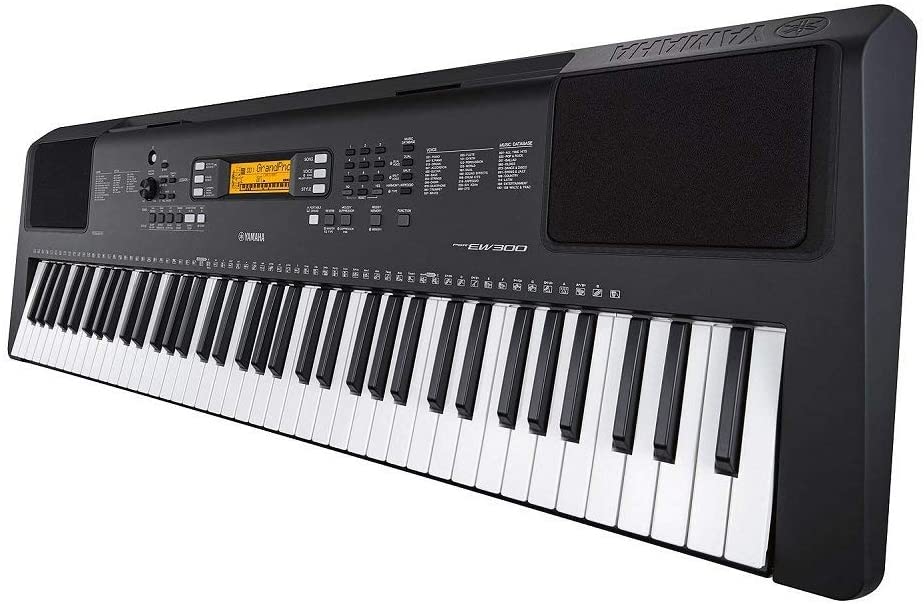 The PSR-EW300 has an extraordinary sound system powered by Yamaha's AWM stereo sampling sound engine. This sound engine is utilized in most of Yamaha's precisely keyboards and technically-advanced pianos, for example, the P-45 and the YDP-181.
Perhaps not the most powerful of engines, this is still the finest of systems recommended by professionals. On the whole, the sounds produced are fairly decent at this price point and recommended for practice routines.
Effects
Effects are pivotal when playing in large rooms. Yamaha's PSR-EW300 arrives with a wide range of effects to choose from. However, for someone proficient in playing this instrument, effects can be brushed-off.
This keyboard includes — 12 reverbs, 5 choruses, 6 master EQs, and 26 harmony effects. In the following few sections, we share how each effect made playing the piano a plain-sailing process.

Reverb effects help simulate sounds in specific locations like a large room or stage. Choruses bring out a broader feel and often blend in with electric piano or guitar sounds. With six different Master EQs, this piano allows you to play as per the speakers, headphones, or any sounds. Lastly, the Harmony effect serves as a doubler at the MIDI level.
The PSR-EW300 recognizes the keys you are hitting, allowing the piano to add other notes to produce a rich and vibrant sound.
Polyphony
Polyphony is a term that first-time players will not have an idea about. The word "polyphony" is described as the number of notes a digital piano produces simultaneously. Generally, experts recommend buying a digital piano with at least 64 notes of polyphony.
The Yamaha PSR-EW300 accounts for fewer notes. This digital piano comes with 48-note polyphony, which is sufficient for a newbie. The piano is not home to many incredible features; thus, these 48-notes are considered a nifty option.
Connectivity
The number of connectivity options also inspires the purchase decision. Like other basic models, the PSR-EW300 comes with an audio output that is compatible with external speakers and most headphones.

The piano features a USB-MIDI port, allowing you to record or play pre-installed songs from the instrument. This port is compatible with DAW (digital audio workspace) for you to use as a controller. The lack of wireless connectivity is a bummer.
Keyboard
PSR-EW300 is a 76-keys piano; each of these keys is velocity sensitivity, full-sized, and positioned for better hand-finger coordination. This piano offers great playing routines for people not enjoying the sight of weighted keyboards. Each of the keys is touch-sensitive, providing a safe-zone for beginners to play their music more expressively.
Additional Features
The Yamaha PSR-EW300 is an exciting piece of musical equipment that is laden with exciting features. The following features are a notch-above most standard pianos. For seamless and glitch-free music sessions, check out these features:
Music Library
Stacked with a music library of 165 different styles and controls, this piano comprises features like auto-fill and a lot more. This out-of-the-ordinary keyboard allows you to reinvent music by adjusting tempo and adding a range of features to your music. Moreover, you also get to record and edit your songs.
Yamaha Education Suite
The highly-motivating aspect of the PSR-EW300 is the brand's Education Suite that is a blessing to newbies. The nine-step lesson allows every pianist to learn on the preset songs and practice using a single hand.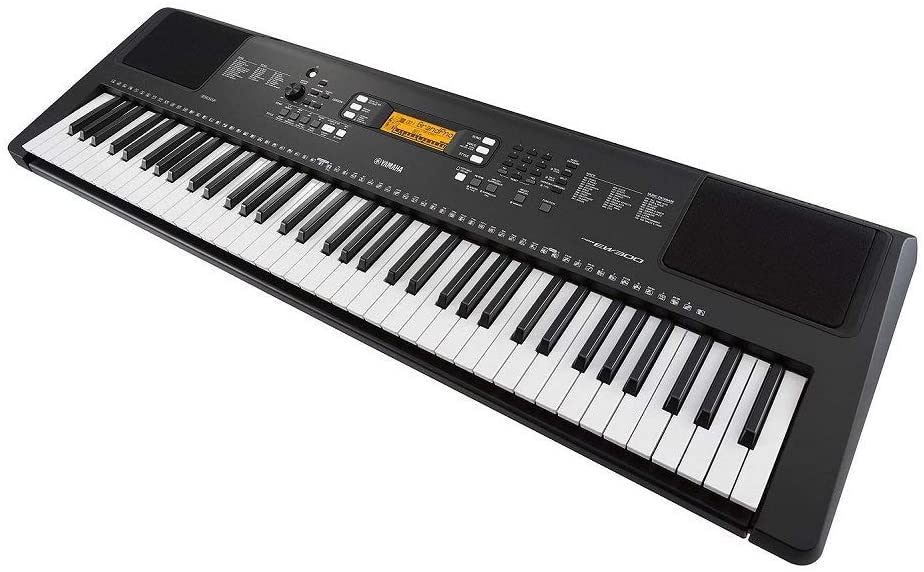 Furthermore, the scoring capability keeps a tab of your progress, making learning more interactive and more effortless. The piano comes with a pre-loaded songbook that provides the option of reading and playing the songs on the keyboard.
Variety of Modes
The Yamaha PSR-EW300 comes with three modes — Duo, Dual, and Split.
Duo Mode allows you to divide the keyboard into two parts with a similar pitch range. This becomes convenient for two pianists to perform a duet with the same octave. This is an interesting concept when practicing under guidance.
Dual Mode offers you to layer two different sounds to achieve one complex tone. This works by simply pressing a key, and you produce sounds of two different instruments simultaneously. Split Mode is yet another fun feature. This option allows one to try different sounds from different sides of the keyboard.
Display Screen
The piano boasts of a backlit monochrome LCD screen positioned right in the middle of the keyboard, accompanied by buttons on either side. This perfectly placed screen displays the settings, performance, and plenty of different functionalities.
One-touch Setting
Another innovative part of the PSR-EW300 is the one-touch setting. This feature allows you to customize and easily save all the settings. Besides the one-touch setting, there is the automatic power-off feature that prevents battery draining and energy prices.
Also Read: Best Digital Piano Under $500 – 2021's Guide to Best Affordable Keyboards
Pros and Cons of Yamaha PSR-EW300
The Yamaha PSR-EW300 has amassed mixed reviews from both novice and entry-level keyboard players. We have jotted down a few hits and misses we found after using this instrument:
Here is how this musical instrument performed in our review:
The Yamaha PSR-EW300 is without a doubt worth every penny spent. However, with the affordable price tag it carries, this piano may run out of stock soon. Fret not; here are a few alternatives that are bang for the buck.
---
Alternatives to Yamaha PSR-EW300
1. Casio CT-X700
A budget-friendly alternative to Yamaha's PSR-EW300 is the CT-X700 from the reliable Casio. This piano is tanked with 600 tones and 195 styles. Both of which are more than Yamaha's offering. The piano has a whopping 32 registration slots, allowing you to store customized soundtracks.

The instrument sports a much larger screen than shares pivotal details. This piano offers a step-by-step guide with 160 songs for beginners to learn and prosper. The downside of this machine is that it lacks a feature to balance layered or split sounds.

2. Yamaha NP-32
The NP-32 is Yamaha's next best piece after the PSR-EW300 around the 300$ segment. This piano features 76 keys and two 6W speakers that deliver rich and clean sound. Unlike the limited polyphony on the EW300, this one has a 64-note maximum polyphony.

The piano brings along the brand's most fun features: a single-track recorder, layer mode, custom tunings, headphone, and a USB to host port. The downside of buying this is that the keys are not weighted.

Also Read: Yamaha PSR-E363 61-Key Portable Keyboard Review
---
VERDICT
Yamaha has for years been the preferred choice of beginners and experts working in the music industry. The brand's offering — PSR-EW300 is the best in the business to proliferate your career in playing the piano. Regardless of a few constraints, the piano performed slightly better than the listed alternatives.
If you have a list of worthy alternatives, write them down in the comments section below. If we haven't experimented with those, we sure will and keep you updated.
---
FAQs
Does the PSR-EW300 support MIDI transfer from the computer?
The PSR EW-300 includes a USB port positioned at the back; however, it largely depends on the type of software when handling such conversions. Yamaha has a list of apps that it supports to make the conversion more comfortable and hassle-free. Click here to check out. https://usa.yamaha.com/products/musical_instruments/keyboards/portable_keyboards/psr-ew300/apps.html#product-tabs
How often should the piano be tuned?
Irrespective of the piano you own, a piano should be tuned a minimum of twice a year. You must get your piano tuned by a trained technician to avoid repairs and damages to the piano.
Will the number of keys on a keyboard affect the music I play?
If you are a newbie, a keyboard with 60 to 66 keys is sufficient to learn and develop piano skills. These are also cheaper and made for people to hone their skills. For someone keen on playing classical, a keyboard with 88 keys is recommended.