Yamaha is a power-house brand known for having the most versatile lineup of musical instruments. The brand has everything to offer for both beginners and experienced musicians. Their range of pianos exceeds the expectation of every wannabe pianist.
The product here in focus is the Yamaha PSR-E363 61-Key Portable Keyboard. This classic organ is loaded with handy yet straightforward features that are beginner-friendly. To learn about what each department of the piano has to offer, continue reading.
---
Yamaha PSR-E363 61-Key Portable Keyboard Review
Yamaha's PSR-E363 has quite a few features that beginners proudly claim as their product. This model is the improved version of the PSR-E363 with some tweaks to make it more suitable for first-time piano players. Starting from the design of the keyboard, we review every important facet of the piano.
Design
This affordable keyboard is compact and lightweight, suitable for most learners living in a cramped space. The PSR-E363 weighs only about 10.1 pounds and has dimensions measuring 37.2 inches long, 14.5 inches wide, and 4.8 inches high. The dimensions measuring make this piece easy to transport.

Moreover, the instrument allows one to play with batteries or connect to an AC power outlet — performing indoors or outdoors becomes comfortable. The keyboard boasts a black plasticky enclosure that is simple without any appeal attached to it. Nevertheless, this keyboard does stand up to bumps that kids will have a hard time breaking.
Keyboard
The 61 keys of the keyboard are touch-sensitive and fully-sized that share similarities with a classical piano. These top-quality keys bring out loud sound as you strike the keys vigorously, while for the soothing sound, you can gently press the keys.
These keys are quite good at offering sensitivity and match your style of play. This instrument is supplied with a Touch Tutor feature that assists beginners in learning dynamics and deciphers keystroke velocity. The keys do feel a bit mushy; however, patience is required from your side to get used to it.
Also Read: Best Digital Piano Under $500 – Guide to Best Affordable Keyboards
Sound
The Yamaha PSR-E363 is a widely-acclaimed musical instrument driven by the Advanced Wave Memory (AWM) stereo sampling engine. This particular sound engine is stocked in most of Yamaha's high-end keyboards and digital pianos.
This budget-friendly keyboard includes 574 voices, featuring 339 XGlite voices, 197-panel voices, 20 arpeggio voices, and 18 drum and effects kits. Each of these sounds allows a beginner to create, or reproduce music.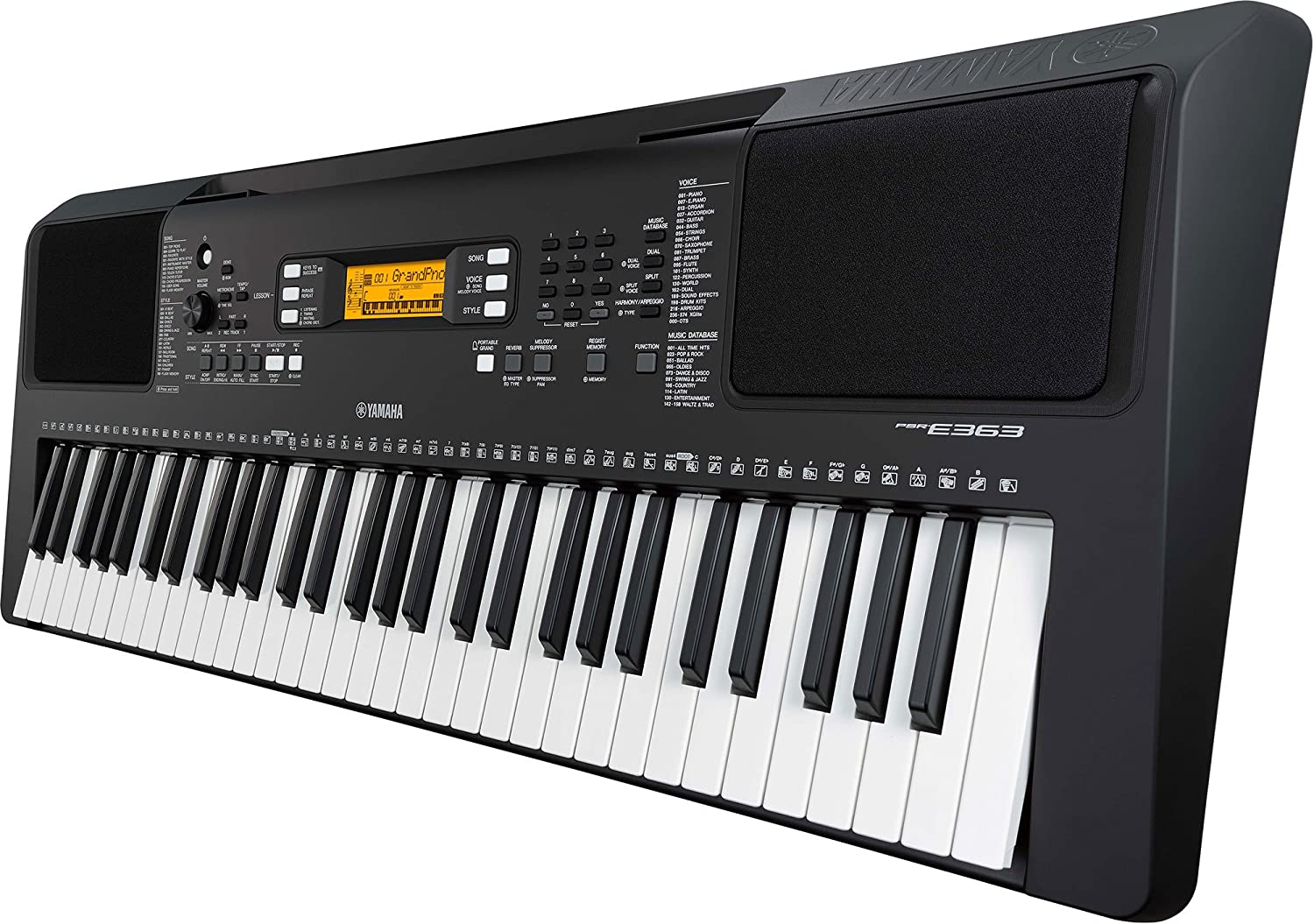 This musical instrument comes with a 48-voice polyphony as opposed to the 32 found in the predecessor. Besides, this keyboard has a comprehensive library of reverb, chorus, Master EQ, and Harmony effects. Overall, the sounds of the PSR-E363 are realistic acoustic, allowing a beginner to play with the keyboard for more fresh and lively vibes.
Speakers
The Yamaha PSR-E363 is equipped with two 2.5W speakers, which are effective during indoor performances. The speakers are located beside the control panel, meaning there is a lack of direct connection towards the audience. Purchasing an amplifier is recommended.
The speakers on this keyboard are well-suited for beginners. They have nothing extraordinary, but for reasons such as learning, the PSR-E363 has decent speakers.
Connectivity
One of the key selling points of a keyboard is its connectivity options. Luckily, the options arriving with the PSR-E363 do get the job done.
This keyboard has a headphone jack, allowing you to connect with your headphones or an external amplifier. There is a jack to pair a sustain pedal. Unfortunately, the sustain pedal is not included with the purchase.

The PSR E-363 has a USB to Host connectivity that allows seamless transfer of MIDI data from USB to your PC or smartphone. The biggest drawback of purchasing this entry-level keyboard is the missing option of Bluetooth connectivity.
Additional Features
Yamaha's PSR-E363 has everything to keep a beginner entertained and engaged. This instrument has quite a few exciting features that are hardly found in a keyboard under this price range. We have jotted down a few of the noteworthy features that make learning and performing more effortless and more accessible.
The PSR-E363 features three modes — Duo, Dual and Split Mode. The Duo mode divides the keyboard into two sections — each allowing students and teachers to play the instrument simultaneously.

The Dual mode provides the option of playing two different instruments at once. Lastly, the Split mode lets you play different sounds on either side of the keyboard.
The keyboard arrives with Yamaha's Education Suite (Y.E.S), which offers simple music learning lessons to sharpen your piano skills. This learning program is available on Yamaha's official website.
Another interesting feature is the Melody Suppressor, which discards vocals from the pre-recorded tracks. This feature allows you to sample your favorite songs and add your vocals to them. This instrument also has an LCD screen that is bright and guides through different lessons and setups.
The PSR-E363 comes with a record and playback feature accessible through the left and right buttons on the keyboard's front panel.
Pros and Cons of Yamaha PSR-E363
The Yamaha PSR-E363 is an excellent addition to the brand's lineup of affordable, beginner-friendly musical instruments. The time spent with this piano was memorable in parts. Below we list the product's strengths and flaws:
The Yamaha PSR-E363 is a recommended instrument for making the piano learning experience worthwhile. This is an easy-to-use music instrument that has made piano playing sessions easier.
The brand has an ardent fan following — based on the reviews it has received we take no authority to stay available forever. Here are a few alternatives to the  Yamaha PSR-E363.
---
Alternatives to Yamaha PSR-E363
1. Yamaha PSR-E373
Yamaha has a range of products that have made life comfortable for many first-time keyboard players. The PSR-E373 comes with the same key count of 61 keys — all of which are non-weighted synth-action keys. This keyboard features 622 sounds that many seasoned players have enjoyed playing.

This is rated among the best budget arranger keyboards available on the market. On the downside, there are plenty of features in this keyboard that piano players find unnecessary.

2. Alesis Recital 61-Key Digital Piano
The next option to consider is the Recital 61-Key Digital Piano from Alesis. This is the best budget-friendly option with 66 semi-weighted keys. This keyboard comes with two 10W speakers that offer decent sound quality for the price.

This keyboard arrives with a free three-month subscription to an online piano course called Skoove. Furthermore, there are free live piano lessons that provide direct access to instructors. The cons of using this keyboard are that it comes with only five built-in tones and sluggish sound quality.

Also Read: Yamaha EZ-220 61-Lighted Key Portable Keyboard Package: A Bundle to Pick 
---
VERDICT
Yamaha is the crowd's favorite in creating quality musical instruments for decades. The brand's prowess in making affordable digital pianos is been appreciated by pianists worldwide. The PSR-E363 is the brand's most promising keyboard under the $300 segment.
If you have any other alternative to battle it out with Yamaha's PSR-E363, let us know in the comment section.
---
FAQs
Are songbooks available other than the one from Yamaha?
There is no restriction to the songbook you want to use. However, make sure that the limited key count is adequate to cover all of the octaves you need. The PSR-E363 isn't a full-sized piano keyboard.
Does the PSR-E363 work with Macbook and GarageBand?
Yes, it works as both a MIDI input and output device. You can utilize it to capture key presses on your computer and play MIDI out to the keyboard speakers. You may require a standard USB printer cable.