Yamaha is a household brand known for creating top-level music instruments for both beginners and intermediate musicians. Yamaha's P71 88-Key Keyboard is a testimony of its success in making affordable yet premium-like pianos.
The P71 88-Key Keyboard is a top-notch, feature-rich variant from Yamaha's Portable or "P" lineup. Although not the most budget-friendly option, the P71 does tick all the right boxes. The keyboard is among the few in this price range to boast a series of different styles coupled with a series of automatic introductions, endings, and fills.
This instrument is undoubtedly among the best-selling entry-level digital piano available on the market. To know more about the features and performance of this keyboard, continue reading to learn more.
Also Read: Nord Piano 3 Review – Professional's Favorite Piano
---
Yamaha P71 88-Key Keyboard Review
Yamaha's P71 88-Key Keyboard is the brand's highest-selling entry-level piano that makes learning and creating music more straightforward and accessible. This instrument's 88 keys offer beginners and intermediate musicians the opportunity to experiment straight from their home comfort.
The P71 is from a series of excellent products that musicians around the world recommend without hesitation. The design, the portability, the career-honing modes — everything makes the P71 stand out from the rest.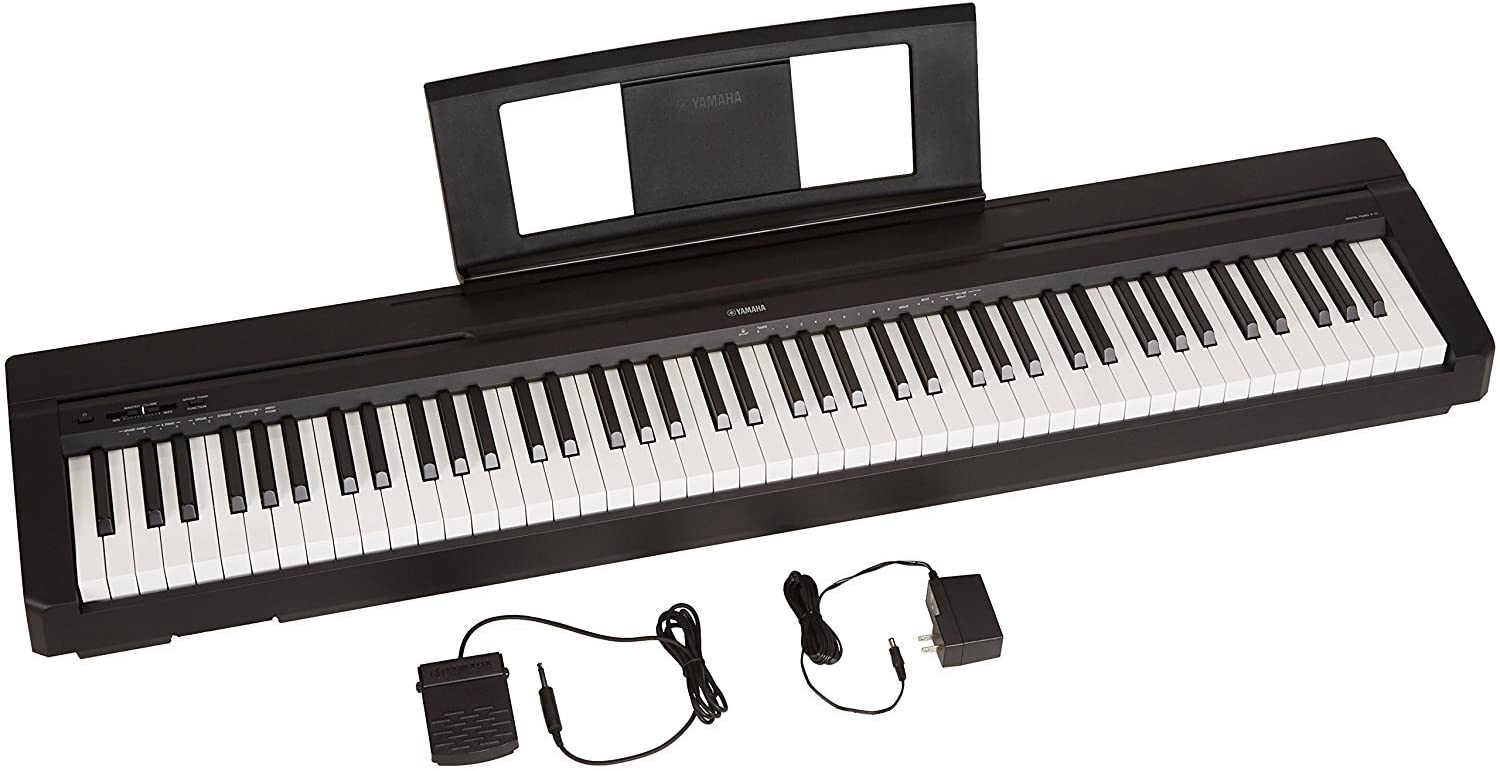 Design and Build Quality
Excellent design and premium build quality is Yamaha's forte. The P71 is an inexpensive machine that is well-built and compact for smooth transportation. This instrument is 58.20 inches wide, 16.10 inches deep, and 11.70 inches high.
Weighing about 25 pounds, the piano is a perfect match for bustling musicians. All in all, this keyboard is weightless and can fit into any car trunk easily. Nevertheless, we firmly insist on buying a thick-padded bag that prevents the piano from dents and scratches.
Sound
Powered by Yamaha's AWM sound sampling engine, the P71 oozes similar tones as acoustic pianos. This machine's tones are identical to grand acoustic pianos, making this an incredible offering from a highly-reputed brand.
This 88-key keyboard boasts a library of 10 piano voices, comprising digitally sampled tones from the Yamaha's acoustic grand pianos. The ten preset voices include a grand piano, electric piano, organ, harpsichord, vibraphone, and strings.
This instrument's top-notch sound quality will prove to be a delight to both beginners and expert piano players. The piano is ideal for musicians looking to play with different instrument sounds and effects to experiment with music.
Much like the PSR-EW300, the P71 comes with an dual built-in speakers with 6 Watts of amp. The sound is adequate for small concerts or rehearsals. Not the weakest of speakers, but you may require an external amplifier for enhancing the sound experience. On the whole, the sound is loud and clear for a piano at the entry-level price tag.
Keyboard
Yamaha P71 has a total of 88-fully weighted keys, which are known as Graded Hammer Standard. This offering from the brand is their most inexpensive hammer action commonly found in several entry-level pianos.
Each of these keys is smooth and pretty realistic in response. Since the keys are GHS weighted, they offer a heavier touch on the keyboard's low end, while the high end brings acoustic-like sound.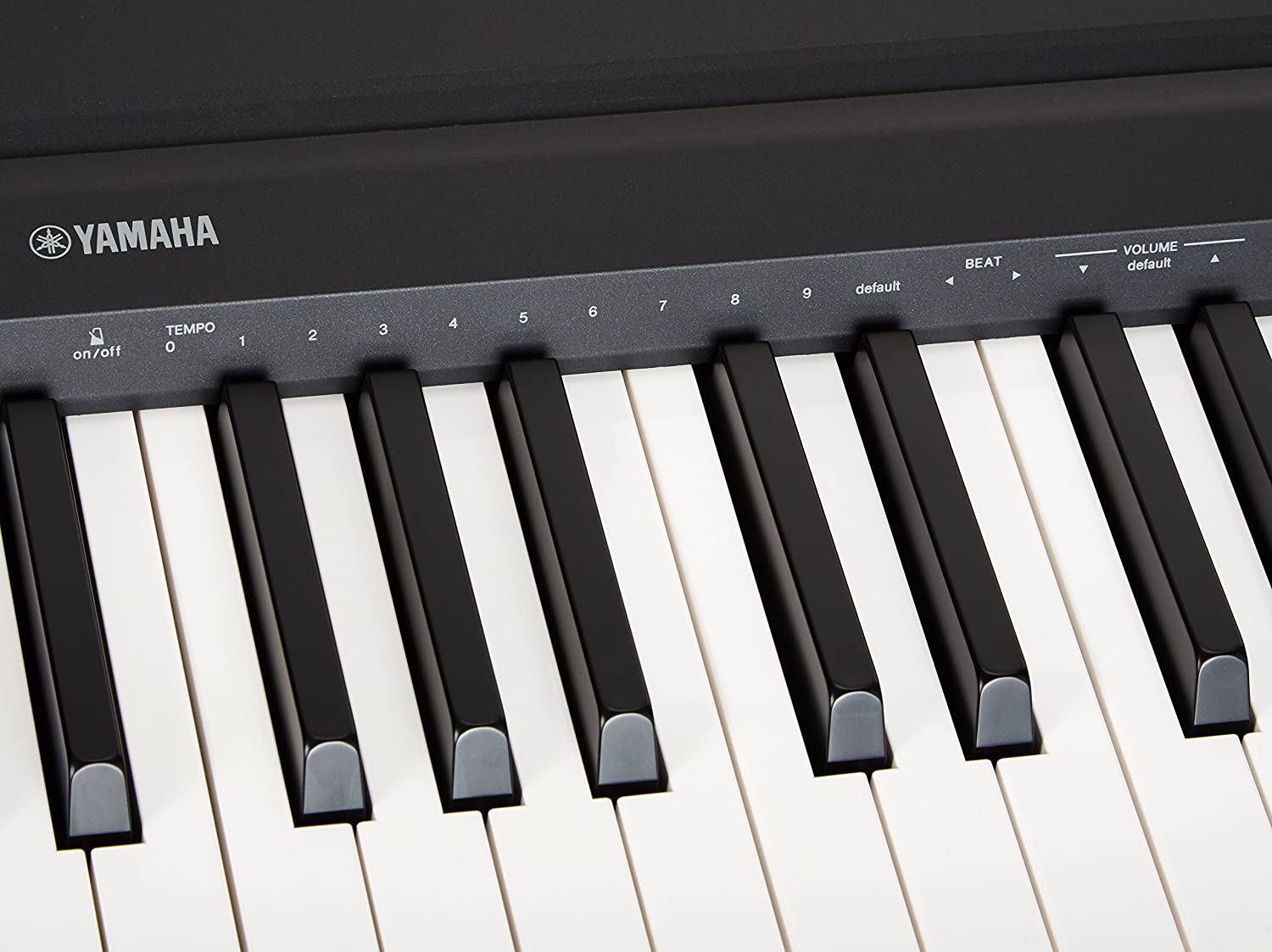 The keyboard comes with different levels of touch-sensitivity, which will enhance your piano playing experience. The four different key sensitivity settings are — fixed, soft, medium, and hard.
Irrespective of how gently or harshly you play the keys, the fixed setting does not respond to the kind of touch. The medium or default setting offers musicians an acoustic-piano-like feel. While the hard and soft settings come in handy when striking the keys hard or soft, they bring out different sound styles.
Yamaha's P71 creates a little less noise than the numerous other standard piano models offering hammer action.
Connectivity
Musicians prefer pianos with maximum connectivity options. A digital piano has to come with ports that offer seamless connectivity between two devices — piano to computer or tablet and vice versa. The Yamaha P71 features all the must-have ports and jacks to connect with speakers and other external devices like amplifiers or sustain pedals.

This keyboard features a sustain jack, a dedicated USB port, and a headphone jack, allowing you to mix and edit sound using compatible music software. Despite not featuring the MIDI port, the P71 manages to do a fine job with the USB port.
Additional Features
The Yamaha P71 88-Key Digital Piano is a nifty instrument for beginners or professional keyboard players. The features justify the price tag associated with this instrument it has to offer. The following are some of the features to look out for:
Modes; Dual-Mode enables musicians to play two musical instruments simultaneously, namely piano and guitar. The dual-mode enhances the music playing experience by blending piano keys with strings.
Duo-mode divides the piano in two with similar pitch ranges. This feature is imperative in piano learning sessions — with one section handled by the tutor while the student uses the other.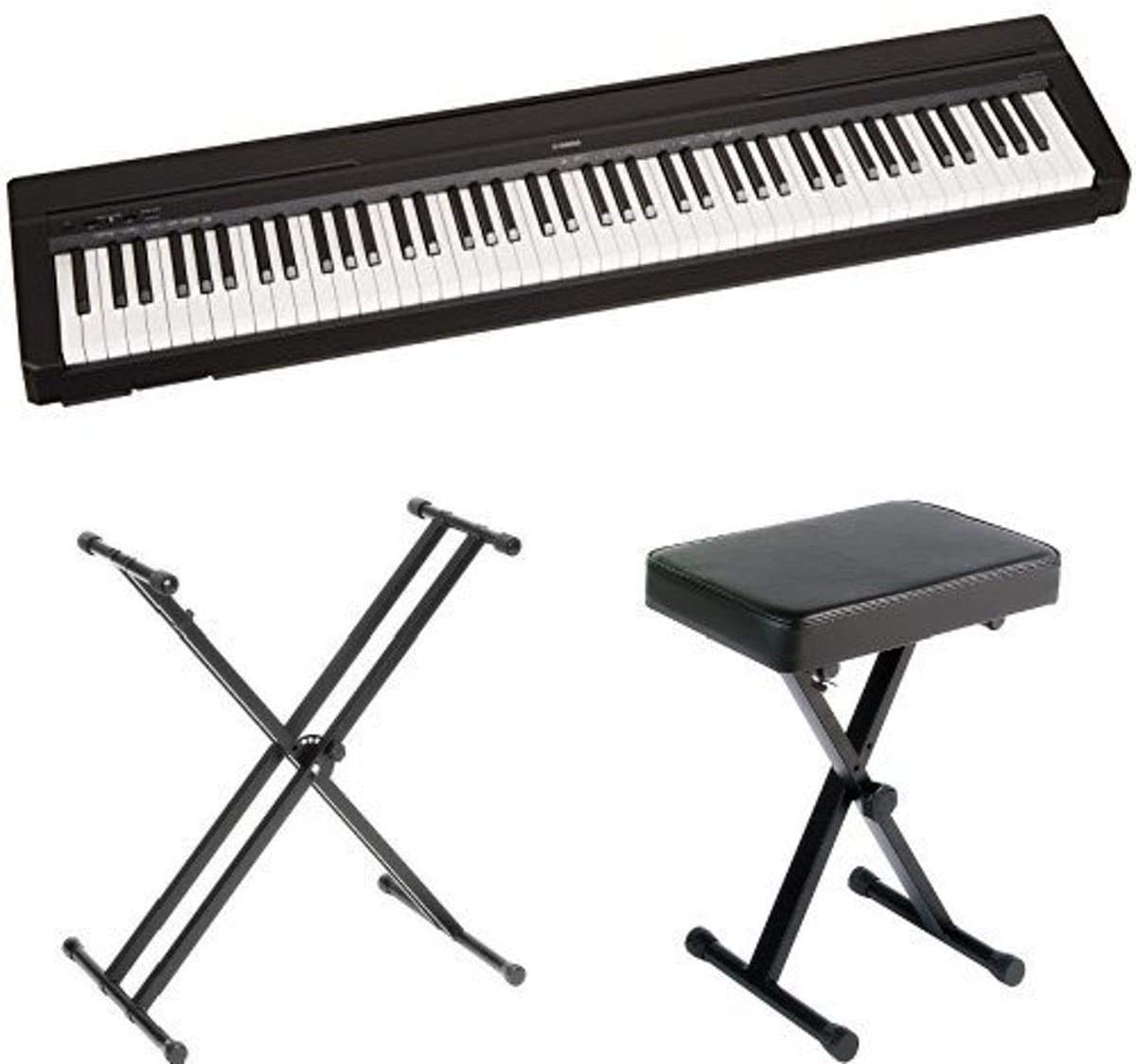 The P71 has a fine-tuning feature that allows customizing the pitch of the instrument. You can increase or lower the pitch range to match with other musicians or downloaded music. This instrument comes with an automatic power-off feature that shuts down the machine after a time of inactivity. You can customize this feature or disable it per your preference.
Polyphony is another factor to consider in pianos. This feature allows musicians to play different sounds at the same time. With the 64-note polyphony, this instrument does an excellent job at making some pleasing sounds.
Pros and Cons of Yamaha P71 88-Key Keyboard
The Yamaha P71 is touted by many beginners and expert piano players as the most reasonably priced digital piano. Despite a few flaws, this keyboard is an investment for newbies looking to start their music careers. Here are some hits and misses of the P71 piano:
Yamaha's P71 is rated highly in the Portable "P" lineup. The product comes with a decent price tag, but with a lack of certain features like MIDI support and recording feature, we suggest you check out the following better alternatives.
---
Alternatives to Yamaha P71
1. Korg B2 Digital Piano
The best alternative to Yamaha's P71 is the Korg B2. This piano is an upgraded version of the B1 — both affordable and quality musical instruments.

Although the brand is not the most sought-after as Yamaha and Casio, this keyboard is common on the best piano charts. This instrument is well-suited for individuals looking to get the feel of an acoustic piano. The keyboard comes with a ton of different software for learning or experimenting with new tunes.
Korg B2 comes with a few add-ons, including an adapter, music rest, and damper pedal. The shabby speakers are this instrument's biggest flaw.

2. Yamaha P-125
The P-125 is a compact and lightweight instrument that is an ideal choice for on-the-go musicians. This instrument has 88 fully weighted keys with a black matte and glossy finish. Unlike the Yamaha P71, the P-125 boasts of four 14W speakers that are powerful and loud enough.

This keyboard has a recording feature, which allows you to record your music using the MIDI recorder. Furthermore, the P-125 comes with 50 preset songs that can be used for practicing. This instrument disappoints with a limited selection of sound effects and missing wireless connectivity options.

3. Yamaha P45
Yamaha's P45 is in many ways identical to the P71. Designed for beginner-level keyboard players, this features 88 keys with similar sound samplings and other features. Mimicking the feel of hammers, this instrument also features four touch-sensitivity settings.

The piano is inbuilt with ten realistic instrument sounds that are from Yamaha's acoustic grand pianos. The P45 arrives with only a few basic accessories, including an adapter, sustain pedal, and music rest. This keyboard is a tad bit more expensive than the P71.

Also Read: Best Digital Piano Under $500 – Guide to Best Affordable Keyboards
---
VERDICT
And that was the review of Yamaha's P71 Digital Piano. This has become the preferred option to learn and practice at a budget-friendly price. The look and feel of the piano are captivating and do an impressive job in many departments.
Yamaha has a knack for building extraordinary music kits, and the P71 is another excellent example of the brand's repertoire. Is there a better alternative to the P71? If yes, let us know in the comments section.
---
FAQs
Are 88 keys on a keyboard really necessary?
For musicians to use a keyboard to their fullest abilities, a fully-weighted 88 keyboard is a must. Beginners can suffice with the 60 to 74 keys, as they will be focusing more on the basics. For someone with smaller hands, an 88-key digital piano is not suitable.
What is comes with the Yamaha P71?
The Yamaha P71 comes with a few basic add-ons. This keyboard comes with an AC power adapter, sustain pedal (Yamaha FC5), music rest, and owner's manual.
What are graded hammer action weighted keys?
Graded hammer action keys are identical to the hammer action keys only with some variable resistance. These keys simulate the weight, thickness, and tension of actual piano strings and the weight of the hammers.