The fiery and feisty-looking Nord Piano or Stage 3 is a low-key instrument that is best for professionals and beginners. Nord has earned praises globally and is currently the expert's favorite on most ranking charts.
Released years after the feature-rich Nord Stage 2, the Nord Stage 3 is a digitally-advanced instrument. This review guide throws light on this highly-praised musical device from a relatively lesser-known brand in the world of digital pianos.
The Nord Stage 3 is expensive but is invaluable to the professionals. Keeping the price aside, here are a few features that you need to look forward to.
Also Read: Best Digital Piano Under $500 – Guide to Best Affordable Keyboards
---
Nord Piano 3 Review
The Nord Stage 3 88-Key Digital Piano is a compelling stage keyboard with a fancy specifications sheet. This highly-praised and heavily-priced music equipment is considered a reliable instrument by many. Let us take you through the nitty-gritty details of this digital piano.
Design
The Nord Stage 3 has the look and feel of its predecessor and is worth paying for. The elegant red color offers a bold and vibrant appearance. The solid construction courtesy of metal and wood finish is top-notch, unlike most pianos falling under this price range.

This is an easy-to-use keyboard with all knobs and buttons arranged so that it can be easily accessed. For first-time Nord users, finding the right keys to lesser-used functions can be a bit daunting.
The Nord Stage 3 is 50.7 inches wide, 13 inches deep, and 4.7 inches high. This fully-weighted keyboard is a bit hard to travel with, as it weighs close to about 41 pounds.
Overall, this keyboard's appearance is distinct from a few of the high-end models available on the market. This is a keyboard designed keeping in mind the likes and dislikes of a piano veteran.
Sound
The Nord 3 has perhaps the best-in-class ability to produce convoluted and impressive-sounding performances, especially for concerts or live events. This keyboard boasts three sound engines, namely piano, organ, and synth.
Moreover, this instrument features the widely-praised Bösendorfer Grand Imperial XL that is common in Nord pianos. This piano houses an extensive library of piano sounds that arrive in four different sizes: Xl, L, M, and S. There are nine grand piano tones included within the Nord Stage 3:
Royal Grand 3D YaS6 from the Yamaha S6
Grand Imperial Bdorf from the Bösendorfer Imperial
Grand Lady D Stw D from the Steinway Model D
Italian Grand Faz from a Fazioli Grand
Velvet Grand Model1 from the Blüthner Model 1
Silver Grand SK7 from the Kawai SK7
Studio Grand 2 YaC7 from the Yamaha C7
Bright Grand YaS4 from the Yamaha S4
E.Grand 3 Mono CP80 Amped from the Yamaha CP80
Since each of these sound samples requires a lot of memory, Nord has separated them into categories, ranging from XL to S. The most comprehensive of these samples belong to the XL category. At the same time, the samples from the S category require less memory storage.
Stage 3's samples allow one to add layers of customization via the keyboard's effects. Professional piano players recommend using this feature as they make the sound feel more rich and convincing.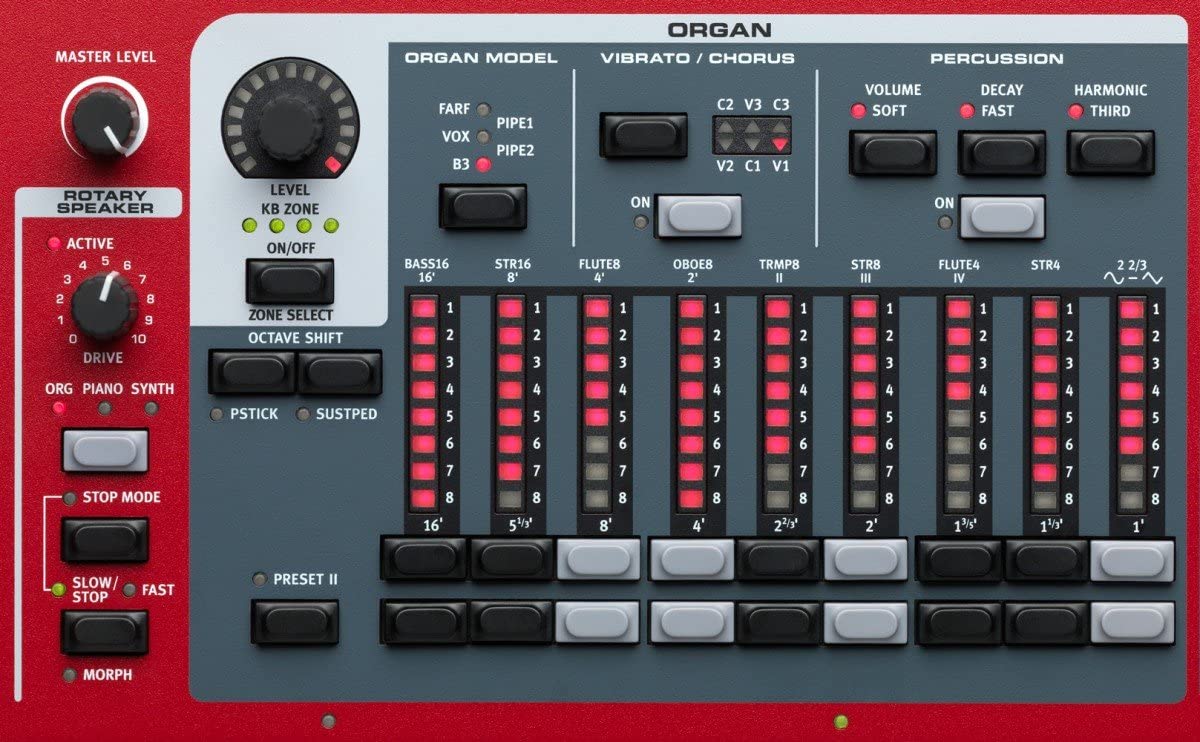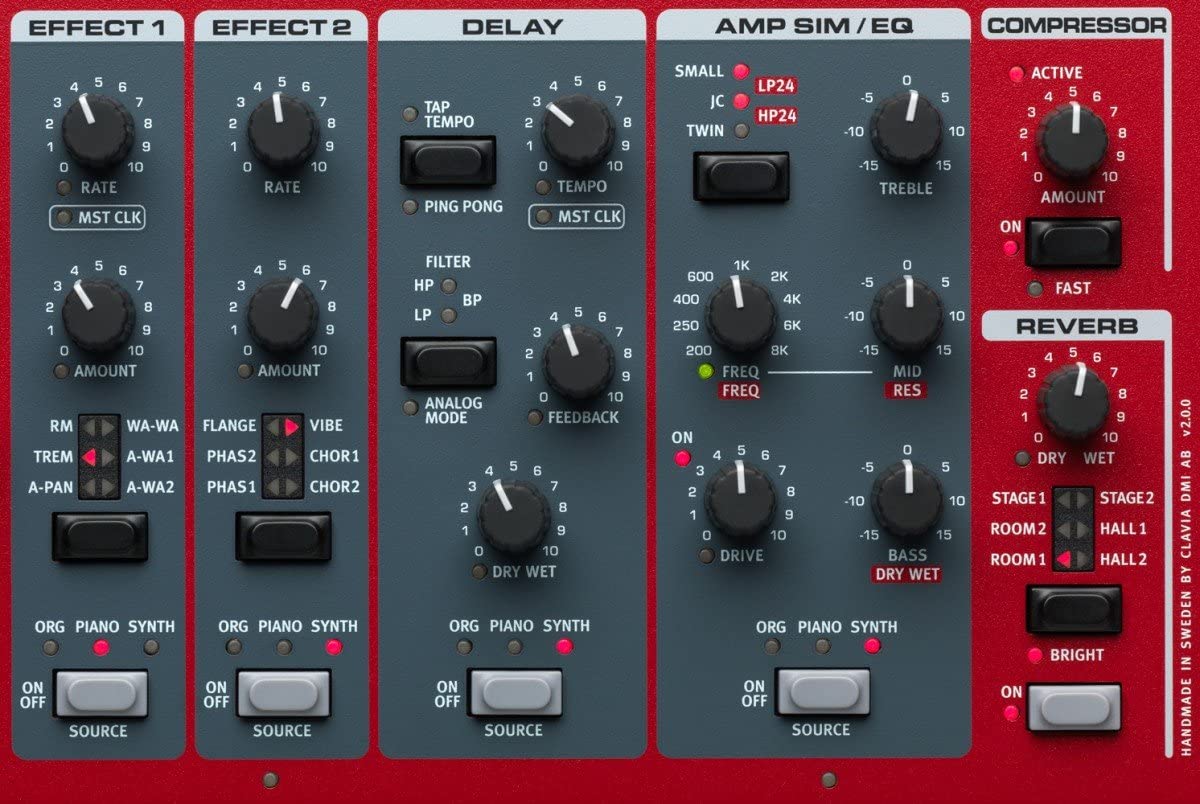 In addition, the harpsichord sounds come in two different variations — French and Italian. Each of these has been individually sampled to retain its specificity. While Clavinet sounds are the talking points of the piano when considering sound.
On the whole, the sound section of the keyboard worked well beyond expectations. By incorporating software like Sound Manager, you can cut down unnecessary sounds.
Effects
The significant takeaway from the Nord series is their effects. Unlike most keyboards, the Nord Stage 3 has positioned the Effects panel on the front panel, thus eliminating the time spent on menu toggling.
Effect 1: Under this effect, you have effects such as ring modulator, auto-panner, tremolo, wah-wah, auto-wah 1, and auto-wah 2.
Effect 2: This section includes Flanger, two variants of phasers, two variants of choruses, and vibe.
Delay: There is a dedicated area for the Delay feature. This is a critical feature in creating music—a feature that has added tempo sync and analog-modeling, an improvement from the previous Stage models.
Amp Sim/Eq: The amp sim area is pretty neat and user-intuitive. This feature includes three distinct functions — Small Amp, JC, and Twin.
Compressor: This is the most-anticipated part about a piano's control panel. There is a Fast mode that presents the right vibes to dance musicians.
Reverb: This aspect of the piano features six algorithms — two halls, two rooms, and two stages. These six algorithms are nifty to some musicians; however, this falls short compared to many high-end models from other brands. The main reason being — lack of Dry/Wet mix knob on the control panel.
Extern (External Section): The fascinating part about the piano's Extern section. This area is specifically to enable you to integrate external music equipment for your performance. Although the setup demands time and effort, connecting, later on, becomes more comfortable.
Also Read: Hamzer 61-Key Electronic Keyboard: Entry-Level's Pick of 2021
Keyboard
Stage 3 comes with 88 keys, all of which are fully-weighted. The keyboard comes with a Virtual Hammer Action technology that enhances key response rate. This feature allows you to create notes by not having to animate the keys altogether.
Nord Stage 3's two sensor-system allows for seamless organ and synth playing. The keyboard offers a more authentic key action. For a device priced so high, the keys provide a decent playing time.
Connectivity
Nord's Stage 3 is a professional instrument loaded with an abundance of connectivity options. There are a total of four-line out jacks that have dimensions measuring a quarter-inch — two of which are dedicated for principal stereo output, while the rest are four sound sources. There is a quarter-inch headphone jack also.

Furthermore, there are three jacks for the pedals — a sustain pedal jack, a control pedal jack, and an organ swell jack. To connect the keyboard to your computer, there is the USB Type B port for MIDI. All in all, Stage 3 has good connectivity options that can do most of your job.
Additional Features
Nord keyboards come with exciting features that entice any professional piano player. Firstly, the two monochrome OLED screens are invaluable in editing or selecting sounds, effects, or programs. The screens are positioned around the program selection and Synth section.
Other features that separate the Nord Stage 3 from the rest are the — mod wheel and pitch bend. The mod wheel is elegant and sleek, which requires some time to get used to it. The pitch bend feature is handy when utilized for vibrato and full bends.
Another exciting feature is the aftertouch, which detects pressure sensitivity soon after pressing the keys. These are a few of the laudable features rated highly by professional piano players.
Pros and Cons of Nord Stage 3
The Nord Stage 3 is the improved version of Stage 2 — quality features and even better aesthetics. Promoted as the professional's best choice, this piano comes with a ton of benefits. A tried and tested session has had us jotting down the following benefits and drawbacks of using this.
The Nord Piano 3 is a high-end musical instrument that carries a huge sum. The cost of this piano has been a significant letdown, which is why they resort to alternatives with a cheap price tag. Here are a few other options.
---
Alternative(s) to the Nord Piano 3
Roland FA-08 88-Key Music Workstation
Roland is a music power-house with premium written all over it. This is a versatile and portable keyboard with 88 weighted keys on-board. This is not as highly-priced as Stage 3 but still does an exceptional job keeping the professional players wanting for more.

This keyboard comes with easy-to-use control panels that are handy during stage mishaps or other uncertainties. Besides one major flaw like the missing feature of the PC editor, the FA-08 is a serious competitor to the expensive Stage 3.

---
VERDICT
The Nord Piano or Stage 3 is a professional's favorite piece of musical instrument. The features of this instrument is worth shelling thousands of bucks. However, if you are under budget-constraint, the Roland workstation is not a wrong choice too.
Professional players need not look any further — the Nord Stage 3 is the best choice one can proceed with. With many alternatives on the market, let us know which one you'd recommend in the comment section.
---
FAQs
What are all the accessories the Nord Stage 3 comes along with?
Nord Stage 3 is a package that arrives with quality add-ons. The following are the accessories you get:
Full-Sized Sustain Pedal
Piano Library DVD
User Manual
Dust Cover
USB Type B Connector
AC Adapter
Is there a need for 88-keys digital piano?
Yes. Nevertheless, it depends on a few factors — are you a regular piano player, and is portability a concern to you. Generally, keyboards with 73 or 76 keys are sufficient enough. As you progress and hone your skills, 88 keys pianos might be worth paying for.
What are the key highlights of the Nord Stage 3?
To reiterate the best selling points of this musical instrument, below are some mentionable features:
OLED screen offers a complete overview
It has a classic Nord Piano sound
Includes a Triple Sensor keypad with enhanced grand weighted action
1GB storage space for Piano Library; 256 MB for Sample Library.