Everyone needs a good vacuum to keep their house clean, but sometimes it can be an intimidating decision to buy one. Although purchasing a vacuum doesn't always mean that you break the bank. There are innumerable vacuum cleaners under $100 available that come with the same specifications.
To make the process of finding a budget-friendly vacuum easier for you, we've cleaned our cabin floors in order to jot down the ten best vacuum cleaners under $100.
But before you check the list, we want you to first pay heed to the things to consider when buying a vacuum cleaner.
---
Things to consider before buying a vacuum cleaner
Here is a list of some of the factors that you should consider to make the best buy.
If you are planning to buy a vacuum cleaner under $100, make sure you purchase the ones that cost you less post purchasing it. Bagless machines are much cheaper than the bagged ones; however, we advise you not to compromise on the quality of the device.
The most important thing you need to consider for what purpose you're buying the vacuum cleaner. There are cleaners available for specific jobs in the market.
Handheld vacuum cleaners are lightweight and affordable, which are the ideal choice for simple cleaning. While upright vacuum cleaners are for the whole house and handy for tough tasks, whereas a canister vacuum is a stick vacuum for daily touch-ups.
Before making the purchase ensure that it comes with at least a minimum warranty of one year. The longer the warranty period is, the more is the assurance of the durability of the product by the manufacturer.
Now that we know the factors, it is time to check the ten best vacuum cleaners under $100.
Also Read: Ideal Gifts For The Fitness Freak In Your Life
---
Best Vacuum Cleaners Under $100
Here is a list of the10 best vacuum cleaners under $100 you can choose according to your requirements.
1. Shark Rocket Ultra-Light with TruePet Motorized Brush (HV292)
The Shark Rocket HV292 is inarguably the best cleaners for simple tasks and above-floor cleaning. Weighing just around 4 pounds, this machine can work for hours without causing any trouble.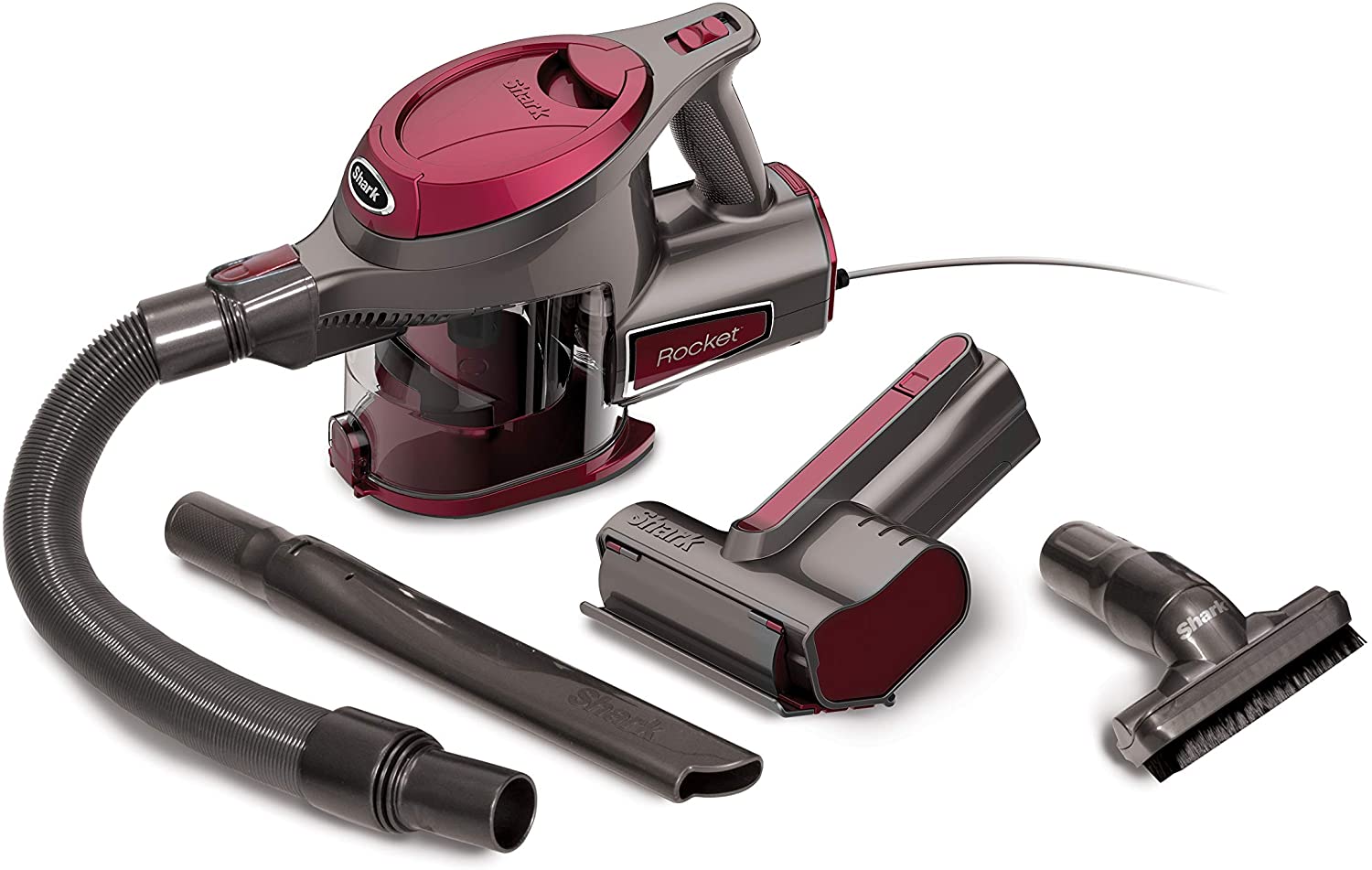 It is light and handheld; still, it is robust, which helps in maintaining the suction even when the dirt bin is full. It comes with a micro attachment kit with additional accessories to use.
It also has a motorized cleaner head, which helps you in keeping the carpets clean along with upholstery to keep your carpet free of hairballs. The motorized cleaner offers you the power to clean different kinds of surfaces without losing suction.
2. Roomie Tec Cordless Vacuum Cleaner
Roomie Tec is another remarkably inexpensive machine, helping in cleaning the hard floors by simply pressing the 'ECO mode' and carpets by pressing the 'MAX mode.' Moreover, the beater bar of the cleaner can be removed to clean.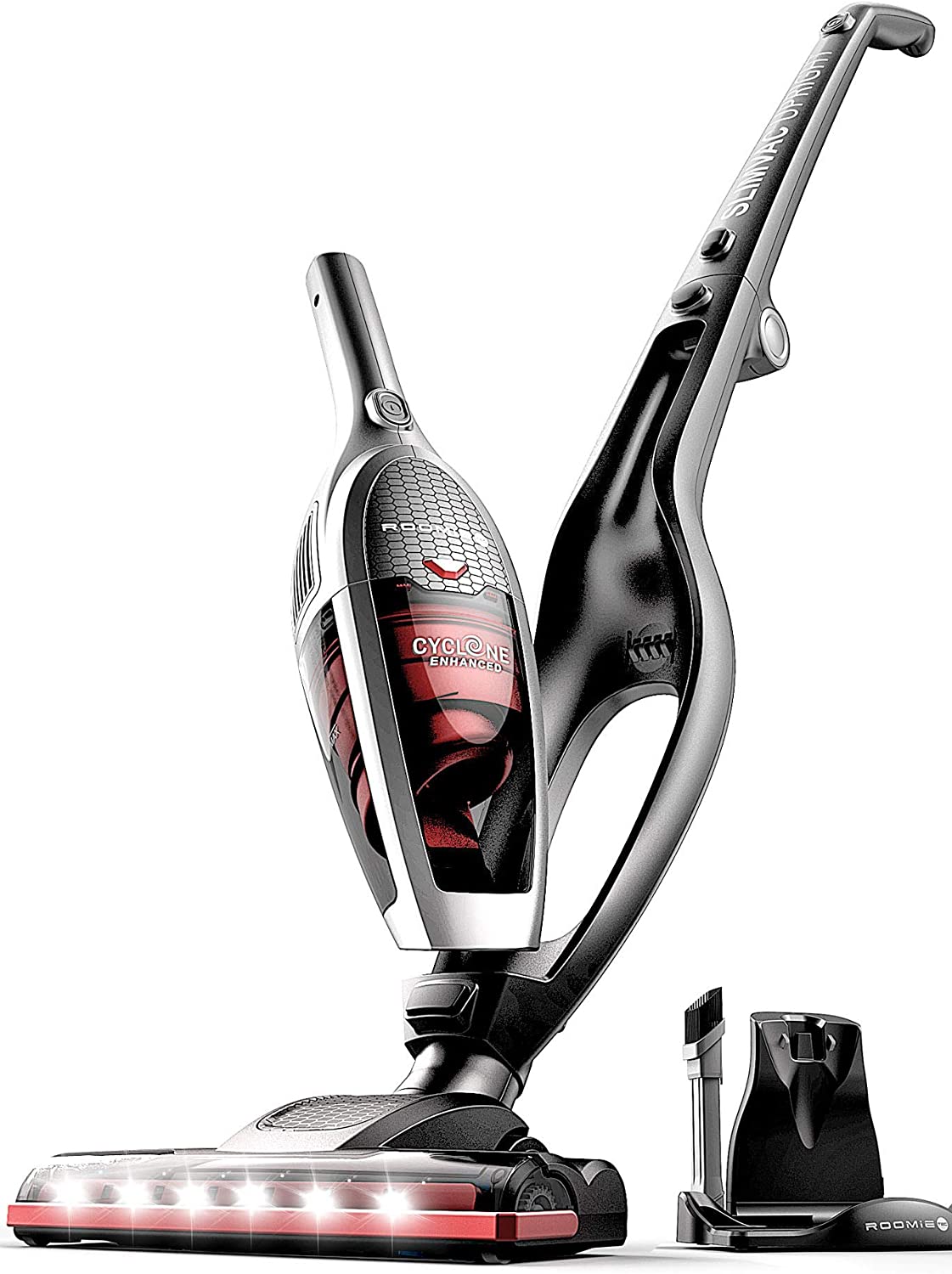 The battery of the vacuum cleaner allows it to run for about 23 minutes, which is adequate enough for simple cleaning tasks.
This vacuum cleaner can be folded for better storage, while it also does come with a charging base. For floor safety, the Roomie Tec features rubberized wheels. This also boasts of six LED lights that tend to illuminate the dark areas of your house.
3. Bissell 2489 CleanView Rewind Pet Bagless Vacuum Cleaner
The third, of the best vacuum cleaners under $100 is the Bissell 2489. This is a decent cleaner that is catered to pet parents. It rigorously picks up dirt, picking most of your pets' mess to get the surfaces thoroughly cleaned.

Known for high power and performance, the Bissell 2489 comes with a few accessories such as the extension wand to clean above-floor, a crevice tool for getting into tight spots, and a turbo brush to clean pet hair. Once you are done vacuuming, you'd have to empty the container into the trash can.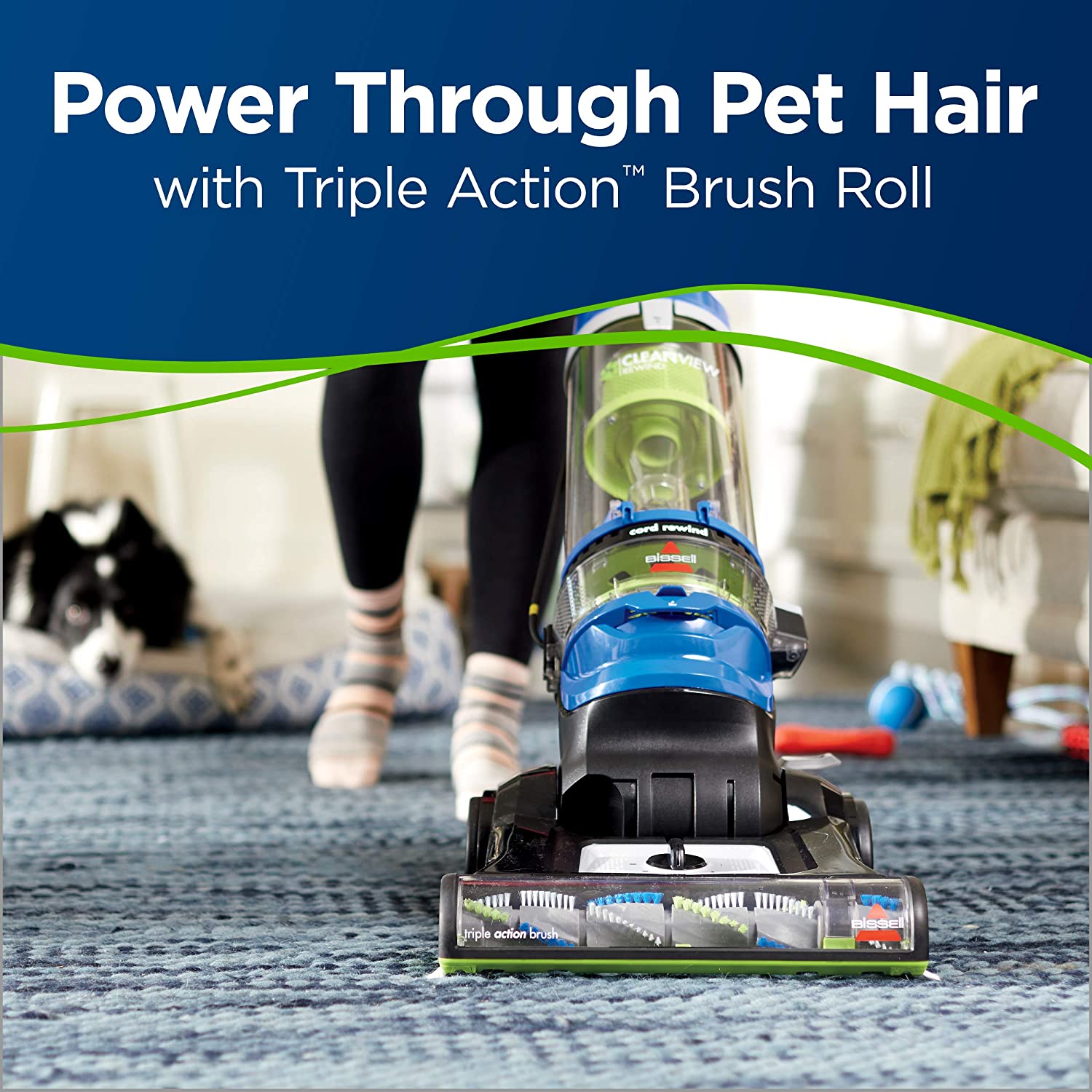 Other features of the cleaner include 25 ft. Cord and easy disposal mechanism. With such amazing features, 2489 is the best fit for this price. With state-of-the-art features like scatter-free technology, you have great chances of reducing piles of dirt on the floor. The triple-action brush roll does come in handy when eliminating dirt and pet hair from multiple spots.
4. Eureka Mighty Mite 3670G
The Eureka Mighty Mite 3670G is one of the best canister vacuums featuring a smart seal filtration that keeps the allergens away from the house.
It also has a blower port that tends to work excellently as a blower in the garage. Another fascinating thing is the slip ring of the cleaner, which enables you to vary the suction to clean various surfaces.
The cleaner is best suited for cleaning above-floor areas and hard floors. Moreover, this piece of cleaning equipment is available in a variety of colors.
5. Pure Clean Robot Vacuum Cleaner PUCRC25
The Pure Clean Robot Vacuum Cleaner is compact and small. This cleaning gear improves versatility without having to lift a finger.
This machine is light and 2.9 inches high, making it easy to squeeze this under any furniture; however, it can be hard when using this to clean carpets or floor mats.
It has a button to indicate the battery, which also can be used as a button to switch the device on or off. Also, it has a 90-minute runtime, which is considered sufficient to get through most of the tasks.
Also Read: Best Eyeglass Cleaners
6. Armor All AA255 Vacuum Cleaner
Armor AA255 is quite a handy vacuum that tends to handle most of the house cleaning. The cleaner doesn't have to be assembled; instead, you can open and use it straight away.
The machine is lightweight and weighs just 7 pounds, allowing it to hold up to 2.5 gallons of water. Featuring an auto-shutoff option, the AA255 shuts down the machine once it is full.
It includes a 10-ft long cord and 6-ft hose, allowing you to clean difficult places. It also comes with a car nozzle, a rolling brush, a crevice tool, and a utility nozzle.
7. Bissell PowerEdge 81L2A Stick Cleaner
Bissell PowerEdge 81L2A is efficient in cleaning the corners, edges, and feet of the furniture as well. Sporting a v-shaped cleaner head, this machine can get close to the feet of the furniture and suck the dirt easily.
With the V-shape, Bissell collects large debris to the center that has a large opening. The cleaner is suitable for low pile carpets and hard floors.
The PowerEdge 81L2A is lightweight and weighs 7.5 pounds, making it easier to work for hours. Besides, it also comes with an easy to empty bin.
8. Bissell Zing Canister
Another one from Bissell is the Zing Canister 2156A. This machine is powered by cyclonic technology, which ensures that the suction is maintained, while also reducing the strain on filters while cleaning. It is a bagless vacuum that makes it cheaper to get it serviced.
It is designed to work on hard floors while it works effortlessly on low-pile floors too. It does not comprise brush rolls, so it doesn't work well on high-pile carpets.
It is equipped with a rocker switch that extends a small row of brushes in frontwards and retracts depending on the surface you plan on cleaning. It also has a 10.1-inch cleaning head and a 16-ft cord.
9. Eureka 169J 2-in-1 Vacuum Cleaner
Eureka 169J is an excellent vacuum cleaner, comprising a ton of exciting features. It is a corded stick vacuum that saves you from the trouble of cordless cleaners.
The machine's cord is about 15-feet long, which falls a bit short. It boasts a wide nozzle that allows you to clear vast areas in just a few passes.
The cleaner has suction capabilities that work well on hard floors and area rugs. It also comes with a brush roll, which is typically used in cleaning carpets.
10. Bissell Featherweight Stick Lightweight Bagless Vacuum
Bissell's Featherweight is another value-for-money vacuum cleaner that effortlessly cleans hard surfaces. It has the crevice tool that assists in cleaning deep under the tables and the bed, and the filters of the cleaner are washable, which makes it low maintenance.


This cleaning gear cleans large debris as it comes with powerful suction that also goes perfectly for picking massive chunks of trash. The trash tank quickly clears the dirt and can hold up to 0.67 liters of debris. The addition of a floor nozzle helps in convenient cleaning the stairs.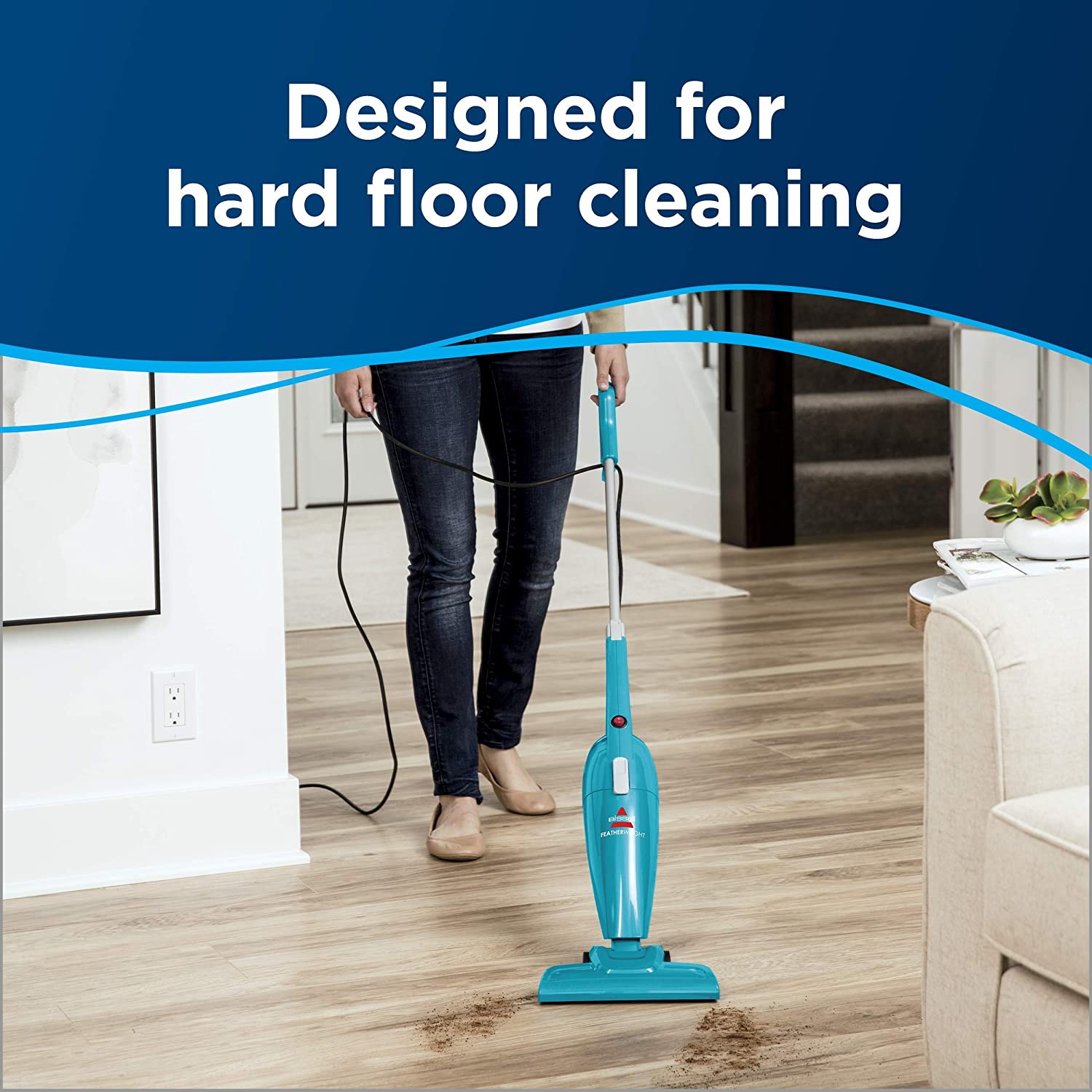 Furthermore, it features a 15-foot power cord that seamlessly cleans larger spaces without unplug and re-plug. While weighing just under five pounds, this stick cleaner is exceptionally portable. Overall, Featherweight is a bankable, super lightweight vacuum cleaner for hard floors and is available in four different colors — blue, black, lime, and purple.
Also Read: A Definitive Guide to Buying the Best Running Shoes for Women Under $100
---
CONCLUSION
Having a vacuum can be a great help to keep your house clean, bright, and shining. Though it doesn't always have to invest a lot of money for them. Though that doesn't mean that you have to compromise the quality and other features of the cleaner.
The Shark Rocket Ultra-Light with TruePet Motorized Brush (HV292) and the Eureka Mighty Mite 3670G were some of the powerful machines we've tested our floors with. These vacuum cleaners are effective right from the get-go.
We have made a list of the ten best vacuum cleaners under $100, which may not only fit your budget but also offer you excellent features, so you don't have to compromise. Hope this list will help you in making the perfect choice for your usage.
---
FAQs
1. Is there a particular time on when to replace a vacuum cleaner?
19There isn't a particular time to discard your vacuum. However, a vacuum cleaner can easily last for about eight-nine years. There are quite a few factors that brought us to the estimated timeline — how much/often you use it, how you maintain it, and the type of vacuum. 
2. Do cheap vacuum cleaners have any impact on the environment?
Cheap vacuum cleaners are highly effective in cleaning debris and discarding bacteria and particles from the house, thus leading to decent air quality. Nevertheless, the lifespan, when compared to high-end models, is significantly shorter. 
3. What is hard to find in vacuum cleaners under $100?
The benefits of having an affordable vacuum are many. However, there are a few features compromised that could make cleaning effortless. Features like cordless, battery-powered operation are hardly found in a 100$ vacuum, while a few add-ons and accessories can also be missing. Regardless of the features, you miss out on, a budget-friendly variant can still do its primary job — clearing the debris.