Standing desks are gaining popularity these days. Every firm and employees are preferring standing desks over chairs and couches. Since long hours on chair causes issues physically and mentally, standing desks are the perfect substitutes. Most of the organizations are choosing desks over chairs because of the improvement in efficiency and productivity.
These desks come with the advantage of height adjustments while converters are more adjustable desks which help to customize according to the user's need. Since these desks are new to the market, it is quite common to have more doubts about it. We are trying to answer all those questions through this blog.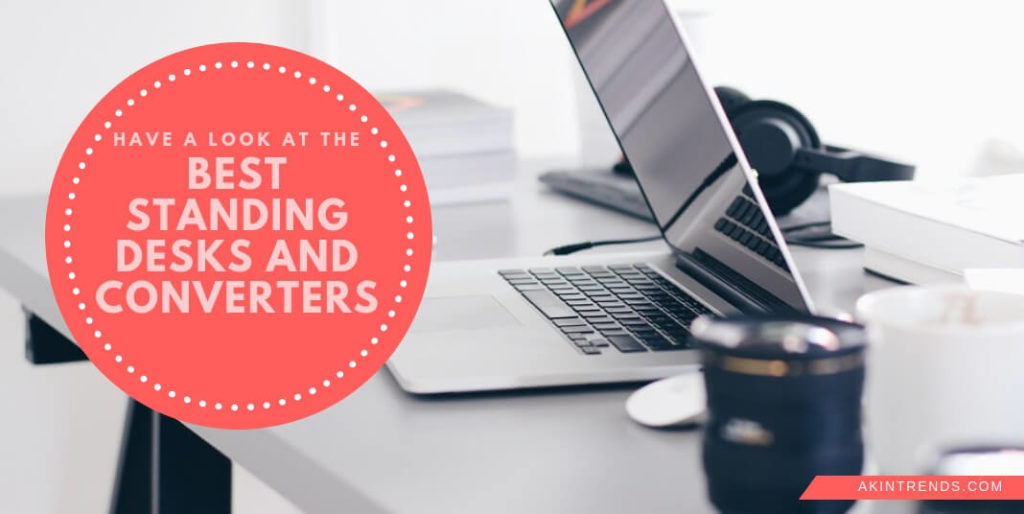 Standing desks come in a wide range of prices. As said before, you can also opt for the option of DIY customization to save money. In a world demanding restless hours in front of a computer screen, it's not a surprise when people pick to stand rather than sitting. The way the standing desk is appreciated shows the comfort factor is not a concern in this case.
The health benefits of standing desks include weight loss, back pain relief, low risks of obesity and prevents cardiovascular diseases. Long hours on seats may lead to depression and stress. Stretching out on a standing chair helps you relax and relief from fatigue.
Since standing desks come in all varieties matching your requirements and comfort, why not change to standing desks. In the corporate world, the rate of health issues is increasing daily. The promotion of products like standing desks helps to phase out these risks.
Below are some essential features to keep in mind while purchasing a standing desk.
Weight Capacity: The weight capacity of your desk is significant. Most of them have wooden manufacturing material, check for the durability of the wood. It is recommended to go for bamboo desks since it is known to be the most excellent quality. The desks should be firm enough to withstand the electronic devices, other necessary items, and sometimes your weight too.
Appearance: Appearance does matter when it comes to a standing desk. An appealing desk motivates you to do your work with enthusiasm. The professional class your standing desk delivers makes you feel the positive vibe while working. A dull-looking desk may affect your mood badly. Along with quality look for a classy finishing touch which makes you love your desk. A couple of dollars more may land you the perfect one. Remember, for you a desk is to work, why not go for a one that makes you work?
Watch the full video to know how this school has adopted to standing desks
Flexibility: Always go for the desk which is customizable according to your need. Whether it is a standing desk or converter, look whether it suits the environment where you are planning to install it. Be careful with the size and height. Look whether there is space for multi-purposes. Check if it comes with a sitting chair or it is allowing to add a converter to it later. The desks with space for customization is always worth the price.
Budget: This is where you need to plan things out. The desk offering advanced features will be higher than the one with decent features. Take all your requirements into account and then go for the one matching your needs. Investing in a standing desk needs proper budgeting. Because a standing desk is a long time investment, crossing the budget is also worth a thought. Plan accordingly and choose wisely.
Type: Standing desks are available as electric and manual desks. Switches/buttons manage electric desks. Everything from adjusting the height and level, all the features are accessed through your fingertip. While the manual desks need you to do all the work, this may sometimes cause difficulty since the handling and adjusting may cause a mess. Electric ones are costly and also practical. But again choose the one according to your need and budgeting.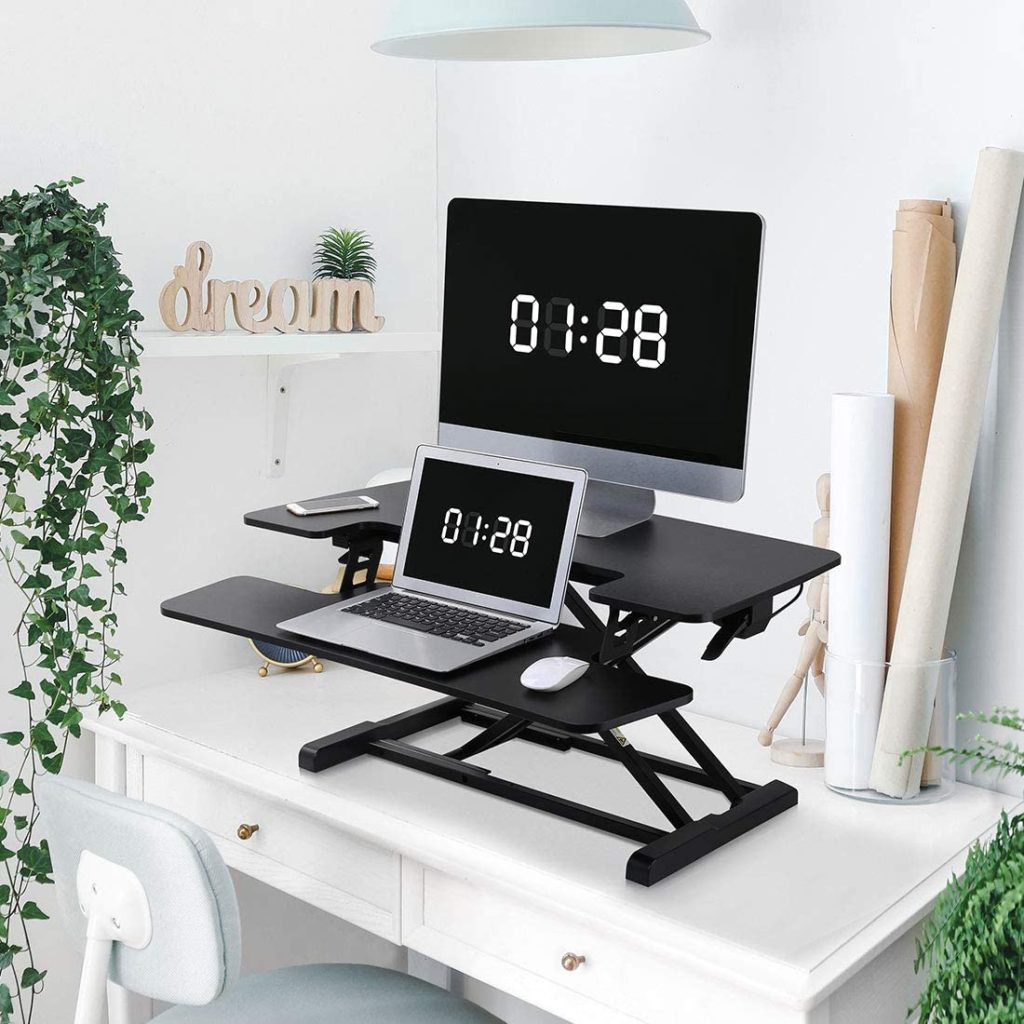 If your desk doesn't need customizing all the time, then the manual desk will be a good choice, but when the customizing often, it is recommended to go with the electric ones.
Size: Next important feature is to consider the size of the desk. The size of the desks starts from 24 inches in width. If the desk is for one user at a time, then choose the lower sized desk, but when multiple users or devices are expected to work at the same time, then there is a need for a bigger sized desk. The size of the desk matters when taking the purpose of the desk into account. The desk for your point of view.
Assembling: Most of the brands offering electric desks come pre-assembled, while some need to get assembled. Follow the instructions carefully before assembling or else ask for expertise to do the task. The ones pre-assembled helps you with shifting later but still learning to assemble by yourself may come in use later.
Warranty: Purchase the desk with more than an 8-year warranty. Usually, it comes with at least a 10-year warranty. Consider the warranty period before purchasing and understand the terms and conditions as well. Remember to go with the reputed brands since they come with minor issues and excellent services.
Customization: Before going for the desk, check whether it is suiting your environment or blending in with your other furniture. Also, look to what extent it is customizable. Check for the adjustments features, space for more devices, useful enough for your demands.
Best Standing Desks and Converters of 2020

Let's look at the top desks and converters of 2020:
1. JARVIS BAMBOO STANDING DESK

Titled 'The best standing desk of the year' for four consecutive years, the Jarvis Standing Desktops this list. As the name says, it is made up of good quality bamboo which guarantees the sustainability of the desk. The dashing structure of the desk is impressive, and it will beautify your workplace. Unlike other desks available in the market, Jarvis Bamboo comes with the natural pigmentation that helps it shine brightly. Jarvis bamboo blends perfectly with the ambiance of the place where the desks come in use.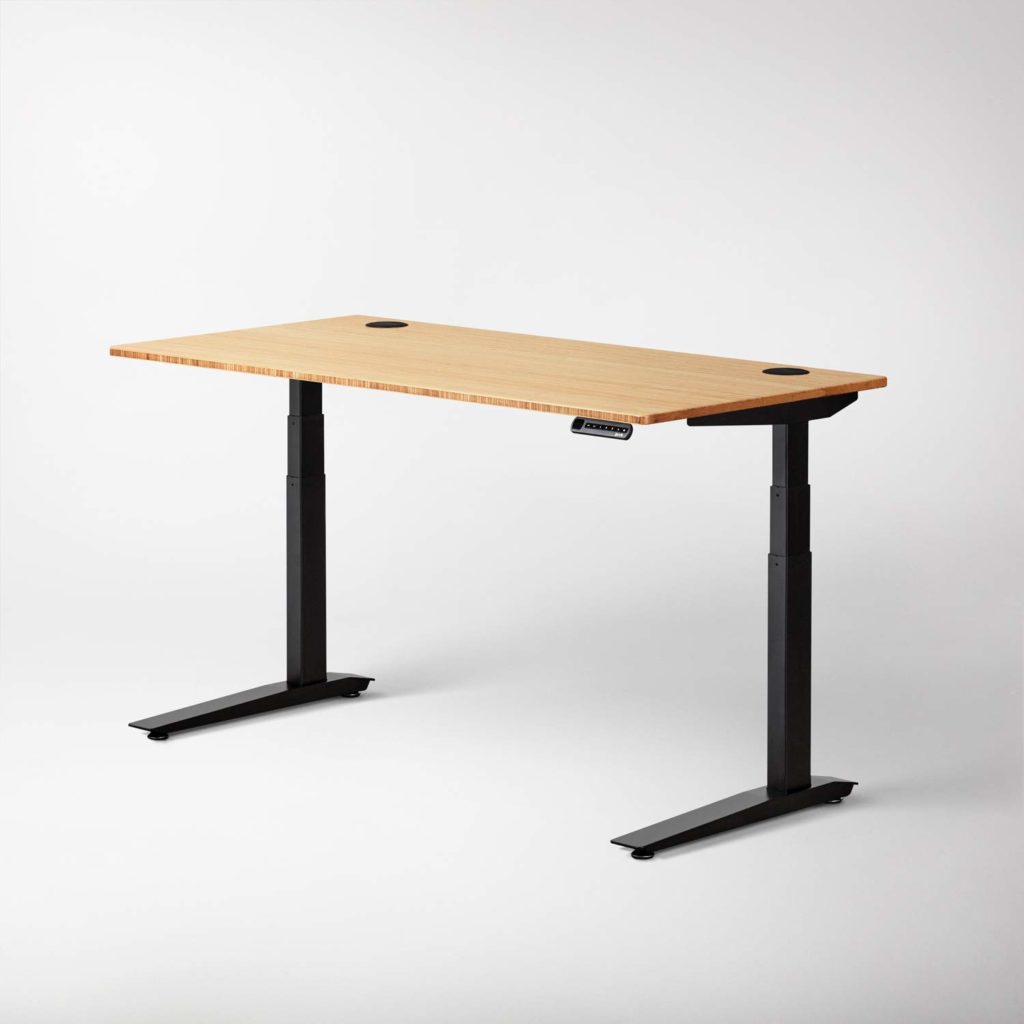 It is sturdy enough to support all your devices and gadgets and has a weight capacity of 350lbs. The fine quality manufacturing gives it the cogency to meet our expectations. This best standing desk converter is available in seven colors and comes in two different shapes.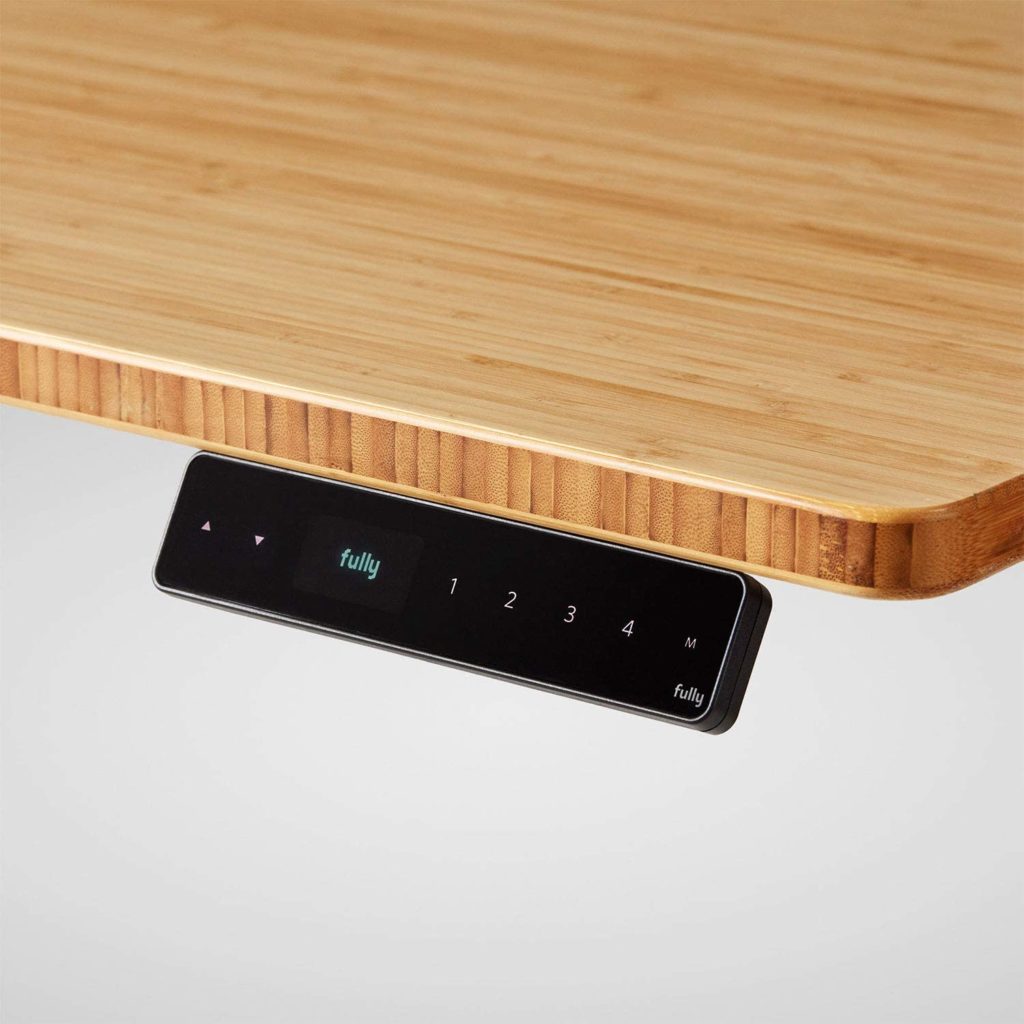 2. FLEXISPOT Standing Desk Converter (Best Under $200)
FLEXISPOT's standing desk and converter hold the second position on our list of best standing desks. One of the advanced standing desks with cool features. This desk boasts of a Smart "X" structure paired with a gas spring hovering system, which offers a smoother and safer transition from sitting to standing position.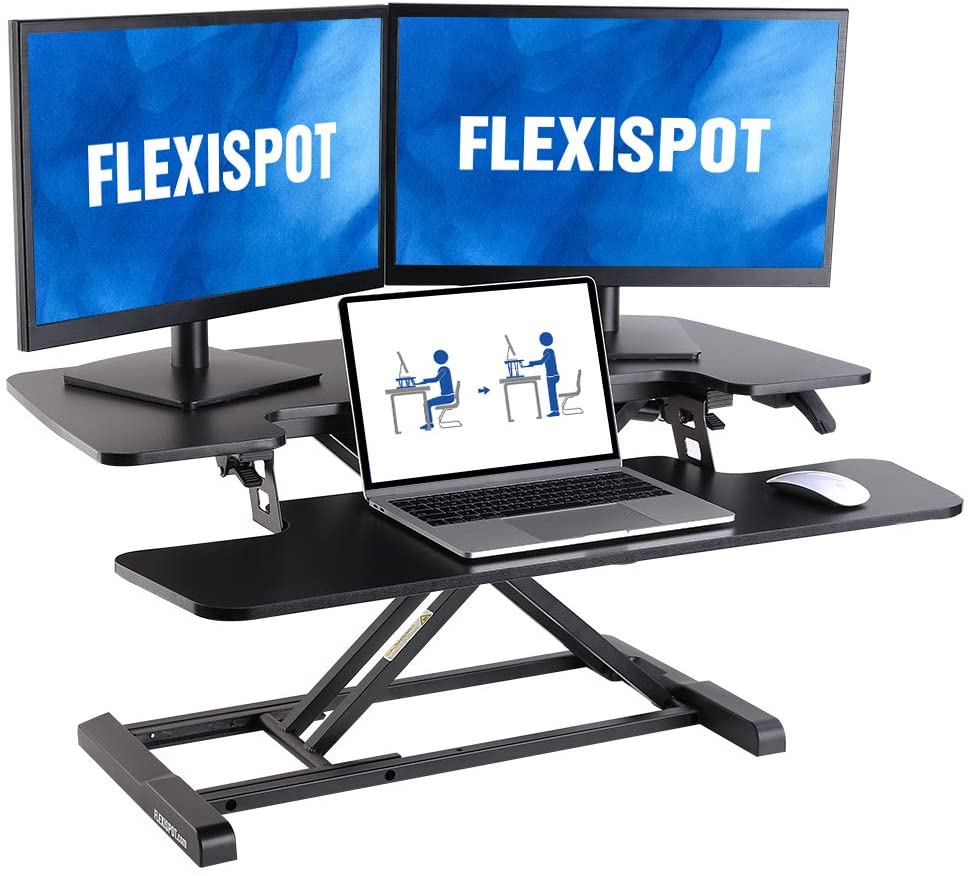 It's just a matter of time until you get familiar with the desk. The features and controls make the desk impressive. The desk comes pre-assembled and can be installed within minutes. Although, you need to just spend a few seconds on attaching the keyboard tray.
3. UPLIFT BAMBOO STAND UP DESK (Best Stylish Standing Desk)
Uplift Standing Desk is amongst the finest desks in the market. The unique design of the desk is pretty impressive. The desks come in the groove cut-out model as well as in the ordinary model. All the necessary accessories come along with the desk eliminating the chance of additional purchase.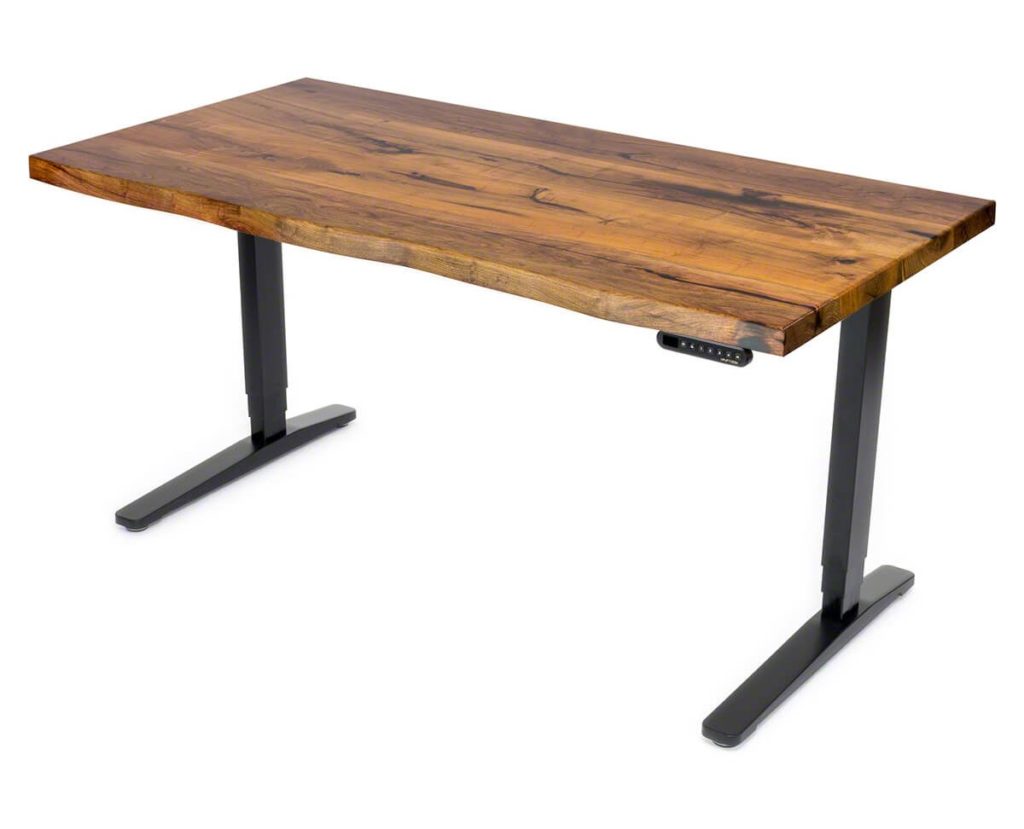 The desk may not be that appealing, but it is known for its durability. In spite of its mixed user experience, the Uplift Bamboo Desk gets the admiration for what it can offer. The desk comes with 6′ 6″ inches height which is adjustable from 24 to 51 inches. Supplied with a one-touch digital memory keypad, this standing desk allows you to program and save your height and return with a single push of a button. The manufacturer offers an industry-leading warranty against damage, which is 7 years.
Also Read: 7 BEST SOUNDBARS OF 2020 (UNDER $50)
4. G Pack Pro Standing Desk Converter (Best Electric Standing Desk)
The G Pack Pro is suitable for those looking to buy a feature-rich standing desk converter. Powered by an electric mechanism, this standing desk can be customized according to your need. The advantage of converters is that they are portable and easy to use.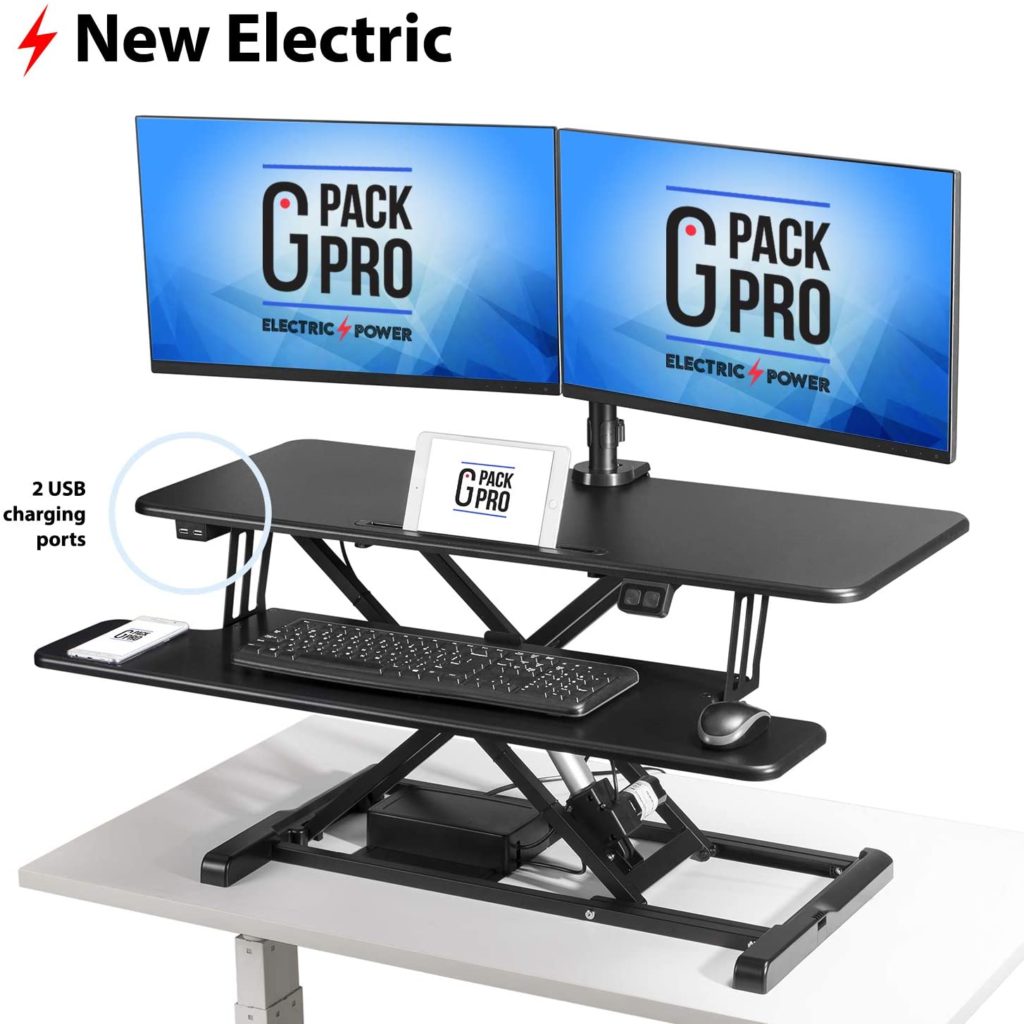 The G Pack Pro's 37" wide desk surface provides enough room for a PC and laptop. The converter also leaves space for additional accessories. Moreover, you can adjust the desk by simply pressing a single button located on the top side. This is a heavy-duty desk that is laden with a strong steel frame and low profile frame.
5. ERGOTRON WORKFIT-T
Ergotron Workfit is also a popular converter. This converter comes with decent quality and design. It's shifting adjustment is restricted to only vertical altering and has switches to access the feature. The advantage of this converter is that it comes pre-assembled, saving you all the time of installing.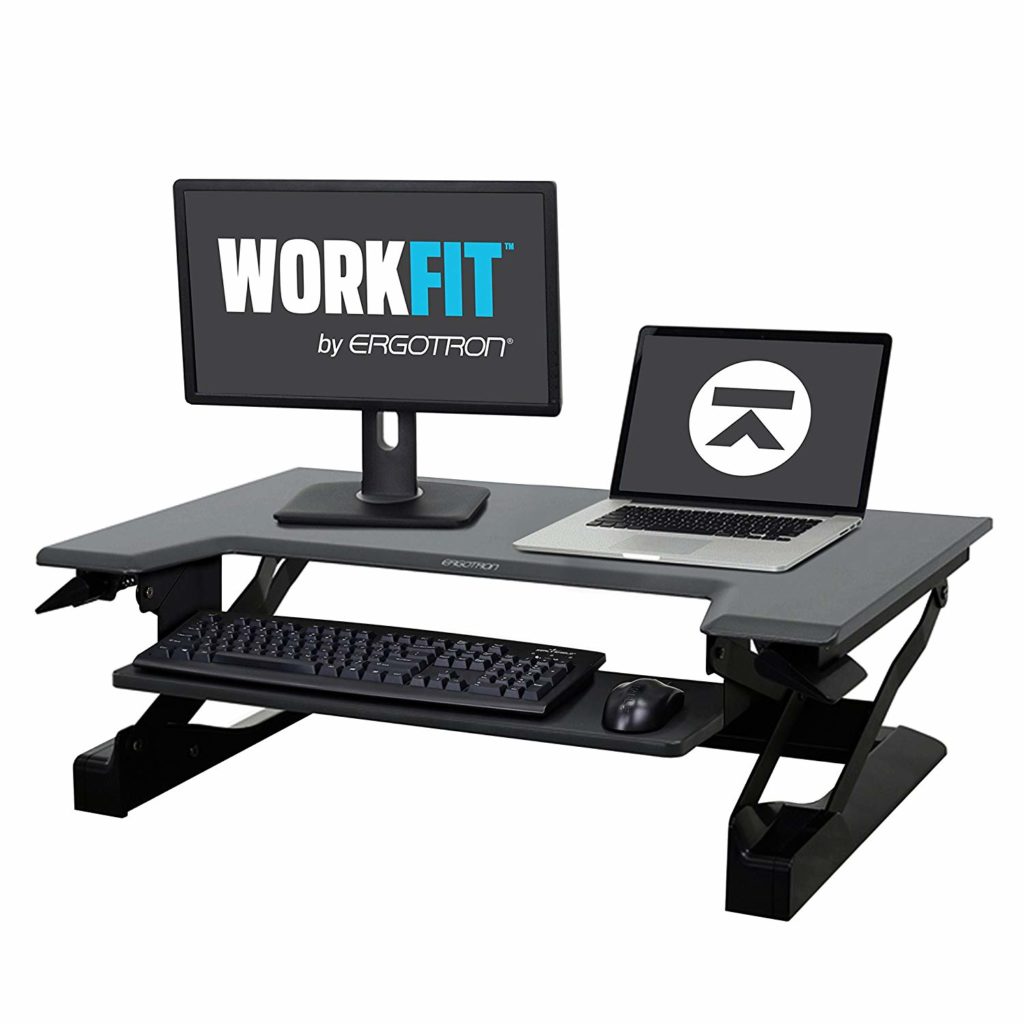 The weight capacity of this converter is 35lbs and height can be adjusted up to 15 inches. For protection from damage and defect, the brand provides a 5-year warranty. This standing desk converter is available in two colors — Black and White, while it is supplied in two sizes — 35 and 37 inches wide. If you're looking for a stable desk under $400, the Ergotron Workfit-IT is a handy choice.
6. VARIDESK PRODESK 60 ELECTRIC (Best Under $700)
Next good choice for the list will be Vari Electric. Stability is what makes the Vari desk outstand its peers. It is flexible for all types of adjustments. Even though its structure and design are satisfactory, the operating and handling of this desk is worth the try.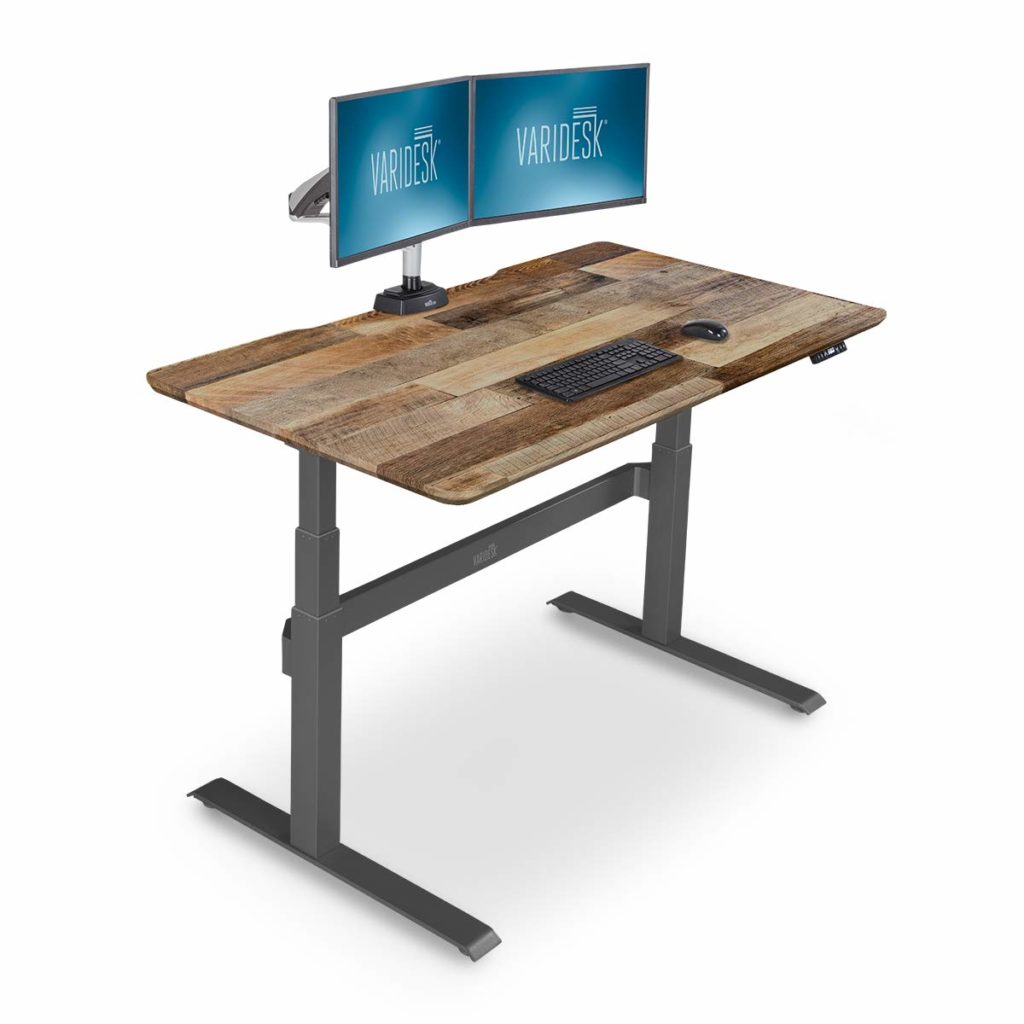 This desk comes with a paddle, hex wrench, and cable management loop. The quality of the desk is excellent and smooth. Varidesk is popular; it comes with mixed user reviews. Sporting a T-style leg coupled with heavy-duty steel foot, this is a stable piece of the desk with a supporting capacity of up to 200 lbs. This standing desk comes with 4 programmable memory settings, allowing you to simply press a button and place the desk at a position that is comfortable to you.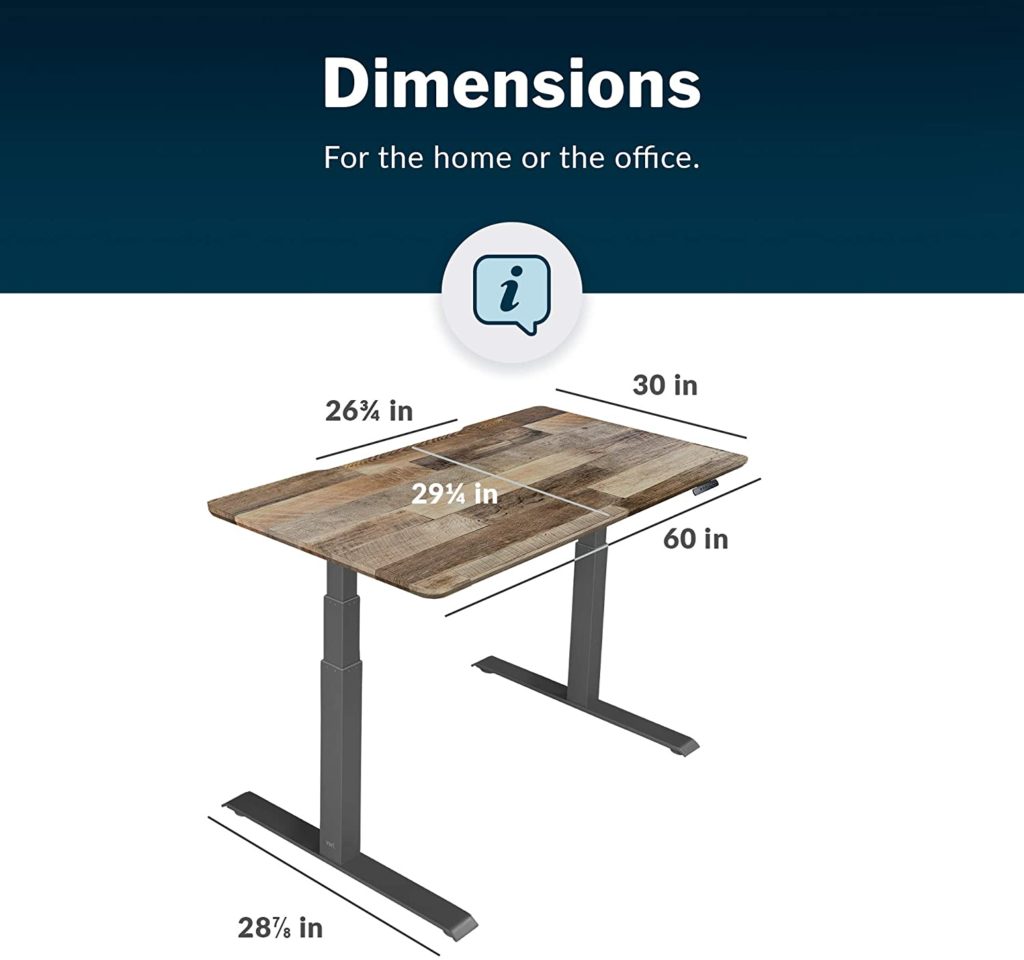 7. FEZIBO Stand Up Black Desk Converter (Best Inexpensive Desk)
FEZIBO Stand Up Black Converter is the cheapest and decent standing desk you can go for at something below $200. This standing desk converter comes from a company known for manufacturing high-end quality products.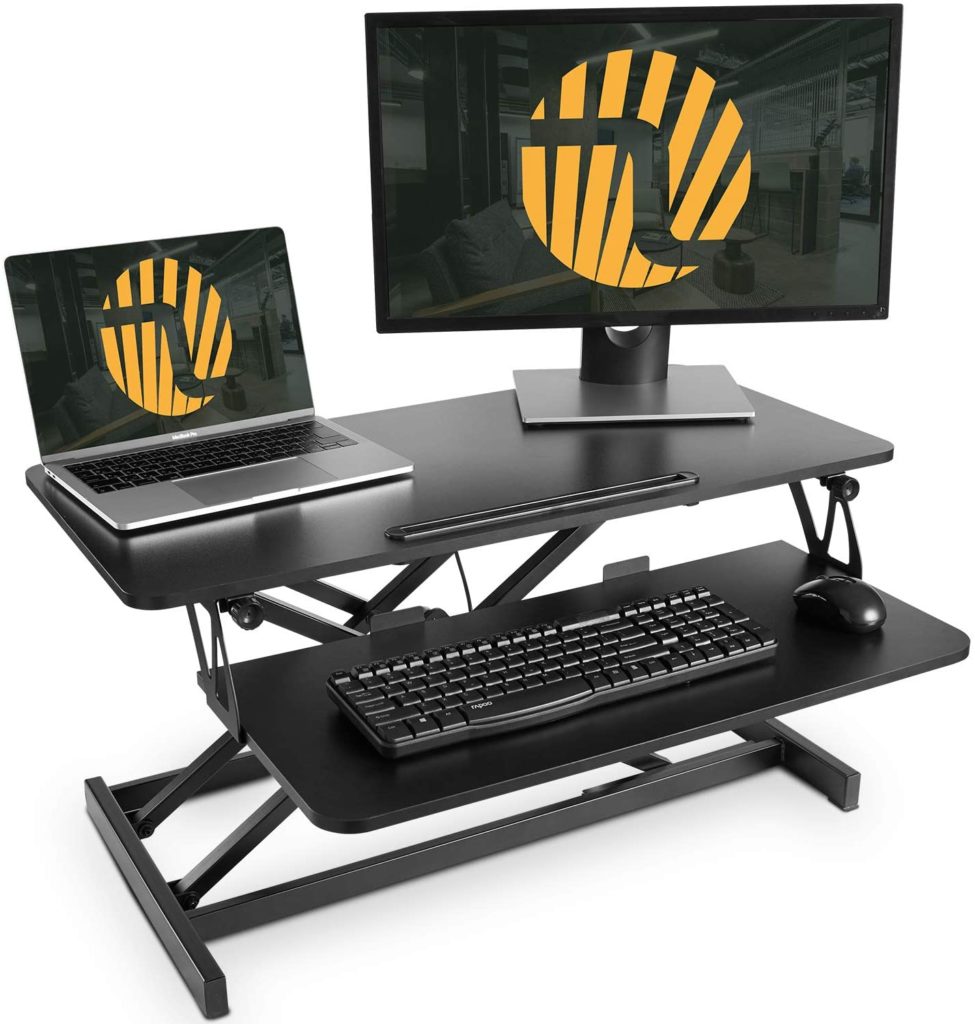 FEZIBO is perfect for a single user and comes with a reasonable warranty period. This desk is the right choice for primary and simple features despite its pros and cons. FEZIBO offers its customer post-purchase care with a 10-year warranty. This is arguably the best bang for the buck standing desk that is available at a cheap price tag. With dimensions measuring 32 x 16-inches, this standing desk converter has ample space for two monitors and your phone. Loaded with quality materials for durable construction, Fezibo's standing desk can hold up to 33 lbs.
8. STAND STEADY X-ELITE STANDING DESK
Stand Steady is our next pick for converters. The desk comes with solid quality with quick altering techniques and comes with a premium pump assisted lift.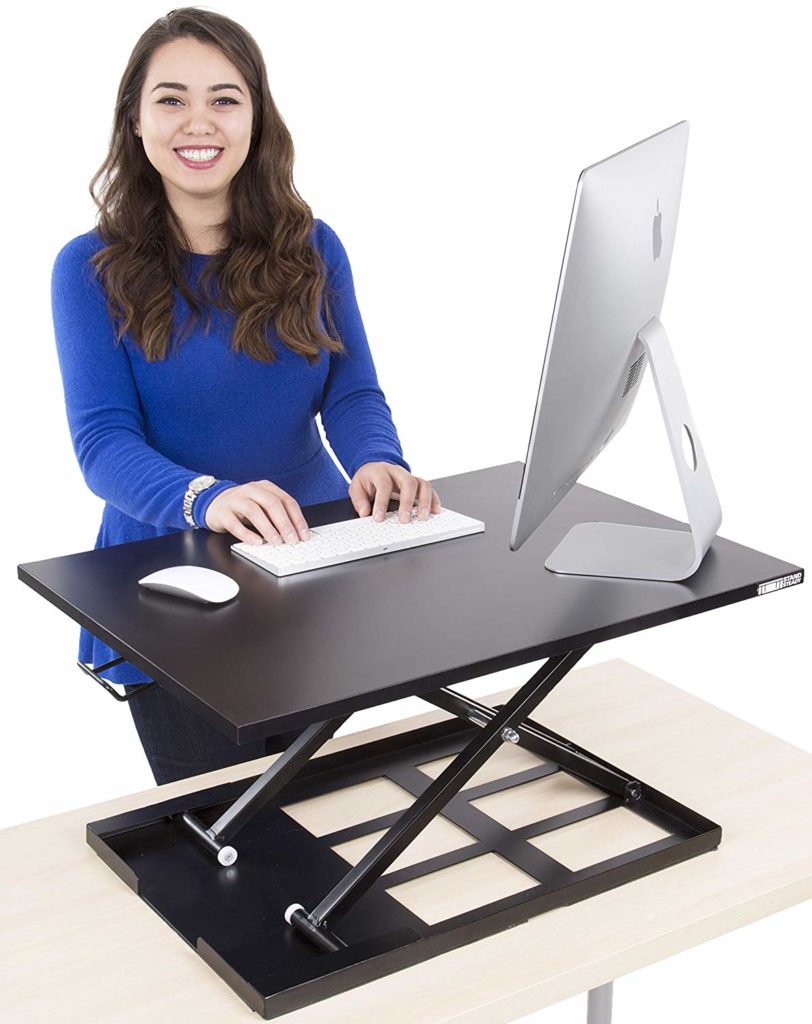 The transformation from a sitting to a standing position takes only three seconds. It can be adjusted from 7 inches to 16 inches according to your comfort. It comes with a surface area of 28 inches × 20 inches.
Weight is around 27lbs and can withstand a 20lbs weight. The desk doesn't need assembling since it comes in pre-assembled mode. The desk comes in maple, cherry, black and white colors
Also Read: 10 Best Air Purifiers for Smoke Under $100
9. VIVO HEIGHT ADJUSTABLE STANDING [DESK-V00B] (Best for Dual Monitor)
This is a standing desk converter from the reputed brand VIVO. Being the top-selling product from the brand, this converter is high-quality and affordable. The DESK-V000B has a mechanism so smooth that it alters from sitting to standing within seconds.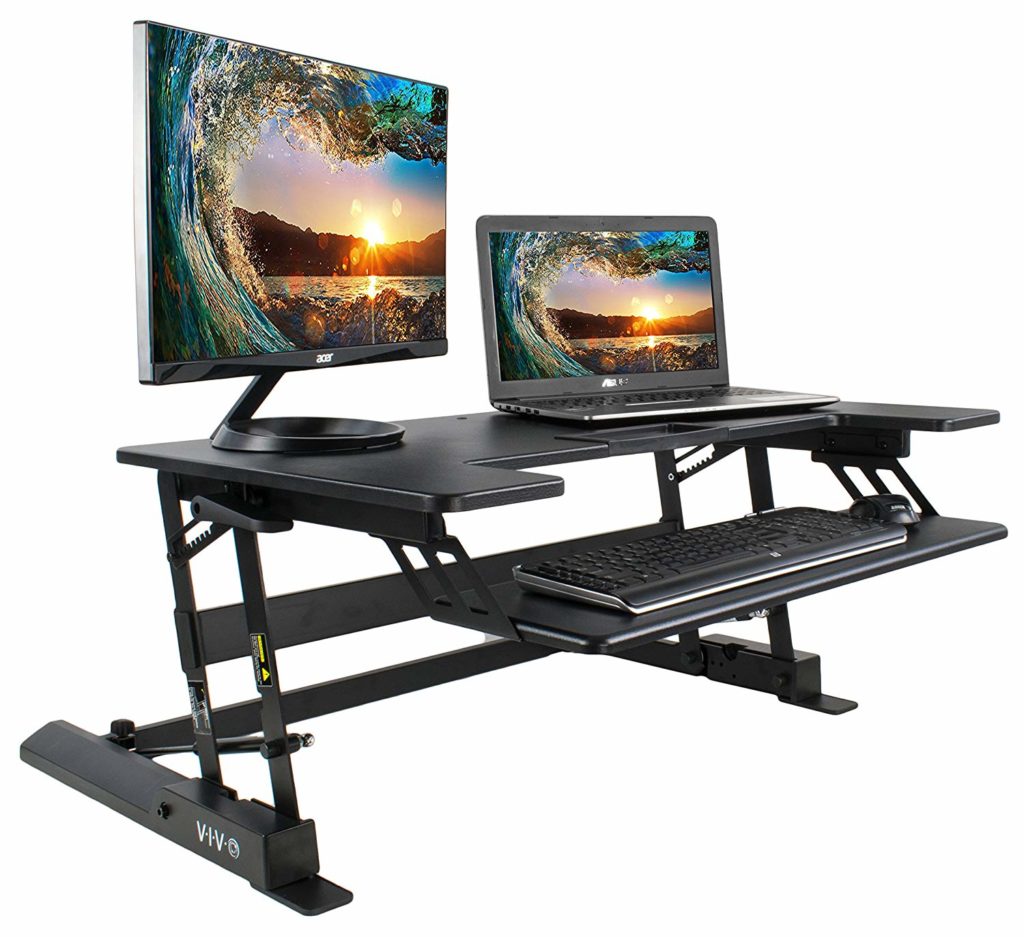 The height adjustment can be made up to 19 inches. It is spacious enough to place multiple devices or gadgets. It also comes with a deck for keyboard and mouse. The surface area is 35.25" × 23.25" which is spacious enough. Coming in Z-shape frame design, this standing desk converter easily extends forward and backward. The VIVO DESK-V000B is available in black or white, each of these colors add an elegant look to your workstation.
10. FlexiSpot M2B STANDING DESK (Best for tall users)
Flexi Spot is a standing desk converter with some quality features. With a weight capacity of 35 lbs and weighing 50 lbs, this converter comes with 31″ × 22.3″ surface area. This converter also comes with a unique deck for keyboard and mouse.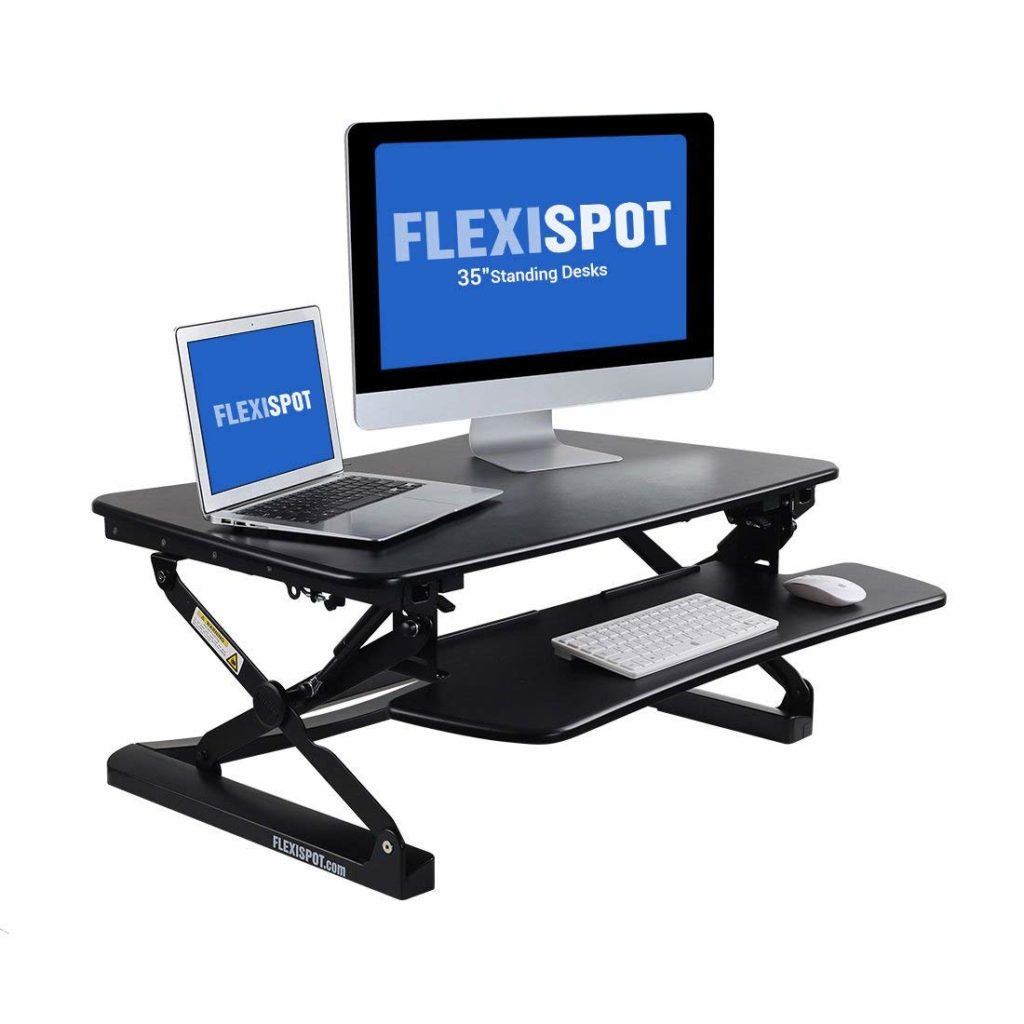 The technique is smooth and quick done by gas-driven spring motion. The converter opens up to twelve height adjustments. The FlexiSpot M2B comes with a warranty of three years on the gas spring system, arms, and mechanisms, while the frame is supported with a five-year warranty. This standing desk converter is available in medium and large sizes, helping you choose one according to your space.
11. VariDesk Electric Pro Plus (Best for adjustments)
The VariDesk Electric Pro Plus is another significant addition to your workstation. With the electric mechanism, you get to adjust the desktop converter by pressing a single button conveniently. This standing desk is lauded for its stability and supreme design.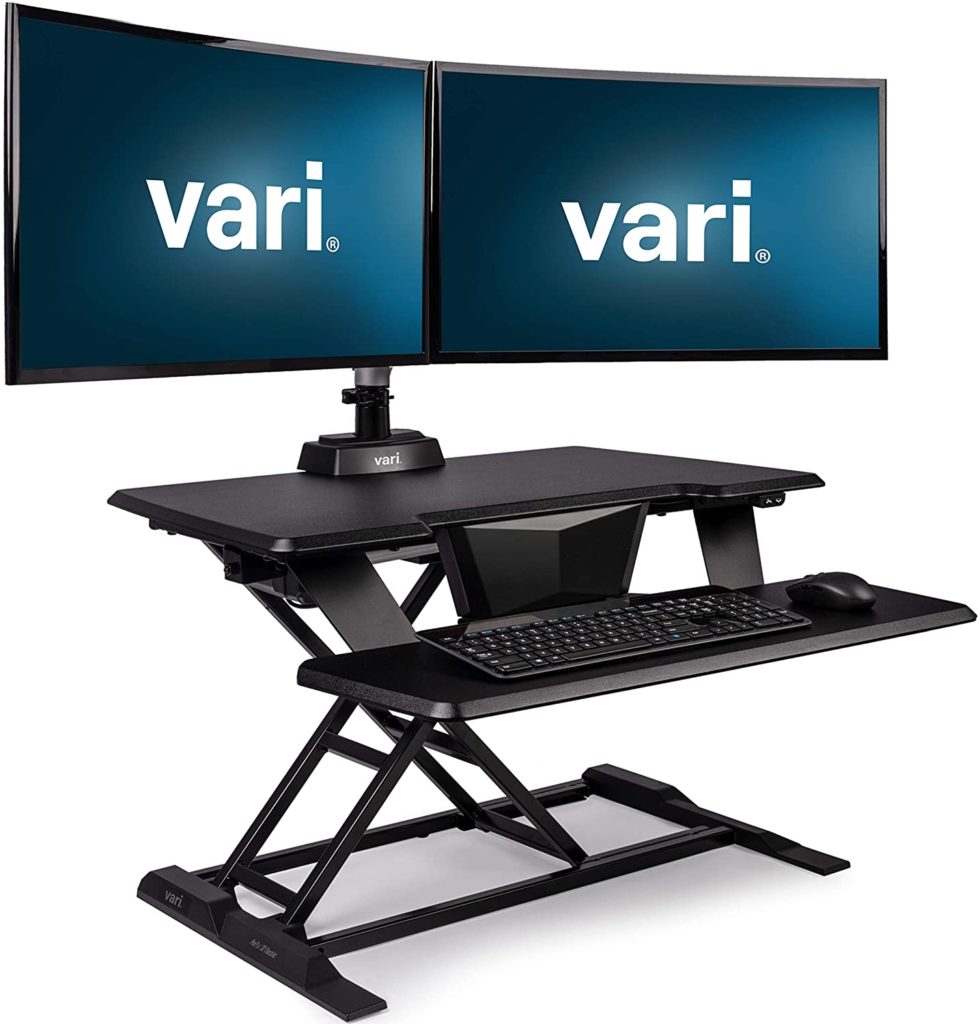 Furthermore, this is supplied with the VariDesk PowerHub that provides support with cable management and device charging. The PowerHub boasts of three outlets and a couple of USB ports. What's more, this desk also comes with a 5-year limited warranty. The VariDesk Electric Pro Plus is a perfect option to consider under $500. The downside — the wobbly tray and a smaller footprint.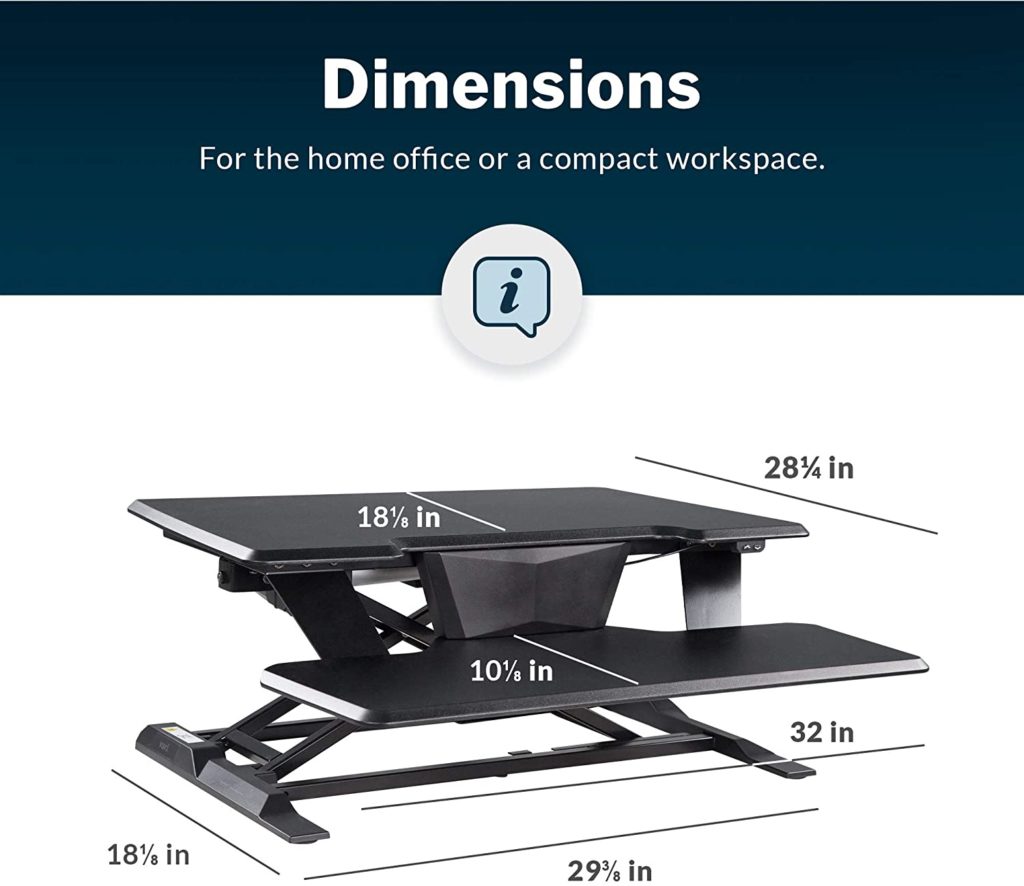 12. Eureka Sit-Stand Desktop and Gaming Workstation (Best for Desktop and Gaming Workstation)
Eureka's Sit-Stand Desktop is an impressive workstation that is a great fit for gaming sessions too. It has a large surface space of 46-inches, offering you an extra-large keyboard tray and a cell phone propping groove.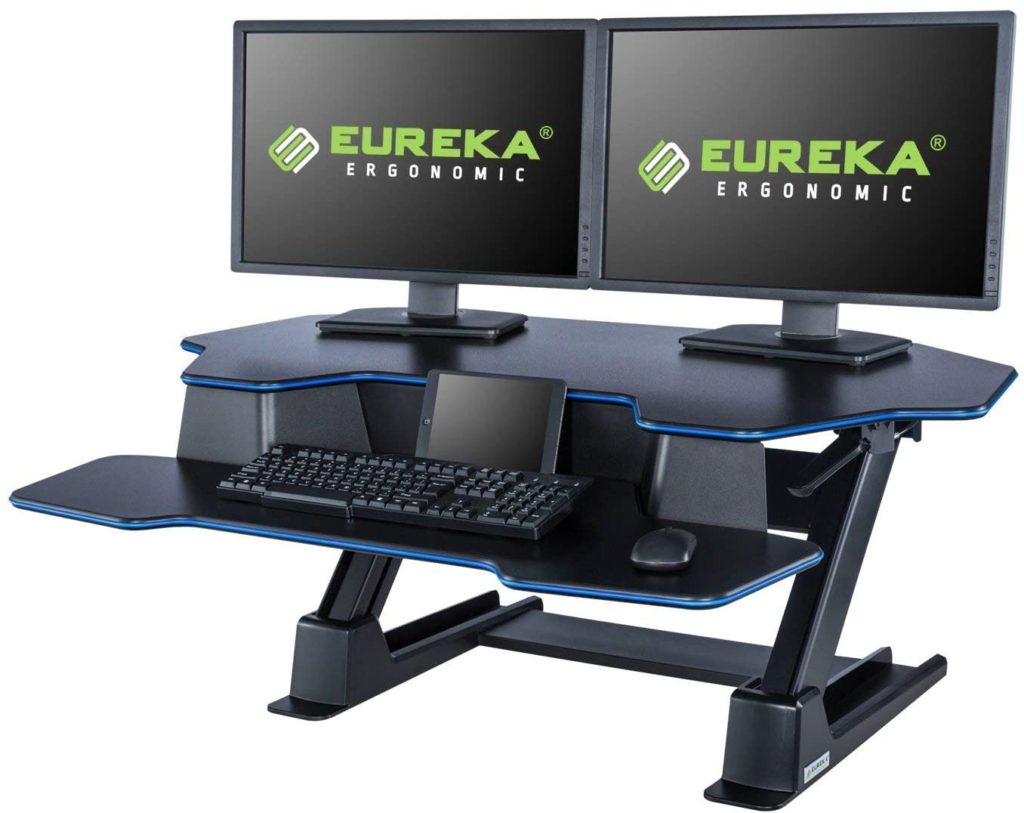 This desktop converter has a Z-lift mechanism, which quietly adjusts during the lifting process. With a stylish blue trim around the desk, you get to enhance your gaming experience. If you're looking for ample workspace, the 46-inch Eureka desktop converter is the best.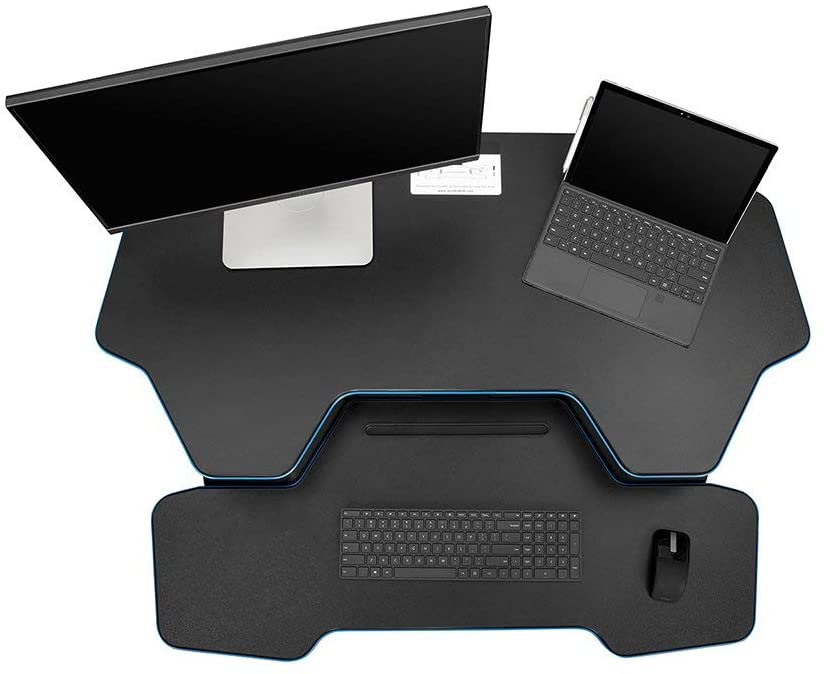 13. Cooper Standing Desk Converter (Best Well-Designed Desk)
The Copper Standing Desk Converter is a decent and well-designed product. Sporting a bamboo top, this does look visually appealing and stands out in your workspace. Paired with the powder-coated steel frame, this standing desk converter comes with excellent durability.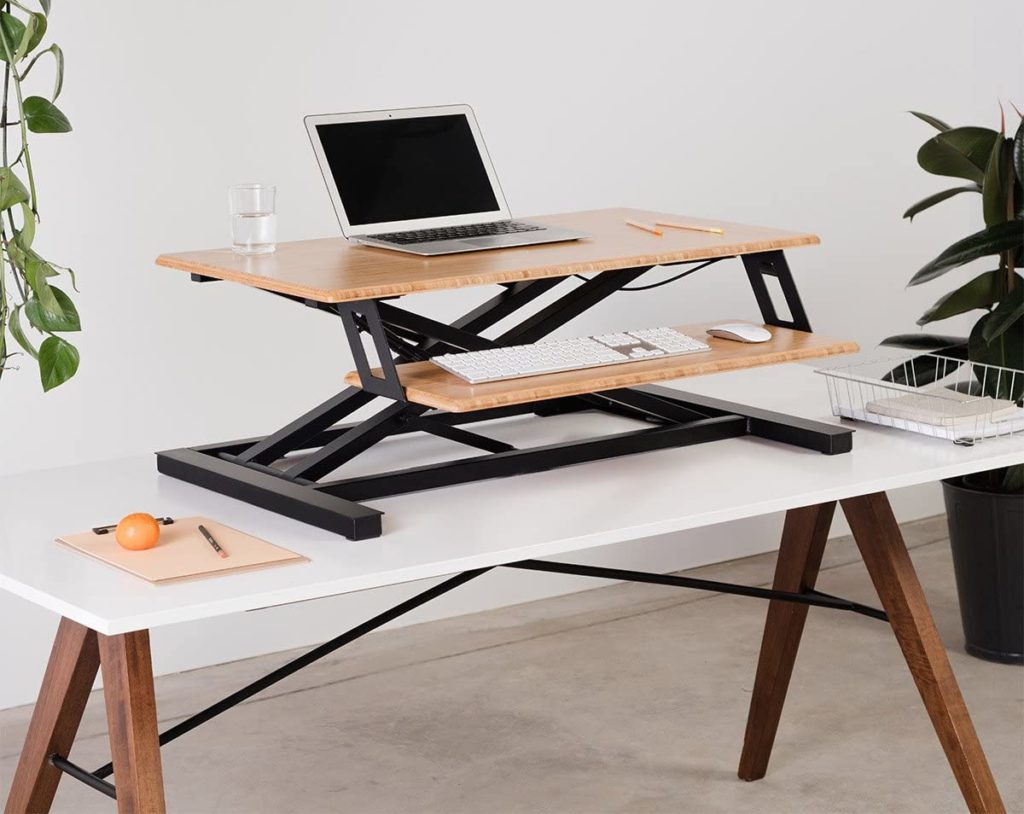 This desktop converter includes a variety of features like — a tilting ergonomic keyboard tray and an anti-fatigue standing desk mat. Measuring 35" x 20" in space, Copper's standing desk converter is stable to hold sizable desktops and accessories. 
14. Halter Cherry Stand Up Desk (Best Keyboard tray)
Halter's Cherry stand up desk is the last on our list of the best standing desks and converters. Coming with the X-lift design, this desk easily sits in your space. This arrives fully assembled, thus saving your time and effort in setting up one.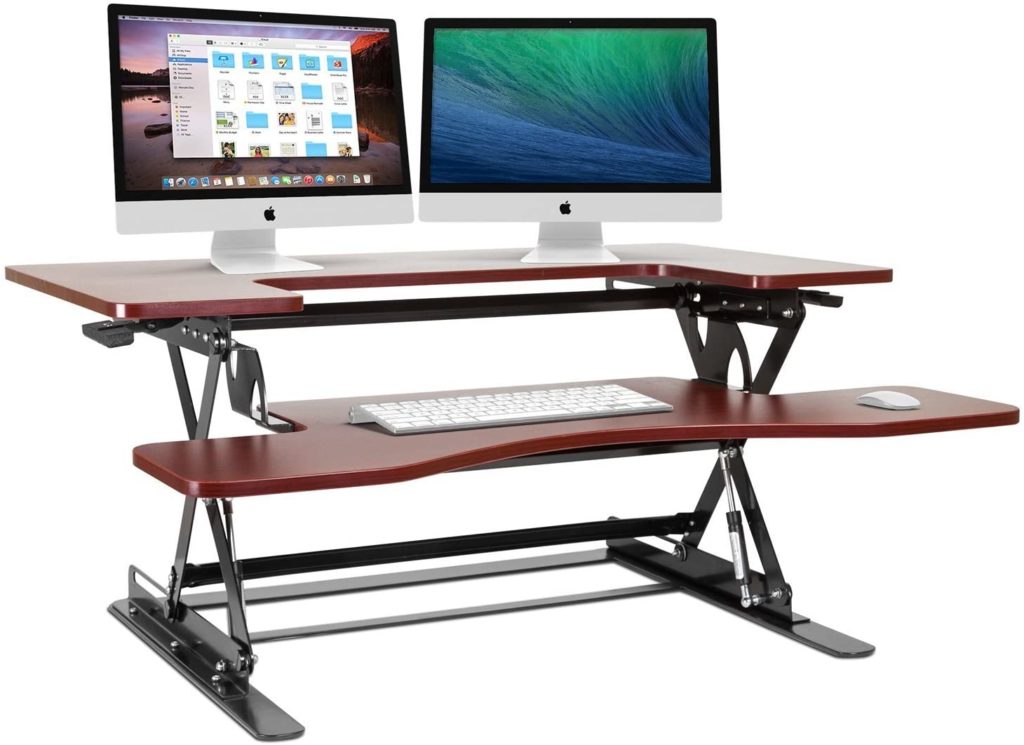 This desk comes with an extra deep keyboard tray, which also fits in a laptop. With only one adjustment — height adjustment, this standing desk can be customized as per your height by gently pressing two handles and moving the platform. This desk's major selling points are — the colors it is available in and the wood grain HPL finish. The colors it is up for grabs in are — Black and Cherry. The shortcoming is that it does not support wire management, which is common in desks at the same price. 
Also Read: 10 Best Espresso Machine Under $100
---
Standing desks can be made use of study purposes, drafting purposes, and of course work requirements. Let's have an in-depth look into the benefits of these desks:

1. Boosts Energy Level
A popular misconception is that standing is more tiring than sitting, but that's not the case. Standing impacts energy levels. It enhances your mood and makes you feel relaxed and calm. 90% of the users agree with the fact that standing makes them feel energetic than spending a whole day sitting.
2. Increases Productivity
When you feel energized, you work more efficiently. More efficiency leads to more productivity; this explains the acceptance of standing chairs in the business world. While standing, it eliminates the chance of distractions. The enhanced mood makes you focus more effectively on your work. Experienced users concur with this fact and advise others to go with standing desks.
3. Increases Lifespan

A report from the American Cancer Society shows that sitting for 6 hours and more may lead to premature death. The health issues following the work culture lifestyle affect your mental health as well as your physical health. A weak body is more prone to health hazards. Also, studies show that the rate of shorter lifespan is higher in women than men. The telomeres in our DNA will stop multiplying when our body becomes weak and unhealthy. Standing desks helps you to prevent this from happening to you.
Watch this video on how to achieve Super Human Productivity
4. Lowers Obesity

One of the universal health issues due to body inactivity is obesity. The continuous blocks in the circulation of fat absorbing enzymes lead to obesity. Standing eradicates this and helps you from putting on unnecessary weight. An experiment by James Levine on a few workers showed that workers using standing desks showed less weight gain when compared to those who didn't.
5. Balances Sugar Level
Standing desks helps you to regulate your blood sugar level. Sitting for a more extended period leads to an increased level of insulin in your blood. When you stand, the processing of glucose is done effectively and results in a balanced sugar level. Standing desks also helps to maintain a healthy heart. While working for hours, we adopt an awkward sitting position for comfort. It results in an improper way of breathing. Since breathing is also one of the factors for good health, the flow of oxygen and blood determines the health of your heart. While standing, the posture allows your lungs to expand and have enough a proper breathing system. It helps your heart to remain healthy. People with occupation demanding for 'standing position' is said to have a 50% less risk for heart diseases than others who sit for hours to do work.
6. Lowers Risk of Cancer
The risk of cancer is higher when your body gets restricted to a sitting position. But standing makes you become mobile and it enhances the antioxidants which reduce the chance of cancer.
7. Improves Posture and Mood

Standing desks play a major part in improving your posture. A good posture not only enhances your appearance but also helps in your internal health. As mentioned above, breathing is as important as food and exercise for proper health. Standing position improves your breathing as well as posture. Bad posture may cause back and neck pain. Adjusting the standing desk according to your height and comfort prevents you from slouching or bending. It also reduces the fat from your abs and hips, since standing also burns calories.
---
Conclusion 
A fact about standing desks is that they give you the same effect of jogging. Endorphins are responsible for our mood enhancement. Your work in standing position releases endorphins, which helps you feel pumped all long. Thence your mood and performance drastically improve. If you're looking for the best budget standing desks, FLEXISPOT and VIVO DESK-V00B Standing Desk Converter are two great options.
---
FAQs
Why do standing desks wobble a lot?
A significant drawback or dilemma faced when buying a standing desk is — these wobble a lot. Here are some of the top reasons why standing desks wobble and how you can avoid them:
Loose bolts: These are the common assembling errors when setting up a desk. Keep a tab on areas that require re-tightening and use Loctite to keep bolts in place.

No proper gliding system: The less expensive models come with glide issues. Glides serve as a lubricant to alleviate friction for the desk to stay in motion. The only way you can avoid this is by spending on a quality model.

Lack of cross support: Not having proper cross support is another reason standing desks wobble a lot. Although it gives tall users a space for leg clearance, not having it is a terrible idea.
What are the common problems associated with a motorized standing desk?
A few of the common problems associated with a motorized/electric standing desk is:
Motorized standing desks are expensive.

These desks make some irritating noise.

Prone to failure in the mechanism. For example, a motor failure that makes a desk completely useless.

With more weight on the desks, they tend to slow down and burn out.
Are standing desks healthy?
Yes! Standing desks are healthy in many ways. The following are some of the benefits:
Standing does burn more calories than sitting.

As per research, standing desks alleviate chronic back pain.

 

Those using standing desks regularly might significantly reduce blood sugar spikes. 
However, standing for prolonged periods is not recommended by experts. They suggest blending standing with sitting or switch positions throughout the day.