Having a personal entertainment center-right in a room is everyone's dream. Once you have purchased that large TV of yours, the next obvious purchase has to be a home theatre.
It would usually be a package of five speakers, an AV receiver and a subwoofer. Not only these home theatres are expensive, but also they are complicated to set up. Not to mention the part they occupy a lot of space.
This is where soundbars come into action. They are the solution to all your problems. A soundbar is a single speaker that is self-amplified and powered, also which can be placed right below the TV.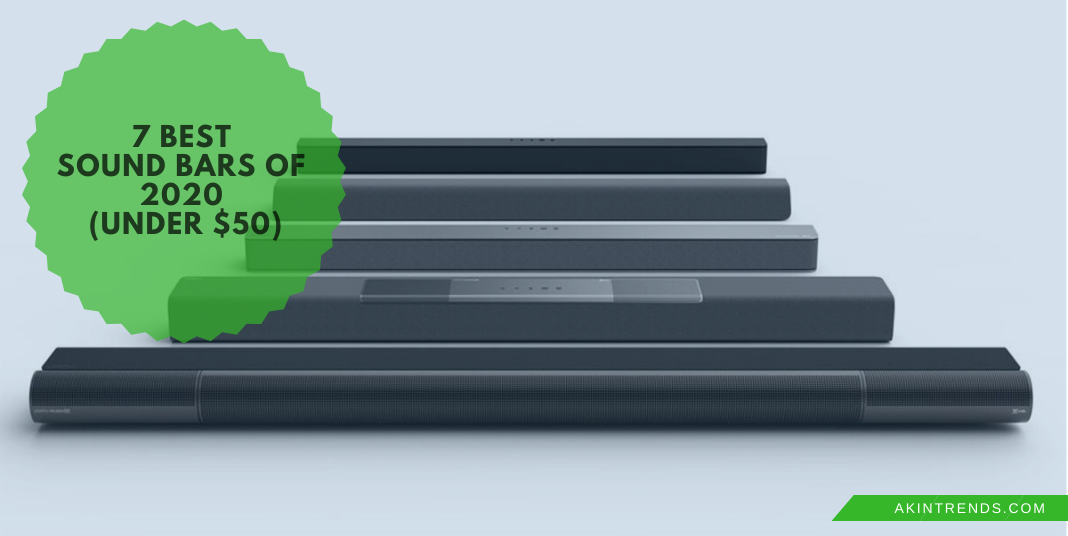 The acoustic design of the soundbar helps them target the sound and bounce it off your walls to partially recreate the surround-sound effect. A soundbar benefits you in terms of convenience, placement, and price. It is also not complicated when coming to the set-up and complication. It is also a good option for music too.
Also, a point to be noted is that a soundbar creates only a virtual sound effect that stimulates the experience of a proper 5.1 surround system. And, an actual surround effect can be expected only from a proper home theatre system. If you have second thoughts about soundbars, happily go with the home theatre system.
---
More about Soundbars
Soundbars are the speaker, which is usually single and broader than the height. It is long, narrow and comes in the length of the long side of a TV set. These bars come with its range of speaker drivers and a wide stereo speaker.
It is the width of the speaker that creates the virtual surround sound effect as that of a home theatre system. As mentioned before, they are often self-amplified, and the amplifier is built into the speaker itself. In those cases, they come, including the power cables.
A decent soundbar comes with a subwoofer that connects to the main speaker (either using wires or wirelessly). Wireless subwoofers can be placed places conveniently anywhere, provided a socket to plug into.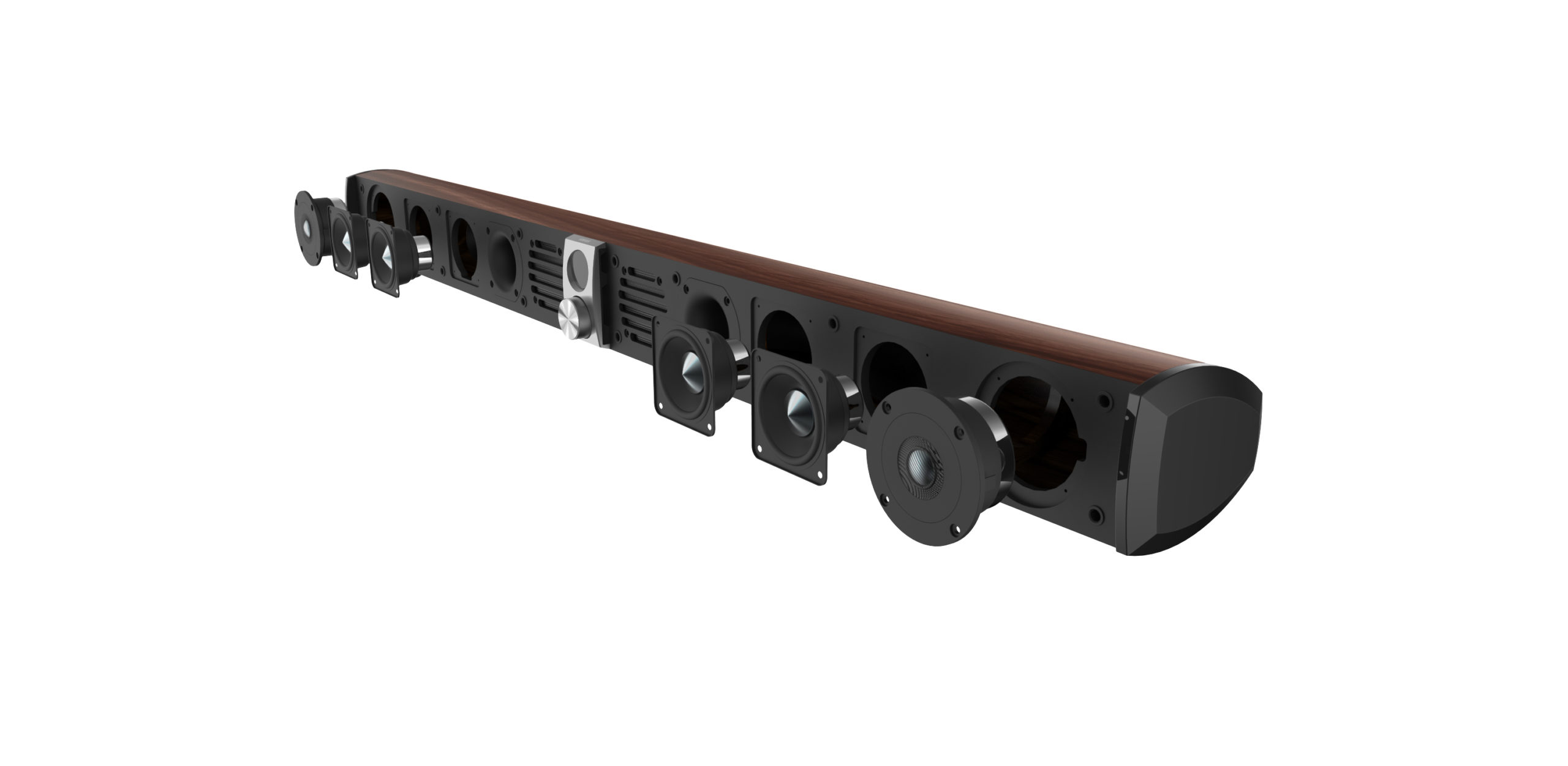 Having a small display on the unit will help you with the volume adjustments and other levels. Remote controls will also be of help but, unfortunately, most soundbars come without it.
They rely on the TV or the Blu-ray player for such adjustments and responses to the commands from a TV remote. Since now you know what a soundbar is, let's talk about the things you should be considering before buying one. The list goes like this:
One of the first things you should think about is the placement of the soundbar. Plan where to set up the speaker since you will need room for the TV, stand for the main speaker and space below it or the floor for setting up the subwoofer. Planning the placement will avoid issues like blocking the IR receiver of the television through which the remote control works.
As mentioned before, most of the soundbars are active and self-amplified. You can plug the speaker into a power socket and run the standard cables to the source device.
There are passive soundbars too. It needs an external amplification to run. It means that you will require an amplifier or AV receiver not only to power the soundbar but also receive the source signal. The amplifier will be connected using a standard speaker cable.
As the connectivity options go better, the soundbar will be. Most of the soundbars come with HDMI connectivity along with 3.5mm stereo connectivity and RCA. If you have the plan to use the soundbar as an AV receiver, that where the HDMI connectivity comes into play, the standard audio cables can be used for the purpose and can connect the soundbar to your TV.
Bluetooth connectivity is also a useful one. It can be used to transmit the sound from your TV wirelessly or to connect to your smart devices like phones or tablets for music or video.
This is the point where you have to think thoroughly. Whether you need to settle with a soundbar or a sound base. A soundbar is narrow and can be placed in front of your TV.
Soundbase, on the other hand, is flat and pedestal-kind in design. This allows you to place it on the stand-mounted television directly on the top of the sound base.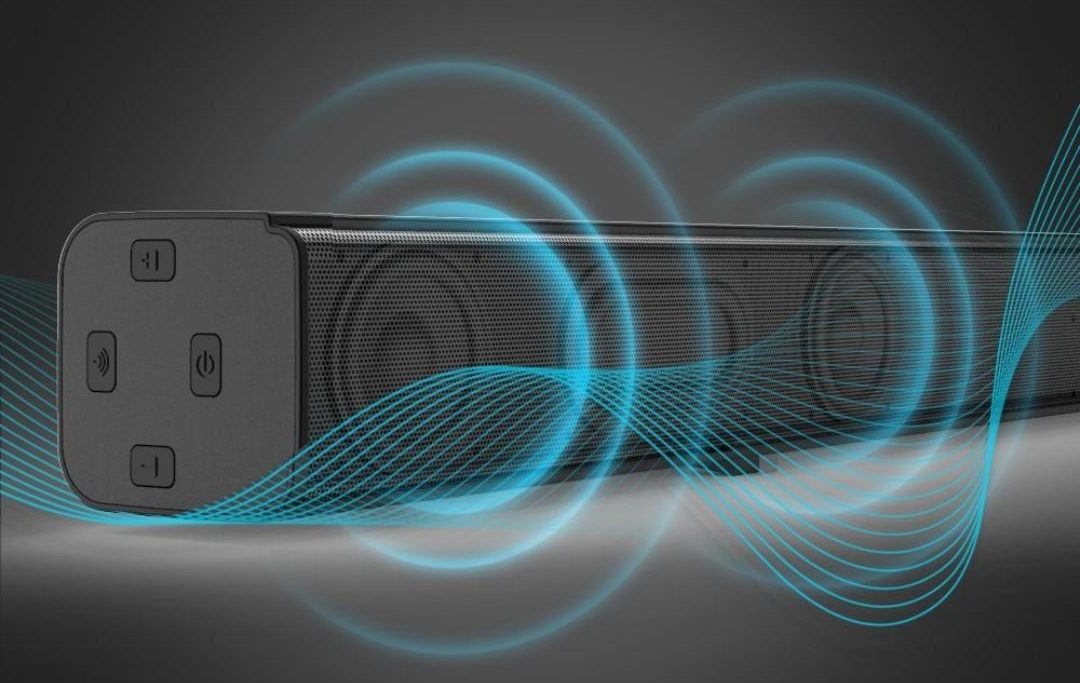 The sound base is thicker than soundbars, and they have bass drivers eliminating the need for a dedicated subwoofer. Soundbase comes into rescue when you have issues with the placement and installation.
Soundbar channels can be explained as sound sources or even individual speakers. Most of the entertainment, like movies or shows, offers like five different audio channels.
These channels and embedded digitally like- center, left, right, and two rear (left rear and right rear). The fact that differentiates soundbars from home theatre is that all these channels are contained in one unit. So the soundbars will be offered as follows:
2-Channel Soundbar: 2 speakers; left and right
3-Channel Soundbar : 3 speakers; center, right and left
5-Channel Soundbar: all the five speakers above (center, right, left and two rear speakers)
7-Channel Soundbar: 7 speakers. (7 channels is the same as 5-Channel Soundbar by splitting surround and rear channel information of the four channels)
Dolby Atmos Soundbar: This soundbar works the best in flat ceiling rooms which are up to 11 feet high. The upward-firing speakers of the soundbar reflect sound above you for a certain heightened, three-dimensional soundstage. When you find channel numbers like 5.1.2 or 7.1.2, the third one represents Dolby Atmos.
It is always better to go with more channels. More channels lead to the best experience.
Now let's get into the crucial part of this article. What are all the best soundbars that are trending right now? What are the reviews?
On what basis should these products consider? You can find the answers to all these questions below:
Also Read: Top 10 best Bluetooth speakers under $100 with amazing bass
---
TOP SEVEN SOUNDBARS OF 2020
Without further ado, here is our list of the best Soundbars available under $50. Grab one and turn your home into a mini theatre.
1. SEIKI SBASE301 SOUND BASE
Seiki SBASE301 is also another best soundbar under the budget of $50. The design of this soundbar is to be mounted underneath your TV and to complement your home theatre perfectly.

It comes with an inbuilt woofer of 3.5 inches. The performance is impressive for its price, and the audio is clean and loud, with plenty of bass from the subwoofer. It also comes with Bluetooth connectivity for wireless streaming from your smart devices like phones, tablets, laptops, or any other compatible devices. This device is a power affordable soundbar that ideally mounts with your TV.
2. Robolife Bluetooth Soundbar
Robolife is the best option for those who are on a tight budget. This soundbar boats of four modes and is one of the cheapest soundbars available in the market. It is lightweight, which makes it easy to carry around to watch a movie or enjoy music.

It features a Bluetooth 4.1 speaker, which enables you to stream wirelessly from any of your smart devices. The audio quality may not be that impressive but decent enough for the price. It comes with an inbuilt battery which can give you long hours of playtime. This product is worth the money but may not be good enough to meet your expectations.
3. GUZACK SOUNDBAR
Guzack Soundbar comes in a very simple design. It is that design that makes it stand out from the competition. The soundbar is 18 inches, which makes its relatively small device.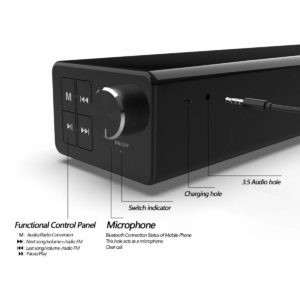 It has 3w drivers that provide decent audio quality, balanced bass, and crisp and loud mids and high. It also comes with Bluetooth 4.1 technology with a wireless range of 66 feet. The icing on the cake is that Guzack provides a lifetime warranty for this soundbar. If you're dissatisfied with the product, the company gives you a refund or a replacement.
4. Richsound Research (RSR) TB220L 32-inch Bluetooth Speaker 
Richsound Research is a budget-friendly soundbar that oozes out loud sound and offers connectivity support for HDMI-ARC. In terms of design, the soundbar gives more of a premium feel, as it is layered with metal grille and a plastic top with no buttons.

This soundbar is embedded with a 2.0 speaker configuration, which provides Bluetooth connectivity and is easily mountable on walls. The Power On/Off buttons are located on the right side, alongside the Volume Up and Down buttons. The TB220L features a clean back, which also has the optical and auxiliary inputs located beside the HDMI-ARC port on the right side.
5. Tewell Mini Soundbar
Tewell Mini Soundbar is the most compact soundbar among the others listed here. The size does not determine the audio quality of this product. The sound quality is superior, which easily makes this device a top player in the game.

It is compact and handy and goes well with your PC, tablet, smartphone, and projector. The device comes with four to six hours of playback, which boosts the fun streaming from your smart devices. Tewell's Mini Soundbar is powered by an exclusive booster circuit that delivers crisp sound, whether you run it on battery or USB. Tewell is a soundbar designed to provide a powerful performance despite its size.
6. LUGULAKE TV SOUNDBAR
Lugulake TV Soundbar sports a neat and premium design that gives it that expensive look. The speaker is of 39 inches, and it pumps out 40W power and delivers a crystal-clear good experience.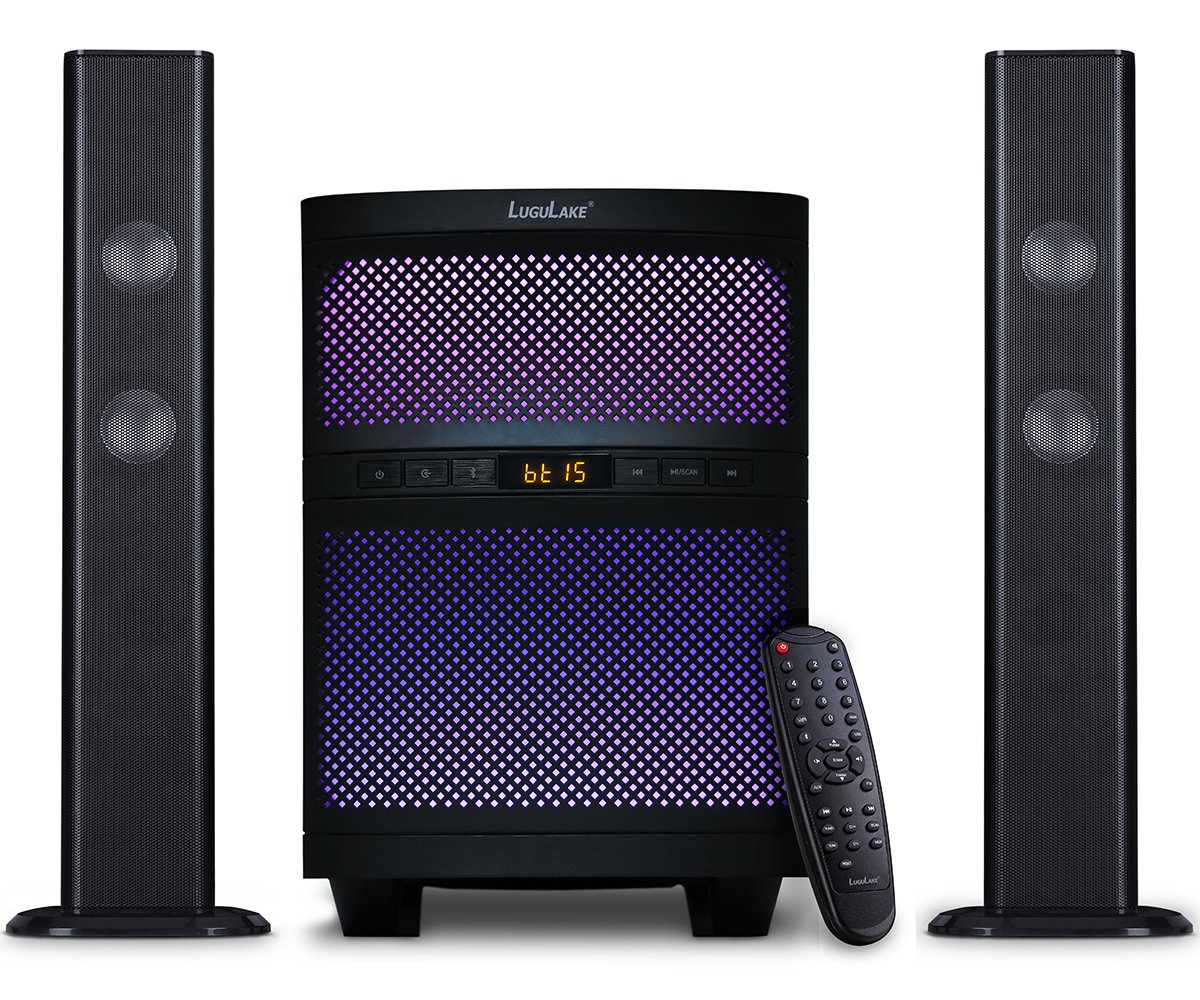 The audio quality is crisp and sweet, and it gives you the option to adjust the bass and treble as you want manually. This soundbar can also be used as a Bluetooth speaker, which enables you to stream music from your smart devices via Bluetooth connectivity.
LuguLake is crafted in a wood subwoofer that has 6-colors LED flashlight, which can be easily turned off. In addition, the soundbar comes along with a remote control that allows you to switch channels and control volume.
7. AmazonBasics 31" Bluetooth Sound Bar
Sleek design and fragile in size, AmazonBasics is the best fit for TVs with a screen size of less than 42 inches. Coming in a length of 31-inches, this soundbar offers a 2.0 speaker system together with remote control.

Embedded with Bluetooth technology, AmazonBasics 31" seamlessly connects with your TV and other wireless devices such as laptops, smartphones, and tablets. Furthermore, this soundbar is available in three sound modes — Standard for TV programs, News for intelligible dialog and Movie for optimized soundtracks.
It is further supplied with a tiny remote that allows you to control playback, connectivity, power and perform other media-related functionalities. 
Also Read: Top 8 Studio Monitors under $200
---
CONCLUSION
Soundbars up the ante with commendable sound experience whilst watching TV and listening experience. These are counted among the essentials to make decent viewing experience entertaining.
If there's a product that deserves a spot, please mention it in the comments section below and we'll get back.
---
FREQUENTLY ASKED QUESTIONS (FAQS) 
What are active and passive soundbars

Passive means the soundbar that does not have a built-in power amplifier. It requires a receiver or amplifier to work. Commonly passive soundbars come with better speakers.
Thus a significant quality sound will be produced through these speakers. And this is one of the reasons that passive soundbars are costly than active soundbars. You need more components for this speaker as well as a subwoofer for extra bass.
Active means the soundbar comes with in-built amplifiers. This amplifier powers everything, including the channel processors that separate left, right, and center speakers. Hence, fewer wires and no extra receiver is needed.

Can I add speakers to a soundbar?
With soundbars, it is possible while with some, it is not. Some of the new products come with additional speakers as a package. They are incredibly close to the effect of a home theatre effect.
In other ways, you can add a speaker to your soundbar is that if it is multi-room capable. It will be a great addition if your home has a multi-room audio system.

What about the warranty for a soundbar?
Make sure your purchase is made through an authorized dealer/Website. If it is from an authorized dealer/website, you will not only get full manufacturer's warranty but can also ensure the dealer's support along with the manufacturer's support.

Can I add a subwoofer to a soundbar?
Most of the wireless soundbars come with a wireless subwoofer. While those speakers who don't come with a woofer port to help you with the addition as you want.