Recovery sandals are an excellent piece of gear that has been overlooked for years. As we are all set to welcome spring, it is officially time to give this footwear another shot.
These sandals not only provide you with comfort but eliminate the pain of unlacing and allowing your feet to draw breath. We've collated this list of the 8 best recovery sandals that prove to be the best in this category.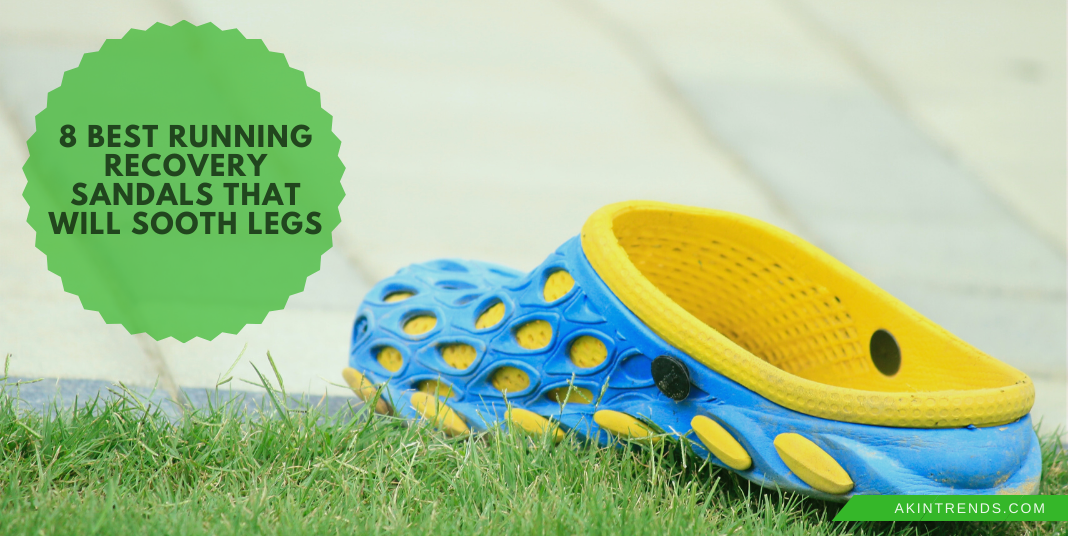 ---
Buyer's Guide to the Best Running Recovery Sandals
Since feet are exposed to stress, caring for your feet with a pair of recovery sandals becomes imperative. In order to break free from the daily wearing and tearing of extremely tight shoes, recovery sandals are the best thing you could ask for.
Before moving to the list of the best recovery sandals for runners, here is a buying guide to help you find the best available in the market.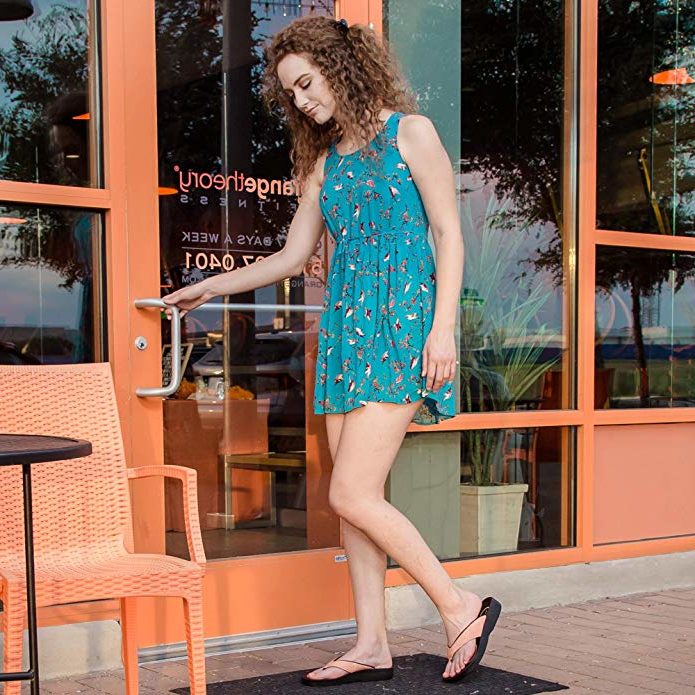 Kind of Activity
There are certain shoes built categorically for a particular occasion. Buying one for looking voguish, is a mistake you shouldn't fall for. Considering the level of activity you indulge in, opting for lightweight sandals are the best options for running errands and doing regular chores.
For simple hikes or long walks, consider buying a pair of closed-toe sandals. If you ramble in the rain, purchase sandals that are water-resistant and durable. For joggers and marathon participants, the best option is to select for the best running recovery sandal with supportive footbeds.
Arch and heel support
Settling for running sandals with sufficient foot support is another essential box to tick when buying a pair of the best running recovery sandals. Since you plan on wearing this everyday post-workout, ensure that you throw your feet on the shoes with maximum support to your arch and heel.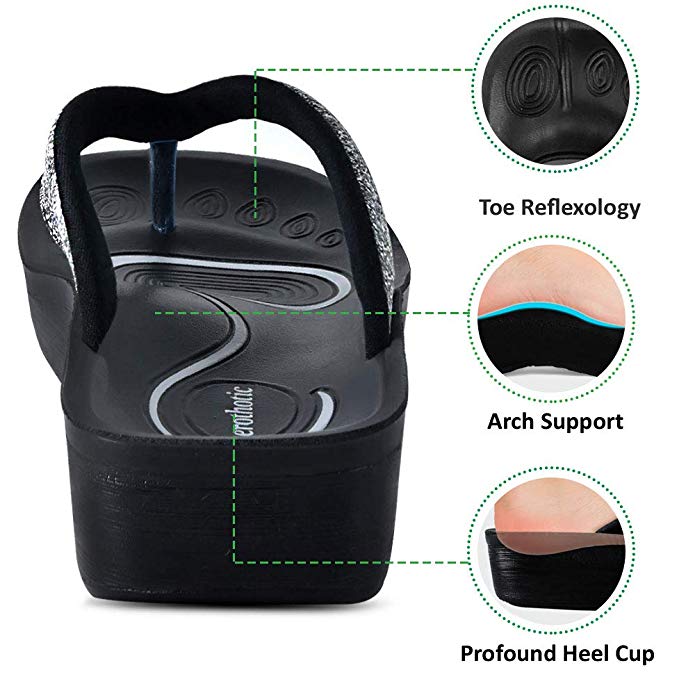 Price
Predominant of all, price plays a vital role in selecting the best pair of sandals. With numerous sandals up for grabs, buying one for its quality can save you chunks of money.
Weight
Lastly, purchasing one by the weight of it is essential for the comfort of your feet and ankle. Since you toil hard in the gym, you do not want to be toting with a ton of weight in the street or around your home. So buying a pair of lightweight recovery sandals might just do the job for you.
Also Read: Top 10 best stepmills to buy in 2020
---
Best Running Recovery Sandals
Having considered all the important factors, here's a list of the best recovery sandals that can reduce your pain after you're done with running.
1. PR Soles Original Sandals from Gone for a Run
First on the list is the Gone For a Run PR Soles Original Sandals. Crafted especially for athletes, this pair of sandals provides utmost comfort before and after a workout. This is an excellent product that enhances the recovery of sore and tired feet.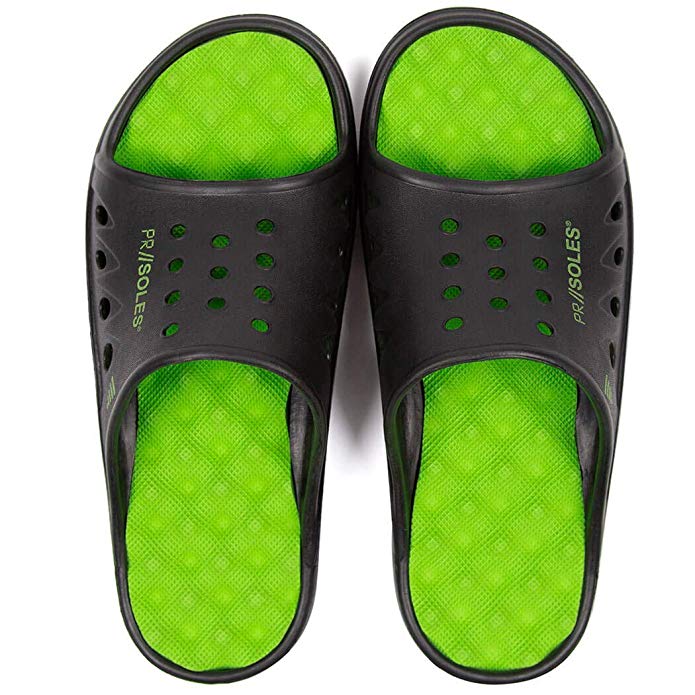 Soles of the sandals are stuffed with quality components that significantly reduce the recovery time post-workout. Lightweight and comfortable, the pair includes a foam cushion that conforms with the shape of your foot.
PR Soles' sandals feature dotted insoles with upward-facing points, which massage your feet while you walk with the slippers on. This further alleviates pain and stimulates recovery.
2. Telic Unisex Arch Support Flip Flops from Bob + Telic
Podiatrist recommended recovery flip-flops, Telic Unisex Arch is carved from a shock-absorbing material that is extremely comfortable to your feet during long walks and post-training.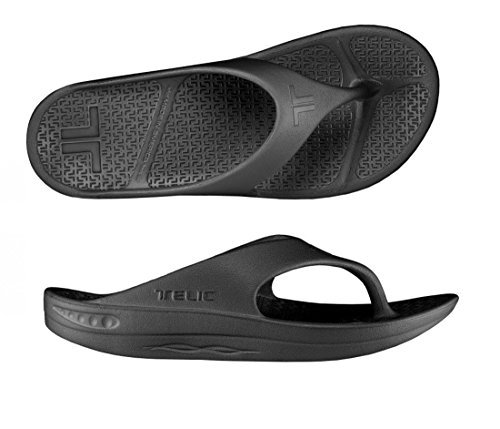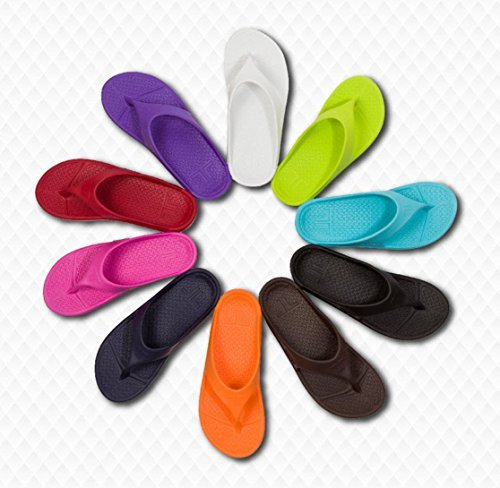 Equipped with soft arch support, the flip flop features a negative heel that promotes a contoured footbed for relieving pain. Stocked with premium 100% novalon, Teclic Arch eliminates pain and offers 200% better abrasion-resistance.
The flip flops are loaded with heat-activated materials that molds to the shape of your foot. Also, it is potent enough in equally distributing pressure to mitigate foot pain.
3. OOFOS Unisex OOahh – Post Exercise Acitve Sport Recovery Slide Sandals
Known for creating cozy and snug-fit footwear, OOFOS' Unisex OOahh is an exceptional product that accelerates the recovery process soon after the workouts. Made using the OOfoam technology, the OOahh model absorbs 37% more impact than any conventional footwear.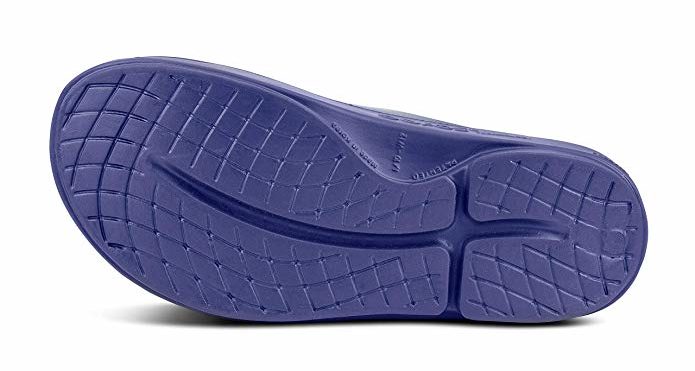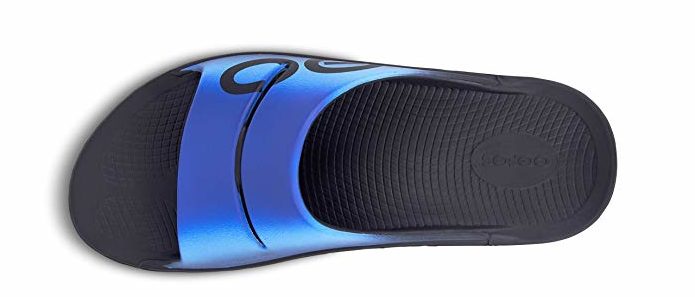 Forged with patented footbed, OOahh reduces stress on sore feet, ankles, knees, and the lower back. Furthermore, the footwear is biomechanically designed for smooth, natural motion. With superior cushioning fixed to the sandals, these slip-on sandals make long-walks easier for those recuperating from a knee injury.
Reliable and lightweight, OOFOS has the best slide sandals that are moisture-resistant that do not discharge any unpleasant odor. Besides, these slip-ons are available in a myriad of fancy colors.
4. HOKA ONE ONE Mens Ora Recovery Flip Thong
Widely-renowned as a savior of tired feet, HOKA ONE ONE boasts of supreme cushioning for maximum comfort. Sporting a slip-on design, these flip flops help you in surpassing the roadblocks encountered at the beach and on the streets too.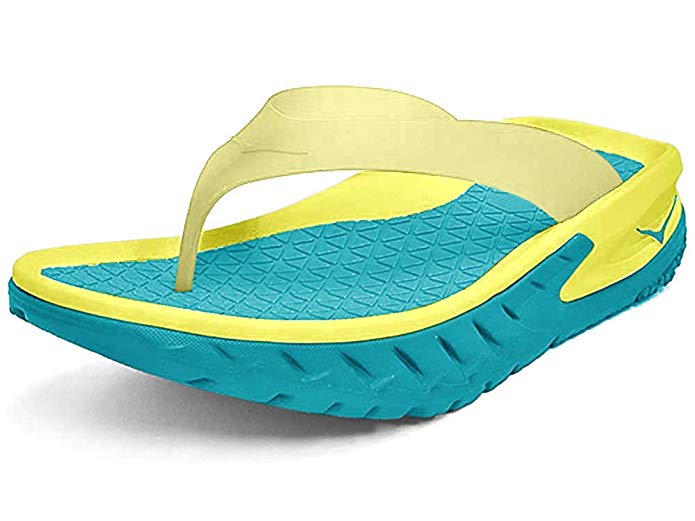 Featuring a soft top layer EVA footbed, the HOKA recovery sandals is environmental-friendly and comfortable for your feet. Coming with a classic soft rubber strap, these flip-flops offer an elegant flip-style comfort.
This thong features a dual-layer construction that provides a soft top layer, resilient midsole, and outsole for topmost stability and durability. Available in four different colors, the footwear is sold in multiple sizes for both men and women.
5. Aerothotic Original Orthotic Comfort Thong Style Flip Flops
Comfortable with a sleek design, Aerothotic Original Orthotic is an exceptional pair of sandals that deserves a shoutout for style and elegance. The pair arrives with an ankle strap deliver for security and confidence while walking.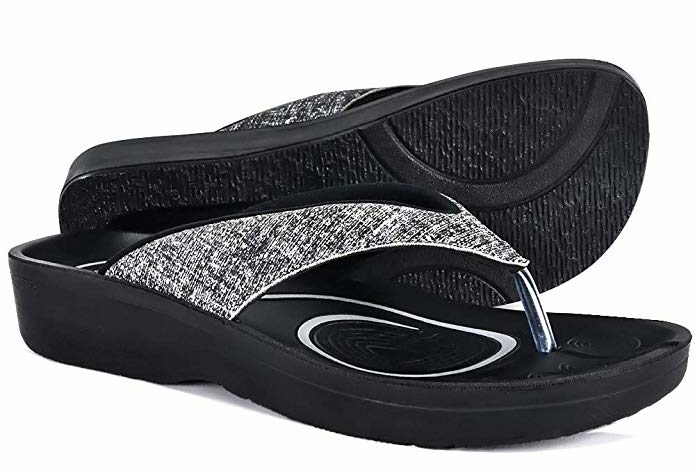 Supplied with PU materials, these thong-style flip flops are all-purpose footwear wear. Equipped with a water-resistant and U-shaped hollow outsole, these can be worn for strolling at the beach.
These flip flops are available in an array of colors and sizes, accommodating the needs of every woman. Also, the arch support vouches for relief and soothing the lower back pain.
6. Spenco Women's Fusion 2 Sandal
Neat and simple design, Spenco Fusion 2 for women, is an ideal post-workout recovery sandal for strolling around the streets or house for hours. Featuring a deep heel cup, these sandals bring out stability against over-pronation.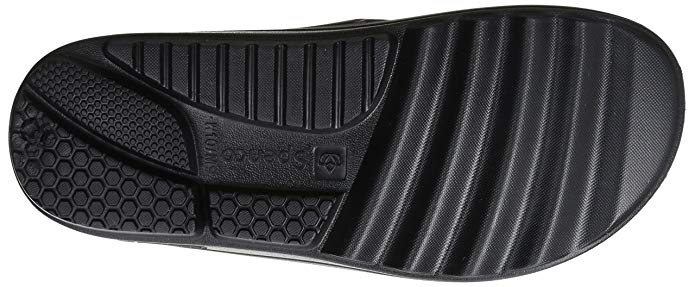 With "The Shape That Feels Great" technology, Fusion 2 provides superior arch and heel support. Furthermore, the Airgrid EVA foam offers heel-to-toe cushioning that makes the pair comfortable to wear all day long.
Moreover, these sandals feature a metatarsal dome that alleviates pressure from the metatarsal heads to boost foot function. With a +5 heel lift geometry ratio, this pair delivers the utmost comfort. The pair further features a soft, natural-feel toe post that does not chafe and is not exasperating to wear.
7. Superfeet Women's Rose Sandal
Designed for women always on the go, Superfeet Rose Sandal is powered by a dual strap that adds delicacy to the footwear. Also, the slim heel and arch length conform to the proportions of women's feet.


Coming with dual synthetic leather straps, these sandals provide comfort and look good at the same time. In a polyurethane construction, Rose Sandal sports a durable and water-friendly design.
It has also incorporated the signature Superfeet shape with a deep heel cup, which promises a lifetime warranty. Made using quality synthetic rubber, the Rose Sandal resists sliding from on slippery grounds.
8. OOFOS Women's OOlala – Recovery Thong Sandal
Known for expediting the process of recovery, OOFOS OOlala for women is infused with quality materials that relieve feet from pain after toiling in the gym for long hours. Quite like the OOFOS OOah model, OOlala absorbs 37 percent more impact than traditional footwear foam materials.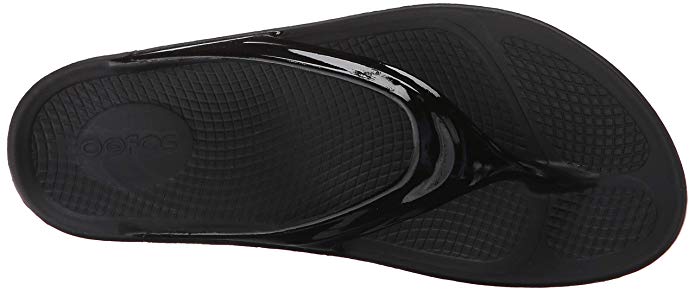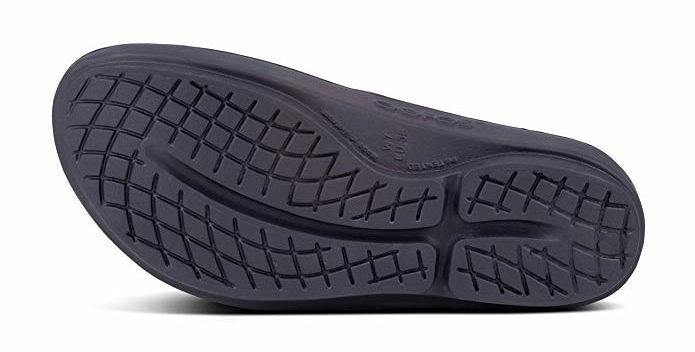 Coupled with innovative technology, the OOlala's patented footbed cradles your arches to alleviate stress on sore feet, knees, ankles, and lower back. Furthermore, the recovery thong sandal is biomechanically designed to allow natural motion.
Crafted using superior materials, the OOFOS OOlala prevents bacteria and is moisture-resistant. This also helps in not retaining any unpleasant odor. What's more, these thongs offer the same OOfoam technology in a feminine silhouette. With the market inundated of PR Soles vs. OOFOS competition, we've answered your question by listing two from the latter.
Also Read:Guide to Best Chest Press Machines and Exercises
---
CONCLUSION
There's more to do post sweating it out in the gym — dishes, dinner, and getting your kids to the bed. With so much to do, you are in dire need of a pair that keep you up and going. Hope the list of Running recovery sandals we brought you helped you in finding the best pair.
If we've left out on something, please let us know in the comments section below—your suggestions/questions matter.