The fitness industry is witnessing a booming interest – all thanks to the advent in technology and prolific athletes inspiring millions around the globe to stay regularly active.
With most fitness centers making room for new machines, equipment like the elliptical trainer is the source for a comfortable workout. There have been studies showing the benefits of using elliptical machines. However, this piece of equipment has been side-lined as most gym-goers deem it as dull or ineffective.
With arguments for and against using this machine, here is a simple guide to how you can correctly use an elliptical trainer. Post that, we compare two renowned elliptical machines – ProForm Cardio HIIT Elliptical Trainer and Bowflex Max Trainer.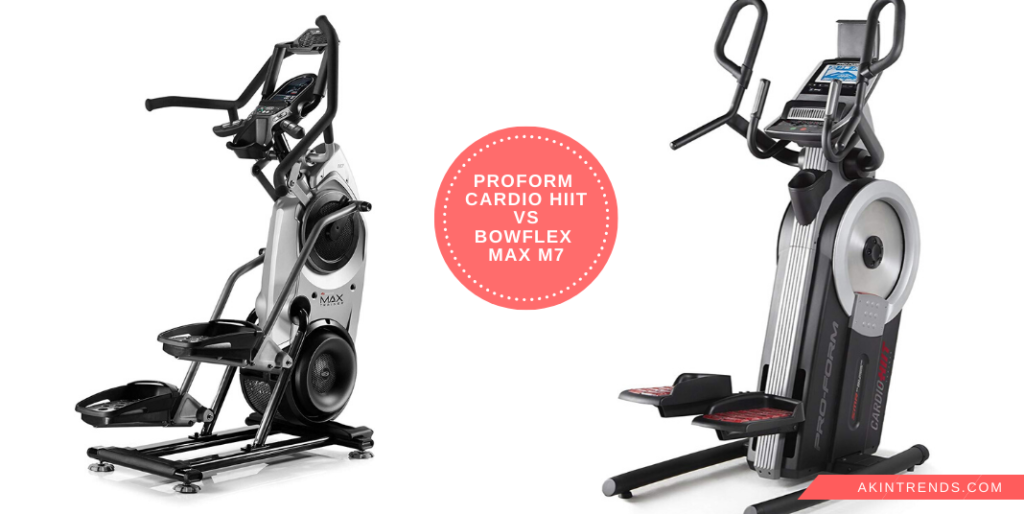 ---
Using an elliptical machine
Have a plan before jumping on the elliptical: You must set your intentions clear for the workout. Many tend not to set goals, which is considered one of the major mistakes.
Utilize the handles to the fullest: In order to perform the most effective workout, push and pull the levers with an upright posture, to have your shoulders tugged back and abs actively engaged. While there are elliptical trainers available without handrails too, but we recommend the ones with handles for a total-body workout.
Consider working out with intervals: It is necessary to calm yourself down after each set. So our mantra for you is to do 5-minute intervals, while also increasing the levels of resistance each time.
The list mentioned above of mantras are few but can surely help you get stronger and leaner using an elliptical machine. And without further delay, here is a brief comparison guide between ProForm Cardio HIIT and Bowflex Max M7.
---
ProForm Cardio HIIT Elliptical Trainer
For serious high-intensity cardio workouts, ProForm's line-up of elliptical trainers is just the kind of trainers you might be looking for. With commercial solid steel construction, ProForm Cardio HIIT Elliptical Trainer is strong and steady during those intense cardio training.
Design and Durability
ProForm Cardio HIIT comes in two variants – ProForm HIIT Trainer and HIIT Trainer Pro. The former weighs 180 lbs and accommodates users up to 350 lbs, while the latter weighs 210 lbs is safe for users up to 350 lbs.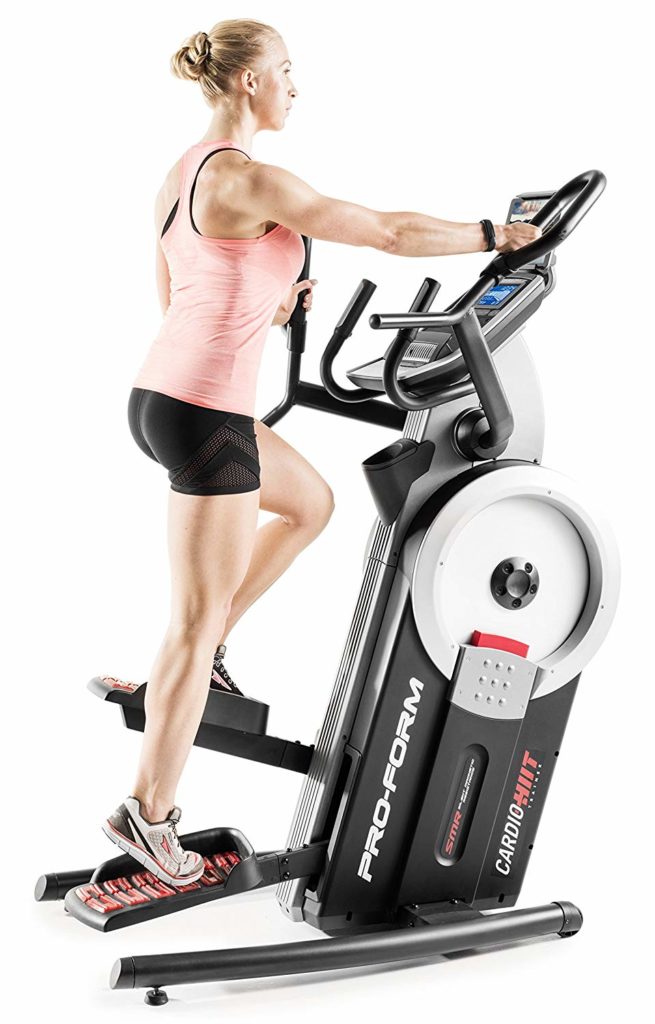 The compact design is reliable and efficient, which makes this the ideal workout machine even for home use too. Featuring a multi-function handlebar, this elliptical trainer assists you in burning more calories. However, these are small for short exercises, which is one major shortcoming.
The ProForm Cardio HIIT offers lifetime coverage for the steel frame, three years for parts, and one year for labor. While the ProForm Cardio HIIT Trainer Pro raises the ante in offering a warranty as it provides a lifetime frame, five years for parts, and two years for labor.
Computing System
ProForm's console functionalities are the primary reasons that give this edge over its competitors. Powered with 32 built-in workout programs, this elliptical trainer drives you to complete each set and pushes your ability even harder.
With ProForm's 7" LCD, you can view vital feedback such as intensity, speed, time, distance, heart rate, and calories. Furthermore, the console allows you to connect via WiFi, Bluetooth and is also compatible with the iFit app, and iPod.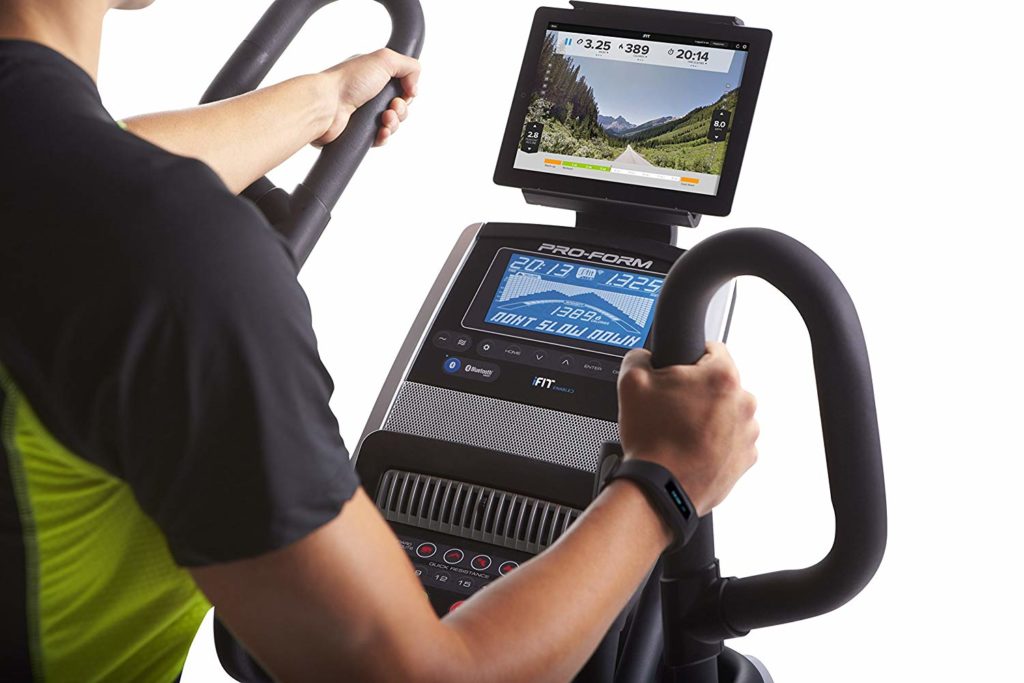 To make this computing system stand out, there are tablet holders on both HIIT trainer models. This feature allows you to stream your favorite movies and shows during your workout.
Notable Features
ProForm's Cardio HIIT is fused with quality features, some of which assist in overcoming difficult tasks. Stocked with in-built speakers and a dock above the console, this elliptical trainer allows you to listen to music while you are burning down some calories.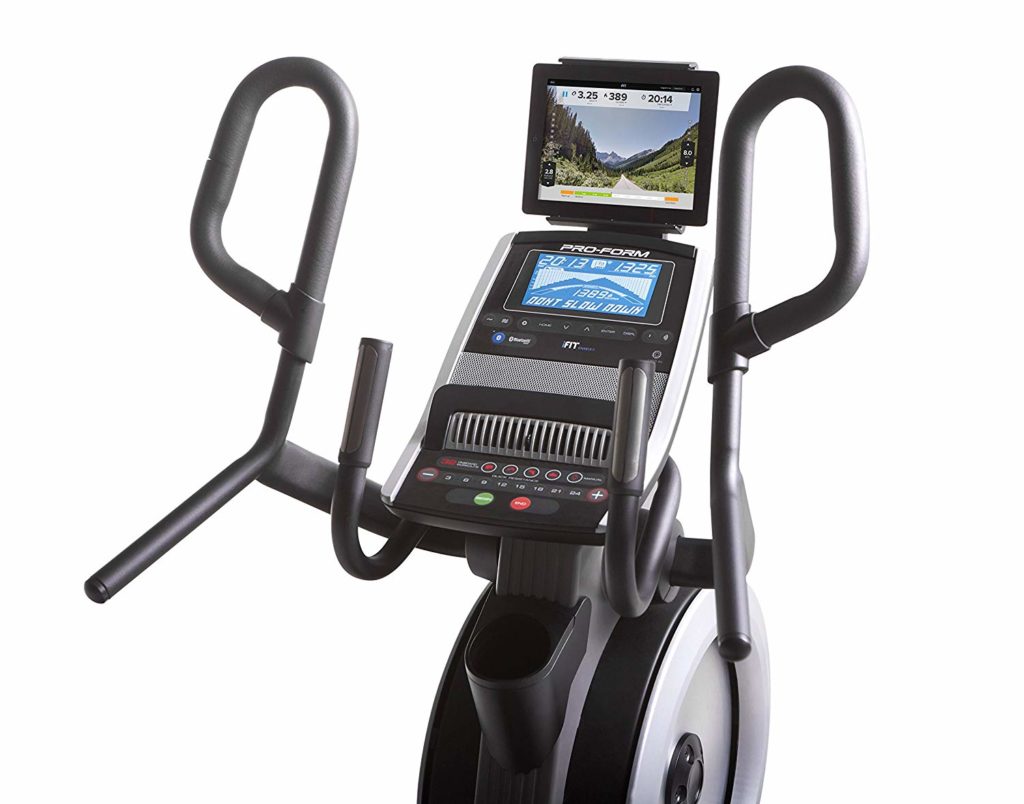 Compelling of all the features, the Cardio HIIT is compatible with the brand's iFIT coach that enables you with access to numerous training programs. Although this machine doesn't provide you with an option of creating user profiles, you are still endowed with a choice of tracking and saving workout data on the iFit app.
Also, there is a good quality cooling fan present in the machine. Moreover, you have the option of switching the fan on or off during the workout.
For quiet and effective workouts, ProForm Cardio HIIT is backed by the revolutionary resistance system called the Silent Magnetic Resistance (SMR). The elliptical patterns on the machine are more up and down, which has a 10" vertical body and only a 5" horizontal path.
Pros and Cons of ProForm Cardio HIIT
ProForm Cardio HIIT is a rewarding investment; the machine has a few drawbacks too. Below are some of its pros and cons:
Also Read: Schwinn 430 Elliptical Trainer vs ProForm Cardio HIIT: Comparing the Elliptical Machines
---
Bowflex Max M7 Trainer
Outperforming most of the elliptical trainers available in the market today, Bowflex Max M7 is one of the most efficient pieces of equipment that has managed to gain a household name.
Design and Durability
Sporting a classic design, this elliptical trainer enhances muscle development and cardiovascular health. The Max M7 also features enhanced, and gym-quality carved handlebars for utmost grip comfort. What's more, this elliptical trainer comes wireless heart rate chest strap, helping you monitor your workouts and manage the intensity.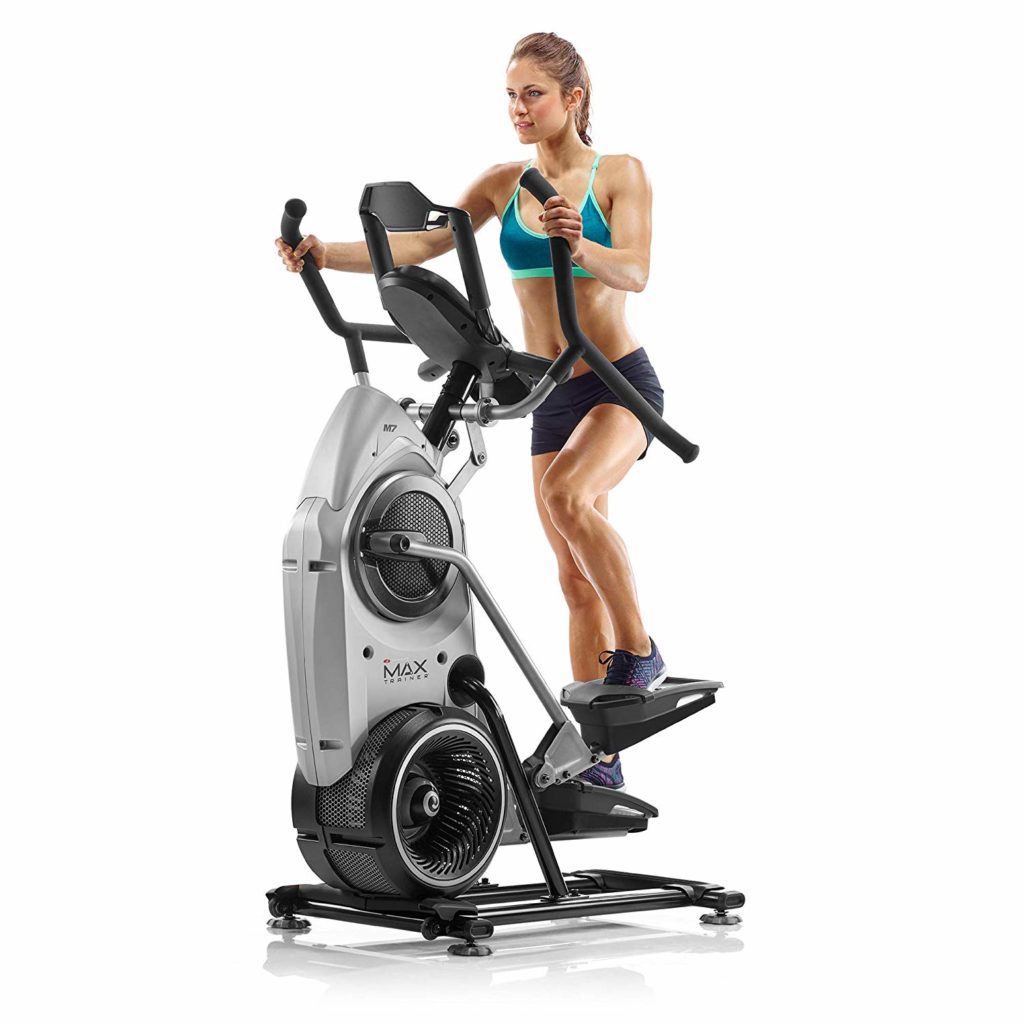 With state-of-the-art design, Bowflex Max M7 is compact and comfortable to use. Besides, it is equipped with robust, well-constructed materials with firm parts, which eventually help in performing various workouts.
Weighing about 150 pounds, Bowflex Max M7 can comfortably accommodate users up to 300 lbs. This elliptical trainer arrives with an astounding warranty, which includes three years for the frame, three years for parts, three years for electronics, and 90-days for labor.
Computing System
Bowflex Max M7 comprises quality built-in programs, which are further divided into two modes – Target Mode and Performance Mode. The elliptical trainer facilitates with an option of saving up to four user profiles, with a bonus of practicing workouts through a mobile app.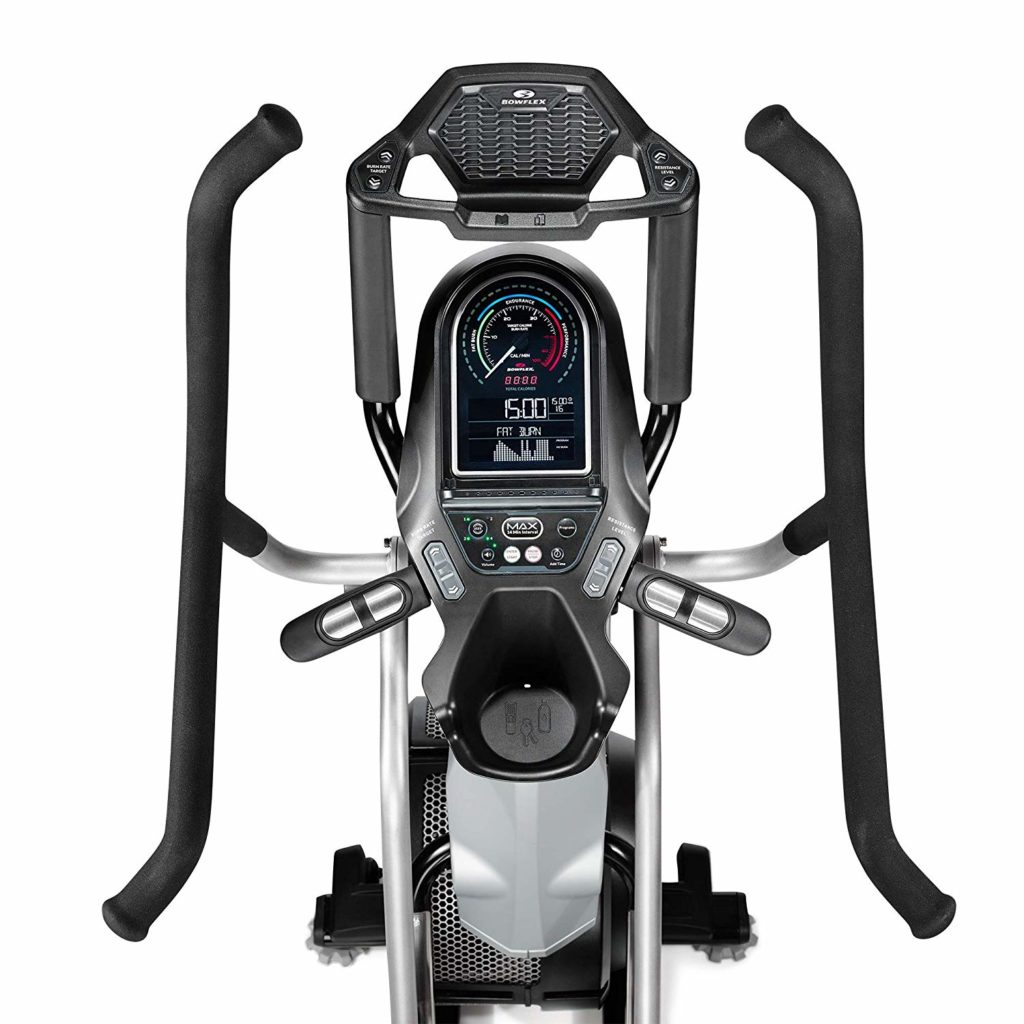 With a backlit and oversized display screen, this elliptical trainer exhibits you readouts and user feedback such as calories burned, resistance levels, distance, heart rate, time, and speed.
Moreover, the 11 pre-installed workout programs are designed by professional athletes and targeted to your specific goals. For tracking and saving your progress, this elliptical trainer offers you an option to sync with the Bowflex Fitness app.
Notable Features
With advanced and innovative features, Bowflex Max M7 is a high-end trainer in the Max Trainer series, which includes M3, M5, and M8. The Max M7 has up to 20 computer-controlled resistance levels, keeping you motivated and challenged during your workout.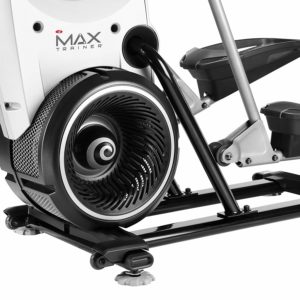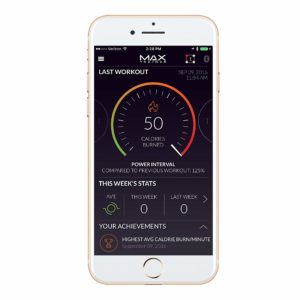 Arguably the best choice for home fitness equipment, the M7 allows you to save up to four separate user profiles, which can be shared among members of the family or friends.
Unlike the other models in the Max series, the M7 is the only such trainer that offers automatic heart rate readout and syncs wirelessly with the Bowflex Fitness app.
Pros and Cons of Bowflex Max M7 Trainer
With all notable features discussed, following few sections we share what we loved and hated (not really) about the Bowflex max M7 trainer.
Also Read: Schwinn 470 vs Sole Fitness E25: Breaking Down The Two
---
Verdict of ProForm Cardio HIIT vs Bowflex Max M7
In the comparison of ProForm Cardio HIIT vs Bowflex Max M7, both types of equipment are efficient and equally useful. Albeit, both these machines come at different price points. All in all, the kind of machine you require depends on your needs.
The ProForm HIIT provides you with handy features like better console options and entertainment. At the same time, you can also leverage the option of connecting with iFit, which allows you to run trails across the world and install numerous workout programs.
Our recommendation would be the ProForm Cardio HIIT, which is better in terms of flexibility and adjustability; also, it has half the price of the Bowflex Max M7. If there's a standout feature we've failed to mention in this article, please write it down in the comments section below, and we'll get back to you.
---
FAQs of ProForm Cardio HIIT vs Bowflex Max M7
Is this Bowflex Max M7 recommended for beginners also?
The Bowflex M7 has a resistance level from 1 to 20. 20 is intense. As a beginner, we recommend you keep the levels at about 10 or 15. Once you get used to the machine, take it up to 20, and then get more intense (and longer workouts). The M7 has the ability to bring you back in shape if you need to start at a lower setting first. Overall, this trainer can help beginners to develop a good beginner exercise routine. 
How do I activate the console on the ProForm Cardio HIIT without subscribing to the iFit app?
The ProForm Cardio HIIT is an impressive, beginner-friendly machine for your high-intensity training sessions. To have the console activated without subscribing to the iFit app, follow the simple instructions — Hole the Bluetooth button for 30 seconds. Once it starts beeping, the console will be activated.
Can HIIT be done regularly?
HIIT training does help in burning calories and reducing fat quickly, however, it can also be considered a lethargic experience for your body. In order to gain the best out of such HIIT, we advise you to stick with the exercise at least thrice a week, and gradually progress to five times a week. Having frequent days off from the equipment is also recommended, so you give your body some rest to recuperate.