Working out from home can have tons of reasons like eliminating long waits or drive times to save time. Having a home gym can also be beneficial as you can workout at any time of the day. A power rack is a piece of great equipment for having home workouts sessions as it occupies less space, and it is convenient.
Often working out at home means losing all the gym equipment, but that is not true as with the help of a power rack, you can perform various exercises at your comfort. In this article, we are going to review some of the best power racks so you can maintain your fitness routine at the ease of your home.
But before that, let us go through some of the things you need to consider before buying one, so you know what you need to invest in.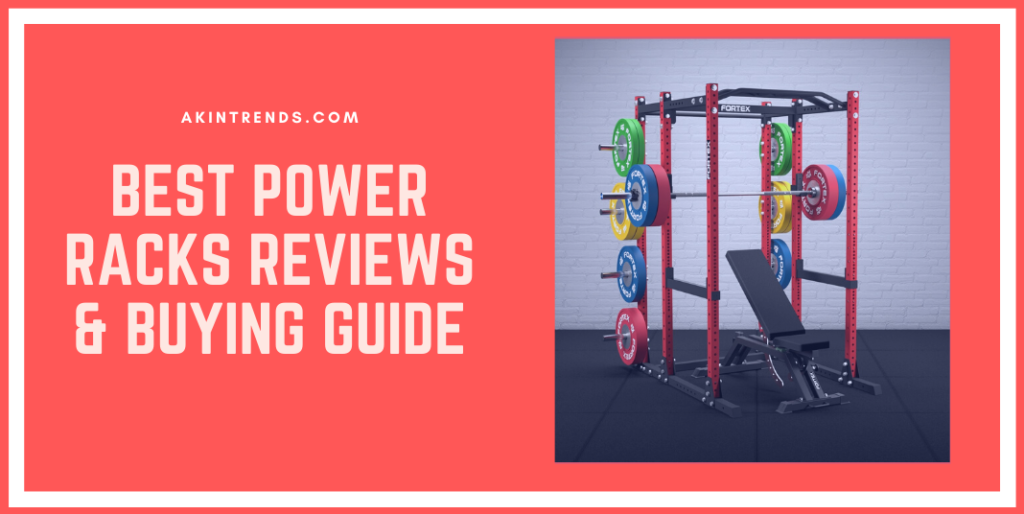 ---
Things to consider before buying a power rack
The size of these racks may vary as different people have different requirements. So you need to choose the size and also that the rack has strength and is durable enough to hold your weight so that it is quite vital for you to watch out for.
You need to ensure before buying a power rack that it comes with all the required accessories and the ones that fit with the rack so that you don't have to spend extra money on them and get additional ones. It is important to take time and choose the product.
Another critical factor to watch out for is the ease of use so you can use it safely without the risk of getting hurt. A lot of power racks come with various adjustments and safety nets, which ensure comfort as well as safety of the user.
Now lastly, go for the model with floor anchoring as you do not want the racks to move when you are working out, as there are chances that you might end up hurting yourself. It is recommended to go for the model that you can easily fix to the floor so that they remain stable.
Now that we know the things that we need to consider let's look at the top 10 power racks.
---
Best Power Racks
1. Fitness Reality 810XLT Super Max Power Cage
Fitness Reality 810XLT Super Max Power Cage is a great option for your home requirements and is arguably the most reliable power cages. The weight capacity of the unit is 800 lbs, which is considered incredible.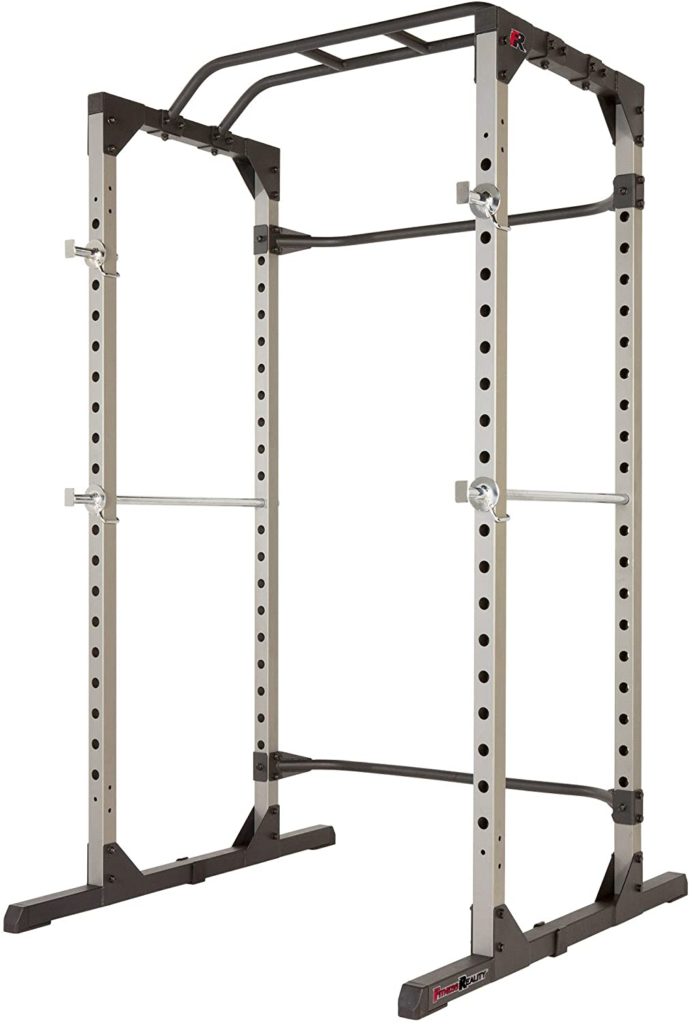 The product's frame is made of durable steel that ensures safety, durability, and stability. Moreover, the cage has an ample space to move around, helping you flex your arms and legs post-workout.
It also consists of two chrome safety bars and lock-on safety features that can be adjustable to 19 heights for a great training experience. This is a trustworthy brand that is known for manufacturing top-class exercise and fitness products.
2. HulkFit Cable Crossover Adjustable Power Cage
HulkFit Cable Crossover Adjustable Power Cage is yet another feature-rich power rack that has a plethora of benefits to offer. This machine reduces the chances of any accidents and harms, thus making it safe to use.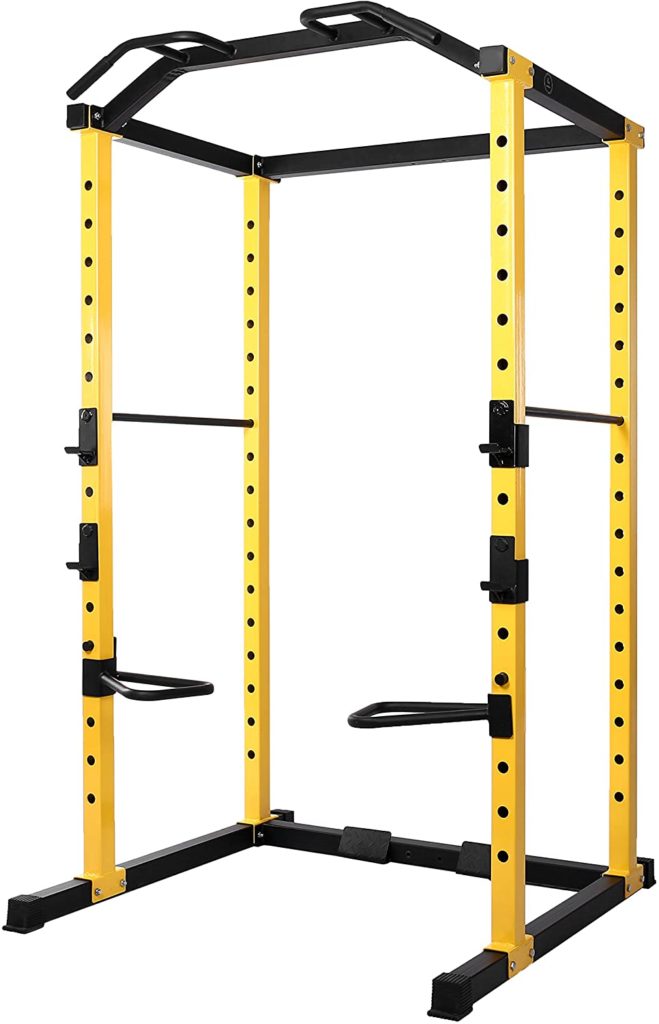 This is a full range of equipment that enables you to lift more than the normal weights you are used to lifting, making it an exceptional machine. It is an excellent unit if you are looking to strengthen your muscles.
Moreover, the unit has a weight capacity of 1000 lbs, and it is constructed from heavy-duty steel, making it one of the perfect rack for men as well as women.
3. K KiNGKANG Power Tower
K KiNGKANG Power Tower isn't as big as other power racks; however, it still gives a run for money to other known brands. This power rack is highly lauded for its stability, as the U style base stays grounded during workout sessions.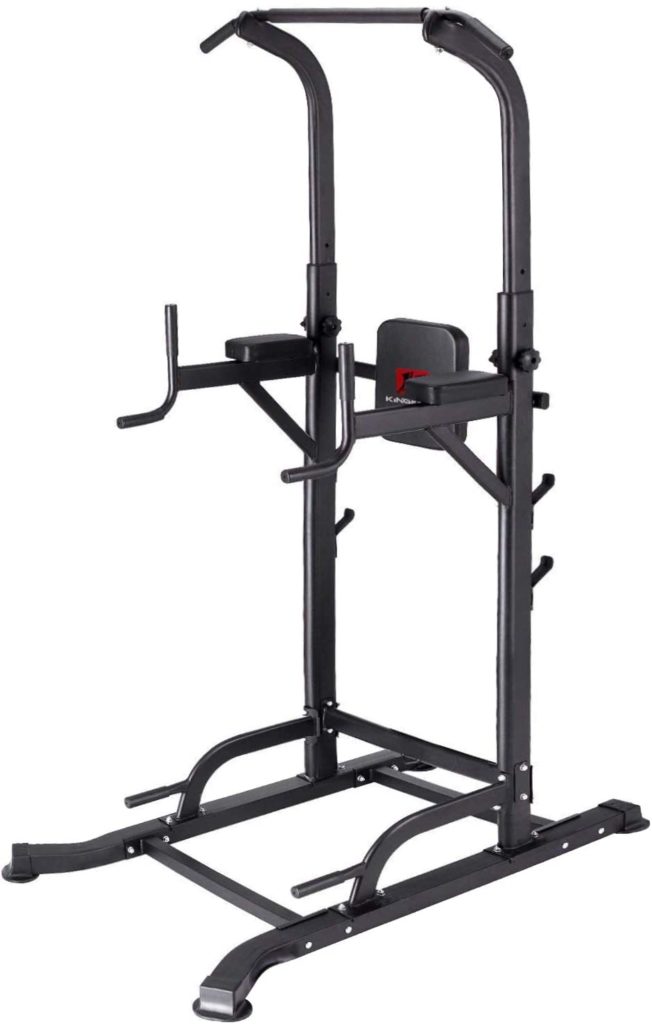 The power rack effortlessly allows you to perform pull-ups, push-ups, and much more. Not only this, but the product sports an ergonomic design too.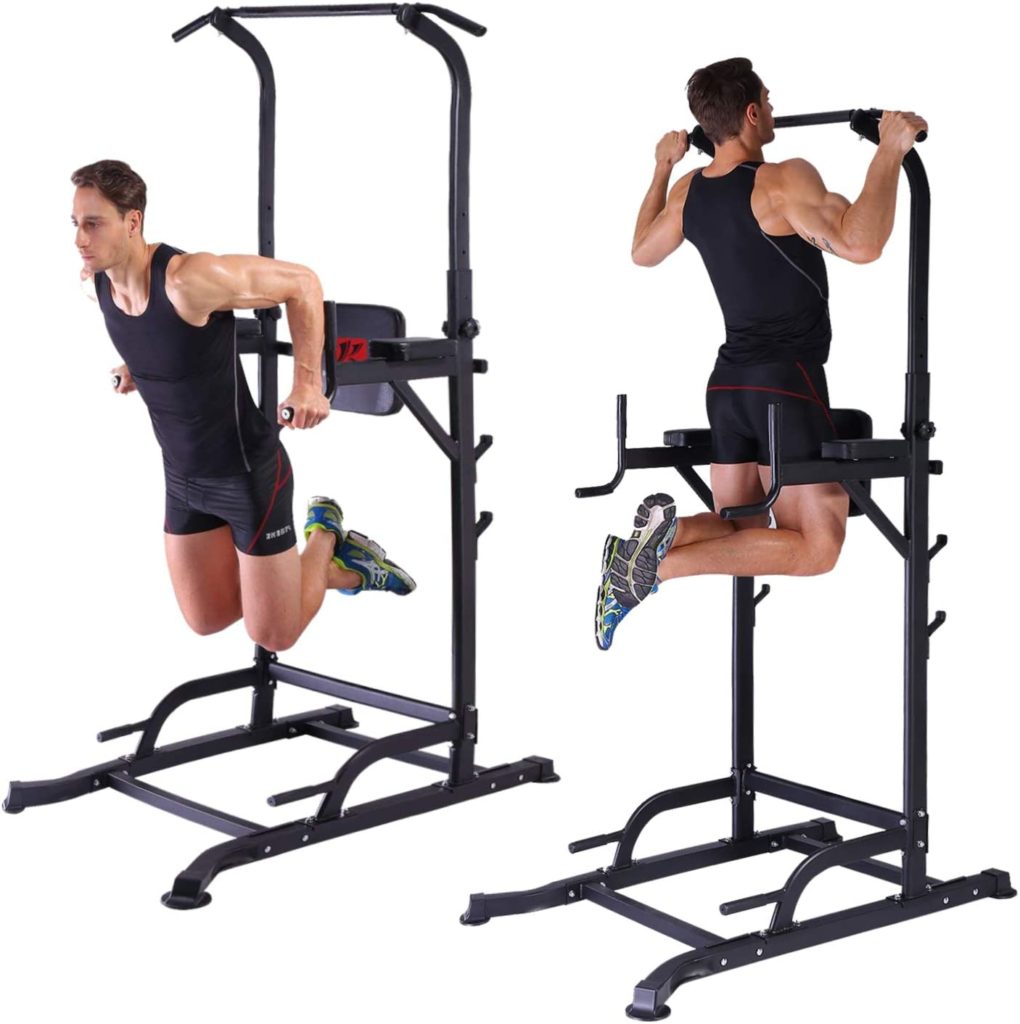 There are six heights available that can help you perform each of your exercises. Also, you can avail of the use of barbell benches, and barbell stands to provide you a complete workout session.
4. Marcy Cage Squat Rack Pull Up and Push Up Station
Marcy Cage Squat Rack sports a heavy-duty construction coupled with round steel tubing and gray powder coating, which makes them stand durable. The unit has a multi-grip pull bar that allows you to perform various pull-up exercises to strengthen your muscles.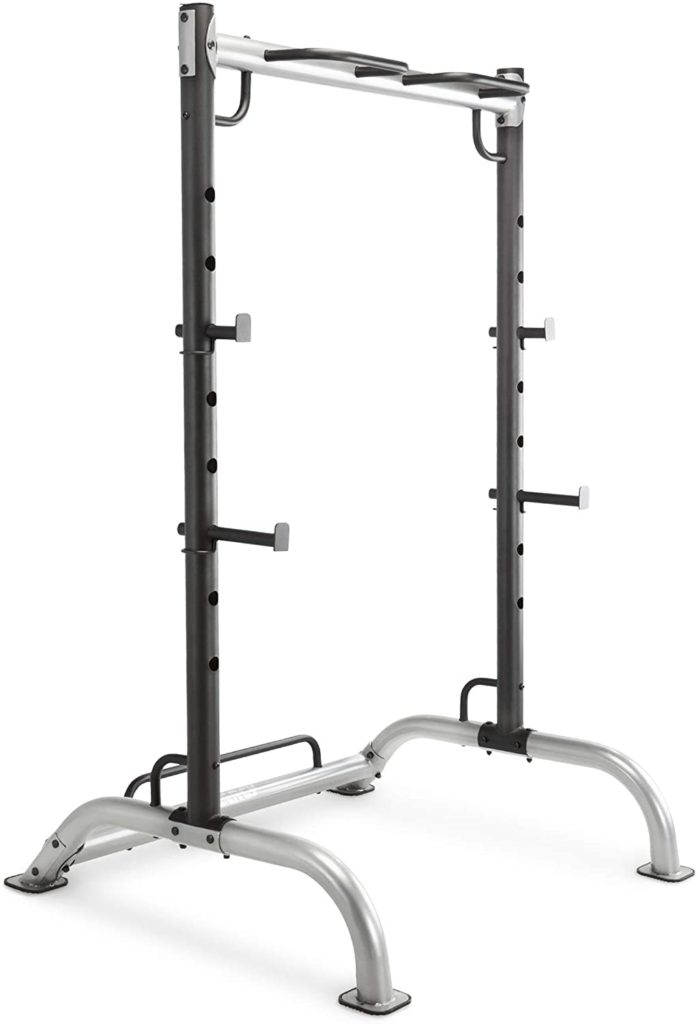 It also features commercial style barbell catches, allowing it to be used with Olympic bars and other weight lifting gears, making it the best equipment.
Moreover, the unit also includes a few safety bars that can be adjusted to various heights for performing squats and chest exercises. The unit has a 2-year warranty with the machine making it one of the kind.
5. Stamina Power Tower
The Stamina Power Tower boasts of a design that will help perform various bodyweight exercises, allowing you to build muscles, lose weight, and improve heart health.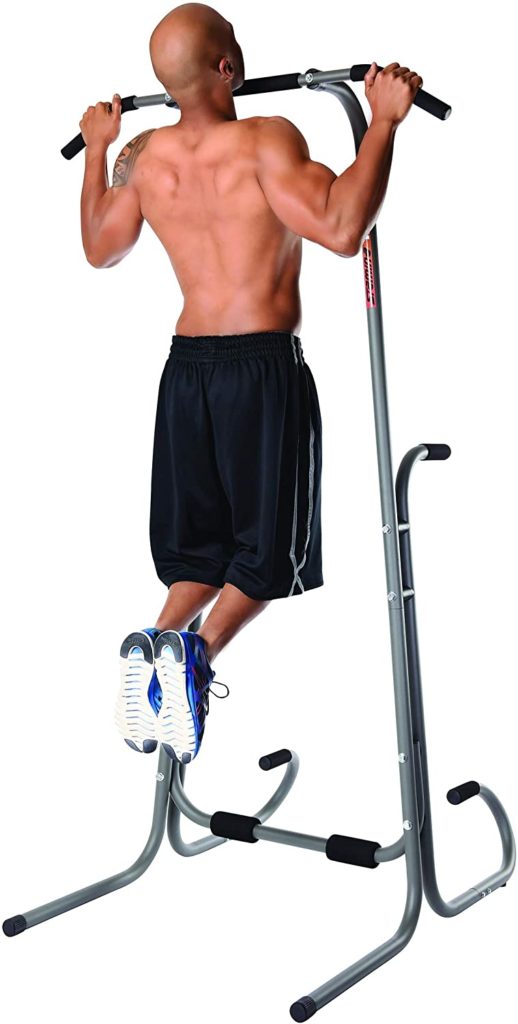 The unit is an all in one equipment unit which helps you in performing push-ups, pull-ups, sit-ups and much more. The unit encompasses secure foam hand grips that make it comfy and stable.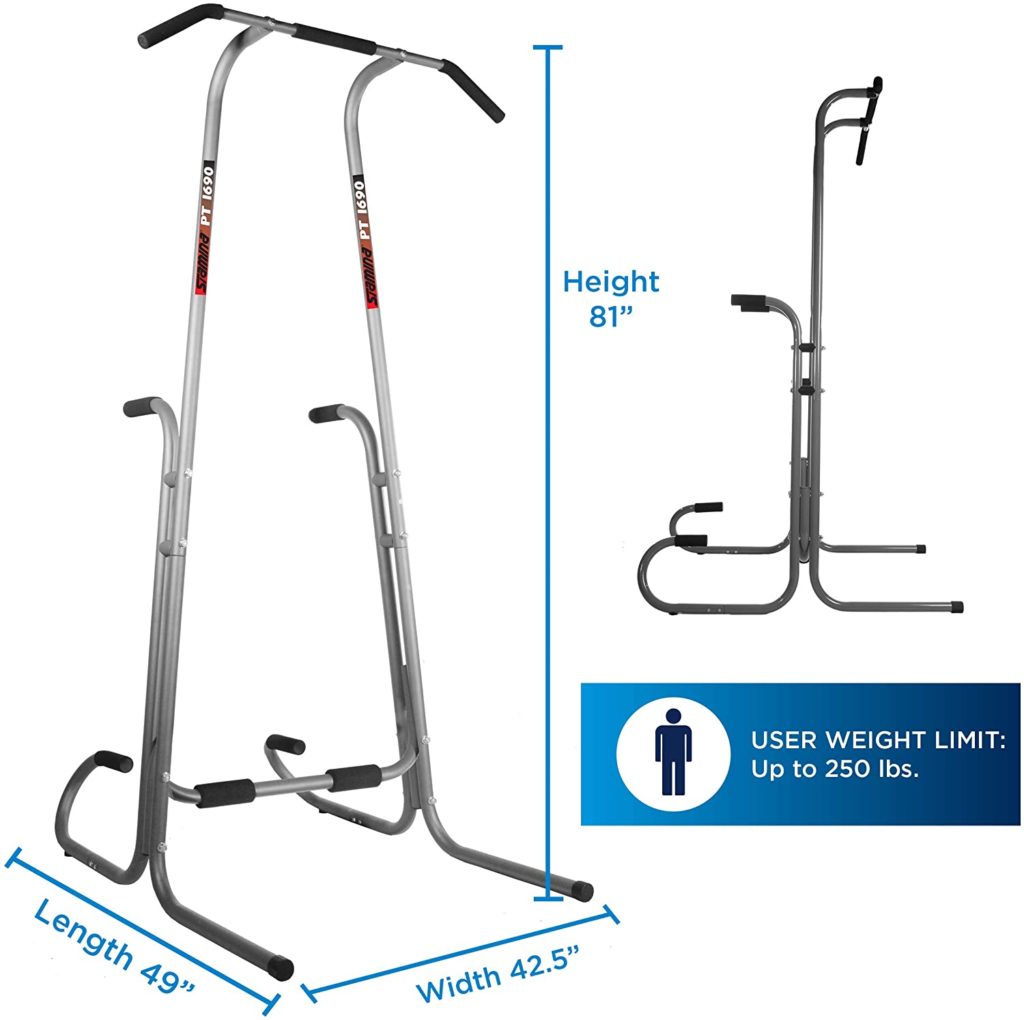 The power rack is easy to assemble and can fit various spaces that will make it ideal for every indoor space. Moreover, a warranty of 90 days on parts and five years on the frame is also provided.
Also Read: 7 Best Treadmills Under $1000: A Buying Guide
6. Wesfital Power Tower
Wesfital Power Tower is a combination of squats rack as well as a power rack, which makes it a good investment. The arm pads and dumbbell stands are removable as well. Not only this the height of the rack can be adjusted up to 11 levels making it the best
The weight capacity of the rack is up to 1100lb. Furthermore, the unit has a comfy design with a six levels adjustable backrest that supports the spine and elbow along with elbow pads.
Not only this, the equipment is designed such that to provide stability and also includes pull-up bars, dip stands, and other add ons, which help in performing arm, waist, and back exercises.
Pros:
Combination of the power rack and squats rack
The maximum weight capacity is up to 1100 lb.
The unit is stable and comfy.
Cons:
7. EFGS adjustable heavy-duty rack
The EFGS adjustable heavy-duty rack is a reliable and safe product that acts as a multi-functional sports equipment that is made of high-quality steel that makes the stand durable and sturdy.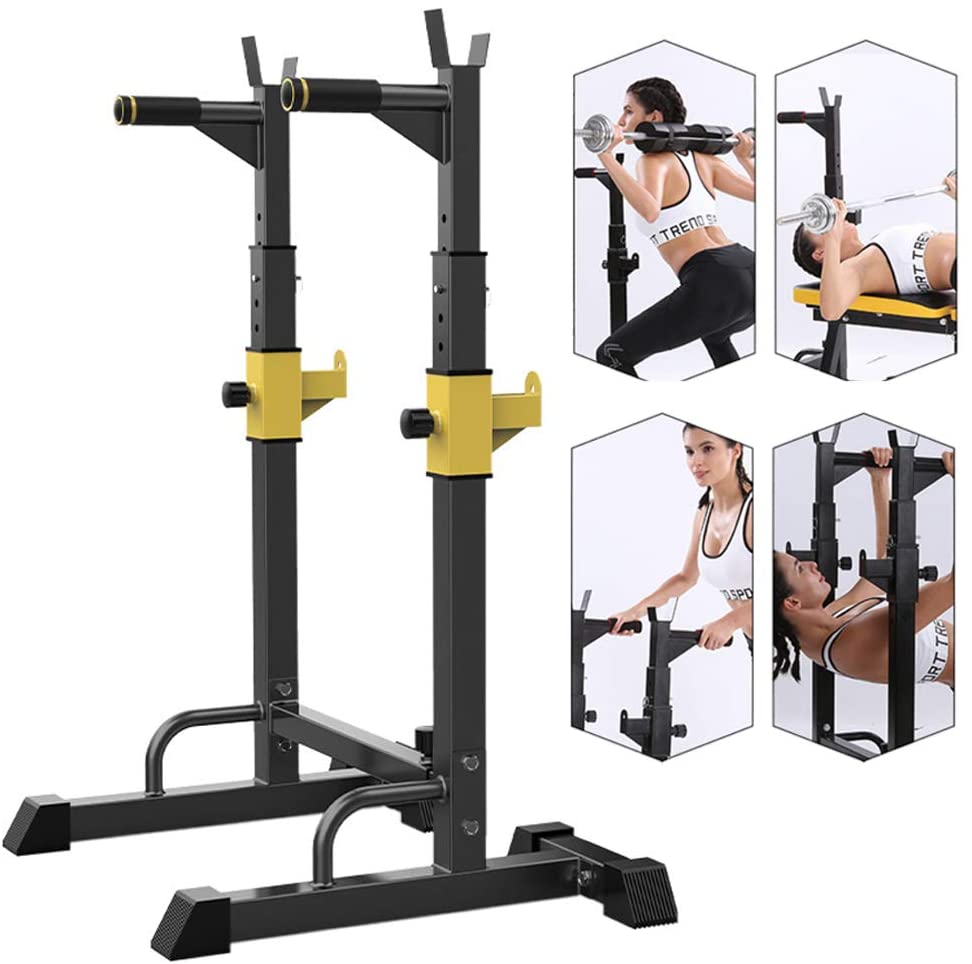 The model is easy to assemble, as well as easy to use. The width and height of the rack are adjustable, which is suitable for people of different ages and sizes.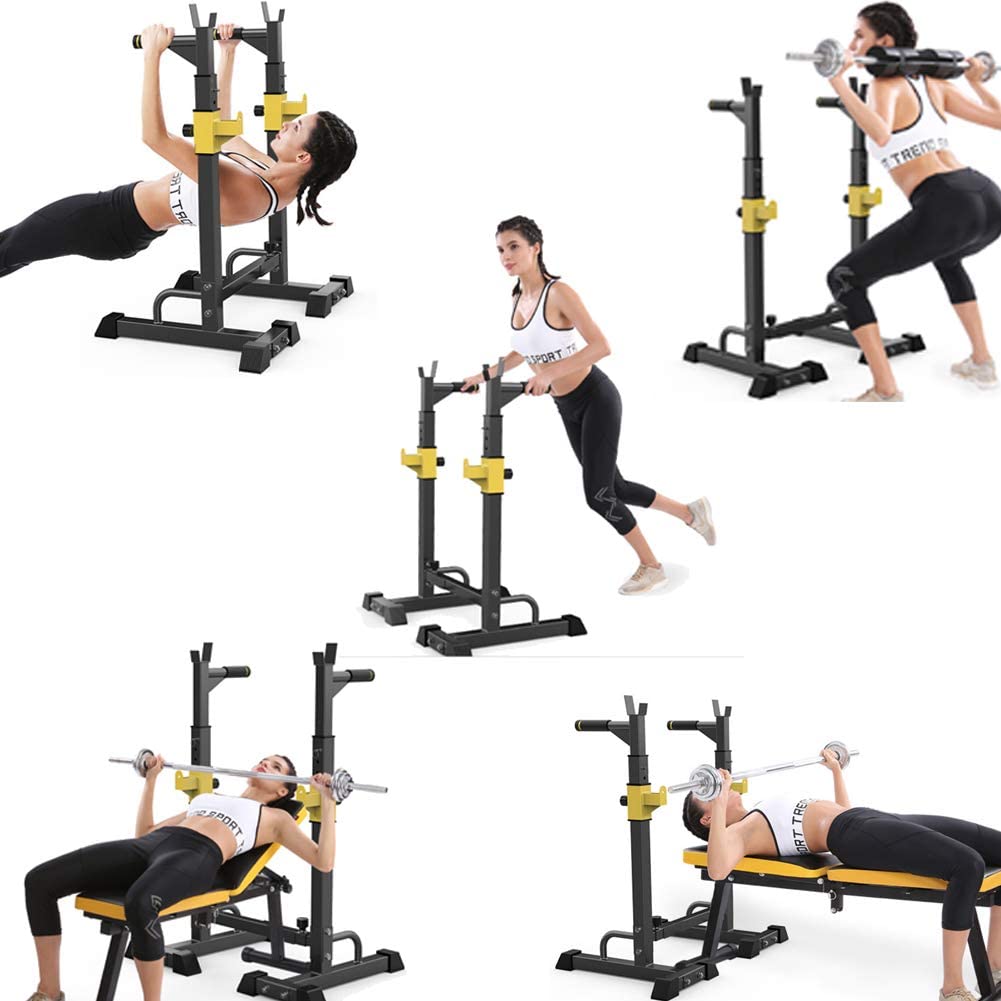 It is a multi-functional rack that allows you to use it as a bench press, squat rack, dumbbell rack, and much more. Also, the footpad is non-slippery, so that it is safe to use.
Also Read: Best Weight Benches: Buying Guide of 2020
---
CONCLUSION
Choosing a suitable power rack for your home gym, which suits all your requirements, shouldn't be a difficult task. As we have listed some of the best power racks in the market that can be useful for you in finding a perfect match.
Factors like size, type, and price are considered before making a final decision that has already been listed above. So get a power rack and kick start your workout sessions with the best rack available.