Treadmills are one of the best things to spend money on if you are considering working out at home. Sometimes running out in the open can be interrupted by harsh conditions such as rain, extreme heat, or snow. Hence, having treadmills at home can prove to be handy.
Buying a good treadmill doesn't put a dent in your pocket. There are a plethora of best treadmills under $1000 available that might not contain fancy features that most expensive treadmills have.
Now, for buying a treadmill, it is imperative to consider a few factors, as this helps in determining which is the best treadmill that suits your needs. Let us have a quick peek as to what should be considered before buying a treadmill.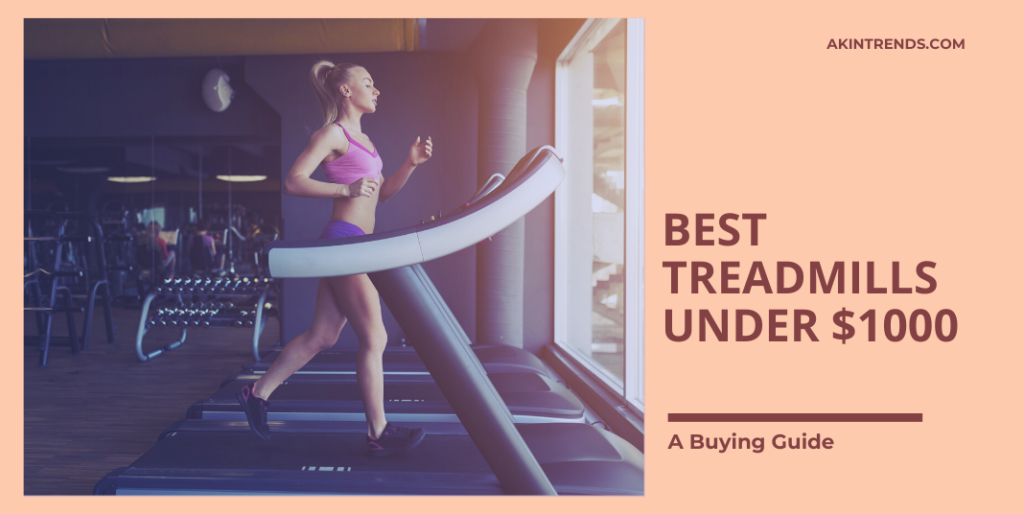 ---
Things to consider before buying a treadmill
The size of the belt will help you move around freely and avert the risk of falling. A standard size treadmill comes with a belt size of 16"x50", but you can easily find a bigger belt size. The best option would be to go anywhere from 22"x50" and above for a worthwhile experience.
You need to select the design according to your requirement. If you are planning to give it a space in your office, then you might want to go for something foldable as it provides space.
Higher the horsepower, the faster the machines perform. The maximum you can get in a treadmill of $1000 is somewhere around 12mph. Hence, you need to look for a machine with 2.5 to 3.0 HP (horsepower) to get the best treadmill under this range.
---
Best Treadmills Under $1000
Now that we have considered some significant factors, we need to look out for, let us have a look at some of the best treadmills under $1000 in the market.
1. NordicTrack T Series Treadmills
NordicTrack T Series Treadmills is counted among the best treadmills under $1000 that is supplied with a one-year iFit membership and unlimited workout programs.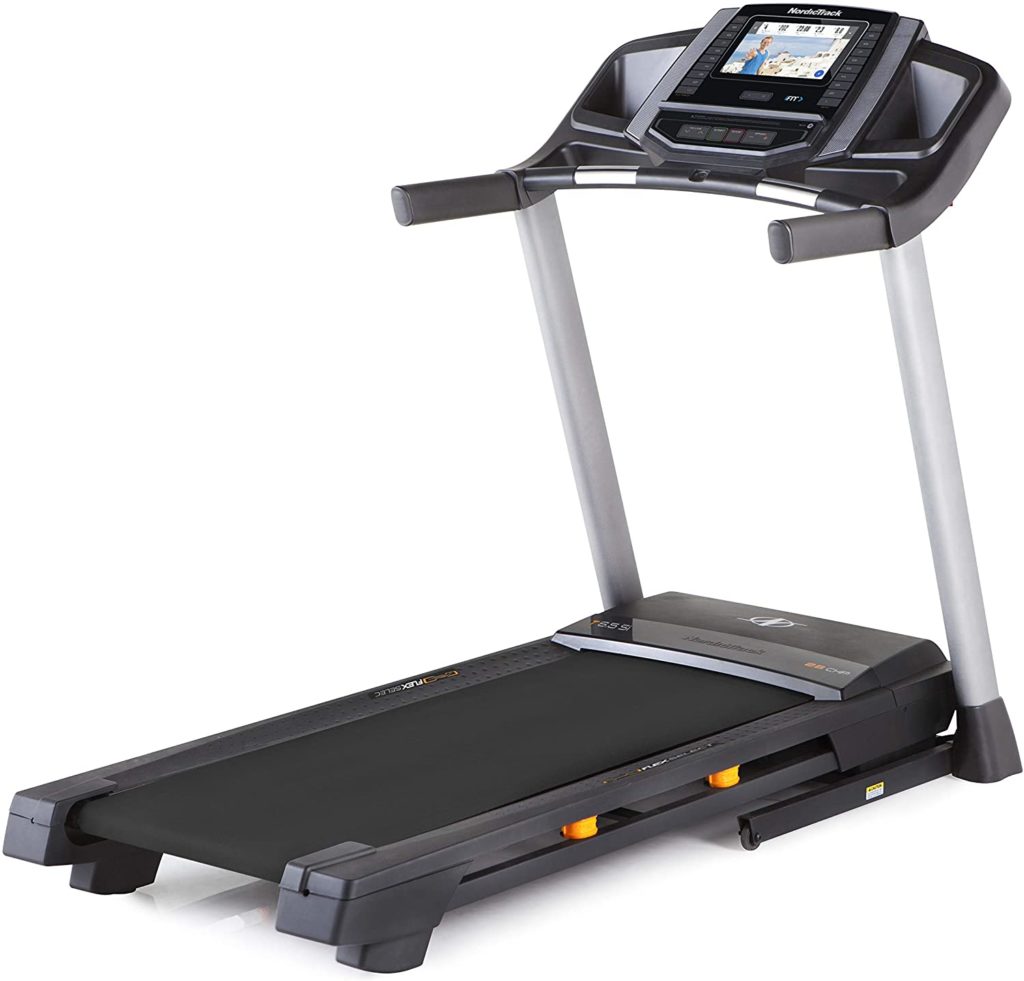 The model features 0-10MPH, dual cardio grip heart rate monitor, 2.6 CHP Motor1.0 roller, and one-touch controls. It can be folded when not in use, this, in turn, saves space.
Also, it has a smart response motor for providing effective interval, speed, and endurance training. The machine further boasts of dual 2-inch speakers with an auxiliary port to keep you entertained and motivated during your exercise.
2. XTERRA Fitness TR150 treadmill
XTERRA Fitness TR150 comes with a 5-inch large LCD which keeps you updated about the incline, pulse, speed, and calories and is easy to read as well. The treadmill allows a speed range of 0.5-10MPH to the users.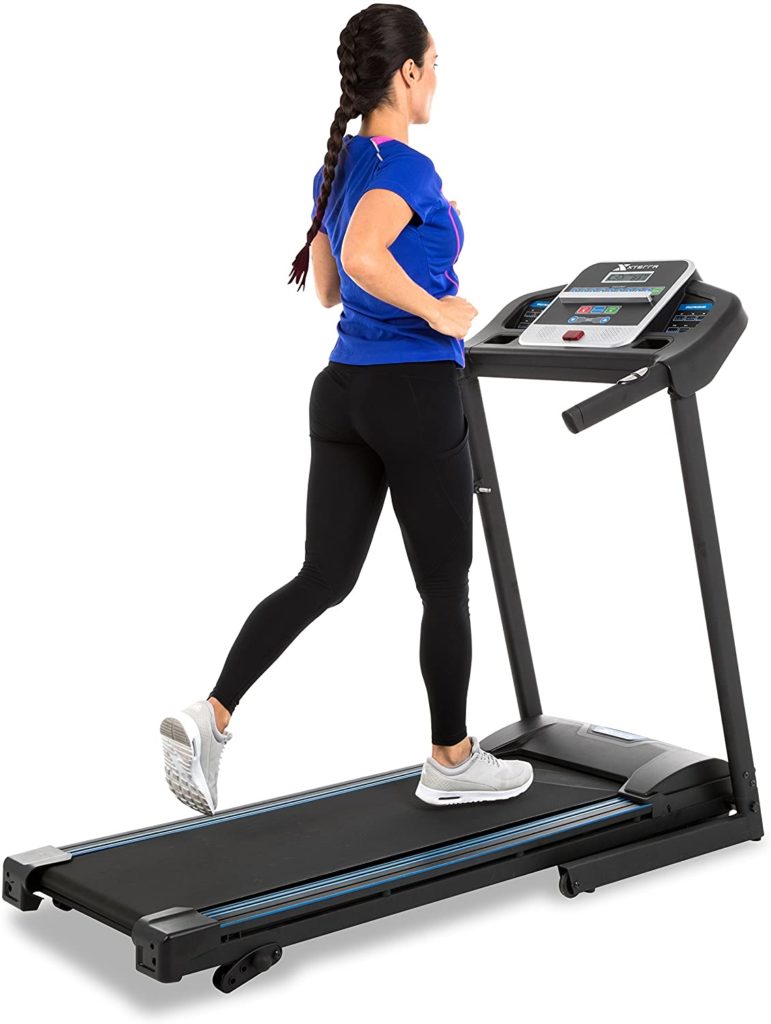 The machine can be easily folded by just pulling the knob, which provides you with more space. The model comes with 12 preset programs to have an intense workout session.
Also, it comes with three manual settings that offer maximum variety to the user. It also includes hand pulse grips on the handles to monitor pulse rates. Moreover, preset data settings are available to provide smooth and fast controls of the workout.
3. Horizon Fitness T303 Go Series Treadmills 
The Horizon T303 is among our favorite treadmills under $100 on the market that allows you to run, walk, twist, sit-ups, and much more. The treadmill is equipped with an incredible motor and can be folded and securely placed under surfaces.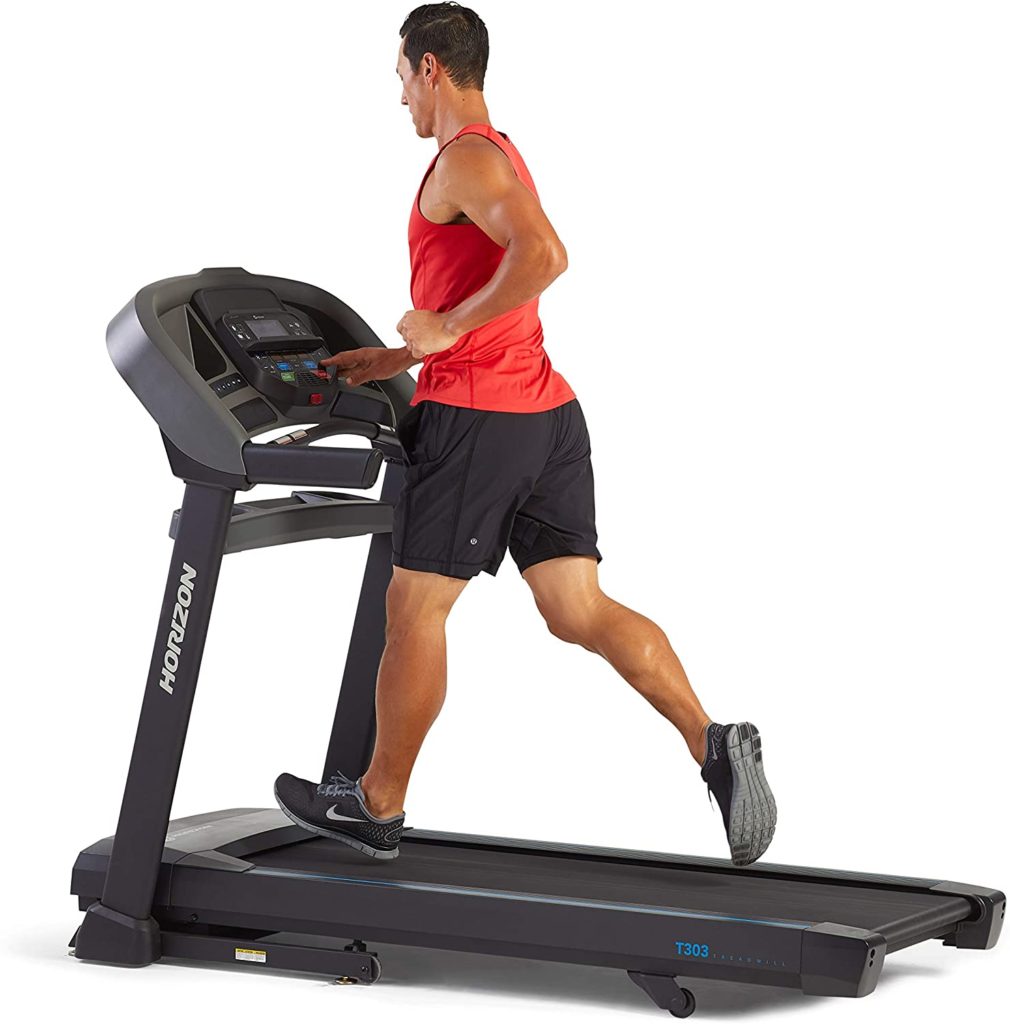 It features eight built-in programs, which are designed to build strength and stamina more rapidly. The machine is Bluetooth-enabled, allowing you to connect your smartphone and stream music for on-the-go entertainment.
The treadmill has a USB port to charge your smartphone or tablet. Weighing close to 200 pounds, this treadmill can hold users up to 325 pounds.
Also Read: 12 Best Folding Exercise Bikes of 2020
4. Sunny Health and Fitness Foldable Treadmill
Sunny Health and Fitness Foldable Treadmill is a great unit that is available in Gray and Pink colors. It comes with three manual options for adjusting the incline. The maximum weight capacity of the unit is 220lb which is quite good.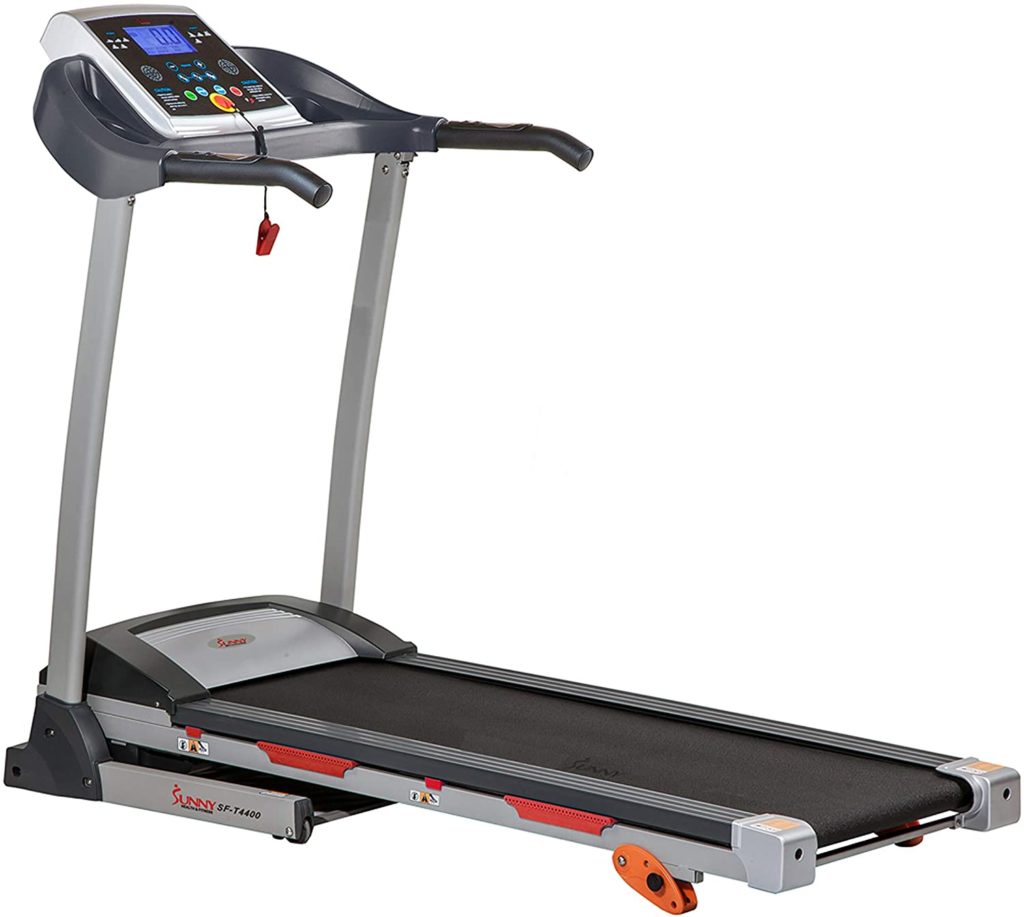 It consists of a soft drop system and an easy folding mechanism that allows the user to unfold the treadmill safely and hands-free. The handrail controls of the unit will enable you to control speed, stop, and start.
It is inclusive of 9 built-in workout programs. Moreover, it boasts of an LCD screen that displays distance, time, calories, burned pulse, and much more. A tablet and phone holder is also provided to fit different devices.
5. MaxKare Treadmill
MaxKare Treadmill features an adjustable LCD screen that provides a better visual effect and can be suited at different heights for an enjoyable and pleasant workout session. It also includes a red safety rope that prevents you from falling after running.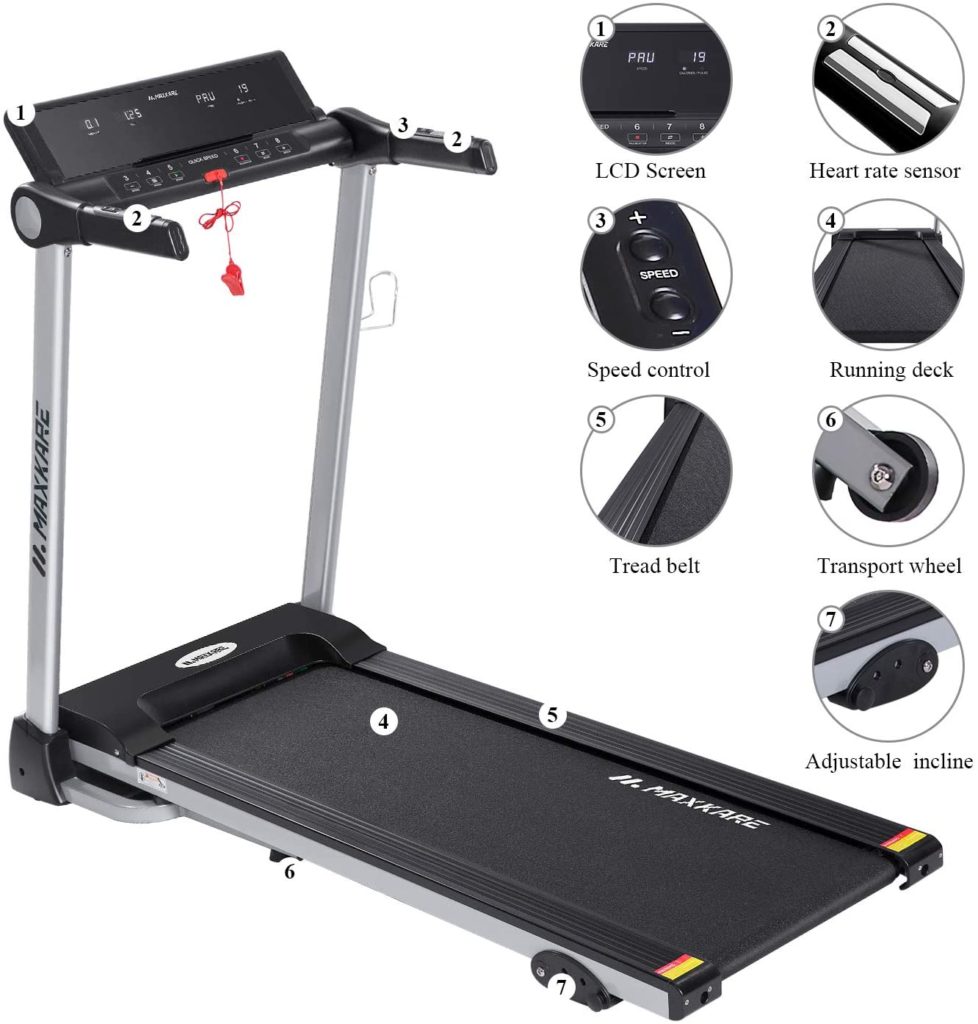 The treadmill allows you to adjust to different speed levels depending on the exercise and physical condition. The unit is suited for running, walking as well as jogging. Also, it comes with 15 pre-set easy to use programs.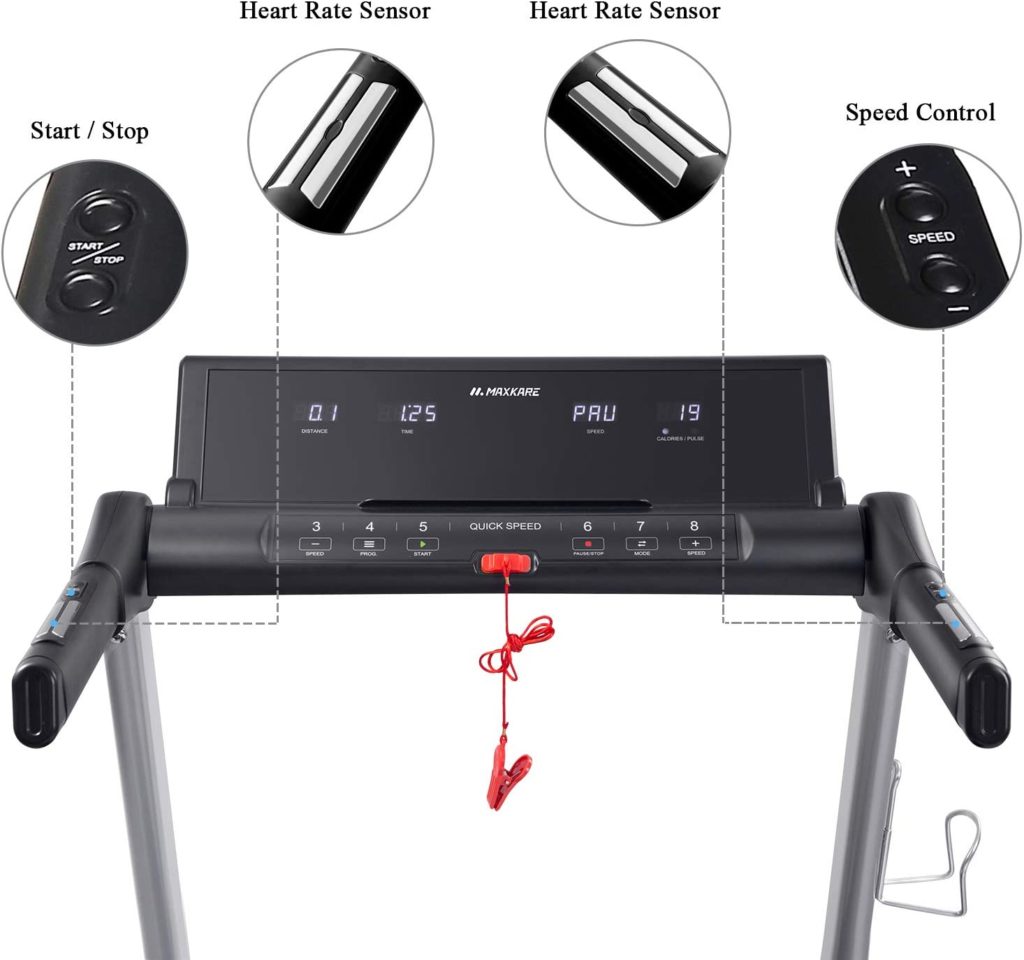 The treadmill also includes a running belt and six shock absorber damping blocks, which reduce the noise when working out. The unit is easy to install and foldable as well. Not only this, but it also has a cup and a tablet holder.
6. Bluefin Fitness Task 2.0
Bluefin Fitness Task 2.0 is a versatile and space-saving equipment for your office and home needs. You can choose from various exercises configuration with a speed of up to 8km per hour. It easily fits under the desk so you can burn calories while performing other tasks.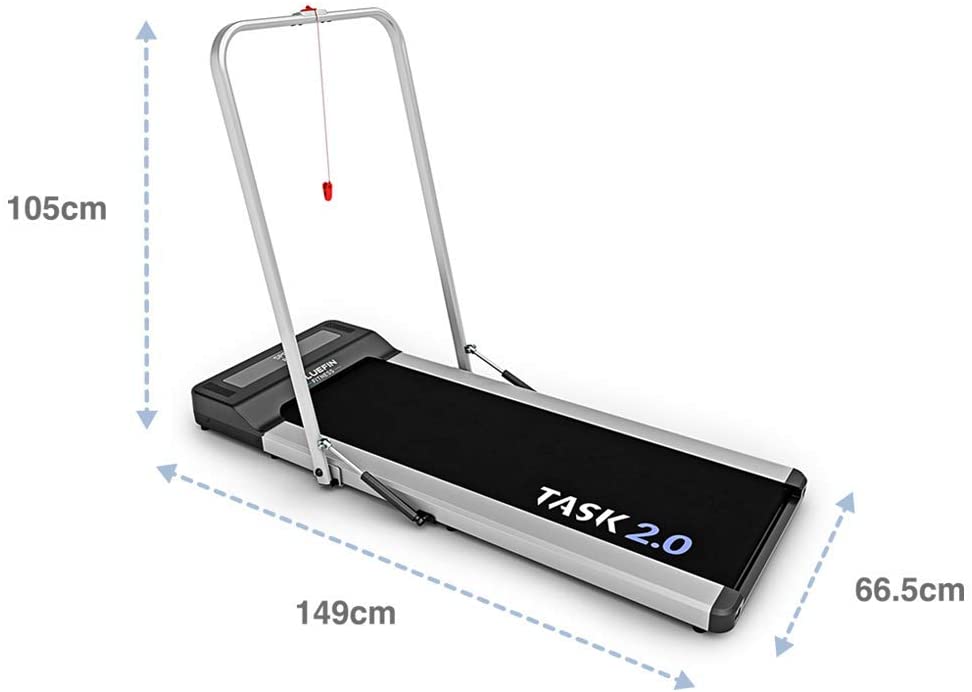 The unit helps in burning around 90 calories per hour walking. It also has an aero-damping system that makes every stride smooth and has a low impact.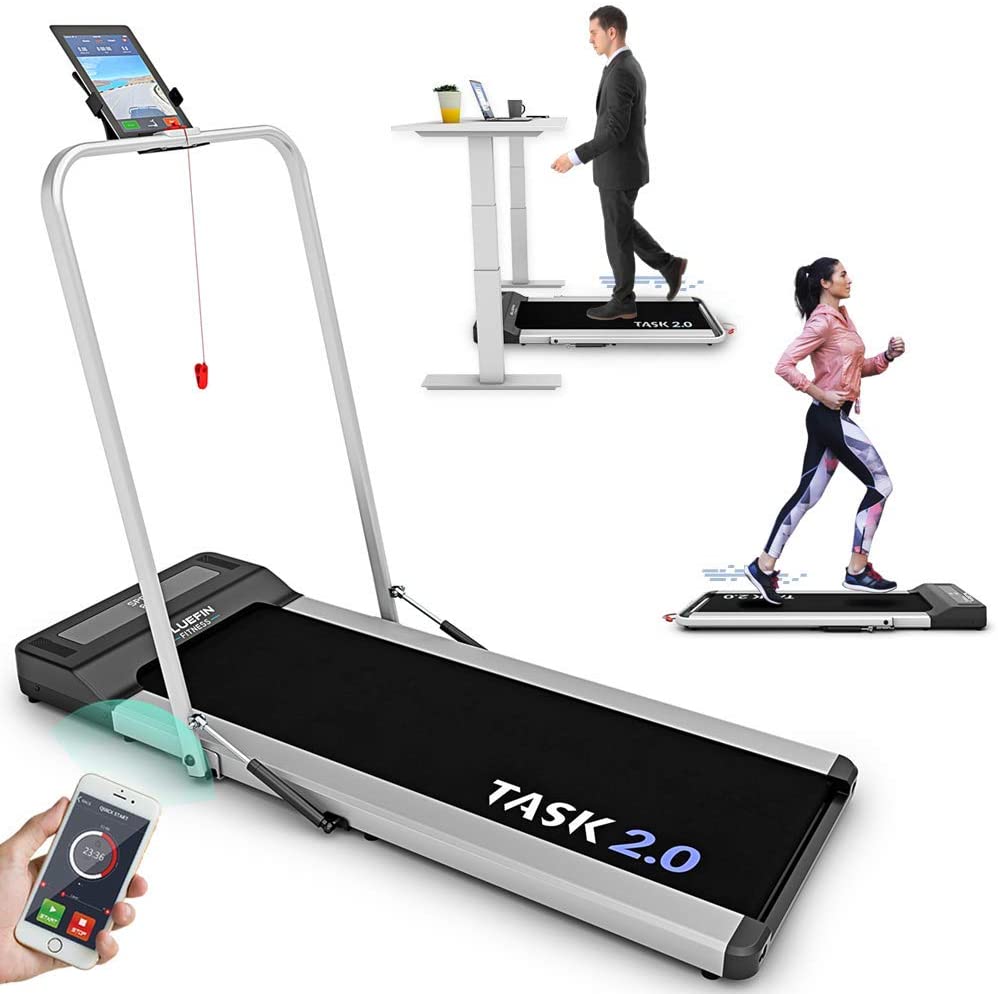 The unit is designed for professional training. Also, it has a tablet holder and built-in speakers to have an enjoyable workout session. You can connect with the smartphone app to track your progress.
7. Goplus 2-in-1 Folding Treadmill
The Goplus Treadmill is a multipurpose unit that can be used as a regular treadmill as well as an under-desk walking treadmill during your time spent at work. It consists of an LED screen that monitors your workouts and allows you to have better control.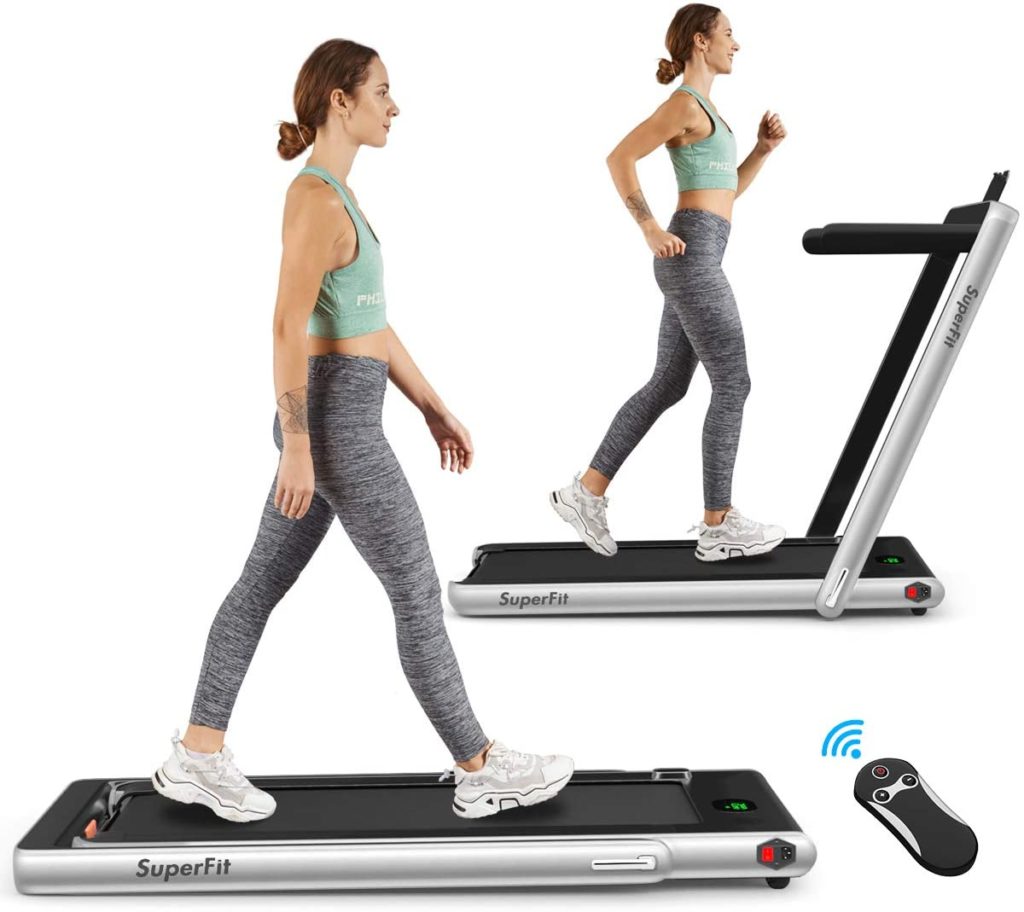 The treadmill also has a Bluetooth speaker that enables you to enjoy music while working out. It is made of high-quality material that is durable and sturdy. The maximum weight capacity of the unit is 265 lb, making it quite sufficient.
The running belt is quite spacious, allowing you freedom of movement and decreasing the risk of falling off. Also, the equipment enables you to have various choices of intensity, allowing you to perform several exercises.
Also Read: Top 10 best stepmills to buy in 2020
---
CONCLUSION
With all the best treadmills under $1000 discussed, we can say that finding a suitable treadmill can be quite challenging if you don't know what to look for. Though, this article will be quite helpful for you in choosing the best product at a budget-friendly price which will fulfill your fitness goals and provide you with the ultimate experience.