Massage chairs have been widely used either for relaxing or for business purposes. Choosing one from a market overwhelmed by the best portable massage chairs is a nerve-wracking task.
Portable massage chairs are lightweight, thick cushioned offered for clients to find pleasure in long massage sessions. In this article, we explain the features to consider, followed by a list of the best portable massage chairs.
---
Buying Guide to the Best Portable Massage Chairs
With portable massage chairs available aplenty, choosing one that fits all your requirements can be a daunting task. Considering this, the following is a list of things to consider before purchasing a portable massage chair.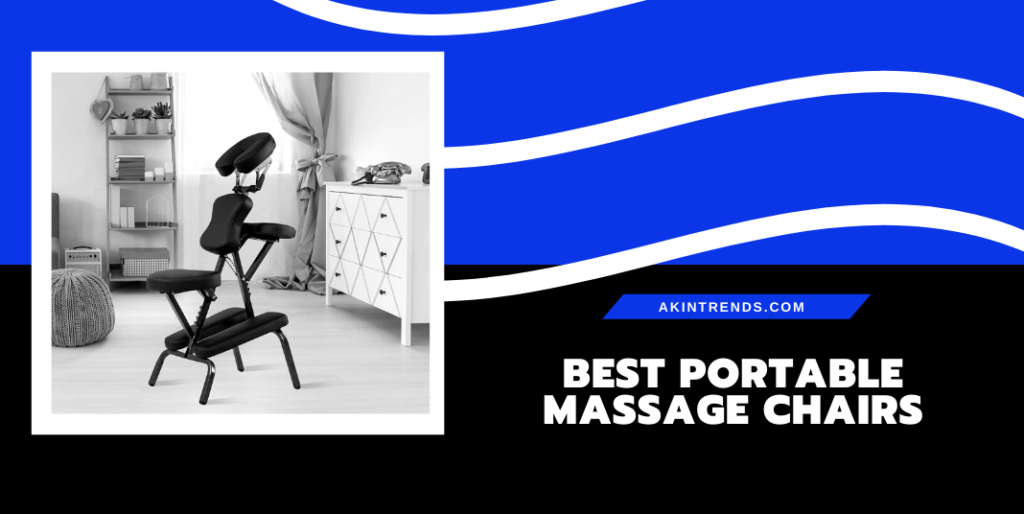 Portability: The very first thing to ponder upon is the ease of portability of the chair. If you're planning to keep the chair at home, weight is not a concern. However, if you are planning to travel with it, weight becomes a vital point. It is also important to pick a chair that can be easily folded and includes a carrying case.
Comfort: Perhaps the most important thing to consider is comfortability while your clients sit in it. Portable massage chairs need to be stuffed with thick high-density foam, ensuring that clients are more comfortable, regardless of their body types.
Adjustability and Usage: For clients' extra comfort, the chair must offer you multiple levels of adjustability. If you are offering short massage sessions, adjustments can be basic. Whereas for longer sessions, chairs with higher adjustability is crucial.
For ease of usage, most of the portable massage chairs come with features like face cradle, seat, armrests, and chest pad. While for the comfort of your clients, these chairs also allow you to adjust the height of the seat, face cradle, chest pad, and armrest.
With the most vital considerations discussed above, we further move to share the best portable massage chairs available.
---
Best Portable Massage Chairs
Post experiencing dozens of massage chairs; we've jotted down a few of the best portable massage chairs that may last for a long time.
1. STRONGLITE Ergo Pro II Portable Massage Chair
The Stronglite Ergo Pro II is made of light T6 aluminum alloy coupled with a high gloss powder coating, making the product durable and sturdy. For comfort and soothing during the massage, this chair boasts of an adjustable face cradle, seat, and chest pad.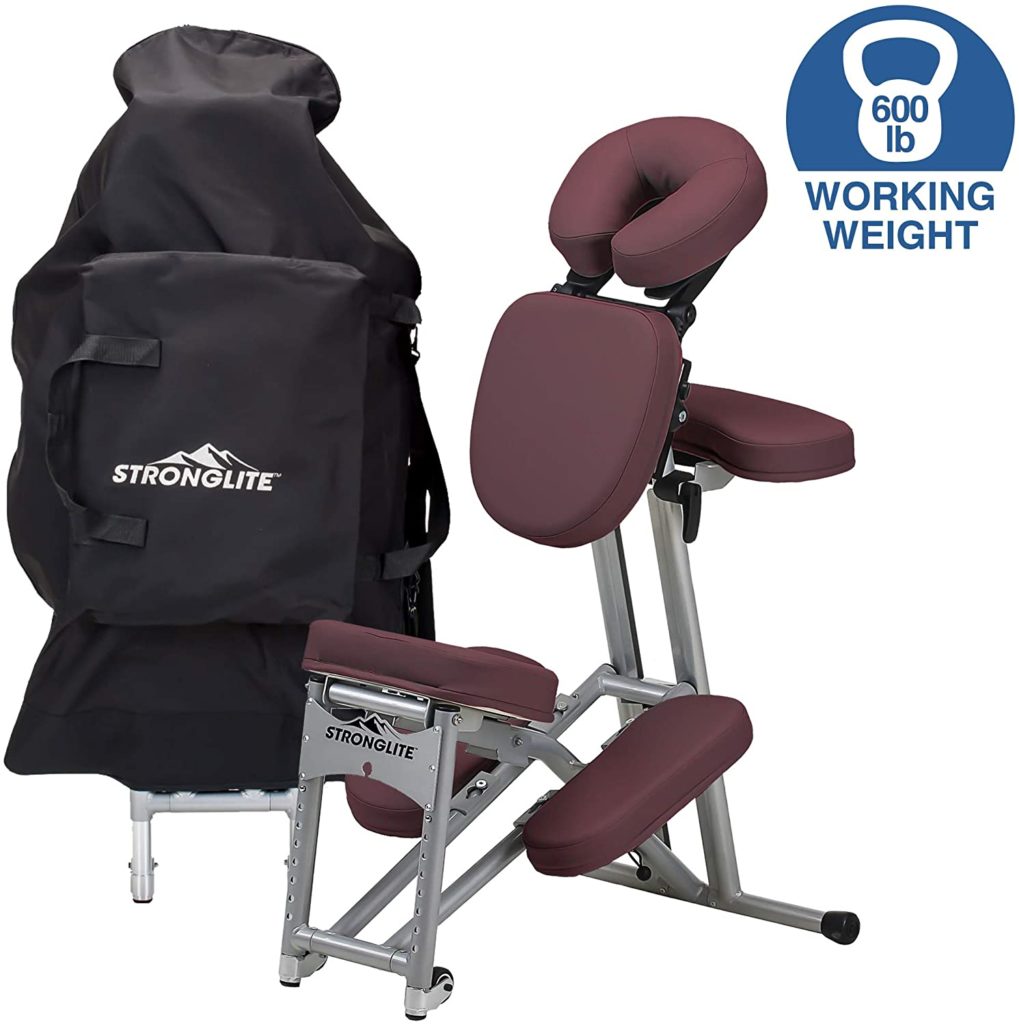 This portable chair further allows you to adjust the height and angle of the seat, allowing maximum support to legs and perfect to help disabled or injured clients. This product is available in five different colors — royal blue, purple, teal, black, and burgundy.
With a maximum capacity of up to 600 pounds, this chair also features wheels for easy transportation along with a carrying case for massage on-the-go.
2. EARTHLITE Portable Massage Chair
Regarded as the most adjustable massage chair, the Earthlite Avila II sports an ergonomic design that is made with light patented carbon composite frame with quality padding. This massage chair weighs just 25 pounds and has a maximum working weight of 350 pounds.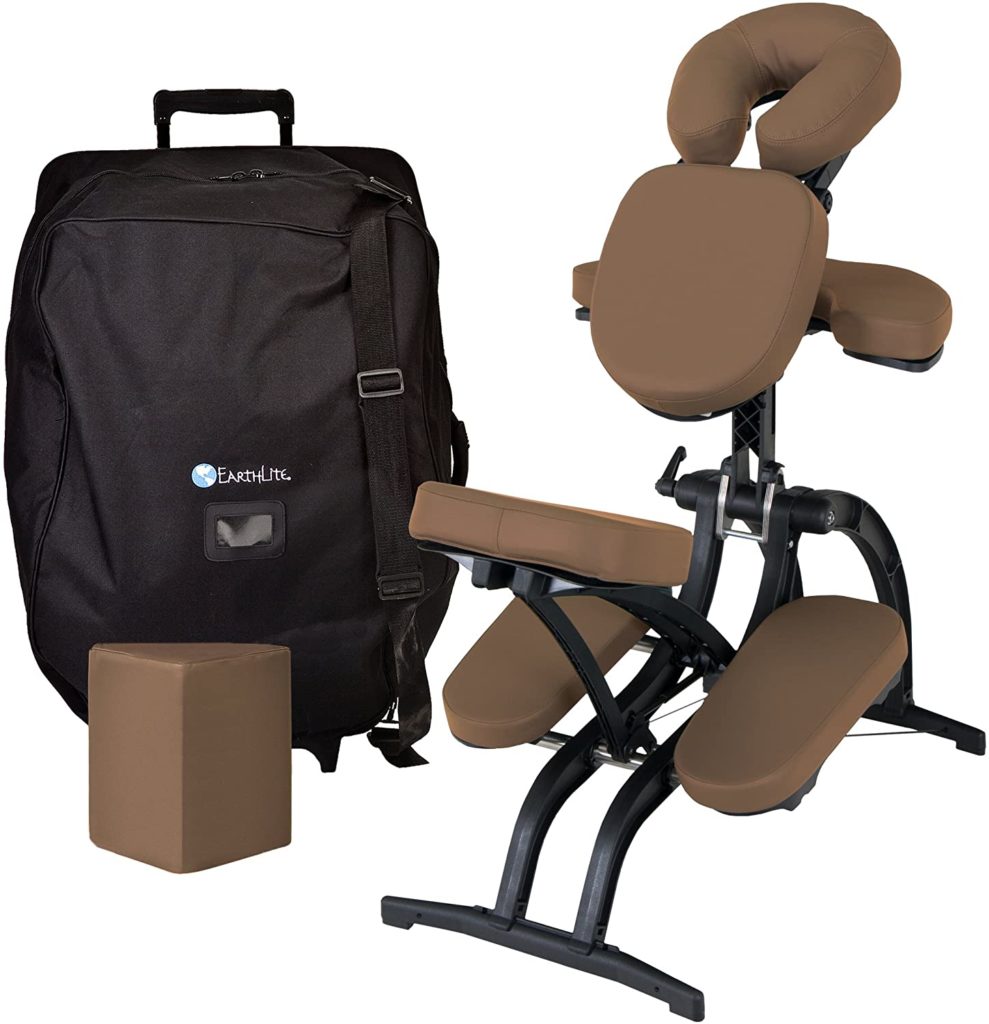 The chair features lined ballistic nylon carry case and wheels that make it easy for moving around. Stocked with upholstery and quality materials, this massage chair is easy to clean. Equipped with an adjustable face cradle, armrest and chest pad, the Avila II is comfortable to users from 4'6" to 6'6".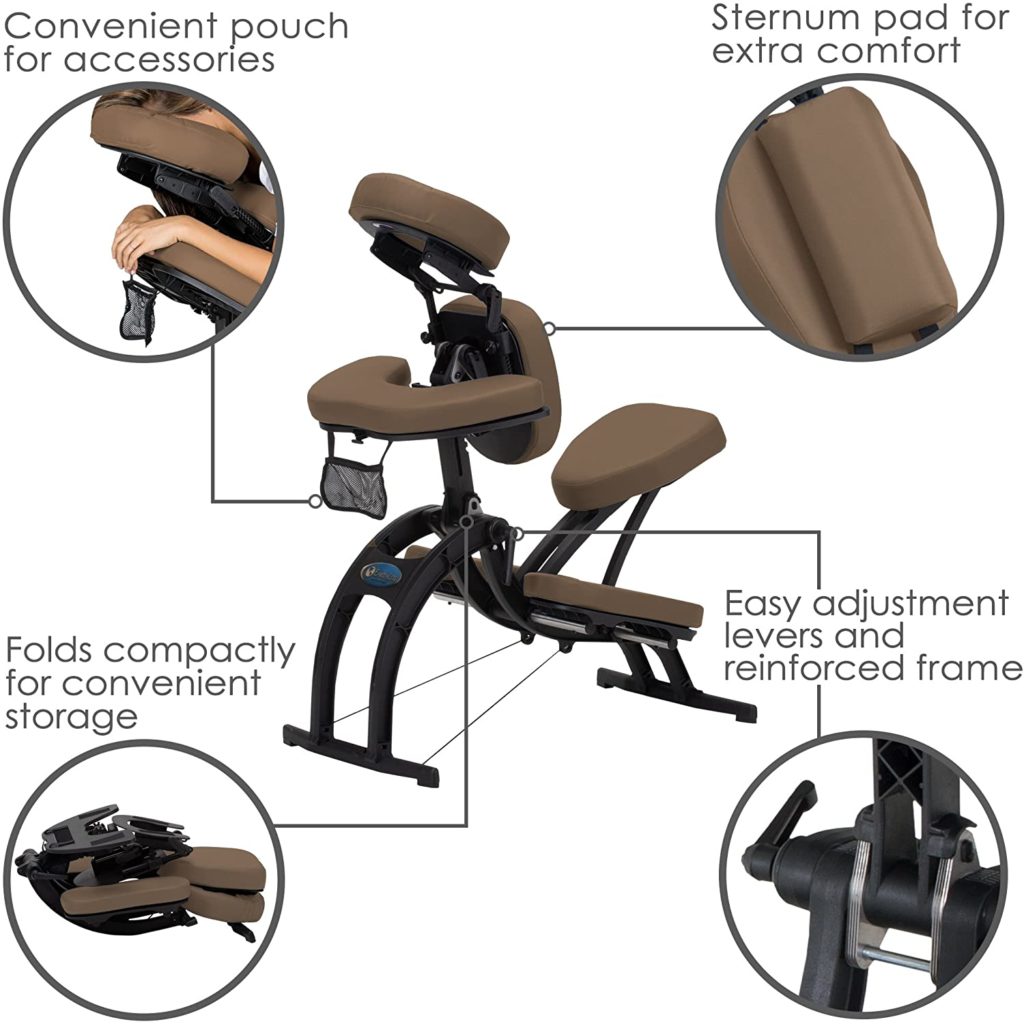 This portable massage chair is available in a variety of colors, with each of the models coming with a lifetime limited warranty.
3. Master Massage Professional Massage Chair
Taking the third spot on this list of the best portable massage chairs is Master Massage's Professional Massage Chair. Made of an aircraft-grade aluminum frame, this chair supports up to 650 pounds of working weight. Besides, it is light and powder-coated, which prevents the chair from rust, nicks, and scratches.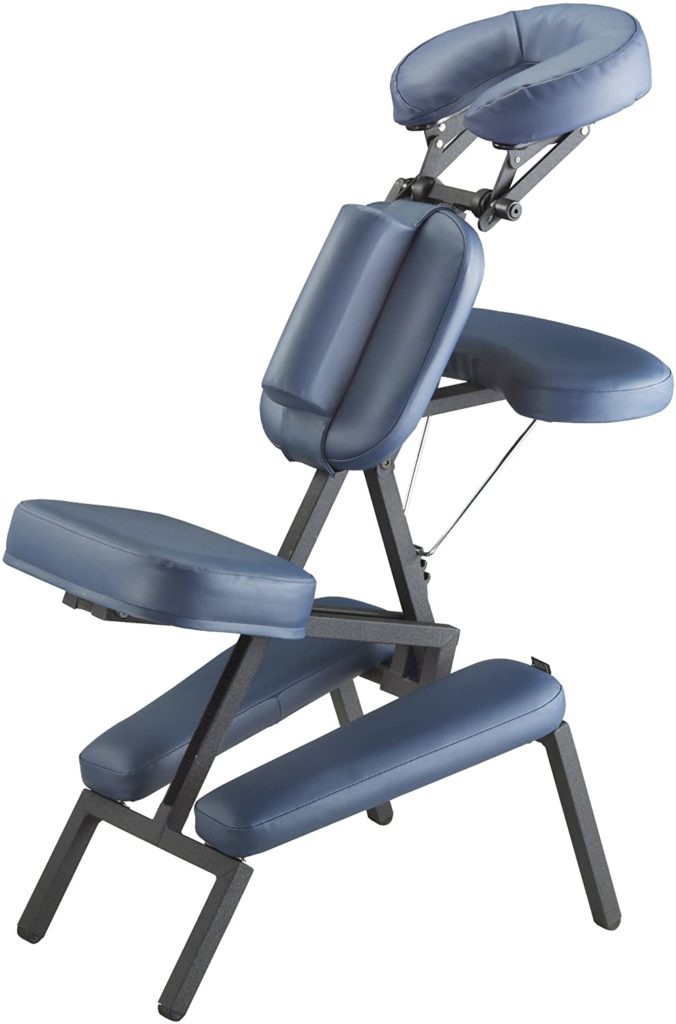 This massage chair boasts of the adjustable seat, chest pad, face cradle, and armrest. Furthermore, this product comes with a layered pillow and session pouch for a more soothing massage session.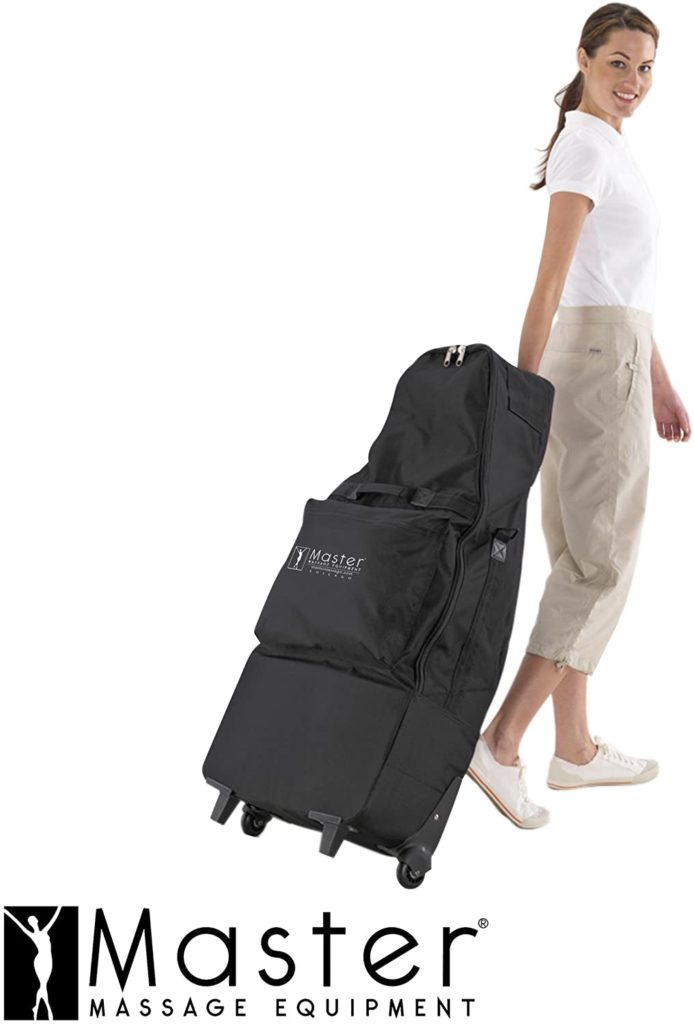 The Master Massage Professional Chair is loaded with a wheeled carrying case that makes it easy to carry around. It also can be effortlessly folded, such that it can fit inside of your closet.
Also Read: Best Inversion Tables 2020 and Things to Know Before Purchasing One
4. EARTHLITE Vortex Portable Massage Chair
Earthlite's Vortex is the lightest portable massage chair available at only 15 pounds. The chair's frame is forged from strong aircraft-grade aluminum. Moreover, this portable chair sports a compact design that is easy to fold and store.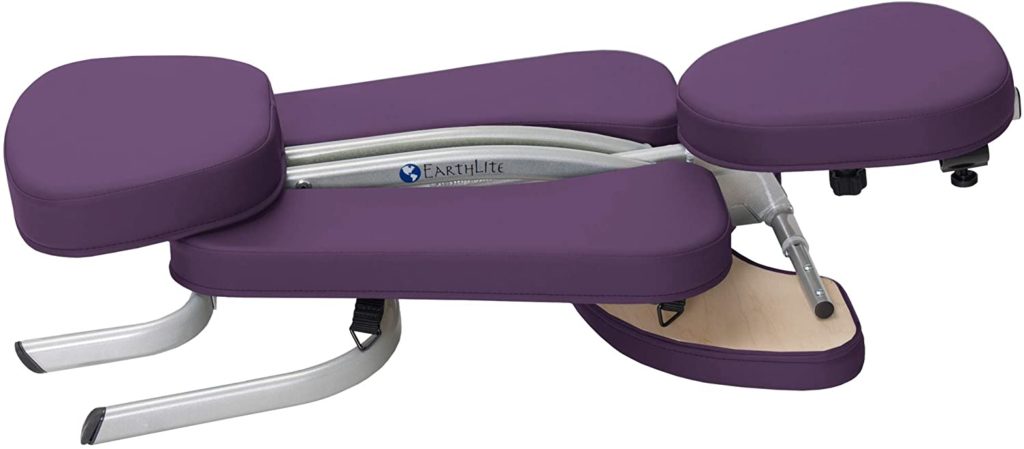 This massage chair features adjustable face cradle, armrest, seat, and chest support. It includes a carrying case with padded shoulder strap for convenience while carrying.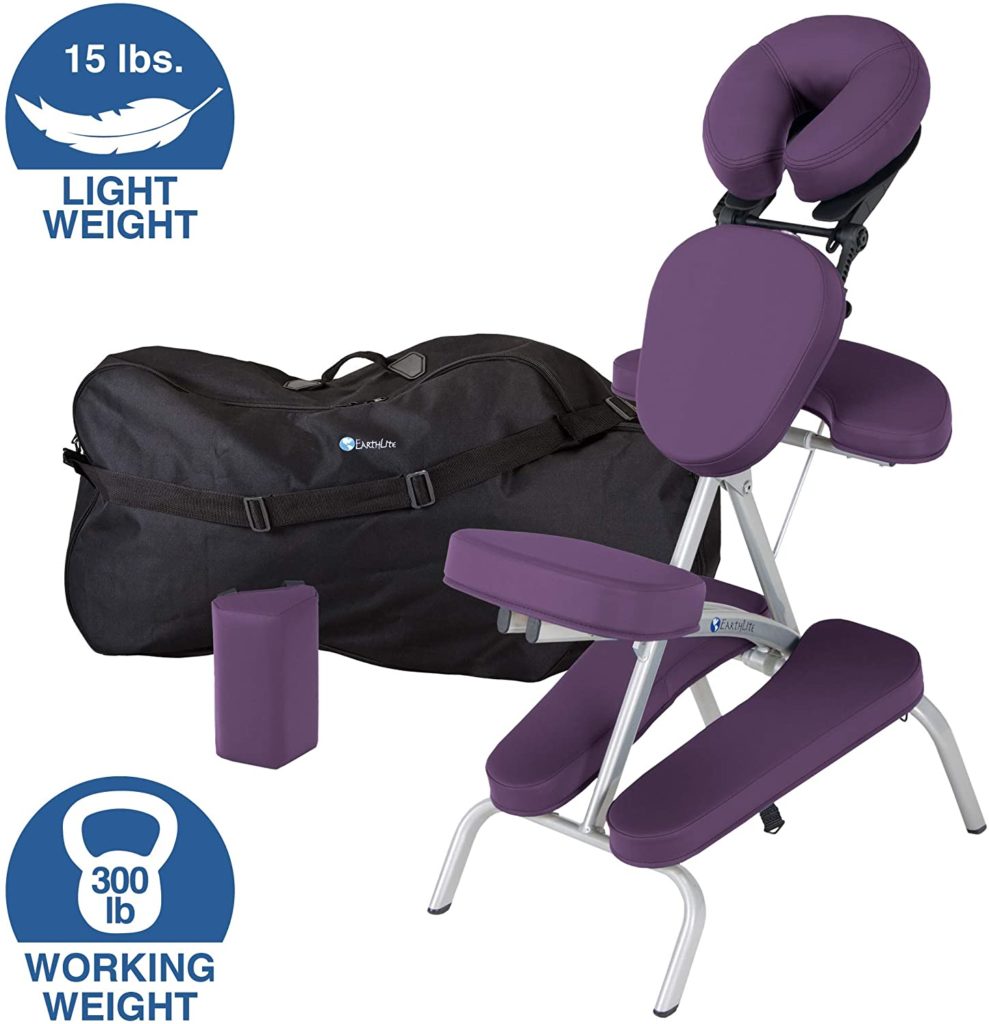 The frame comes with a lifetime warranty, while the upholstery and cushion have a three-year warranty. The chair has a working weight capacity of 300 pounds, which is one of the major shortcomings.
5. Giantex Portable Massage Chair
The Giantex Portable Massage Chair is an affordable option that boasts of the ergonomic adjustable armrest, seat, chest pad, and head support. Designed with PU leather, this chair is water and oil resistant, while also making it easy to clean.
This massage chair sports a modern style that may blend in with the settings of your house. The chair's frame is formed of durable powder-coating aluminum, which extends the life of it.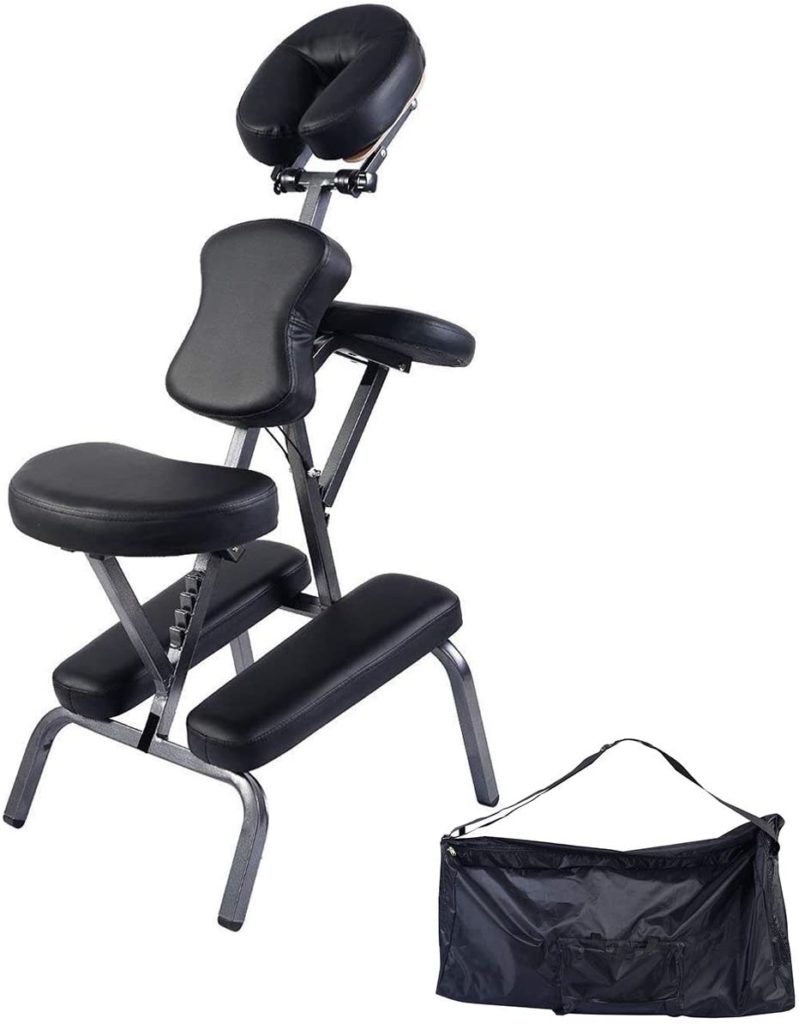 The portable massage chair is extremely versatile for changing positions and fits most body types for a cozy and relaxing massage session. Weighing about 20 pounds, this chair comes with a weight capacity of up to 350 pounds.
6. BestMassage Portable Massage Chair
Known for excellent portability and value, the BestMassage Portable Massage Chair is among the highly-rated best portable massage chairs available in the market today. The chair's frame is built of heavy-duty grade with a powder-coated finish, which makes it lightweight and ultra-strong.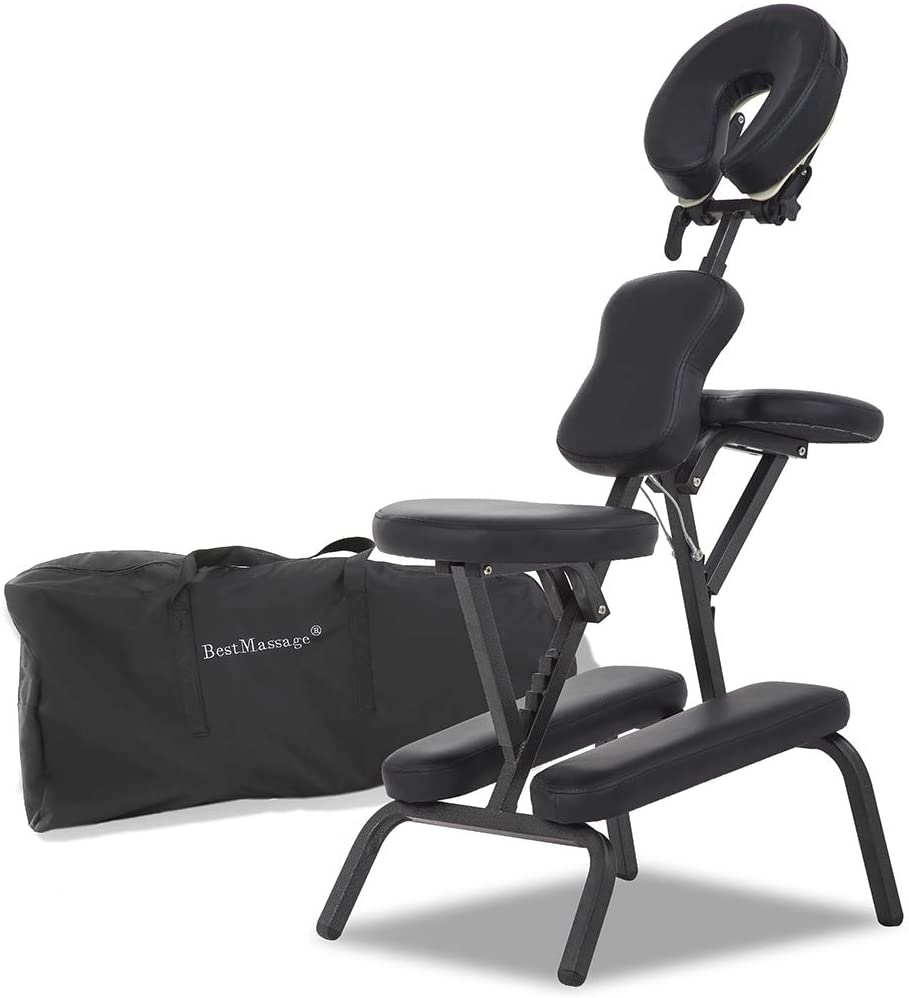 This massage chair is infused with high-density foam upholstered, providing maximum comfort and durability. The chair offers support of up to 700 pounds static capacity and around 300 pounds of a human weight.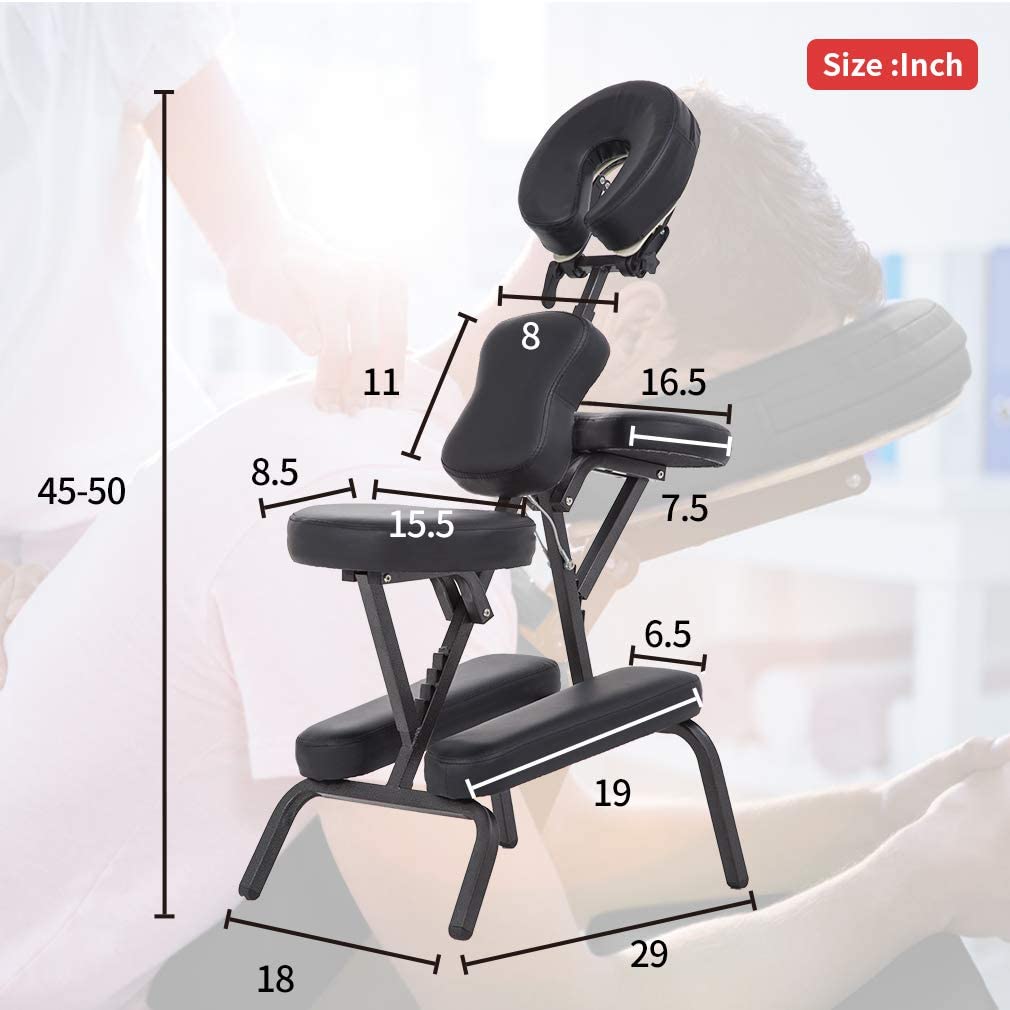 The chair includes PU leather cover that is water and oil resistant, which is also easy to clean. This portable therapy chair is available in three colors — black, cream, and white.
Also Read: Best Weight Benches: Buying Guide of 2020
7. Ataraxia Deluxe Portable Massage Chair by Royal Massage
Boasting of fascinating features, Royal Massage's Ataraxia Deluxe is budget-friendly that has the look and feel of a premium chair. The chair is equipped with an adjustable face cradle, armrest, seat, and chest pad.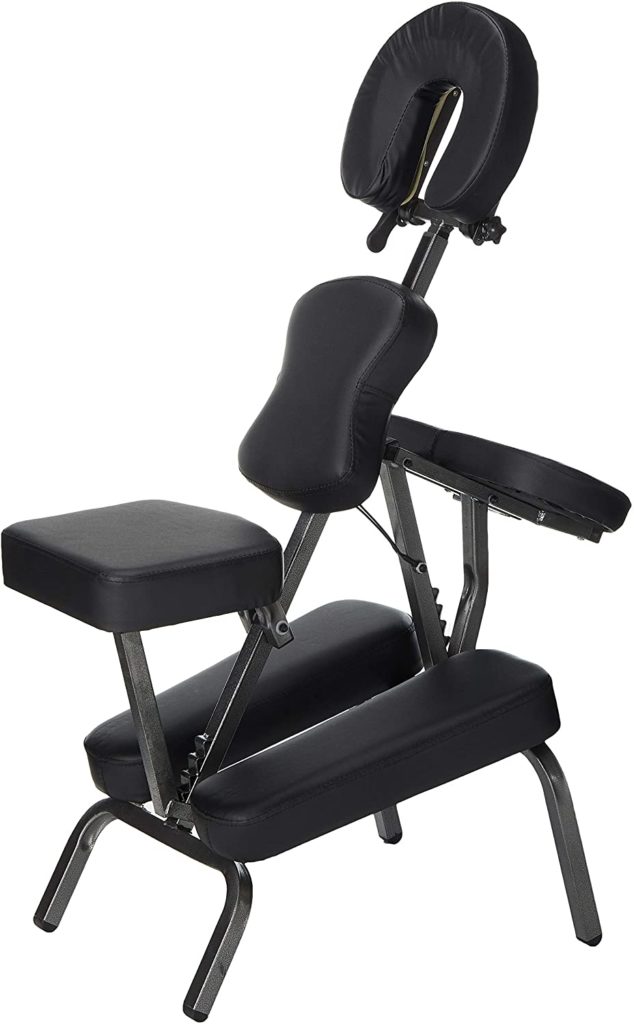 Stocked with synthetic leather cover, this massage chair is oil resistant and waterproof. The chair is tremendously versatile when it comes to changing positions with ease. It further boasts of a frame that is sturdy and noise-free.
Weighing around 23 pounds, this chair supports up to 300 pounds. The Ataraxia Deluxe comes in three color options, namely black charcoal, blue and gray.
---
CONCLUSION
Portable massage chairs have to be more stable, so your client can feel safer while you perform your duties. Having discussed a buying guide and the best portable massage chairs, we believe that you'll bring home the right one. If there's a product missed here and you've enjoyed using it, please let us know in the comments section below.