Air purifiers are the most fundamental products to have indoors. If you or anyone around is living with a severe illness, an air purifier is a worthwhile investment.
If you've stumbled upon this article, chances are you are in quest of an inexpensive gear that makes your room — a cozy, clean, breathable space. In this in-depth review guide, we share hands-on experience with a popular yet affordable air cleaning machine — Levoit Vital 100.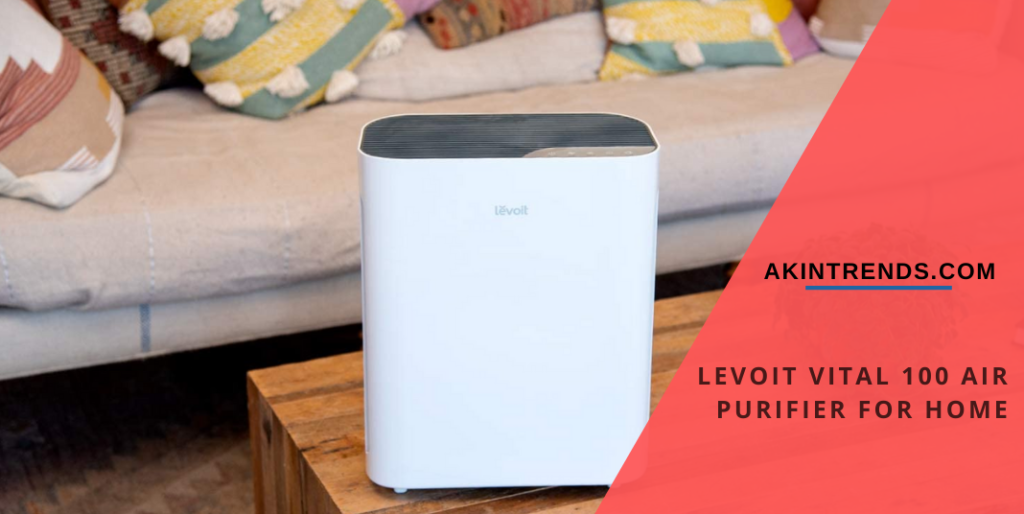 ---
Levoit Vital 100 Air Purifier Review
Levoit is a widely-popular air purifier for home brand originating from the United States. With Levoit's air purifier models available in plenty, choosing one that fits your criteria is not that hard.
We cover a few critical aspects of Levoit's Vital 100 air purifier that may inspire your purchase decision. Scroll down and learn about the experiences we've had with this feature-rich and powerful air purifying machine.
Design and Size
The Levoit Vital 100 shares almost an identical appearance to the brand's previous models — it is bulky, plain, and boasts a straightforward look. Measuring 16.1 inches in height, 12.8 inches in depth, and 6.4 inches in width, this air purifier is taller and wider than other models.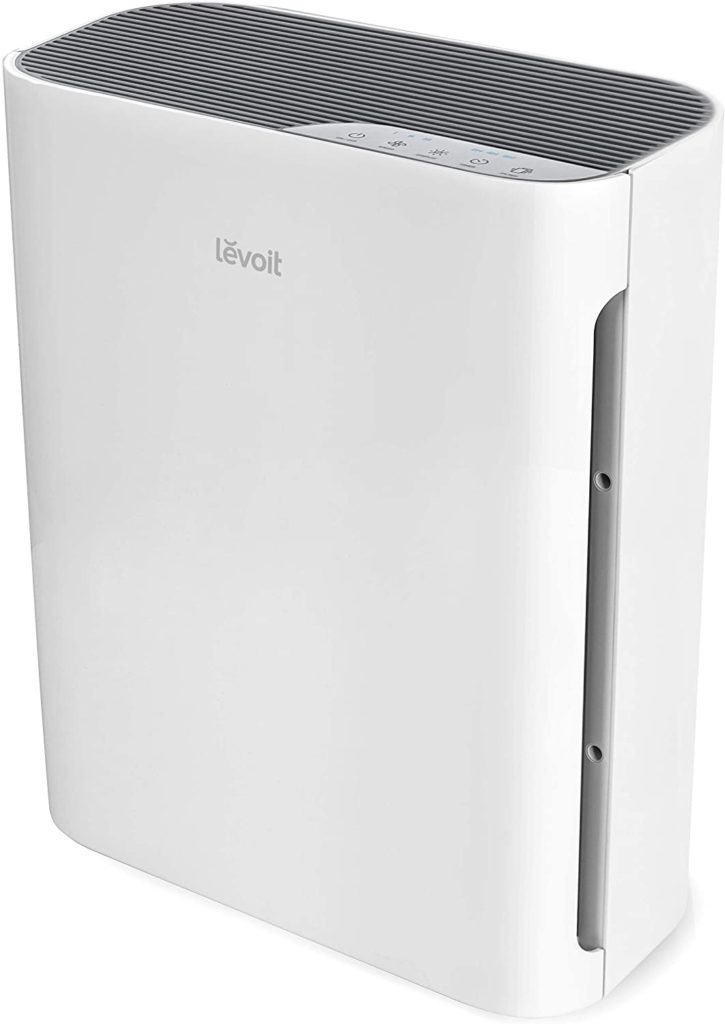 Embossed with white ABS plastic, the Vital 100 sits perfectly to the backdrop of any room. Boasting of larger parallel air grills on each side of the device, this comfortably takes in the room air, with an outlet vent that dispenses cleaner air into your room.
For smooth control over the air purifier, the Levoit Vital 100 has a control panel with five functional buttons located on the top. On the flip side, you don't get smartphone accessibility. The Levoit Vital 100 weighs about 10 lbs, which makes moving and lifting a pretty simple job.
Overall, the design isn't a visually appealing one; but with a simple and discreet look, it gives you the minimalist appearance.
Filtration System
The Vital 100 is paired with some of the finest filtration systems available on the market. To ooze out the purest quality of air, this device uses a three-stage air cleaning system. This process effectively annihilates most of the harmful pollutants from your space. Following is Vital 100's three-stage filtration process: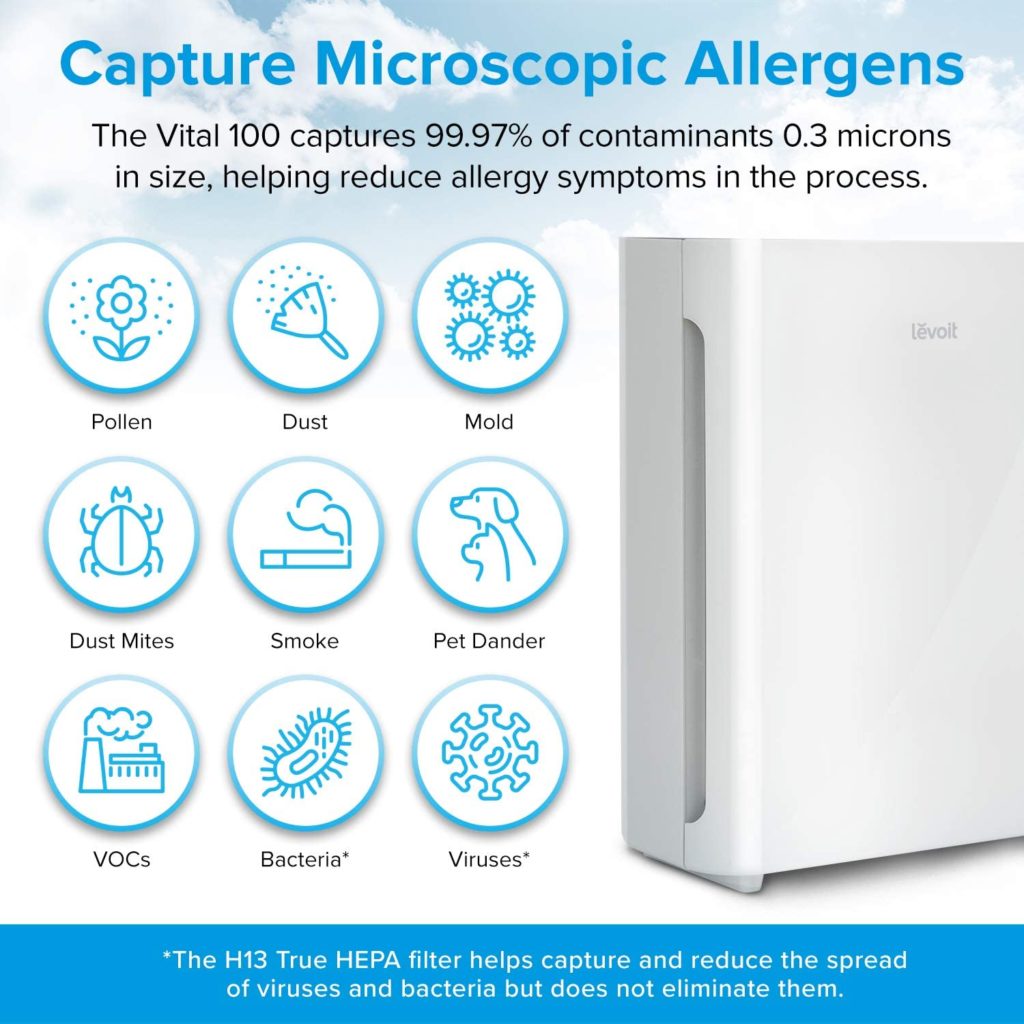 Pre-filter: First of the three-stage cleaning phases is the — pre-filter. This layer traps large particles like dust, hair, and pet fur. Also, this is a washable filter that can be removed for easy cleaning.
True HEPA filter: The second filtering layering is the — True HEPA filter. This is a high-performing filter that eliminates 99.97% of particles as minuscule as 0.3 microns. Some of the pollutants it effectively removes are — pet dander, mold spores, bacteria, pollen, mold, and other common allergens.
Activated carbon filter: Lastly, this activated carbon filter does its job in minimizing common indoor odors such as cooking smells, cigarette smoke, and volatile organic compounds (VOCs). This further holds the capacity of trapping health deteriorating gas like formaldehyde and other chemicals exuding from furniture and upholstery.
The aforementioned three-stage filtration system is entirely ozone-free, which is harmful if you have pets around. There is no denying that one of the primary selling points of the Vital 100 is its efficacy in removing pet-related allergy symptoms.
Levoit's Vital 100 filter, Vital 100-RF, is replaceable and available on major e-commerce sites. We recommended you keep a check on the filters, in order to make sure it lasts longer and oozes out some clean and fresh air.
Room Size Coverage
The Levoit air purifier for home is compatible with smaller rooms up to 300 square feet in size. However, two notable ratings determine the machine's performance — CADR and ACH. Read on to know more about these ratings.
This air purifier is supplied with the CADR (Clean Air Delivery Rate) rating of 130 CFM, which is reasonably low compared to pricey machines with 200 CFM CADR ratings.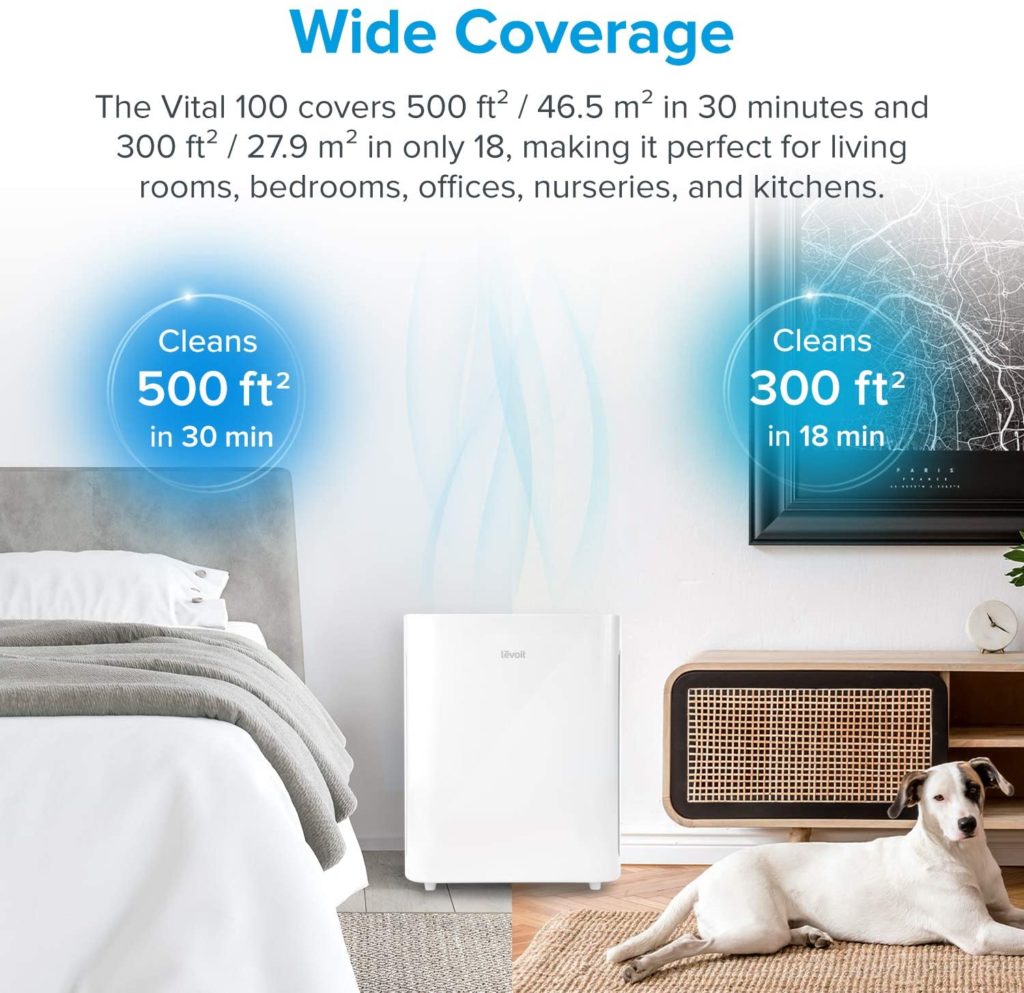 The CADR rating indicates the air purifier's effectiveness in removing contaminants like dust, smoke, and allergens floating in the air. For quick and reliable cleaning performance, ensure that rating is ⅔ the size of your room.
While the ACH or Air Changes Per Hour rating of Vital 100 stands at 4X. This rating signifies that it can change the volume of air four times each hour in a 300 sq.ft. room. Nevertheless, this machine can also be placed in 500 square feet; however, the ACH ratings may drop to 2X, meaning that the Vital 100 will clean air twice each hour.
Reviewers have advised that although this unit supplies fresh air in larger rooms, placing them in smaller spaces is beneficial for those suffering from respiratory illnesses.
Levoit Vital 100's Notable Features
Levoit 100 has an unrivaled list of features that makes high-end air purifier systems blush. This is laden with features from top to bottom, from outside to the inside. This rectangular-shaped air purifying system has a control panel at the top, featuring easy-to-access buttons.
The control panel boasts of a few settings — fan speeds, timer, filter replacement indicators. The Fan speeds allow you to switch the airspeed between low, medium, and high speeds. Meanwhile, the timer feature allows you to schedule between 2, 4, and 8-hour increments for switching off the machine automatically.
The Filter replacement lights serve as a reminder to change the filters of the device. Usually, these lights start reminding after a particular period (i.e., after six-eight months) and not based on your filters' condition.
The features listed above are some of the basic ones, however the best for the price you pay for. The major misses from this device WiFi connectivity, smart-sensor, and access to apps.
Pros and Cons of Levoit Vital 100 Air Purifier
The Levoit Vital 100 is a compact and subtle air purifier with a robust filtration system and a few notable features. Although not as significant as top-end models, it promises to offer its efficacy in small to medium-sized rooms. Below are some of this device's benefits and shortcomings:
Also Read: Winix 5300-2 vs 5500-2: Comparing Two Best Air Purifiers
---
Few Alternatives to the Levoit Vital 100 True HEPA Air Purifier
There is nothing that can beat the Vital 100 at this price range of under $200, but a few counterparts must not be overlooked. Here are some of the alternatives to Levoit's Vital 100:
Honeywell HPA300 Air Purifier
Honeywell's HPA300 is an excellent alternative to Levoit's Vital 100. This air purifier comes with a True HEPA filter and Activated Carbon filter that work together in eliminating dust, allergens, and odors from the air. This device is capable of cleaning areas up to 465 square feet.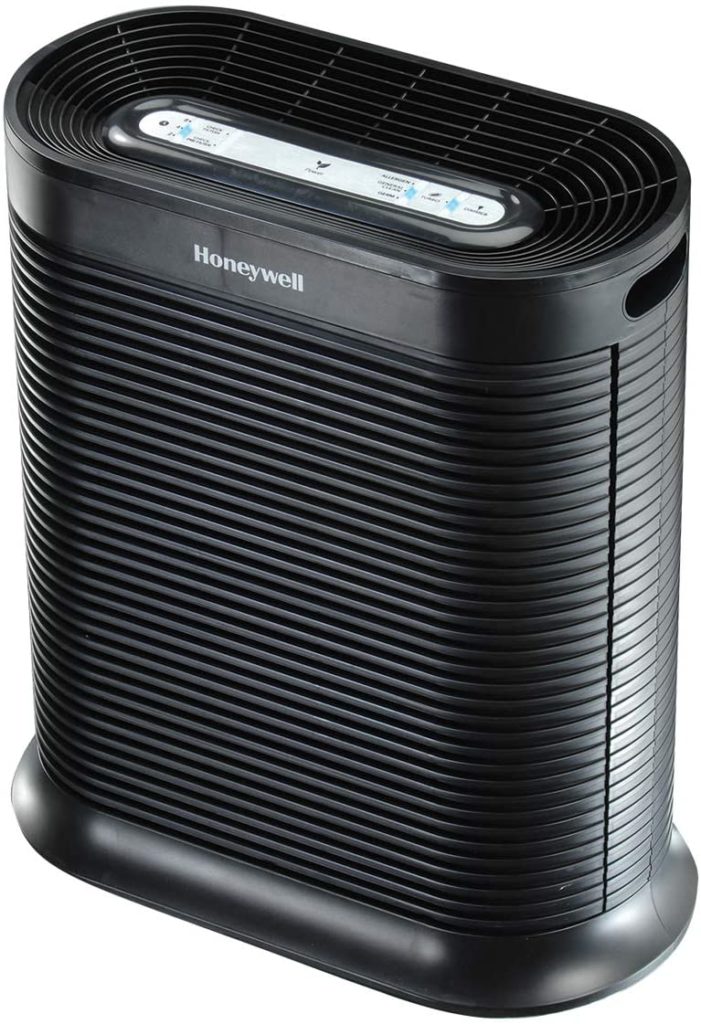 The Honeywell HPA300 is supplied with quality features such as the automatic shut off timer with 2, 4, and 8-hour increments, turbofan mode, and easy-to-use control buttons. Also, it comes with a five-year warranty and a filter change indicator.

Winix 5500-2 Air Purifier
Another significant alternative is the Winix's budget-friendly offering, 5500-2. This air purifying device carries filters like the True HEPA filter and Activated Carbon filter; however, it is powered by the patented PlasmaWave technology. This feature cleans the entire space without producing harmful ozone or other pollutants.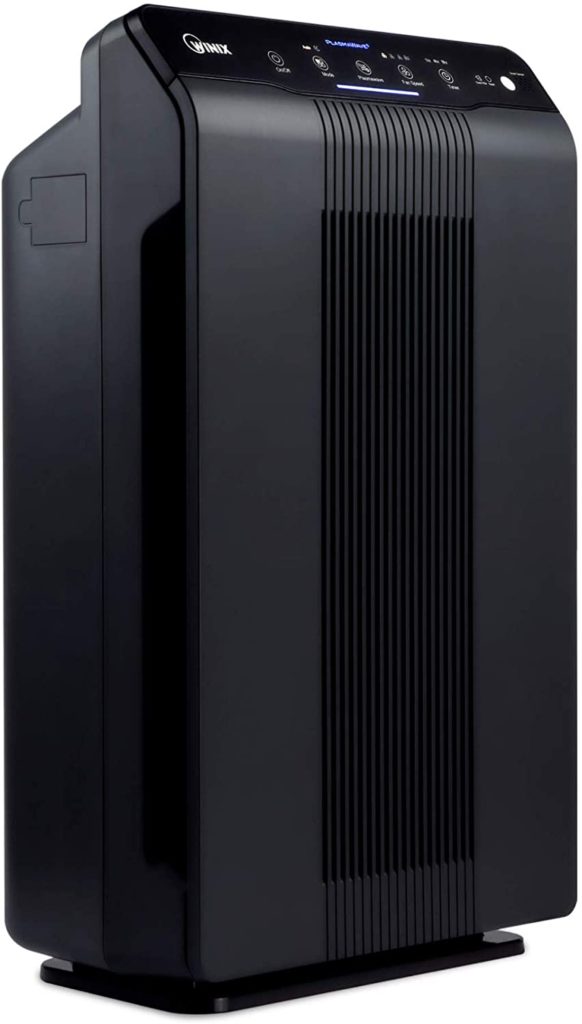 The Winix 5500-2 also boasts smart sensors, which automatically adjusts the fan speed for better cleaning. This air purifier can clean rooms up to 360 square feet.

GermGuardian AC4825 4-in-1 Air Purifier
The cheapest of all — GermGuardian AC4825 is home to some of the excellent features that aren't common in the low-priced models. This boasts of True HEPA filter and Activated Carbon filter and works with UV-C lights to easily remove airborne viruses.

The AC4825 is supplied with 3-speed settings — low, medium, and high. Each of these settings is ultra-quiet and offers good night sleep. There is Titanium Dioxide, which keeps volatile organic compounds at bay.

Also Read: Winix 5300-2 vs 5500-2: Comparing Two Best Air Purifiers
---
CONCLUSION
And this was our Levoit Vital 100 review. If this power-pack machine runs out of stock, hope the alternatives we listed could come in use. Each of these machines is also excellent in delivering clean and fresh air. The Levoit Vital 100 does put an end to your search for the best, inexpensive air cleaning machine.
We appreciate your comments! Let us know in the comments section if you have questions or queries about this device.
---
FAQs
Does the Levoit Vital 100 work when smoking cigarettes indoors?
Yes! The Levoit 100 is equipped with the activated carbon filter, which alleviates the smoke odors from your home. A word of caution from the manufacturer is that — smoke smells may be reduced, but the filters are likely to get dirtier.
Where do I need to place the Vital 100 air purifier — on the ground or high surface?
The Vital 100 works effectively in removing harmful particles no matter on what level it is placed. The general rule of thumb here is to either locate it on a shelf or a dressing table.
Who is the Levoit Vital 100 Air Purifier recommended for?
The Levoit Vital 100 is a product for all those home-owners looking to better their health and make the air around cleaner and fresh. However, a specific group of people that this device mainly caters to, are:
People dealing with respiratory issues.
People sensitive to smoke and other bad odors
Lastly, people who have pets in their homes and look to eliminate dander and hair.